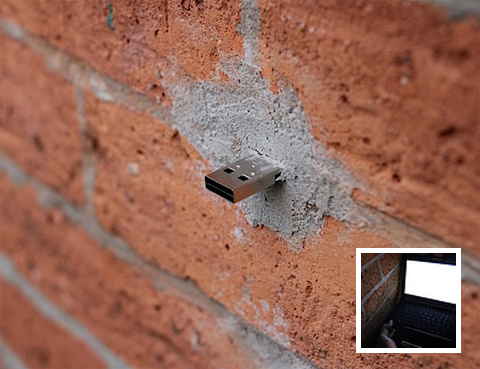 "Dead Drops." project by Aram Bartholl. He embedded five USB drives into walls, curbs, and buildings around New York, and invited people to download from or upload content to them.

"I am pleased to preview 'Dead Drops' a new project which I started off as part of my ongoing EYEBEAM residency in NYC the last couple weeks. 'Dead Drops' is an anonymous, offline, peer to peer file-sharing network in public space. I am 'injecting' USB flash drives into walls, buildings and curbs accessable to anybody in public space. You are invited to go to these places (so far 5 in NYC) to drop or find files on a dead drop. Plug your laptop to a wall, house or pole to share your files and date. Each dead drop contains a readme.txt file explaining the project. 'Dead Drops' is still in progress, to be continued here and in more cities. Full documentation, movie, map and 'How to make your own dead drop' manual coming soon!"
Check out Bartholl's Flickr page for more pics.