Practical Décor Tips for a Relaxing Bedroom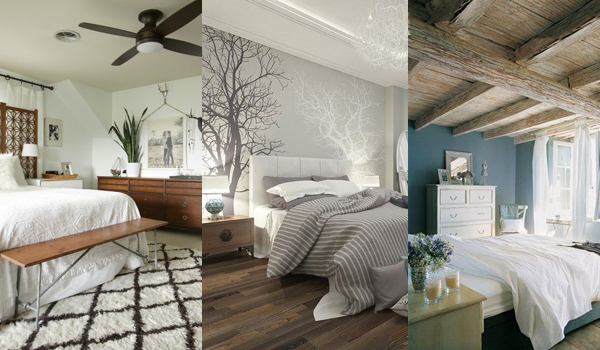 You should feel more relaxed in your bedroom than in any other area of your home. Since this is the room in which you drift off to sleep every night and shed any residual stress from the workday, it's only natural that you'd want this space to feel as peaceful as possible. However, if your bedroom doesn't exactly conjure up feelings of relaxation, the problem may lie in your choice of décor. Fortunately, remedying this issue is well within the abilities of anyone with a little design sense. If a more relaxing bedroom is what you're after, put the following tips to good use.
Image credit: cassiebustamante.com  cocodsgn.com
Install a High-Quality Ceiling Fan
Extreme heat and stuffiness can greatly hinder your chances at a good night's sleep. If a comfy, practical solution to warm temperatures is what you seek, look no further than a high-quality ceiling fan. A good fan can provide you with a refreshing breeze throughout the night and prove particularly useful during the summer months. Additionally, if you live in an area that receives hot weather year-round, a bedroom ceiling fan is an absolute must. When shopping around for the right ceiling fan for your sleeping space, make sure to check out the dependable products from Hunter Fans.
Invest in Roomy Storage Solutions
Clutter is the enemy of relaxation. Letting your guard down in a space that's rife with clutter can prove next to impossible. So, if your bedroom is home to a plethora of wayward objects and disorganized items, it's time to get the space in order. This is where spacious shelves enter the equation. Good shelving can provide you with a place to comfortably store assorted reading materials, collectibles and other personal items. You'll quickly find that quality shelving is a great alternative to rampant disorganization. If you're running low on space in your bedroom, wall-mounted shelving may be just what you need.
In addition to purchasing shelves, make a point of investing in a roomy – and aesthetically pleasing – laundry hamper. Tossing dirty clothes on the floor is not only uncouth, it also stands to make those clothes even dirtier and create an abundance of potential tripping hazards. Conversely, a good hamper ensures that you have a convenient place to store all your dirty clothes and helps keep your bedroom floor nice and clear.
In the interest of minimizing clutter, make sure to avoid leaving used dishes in your bedroom. If you insist on using this space for eating, bring your dirty dishes to the kitchen posthaste. Leaving dirty dishes in your bedroom for extended periods is extremely unsanitary and highly conducive to clutter.
Buy a Spacious Nightstand
A spacious nightstand is another tool that can help stamp out bedroom-based clutter. Since many of us have items we like to keep within easy reach throughout the night, it's only fitting that you invest in a nightstand that's able to comfortably accommodate all of these items. The absence of a good nightstand often requires people to store essential nighttime items in places that require them to get out of bed to reach. On the flipside, having a spacious nightstand beside your bed ensures that any item you need during the overnight hours is readily accessible at a moment's notice. Again, if space is a limited resource, a wall-mounted nightstand is likely to serve you well.
Focus on Calming Colors when Painting
As any décor expert can attest, colors can have a tremendous impact on mood. Whereas loud colors set the mind abuzz, calming colors can make you feel at ease. With this in mind, limit yourself to calming colors when painting your bedroom. Soft grays, blues and whites can set a relaxing tone and help your sleeping space feel like a low-stress area.
Your bedroom should serve as a relaxing safe haven from the pressures of the outside world. Having a space in which you feel truly at peace can help relieve stress and ensure a better quality of sleep. Unfortunately, many bedrooms leave a lot to be desired in this area. If your bedroom doesn't elicit feelings of relaxation, there's no time like the present to get to the bottom of this issue. Employing the previously discussed measures will help turn your bedroom into a safe space everyone should have.