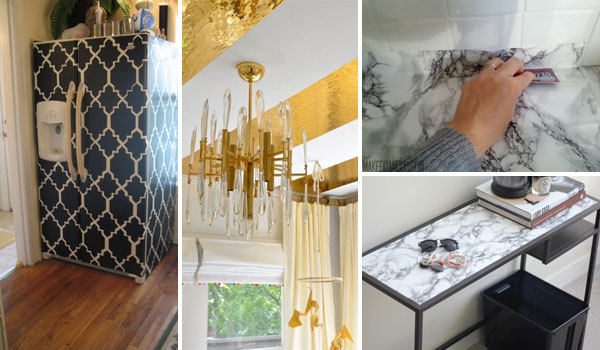 Contact paper, also called Vinyl, Stick back plastic or Wall decals is a kind of creative and budget-friendly material you could opt when you are planning to add a touch of style to your home or do a makeover in some area of your rental. It is inexpensive and comes in various colors and patterns, can be cut into whatever shape you want, so you can put it in any home decor project, from furniture makeovers to wall decor… Ready to give your home a new look? Have a look these contact paper hacks we've gathered for you.
1. It is a really cheap way to cover up an old ugly countertop.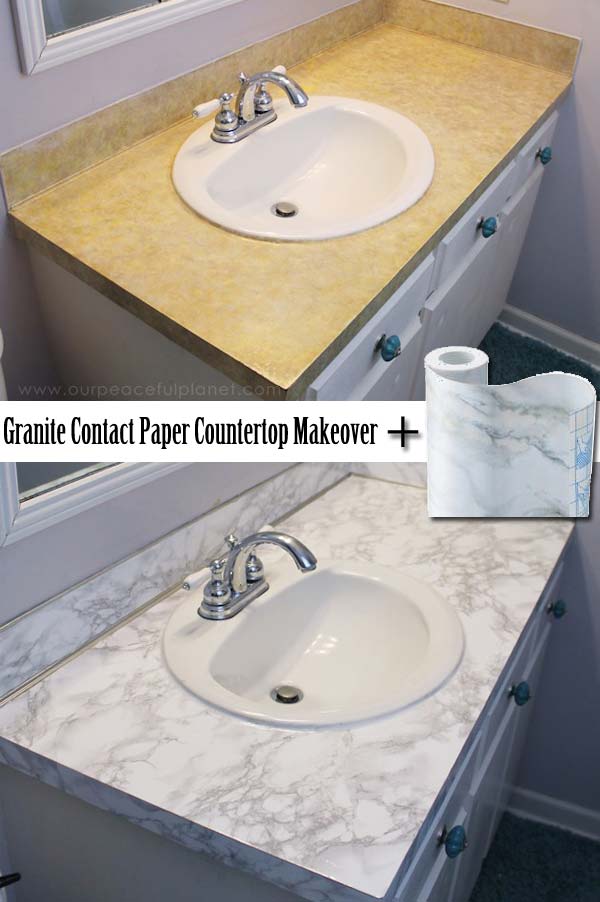 Get Tutorial here ====> craftyourhappiness.com
2. It is a perfect way to keep your refrigerator shelves clean and classy.

Source: amandathevirtuouswife.com & thepreppyleopard.wordpress.com & barntreeplace.com
3. Tired of your old black appliances? Refurbish them with stainless steel contact paper.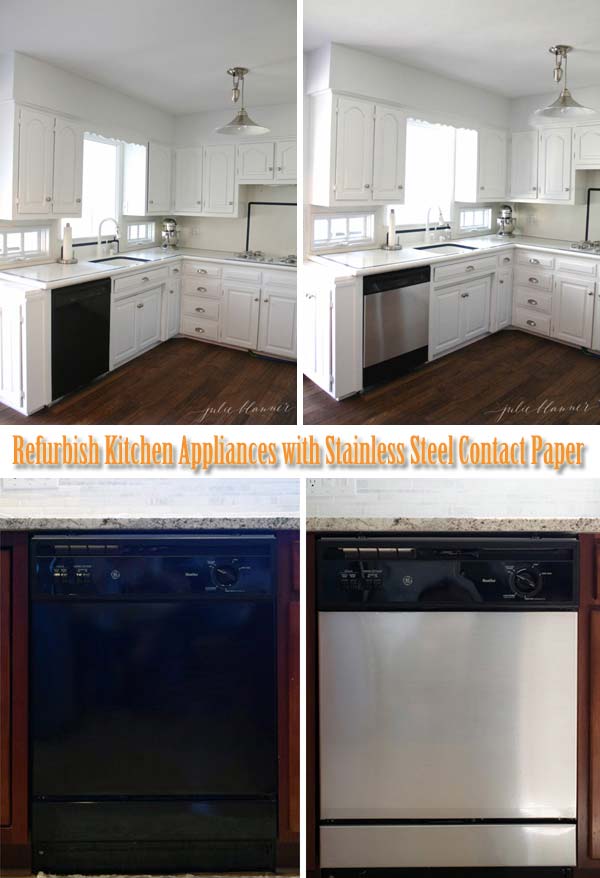 Get Tutorial here ====> julieblanner.com   Source: cravingsomecreativity.com
4. Decorate your ceiling with gold contact paper stripes.
Source: astoriedstyle.com
5. The marble look of an entryway tabletop will brighten up your entrance.

Get Tutorial here ====> abeautifulmess.com & sylandsam.com
6. Add a contact paper chalkboard to your refrigerator as a Memo Board.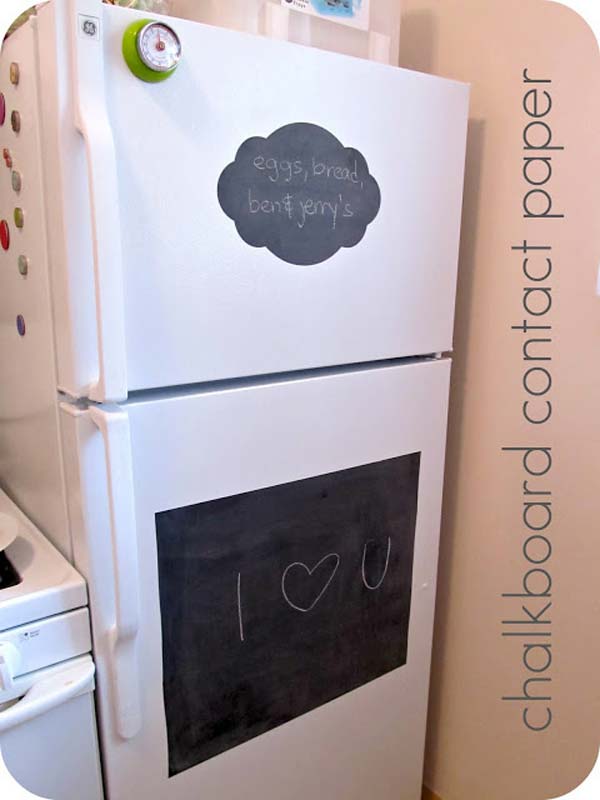 Source: homemadebyjill.blogspot.com
7. A great solution to add some privacy to your windows.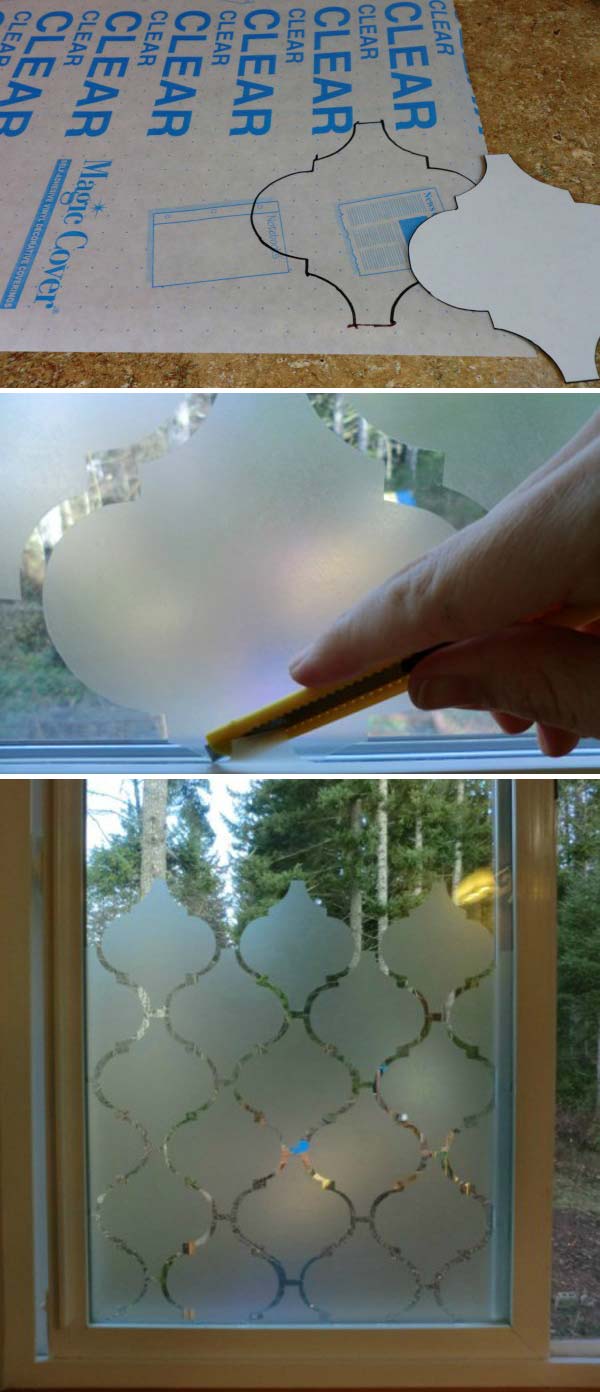 Get Tutorial here ====> thriftyfun.com
8. Use contact paper comes in marble pattern to update your kitchen countertop.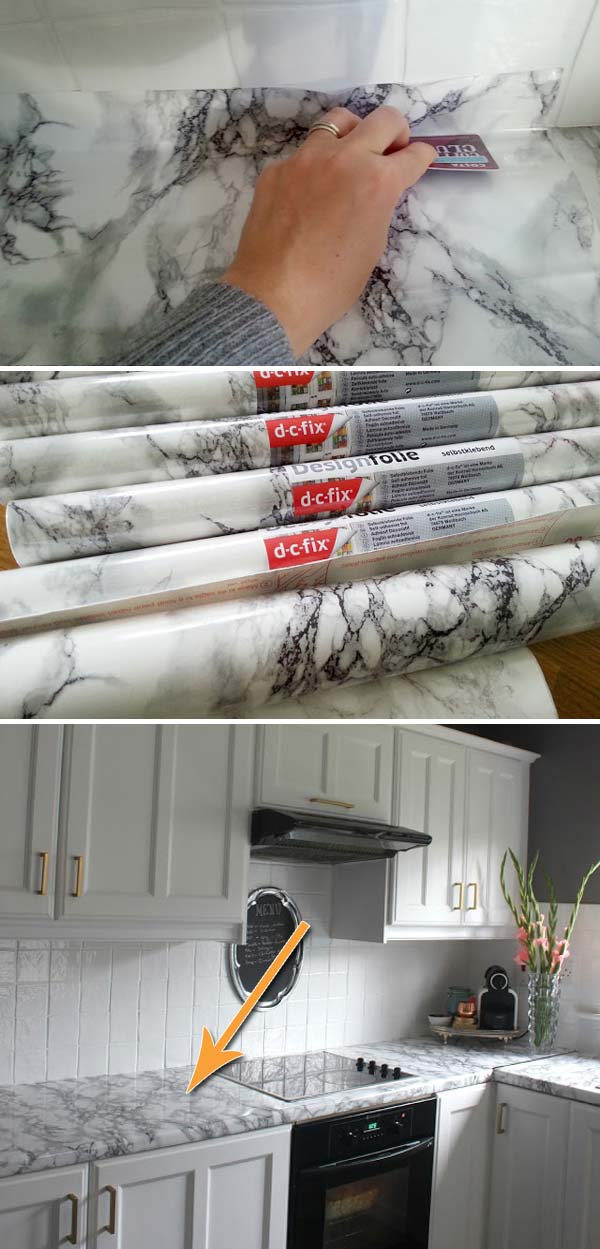 Get Tutorial here ====> makedoanddiy.com
9. Use strips of contact paper to reinvent your vanity.

Get Tutorial here ====> oneprojectcloser.com
10. A feature DIY contact paper stripe wall doesn't have to be painted.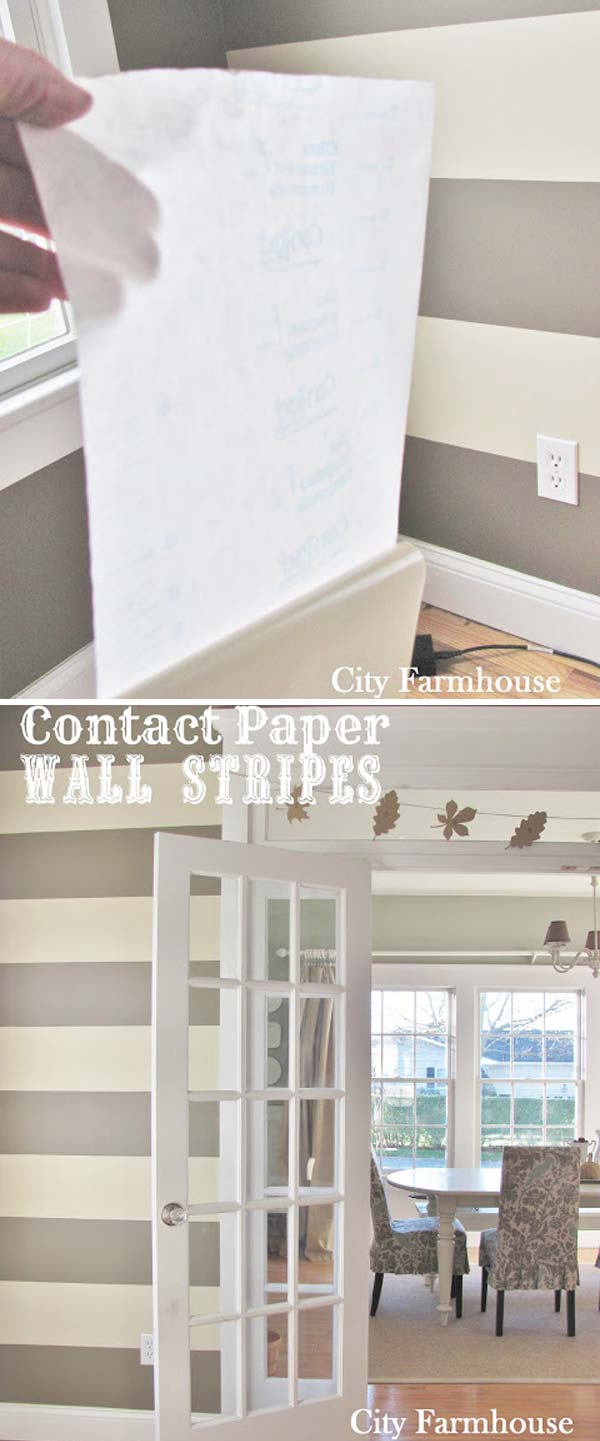 Get Tutorial here ====> cityfarmhouse.com
11. Make an eye-catching look to your kitchen toe kick.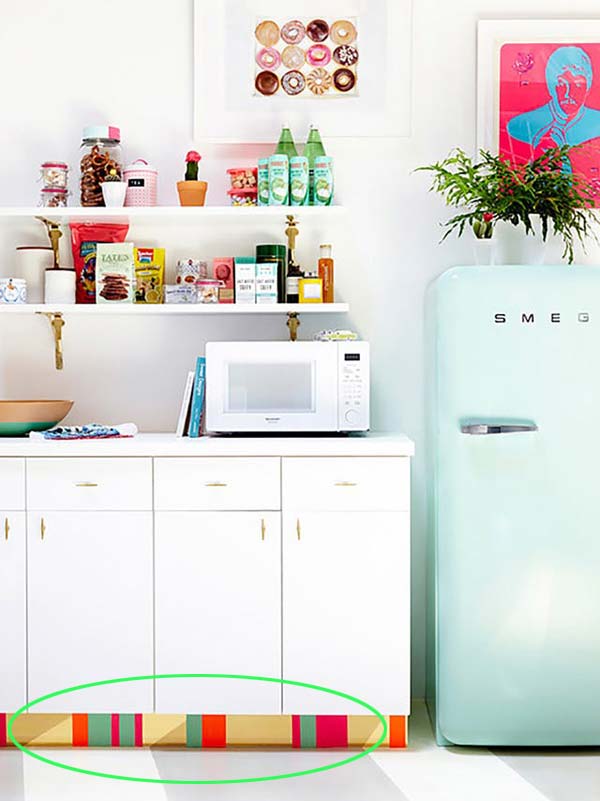 Source: ohjoy.blogs.com
12. A complete chalk board wall provides a fresh and entertaining canvas for kids.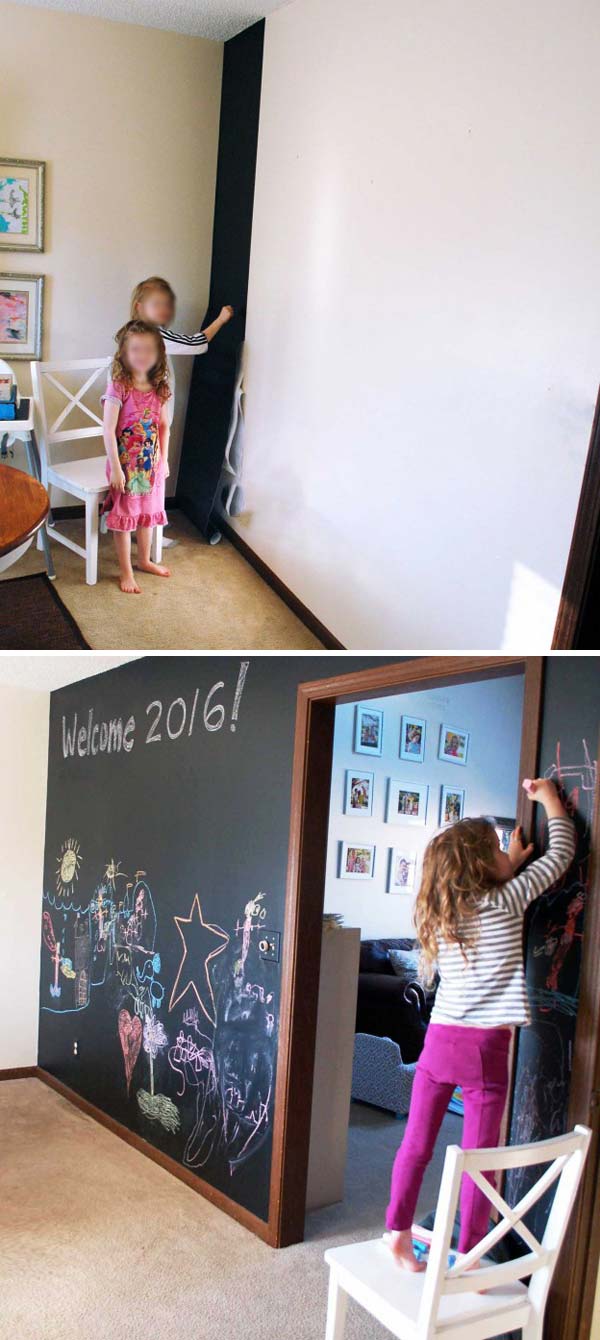 Source: underthesnowballtree.com
13. Line the Inside of Pantry Doors.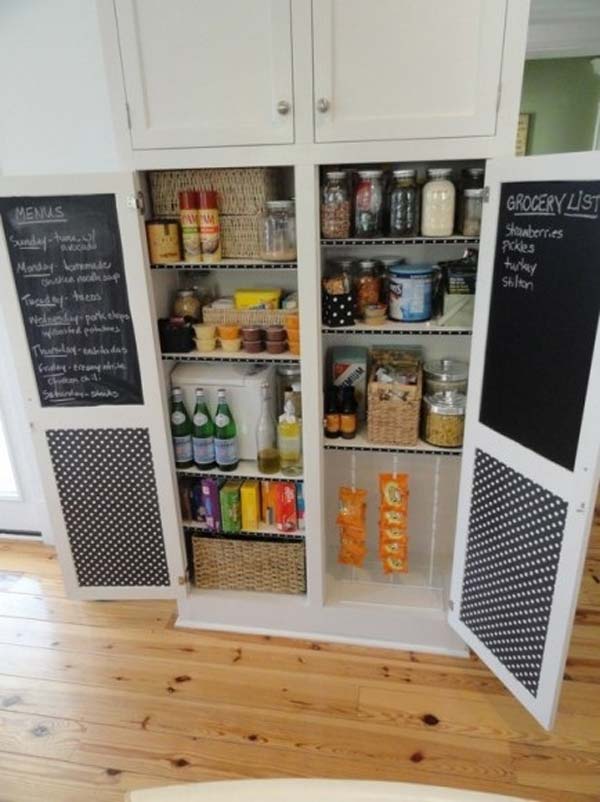 Source Unknown.
14. Create a pattern on one bathroom wall by cutting some circular dots from contact paper.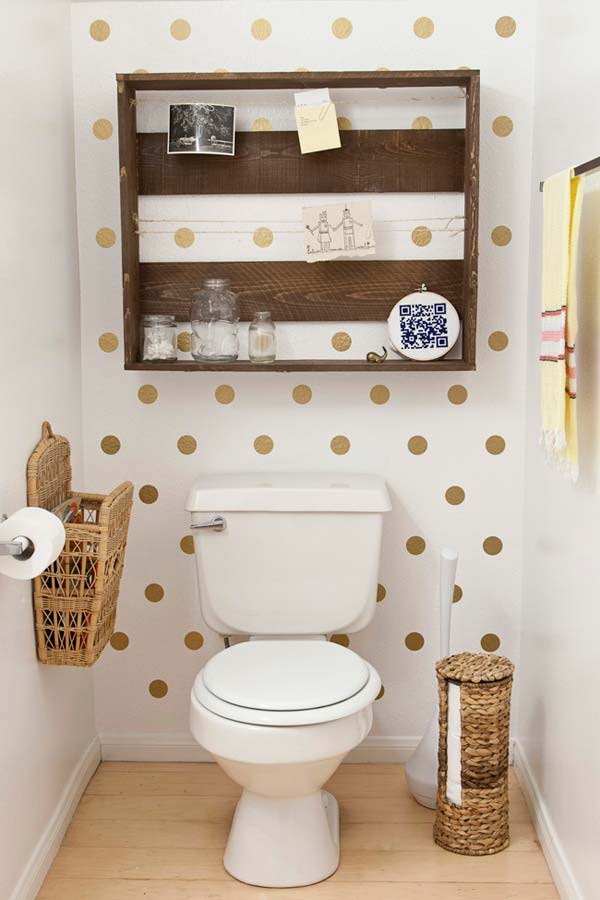 Source: insideways.com
15. Do a contact paper fridge makeover.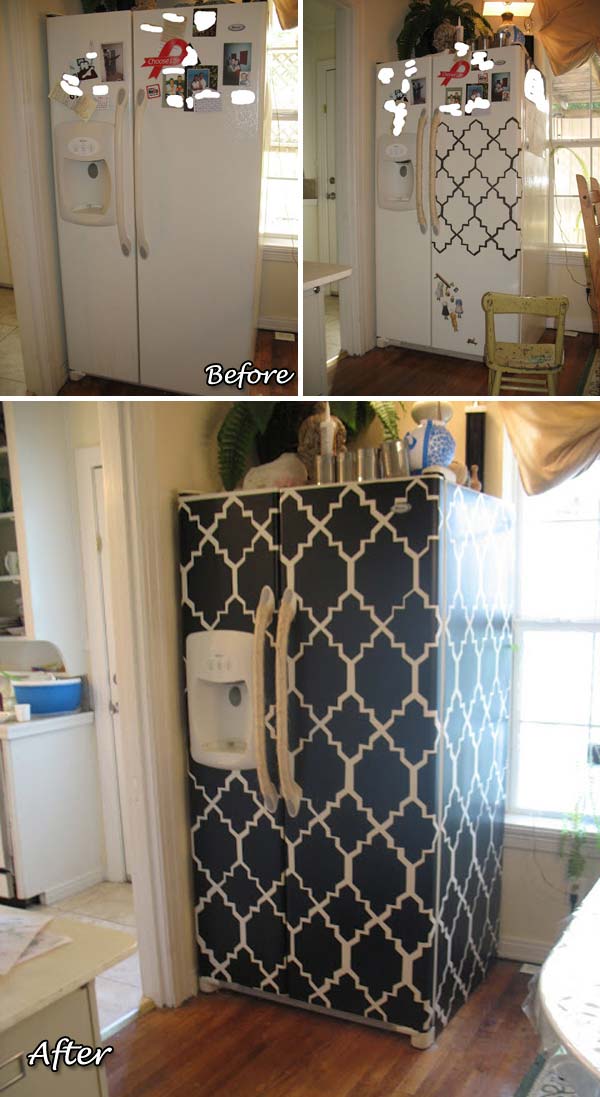 Get Tutorial here ====> shoestringpavilion.blogspot.com
16. Make your own marble fireplace hearth.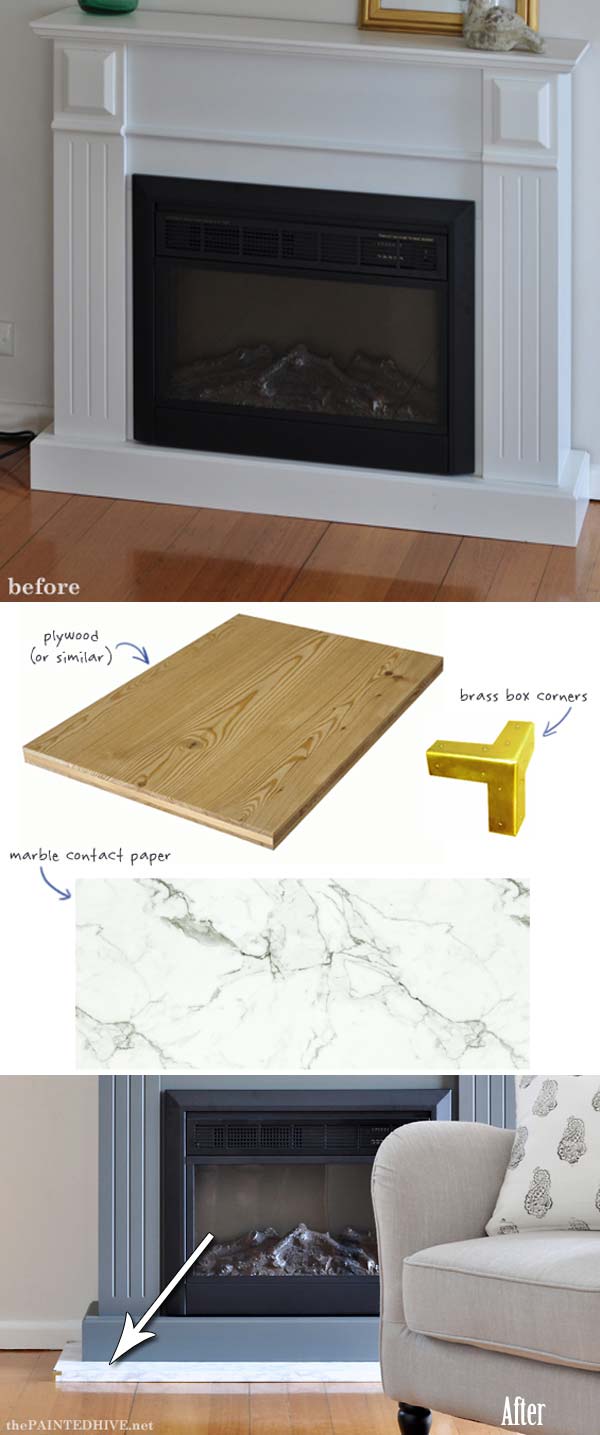 Get Tutorial here ====> thepaintedhive.net
17. Transform a diaper box.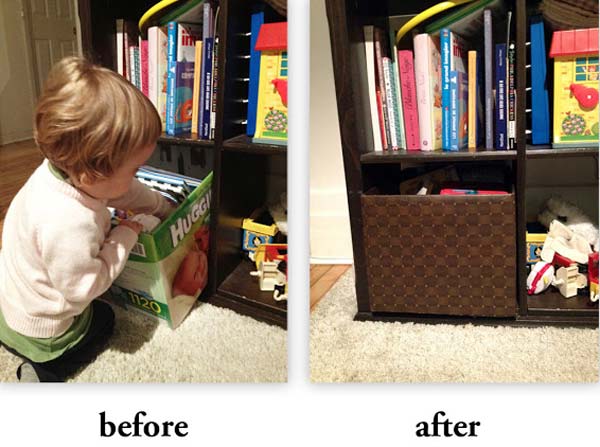 Source: ohboyanotherupcycle.blogspot.com
18. Cover up the inside of the cabinet door with stylish geometric patterned contact paper.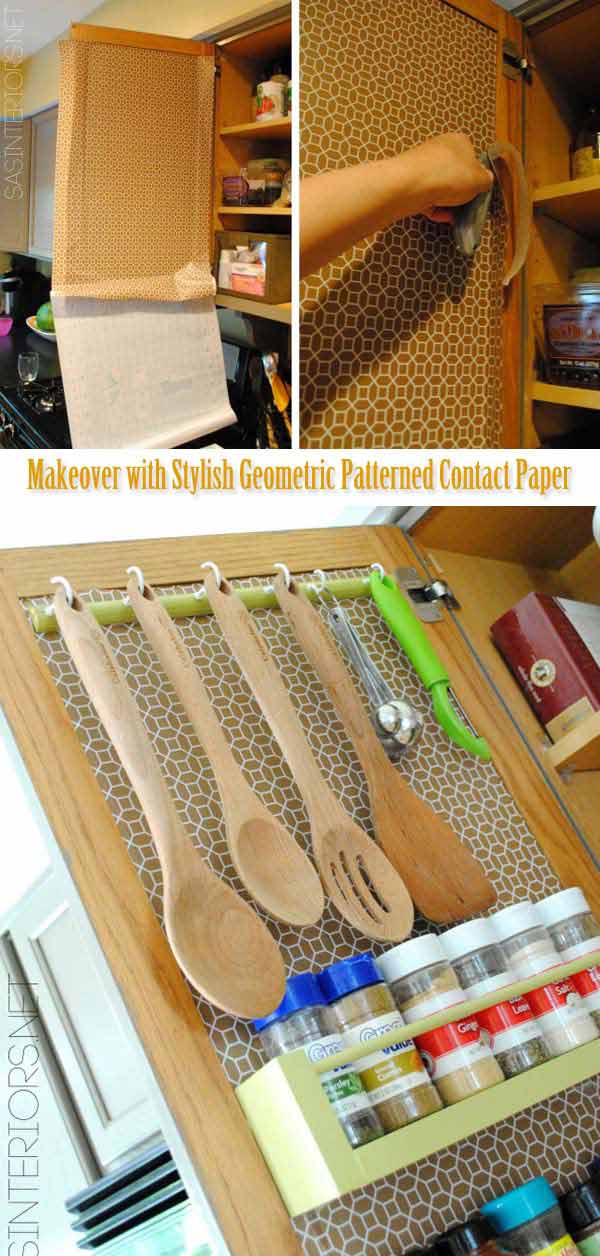 Get Tutorial here ====> jennaburger.com
19. Fabulous way to give a new look for Washer & Dryer.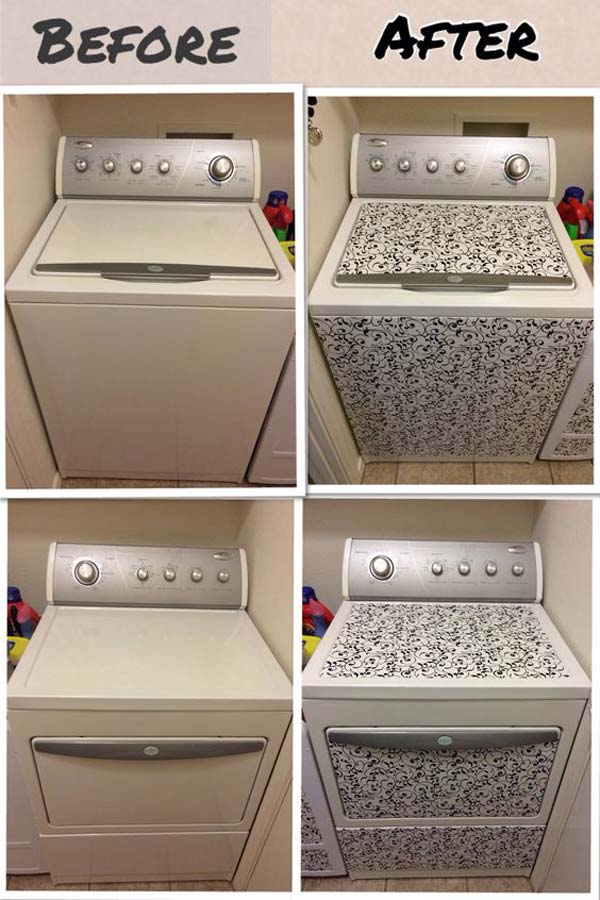 Source Unknown.
20. Quick and painless backsplash makeover has metallic stainless steel looking.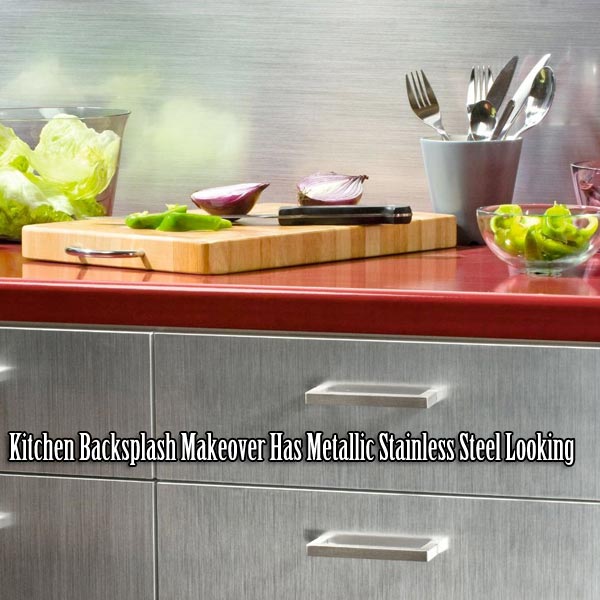 Source: amazon.com
Or another style: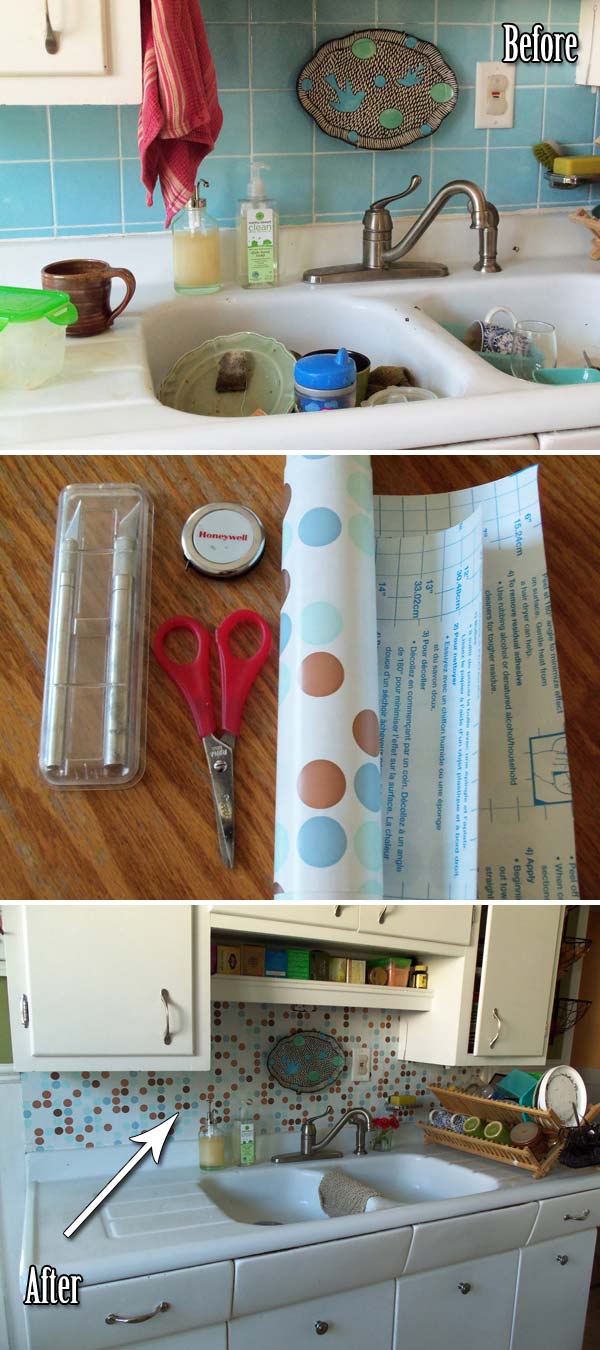 Get Tutorial here ====> remodelaholic.com
21. Spice up your blank TV wall.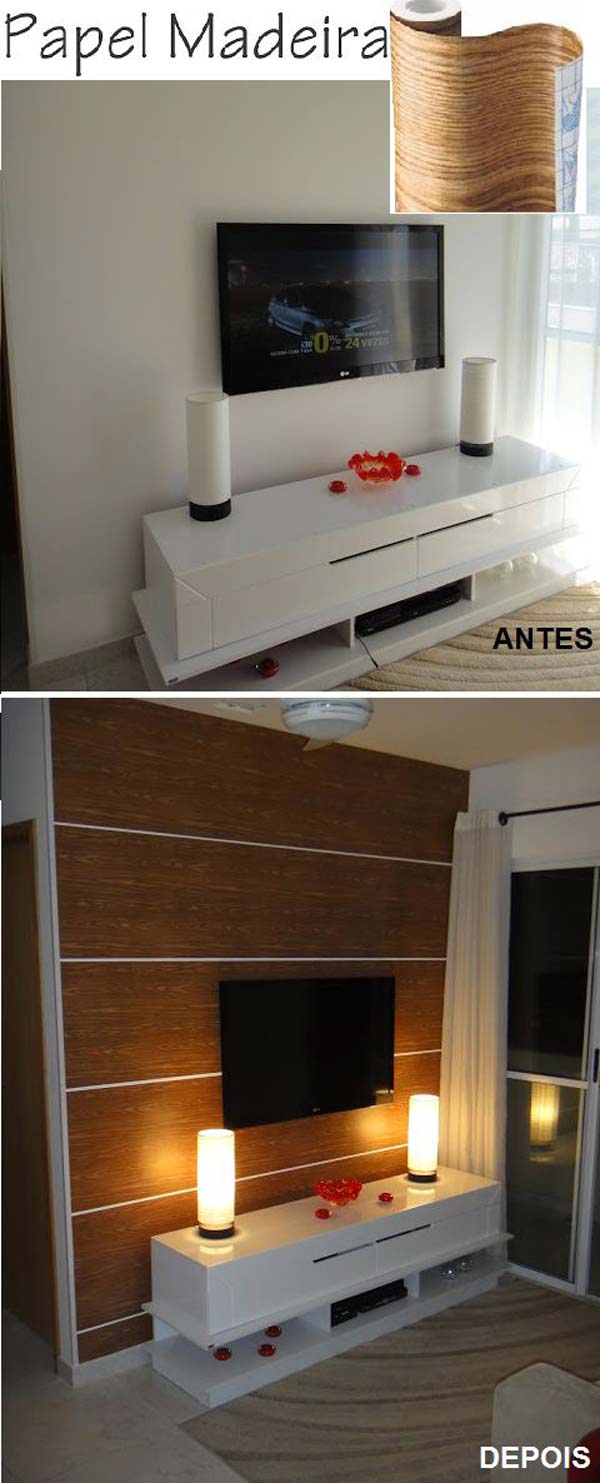 Source Unknown.
22. Decorate the front of a dresser and add a splash of style to your room.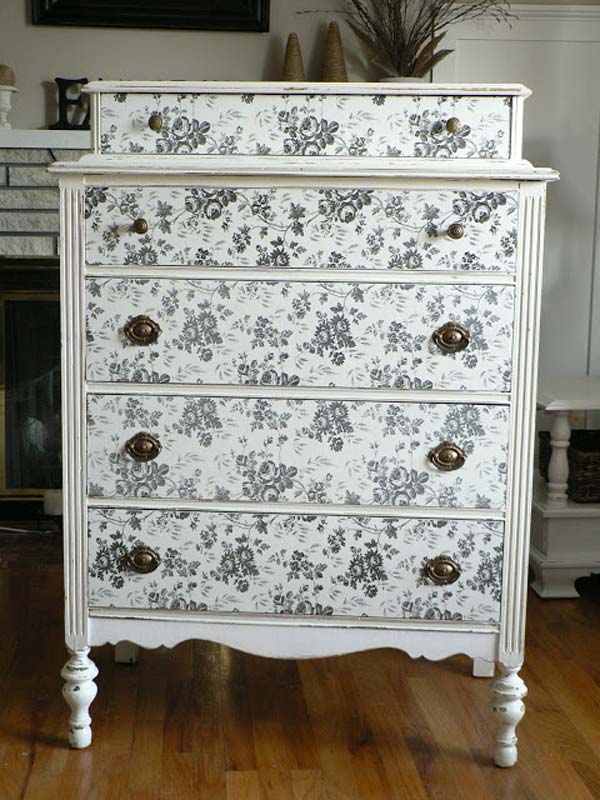 Source: mysweetsavannahblog.com