75 Fabulous, Elegant, and Cute Spring Mantel Decor Ideas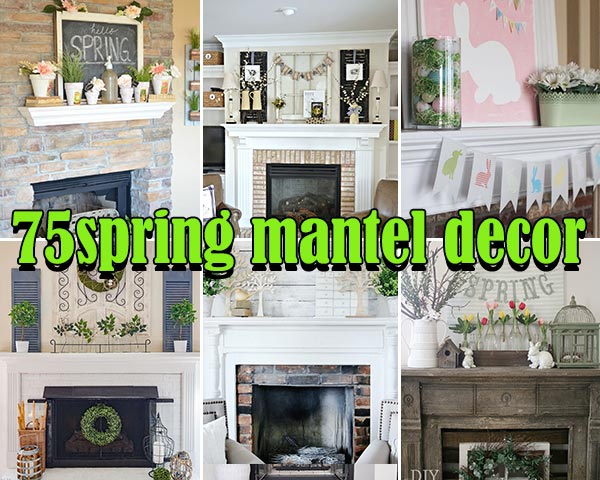 The arrival of spring is the best time to arrange and display your spring mantel decor. It is always advisable to choose the best decoration ideas to showcase the unparalleled ecstasy of the colorful spring. Here are 75 fabulous, elegant, and cute spring mantel decor ideas to choose from. These ideas let you add some splashes of color to the mantel and celebrate the season in the best way possible.
These wonderful spring mantel decor ideas will keep your creative juices flowing. They also offer excellent fun and excitement. Further, these 75 ideas capture the true essence of the spring season to make you feel energetic and vibrant.
1. Simple and Elegant Splashes of Color
This simple spring mantel decor idea teaches you how to combine green, purple, white, and pink colors with dark grey-painted bricks.
via: Happy Housie
2. Peony Wreath Spring Mantel Decor on a Faux Window Arch
Learn how to make a peony wreath using wood tones, olive buckets, chipped wood paint, and pink blooms.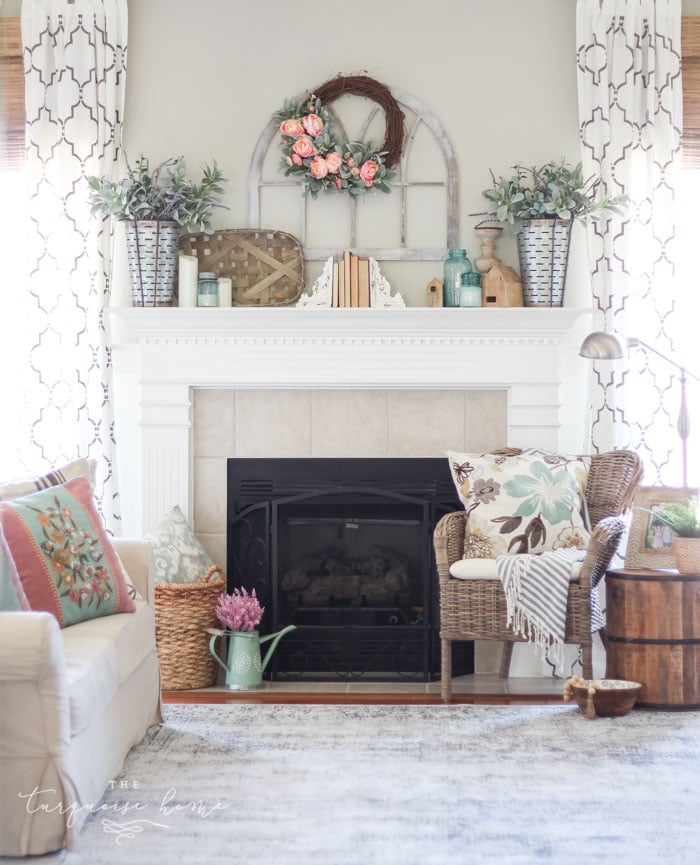 3. Modern Farm House Design
Make an elegant decor with a shiplap background using riser blocks, trees, and birds of natural colors.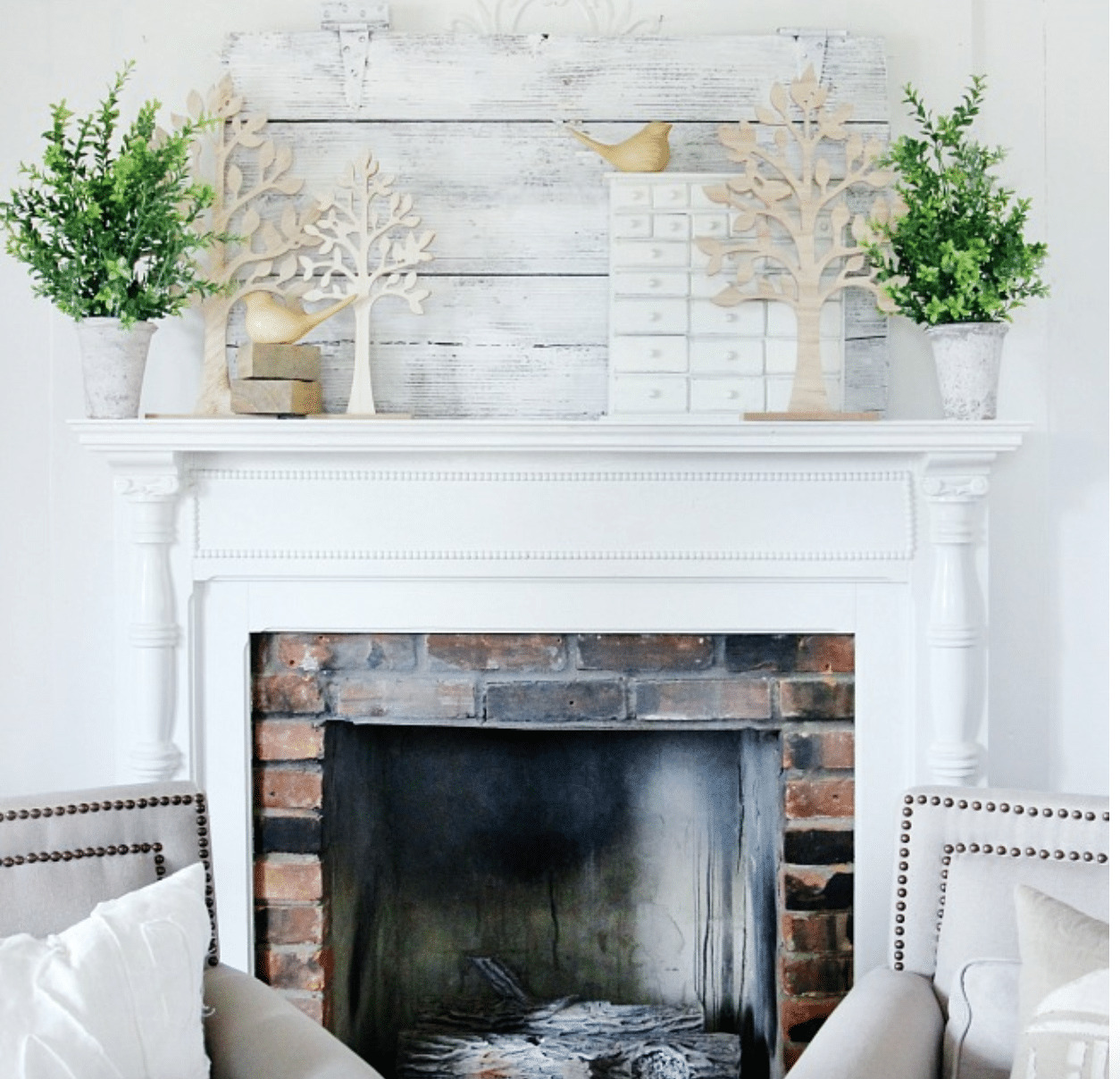 via: Thistlewood Farms
4. Classic Mantel Decor
Build a vintage mantel design with flower pots containing peachy pink, green, and white florals.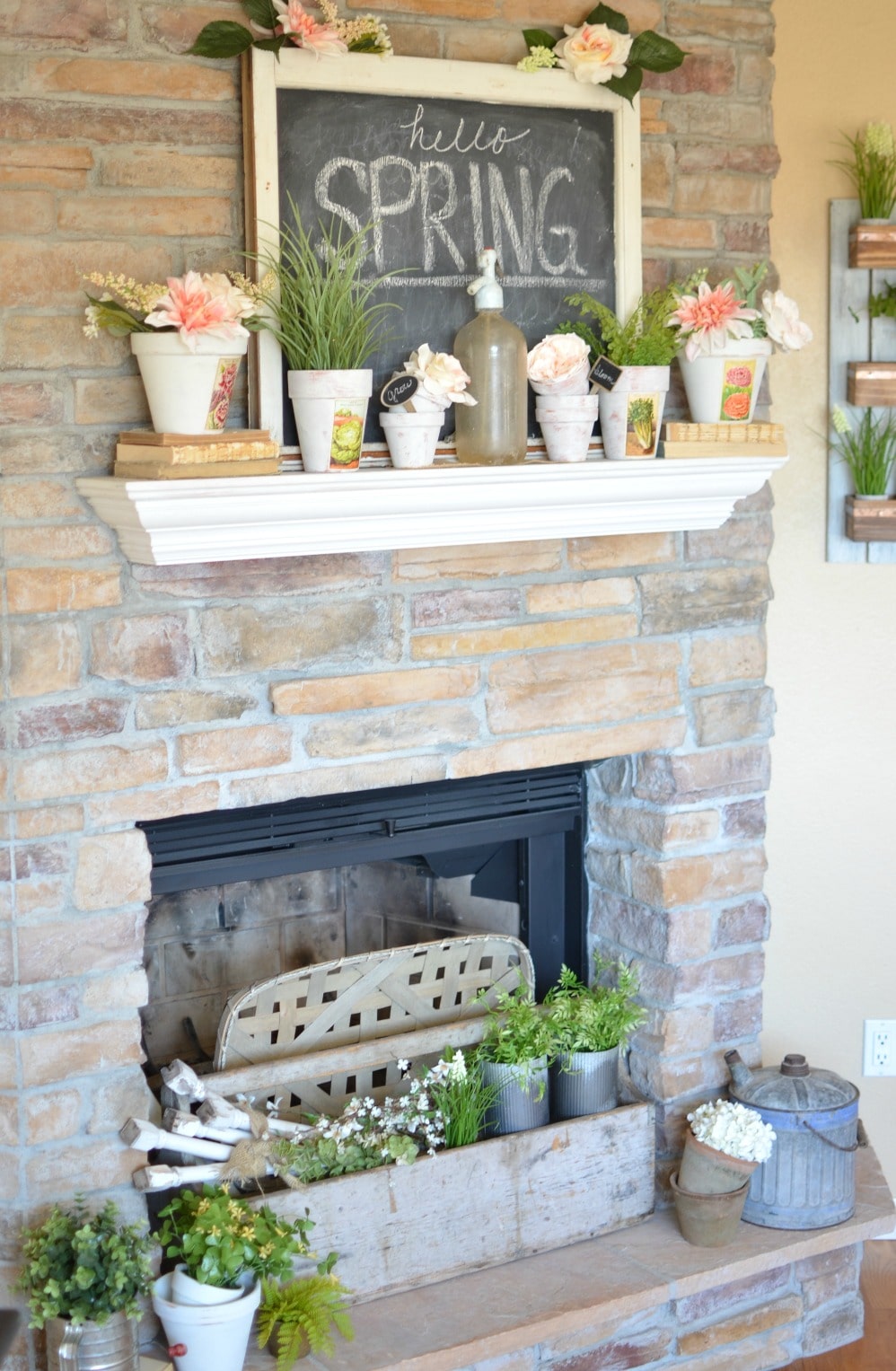 via: Little Vintage Nest
5. Ultra-Modern and Futuristic Spring Mantel Decor
Make a harmonious, futuristic mantel design that decorates a mantel beautifully.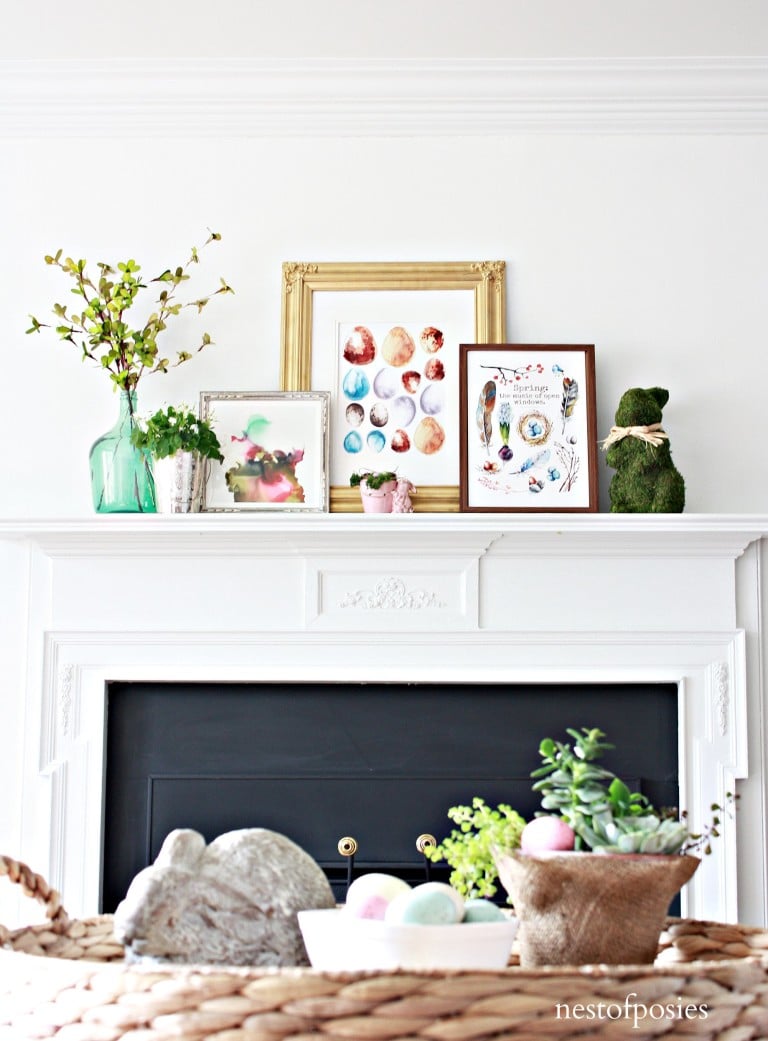 via Nest of Posies
6. A Farmhouse Chic Mantel
Use a lantern, potted mini box woods, pitchers with varying sizes, and a white hanging wall clock with black hour hands and letters to create a mantel design with a farmhouse touch.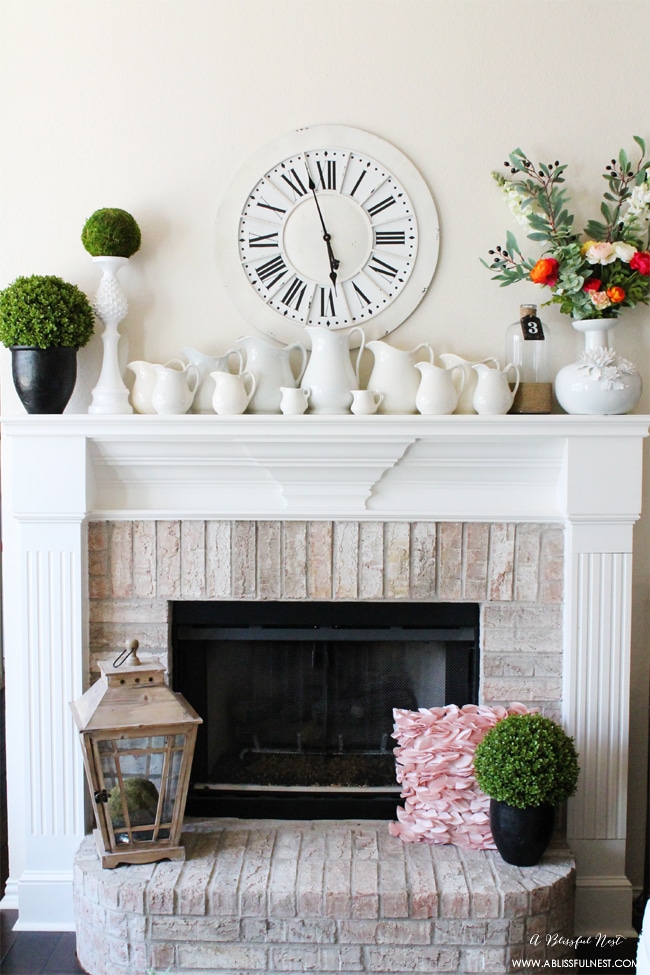 via: A Blissful Nest
7. Pale Pink Bunny Mantel Decor
This spring mantel decor idea teaches you how to make a pretty and cute design with a pale pink bunny in the background.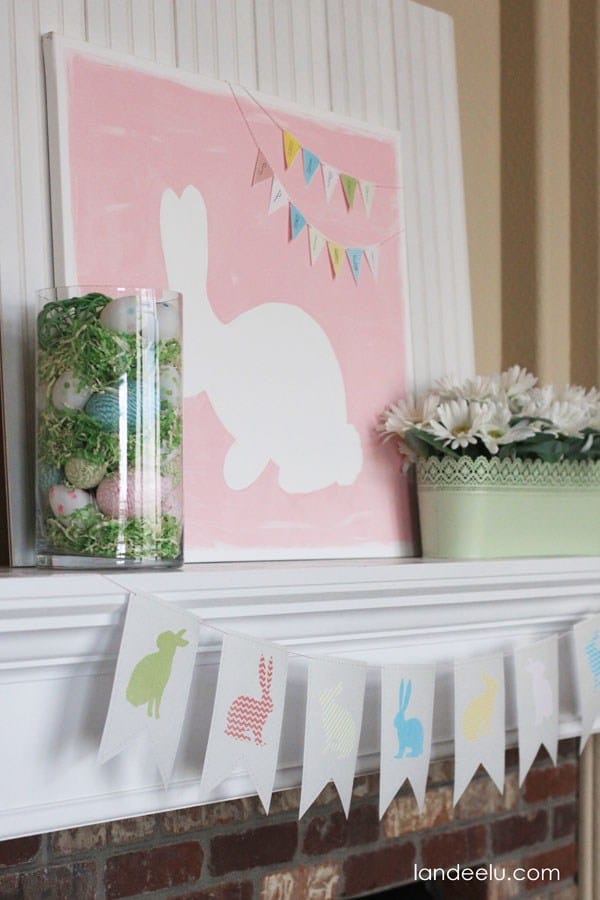 via: Landeelu
8. A Mantel with Spring Time Flowers
Learn how to decorate a stone fireplace using daffodils and tulips with a rustic touch.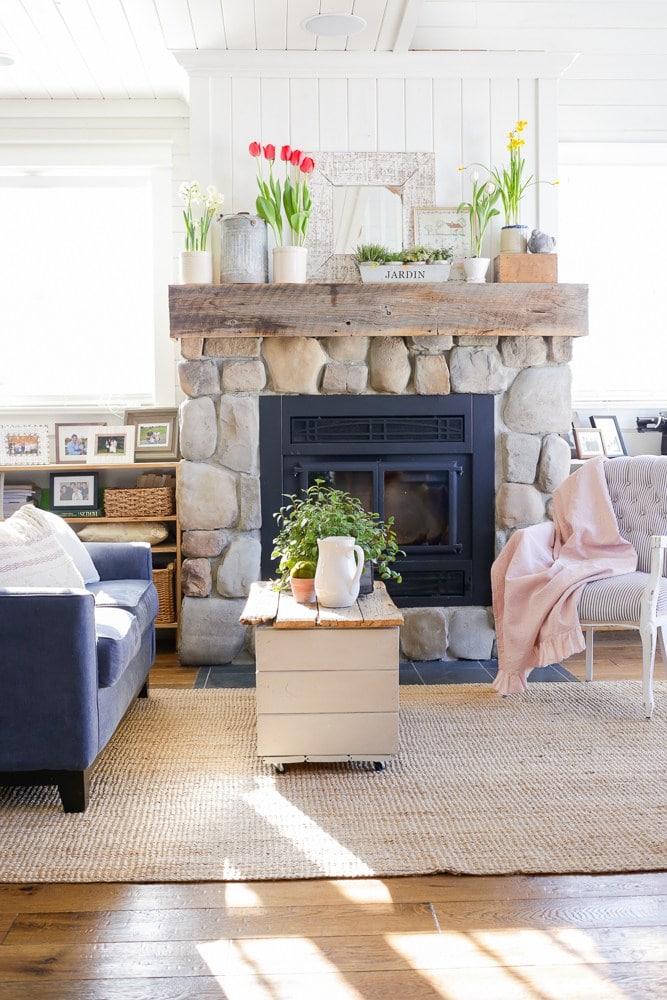 via: Mamas Dance
9. Stylish and Colorful Spring Mantel Decor
This decor idea discusses the task of blending bright tulips, an antique birdcage, a wooden birdhouse, and white bunnies to make a stylish and colorful fireplace.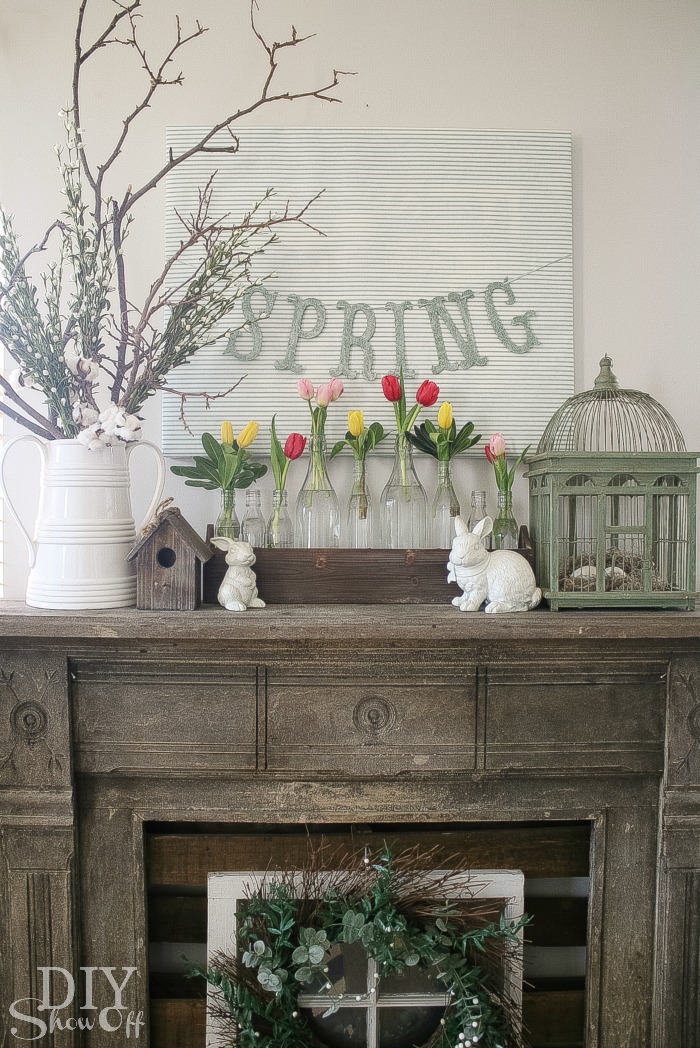 via: DIY Show Off
10. Minimalistic Mantel Design
Use a circle mirror, eucalyptus leaves, antlers, and a few other pieces to create a fire mantel with a minimalistic design.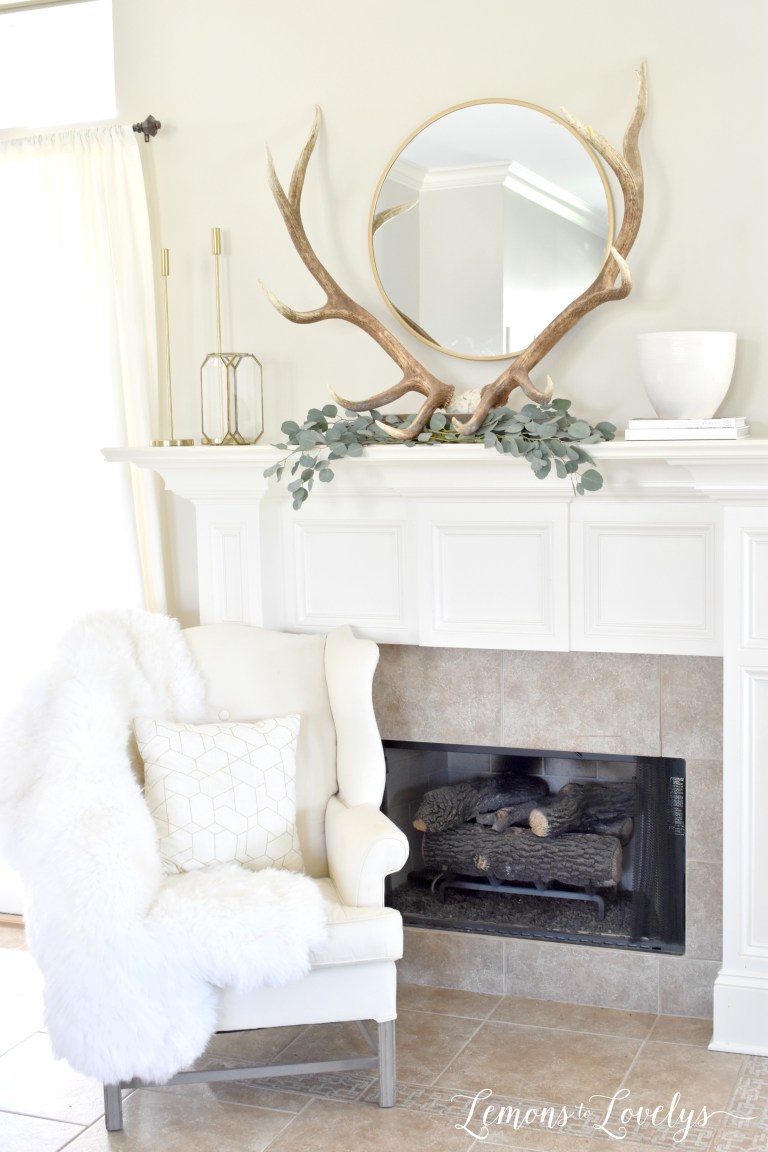 via: Marci Schneider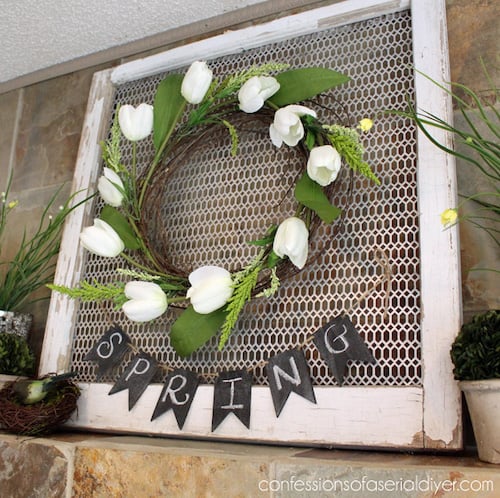 Rustic Spring Mantel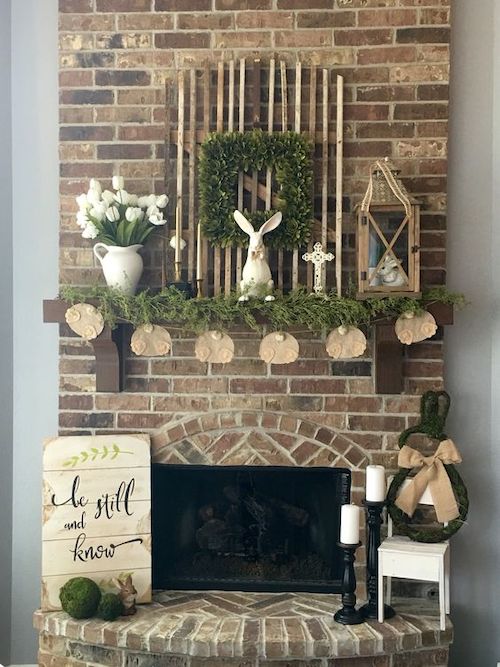 Natural Greenery Spring Mantel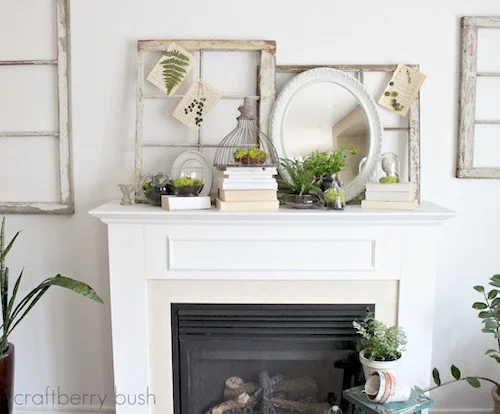 Spring mantel design with some glass bottles, some faux boxwood and other greenery, shutters, and lanterns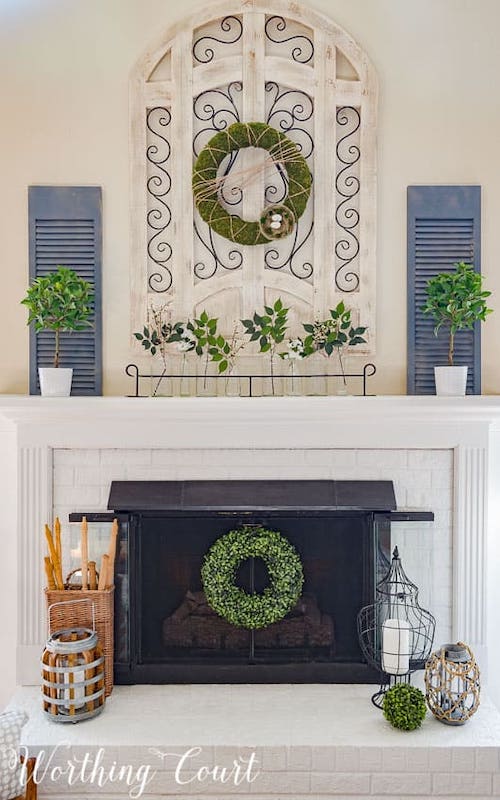 via: Worthing Court
Spring mantel design with various neutral shades.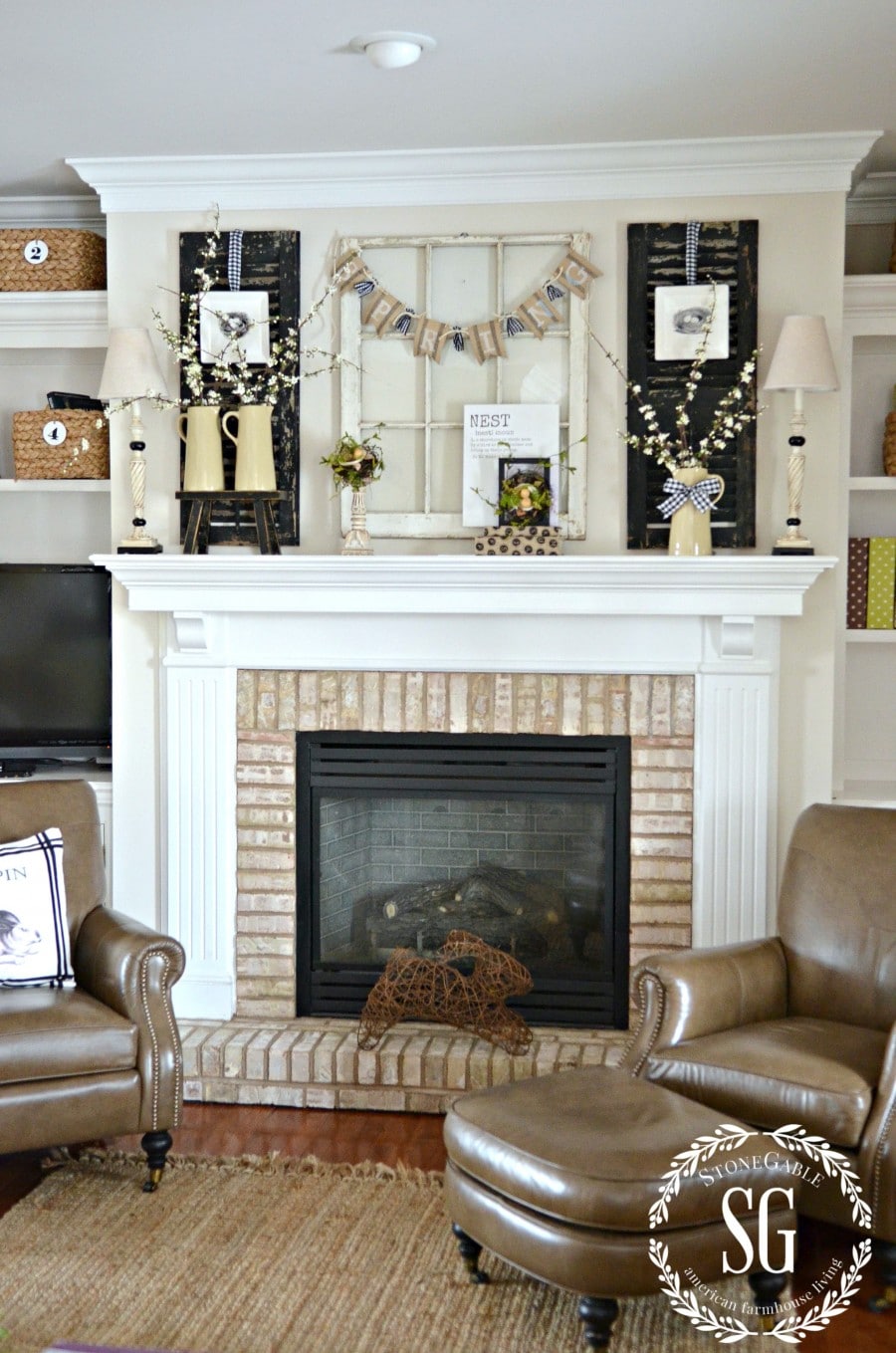 via: Stone Gable
The placement of mini faux boxwood wreaths and faux Dogwood blooms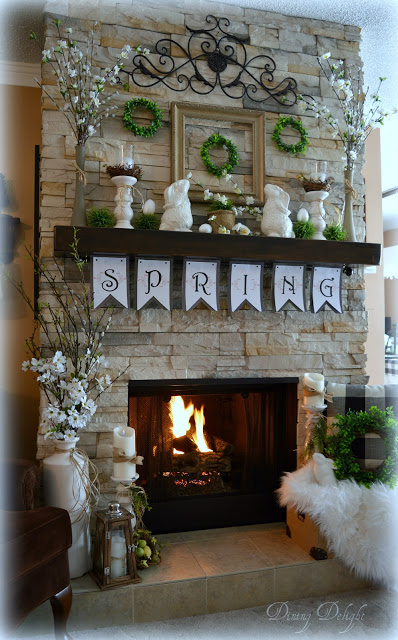 via: Dining Delight
This mantel decor with a lot of spring elements such as green mums, white hydrangeas, a butterfly painting, and a cement bunny.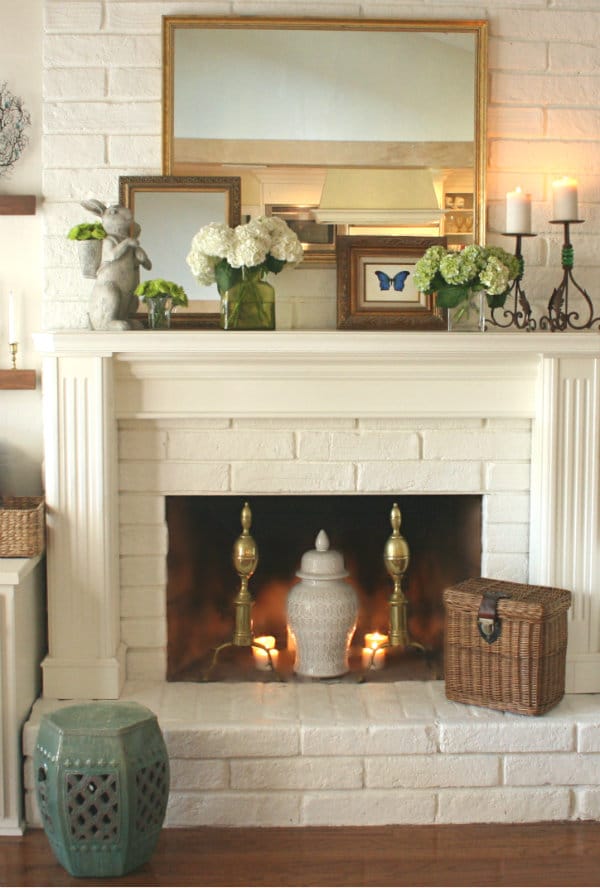 The stone fireplace with beautiful vintage clock face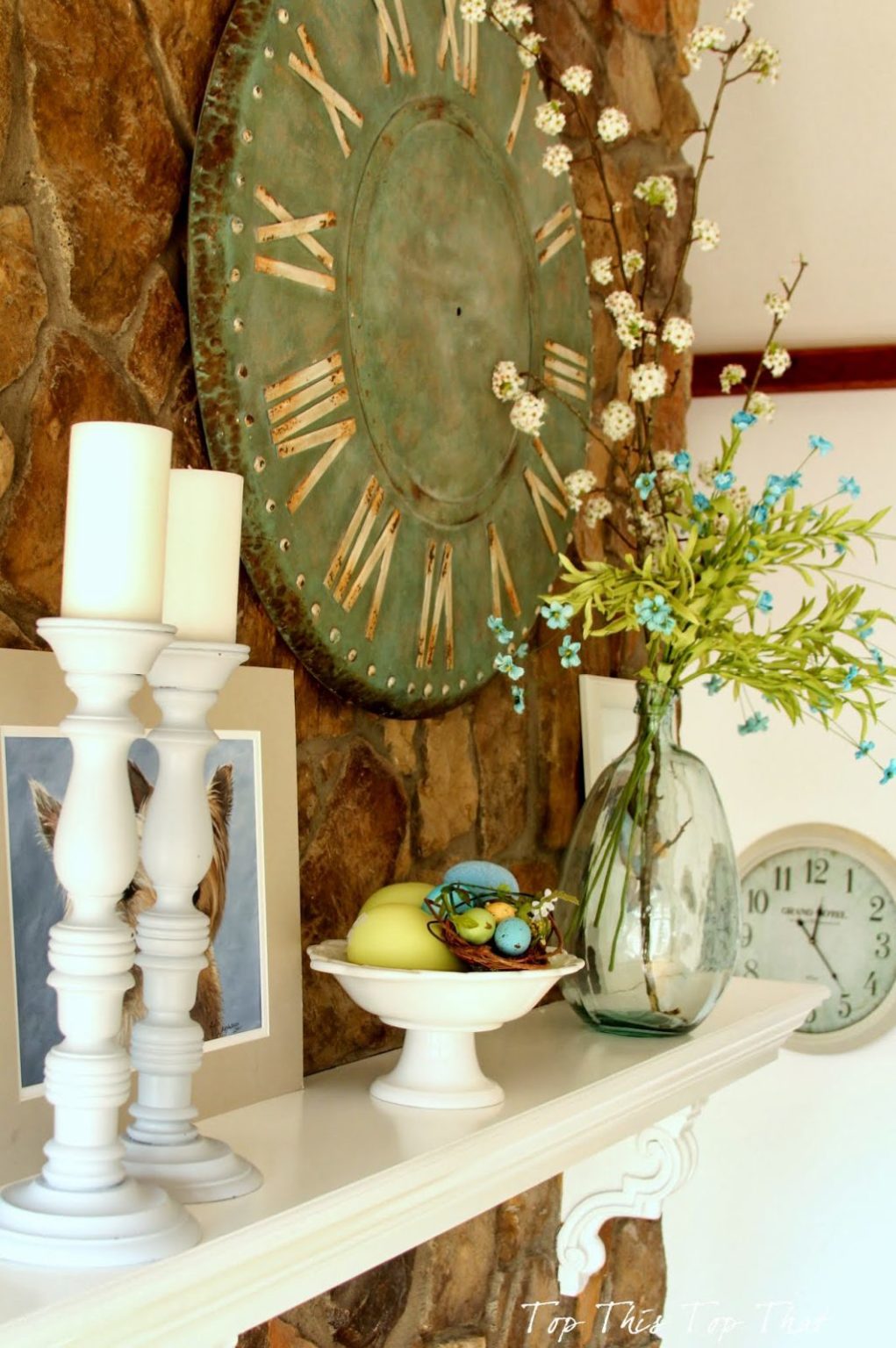 via: Duke Manor Farm
via: Savvy Southern Style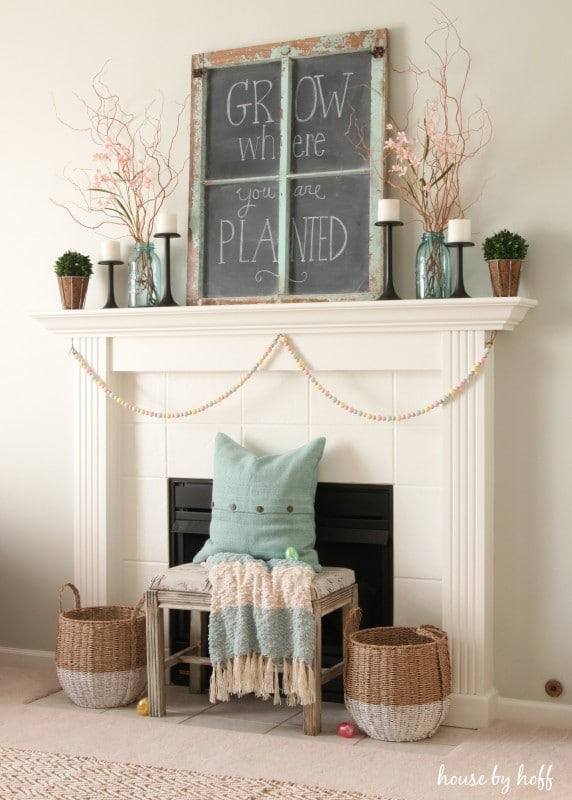 via: House By Hoff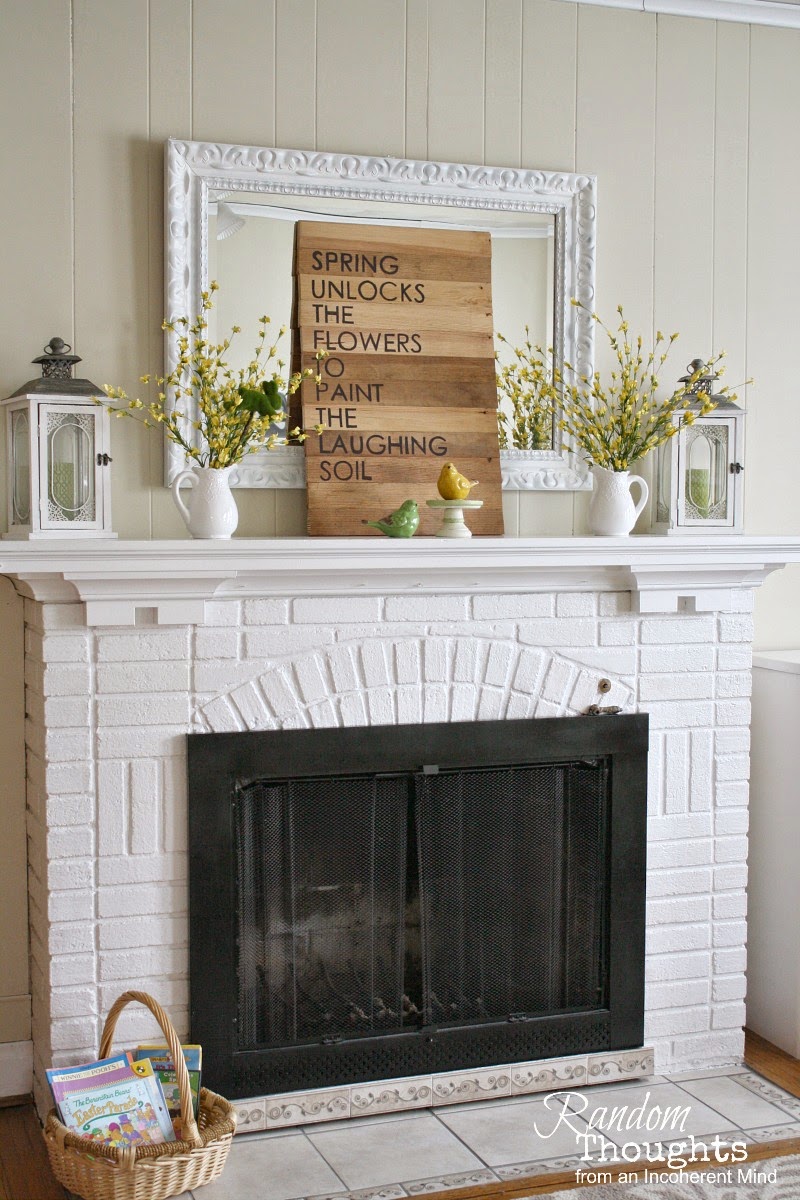 via: Random Thoughts Home
White tulip wreath at the center of this white-themed mantel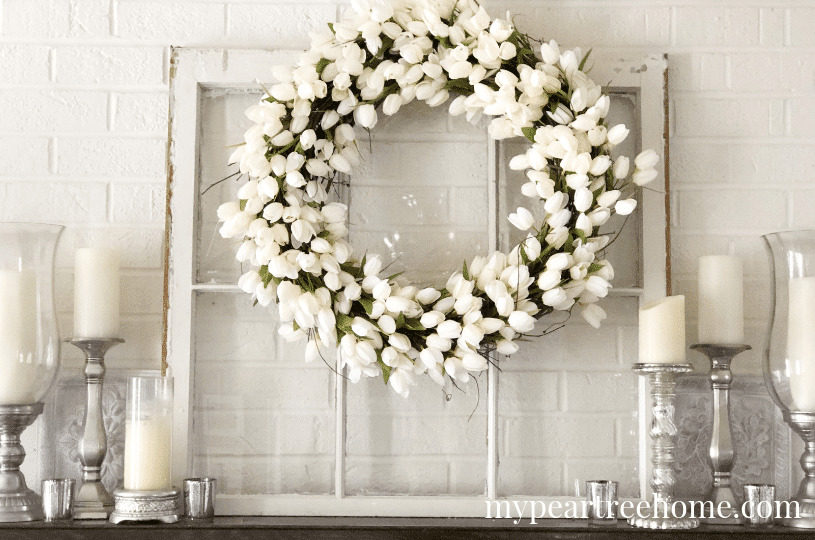 via: My Pear Tree Home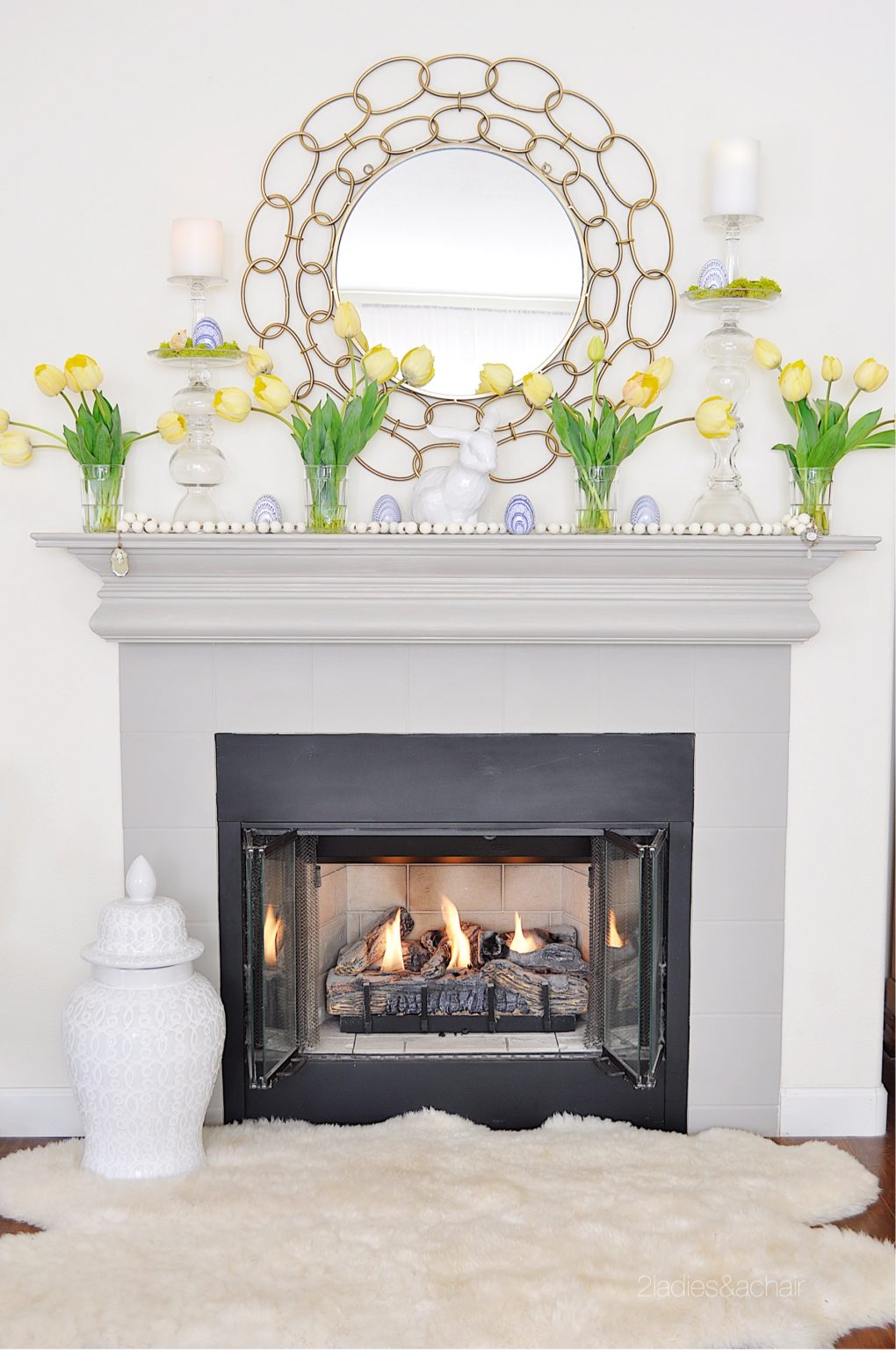 via: 2 Ladies and a Chair