17 Creative Tan House Color Schemes to Inspire You
Do you own a house with a tan color? When we think of tan, we might picture a color like sand or a really light kind of brown. However, tan can cover a wider range than just those ideas. It's essential not to mix up tan with similar colors like beige, greige, taupe, khaki, or even some shades that are almost white.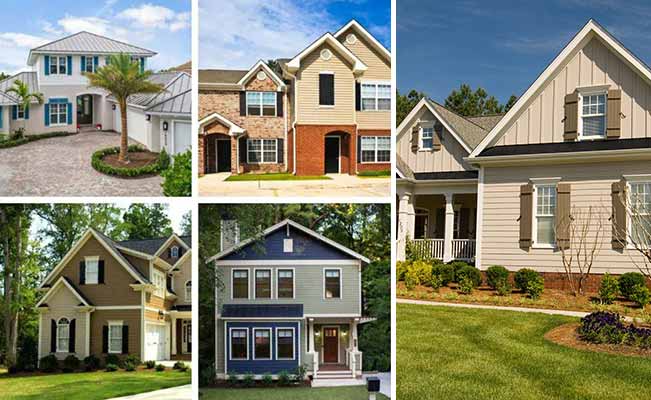 Tan and beige are quite alike, and they both have a very light, creamy brown shade. Beige tends to have a bit more of a pink or fleshy touch, while tan has more noticeable brown tones. However, both of these colors are known as neutral tones, which means they go well with other colors.
There are other things to think about before you decide on your paint color, such as the color of the roof and any extra details on your house. Keep reading to learn more about these considerations and get some ideas for your painting project.
1. Neutral and Natural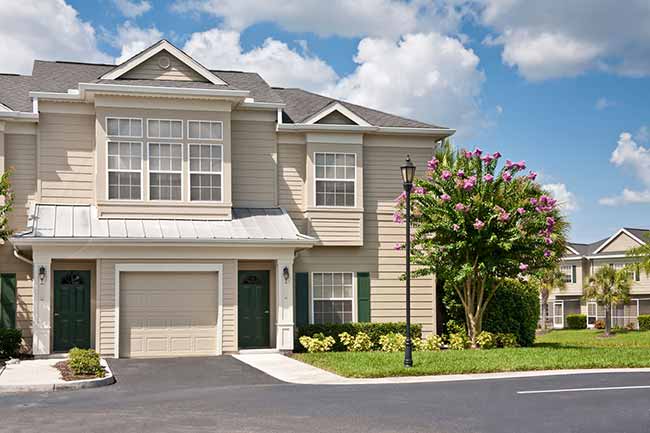 This house is dressed in tan, white, and green colors. Dark green doors and shutters blend nicely with the green plants in the garden.
White lines on the house define its shape, and the black roof stands out. A white patch above the garage breaks up the tan walls.
2. Lovely Shades of Tan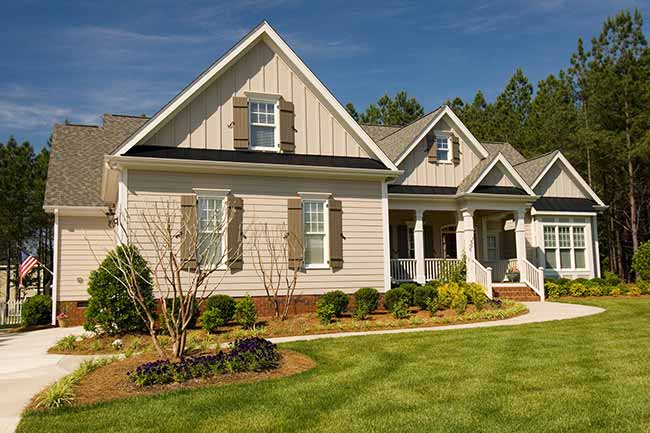 This house uses different tan colors to create an interesting look with depth.
It has a dark brown roof, medium brown shutters, rich brown stone at the bottom, and brown mulch, all playing off the main beige color.
White trim outlines the house's structure and adds contrast to the brown and tan tones.
3. Forest Green, Tan, and White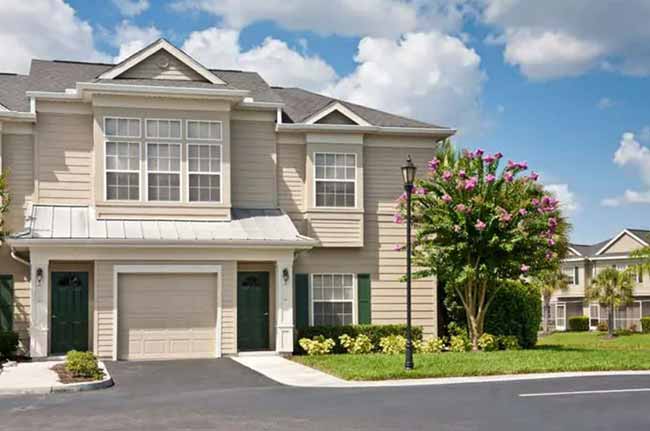 Different colors can make a house look great or make it look boring.
The green doors and window shutters stand out against the tan walls, making them look nice.
4. Cozy Brown and White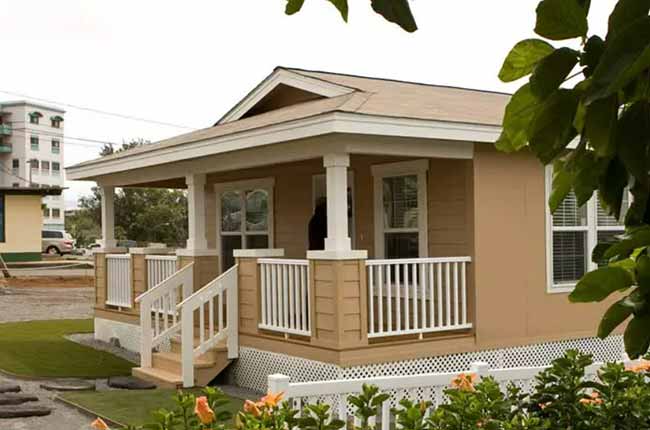 A deeper tan color is a nice contrast to the white trim. The light brown roof keeps the house from feeling heavy. This is a good example of using two colors.  via Fabmac Homes
5. Black and Painted Brick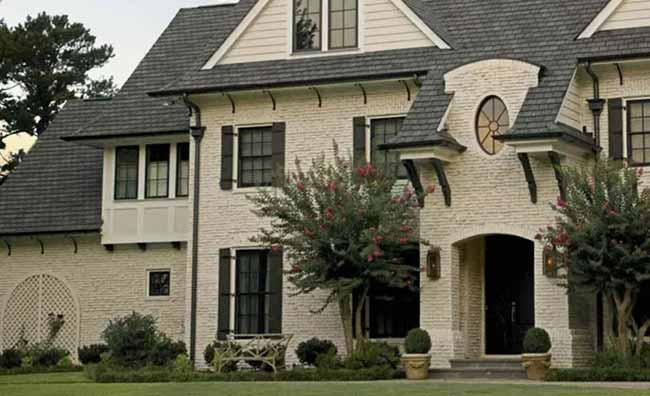 Painting brick is easier now. This lets you use modern colors on an old house.
A traditional home with old influences looks more modern with tan and black.  via J Steven Kemp Architect
6. Tan, Basic Black, and White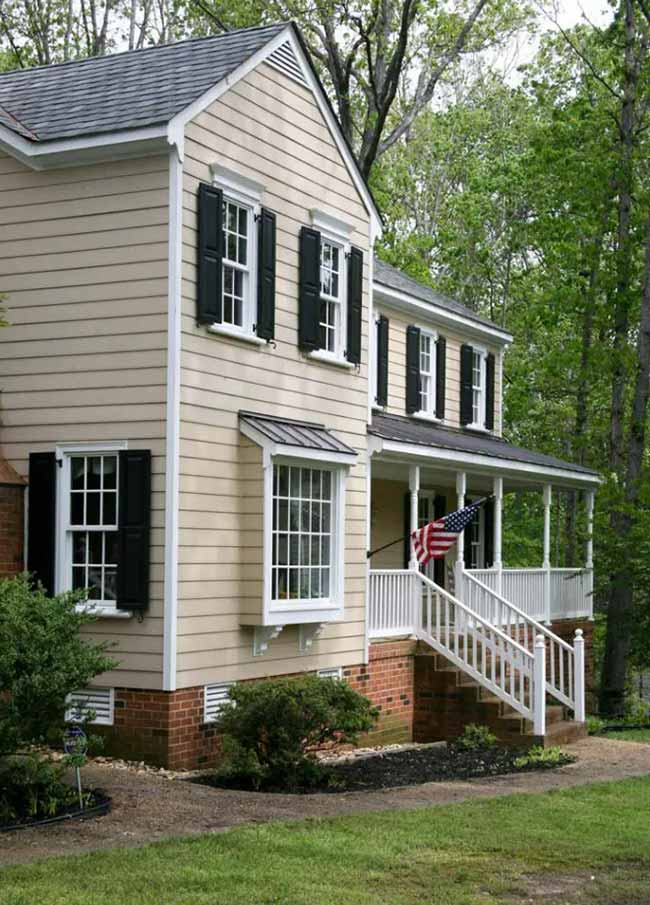 White trim and black shutters make any paint color look good. The tan sits on reddish brown bricks, making it look even better.  via Jacobs Ladder Siding
7. Tan and White on Mediterranean Style Home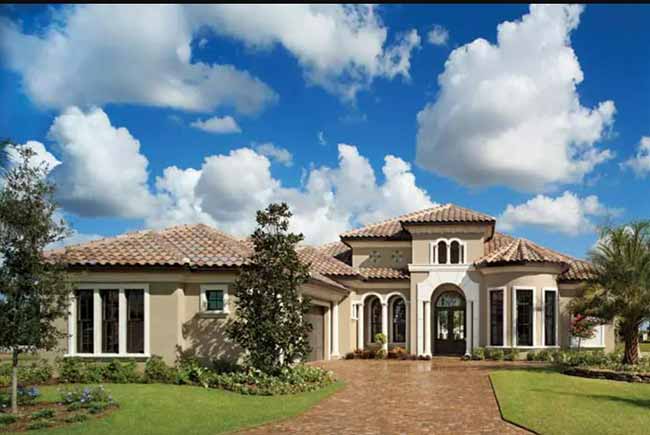 The brown tan looks good with the terracotta roof tiles and red driveway. Tall green trees and a green lawn bring out the yellow tones in the Mediterranean style. via AR Homes
8. Brown, Black, and Tan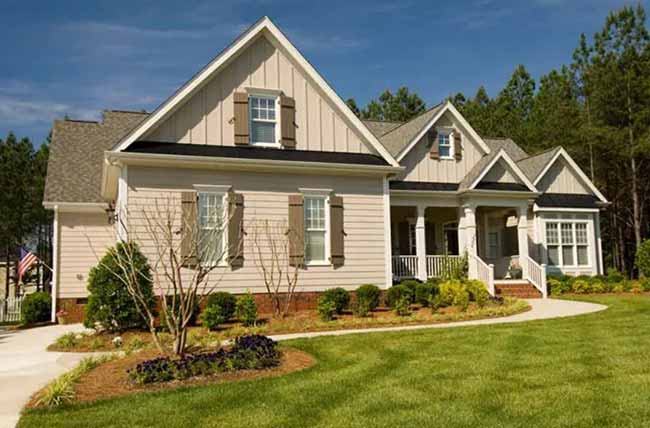 This house uses different tan colors to look nice. The basic beige color is enhanced with dark brown awnings, light brown shutters, brown brick, and brown mulch. White trim connects the top and bottom.
9. Mix Tan and White, with Blue Trim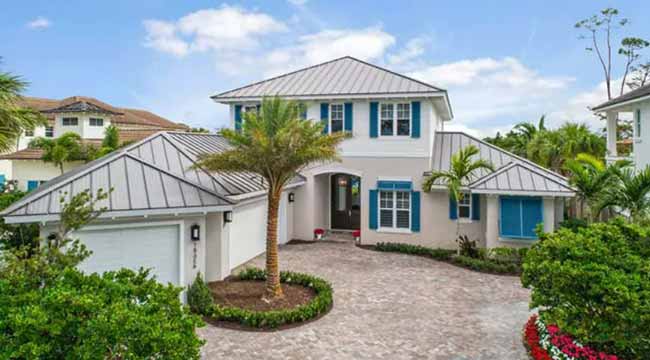 Painting the whole house beige would look strange. So, they painted the second floor white.
The white matches the garage doors. Blue trim on the shutters adds character and ties the top and bottom together.  via PB Built
10. Navy Blue and Sage Green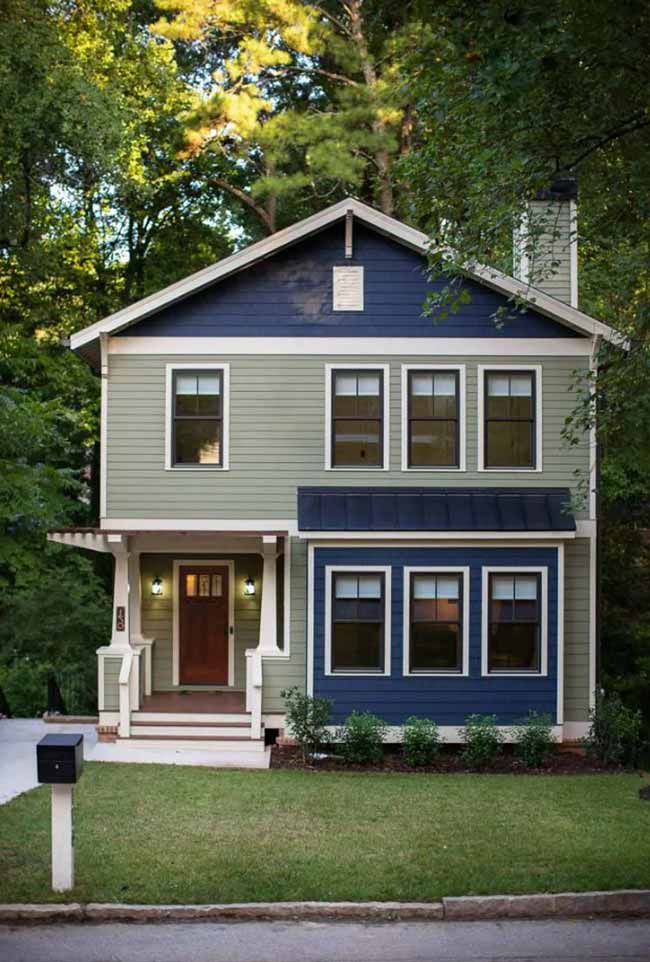 The simple design of this home lets you use bold colors. Navy blue stands out against sage green.
The tan paint brings it all together. The dark brown porch and door match the colors.
11. Mix Dark Brown and Tan Siding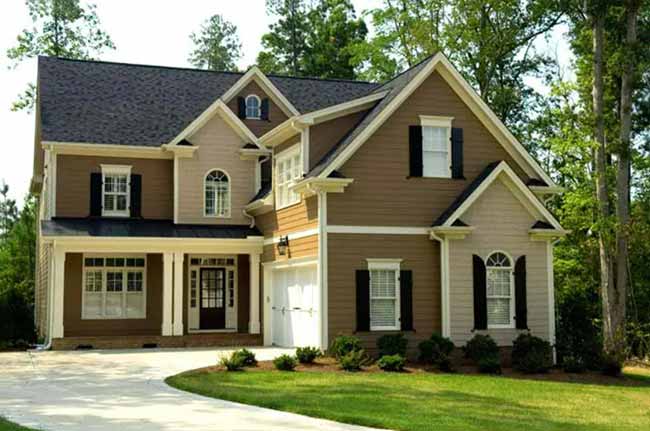 This shows how a neutral palette can be bold. Black shutters stand out on light and dark brown siding. Beige trim and black connect the different tan colors. White garage doors don't change much.
12. Black and White with Medium Tan Siding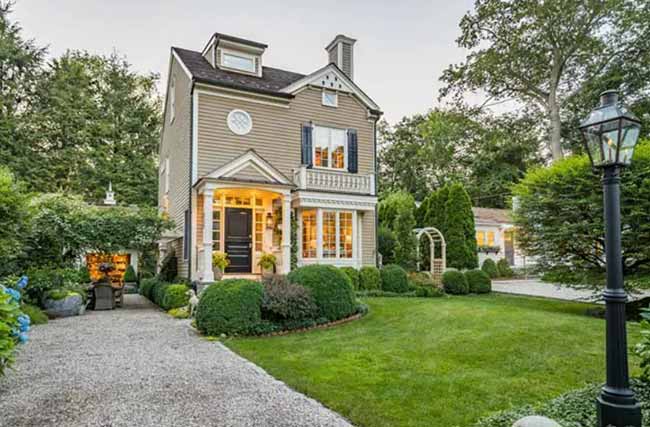 A traditional home looks nice among the trees. The tan siding contrasts with the green.
Black on the roof, shutters, and door connects all three levels. White trim highlights the details. via Casa Loma Studios
13. Light Tan Siding, Gray, and Dark Brown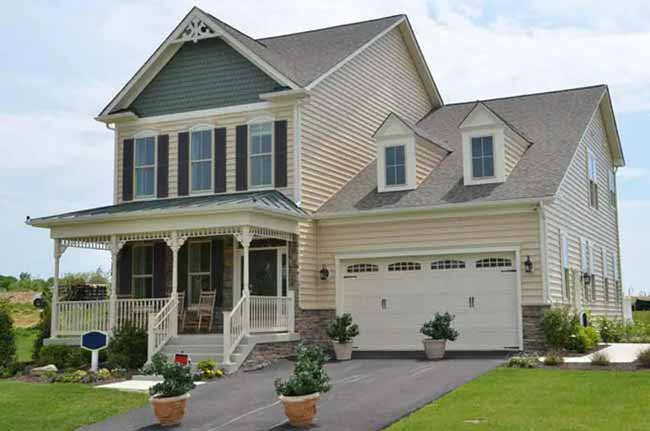 Here's another way to make a house look great using neutral colors. Light tan vinyl siding gets a helping hand from gray and dark brown.
The deep brown shutters give the house a consistent look. Beige trim goes around the rest of the house. The gray under the front gable has green hints, making sure the house doesn't look uneven. via Bear Mountain Custom Painting
14. Incorporate Brick Facade Colors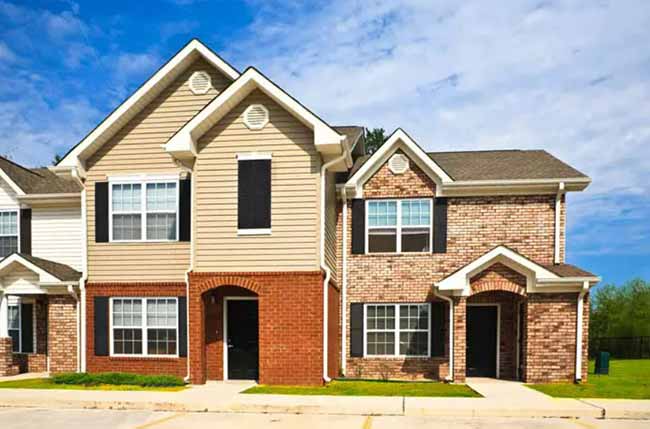 When you have to deal with a brick facade, painting the exterior can be a challenge. The best way to handle it is to highlight the brick colors.
The tan siding on the top half and the red brick on the bottom match the all-brick facade. Dark brown shutters and doors bring it all together.
15. Undertones Add Drama to a Black Roof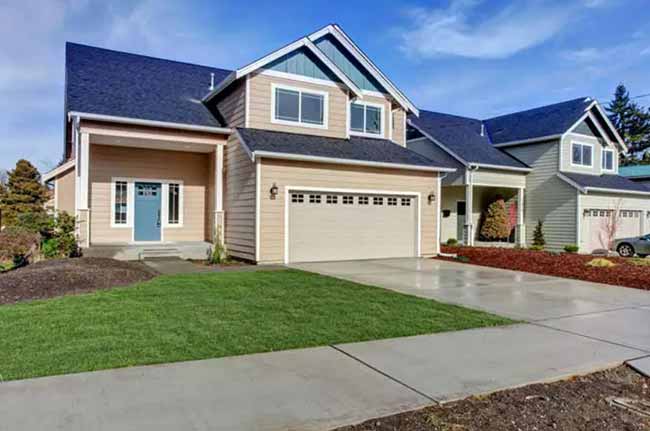 You can't miss the black roof of this house. A peachy beige adds liveliness to the home. The tan garage door blends with the driveway. A medium blue on the gables and front door brings a cheerful touch.
16. Classic Look with Acid Washed Brick and Black Roof
This country estate has a classic appearance with an old-world paint wash effect.
The symmetry of the home is clear, and it's complemented by a simple black trim color. via J Steven Kemp Architect
17. A Pop of Blue for a Beach House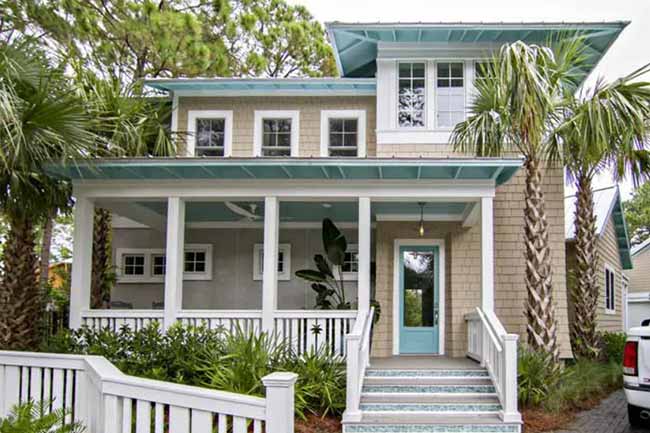 Don't be afraid to use a bright color in your color scheme. A beach house gets a coastal touch with its teal metal roof, door, and porch stair risers.
A medium tan exterior color keeps the vibe cool. The neutral white paint looks great with beachy tans and never disappoints. via Glenn Layton Homes
What Colors Match With Tan?
Tan is a neutral color, so most other colors go well with it. Black and white are safe choices and create a nice contrast. Colors like blue, green, and even red can add a vibrant touch that complements a tan house.
How to Give a Modern Look to a Tan or Beige House?
To make a tan or beige house look more modern, you can use black as a secondary color for the exterior. The strong contrast created by black adds interest and depth. A black roof and shutters can also give a modern edge to tan or beige homes, but be careful not to make it too dark.
What Colors Complement Beige Best?
Beige is another neutral color, but it's a bit different from tan because it has some pink undertones. Black and white work well with beige, but the range of colors is a bit more limited. Reds, oranges, pinks, and gray are all good choices to pair with beige. It's best to avoid cool tones.