Best 35 Awesome Room Decor Ideas for Teenage Boys
Decorating a room for teenage boys can be quite a challenge. Remember the excitement of decorating their room when they were little? Well, getting them enthusiastic about anything now can feel like quite a task. But don't worry! In our selection of modern ideas for designing teenage boy rooms, you'll discover something that both you and your teen will adore. These designs will remain appealing as they transition into young adults or return from college.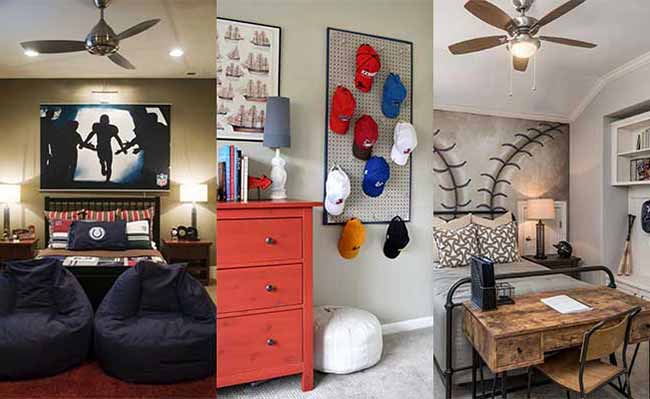 Forget the days of overly bright paint, glow-in-the-dark stars, and those cheesy posters that leave a mess on your walls. Today's teens have a more refined taste in decor. Whether they lean towards a clean and neutral style, bold sports-themed colors, or a rustic atmosphere, our collection has it all. Whether you're relocating one teen to a larger room or have two boys sharing a cozier space, we've got clever solutions to fulfill all your requirements and preferences. We've even included some fun dorm-friendly room layouts. You might even have the chance to get to know more of their friends! These rooms are so impressive that your son might not want to leave home.
1. Hat Storage with Style in a Teenage Boy's Room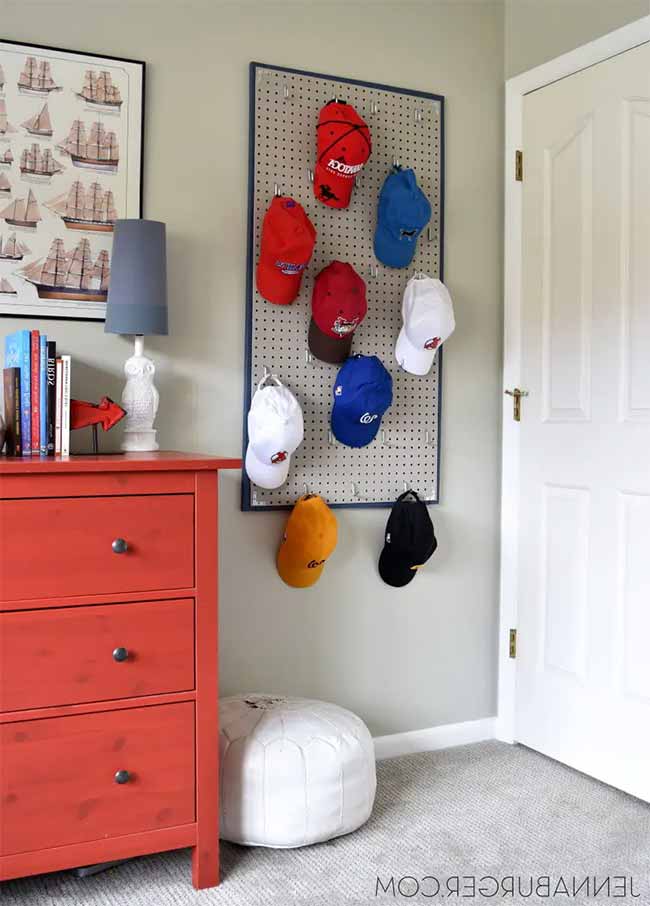 Smart hat storage is a must in any bedroom, especially in boys' rooms to keep things tidy. If you don't have too many hats, you can arrange the hooks in a stylish pattern or spell out a word. When all the hats are hanging, the pegboard becomes a piece of wall art. This white pegboard with a navy border offers a classy and chic solution. Source: jennaburger.com
2. Stylish Football Fan Zone for a Teenage Boy's Room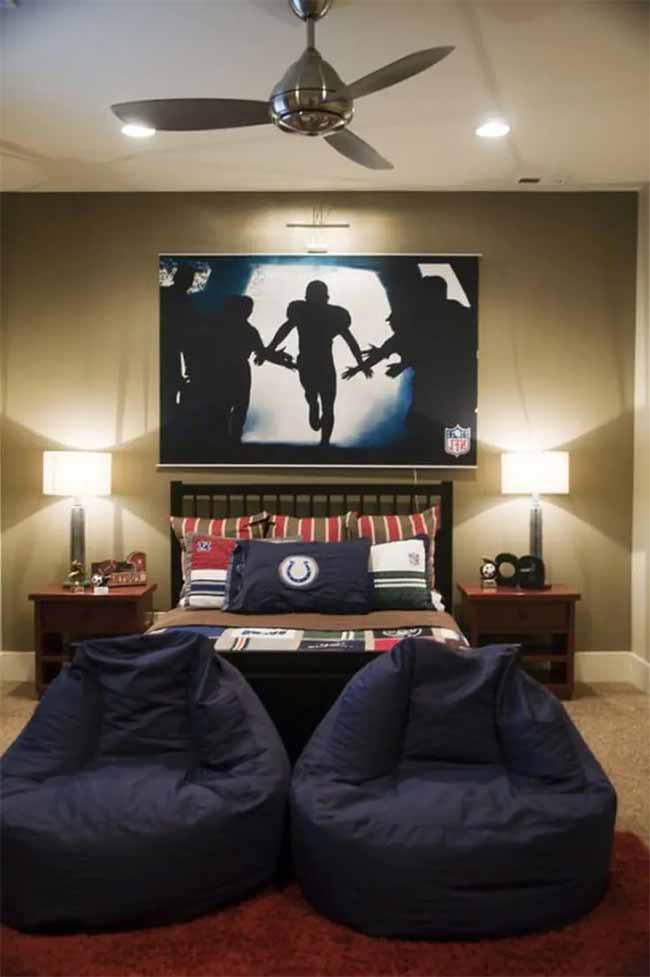 This boy's room boasts a sophisticated look with a classy navy, red, and olive color scheme. The low-profile seating offers a comfy spot to relax. Instead of overwhelming posters, a high-contrast silhouette adds a touch of refinement to the space. While this room is a dream for football lovers, you can tailor it to his favorite sport for the ultimate sports-themed bedroom. Source: plaisirdeden.com
3. Embrace the Force with a Star Wars Theme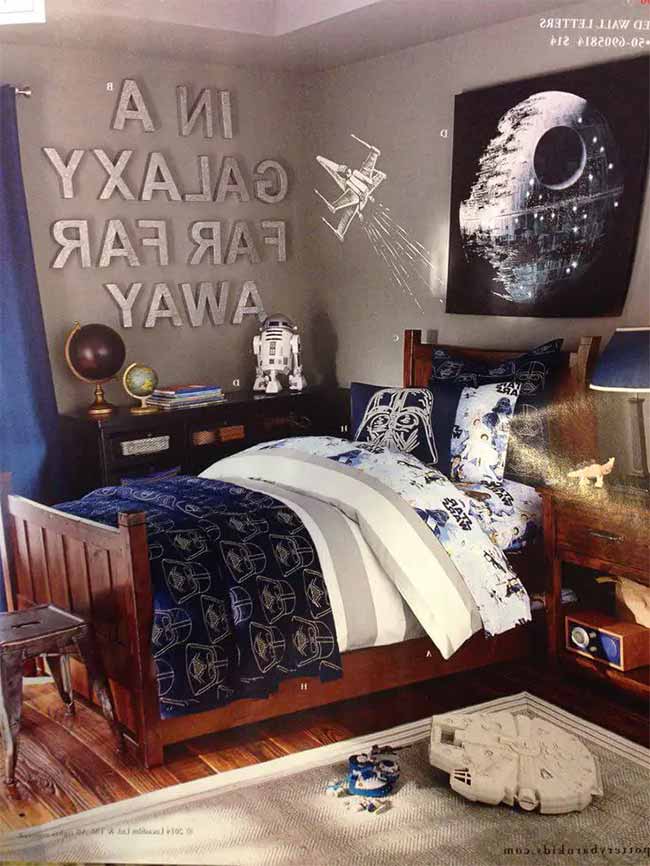 Star Wars enthusiasts will love this bedroom inspired by the original trilogy. It features iconic elements like a Death Star poster, Darth Vader comforter, and X-wing decal, creating a space that's a homage to the classic films. If Star Wars isn't his thing, you can easily swap the decor for his favorite movie or video game. Source: suburbanturmoil.com
4. Outdoorsy Vibe for a Teenage Boy's Room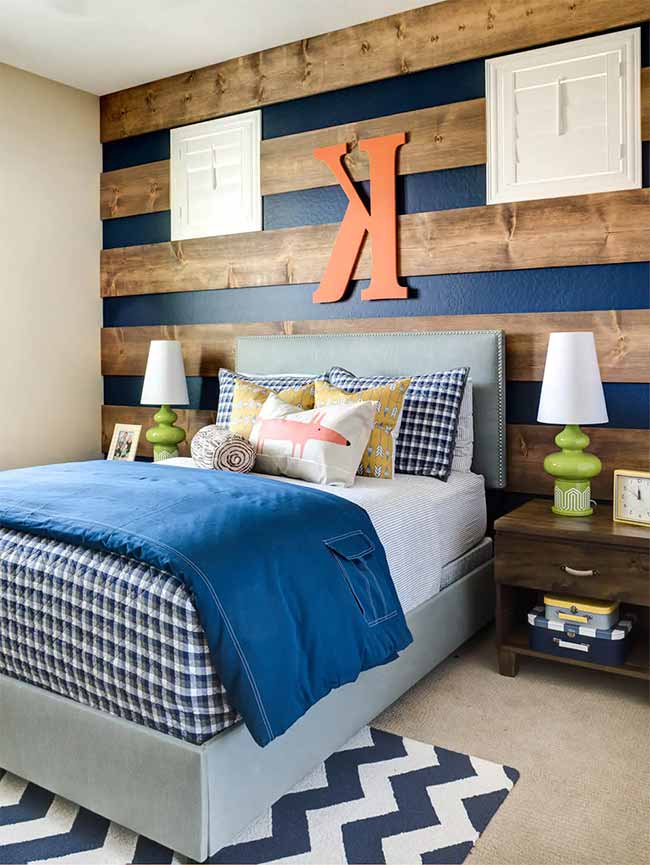 If your teenage boy is a fan of nature, this bedroom filled with wood elements is a great way to bring the outdoors inside. The wide wooden planks on a navy blue wall create a cozy log-cabin feel with a modern touch. Add a rich blue comforter for that denim-like style, and sprinkle in some lime green and bright orange to keep the room lively. Source: addicted2diy.com
5. Light and Airy Nautical Theme for a Teenage Boy's Room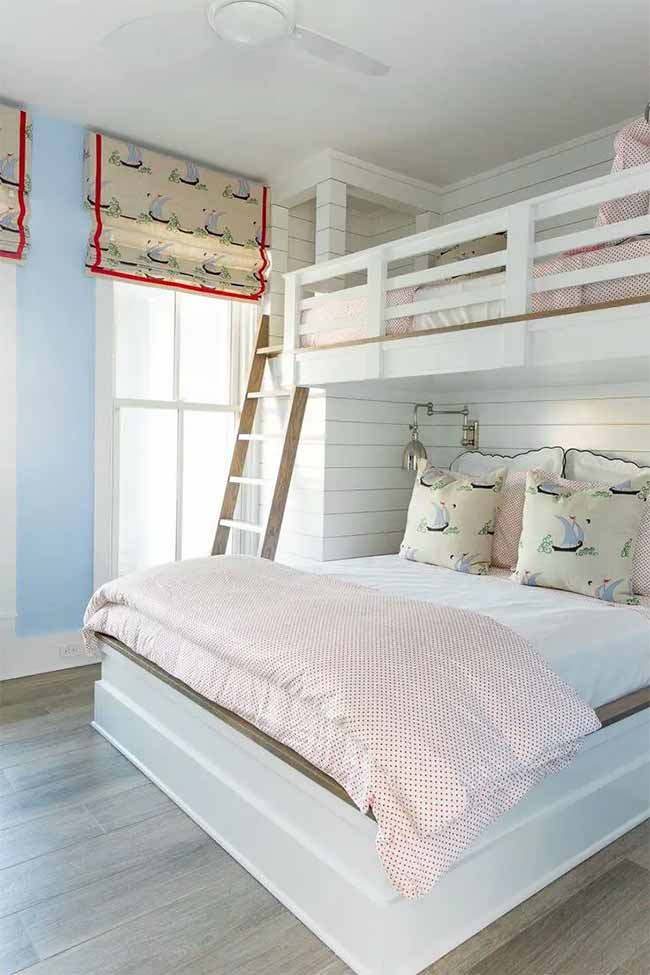 Here's a boys' bedroom that's decorated with light colors and flooded with natural light – it's both uplifting and practical. The queen-sized bed at the bottom is perfect for taller teens, and the twin bunk on top suits shorter ones. You can also go for a twin XL bed if you prefer. Each bunk is equipped with its own sconce light for privacy and independence. Source: baileymccarthy.com
6. Vibrant Colors to Jazz Up a Teenage Boy's Room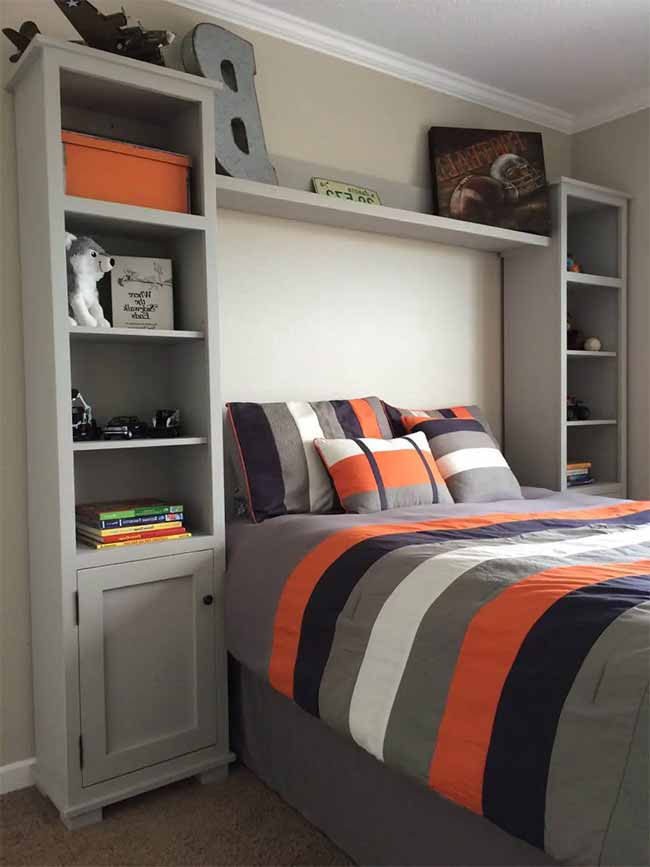 Gray, orange, and blue might sound unexpected, but they create a dynamic atmosphere with minimal effort. These colors also make it easy to find matching decor items. Adding shelves around the bed is a smart way to increase storage in a small room, giving you just the right amount of privacy for your personal items. Source: hometalk.com
7. All About Sports in a Teenage Boy's Room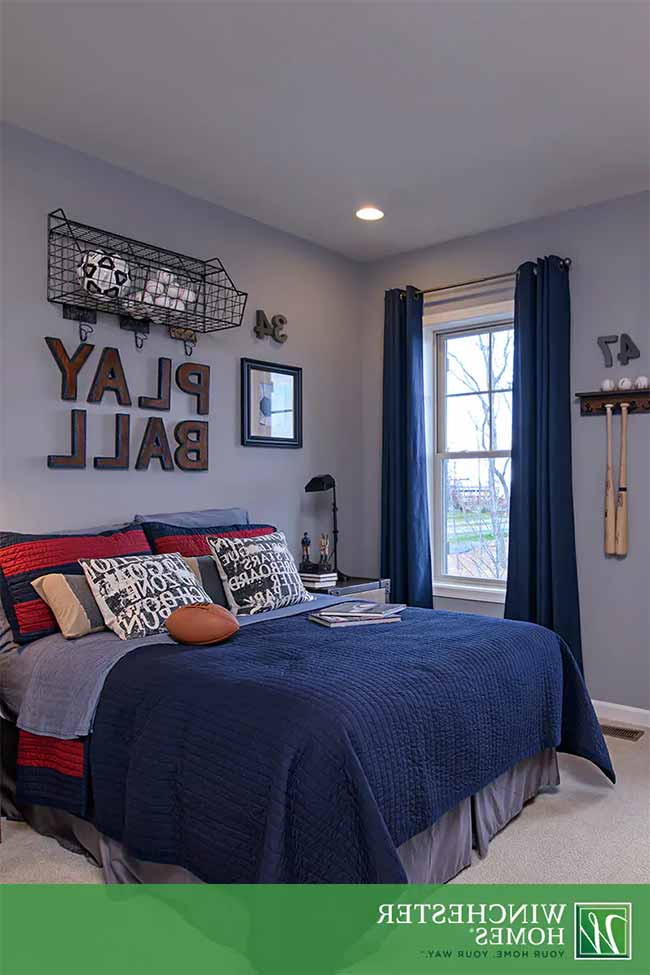 When thinking about sports-themed boys' bedroom ideas, it's easy to get caught up in specific teams. However, keeping it team-neutral makes the room versatile and budget-friendly. Displaying numbers of favorite players on the wall maintains the theme without overwhelming the bedroom. Baseballs, bats, soccer balls, and the words "Play Ball" set the mood and establish the sports theme. Source: jasonyost.me
9 Scientist in the Making Teenage Boy's Room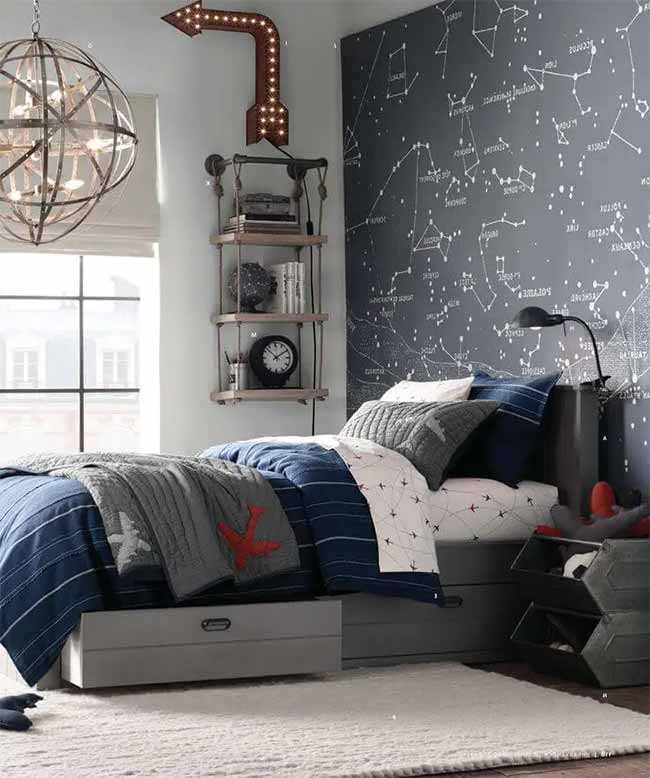 The constellation accent wall takes the spotlight in this boy's bedroom, set against a charcoal gray background. An aviation-inspired bedspread continues the theme of exploring the skies. An industrial-style shelf and a metallic light fixture create an ambiance perfect for a budding inventor. While the color scheme leans towards cool grays and navy blues, pops of red add a fiery touch of color. Source: decoholic.org
11 Home Gym Inspiration for a Teen Boy's Room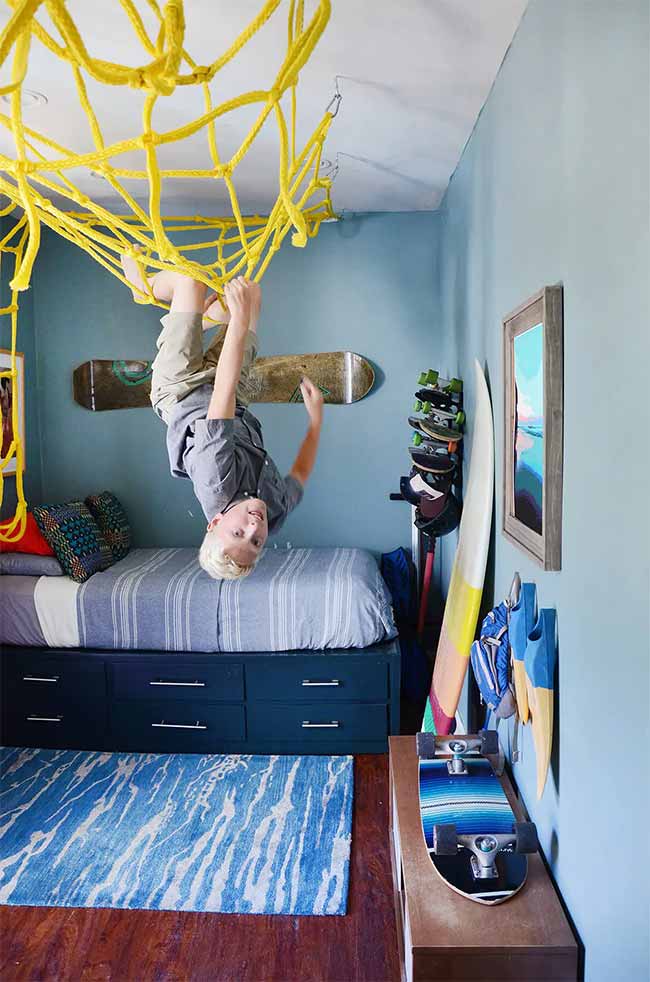 Hanging a climbing net from the ceiling is a fantastic idea to give your energetic teen a productive outlet. For safety, make sure the anchors are securely fastened to a stud. In this example, beachy blue decor is combined with a vibrant yellow rope, creating a fun and sunny atmosphere that matches the surfboard. Source: apartmenttherapy.com
12 Creative Skateboard Shelves in a Teen Boy's Room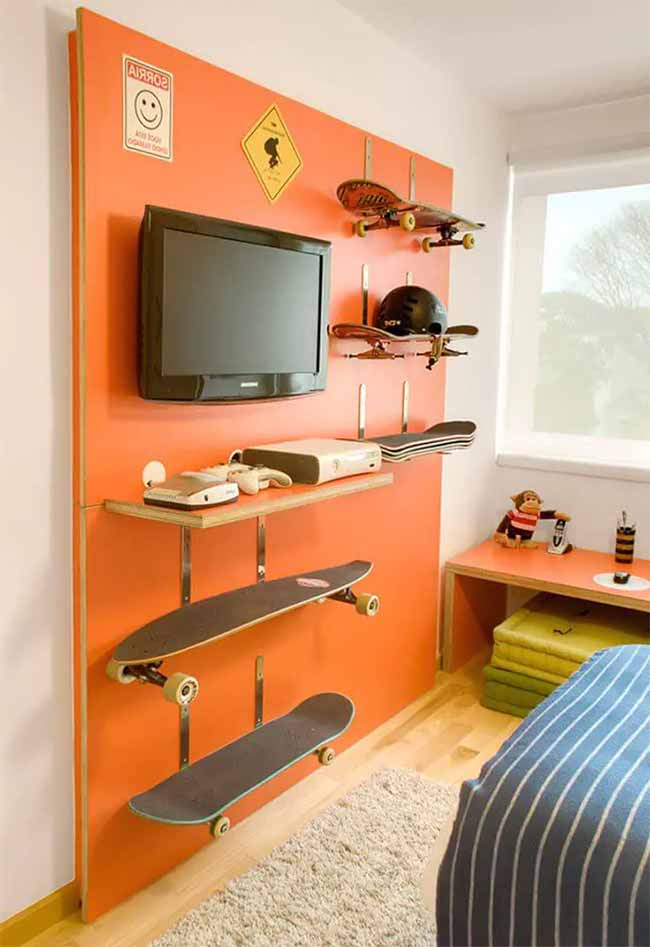 Skateboard shelves offer a clever way to incorporate your teen's passion into the room's decor. To highlight these unique shelves, the accent wall is painted in a bold shade of orange, adding a burst of color to the space. With skateboards as shelves, the attention is drawn away from the television and gaming console, which are also part of this room. Source: mylistoflists.com
13 Basketball Hall of Fame Decor for a Boy's Room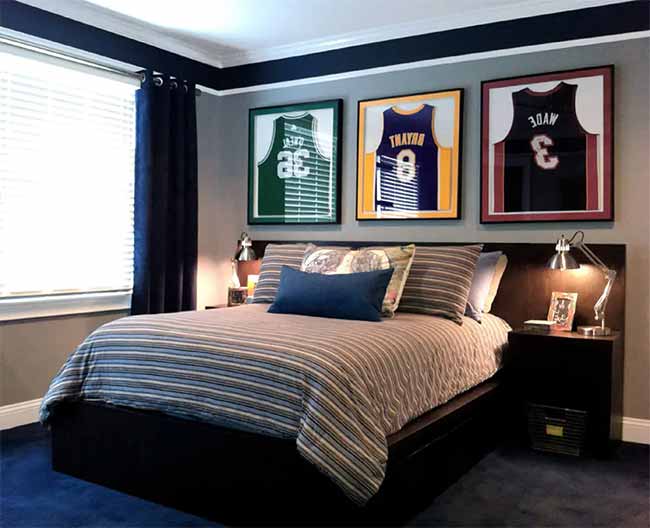 This boy's bedroom is a tribute to tasteful sports decor, featuring framed jerseys from basketball legends like Dwayne Wade, Kobe Bryant, and Shaquille O'Neal. A simple navy blue theme exudes timeless sophistication. To prevent the room from feeling too dark, a significant portion of the wall is painted in a refreshing pale gray. Decorate the space with your teen's favorite athletes to make it truly personalized and idol-worthy. Source: designdazzle.com
14 Stylish Workspace for a Teen Boy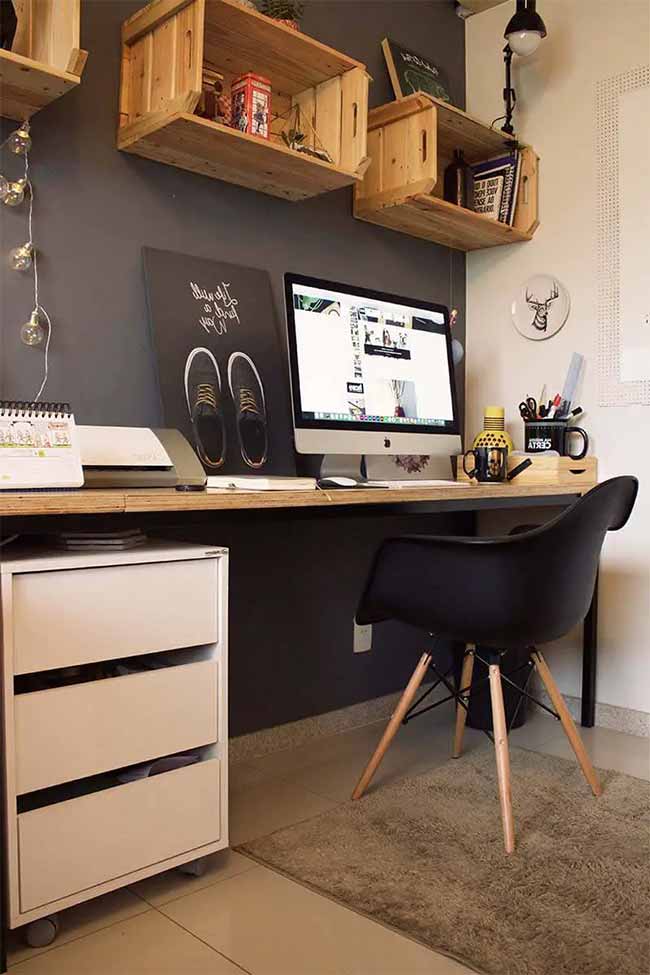 The use of sideways wood crates adds a unique touch to this workspace in a boy's bedroom. Contrasting black accents with natural wood brings out the warm toffee hues of the shelves. The presence of naturally occurring knots adds a touch of ruggedness to this modern work area. Small details like a black pencil holder and a wooden tray tie the elements of the space together, creating a cohesive look. Source: homensdacasa.net
15. Maximizing a Small Space in a Teenage Boy's Room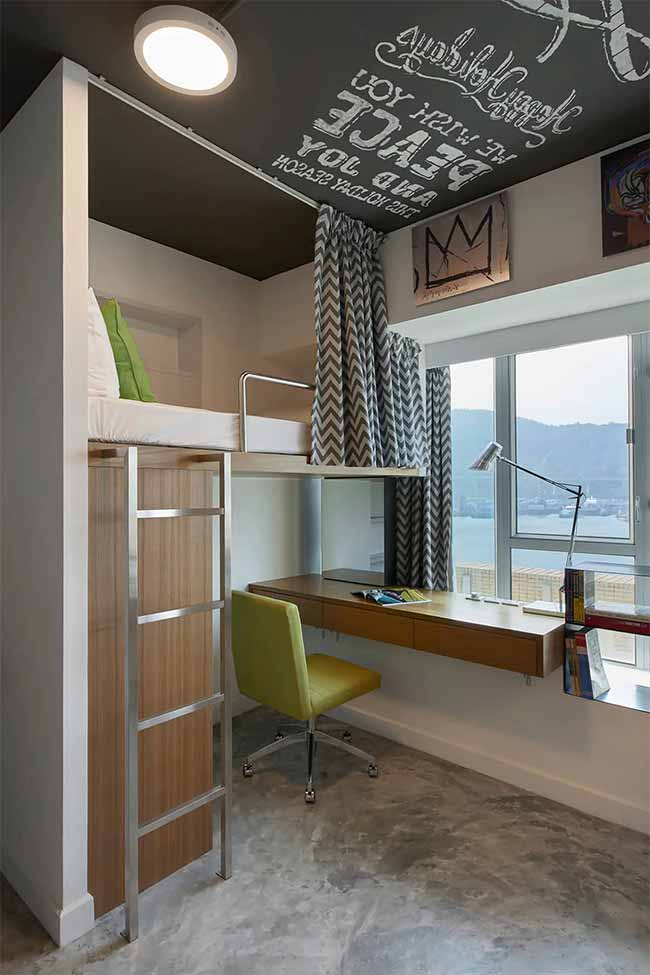 Fitting all the necessary furniture into a teen's room can be a challenge, especially when space is limited. In a creative twist on bunk beds, this built-in lofted bed leaves room for a functional workspace below. The use of fine-grained wood, lime green accents, and brushed metal details gives this space a luxurious spa-like feel. Zig-zag curtains not only provide privacy but also add a touch of energy to this compact bedroom. Source: freshome.com
16. Shared Activity Space in a Teenage Boy's Room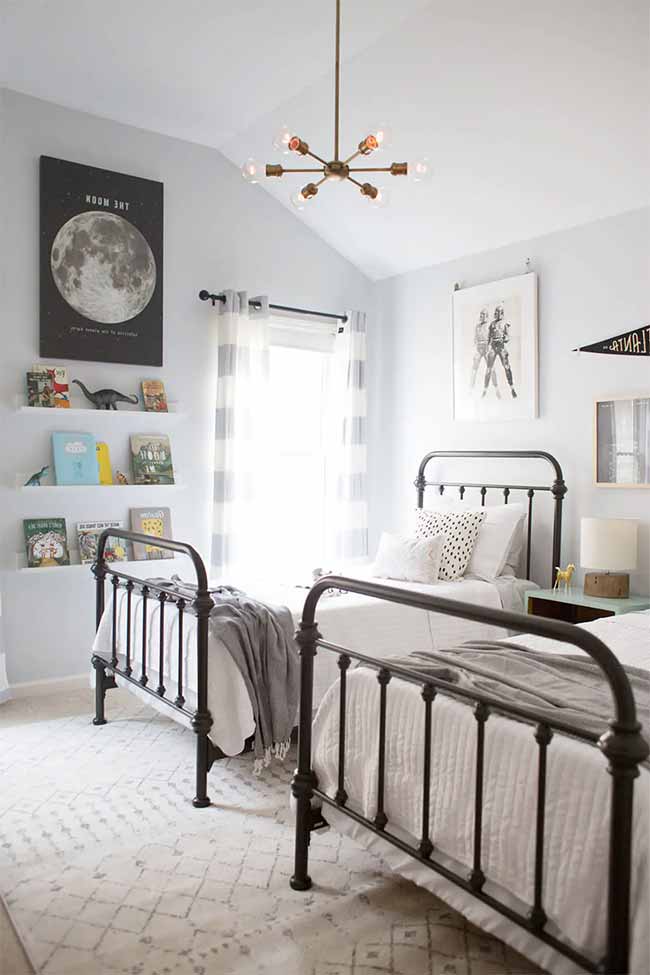 Designing a bedroom for multiple young men can be tricky, as it means considering the preferences of both. This room features Star Wars, space, and dinosaur elements, which can be customized to match your teenage boys' interests. Tucking the bed skirts under the twin beds' box springs helps streamline the space, making it feel sleeker. Source: laybabylay.com
17. Trendy Textured Decor Ideas for a Teenage Boy's Room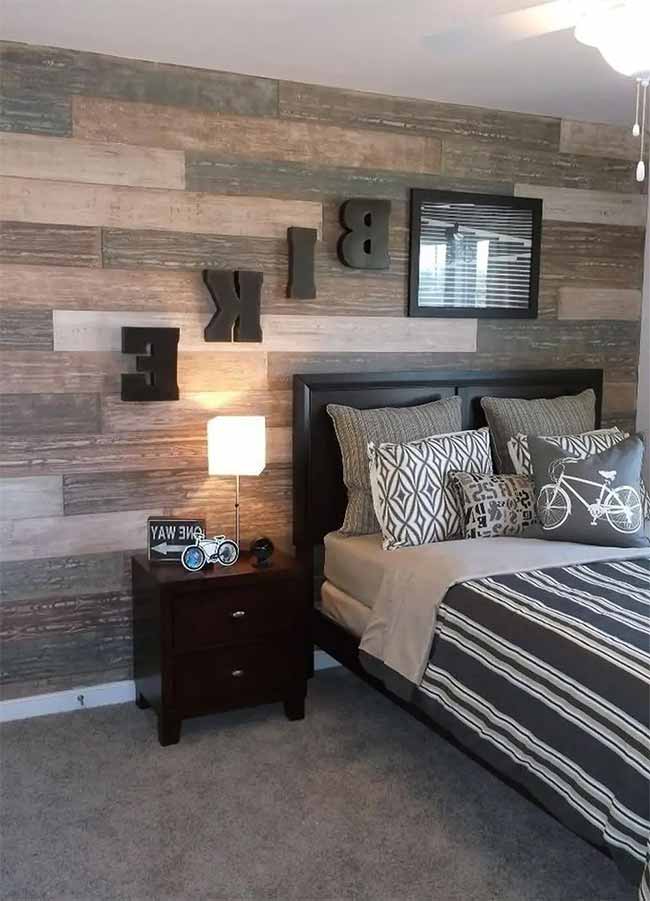 Achieving dimension in this boy's bedroom is made possible by using different glazes on the planks. The wood's varied colors make it easy to incorporate shades of brown, gray, or black into the space. This example opts for subdued black and gray decor to let the plank wall stand out. The decor can be easily updated to match changing teenage interests. Source: hometalk.com
18. Pop Culture-Inspired Bedroom with Backlit Accents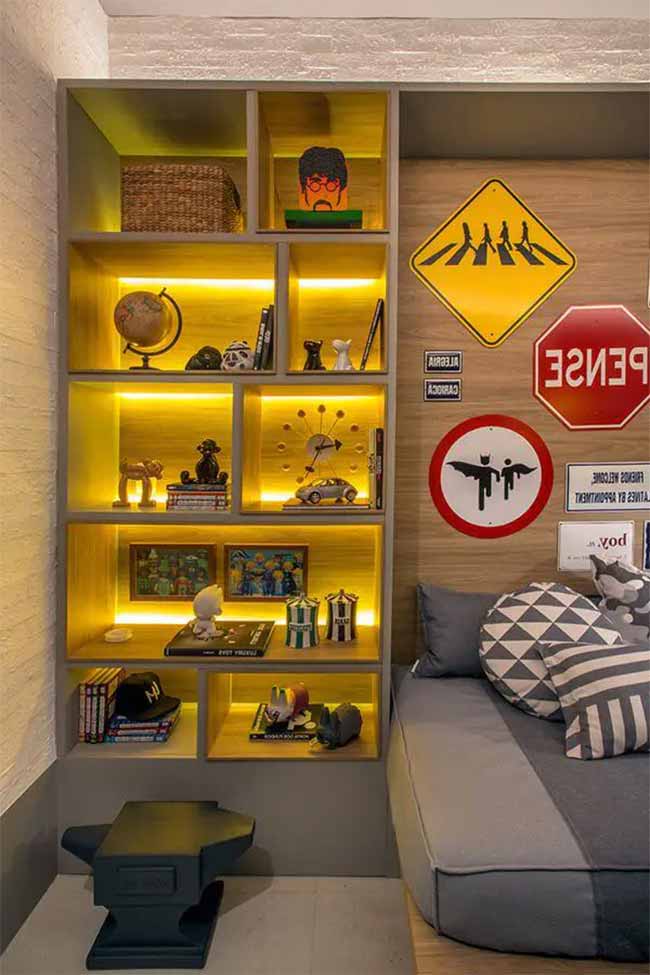 Creating a focal point in a bedroom can be achieved with strategic backlighting. Bright yellow strip lighting not only grabs attention but also sets a modern and cool ambiance. You can choose strip lighting in any color that complements your decor as you refine your boy's room ideas. Explore color-changing options for a space that any teenage boy would be proud of. Source: babies.constancezahn.com
19. Trophy Display Idea for a Teen Boy's Room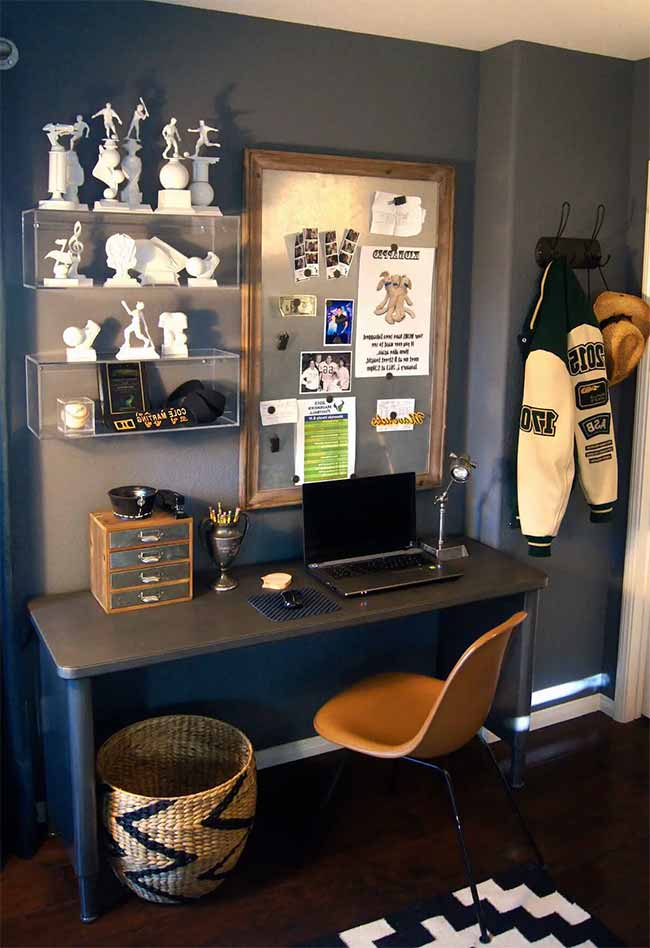 Displaying trophies is a meaningful part of boys' bedroom decor, as they represent dedication and passion. Ensure your shelves provide ample height for the trophies you wish to showcase. Utilizing the space above a desk, which is typically well-lit, is an ideal spot for trophy display. This also allows for creative touches like trophy-style pencil holders. Source: dintelo.es
20. Expressive Graphic Design in a Teenage Boy's Room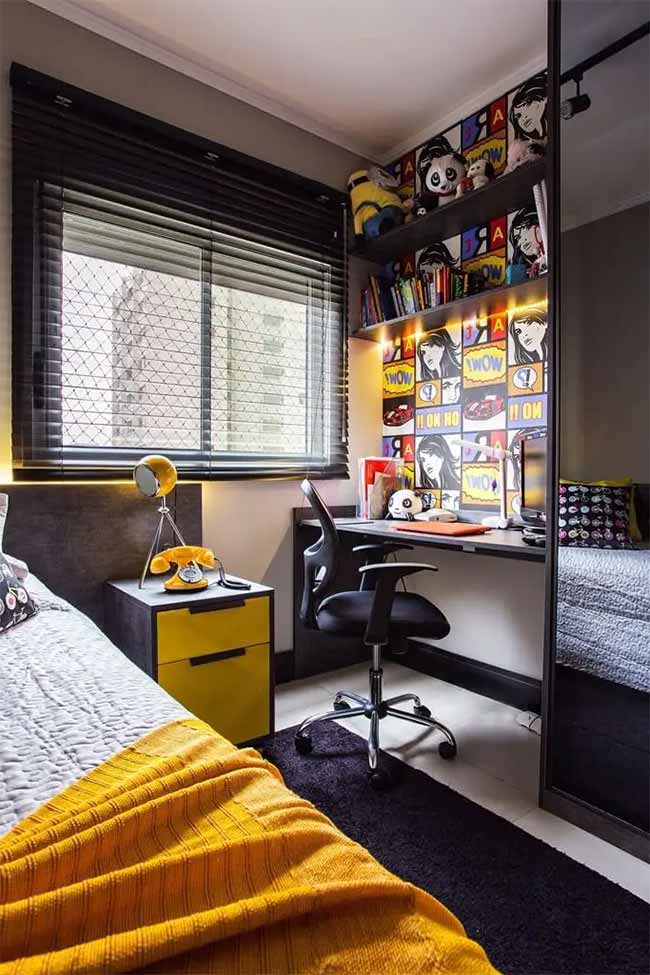 Infusing personality into a space is easy with expressive wallpaper, such as the one shown here inspired by Roy Lichtenstein's artwork. It gives this boy's room a retro comic-book vibe. Vintage silhouettes on the telephone and table lamp add a touch of retro flair. A bright yellow blanket and a thick black carpet soften the room, offering inviting texture. Source: estilo.uol.com.br
21. Mixing Patterns in a Teen Boy's Room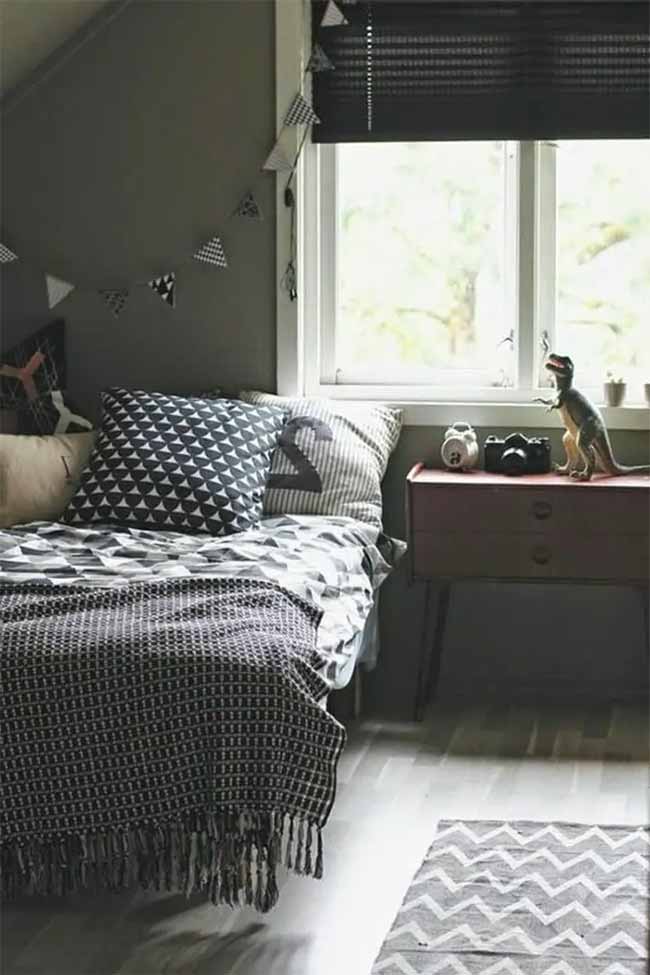 Combining patterns like large zig-zags, bold triangles, and vertical stripes may require some boldness, but it results in a satisfying and memorable look. The key is to choose patterns that share the same color family. In this boy's bedroom, the decor is in black and white, offering versatility and numerous options for other decor elements. You can, of course, choose any color palette you like. Source: thebooandtheboy.com
22. Music Lover's Haven in a Teenage Boy's Room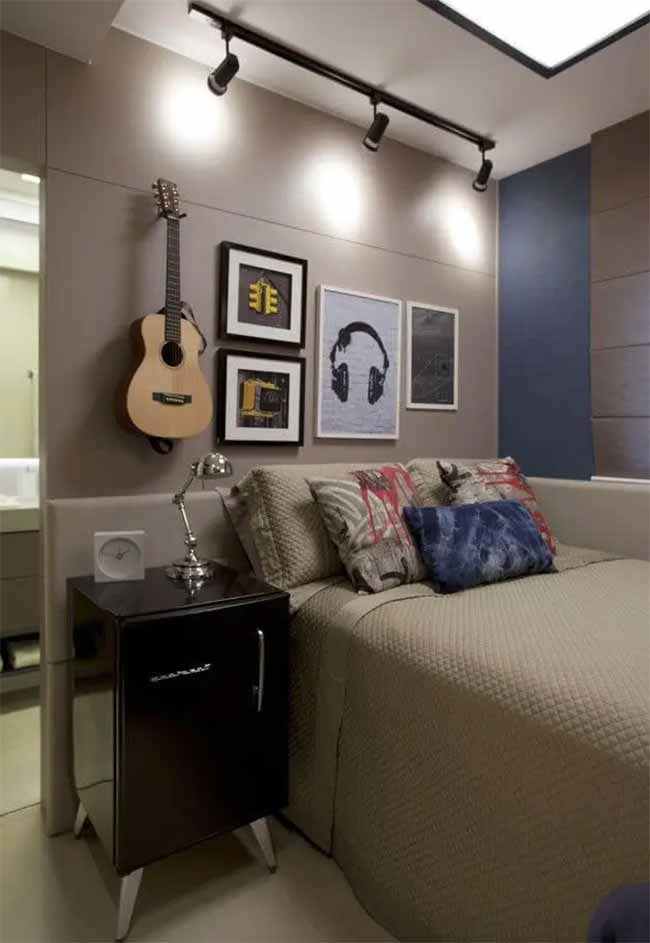 While this boy's bedroom prioritizes functionality, a gallery wall adds a touch of chic to the space. The instrument wall hanger allows for hanging various stringed instruments, from guitars to vihuelas, alongside the gallery wall. This setup makes it easy to access the instrument when your teen feels like playing. A mini-refrigerator provides convenient storage for cold beverages and snacks. Source: casavogue.globo.com
23 Rustic Charm in a Country-Inspired Boy's Room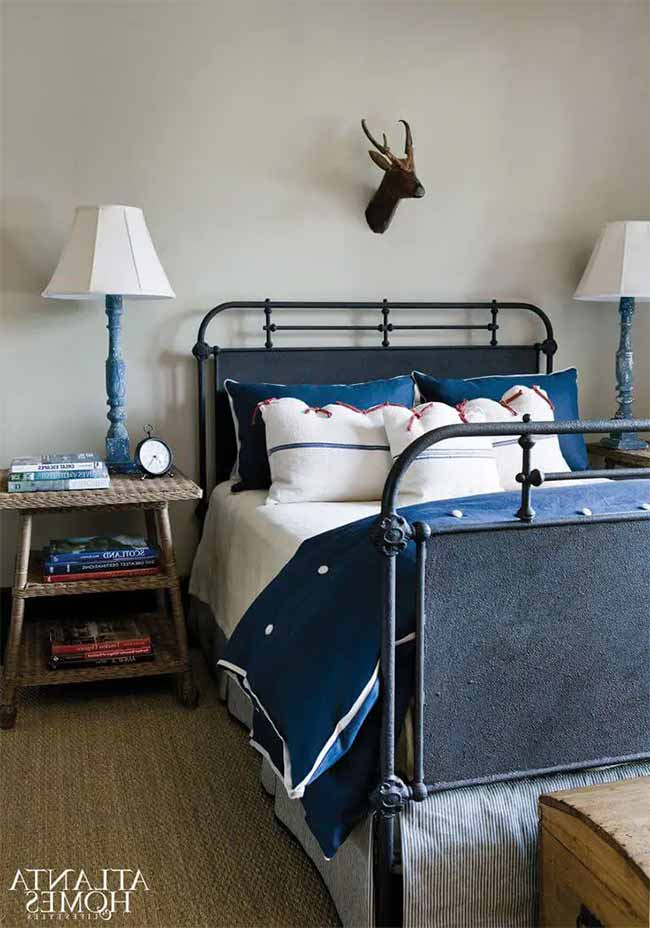 If your home has a farmhouse or rustic style, decorating a bedroom in a different theme can feel disjointed. This boy's bedroom maintains a connection to the overall decor by incorporating rustic elements without going overboard. Distressed table lamps, a wooden stag sculpture, and wicker bedside tables contribute to the balanced and cohesive look. Books on world travel set the stage for adventure. Source: thelittlecorner.tumblr.com
24 Baseball Enthusiast's Teenage Boy Room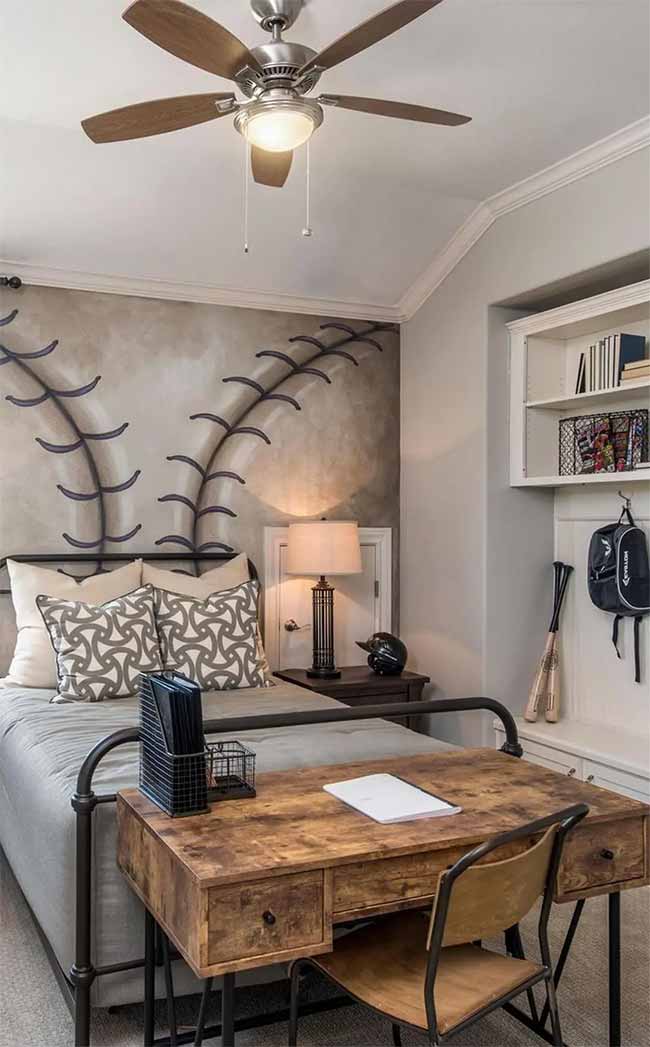 Even without the baseball bats and helmet, it's clear that this boy is a baseball fan. The artistic baseball focal wall tells the story without the need for additional baseball-themed decor. Placing the desk in a way that allows him to look up and be inspired by the baseball mural as he works is a clever touch. Source: interiorgod.com
25. Basement Retreat with a Man Cave Vibe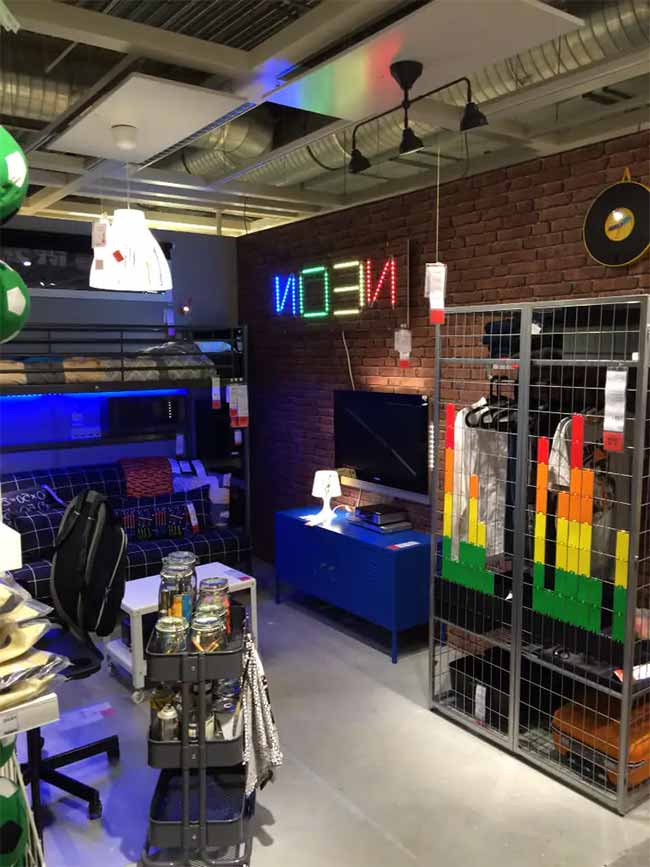 If your boy's bedroom is in the basement, why not embrace it? Bright lights, backlighting, and metal accents give this room a relaxed atmosphere where teenage boys can truly unwind. An industrial feel is achieved with a brick wall and an exposed ceiling. Stacked bunk beds provide space for siblings or friends to spend the night in this fun bedroom. Source: homedecoo.net
26. Comfortable and Inviting Contemporary Teen Room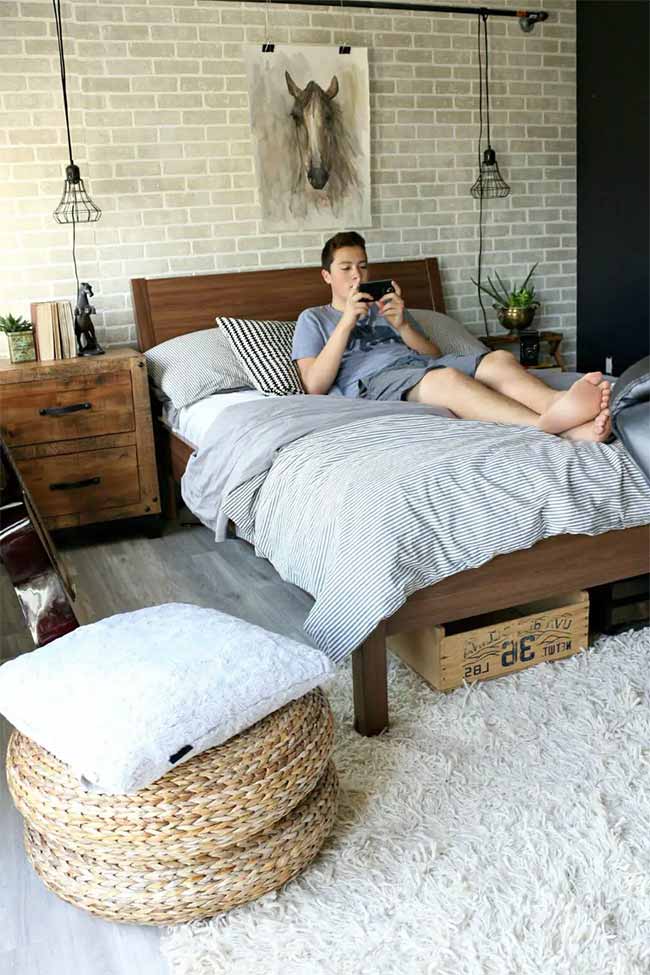 Rustic wood and exposed brickwork create a casual atmosphere ideal for relaxation. Wireframe lamps add a subtle industrial touch without being too forward. Small houseplants bring a bit of nature indoors. With equine artwork above the bed and a nearby guitar, this bedroom accommodates the occupant's hobbies. The brickwork and bedspread provide plenty of energizing lines. Source: helloyellowblog.ca
27. Modern Multi-Level Teenage Boy Room
This layout offers a blend of features: two beds, a connection to nature, a lofted seating area, and even a bucket for hauling goodies up. With a vaulted ceiling, this room design makes the most of a small footprint. Honey-toned wood and warm lime green tones make the bedroom feel welcoming. Bean bag chairs on the upper level create a laidback and relaxing atmosphere. Source: houzz.com
28. Nautical-Inspired Decor for Guys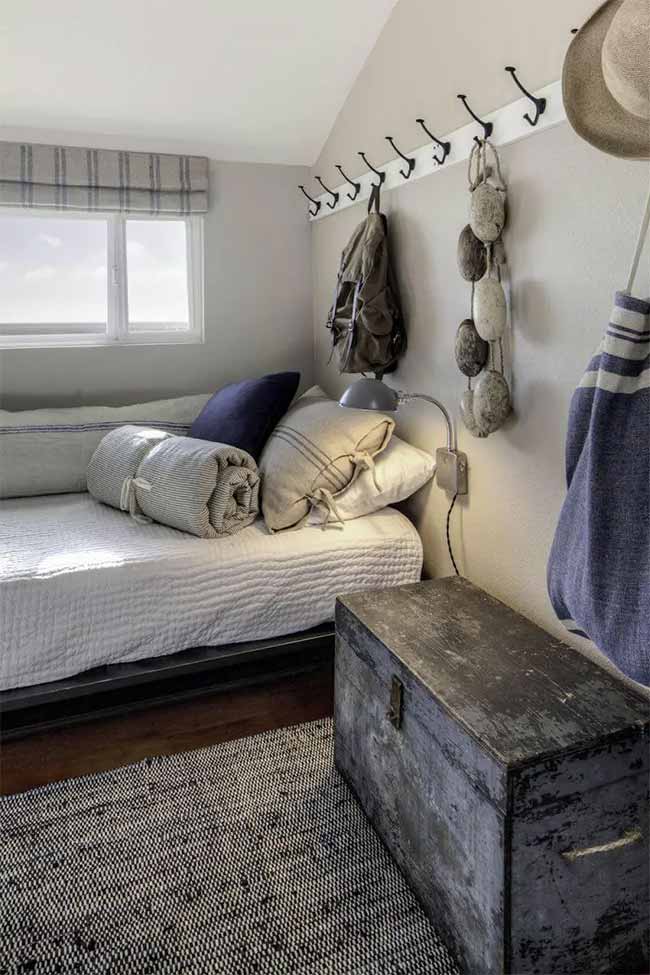 This bedroom evokes a nautical ambiance but leans more towards a ship's cabin than the typical beachy decor. It takes a minimalist approach with intentional decor choices. A few antiques add gravitas to the room, and wall-mounted metal hooks are ready to serve as storage. Source: remodelista.com
29. Relaxed Dorm Room Style with a Loft Bed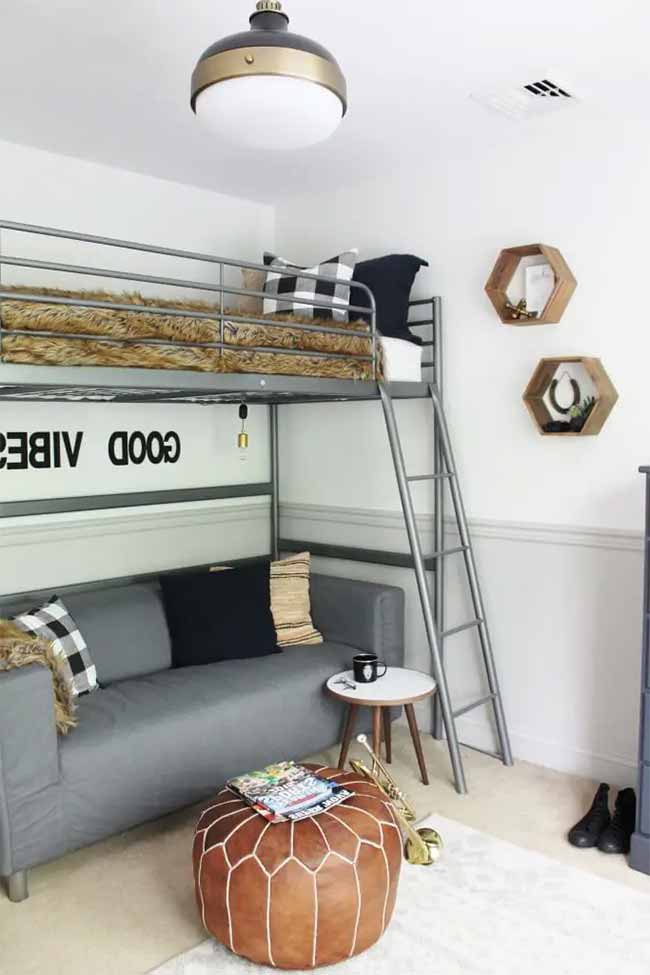 The "Good Vibes" lettering sets the tone – this boy's bedroom is designed as a sanctuary for relaxation. The gray couch snugly fits under the lofted bed and coordinates with the bed frame. A faux leather pouf serves as a footrest and a flat surface for magazines or, in this case, a place to prop a trumpet. A shaggy faux fur blanket adds the finishing touch. Source: cityfarmhouse.com
30. World Traveler's Balloon Bed for Teen Boys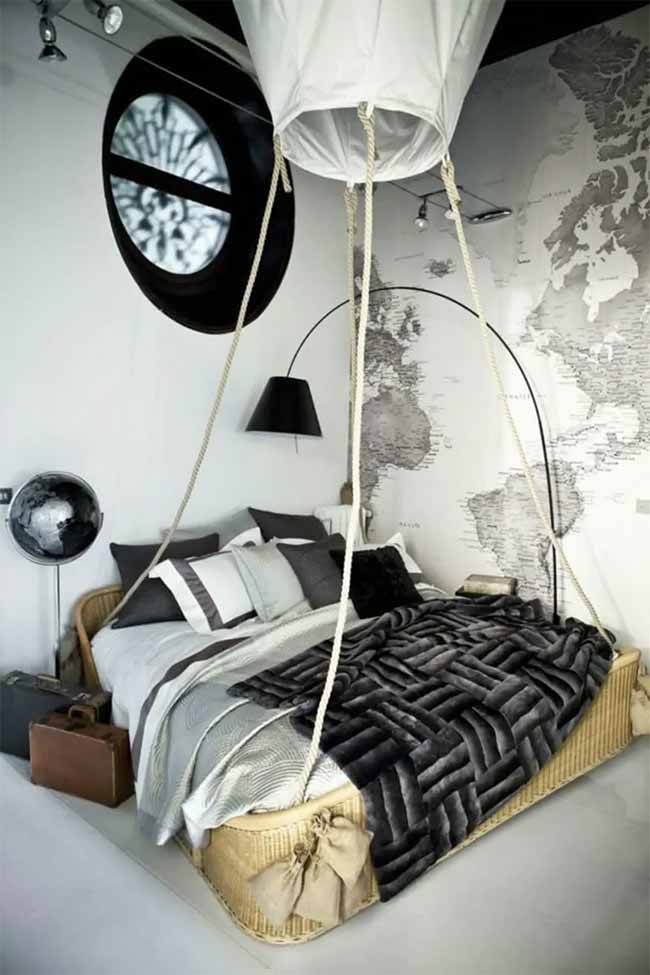 This bedroom is unlike any other you've seen, featuring a basket-weave bed frame and a suspended hot air balloon. A world map wallpaper reinforces the idea of global travel. Plush pillows ensure the bed remains comfortable in this adventurous space. Source: juntoshacemosfuturo.com
33. Space-Themed Teenage Boy Room Decor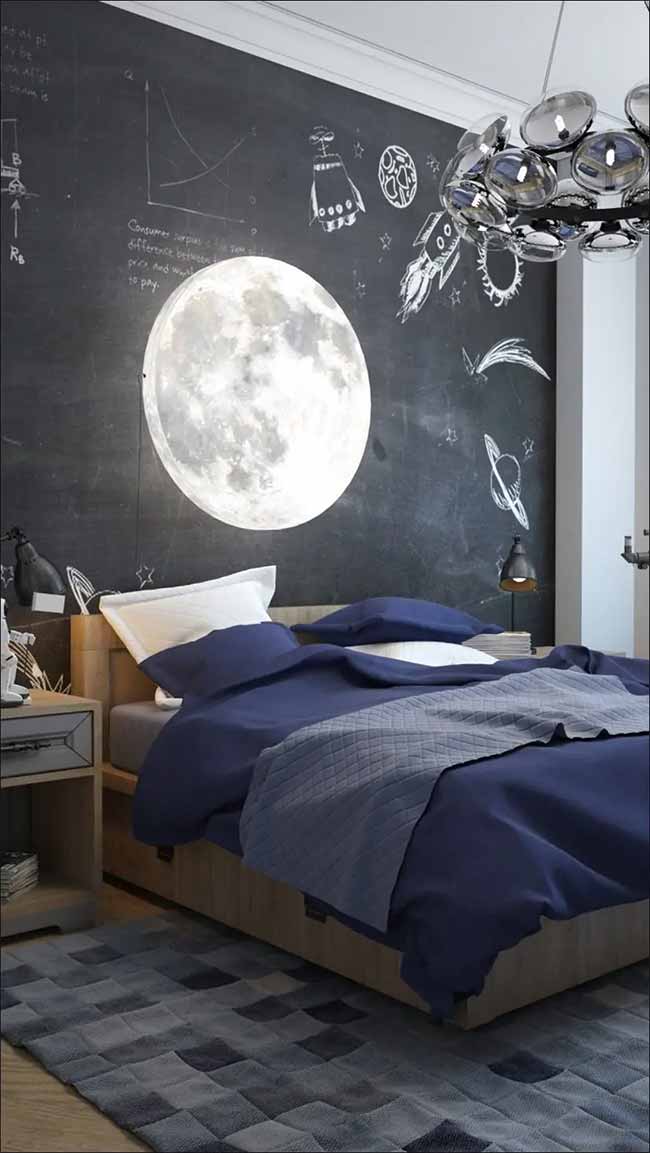 With a moon-shaped luminary, this astronomy-themed bedroom takes the space theme to the next level. Everything in the room harmonizes well. A minimalist blue bedspread balances the playful doodles on the blackboard wall. The tiled carpet rug adds tactile dimension, and the futuristic chandelier delights the eyes. A subtle diamond pattern on the blanket coordinates with the pillows and the carpet, to some extent. Source: casaydiseno.com
34. Cozy Neutral Retreat for Teen Boys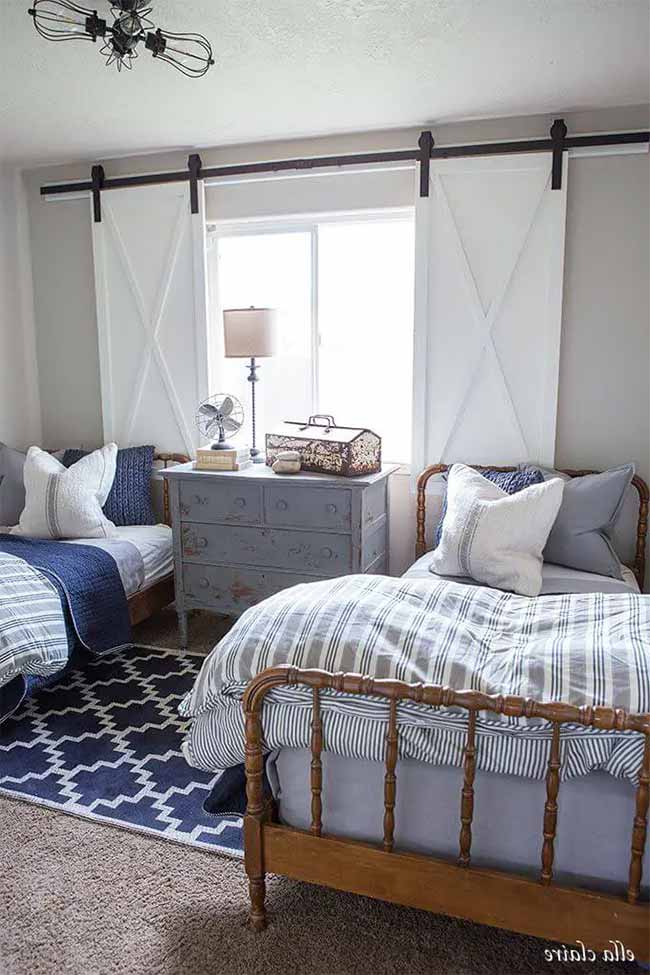 Featuring energizing navy blue and warm wood tones, this boy's room is filled with relaxing energy. A barn door window treatment blocks out more morning light than traditional curtains, making it perfect for teenagers who enjoy sleeping in. The dresser with a distressed finish prevents the room from feeling too much like a bedroom and adds a touch of hotel-like comfort. Source: ellaclaireinspired.com
35. Spacious Backpacker's Paradise for Teen Boys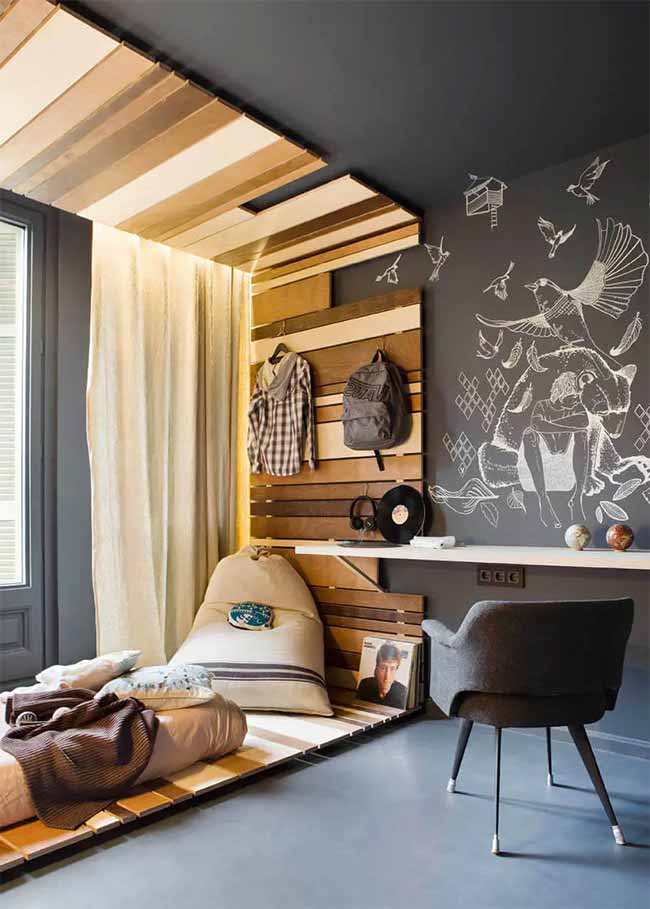 This creative layout replaces a traditional bed frame with wood planks of various lengths and stains, creating a boardwalk that wraps around the ceiling. This not only makes a bold design statement but also defines the sleeping area. Hidden hooks among the planks offer a unique storage solution, and the mural featuring the outdoors adds an artistic touch to this distinctive space. Source: micasa-y-yo.blogspot.com