How To Set Up A Homeschool Room & Best 20 Examples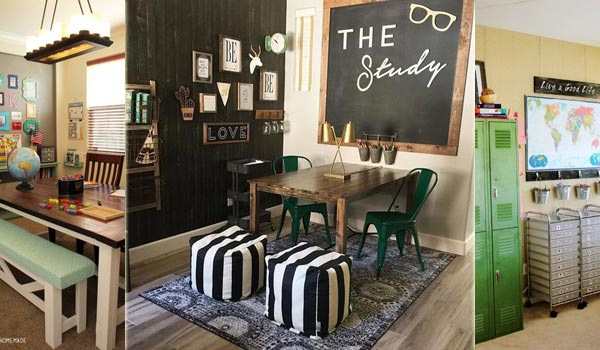 When you homeschool multiple children, setting up a dedicated homeschool room would be necessary. The space can devote to inspiring your kids to read, to explore, and to love learning. Moreover, due to the health state of the world today, there will be many more children doing remote learning this year.
A schoolroom will help to create a successful school year. Setting up or refreshing a homeschool room is a really fun thing that will give you and your children an opportunity to express creativity. So we made this list of creative ideas. Some of the tips are from my previous homeschool room, and some are from the most creative examples we've gathered on the web.
#. Set Up Learning Area
Choose a specific room for homeschooling. There, you can add homework desks, blackboards, whiteboards and many other items you found in a traditional classroom. You can also try to create space for a craft station, a reading station or a science station in that room. There are some tips will help you:
1. Set up your school space in a dedicated area away from a playroom.
2. Simply put a bean bag for creating a cozy reading nook. Or define a dedicated learning space in your homeschool room with a colorful area rug. And more, rugs can give a vibrant new look to your space at a relatively inexpensive cost.
3. Create a giant blackboard wall with chalkboard wall stickers or simply place a standing blackboard or whiteboard.
4. Children need proper desks and chairs for doing school work. So, whether you're creating a built- in desk or just clearing off the dining table, choosing the right desk for the children will be very important.
5. Use available wall space for hanging up helpful educational charts of math facts and parts of speech, and a daily schedule and assignment calendar.
# Set-Up Lighting
When setting up your kids' workspace, you need to think about lighting. Natural light is best. So you can place their desk close to a window. But you need to add blinds to the window to prevent too strong sunlight. In other cases, you need to outfit their desk with a reading lamp.
# Keep Your Homeschool Space Organized
Organization and clutter control are the key to have a successful homeschool space.
1. Color code supplies by child to make cleanup easier. Color coding can be applied to folders and binders, pencil boxes, art supplies, etc.
2. Consider using cubbies or a bookshelf and equip them with baskets or bins to keep supplies organized. And all of your kids' items will have a place to go at the end of each day.
3. The pockets of over-the-door shoe hangers can be used for storing flashcards, stickers, sticky notes, scissors, rulers, and more.
Below are 20 Inspiring Homeschool Room Ideas:
1. Space-Saving School Nook: The Magic of Desks, Hutch, and Shelves!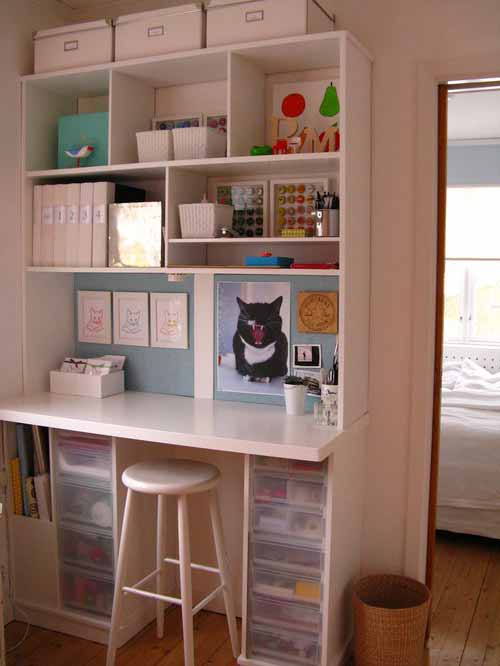 Put a desk, hutch, and built-in shelf on a wall, and bam, you've got a school area right there.
No need for a lot of room, and you won't have to put your dining table under a pile of school things!  Source: Houzz
2. A Fun Learning Spot with Everything in Place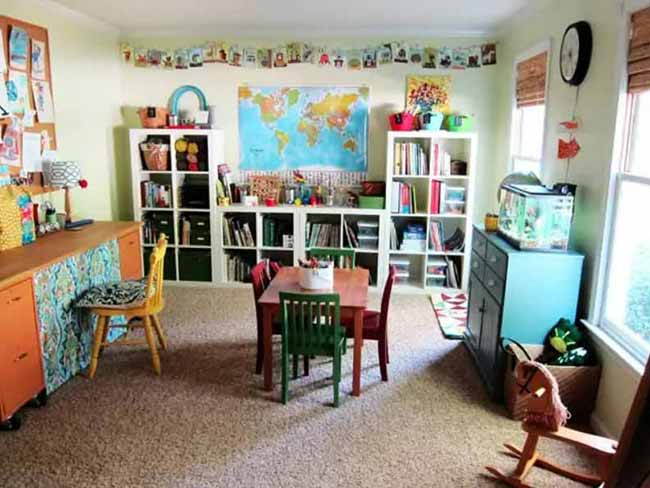 Step into a cheery spot where you can learn, play, make crafts, and do activities.
It's well-lit, and things are neatly organized. There's a main table where you do your learning.  Amanda Medlin
3. A Traditional Study Area Made Just Right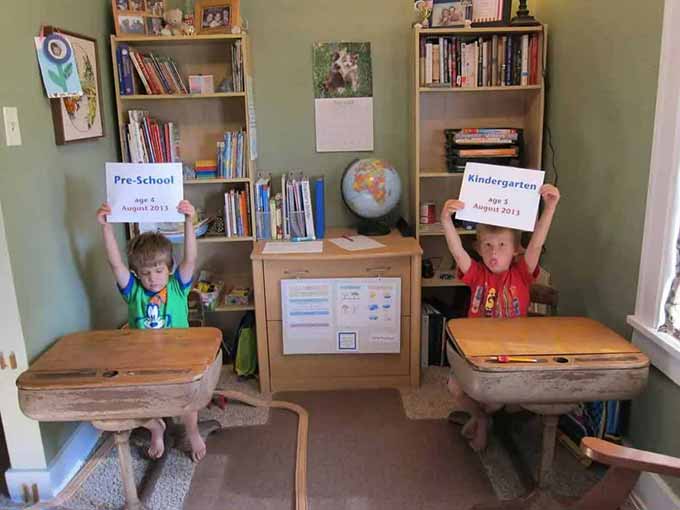 Imagine a cozy nook that's like a regular classroom but better. There are shelves with stuff like books and things to do behind you, and desks in front of you.
That way, you can focus on your work without getting too distracted by the fun things around.
4. Calm and Beautiful Homeschool Space
Picture a really peaceful place to do homeschooling. The colors are soft and relaxing, which helps everyone concentrate.
There's a table in the middle where you can do art and coloring, and the room has shelves and simple baskets to hold books, stuff for learning, and tools.
Everything is easy to reach because it's put at a height that's just right for you.  Artful Homemaking
5. Kids Work Space and Big Wall Storage Shelf: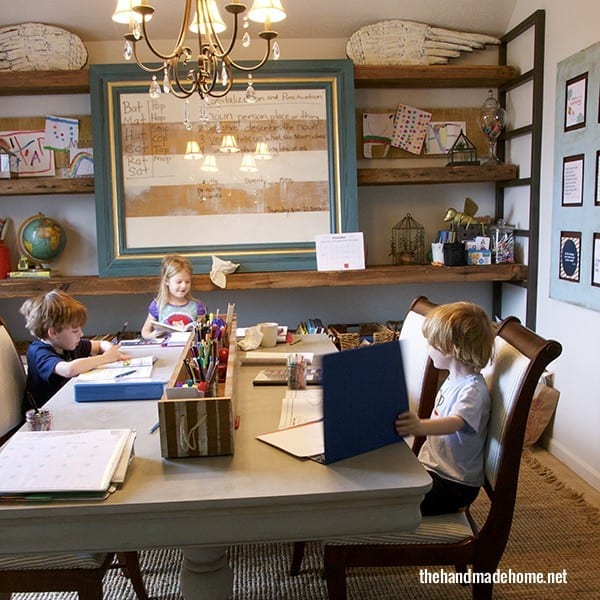 More details: thehandmadehome.net
6. Billy bookcases as dividers between desks: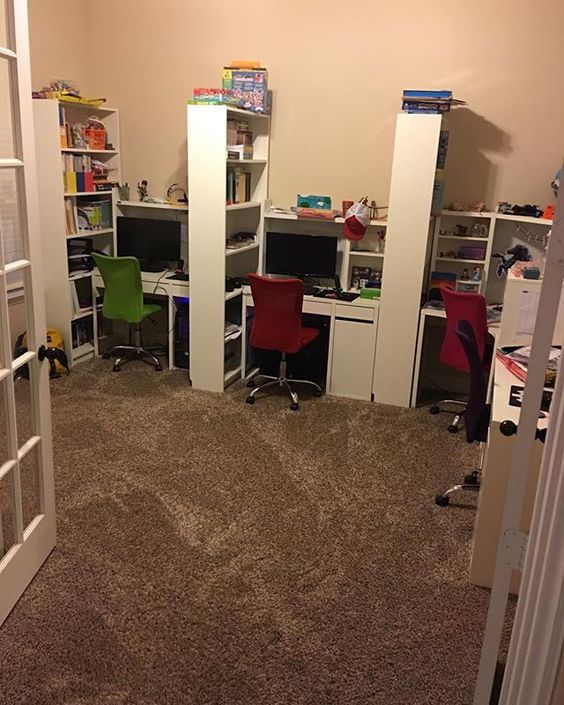 7. Kids nook with build-in chalkboard and art display board: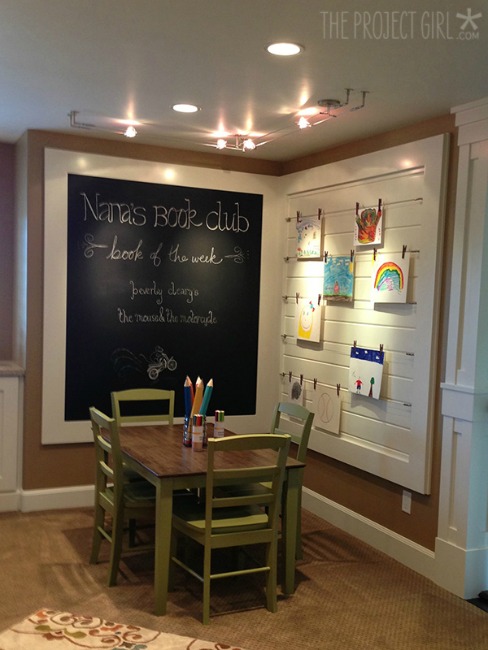 Image via: happyorganizedlife.com
4. Wall-Mounted Desks: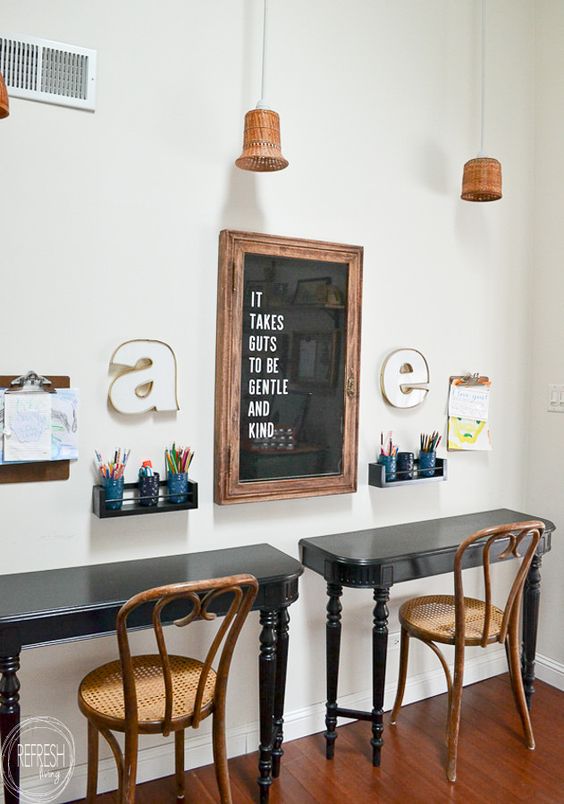 Tutorial: refreshliving.us
5. Chalkboard wall: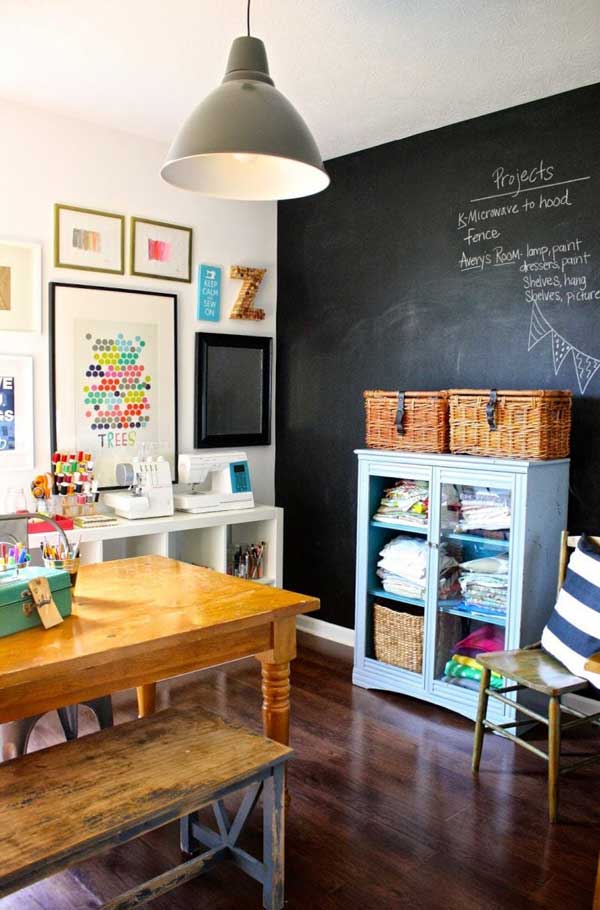 Image via: houseseven.blogspot.com
6. Stay organized by color coding your storage: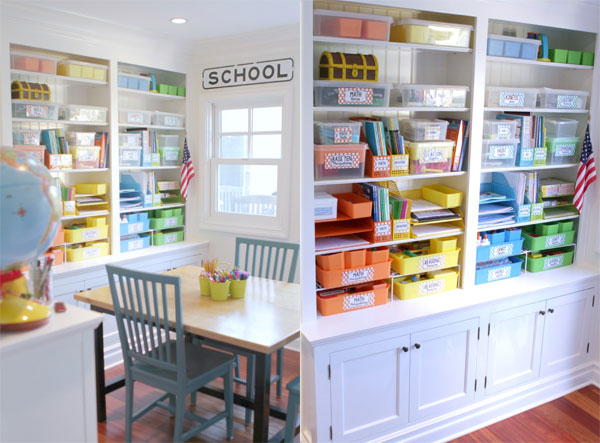 More details: themoffattgirls.com
7. Metal Bookcase and Rolling Storage Carts: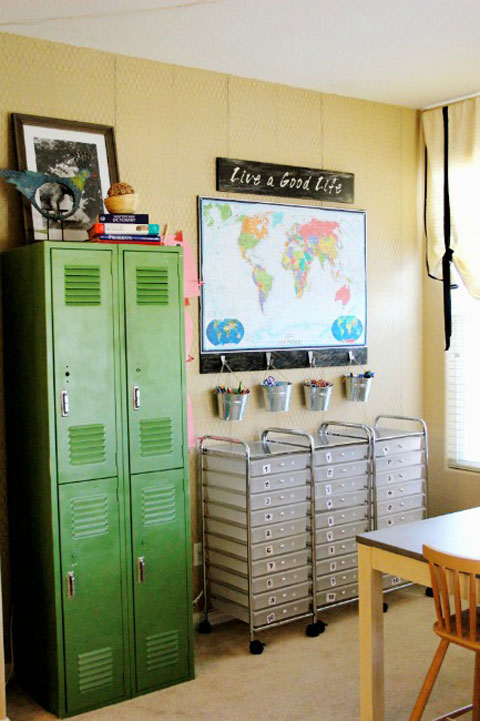 8. Simple white desk and shiny map: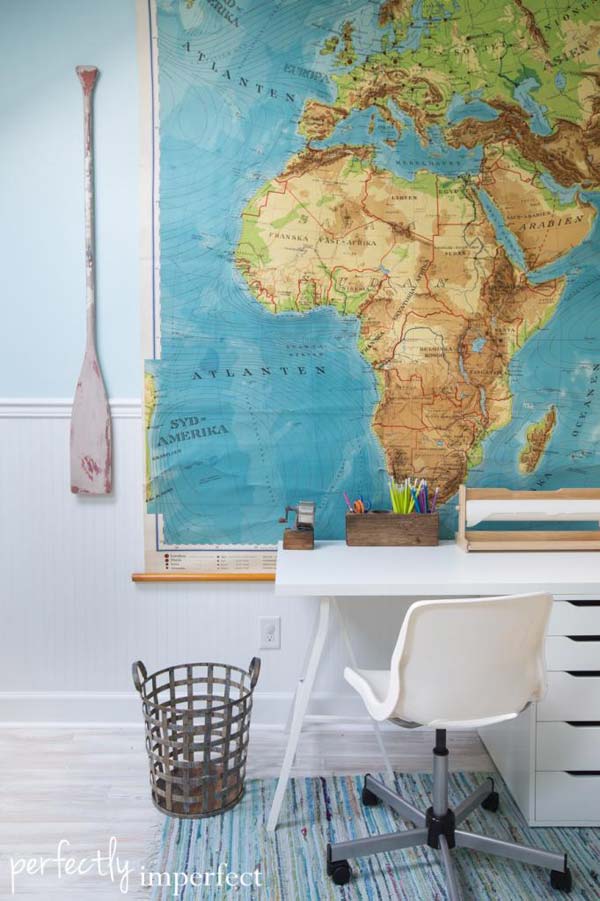 Image via: perfectlyimperfectblog.com
9. Use IKEA KALLAX and BRANAS baskets for organizing: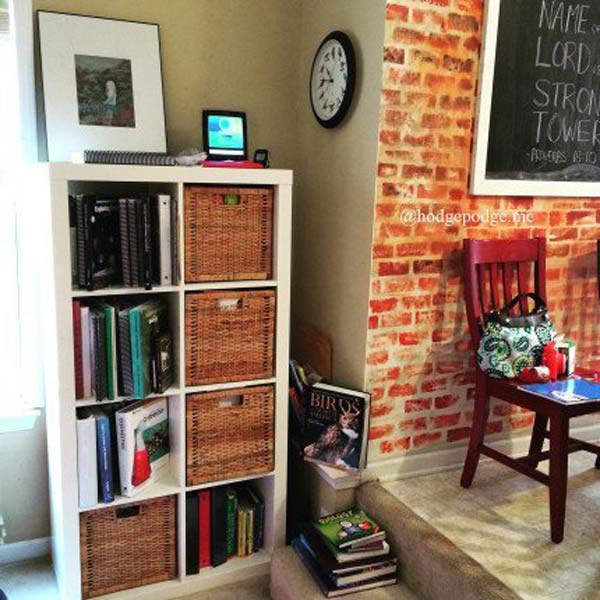 Image via: hodgepodge.me
10. Pine solid wood on wall and desk: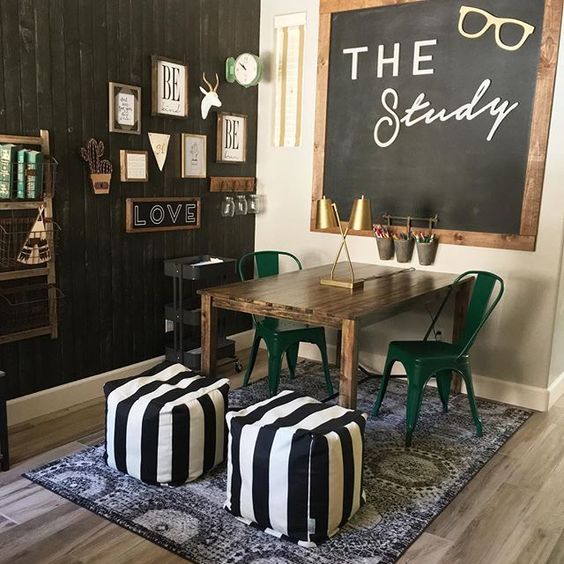 11. Add some quality lighting using wall sconces: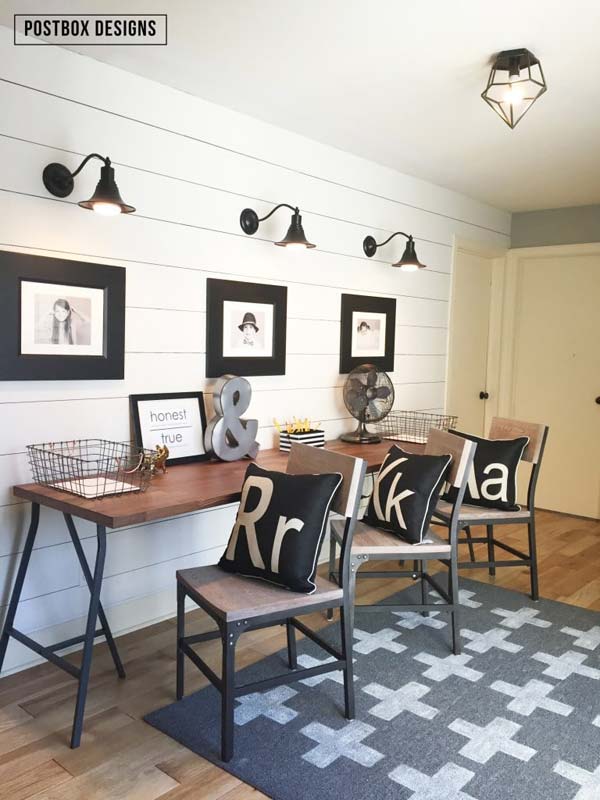 More details: postboxdesigns.com
12. Add a Shelf to an IKEA Expedit: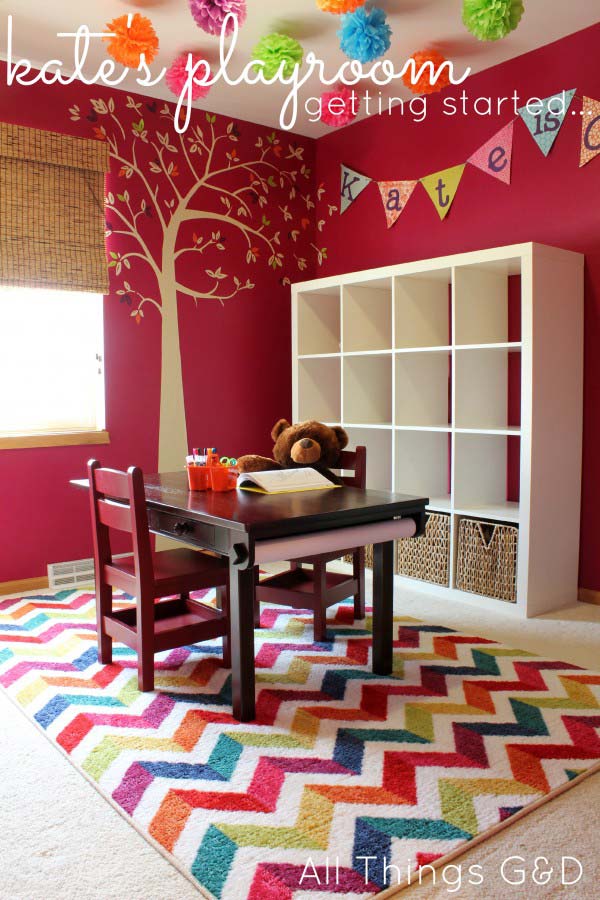 Tutorial: allthingsgd.com
13. Use kitchen cubbies to store curriculum: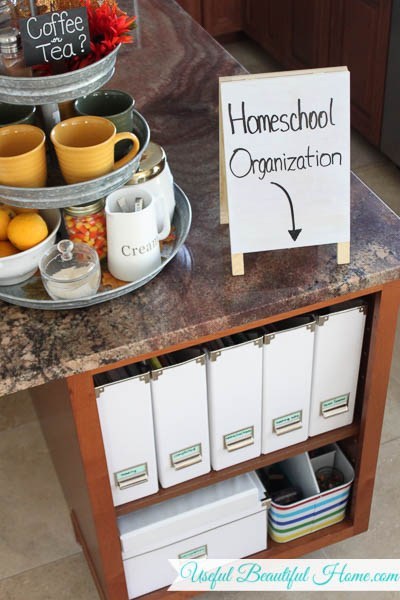 More details: orgjunkie.com
14. Two Desk Homework Nook: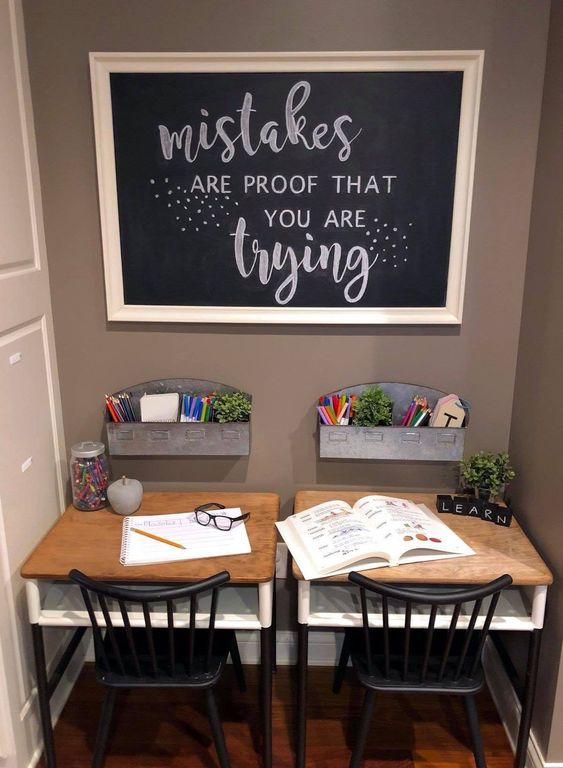 Image via: pinterest.com
15. Add an old spool library:
16. Big Kid Homework Hangout: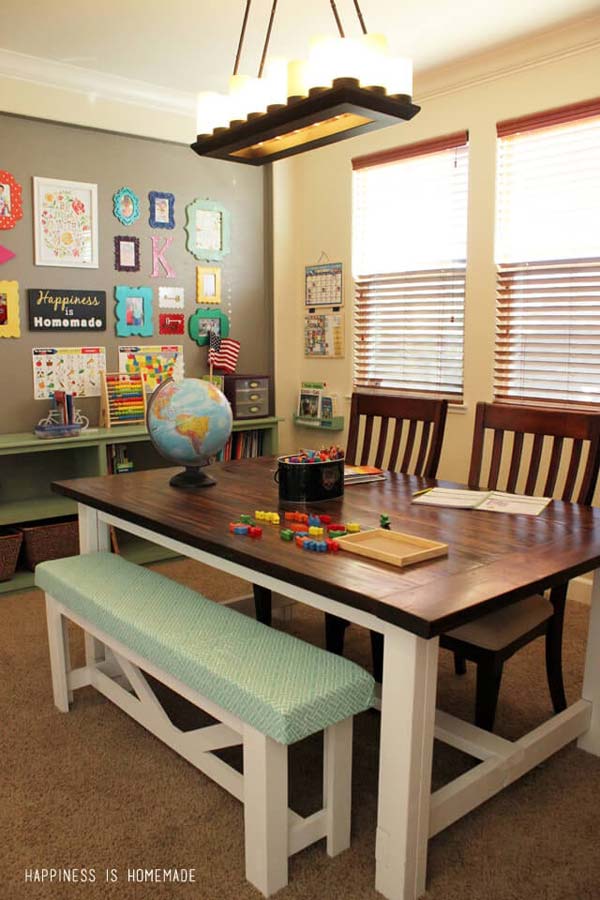 More details: happinessishomemade.net
17. Practical and Simple Homeschool Room in Black Style: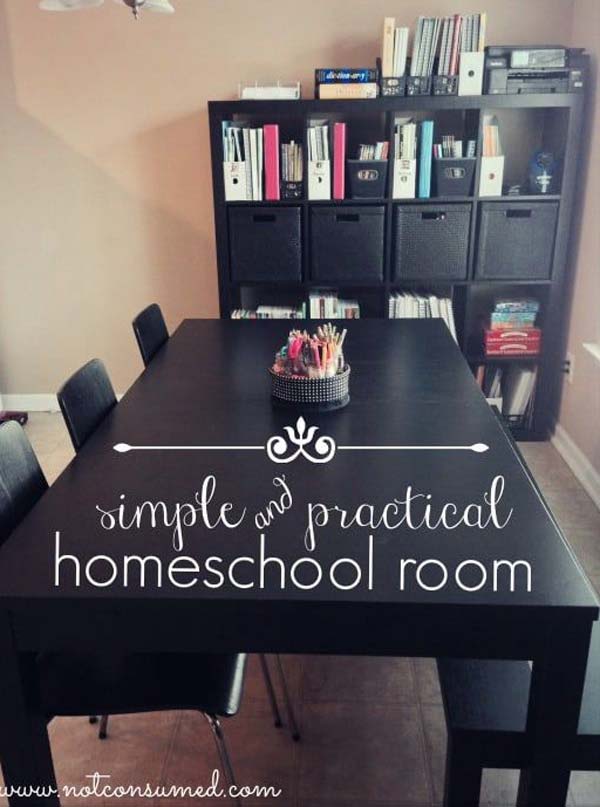 More details: notconsumed.com
18. Double sided desk: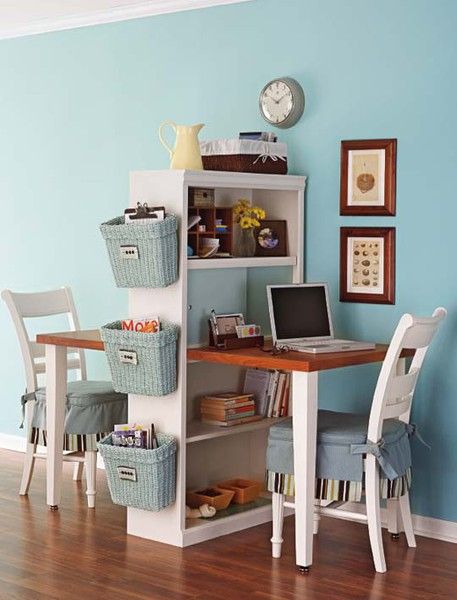 Image via: makezine.com
19. Multi-person desk space: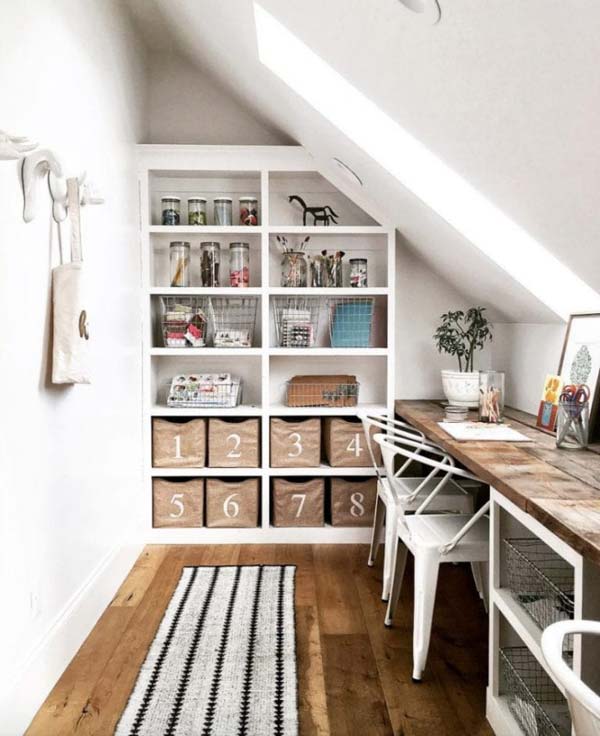 Image via: nestingwithgrace.com
20. Create back-to-back study spaces: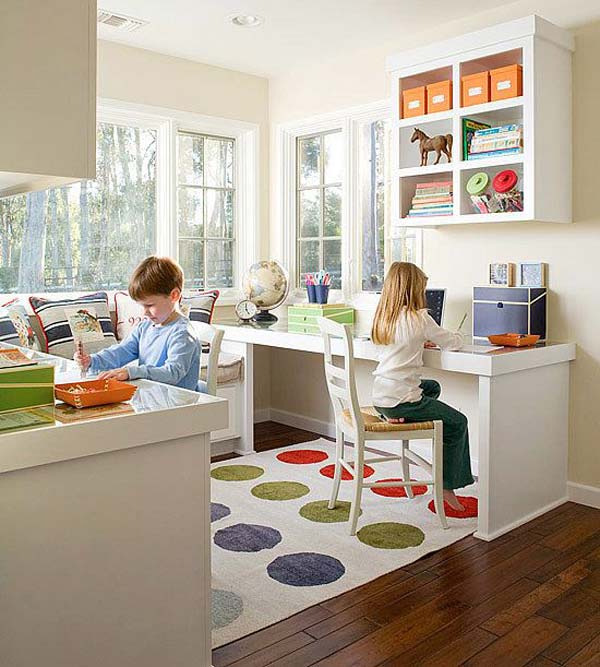 Image via: pinterest.com