Top 25 Creative Ways to Repurpose Old Boats
This blog post is all about the art of giving new life to old wooden boats. When you ponder what to do with an old boat, a world of possibilities unfolds. Old boat ideas are not limited; they stretch as far as your creativity can take you. Picture transforming an old boat into a charming doorway, or perhaps crafting a boat sandbox for endless hours of outdoor fun.
For those who love cooking and entertaining, an old boat can become a unique outdoor kitchen. And when it's time to relax, imagine swaying gently in a boat swing bed. This post is your gateway to a treasure trove of old boat decorating ideas. Keep reading to spark your imagination and discover the endless potential of repurposing old boats.
The Old Boat Couch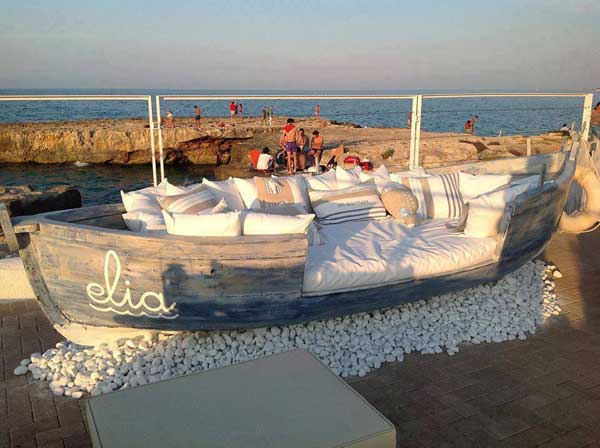 An old boat finds new life as a cozy couch. Imagine lounging on this unique piece of furniture, where comfort meets maritime nostalgia.
Old Boat Transformed into an Outdoor Kitchen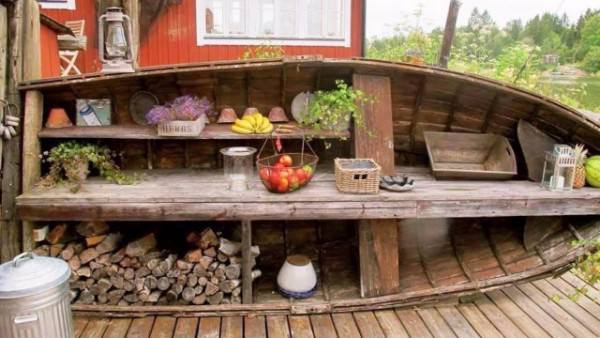 Turn your old boat into an outdoor kitchen and embark on culinary journeys in your own backyard. This clever transformation combines cooking and the great outdoors.
Cozy Bed from an Old Boat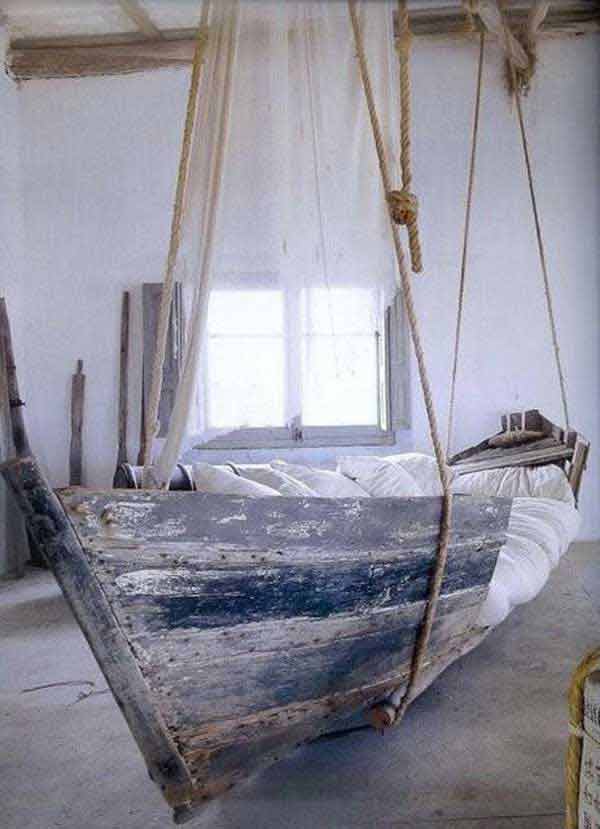 Experience the serenity of sleeping on a bed crafted from an old boat. It's a cozy retreat that brings the soothing spirit of the sea into your home.
Old Wooden Boat Turned into a Stunning Table: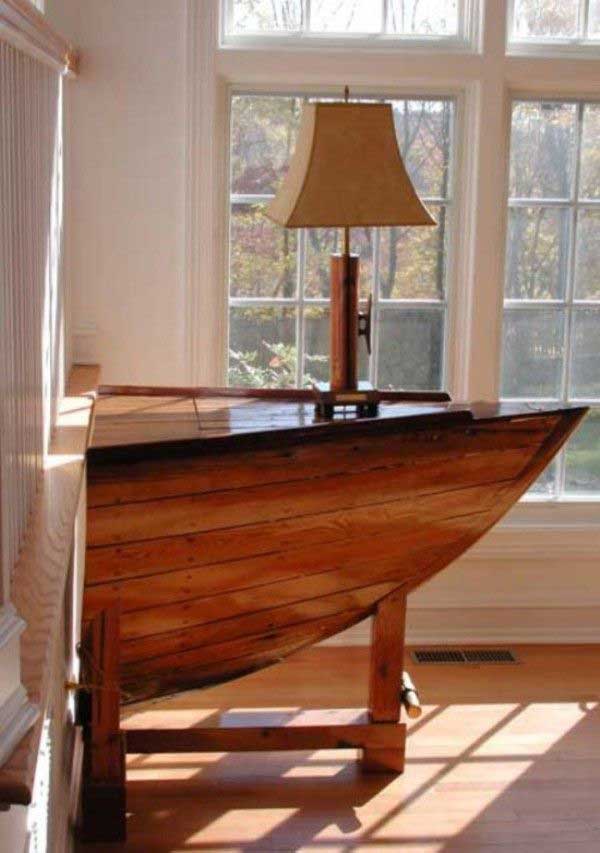 Looking to add some maritime charm to your home?
Repurpose the front part of an old wooden boat into a beautiful table that will be a conversation starter at every gathering.
An Old Boat as a Stylish Decorative Shelf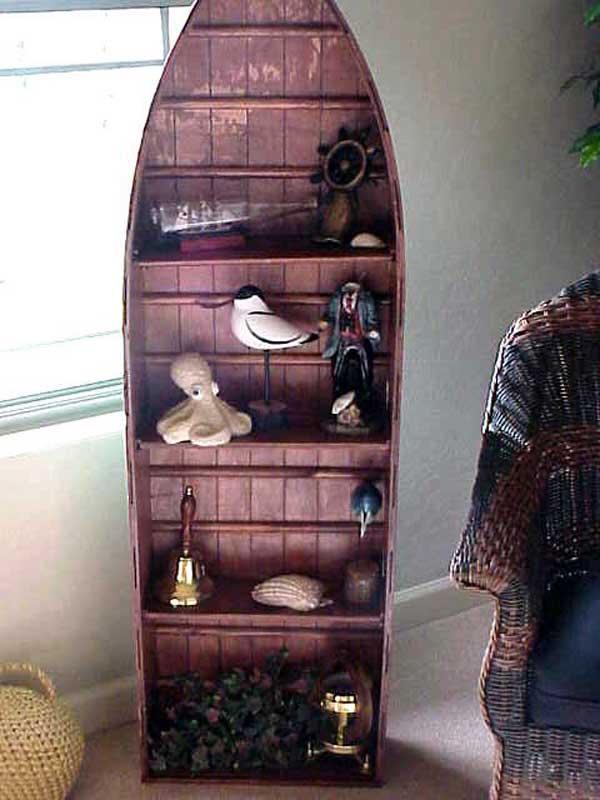 Why let an old boat gather dust when it can be a unique decorative shelf? This nautical twist on interior design is not only practical but also adds character to your space.
Display Shelves from a Vintage Wooden Canoe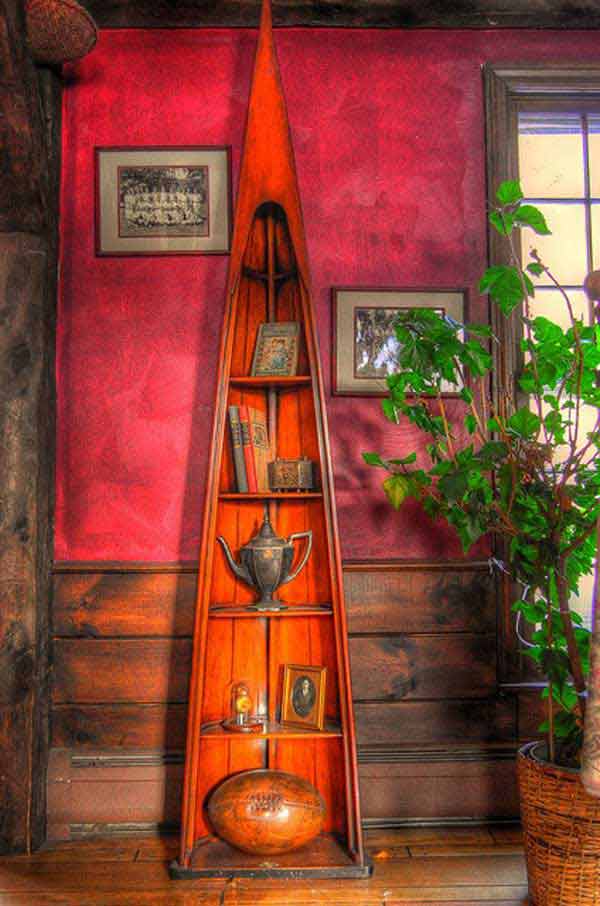 Transform an old wooden canoe into stunning display shelves that hold your treasures in style. This clever upcycling idea brings a touch of rustic elegance to your decor.
Colorful Boat Planter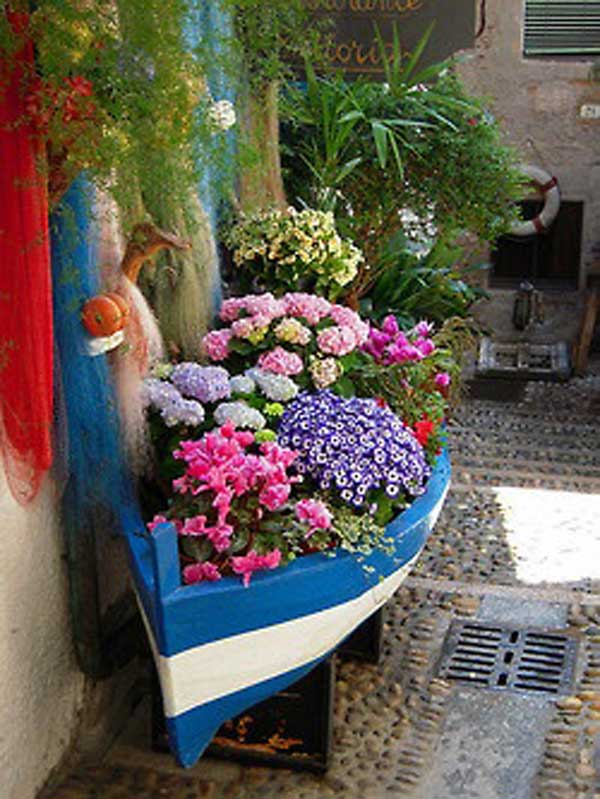 Add a burst of color to your outdoor oasis by upcycling an old boat into a vibrant planter. It's a fantastic way to breathe new life into your garden and celebrate nature's beauty.
Repurpose an Old Boat into a Unique Door Frame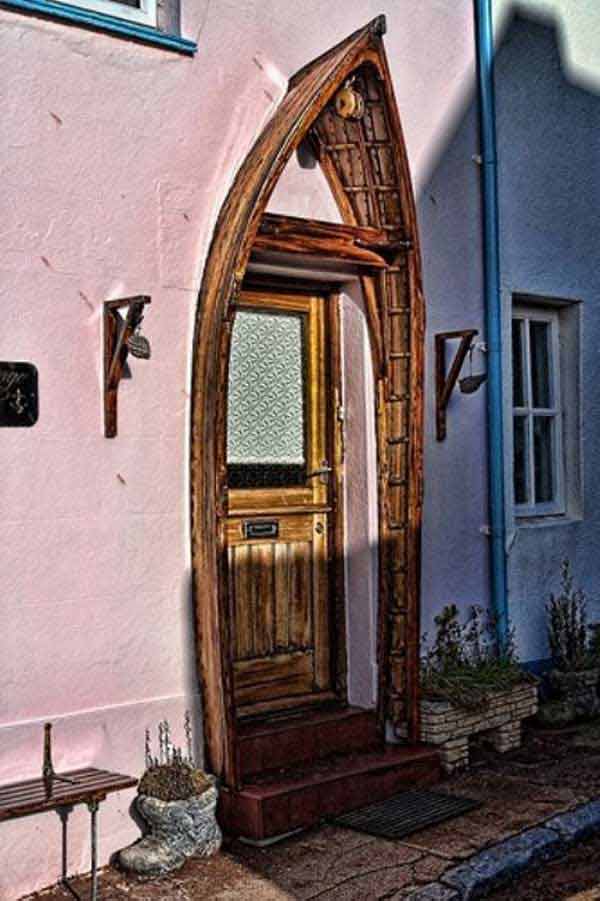 Give your home an extraordinary entrance by upcycling an old boat into a door frame. It's an unexpected twist that sets your home apart from the rest.
Boat Coffee Table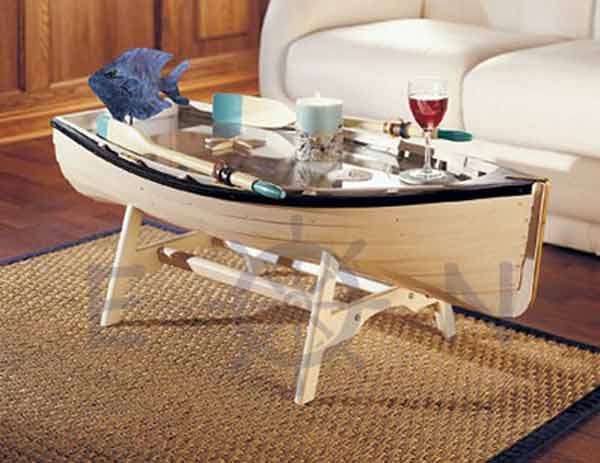 Embrace shabby chic style with a coffee table crafted from a repurposed old boat. This charming piece not only adds character but also tells a story of maritime adventures.
Romantic Boat Shelter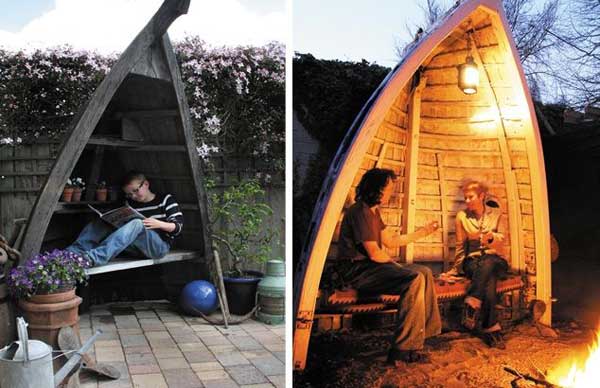 Transform your backyard into a romantic haven with a boat shelter. It's a unique way to infuse charm into your outdoor space and create a cozy retreat.
Boat Sandpit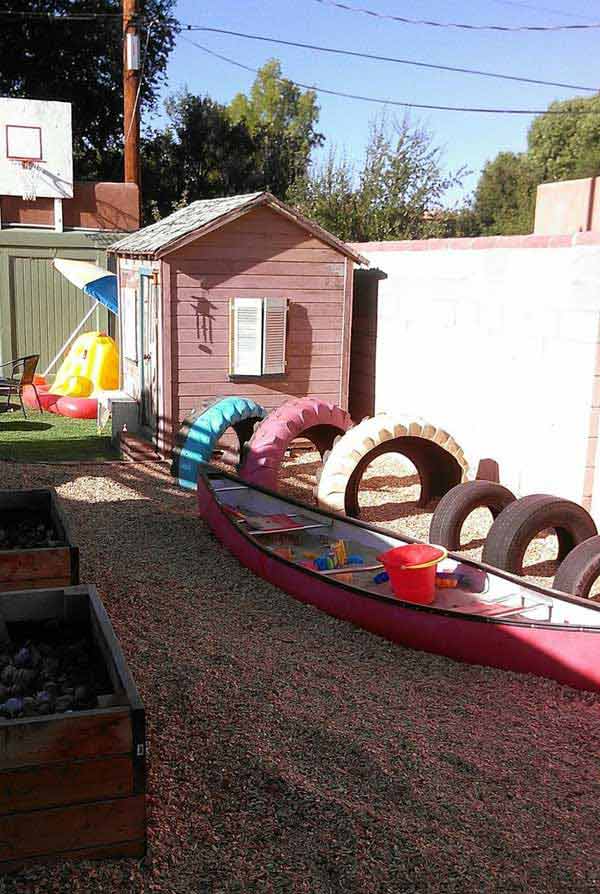 Turn an old canoe into a sandpit with the addition of some old tires. It's the perfect addition to your kids' garden, sparking their imagination and outdoor playtime.
Add a Touch of Whimsy with Boat-Planters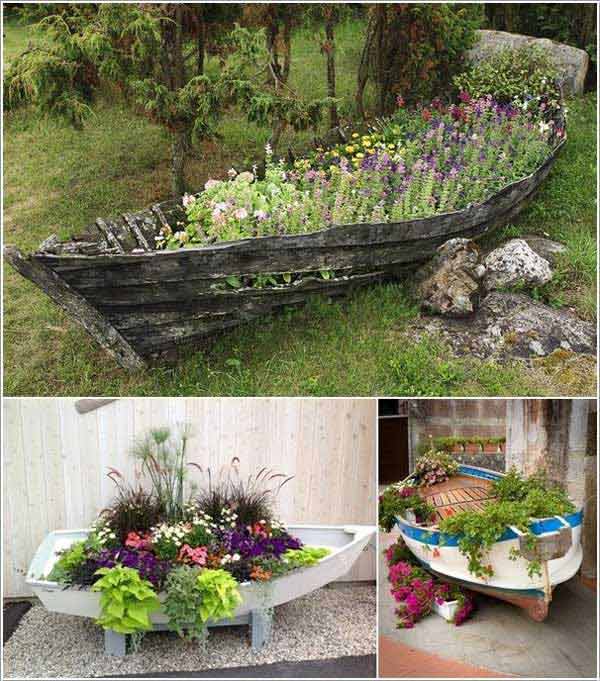 Looking for an easy and charming way to upcycle an old boat in your garden? Boat-planters are the answer, effortlessly infusing your outdoor space with personality.
Cozy Up Your Space with a Lovesat Made from a Boat Stern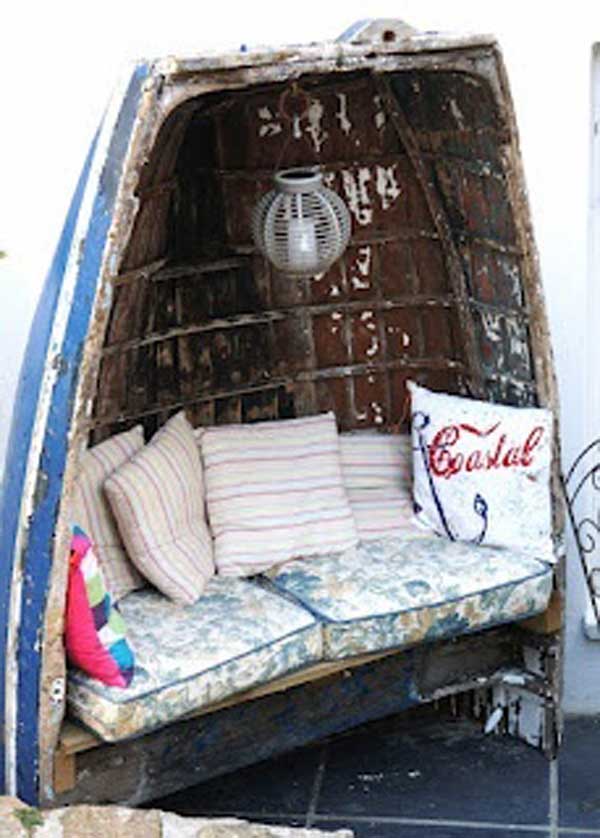 Imagine relaxing on a loveseat crafted from the stern of a boat, complete with sail cloth pillows.
Suspended Boat Decoration
Hang an old boat from your ceiling for an original and eye-catching decoration that will leave your friends in awe. It's a conversation starter that adds a touch of maritime flair to your interior.
Boat Couch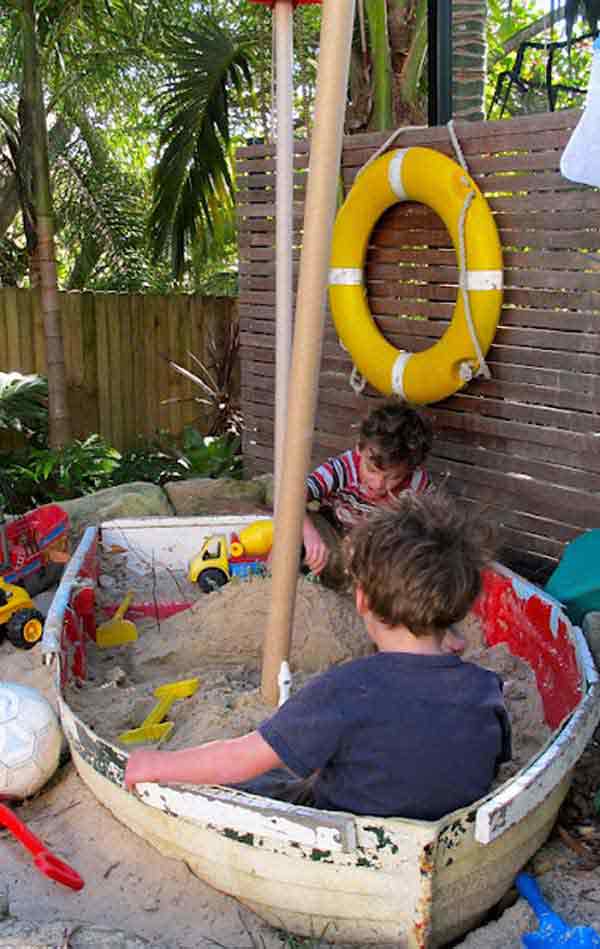 Great Boat Bed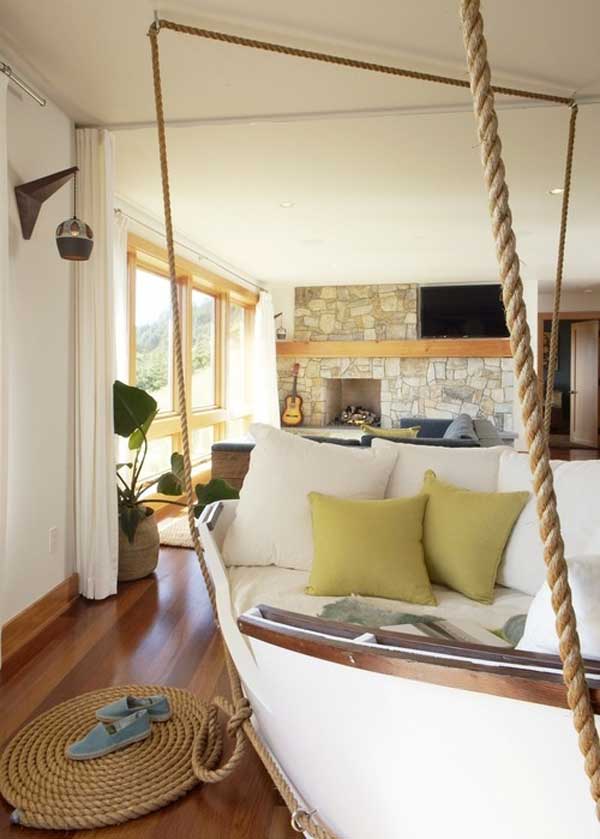 Old Boat Bookshelf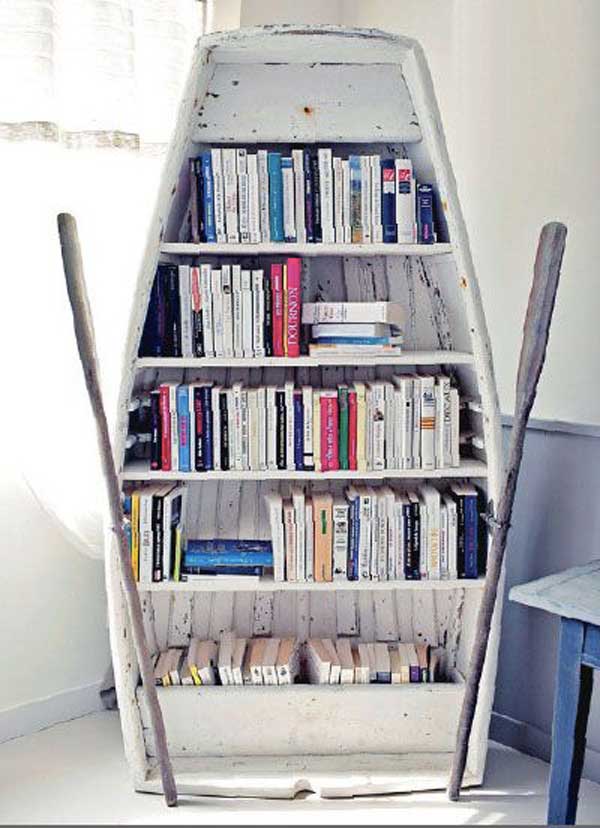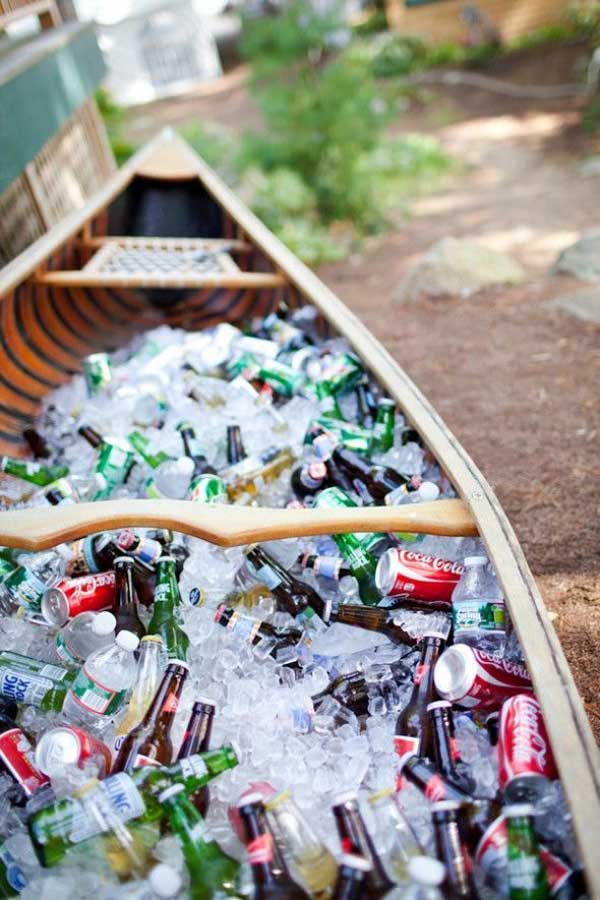 Canoe Garden Pool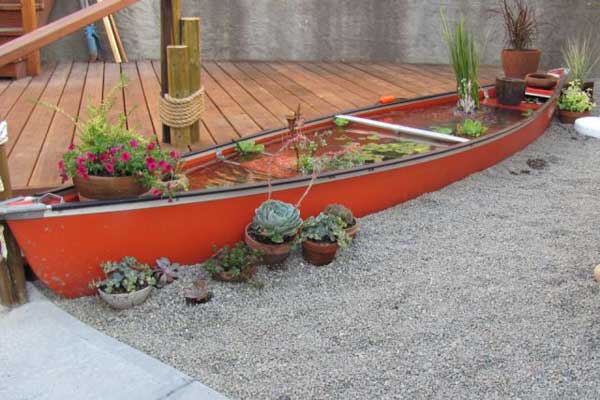 Boats and canoes are designed to be waterproof, right? So why not use both sides?
Imagine a charming garden pool created from a repurposed canoe, perfect for showcasing water flowers and perhaps some fish. It's a creative way to bring aquatic beauty to your outdoor oasis.