15 Shallow Drawer Ideas Help to Maximize Your Storage Space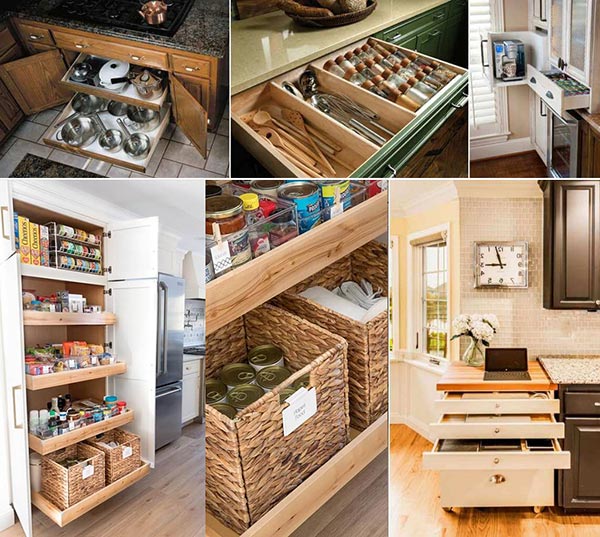 Shallow drawers, unlike deep drawers, have a ton of potential and work as an incredibly wise investment into a house. Due to their overall size, shallow drawers are incredibly versatile and can be added just about anywhere in the home. From the kitchen, to the pantry, to the bathroom, your closet and bedroom, and even your private workspace, shallow drawers can go just about anywhere and be used for just about anything. Not only that but based on your own preferences and design, you can vary the space and distance so that they are perfect for you.
In this brief list, we will go over 15 awesome and amazing ways you can organize your shallow drawers so that your home is at its tip-top greatest. Check them out and let us know which design you love the most.
1. Organize the Pantry with Shallow Drawers
By creating a few functional and versatile shallow drawers, you can make getting things from the pantry incredibly easy and convenient.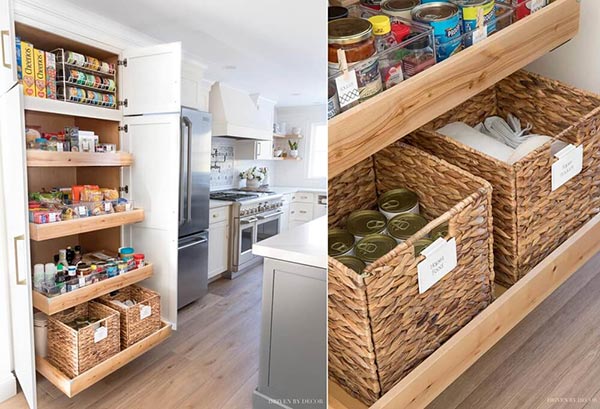 via: drivenbydecor.com
2. Keep All Pots and Pans near You
Install 2 shallow drawers under a cook top in your kitchen. This not only makes getting pots and pans much easier, but also gives a nice visual to your kitchen and cooking experience.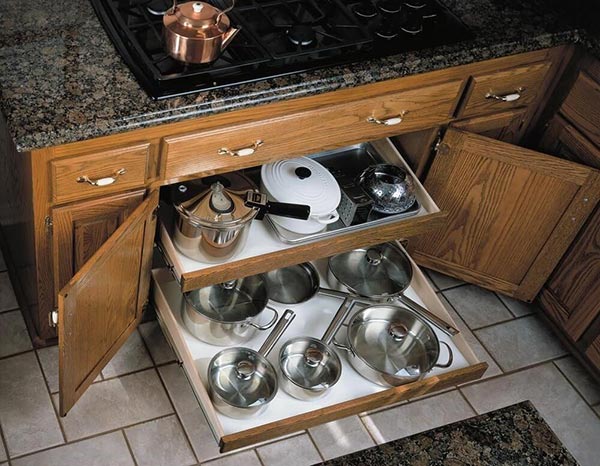 3. Have a Spice Jar Drawer
In one of your shallow drawers in your kitchen, consider assigning one specifically for your various spice jars. If you have room left over, consider using the remaining space for your daily use or favorite cooking/baking utensils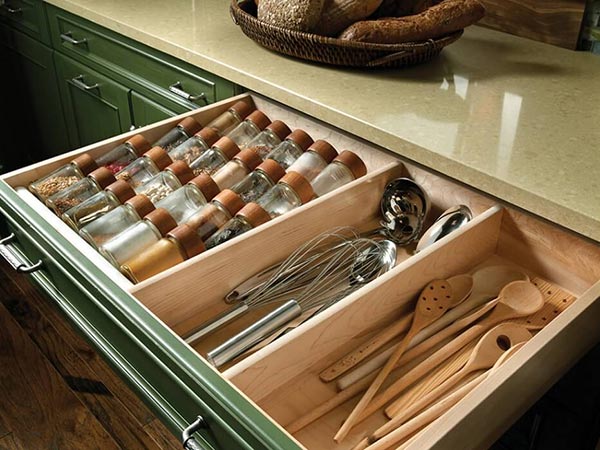 via: houzz.com
4. Double Your Bathroom Vanity Storage
Turning your standard drawer into a shallow drawer, you can effectively double your bathroom vanity's space overnight. This not only gives you more room to organize your bathroom settings but also gives your vanity counter a much more organized appearance as well.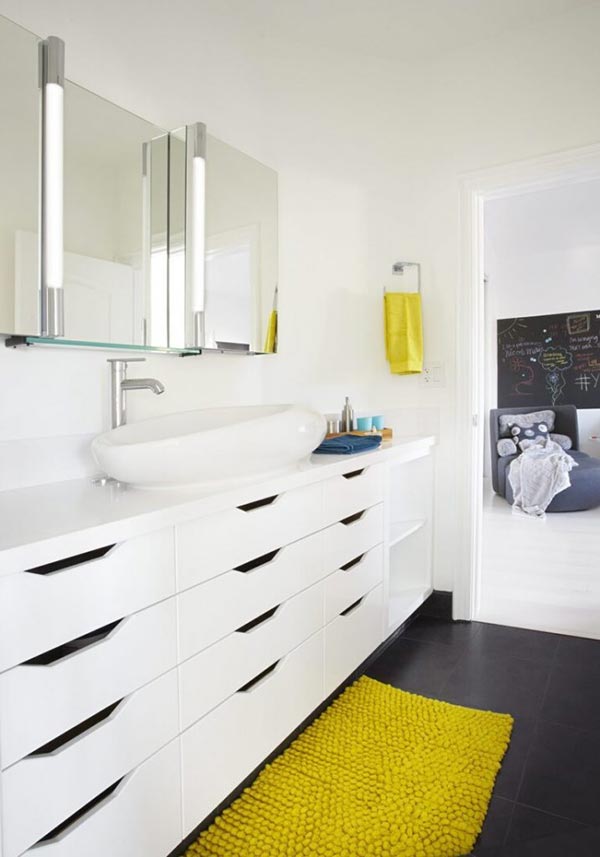 via: houzz.com
5. Keep Shoes Dust-free with an Entryway Hall Drawer
Adding your entryway hall with a set of shallow drawers can be a great place to store shoes, children's toys, and other items in a readily available location for the whole family.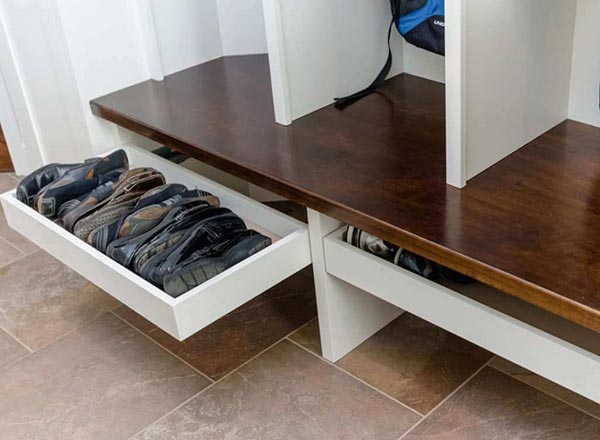 via: houzz.com
6. Set up a Printer Station with a Shallow Drawer
In your office space in your home, set a shallow drawer space for your printer so that it is properly tucked away when not being used.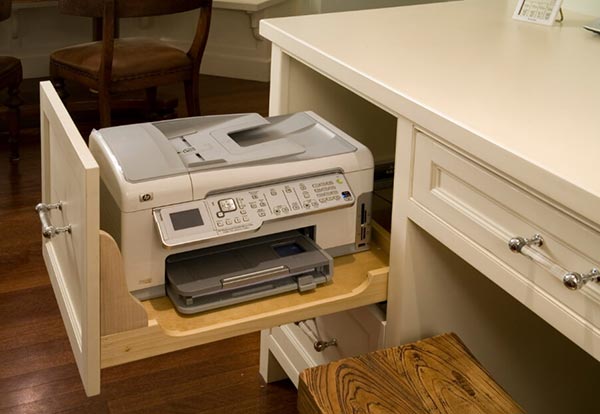 via: houzz.com
7. Create a Space for your Vanishing Lids
If you have constantly disappearing items in your kitchen or home, create a dedicated space for them in a larger drawer in your home. For lids, a great option would be to have them in a shallow drawer inside a deep drawer.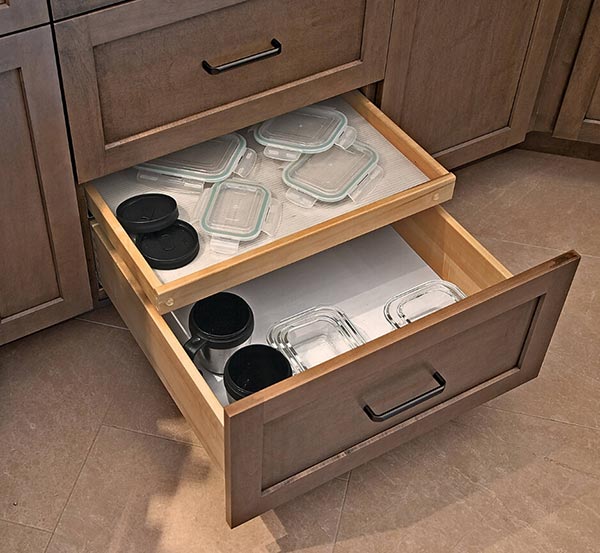 via: houzz.com
8. Create an In-House Jewellery Station
By adding a few shallow drawers in your makeup vanity area, you can literally create your own jeweler's collection area for different rings and necklaces.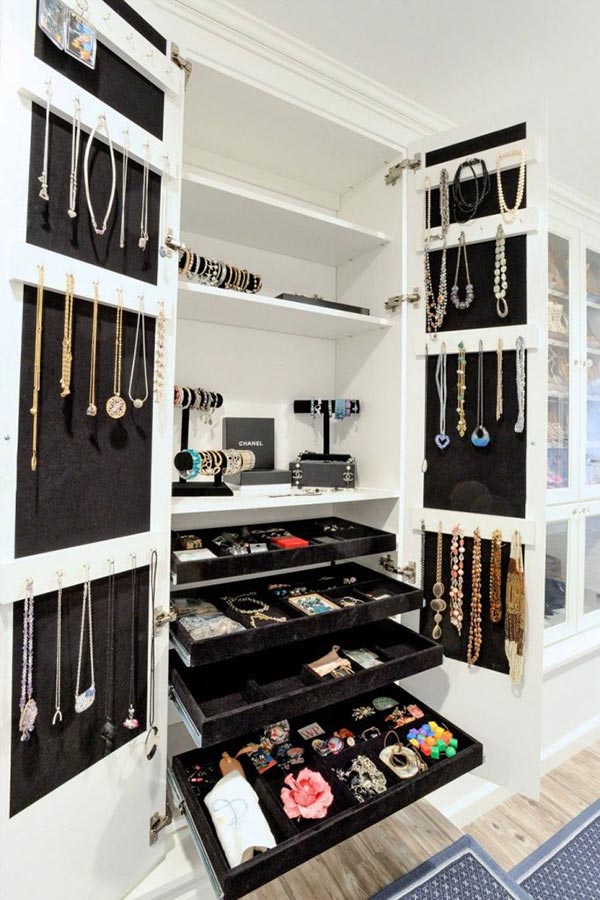 via: houzz.com
9. Create a separate Dish Drawer
For dishes that you use less frequently, consider installing a shallow drawer under your kitchen cabinets for even more space.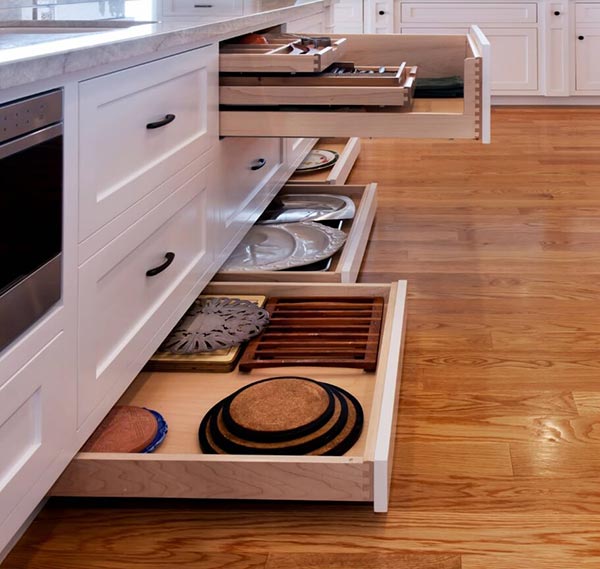 via: houzz.com
10. Make a Coffee Pod Space
If you're someone that loves coffee pods, consider installing a few shallow drawers in your cabinet space for your coffee machine and coffee pods.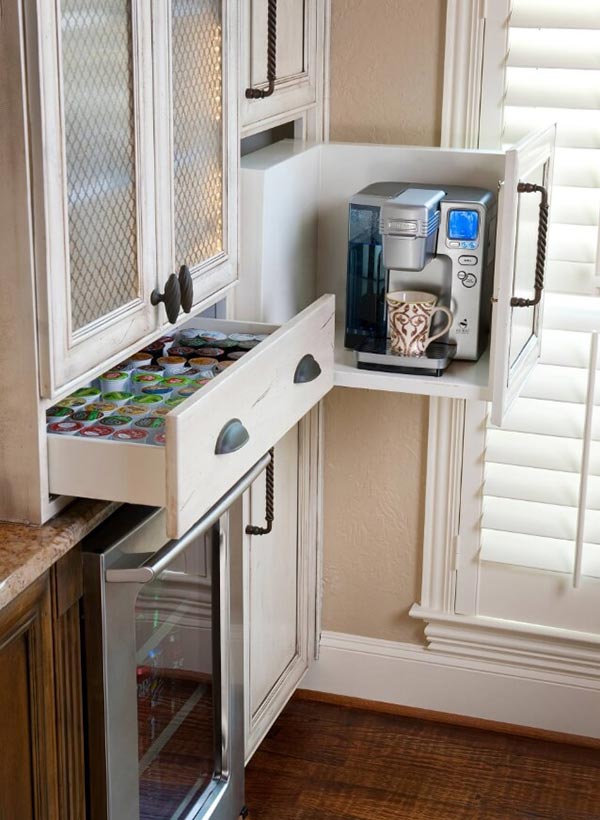 11. Convert a Shallow Drawer into a Charging Station
By simply adding a power strip in a shallow drawer, you can instantly turn it into a local charging station for your phones, laptops, and tablets.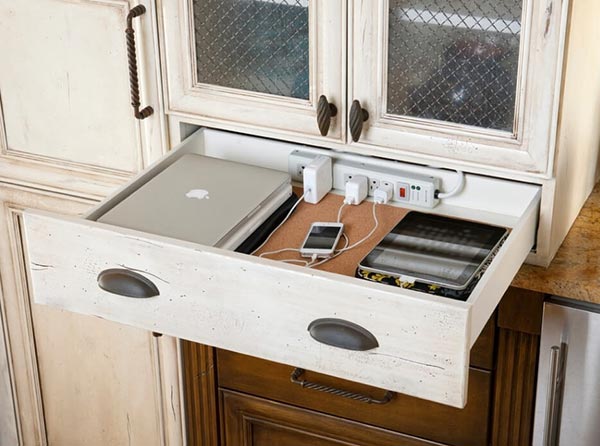 via: houzz.com
12. Install a Shallow Drawer in Your Laundry Room
An excellent place to set up drying racks, a shallow drawer in your laundry room can immediately improve the overall quality of the area.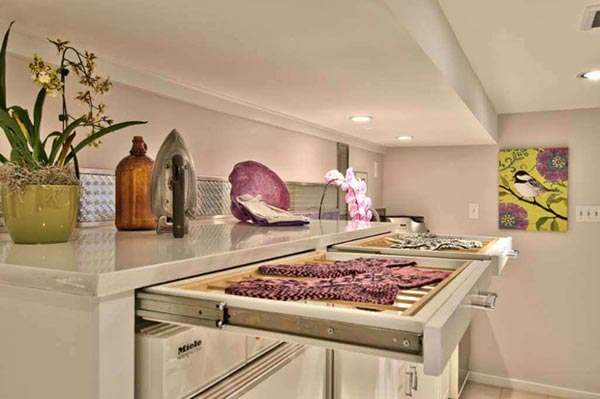 via: houzz.com
13. Make a Local Drawer for Screen Gadgets
By assigning a shallow drawer in a common area of the home, you can use it for various electronic gadgets like your smart phones and tablets.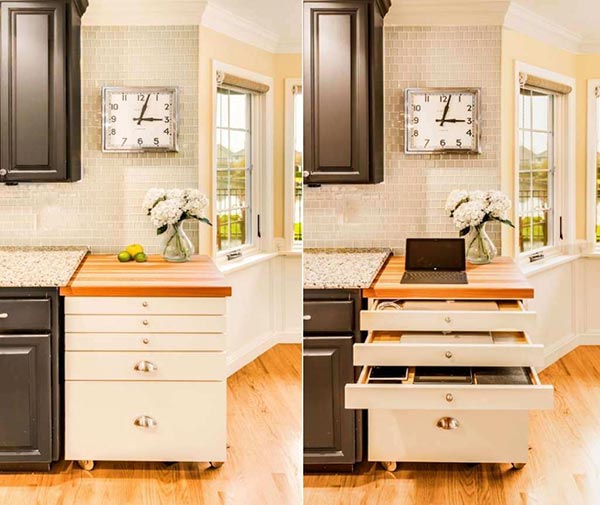 via: houzz.com
14. Create an Organized Bathroom Setup
Installing some shallow drawers in your bathroom can be a great place to put clean towels and other bathroom essentials while having an organized and clear space.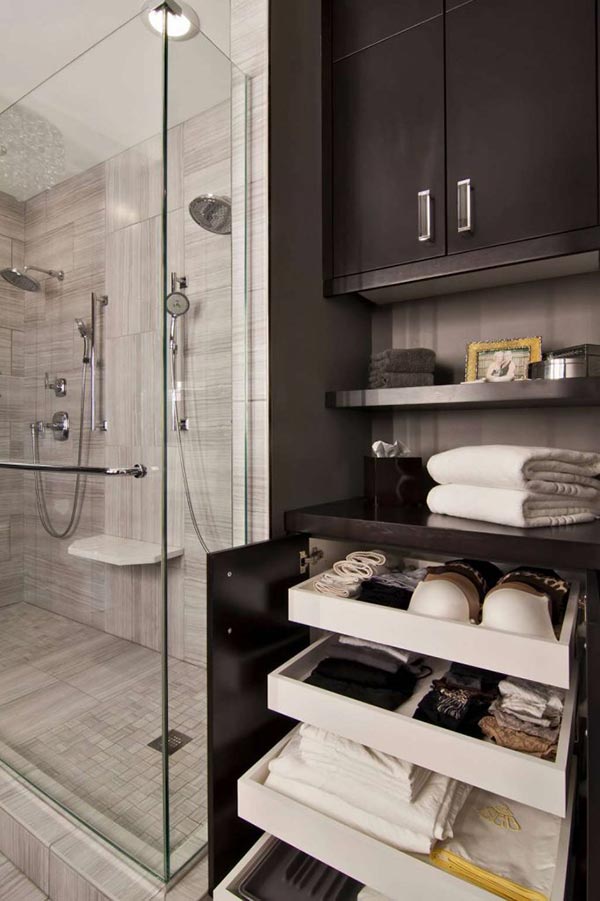 via: houzz.com
15. Make the Perfect Place for Bathing Toiletries
Finally, a perfect area to set up a shallow drawer is right next to the bathtub. There, you can make sure you always have nearby bathing toiletries on hand.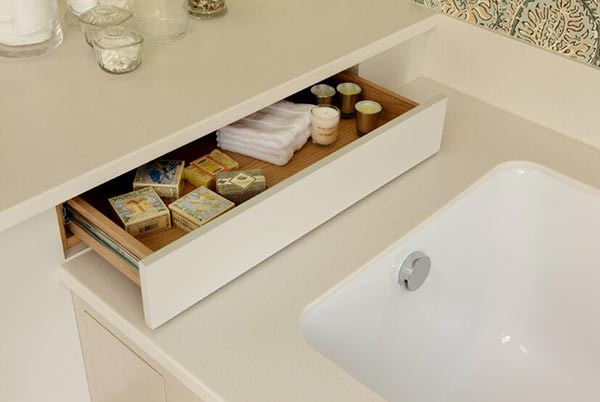 via: houzz.com