Transform Your Mailbox with These 32 Flower Bed Landscaping Ideas
Are you tired of the same old boring mailbox surrounded by just a patch of grass? It's time to spice things up and add some personality to your curb appeal with some mailbox landscaping ideas featuring flower beds.
Flower beds are a simple and easy way to transform your mailbox into a stunning focal point of your front yard. Whether you opt for a colorful mix of annuals or a lush bed of perennials, the options are endless. Not only will your mailbox become a beautiful backdrop for your flowers, but it will also serve as a lovely greeting for anyone who visits your home.
So, grab your gardening gloves and let's get to work! From raised flower beds to cascading blooms, there's no limit to the creativity you can bring to your mailbox landscaping. Get inspired by incorporating unique shapes, textures, and colors to make your flower bed stand out. And the best part? With a little love and attention, your flower beds will bloom year after year, bringing a touch of nature to your doorstep.
So, what are you waiting for? Let's turn that bland mailbox into a showstopper with these amazing mailbox landscaping ideas featuring flower beds!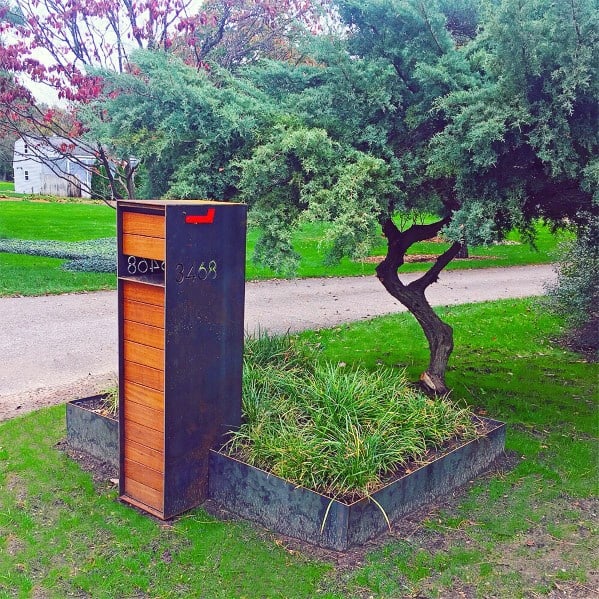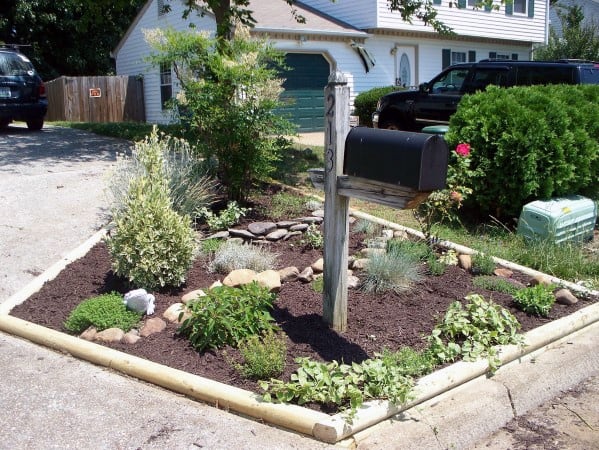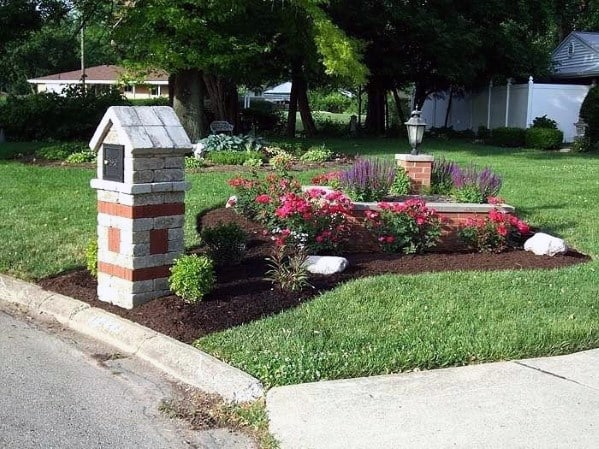 =========================================================
1. Purple Clematis: A Top Pick for Mailbox Flowers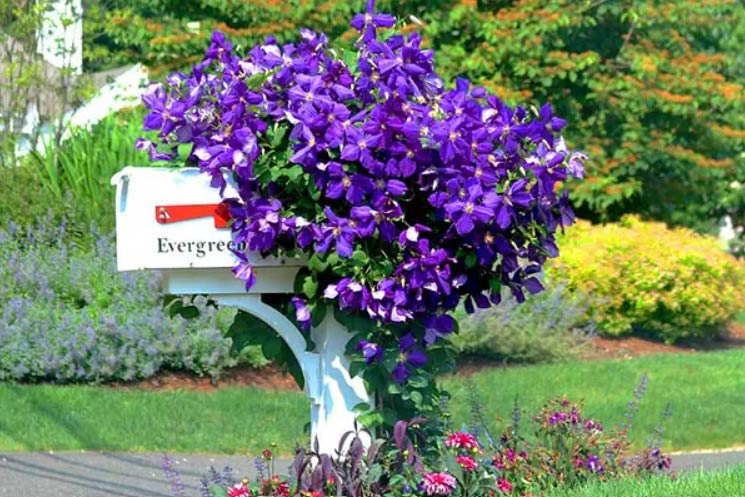 When it comes to mailbox flowers, the purple Clematis is a favorite. With a variety of names such as vase vine, traveler's joy, and old man's beard, this vine adds a touch of style to your mailbox.
2. Vine-Covered Mailbox Garden for a Pop of Color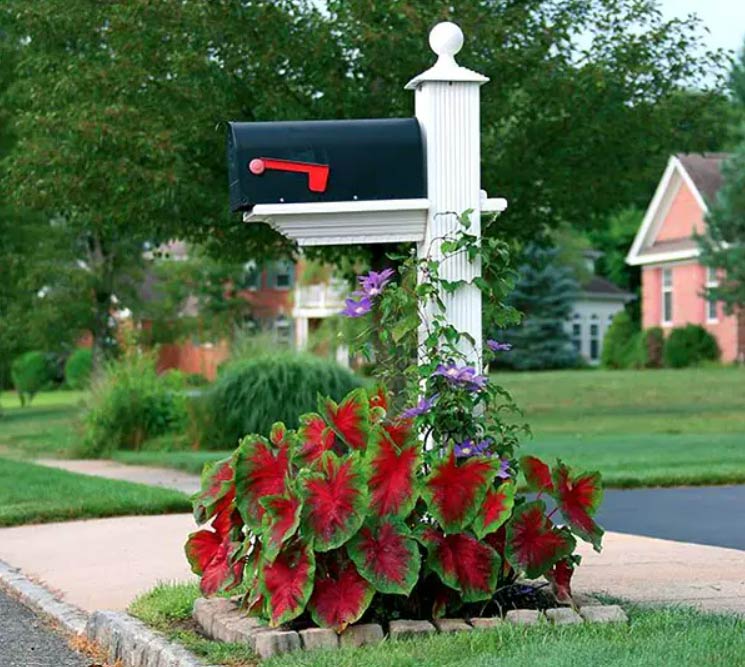 Get creative with your mailbox landscaping by adding some climbing vines. The deep purple clematis pairs perfectly with the red Caladiums for an eye-catching contrast.
3. Add a Touch of the Tropics to Your Mailbox Garden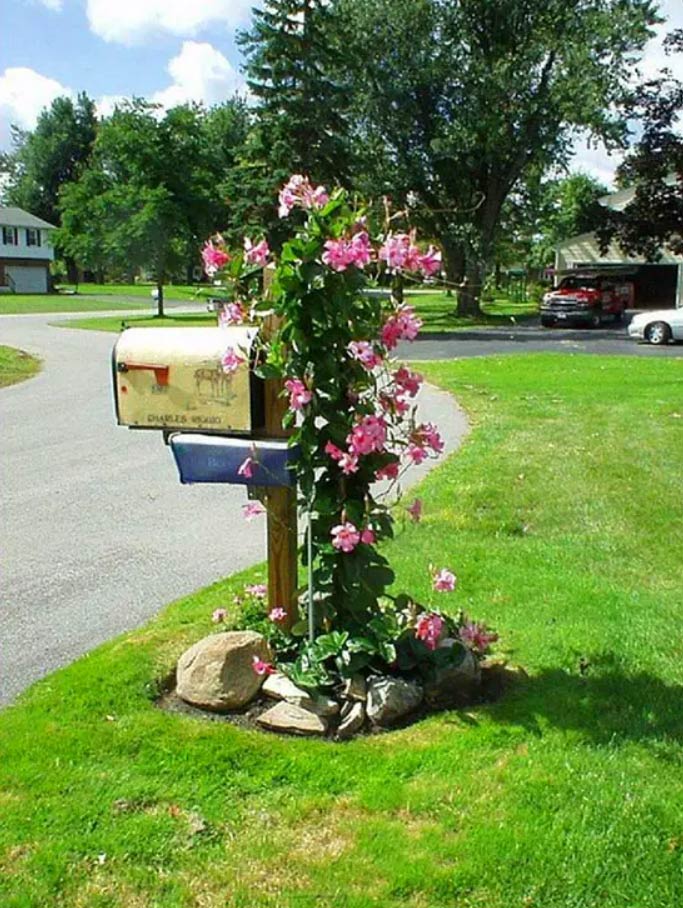 Bring some sun-loving tropical flair to your front yard with a pink Mandevilla (also known as Rocktrumpet).
4. The Perfect Mailbox Landscaping with a Cottage-Style Twist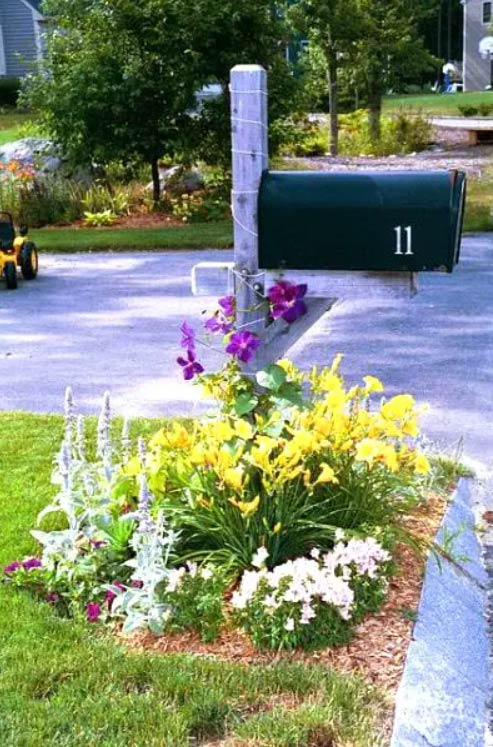 Bringing a touch of the countryside to your front yard, this mailbox landscaping combines perennials and annuals for a charming look.
5. A Simple Yet Elegant Countryside Mailbox Garden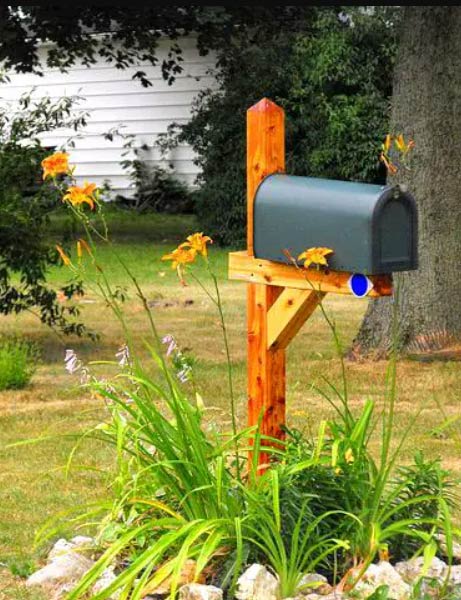 With its mix of greenery, stones, and wooden post, this mailbox garden has an unpretentious charm that brings a touch of the countryside to your front yard.
6. Add Some Height with a Raised Mailbox Flower Bed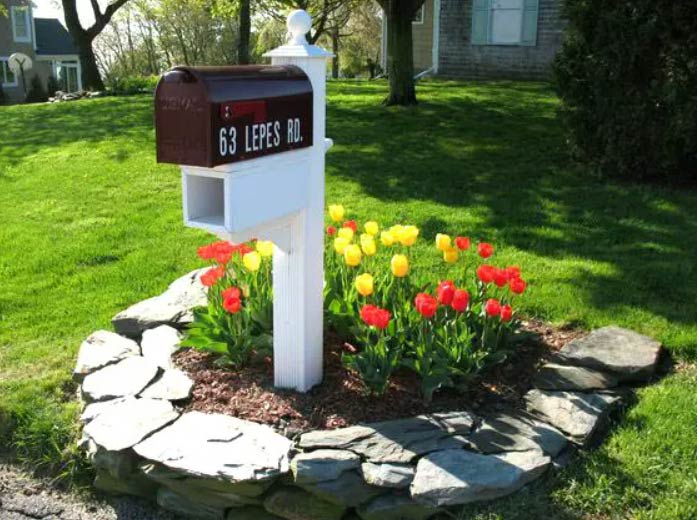 Take your mailbox landscaping to the next level with a raised flower bed surrounded by flat stones for an added touch of charm.
7. Shaded Perennials for Your Mailbox Garden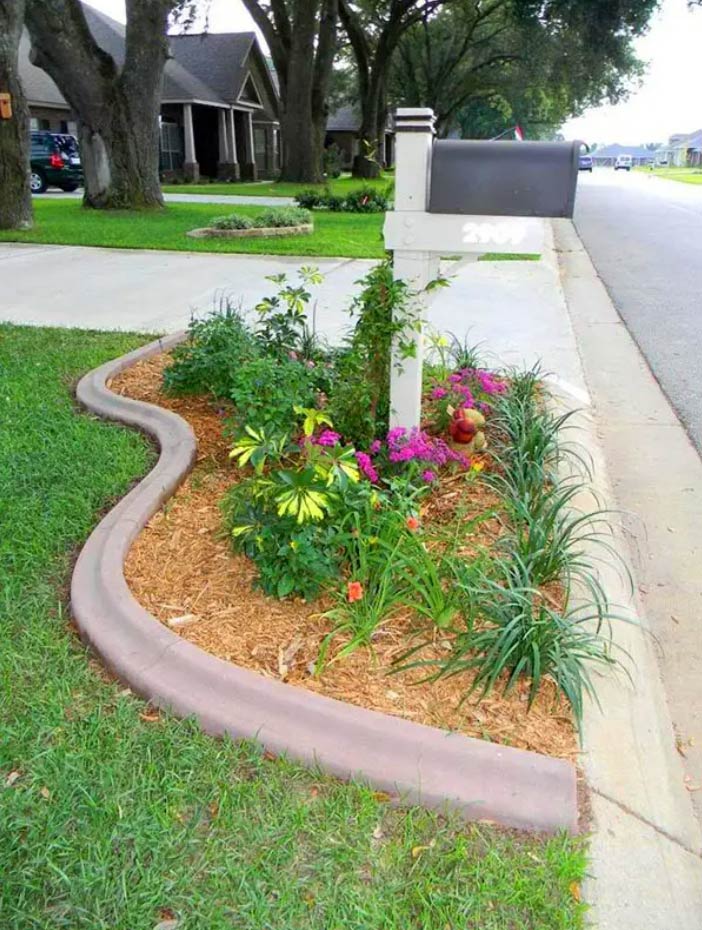 Opt for maintenance-free, pint-size perennials for your mailbox garden. Choose from a variety of plants such as Ivory Hearts, Astilbes, Petunias, and more.
8. Low-Maintenance Perennials for a Stunning Mailbox Garden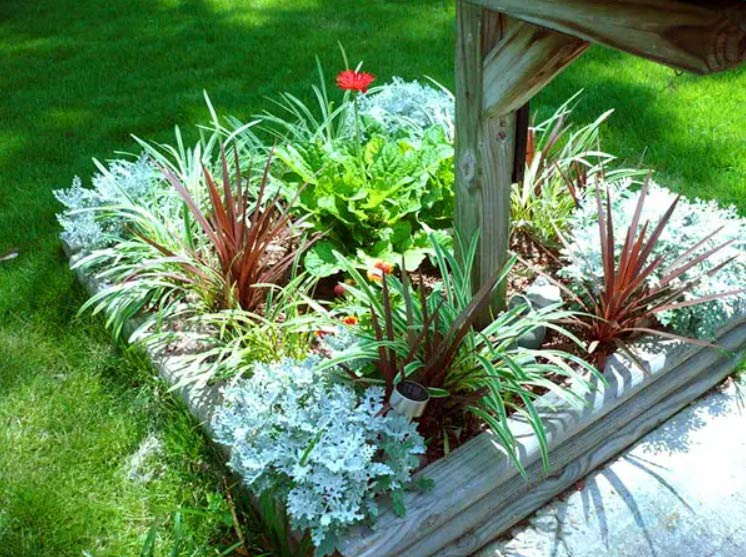 With its mix of variegated Liriope, dusty miller, and darker grass, this mailbox garden is both fresh and low-maintenance.
9. A Personalized Mailbox Garden with a Chic Touch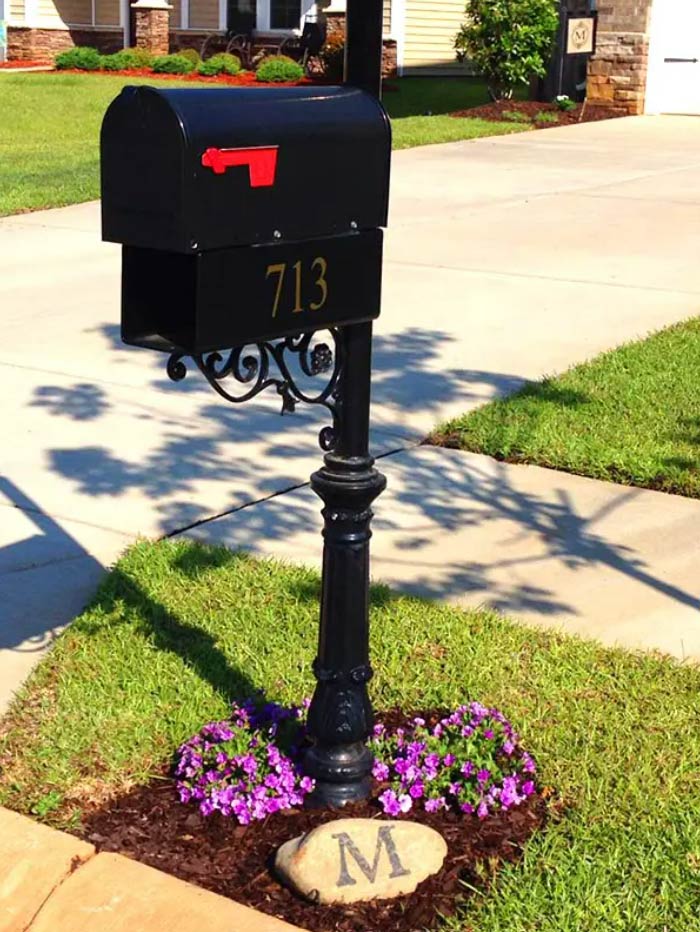 Make your mailbox stand out with a simple but stylish flower bed. The black mailbox and post perfectly contrast with the purple petunias and the personal touch of a message written on a stone.
10. Wooden Mailbox Garden with a Stylish Touch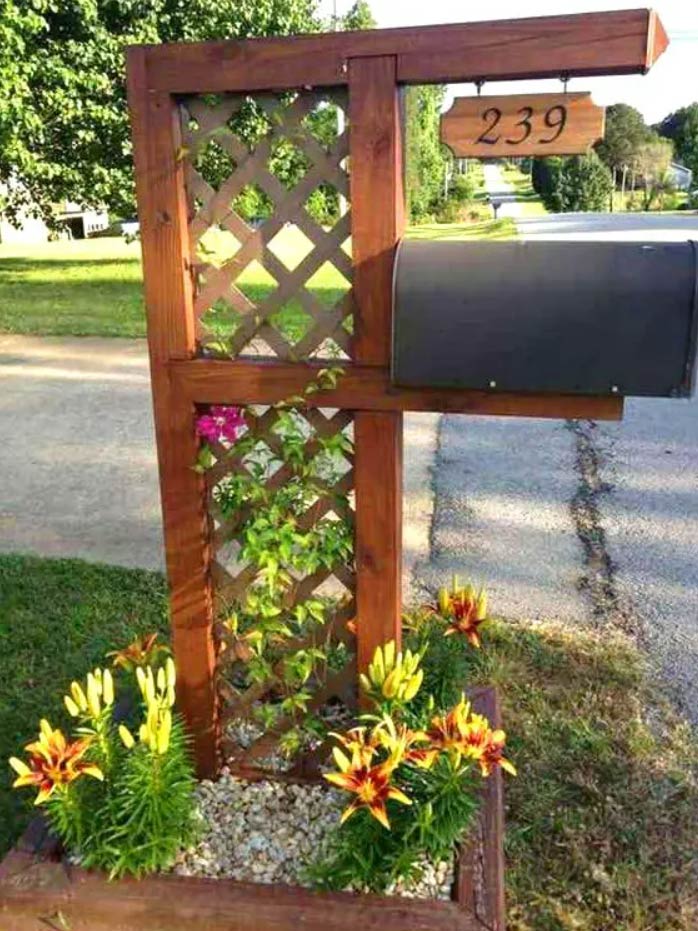 Add some extra charm to your mailbox garden with a wooden construction. The choice of flowers is simple but stylish, making this a great choice for your front yard.
11. Bring a Natural Touch to Your Mailbox Garden with Stones and Wood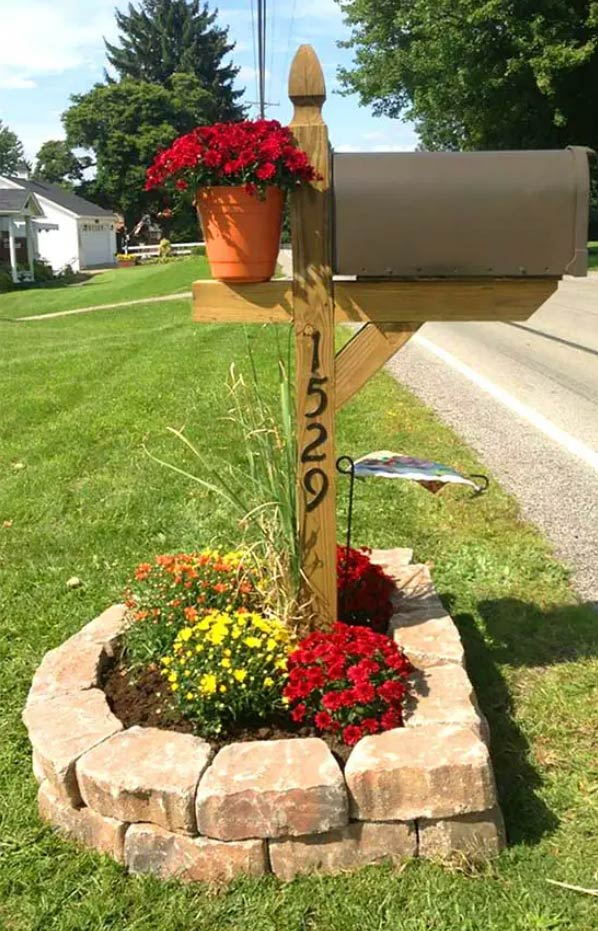 When creating a flower bed around your mailbox, consider using natural materials such as stones and wood for an unpretentious and welcoming look.
12. A Cohesive Mailbox Garden with Texture and Intimacy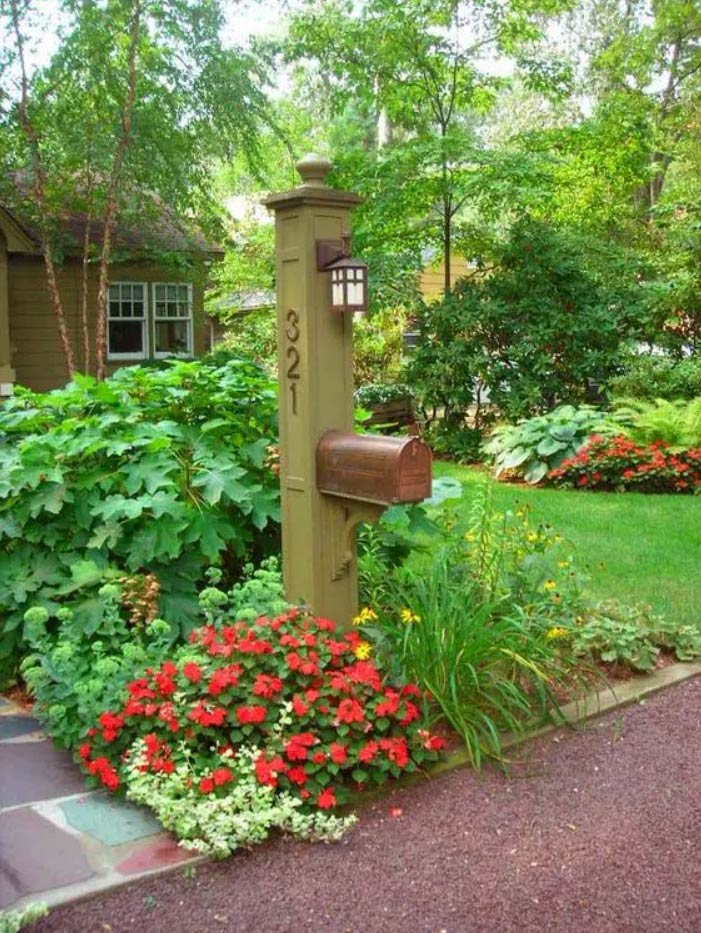 When landscaping around your mailbox, choose plants and flowers that complement the rest of your garden. Adding texture with layers of plants will bring a sense of togetherness and intimacy to your front yard.
13. Add Some Color with a Simple Zinnia Mailbox Garden
This eye-catching flower bed is planted with quick-growing, heavy-blooming Zinnia flowers. With a variety of colors to choose from, you can easily find the perfect fit for your own landscaping.
14. A Step-by-Step Guide to a Simple Brick Mailbox Garden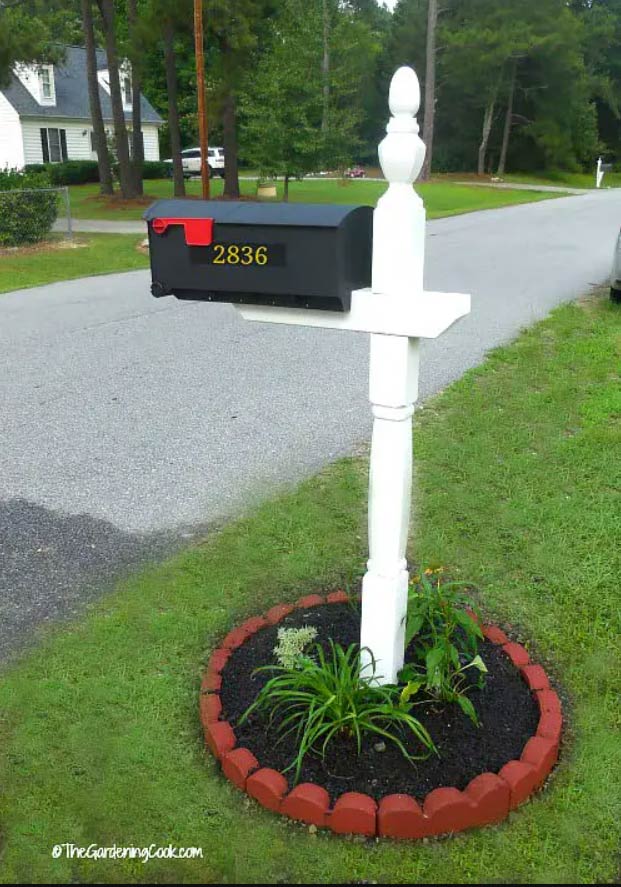 For a simple yet charming look, consider a brick mailbox flower bed. Follow our step-by-step guide to create this beautiful garden in your front yard. via: thegardeningcook.com
15. A Mailbox Makeover with a Flower Pot Twist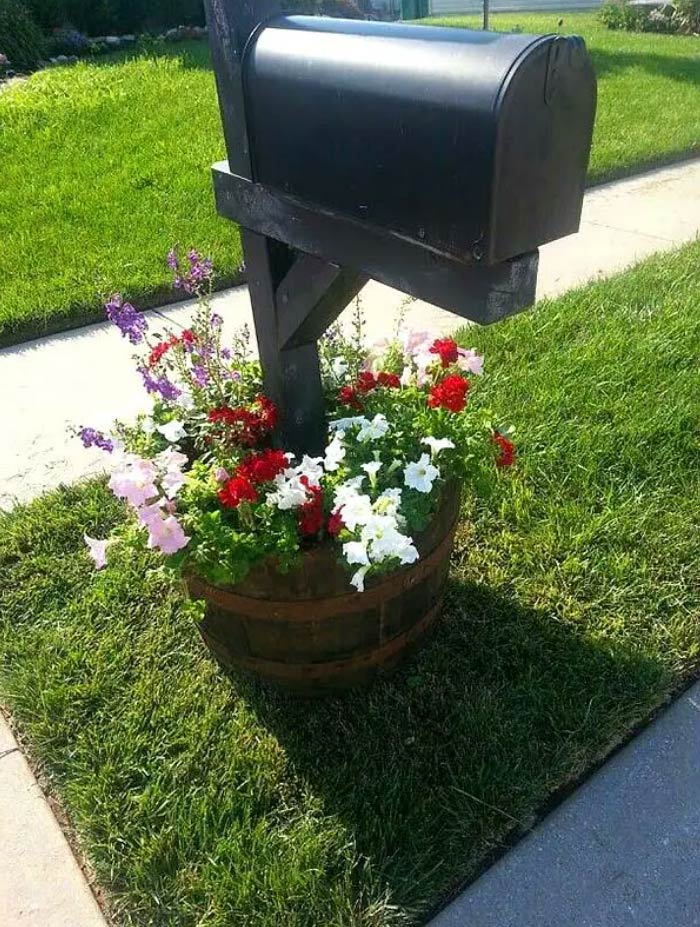 Are you a handy gardener or DIY enthusiast looking for a creative way to revamp your old and rusty mailbox? Look no further! Try planting a bright and beautiful array of petunias in an old wine keg for a unique and eye-catching design.
16. A Symmetrical Raised Flower Bed for Your Mailbox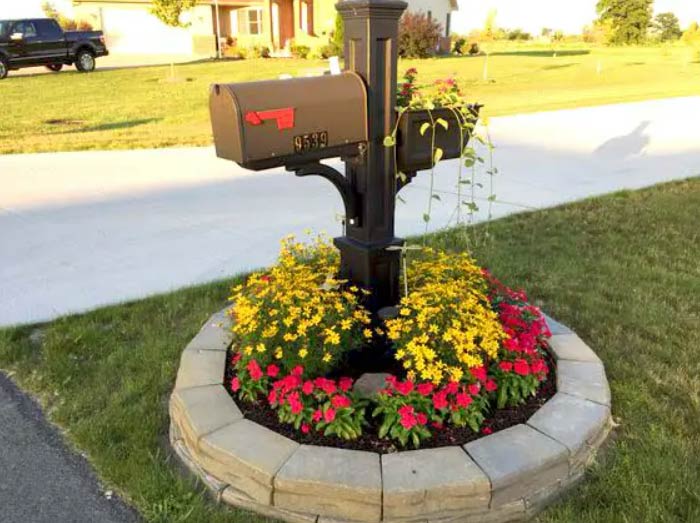 Bring a touch of elegance to your mailbox with a symmetrical raised flower bed. Surround it with stones and beautifully arranged flowers for a perfect balance of form and function.
17. A Mailbox Flower Garden with Climbing Petunias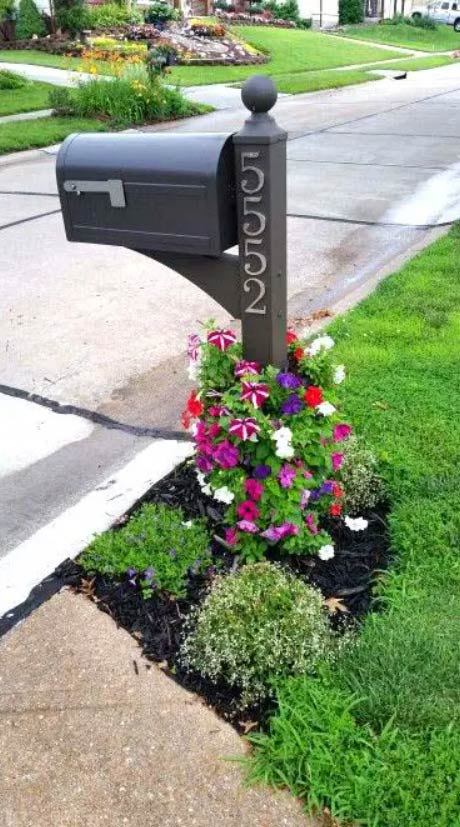 Transform your mailbox into a towering garden of blooming petunias! A grooved pipe around the post protects the soil while creating an attractive, vibrant display.
18. Unique Mailbox Planter Box Ideas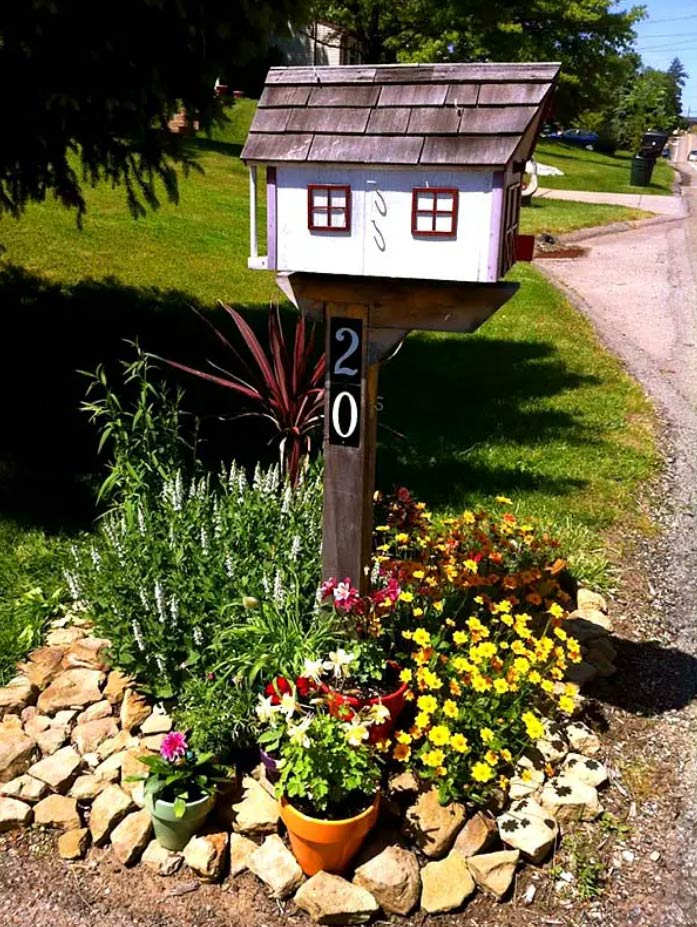 One of our favorites, this mailbox planter box is shaped like a house, making it a truly unique addition to your front yard. The house-shaped design is sure to catch the eye of all who pass by.
19. A Welcoming Mailbox like Never Before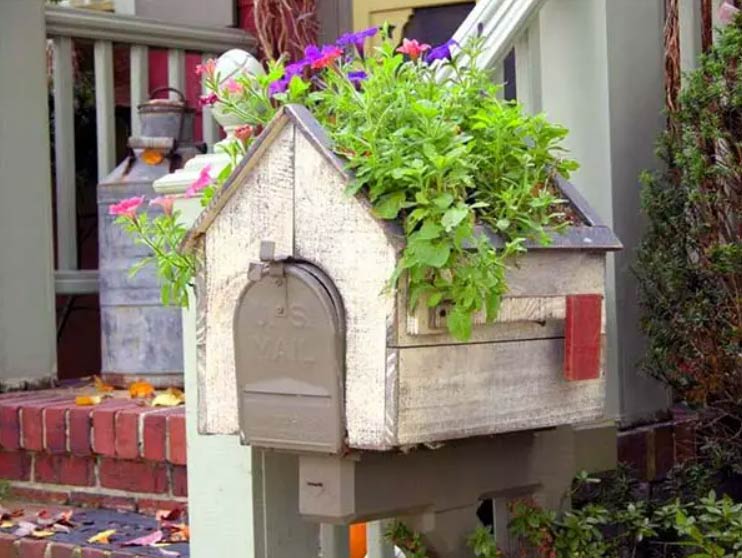 Make your mailbox the focal point of your yard with this innovative birdhouse-inspired design. Plant petunias on the green roof for a pop of color and a touch of nature.
20. Cool and Creative Mailbox Design Ideas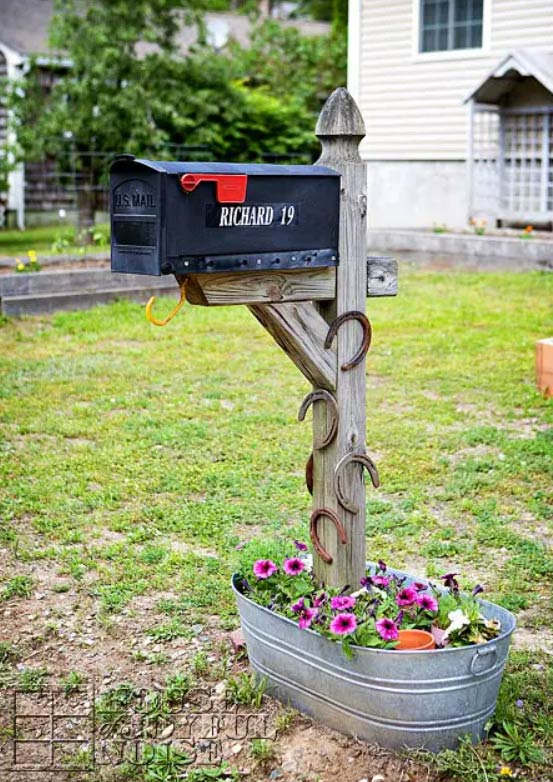 Bring some luck to your front yard with this cool and creative mailbox design. Hang horseshoes all over the post for a rustic touch and a nod to one of the world's most popular good luck symbols.
21. Gorgeous Mailbox Landscaping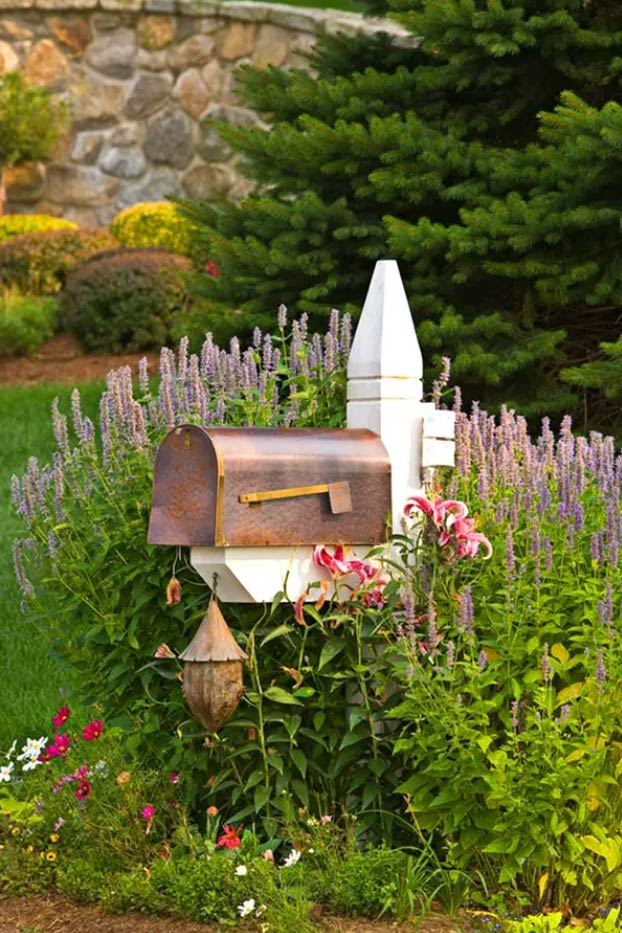 Create a serene and hidden garden around your vintage mailbox with the right choice of flowers and shrubs. Choose plants of varying heights to add texture and enhance the overall look of your mailbox landscaping.
22. An Unusual Mailbox Design that Will Impress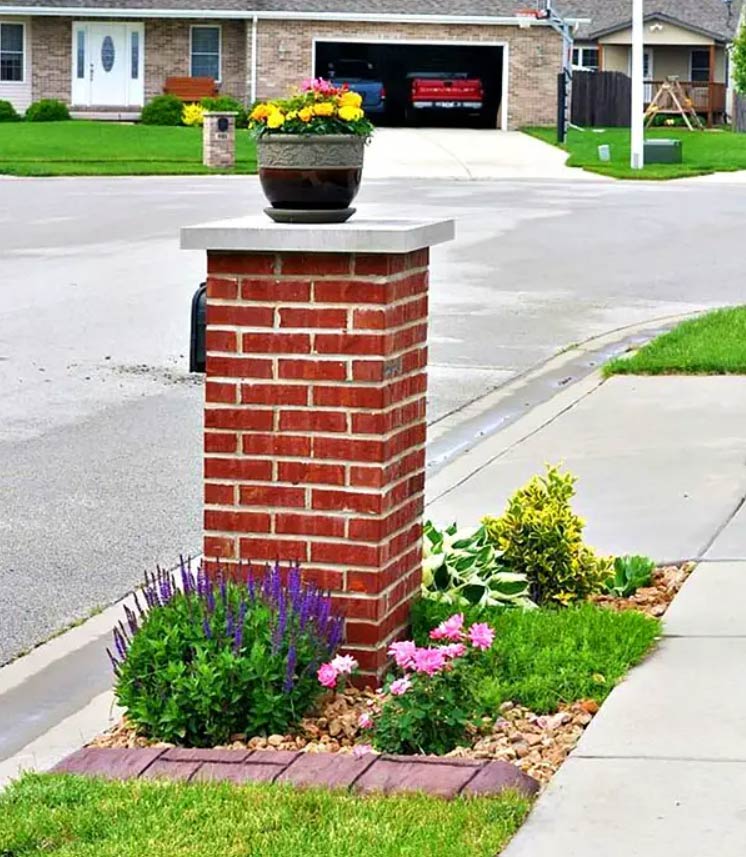 Bring your mailbox to life with this stunning and unusual design made from bricks and greenery. It may take a bit more time and effort, but the end result is worth it for a mailbox that stands out from the rest.
23. Zinnia Flower Beds for a Cheerful Mailbox Landscape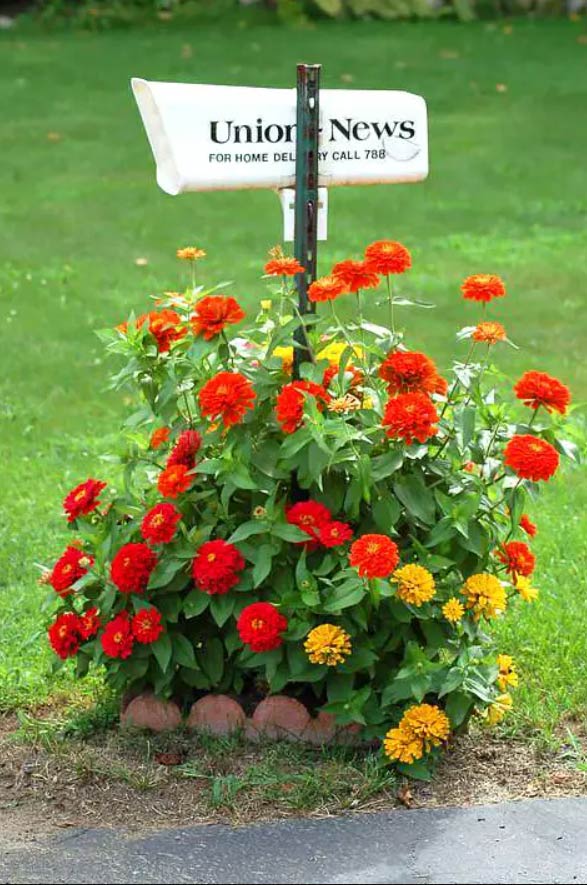 For those with limited time for gardening, zinnias are the perfect solution. These low-maintenance annual flowers are always in style and add a pop of color to your mailbox landscaping. Guests will be greeted with a cheerful and inviting front yard.
24. An Old Bike as a Unique Mailbox Planter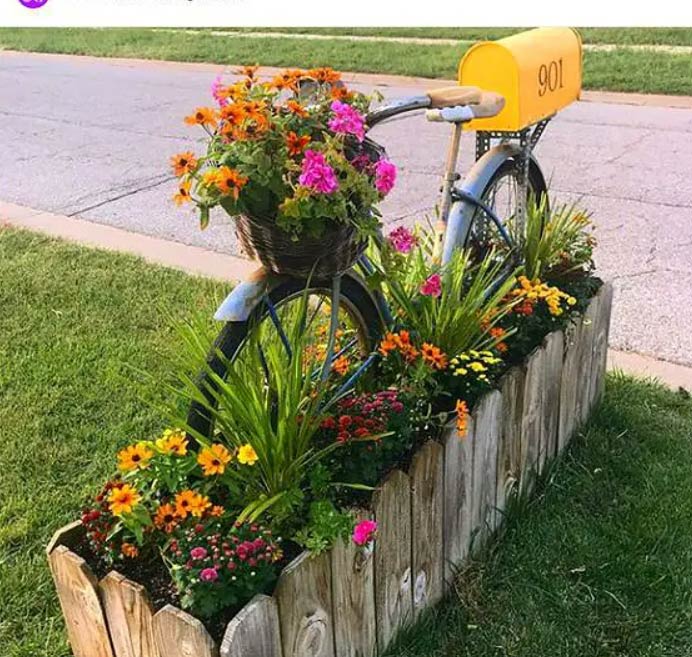 Upcycle an old bike frame into a one-of-a-kind mailbox planter! Place a square box on the bike stand and paint the frame in a bold, eye-catching color for a creative and sustainable solution.
25. Mailbox Landscape Design with a Brick Touch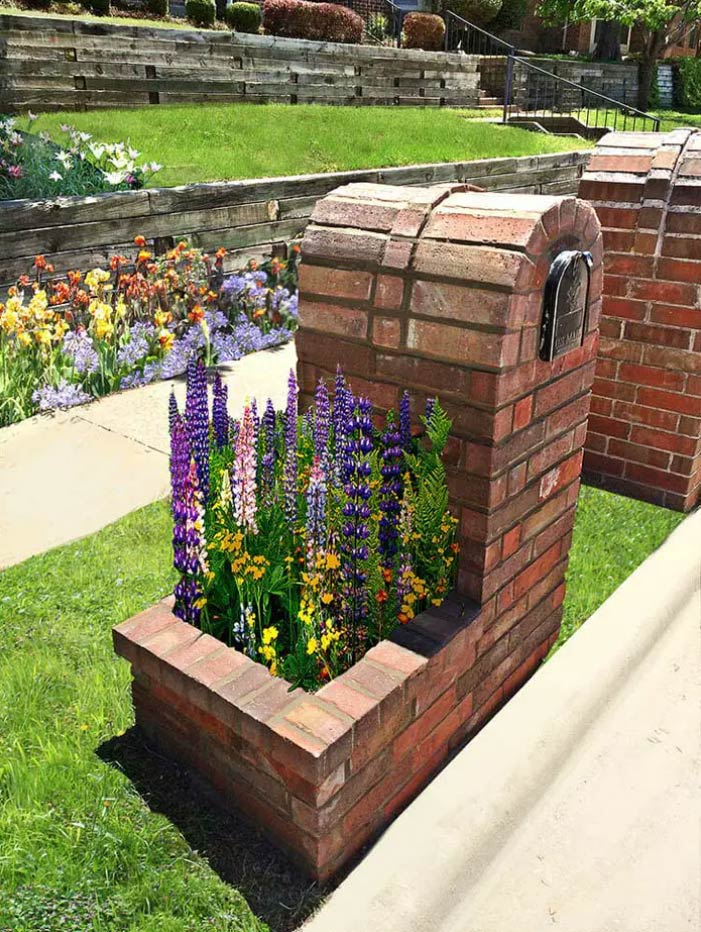 Combine the beauty of a raised garden bed and the durability of bricks for a mailbox landscape design that is both functional and visually appealing. This design adds a touch of class and sophistication to your front yard.