30 Fabulous Dry Creek Landscaping Ideas You Would Love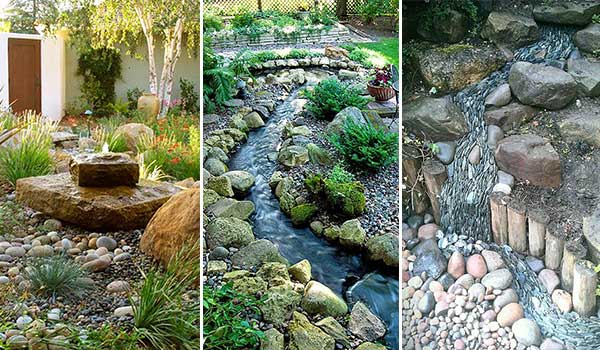 A dry creek bed is a trench used for drainage to prevent erosion and water logging. However, just digging a trench will make your garden unsightly and everyone should have a backyard to be proud of. So what should you do to make your dry creek look natural, beautiful, and happy? You want to line it with stones and plants of course! You don't want to just place them over the top though. You want to make a creation out of it and make it something special to impress anyone who sees it. However, you may have trouble coming up with your own ideas without inspiration or just want to incorporate an already existing idea into your garden.
There are many simple but also many adventurous ideas that we can show you to bring to life your dry creek. From just making it into a simple pathway for you to walk upon to turning your entire garden into a magical haven or turn your dry creek into a waterfall for the water you want rid of to be transformed into a sparkling masterpiece you can definitely find the right fit for your garden. Plan it carefully and grab the correct tools you need to make transform your garden ditch into a magnificent work of art and make your garden safe, dazzling, and a part of your heart because your garden is more than a backyard. It's a sanctuary.
Designing a Charming Dry Stream for Your Backyard: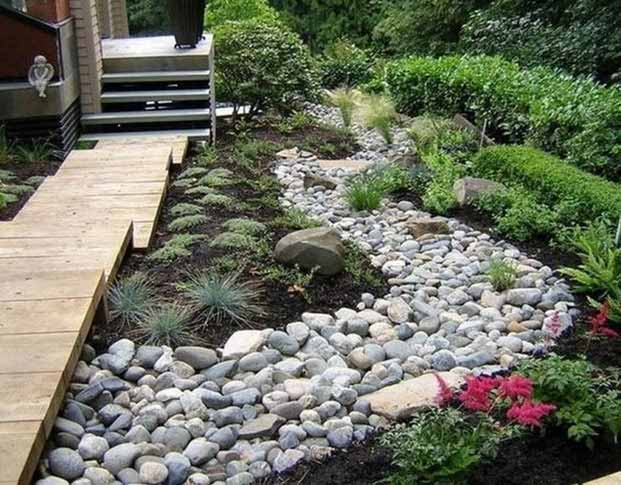 Dry creek beds resemble dry streams and have functional purposes. They are stone-lined trenches or gullies that imitate natural waterways.
Installing these stunning beds is effortless if you have spacious space in your backyard or garden. Plus, you can adorn the edges with various plants for a natural creek-like appearance.
Unleashing Creativity with Vibrant Pebble Paths: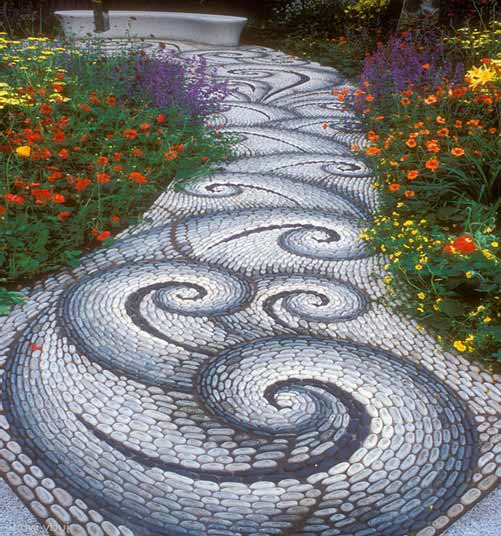 Rock paths don't have to be colorless. With these stunning pebbles, you have the freedom to design any pattern you desire. Whether it's a circular mimicry of flowing river water or a unique mosaic pattern, the possibilities are endless.
Enhancing Your Garden with Colors: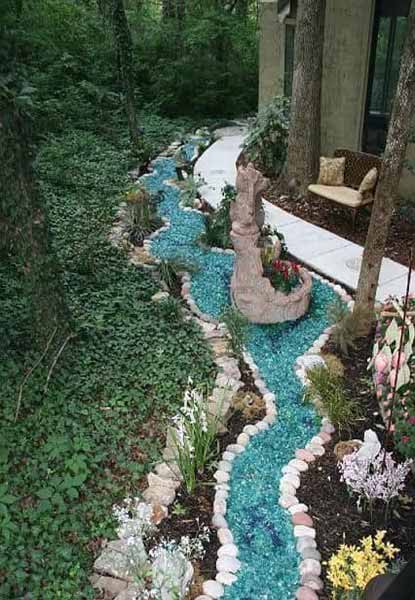 Improve the appeal of your garden or backyard effortlessly by harnessing the power of colors. Play with a diverse selection of stones, varying in shape and color, to achieve incredible visual effects.
Combine rocks, gravel, wooden planks, stones, grass, and vibrant pebbles to craft a breathtaking landscape. Each element contributes its own unique charm, adding character and enhancing the overall beauty of your garden.
Boost Drainage with a Charming Dry Creek Bed: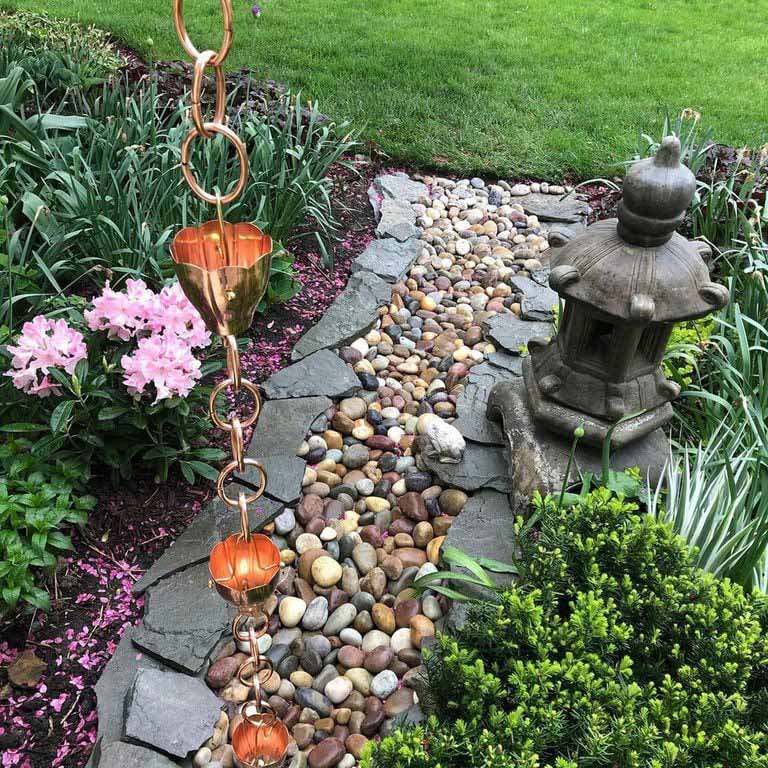 Upgrade drainage in your outdoor space with a compact dry creek bed. Capture rainwater gracefully with a copper rain chain, guiding it to flow through the creek bed and into the surrounding grass.
To achieve a similar aesthetic, line the edges with flat slate stones and fill the center with small, rounded rocks. For weed control, lay landscaping fabric beneath the creek bed. Enjoy both functionality and beauty with this simple landscaping addition.   Image via: @heatherhereshegrows
Achieve a Natural Look with Rounded River Rocks in Dry Creek Beds: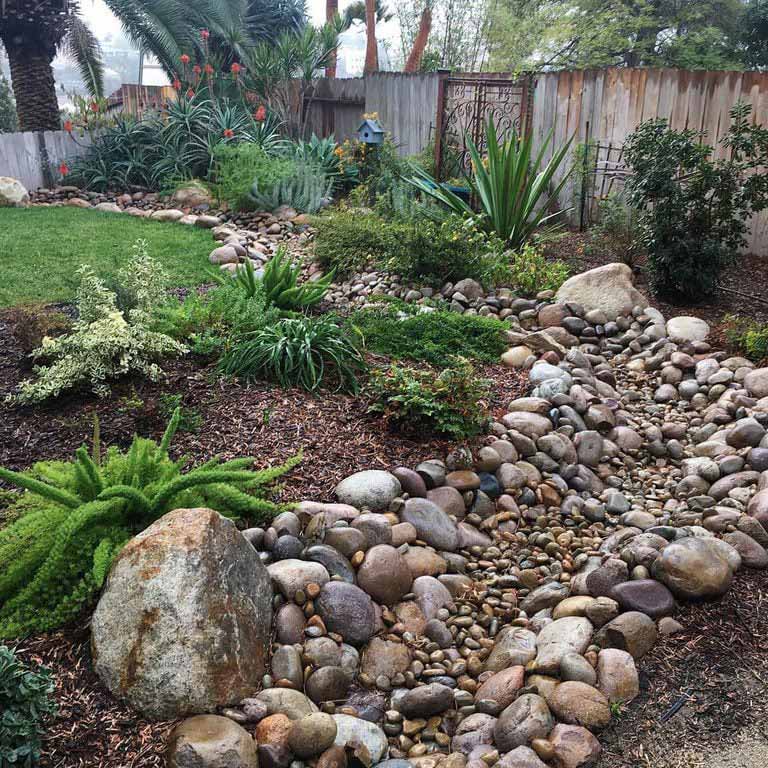 Dry creek beds offer versatility in their material choices, including various stones and rocks. However, for a truly authentic appearance, opt for rounded river rocks.
These stones closely resemble those found naturally in creek beds, having been shaped by the water's tumbling motion. By using rounded river rocks, you can create dry creek beds that emulate the beauty and realism of actual watercourses.   Image via: @sarabendrick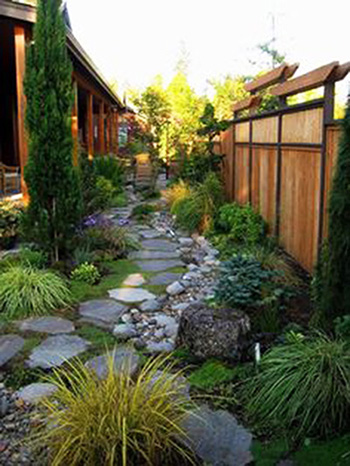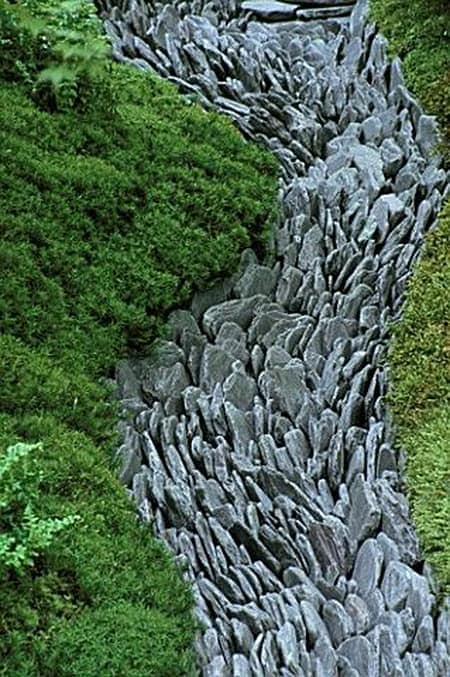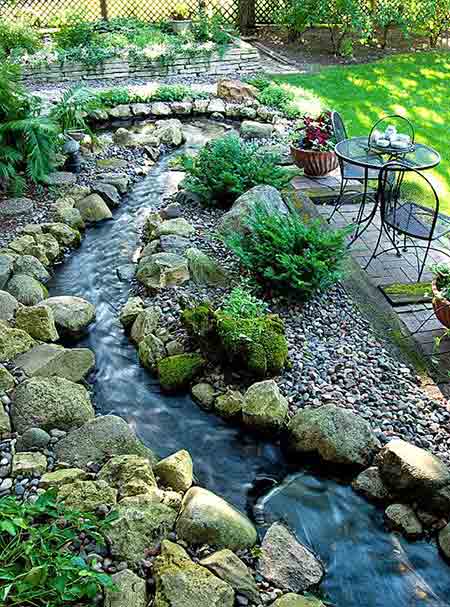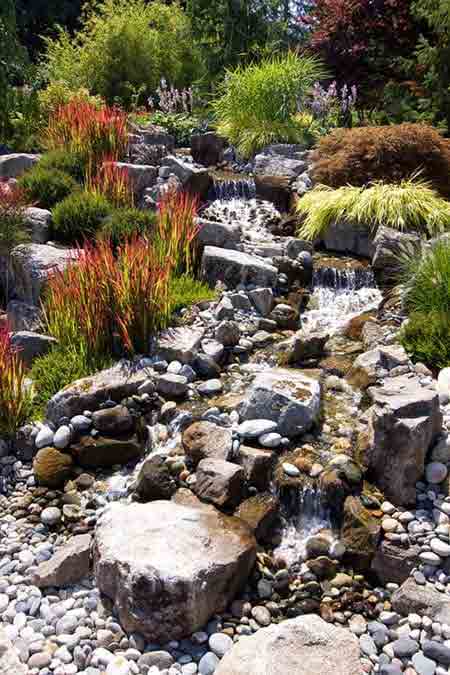 How to Create a Dry Creek:
What You'll Need:
Equipment / Tools:
Backhoe or shovel
Tamper
Materials:

Permeable landscape fabric: Purchase from gardening or home improvement stores to allow water flow and prevent weed growth.
Crushed pea gravel: Small, rounded stones that promote drainage and stability. Prices vary based on quantity and supplier.
River rock: Natural stones of different sizes and colors for a decorative border or lining. Prices depend on size, type, and source.
Mixed cement: Use to secure larger rocks or create a solid base. Sold in bags, prices vary by brand and quantity.
Instructions:
1. Prepare the Area
Begin by assessing your yard to determine where and how large you want your dry creek bed to be. Once you've decided on the size and shape, dig out about 11-14 inches of soil. You can use a backhoe or a shovel for this task.
2. Install Landscape Fabric
Compact the soil firmly to create a level surface with sloping sides. Then, lay landscape fabric over the entire area, ensuring it covers the angled sides of the dry creek bed. This will help prevent weed growth.
3. Spread Crushed Pea Gravel
Spread a 1/2-inch layer of crushed pea gravel over the bottom and gently sloping sides of the dry creek bed. The rough texture of the gravel will help keep it in place during rainfall or when people walk on it.
4. Create Natural Edges with River Rock
To achieve a natural appearance, place river rocks along the edges of the dry creek bed. Use rocks of various sizes, ranging from 2 to 9 inches in length. You can arrange a single row of rocks or create a wider border with multiple rows. Additionally, consider the colors of the rocks. Using rocks of a single color will impart a different ambiance to your yard compared to a mix of neutral shades.
5. Cost Considerations:
Before starting the project, it's important to consider the cost involved. The total cost will depend on the size of the dry creek bed, the quantity of materials needed, and any additional features or decorations you plan to add.
It's advisable to set a budget and research the prices of the materials at local suppliers or online stores. This way, you can plan accordingly and make informed decisions about the design and materials to fit within your budget.