Best 27 Ideas for Decorating with Wood Wall Planks for a Cozy Feel
If you're looking to add some character to your home, wood wall planks are the perfect choice. Not only are they versatile, they can create a unique look that is both inviting and interesting. Whether its creating an accent area or covering a wall, here are 27 cozy ways to decorate with wood wall planks: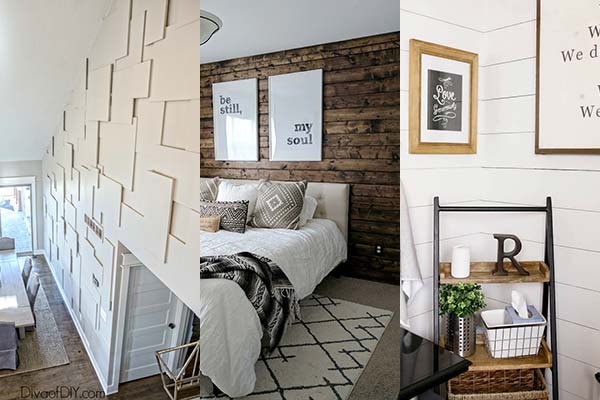 #1 Entryway Plank: Make your entryway inviting and warm with a plank wall. Add in some hooks or a shelf to display any photos and other items.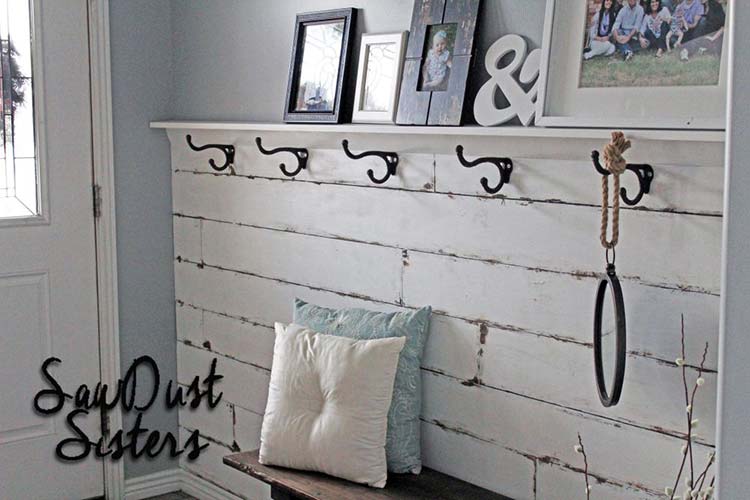 via: sawdustsisters
#2 Plank Walls Tutorial: Cover almost anything with wood planks for a cozy atmosphere.

via: thehouseofsmiths
#3 Reclaim Wood: Consider using reclaimed wood for an added rustic charm.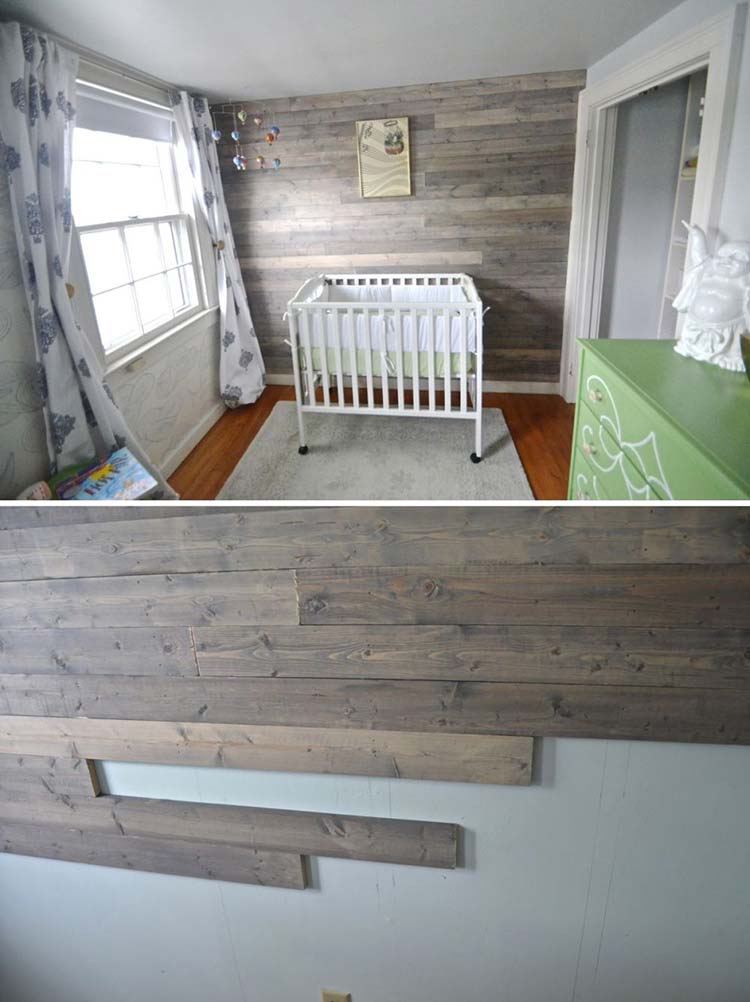 via: atcharlotteshouse
#4 Shiplap: Install planks in a day and give your room a whitewashed look.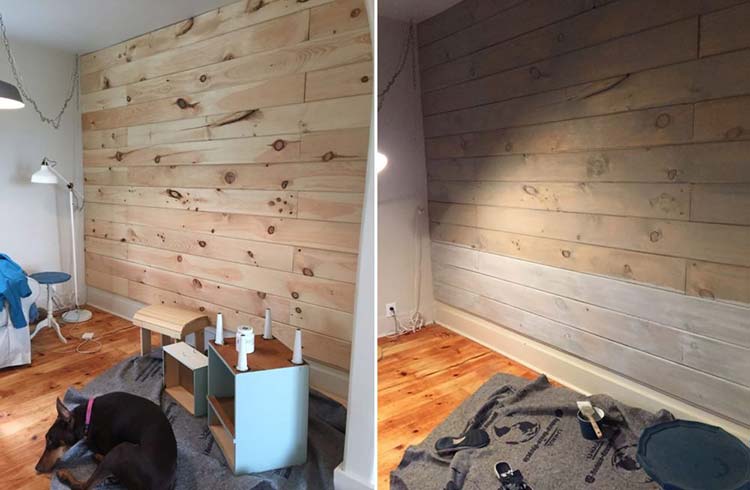 via: frontporchmercantile
#5 Mixed Wood: Create a fresh area with a variety of stained wood paneling.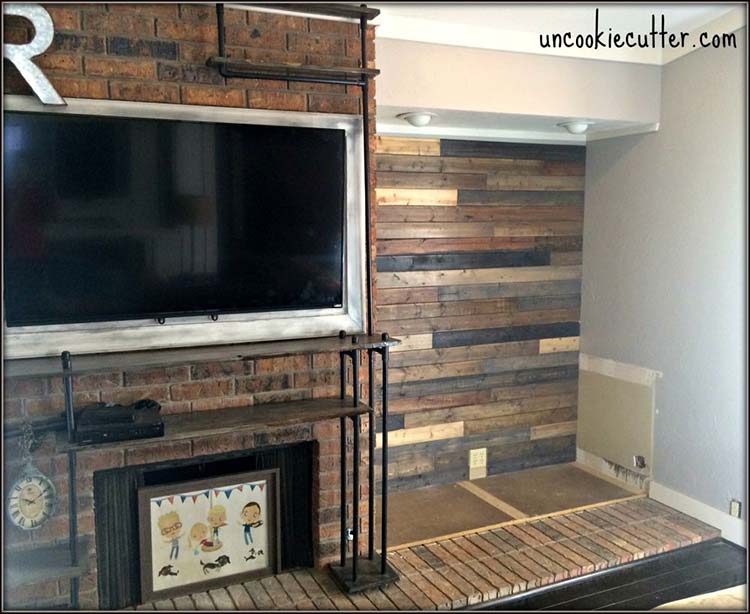 via: uncookiecutter
#6. Reclaimed wood boards are a great source for DIY real wood pallet projects, as seen in this project from Addicted2DIY. The pallets are broken down and the boards are glued one at a time, starting from the top. The varying colors of the boards give the planks more character.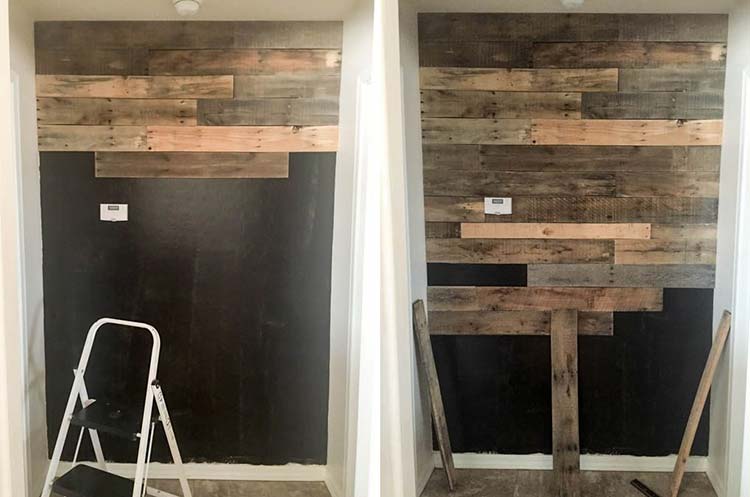 via: addicted2diy
#7. Distressed wood can be recreated with paint, giving the same look without the difficulty of finding the right boards.

via: shanty-2-chic
#8. Wood planks and shiplap can be installed vertically to emphasize the height of a space, rather than horizontally.

via: tagandtibby
#9. Colorful wood planking can be achieved by painting the boards instead of using reclaimed pieces or different types of wood. Lovelyetc. provides an example of a great color combo of grey, white, and blue.

via: lovelyetc
#10. Accented surfaces can be given a unique look with herringbone planks, a great choice among the many cool and inspiring ideas for flooring or ceilings.

via: designertrapped
#11. Joyfully Growing provides information on how to create a stained backdrop that adds warmth and texture to a bedroom. Shiplap is used for the project, making it a cheap option. After installation, apply stain to create a rustic look that fits the home's décor.

via: Joyfully Growing
#12. Thick wood adds a delightful look to any room.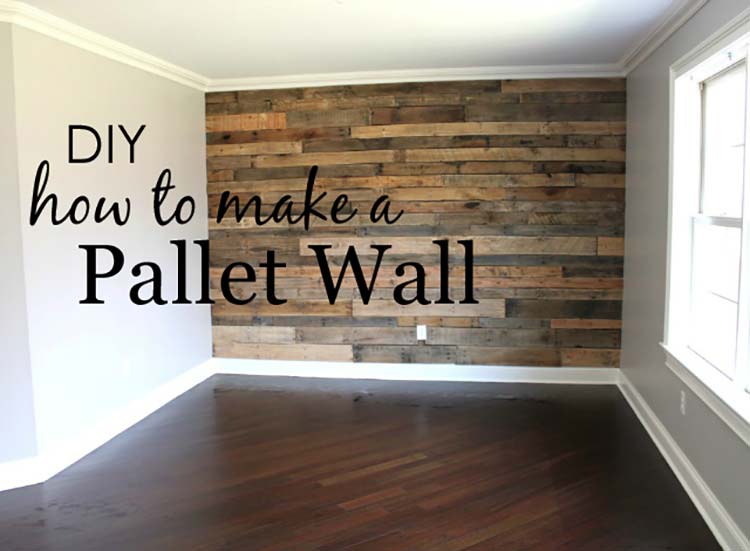 via: Project Nursery
#13. White wood shiplap is a great way to add brightness to any room without having to use natural brown colors. This project uses real plywood as a cheaper alternative that looks just like shiplap.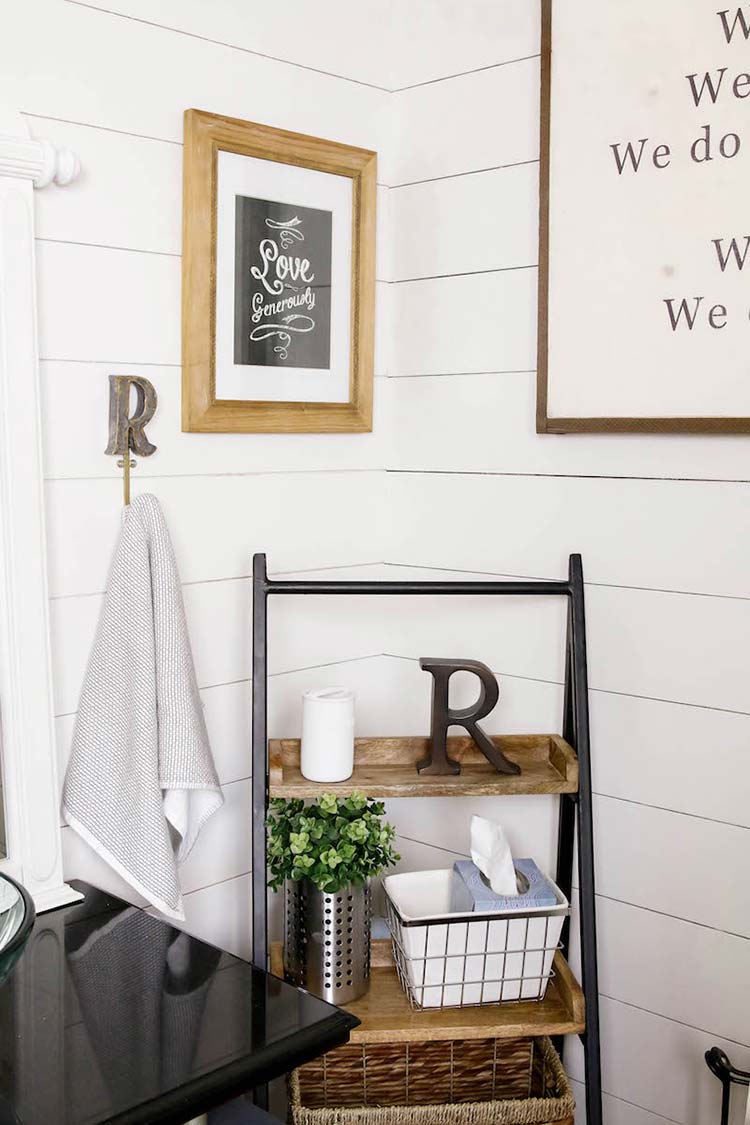 via: House of Rose
#14. If you're not ready to go all out with real wood, consider adding an accent around your television with weathered boards. This will give your room texture without having to paint.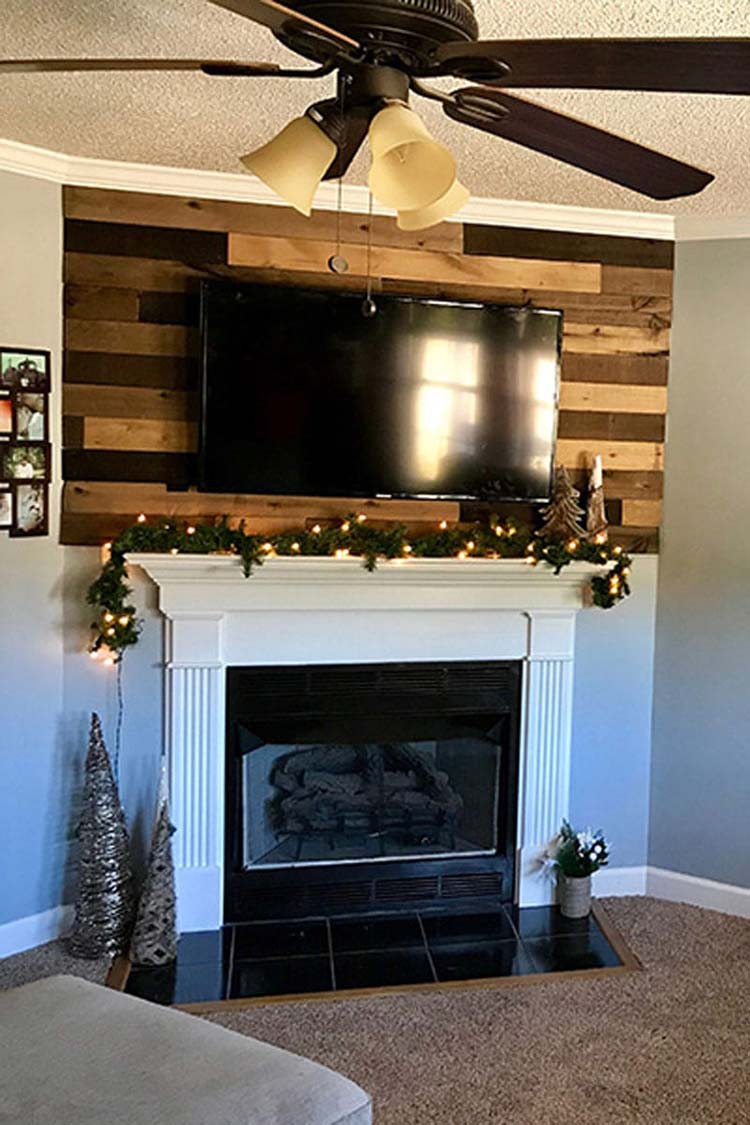 via: Kenya Rae
#15. For nursery decoration, Tracey's Fancy has a great floral wood plank design. It's perfect for a baby girl's room and you can add some flowers for an extra touch.
via: Tracey's Fancy
#16. For a modern wood accent, choose darker shades and add a mirror for contrast. This will bring light to the entryway.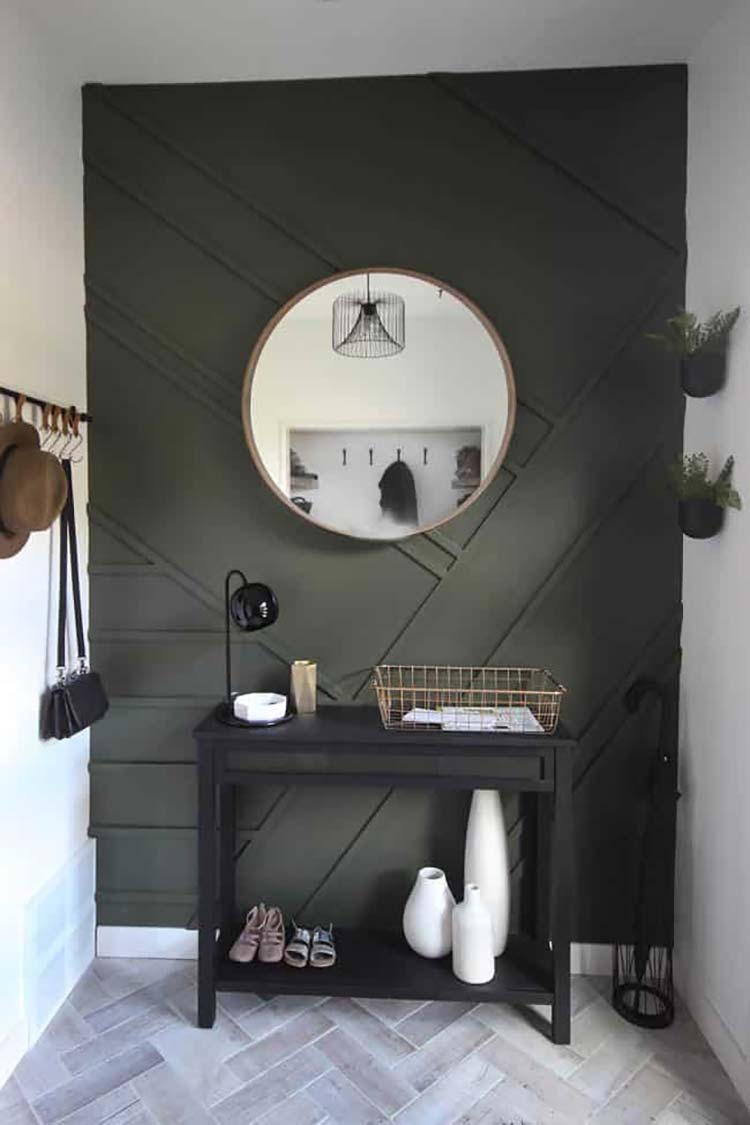 #17. If you're looking for a warm feel in an empty space, try using a cheap wood accent. This would look great on a stairway or landing.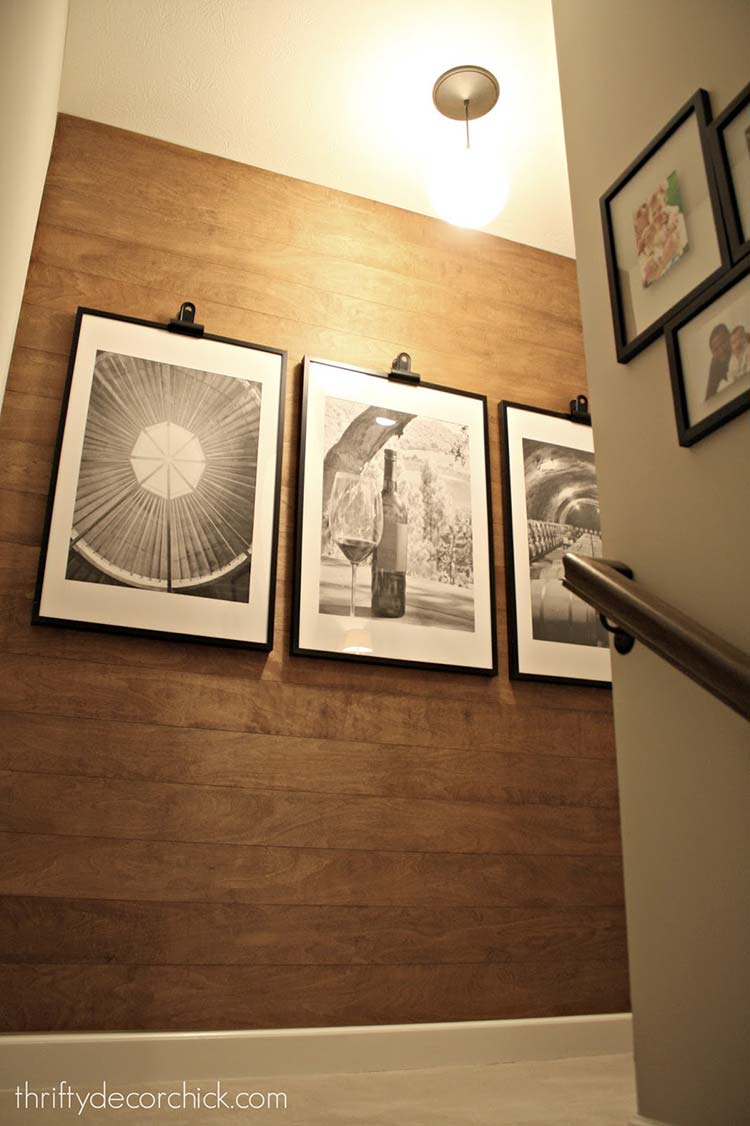 via: Thrifty Decor Chick
#18. To spice up any interior, try a geometric design like this RV bedroom wood wall.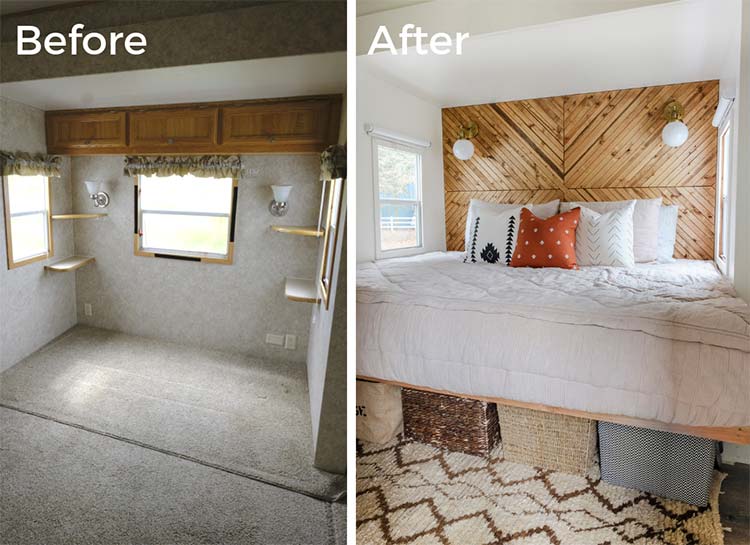 via: Joyfully Growing
#19. For a bathroom makeover on a budget, check out this project from This Nest is Blessed. It will transform a small bathroom into something modern and chic for less than $140.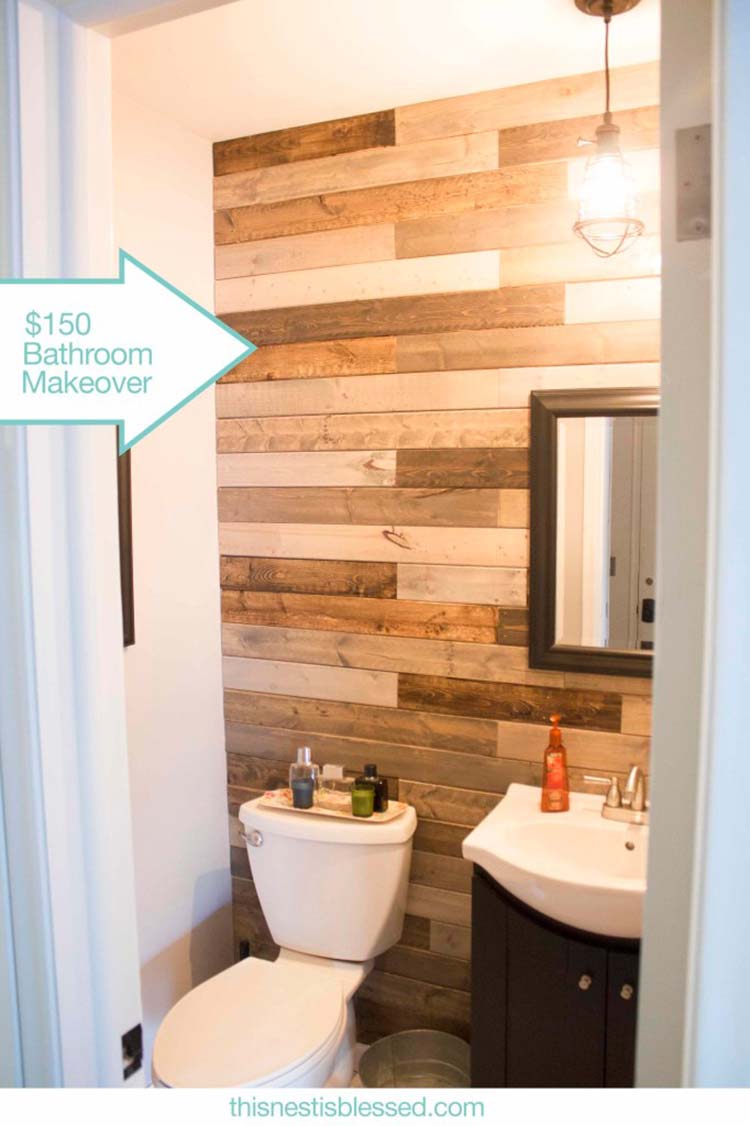 via: This Nest Is Blessed
#20. Dimples and Tangles has a great fence wood design that will give your space a unique look and feel. If the wood isn't level, you can work around it to achieve a rustic look.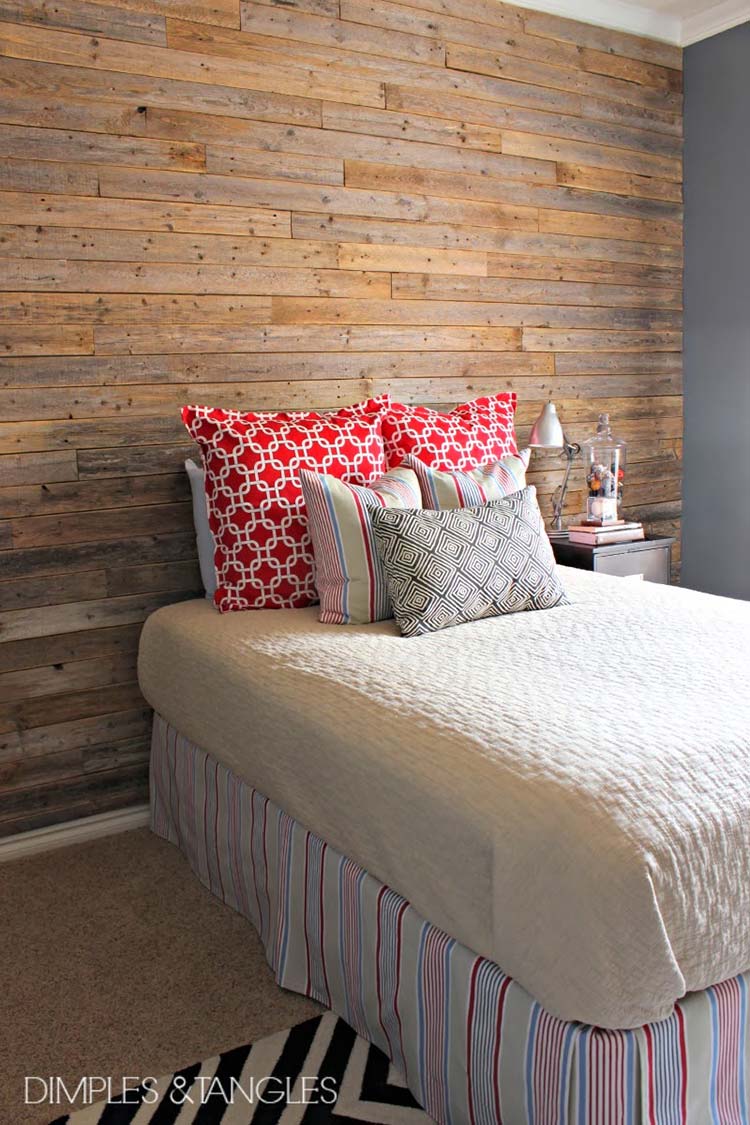 via: Dimples and Tangles
#21. Gray House Studio has a great reading nook project that is finished with a reading bench and place to store books.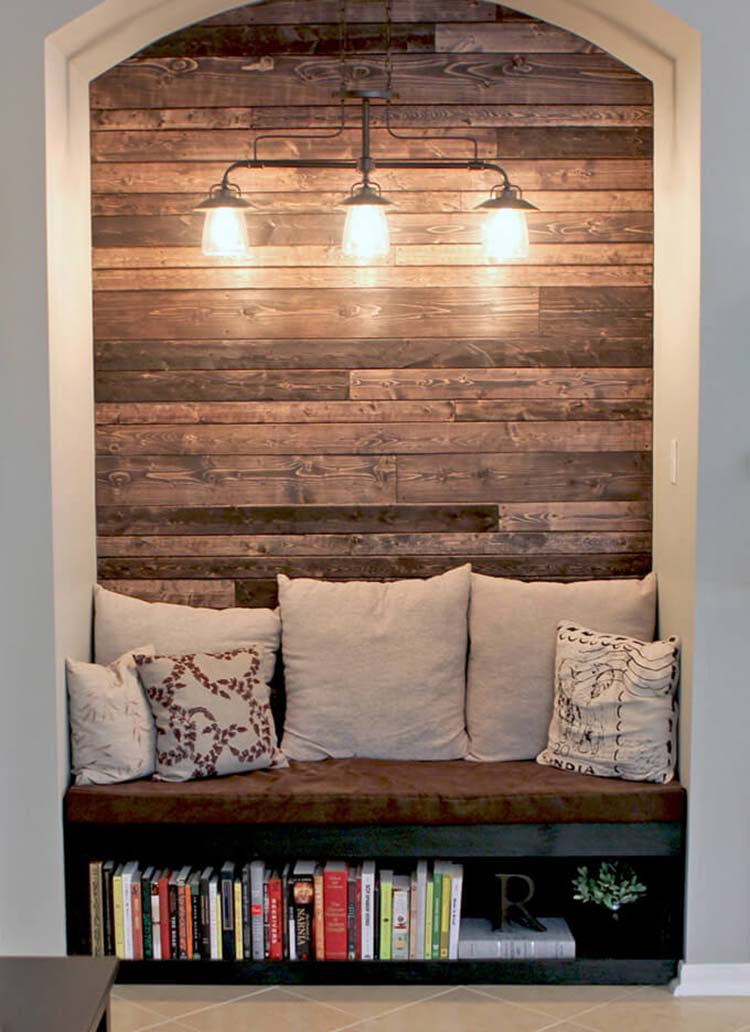 via: Gray House Studio
#23. If you have a large room, Instructables has a great wood slants design. Make sure to stain the wood beforehand and test out different stains to see what fits.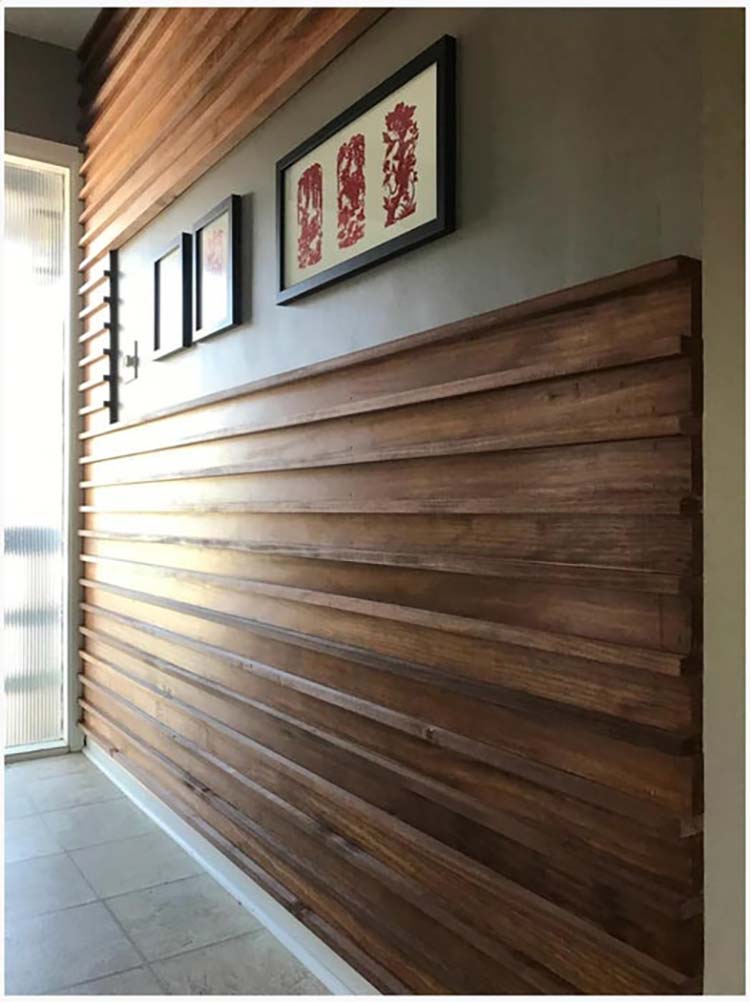 via: Instructables
#25. For a relaxed vibe in a laundry room or bathroom, try this faux shiplap design. It's cheaper than the real thing and looks just as good.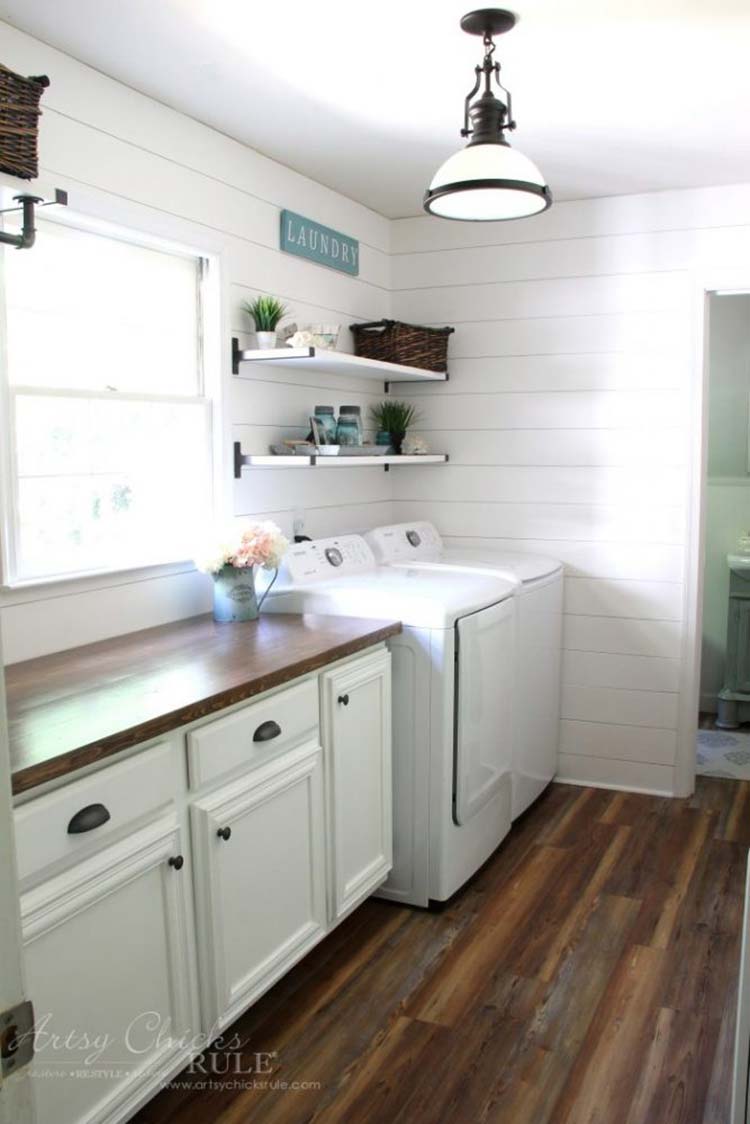 via: Artsy Chicks Rule
#26. Plywood accents are the best option for large spaces. Choose a light color to avoid darkening the room and to make the area feel lighter and airy.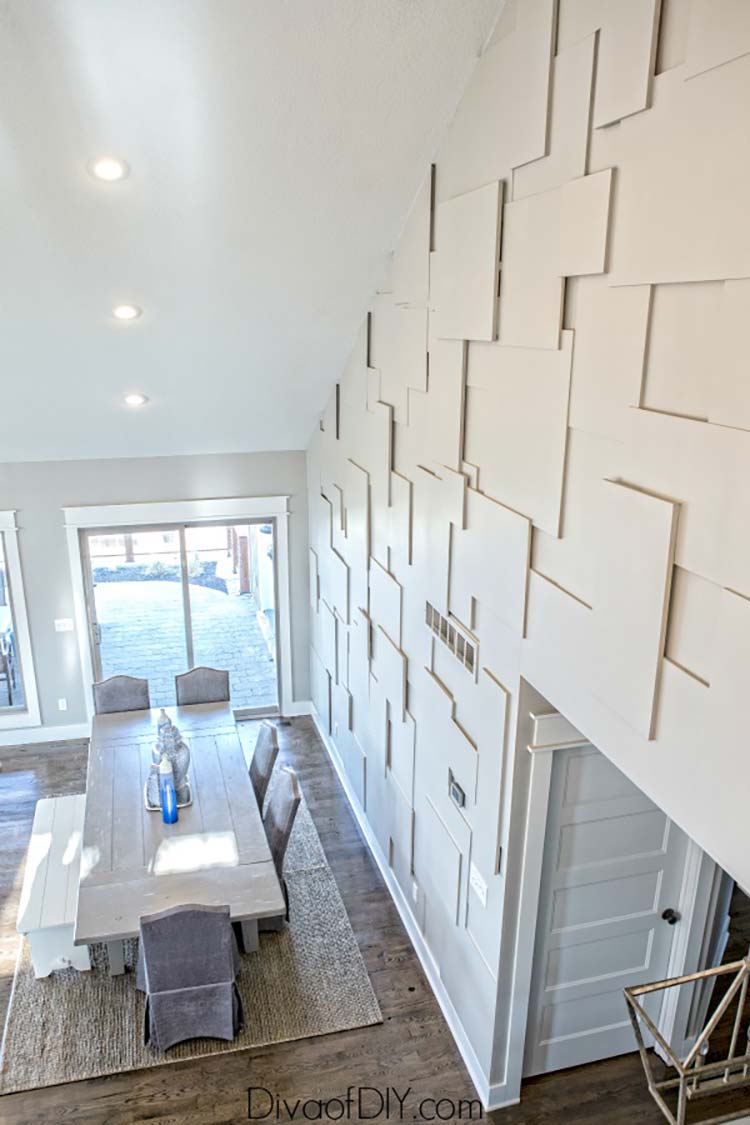 via: Diva of DIY
#27. Love & Renovations has a great DIY wood planked accent that looks stylish behind a large bed in a master bedroom or guest room.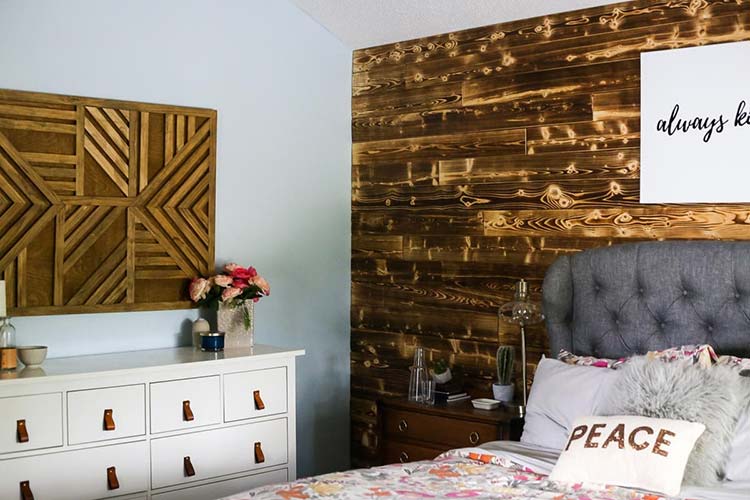 via: Love & Renovations