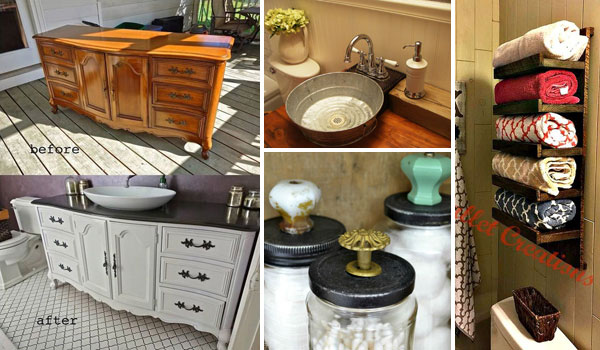 If you want to keep your bathroom cozy and attractive, then give it a recycled decor. Recycling stuff can be used in a bathroom makeover, and give the space a unique look with vintage touches. Old dressers, old galvanized tubs, boxes of fruit or utensils can be very charming part of your bathroom. They are not only as a decorative accent, they also help you resolve the storage issue, especially you just have a small bathroom. Well, continue read and you will find how to decorate a bathroom with recycling. Enjoy!
1. Mount Old Doorknobs, Vintage Taps as Towel Hooks: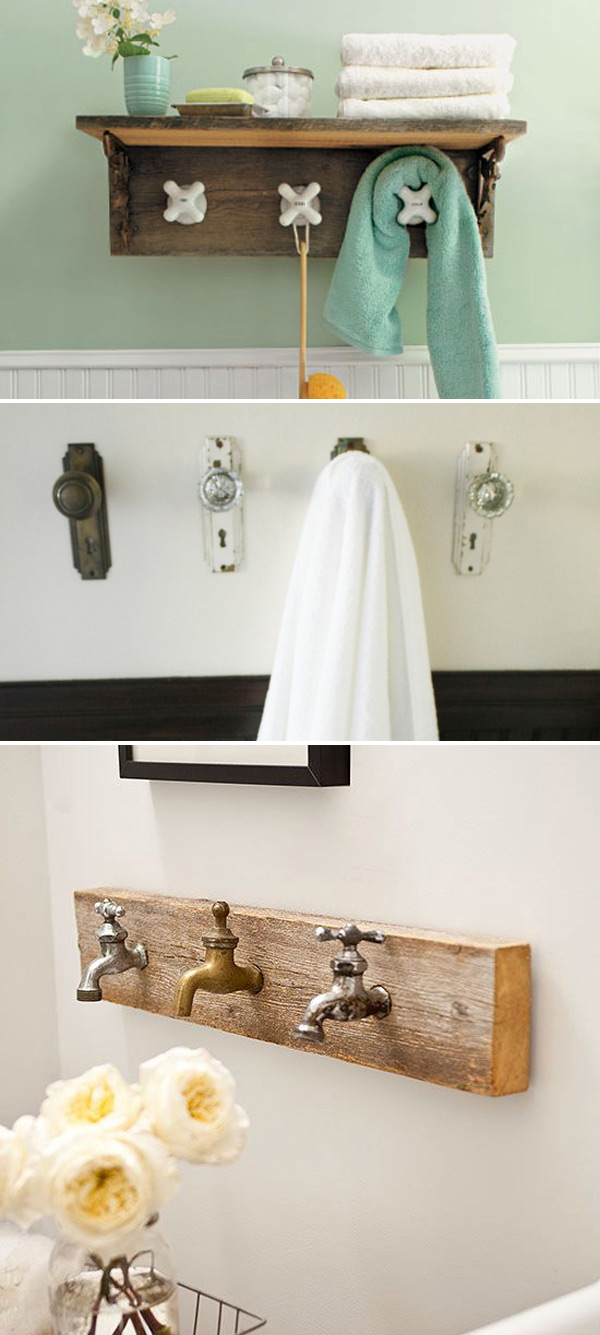 Tutorial: notjustahousewife.net       thisoldhouse.com       bhg.com
2. Transform Old Galvanized Tubs into Bathroom Sinks: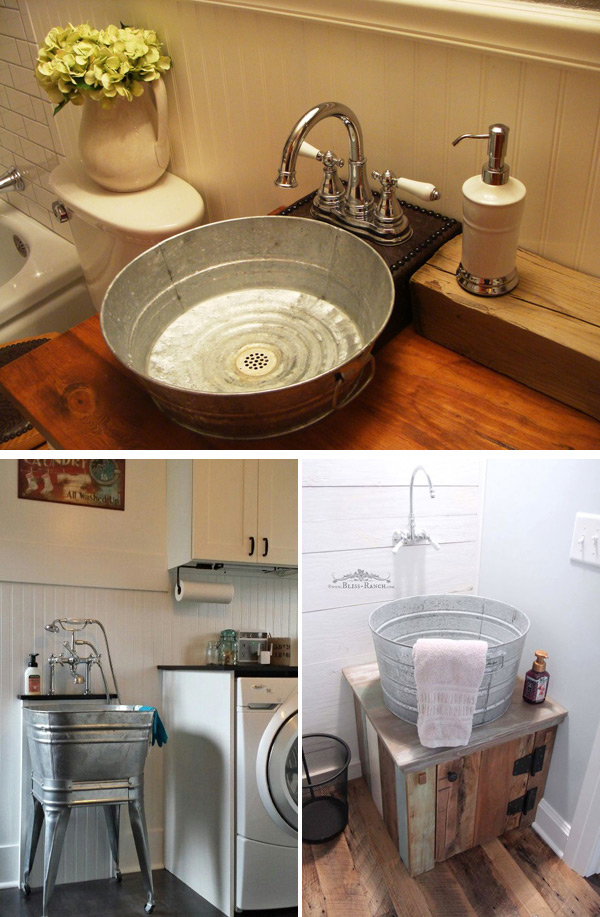 Source: beeyoutifullife.com & bliss-ranch.com
3. Re-purpose an old window and some boards to build a DIY bathroom cabinet:

Tutorial: thewhitecottagefarm.com    vitaranunkler.blogspot.com
4. Create a bathroom towel basket with sisal twine and a thrift store pot:

Tutorial: andersonandgrant.com
Or you can recycle a cardboard box into TP basket:
Tutorial: elizabethjoandesigns.com
5. Old Dresser Got a New Life As a Bathroom Vanity Painted in White And Black: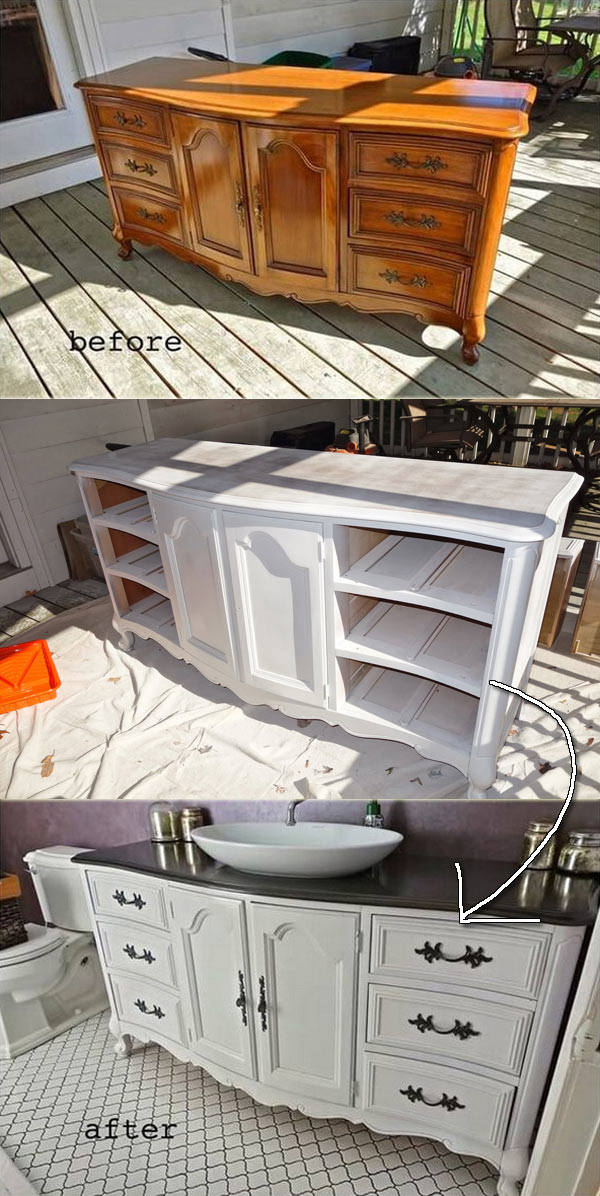 Tutorial: rustyfarmhouse.blogspot.com
6. Upcycle Wooden Crates for Bathroom Storage and Decor: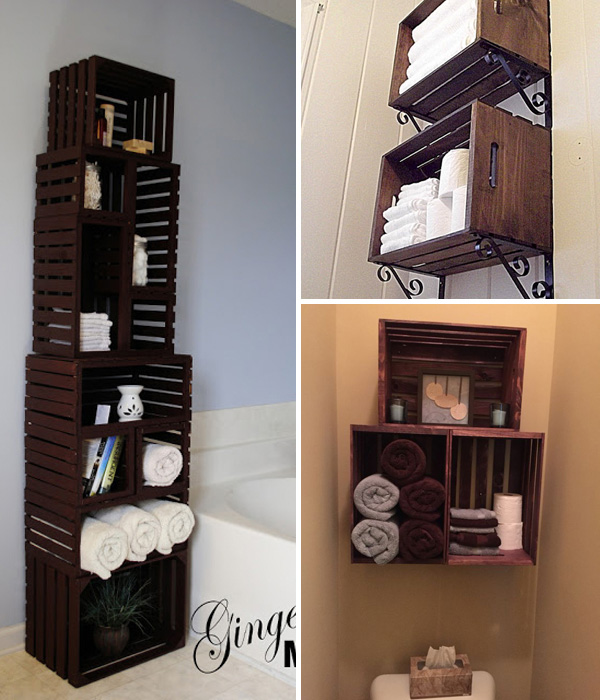 Tutorial: morningbymorningproductions.blogspot.com    Source: somedaycrafts.blogspot.com
7. Reuse Old Glass Jars As Bathroom Decorative Storage: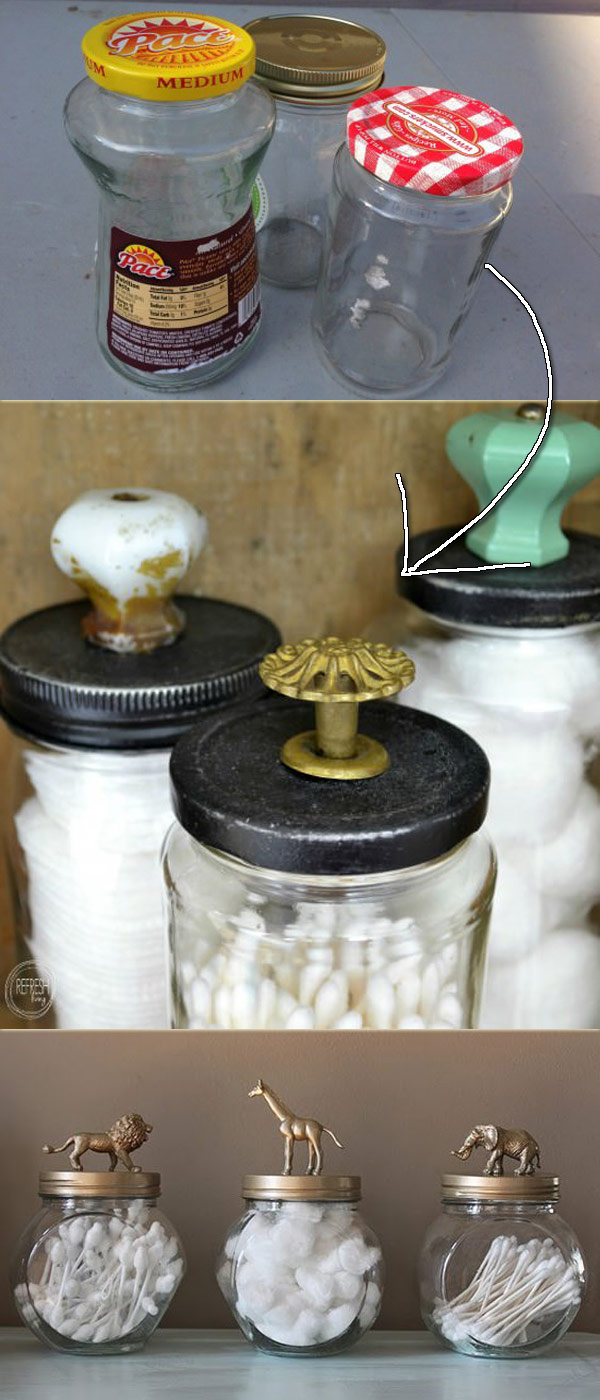 Tutorial: refreshliving.us
8. Use an old door to give privacy in the bathroom: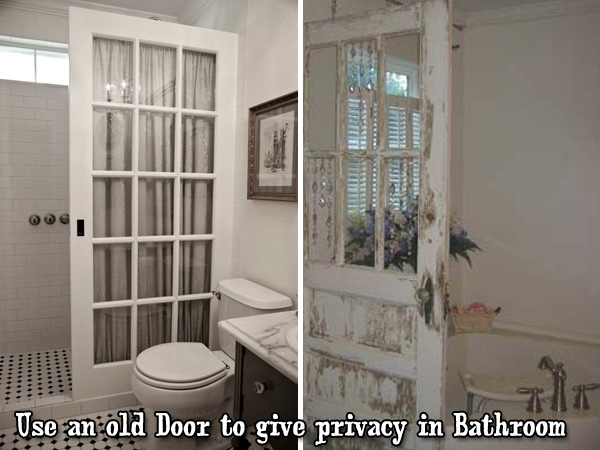 Source: houzz.com
9. For a Rustic Decor Re-think Old Galvanized Tubs as Towels Storage: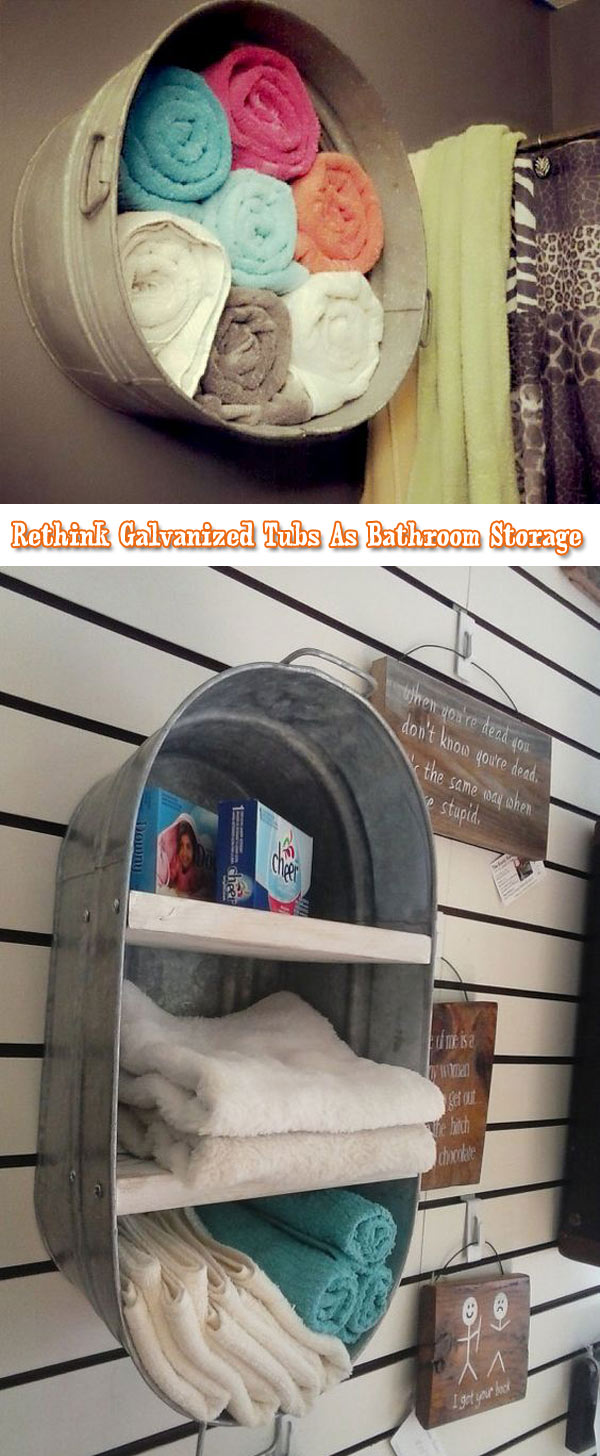 Source: etsy.com
10. Recycle Old Drawer as Mounted Wall Shelf: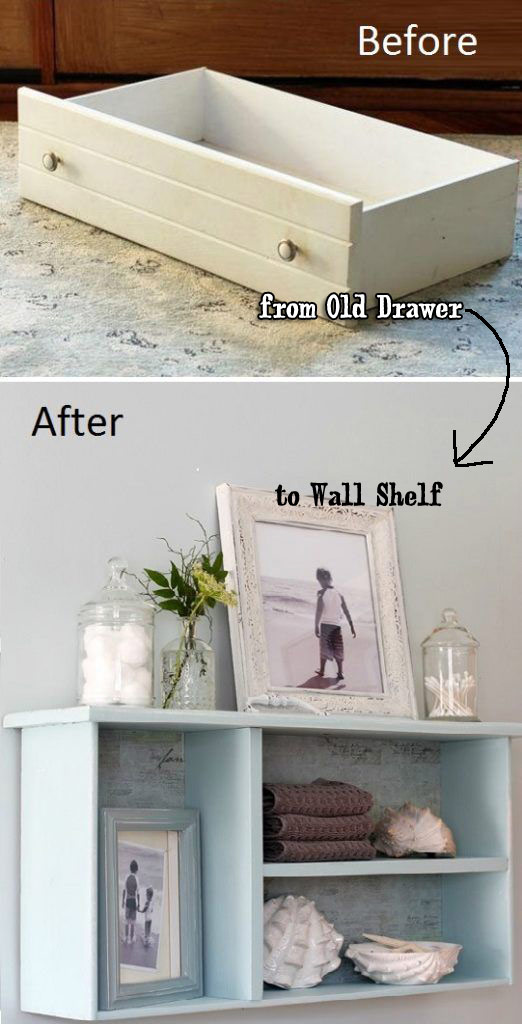 Tutorial: confessionsofaserialdiyer.com
11. Put a birdcage in your bathroom for creative towel or toilet paper storage:

Source: vintagenewsjunkie.com      pearls-handcuffs-happyhour.blogspot.com
12. Old ladder not only be a storage shelf, it also add rustic charming to your bathroom:
Source Unknown.
13. Create a reclaimed wood old sign shutter shelf: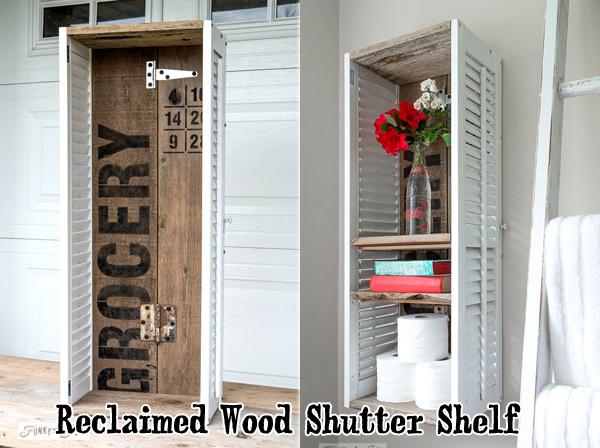 Tutorial: funkyjunkinteriors.net
14. Clever repurposing for spice racks is to mount them on the bathroom wall to keep stuff off the counters:

Source: apartmenttherapy.com      suiterevival.blogspot.com
15. Use a stacked plate rack or Plant Stand to make extra counter storage space: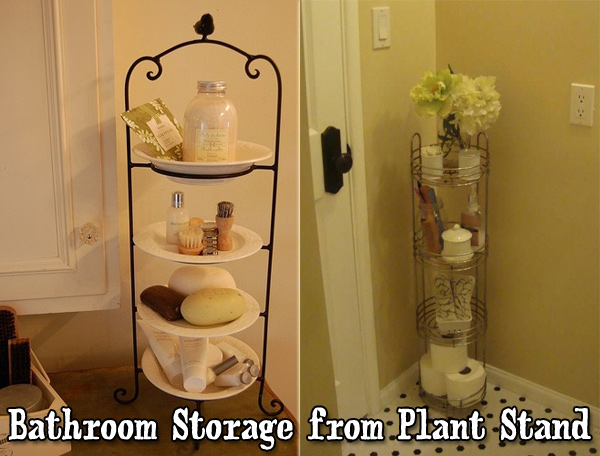 Source Unknown.
16. Re-purpose a piece of wooden pallet into towel rack: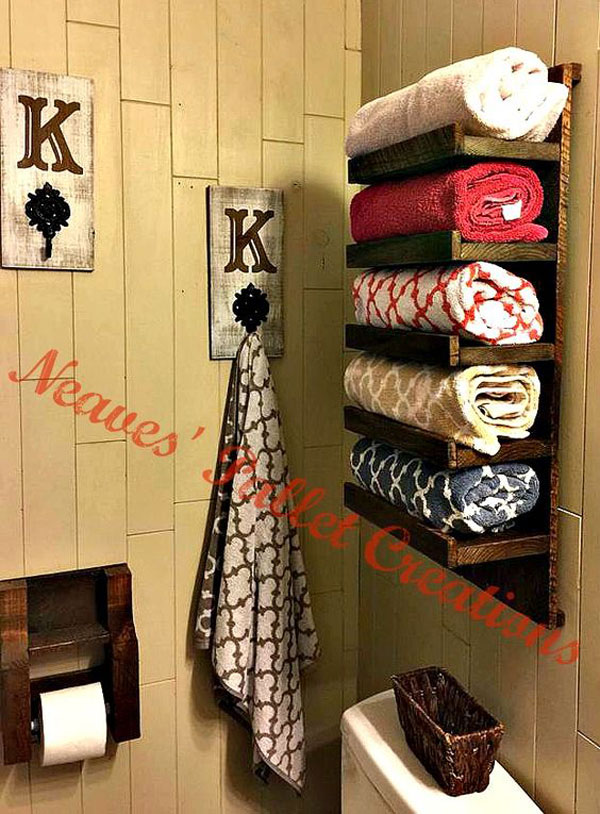 Source Unknown.
17. Mount an old ladder behind the bathroom door and then place the chicken wire cloth against the rung of the ladder to create extra storage:
Tutorial: hometalk.com
18. Metal file boxes are great as organizers for your bathroom: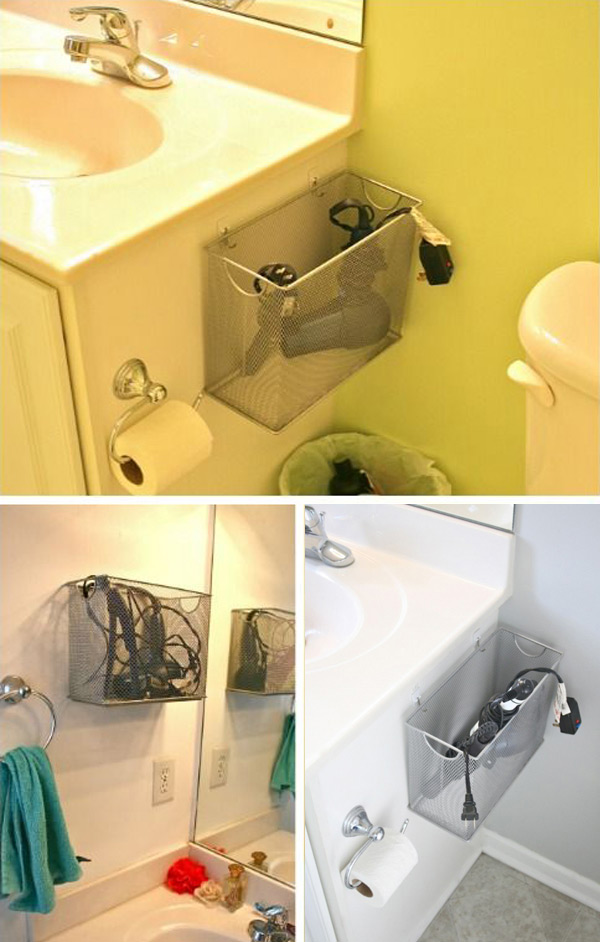 Tutorial: dreamgreendiy.com
19. Turn an old dresser into a bathroom vanity by repainting it and covering the tabletop with marble: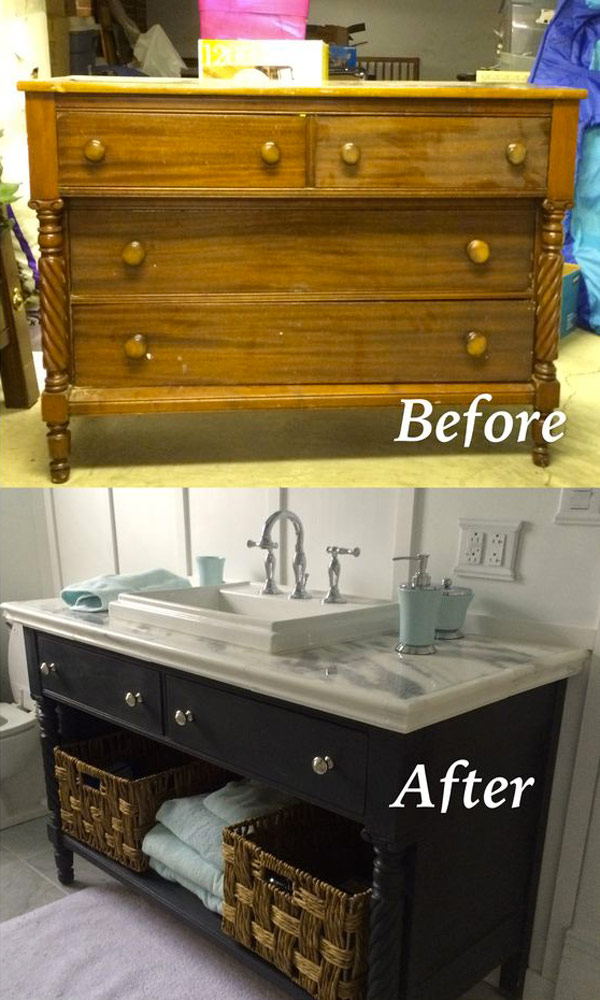 Source Unknown.