22 Hacks and DIY Projects to Make Doing Laundry More Efficient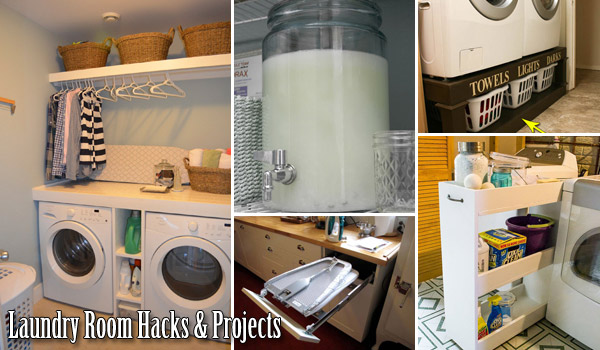 Do you agree that the laundry room is one of the most important space in our home where we spend quite a bit of time? The laundry room can be the most unorganized room in the house or can be clean and well-organized. They depend on how you will organize your space. If your laundry room is usually cluttered then you need to rethink it in an efficient way. Thanks to many homeowners, they have come up with some beautiful solutions to the daunting task of laundry. Their great ideas will make the laundry room an efficient yet pleasant place. Have a look and pick up some of these solutions to greatly enhance your laundry room and lighten your workload.
1. Remove an upper cabinet and install a rod to hang clothes so they can air dry.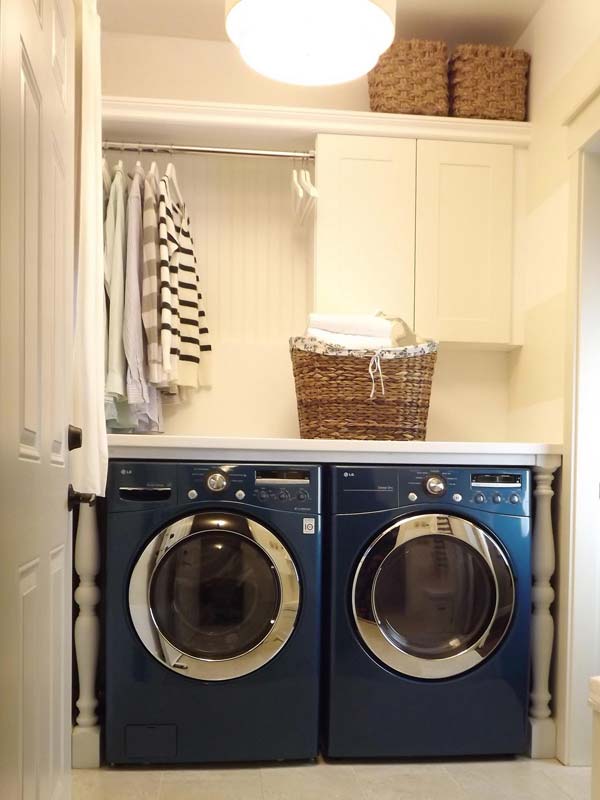 Source: maillardvillemanor.com
2. Store pods and powder detergents in pretty cookie jars.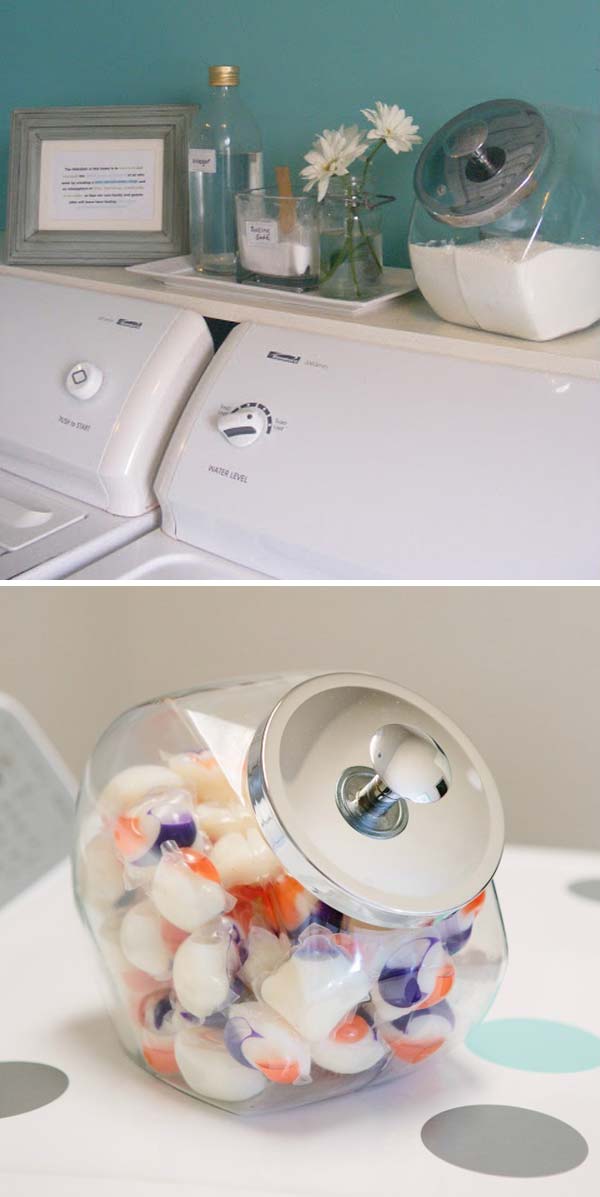 Source: imperfecthomemaking.com  &  designimprovised.com
3. Slide a DIY slim cart into the tiny space between your washer and dryer.

Get Great Full Tutorial ====> infarrantlycreative.net
4. Hide an ironing board on the back of a door to save your space when it is not in use.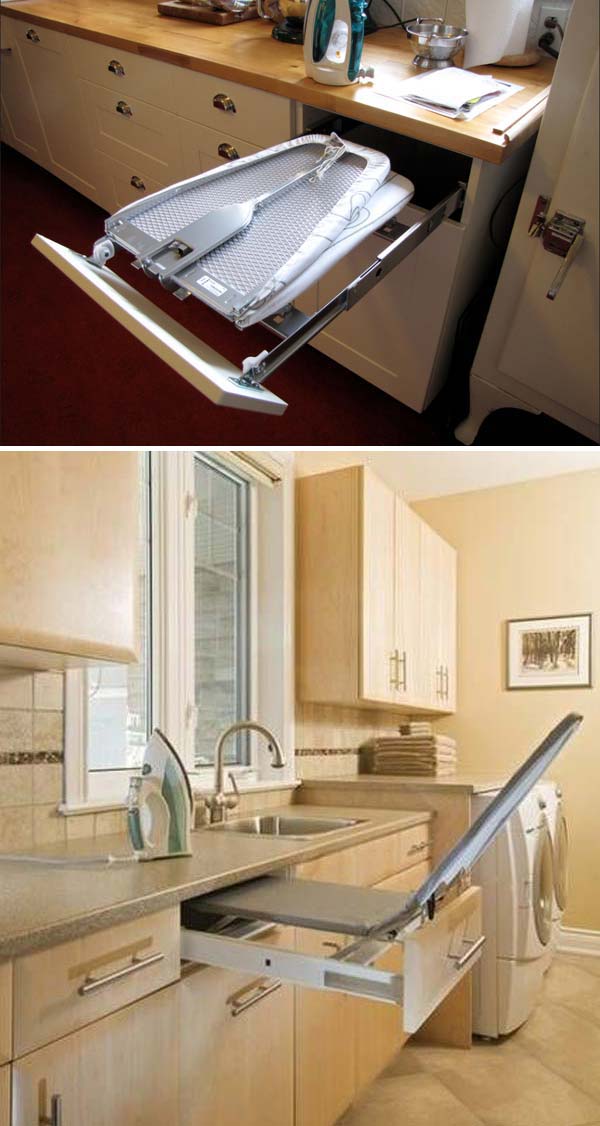 Source: flickr.com
5. Build a wooden pedestal for the machine to get extra storage space for baskets.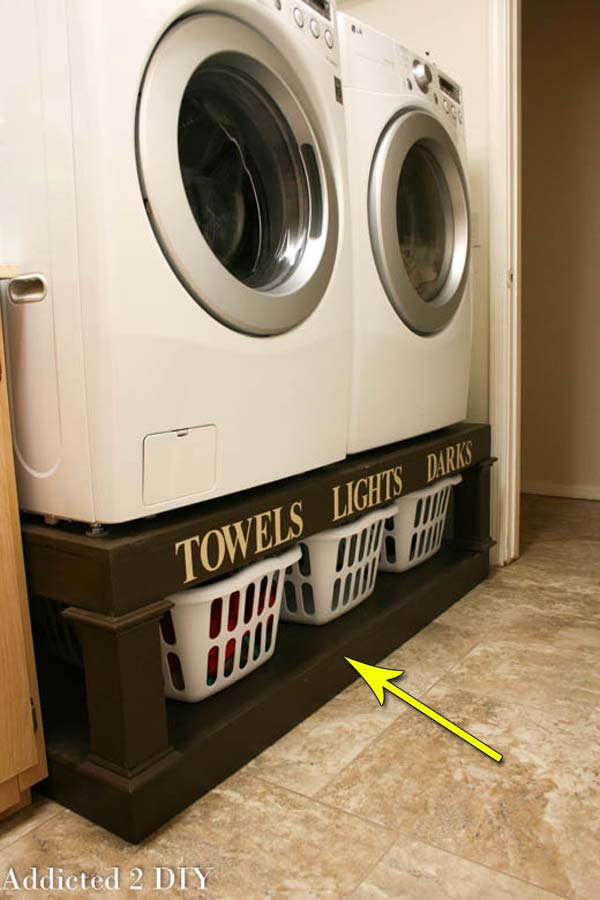 Get Great Full Tutorial ====> addicted2diy.com
6. Make inexpensive homemade laundry detergent and then place it in a dispenser.

For more detail at: yourlittlebirdie.blogspot.ca  &  blog.kirstendanielle.com
7. Add these awesome hanging bags for easy pre-laundry sorting.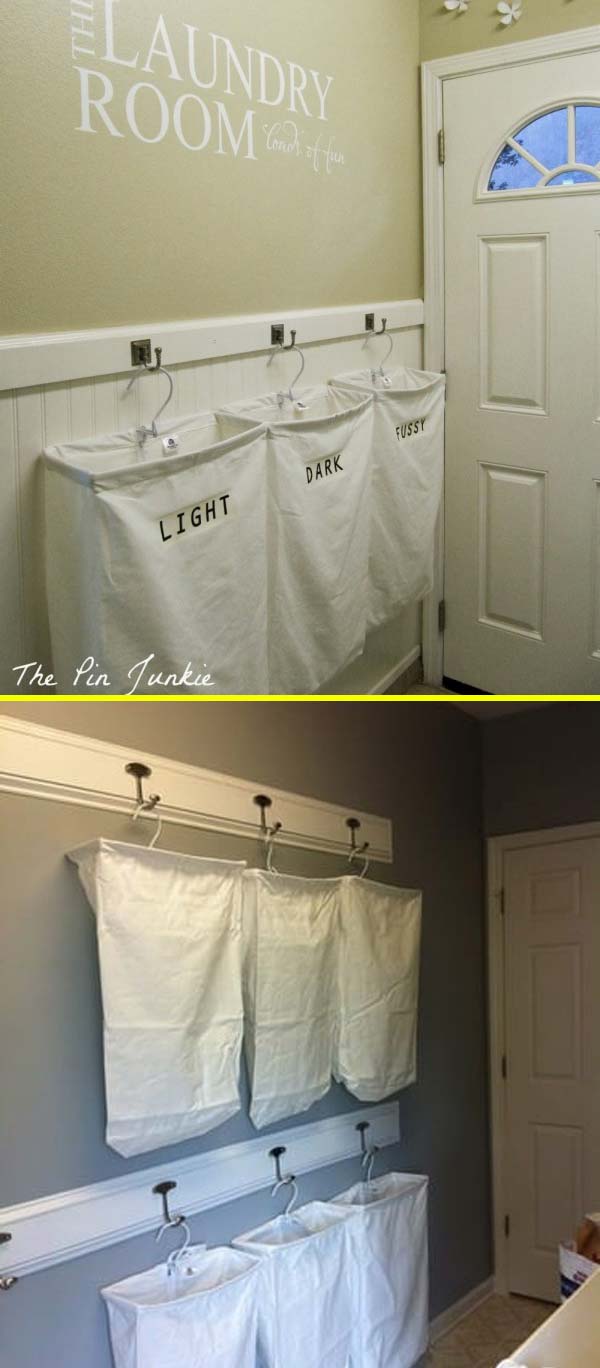 Source: remodelaholic.com
8. Install a shelf for basket storage and set up a rod under the shelf for hanging clothes.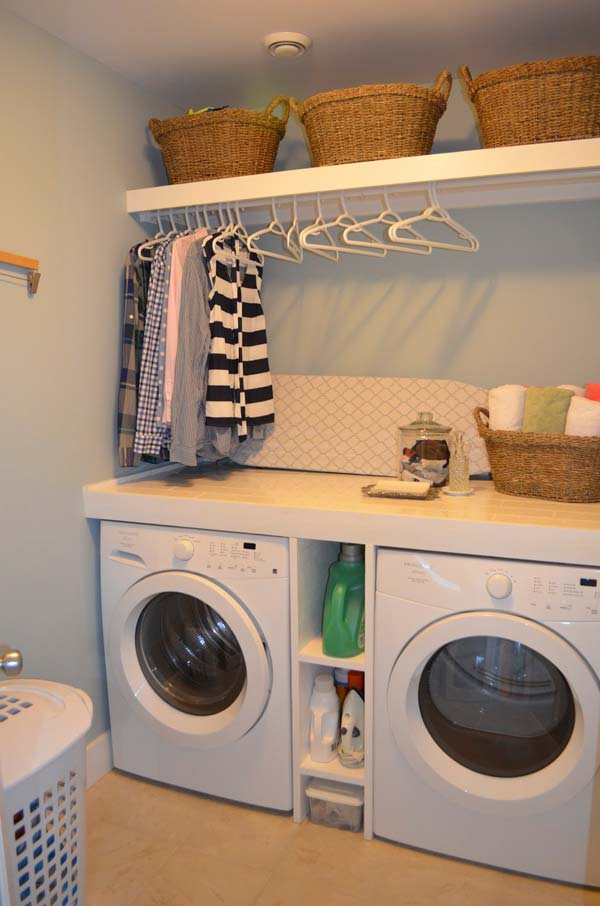 Source: slippersbyday.blogspot.ca
9. Hide a highly functional pull-out or tilt-out basket drawer.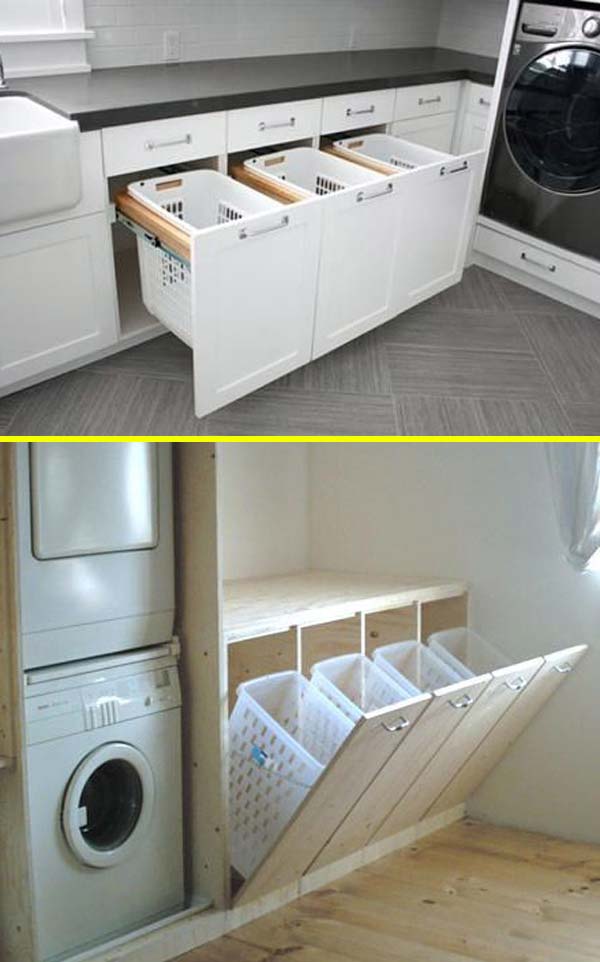 For more detail at ====> thesunnysideupblog.com
10. Keep a dry-erase marker to write down any line-dry items on the washer lid.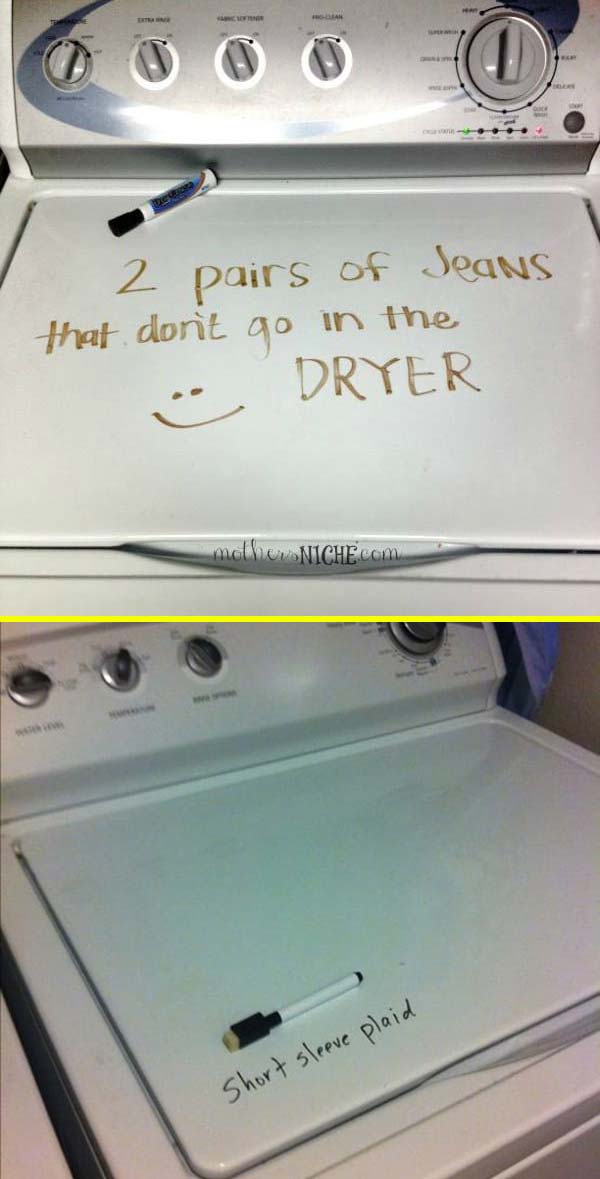 Source: mothersniche.com
11. Mount a wire shelf upside and install at an angle as a place to hold laundry supplies.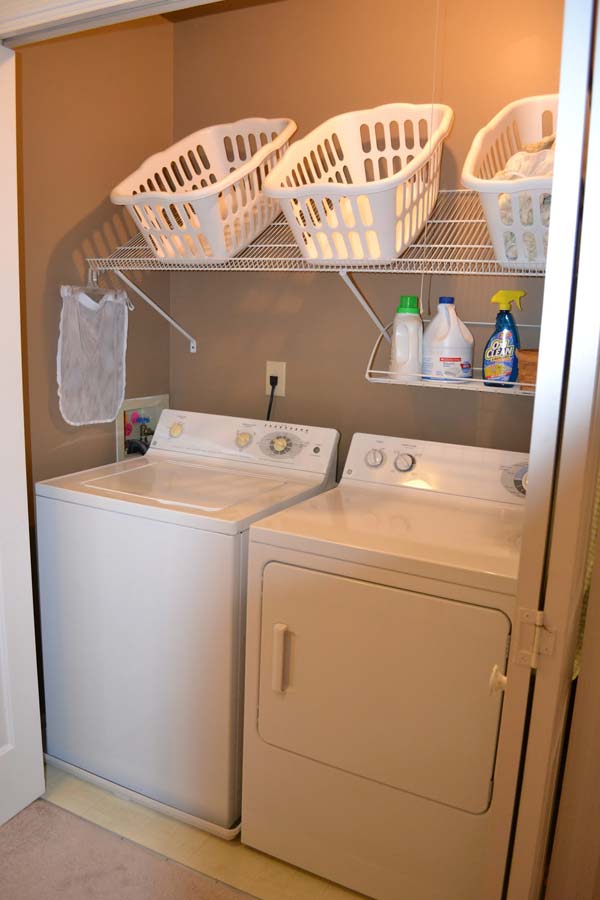 For more details at ====> holdontoyourhatsblog.blogspot.com
12. Transform the top of washer and dryer into an enclosed work surface to keeping washer clothes from falling off.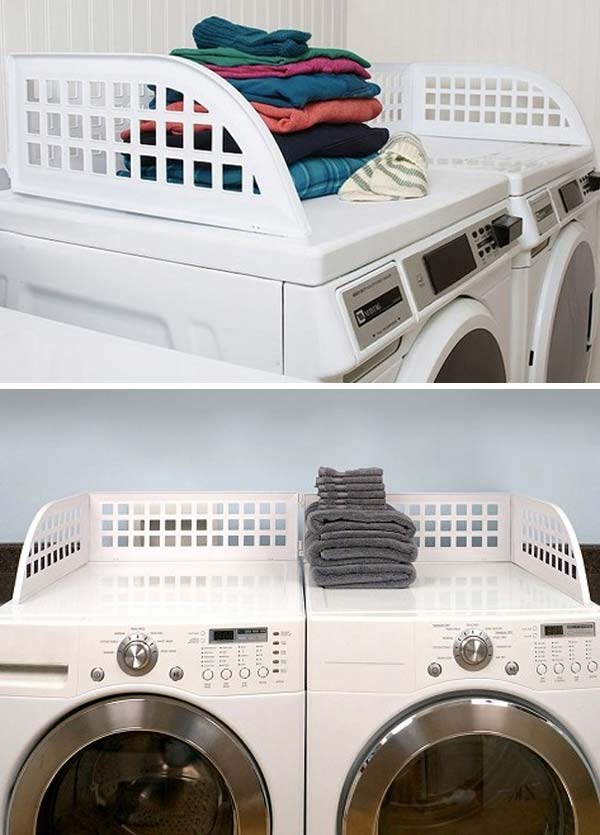 Source: thegrommet.com
13. Build a rolling laundry basket dresser.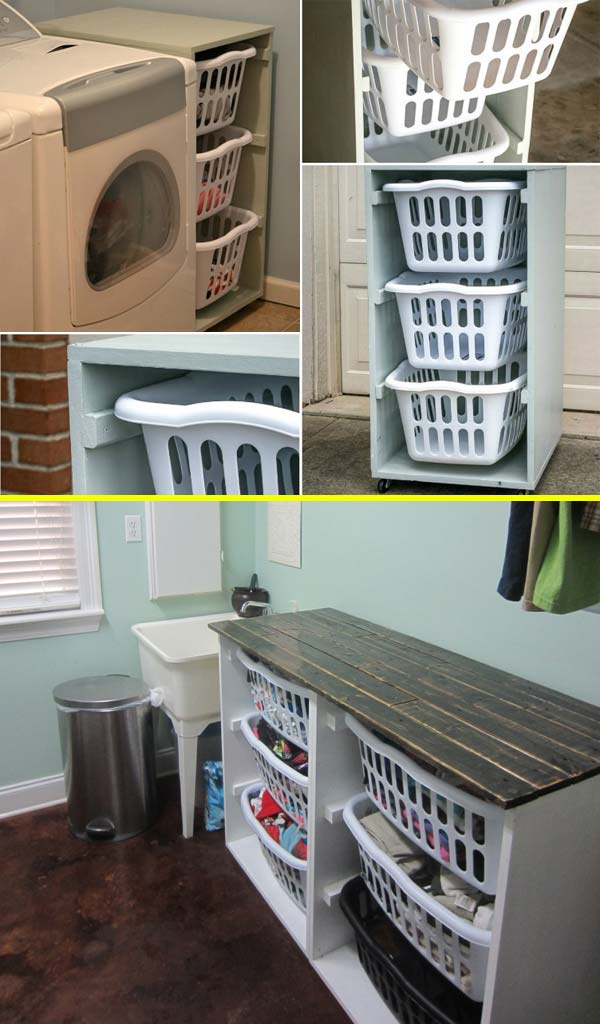 Get Great Full Tutorial ====> infarrantlycreative.net    Bottom Project Source: thebullock5.blogspot.com
14. Stretch these retractable clotheslines across to the opposite wall when you need to hang clothes, then hide them in a cabinet, when they are not in use.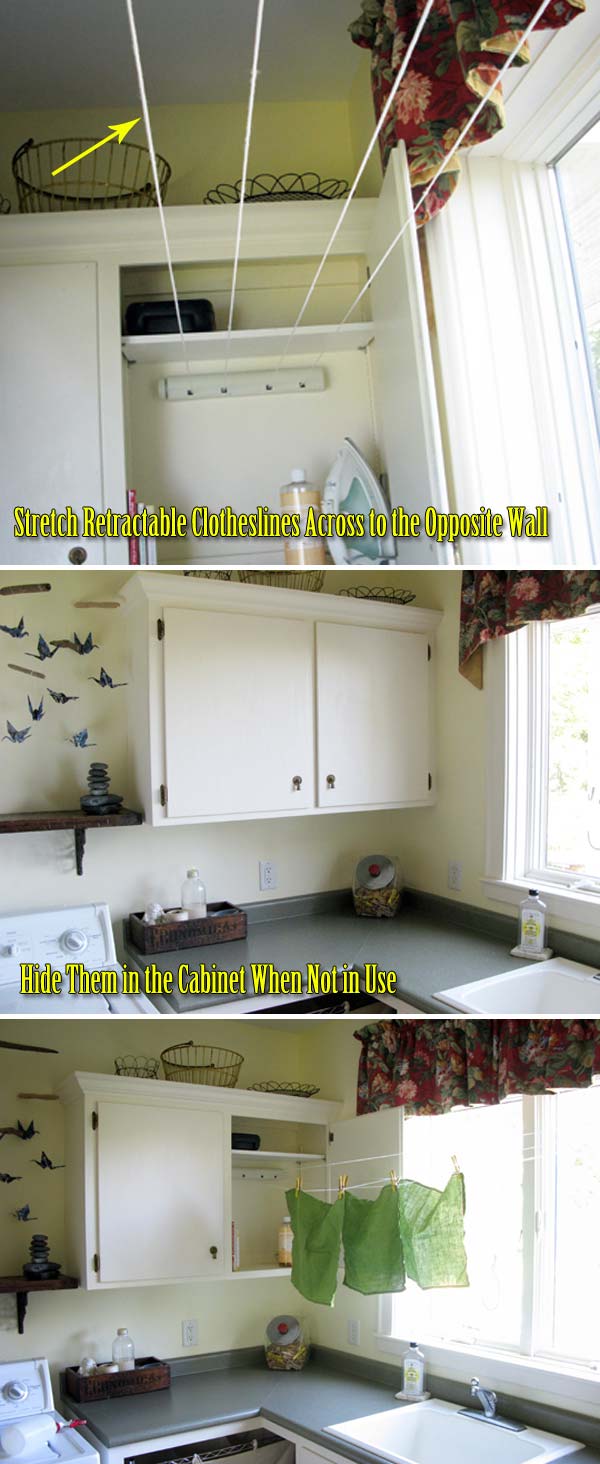 Get Great Full Tutorial ====> justabouthome.wordpress.com
15. Create drawer storage under the washer/dryer, and the hide away shelf as basket hold is brilliant.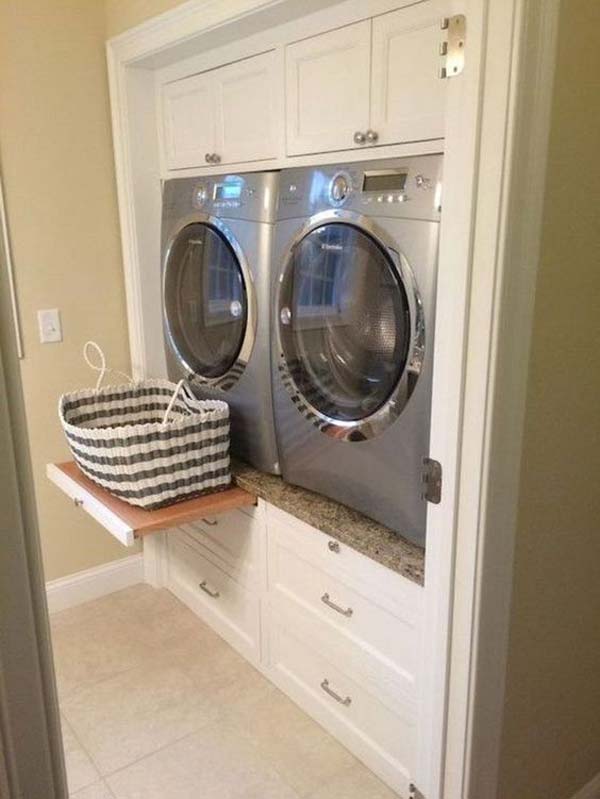 Source Unknown.
16. Easily grab the laundry supplies placed on a Lazy Susan.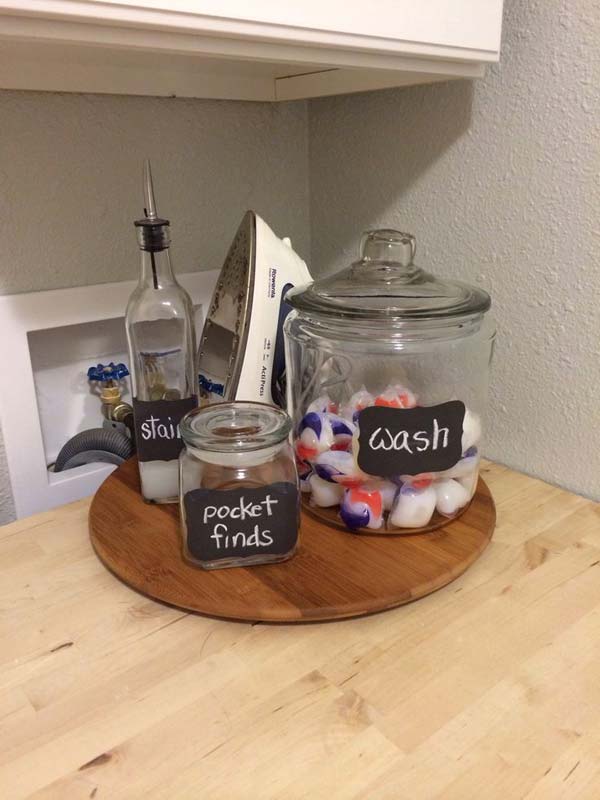 Source: homedit.com
17. Build a tall pull-out cabinet for ironing board storage. In order to improve the ironing process, you should know the importance of having the clothes steamer that will help you to remove creases, bacteria, and odors from your clothing.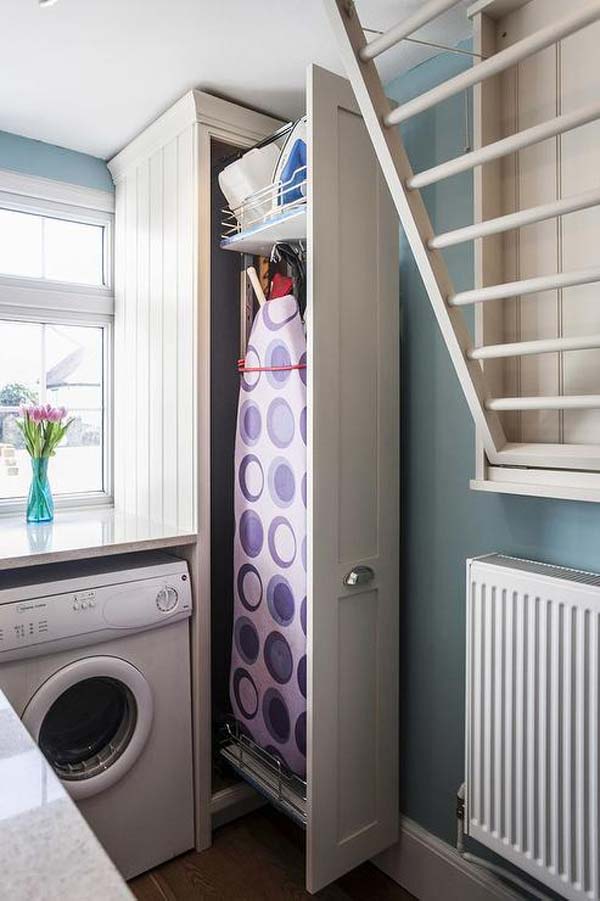 Source: decorpad.com
18. These fold-down drying rack take zero space when not needed, so they are perfect for smaller laundry rooms.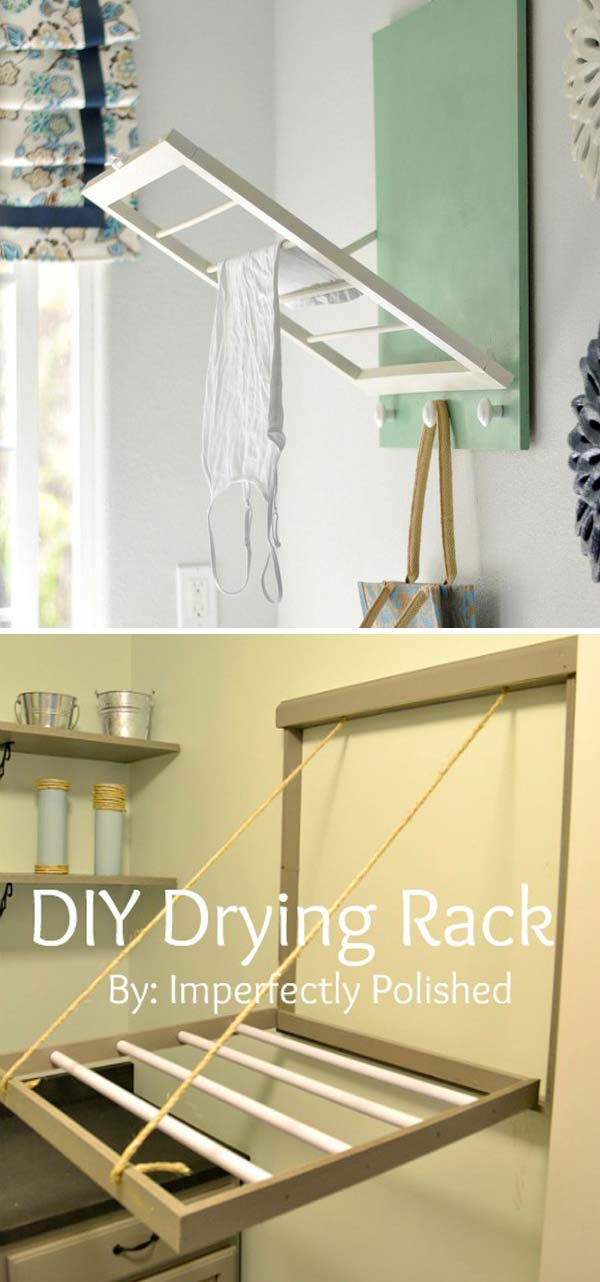 Get Full Tutorial ====> centsationalgirl.com  &  imperfectlypolished.com
19. Transform a plain old cube storage unit into chic shelving.
Get Full Tutorial ====> simplydesigning.porch.com
20. Hide the fold-down ironing board into a shallow wall-mounted cabinet.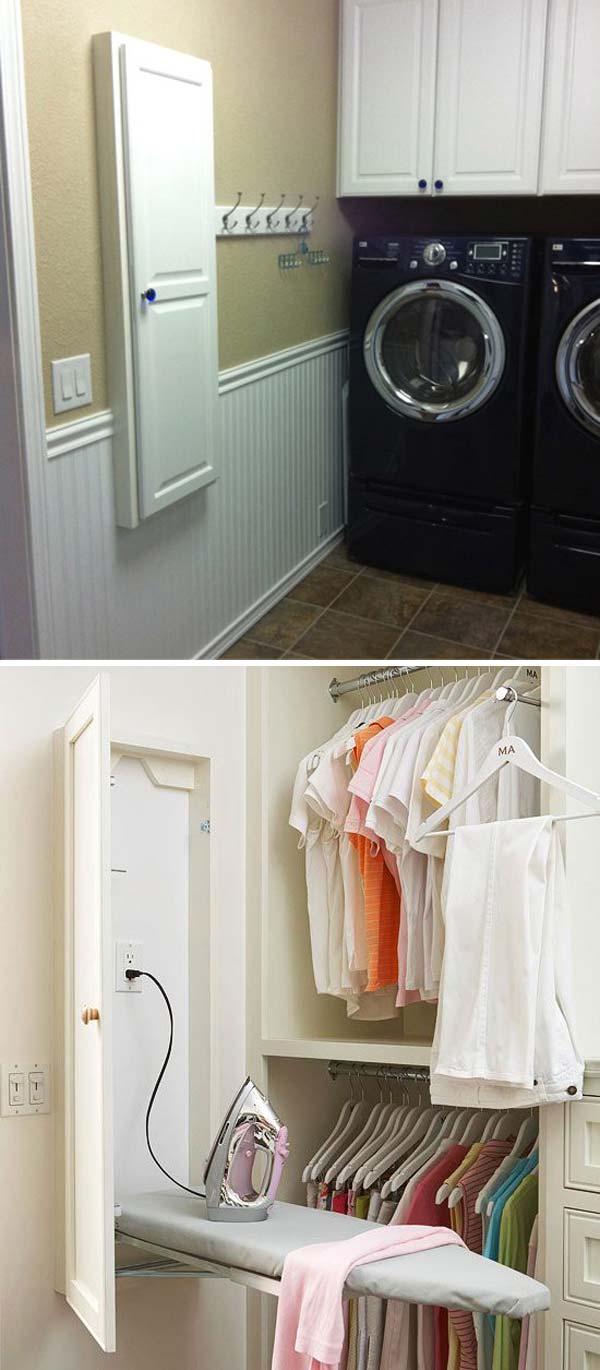 21. Save your limited space with these pull-out drying racks.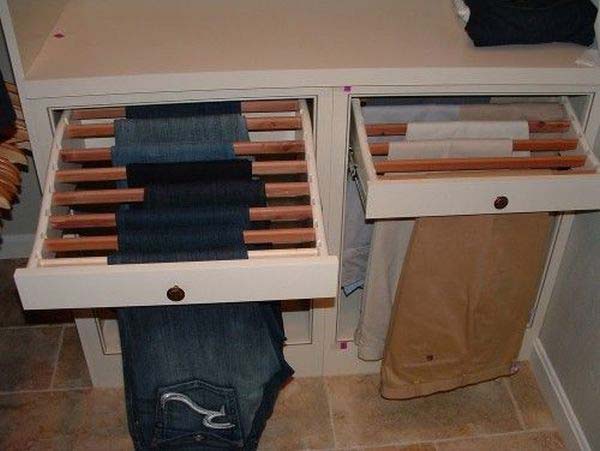 Source Unknown.
22. Hang a door rack to keep all your cleaning and laundry supplies.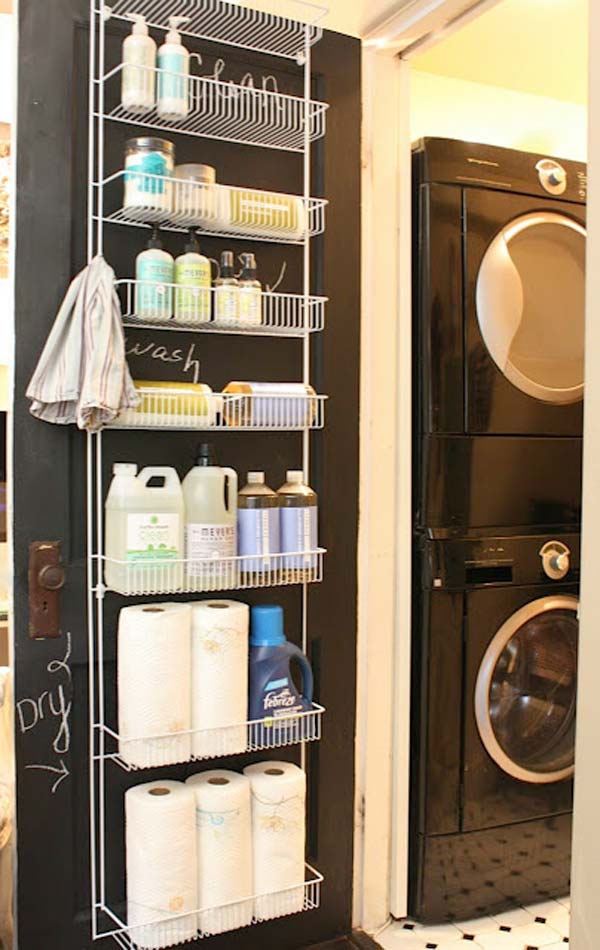 Source: mysweetsavannahblog.com