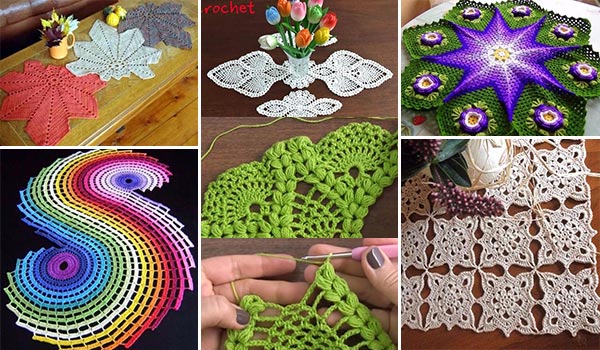 For many people, when it comes to Table Runners, the general consensus is to simply get a standard one from the store. And why not? They are simple, easy, and can be pretty cheap depending on where you go.
The problem is that store-bought table runners aren't nearly as unique or fun as ones you can make yourself. Not only that, but a homemade table runner is much more durable and will actually cost less than even the cheapest ones in the store, all while being a delight to knit and create.
Here are 17 fun and exciting table runner ideas that can make your dining table stand out from your friends and neighbors.
# 1: Leaf Table Runner
Get a jump on the fall and autumn season with this super cute design. Place them on your living room table to act as a coaster for your drinks or a place to place dishes or other items on.

Free Pattern: ABC Knitting Patterns
# 2: Flowery Table Runner
This colorful design is perfect for the spring season. You can throw these over a dining table or on top of your sofa or love chair. Not only is it very nice, but it's also incredibly eye-catching!

Free Pattern: Armarinho Sao Jose
# 3: Puff Pineapple Table Runner
An incredibly beautiful and versatile design that can be used to house numerous decorations on a table or desk setting. Make it any color to add your own unique style to it.

Free Pattern Video: Tejiendo Perú on Youtube
Number 4: Fall Table Runner
An excellent addition to the earlier leaf table runner. Having a place for this year's big Easter, Thanksgiving, and Christmas dinners to sit on will make you the most talked about person this 2021!

Free Pattern: Red Heart
Number 5: Snowflake Table Runner
While certainly ideal for the winter holidays, this beautiful white design is so versatile, it can be used at just about any time of the year.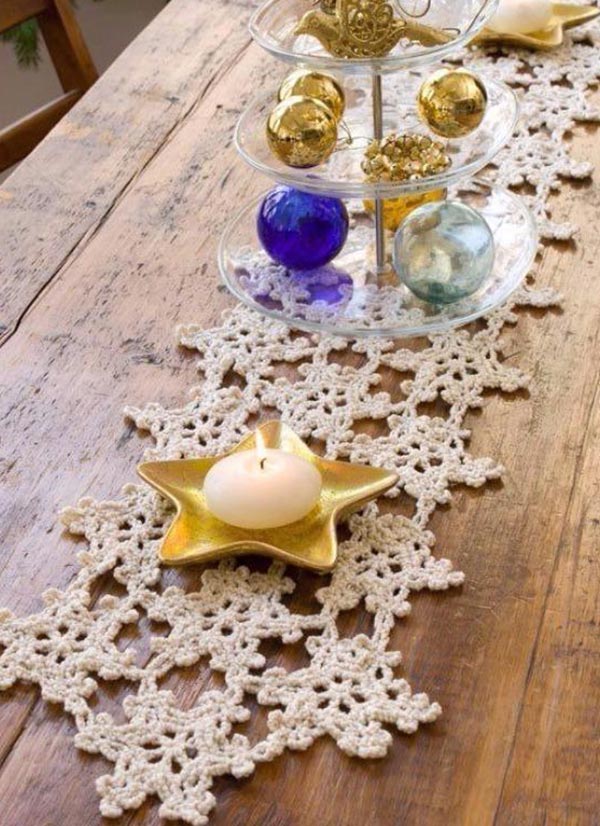 Free Pattern: Fave Crafts
Number 6: Linen Stitch Table Runner
A beautiful patterned design that gives life and light to your dining table. Go with the established purplish colors for a royal look or switch them up based on your own personal mood and style.

Free Pattern: the Unraveled Mitten
Number 7: Lacy Flower Runner
This lacy flower design adds a beauty and refinement to your table setting all on its own. By adding a few decorations, you'll suddenly look as though your home belongs on a magazine!

Free Pattern: Art oft Angle
Number 8: Poinsettia Flower Runner
A very bright and exuberant colored setting, this beautiful flower runner makes no bones about catching one's eyes and leaving an impression. Mix and match the colors to create exotic and amazing designs.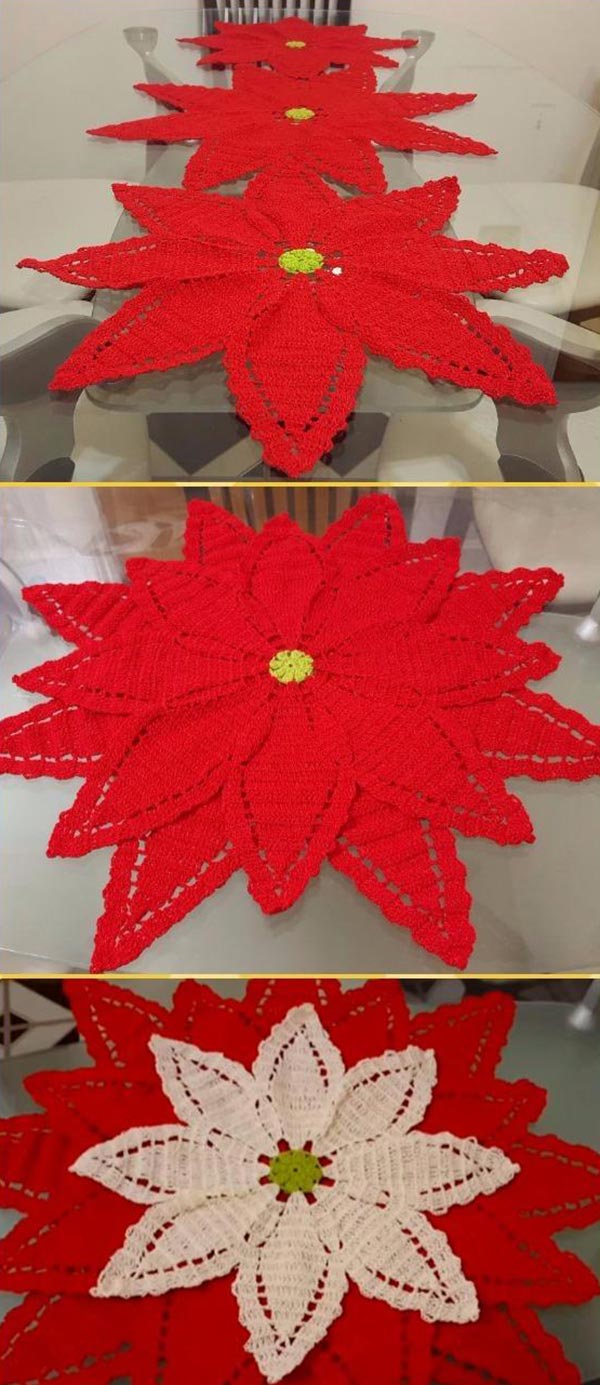 Free Pattern: Las Maravillas del Crochet
Number 10: Holly Table Runner
Not only perfect for the most auspicious of seasonal occasions but as decorations as well, this design is something all Christmas dinners should have as it truly sets the mood.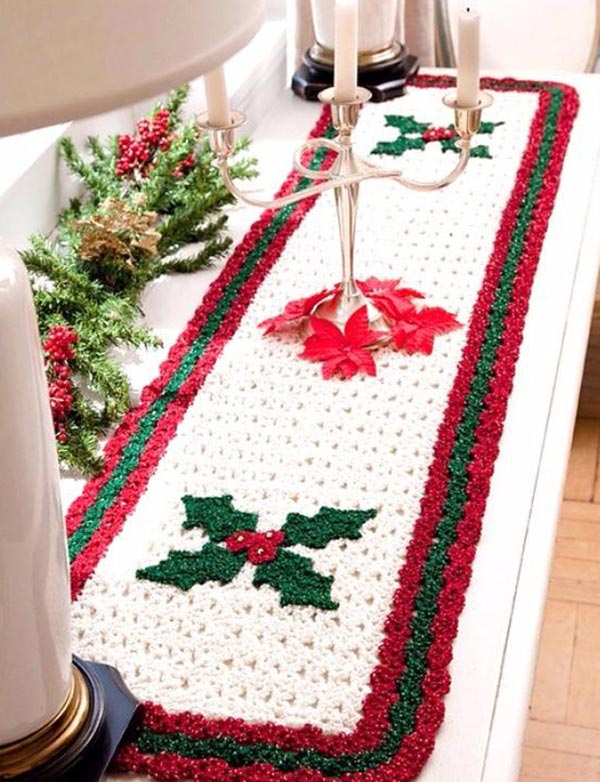 Free Pattern: Red Heart
Number 11: Starburst Table Runner
A gorgeous design that, while difficult, is well worth the effort. People will likely make up reasons to have dinner after they get a look at this table runner.
Free Pattern: Coats Design Team on Ravelry
Number 12: Crochet Spiral Table Runner
For those that are into the more esoteric designs and are artists at heart, this table runner will have you contemplating the meaning of existence for hours on end.

Free Pattern:: Alextitia Tuto Crochet on Youtube
Number 13: Fractional Spiral Table Runner
If the earlier one wasn't fascinating enough, the geometric shape and perfection found in this one will draw everyone over. Just know that by the time you're finished, you'll have all the answers to life's questions.

Free Pattern: Alextitia Tuto Crochet on Youtube
Number 14: 3D Rose Flower Table Runner
A fascinating design that will really amaze your guests. Put this on the dinner table or a piece of furniture to really give your home the extra pop.
Free Pattern Video: Milagros Ena
Number 15: Bohemia Valley Table Runner
A beautiful, if subtle, design that goes well in any setting or environment.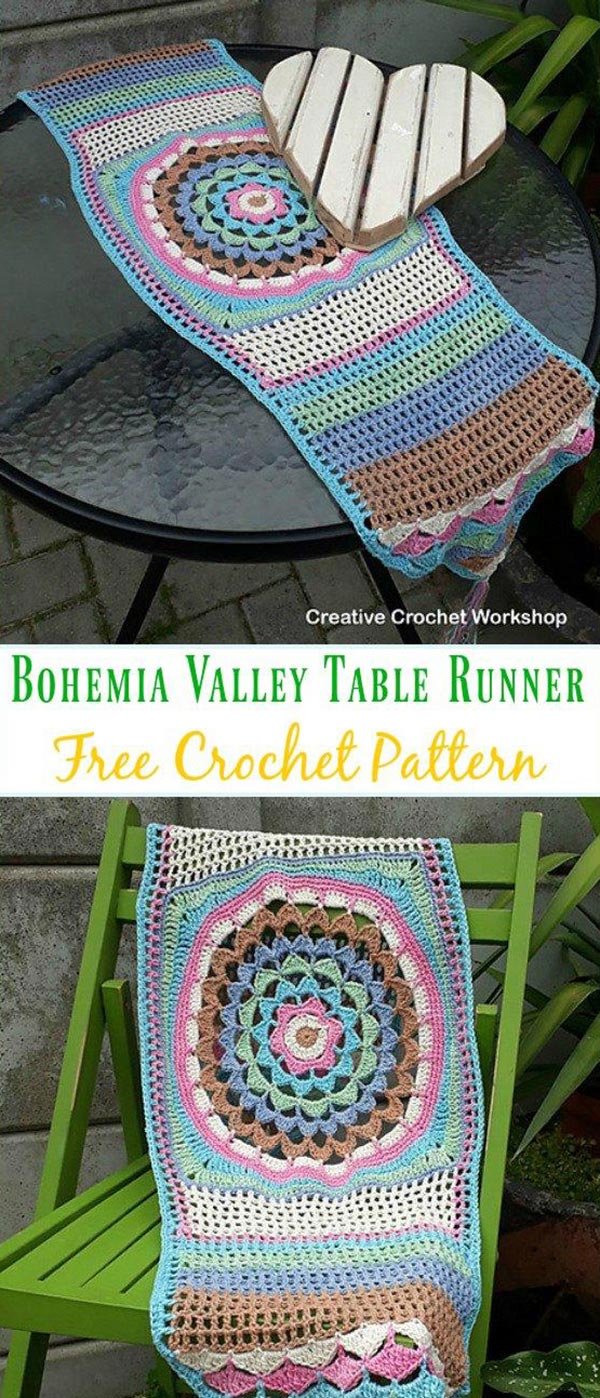 Free Pattern: Creative Crochet Workshop
Number 16: Hexagonal Table Runner
A full-on design that showcases not only your skill in crocheting but your eye for beauty and design. This can go anywhere in your home for any occasion. No matter where it is, however, just know people are going to comment on its beauty.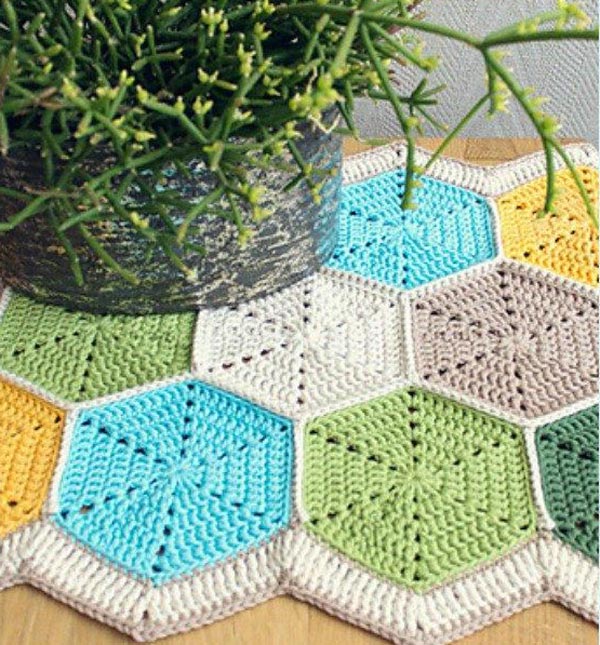 Free Pattern: Tutsplus.com
Number 17. Flower Power Table Runner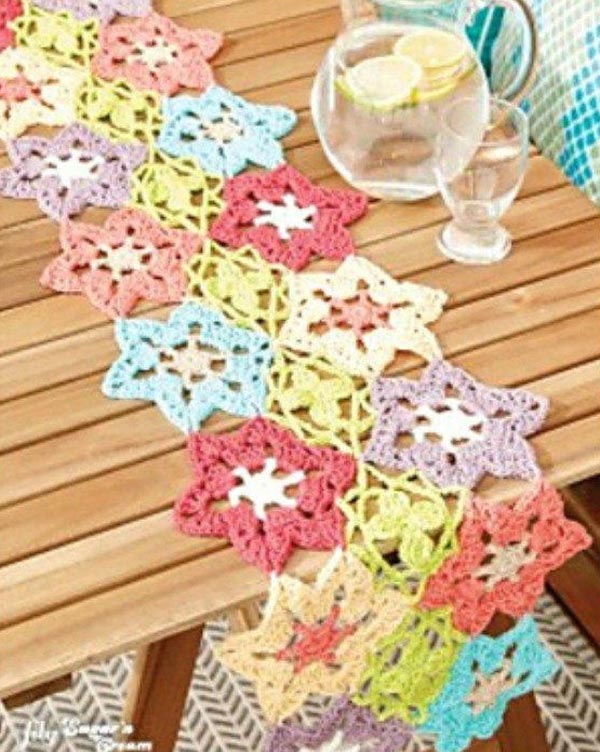 Free Pattern: Yarnspirations.com