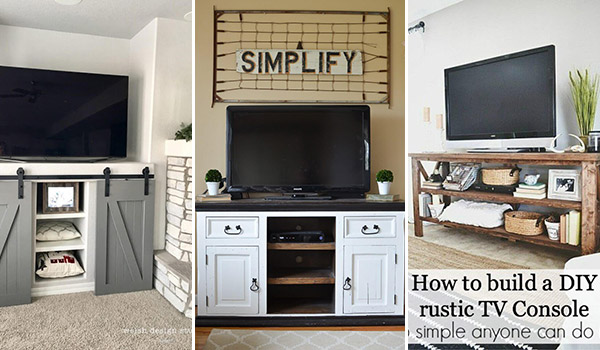 If you can't accept the thought of shelling out your precious bills on a furniture, why don't you make them? What is more satisfying and gratifying than to see your own creation and your own version of a furniture! Customize them to fit your style and your space.
Create a home entertainment center where you can, aside of course as a place to perch your TV set, organize your electronic essentials – mobile phones, gadgets, controls, DVD and Blu ray discs, and even store cables and extensions.
It feels easy on the eye and chest, when a space is clutter-free. When you enter a room and it feels pulled together, doesn't it make you breathe easily? This project will help you achieve that. Whether hosting a movie night, enjoy a family movie marathon, or you just want to snuggle on the couch listening to your favorite music, your console will offer you more than delightful entertainment. The multi purpose shelves may serve to display your family's treasured photos or travel trophies.
Below is a collection of design ideas for a DIY project.
1. Home Entertainment Center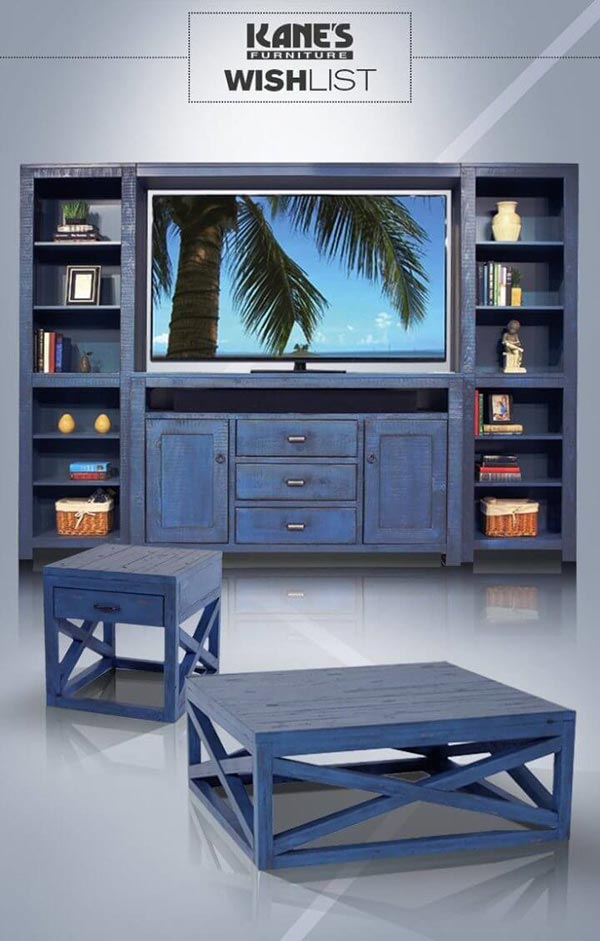 Storage savvy console with plenty of open space and cabinets, made even more adorable with matching colored low table and chair. Use rattan baskets wisely to store trinkets and trifles.
2. Chic Entertainment Center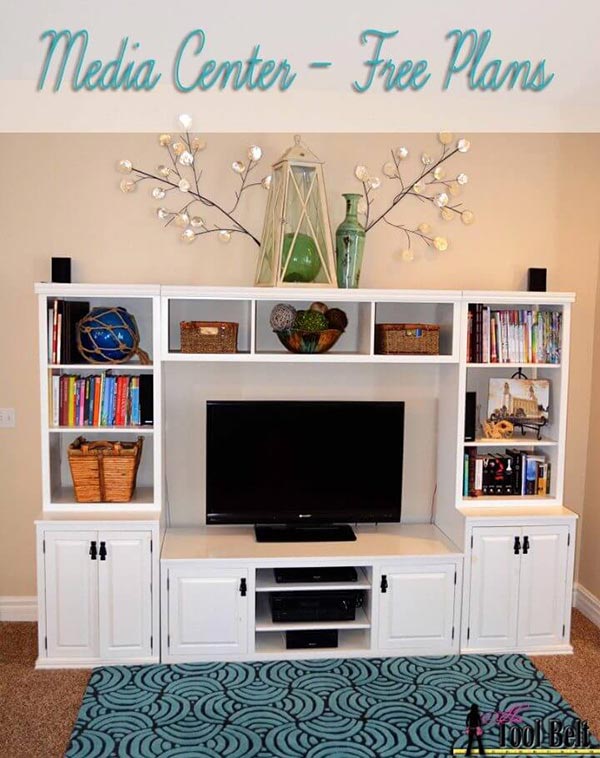 Tutorial: hertoolbelt.com
Another storage savvy console in a more chic and classic color and design. Additional open space cleverly built below the TV stand to accommodate your DVD or Blu Ray players.
3. Pallet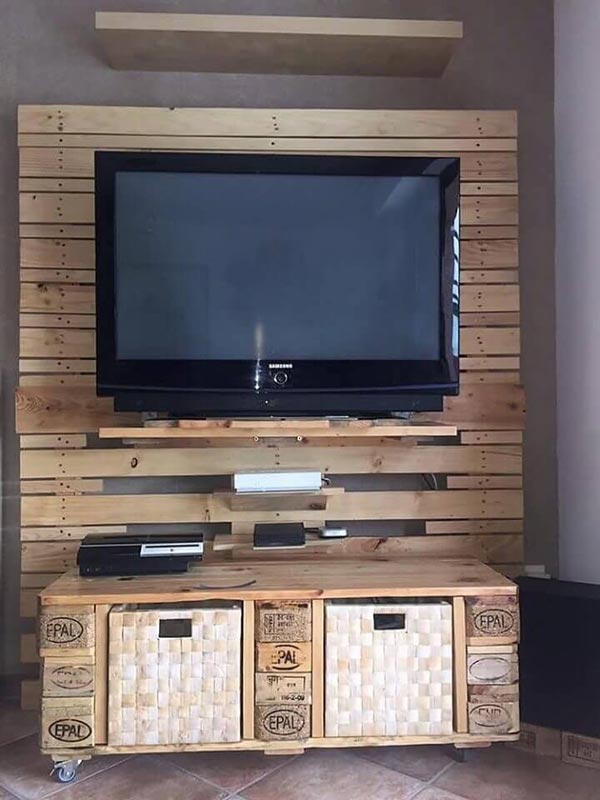 Old wood has a certain character a new wood does not have. Converted to a homey console with rollers, these refurbished-pallet Entertainment Center will surely let the good times roll.
4. Entertainment Center with sliding barn doors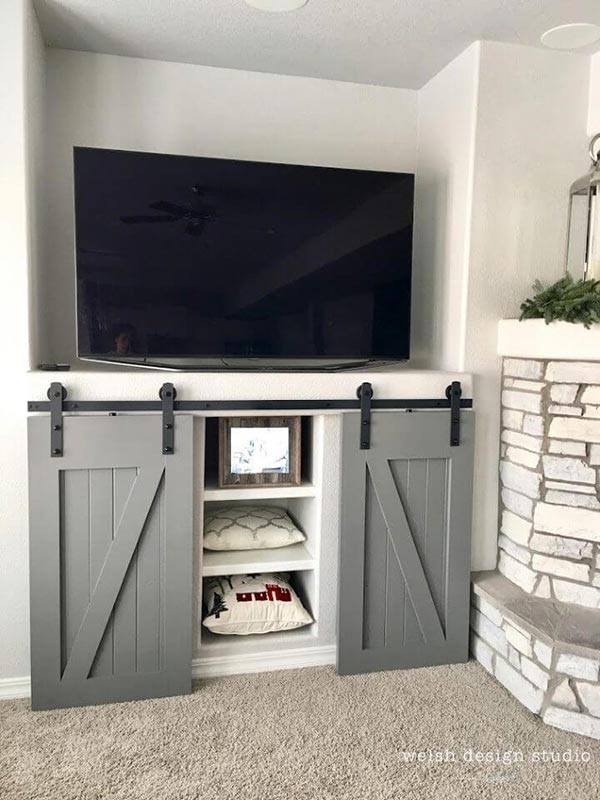 Tutorial: welshdesignstudio.com
With a charming country feel, this cabinet features 2 sliding barn door style, which allows you to open one of 3 shelves at any time.
5. Classical style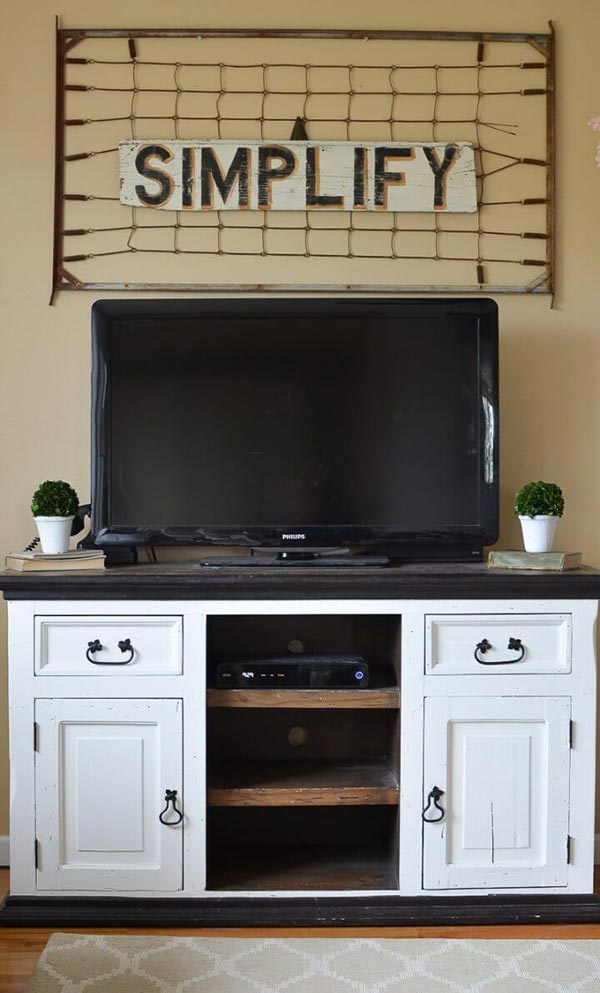 Tutorial: sarahjoyblog.com
Low rise cabinet for a classic console in white finish in traditional design. Antique decorative cabinet handles, in patina shade gives a quaint classical overall look
6. Tall Corner Console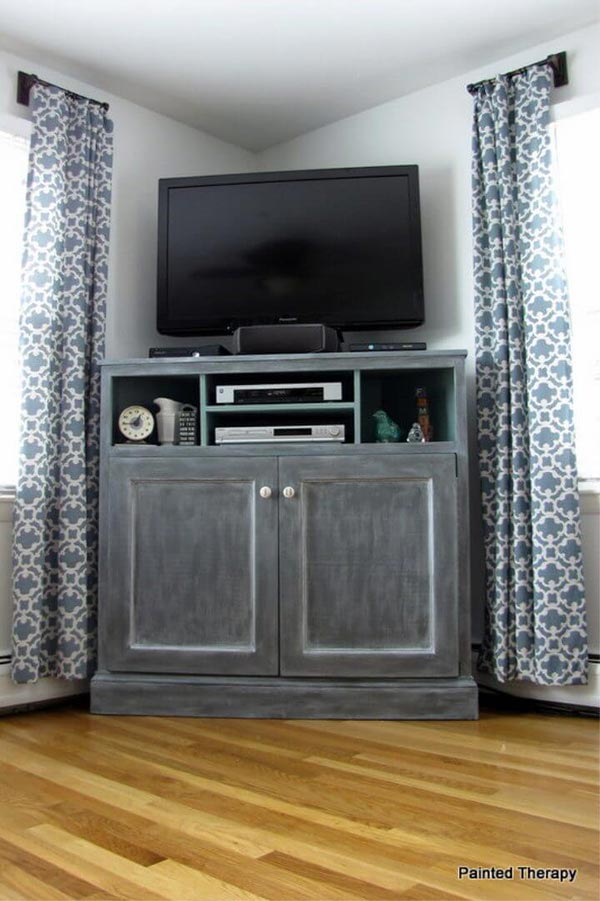 Tutorial: ana-white.com
Do you just want to make use of a bare corner in your room? This tall console configured accordingly makes a great space filler with lots of functionality – TV stand, player organizer, linen storage or just a place to stash away stuff.
7. Dresser console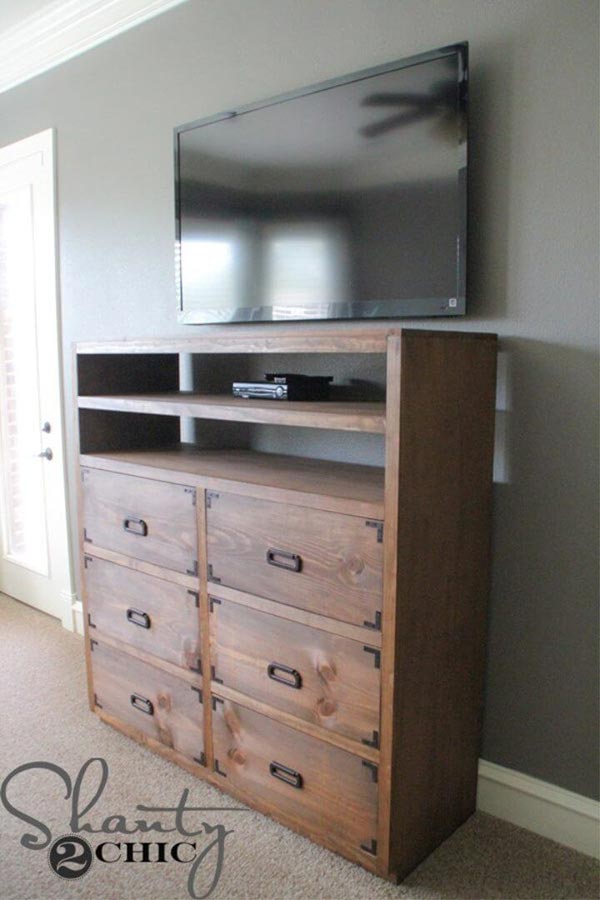 Tutorial: shanty-2-chic.com
Did you think this dresser can be converted to an entertainment space? With a TV mounted above it, you could.
8. X Leg TV Stand
Tutorial: homemadebycarmona.com
A simple DIY stand that snugly fits your TV, with an add-on open cabinet to keep your storage baskets. The X brackets gave this table a trendy style.
9. Media console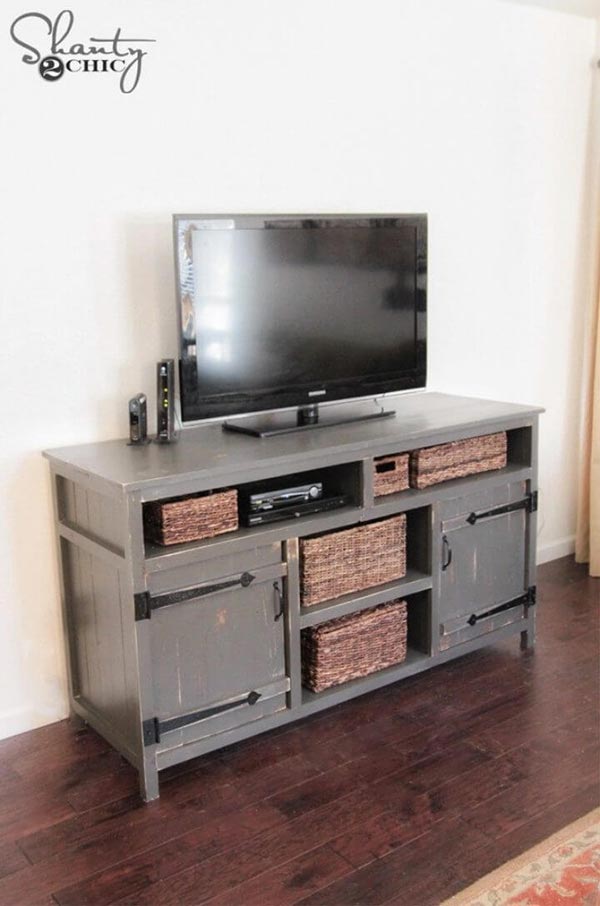 Tutorial: shanty-2-chic.com
TV top with cubbies to neatly store all your stuff. Everything has a place now. The distressed finishing gave it a charming look.
10. Ammo Crates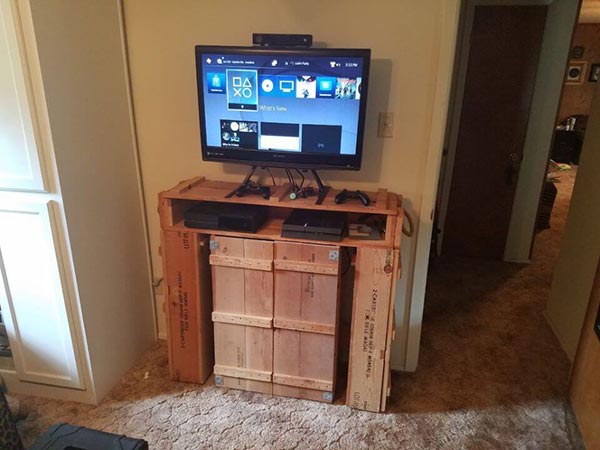 Tutorial: instructables.com
Perfect for that mancave. Wooden pallets upcycled to recreate an ammo box (real ammo boxes cost steep. That is, if you can find them). That industrial look suits that male-only space.
11. Classic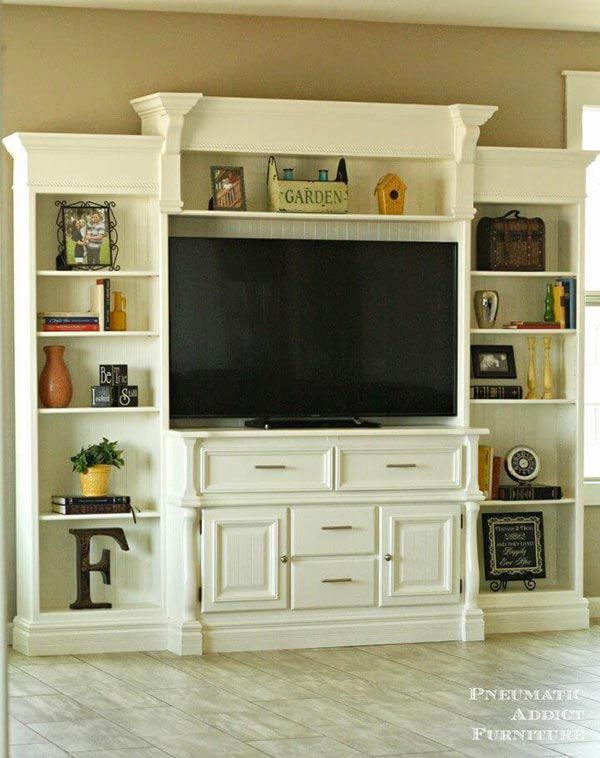 Tutorial: pneumaticaddict.com
Classic look, design, lines, color and construction with modern details. Lots of shelves balance what the cabinet purposefully lacked in depth. Style is the name.
12. Hide Away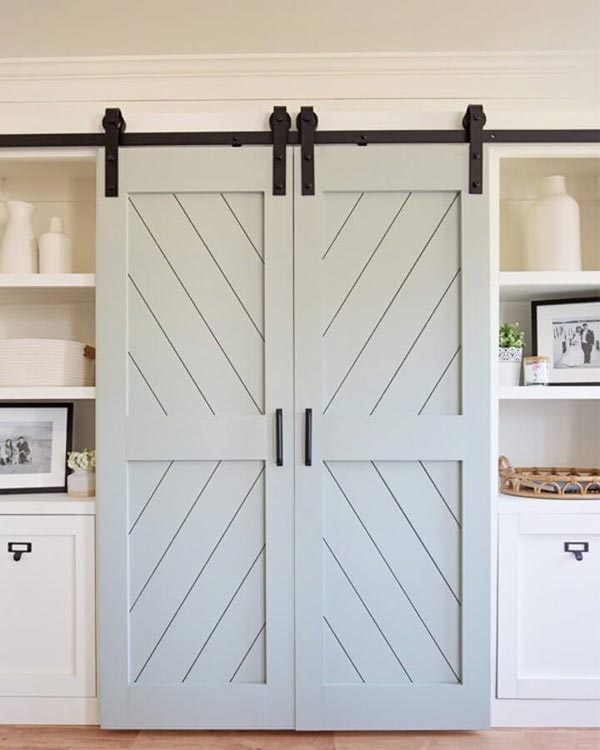 Tutorial: angelamariemade.com
When you want to protect your huge TV screen from kids or you just want to hide it during the day, you might want to go with this sliding barn door. A great accent to your living area too!
13. How to Make entertainment center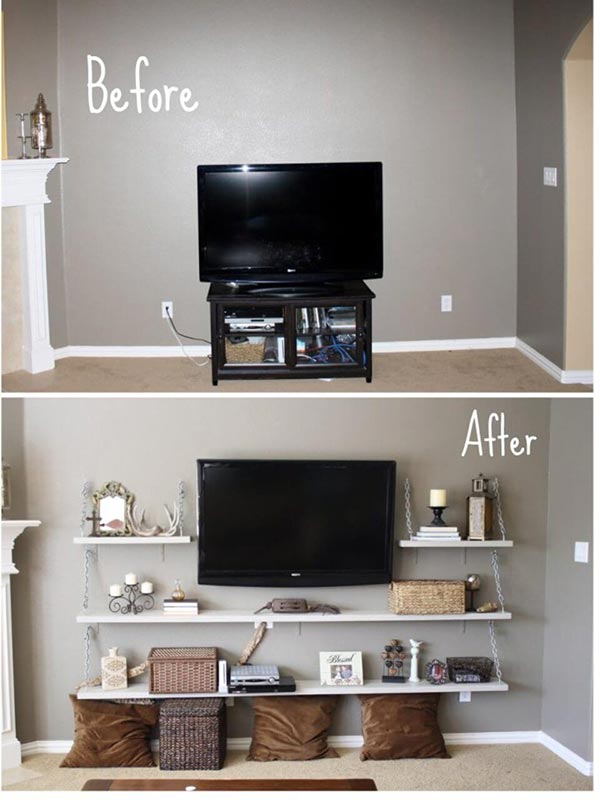 Don't want a bulky cabinet in your room but want to revamp a dull TV stand? No problem. With a few boards, you can create an entertainment area in your room or den. Use your mounted TV as the crowning jewel of your space.
14. Farmhouse style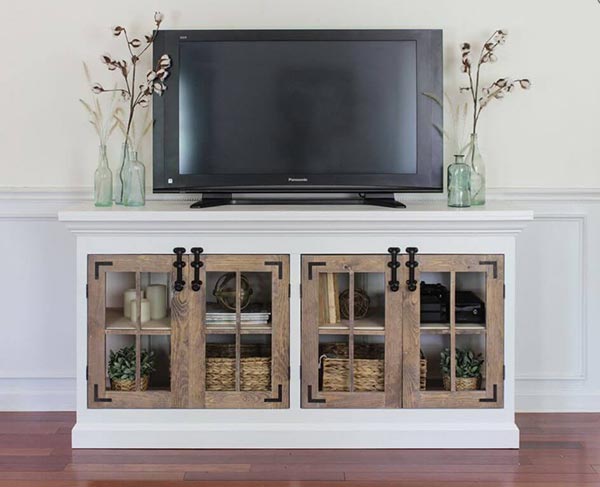 Tutorial: buildsomething.com
Do you fancy anything with farmhouse appeal? This gorgeous rustic cabinet doubles as a TV stand. Using clear glass to show off your pottery barn collection.
15. Rustic TV Console
Tutorial: lizmarieblog.com
This functional stand cum decor is one furniture you will surely love. Using heavy natural finish wood, slim enough to hold your Smart TV sturdily.