20 DIY Welcome Signs for Front Porch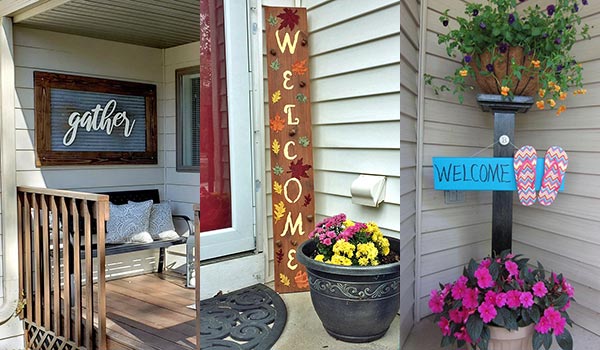 With today's skyrocketing property prices, it is a huge privilege to have a porch. Porches are like sipping coffee, while looking out into a lush garden with vast sweeps of blooms in gorgeous colors, with no care about time. I mean, porches pour forth warmth, family, fun, heartwarming conversations, sharing and everything home. It is a foretaste of the homeowner's hospitability.
Here you will find an eclectic collection of welcome signages to decorate your porches or doorsteps, for the season or for all seasons.
1. Warm Cedar Shutter Welcome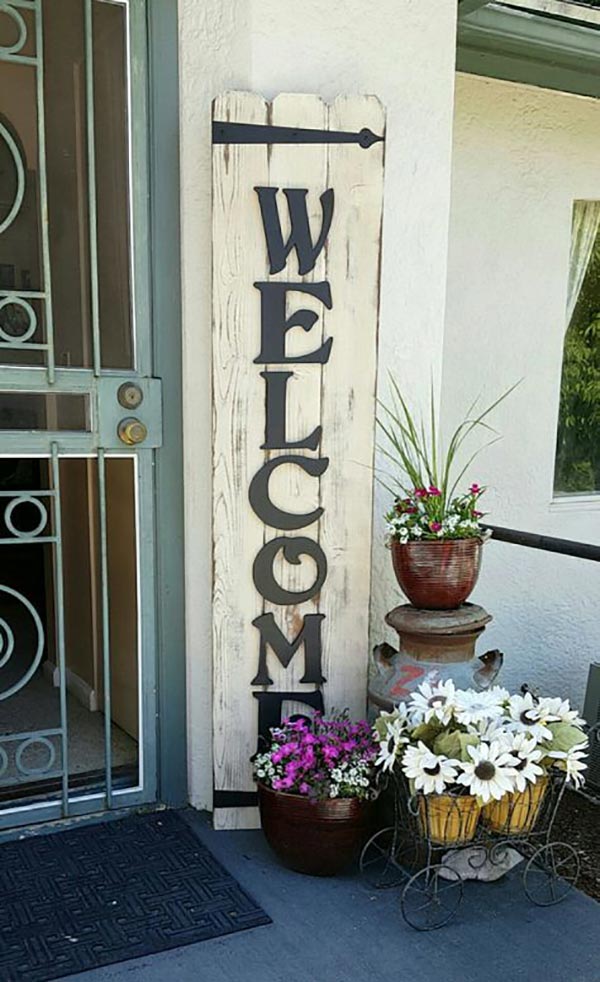 This Welcome sign made from cedar shutters surely increases your porch's curb appeal.
2. Planter Welcome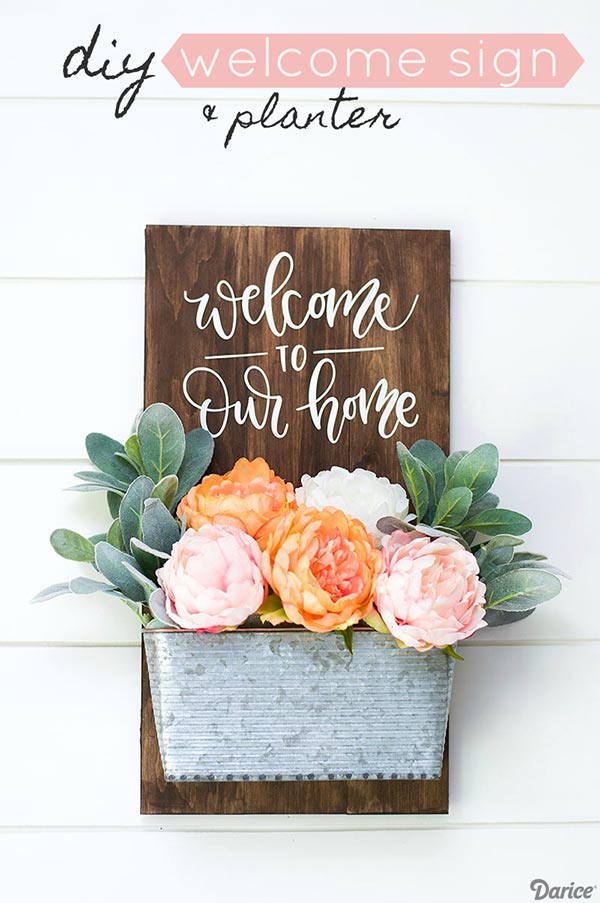 What a better way to welcome your guests but with flowers. A bright and cheerful reception for any home.  via: darice.com
3. Rustic Welcome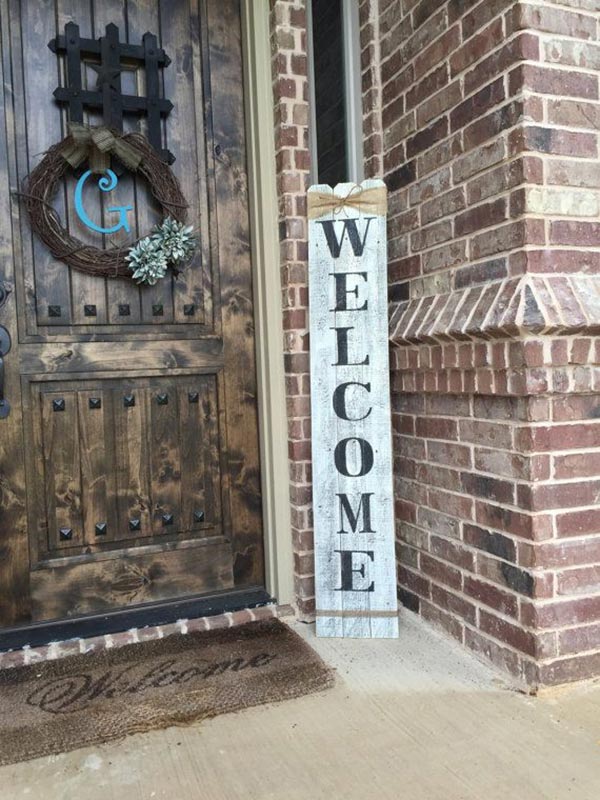 A "craftier" use of reclaimed wood, pun intended. Simple project using stencil, mod podge, acrylic craft paint and acrylic spray sealer on your reclaimed wood.
4. Thanksgiving Welcome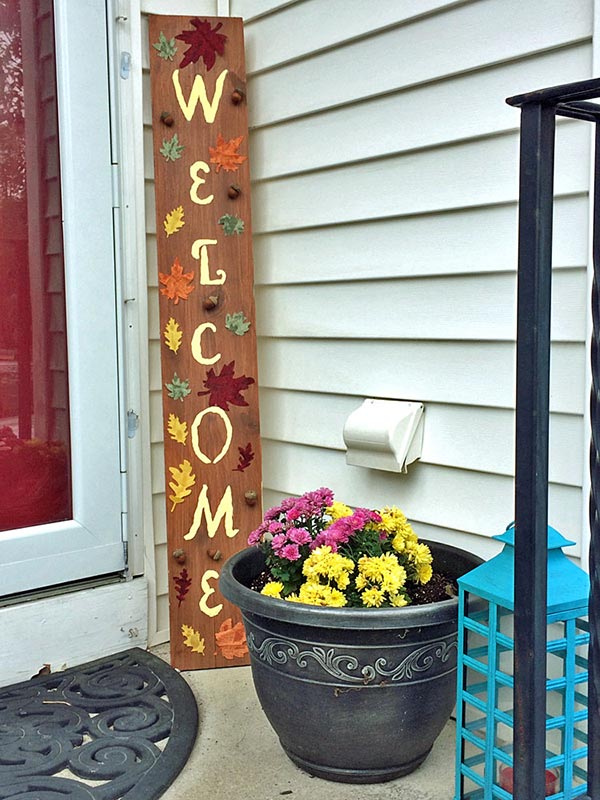 This welcome sign appropriately ushers in the season with all things Fall – autumn leaves, acorn, warm brown color. A simple stencil and glue job too.  via: momhomeguide.com
5. Simple DIY Wood Welcome
Old salvaged wood look in a nice Welcome wash of dark wood stain. Simply paint, in white, over vinyl stencils.
6. Framed Invitation Welcome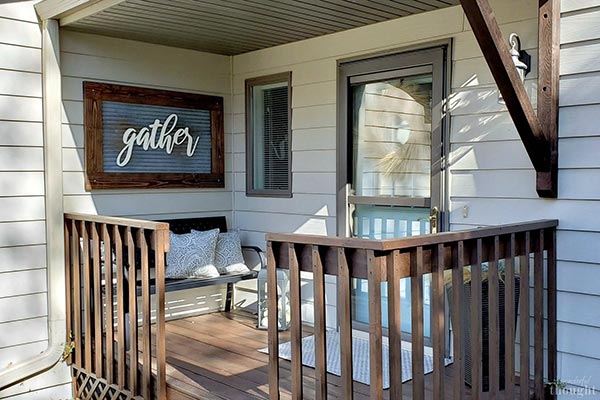 A huge invitation of fun activities as a welcome. Framed for all your guests to see up front.  via: awonderfulthought.com
7. Vintage Welcome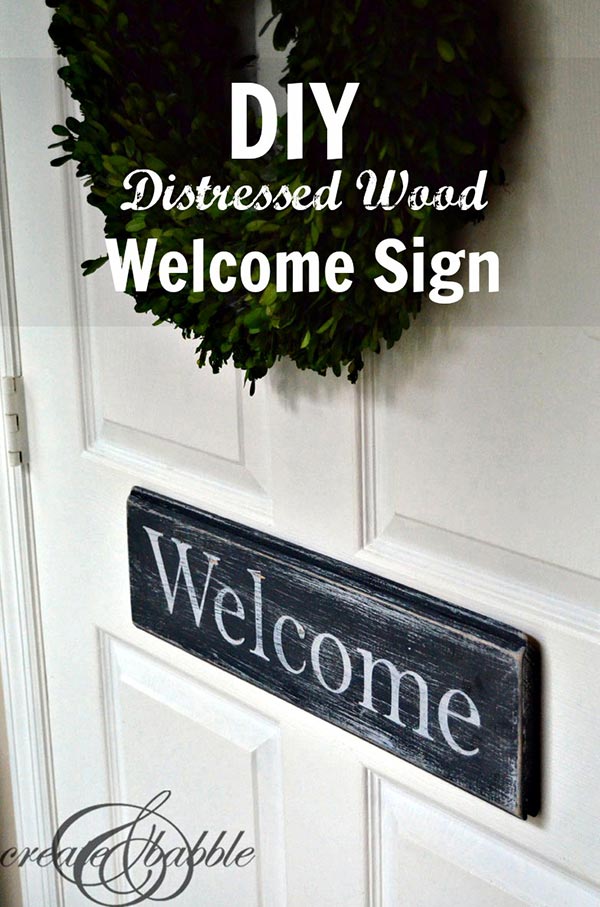 Simple, straightforward and best of all, easy to do. Inexpensive too using scrap wood. A little wood sanding goes a long way to get this charming vintage looking greeter on your door. via: createandbabble.com
8. Benchwarmer Welcome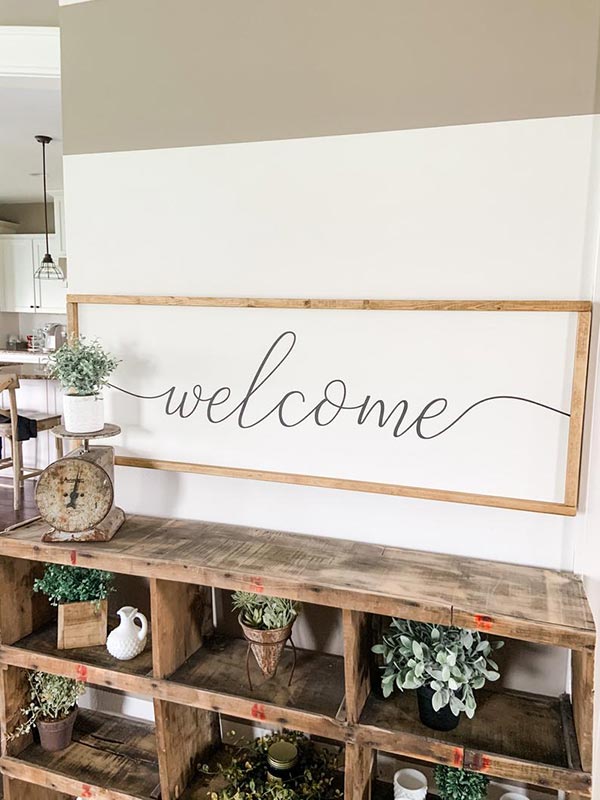 Absolutely charming! There is something about wood and greens which conveys comfort, ease, and warmth. Doubles as bench and storage too.  via: etsy.com
9. Handpainted welcome stand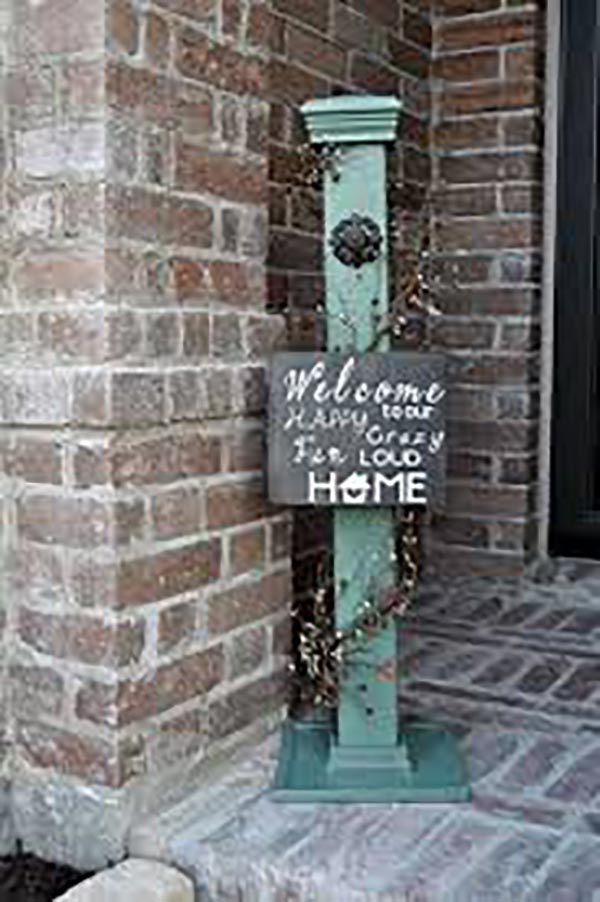 Weathered summery shade of haint blue. You can not go wrong with that good old traditional porch color.
10. Planter with lantern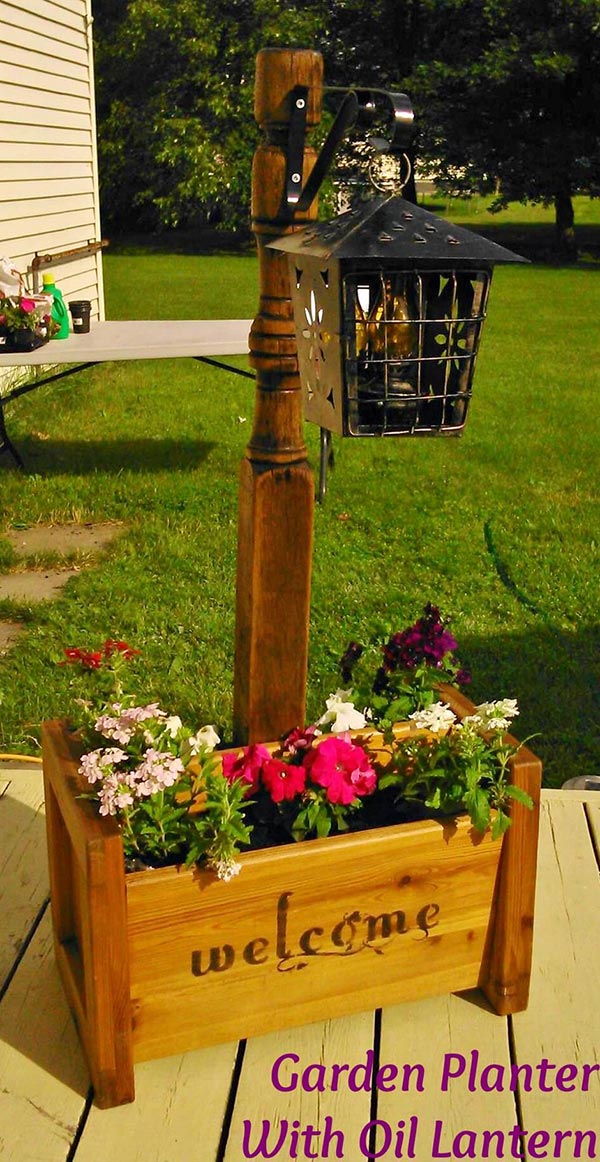 A quaint Welcome post made adorable by the variety of flowers and the Old World charm of a Victorian oil lantern.
11. All season Welcome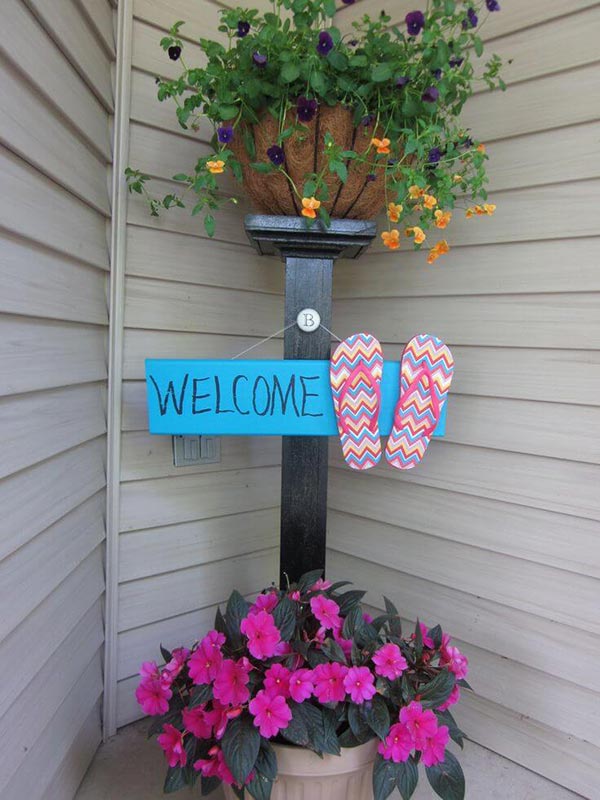 If you want to veer away from the traditional hanging baskets, make your welcome a happy display of blooms in season, hang a welcome sign and nail beside it an appropriate item for the season – slippers for summer, a football for fall, bunny for spring, jack frost for winter.
12. Metal Pail Welcome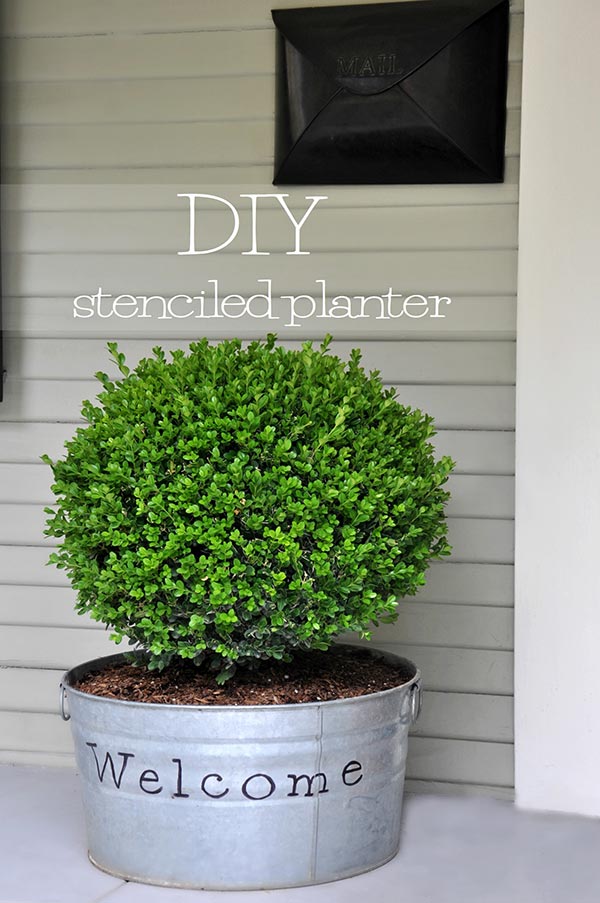 A budget friendly porch greeter but definitely quite a stylish statement. via: sheknows.com
13. Howdy welcome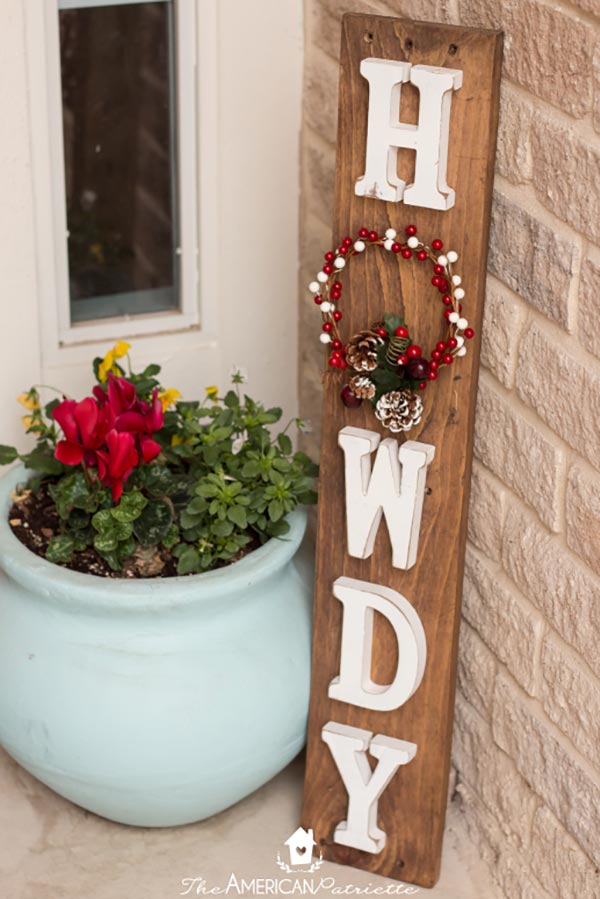 "Welcome, please come in!" spelled another way.  via: theamericanpatriette.com
14. Hook Welcome bench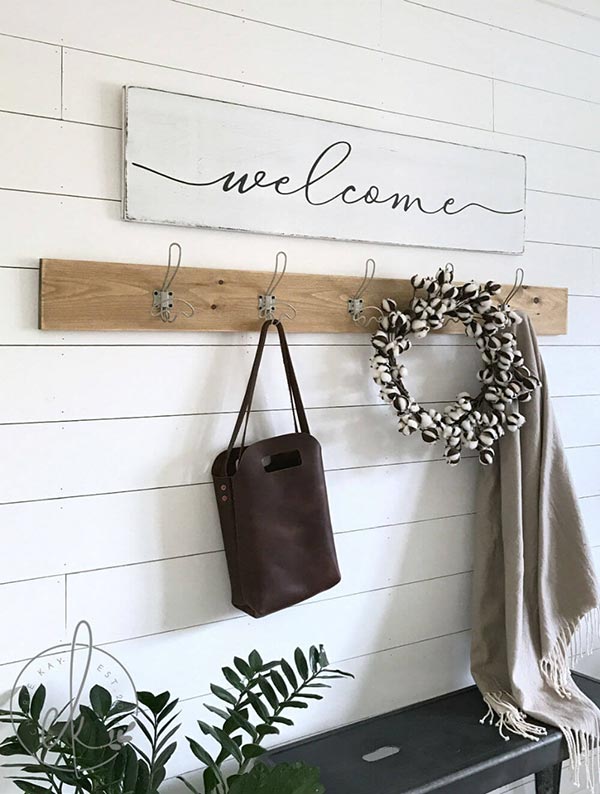 Stylish, modern and functional welcome bench for your tired guests. Less fuss, huge impact.
15. Wood planter and House No. Welcome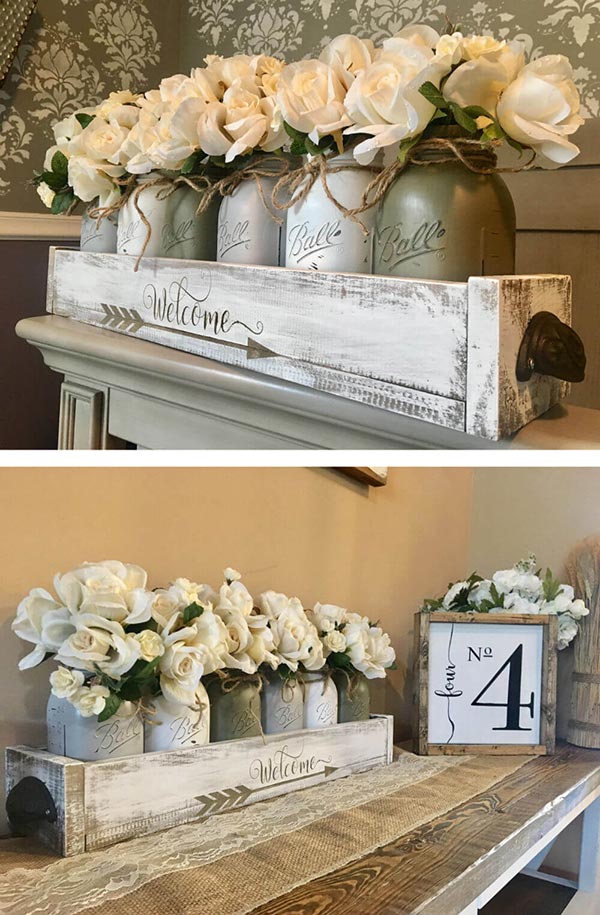 A pottery barn welcome box exudes both hip and charm. Paired with your house number box and you double the charm.
16. Mi Casa, Su Casa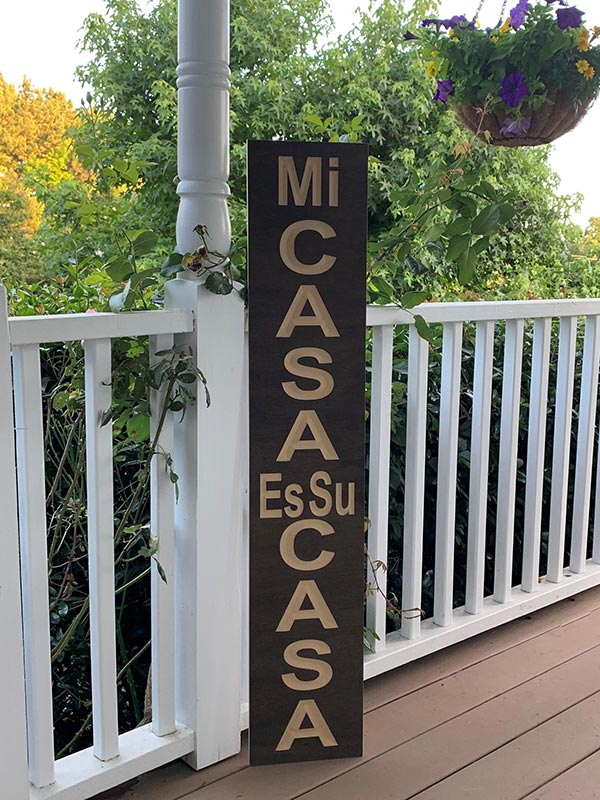 You will never be lost in translation with this welcome sign. Amusing way to say "Make yourself at home".  via: bccdecor.com
17. Double Welcome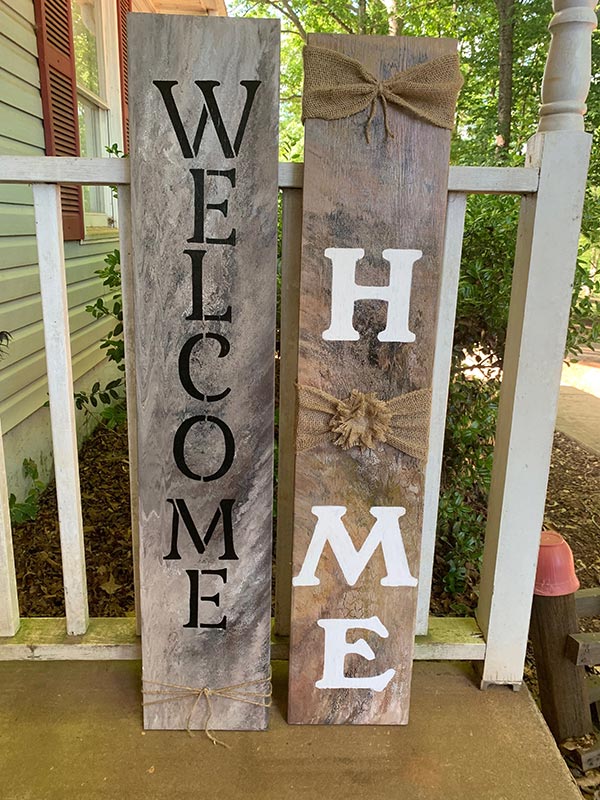 I love salvaged wood! They are time and weather tested. These two beautiful handcrafted narrow wood planks should fit any porch, doorway or steps. Two is always better than one.
18. Friends Welcome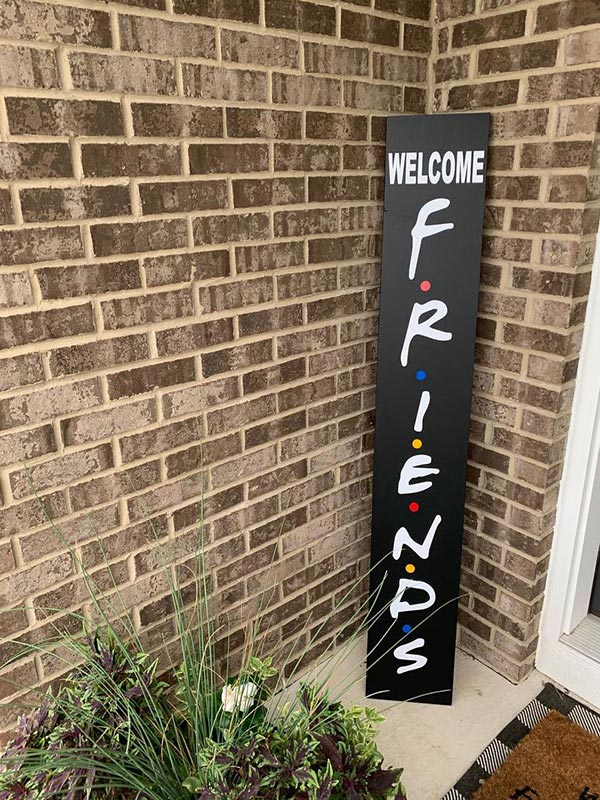 Admit it. This welcome greeter made you smile, didn't it? The "Friends" brand is associated with fun and camaraderie. And isn't that what you want your guests to feel?  via: esty.com
19. Welcome charm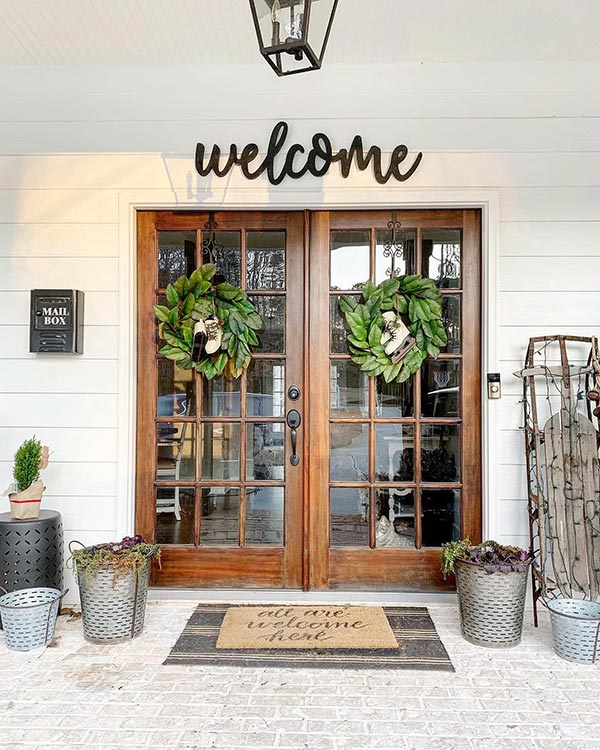 Contemporary farmhouse charm featuring galvanized buckets and magnolia wreaths. You definitely will not miss that big welcome sign up and welcome mat down, promising you a warm accommodation. via: instagram.com
20. Fence Welcome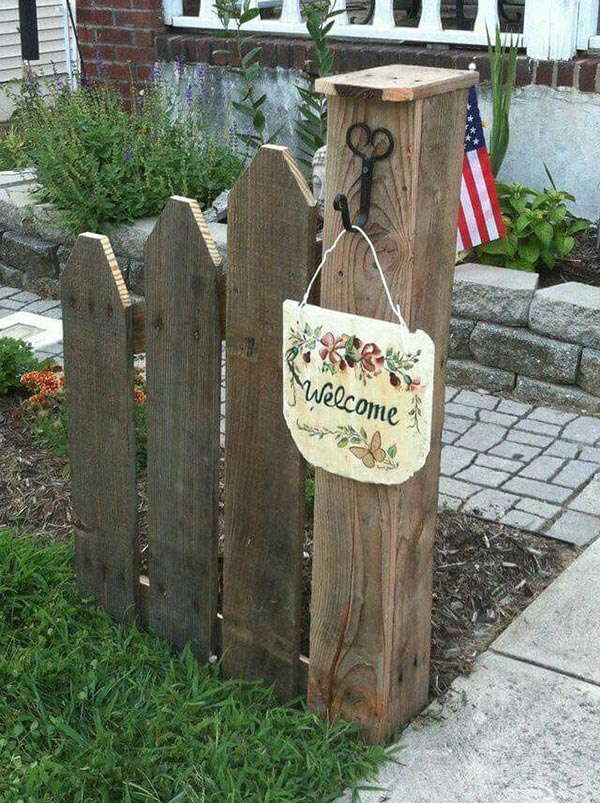 Adorable use of old fence. Refurbished and repurposed. The simple key hook and stenciled wood, leveled up this post to the nth power! Add your country's mini flag for a patriotism beat.