Top 21 Awesome Ideas To Clutter-Free Kitchen Countertops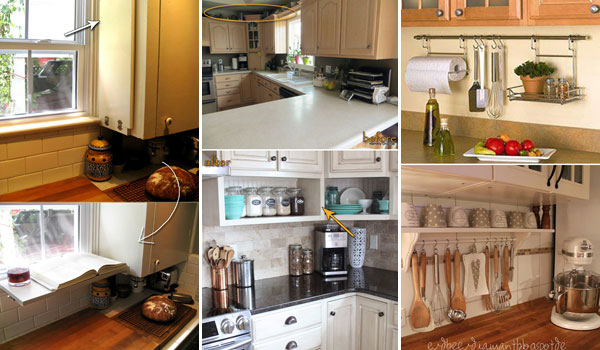 Kitchen is the one place that can bring family together to prepare the foods, so it is natural for a lot of stuff to accumulate there. But would you agree that keeping your clutter-free kitchen needs a bit more hard work, especially the counter-top? Piles of papers, books, utensils, cookware and several small appliances…there are maybe a million things that 'temporarily live' on the countertop after a meal prep. That time, the countertop can be a disaster. Fortunately, though, a number of people have come up with great ideas to keep your counters clear and your kitchen organized. Try these 21 practical tips as well as cool and enjoy the clutter-free space.
1. Build a DIY-friendly appliance garage to help you get rid of a countertop cluttered with small kitchen appliances such as coffeepot, toaster and even stand mixer: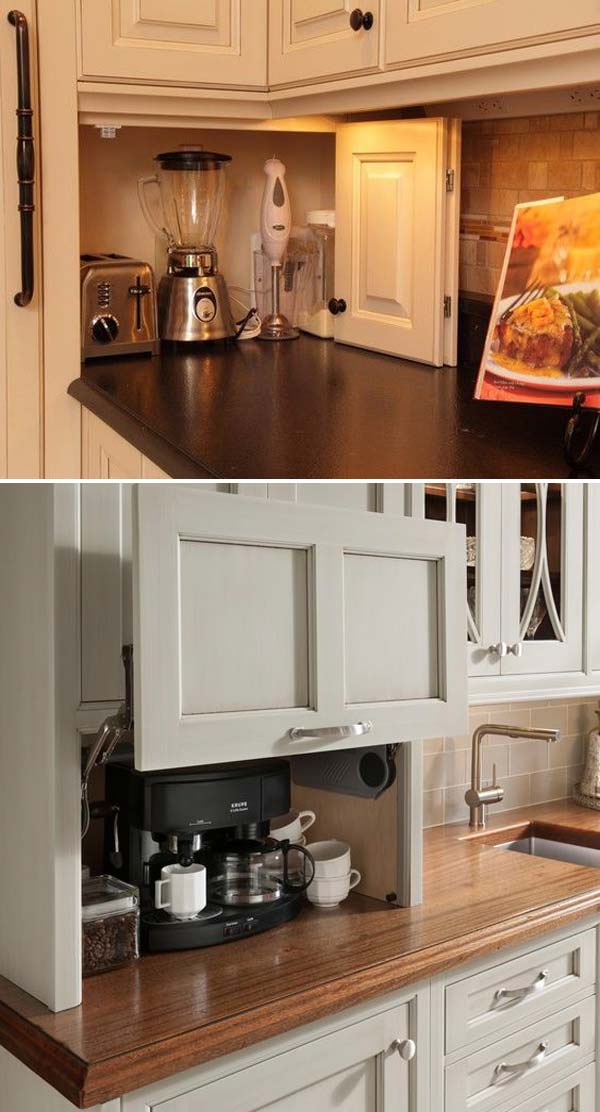 Above picture source: houzz.com    Get Tutorial Here ====> build-basic.com
2. Storing dishcloths in a basket is much better than them being in the drawer, as you can reach them quickly: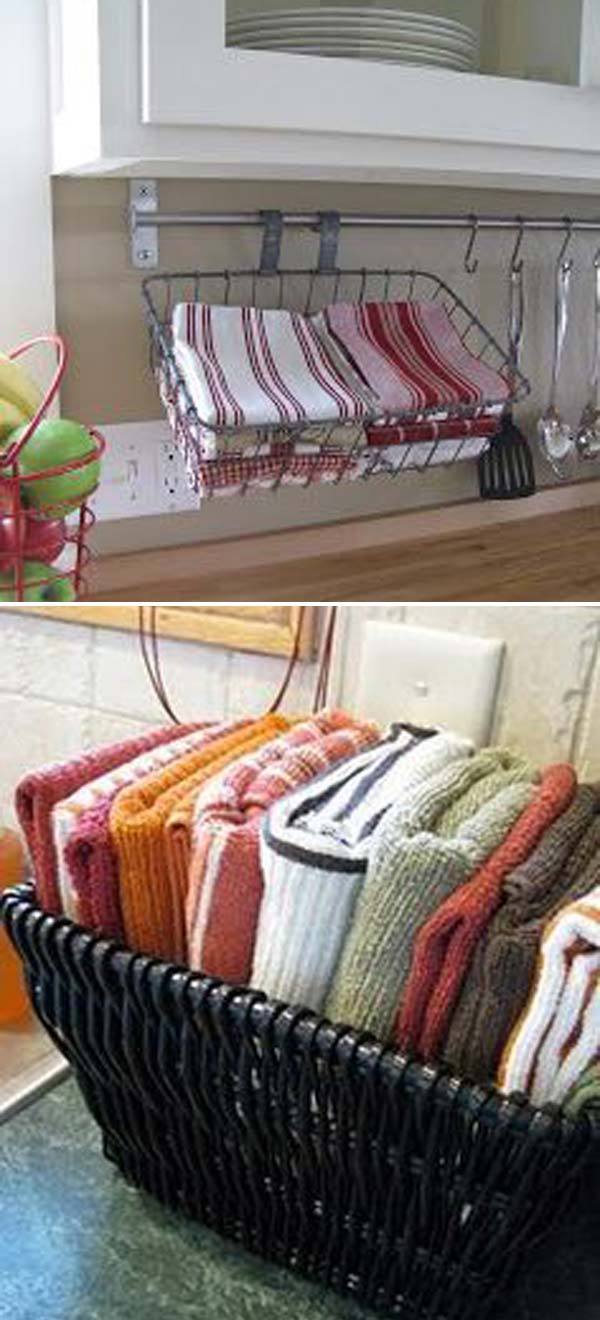 Source: redfarmhouse.blogspot.com    Source: iheartorganizing.com
3. Add a spice shelf underneath the cupboards to beat one of the biggest source of clutter – spices storage: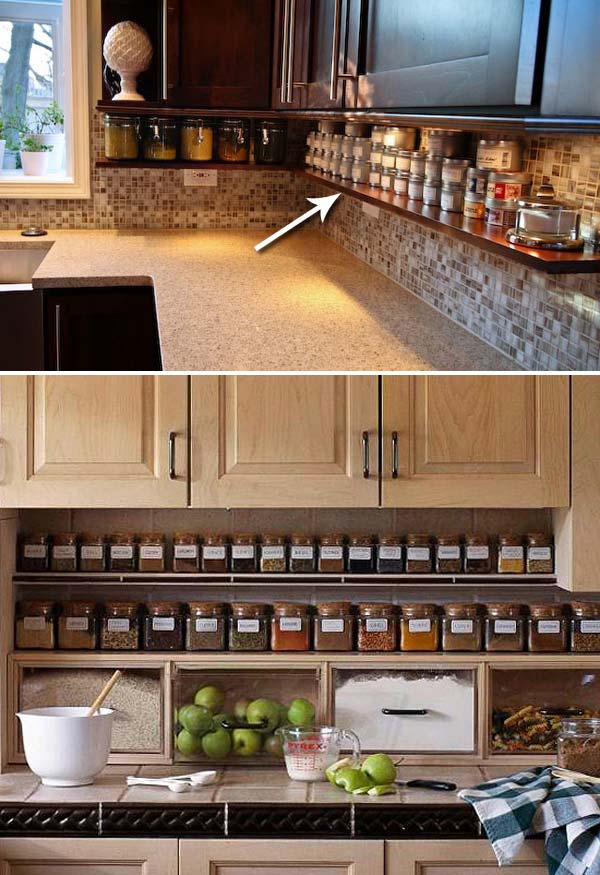 Source: jencaputo.typepad.com    Source: bhg.com
4. Bring an outdoor wall planter indoors to free up counter space: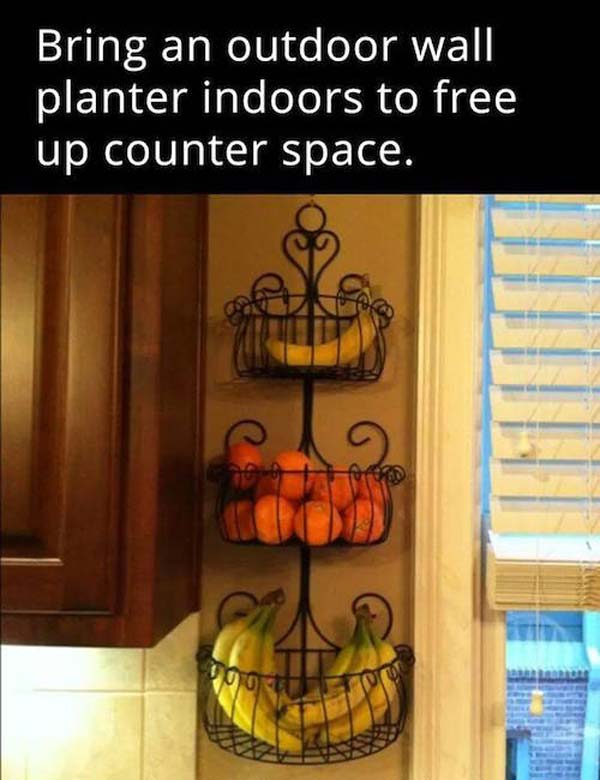 Source Unknown.
5. Use an over-the-sink cutting board to temporarily expand your counter space: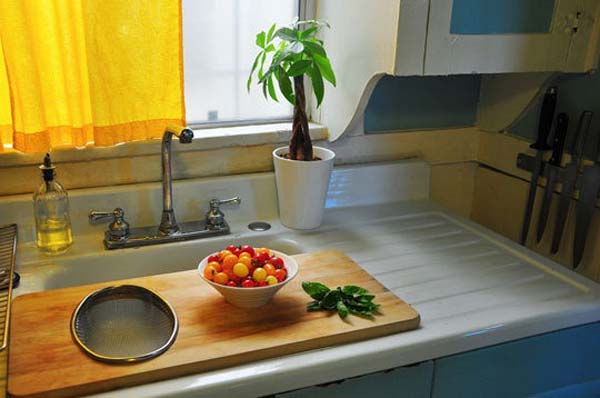 Source: thekitchn.com
6. The side of cabinet would be the perfect spot for floating shelves: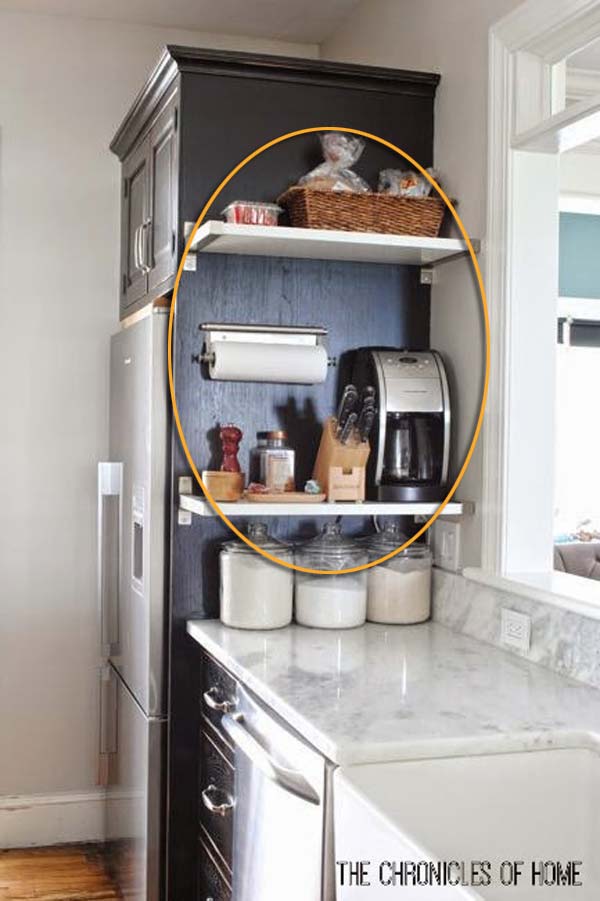 Source: thechroniclesofhome.com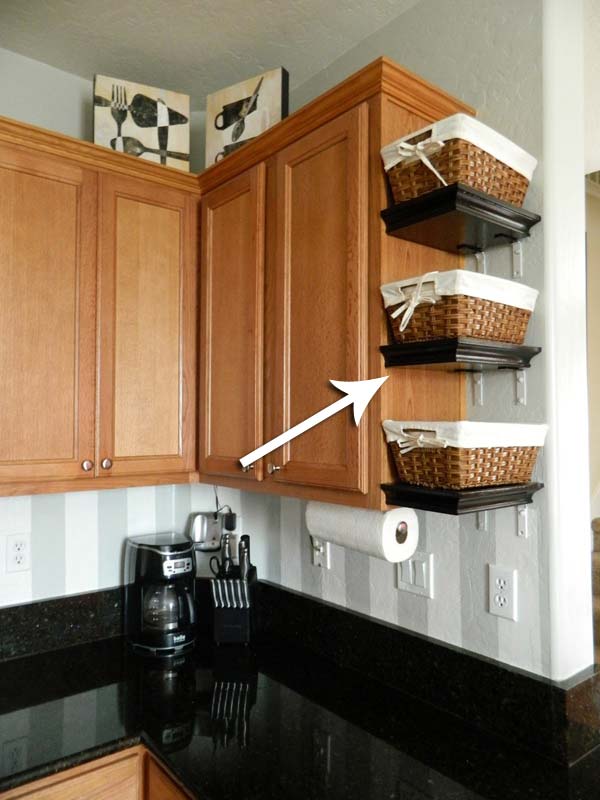 Source: myperfectnest.blogspot.com
7. How about the iron garden trellis used as a pot rack: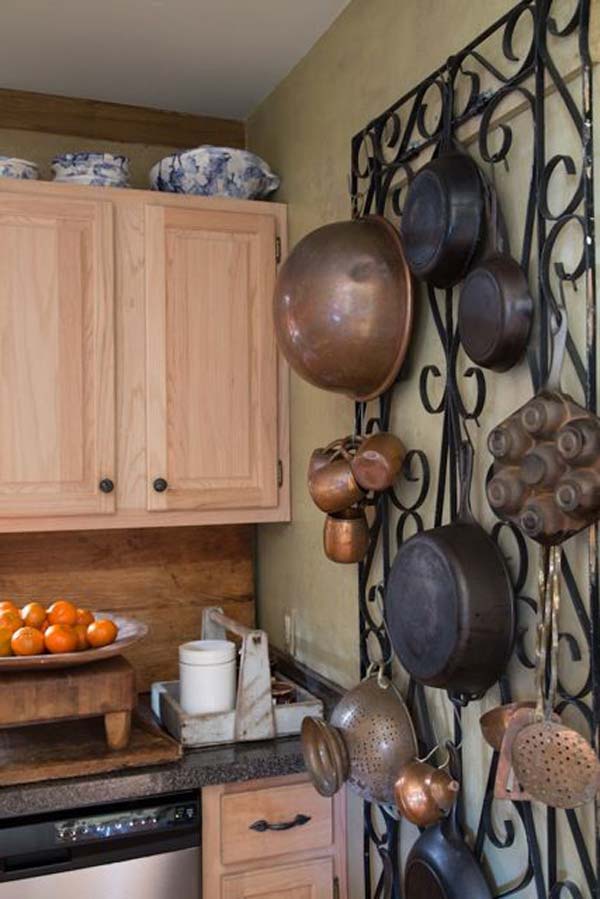 Source: thevisualvamp.blogspot.com
8. Curtain rod with hooks to hang up utensils is a simple way to help you get rid of countertops clutter: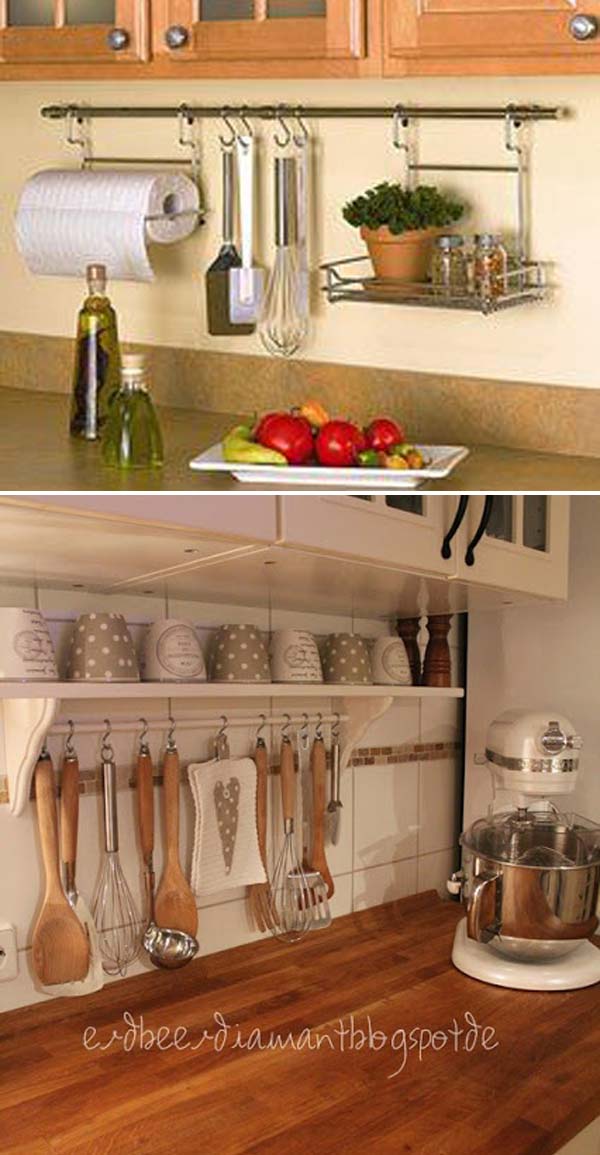 Bottom Image Source: erdbeerdiamant.blogspot.co.uk
9. Set up an island with open storage, the shelves inside of the island provide a place to stash cookbooks and kitchen items: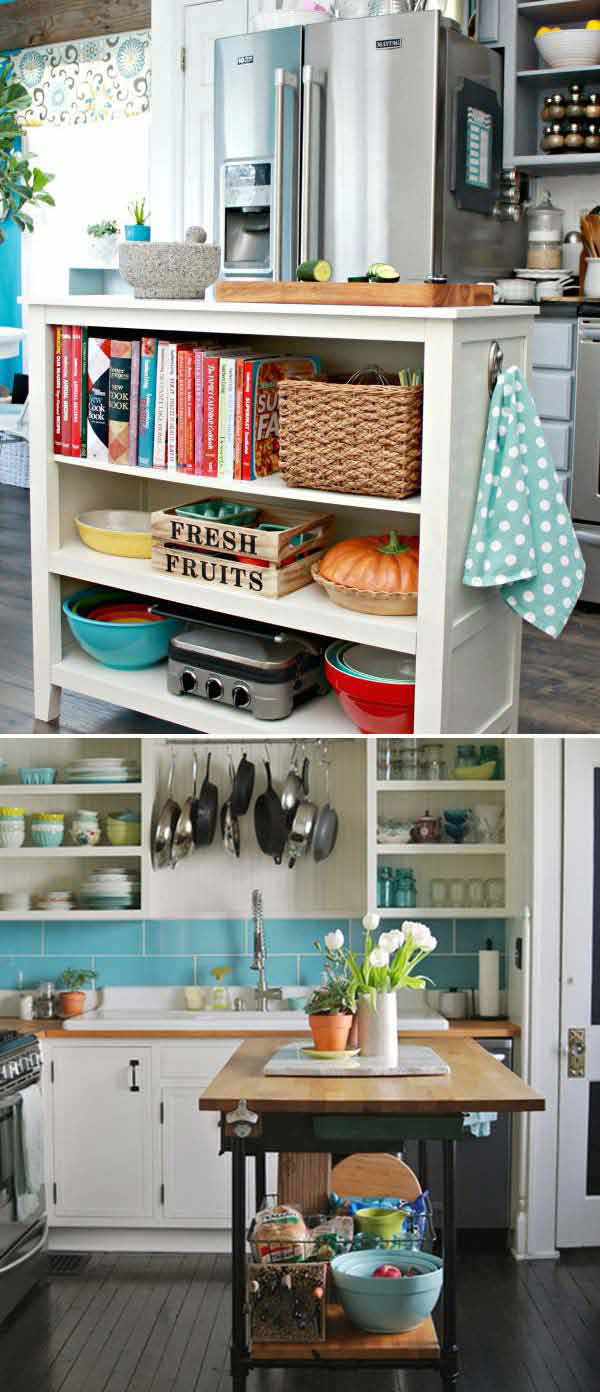 Above picture source: mom4real.com    Bottom picture source: houzz.com
10. Install a flip-down shelf to place cookbook and drink, then you have enough space for preparing foods: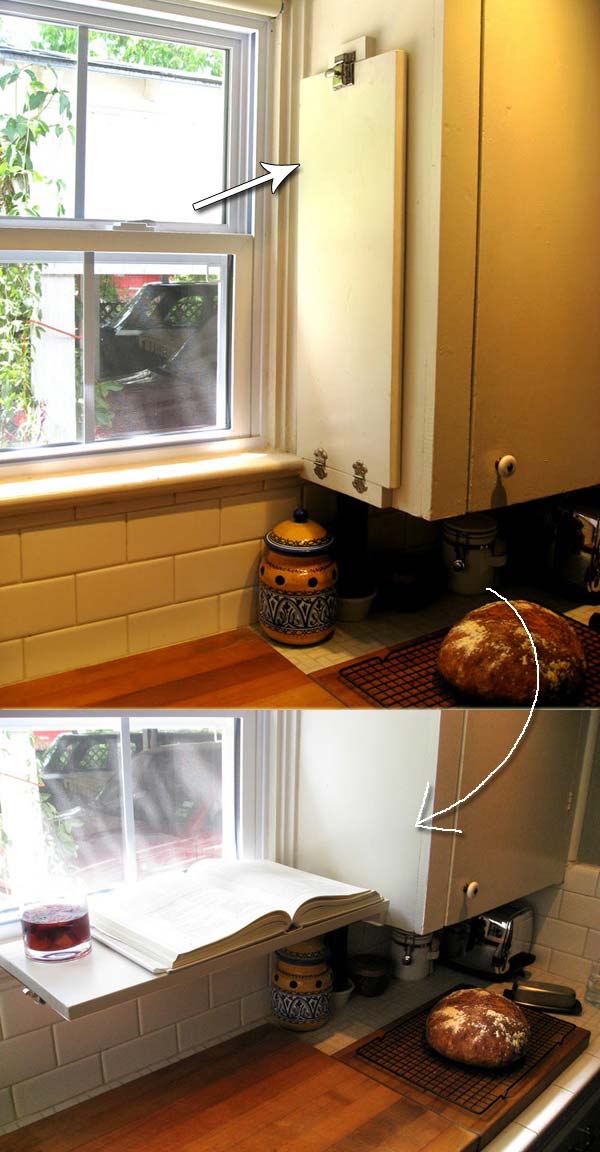 Source: apartmenttherapy.com
11. Attach hooks to hang kitchen utensils on the side of your cabinet: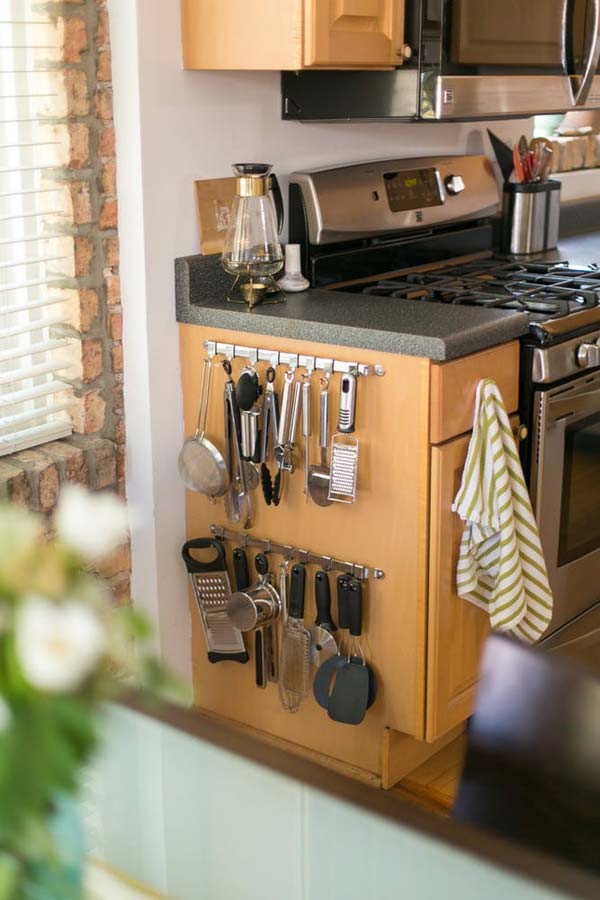 Source: apartmenttherapy.com
12. Build a pull-out utensil bin to avoid clutter on your countertop and be able to reach them more easily: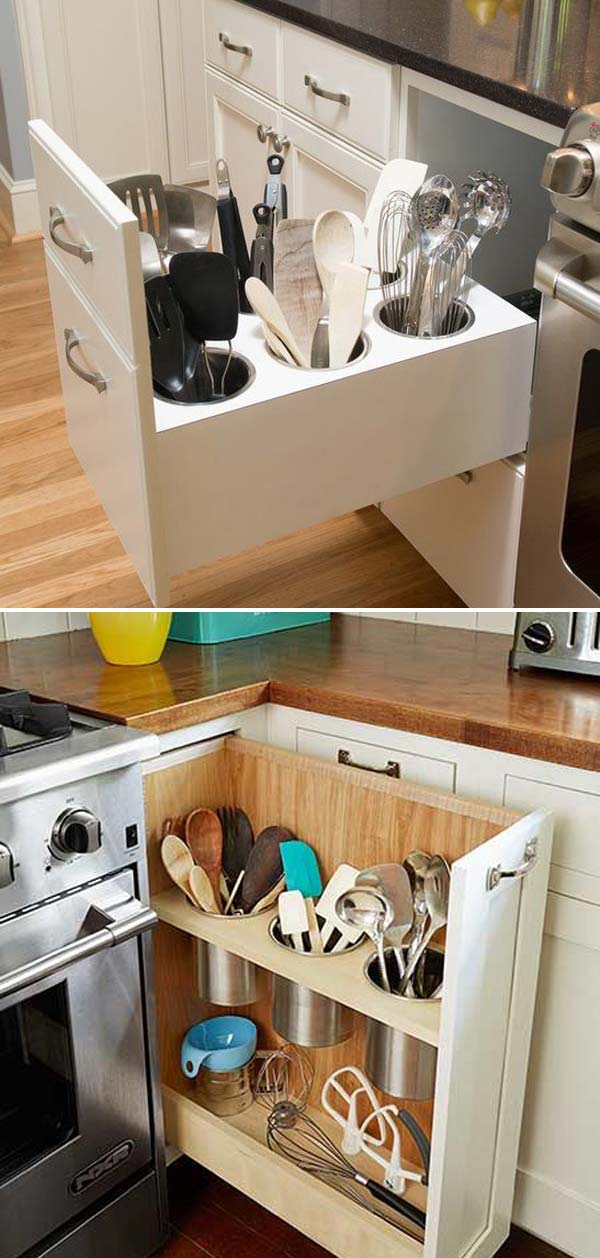 Source: thisoldhouse.com
13. Put soaps and dishrags onto a cake stand; it will help you clear up the space around your sink: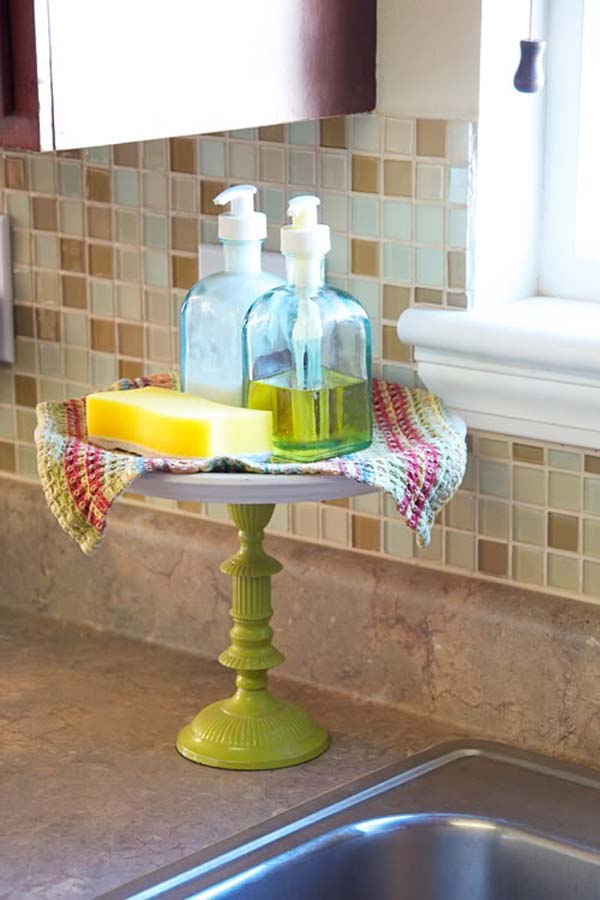 For more details at: natalme.com
14. Raise the cabinets to the ceiling and add a shelf under them to squeeze out some more storage space: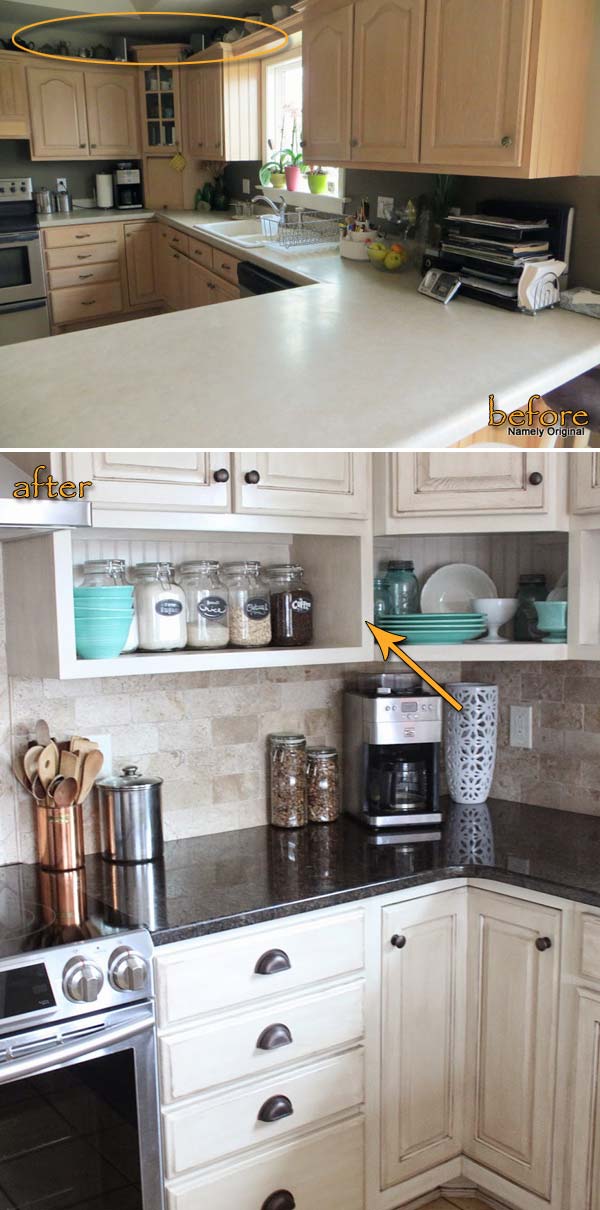 Get full tutorial here: namelyoriginal.blogspot.com
15. The wide, shallow basket is a great way to keep things together. You can clear countertop clutter by putting it in a pretty basket tray: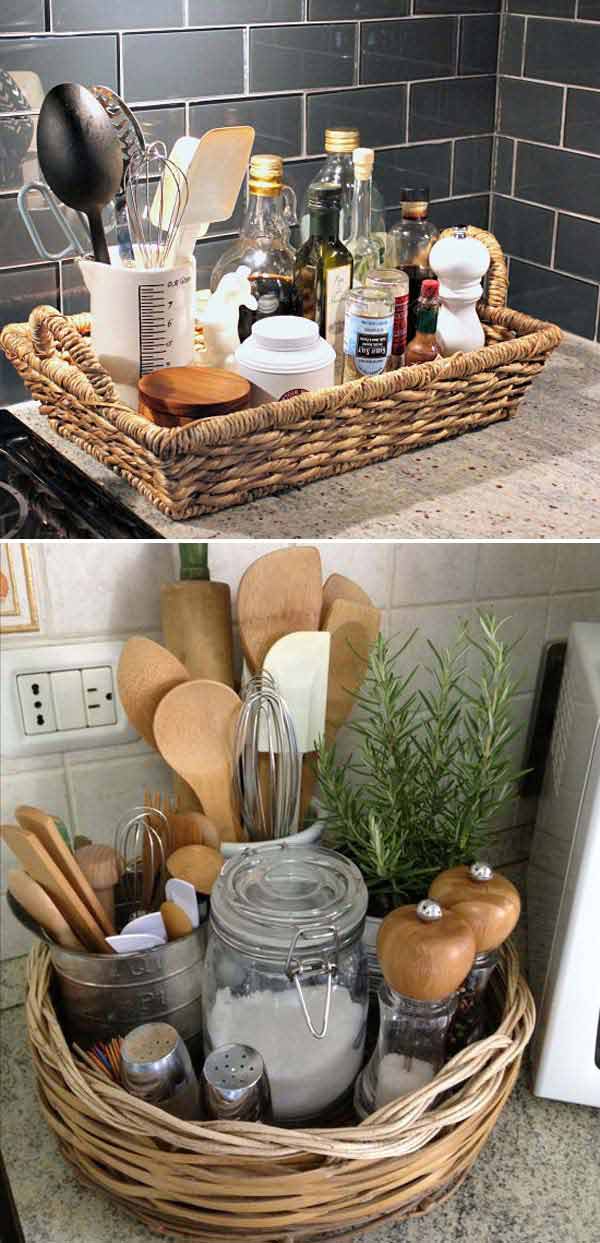 More details for above picture: hisugarplum.com    Bottom Image Source: wingsviewathome.tumblr.com
16. Free up your space by hanging an additional shelving for microwave oven: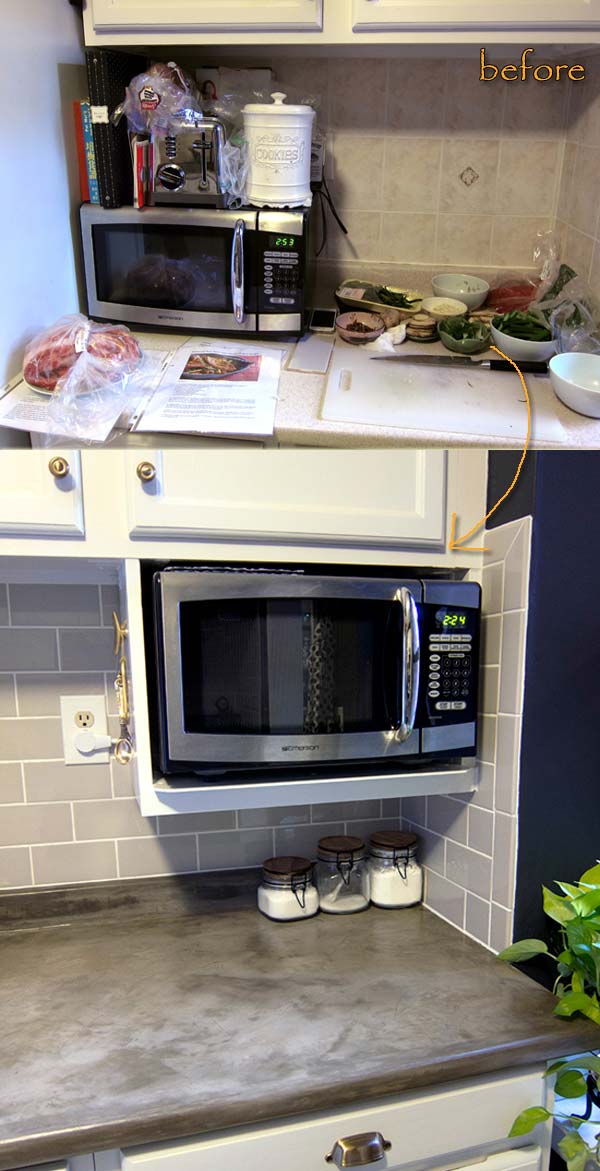 Get Great Tutorial here ====> joeandcheryl.com
17. These over-the-sink dish racks let dishes drip dry in an orderly fashion, and won't rob you of prep space: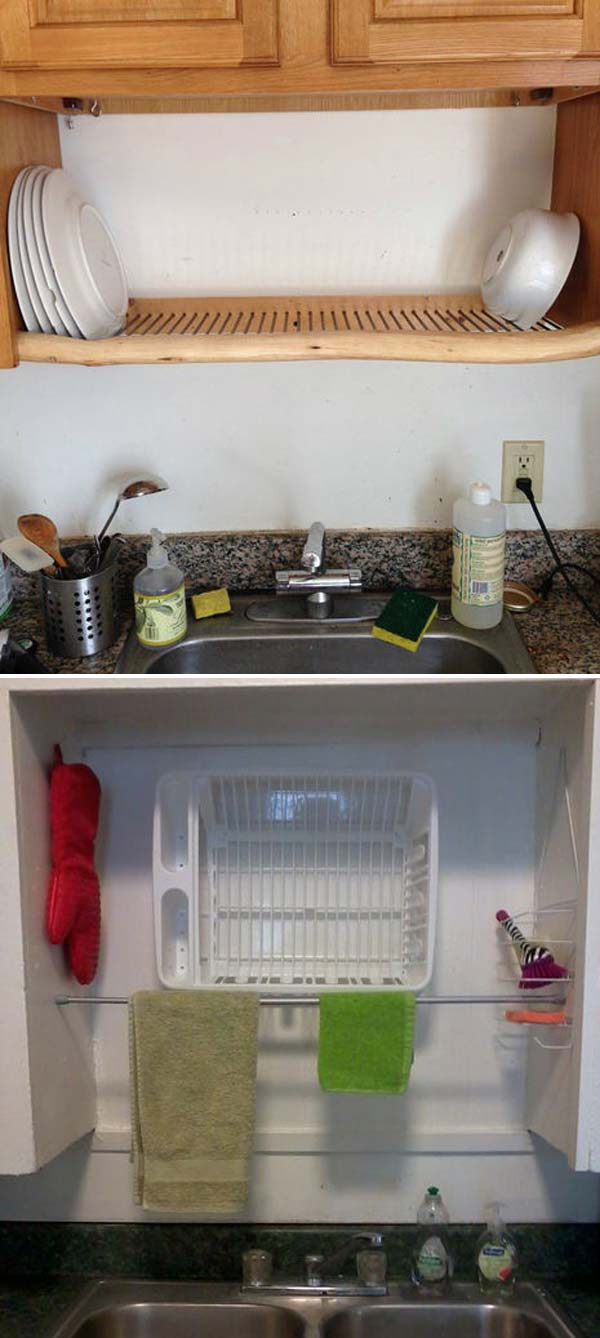 Get tutorial for above project ====> instructables.com    Get tutorial for bottom project ====> instructables.com
18. Mounting a few shelves inside your kitchen window will let you get extra surface space for storage: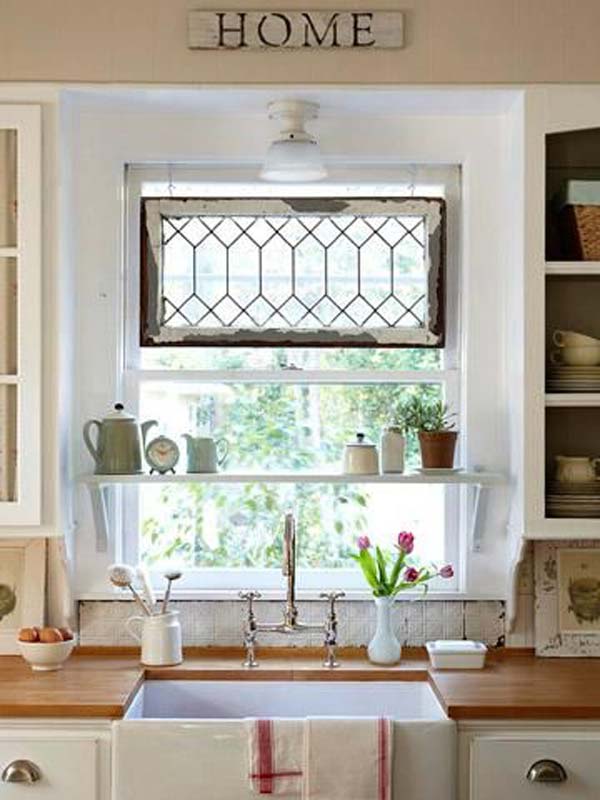 Source: livingthecountrylife.com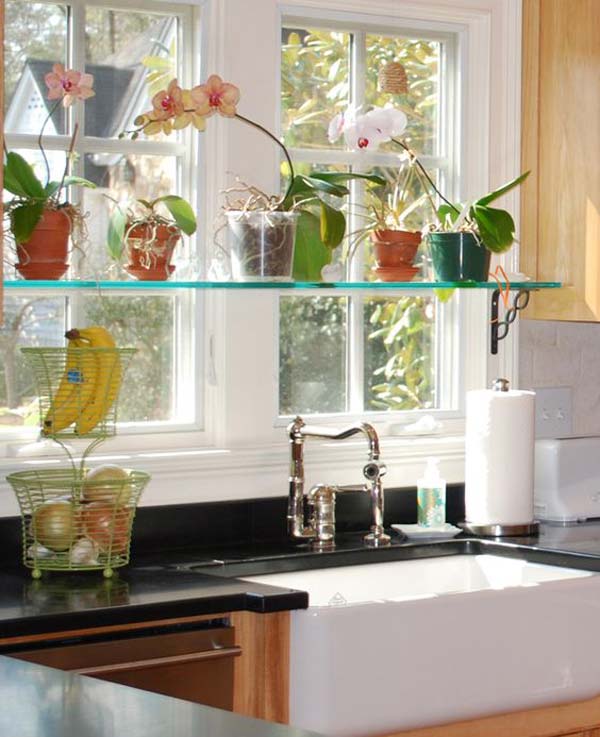 Source Unknown.
19. Extend the storage space by adding a kitchen shelving with pot rack: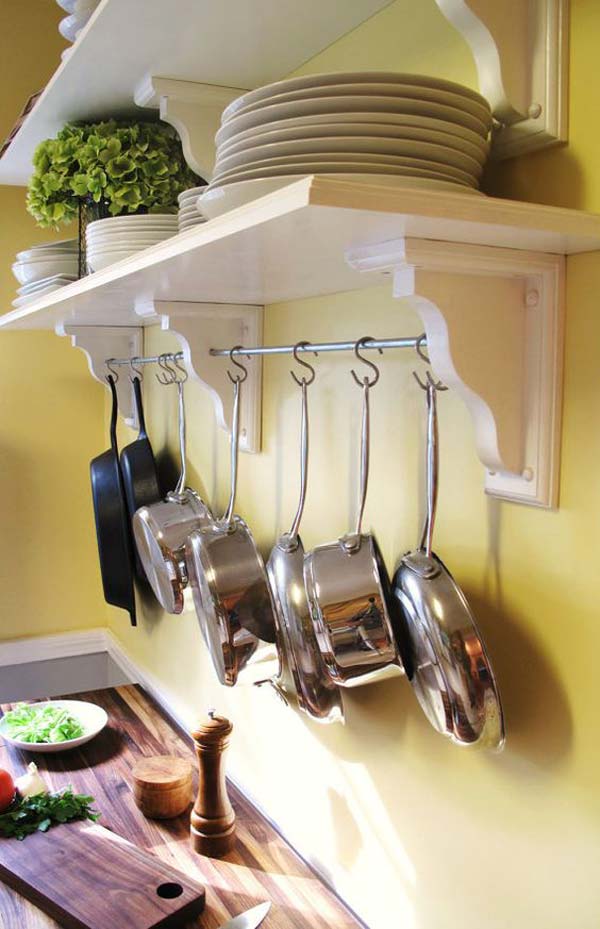 Source: etsy.com
20. Store your chopping board under the kitchen cabinet: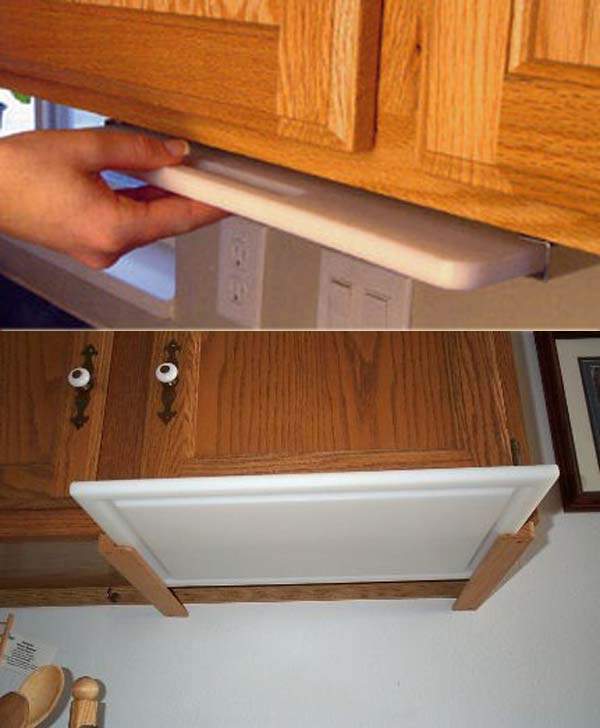 Source: organizeit.com
21. Use your backsplash as storage by hanging curtain rods and holders: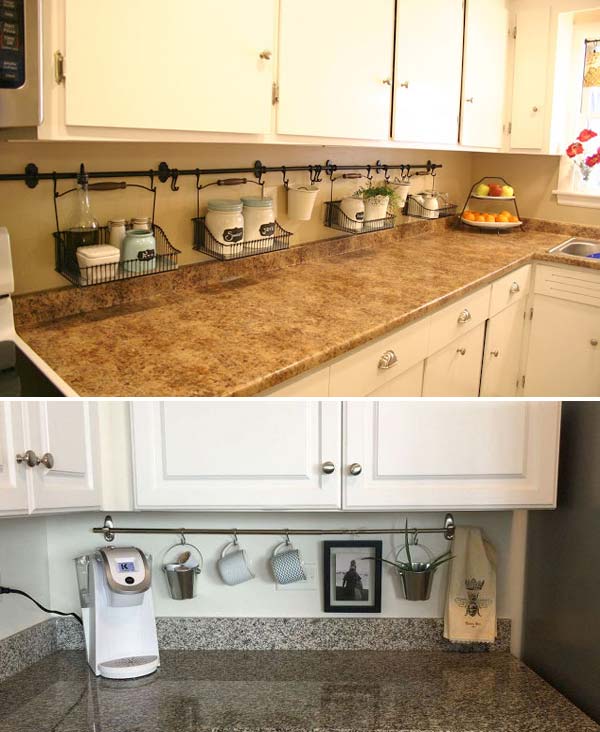 Get tutorial for above project ====> no29design.com    Get tutorial for bottom project ====> hometalk.com