Top 22 Truly Cool Ideas to Add Fall Curb Appeal to Home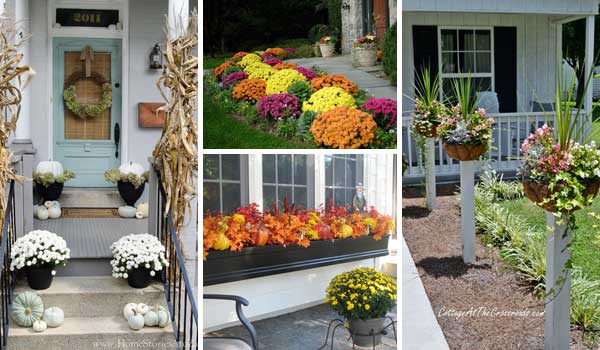 Whether you admit it or not, curb appeal is important all year around. The front side of a house with well-decorated gives wonderful first impression to every guests and makes them look forward to seeing the inside of your home. Fall is an excellent time to increase the curb appeal of your home, whether you are planing to sell your home or wanting your grounds to stay looking beautiful. Colorful leaves, pumpkins, corn stalks and Autumn unique flowers, there are a lot of easy-to-get materials can be used to decorate your home in the glamour of the harvest season. So, take a look our list below for Fall curb appeal ideas that really show off your seasonal spirit!
1. Fill a wagon with fall decor then park it in the front yard to add curb appeal.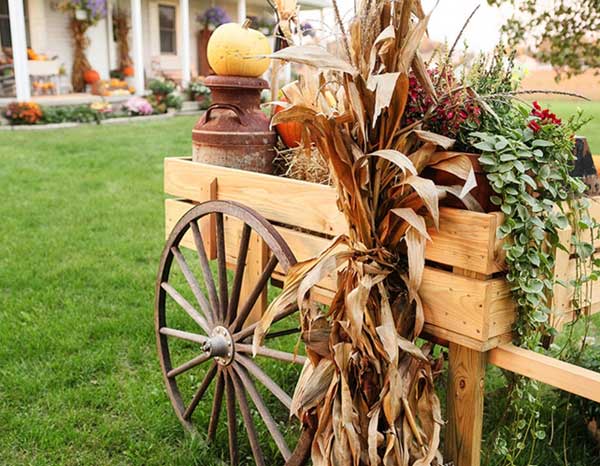 Source: houzz.com
2. Place pair pumpkins with potted kale or hang a corn garland in front door to create a warm welcome in this harvest season.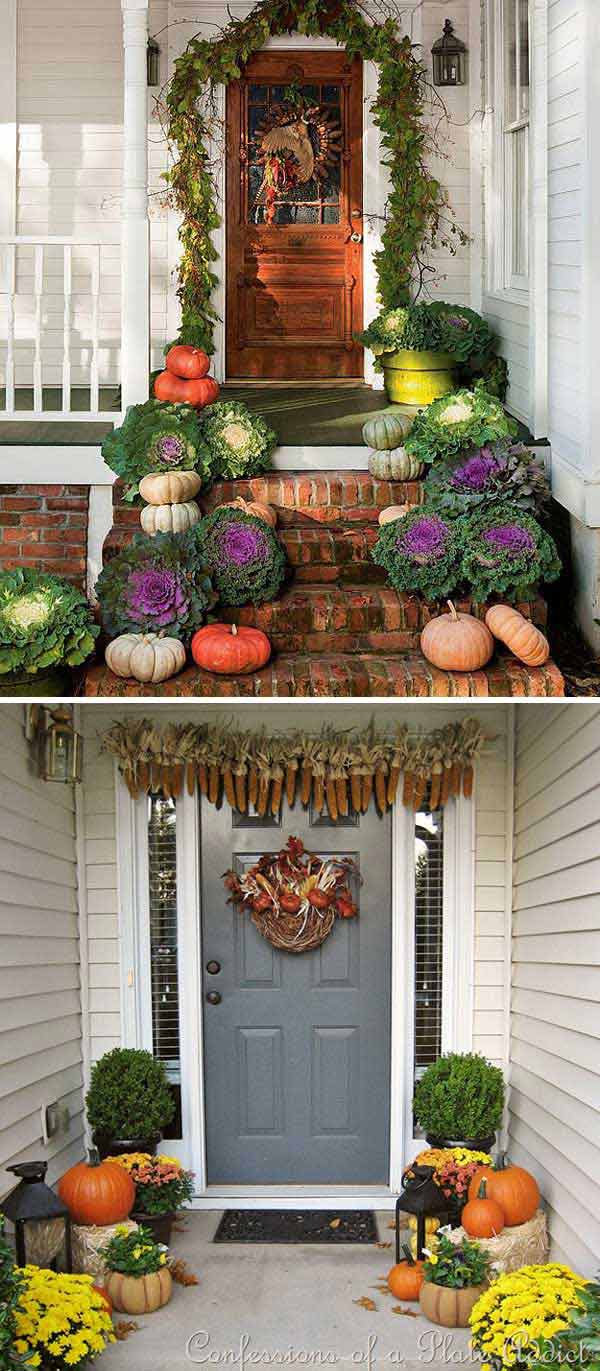 Source: southernliving.com & confessionsofaplateaddict.blogspot.com
3. Make a wooden post and display a welcome sign over it to greet your guests.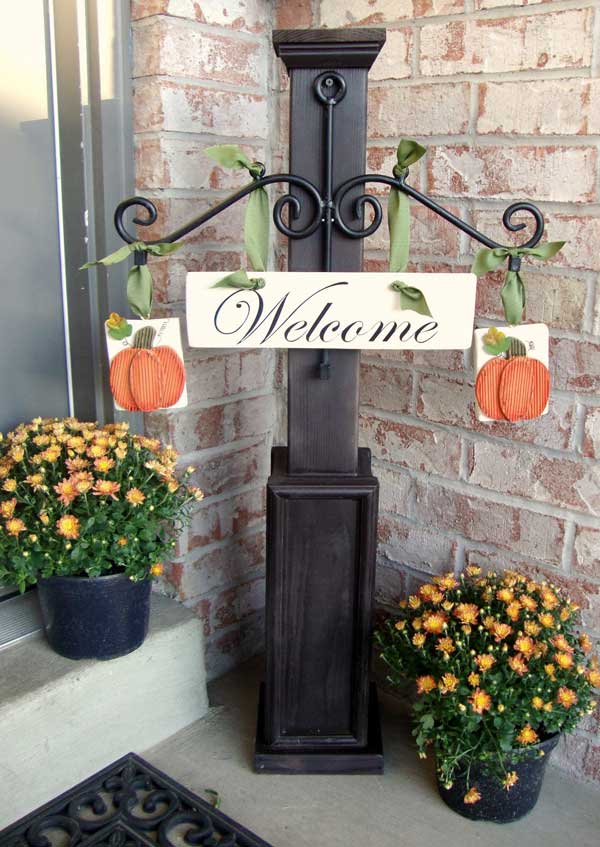 Get Tutorial here ====> just-between-friends.com
4. As your summer flowers and plants start to fade, replace them with Fall ones like mums, pansies, and kale.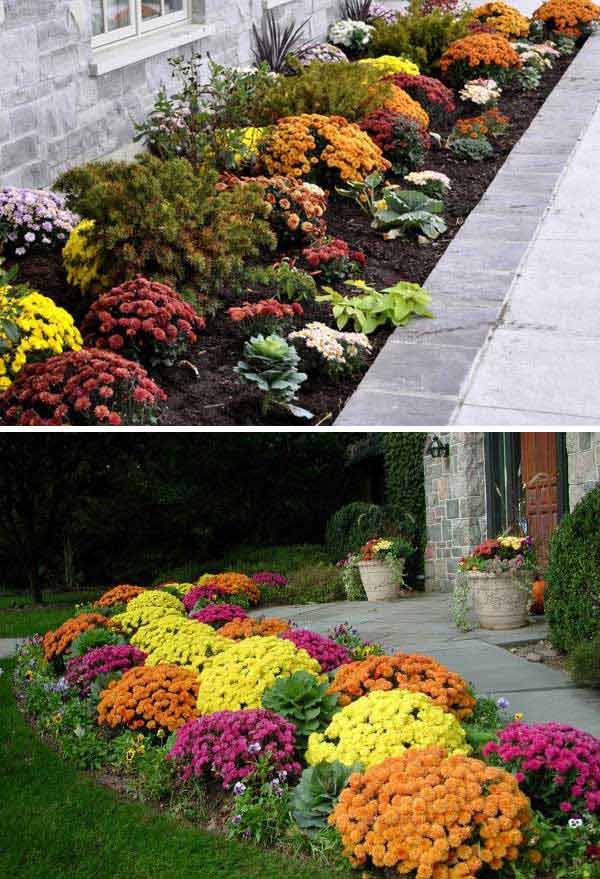 Source: hgtv.com & decoist.com
5. Decorate front yard lamp poles with eye-catching corn stalks and pumpkins to welcome your guests.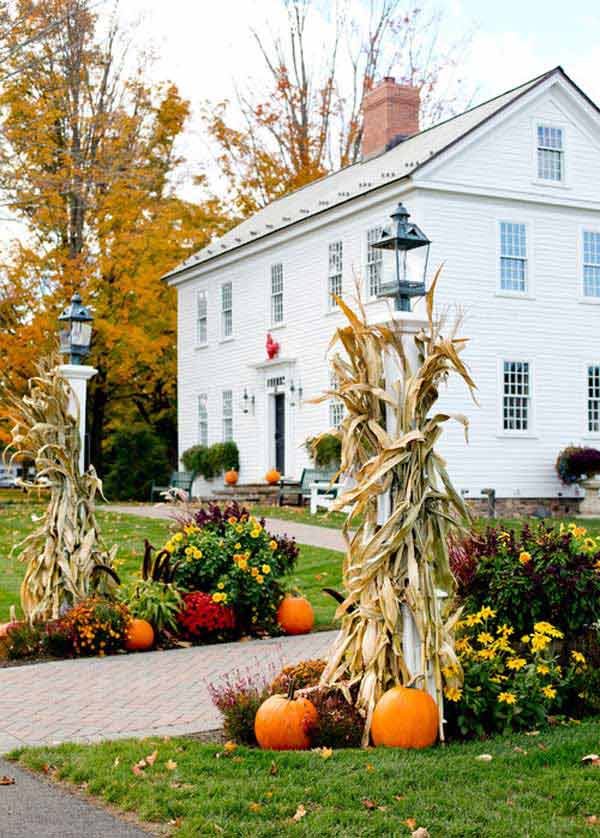 Source: houzz.com
6. Display a autumn pumpkin fence on your front porch or yard.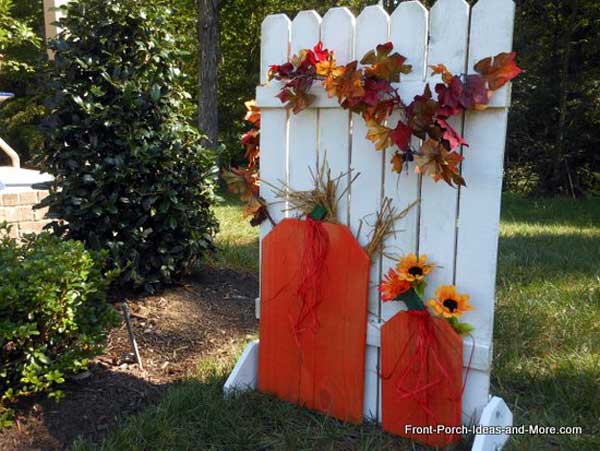 How to make it: front-porch-ideas-and-more.com
7. Upgrade the looking of your front porch with these DIY marquee light fall letter pumpkins.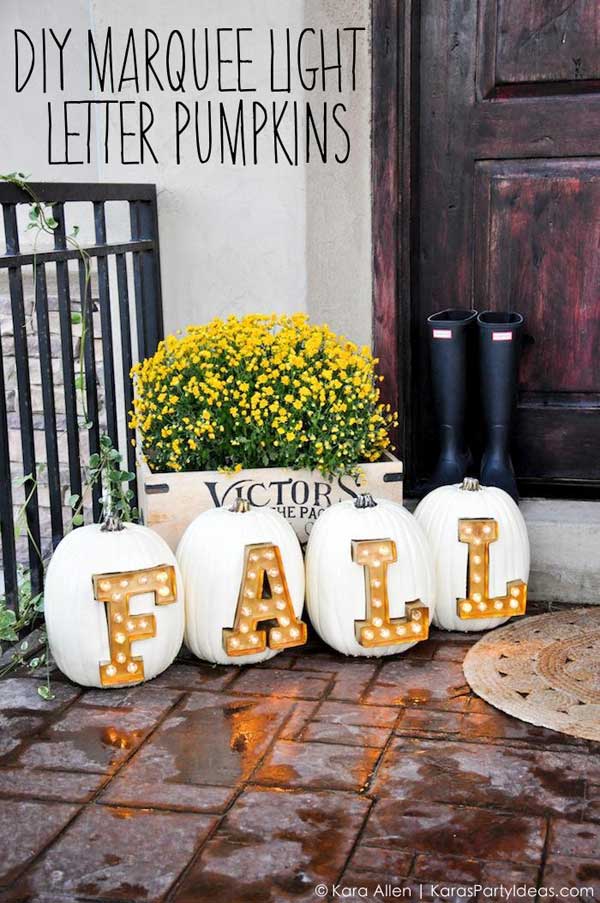 Get Tutorial here ====> karaspartyideas.com
8. Dress up your mailbox in fall style with autumn flowers and add a few of corn stalks and pumpkins for extra fall flair.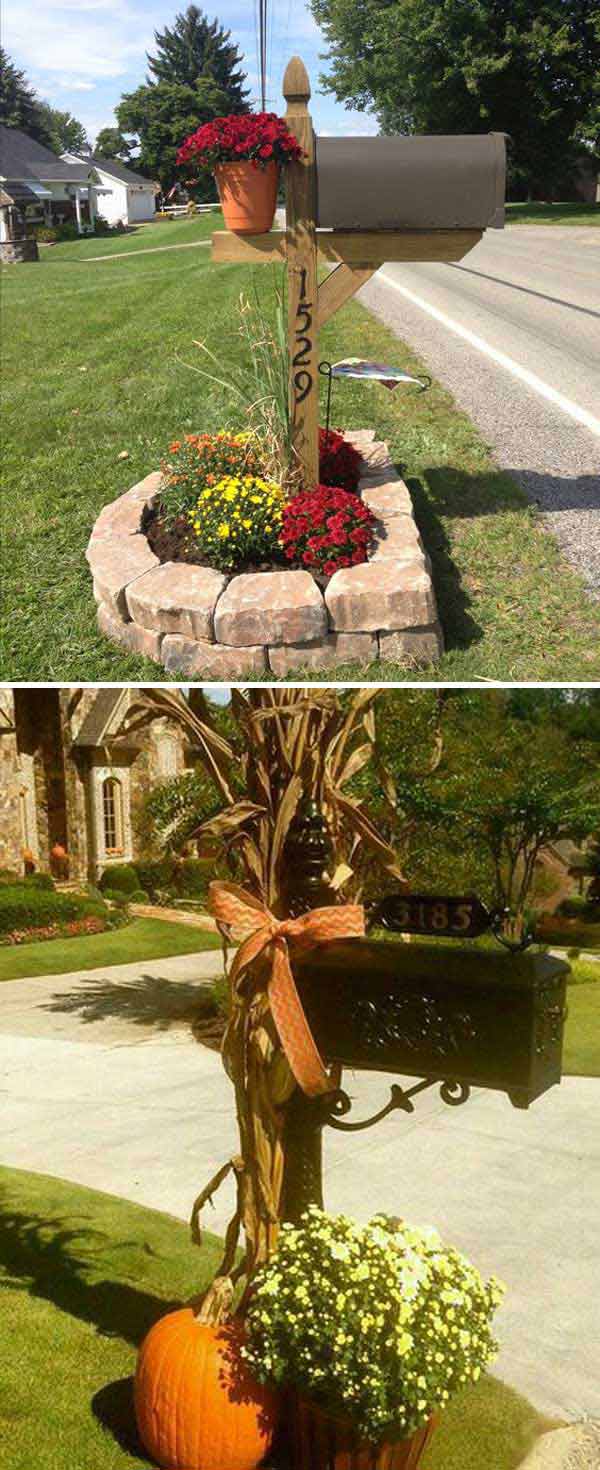 Source Unknown.
9. Flower boxes stuffed full with small pumpkins, fall leaves or fall mums add special charm to every home decor.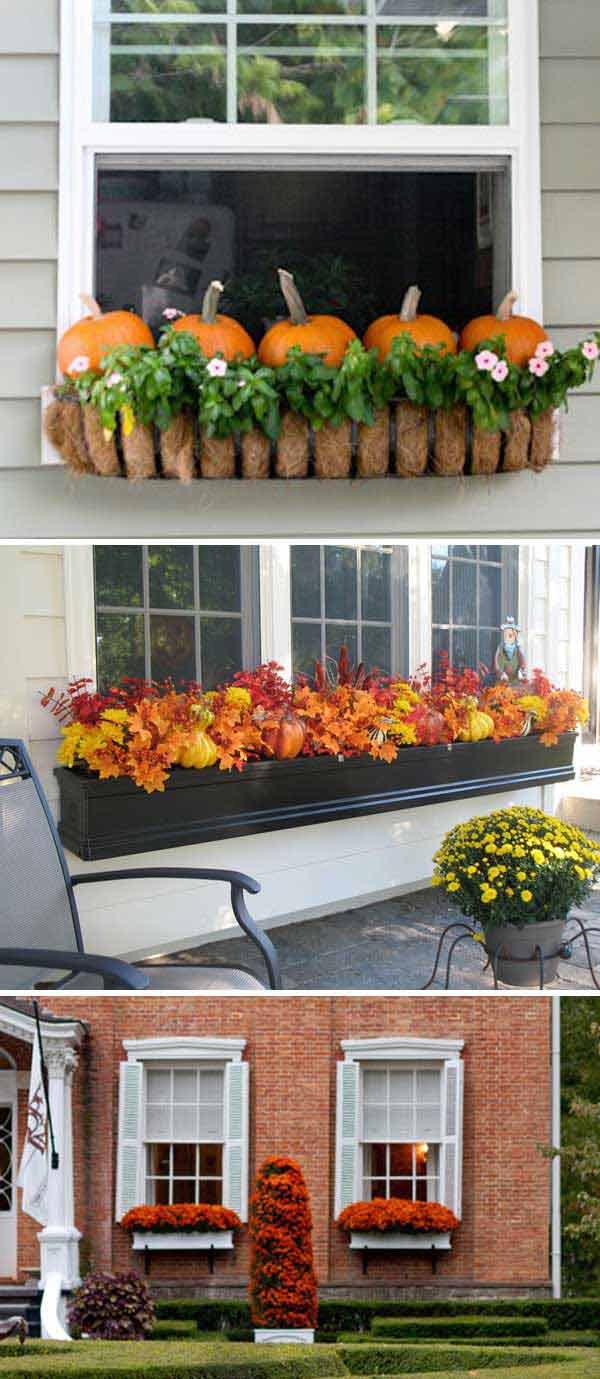 Source: windowbox.com & houzz.com
10. Mount flower baskets on wooden posts, you can replace these summer plants with mums.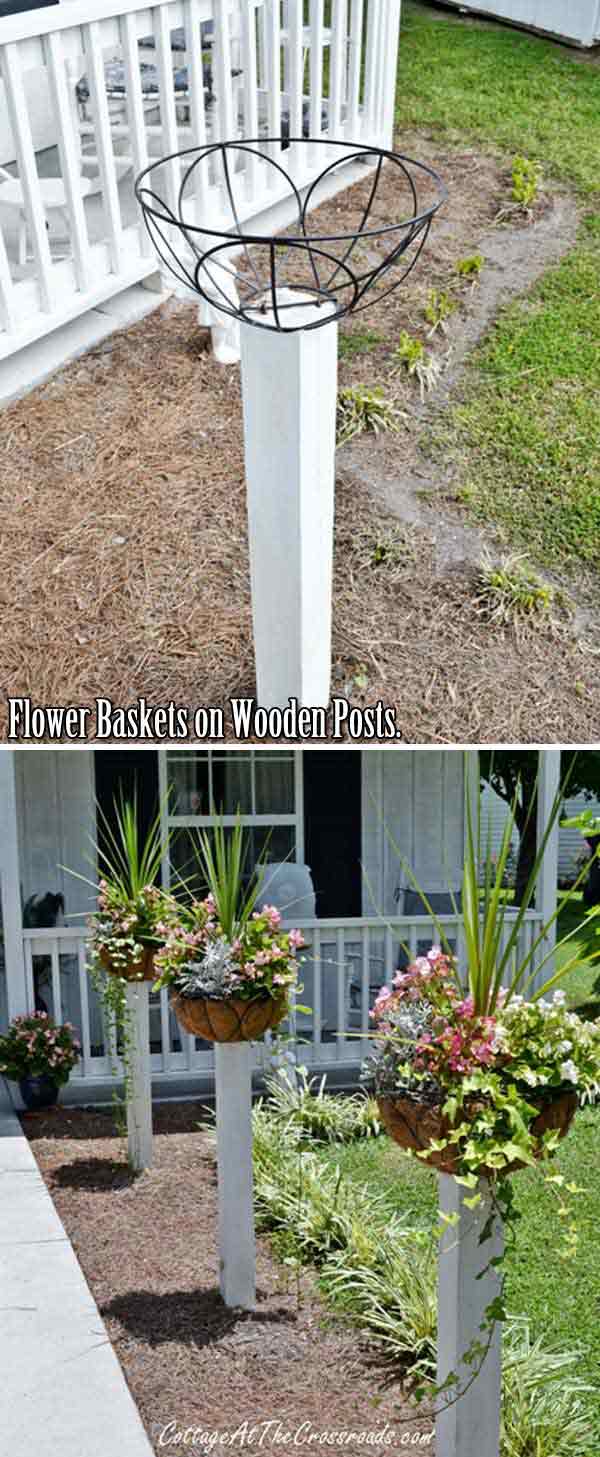 Get Tutorial here ====> cottageatthecrossroads.com
11. Accessories transform your porch wwing for Fall.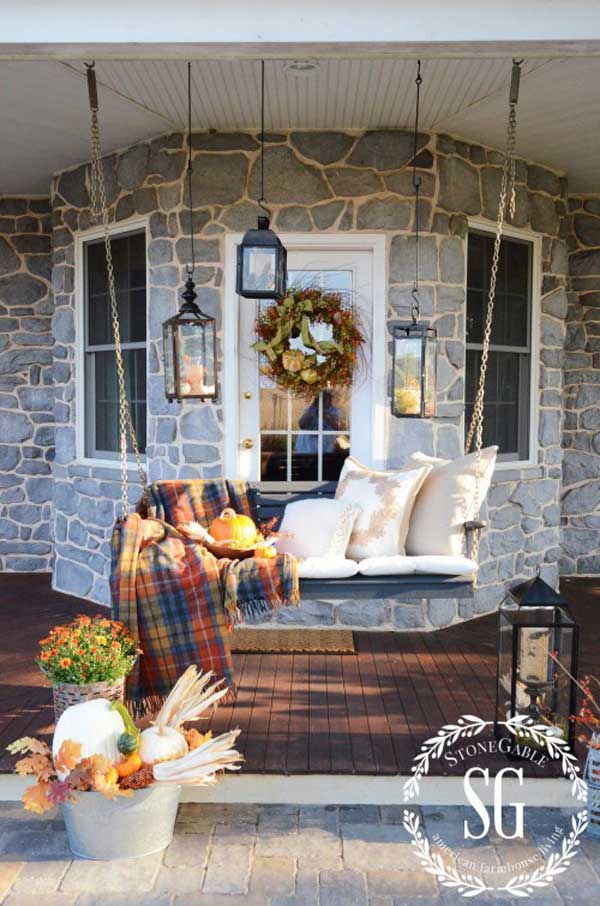 Source: stonegableblog.com
12. Display a large number of pumpkins all around the flower beds of front yard.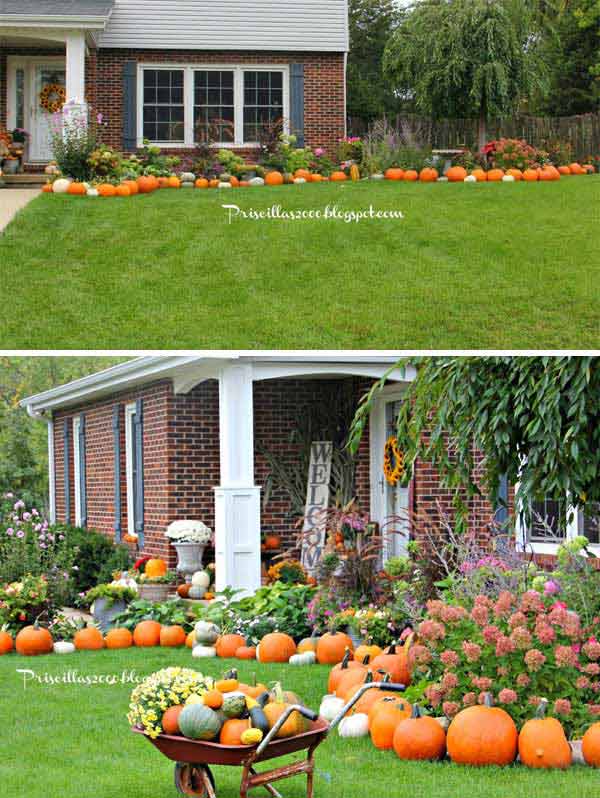 Source: priscillas2000.blogspot.com
13. Use a light color palette (light blues and whites) in your front porch decorations.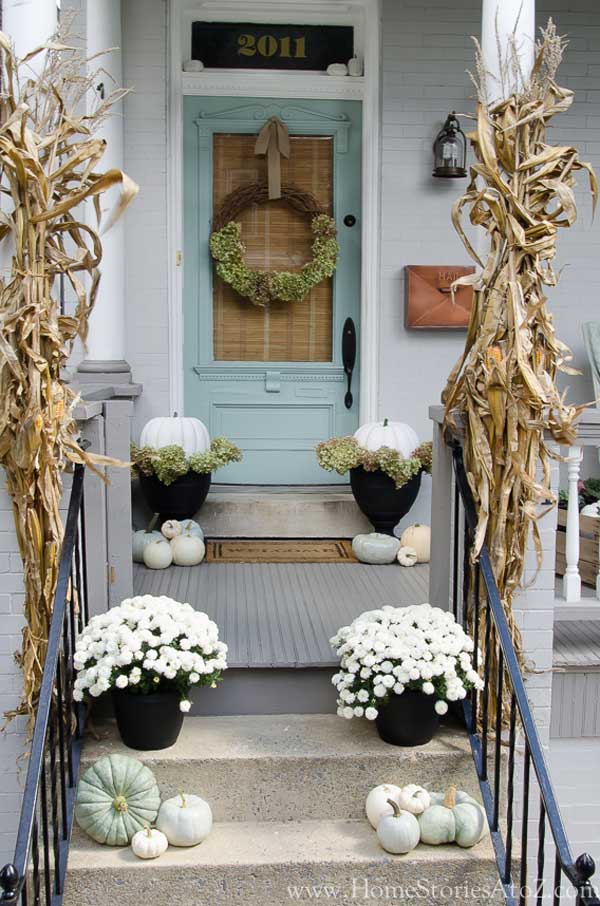 Source: homestoriesatoz.com
14. Replace fading summer flower baskets with these hanging baskets of mums.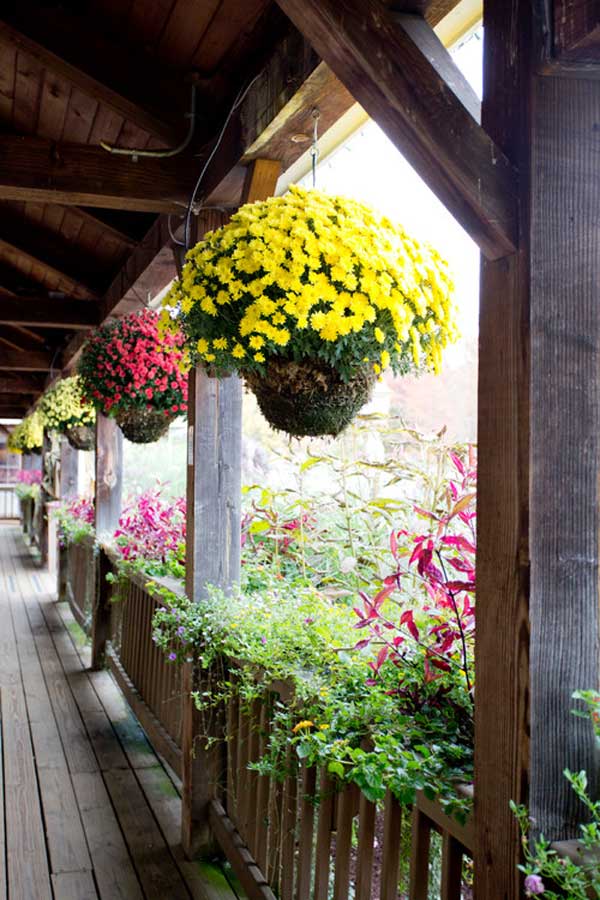 Source: houzz.com
15. These galvanized wash tub planters decorated with string lights can give your porch a vintage but charming look.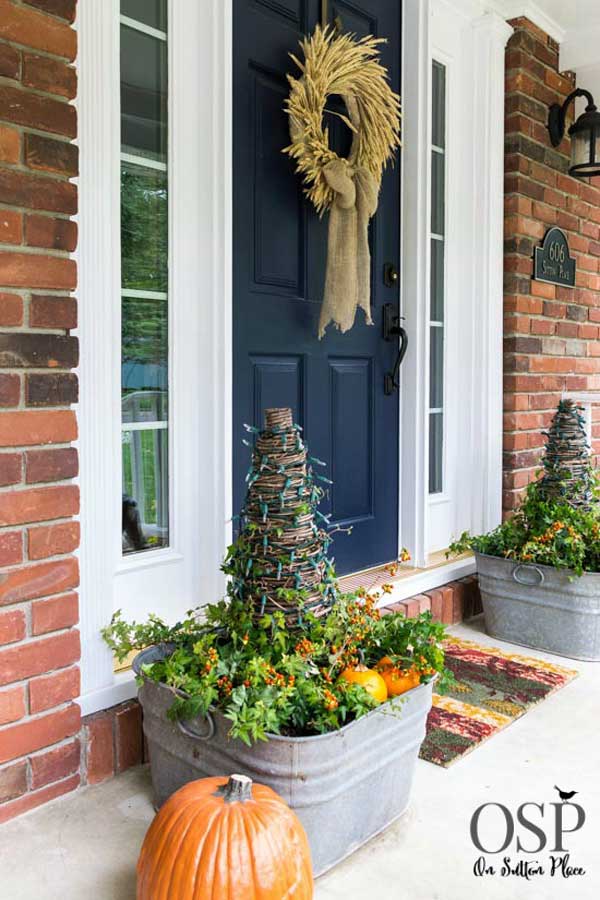 Get Tutorial here ====> onsuttonplace.com
16. Make a huge welcome sign in fall style.
Get Tutorial here ====> foxhollowcottage.com
17. Light Your Porch With Pumpkin Lanterns.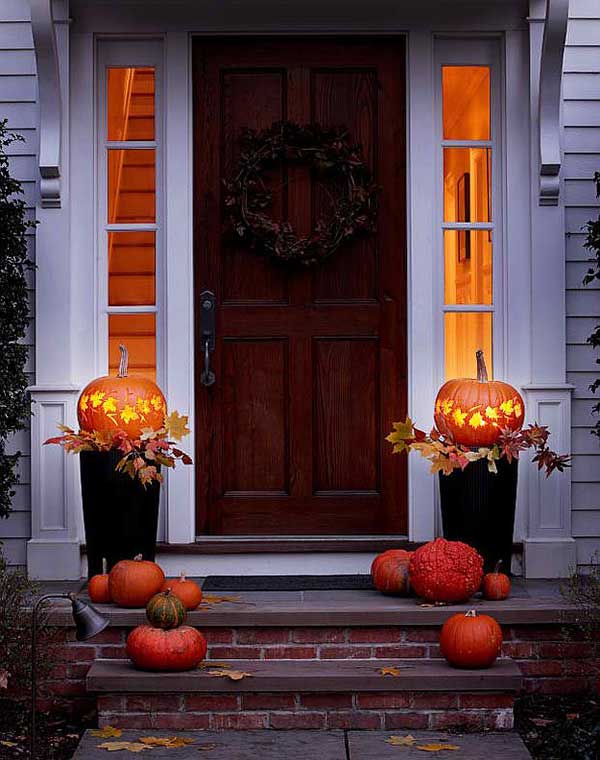 Source: goodhousekeeping.com
18. Cheerful Marigolds Light Up this Porch.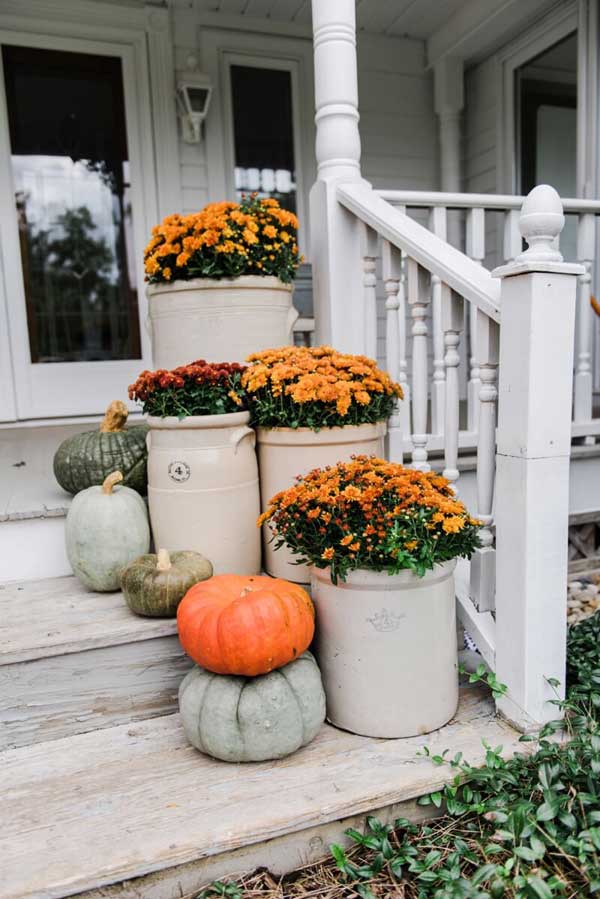 Source Unknown.
19. DIY Wheat Sheaf Wreath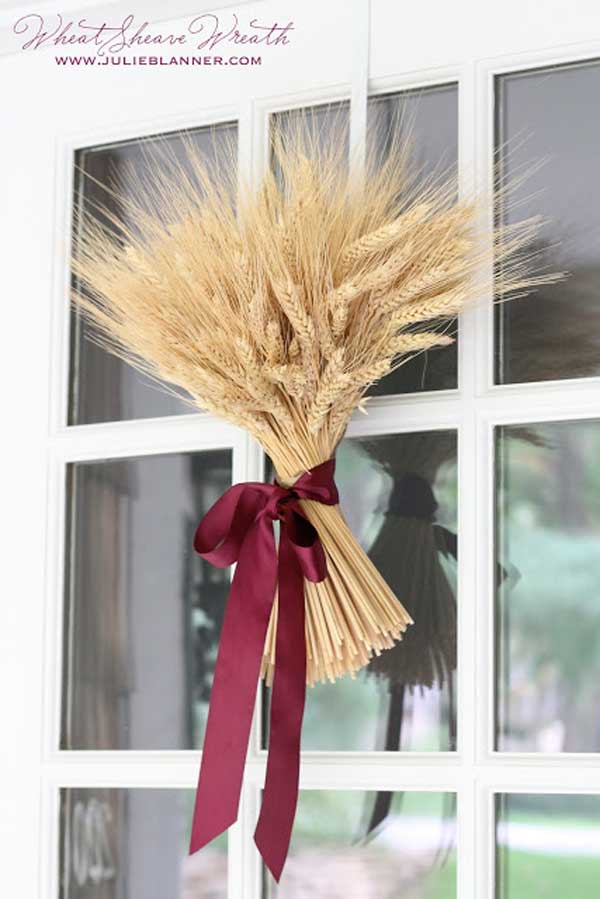 Get Tutorial here ====> julieblanner.com
20. Use pumpkins as planters.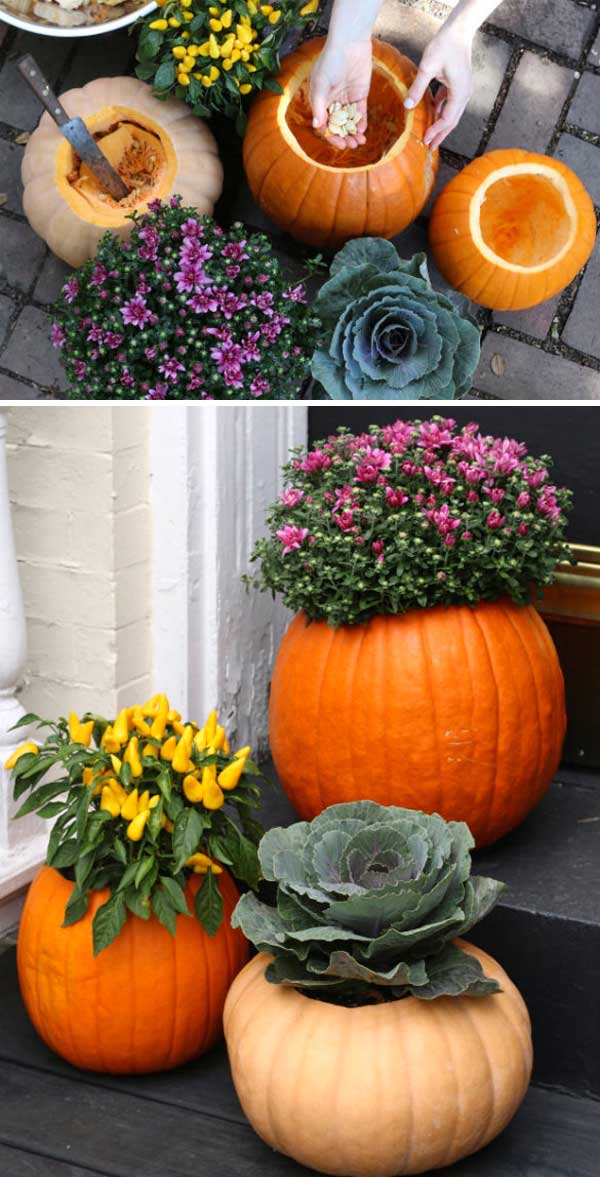 Source: 17apart.com
21. Paint your pumpkins metallic gold more easily by using spray paint.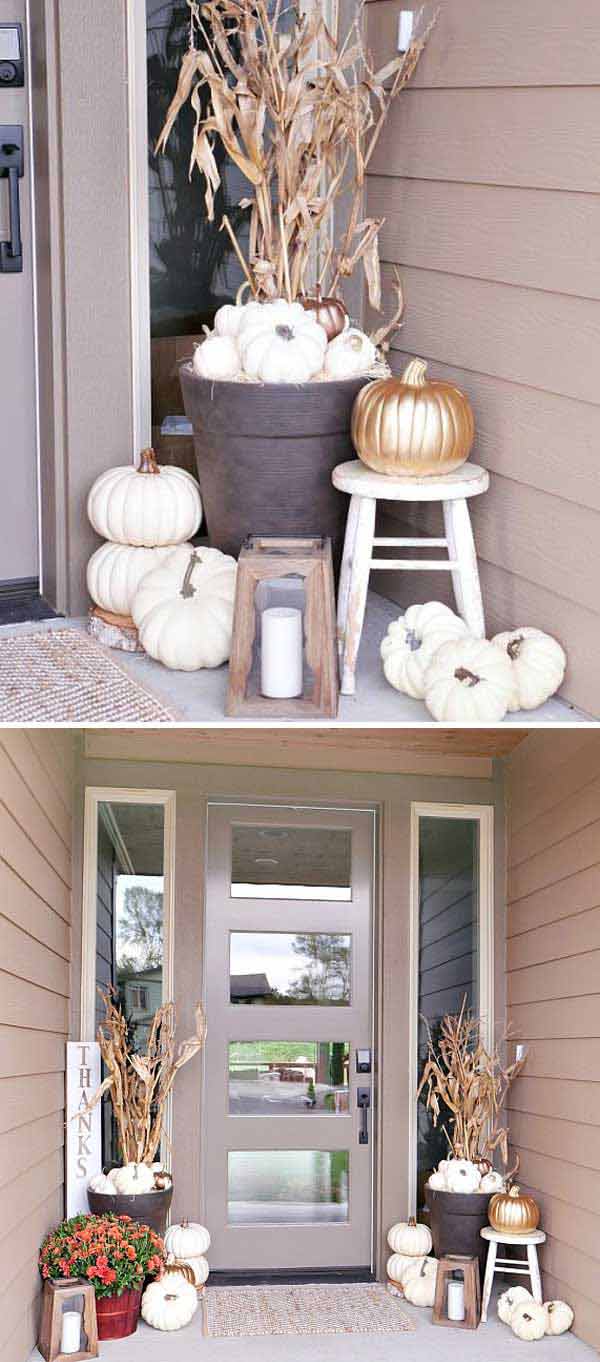 Source: tarynwhiteaker.com
22. Create a simple but festive arrangement with faux leaves and branches.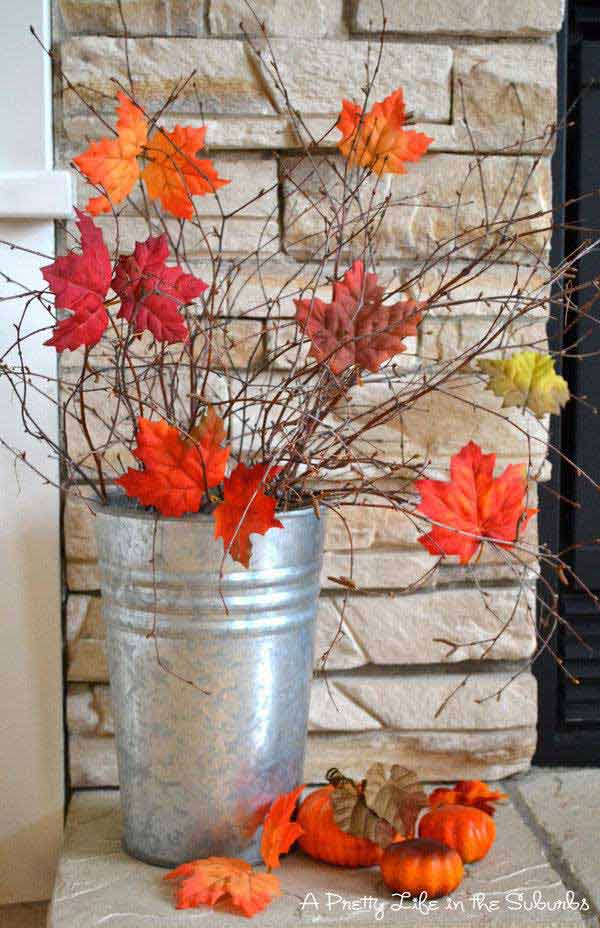 Source: aprettylifeinthesuburbs.com