30 Inspiring Ideas that Transform Your IKEA KALLAX Unit into Something Adorable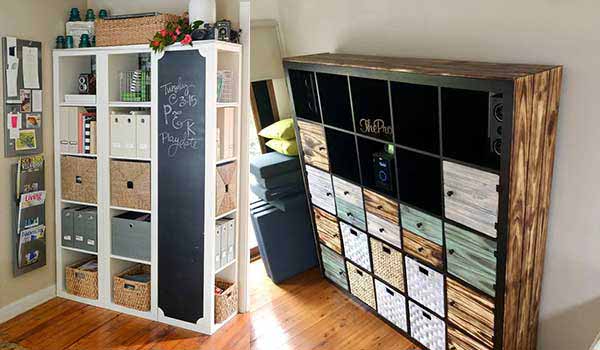 Many people search for interesting and creative IKEA Kallax hacks nowadays. When it comes to buying furniture and home accessories, most people opt for IKEA products. You can find them in almost all leading showrooms. How to make your IKEA Kallax unit more appealing, functional, and unique? The price tag doesn't allow many people to buy hacks to upgrade their Kallax unit.
Don't worry. If you think creatively, you can upgrade your KALLAX Series shelf unit from IKEA. Here are the 30 inspiring ikea kallax ideas that transform your IKEA Kallax unit into something more appealing and functional. These IKEA hacks make your upgrading more convenient, affordable, and unique.
1. Embrace Scandinavian Vibes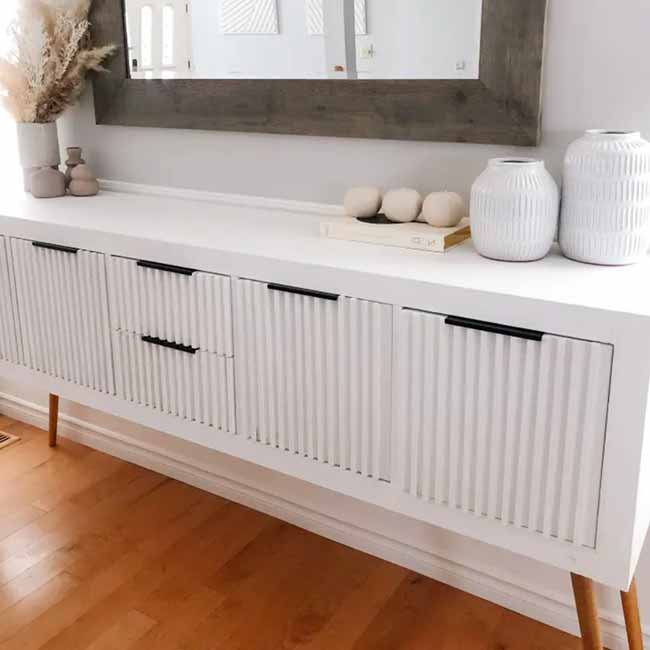 Believe it or not, this beautiful Scandi-style sideboard started as a KALLAX shelf. It got some fancy tapered wooden legs and stylish fluted doors. Check it out here: blackwithnavy.com
2. Create a Cool Mid-Century Home Bar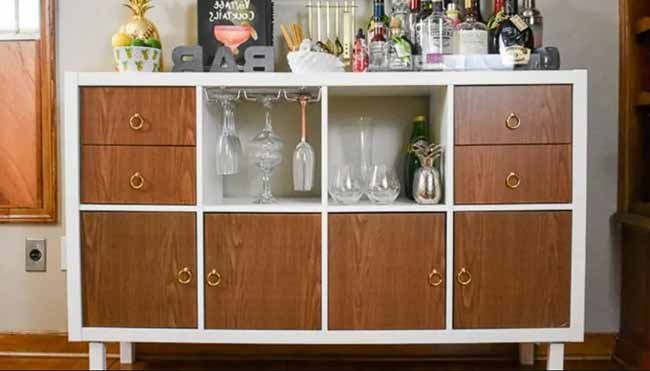 Blogger Jazzmine transformed a regular KALLAX into a fantastic home bar with a mid-century vibe. The doors look like real wood but are actually covered with wood-patterned contact paper. Jazzmine also added some classy brass ring pulls. It's perfect for storing your barware and cute accessories. See it here: dashofjazz.com
3. Add Glam to Plain Doors with Overlays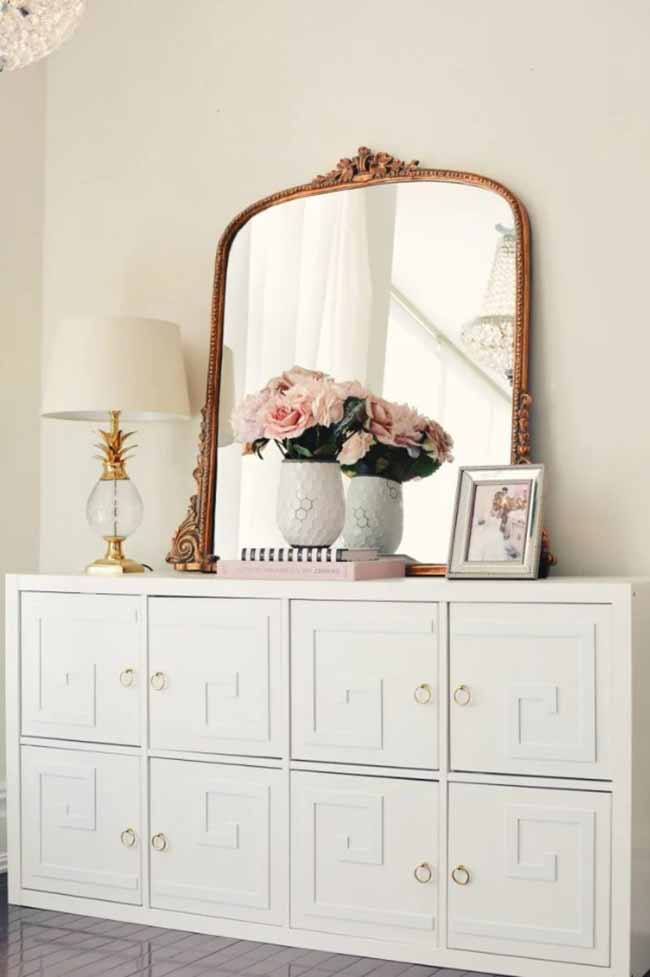 You don't need to change the color of your KALLAX to make it look fancy. Turn your KALLAX into a chic sideboard with Greek key-inspired overlays. Put a fancy mirror on top, and it instantly looks high-end. Check it out here: thepinkdream.com
4. Utilize Under-Stairs Space with KALLAX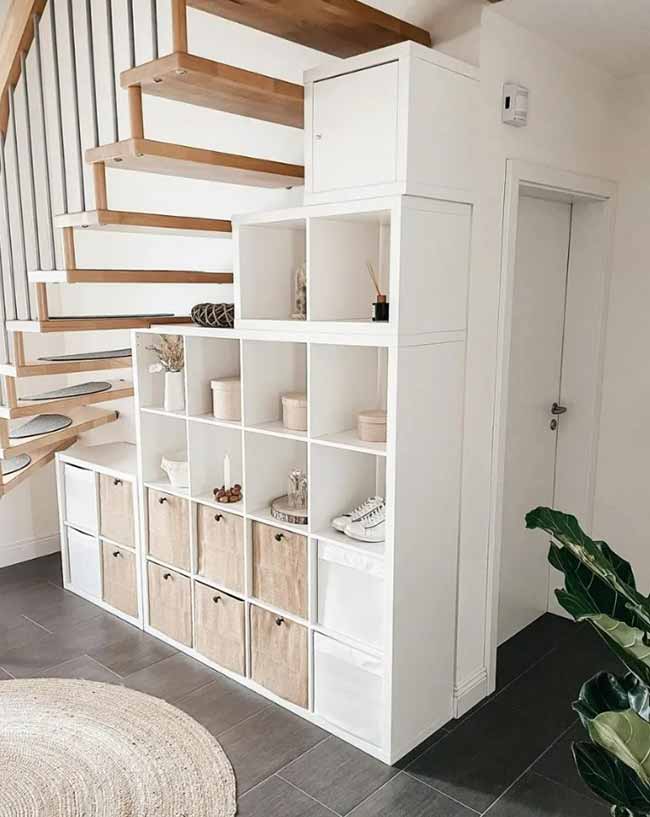 Here's a unique way to use the space under your stairs! Simply add IKEA's drawer inserts or doors to any of the squares for a more closed look.
5. Do-It-Yourself Storage Desk
You can attach a set of legs to optimize storage space and counter space. If you follow this simple DIY Kallax shelf idea, there is no need to spend a lot of money to buy expensive storage units.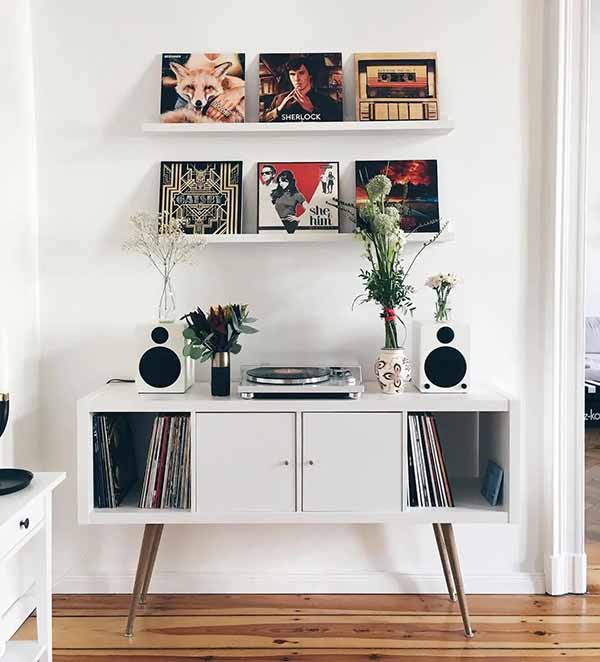 Source: Instagram
6. Colorful Storage Bench
Convert your KALLAX shelf into a storage bench with minimal effort. You can create additional hidden storage space and a beautiful seating area as well. Transform your storage bench and bins using beige paint.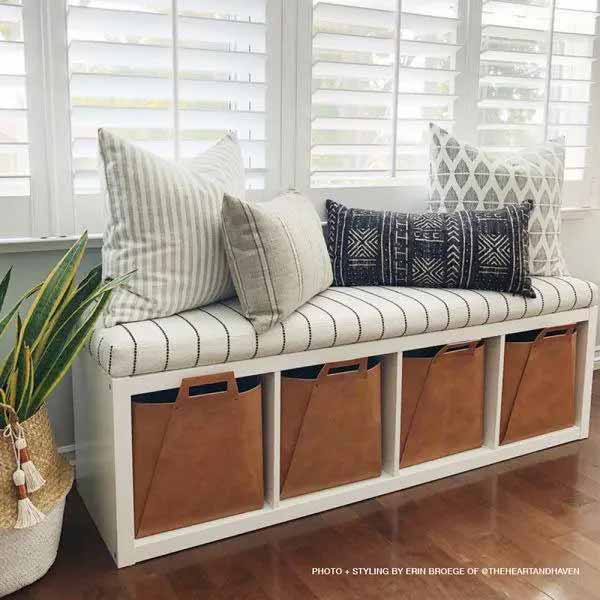 Source: tonicliving.com
7. Rustic Wardrobe Unit with a Farmhouse Vibe
With a coat of paint and storage cubes, create a rustic, farmhouse vibe to your wardrobe unit. It is an affordable way to transform the look and feel of your new closet.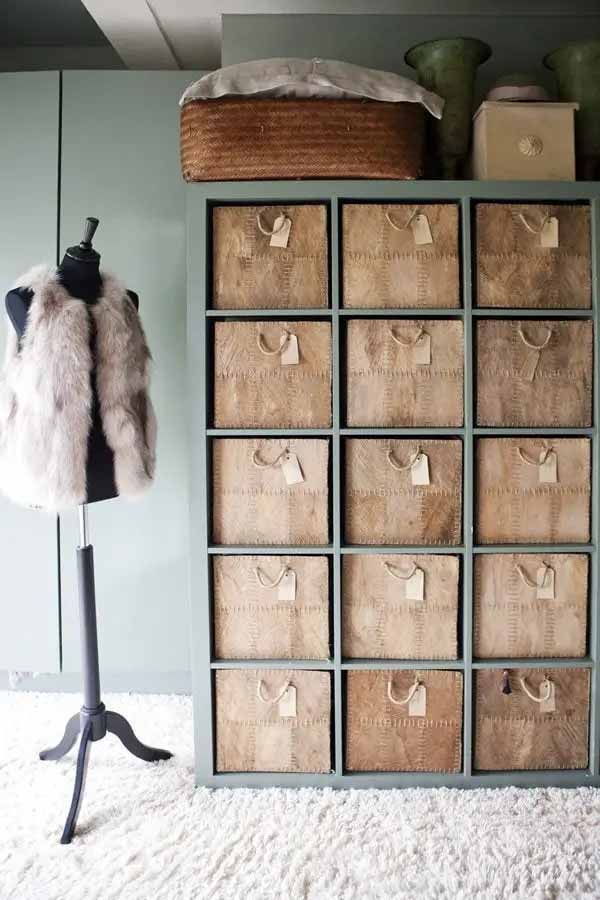 Source: thedecorista.com
8. Vinyl Record Shelf
Make a retro-chic vinyl record shelf with the Kallax shelf. It can be used to display floral arrangements, book collections, and many more.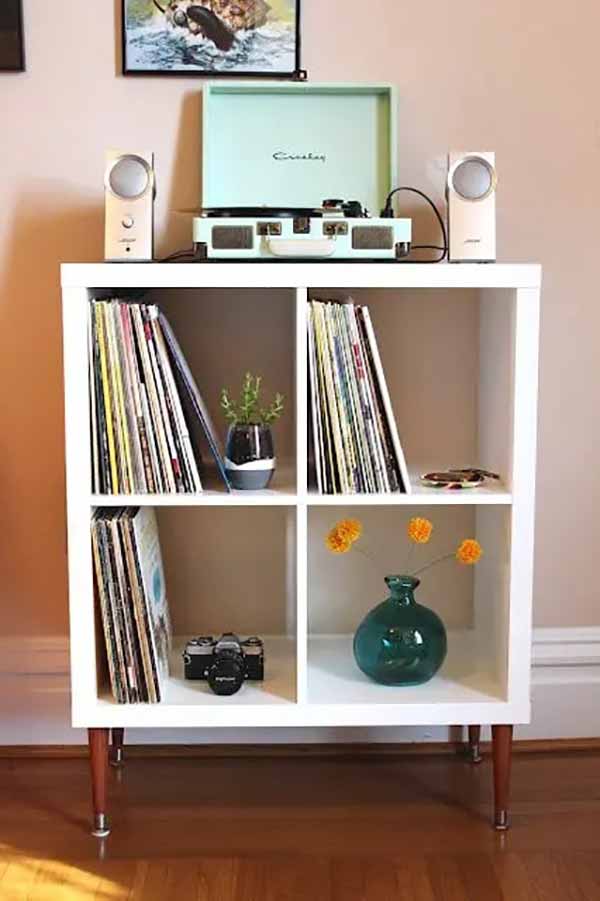 Source: thesurznickcommonroom.com
9. LED KALLAX Shelf with a Futuristic Vibe
Use LED lights to make your Kallax shelf unique with a futuristic vibe. The dim lighting lets you sit back and unwind.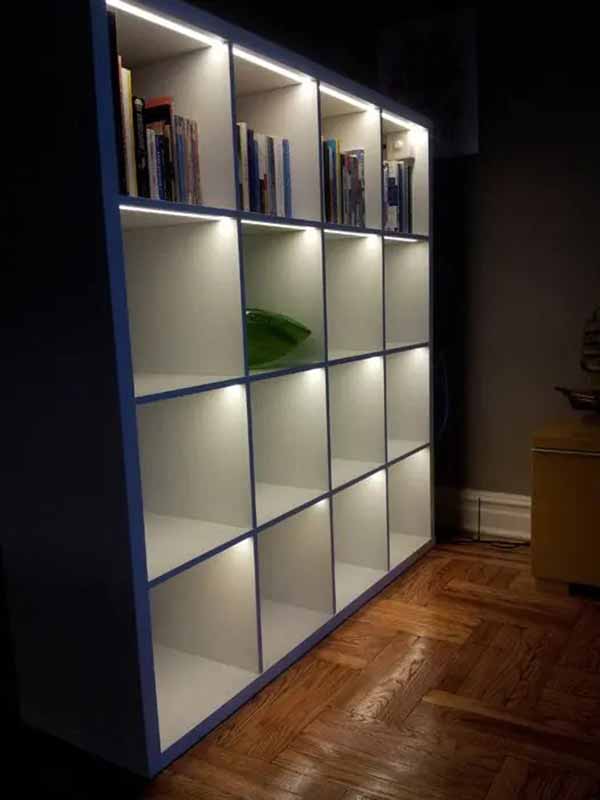 Source: ikeahackers.net
10. Room Divider
Utilize your Kallax shelf as a room divider. It is one of the best IKEA KALLAX hacks that offers a lot of storage space.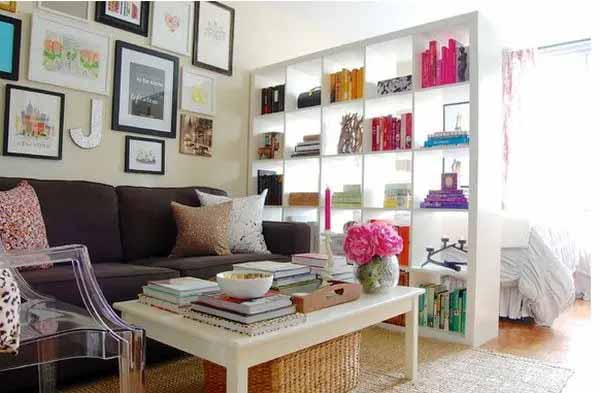 Source: homedit.com
7. Charming Seating Area
Create a DIY seating area using a 4 x 2 KALLAX cube. It allows you to generate a ton of storage space and enhance your home décor. Toss decorative pillows to make the area more unique and inviting.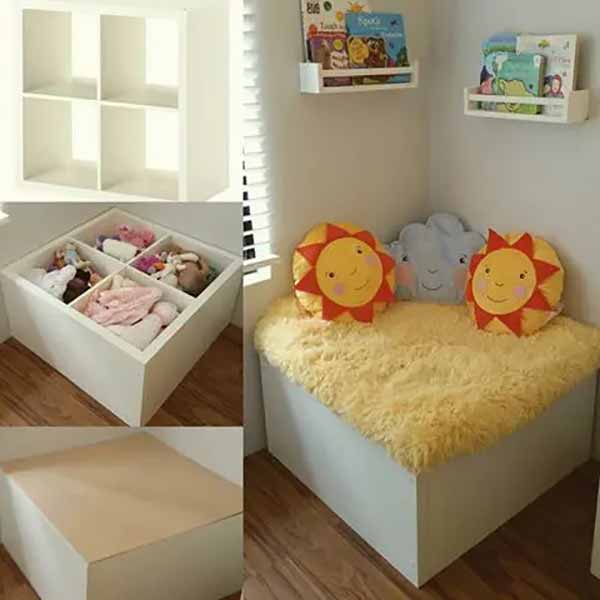 Source: ikeahackers.net
8. Rustic Shelving Unit with Doors
Use a plank of wood and wood stain to build cabinets with the Kallax shelf. You can achieve a rustic vibe easily and affordably.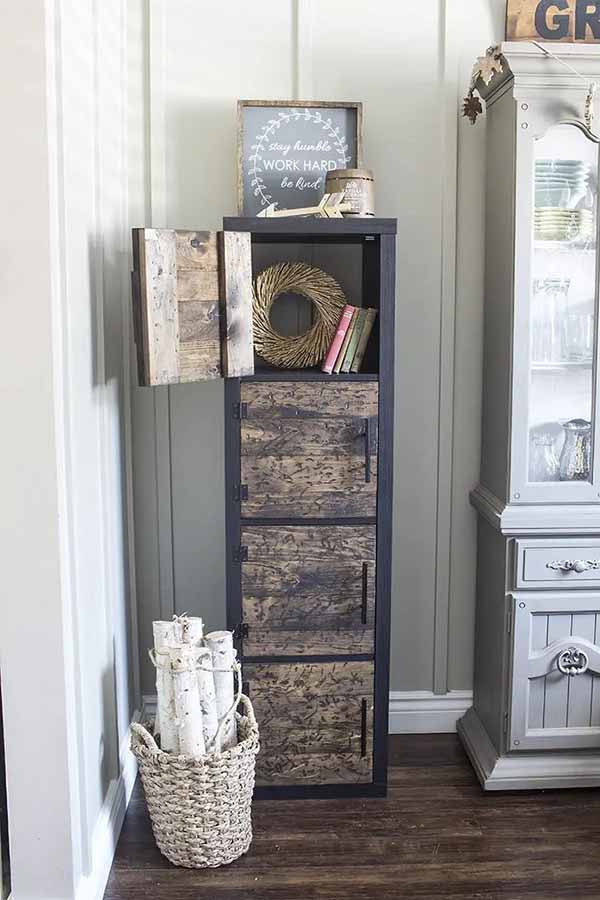 Source: homemadelovely.com
9. DIY Bed Frame
Make your own DIY bed frame without spending a lot of money to buy a new bed frame.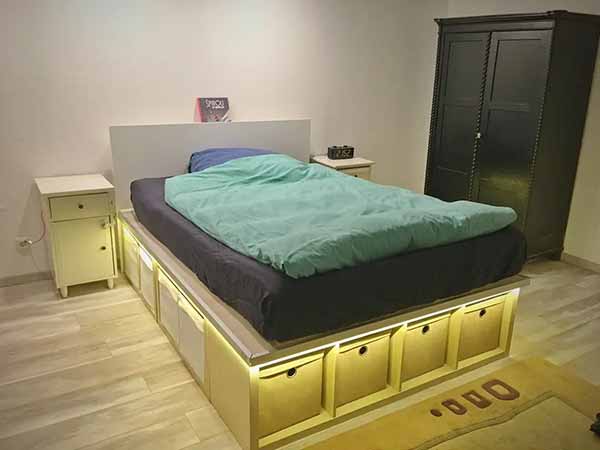 Source: ikeahackers.net
10. Black and White Storage Unit
Build a black and white storage unit with your KALLAX shelf to create extra storage space. Being one of the best IKEA KALLAX hacks, it also works as a decorative piece.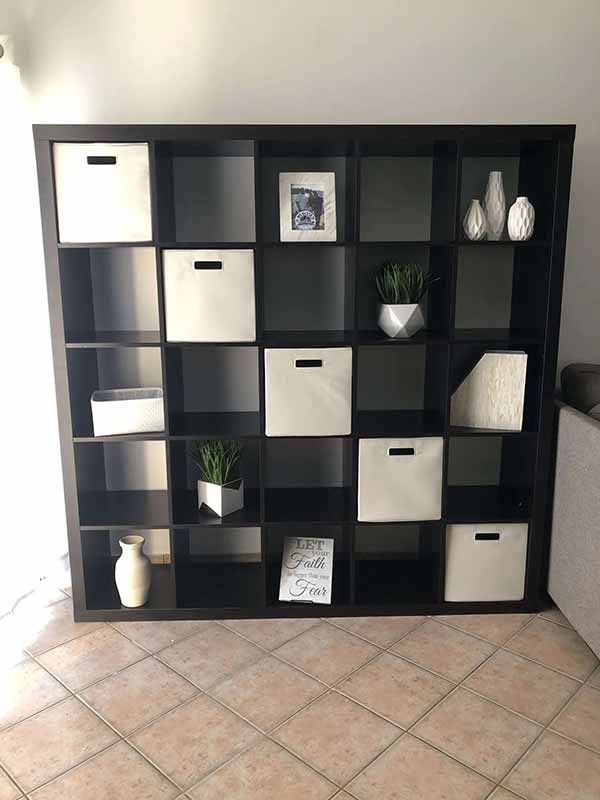 Source: Pinterest
11. Modern Storage Cabinet
Add more closed and open storage areas with the KALLAX shelf. This flexible idea lets you choose a spot to add a door the way you want.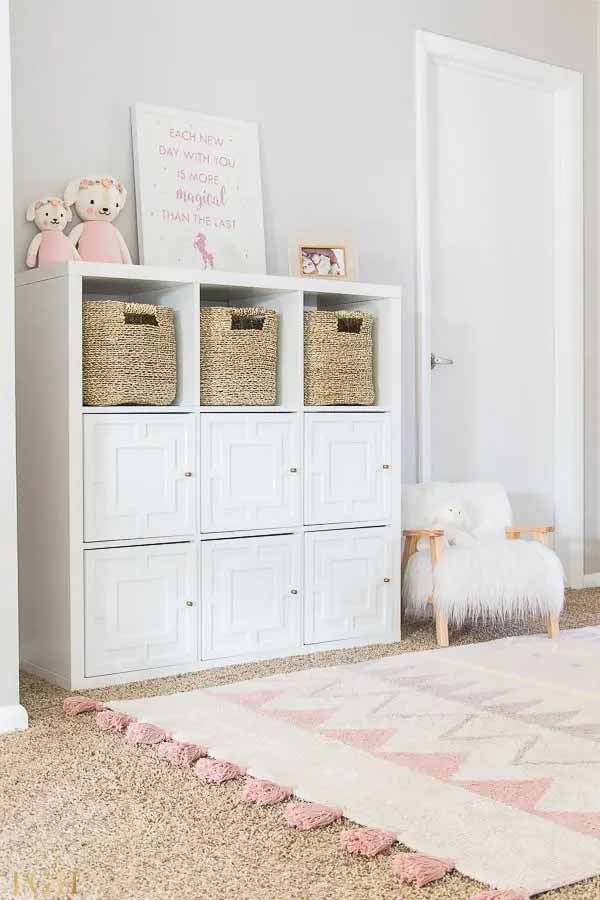 Source: thegreenspringhome.com
12. Make a Wine Rack
Add sections into your Kallax shelf cubes to build a beautiful wine rack.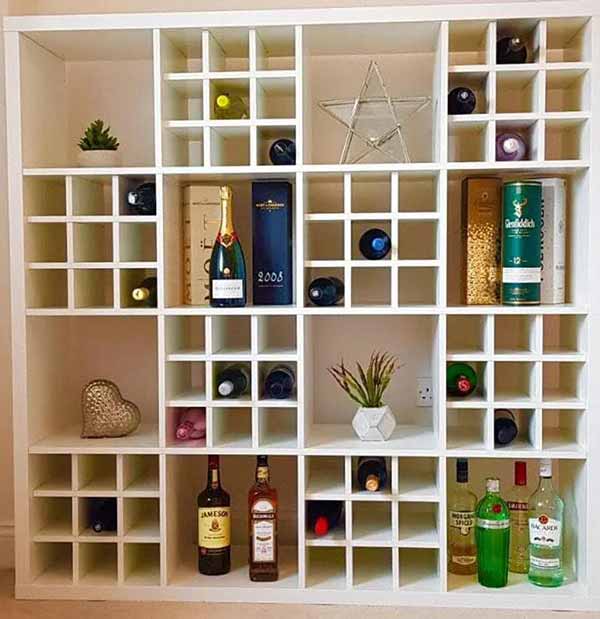 Source: etsy.com
13. Retro Chic Storage Unit
What about adding a door to a cube to convert it into a cabinet? Introduce a retro-chic vibe with different colors and wood stains.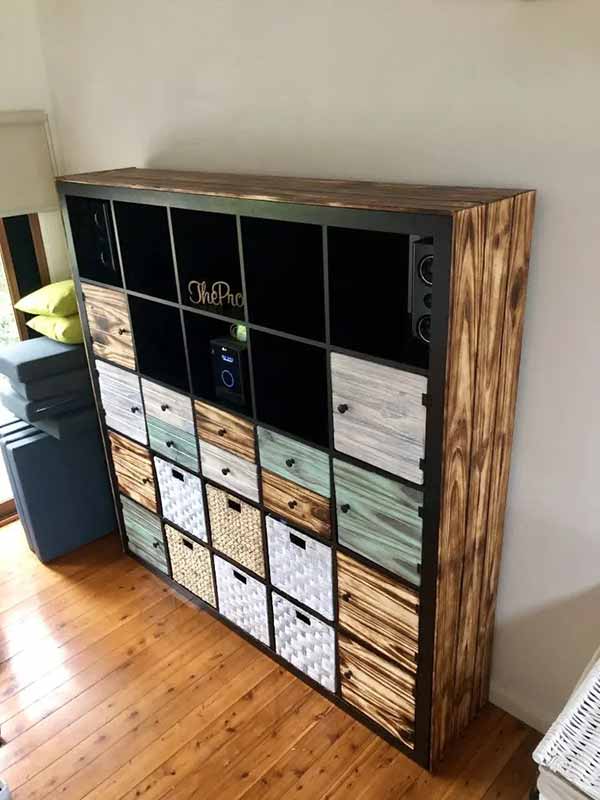 14. Computer Desk
Use your Kallax shelf unit to upgrade your home office.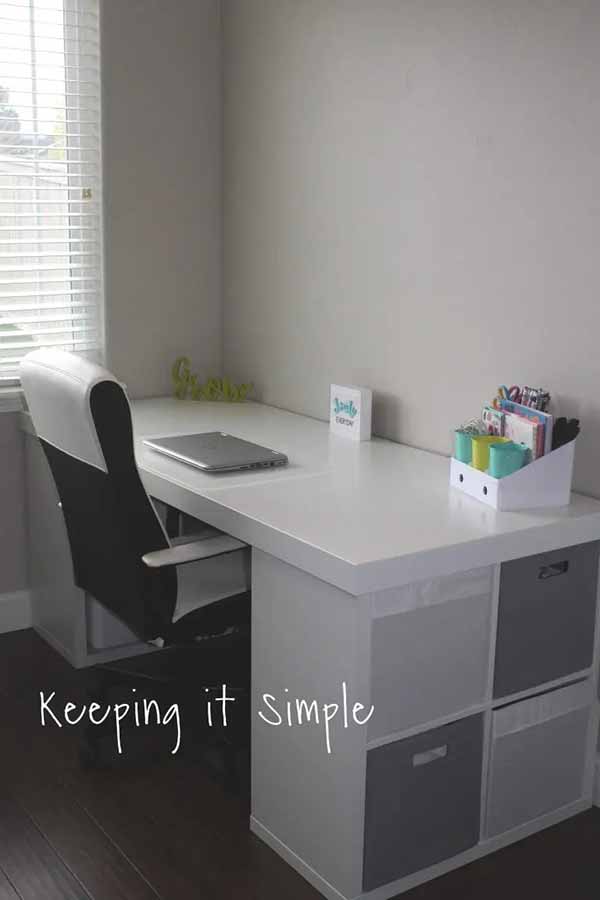 Source: keepingitsimplecrafts.com
15. File Cabinet
You can change your Kallax shelf into a workspace station to improve your workflow. It lets you display your files and folders beautifully.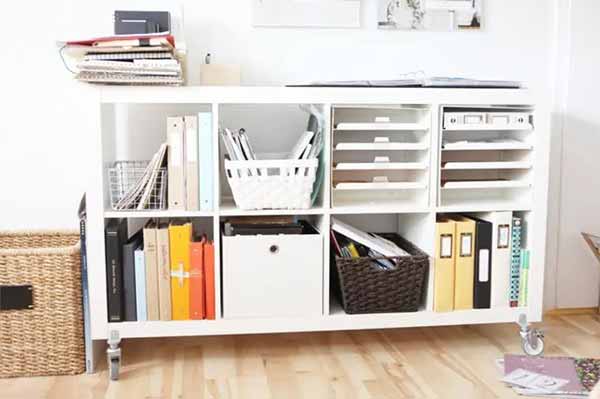 Source: aliedwards.com
16. Modern Grandfather Clock
Bring a modern touch to the grandfather clock concept by placing a clock on top of your Kallax shelf. Other compartments can be used as storage spaces.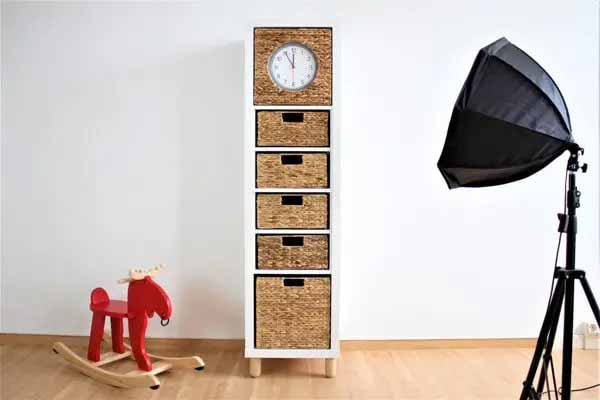 Source: new-swedish-design.de
17. Portable Library
Replace your conventional bookshelf and create your own portable library.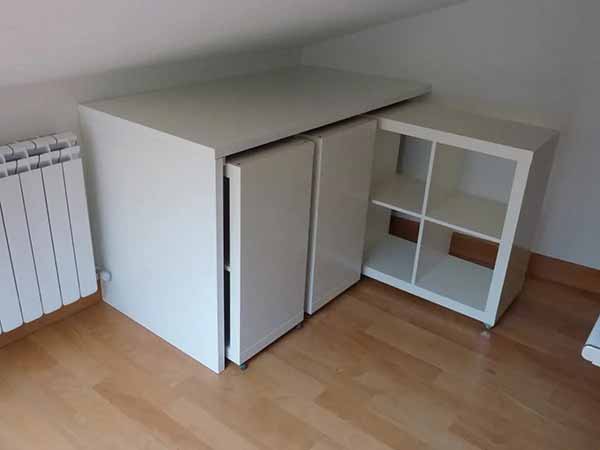 Source: ikeahackers.net
18. Banquette Bench
Use a Kallax shelf to make a beautiful banquette bench with a ton of storage space.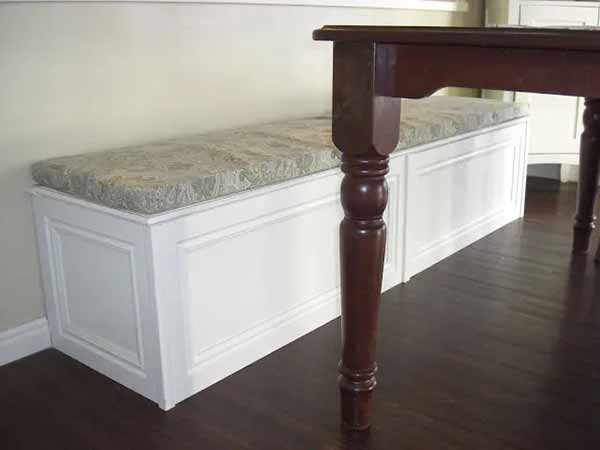 Source: houseofnormandy.blogspot.com
19. Workspace Organizer
Transform your KALLAX shelf into a workspace organizer by placing a plastic compartment or adding a paper tray and a cabinet into one of the shelf cubes.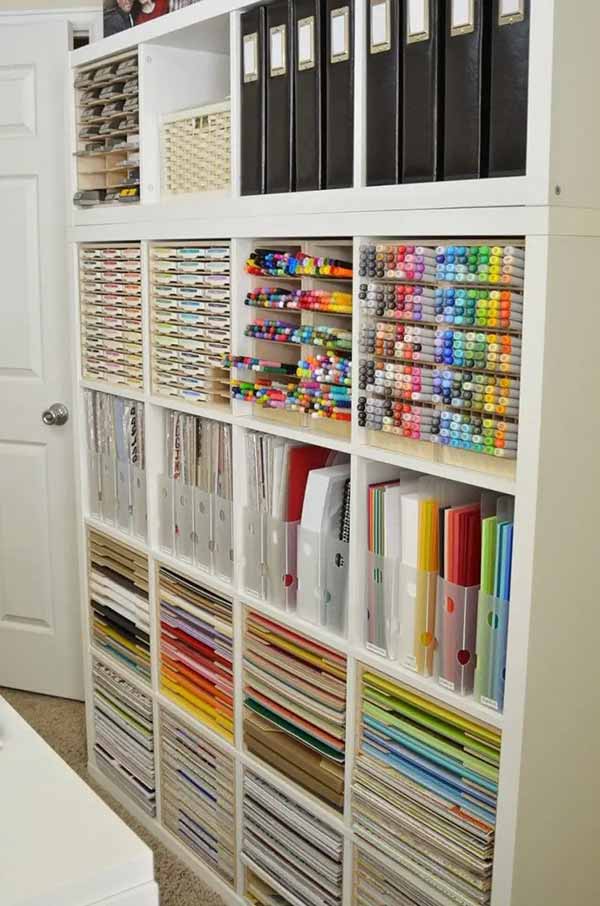 20. Chalkboard Memo Board
Convert your Kallax shelf into a standing chalkboard memo board using chalkboard paint.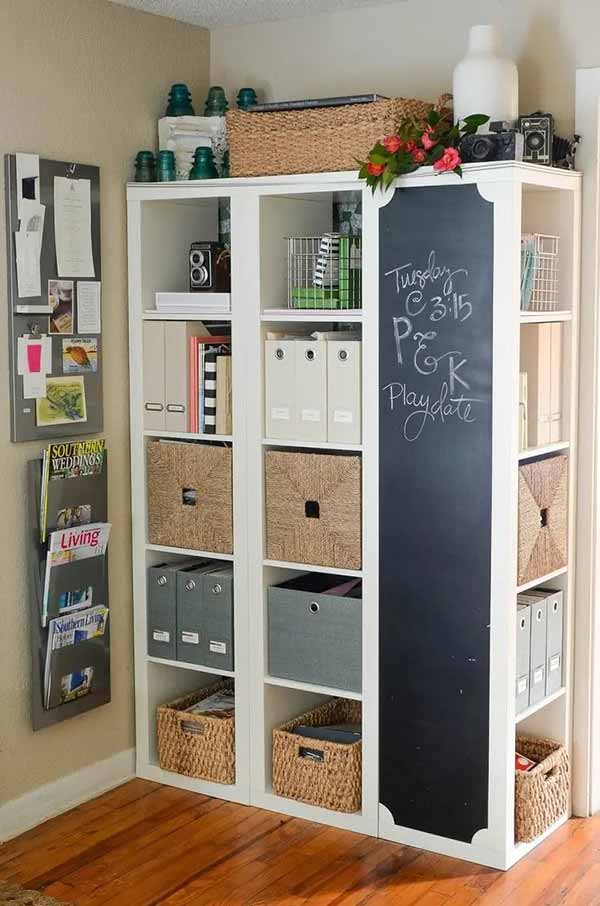 Source: ironandtwine.com