23 Inspirational DIY Ways To Repurpose Rain Gutters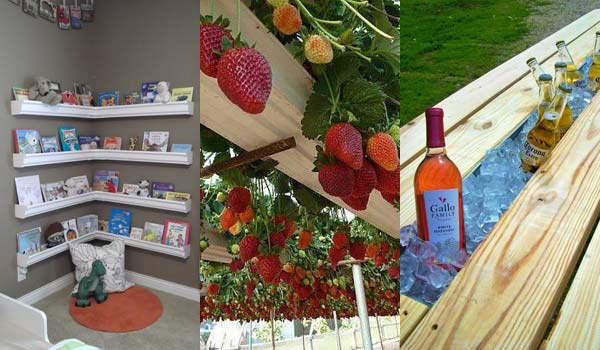 It's exciting to engage in DIY projects using rain gutters. Yes, you heard it right, rain gutters! While rain gutters are commonly known for their role in roof protection and water drainage, did you know they have more to offer? They can be versatile additions to your DIY endeavors. Here are some fantastic ideas to repurpose rain gutters and make them truly extraordinary. Whether you're looking for a jewelry storage solution, a toy organizer, a bookshelf, a key holder, or a creative plant "garden," rain gutters can be utilized in various ways. DIY rain gutter projects are not only environmentally friendly but can also be accomplished with or without a significant budget. The materials can range from wood and plastic to metal. Just imagine the possibilities!
#1 Ever considered the installation of rain-gutter trees to bring a touch of nature's charm to your surroundings, seamlessly blending practicality and aesthetics?

#2 How about organizing your kids' bedroom beautifully with rain gutters?

Source: homestoriesatoz.com
#3 Can you imagine the magic of growing strawberries in rain gutters, breaking the rules and nurturing nature's abundance in a different yet joyful way?

Tutorial: sfgate.com
#4 Take a moment to admire the cleverness of using rain gutters as bookshelves, a wonderful example of repurposing and showcasing creative craftsmanship.

Tutorial: sunshineontheinside.blogspot.fr
#5 Picture this: a rain gutter gracefully emphasizing your picnic table, adding a touch of elegance and functionality that sets it apart.

Source: thekitchn.com
#6 Have you ever considered a vertical hanging gutter garden, where vibrant plants cascade down in a beautiful showcase of creativity and space-saving?

Tutorial: goodshomedesign.com
#7 Let's not overlook the perfect size of vinyl gutters, tailor-made to store spray cans in a neatly organized and easily accessible manner.

#8 Are you ready to witness the excitement of water races with rain gutter boats, where small vessels glide along the water in a thrilling display?

Source: mymixofsix.blogspot.com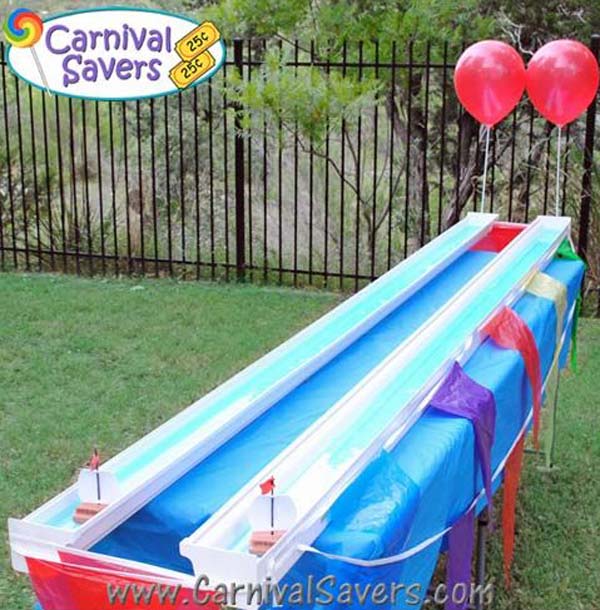 Source: carnivalsavers.com
#9 Why not create edgings with river rocks in rain gutters, adding a natural touch of elegance that seamlessly blends with your landscape?

#10 Discover the beauty of planting rain gutters on your wooden fence and growing strawberries

#11 Add a touch of elegance to your ice cream servings by utilizing a rain gutter

Source: purplechocolathome.com
#12 Have you ever considered incorporating a rain gutter into your sandbox play?

Source: teaching2and3yearolds.com
#13 Can you imagine the excitement of a ball game that uses spray-painted rain gutters? It's a fun and exhilarating outdoor activity that will keep everyone entertained.

Source: learningthroughtheclutter.blogspot.ca
#14 Let the beauty of your balconies come to life with the help of rain gutter planters, adorned with an array of colorful flowers

Tutorial: nagle5.blogspot.com
#15 Transform your kitchen into a fragrant oasis by growing aromatic plants in a rain gutter.

Source: chiffons84.canalblog.com
#16 Simplify your ribbon storage and keep things organized by repurposing rain gutters into practical and efficient storage organizers.

Source: scrapbook.com
#17 Imagine the beauty of window garden boxes created from rain gutters. With the vibrant colors and greenery, there will be a visual feast right outside your windows.

#18 Discover the convenience of a rain gutter pocket organizer, complemented by a metal-sheet coat hanger.

#19 Have you ever considered using a plastic rain gutter on your fence to grow strawberries? It's a creative and practical way to maximize space and enjoy homegrown berries.

#20 Create a captivating ambiance at your dinner table by placing floating candles on a plastic rain gutter.

Source: sugarlaws.com
#21 Organize your shoe storage with the help of rain gutters, allowing for efficient use of space and easy access to your footwear collection.

#22 Utilize vinyl rain gutters for effective cable management, ensuring a tidy and organized setup for your electrical cords and cables.

Source: lifehacker.com
#23 Unleash your creativity with hanging planters made from rain gutters. They offer a unique and stylish way to display your favorite plants