24 DIY Farmhouse Christmas Decoration and Crafts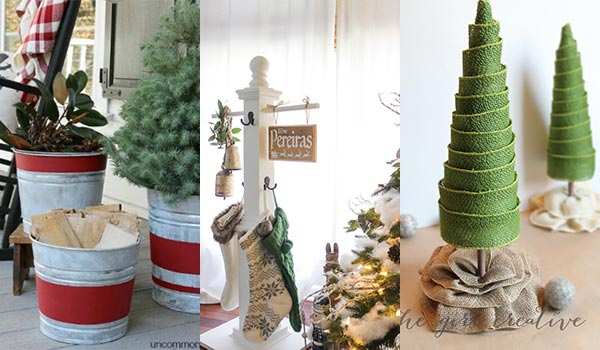 Christmas is approaching. We are still in autumn, it is true, but it is the perfect time to start preparing the Christmas crafts to have them ready for December.
What makes me most excited about December approaching is thinking about starting to decorate the house a few weeks before: putting up the tree, turning on the lights and the fireplace with the Christmas socks hanging over it… That all invites us to enjoy a few family weeks, warm around the fire with a hot chocolate or a fresh coffee, with the oldest telling the kids stories about how Santa Claus will sneak through the fireplace to leave us gifts.
That is why we bring you 24 excellent farmhouse christmas decorations and crafts to start preparing your home to decorate with the greatest affection and the purest rustic Christmas charm.
1. Trees made of burlap wired ribbon
Make the trees out of a foam cone or poster board and tape around them the ribbon to make the foliage.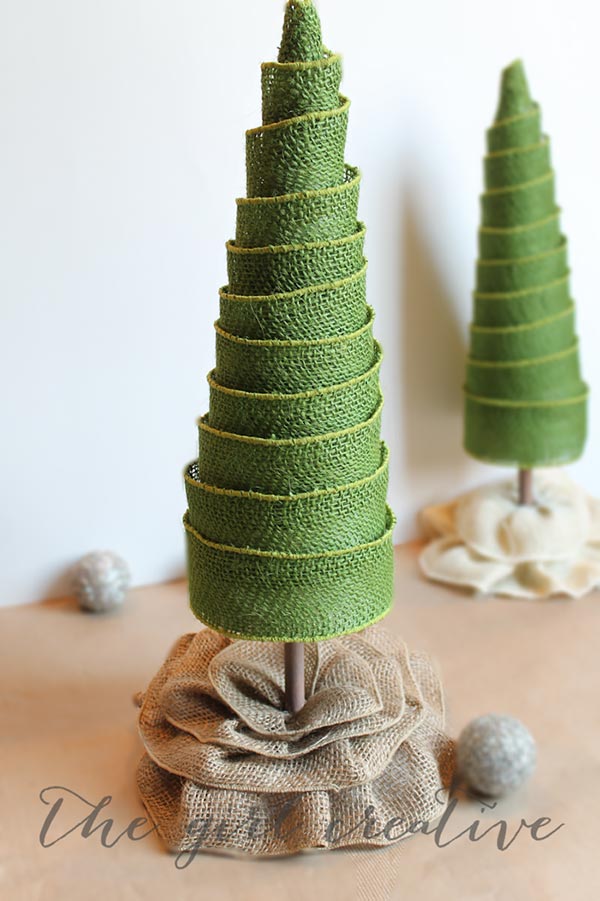 tutorial: thegirlcreative.com
2. Hanging christmas banner
With a string and a few pieces of burlap fabric, make a hanging banner which gives a message of warm welcome to your home. You can hang it above the fireplace.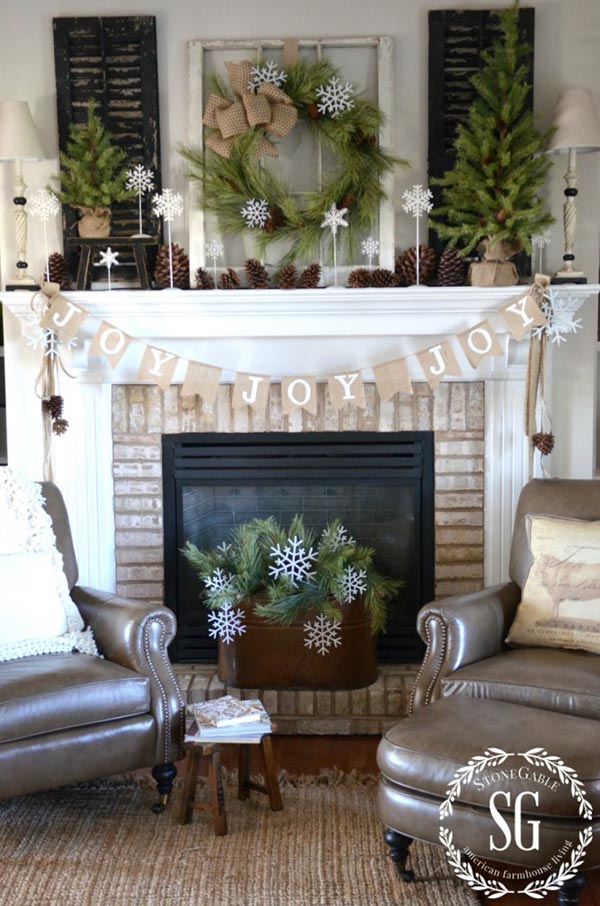 tutorial: stonegableblog.com
3. Countdown clock
With a piece of wood, some permanent markers or paint, and an old needle, you can count down in the shape of a clock. Write down the days until Christmas and let the adrenaline wash over you as the magical night approaches.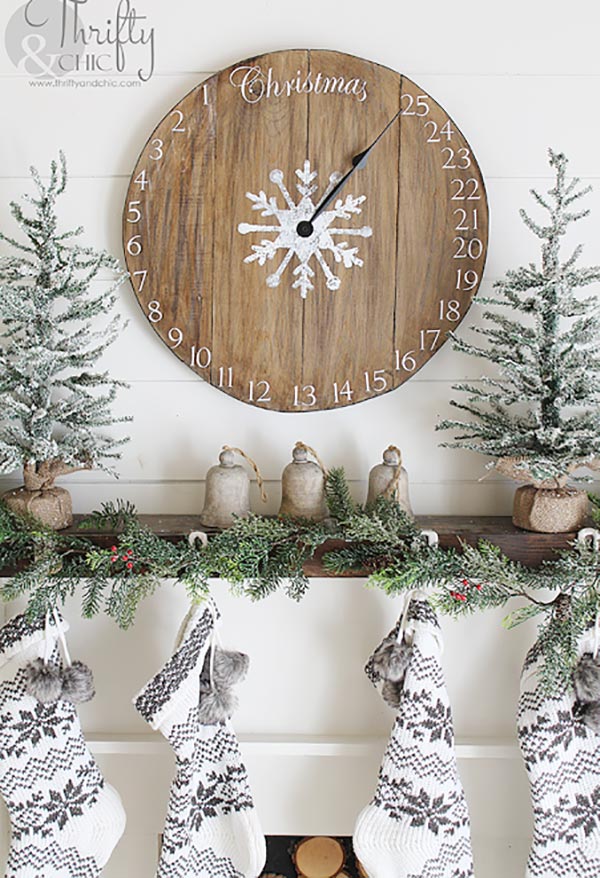 tutorial: thriftyandchic.com
4. Two-dimensional Christmas tree
For small houses, getting a Christmas tree can be an ordeal. Hang Christmas decorations in the shape of a triangle on a piece of wood and hang the result on the wall as if it were a painting.
tutorial: livelaughrowe.com
5. Custom galvanized farm bucket
Getting one decorated or personalized in a store can be very expensive, instead paint it yourself and get a unique result.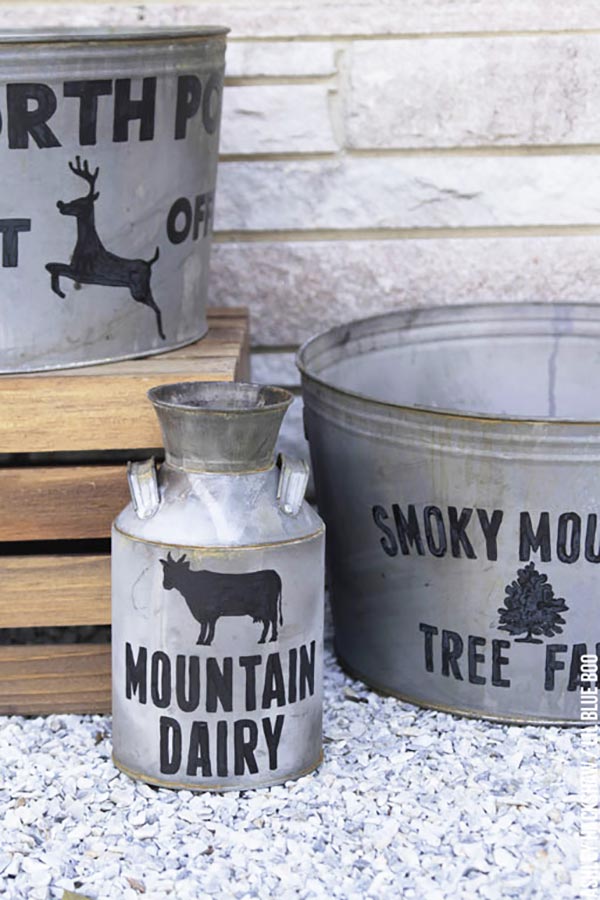 tutorial: lilblueboo.com
6. Christmas sign
This can be more laborious to do, but the result will be more satisfactory. Create a platform out of pieces of wood and hang on it some custom painted metal or wooden letters.
tutorial: blesserhouse.com
7. A rack for Christmas socks
This one can also be laborious if you do it from scratch: with a fence post and some metal hangers. You will be able to hang the socks and other decorations, as well as the name of your family so that Santa does not leave the gifts of the wrong family!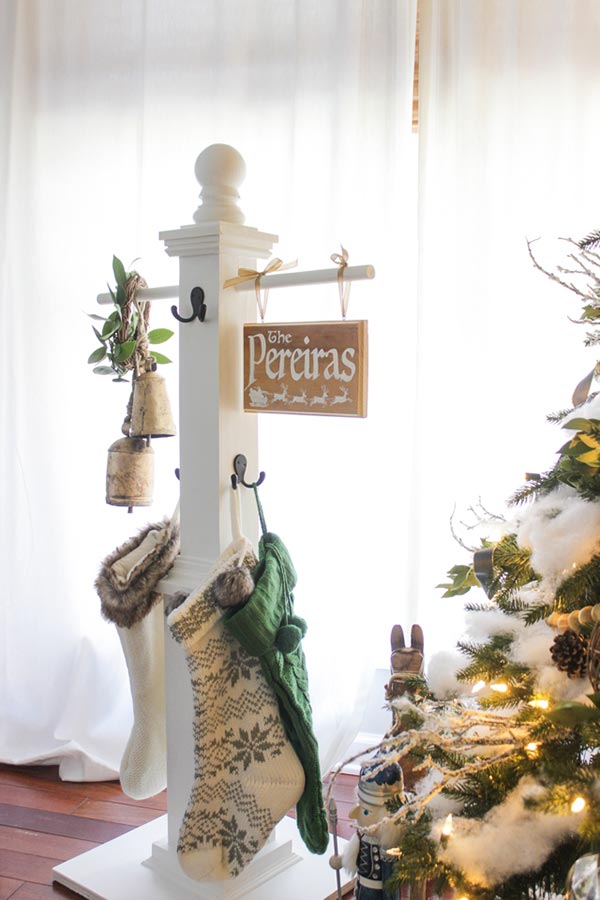 tutorial: shadesofblueinteriors.com
8. Snow candles
Use a mason jar, pinecones or other decorations for the outside and fake snow for the inside. Don't forget to make sure the snow is not flammable, or maybe you can use battery-powered candles to avoid accidents!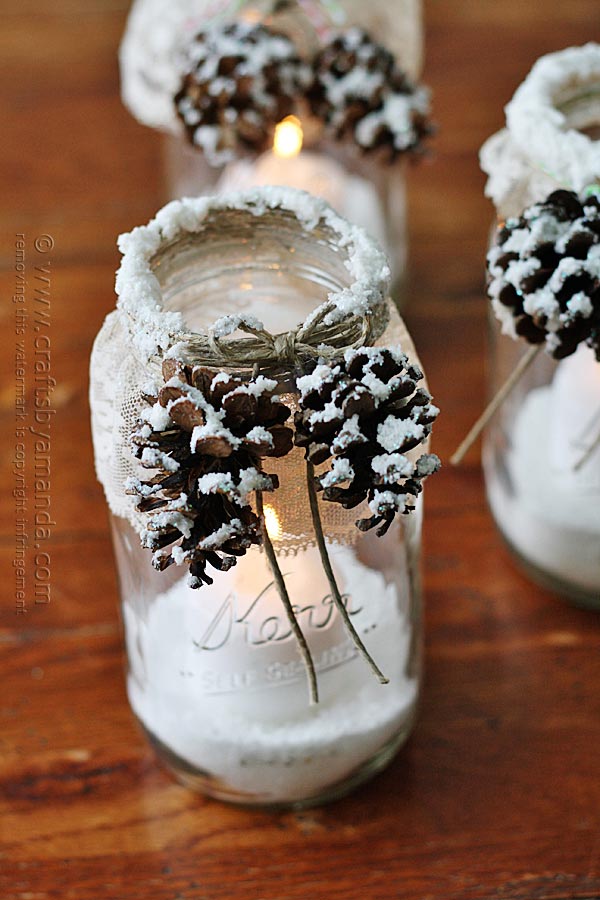 tutorial: craftsbyamanda.com
9. Custom sock hangers
With a piece of wood, a metal hanger and a little paint you can make a coat rack for each one.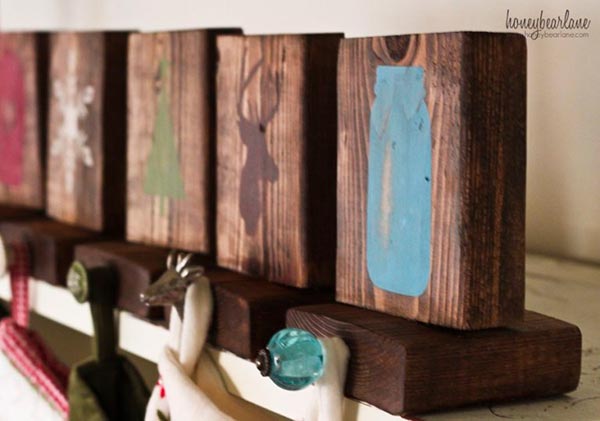 tutorial: honeybearlane.com
10. Yarn Decorated Sock Hangers
You can also try decorating the hangers with the art of strings: with some nails and a little colored thread you can create beautiful drawings with it.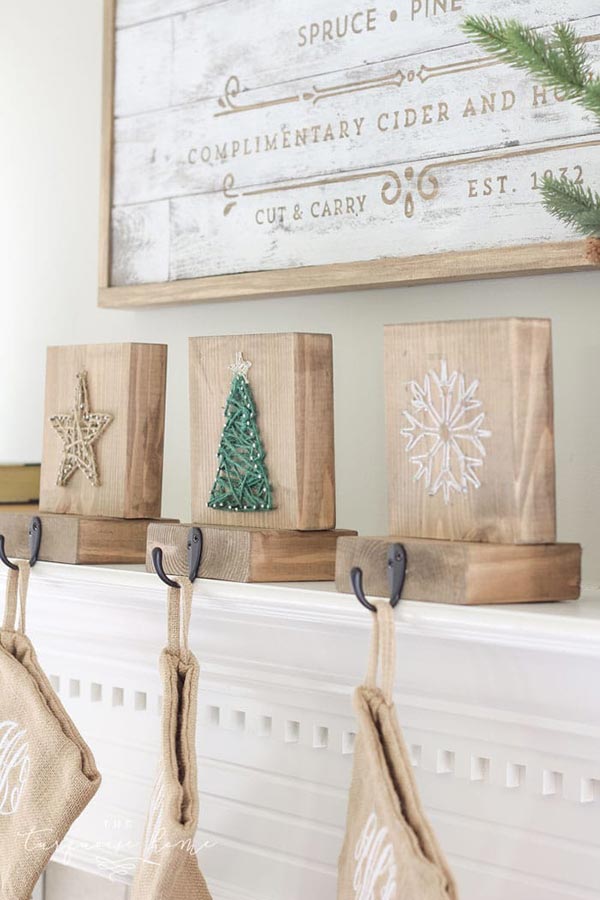 tutorial: theturquoisehome.com
11. Scandinavian centerpiece
All you need is clear wine bottles, some water, and a floating fir tree branch inside for a Scandinavian-style decor.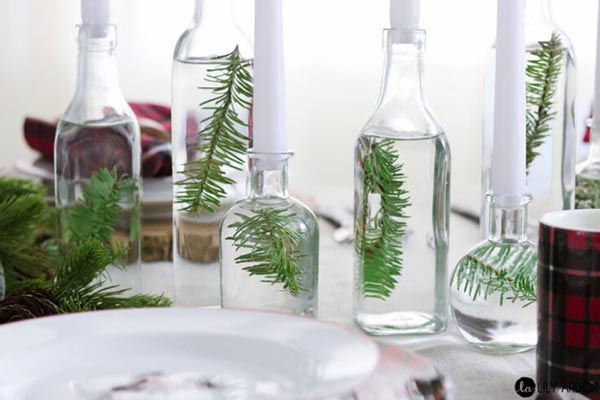 tutorial: lilyardor.com
12. Printable canvas sign
You just need a painting and a little imagination to personalize it (paint, fake snow, whatever!): Print the templates that you will find for free on the internet and you already have an awesome Christmas canvas sign.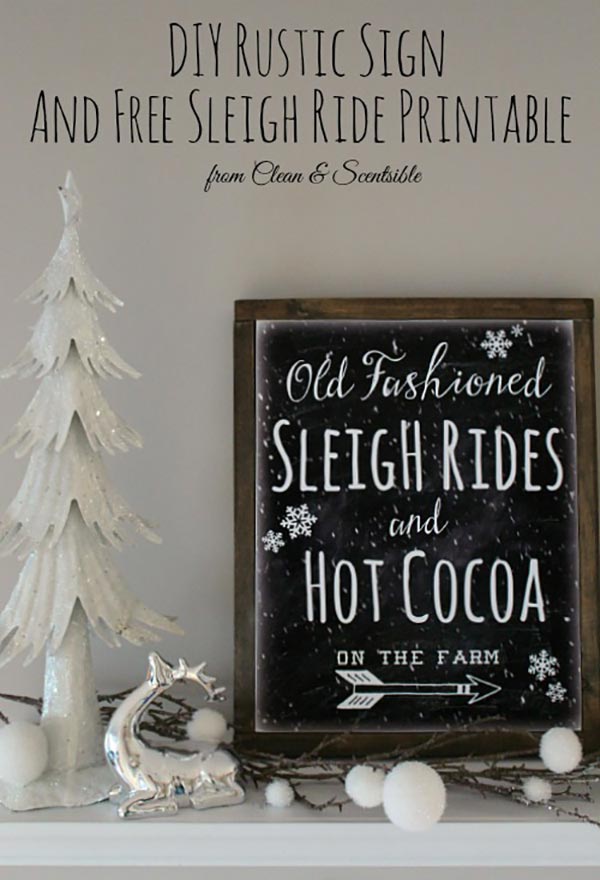 tutorial: cleanandscentsible.com
13. Wood slice ornament
You can make your own hanging tree banner ornament with wood slices and a marker to decorate them!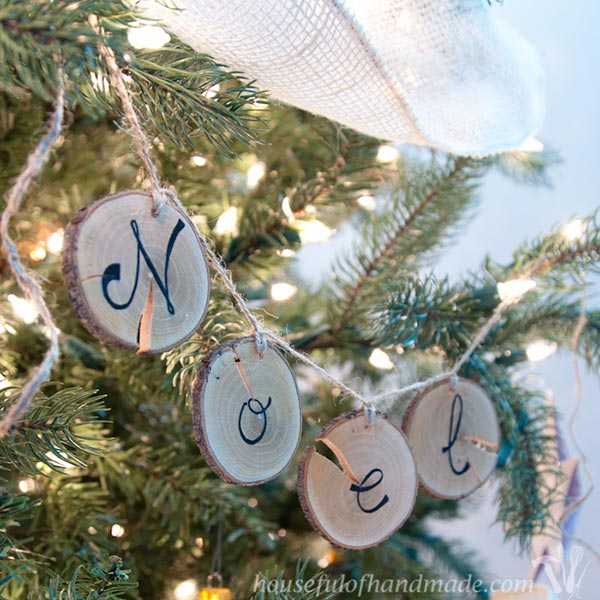 tutorial: housefulofhandmade.com
14. Garland for the door
With some pieces of wood you can make the shape of a star and decorate it with mistletoe or foam letters to give a warm welcome to your guests.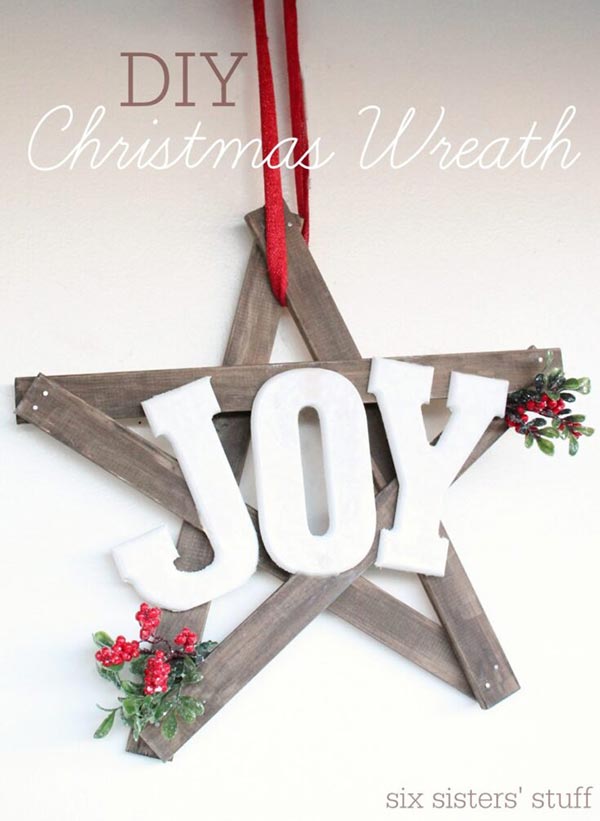 tutorial: sixsistersstuff.com
15. "Noel" sign
Use a wooden base and wooden or metal letters to write "Noel" and decorate it with garlands, bells and other Christmas decorations to welcome Santa into your home!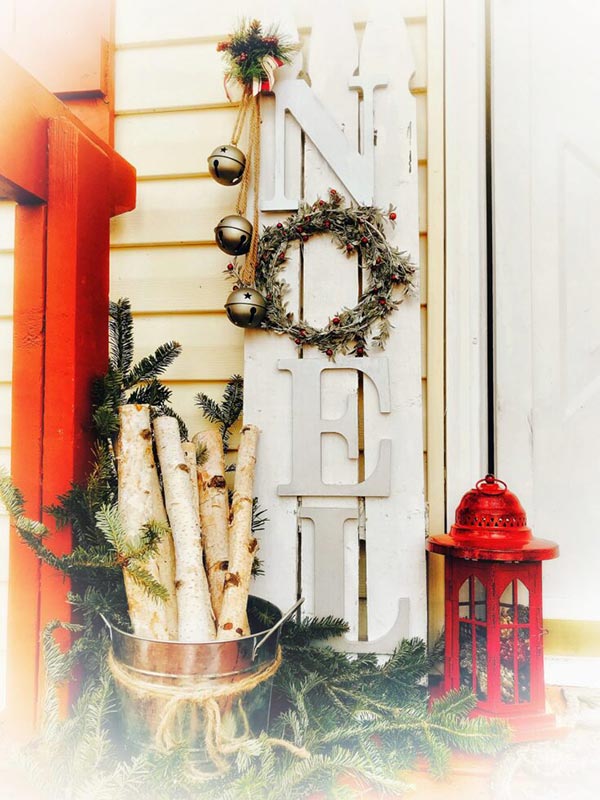 tutorial: ahundredaffections.com
16.Repurposed Candle Holder Centerpiece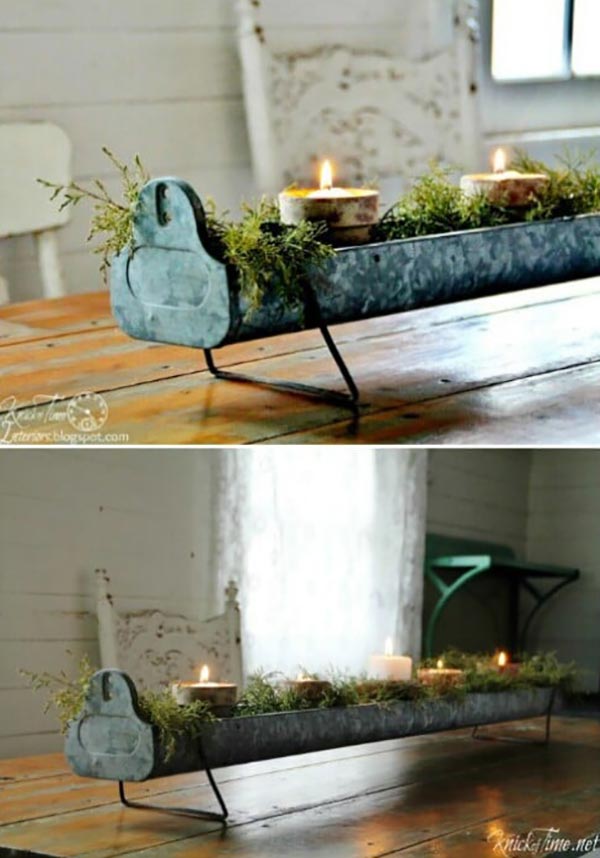 tutorial knickoftime.net
17. DIY Snow Globe Jars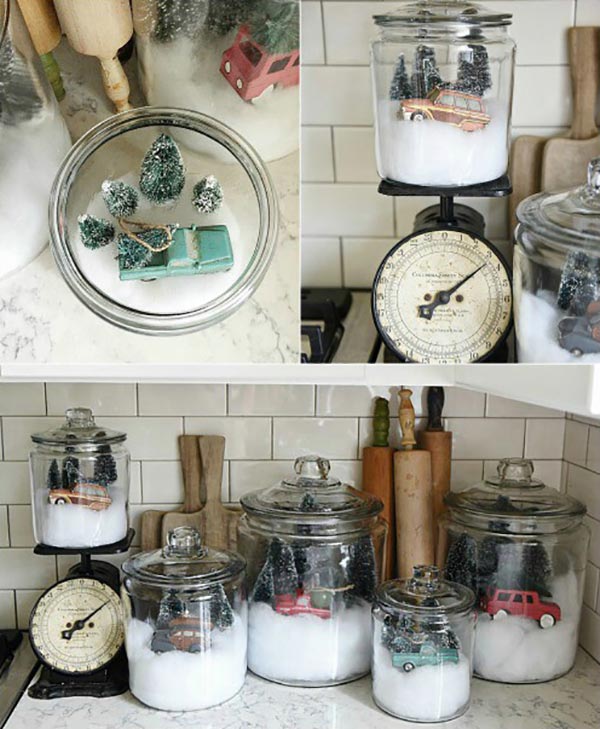 tutorial: lizmarieblog.com
18. DIY Window Display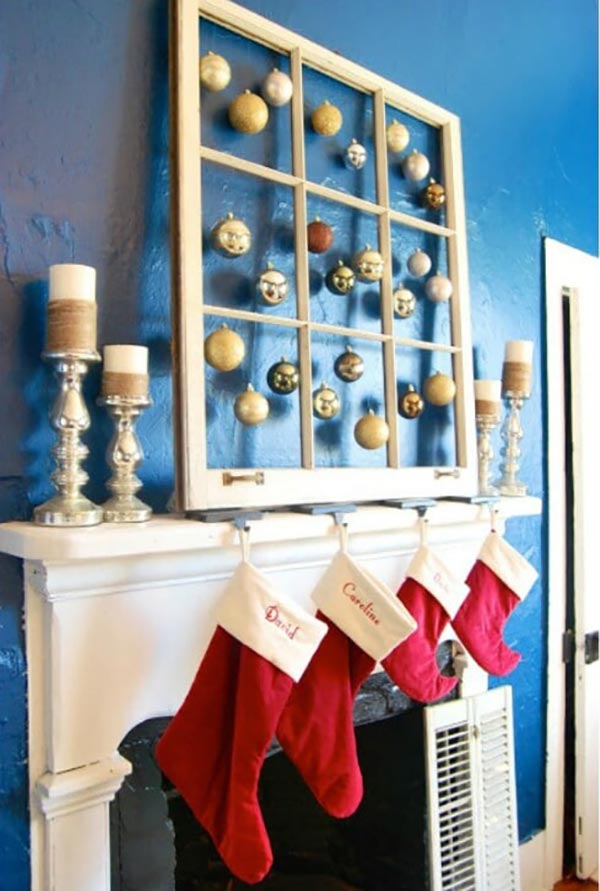 source: davidandcarolineparker.blogspot.com
19. Striped Galvanized Buckets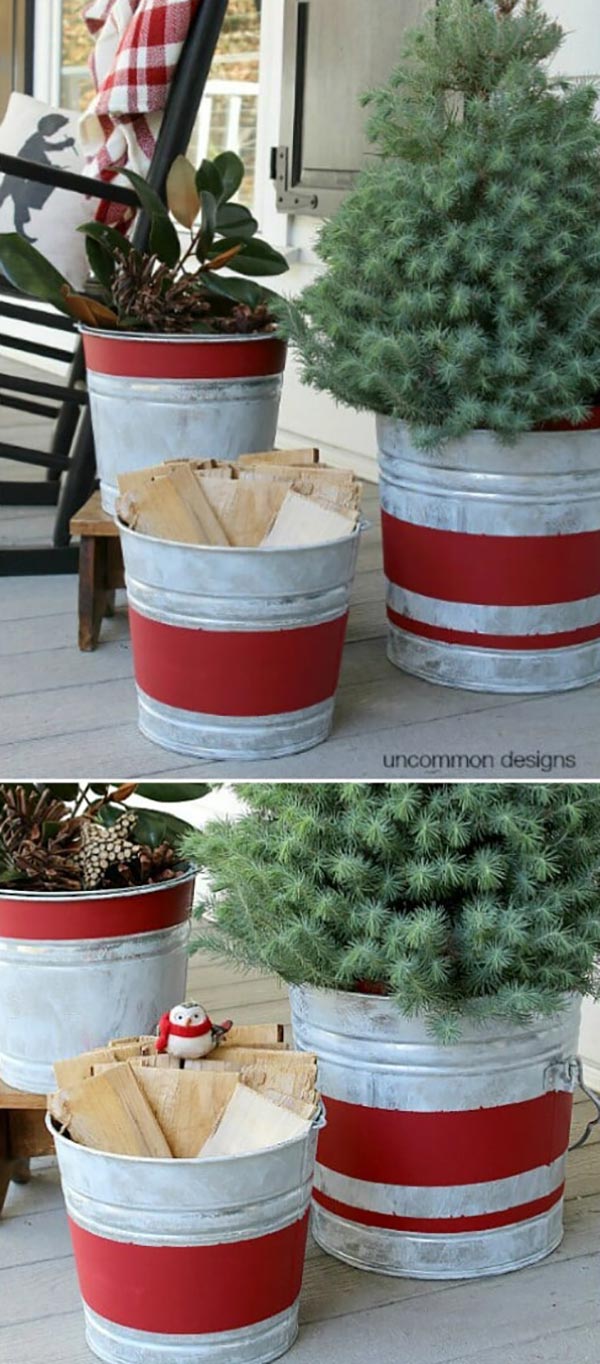 tutorial: uncommondesignsonline.com
20. Wire Basket Tree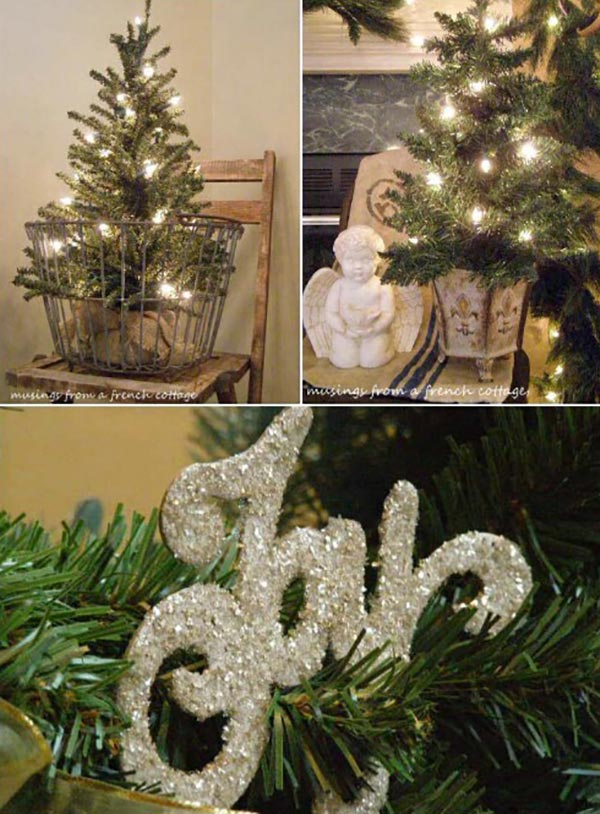 tutorial: musingsfromafrenchcottage.blogspot.com
21. Reclaimed Wood Christmas Tree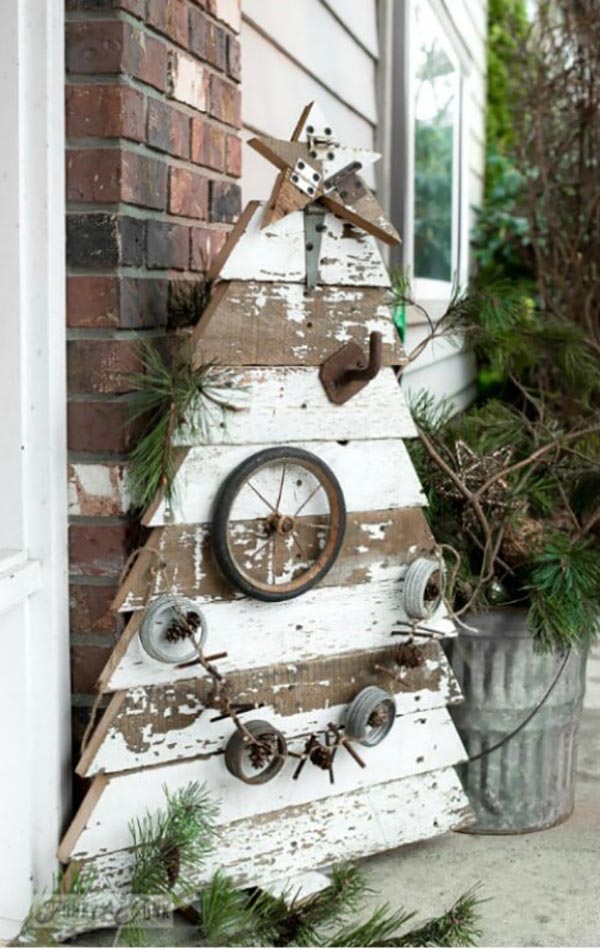 tutorial: funkyjunkinteriors.net
22. DIY Burlap Bow

tutorial: thetiptoefairy.com
23. Painted Mason Jar Centerpiece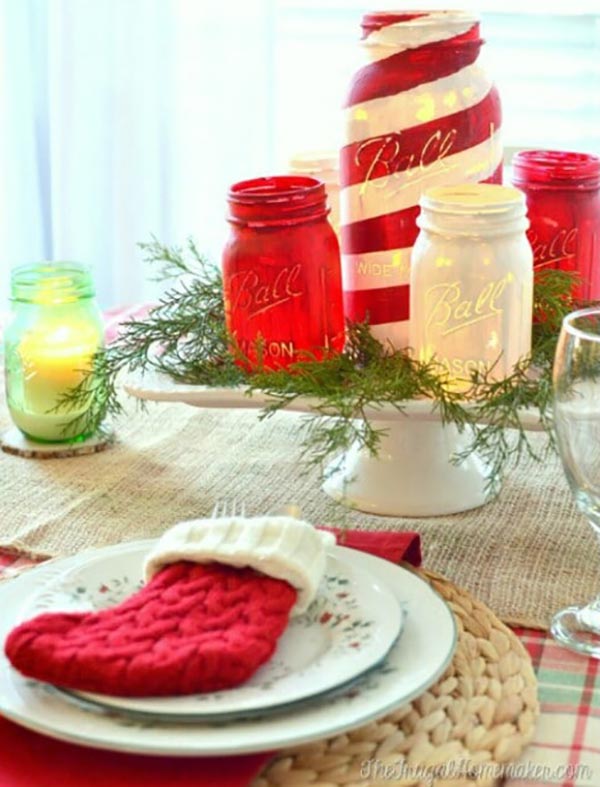 tutorial: thefrugalhomemaker.com
24. Ornament Filled Lanterns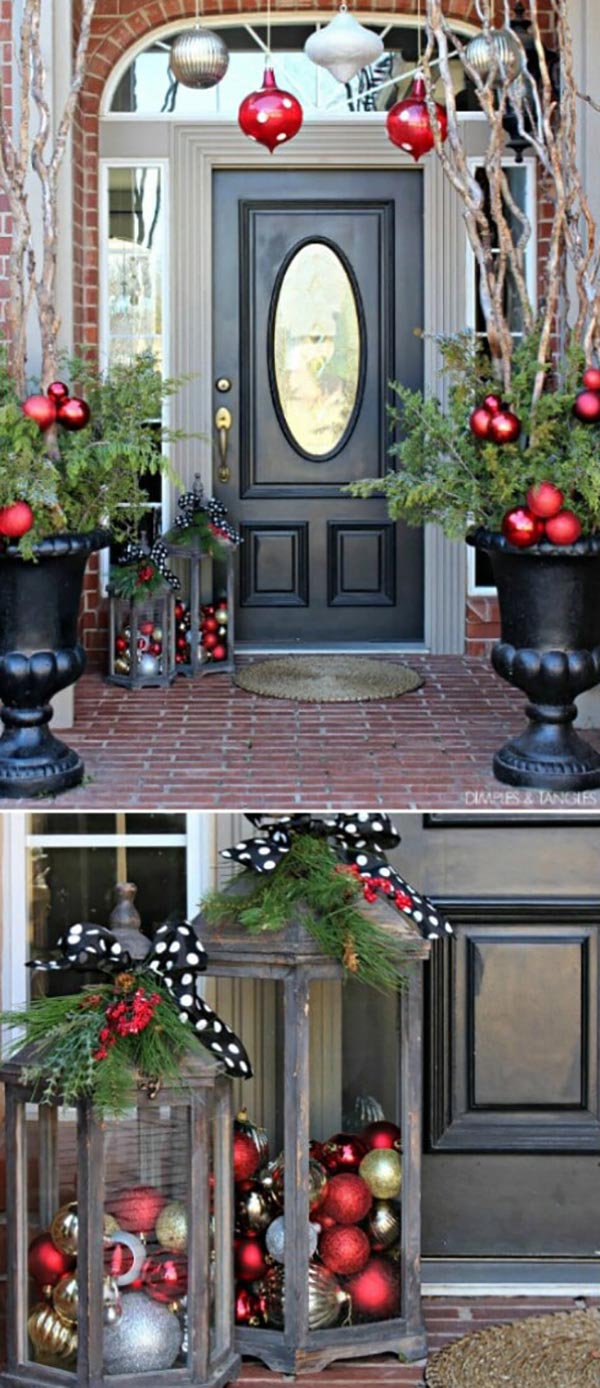 tutorial: dimplesandtangles.com
And so far our recommendations to decorate your home with a warm and familiar Christmas style. Use the ideas to personalize your home in the most authentic way possible and enjoy both the process and the result!