Top 21 Easy and Attractive DIY Projects Using Bamboo
For those of you who love to decorate your home with natural elements, wood is not the only option. Bamboo is another great choice, as it is known for its green, strong, lightweight, and incredibly renewable features. With its exotic look, bamboo is increasingly popular for home decoration.
Making DIY bamboo projects is pretty easy and cheap. Bamboo is also very suitable for outdoor decorations. Anyone can craft their own home decor projects using this natural material, whether indoors or outdoors. So if you want to DIY something to spruce up your living space, don't forget to incorporate some this versatile plant in your projects.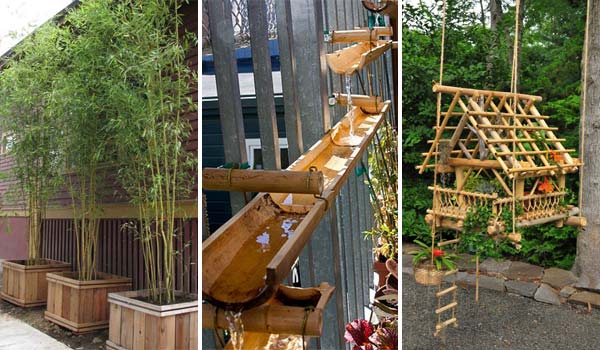 Bamboo decoration ideas are a great way to bring a touch of nature into your home. You can make a variety of things with bamboo, including wall art, coasters, baskets, and even furniture like a bamboo sofa or chair. Outdoor bamboo projects are also popular, such as bamboo planters, trellises, and privacy screens. The possibilities are endless, and bamboo is a versatile material that can add a unique and natural element to any home decor project. So why not give it a try and see what you can create with bamboo?
Best 27 Ideas to Decorate Your Home With Bamboo:
1. Natural, Strong, and Easy-to-Use Planters You Should Try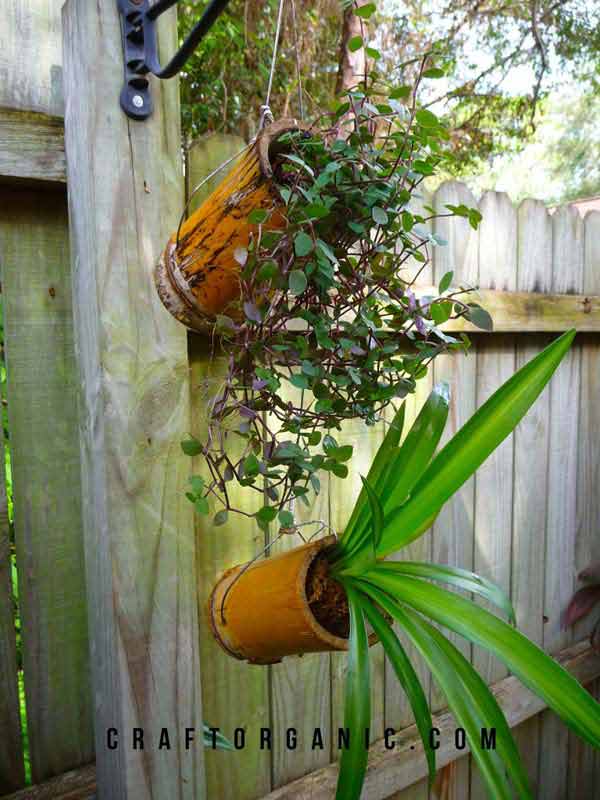 Create your own eco-friendly and stylish planter pots with these easy bamboo craft ideas. Not only will you save money, but you'll also have a beautiful and sustainable alternative that grows just as well as traditional planter pots. With bamboo, you can craft unique and versatile planters that can be used indoors or outdoors.
Get Great Tutorial for Above Project ====> craftorganic.com
Bamboo Garden Fence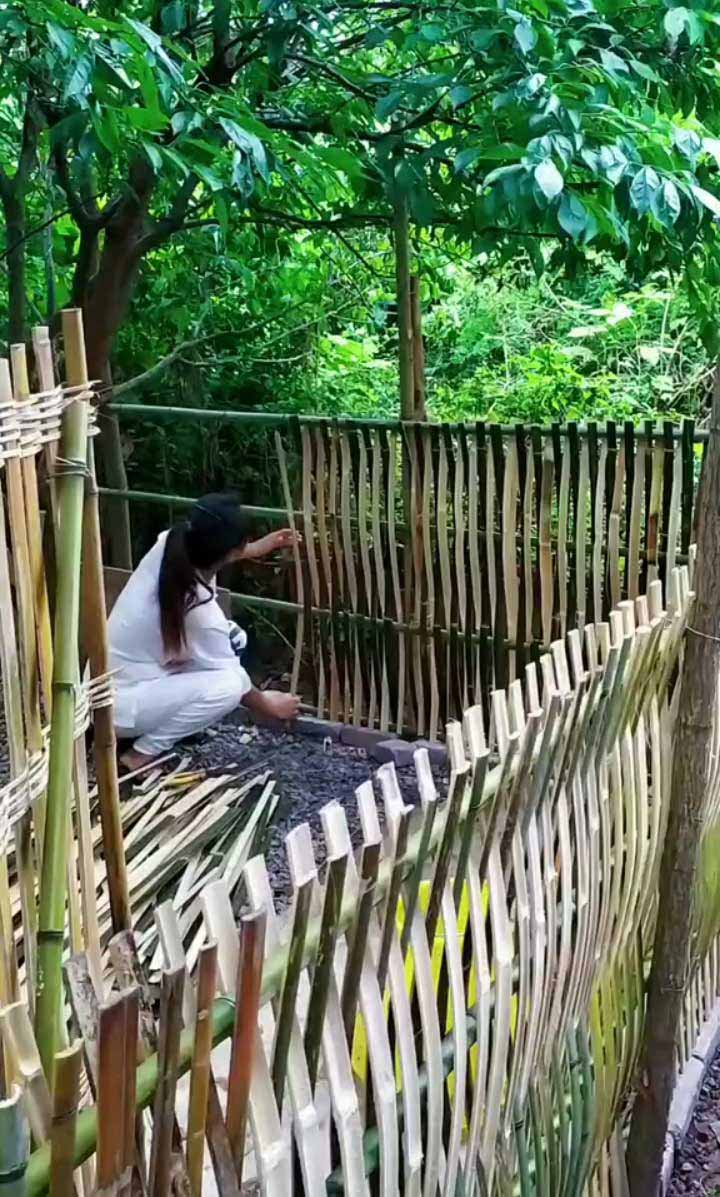 A bamboo fence can give your garden an exotic vibe. You can choose from thin or thick bamboo poles that are of varying lengths or uniform size. Apart from adding a touch of uniqueness and aesthetic appeal, bamboo fences can also provide privacy and security for your garden.
2. A Bamboo Plant Trellis Can Make For A Great Garden Decoration.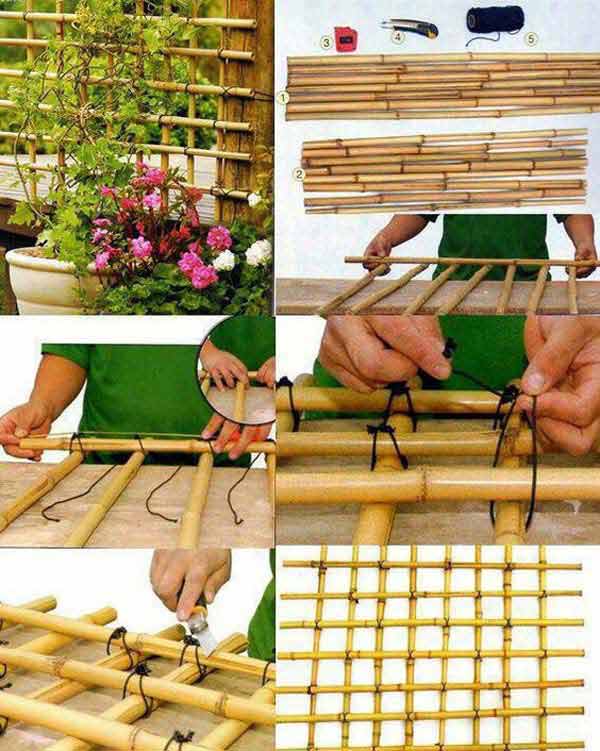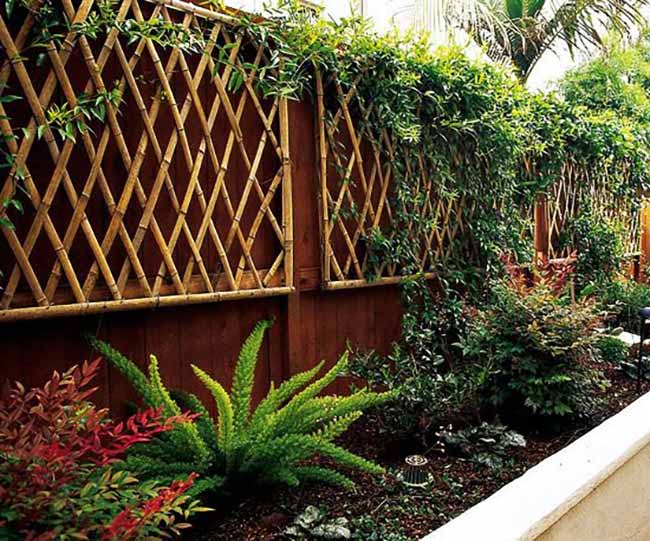 If you're looking for a garden decoration idea, consider using bamboo to create a plant trellis. It not only adds a natural and rustic element to your garden but also serves a practical purpose by supporting climbing plants.
Discover different techniques and creative ideas on what to do with bamboo to make a unique and functional trellis for your garden.
Source: tumblr.com
3. Create An Artwork On A Garden Gate Of Bamboo Poles.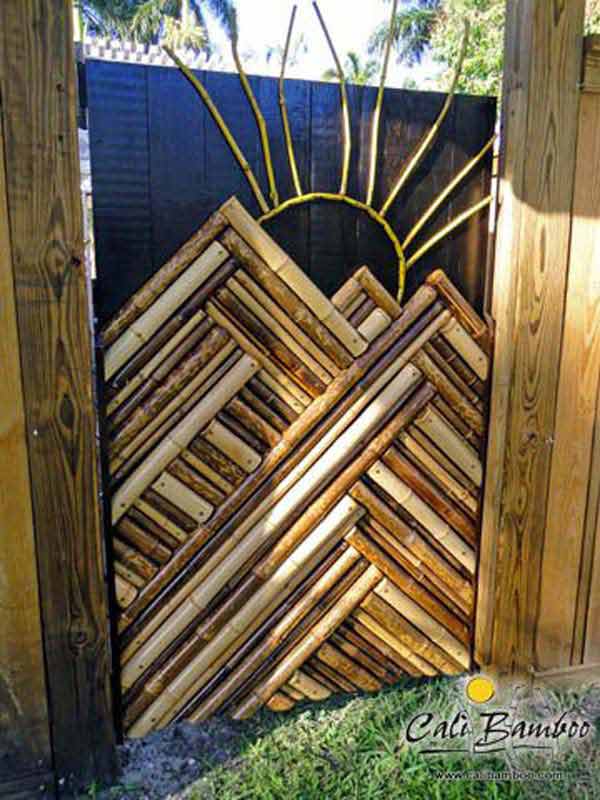 This project involves creating a unique artwork on a garden gate using bamboo poles, which requires a combination of creativity and bamboo craft design skills.
The bamboo poles can be arranged in various ways, such as weaving or knotting, to form a pattern or design that enhances the gate's aesthetic appeal while providing privacy and security. The finished product will be a stunning piece of bamboo art that not only adds value to the garden but also showcases the beauty of bamboo as a versatile material.
4. Bamboo Rain Gutter.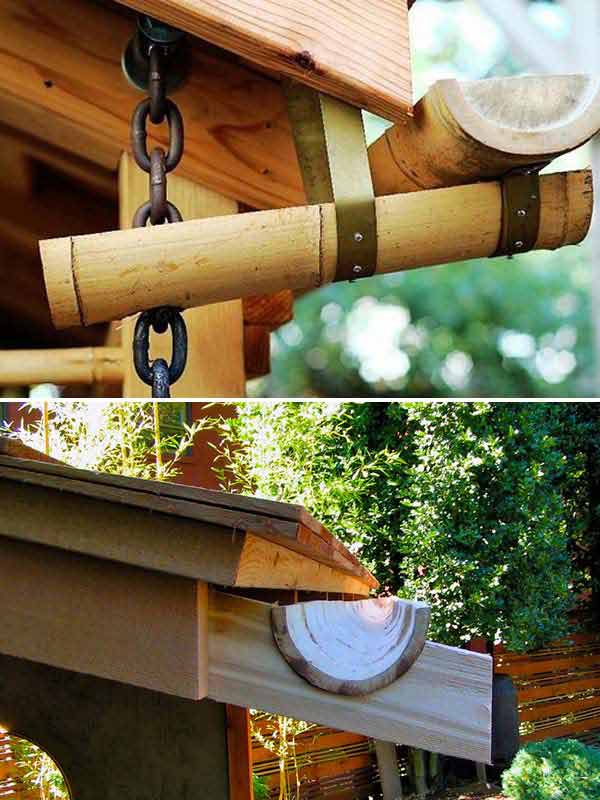 As a small bamboo project, the bamboo rain gutter offers more than just affordability and eco-friendliness. Its natural beauty and versatility make it a unique addition to any home or garden.
However, it's important to note that its lower durability means it may not be suitable for high-traffic areas or areas with extreme weather conditions. Regular maintenance and occasional replacements are necessary to ensure its longevity.
5. Beautiful Bamboo Hand Crafted Wind Chime.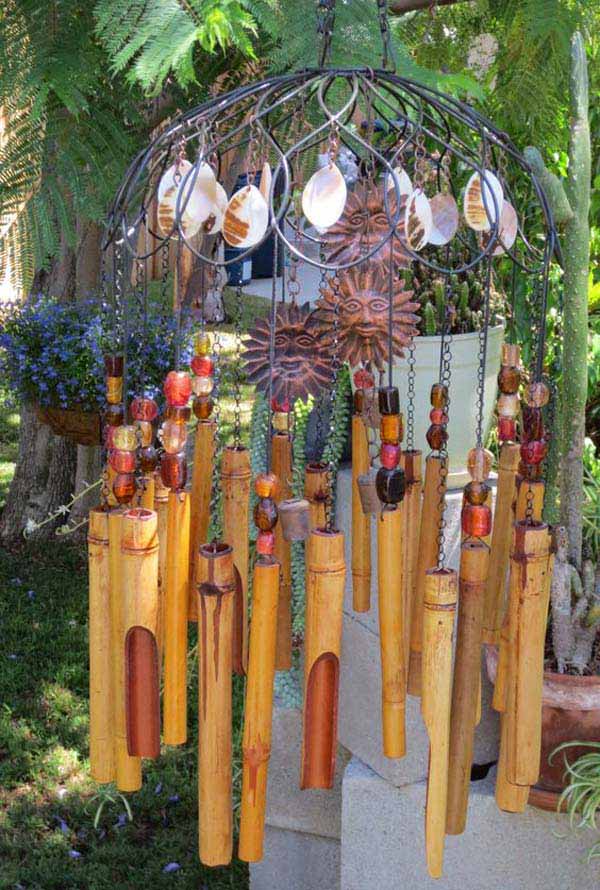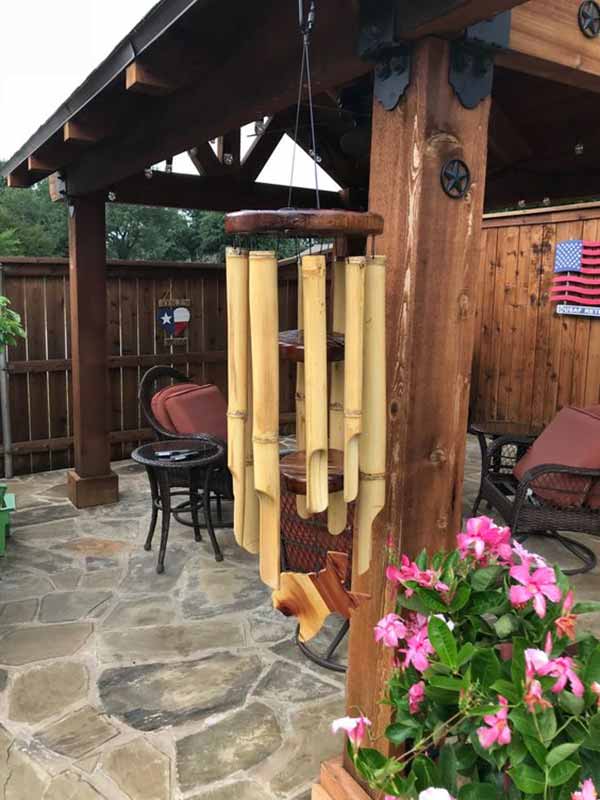 Creating easy bamboo crafts like a DIY bamboo wind chime can bring a sense of serenity and tranquility to your garden. Many believe that wind chimes made of bamboo purify energy and attract friendly spirits.
Hang your creation in a tree in your backyard or on the front porch to enjoy the soothing sounds it creates. Not only is it a simple and fun project to do, but it's also a beautiful and natural addition to your outdoor decor.
6. 100% Wonderful DIY Bamboo Trellis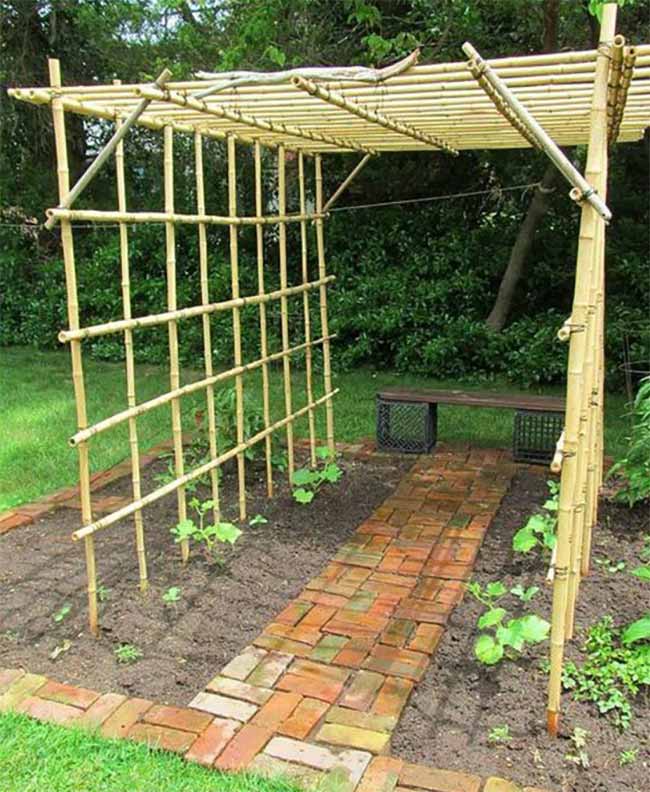 Require a garden trellis? Why not craft one using bamboo! A bamboo trellis proves highly practical for several garden needs.
The most evident role of a trellis is to offer sturdy support for climbing plants. Furthermore, it serves splendidly as both an ornamental addition and a means to enhance privacy.
7. These Tall And Lush Bamboo Screens Are Perfect To Create Privacy In Your Yard.

8. DIY Garden Waterfalls Using a stick of bamboo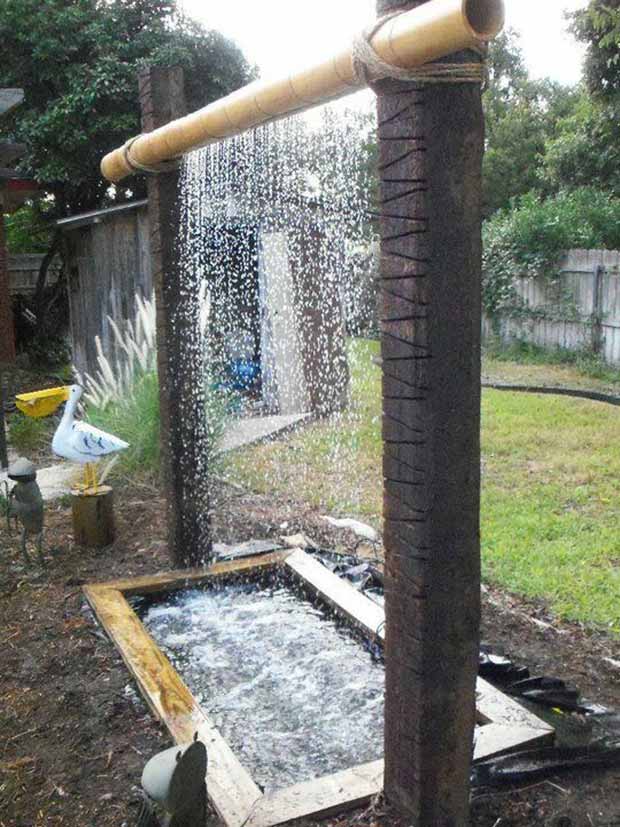 Gather a bamboo stick, suspend it between two logs (or any other bamboo sticks you might have!), employ a bit of basic pipe magic, and create a captivating waterfall that will enhance the beauty of your garden.
The gentle sound of the water trickling down will provide a soothing and relaxing ambiance, making your outdoor space even more enjoyable and inviting.
9. How About These Bamboo Lanterns?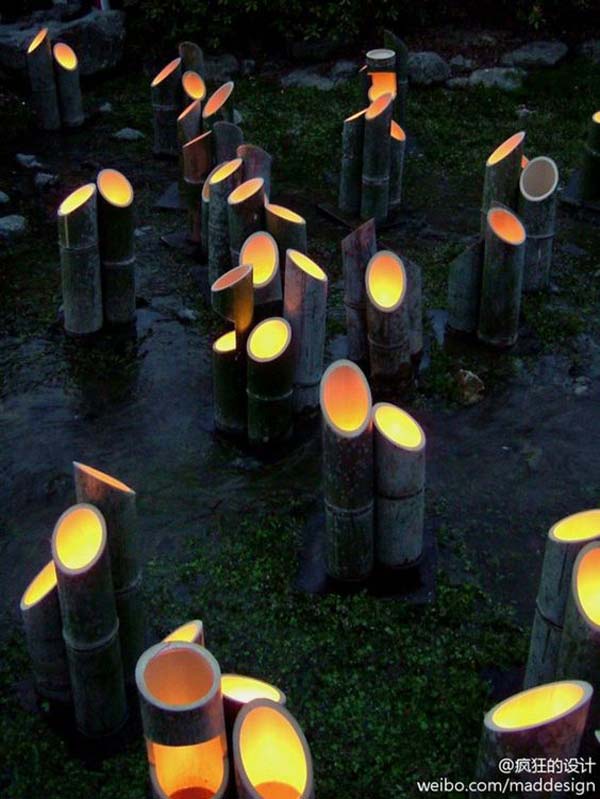 To create stunning bamboo lanterns, it's crucial to know how to use bamboo effectively. Start by selecting sturdy and straight bamboo poles. Cut them to size and shape using a saw and sandpaper.
Experiment with different patterns and designs, and add finishing touches like paint or natural oils. With these simple steps, you can create beautiful and functional lanterns that will impress anyone who sees them.
10. Create A Chic Privacy Screen For Your Outdoor Shower.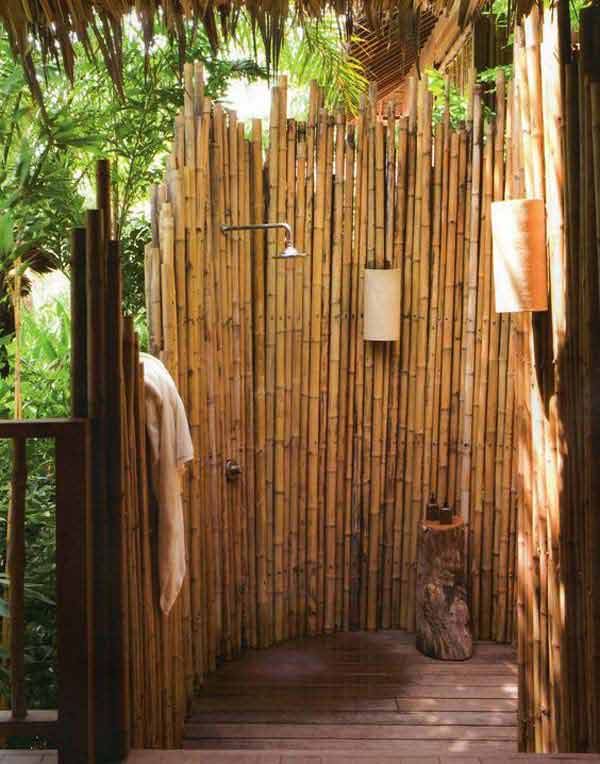 If you're looking for bamboo ideas to enhance your outdoor space, consider adding an outdoor shower. It's a great addition to your garden, pool area, or beach house to create a tropical atmosphere.
You can build an enclosure using whole bamboo poles or half-split poles, following a half-circle shape. This DIY project is similar to making bamboo fencing and will add a touch of natural charm to your outdoor oasis.
11. You Can Paint Them Any Color You Want And Turn Them Into Hanging Planters.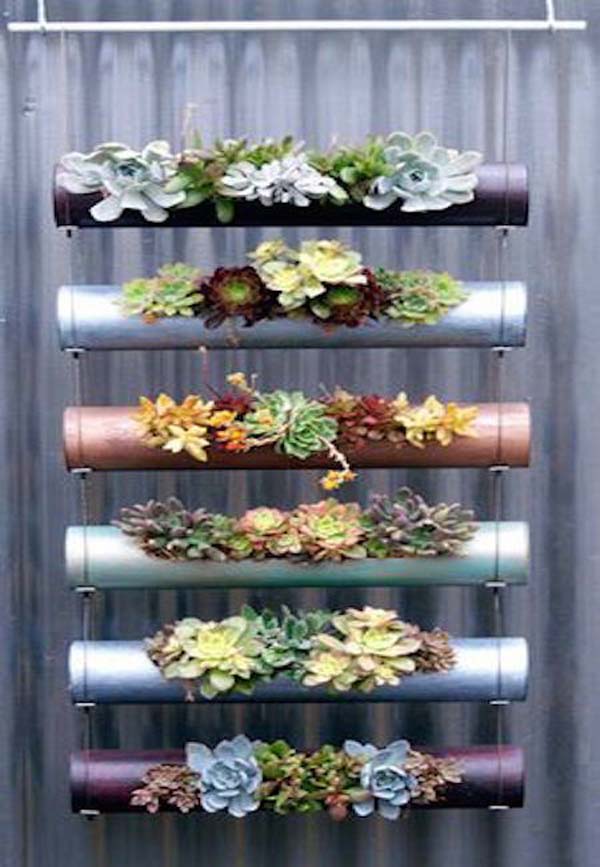 Bamboo is a versatile material with many uses at home. One idea is to repurpose bamboo poles into hanging planters. Paint them in any color to match your decor, and hang them from your porch or balcony.
Bamboo planters add a natural and eco-friendly touch to your home, while also providing a unique and beautiful way to display your favorite plants. Make sure to drill small holes at the bottom before filling it with soil.
12. Build a simple garden bench.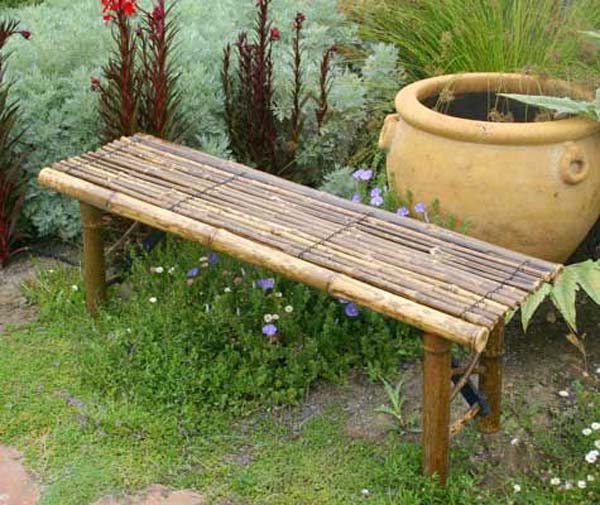 13. Choose Bamboo Sticks Or Poles As A Beautiful And Rustic Decoration For Your Bathroom Walls.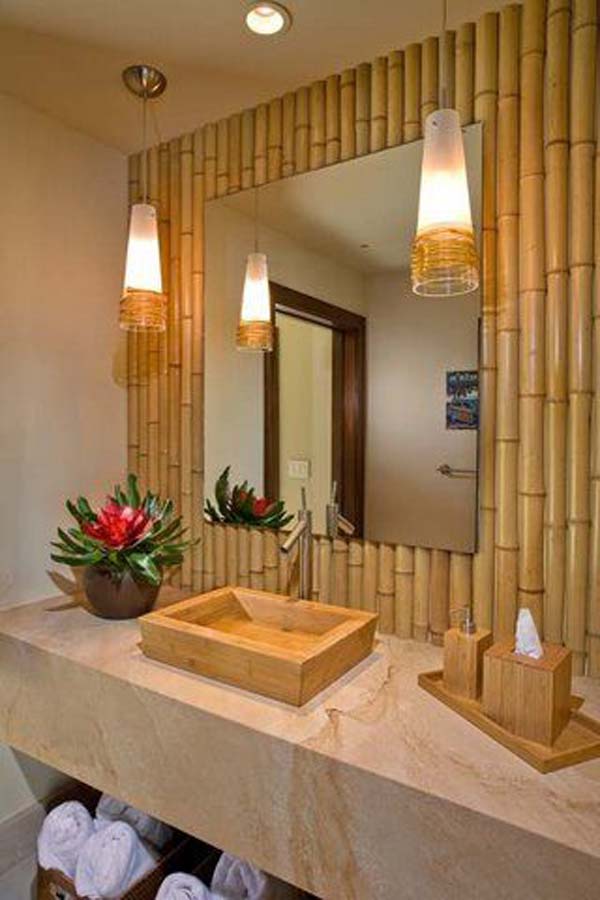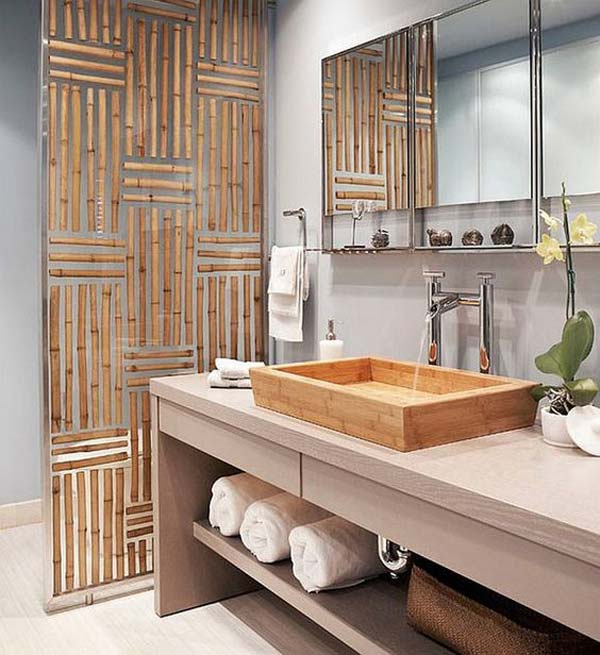 Adding bamboo is an excellent way to add a touch of natural elegance to your home. In the bathroom, you can use bamboo sticks or poles to create a beautiful and rustic wall decoration.
Arrange them in a pattern, and secure them to the wall using nails or adhesive. You can also paint or stain the bamboo to match your bathroom decor. With bamboo decoration, you can transform your bathroom into a tranquil and serene space.
14. Stunning Suspended Bamboo Garden Will Capture Every Guest's Attention.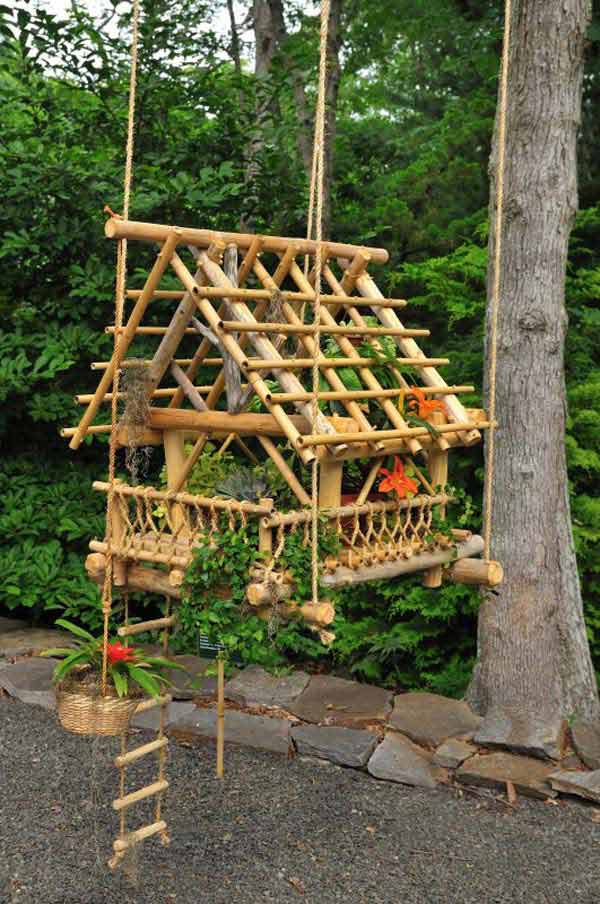 Source: pbase.com
15. Make a photo frame from this eco-friendly material.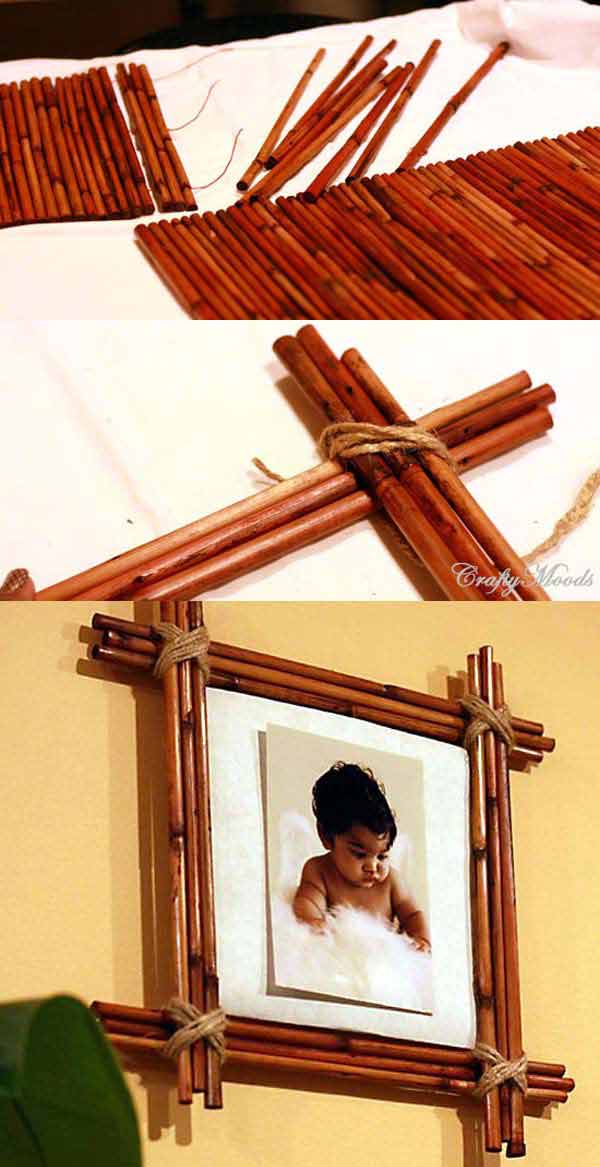 If you're looking for a fun DIY project, consider making a photo frame using eco-friendly bamboo! Bamboo is a versatile material that can be easily shaped and customized to fit your unique style.
Not only is it sustainable, but it also adds a natural touch to any home decor. Try out this simple bamboo craft and showcase your favorite memories in a frame that you made yourself!
16. Bamboo Is A Perfect Material To Build Your Courtyard Gate.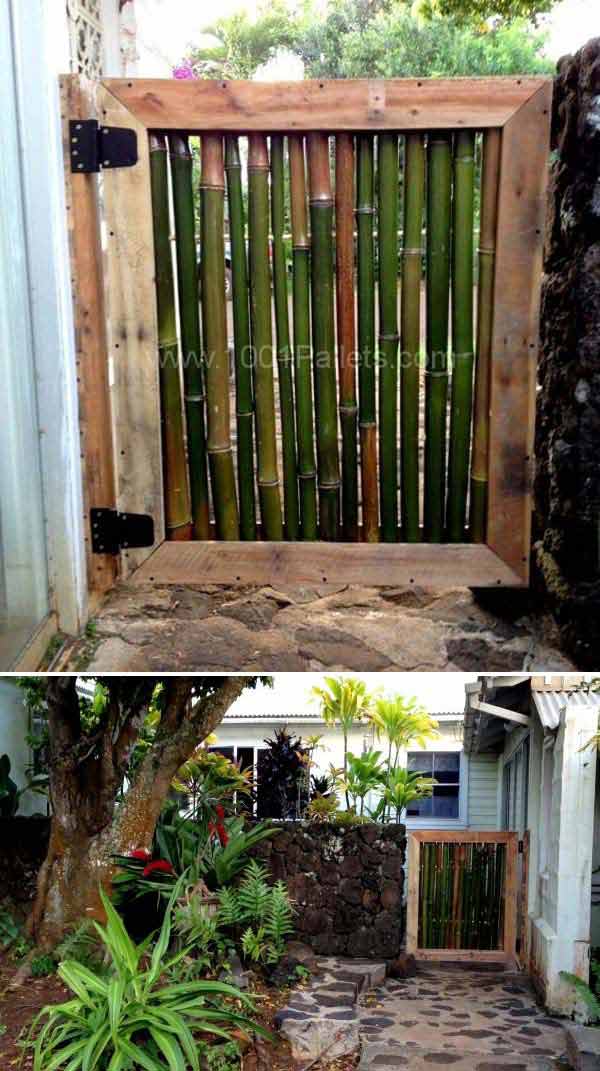 When exploring uses for bamboo, building a matching gate for your yard fence using bamboo poles can be a great option. The process is similar to that of making a bamboo garden fence but with added hinges and locks.
Depending on your preference, you can create a single large gate or a double door. Using bamboo as the primary material for both the fence and gate will not only give your yard a cohesive look but also add a sustainable touch to your outdoor space.
Source: 1001pallets.com
17. A simple blanket ladder for your bathroom.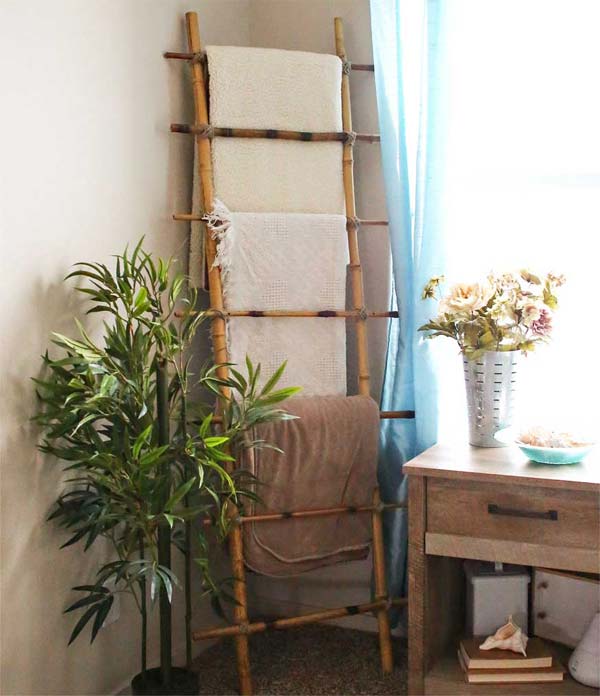 This DIY Blanket Ladder made of bamboo is both practical and easy to build. The best part is, you don't need advanced skills or specialized equipment to make it.
Moreover, it's versatile: you can utilize it as a towel holder or use it to hang clothes in your room for a stylish touch. With this project, you'll have a functional and attractive addition to your living space.
Get Great Tutorial for Above Project ====> kleinworthco.com
18. You Can Use Them In A Cascading Fountain.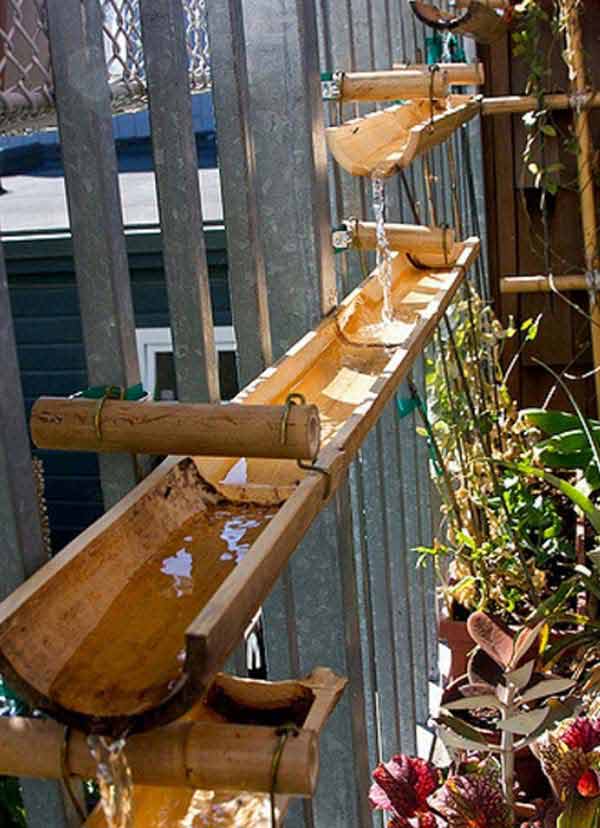 Building a cascading fountain in your garden can create a refreshing atmosphere. The fountain is made using bamboo poles that are alternately split, giving the impression that the water is flowing from one pole to another.
This project is an excellent example of a sophisticated DIY bamboo craft, but it may take some time to complete. Despite the effort, the results are impressive and speak for themselves. By creating a bamboo cascading fountain, you can add a unique touch of elegance to your garden.
Get Great Tutorial for Above Project ====> typepad.com
19. Make A Garden Teepee To Grow Pole Beans Or Tomato.

A great way to grow pole beans or tomatoes in your garden is to make a garden teepee. The teepee can be constructed using bamboo sticks or poles that are tied together at the top, forming a cone shape.
In addition, you can use bamboo sticks to create a tomato cage, which will provide support for your tomato plants to grow upright. The tomato cage will also prevent the fruits from falling to the ground, keeping them clean and easy to harvest.
Get Great Tutorial for Bottom Project ====> thepaintedhinge.com
20. Using Bamboo Poles And Rope To Create Side Railings Can Be An Awesome Garden Or Yard Feature.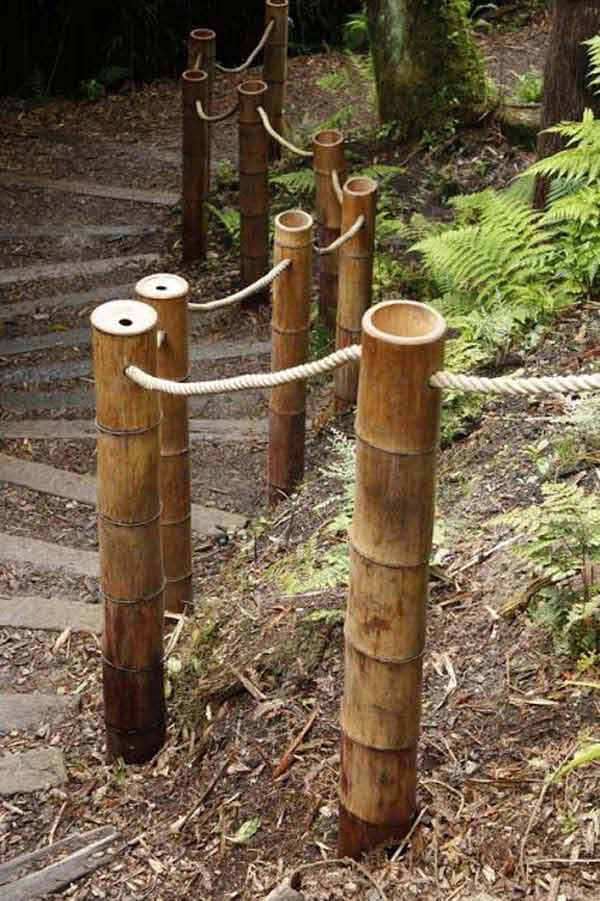 Creating side railings using bamboo poles and rope is a simple and eco-friendly DIY bamboo project that can add charm to your garden or yard. By utilizing rope to secure the bamboo poles, you can achieve a rustic look that complements a variety of outdoor settings.
21. A Luxury Birdhouse Or Bird Feeder Can Be A Great Addition To Your Yard.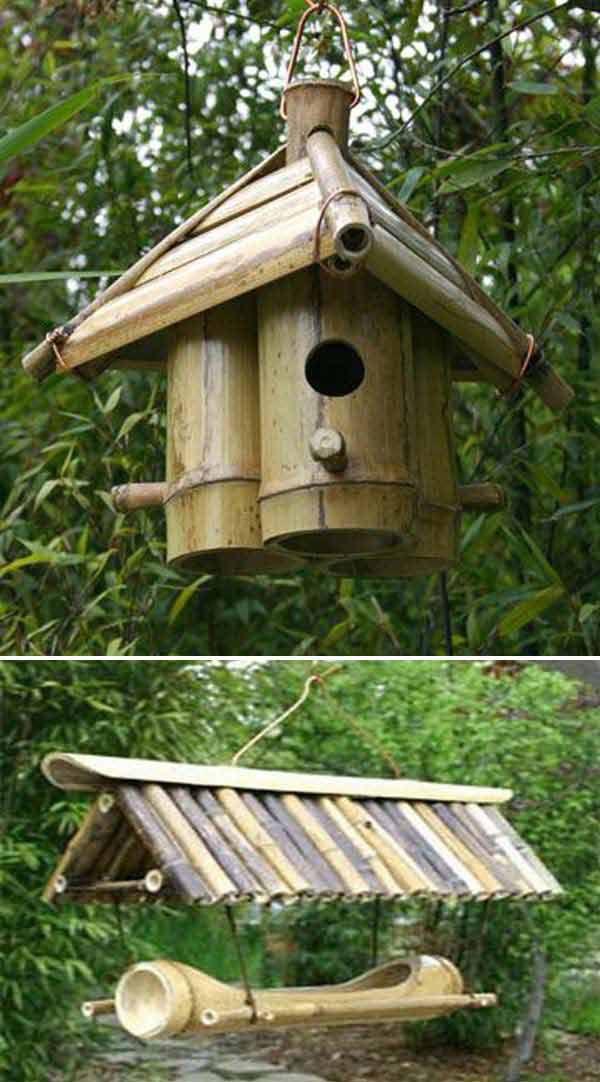 Source: bamboo4birds.com
22. Headboard Made From Two Wooden Sticks And Some Bamboo Poles.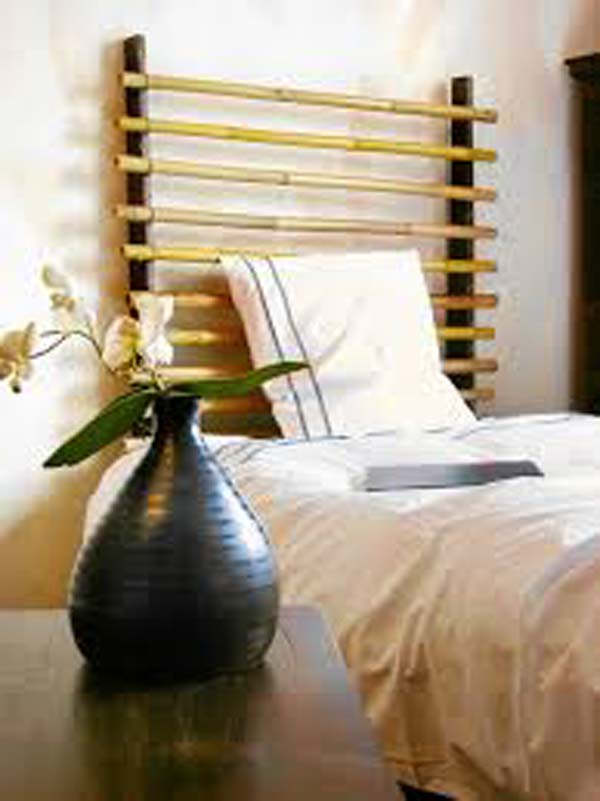 Bamboo poles are a great material for DIY bamboo home decor projects, such as creating a unique and stylish headboard for your bed.
By using just two wooden sticks and some bamboo poles, you can create a beautiful and natural-looking headboard that will bring a touch of the outdoors into your bedroom.
23. Fencing Not Only Provides Privacy But Can Also Serve As An Outdoor Landscape Feature.

Adding a bamboo fence to your garden not only provides privacy, but also adds a unique and exotic feel to your outdoor space. You can use decorative bamboo sticks of various thickness and length to create a stunning fence.
Simply line up the bamboo poles and tie them together with nylon twine for a rustic look, similar to making a raft. Alternatively, you can enclose the bamboo fence in a cedar wood frame to create a more modern and sleek vertical panel. With its natural beauty and versatility, a decorative bamboo fence can transform your garden into a tranquil and relaxing oasis.
Source: houzz.com
24. Vertical Bamboo Planter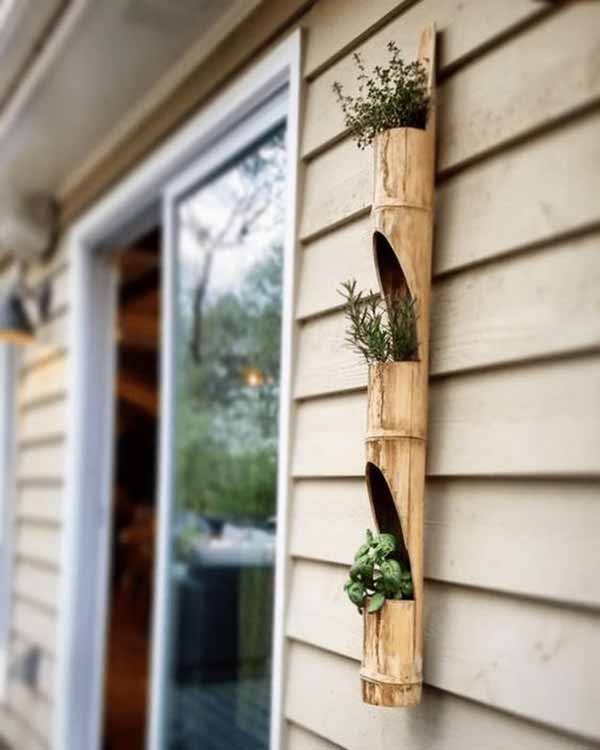 In addition to using a bamboo trellis, you can enhance the appearance of your balcony, courtyard, or patio by constructing a vertical bamboo planter. By utilizing a bamboo pole that has an UNDAMAGED BASE, you can make bamboo planters that will securely hold the soil. It is important to remember to drill small holes in the rear section. This will ensure proper drainage of excess water.
25. Room Divider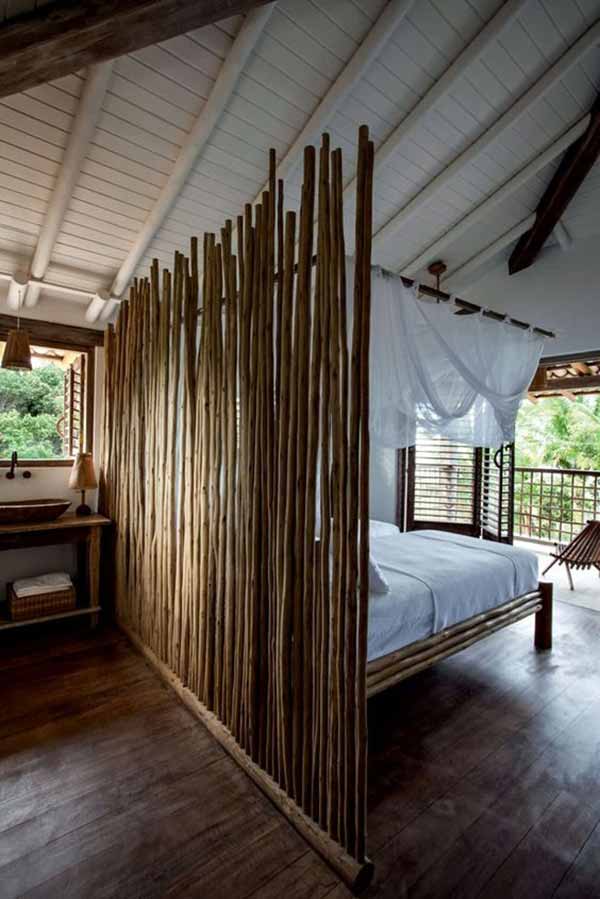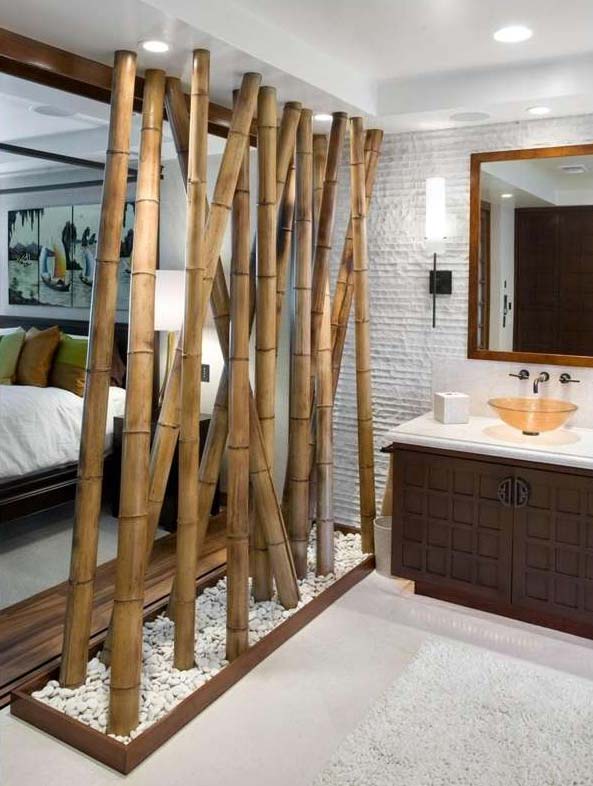 Image via: houzz
Creating a bamboo room divider can give the appearance of an indoor bamboo fence, effectively separating the space while also preserving the visual flow of the area. To add visual appeal to the design, you can construct the divider using bamboo poles of different lengths.
26. Bamboo Garden Cubby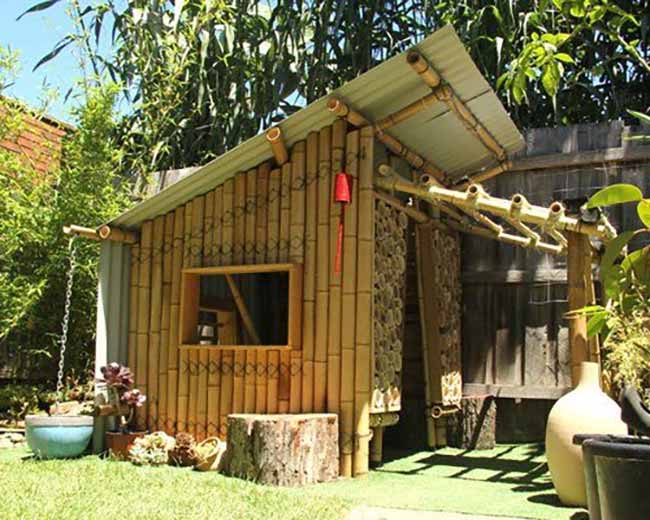 Adding this bamboo cubby to your garden would be a fantastic idea. It can serve multiple purposes, including being a hidden fort for your child, a miniature playhouse for your furry friend, or a place for you to kick back and relax. With the addition of some cushions and furniture, you can easily transform it into a cozy and inviting space.
27. A Bamboo Pergola for Your Garden