26 Breathtaking Yard and Patio String Lighting Ideas Will Fascinate You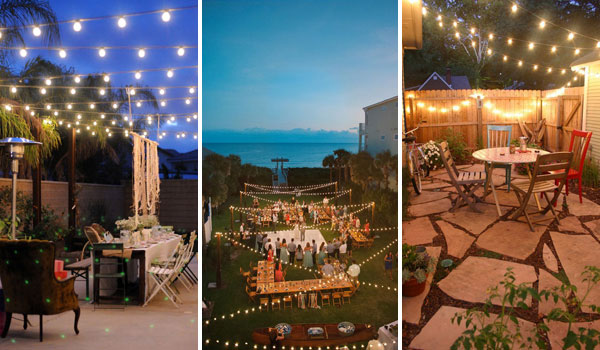 Do you often remember those beautiful outdoor string lights shining in a memorable party? Why not use them to decorate your patio, backyard, or garden to let these glowing accents accompany you every day? Adding outdoor patio lighting ideas can create a warm and inviting atmosphere, and outdoor string lights are one of the best ways to personalize your outdoor space. They're not just for festive holidays; they're perfect for dinner parties or romantic BBQs too. At night, these tiny lights emit a warm glow and add a touch of undeniable elegance to your backyard oasis. Moreover, they're inexpensive and easy to install. You can also learn outdoor patio lighting ideas created with DIY poles. We've gathered here 26 amazing outdoor string light ideas for you, so don't let your string lights collect dust in the garage!
#1 Outdoor String Light Ideas for Your Back Patio
Transform your back patio into a cozy haven by hanging string lights above. With the right lighting, you'll want to spend every evening relaxing in this inviting outdoor space. See more at Root + Dwell.
#2 Backyard String Lights Ideas for Your Fire Pit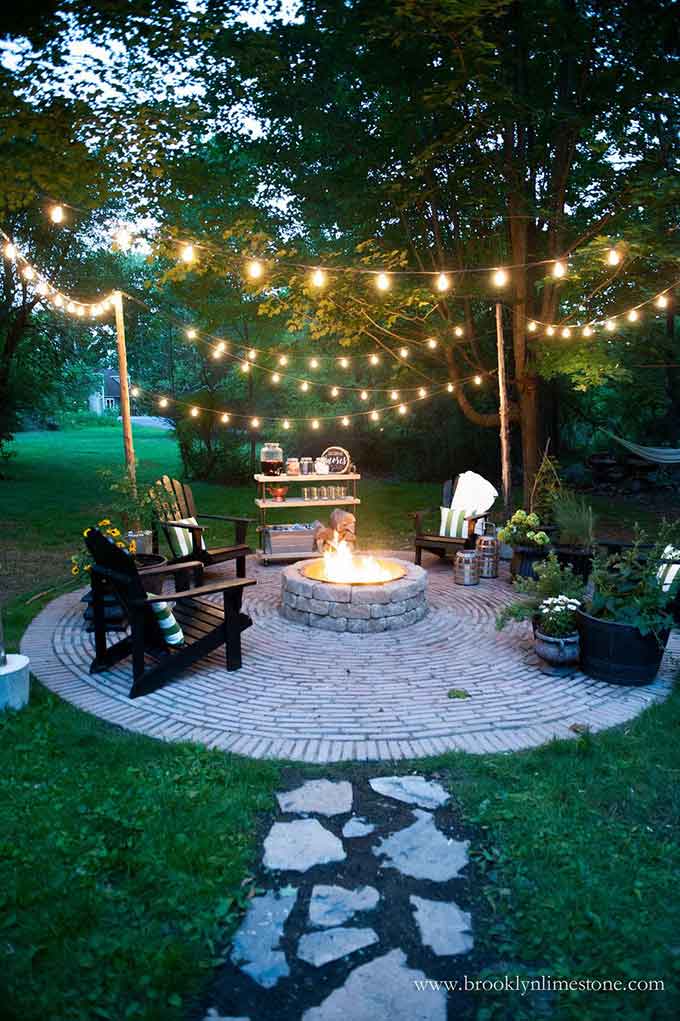 Gather around the fire pit with friends and family and enhance the ambiance with the warm glow of string lights. The combination of flickering flames and twinkling lights is the perfect recipe for a cozy night. See more at Brooklyn Limestone.
#3 Garden Pergola Outdoor String Light Ideas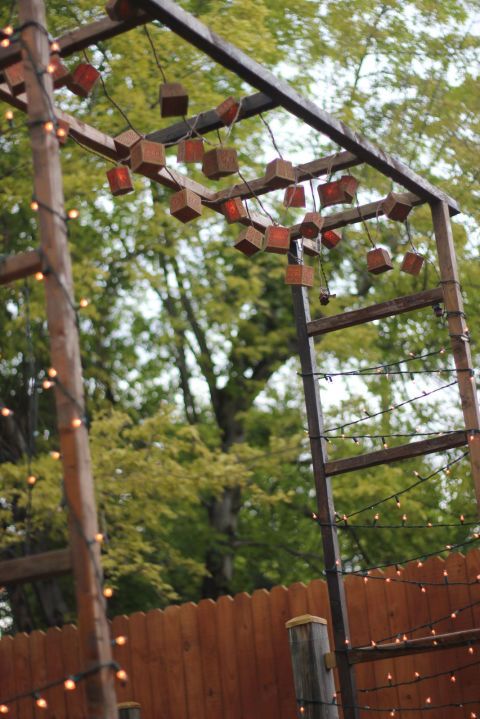 Add a touch of whimsy to your garden with a charming mini pergola made from vintage ladders. Hang string lights to create a dreamy backdrop for photos or a romantic dinner under the stars. Get the tutorial at Kojo Designs.
#4 Create a Canopy of Outdoor Party Lights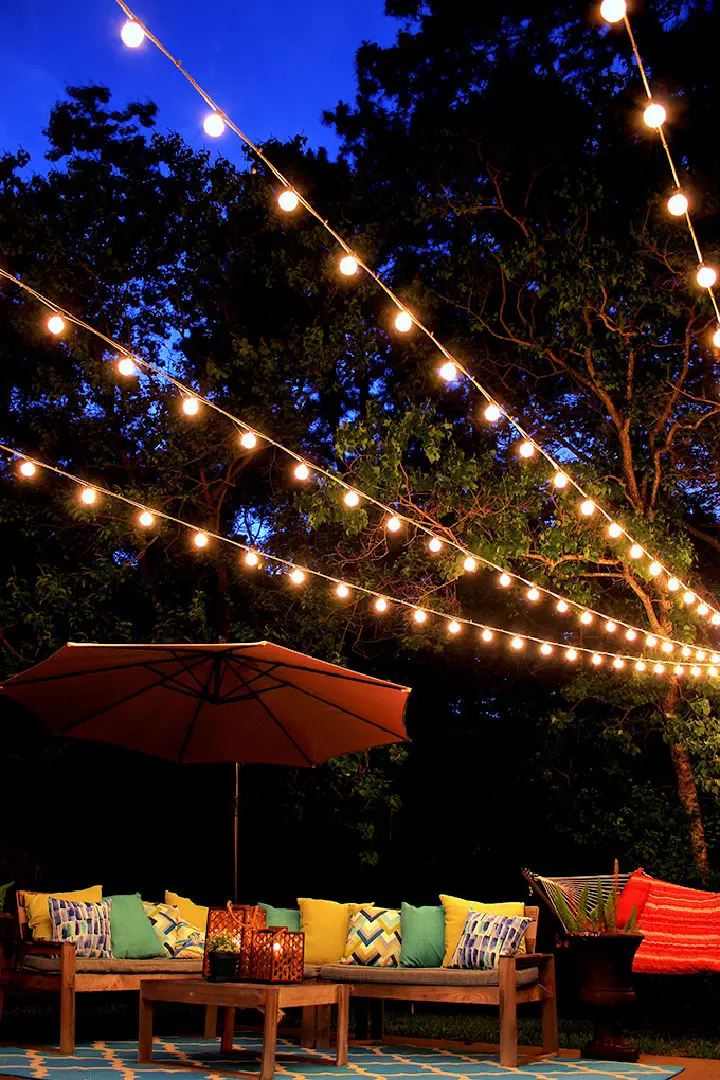 Transform your backyard into a magical wonderland by creating a canopy of string lights. This lighting plan is perfect for outdoor parties or simply adding more brightness to your patio and backyard.
To hang the lights, you'll need patio string lights, eye hooks, zip ties, a power drill, a wire cutter, steel thimbles, and galvanized steel wire. You can even use a large tree pin to hang the fences or ropes for a whimsical touch. More at: grayhousestudio
#5 LED String Lights for Your Garden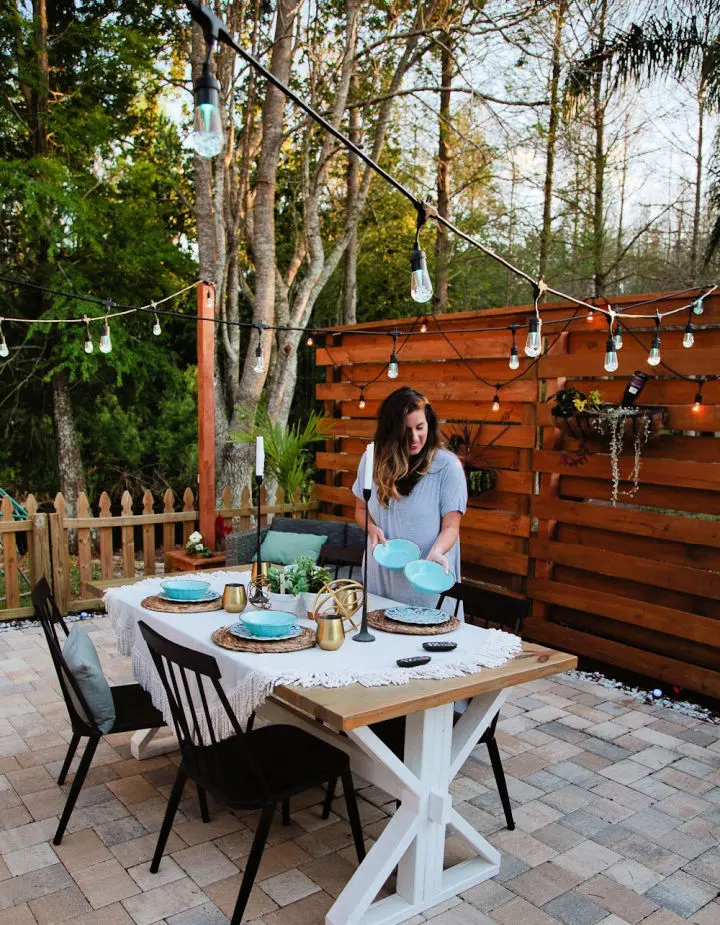 Elevate the ambiance of your outdoor gatherings with LED string lights in your garden. Install these lights easily with a DIY plan and some simple supplies like untreated wood, pots with soil, LED string lights, and hooks. These outdoor patio lighting ideas are perfect for creating a cozy atmosphere. More at: freshmommy
#6 Luminar Outdoor String Lights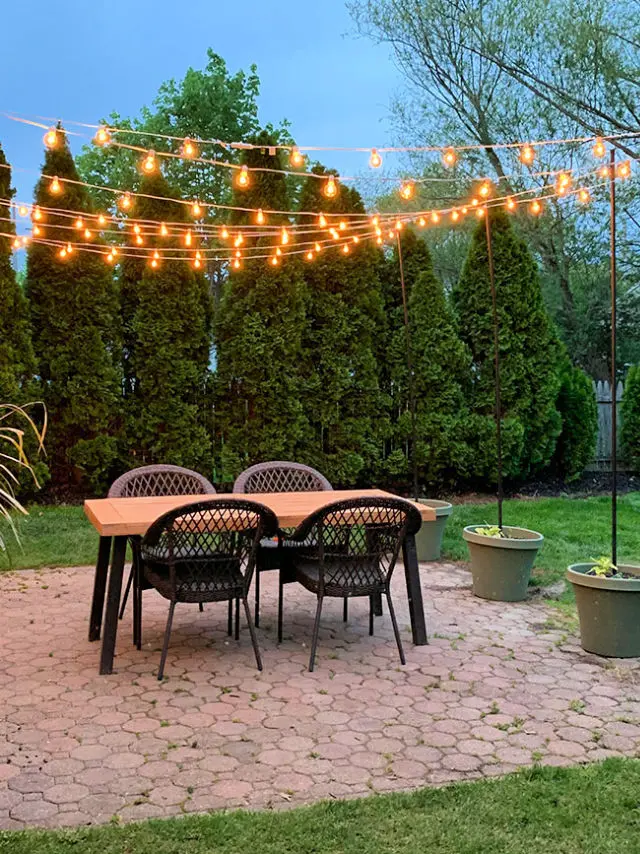 Make your patio or deck shine with a beautiful arbor of outdoor string lights. If you don't have any structures to hang the lights, add wooden posts for support. To create this backyard bistro lights look, gather materials such as wooden posts, light strings, hooks, and planting pots with soil. More at: thehoneycombhome
#7 Commercial Grade String Lights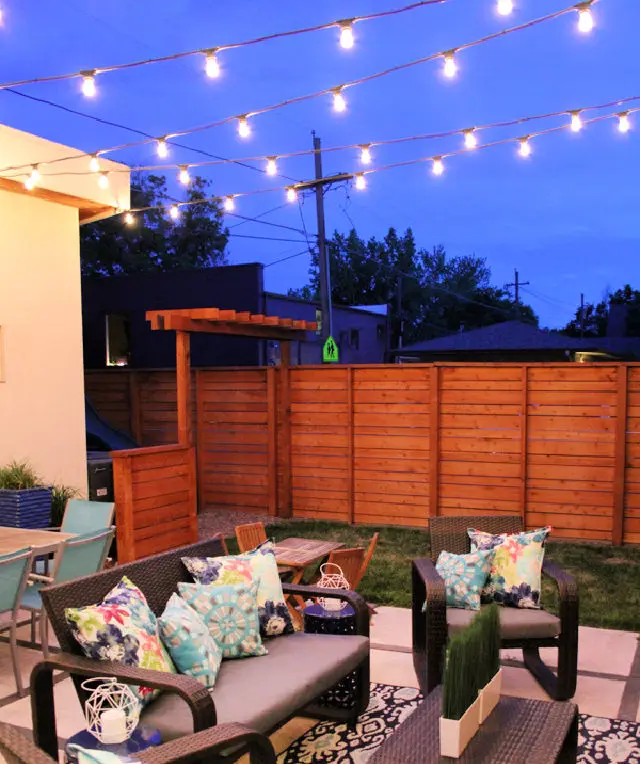 Create a brighter and more inviting outdoor space with commercial grade string lights on your patio or backyard. You can install these lights yourself by following a DIY craft guide. The materials needed for installation include commercial grade string lights, hooks, clamps, wire cutter, and outdoor plugs. These patio lights are perfect for outdoor dining and entertaining. More at: blueistyle
#8 Cheap Outdoor String Lights on Poles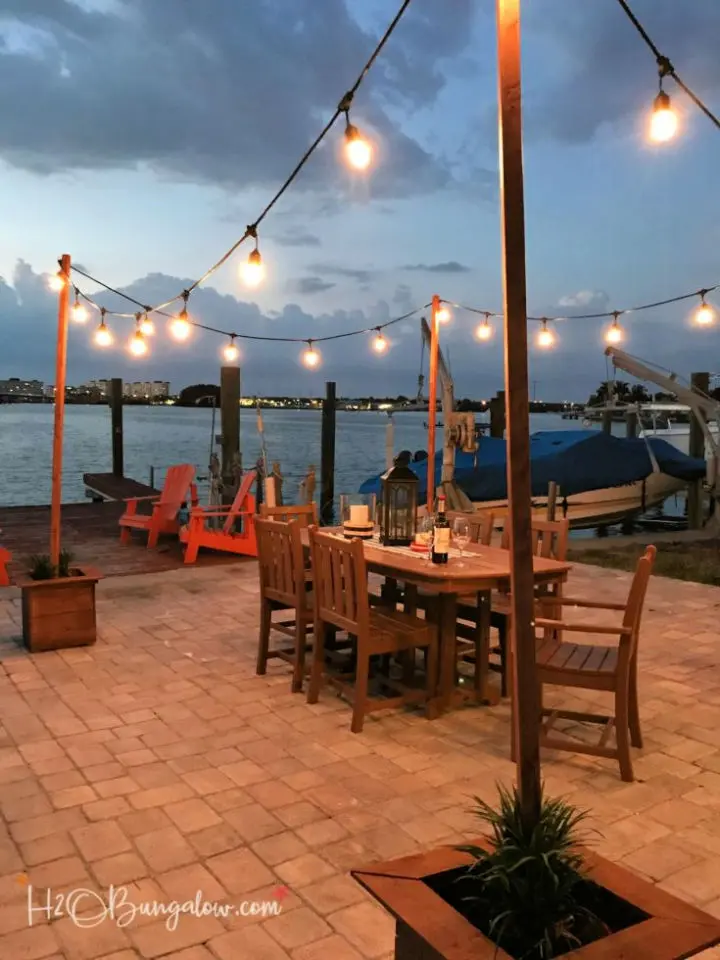 Transform your outdoor area with cheap outdoor string lights on poles. If you already have installed poles or taller planters in your outdoor space, these lights are the perfect solution. Gather supplies such as wooden poles, string lights or Edison bulb's lights, and screws to easily install these patio lights. More at: h3obungalow
#9 Add String Lights to A Rustic Patio
String lights are great to enhance the ambiance of a rustic patio or backyard. A few dark green chairs and stacking firewood make the patio look delightfully bucolic and classic.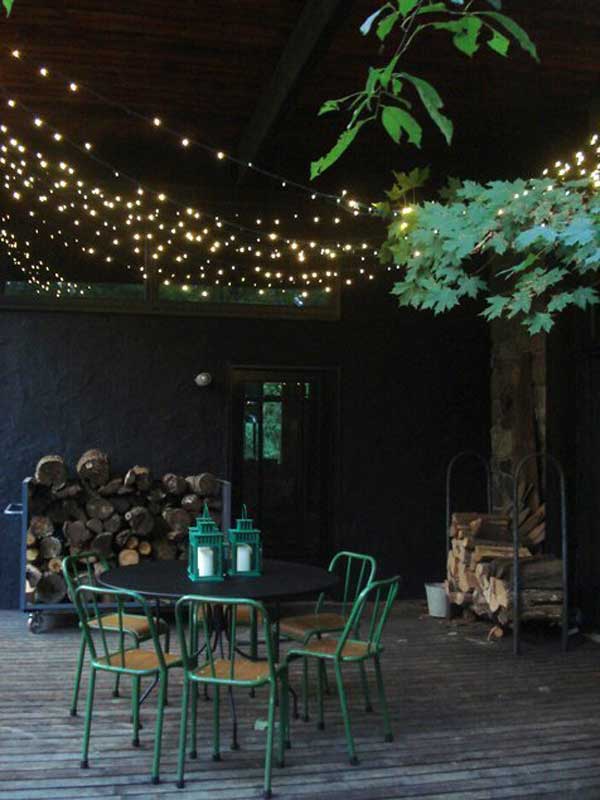 #10 Light Up Garden Walkways
Hang up a long row of hanging string lights on wooden posts to light up your garden walkways. You can imagine that the garden will come to life in the evening.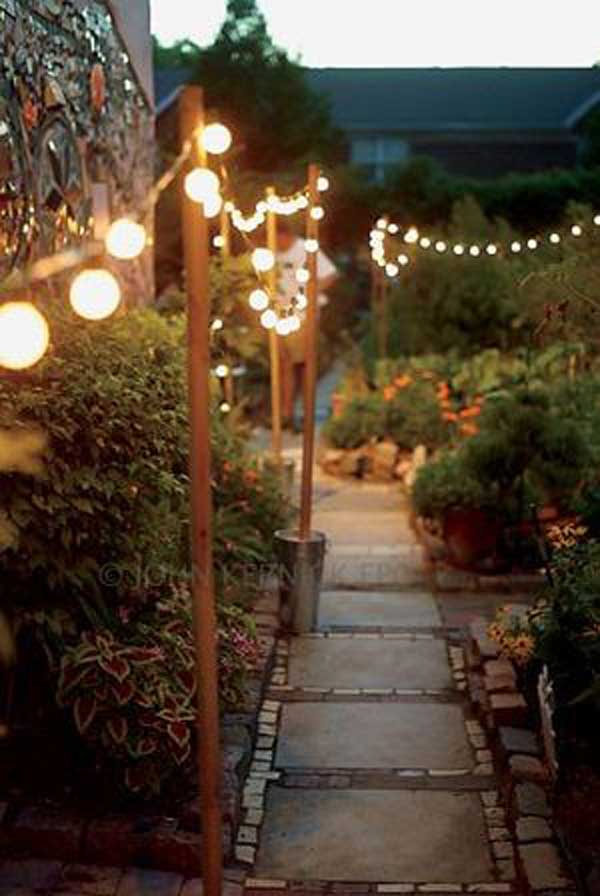 #11 Brighten Up Dining Spaces
Besides providing a soft, medium-level of light for your dinner party, the pretty patio string lights create a blissful atmosphere and make your outdoor dining area more inviting.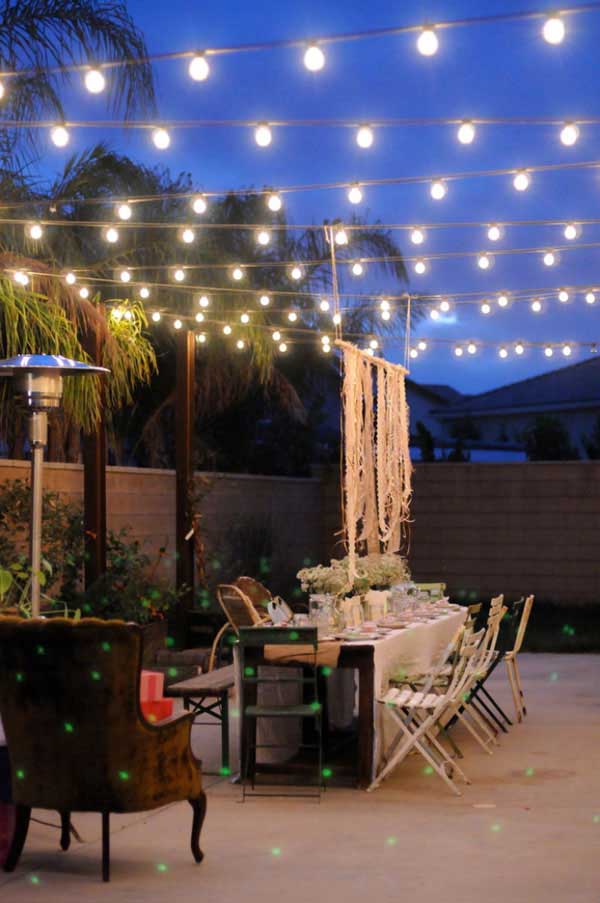 #12 For a Porch
String lights are a fabulous way to illuminate your entire porch without creating a harsh bright light. Simply twine string lights around ceiling beams.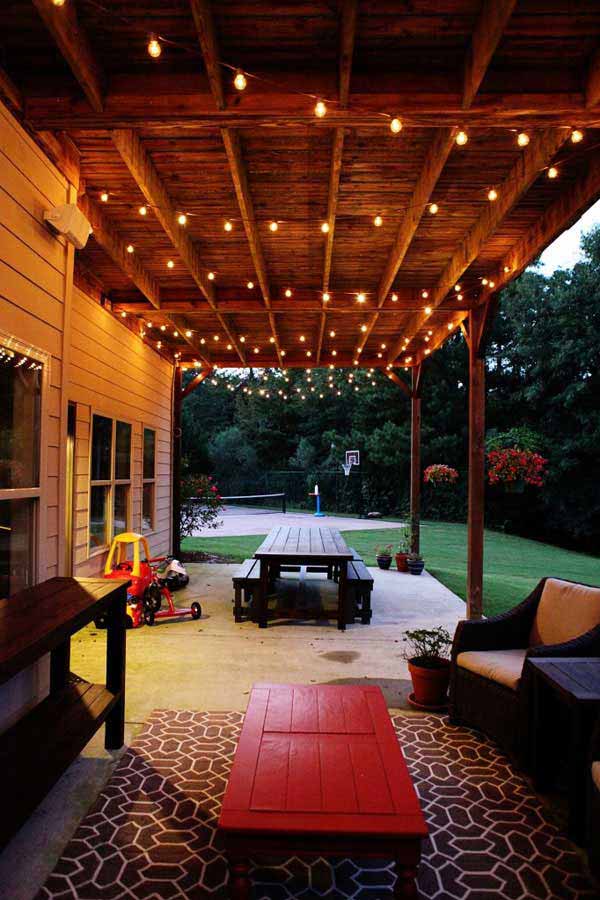 Source: bowerpowerblog.com
#13 Hang String Lights Over a X-Leg Bench Set
A X-leg bench set gives you a cozy spot to enjoy your relaxing time in your backyard. Create a overhang with a single string of outdoor bulb lights to add a warm glow.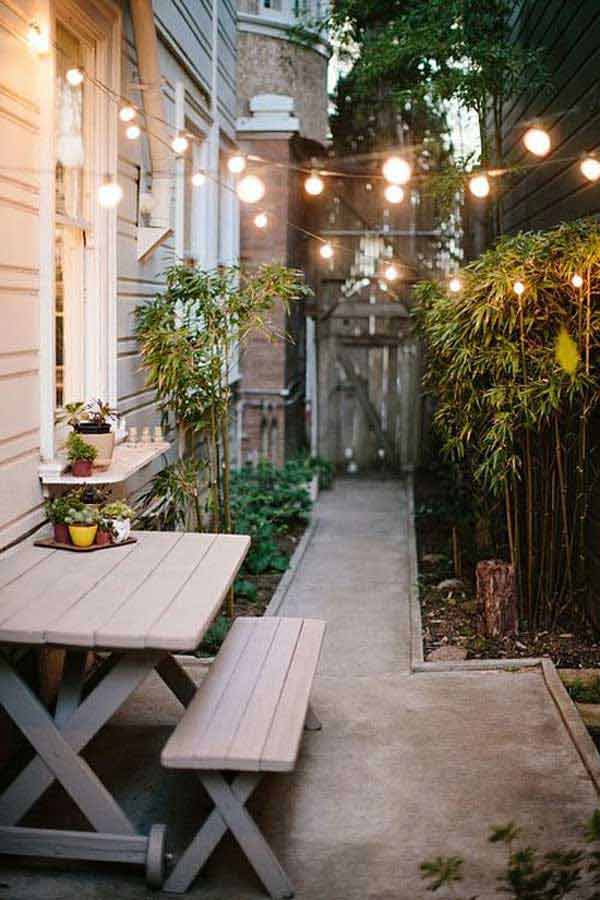 #14 A Cozy and Warm Small Patio
Only string lights could make this small patio even cozier. The warm glow make the flagstone floor look so inviting.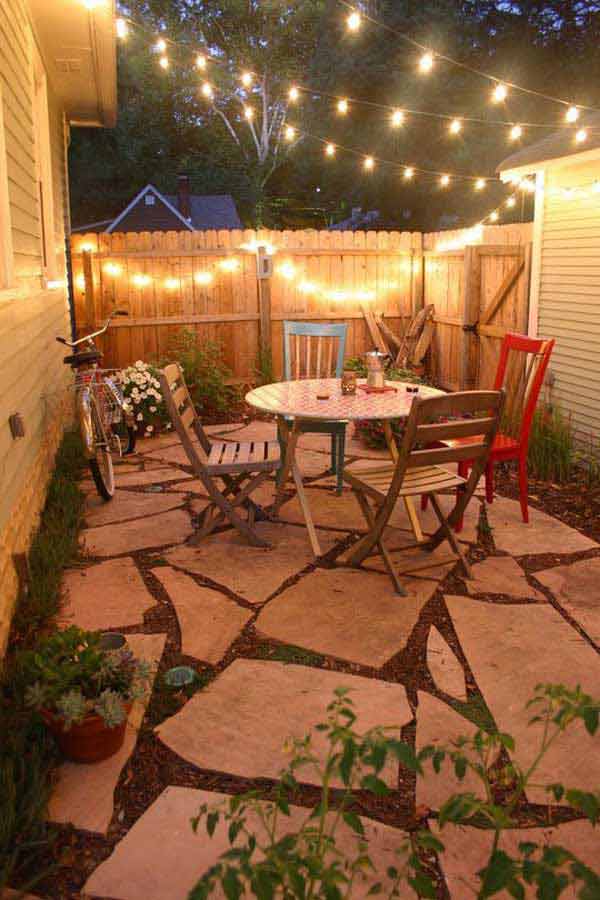 Source: apartmenttherapy.com
#15 Light Up Outdoor Spaces At Wedding
Hang outdoor string lights from wood poles to create fun pattern. As the night draws in your outdoor wedding space will look magical as they become lit up.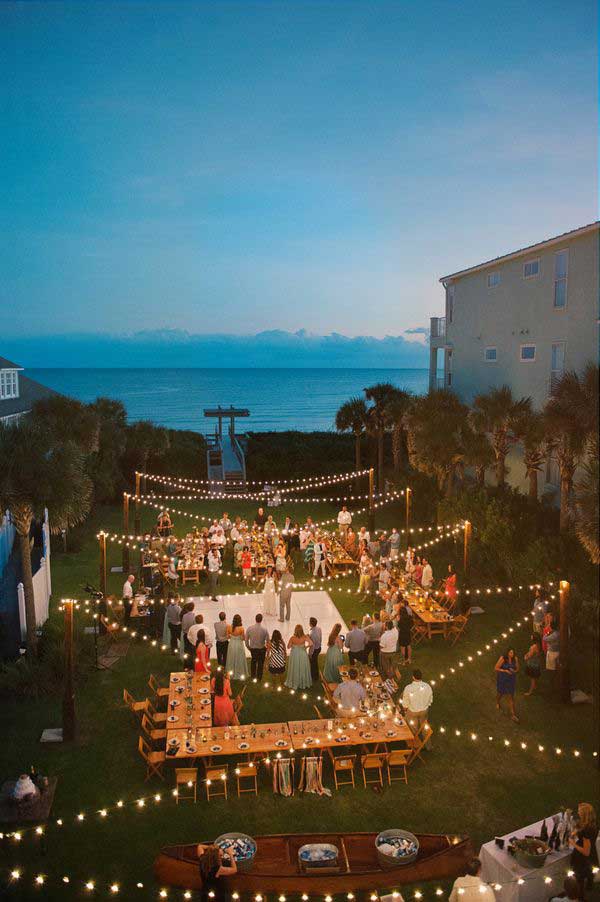 #16 Across a Small Yard
Plant to host your next backyard dinner party? Hang a few strands of string lights between backyard fences to create the perfect outdoor dining space. The lights bring a delicate glow to that space and add a touch of coziness.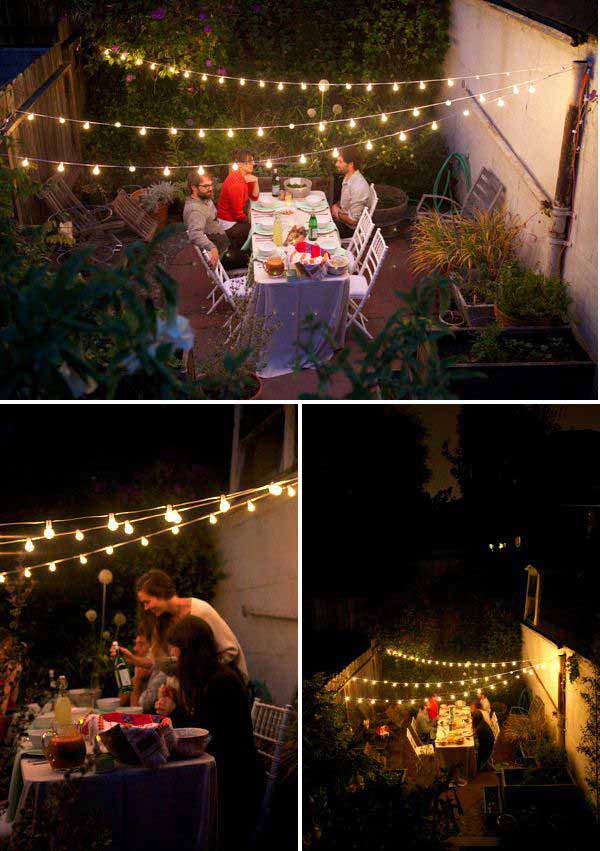 Source: ohhappyday.com
#17 Across an Entryway
It is another patio with rustic style. Make use of a wall and rooftop to install your string lights in a zigzag pattern across the patio. The above string lights add a bit more charm to the space.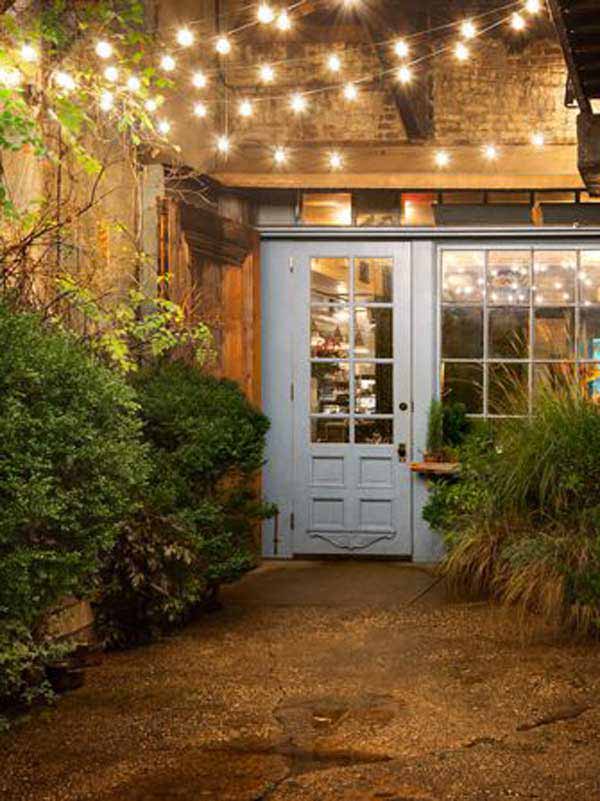 Source: refinery29.com
#18 String Lighting Decked Area
String lights are an easy way to turn your outdoor space into an enchanting oasis. This tiny deck with outdoor kitchen and dining area uses patio light ideas for a stunning finish.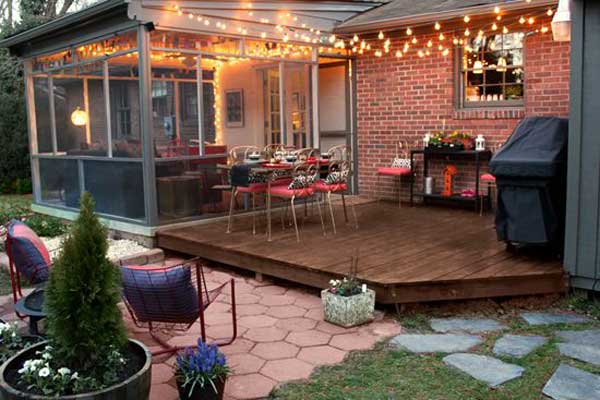 Source: u-fab.com
#19 Drape the Pergola
Pergola gives you a pleasant place for relaxing. You can set up a cozy sitting area under the pergola. The beams of pergola are ideal for stringing up fairy bulb lights.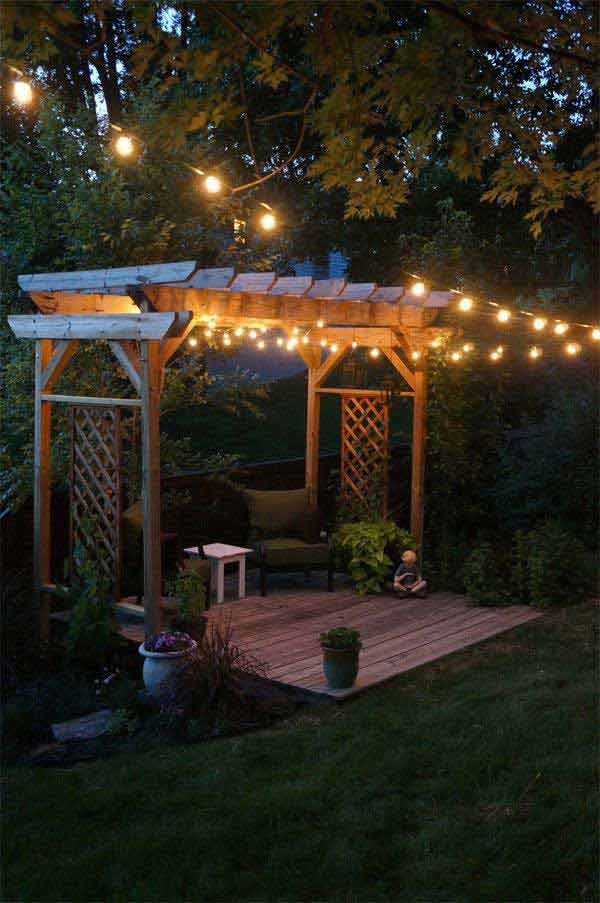 #20 String Lights Backdrop
Simply line string lights up in rows to help you transform your backyard wall into a stunning backdrop at night time. This inspiring installation will be sure to create a big visual impact as well.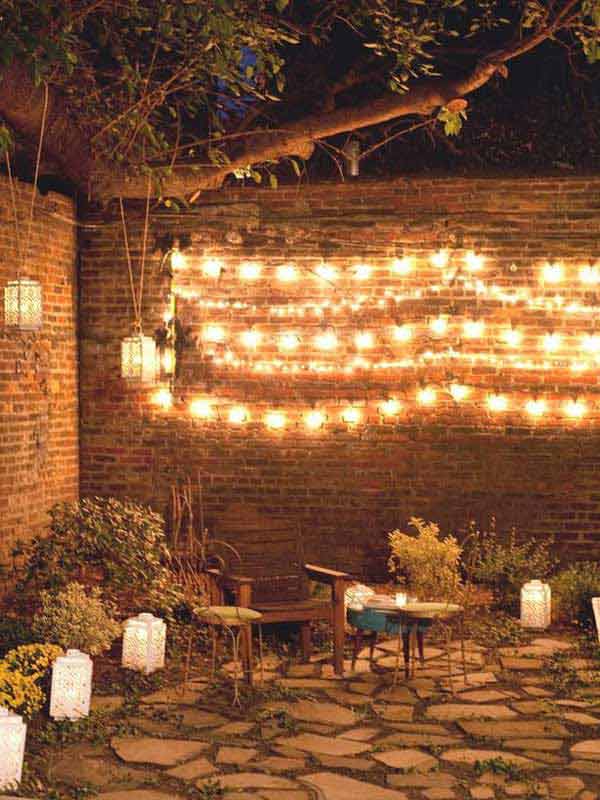 Source: hgtv.com
#21 Hanging Jars Paired with String Lights
Illuminated jars hanging from a tree can bring about an adorable rustic atmosphere and paired with string lights, they look amazing above an outdoor dining table.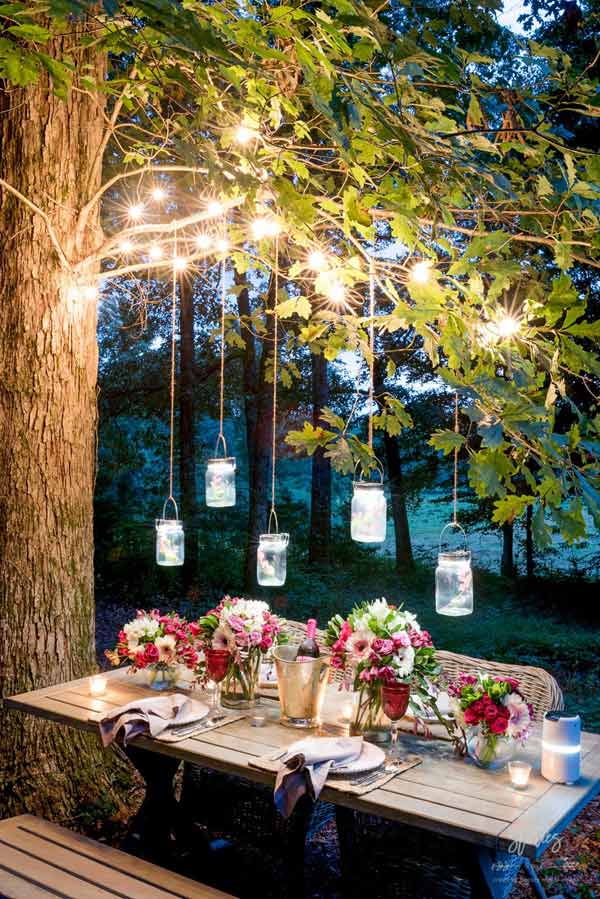 Source: homestoriesatoz.com
#22 This delicate single string of lights adds a touch of elegance to any space, making it perfect for outdoor patio lighting ideas.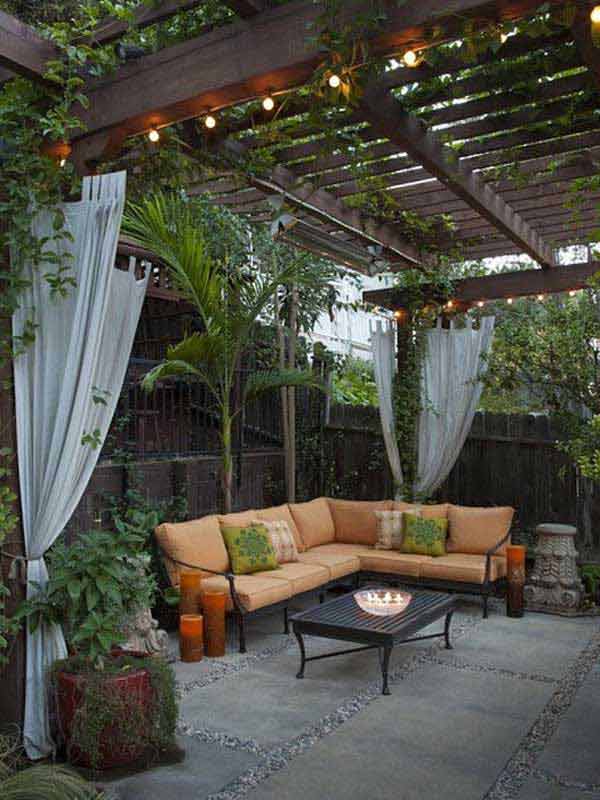 #23 Transform your fire pit area into a small wonder with outdoor string light ideas. Hang them from nearby trees or poles to create a magical atmosphere.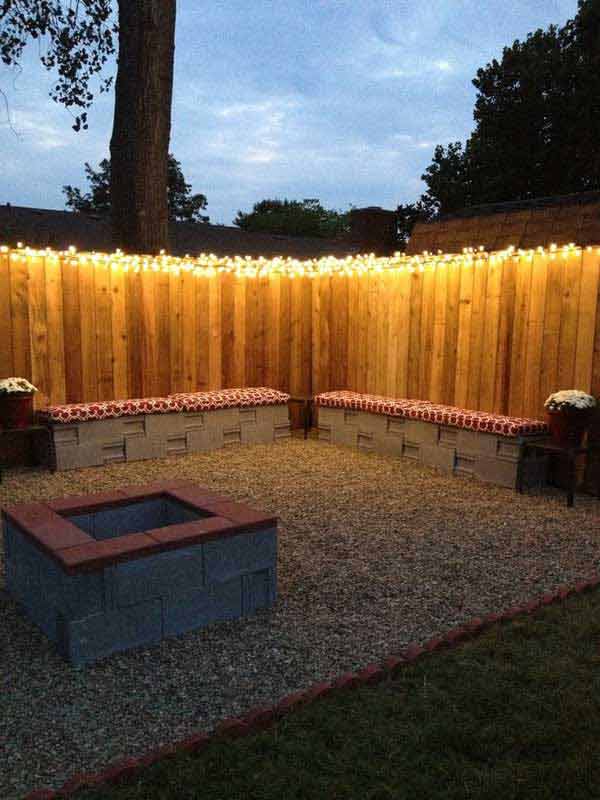 #24 Wooden beams, textured walls, and the soft glow of outdoor string lights make for a charming and rustic combination that is ideal for patio string light ideas.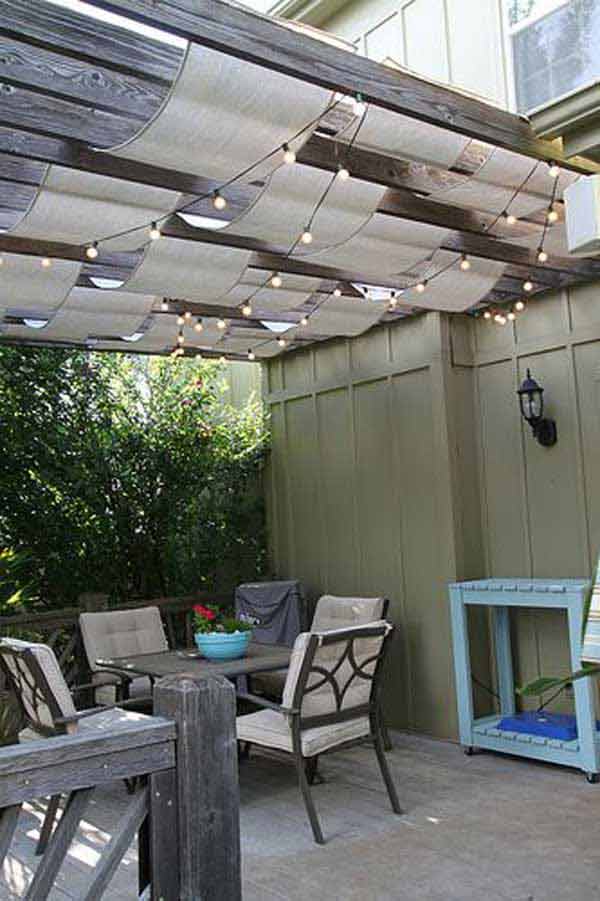 Source: shelterness.com
#25 Cozy nights spent with loved ones under the soft light of outdoor string lights is pure bliss, making them a great addition to backyard string light ideas.
#26 Hang outdoor bistro lights from your patio or balcony to create a celebratory atmosphere that your guests will love.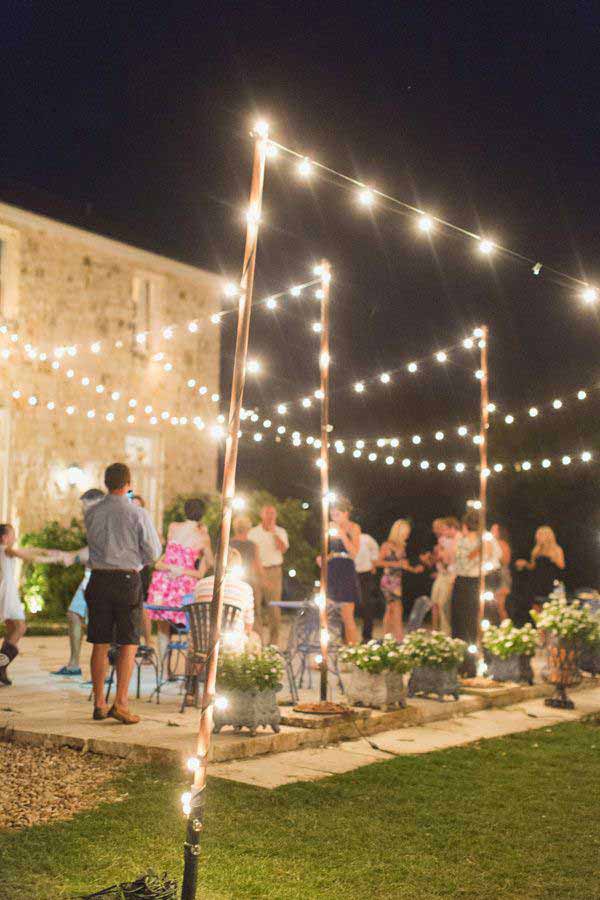 Source: weddingchicks.com
#27 Scandinavian style gets an update with the addition of outdoor string lights, creating a warm and inviting atmosphere that is perfect for any season.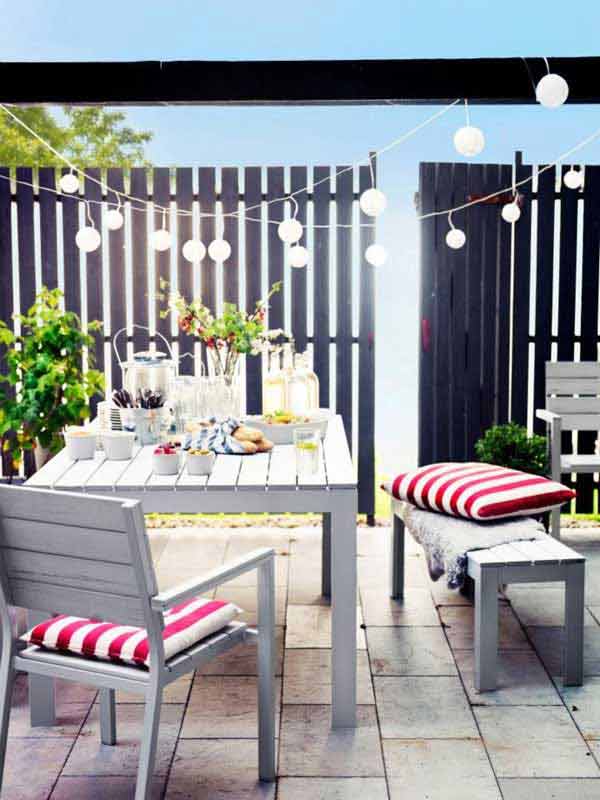 #28 Create a cozy corner on your porch with patio string light ideas. Hang them from the ceiling or wrap them around a nearby tree or railing to create a space that is perfect for reading, relaxing, or enjoying a cup of coffee.
#29 Your backyard can become a heavenly oasis with the addition of outdoor patio lights. Hang them from your trees or pergola to create a magical atmosphere that will transport you to another world.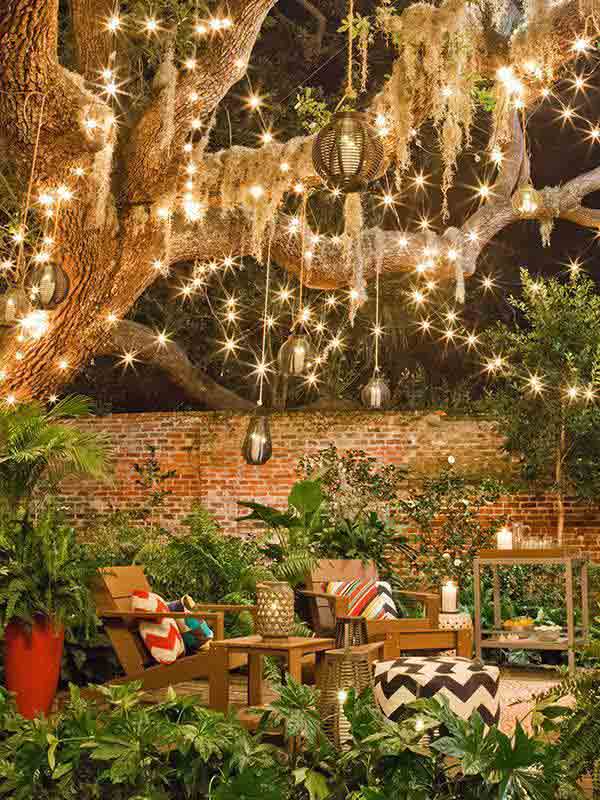 Source: thegoodlife-lindsay.blogspot.com
#30 Simplicity is elegant, and nothing exemplifies this more than a single string of outdoor string lights. The minimalistic design is perfect for any setting and adds a touch of understated elegance to your space.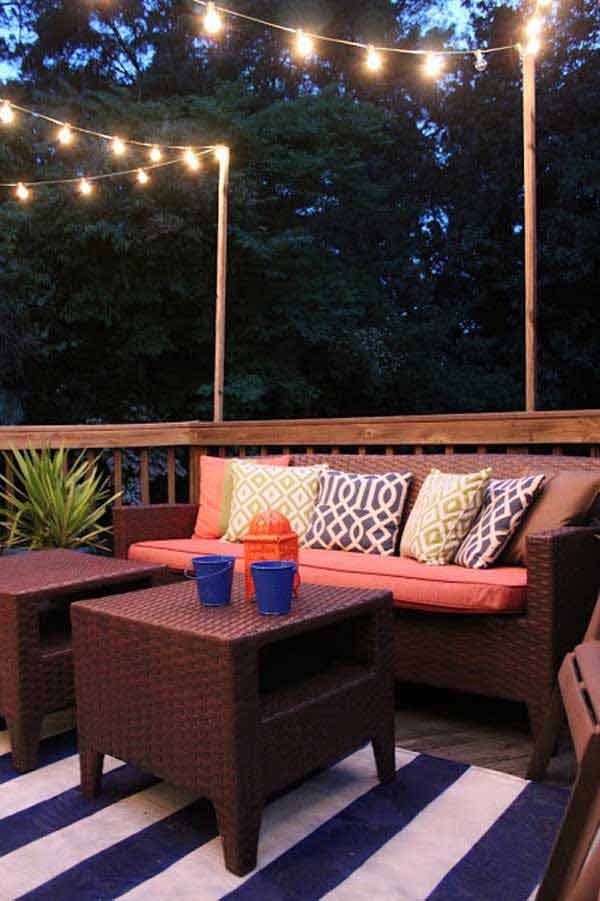 Source: southernstateofmindblog.com
#31 Green Italian style decor comes to life with the addition of patio lights ideas. Hang them from your patio or balcony to create a Mediterranean-inspired oasis that is perfect for relaxing and enjoying the outdoors.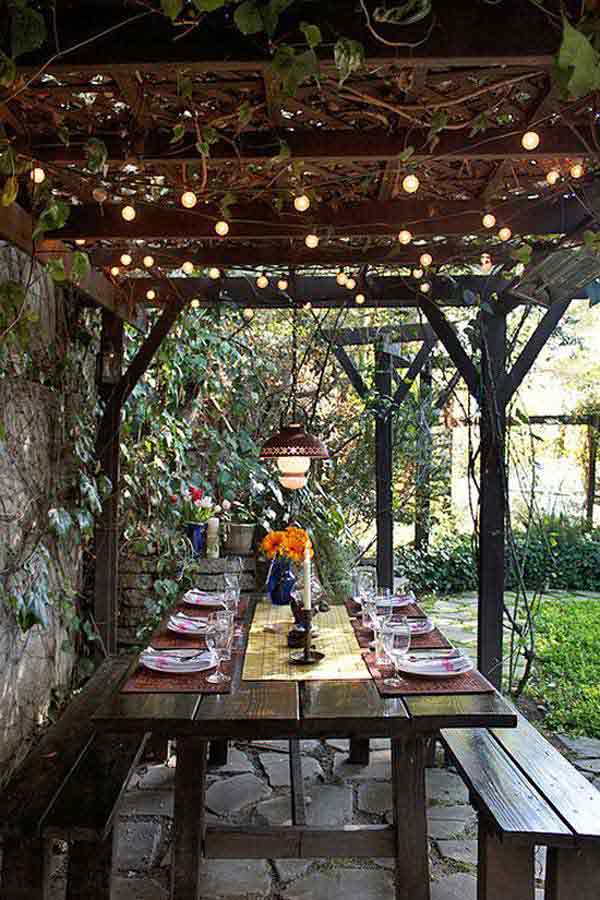 #32 Relax under the stars and shimmering lights. The soft glow of string lights creates a romantic and dreamy atmosphere that is perfect for spending quality time with your loved ones.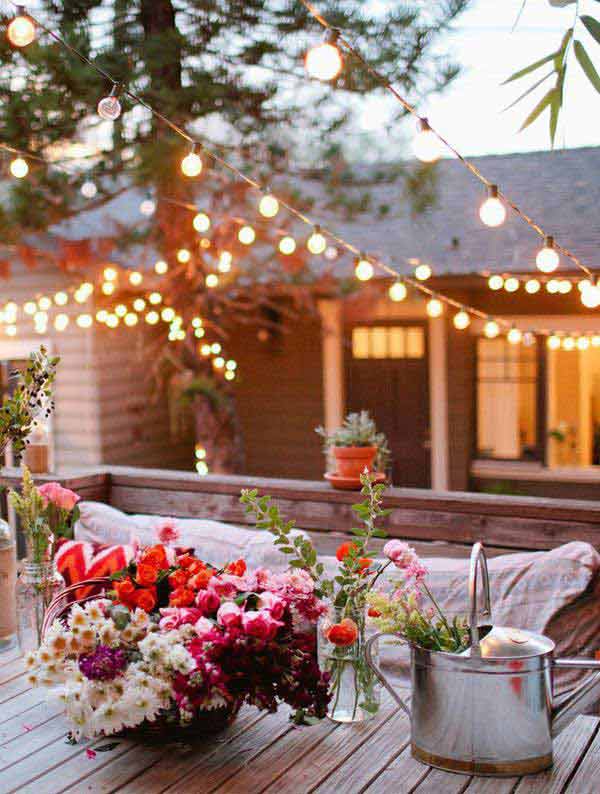 Source: sugarandcharm.com
#33 Decorate your small stone cottage in style with backyard string light ideas. Hang them from your roofline or wrap them around nearby trees to create a cozy and charming ambiance that is perfect for any season.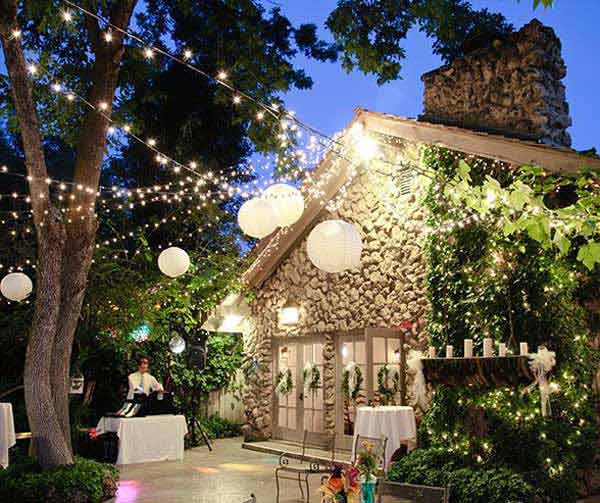 #34 Enhance the greenery in your outdoor space with the soft glow of outdoor string lights. Hang them from your trees or wrap them around your potted plants to create a magical and enchanting atmosphere that will leave your guests in awe.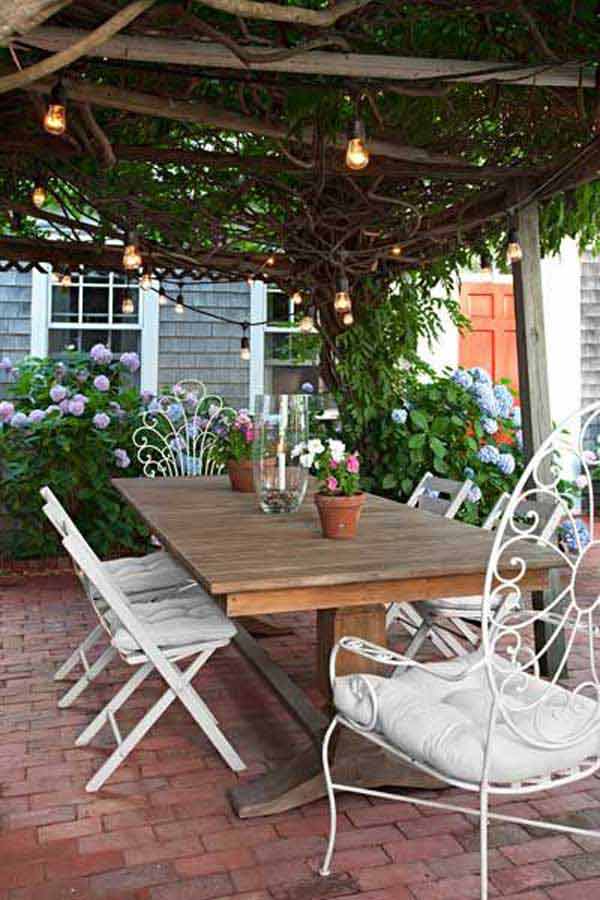 Source: thisoldhouse.com