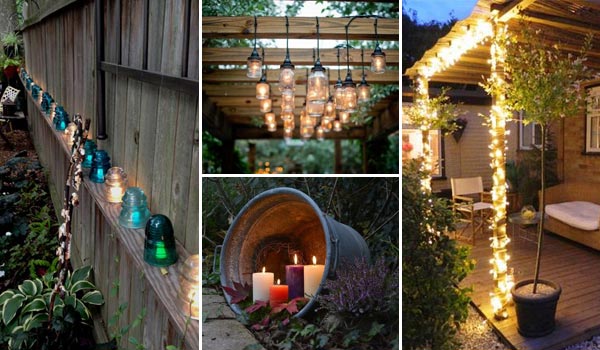 Summer is here! The life of night is an important part for us to spend this hot weather. For example, when night falls, we often like to entertain friends or hold a family party in the yard. At this moment, we need the light to light up the night and add some brilliant atmosphere. You needn't to buy some splendid lights in the stores. In fact, we can do something special with the common incandescent lights in your home to add gorgeous radiance to the yard. Come and enjoy the following charming ideas adding DIY outdoor lighting to your summer night that can beautifully illuminate your backyard or patio.
1. Place a baker's rack in your balcony as a mini garden.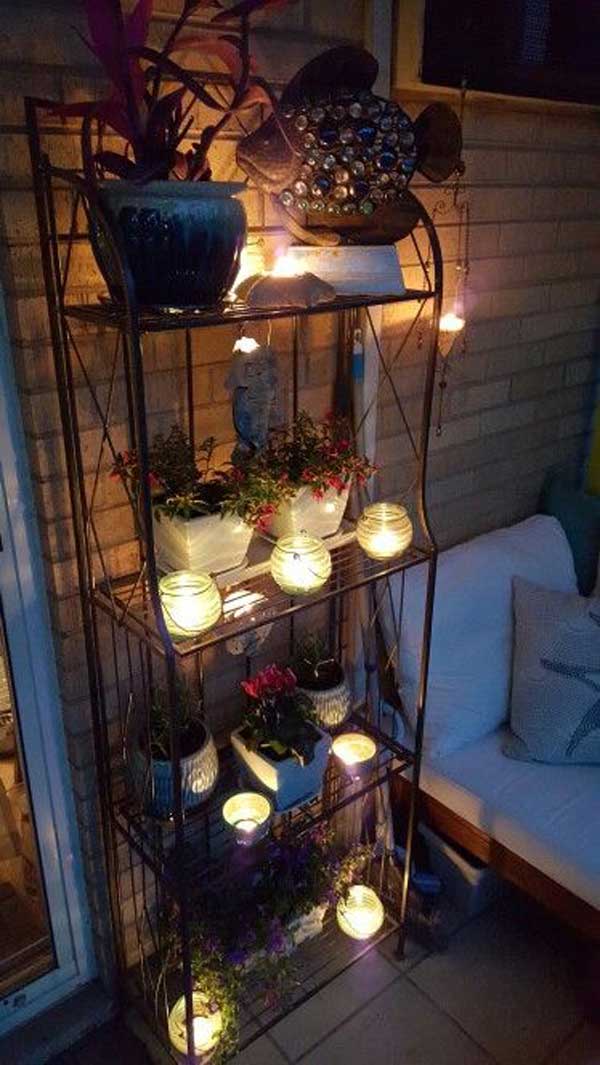 Source Unknown.
2. Build a super frugal pergola decorated with string lights.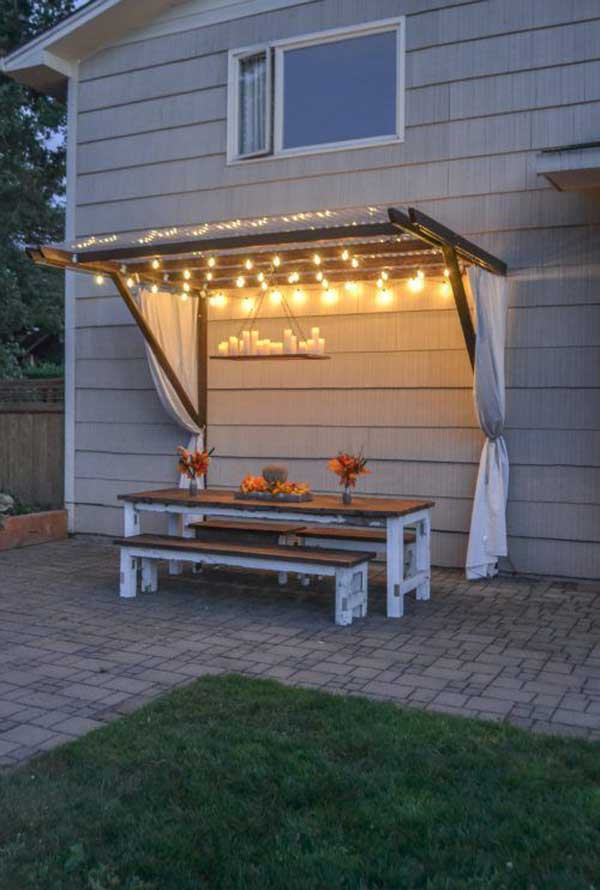 Get Tutorial here ====> thecreatedhome.com
3. Build a wooden post topped with a solar powered post cap, and then hanging up a large lantern to decorate it.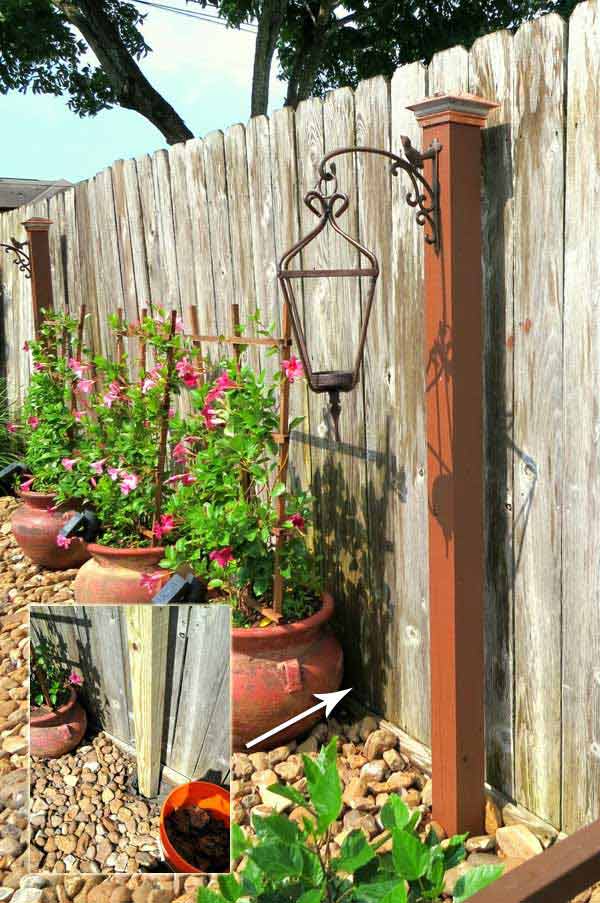 Get Tutorial here ====> lifeisbetterbythepool.blogspot.com
4. Install rope light as walkway illumination and landscape lights.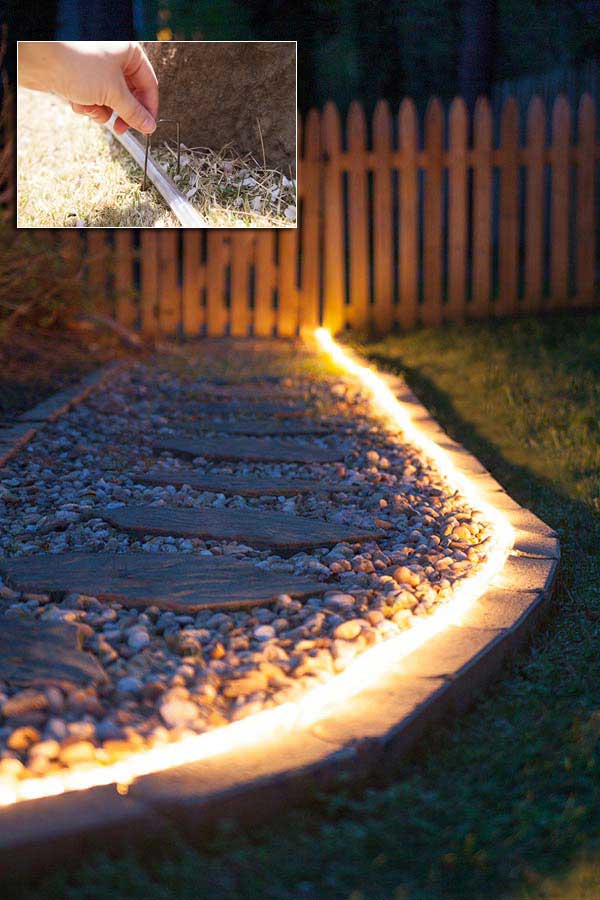 Get Tutorial here ====> blog.christmaslightsetc.com
5. Wrap decorative ribbon and icicle lights around a hula hoop to create so cool chandelier.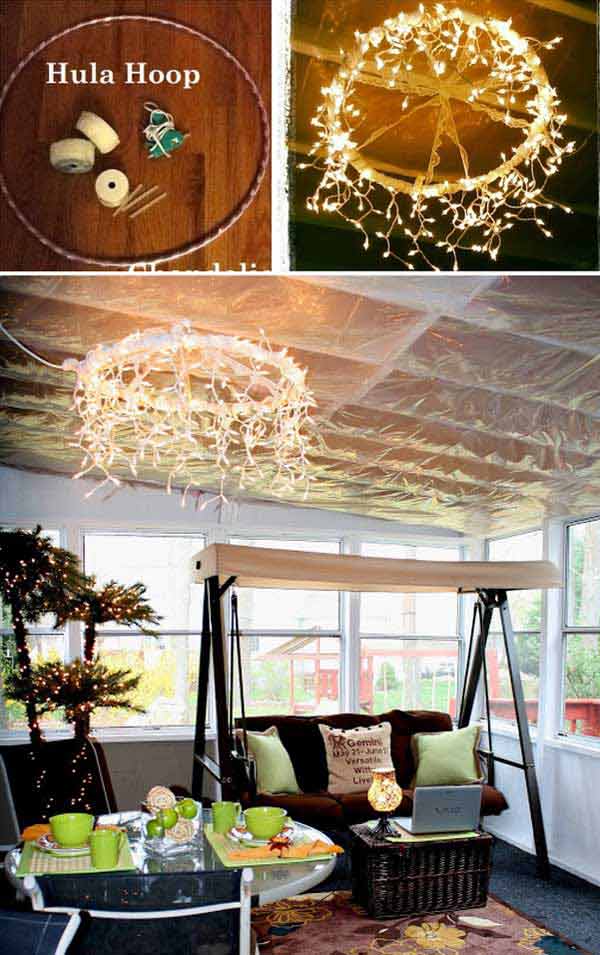 Get Tutorial here ====> sarahontheblog.blogspot.com.au
6. Floating candles bucket can be a simple and romantic backyard decoration.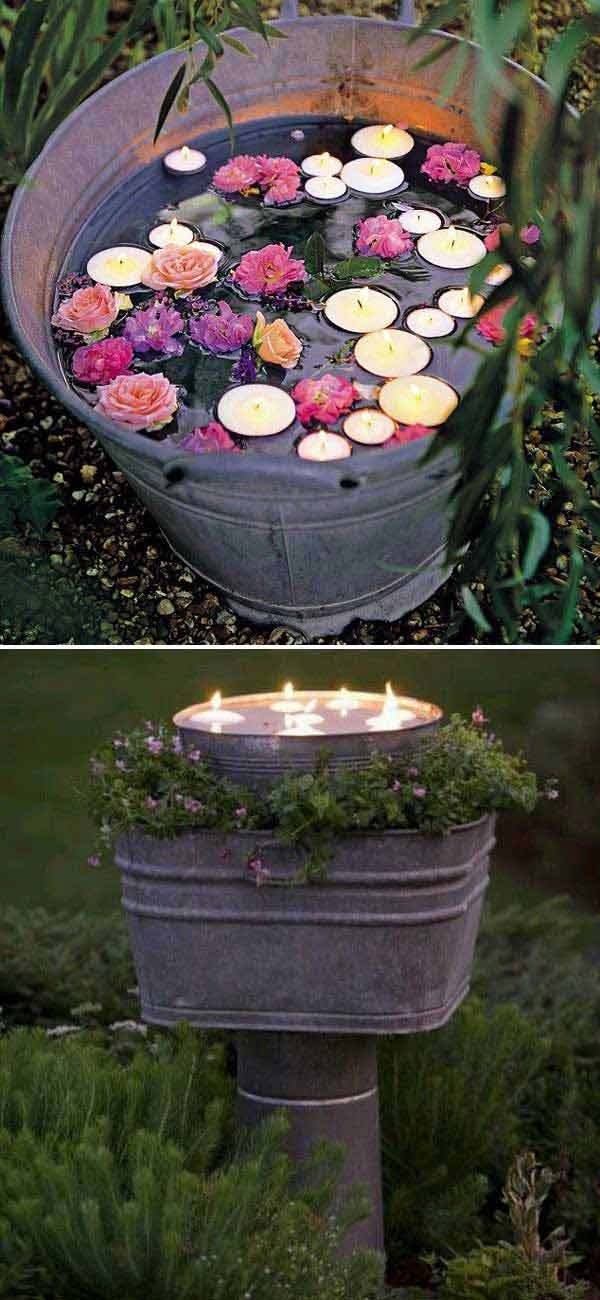 Source Unknown.
7. Installing lights under benches.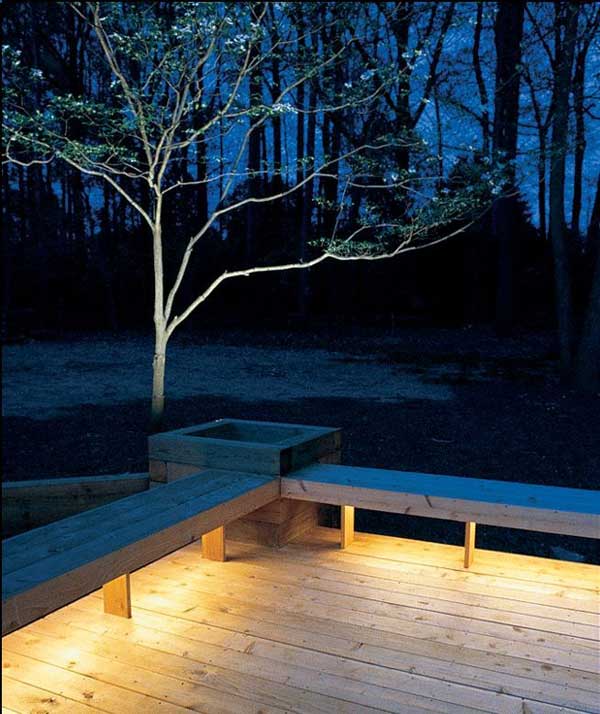 Source: poshhome.info
8. Decorate your garden fence with these DIY hanging mason jar lights.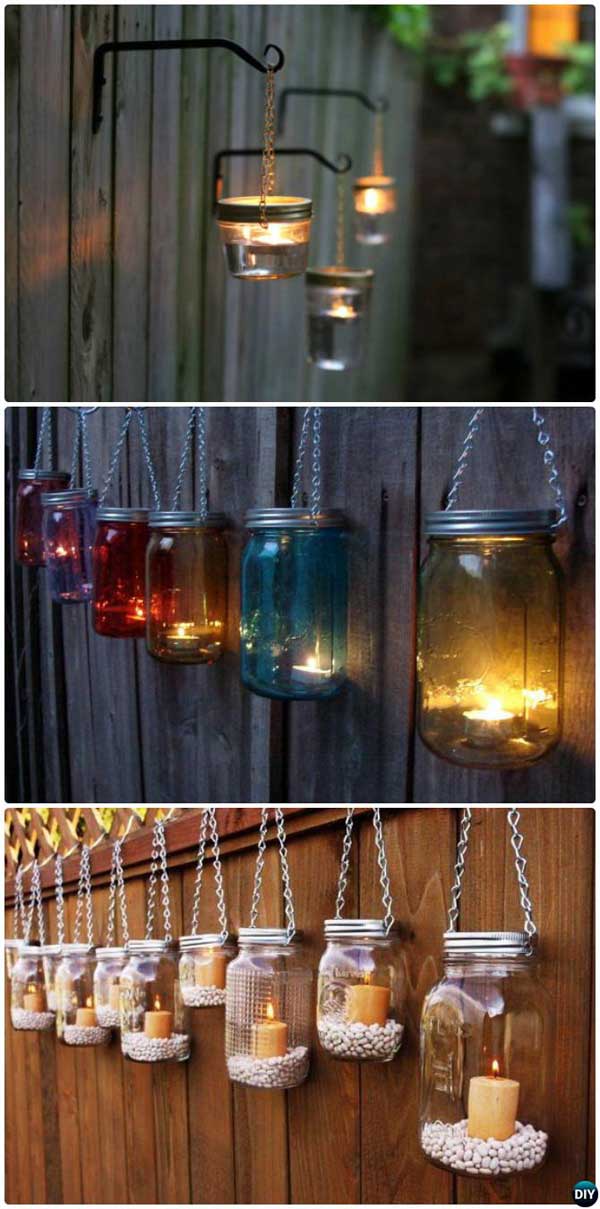 Get Tutorial here ====> ehow.com
9. Candles in a galvanized tub.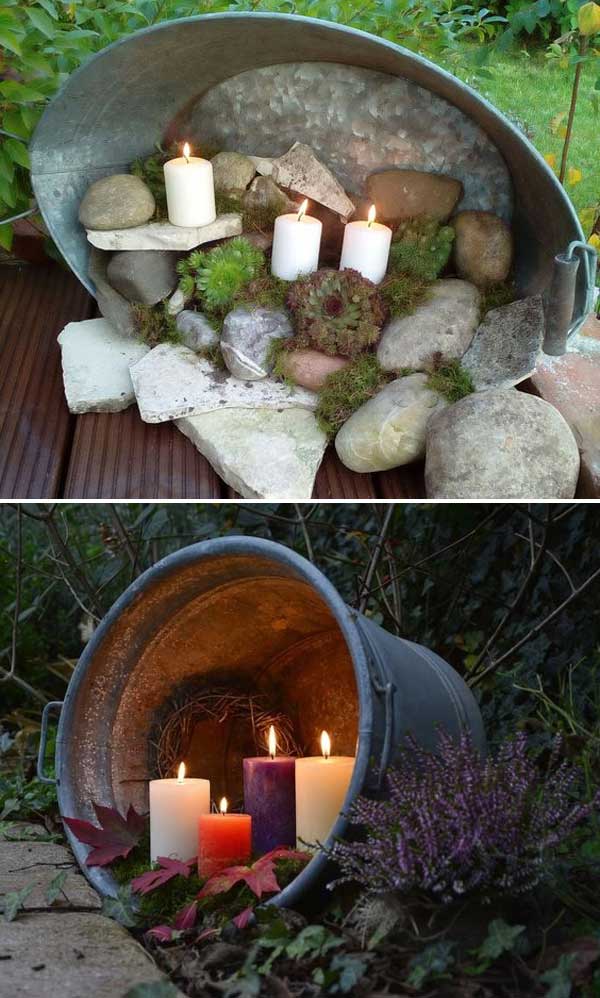 Source: pinterest.com
10. Go for an easy and cheap tabletop fire bowl.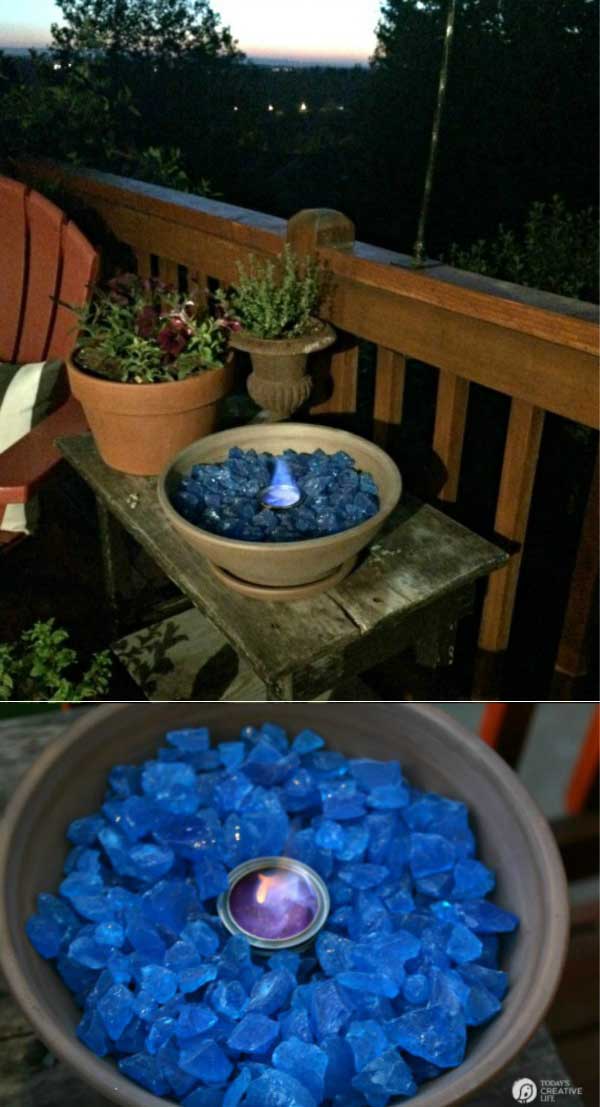 Get Tutorial here ====> todayscreativelife.com
11. String up some outdoor lights by using a cement base with tree poles added into the cement.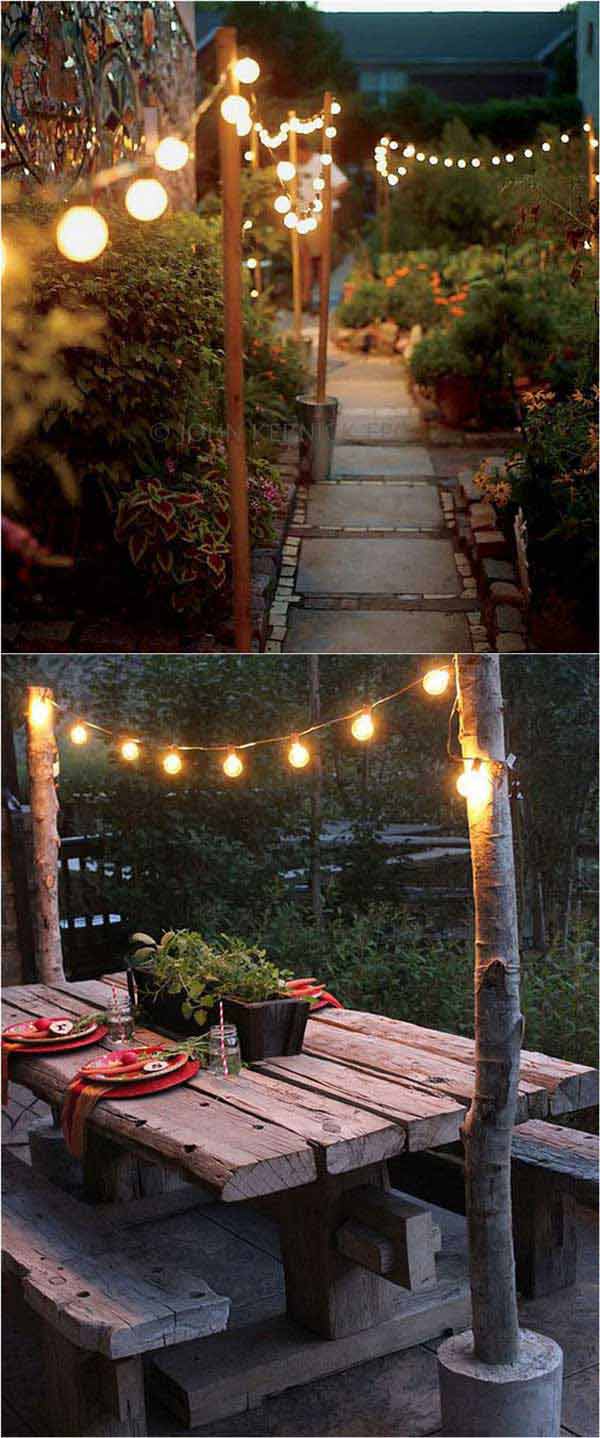 Get Tutorial for above project ====> marthastewart.com    Get Tutorial for bottom project ====> blog.homedepot.com
12. Build a fire pit to warm up your patio or yard in an evening.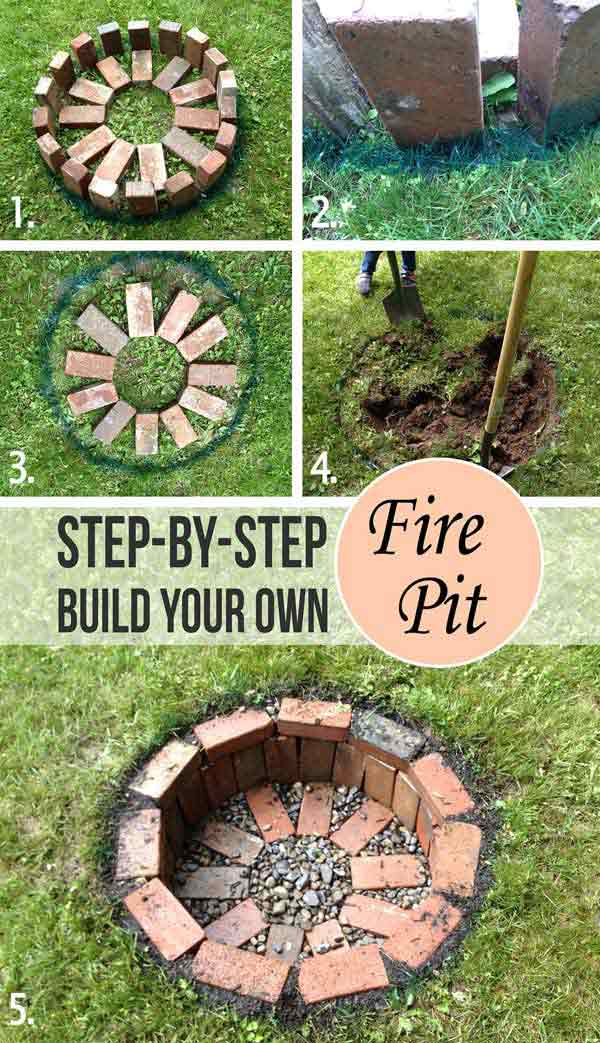 Get Tutorial here ====> tuffguardhose.com
13. Create a faux fire with fairy lights loosely draped over a pile of wooden logs.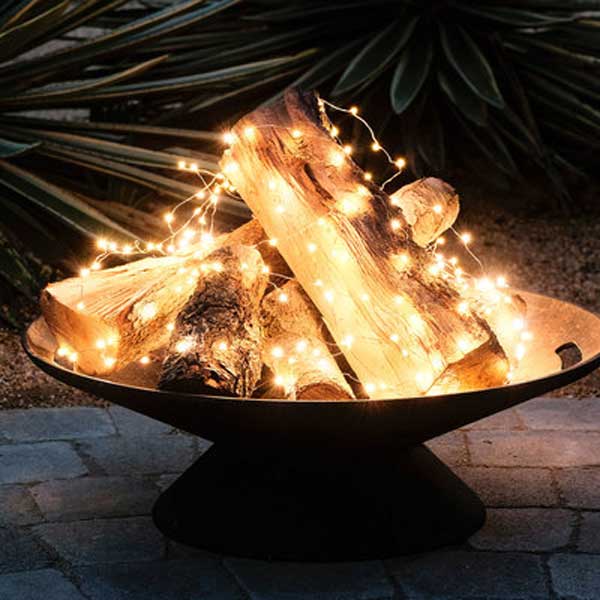 Source: sunset.com
14. Cover a backyard tree trunk with fairy lights.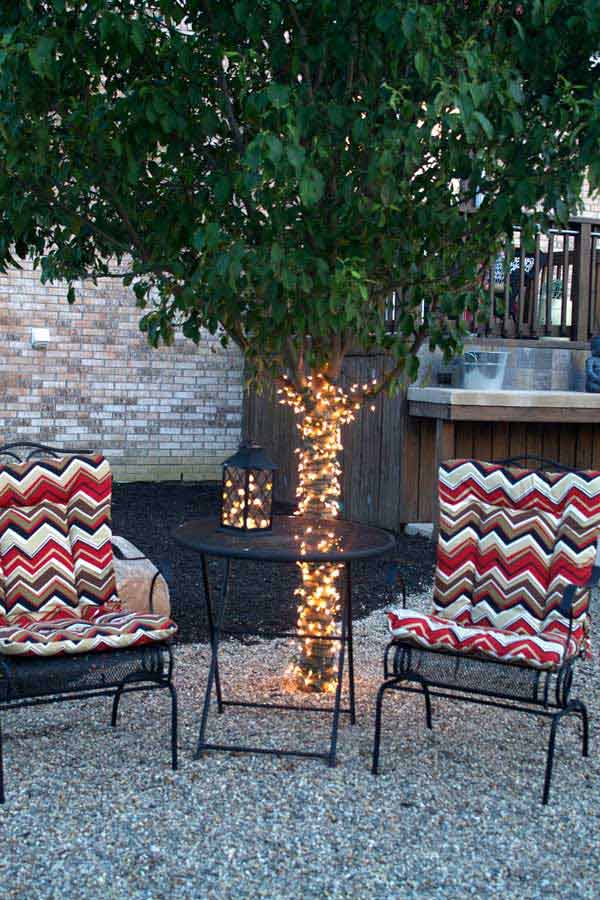 Source: lauriejoneshome.com
15. Wood and mason jars lighting are perfect for this cool backyard pergola.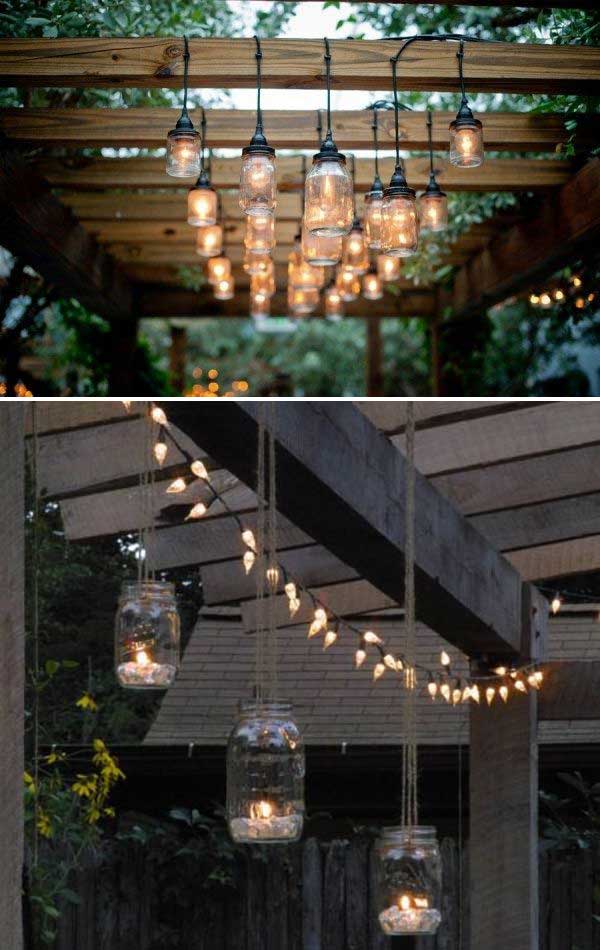 Source: eastcoastcreativeblog.com
16. Use led walkway lighting to create cute patterns in your front yard.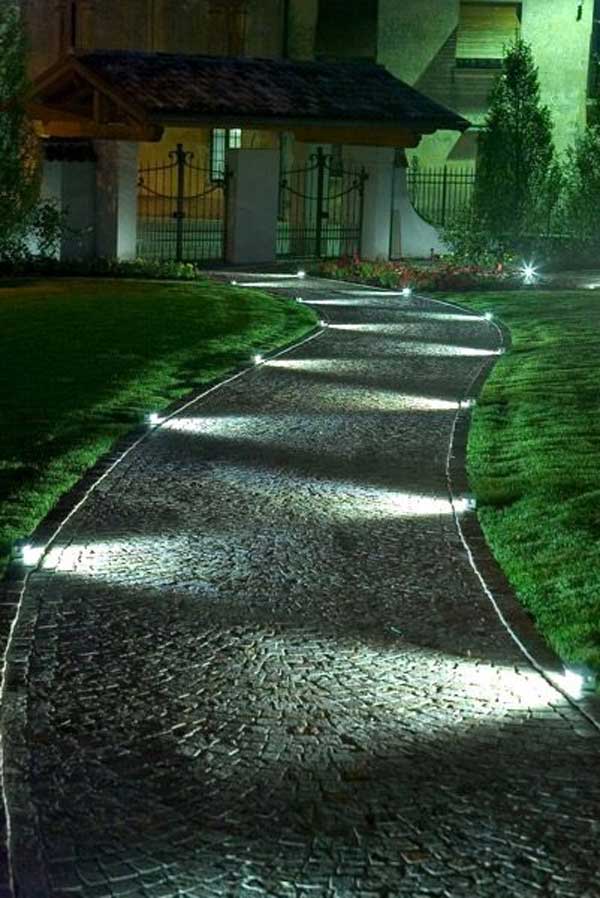 Source: seielettrotecnica.it
17. Reuse some old glass shades and old string lights to make these glowing outdoor orbs to improve your landscapes in summer evenings.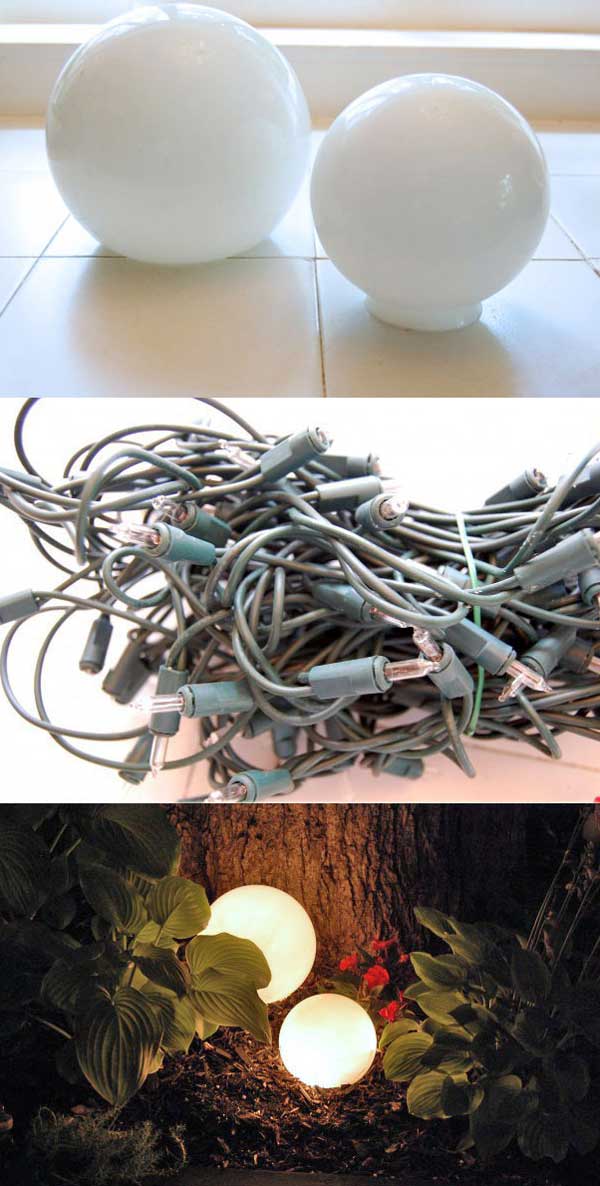 Get Tutorial here ====> theartofdoingstuff.com
18. Recycled wine bottle lighting.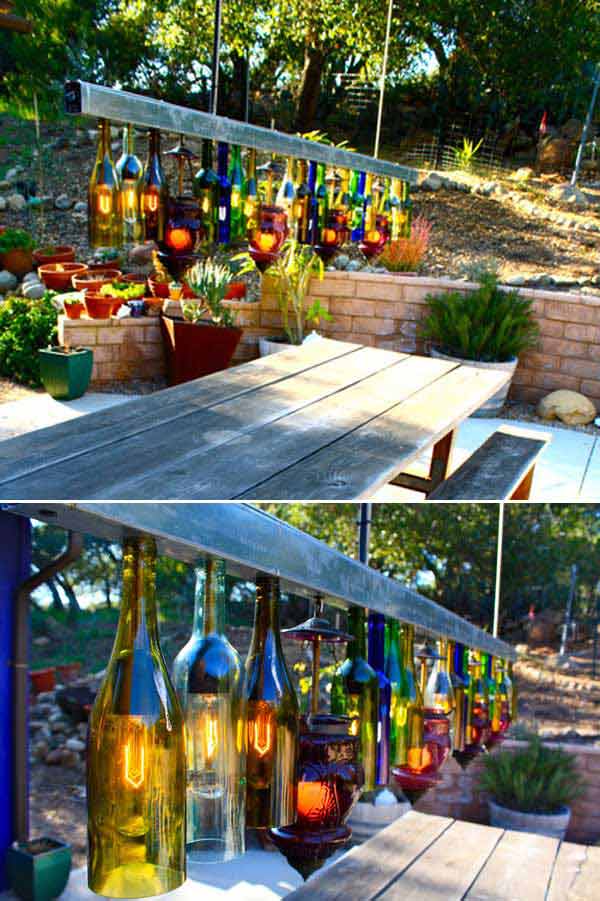 Source: houzz.com
19. Hang a string of fairy lights and enjoy them every evening.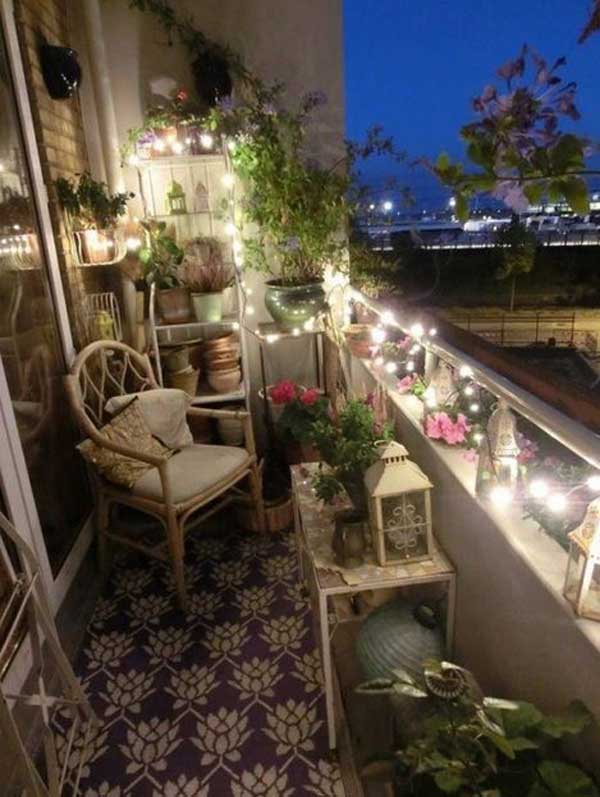 Source: boredart.com
20. Hang these mason jar luminaries on the railing.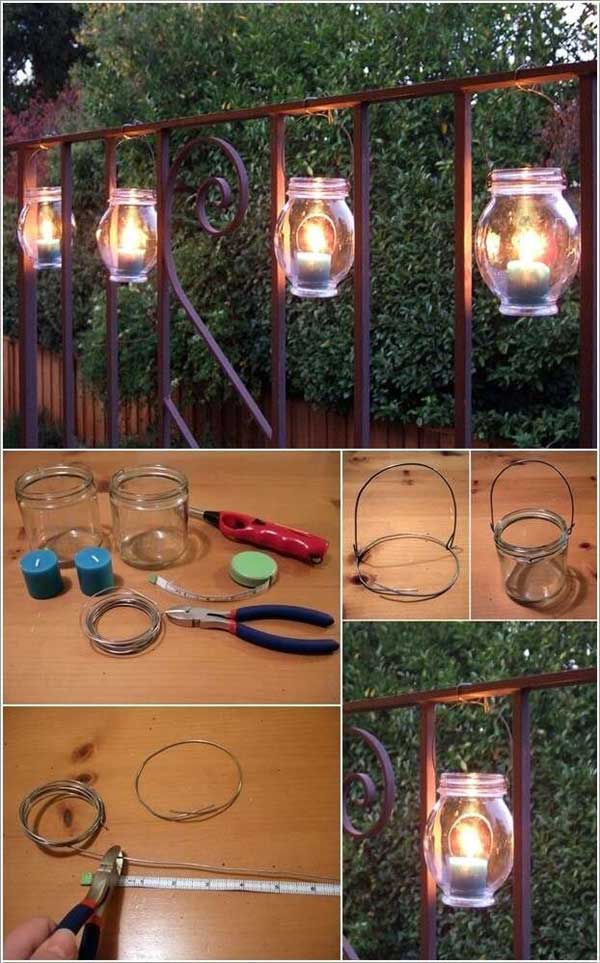 Get Tutorial here ====> craftynest.com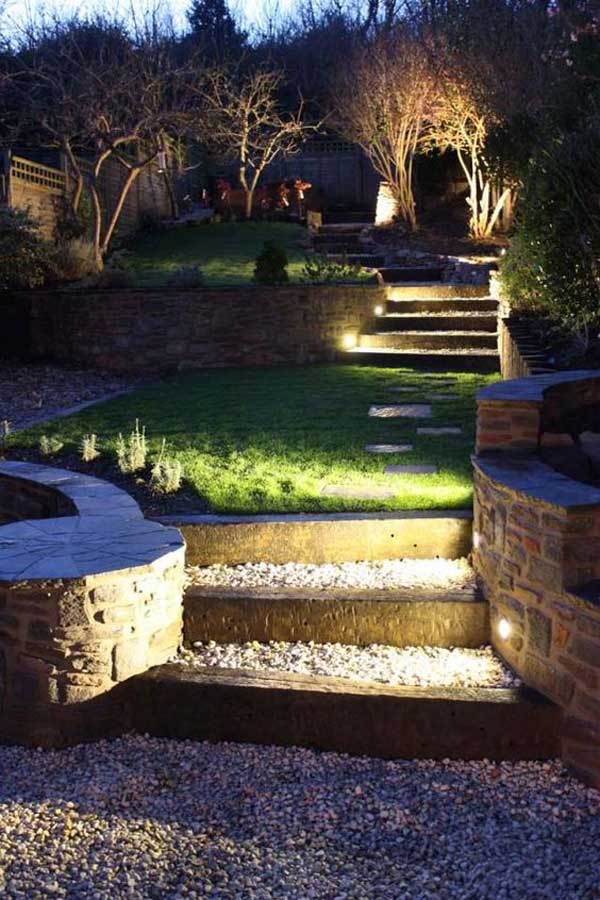 Source Unknown.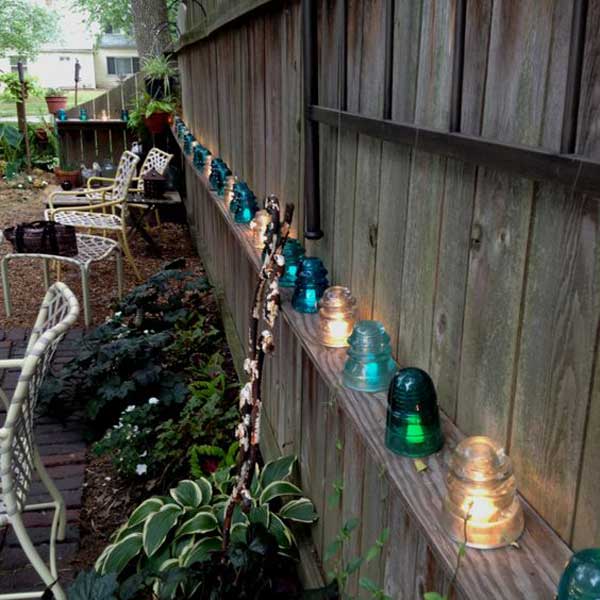 Source: pinterest.com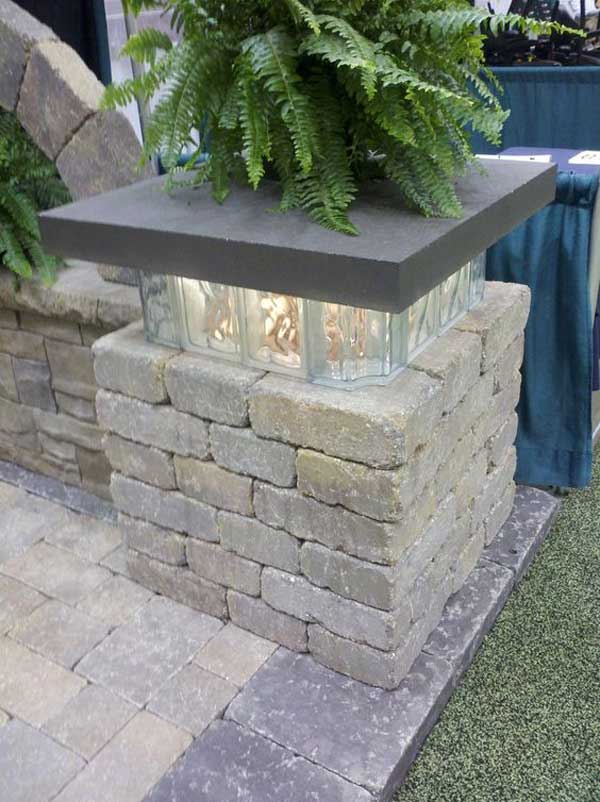 Source: pinterest.com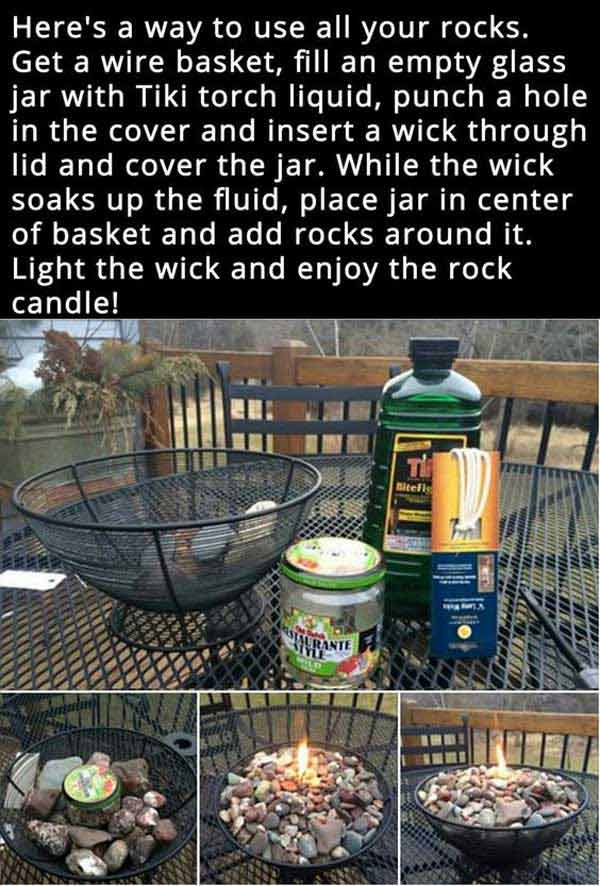 Source Unknown.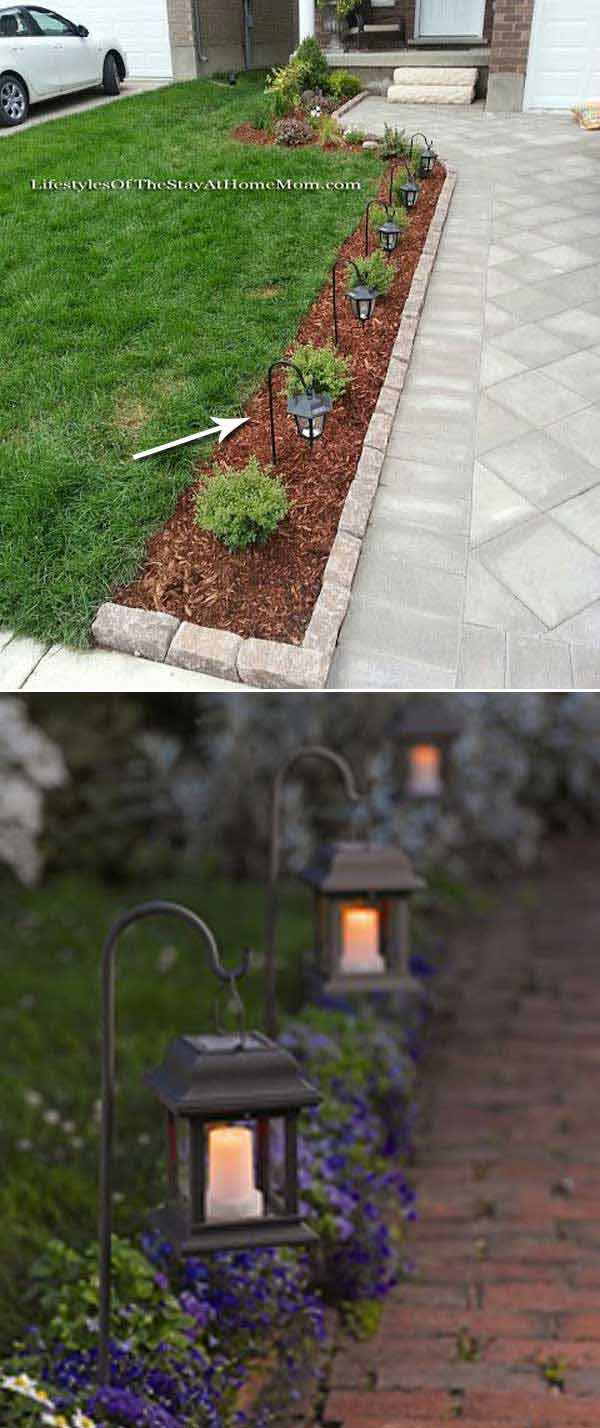 Source: lifestylesofthestayathomemom.com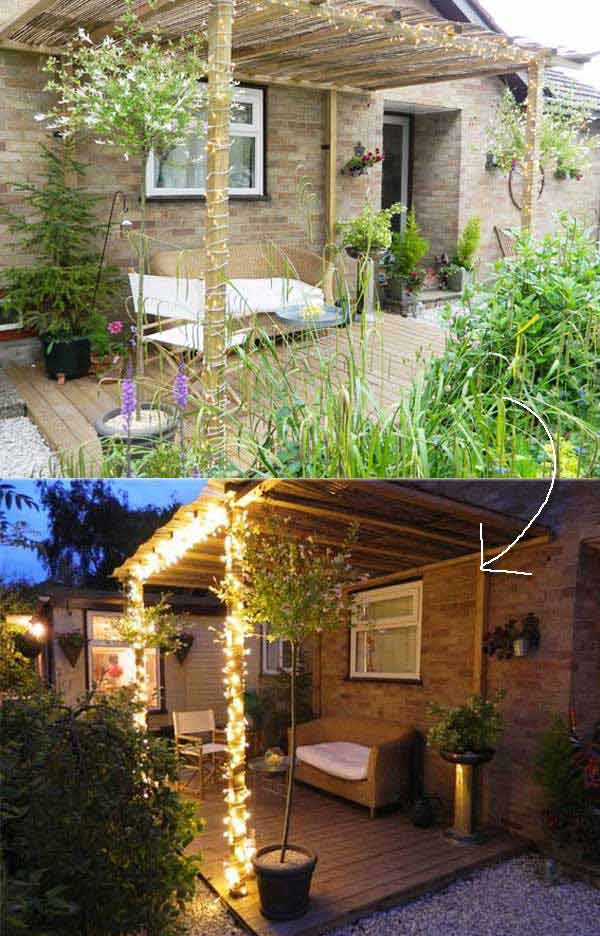 Source: enthusedmonkey.blogspot.com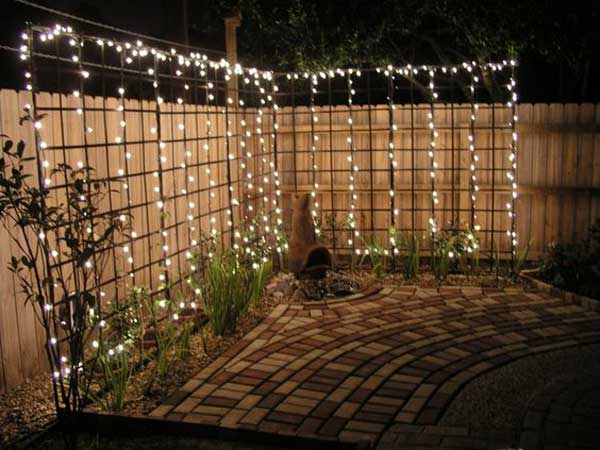 Source: garden.org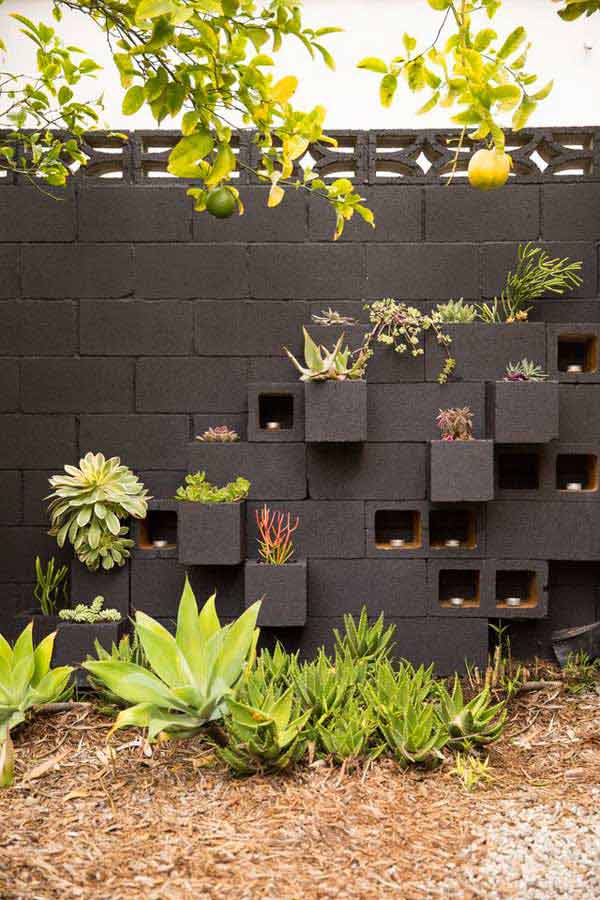 Source: bloglovin.com
Your garden flowers can enjoy lighting drops from this repurposed watering can.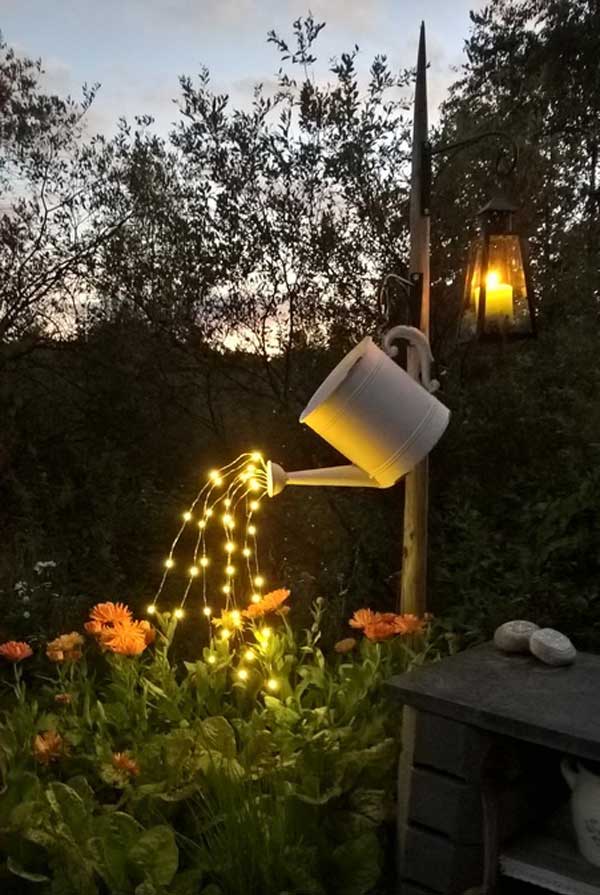 How to make it ====> styleroom.fi