Top 15 Closet Door Alternatives to Enhance Your Space
Are you tired of your old closet doors or looking for something different? We have chosen some great, budget-friendly, and easy-to-put-up closet door options. A home without a closet is just not complete, right?
Closets, often overlooked in home design, have their own appeal, beauty, and unbeatable storage and organization. While regular closet doors, like bi-fold or hinged doors, are a common choice, we're here to show you some excellent substitutes. In this post, we'll look at these creative options and talk about their pros and cons. If you're wondering what choices you have, keep reading.
1. Boho-Style Macrame Door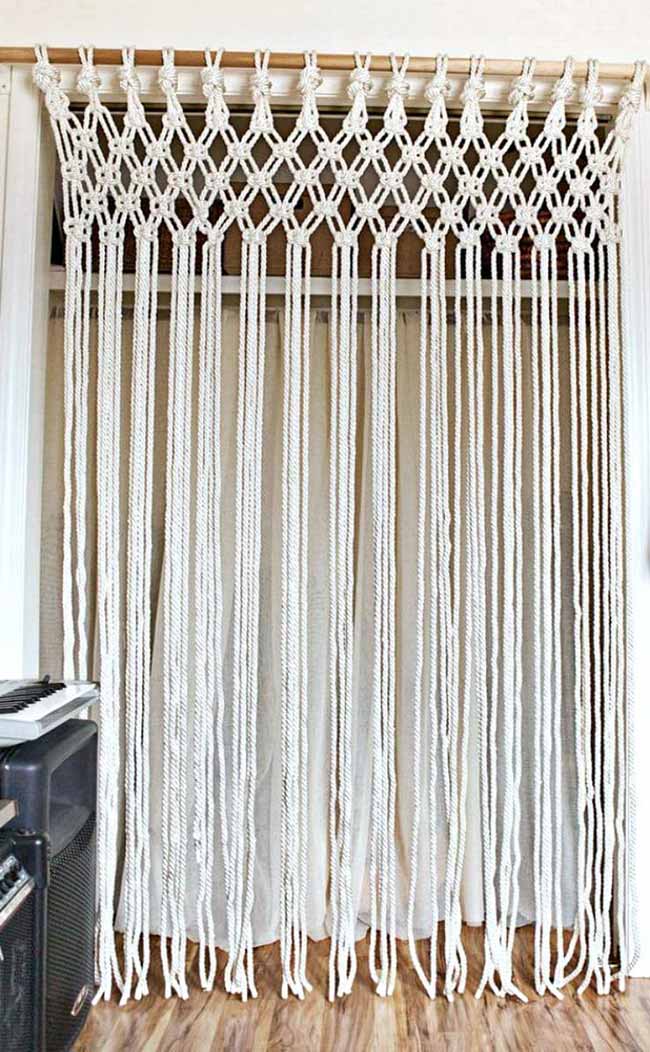 For those with a boho vibe, consider a macrame door as a unique option for your closet. The intricate knotted patterns, geometric designs, and a variety of colors offer an attractive and character-filled choice for your closet door.
2. Curtain Closet Door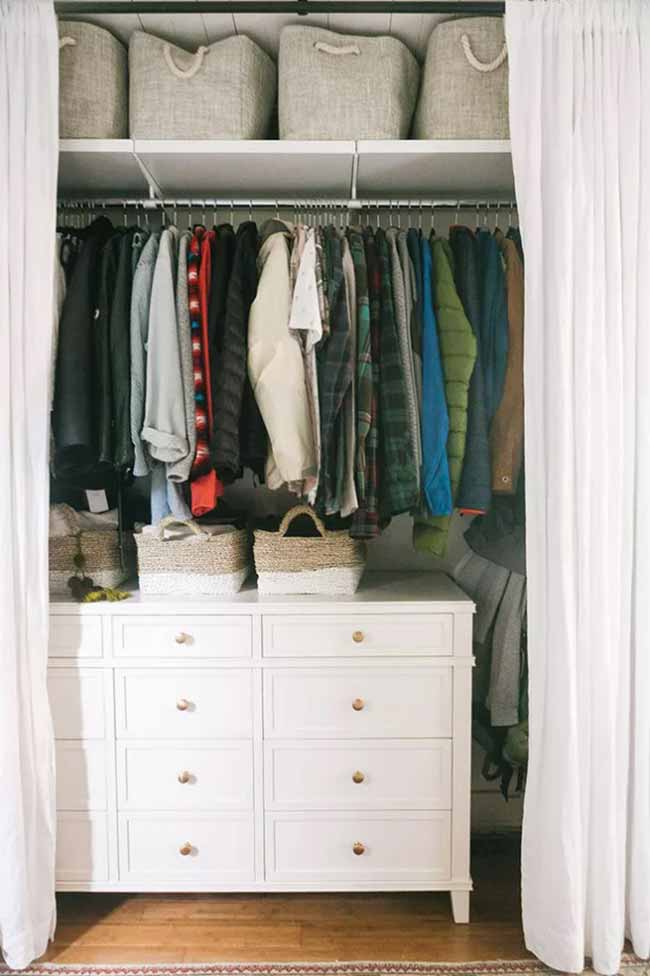 Ditch those heavy sliding closet doors and choose lightweight curtains for a fresh look. Follow Joanna from Jojotastic's lead and hang a curtain rod near the ceiling to make your small bedroom feel more spacious.
Opt for white fabric to blend with the walls for a seamless appearance, or go for a bold graphic pattern to create a striking focal point. With this option, you'll have easy access to your wardrobe without dealing with door swing issues. It's a winning choice! Image Credit: Jojotastic
3. Folding Doors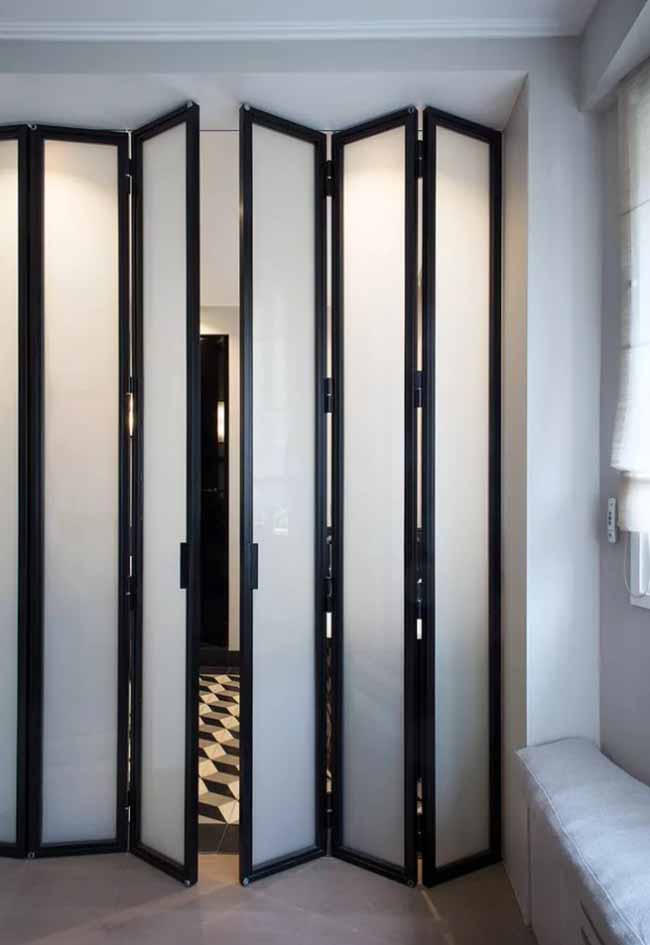 Folding doors, known as accordion doors, are an excellent choice for compact rooms or bedrooms with furniture obstructing regular closet doors.
Take a look at this black and white design by interior designer Marion Deriot. It incorporates thin fabric panels in the center to prevent the room from feeling overly dark or bulky. Image Credit: Marion Deriot
4. Save Space with Pocket Closet Doors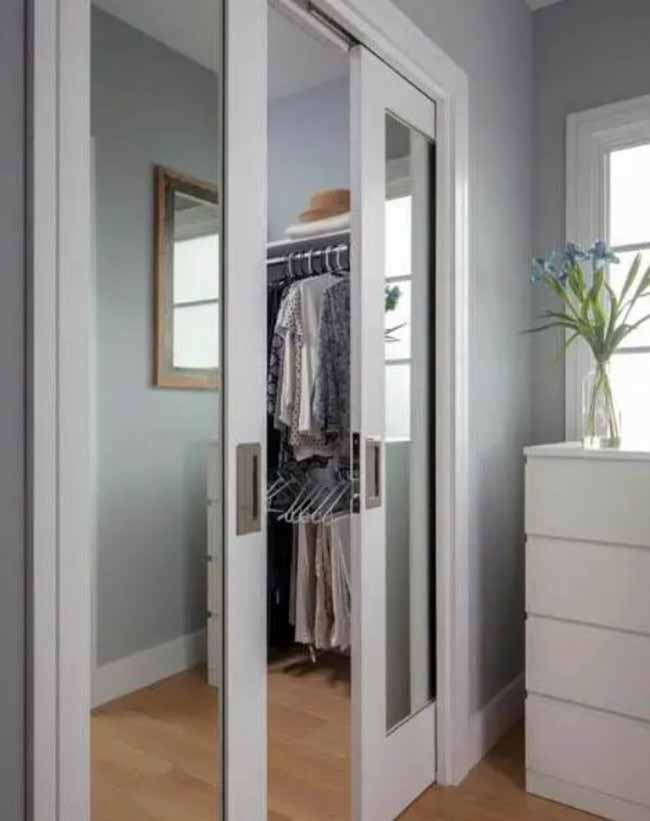 For those tight on space, pocket doors are a fantastic choice. These closet door alternatives slide neatly into the wall, making them a popular space-saving option.
5. Easy Access with Louvered Closet Doors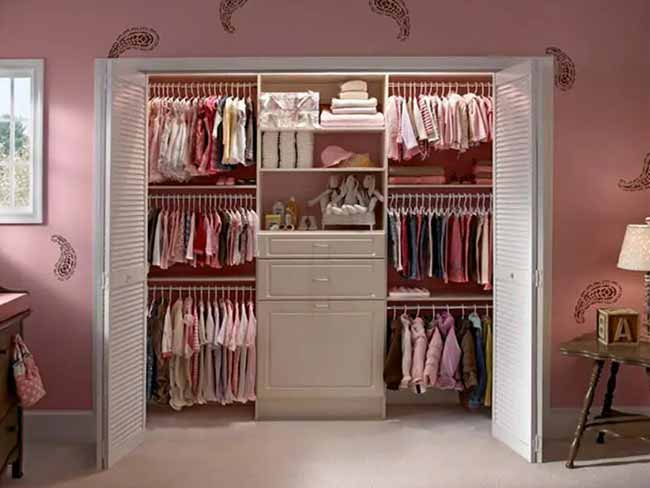 Louvered doors open sideways, granting convenient access to nearly every part of your closet.
They slide effortlessly and quietly on tracks, although keeping them clean can be a bit of a challenge due to their slatted design. On the bright side, the slats allow for better closet ventilation.
6. Add Texture with Beaded Closet Doors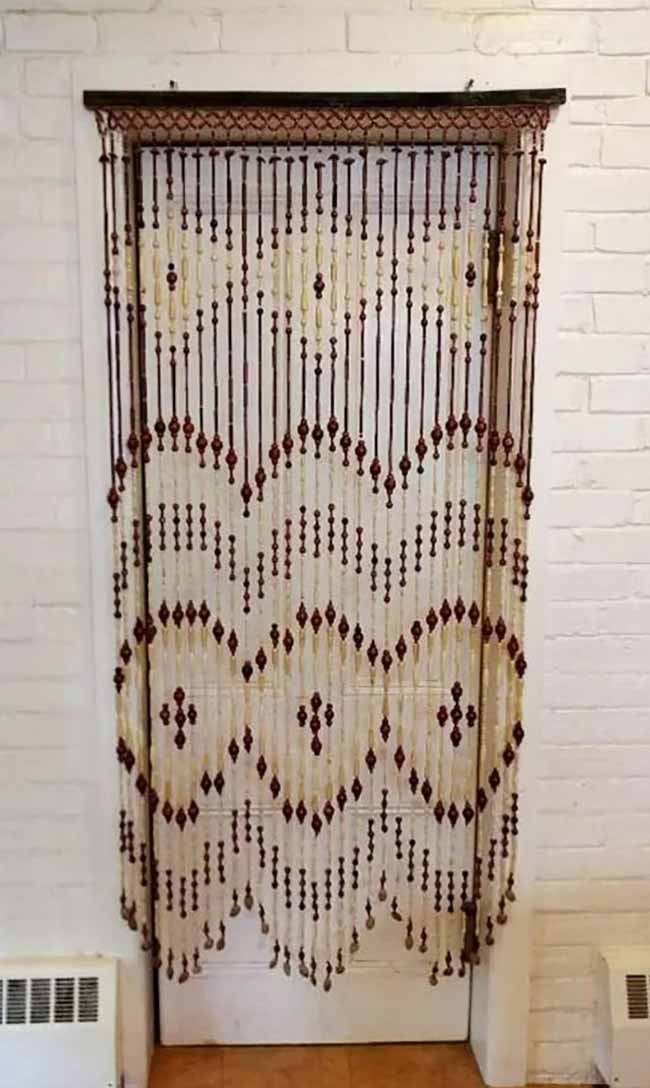 Beaded closet doors offer a simple way to access your closet without the need to swing open a door.
They also introduce a burst of color and texture to your room. However, they can sometimes be tricky to keep out of the way and may create noise.
7. Elevate Style with French Closet Doors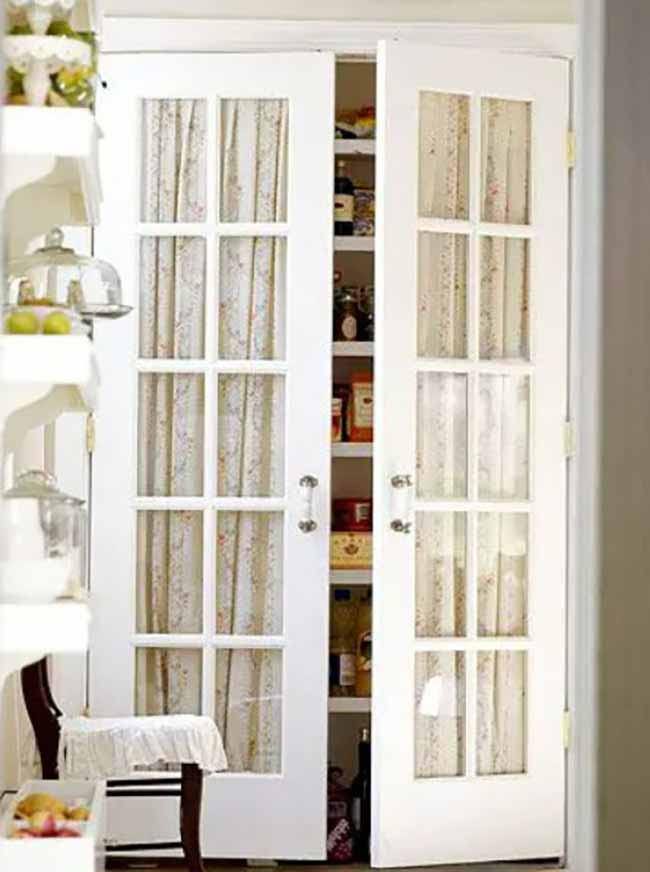 French closet doors, especially when used in pairs, bring a stunning visual appeal. These doors often feature glass panels and swing open gracefully.
One drawback is that the glass panels may showcase a messy closet, and adding curtains or frosted glass can reduce the open and airy feel they provide.
8. Create Style and Privacy with Room Dividers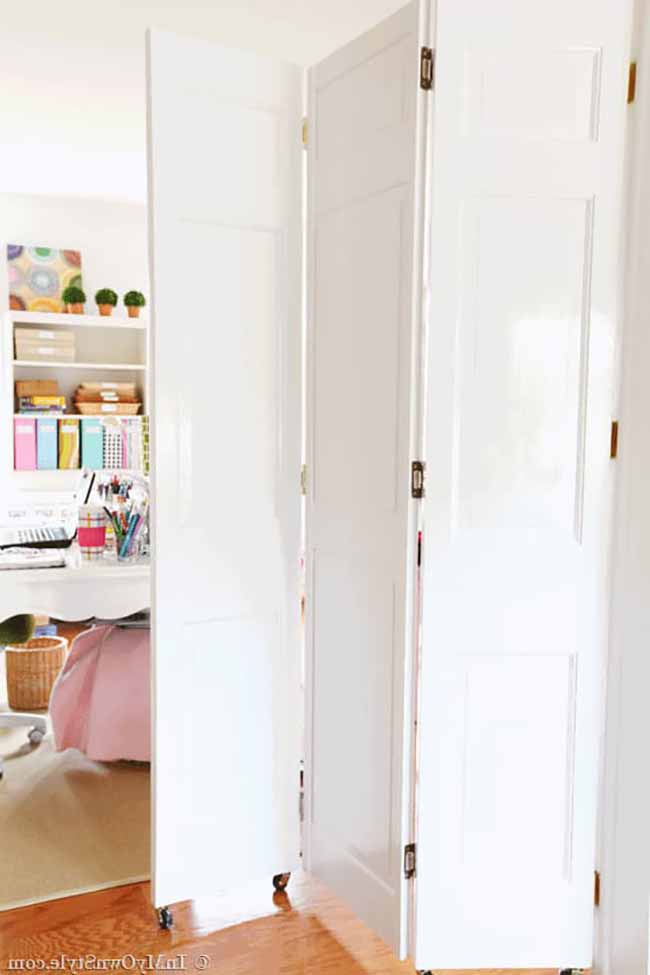 Chic room dividers are budget-friendly and add both privacy and style to your space.
They're a great solution for homeowners who want to maintain the look of a complete room without a closet door.
Keep in mind that dividers take up more space than traditional doors, but they're easily replaceable, making them ideal for renters. Source: In My Own Style
9. Infuse Farmhouse Appeal with Barn Closet Doors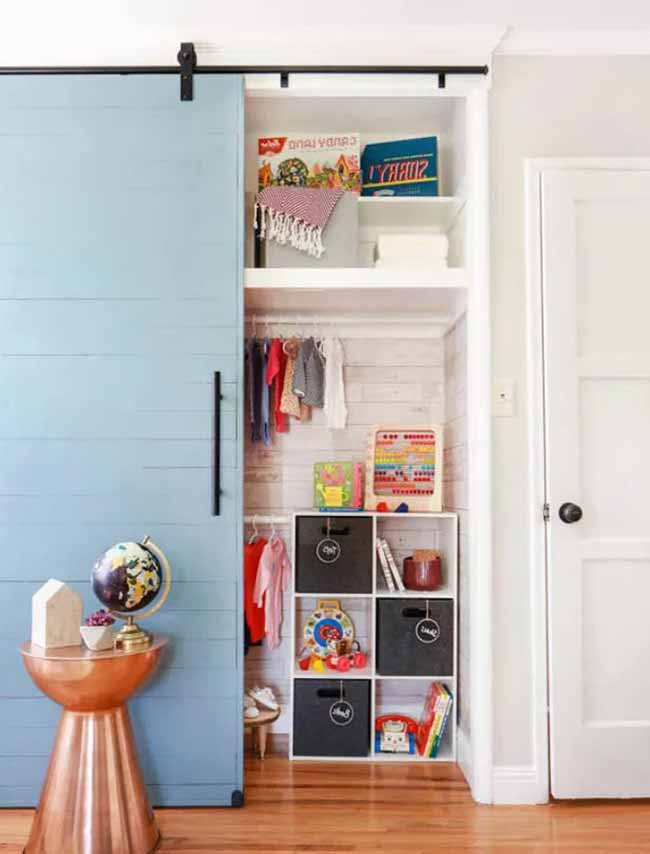 Barn doors, mounted on tracks above the doorframe, instantly transform your closet into a room's focal point. They're visually striking and space-efficient when it comes to door swing.
However, the hardware can be costly, installation requires precision, and they might not be the best choice for a modern aesthetic.  Image Credit: East Coast Creative
10. Achieve a Sleek Look with Swinging Closet Doors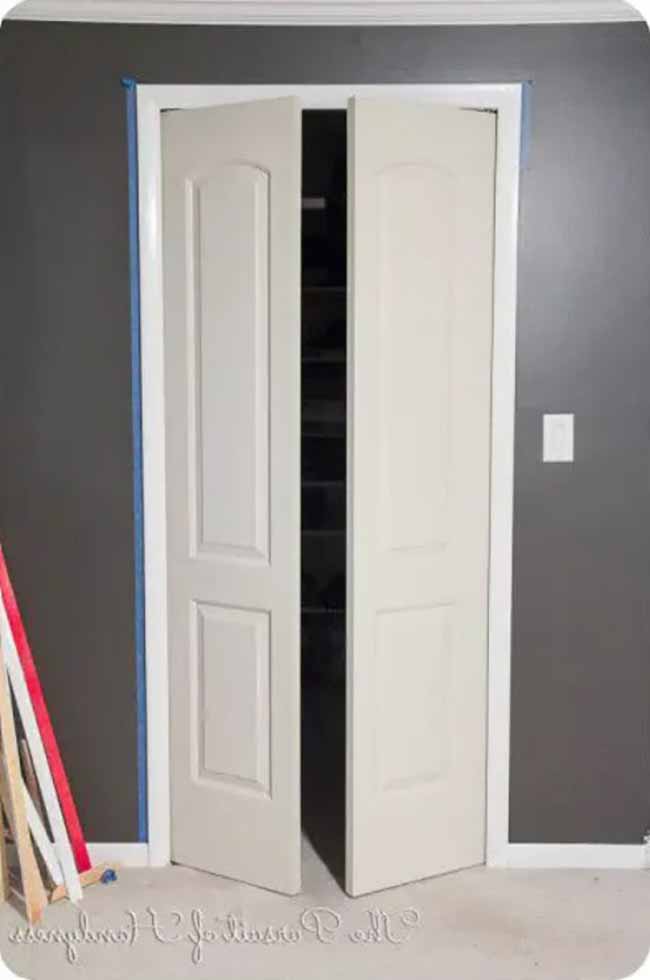 Saloon-style swinging doors work well in larger closets, creating an open and airy feel.
While they provide numerous benefits, such as easy access and space optimization, they can be a bit noisy when closing, and finding doors that fit your frame perfectly can be a challenge.
11. Add Elegance with Mirrored Closet Doors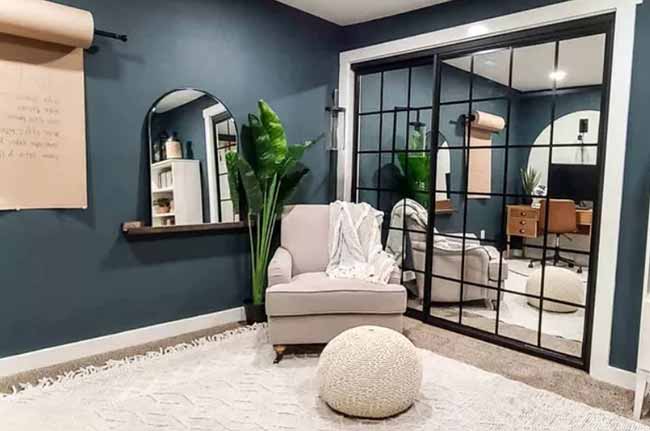 Mirrored closet doors beautifully reflect light, making a room feel more spacious and airy.
They often come adorned with attractive trims and handles, elevating the room's ambiance.
However, keep in mind that mirrors can emphasize clutter and require regular cleaning to maintain their reflective qualities. Image Credit: Making Manzanita
12. Save Space and Maintain Accessibility with Accordion Closet Doors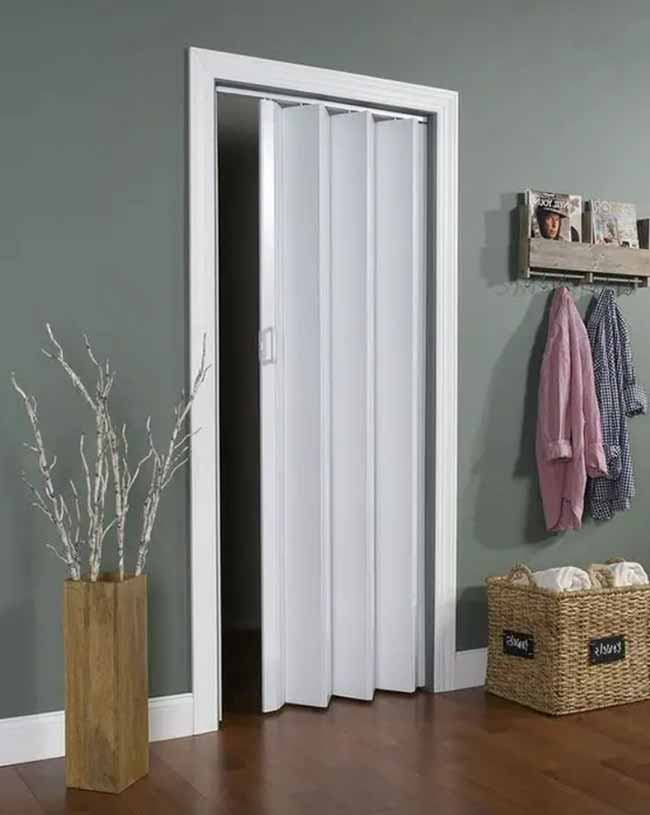 Accordion doors are a practical space-saving solution that ensures easy closet access. They are lightweight, cost-effective, and simple to install.
However, they may limit access to the entire closet due to their folding mechanism. The plastic construction can lead to durability issues and noise when opening or closing.
13. Closet Doors with Fabric Panels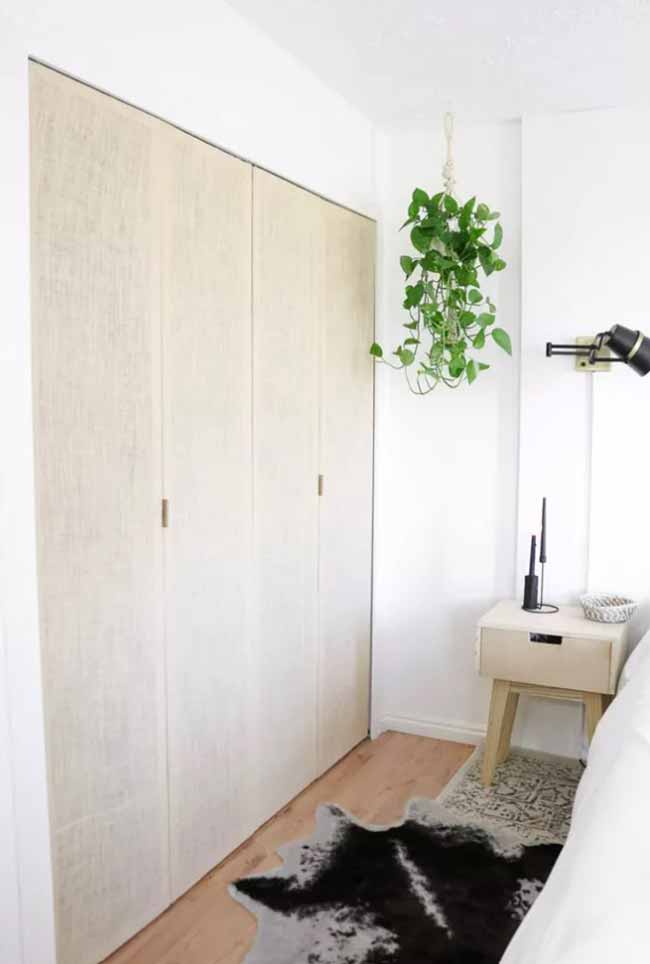 Give your unsightly closet doors a makeover with fabric panels. Whether you own your home, rent, or just don't want to tackle a major renovation, using natural burlap fabric is a great way to enhance your bedroom's relaxed and bohemian atmosphere.
Plus, it's a breeze to take down if you have a change of heart. If boho isn't your thing, consider using a stylish graphic floral print or stripes for a trendy touch. Image Credit: Lily Ardor
14. No Door At All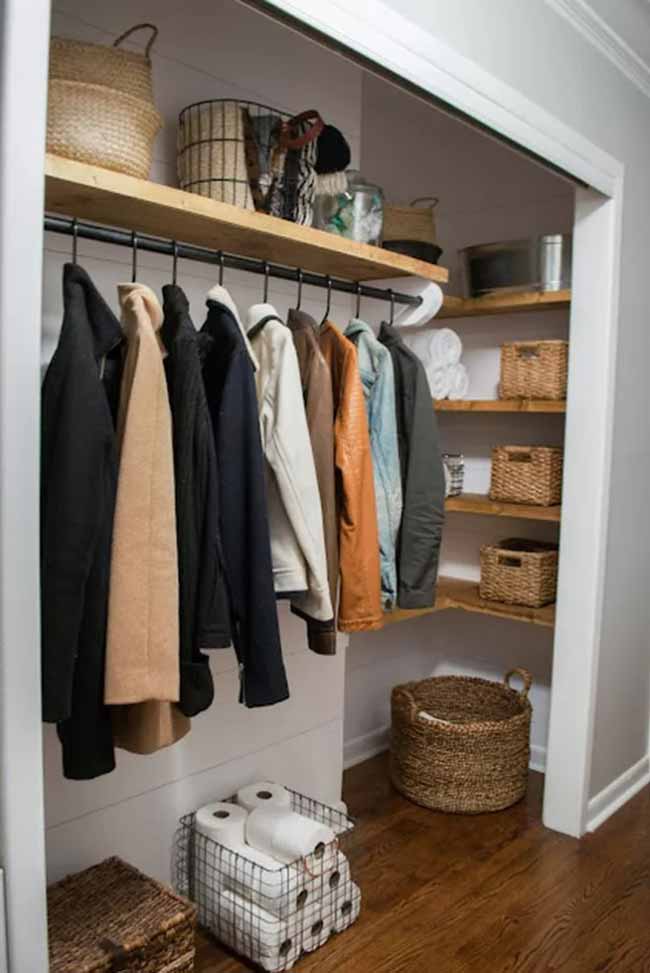 If you're not sure which door style is right for your closet, you can try taking them off. It's like giving your closet a fresh look. You can always put the doors back on or try new ones later when you've made up your mind.
You might actually like having a closet without doors. It makes you keep your clothes neat and tidy. You can see everything in there easily. You can also use woven baskets to keep things organized and make your closet look nice. Image Credit: Jonesville
15. Rolling Shades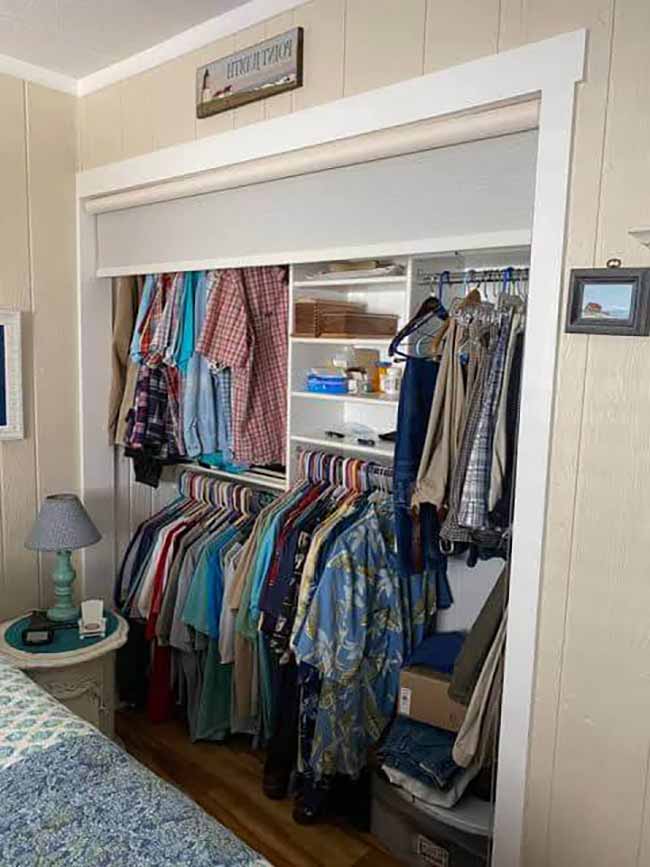 You can use rolling shades for your closet. They go up and down easily, and they don't cost much. You just need to hang them from the ceiling.
You can use different types of blinds. When you roll them down, your closet will be completely covered for privacy. You can get these shades in fabric, bamboo, or even plastic.
# Common Questions About Closet Doors and Alternatives
When it comes to closet doors, many people have questions. Let's explore some common questions about closet doors and alternatives:
Do closets always need doors?
No, closets don't always need doors. Walk-in closets, for example, often don't have doors. But, without doors, moisture can get in, making your clothes smell musty.
What do you call a closet without a door?
A closet without a door is usually called an open closet. They're common in many European countries and are like larger closets or extensions of a bedroom.
How much do closet doors cost?
The cost of closet doors varies based on material, size, and style. On average, they can range from $100 to $500. But when you factor in labor and other materials, it can be around $200 to $700.
What's the cheapest type of closet door?
If you're looking for budget-friendly options, consider these:
Hollow core doors
Bifold closet doors
Flat panel doors
Vinyl folding doors
Single panel doors
Can you make your own closet door alternatives?
Yes, you can! If you're creative and have some woodworking skills, DIY closet door alternatives are doable. We've listed a few ideas you can make yourself.