75 Spring Flower Arrangements That Will Make Your Home Incredibly Attractive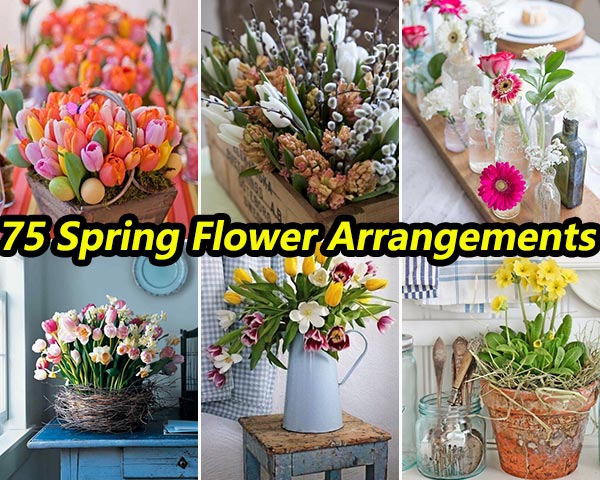 Spring is a perfect time to bring some color and life into your home with beautiful flower arrangements. Here we provide ideas for creating stunning centerpieces and bouquets using pastel colors, bold and bright flowers, monochromatic arrangements, and more. Whether you are a seasoned florist or just looking to add some color to your home, these 75 crazy ideas will inspire you to create beautiful and eye-catching flower arrangements this spring season.
Additionally, consider using different vessel options, such as baskets, jars, or even teapots, to add an extra touch of creativity to your arrangements. Experiment with different textures and shapes, and don't be afraid to mix flowers with greenery or other natural elements to create a unique and memorable display. Whether you opt for a traditional bouquet or a more eclectic arrangement, the possibilities are endless when it comes to creating beautiful spring flower arrangements. So get creative, have fun, and enjoy the beauty of the season in your home.
1. Hanging Floral Chandelier over the Dining Table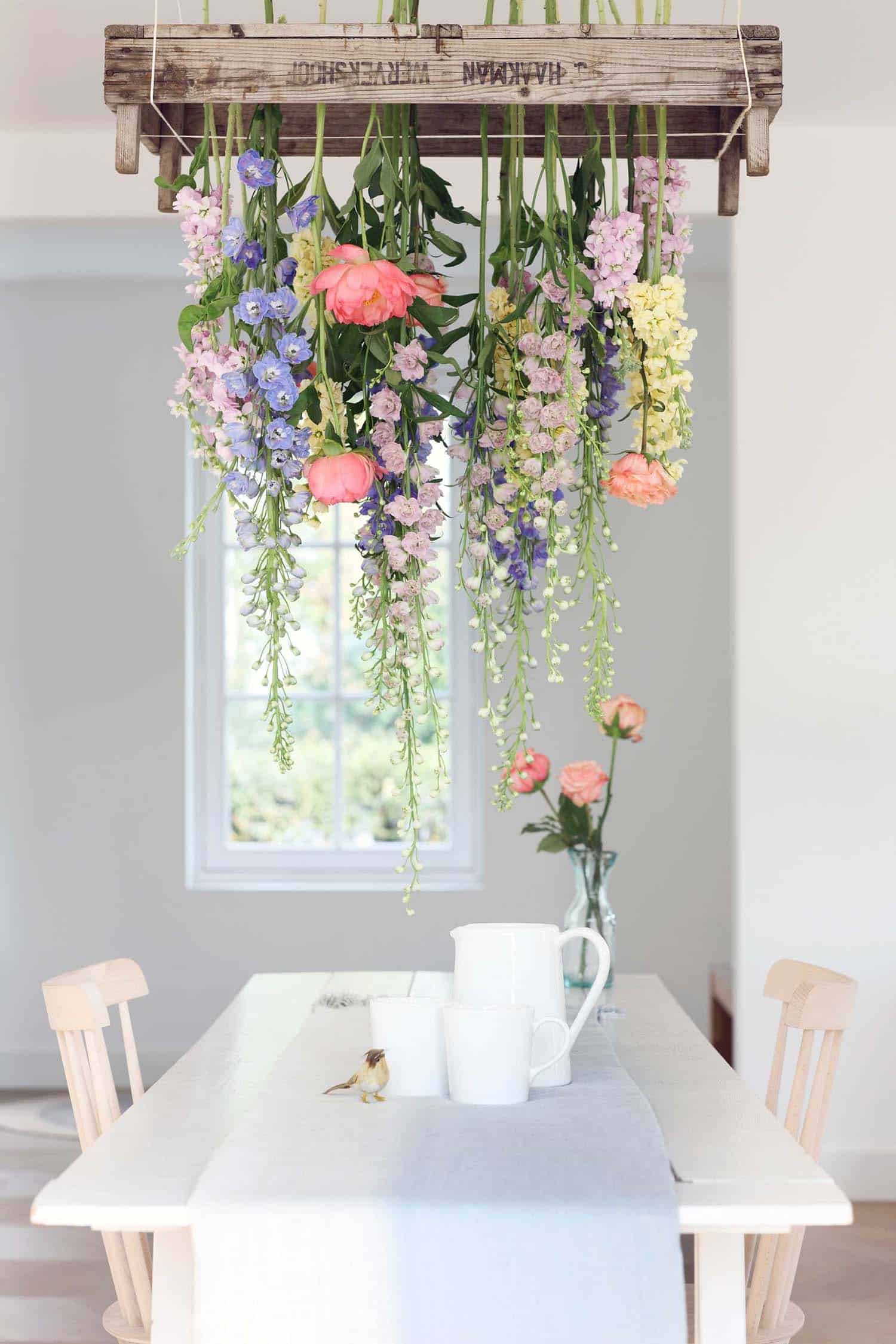 This method uses an old bulb box with a mesh grid, various types of florals, rope, and water tubes to make this hanging floral chandelier.  via VTwonen
2. 5-Minute Flower Arrangement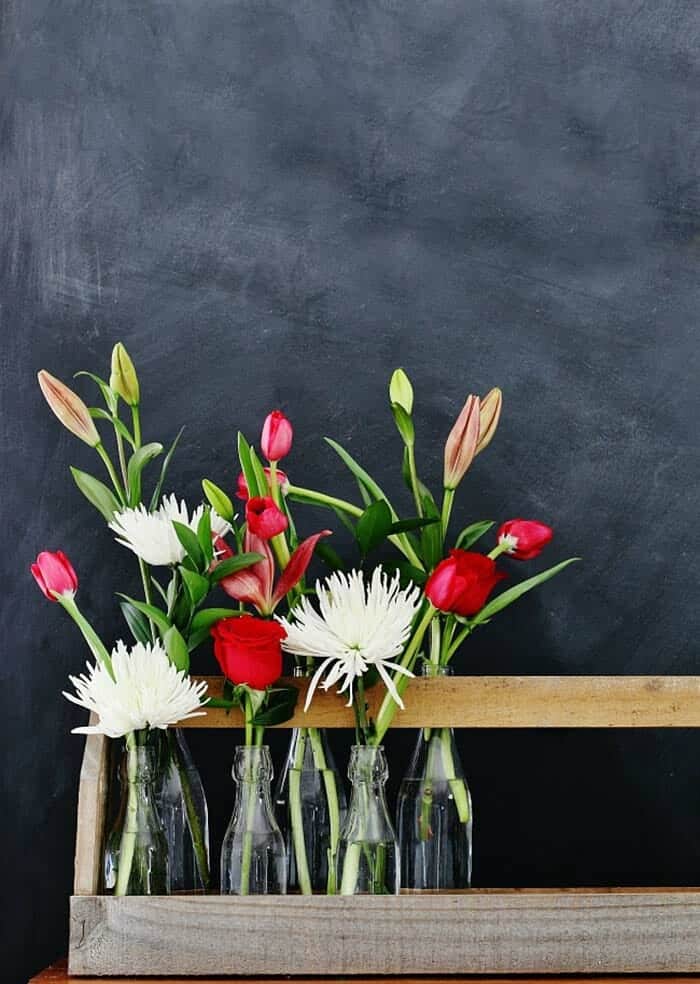 You can use tulips and other fresh flowers, glass bottles, and a toolbox to make this flower arrangement.  via Thistlewood Farms
3. Teacup Spring Flower Arrangement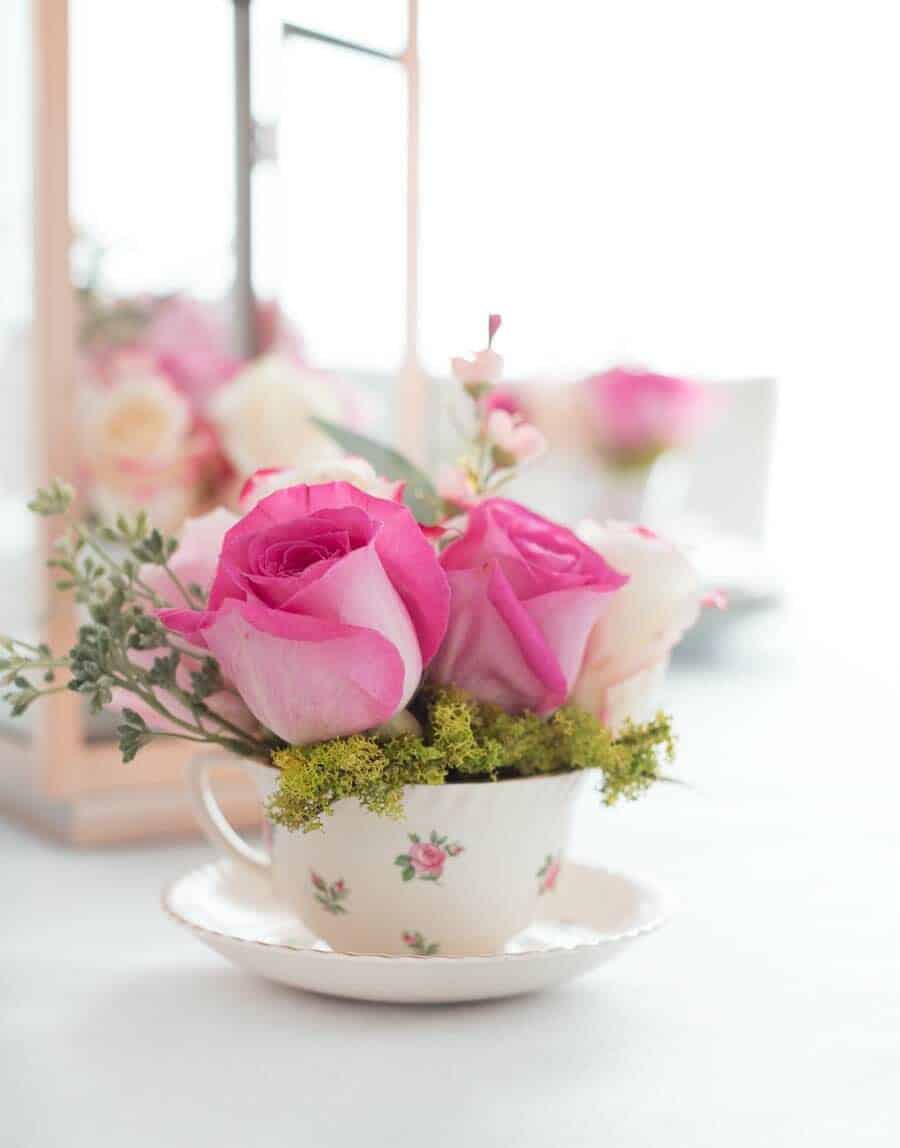 This simple arrangement can be made with the help of faux eucalyptus, chicken wire, fresh roses, and a teacup.  via Craftberry Bush
4. Flower Arrangement in an Old Zinc Bucket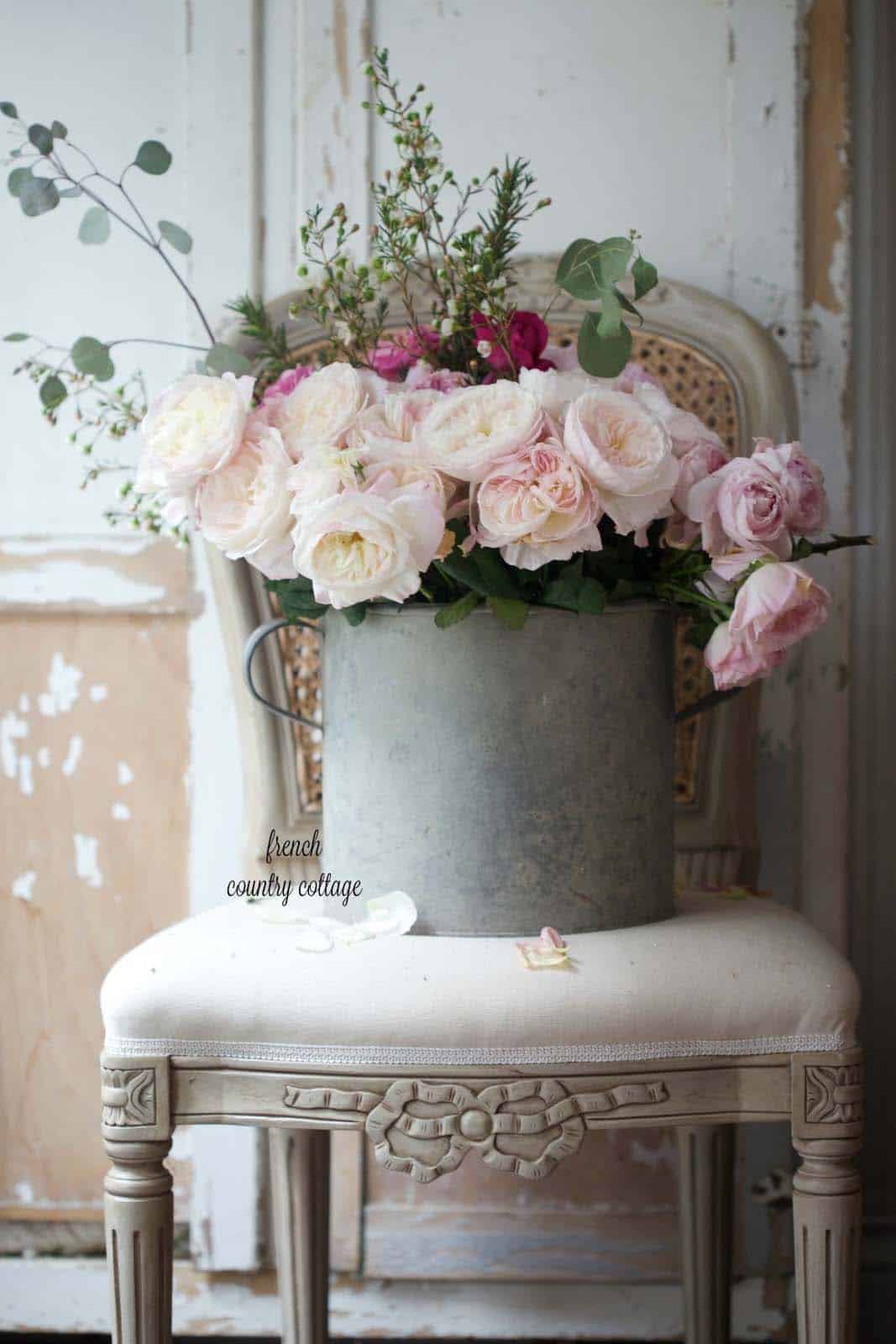 Fresh blooms must be filled in an old zinc bucket before placing it on a chair or table.  via French Country Cottage
5. Flower Arrangement with a Farmhouse Style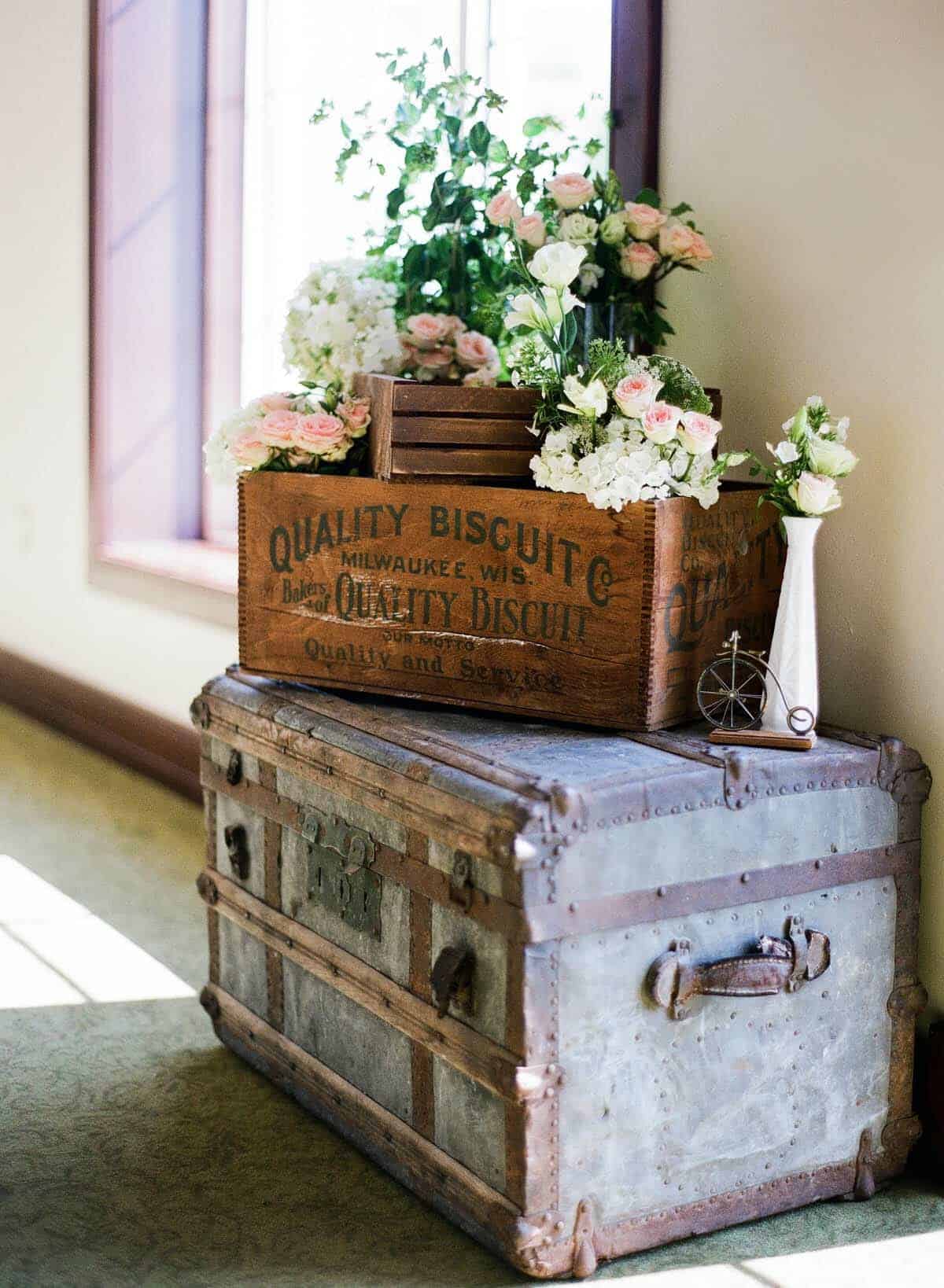 You can make a pretty vignette using flower vases baskets, crates, and a vintage trunk.  via Meet The McCartney's
6. Dining Table Flower Arrangement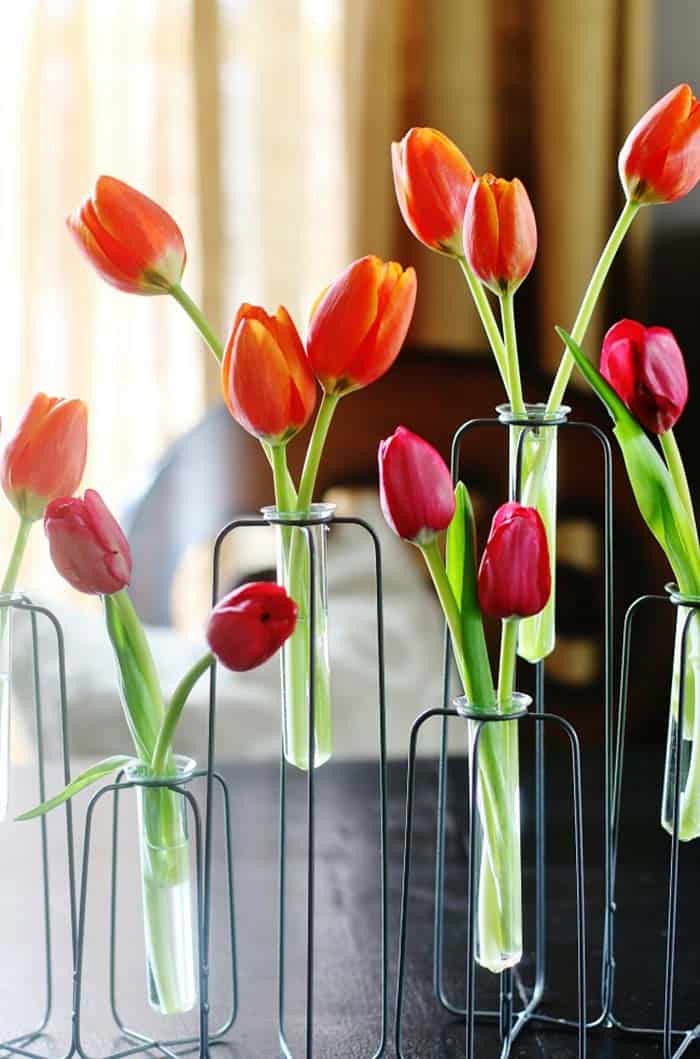 It is one of the most common spring flower arrangements you can ever come across. This dining table floral arrangement can be made using fresh tulips and a wire.  via Thistlewood Farms
7. Diagonal Floral Arrangement

Flowers are diagonally arranged in layers to make this unique decoration. It is a suitable option for your dining table, front entry, and kitchen counter.  via Ella Claire Inspired
8. Dining Chair Spring Floral Arrangement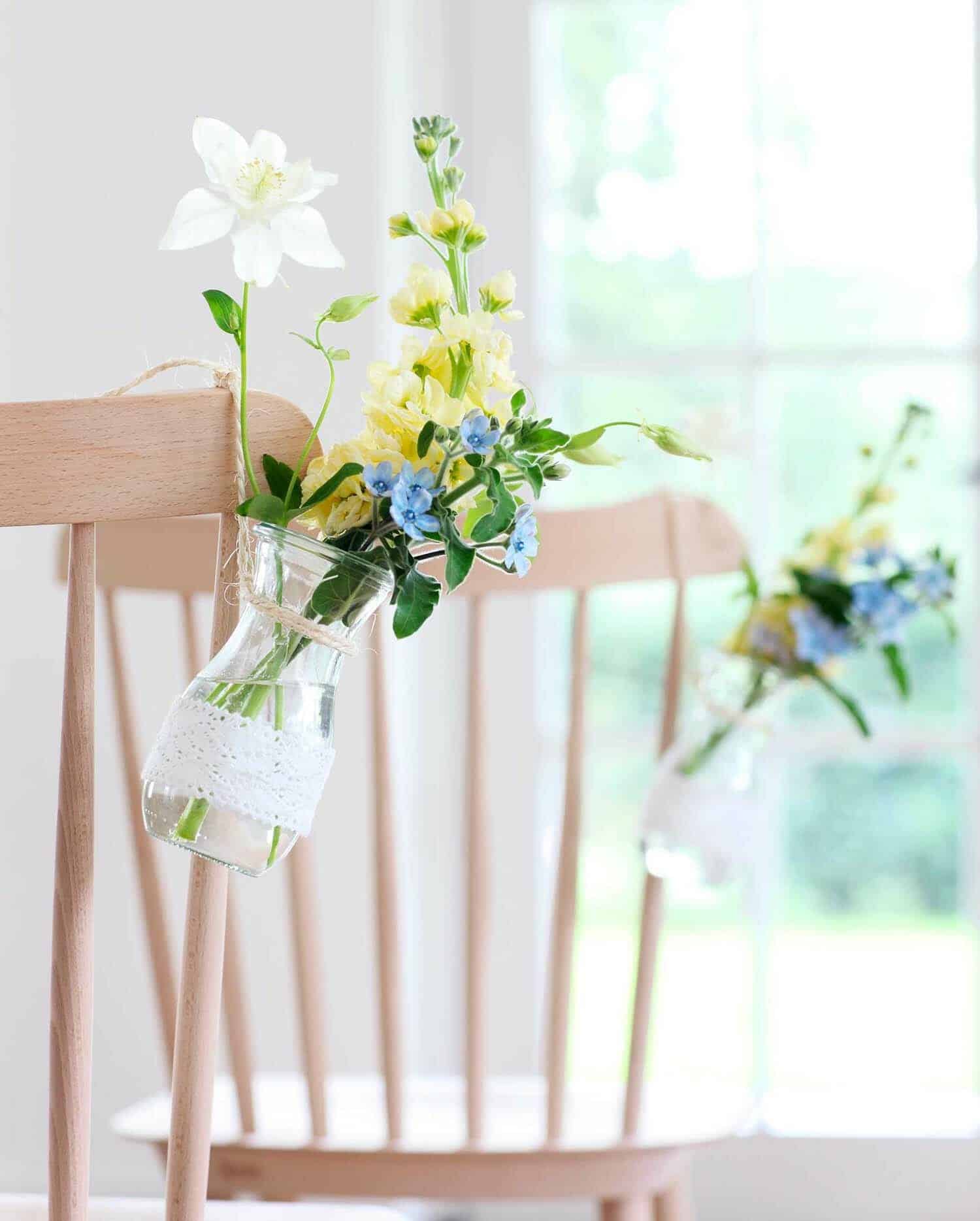 This idea teaches you how to make a spring flower arrangement with double-sided sticky tabs, lace ribbon, a vase, and fresh spring flowers.  via VTwonen
9. Flower Arrangement with Store-Bought Flowers and Antique Bottles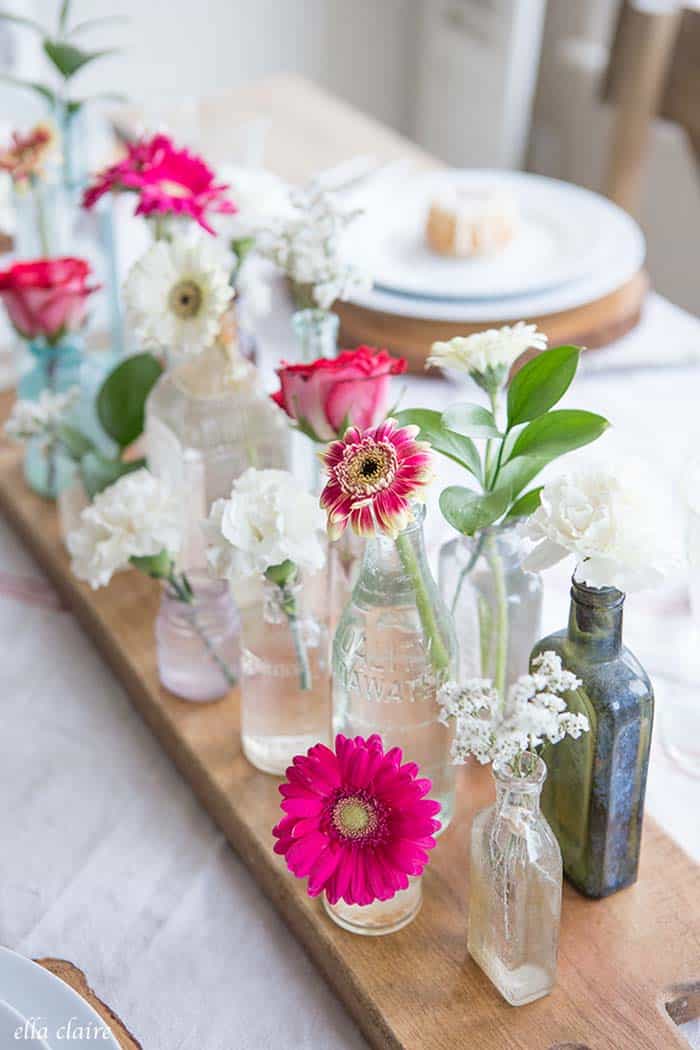 Learn how to make stunningly appealing spring flower arrangements using antique bottles and store-bought flowers.  via Ella Claire Inspired
10. Wooden Floral Arrangement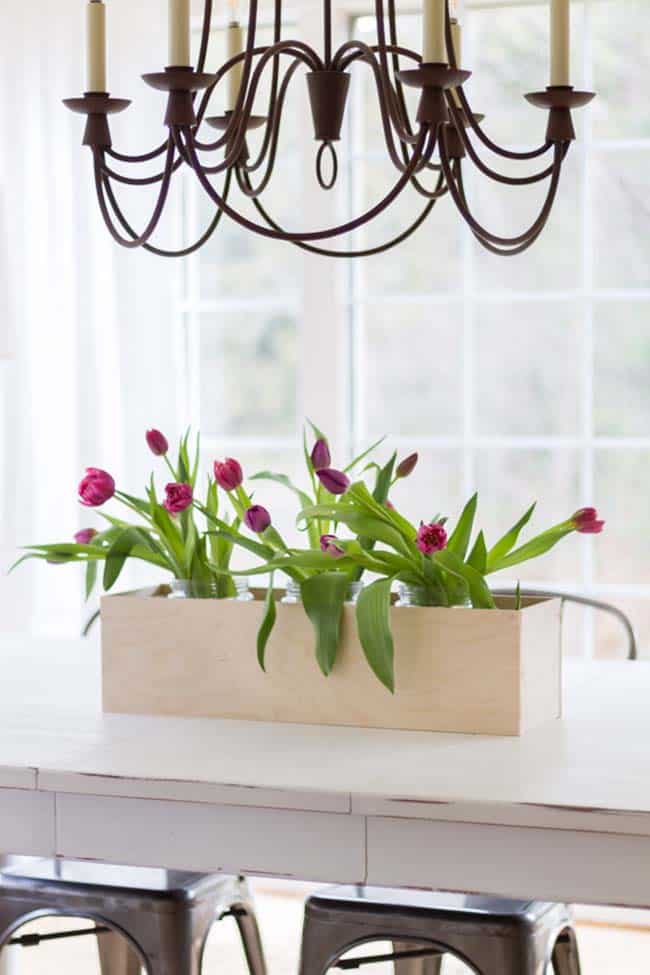 Fill the vase with faux or fresh flowers and place them on your window or dining table. A wooden box is needed for fresh flowers.   via: Zevy Joy
Another idea to consider is incorporating seasonal fruits and vegetables into your arrangements. Adding elements such as lemons, limes, or even artichokes can add an unexpected pop of color and texture to your bouquet. This approach is perfect for a more organic and natural look, and is a great way to bring the beauty of the season indoors.
Finally, don't forget to play with color combinations. Spring is the perfect time to experiment with different hues, and combining complementary colors can result in a truly stunning arrangement. Consider pairing warm and cool colors, or experimenting with contrasting colors to create a bold statement piece.
In conclusion, spring is the perfect time to bring some life into your home with beautiful flower arrangements. Whether you opt for pastel colors, bold and bright blooms, monochromatic arrangements, or even incorporate seasonal fruits and vegetables, the possibilities are endless. So get inspired, get creative, and enjoy the beauty of the season with your very own spring flower arrangements.
11. Clear vase with green hydrangeas and white tulips in a wicker holder is a charming spring decor in rustic style.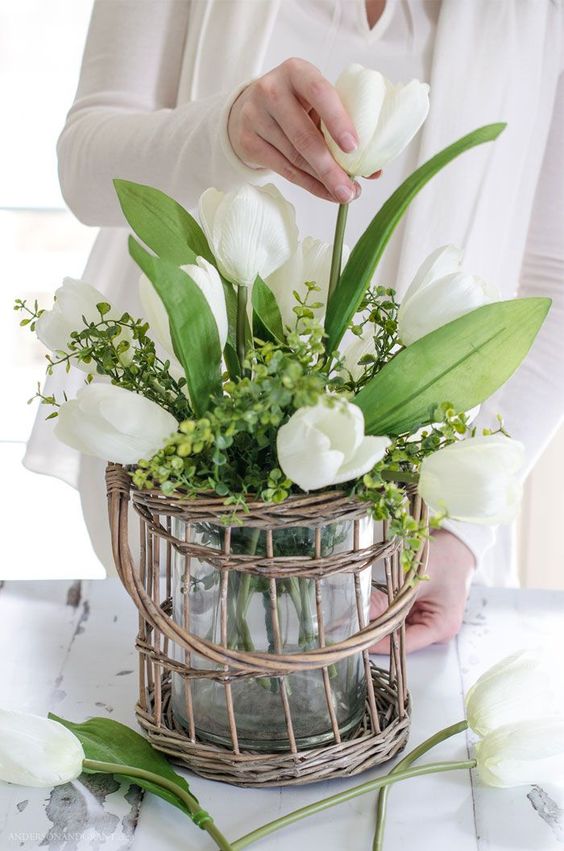 12. Bright and playful spring flower arrangement with a clear vase and purple hyacinths and yellow tulips.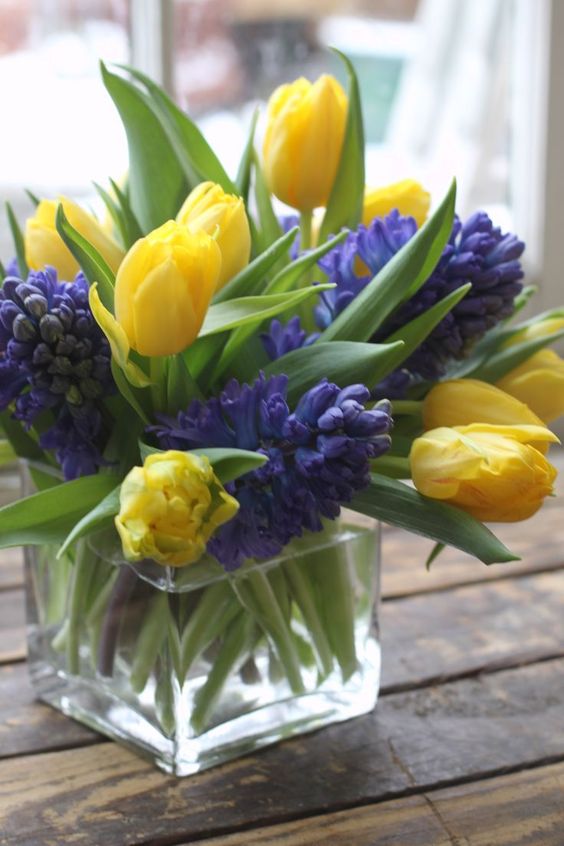 13. Clear vase with white ranunculus, eucalyptus, and twigs creates a lovely fresh spring look.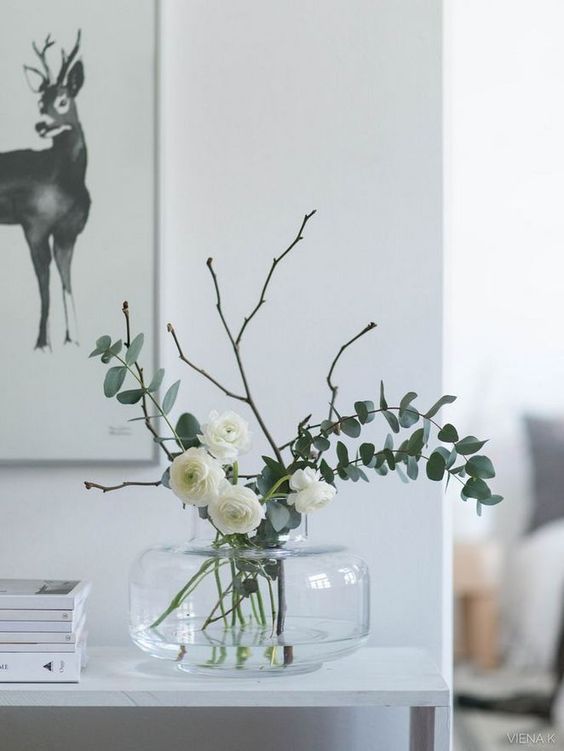 14. Bold spring flower arrangement with yellow tulips, willow, and a touch of eucalyptus in a clear vase.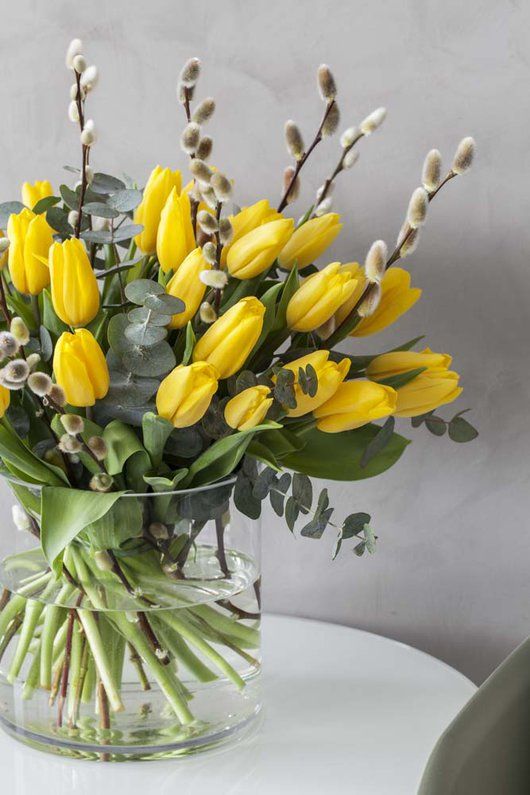 15. Rustic wooden box filled with moss, greenery, pink tulips, and twigs creates a fabulous fresh look.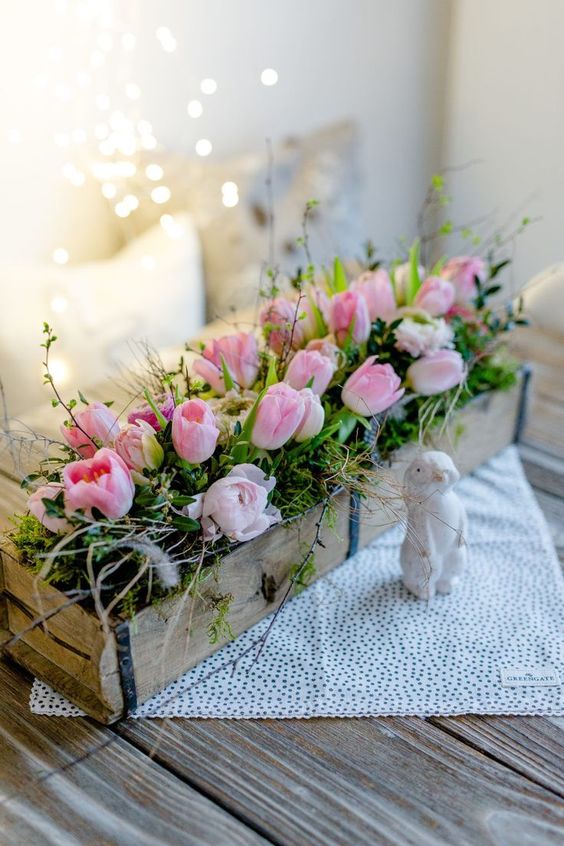 16. White crocus and blue hyacinths in a jug create a lovely and fresh spring flower arrangement.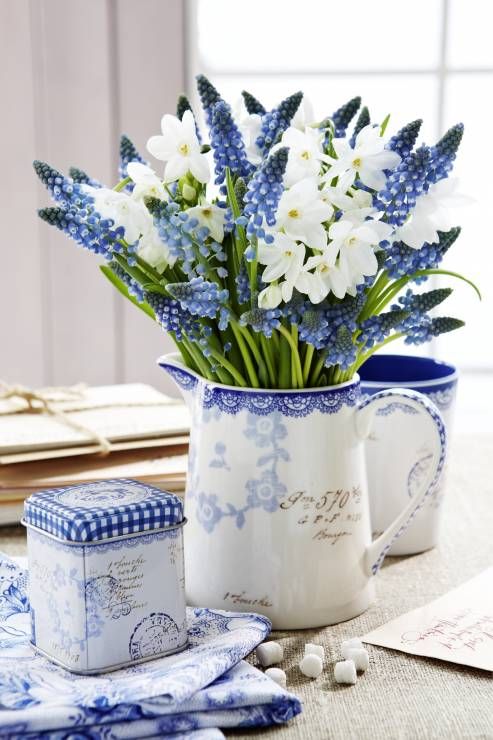 17. Large jar with pink tulips and fresh eucalyptus makes a lovely and cool spring flower display.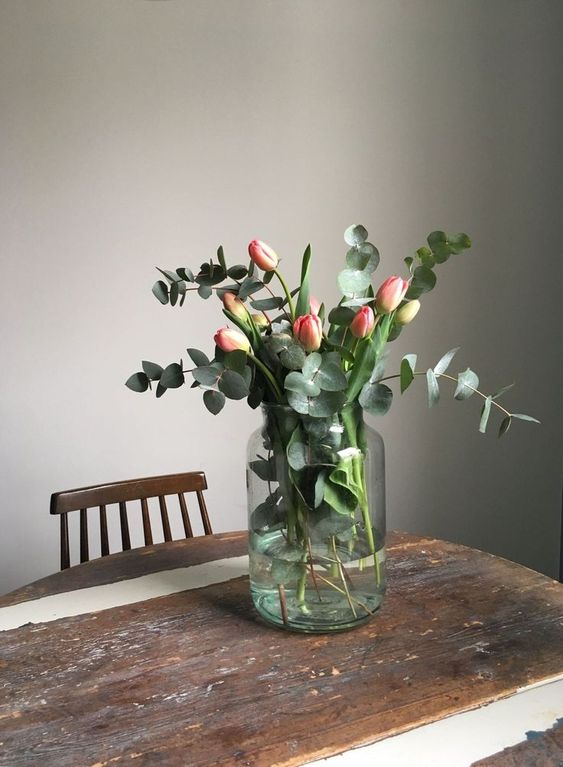 18. A classic spring flower arrangement with white blooms and eucalyptus in a large white vase.
19. Amazing spring flower cluster with white, pink, and purple blooms, and greenery.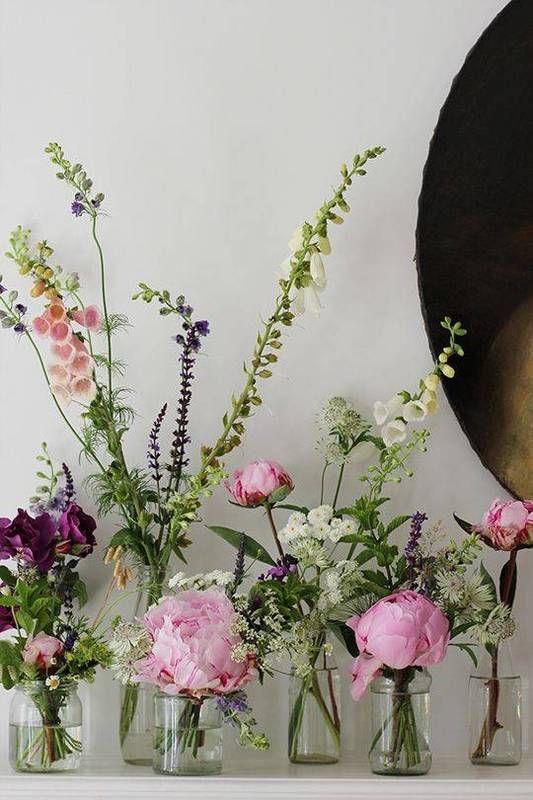 20. Pastel flower arrangement with greenery, berries, herbs, white blooms, and a colorful block vase is lovely.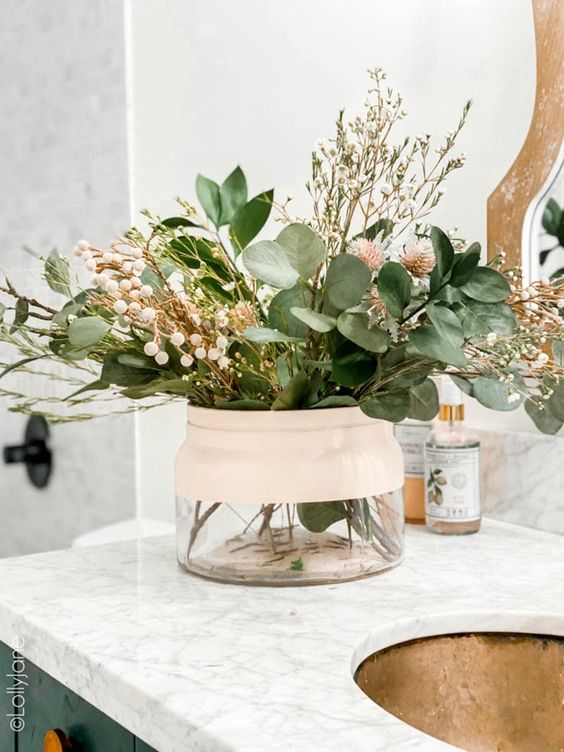 21. A wooden box brimming with rust tulips, white ones, willow, and leaves creates a stunning rustic spring floral display.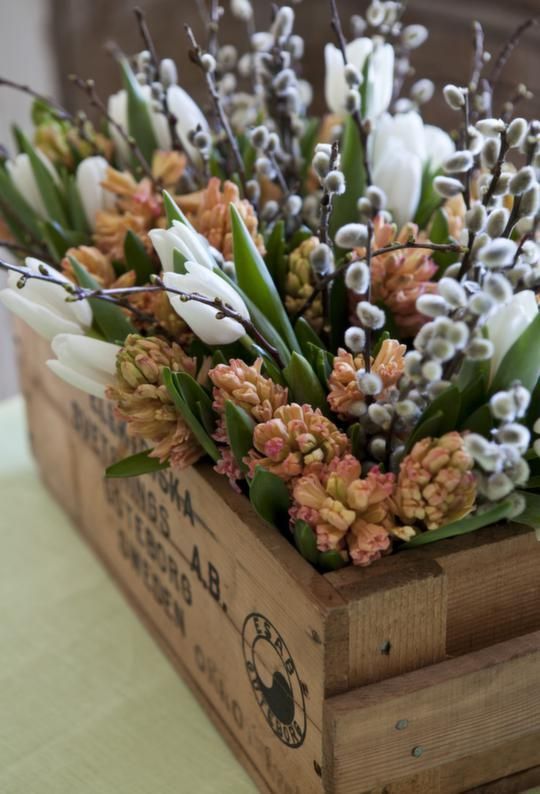 22. Adorn your space with a beautiful rustic spring decoration, featuring snowdrops in moss, wrapped with bark.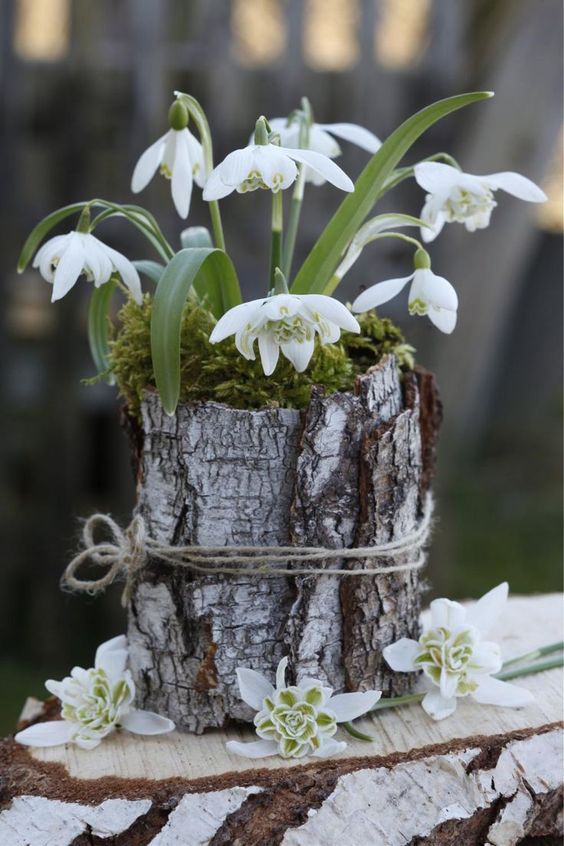 23. Make a statement this spring with a metal jug filled with a bold mix of yellow, pink, and white tulips.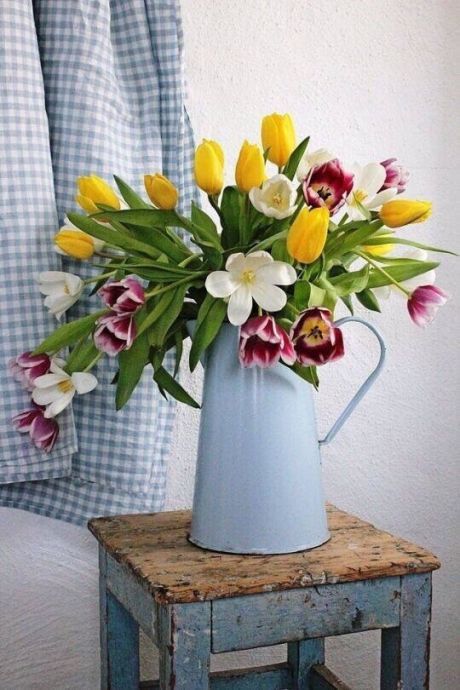 24. Add a touch of charm to your rustic space with a bright tulip and daffodil nest arrangement.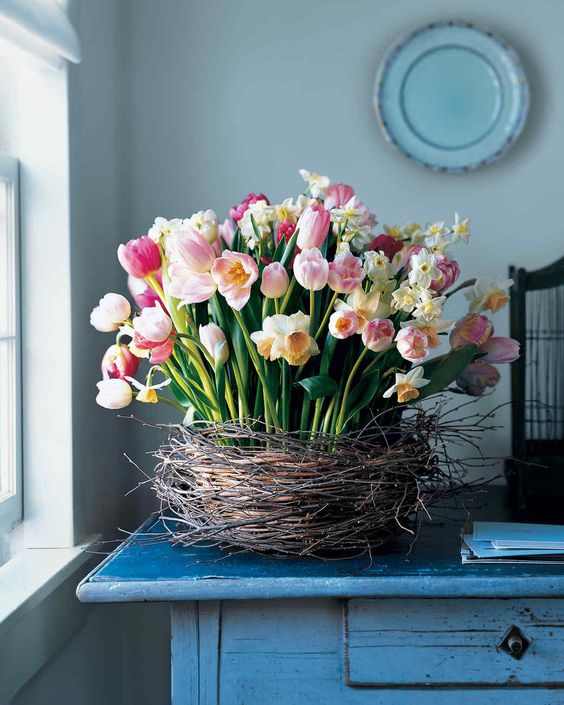 25. Bring spring vibrancy to your home with a pretty jug of yellow tulips, pink peony roses, cherry blossom, and purple blooms.