10 Cool Ideas for Creating DIY Long Planters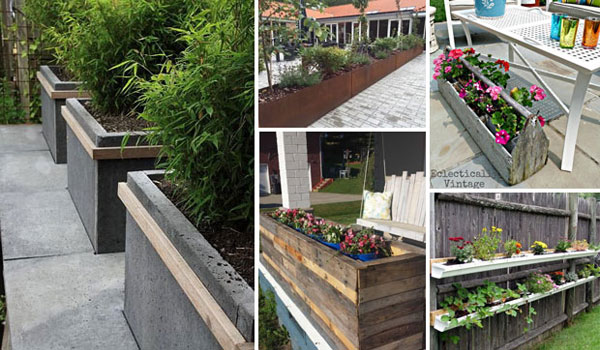 A planter is not only the house of your plants, but it is also a decoration itself. The special planters will be the perfect way to organize and show off your plants, such as the following long planters. They have larger space to let you plant so many of your favorite flowers and plants at once in a place. Compared with normal planters, they will produce a bold statement outside your home and will leave an impression on you and your visitors. Although a long planter is so unique, it can be created by yourself just as these low-budget DIY garden pots and containers. So if you like to display your plants in a different way, you could check these ideas:
1. Build a long planter from a cattle trough: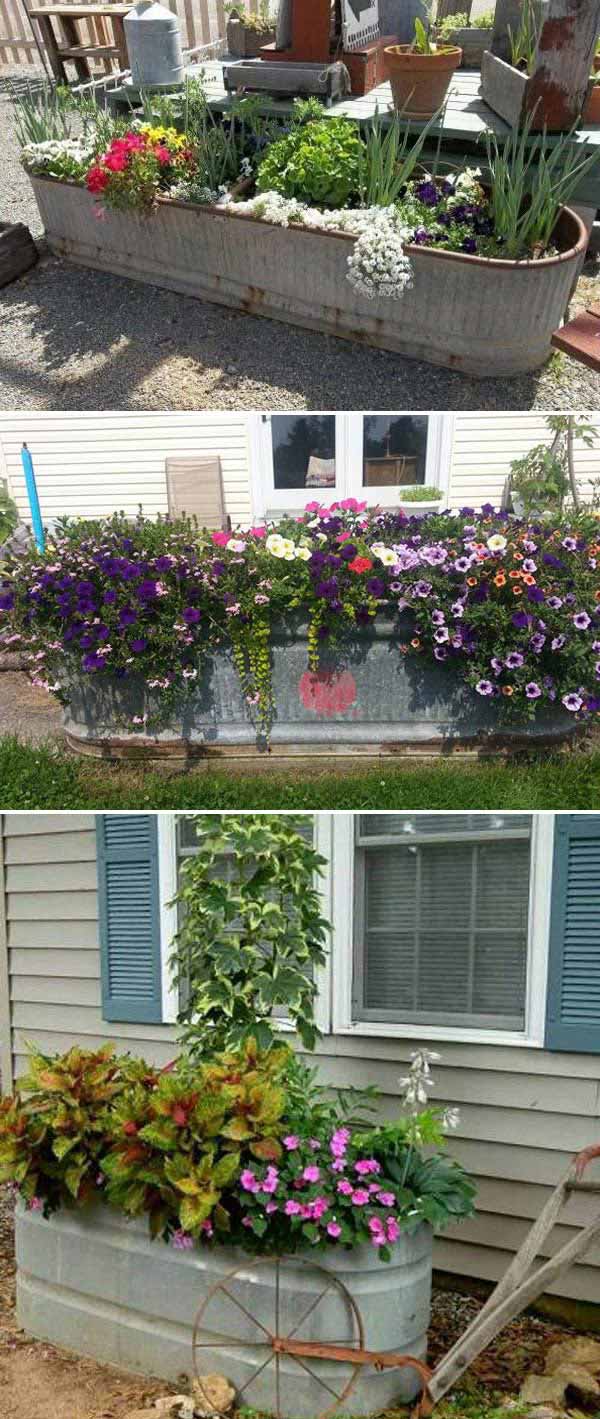 ---
Tutorial: How to Make a DIY Trough Planter
Step 1: Prepare the Trough
Gather the following tools and materials:
Galvanized water trough
Cordless drill
1/8″ cobalt drill bit
Six-foot level
Landscape fabric
Large gravel
Topsoil
Slow-release fertilizer
Step 2: Create Drainage Holes
Use the cordless drill with the 1/8″ cobalt drill bit to drill approximately 10 holes around the perimeter of the trough and 10 holes in the bottom. This ensures proper drainage and prevents the plant roots from rotting due to saturated soil.
Step 3: Level the Base
Set up the trough in the desired location, such as in front of a playhouse. Ensure that the base of the soil underneath the planter is flat and level. Use a six-foot level to achieve a level base, making adjustments as necessary.
Step 4: Facilitate Drainage
Avoid directly filling the trough with soil, as it may clog the drain holes. Add components to the bottom of the trough to facilitate drainage. Start by adding a layer of coarse gravel, covering all the drilled holes on the sides.
Step 5: Prevent Soil Migration
To prevent the soil from working its way down through the gravel over time, add a layer of thick weed barrier fabric on top of the gravel.
Step 6: Fill the Trough with Soil
Fill the trough with regular topsoil until it reaches the top. Regular topsoil is recommended unless you have a specific reason to reduce the amount of soil needed. Estimate the amount of topsoil required, considering the size of the trough.
Step 7: Add Fertilizer
While filling the trough with soil, sprinkle some slow-release fertilizer into the top one-third of the soil.
This ensures vigorous growth for the plants once they are planted.
Step 8: Planting
Once the trough is filled, it's time to plant the flowers. Choose a variety of flowers, preferably annuals, for continuous blooming throughout the summer. Involve the whole family in the planting process, making it a fun activity.
---
Via: planterworx.com & nativeedgelandscape.com & hadstensmede.dk
3. PVC pipes can be repurpsoed in different ways and thus turned into super cool planters in your patio: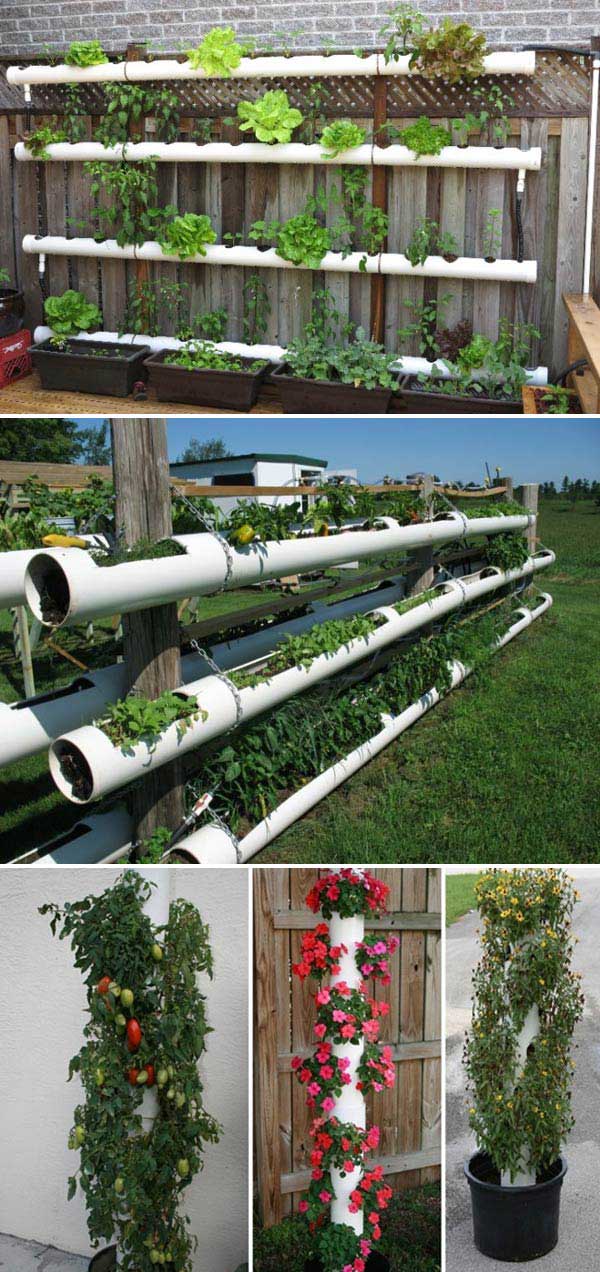 4. Recycle the old tool tote to make planter that will fit great in the rustic style in the patio: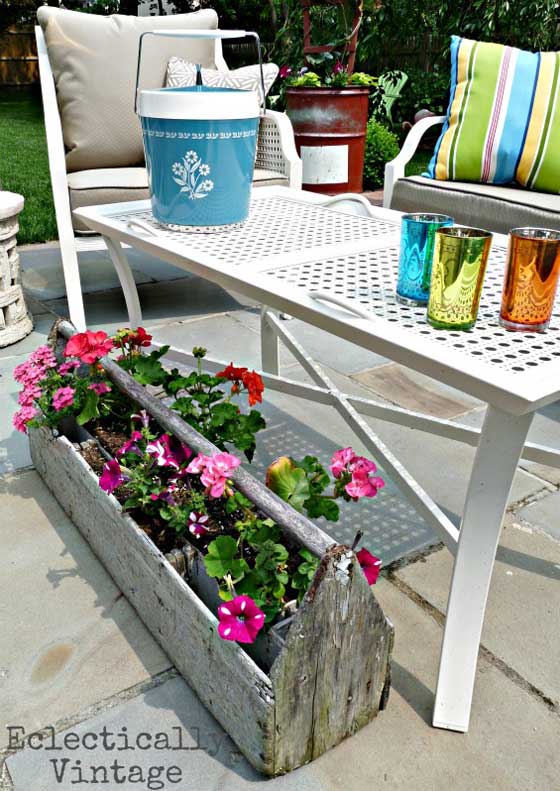 5. Reuse old wooden pallets to make a trough planter that can be a focus point of your patio:

Tutorial at: sowanddipity.com  &  infarrantlycreative.net     Image via: 1001pallets.com
6. Increase your home's curb appeal and grow colorful flowers on a long window box: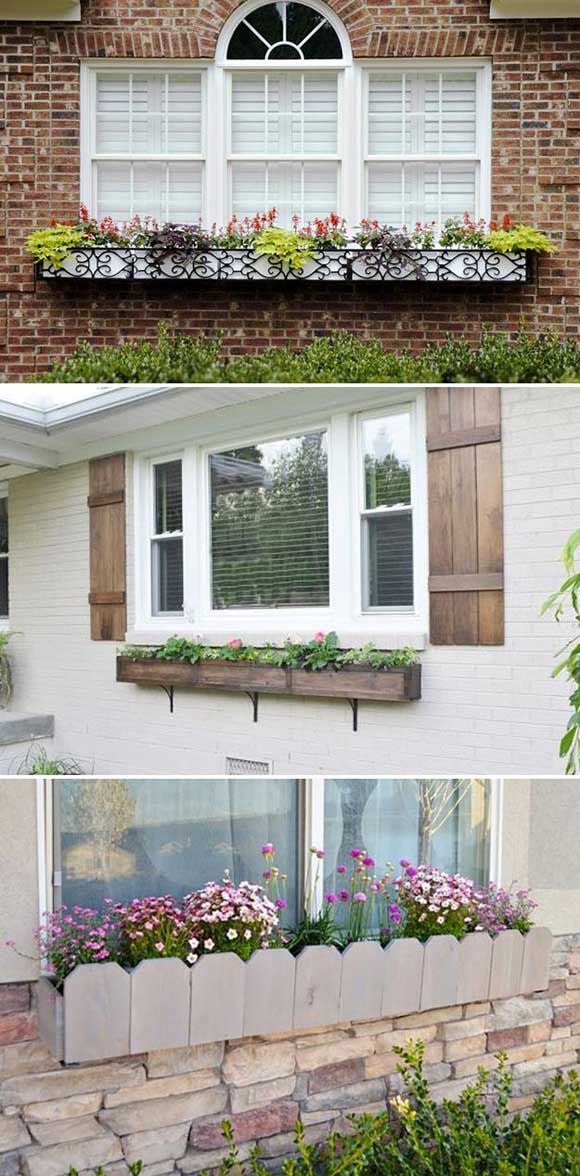 Image via: windowbox.com    Tutorial at: Youtube.com
7. Dress up your wooden fence or walls using rain gutter planters: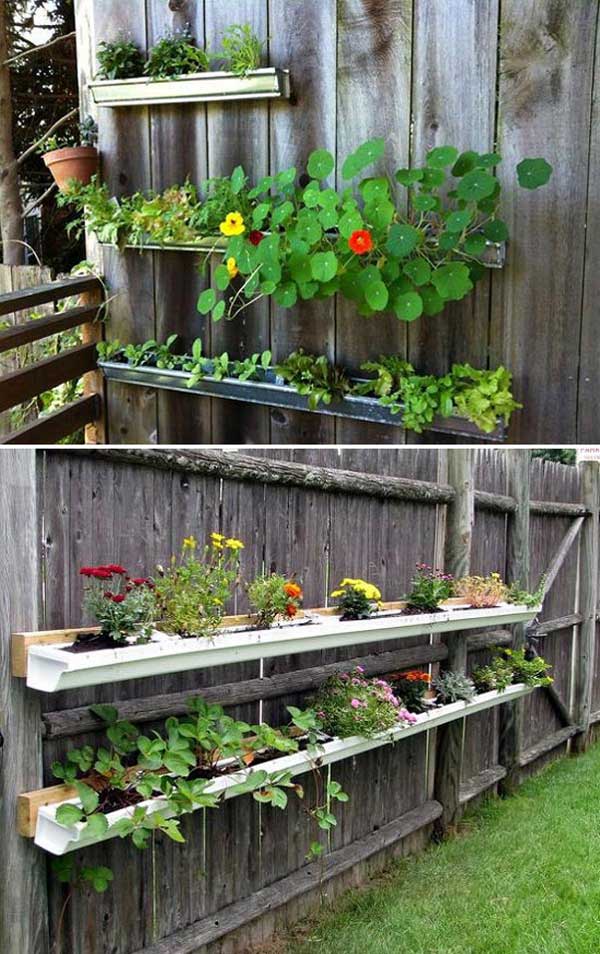 Tutorial at: instructables.com     &    paintedtherapy.blogspot.com
8. Create concrete planters: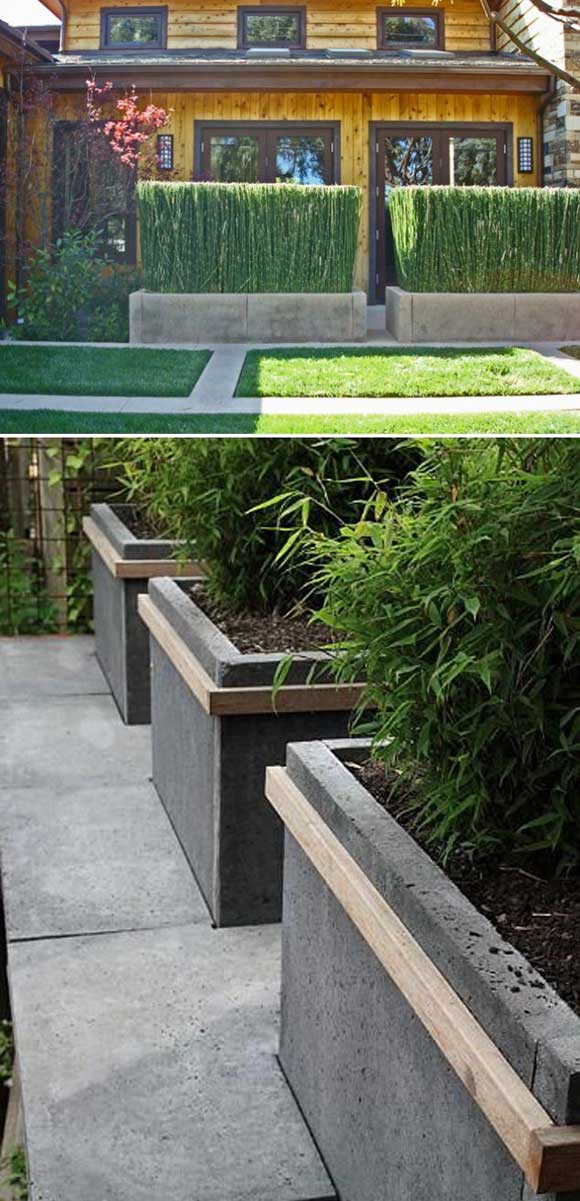 Image via: houzz.com    &     flickr.com
9. Turn a log into a long planter: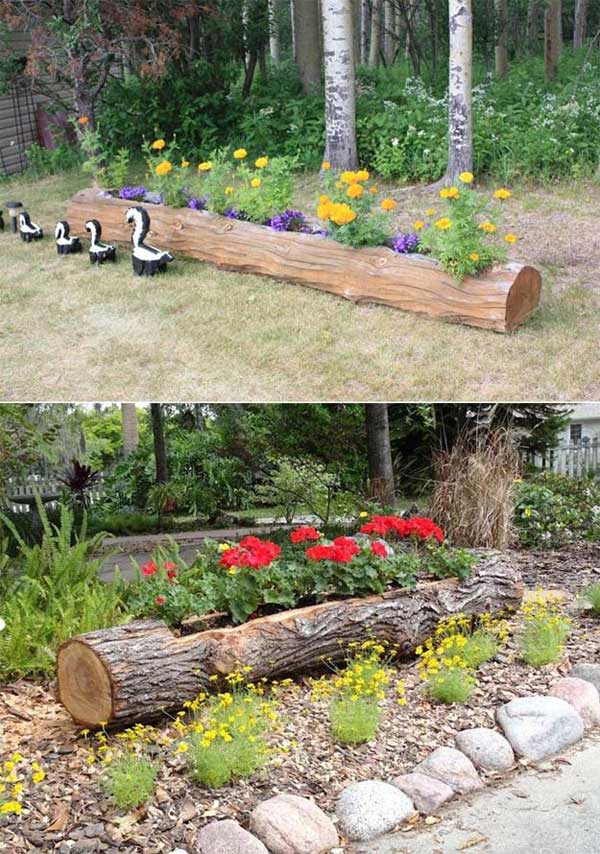 Image via: peacecountrygardens.com   &   tampahomebody.com
10. Repurpose a vintage chicken feeder for a new kind of gardening: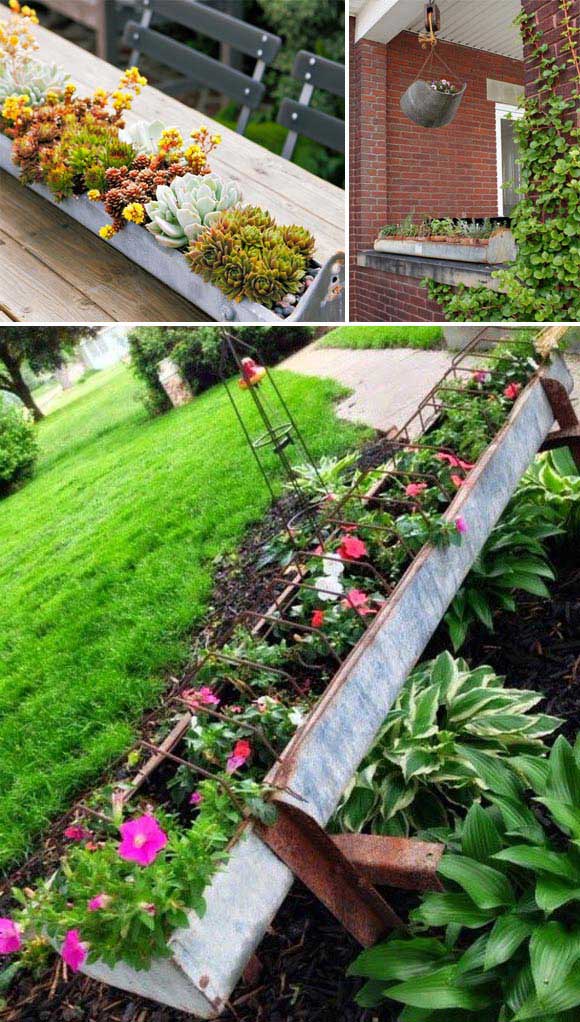 Image via: inspiredbycharm.com   &   sunset.com   &   minettesmaze.blogspot.com