Top 30 Stunning Low-Budget DIY Garden Pots and Containers
The garden is an exciting place where people never stop innovating. Every corner and detail of the garden is worth your attention. Sometimes a small change can make a big difference to your garden. For example, garden pots and containers not only serve your plants but also add to the beauty of your garden. By replacing boring terracotta pots with interesting DIY pots, your garden can become even more wonderful.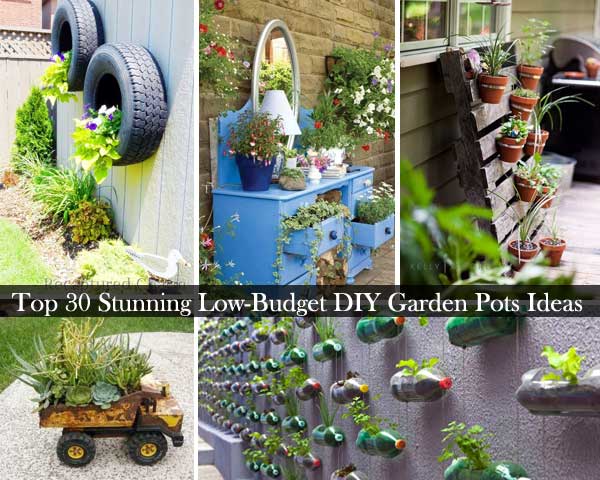 Creative Ideas for DIY Garden Containers
You don't need to buy from stores because old tires, boots, cabinets, wine barrels, and other unique items can be turned into DIY cheap garden pots that will amaze you. If you want to learn about more new garden planter ideas, the following 30+ suggestions can help you.
#1 Create Tree-stump Planters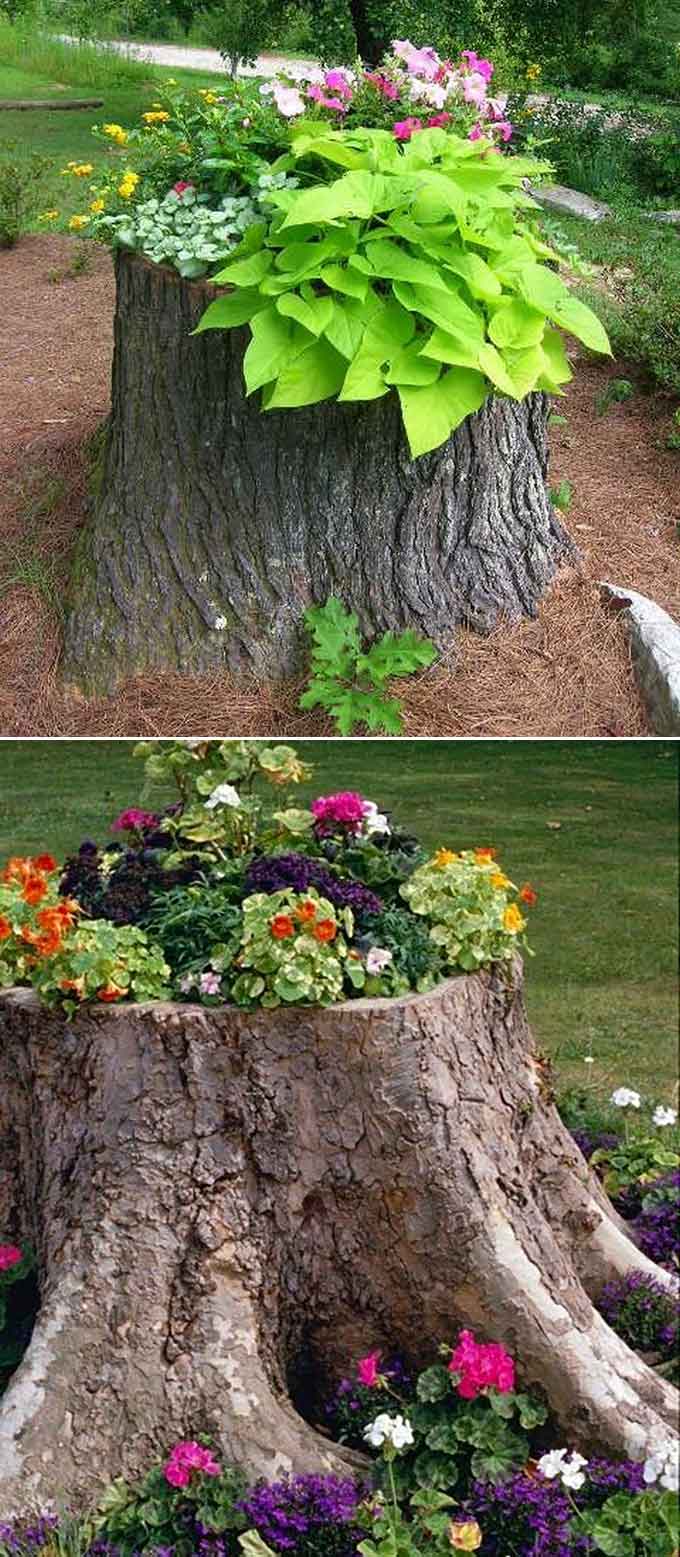 To turn an ugly tree stump into a planter, use a sharp mattock to create a 4-8 inch deep hole with a 3-inch border. Drill drainage holes onto the side of the stump, then add gravel and a mix of potting soil (70%) and compost (30%). Finally, Choose your favorite annuals or perennials to plant and enjoy your new garden addition.
#2 Upcycled Toy Truck Garden Planters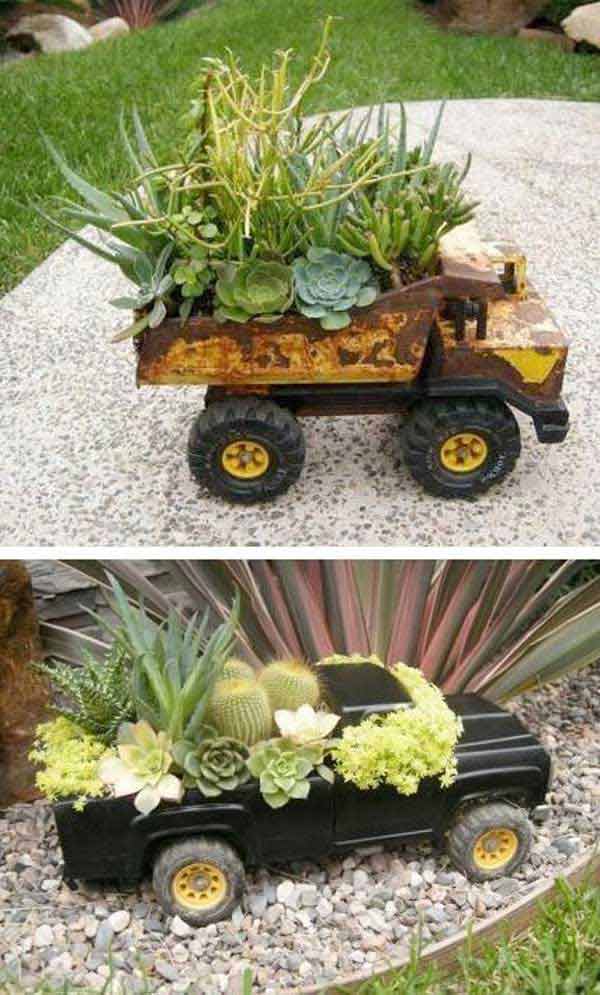 Image: : Capers & Crayons
Create unique garden planters with toy trucks, but be cautious with children who may damage the plants by rolling the trucks. Even rusty trucks can be repurposed, especially when filled with small succulents or upright greens.
#3 Broken Pots Turned Into Brilliant DIY Fairy Gardens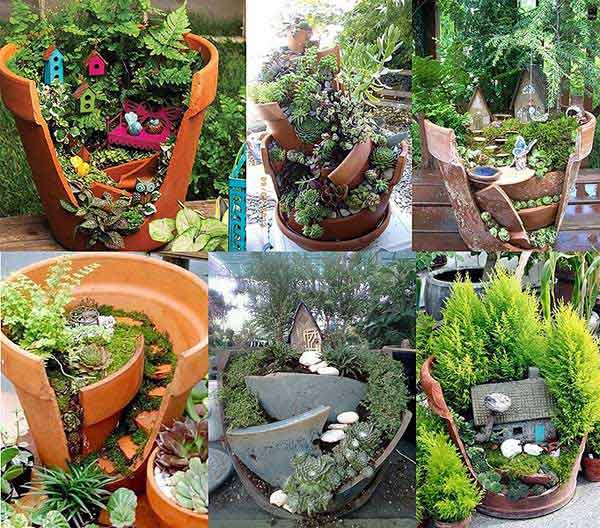 Transform old planters into enchanting miniature gardens with whimsical decorations and tiny plants. Broken pots can be repurposed into magical DIY fairy gardens. Unleash your creativity and enjoy the process!
#4 Small Space Greenery with Palette and Pot Planters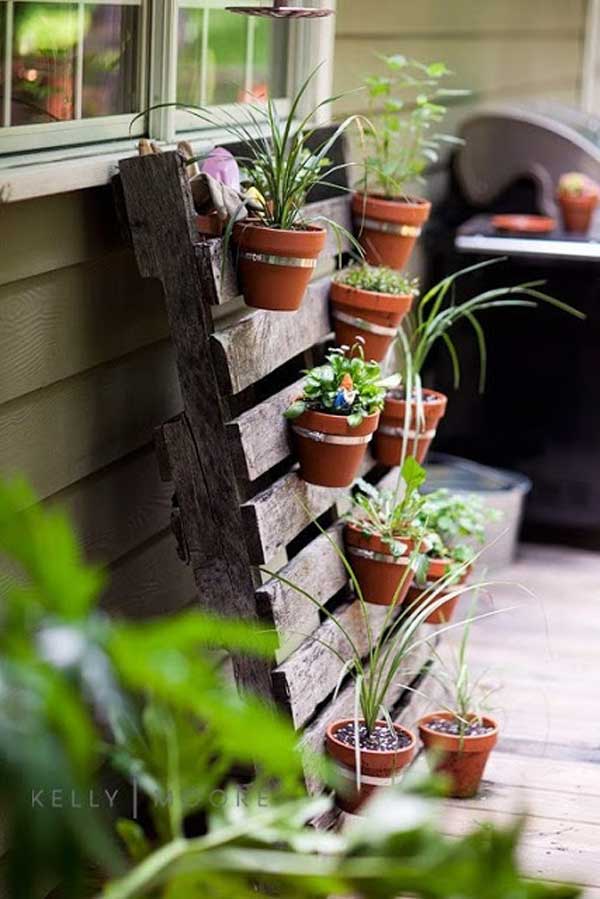 Get creative with your cheap garden pot ideas by using small terracotta pots hung on a wooden pallet. Use metal rings and small terracotta plant pots to create a vertical garden for your kitchen herbs.
Add a personal touch by painting the pots with chalkboard paint and labeling them with attractive lettering. This palette planter can be leaned against the porch or deck rail for easy access to fresh herbs.
#5 DIY Rustic Log Flower Container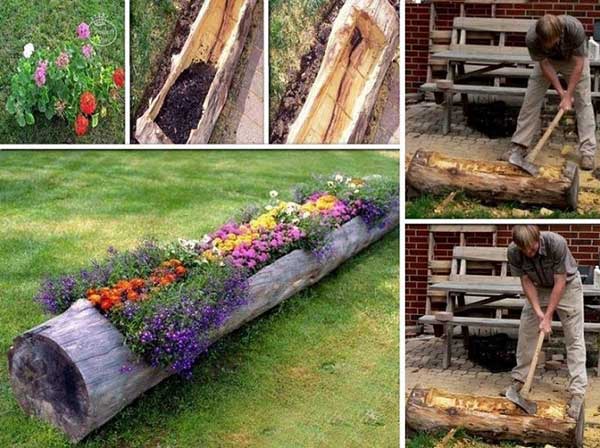 Create a DIY container garden with ease using a firewood log and potting soil. Make a channel in the log and fill it with soil and charming annuals. Use rocks to stabilize the log planter and display it outdoors for a unique and rustic touch to your garden.  Tutorial
#6 DIY Topsy Turvy Herb Garden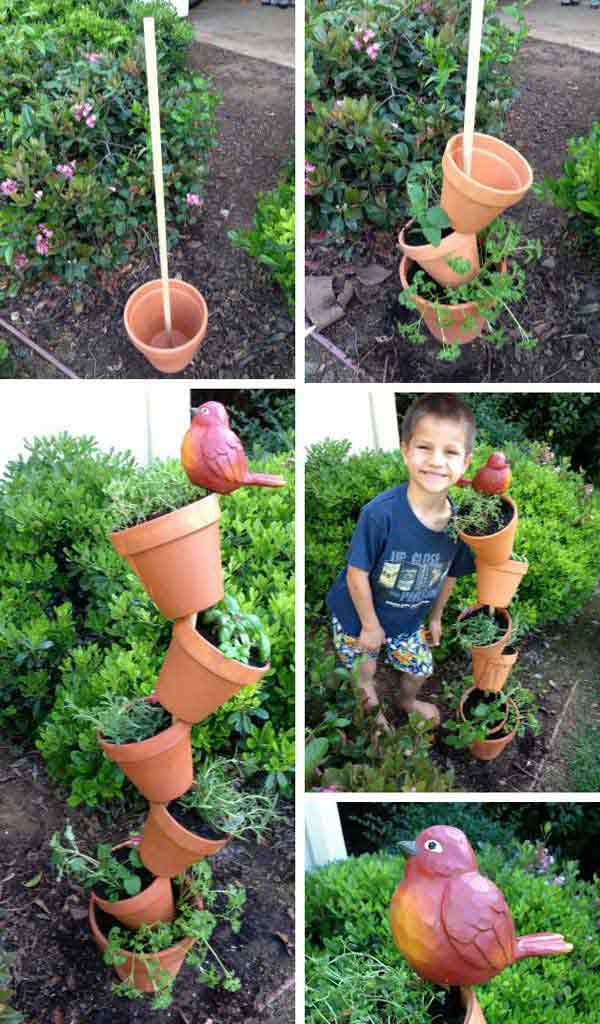 Are you looking for a unique way to grow herbs in your outdoor space? Consider creating a DIY topsy turvy herb garden. This innovative planter allows you to stack multiple pots on top of each other, maximizing your vertical growing space.
With just a few materials and some basic DIY skills, you can create a beautiful and functional herb garden that's perfect for any small outdoor area. Not only will it provide you with fresh herbs all season long, but it also adds a stylish touch to your patio or balcony. So why not give it a try and create your own unique outdoor planters today?
#7 DIY Cinder Blocks Planter Chair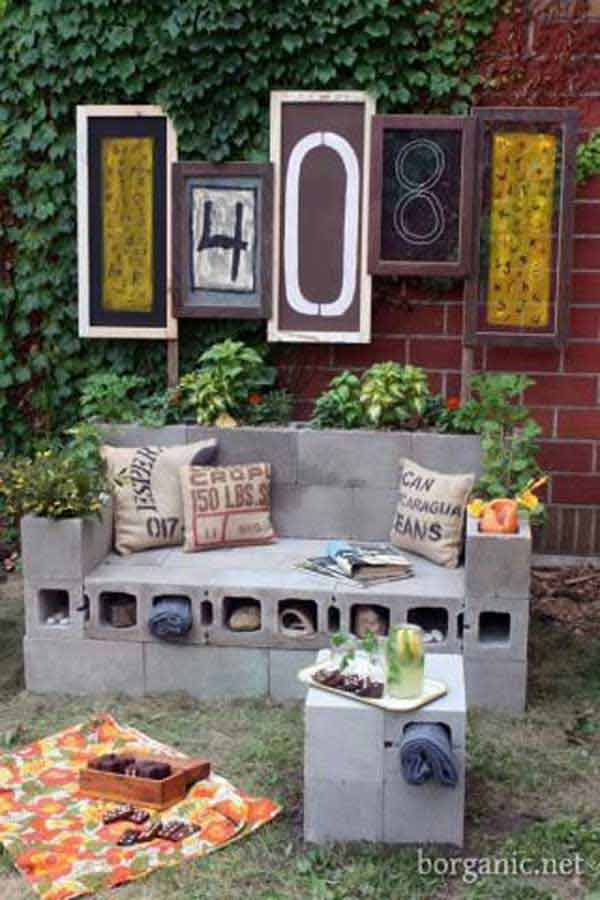 Experience nature in a unique way by creating an armchair out of stacked cinder blocks that are hollowed out to make room for planting moss, flowers, or herbs.
The resulting planter chair not only provides comfortable seating in your garden but also allows you to be fully surrounded by greenery. For added comfort, don't forget to add some soft pillows.
#8 DIY Multi Tiers Barrel Planter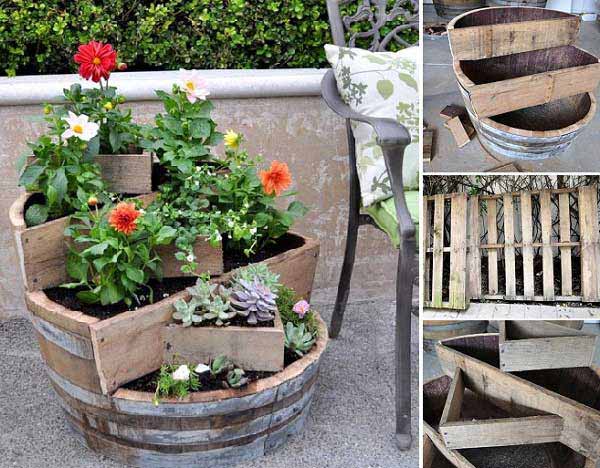 Looking for a cheap garden container that can add some height and depth to your garden? Consider a recycled multi-tiered barrel planter. Not only is it a creative and eco-friendly way to showcase your plants, but it also saves space by allowing you to grow more in less area.
Get crafty and transform old barrels into a unique garden centerpiece that will be the envy of all your neighbors. Go green and get gardening with a recycled multi-tiered barrel planter!
#9 Antique Birdcage Succulent Planter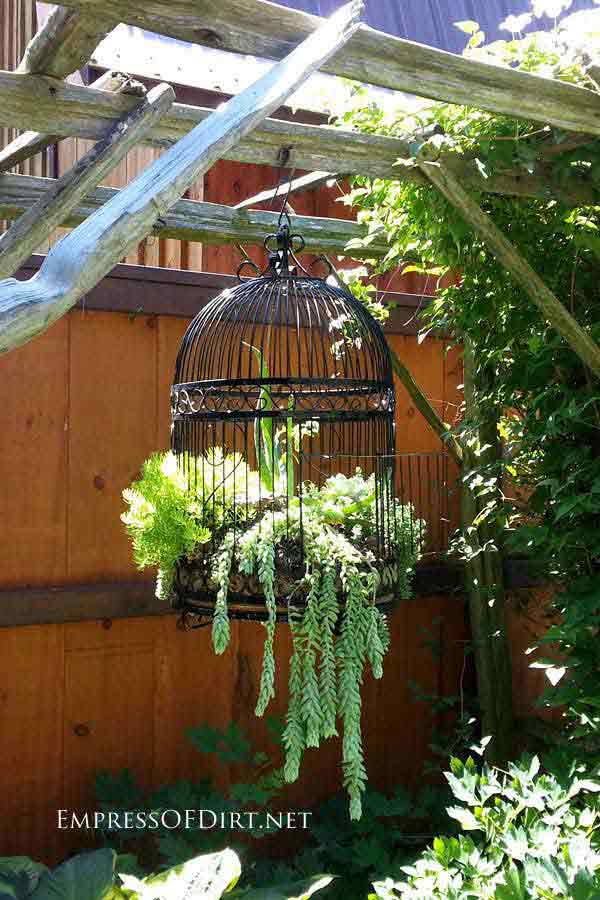 Looking for unique DIY garden planter ideas? Consider using a birdcage as a planter. It can be a stunning and artistic addition to your garden. You can pack it with succulents, flowering plants or herbs to create a beautiful and functional display.   More details
#10 Upcycling Bicycle Baskets into Garden Containers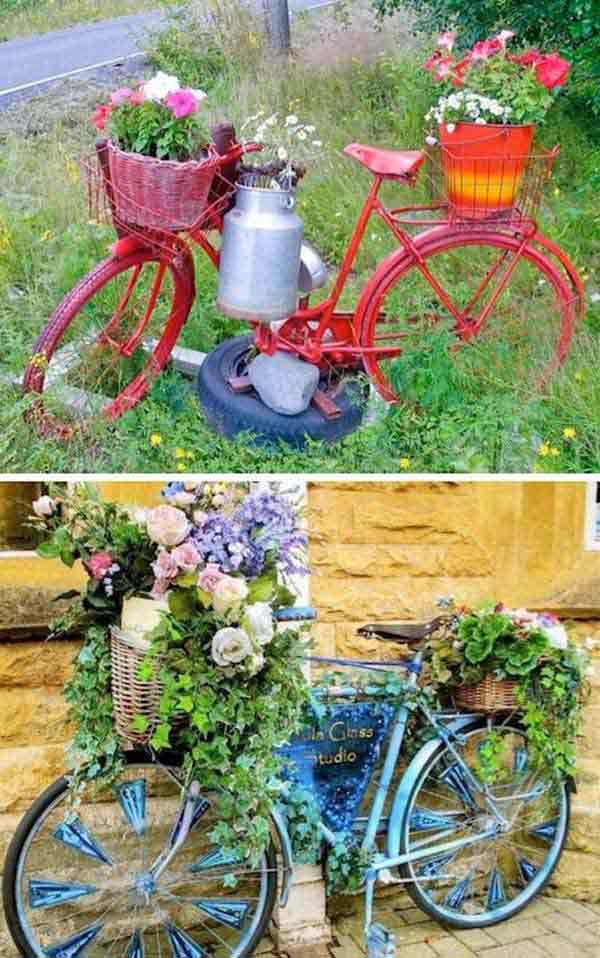 If you're searching for cost-effective container planting ideas, consider upcycling old household items to create unique garden containers.
Repurpose an old bike basket by lining it with moss, filling it with soil, and providing proper drainage. Try planting colorful impatiens and allowing ferns and ivy to trail over the sides for a beautiful shady spot.  Image via: flickr
#11 Potted Candle Planters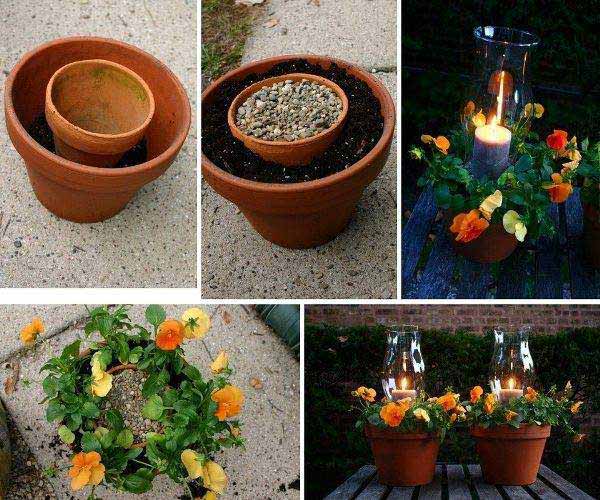 Add interesting light to your garden with home made pots for plants that double as candle holders. Fill the larger pot with soil, add a smaller pot inside, and fill with pea gravel.
Surround the center pot with soil and place plants in the outer ring. Add a candle and glass hurricane for a stylish lighting option. Drainage is easy, and your planter will always be ready to hold a candle!   Tutorial
#12 Cinder Block DIY Garden Container Ideas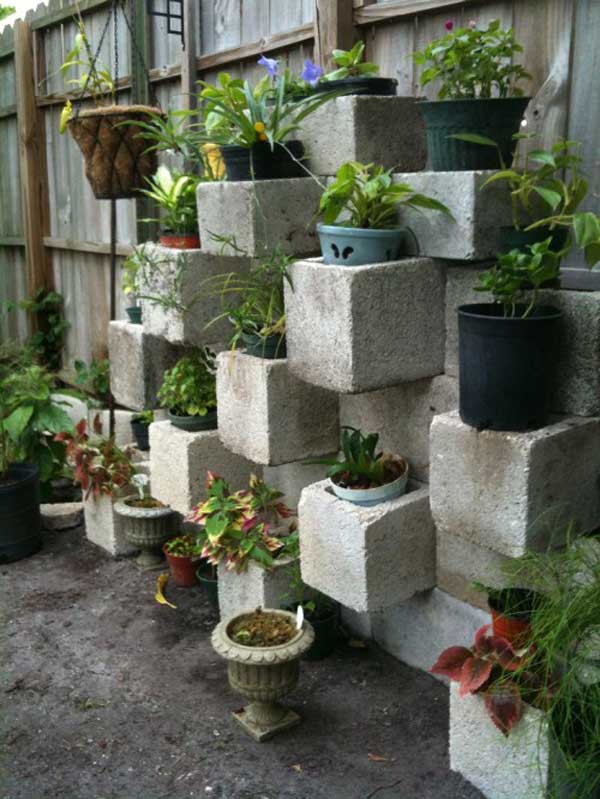 If you're looking for cheap containers for gardening, consider creating modern-looking planters by stacking cinder blocks. This method allows you to make free-standing planters or build them into a raised bed.
To make planting even easier, line the inside of each cinder block with a pot. These planters can be filled with mosses, greens, and grasses for a beautiful and stylish addition to your garden.
#13 Flower Pots Made of Old Shoes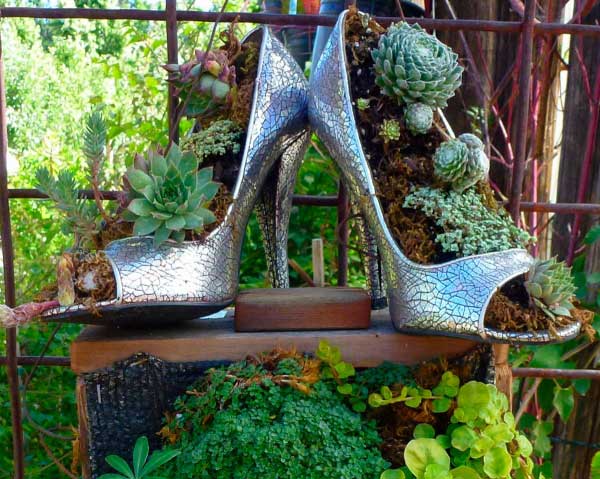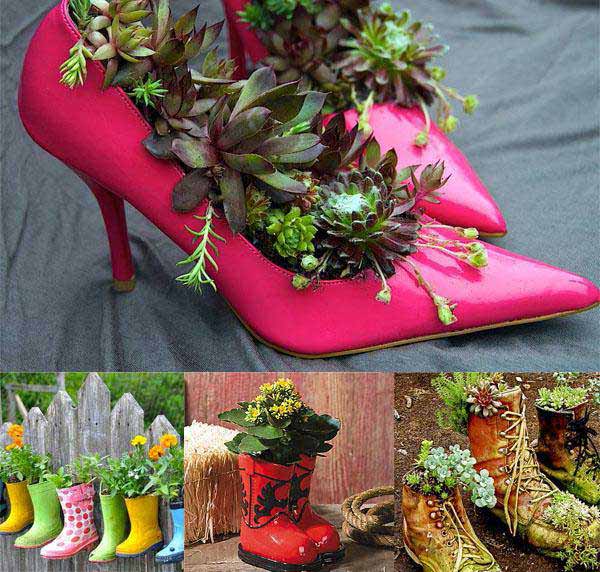 When our old shoes can no longer be worn, the typical approach is to throw them away or donate them. But have you ever considered turning them into flower pots? This is where the creativity of Flower Pots Made of Old Shoes comes from.
Not only does this approach add a unique touch to your garden, it also effectively reduces waste and has environmental significance. By utilizing old items, a distinctive aesthetic can also emerge.
#14 Homemade Plant Pots Using Upcycled Wine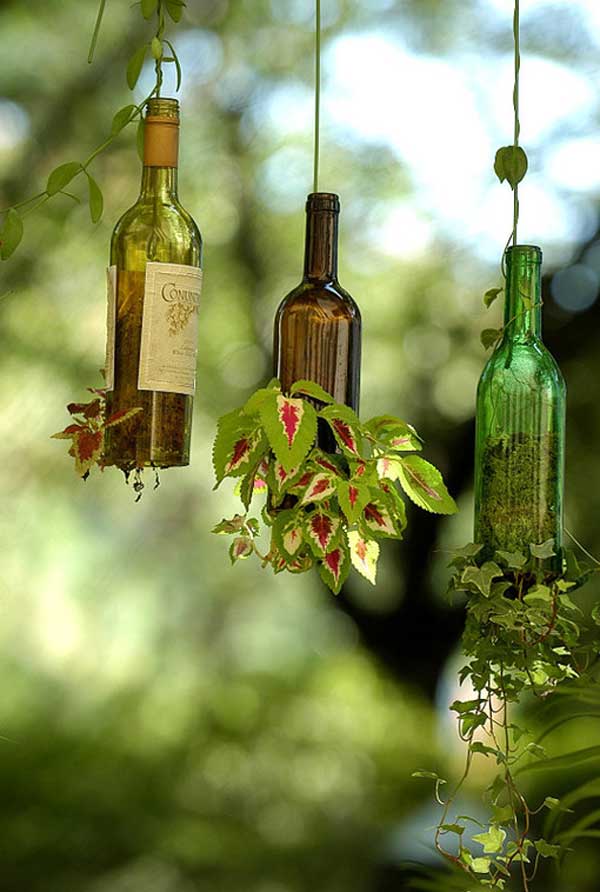 Upcycle wine bottles into planters for a unique and fun activity! Cut the glass bottle, use moss/peat moss as planting medium, and decorate with wire or rope.
Hang your air planter and impress your family & friends with this gravity-defying design idea, including keeping the label on for added charm!  Source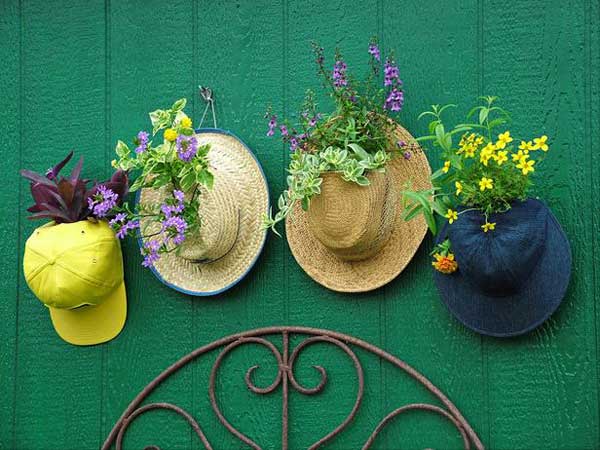 #16 DIY Cute Hedgehog Planter from Plastic Bottle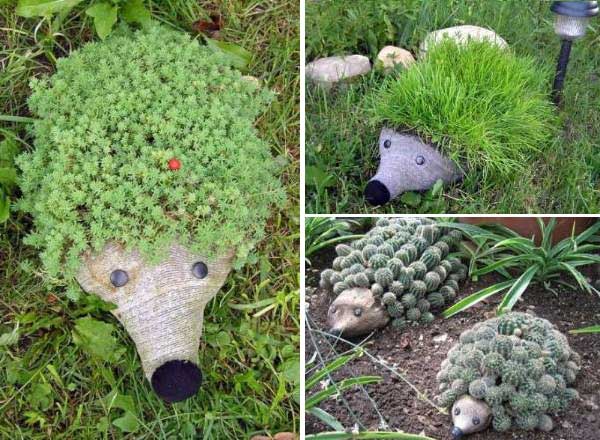 Add some whimsy to your garden with cute hedgehog decorations. With a little creativity and the steps outlined above, you can easily make these charming critters to adorn your outdoor space.
Simply cut a plastic bottle as shown in the picture, add some plants or grass inside, and cover it with grey tights or jute. Voila! Your hedgehog is complete.  Source
#17 Outdoor Flower Planter Made from Old Rowing Boat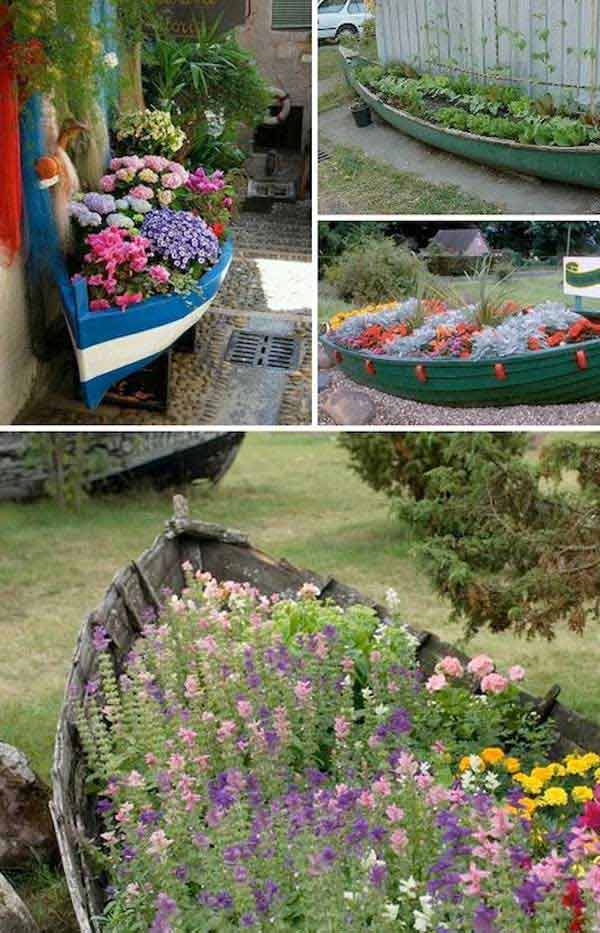 An old, weathered rowing boat has found new purpose as an outdoor planter. The boat's once sleek exterior now houses a vibrant array of flowers and plants, spilling over the sides in an explosion of color. This unique container serves as a focal point in any garden, drawing the eye with its rustic charm.
By repurposing the boat as a planter, its history and character are preserved, adding depth and interest to the outdoor space. The plants thrive in the well-draining soil, nurtured by the boat's sturdy construction. This outdoor flower planter is both functional and beautiful, a testament to the ingenuity of repurposing.
#18 Transforming Broken Kitchen Chairs into Cheap Garden Pots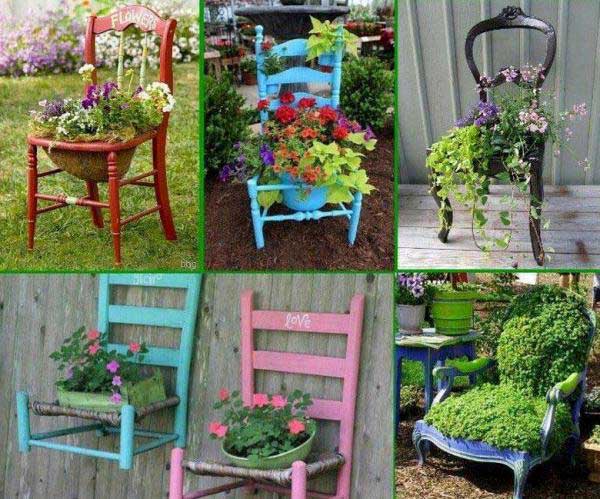 If you have a broken kitchen chair lying around, don't throw it away just yet. With a little creativity, you can turn it into a unique garden pot that adds character to your outdoor space.
This garden pots idea is not only eco-friendly but also budget-friendly as it utilizes materials that you already have. Simply remove the seat of the chair, add some soil, and plant your favorite flowers or herbs. Voila! You have a one-of-a-kind garden pot.
#19 Cork Planters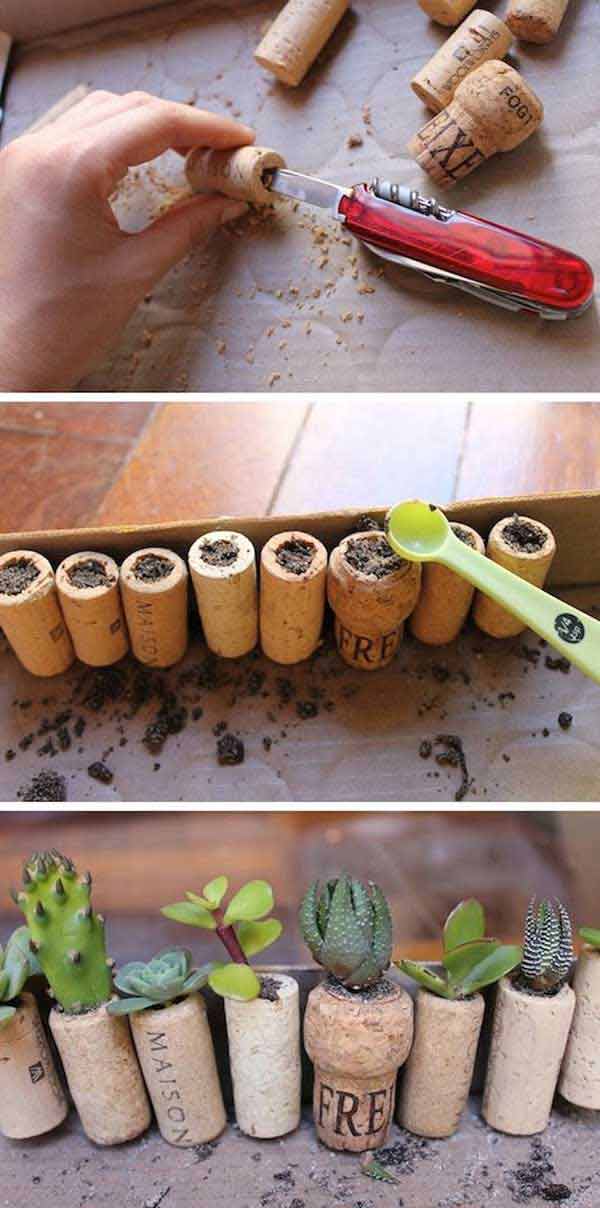 These DIY cork planter fridge magnets are a breeze to create and don't take much time. All you'll need are wine corks, magnets, soil, and succulent clippings. To make them, you'll require a hot glue gun, a pairing knife, and a screwdriver.
If you've been collecting wine corks for a unique project, then these cork planters will be perfect for you. The best part? They are an excellent way to repurpose materials and reduce waste!  Tutorial
#20 Old Tires Become Colorful-flower Containers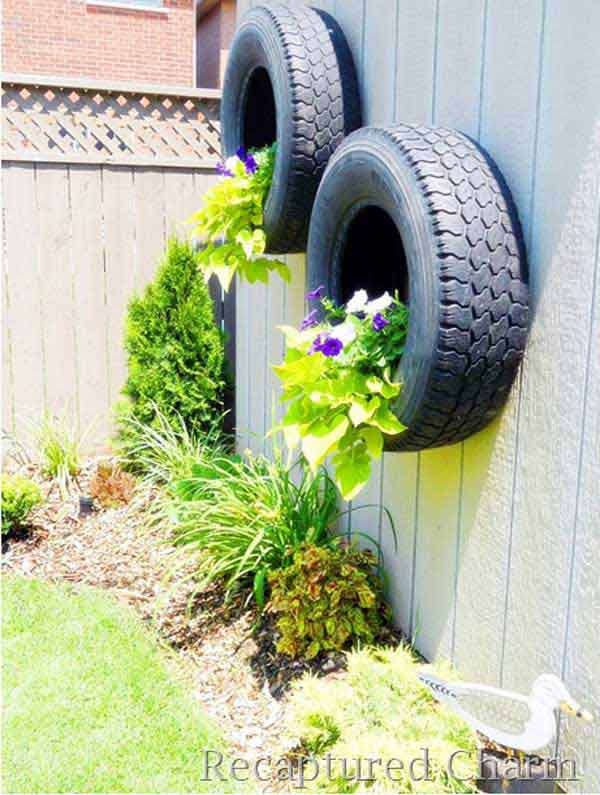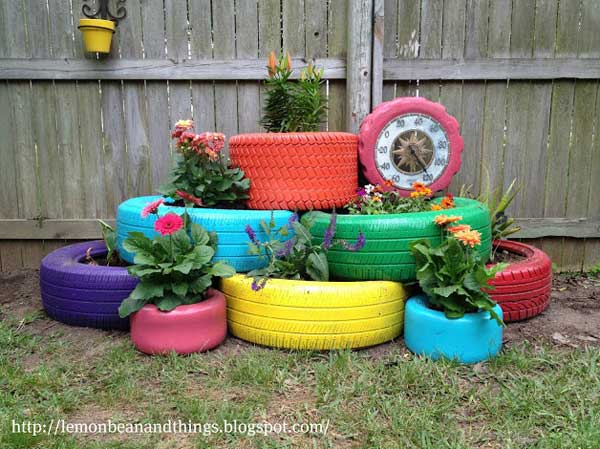 Give your garden a sustainable and colorful touch by using old tires as flower containers. Get creative and turn them into unique planters that will add a personal touch to your outdoor space.
You can stack them or use them individually to experiment with different container planting ideas. Don't throw those old tires away just yet – upcycle them and watch your garden bloom!  Source
#21 Wheelbarrow Flower Planter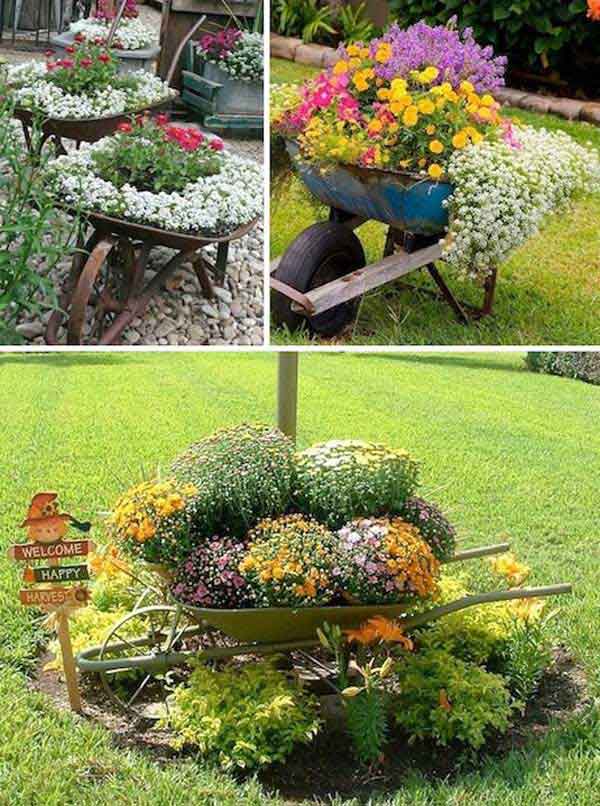 Get creative with your plant containers by using a small wheelbarrow as a unique addition to your garden design. To add even more flair, consider painting the wheelbarrow in a color that complements your existing outdoor decor.
Fill the wheelbarrow with a variety of lush and overflowing blooms to create a stunning contrast with the simplicity of the container itself. This planter is not only visually appealing but also practical – easily wheel it from one side of your yard to the other to switch up the display or move it to a spot with better sunlight. These creative ideas for plant containers are sure to make your garden stand out!   2. Bob Vila 3. The Seasonal Home
#22 Revamp an Old Shoe Organizer into Stylish yet Cheap Planters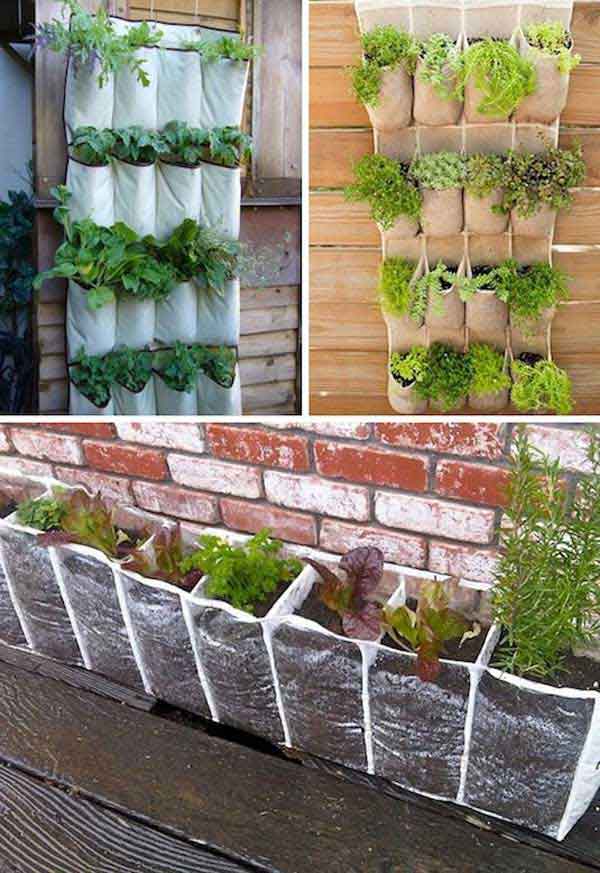 This shoe organizer can double as a space-saving planter, with each pocket able to accommodate a plant. It would make an excellent kitchen herb garden by hanging it on a sunny wall near the kitchen door. However, it's crucial to be mindful of watering to prevent the plants on the bottom row from becoming too saturated.   1. instructables 2. Good Housekeeping 3. B&H
#23 Oil Drum Recycled Into Plant Planters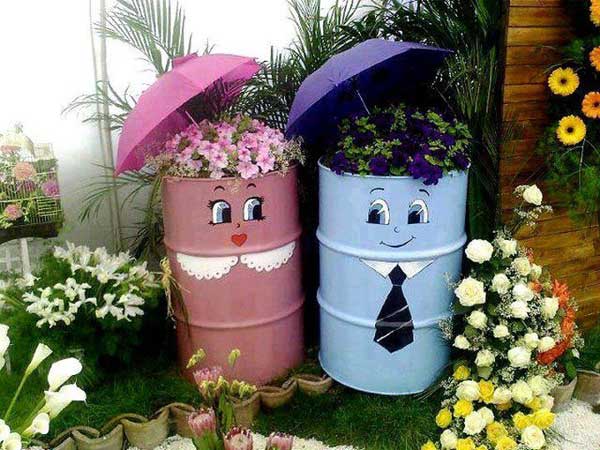 Oil drums can find a new purpose as outdoor flower planters when recycled creatively.
These sturdy containers can add an industrial-chic vibe to your garden while also being eco-friendly. Transform your space with these unique and sustainable planters.
#24 Plants in Dresser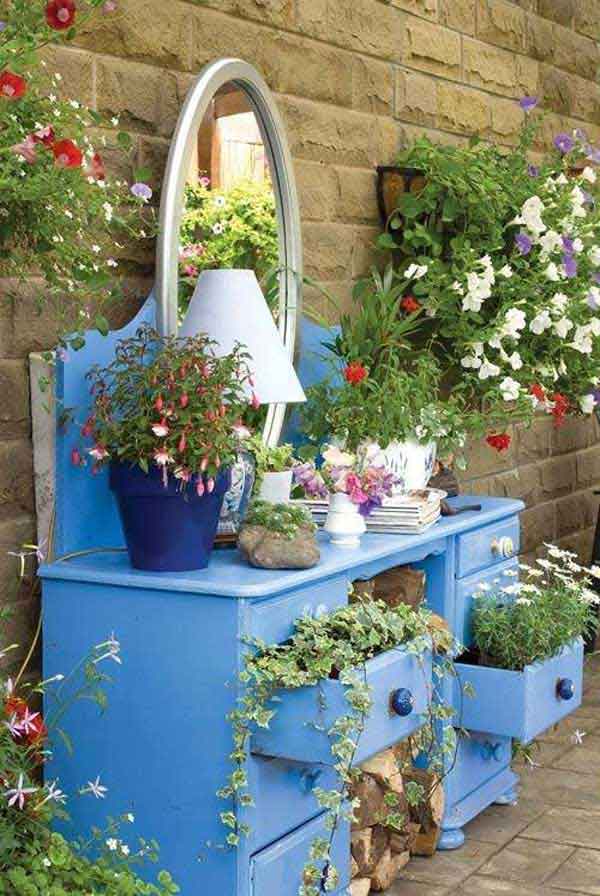 Give an old vanity, dresser, or chest a new lease on life by repurposing it into a charming DIY planter. Perfect for decorating your front porch or any room in your home, this project is a great way to upcycle furniture and add some greenery to your space.
#25 Upcycled Paint Can Planters with a Colorful Twist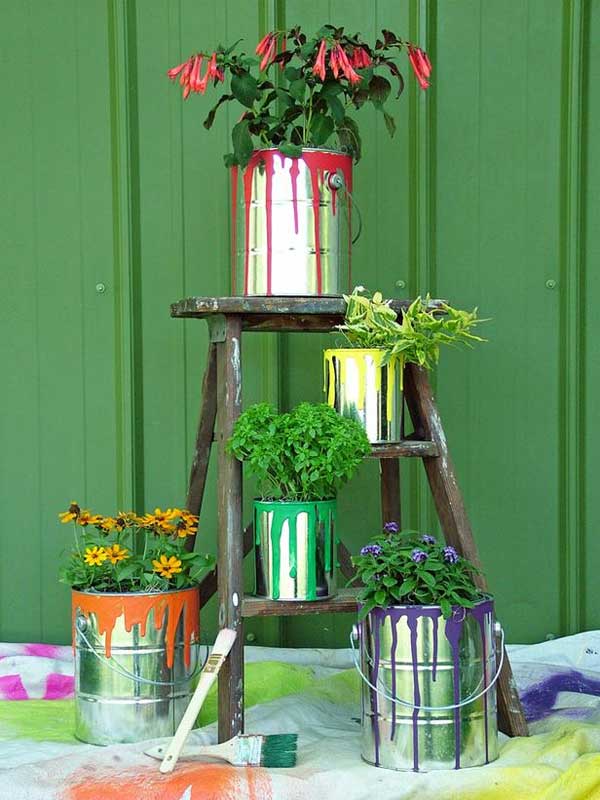 These DIY garden planters are crafted from repurposed paint cans, adorned with stylish and purposeful paint drippings that add a pop of color to any outdoor space. To complete the look, an old ladder serves as the perfect display for these unique and eco-friendly plant containers.   Tutorial
#26 Spoon Hooks for Indoor and Outdoor Plants

Do you have old spoons lying around that you no longer use? Instead of throwing them away, you can repurpose them as garden hooks to hang your plants. Simply bend and flatten the spoons to create hooks, and then place them wherever you want to hang a planter. For smaller plants, use smaller spoons, and for larger plants, use larger spoons or ladles.
#27 Antique Metal Tool Box Planter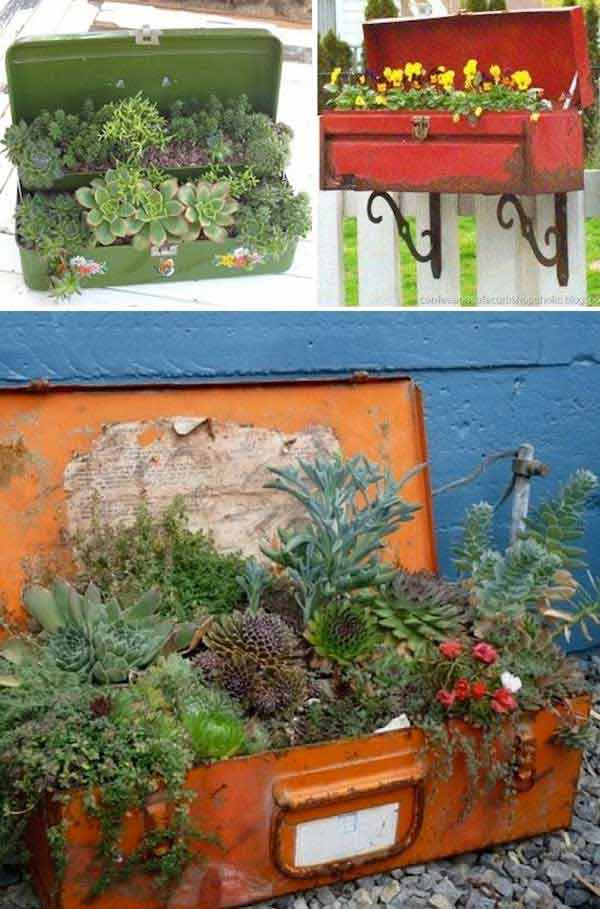 Looking for flower pot ideas? Check out antique stores or yard sales for old metal toolboxes or small metal containers with hinged lids. To achieve an authentic antique look, consider displaying a tool alongside your plants.
These containers work particularly well for succulents and greens and are great for creating unique and stylish displays. Don't miss out on this opportunity to add some vintage charm to your plant collection!
#28 Urban Vertical Garden From Recycled Soda Bottles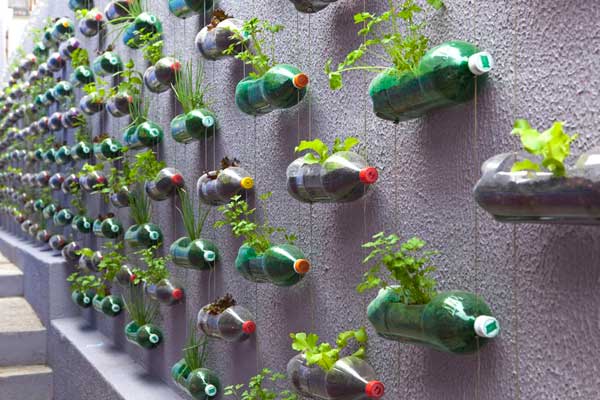 Creating an urban vertical garden with recycled soda bottles can be a great way to bring greenery to your urban space, while also reducing waste. This fun and sustainable diy project offers unique flower pot ideas that are perfect for growing succulents, greens, or herbs.   Source
#29 DIY Plant Chandelier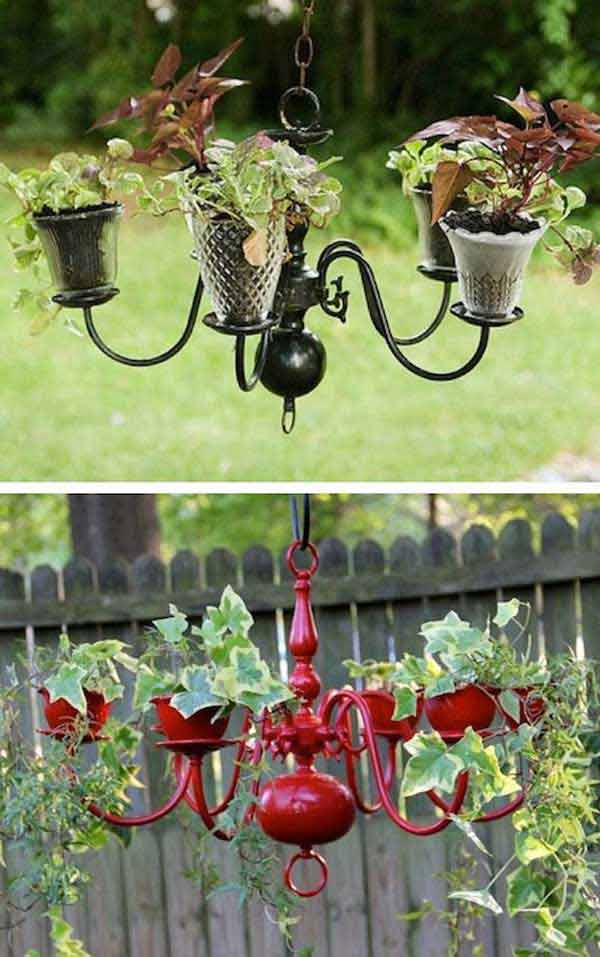 Transform an old chandelier into unique DIY planters by following these steps. Look for a chandelier with upward-facing arms, it doesn't need to be functional or wired for electricity. Remove any globes, vases, and wiring if necessary.
Clean the chandelier thoroughly and lightly sand it. Glue plant pots and saucers to the arms of the chandelier using epoxy. Spray paint the entire chandelier in the color of your choice. Finish by adding your favorite flowers and greens to create a stunning and eye-catching planter.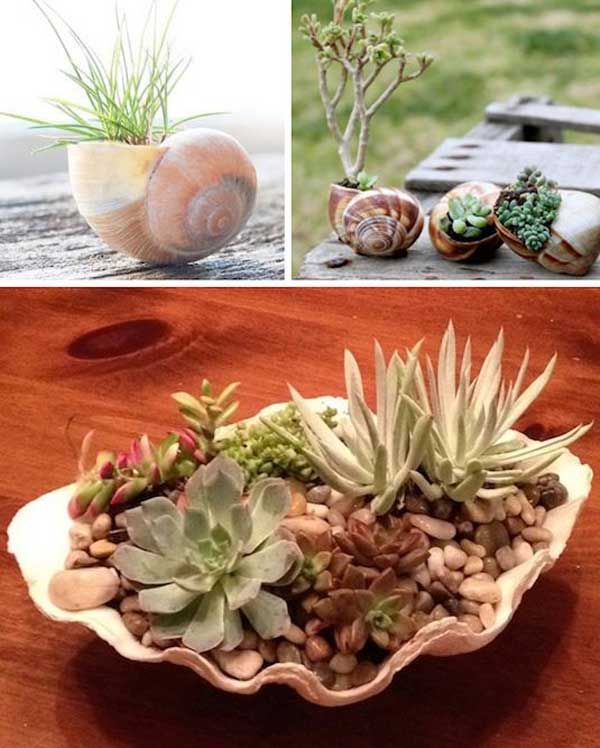 #30 DIY Plant Pots Made from Upcycled Teapots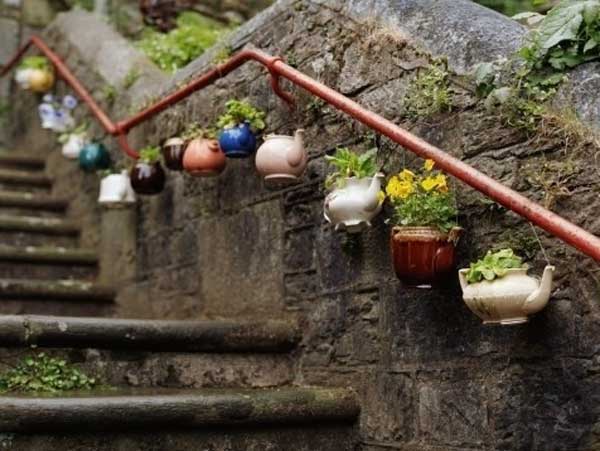 Making your own cheap plant pots can be a fun and rewarding project for any gardener. By using old teapots, you can create unique and eye-catching planters that add a personal touch to your garden.
Whether you prefer a rustic or modern look, there are endless design possibilities when it comes to repurposing teapots as plant containers. So, why not give it a try and see what kind of creative planters you can come up with? Your plants (and wallet) will thank you for it!   Source