26 Creative, Fun, and Inspiring Fairy Garden Container Ideas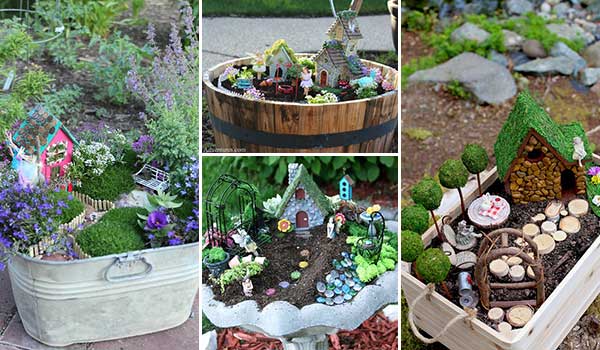 Creative, fun, and inspiring fairy garden container ideas help you transform your yard without worrying about money. Many people use these types of ideas to add a magical touch to their yards. If you use containers, you can make changes in the garden whenever needed to achieve a different look and style. Further, containers can be taken inside if you have to deal with hostile weather conditions to safeguard the fairies.
It is not a daunting task to make an outdoor fairy garden even for a beginner. You can create this type of garden in any area of your yard. Excellent ease of use can always be associated with fairy garden container ideas. If you think creatively, you can make a garden with almost anything. Take a look at these 26 appealing, fun, creative, and inspiring fairy garden container ideas that will take your breath away:
1. Indoor Fairy Garden Container: Wine Barrel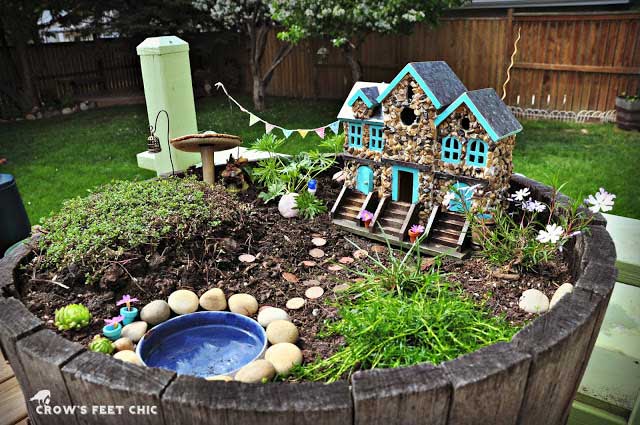 Do you happen to have an old bucket, keg, or barrel just waiting to be repurposed? Well, here's a delightful idea: why not turn it into a captivating fairy garden in a pot? This particular project is tailored for outdoor spaces, making it a perfect fit for your deck or terrace. It's a surefire way to make your outdoor area truly stand out with a touch of enchantment. Tutorial
1. Old Wooden Fruit Boxes or Crates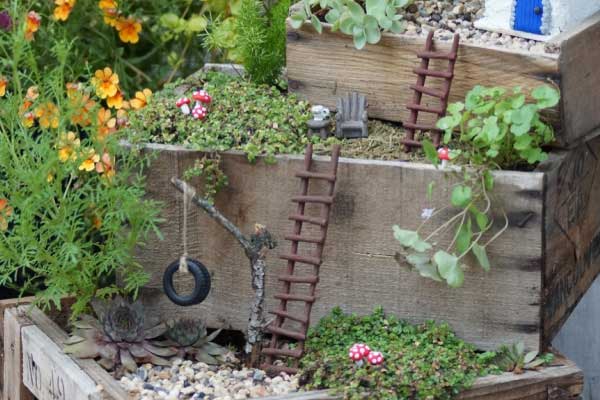 You can use old wooden boxes or stacked fruit or vegetable crates to make outstanding fairy garden containers. It is a good idea to use a tray if you want to plant inside the crate. For drainage, you can place a layer of small rocks or gravel before filling up with dirt. Source
2. Broken Pots
Looking for fantastic fairy garden planter ideas for your outdoor space? Look no further than those broken pots you might have lying around. They're an excellent choice for creating unique outdoor fairy garden planters. With their cracks and crevices, water can easily flow through, making them perfect for your magical mini-garden.
3. Wheelbarrows
Vintage metal wheelbarrows are an excellent choice to make fairy garden containers. They withstand hostile weather conditions and add an inimitable charm to your yard. Source: theseasonalhome.com, shutterstock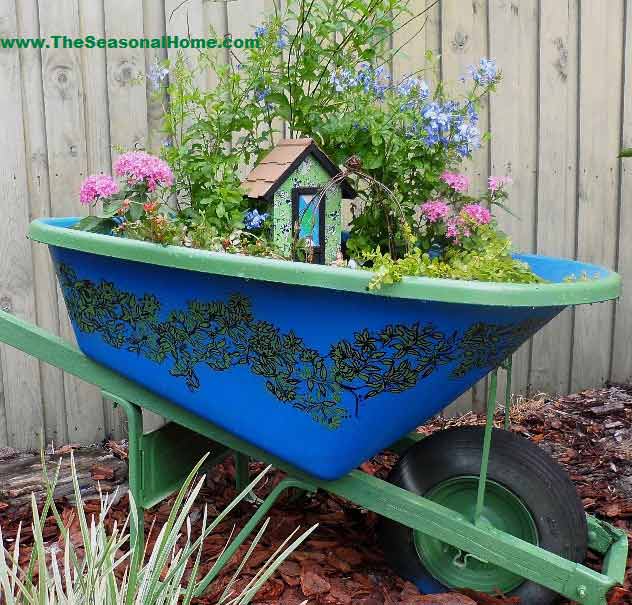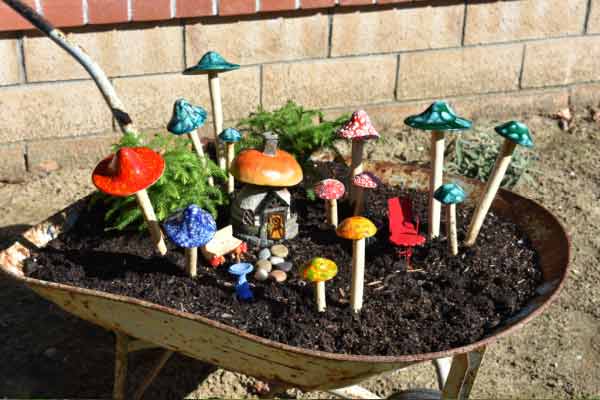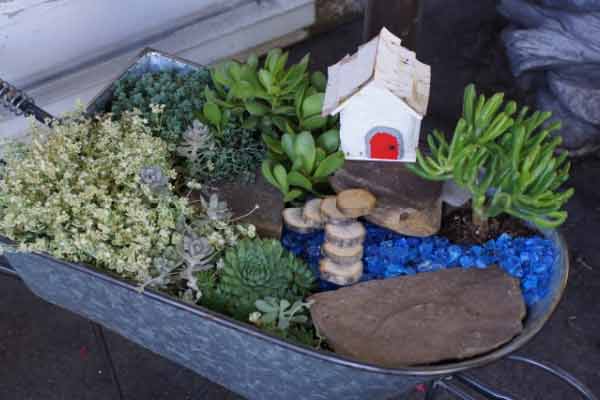 4. Round Washtubs
Fairy gardening becomes easy and effortless with round washtubs. Offering abundant space and keeping work surfaces elevated, they make perfect garden containers.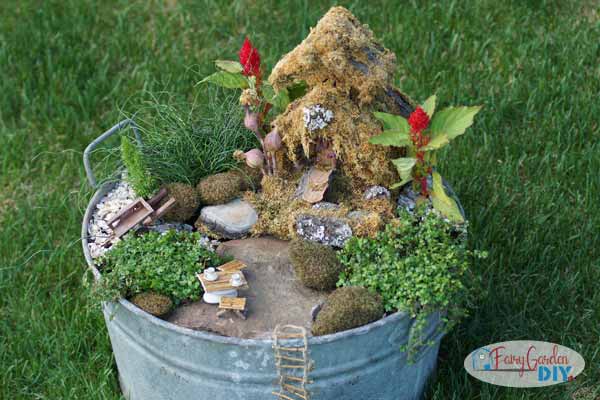 5. Square Washtubs
You can create cute and bright harden contains with square washtubs. Be creative to add a stunningly beautiful, fairy decor to your garden.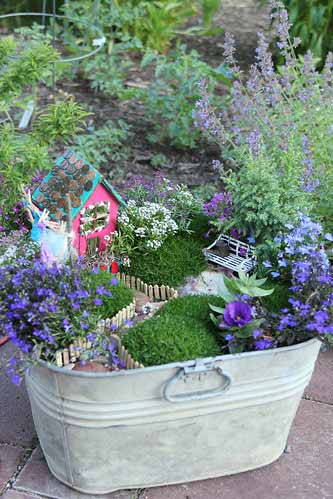 6. Birdbaths
If you want to make a classic fairy container garden, you can choose birdbaths. It is hard to find a better choice than birdbaths to grow mosses and succulents. For drainage, you must add a layer of gravel or river rocks. Source: Curly Crafty Mom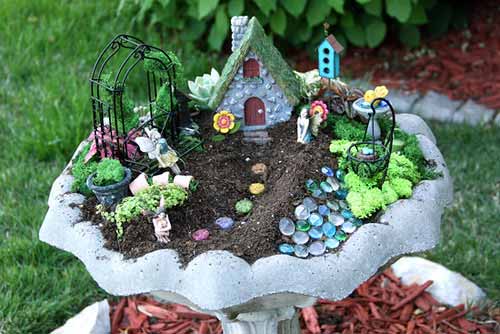 7. Old Tires
Use an old tire to make a beautiful outdoor fairy garden container.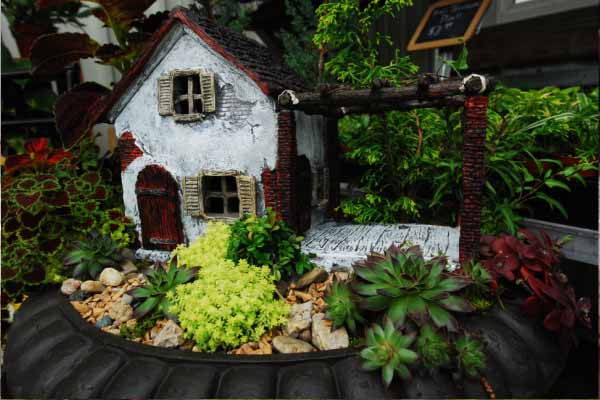 8. Window boxes
If you are looking for innovative fairy garden container ideas, you can use window boxes to make unique containers.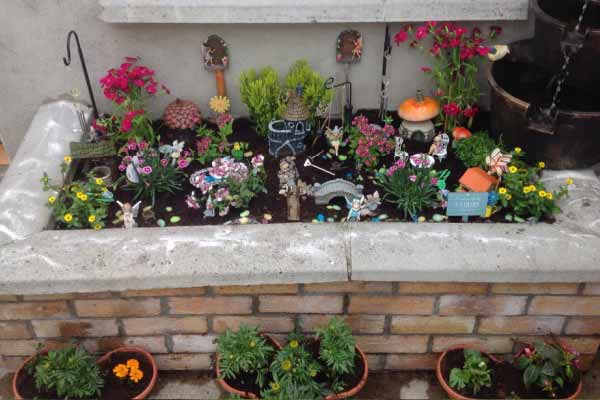 9. Metal Buckets
You can lay a fairy garden on the side of a metal bucket. Offering a pleasant enclosed space, metal buckets let the fairies hide perfectly.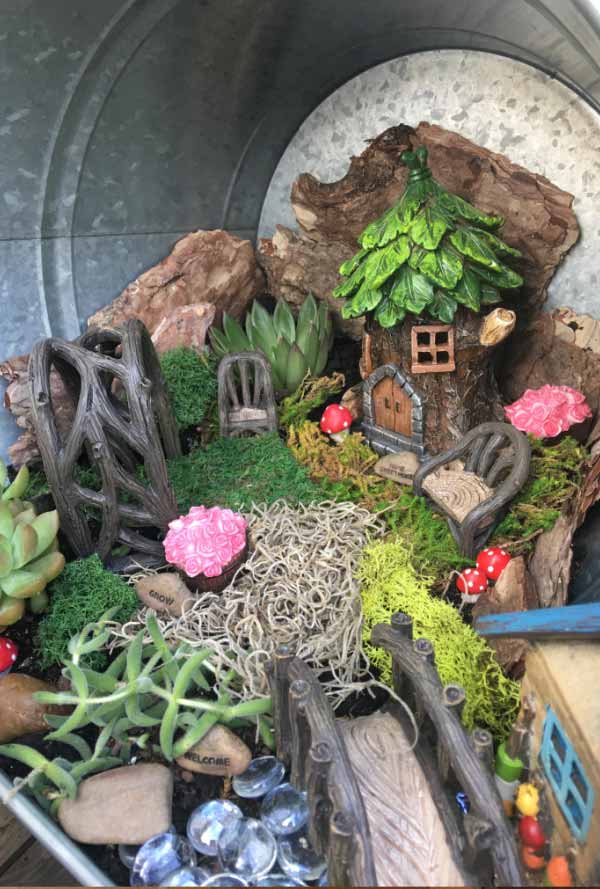 10. Half Wooden Whiskey or Wine Barrels
Your fairy gardening efforts will become more meaningful and rewarding with half wooden whiskey or wine barrels. You can add lights and accessories to make the garden more appealing. Source: My Frugal Adventures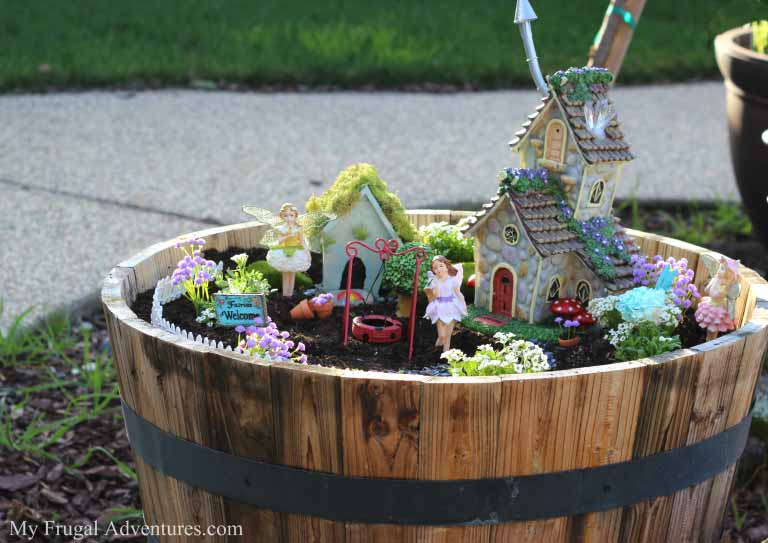 11. New Red Wagons
New red wagons are a perfect choice to create inspiring summer fairy gardens. You can choose plants with minimal root systems for new red wagons. Source: Cottage at the Crossroads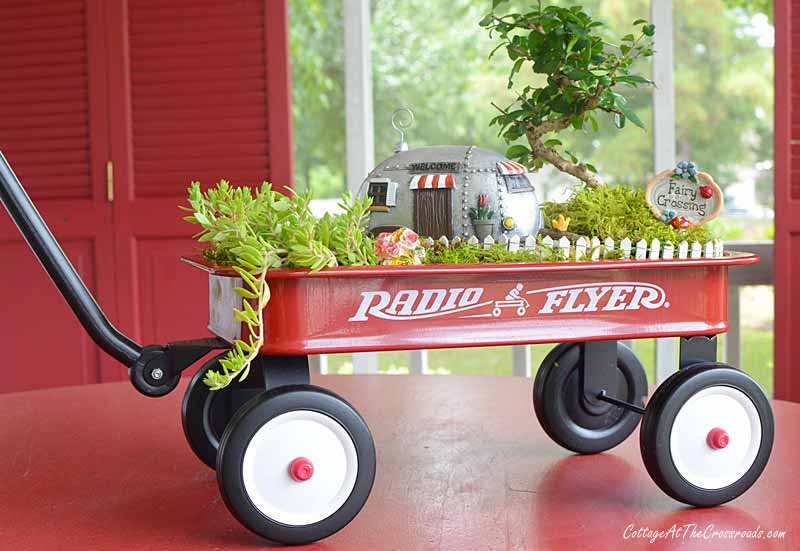 12. Vintage Wagons
You can use vintage wagons to make charming and magical fairy container gardens. You can add little houses and rock pathways to offer an inimitable look.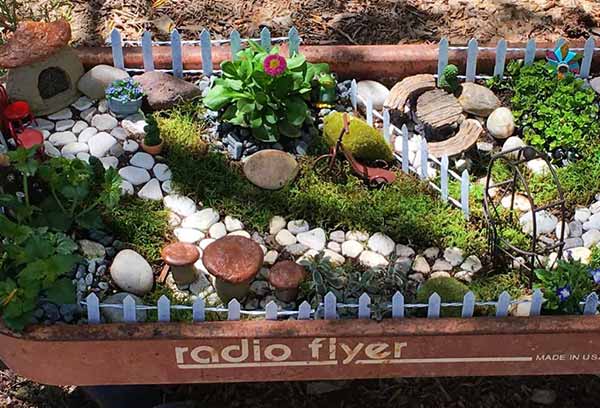 13. Old Toolboxes
Old toolboxes help you make astounding little outdoor fairy garden planters.
14. Herb Planters
You can use herb planters to make edible fairy gardens in a container. Add mushrooms, bridges, and swings to make them colorful. Source: Living Locurto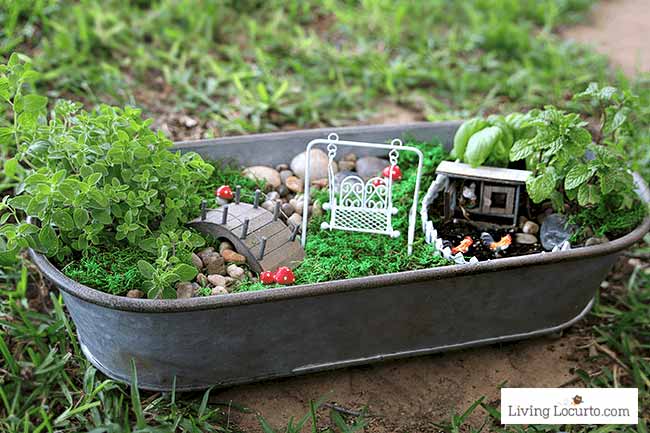 15. Wooden boxes from a craft store
Buy wooden boxes or crates from a craft store to make fairy garden houses with mossy roofs. You can color them suitably to add a rustic or bright look. Source: Sew Much Ado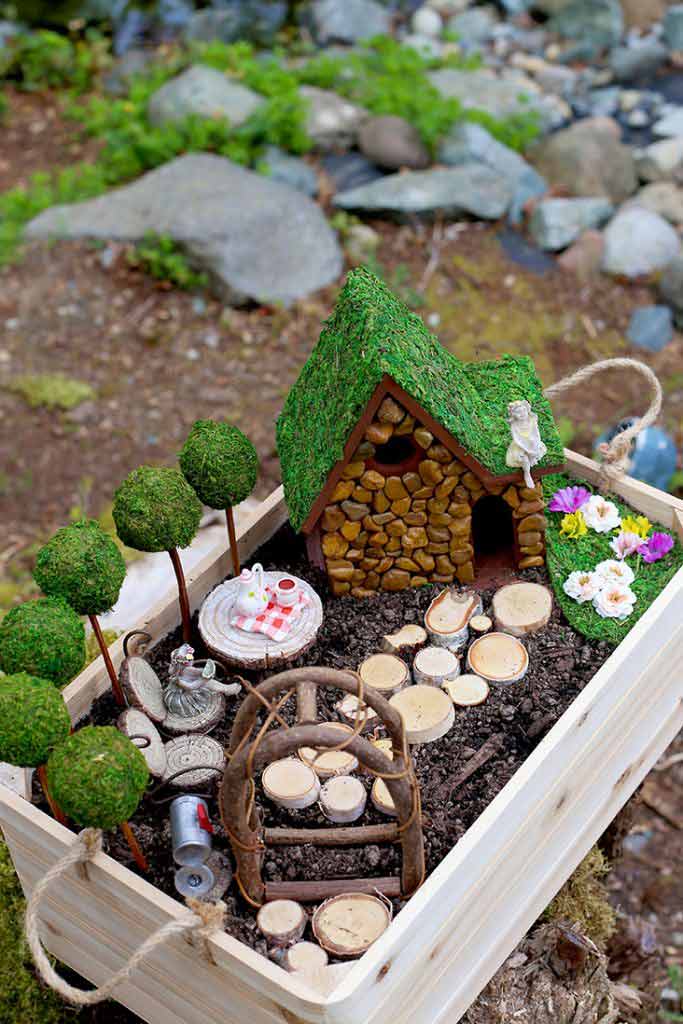 16. Grapevine Balls
If you want to achieve a natural look to your outdoor decor without spending a lot of money, you can use grapevine balls to make fairy garden containers. Use a string of fairy lights and moss and hang from trees to create a magical ambiance. Source: All Things Heart and Home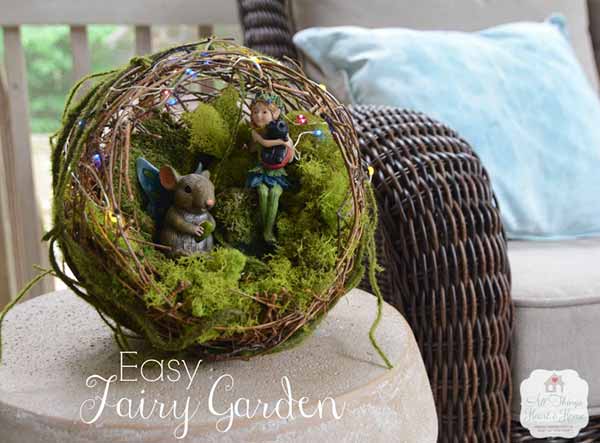 17. Flowerpots
Wooden flowerpots or buckets are a perfect choice to make robust pots or containers. You can use plants such as pansies, marigolds, and petunias. Source: Tinker Lab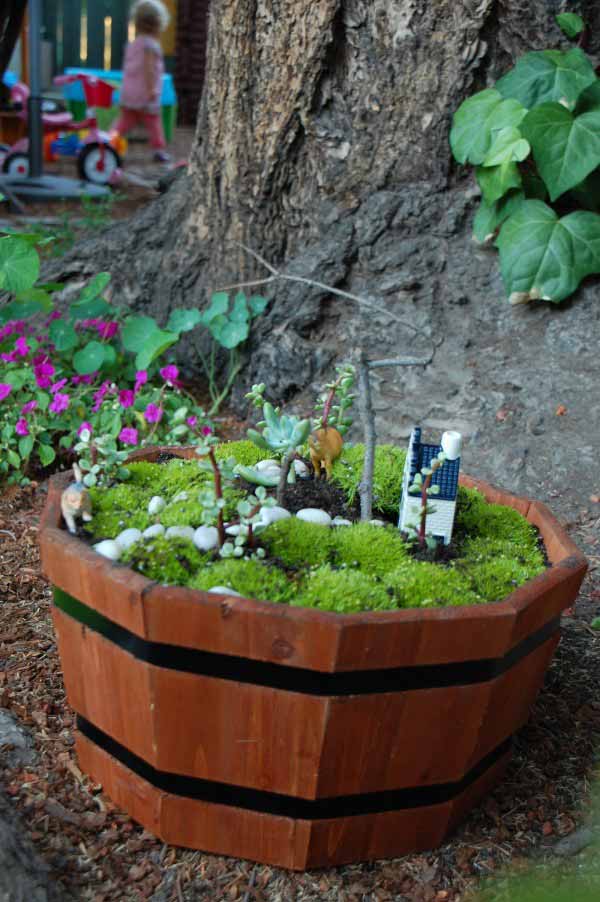 18. Water Tables
Create succulent fairy container gardens of timeless appeal using water tables. These child-friendly containers create a fanciful environment. Source: No Time for Flash Cards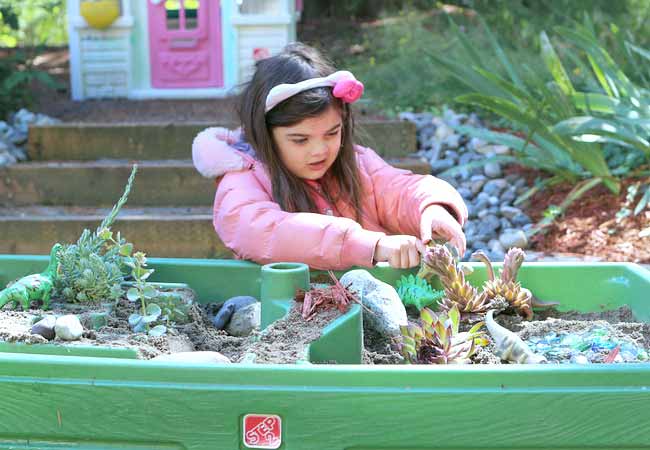 19. Old Trunks
Go creative with old trunks and make unique and rustic outdoor fairy garden containers.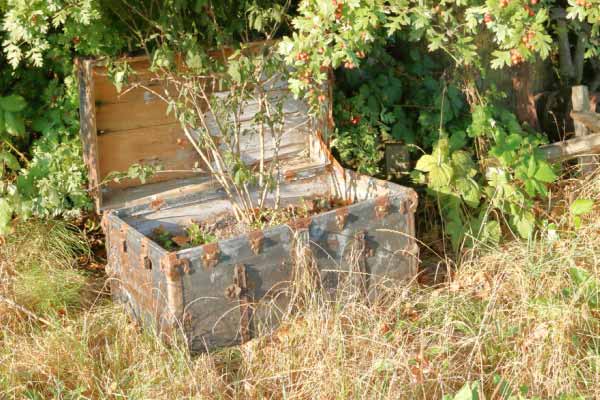 21. Old Work Boots
Old work boots can make excellent fairy garden containers. Use your creativity to make them unique and appealing.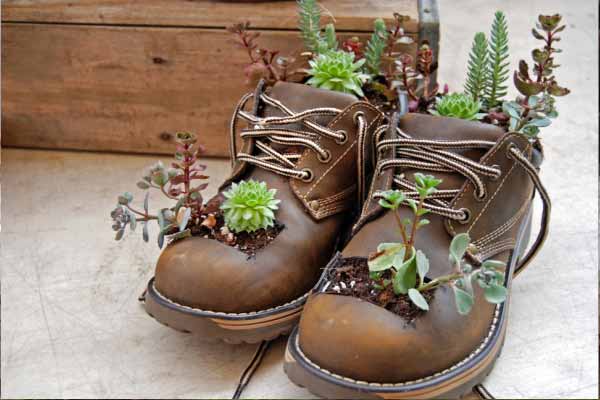 22. Hollow or Faux Logs
You can plant ferns, mosses, or any other outdoor-friendly plants in hollow or faux logs to make beautiful fairy garden containers.
23. Shallow Plant Saucers or Draining Trays
Perfect fairy garden containers can be made using shallow plant saucers or draining trays. Succulents are the best choice in these containers.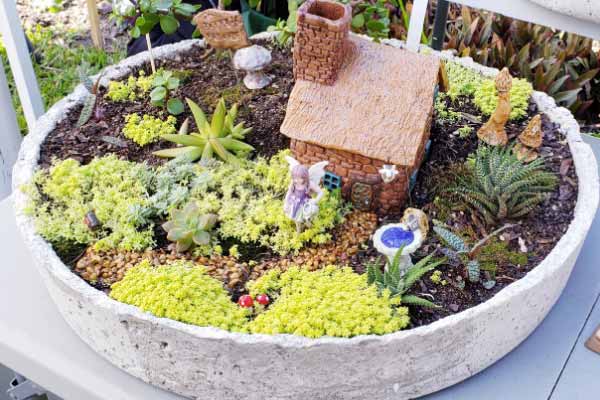 25. Old Bed Frames
If you have enough space, use old bed frames to make cool outdoor fairy garden spaces.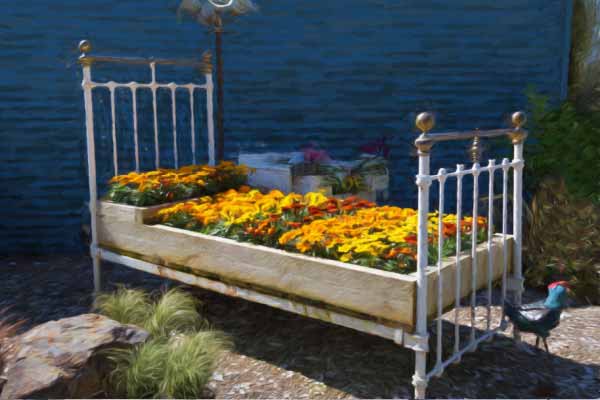 26. Tree Bases
Do you have a tree in your yard? Use the tree base to make unique outdoor garden spaces. Your creativity is the only limitation.
These 26 simple and innovative fairy garden container ideas will inspire your creativity and help you make unique gardens of eternal appeal and charm.