Top 32 Christmas Balcony Decorating Ideas for a Magical Holiday
Christmas is a wonderful time loved by everyone. It's about opening gifts, enjoying hot cocoa, decorating the house, and happily joining in holiday get-togethers. As the festive season draws near, it's the perfect time to sprinkle some holiday cheer throughout your home, indoors and outdoors. However, what about those cozy dwellers tucked away in compact apartments?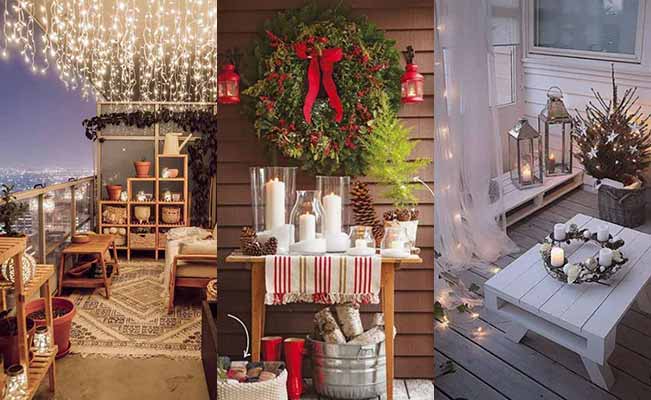 Whether you're snug in an apartment or nestled in a house, chances are you have a balcony to play with. Embrace the holiday spirit by adorning your balcony with a touch of simplicity and elegance. Here, we've put together great Christmas balcony decoration ideas to spark your imagination and make your apartment balcony look festive this season!
1. If you're not into quirky pillows and the usual Christmas decorations, or you don't want to buy more seasonal stuff, just add extra lights. Look how they've turned their outdoor space into a wintery retreat that you can enjoy all year. Credit: @thegirlandtheword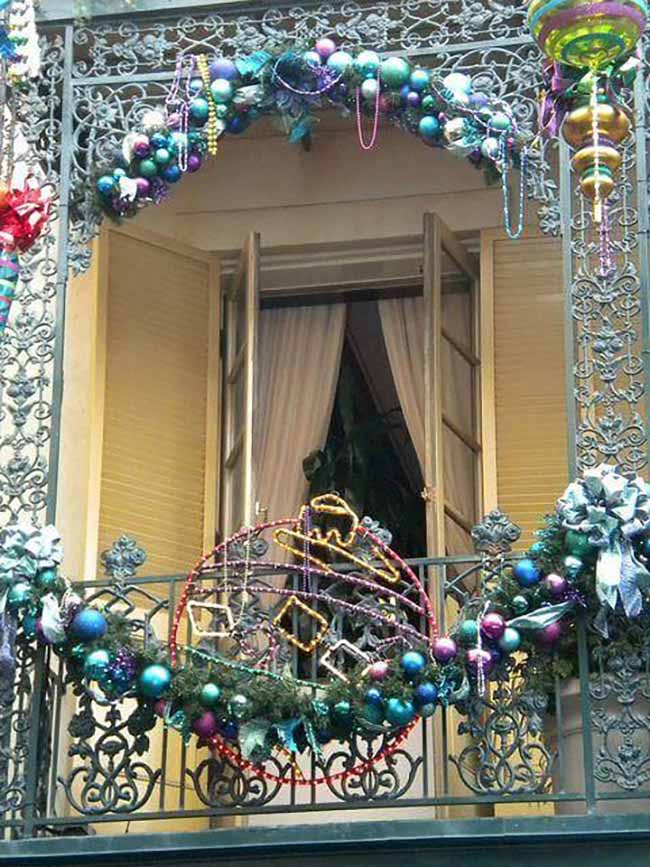 2. Add a splash of vibrant Christmas charm to your balcony! Jazz it up with a variety of colorful ornaments hanging gracefully, and don't forget to drape some radiant lights along the railing. Watch as your outdoor space transforms into a festive wonderland!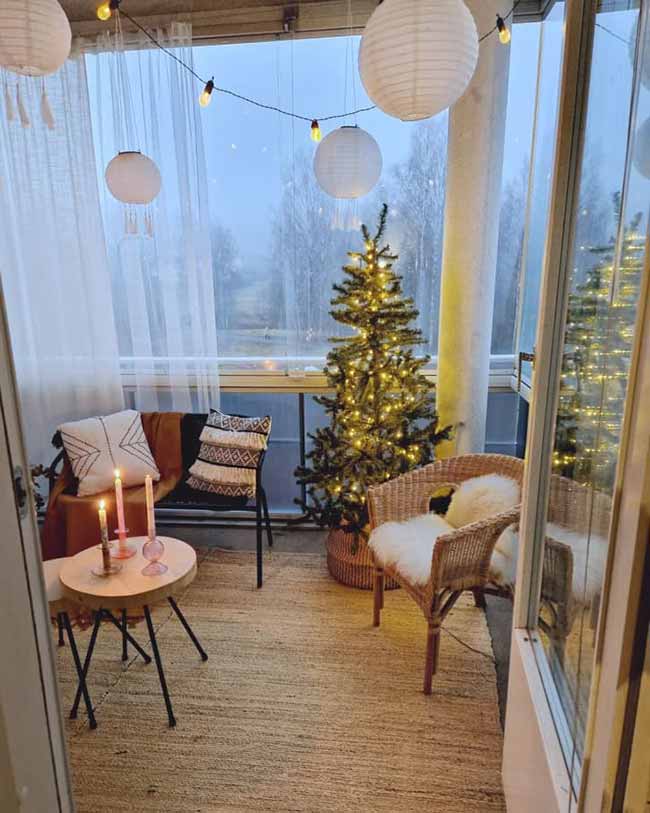 3. Mixing different lights, soft rugs, and patterned fabrics makes this outdoor spot feel like part of the inside of your home. Adding a Christmas tree with lights and some candles creates a cozy spot for savoring Christmas cookies and a glass of wine on a winter evening.  Credit: @homediyhomestyle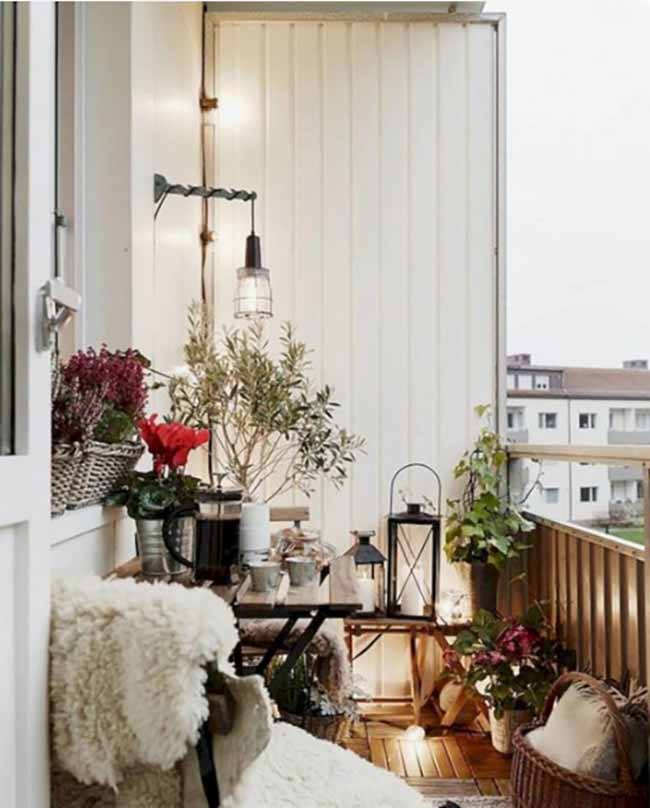 4. Dressing up your Christmas balcony is easy: adorn it with colorful flowers, potted plants, candle lanterns, and scattered faux fur.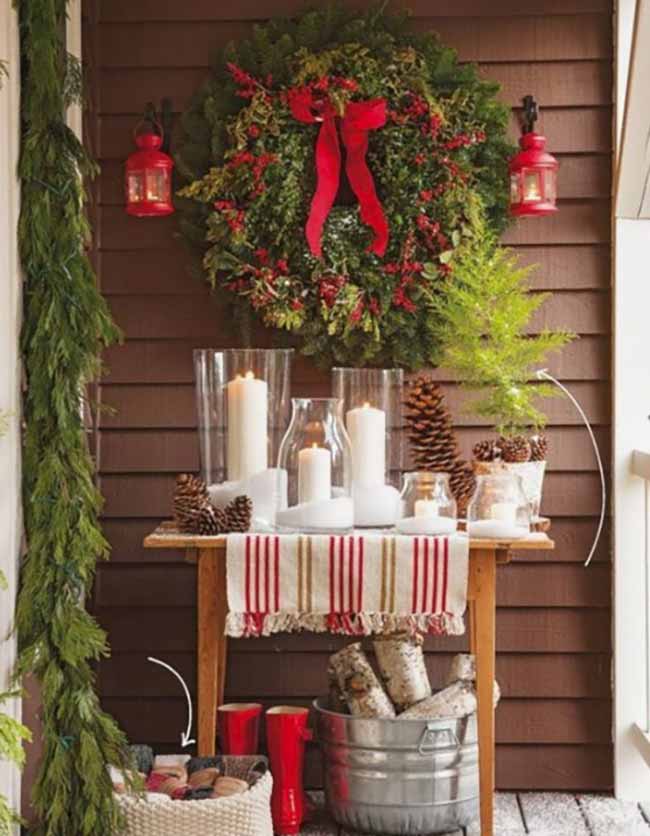 5. Wondering how to spruce up your balcony for the holidays? Place pillar candles, pinecones, an evergreen wreath adorned with red berries and bows, red lanterns, and a bucket of firewood on your console table.
6. Have you considered transforming your balcony into a snug winter retreat? Add a modest Christmas tree adorned with red bows, scatter some candle lanterns, hang a star lamp, arrange stars and greenery on the wall, and don't forget the cozy touch of fur and knitted textiles.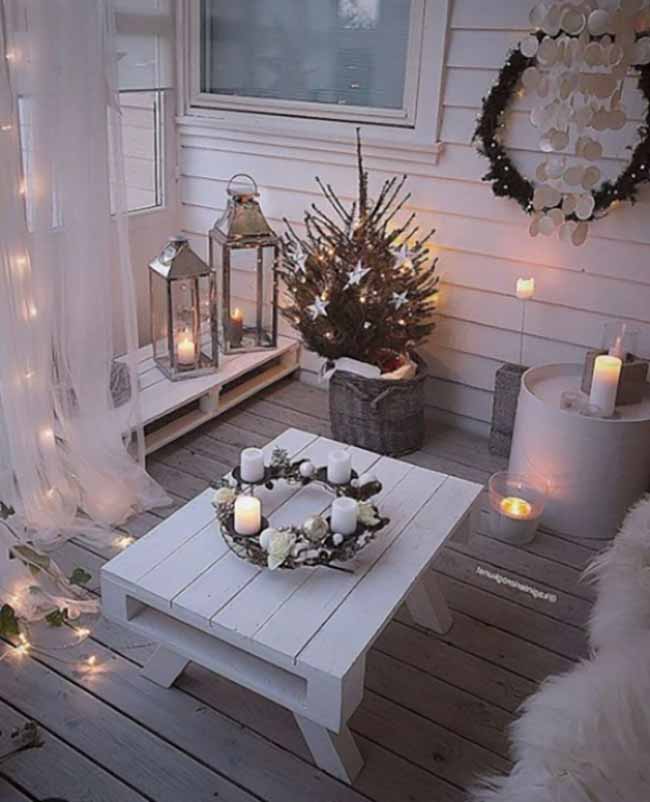 7. Make your little winter balcony a snug haven with shiplap furniture, a dash of faux fur, candleholders with flickering candles, and a miniature tree festooned with stars and a welcoming wreath.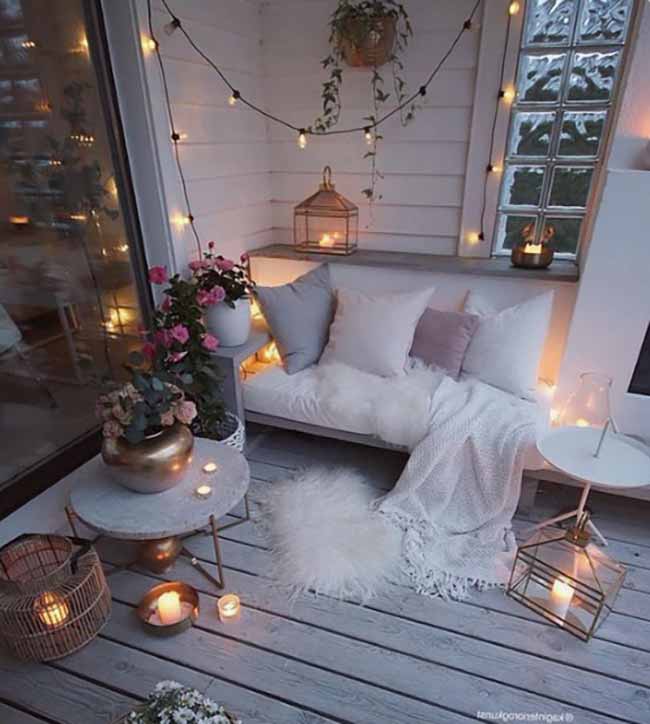 8. Looking for that perfect winter balcony vibe? All you need is faux fur, lanterns with candles, twinkling lights, and potted blossoms.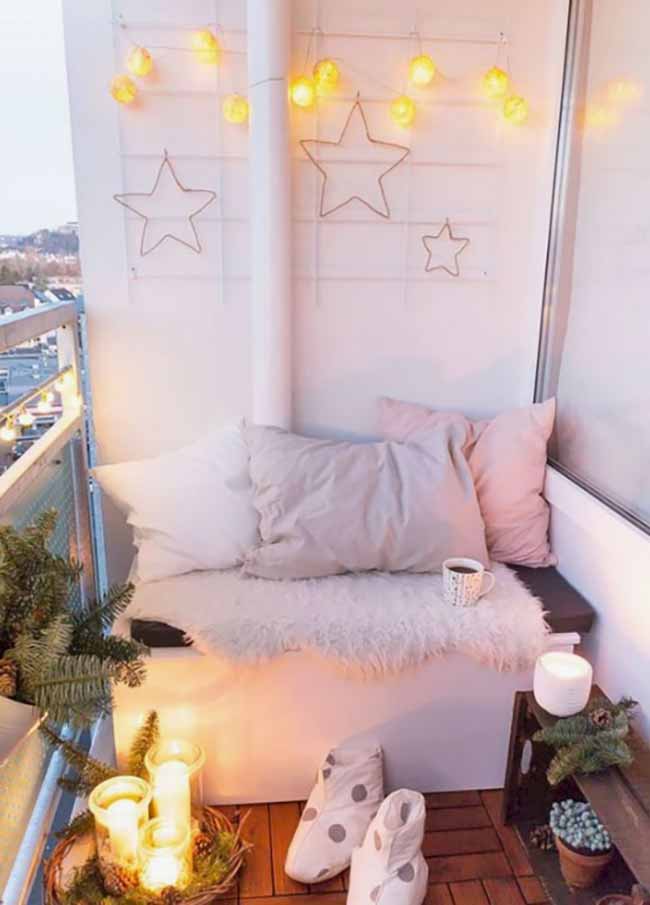 9. Curate a small winter balcony with an abundance of lights, starry decorations, faux fur, soft pastel pillows, flickering candles, pinecones, and evergreen accents.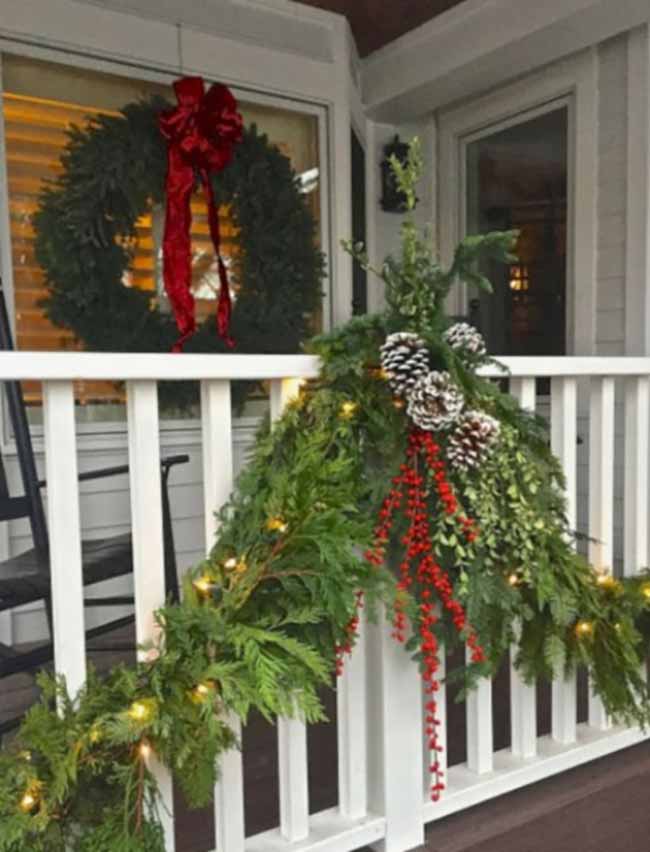 10. Elevate your balcony's holiday spirit with lush garlands teeming with berries, pinecones, twinkling lights, and a matching evergreen wreath complete with a generous splash of red in the form of a large bow.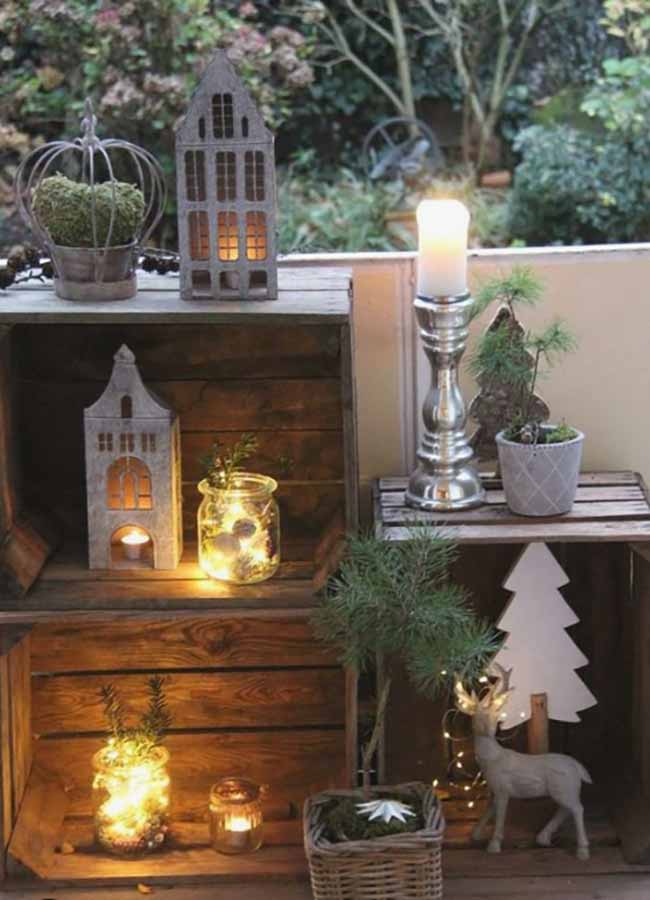 8. Transform your winter balcony with ease by adding wooden crates, candle lanterns, a touch of moss and evergreens, along with some deer figurines and plywood trees.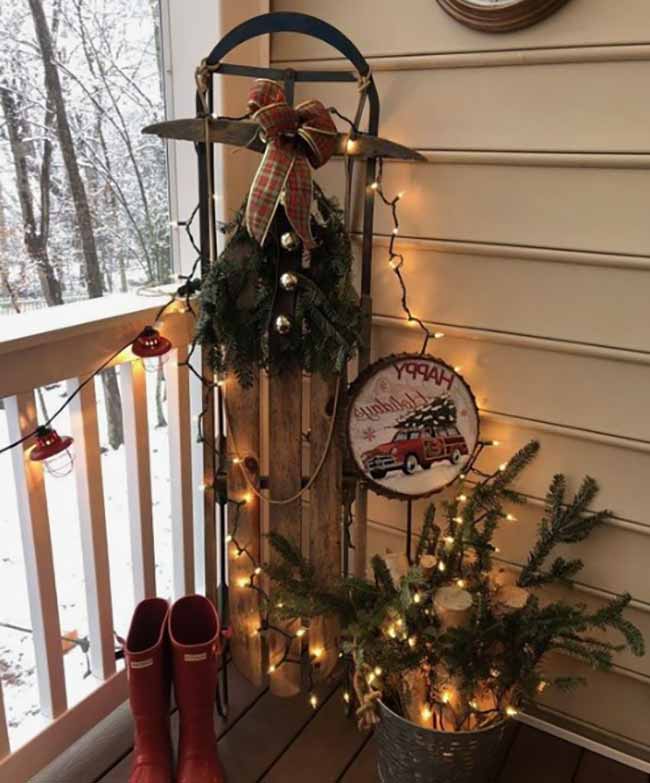 9. Are you wondering how to give your balcony a festive winter feel? Just toss in some red rubber boots, a bucket filled with firewood and evergreens, a vintage sleigh adorned with bells and more evergreens, and don't forget the magical glow of twinkling lights.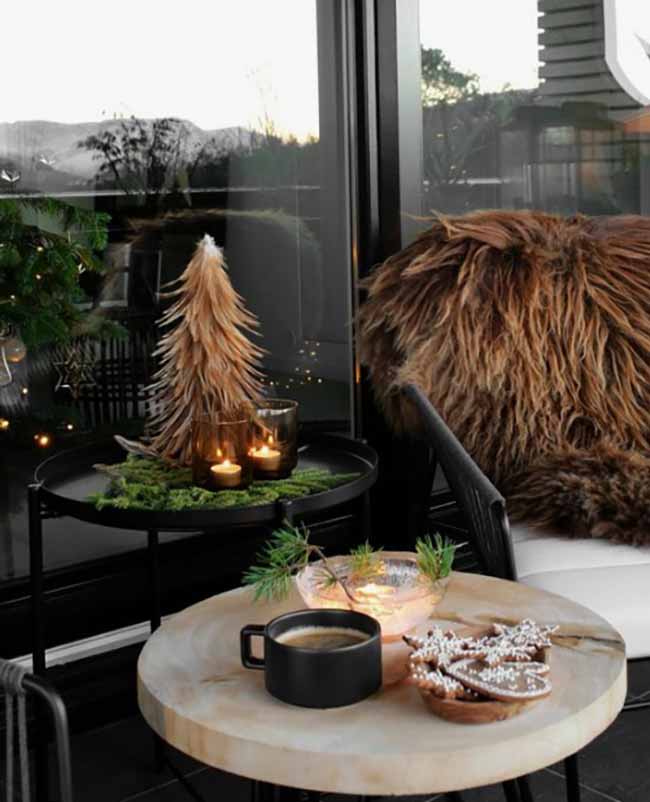 10. Upgrade your balcony with charming side tables adorned with evergreens, a petite Christmas tree, candles in elegant dark candleholders, and the cozy comfort of chairs draped in faux fur throws.

11. Create a snug winter retreat on your balcony by featuring miniature Christmas trees, an abundance of faux fur, a glittering crystal chandelier, and an array of enchanting lights.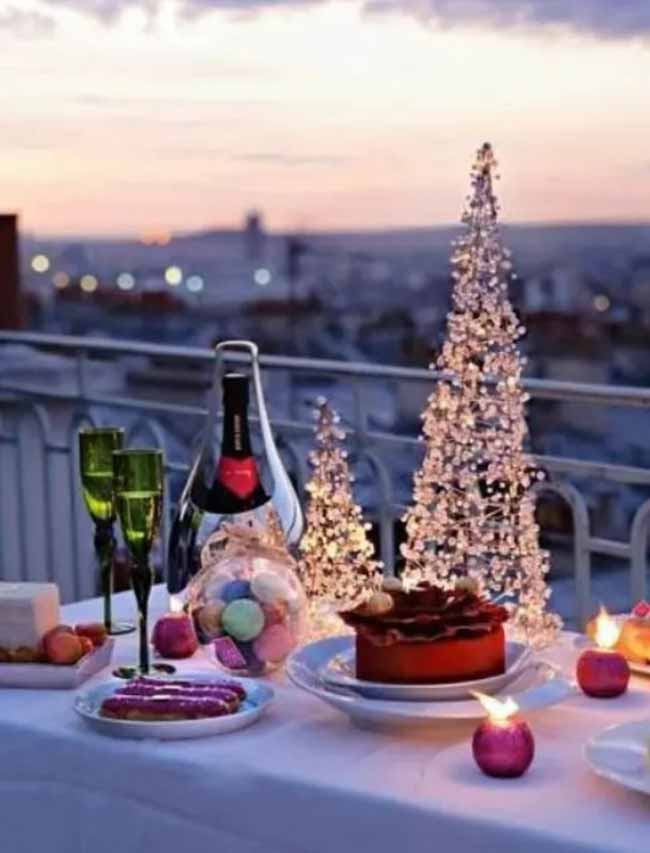 12. Planning a romantic evening for two on the balcony? Serve up champagne and desserts while adorning your table with Christmas trees and flickering candles.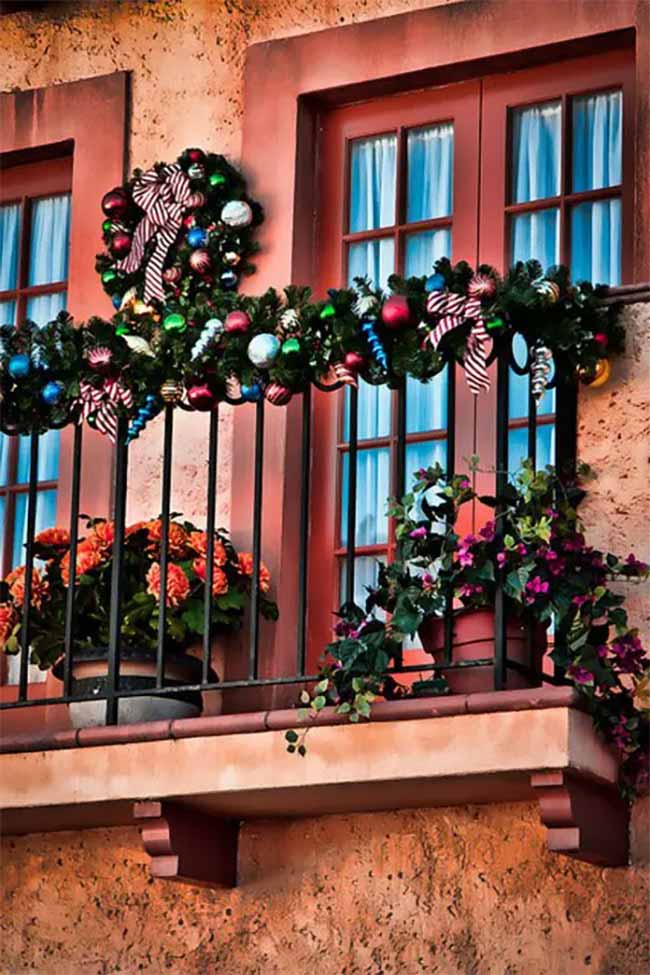 13. Add a touch of winter magic to your balcony with vibrant potted blooms, an assortment of ornaments, lush greenery garlands, and festive wreaths.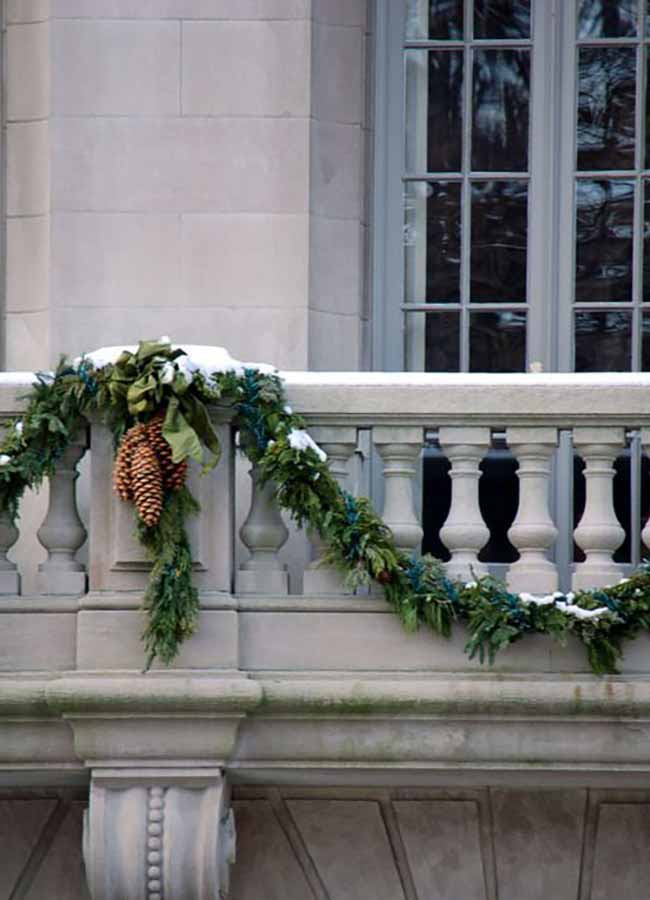 14. Elevate the holiday ambiance on your balcony with greenery garlands adorned with pinecones, instantly giving it a more festive and ready-for-the-holidays look.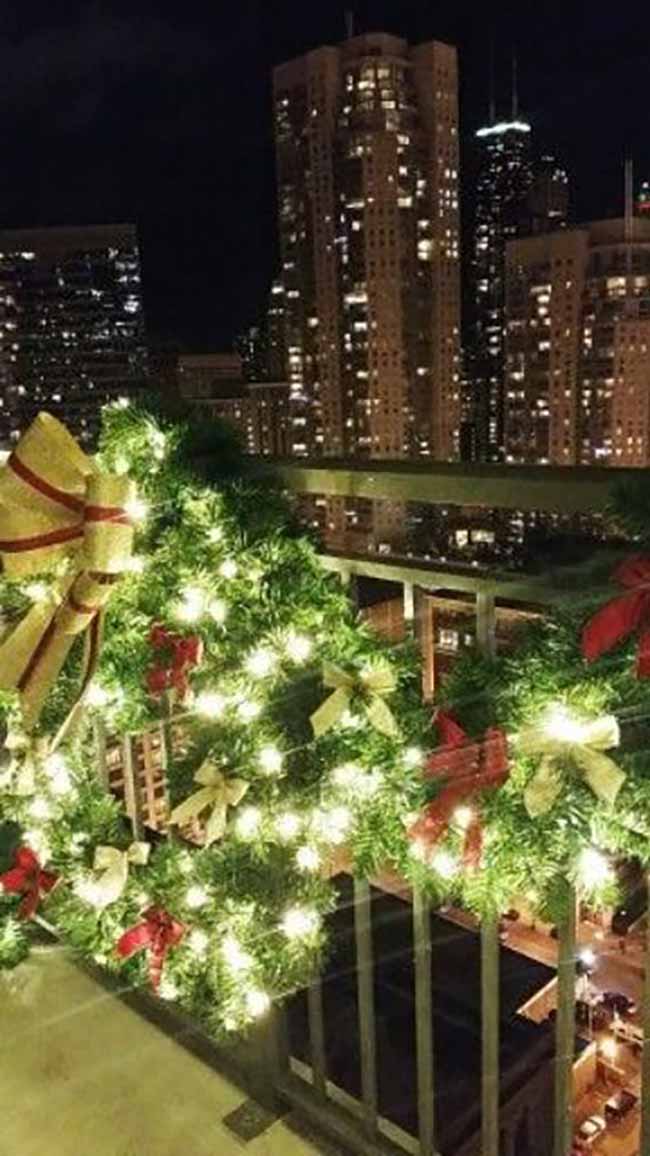 15. Dress up your balcony for the holidays with a greenery garland and wreath adorned with sparkling lights, as well as vibrant red and gold bows.
16. Infuse your Christmas balcony with a fresh and natural ambiance by embellishing it with lush greenery garlands and wreaths adorned with twinkling lights.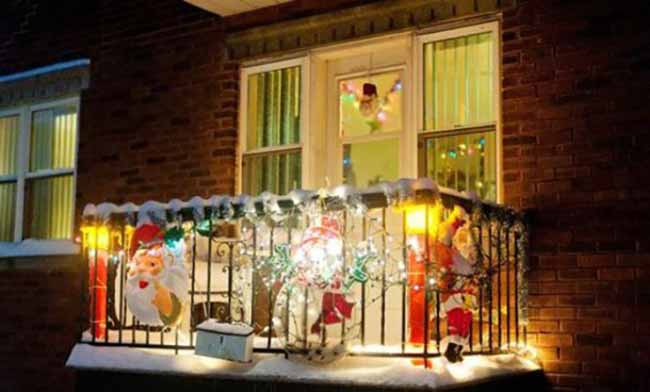 17. Dress up your balcony to be festive and radiant with masks, Santa Claus figurines, and an array of colorful lights.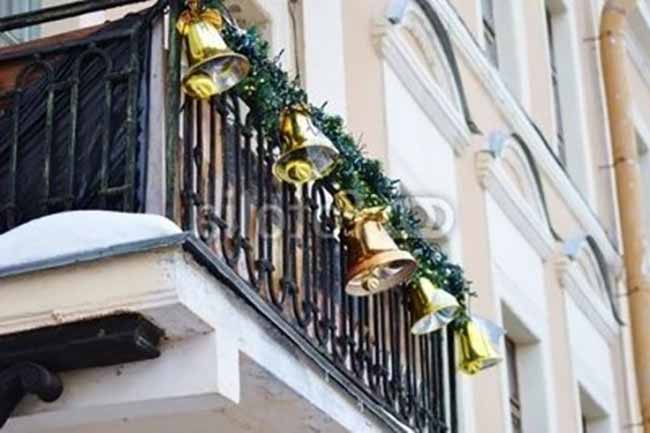 18. Instantly bring holiday cheer to your space by draping greenery garlands with large bells; they'll create a bold and festive atmosphere.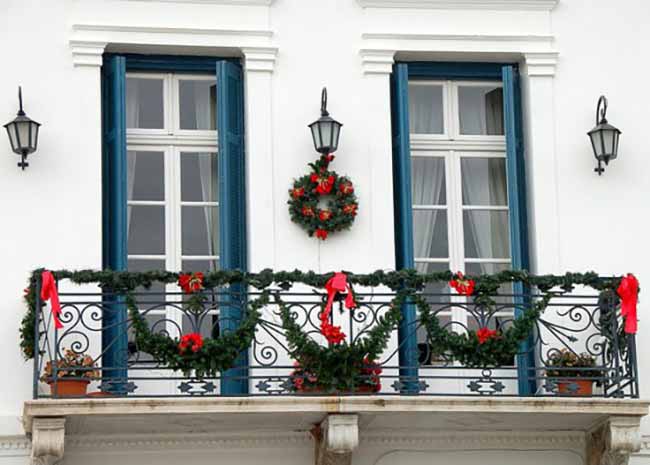 19. Transform your balcony into a radiant holiday haven with a combination of greenery garlands, red bows, a wreath with matching bows, and vibrant blue shutters.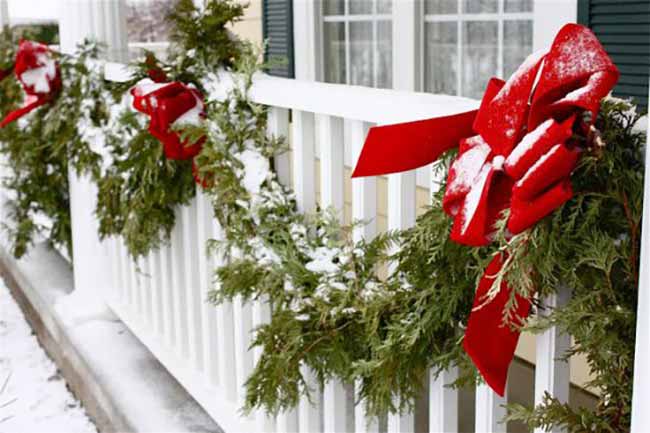 20. For classic winter and holiday charm, go with simple evergreen garlands embellished with red bows – they're traditional, easy to attach, and always a hit.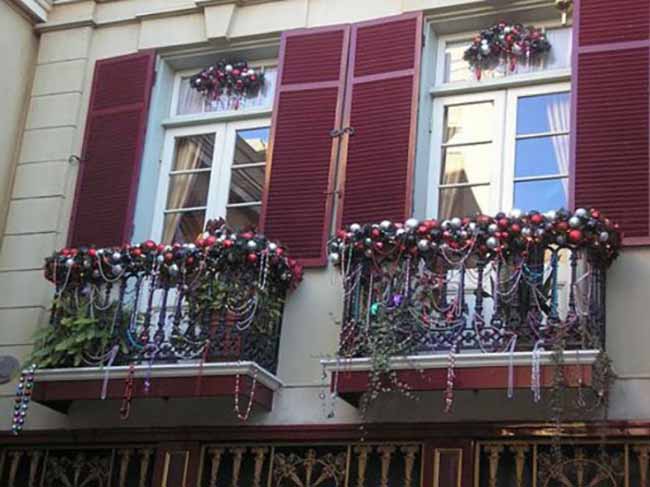 21. Give your petite balcony a robust dose of holiday spirit with abundant Christmas ornaments, beaded garlands, lush foliage, and colorful blooms.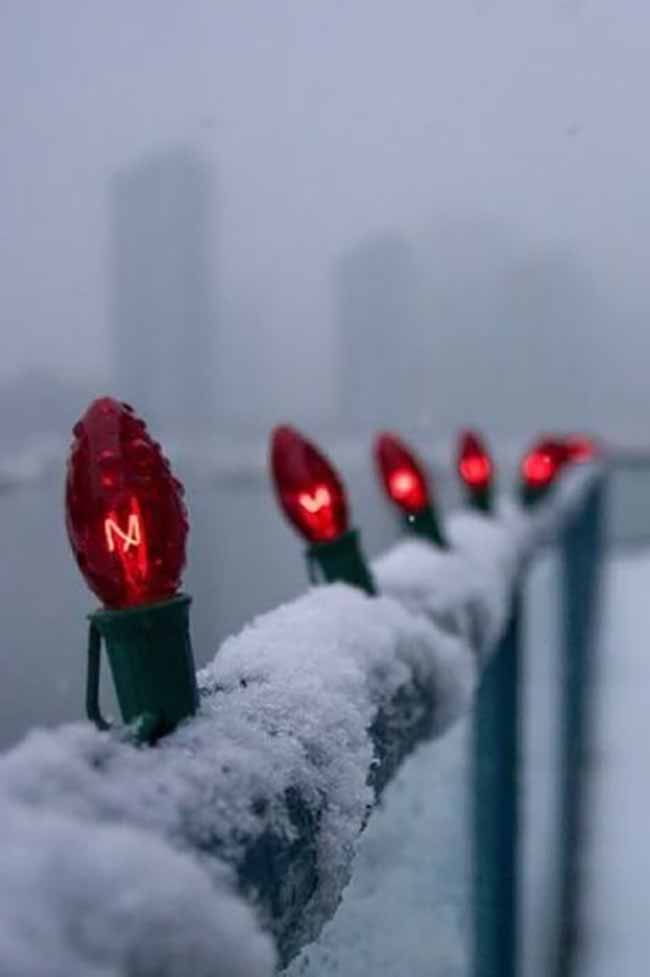 22. Want an easy and cool way to boost your balcony's festive appeal? Simply attach simple red bulbs to the railing.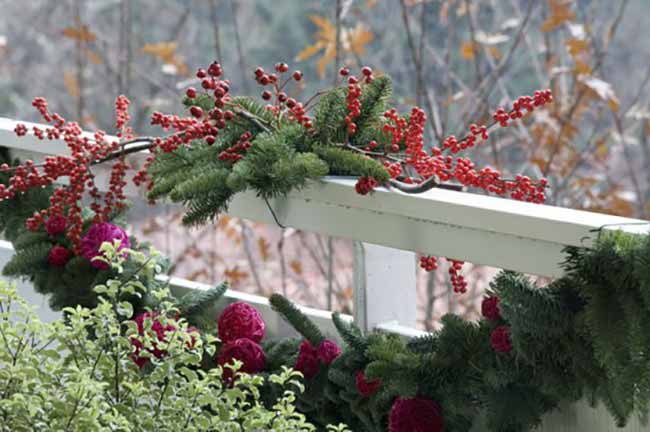 23. Embrace the natural beauty of the holidays on your balcony by adorning it with lush greenery, evergreens, berries, and vivid red Christmas ornaments.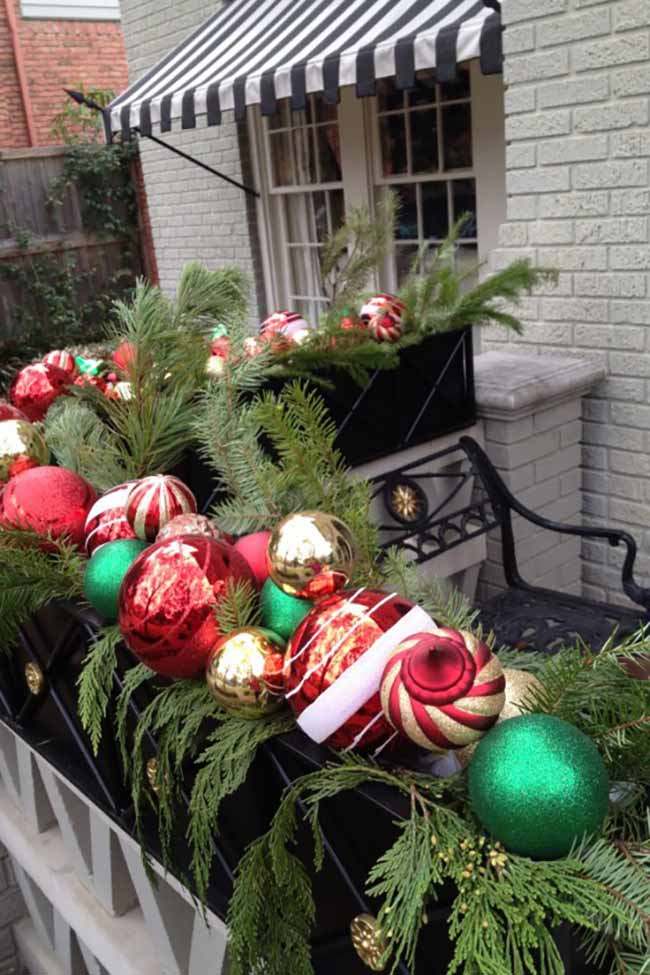 24. Elevate your holiday decor with a charming box filled with abundant evergreens and an assortment of colorful Christmas ornaments.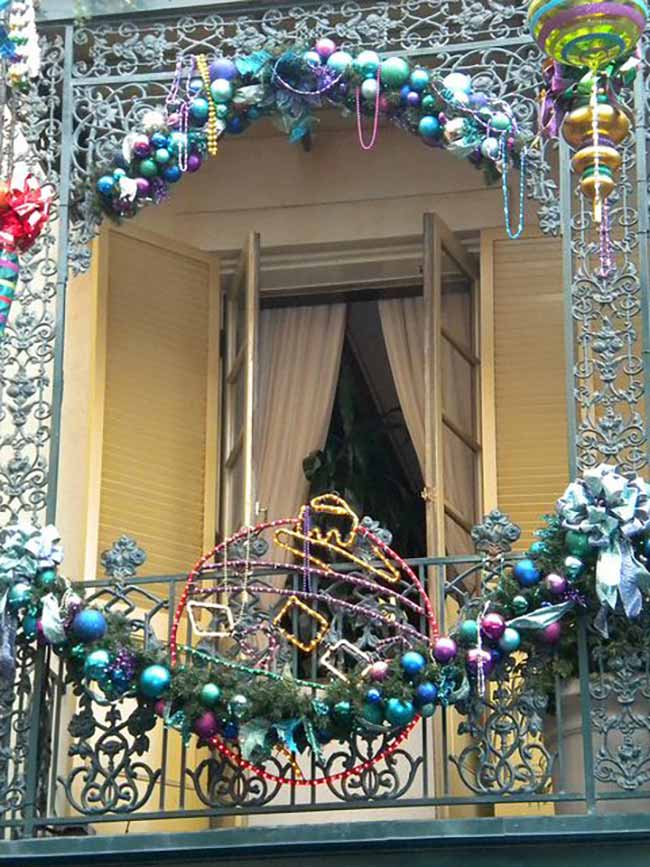 25. Turn your balcony into a vibrant holiday spectacle with an array of colorful Christmas ornaments, bows, evergreens, and illuminated decorations.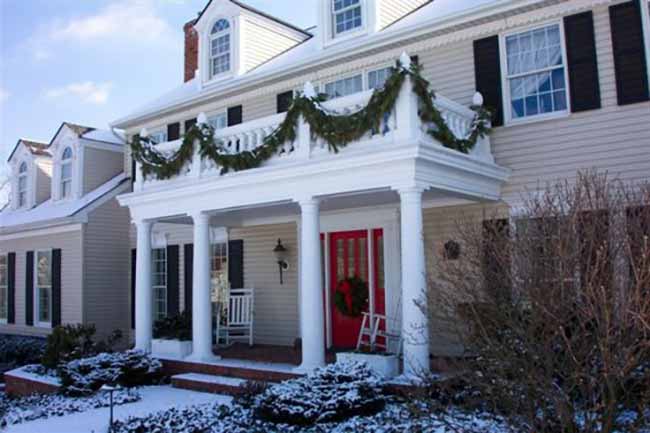 26. Achieve a holiday-inspired look for your balcony with the simplicity of evergreen garlands, enhancing its natural charm.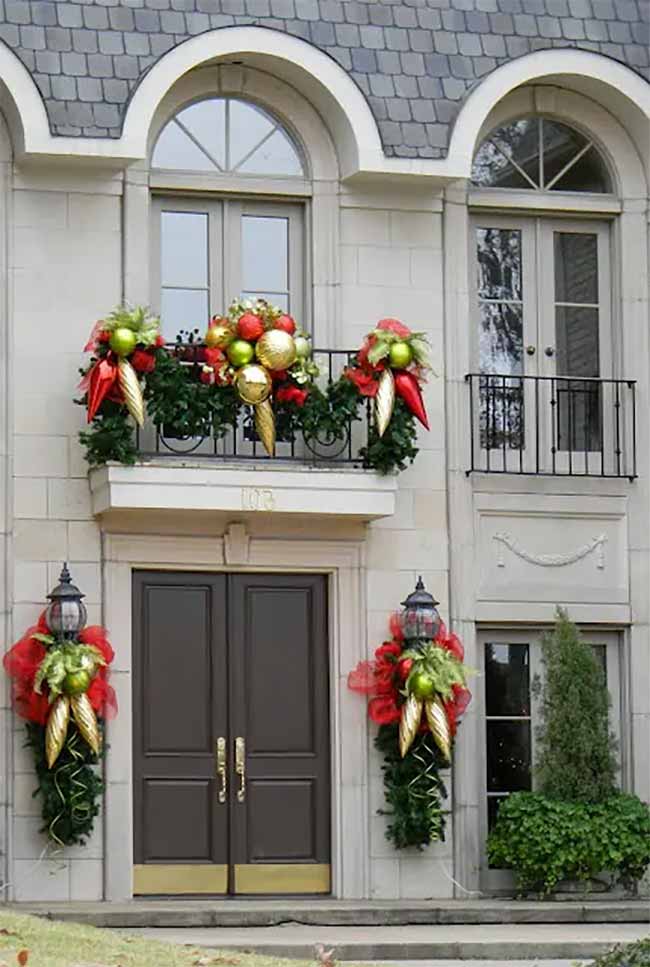 27. Create a bright and festive holiday balcony with the help of evergreens, oversized gold, green, and red ornaments, and a generous dash of red bows.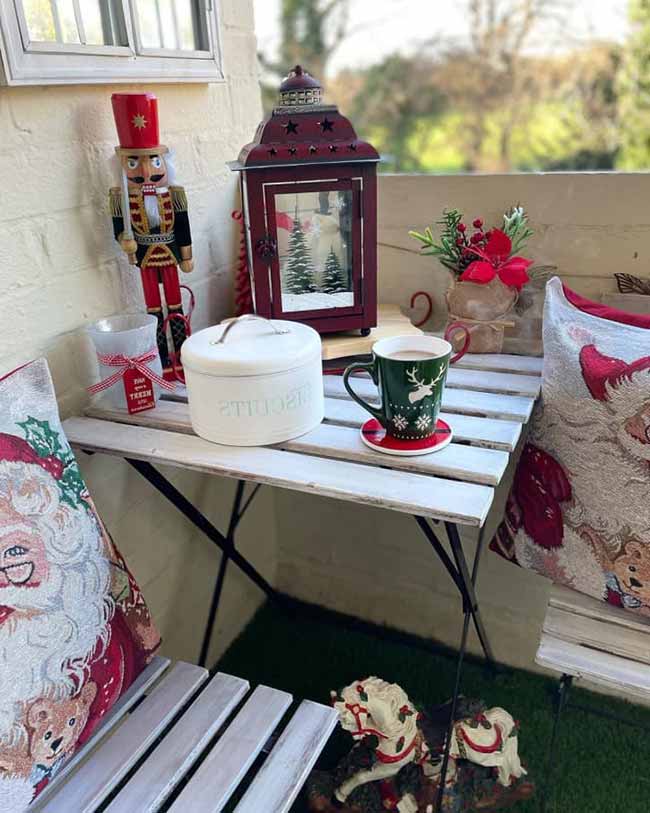 31. Wrap up in your comfy robe and make your balcony the coziest place for your morning coffee or working from home, or just enjoy a good holiday book. See how they've added Christmas pillows, decorations, and festive mugs to their bistro table and chairs to create a dreamy spot to kick off your day.  Credit: @kerryslittlehome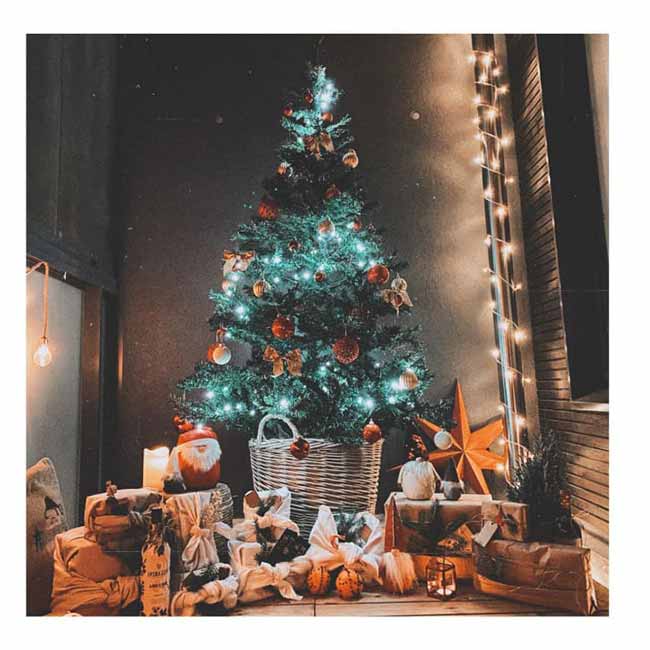 32. It's a wonderful idea to make your home look super festive during the holidays, especially if you don't have much space inside. Check out how they placed the Christmas tree on the balcony to make a snug holiday setup with gifts and twinkling lights. Credit: @michellechristina