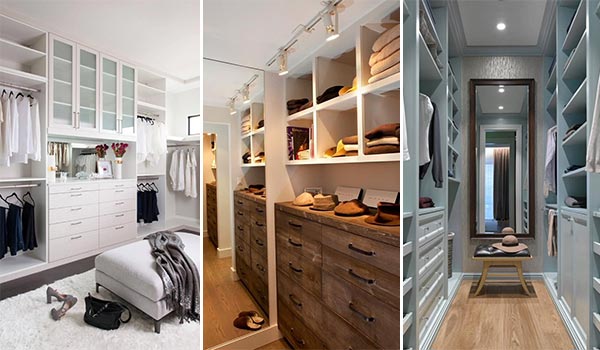 Whatever the size of your home, you have surely dreamed of having a private walk-in closet for your master room. But when we find ourselves having the opportunity to reimagine that empty space in our house and turn it into a changing room, we can get overwhelmed. But actually, it is not that difficult to design it.
In this article we will give you fifteen ideas to design your dream walk-in closet to combine elegance, functionality and lighting into one unique space.
1. You can put cubby shelves to keep your entire collection of shoes in sight. In addition to being well kept, they will decorate the room: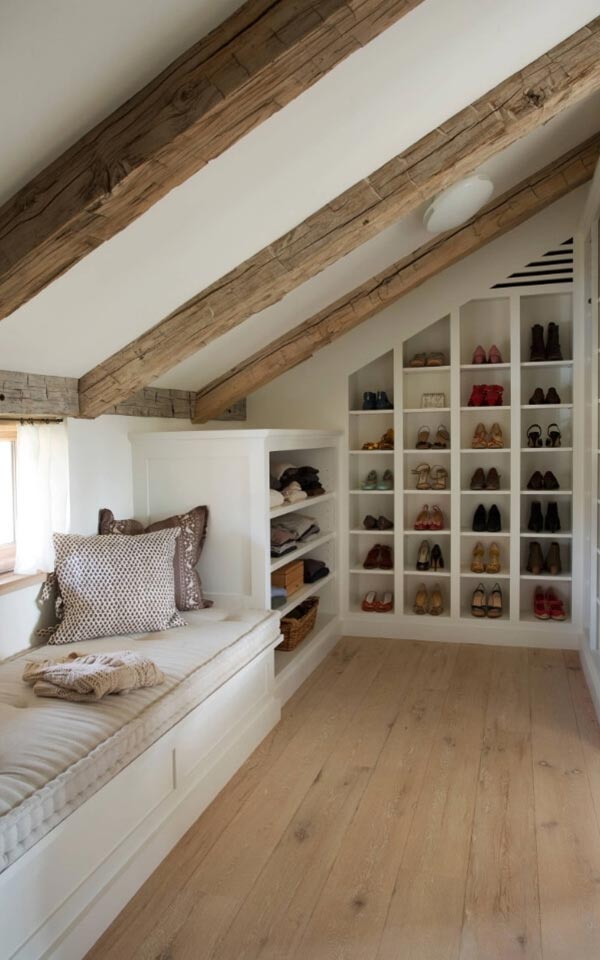 2. If you want to give it a more pleasant and cozy touch to your walk-in closet, you can place a bench, sofa or ottoman to change clothes comfortably: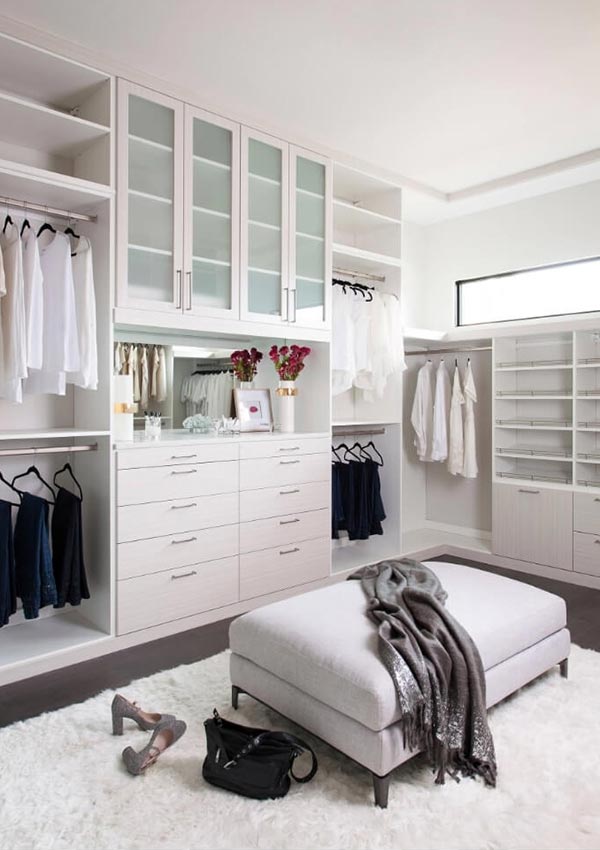 via: murphybedjacksonville.com
3. If you have a very small space, instead of using all the walls, choose to put shelves on only one of the walls and leave the other free. The empty wall will give the room light and space: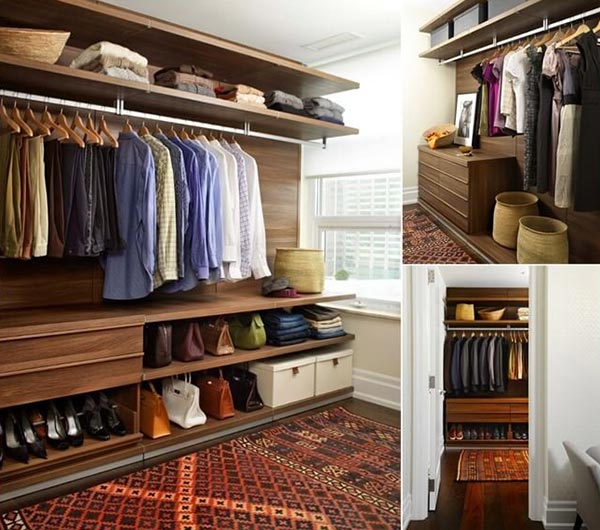 via: cromadesign.com
4. If you have more space, you can decide to put a dresser as if it were an island. Also, you can place a bench on the side. Not only will it be useful, but you can decorate the island with some plants or ornamentation: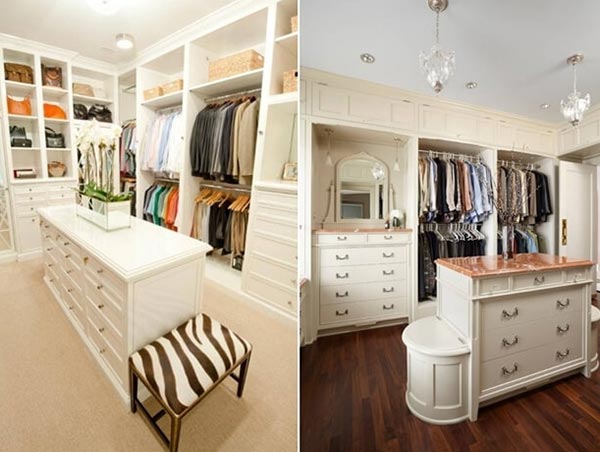 via: houzz.com
5. If the space is long, do not put any wardrobe in the front wall and take advantage of the empty space to hang a mirror. In addition, you can decorate the wall with some elegant wallpaper that contrasts with the colors of the cabinets:
via: houzz.com
6. If you have some space to spare, you can add an ironing board to iron your clothes just before hanging. This way, dresses and shirts won't stay wrinkled for too long: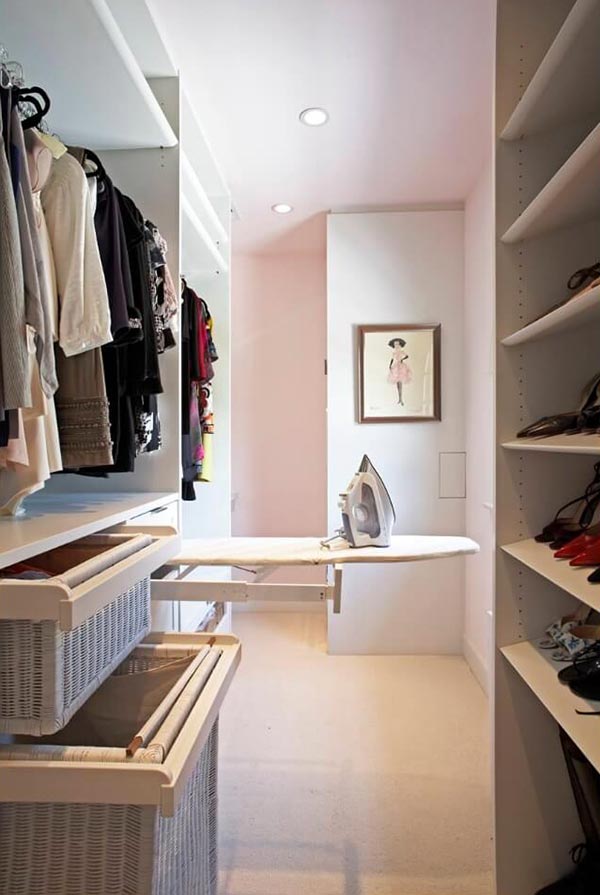 via: smallroomideas.com
7. To get a classic look, you can place shelves on all the walls, as if it were in the shape of the letter U. It is the most comfortable way to store a lot of clothes and access everything quickly: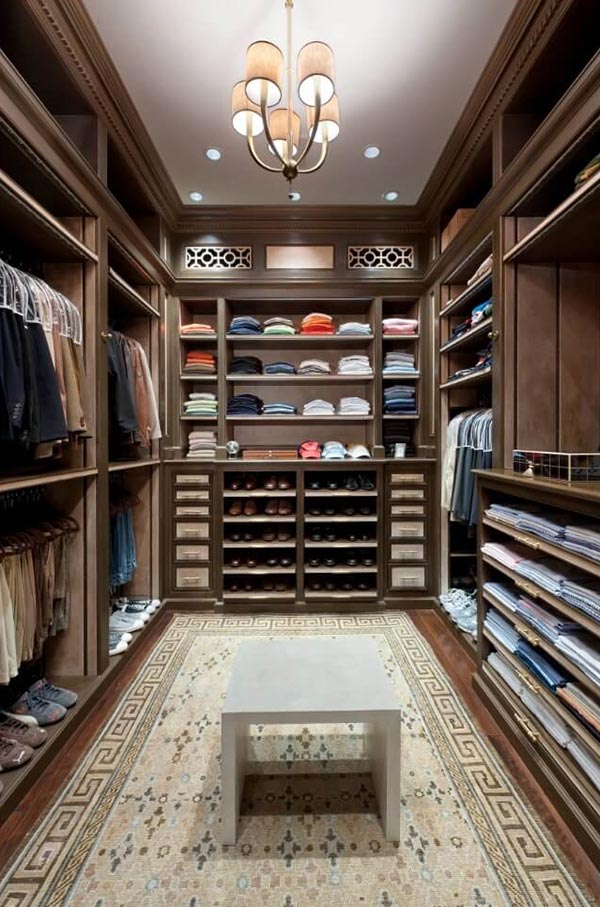 8. For larger spaces, you can add a hanging elegant lamp. With it you will be able to fill the space with a decorative element that will attract the gaze: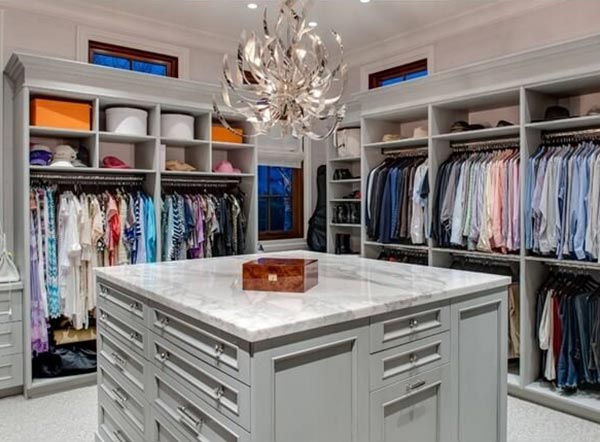 9. If you have a window, you can take advantage of its full potential. Set up a window bench, or use a low dresser to sit on and serve as storage as well. You can put some cushions and a curtain with matching colors: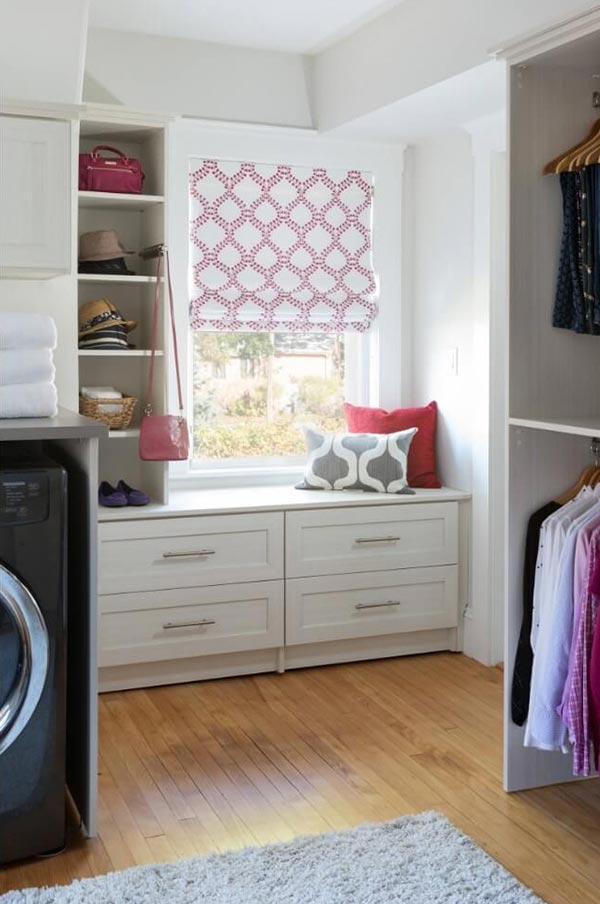 via: houzz.com
10. You can add a dresser or space to store and display your makeup. Turn your walk-in closet into an elegant and glamorous space: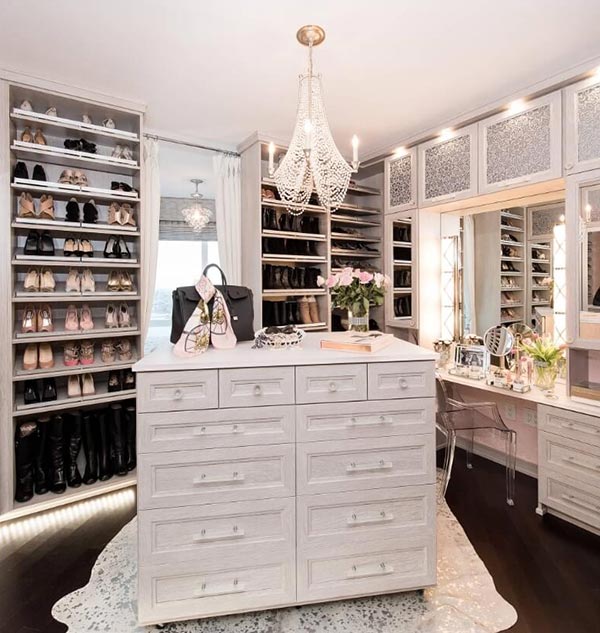 via: houzz.com
11. Take advantage of small spaces by giving them their own theme: make it rustic, or modern, or elegant. Use furniture of specific colors or materials to convey your personality:
via: suvaco.jp
12. Adding lights on the shelves will make your closet look like a very luxurious room: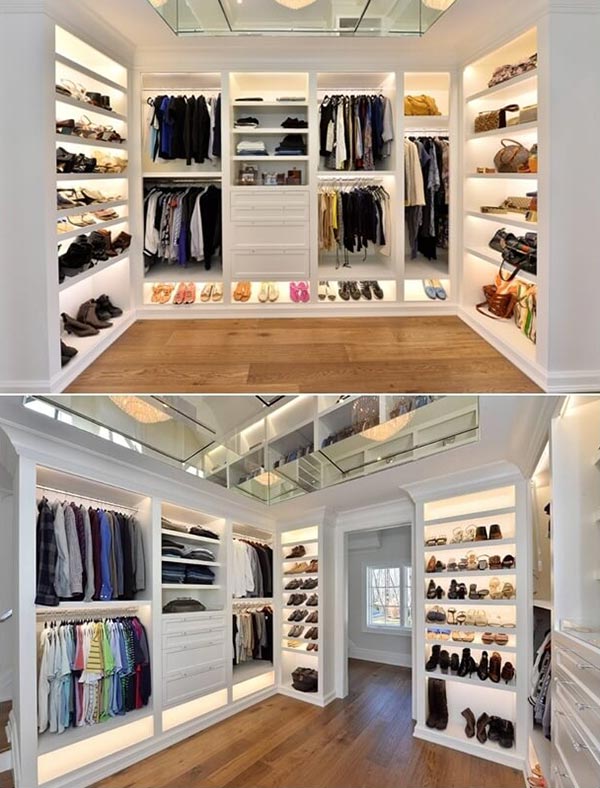 via: houzz.com
13. If you have a small closet, you can add mirrors to the wardrobe doors to make it appear twice as large as it is. Although you should be careful to put mirrors in the doors that are facing each other: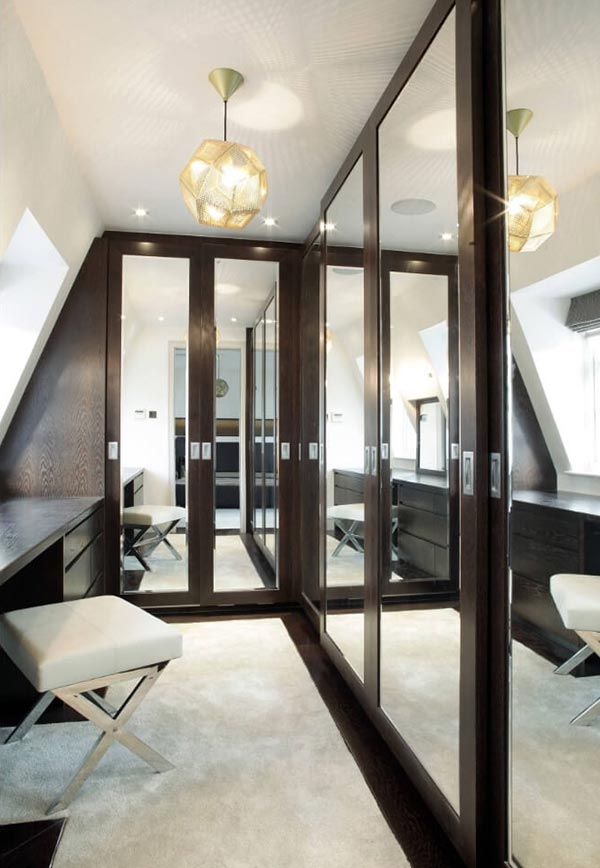 via: houzz.com
14. You can add a characteristic element that attracts attention. For example, a hanging branch to hang your clothes: this will give a rustic and unique touch to your personal space: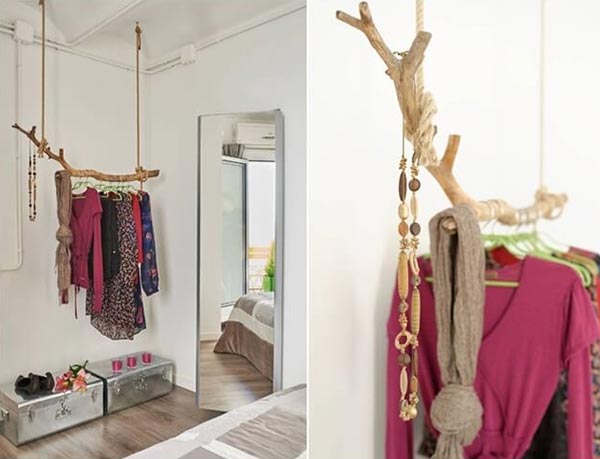 via: houzz.com
15. If you need more space, you can opt for the option of revolving cabinets so that you can fit much more in the same space. It is especially useful for storing shoes: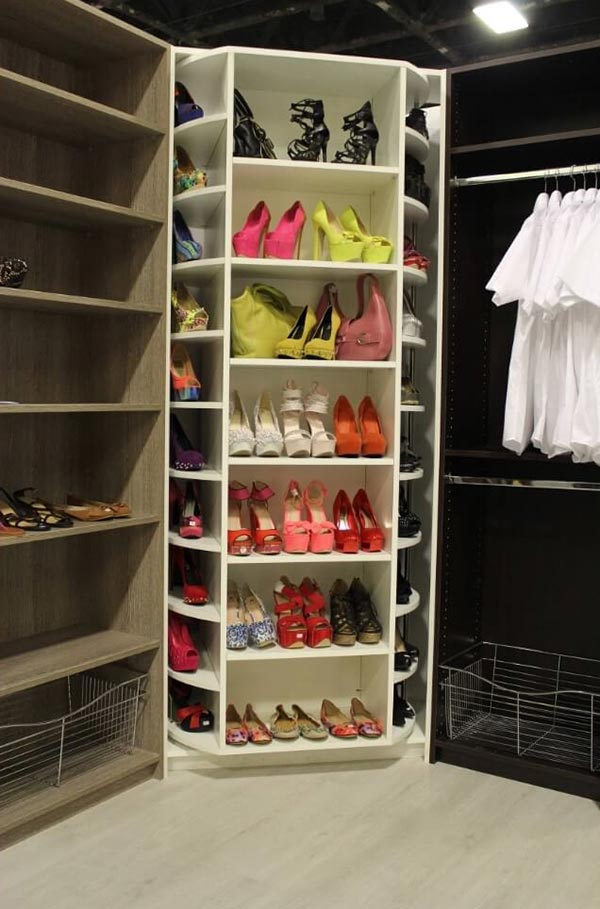 via: houzz.com
We hope that in this article you have found the inspiration you wanted for your walk-in closet. You can even combine several to achieve elegant and unique spaces with your personality reflected in them. Make the most of your space!