15 Home Decorating Ideas with Chevron Pattern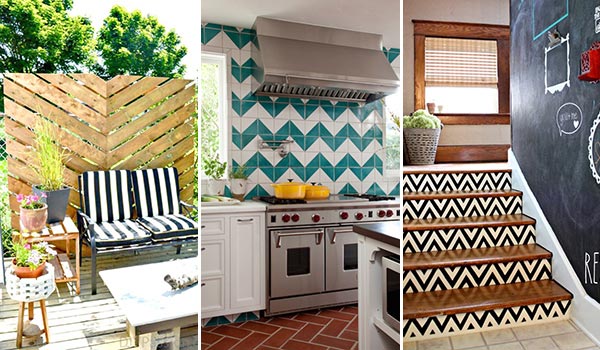 A very popular pattern these days is chevron. Or zigzag, as people casually call it. A classic pattern, chevron is easily distinguished from another almost identical design by its solid inverted V shape. It is a continuous seamless inverted V shape design. Hence, the name zigzag, right? It is a very versatile pattern, I must say. By using different shades of colour, thickness of blocks, and texture of material, you can create the ambience you want for your home, room or any space.
In this article, we will show you 15 ways how this design and pattern can easily change the character of a room or space, elevate a simple home accessory into an art piece inside your home or create a statement – chevron floors in light grey stone material create a modern yet medieval character, don't you think? From elegant to bohemian, we hope these design propositions will let those creative juices and skillful muscles move into action.
1. Armoire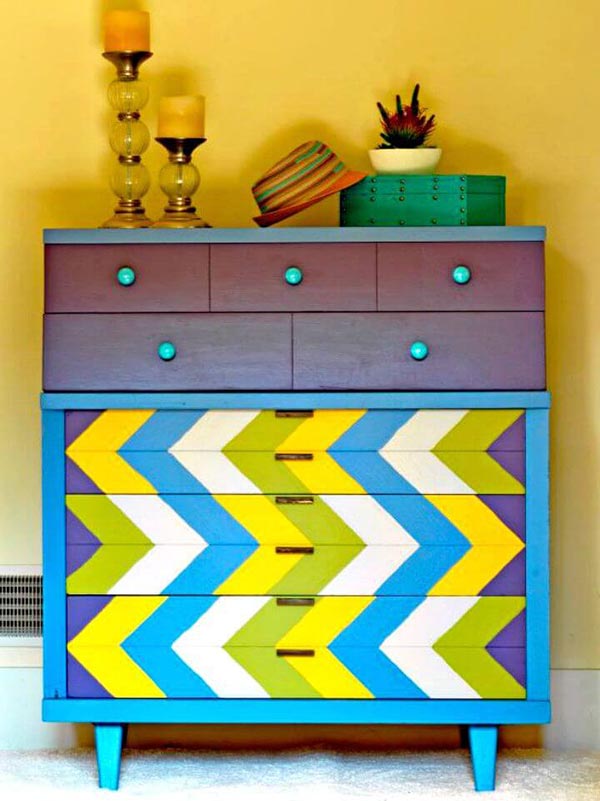 Chevron pattern is so versatile that it can be used on any piece of furniture. Why don't you refurbish an old cabinet and use watercolor shades in chevron pattern for that bohemian feel. Tutorial: diynetwork.com
2. Planter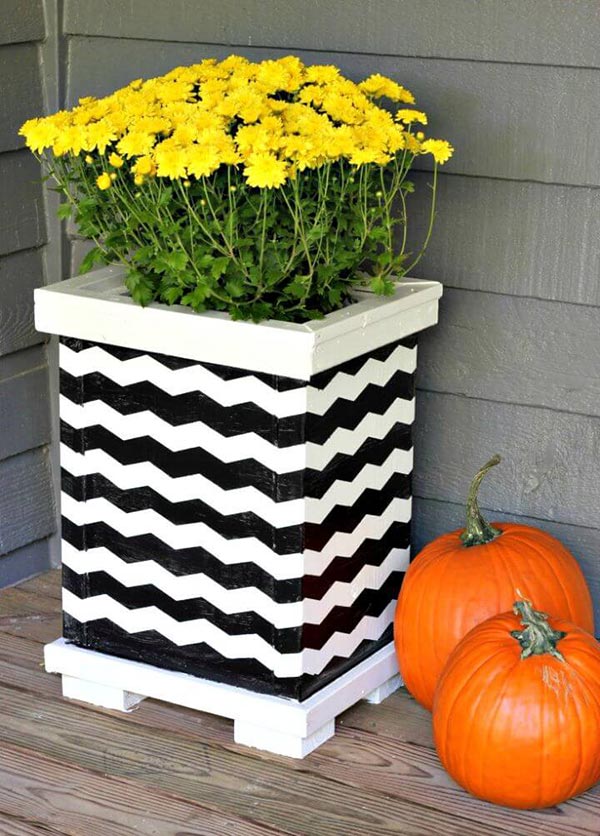 Dress up your decks with these chevron planters. Yellow blooms in black and white striped chevron planter give a cheerful appeal to any porch.  Tutorial: erinspain.com
3. Outdoor Privacy Wall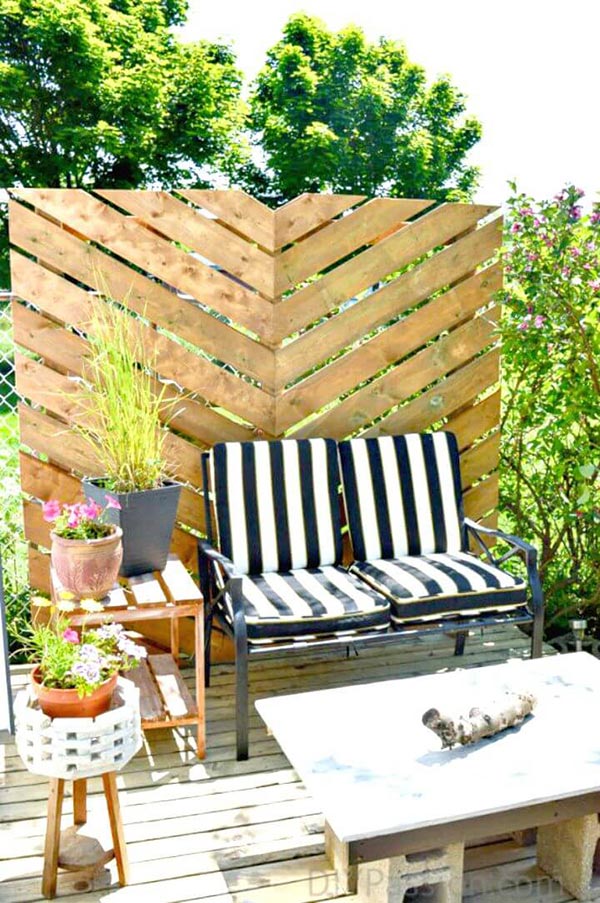 Easy way to create personal space in your deck or patio using this chevron shaped partition wall. TUtorial: diypassion.com
4. Trellis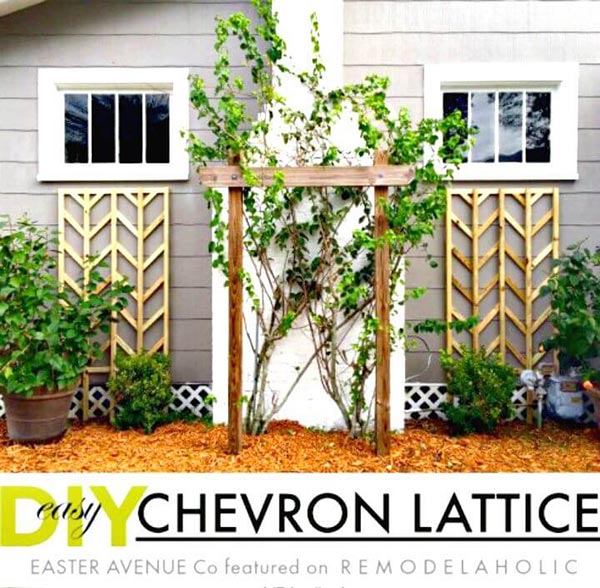 Chevron lattice gives texture to a rather plain wall. Can also double as a planter holder, vining structure for veggies and ivies. Loop some LED lights for those romantic nights, why not?  Tutorial: remodelaholic.com
5. Wall mounted Mason jar vase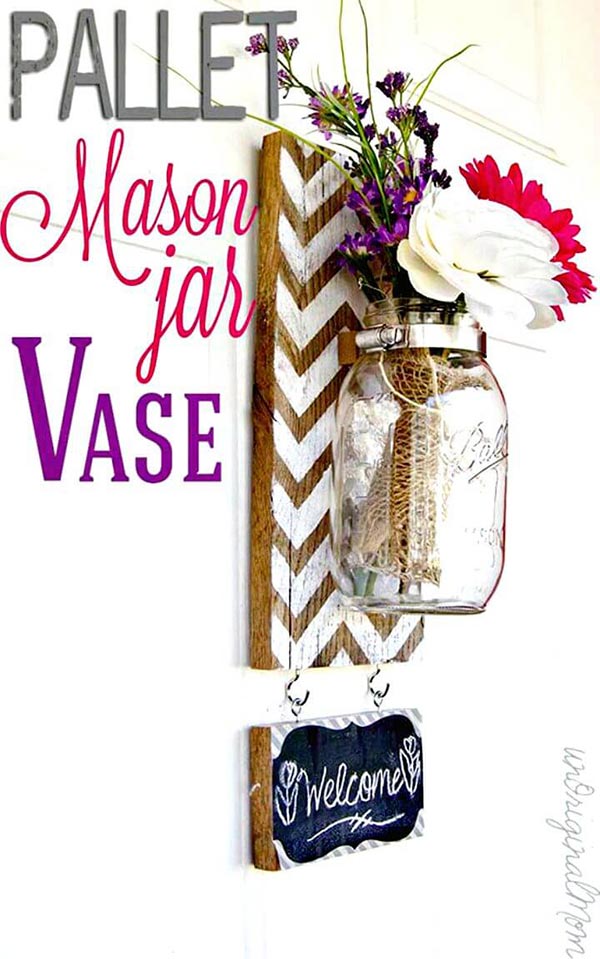 Rustic in a white chevron pattern. This wall mounted vase is an adorable entryway greeter. It surely is a smile-before-you-enter greeting.  Tutorial: unoriginalmom.com
6. Vase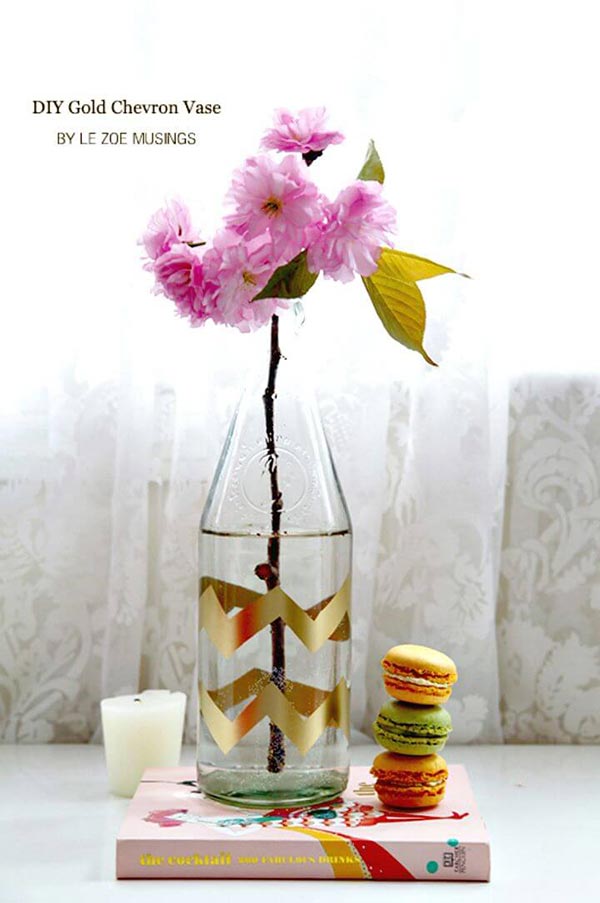 Transform a clear glass bottle into a shabby chic vase with gold chevron pattern design.  Tutorial: lezoemusings.com
7. Wall hanging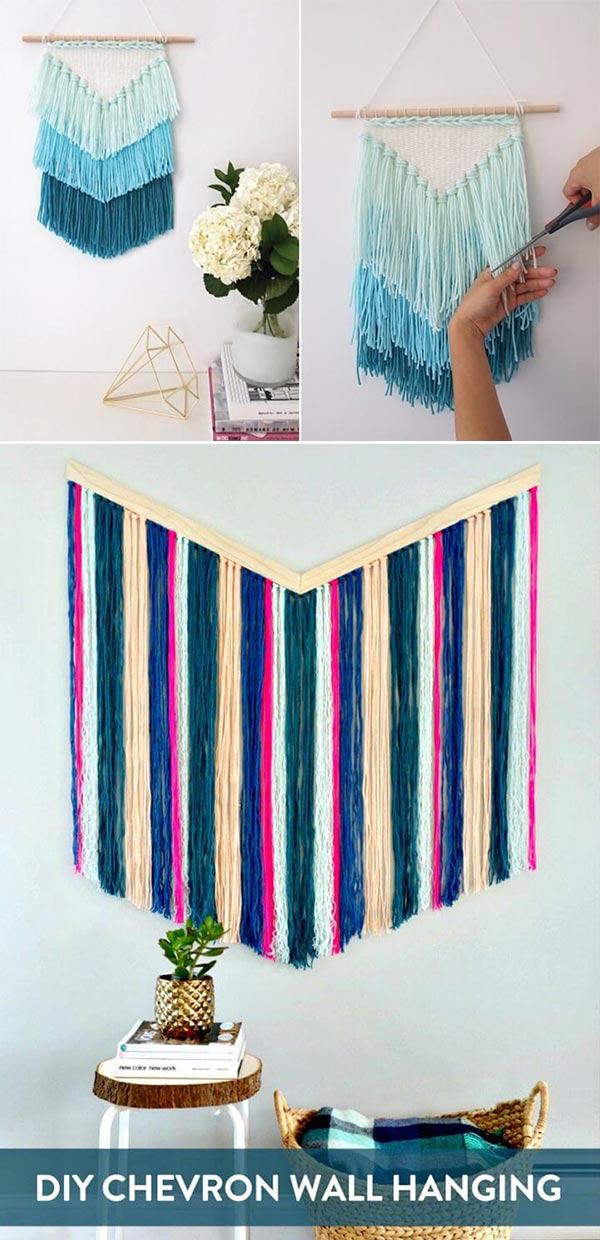 A clever use of extra yarn in the house to add a pop of colour on that humdrum wall.  Tutorial: curbly.com
8. Lampshade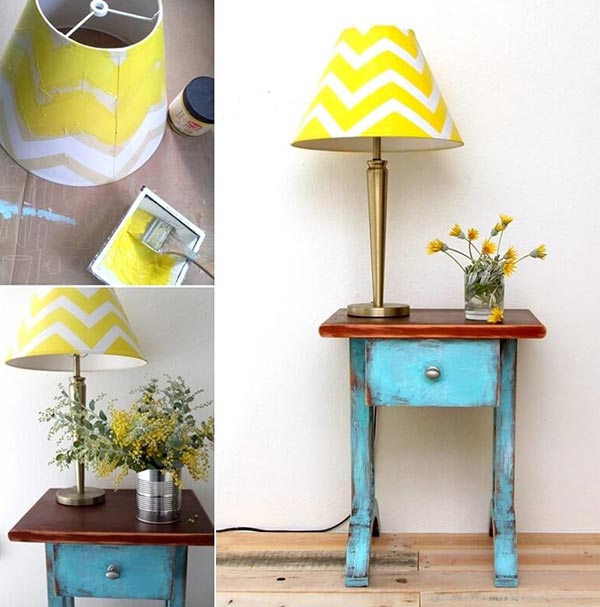 Easiest DIY ever. Turn your old all white lampshade into a chevron patterned lampshade, in the colour you want. Just tape and paint. Easy peasy.  Tutorial: apieceofrainbow.com
9. Rug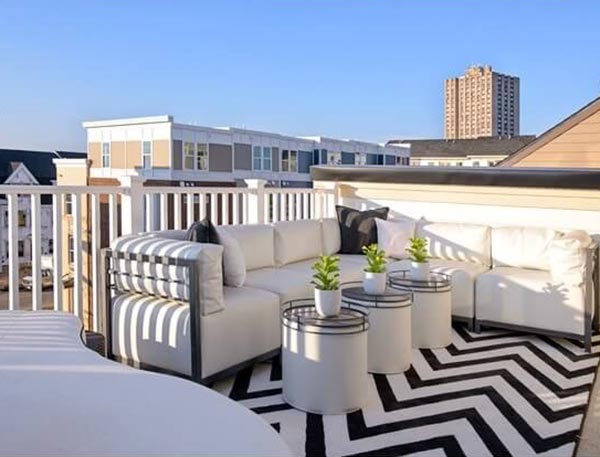 A chevron pattern rug in complementary hue levels up your space's vibe. A simple way to add living colour to a room.  via: houzz.com
10. Window curtain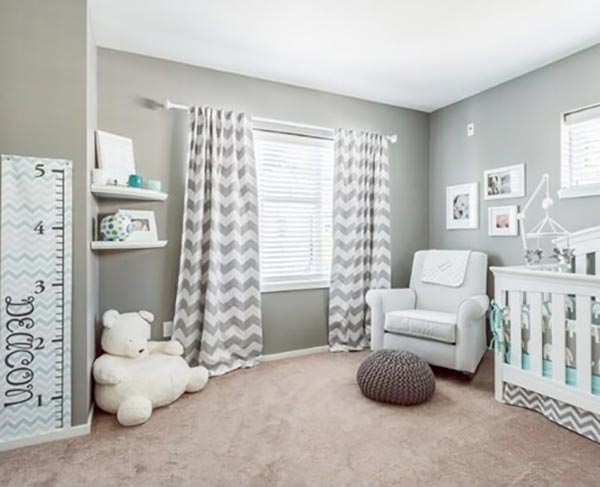 Amazing room view complimented with an equally funky chevron patterned curtain.
11. Backsplash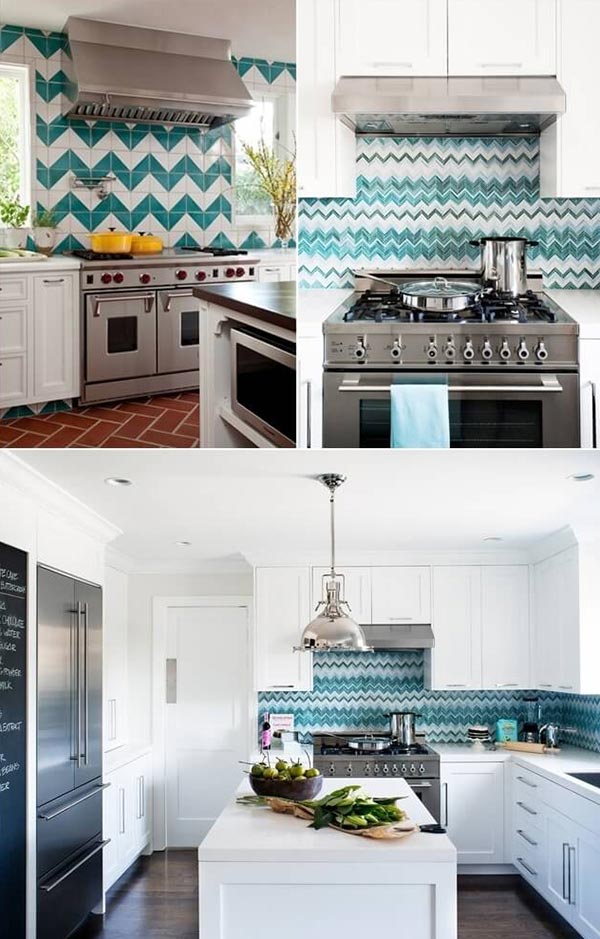 Detouring from the usual white and grey colours, these green shades of backsplash in your kitchen radiates calm abundance. via: decorpad.com
12. Furniture cover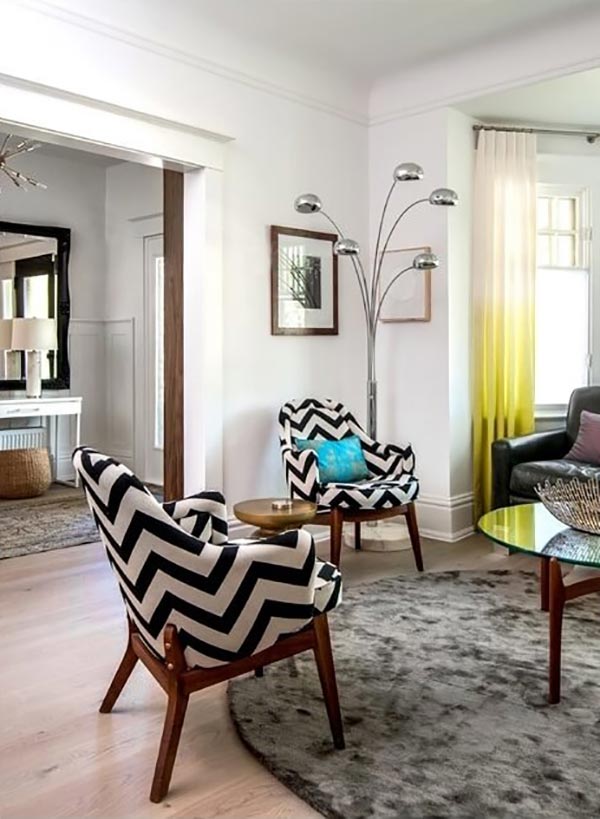 Bring chic and style into any furniture using chevron patterns. Fun piece to paint or cover with fabric in chevron pattern and in the palette of choice.  via: houzz.com
13. Flooring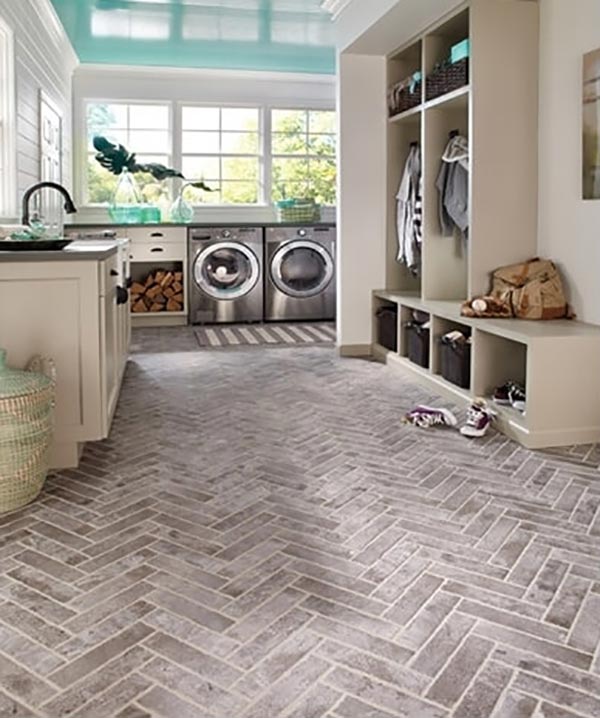 A nice way to lighten up a room. Choose your preferred block size and finish. Wise choices can transform your room into the rustic or sophisticated look you desire. via: houzz.com
14. Wall accent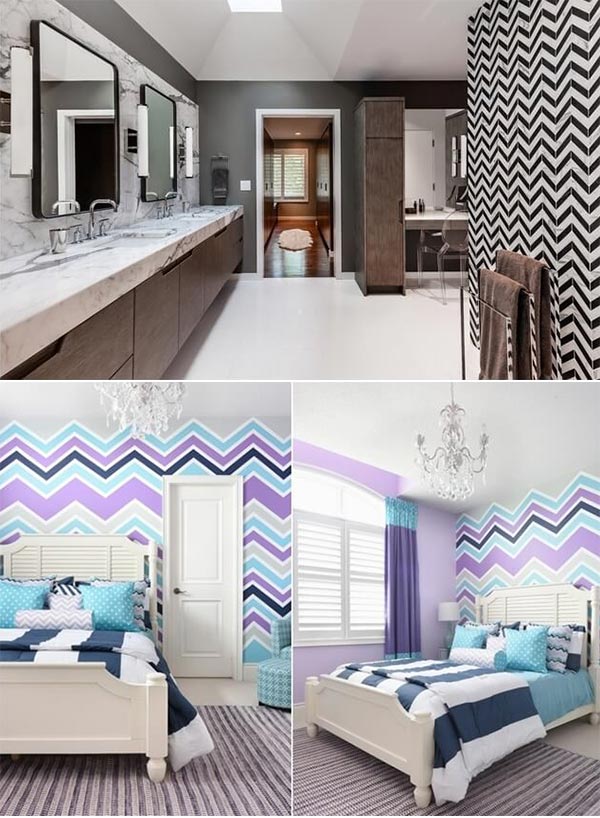 Painting your wall in coloured chevron patterns will create the mood you want in any room. These colourful chevron patterns brought fun and energy into this room.
15. Stair Riser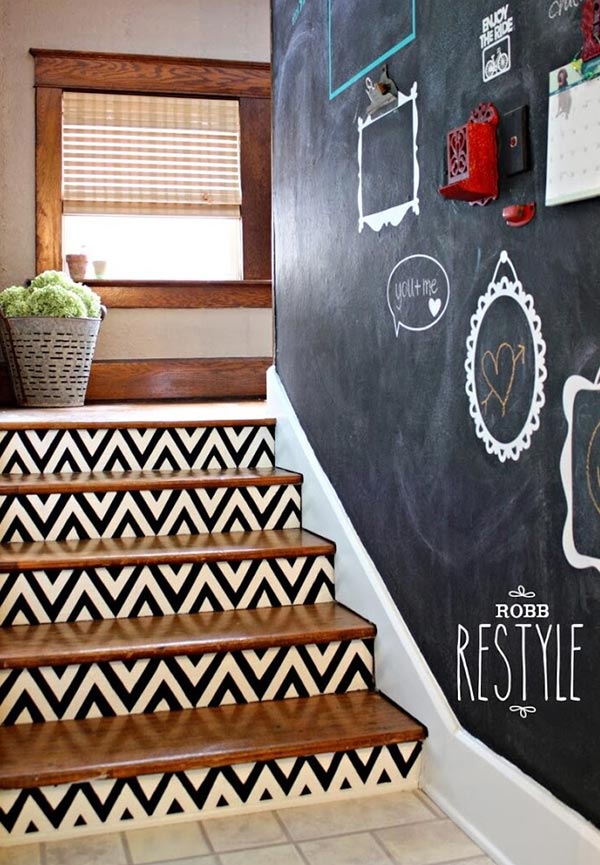 A bold boho look to welcome any guest.  Tutorial: robbrestyle.com