Best Tips to Host a Halloween Pumpkin Party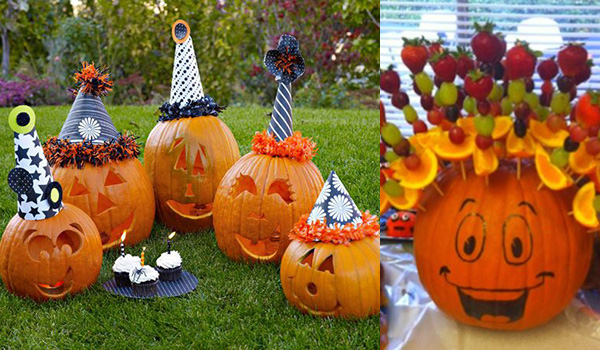 A pumpkin-themed party is a fun and festive celebration in the autumn season for kids and Halloween fanatics. It is one of the most anticipated parties a family does and you might want to do it the best and most memorable for your guests too. While carving pumpkins leave you a great job in cleaning, no need to worry about the mess when you can keep the pumpkin intact. You can décor on it instead and preserve the vegetable so you can cook and eat it. Plus, jack-o'-lanterns are prone to insects so it might cause harm for kids. The best way would be to provide varieties of art and craft materials to hype this children's party on Halloween when started!
Sharing you some helpful tips to pull off the Best Halloween Pumpkin Party you have ever hosted!
1. Turn your place into an imaginative, pumpkin wonderland by decorating several pumpkins and putting them all over the party area. Let the children have their own pumpkin preferably small so they can easily lift them. Better to have different shapes and sizes for more choices and with stems attached since these pumpkins apparently do not easily get spoiled. Let your guests choose a pumpkin the moment they arrived.
2. Give awards and prizes for the "best pumpkin" in different categories. Competition unleashes the energy of people so it will surely make the party entertaining. Categories can be as many as you can think so you can give something to everyone. You can separate the children and adults. Categories can be the scariest, silliest, cutest, prettiest, most traditional jack-o'-lantern or anything that is exciting.
3. Have a working area for your guests, providing a separate area for the children and adults. Craft materials should be prepared in the area and match the categories in the competition. Materials include paints and brushes, washable markers, glue, and tiny crafts such as glitters, buttons, ribbon, twine, Easter grass for hair, and many others. Make sure to provide nontoxic materials safe for kids. Also, you can add creepy materials like fake teeth or fake fingers.
4. Keep the party area from mess during the pumpkin carving. Provide templates for pumpkin carving and use glue dots instead of liquid glue and allow adults to help the kids in cutting the craft materials and wiping markers from pumpkins. Always keep wipes available in the area for easy and hassle-free clean-up of the working place.
5. Set up a stage oozing with spookiness by decorating it with spider webs on the background and let the children place their designed pumpkin in the stage. You can also make them speak how they decorated their pumpkins. For the awarding ceremony, do a Halloween costume parade to everyone with their pumpkins. Keep this event documented with pictures during process of designing the pumpkins to the costume parade. You can send them the printed pictures and their personalized pumpkins in a tote bag.
6. Finally, do not forget to turn on spooky or goofy Halloween music to keep a fun party vibe. Songs like Ghostbusters or the classic Michael Jackson's Thriller are among the best. Have the kids participate in a guessing game using a Halloween-embellished bag where you put a sort of candies with tactile characteristics to do the tricks. The kids will have to guess what's inside the bag without looking at it. Another game is guessing the creepy sound. Glow sticks and bracelets are also in so don't miss to put them on the party favor list.
Image credit: bhg.com