20 Inexpensive Ways to Dress Up Your Home with Molding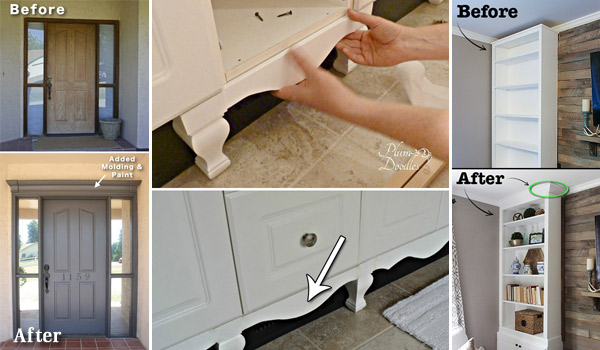 Are you searching for a simple and cheap way to make your old furniture look better or give your indoor space an upgrade? If so, why not consider trying out some creative molding ideas? Using molding to decorate is a fantastic concept that can easily turn a dull space into a stylish one.
What's more, molding and trim can give your home a more unique and luxurious vibe. Here, we've collected a few timeless examples of how you can achieve a fresh look for your home without having to spend a lot. Take a look and let the decorative molding ideas inspire you!
1. Add a strip of trim a bit to the side of cabinet.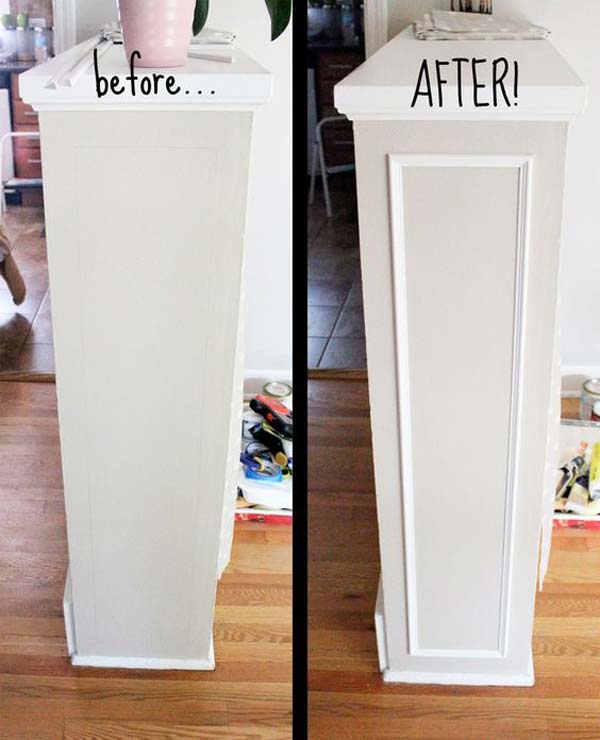 Enhance the charm of your plain cabinets by installing a strip of trim along the sides.
This straightforward addition can instantly add character and a touch of sophistication to your kitchen or storage area.
Get Tutorial here ====> crabandfish.blogspot.com
2. Adding a couple of the finial wood accents to the bathroom cabinet will make it look a bit more upscale.

To give your bathroom cabinet a more refined appearance, consider the simple addition of finial wood accents.
These small embellishments can elevate the entire look, making your bathroom feel a bit more upscale without breaking the bank.
Get Tutorial here ====> theidearoom.net
3. You have to do a few changes to improve the look of the bathroom mirror. Framing your bathroom mirror with simple stock molding and wooden embellishments.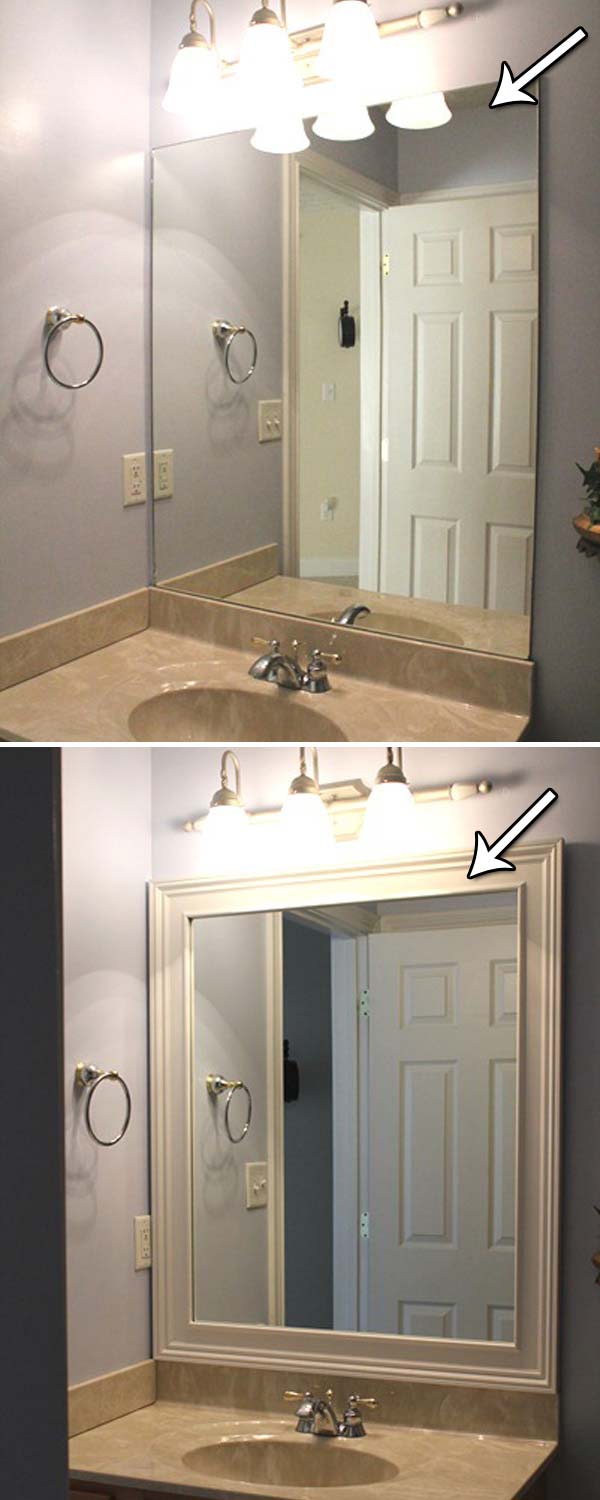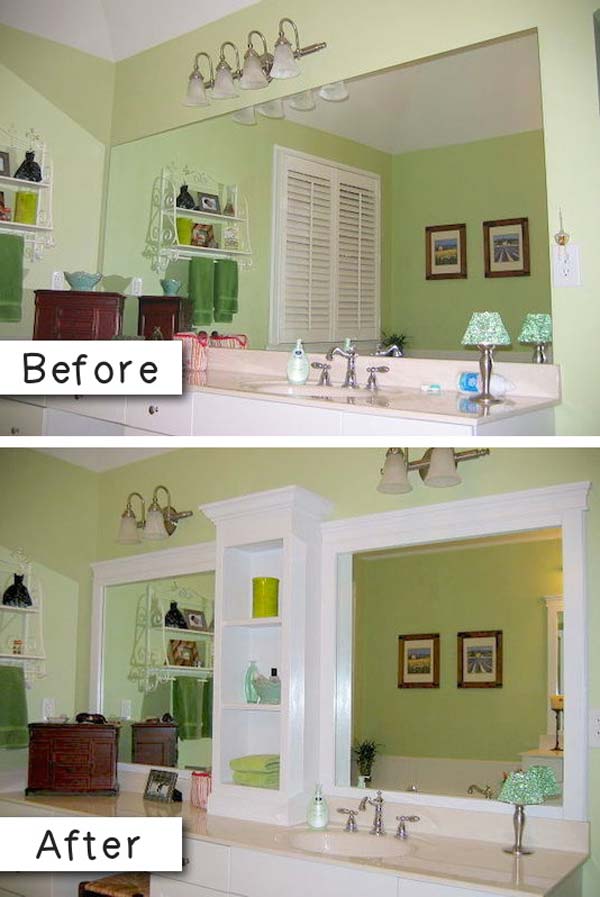 Transform your bathroom's aesthetic by making a few strategic changes to your mirror.
Framing your bathroom mirror with readily available stock molding and wooden embellishments is an easy yet impactful upgrade.
It's an excellent way to introduce a fresh, stylish look to your bathroom space.
Source: hometalk.com
4. Add shelving and molding above kitchen cabinets.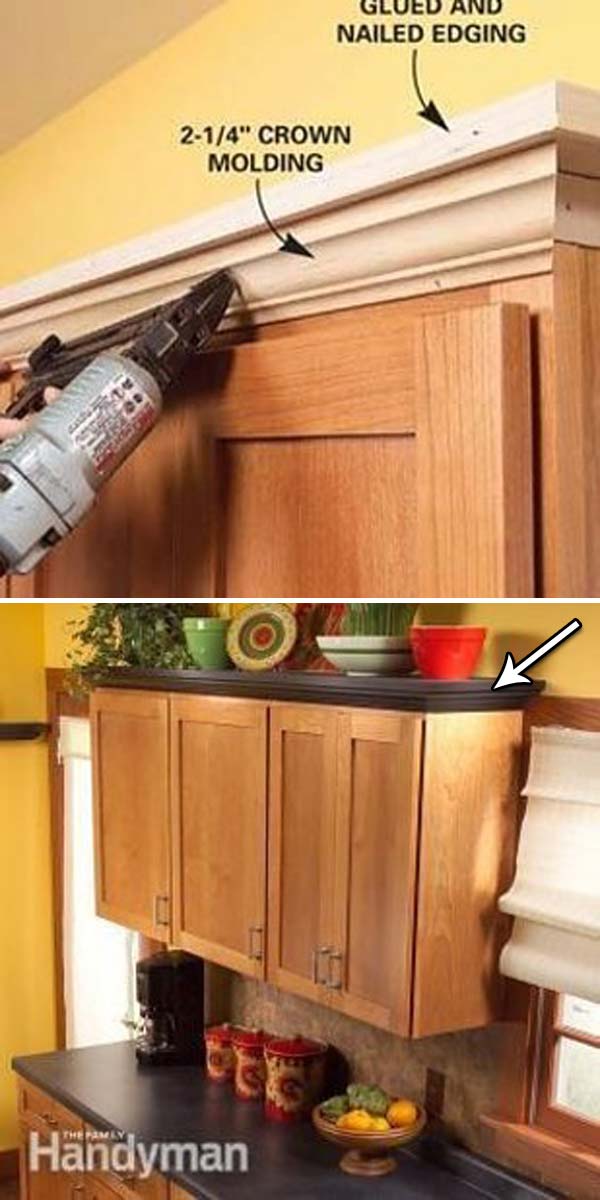 If you're looking to optimize storage and style in your kitchen, think vertically.
Adding shelving and molding above your kitchen cabinets can provide both.
This clever design choice not only offers extra storage space but also enhances the overall appearance of your kitchen.
5. Fun and inexpensive Idea to upgrade your outdated kitchen cabinet.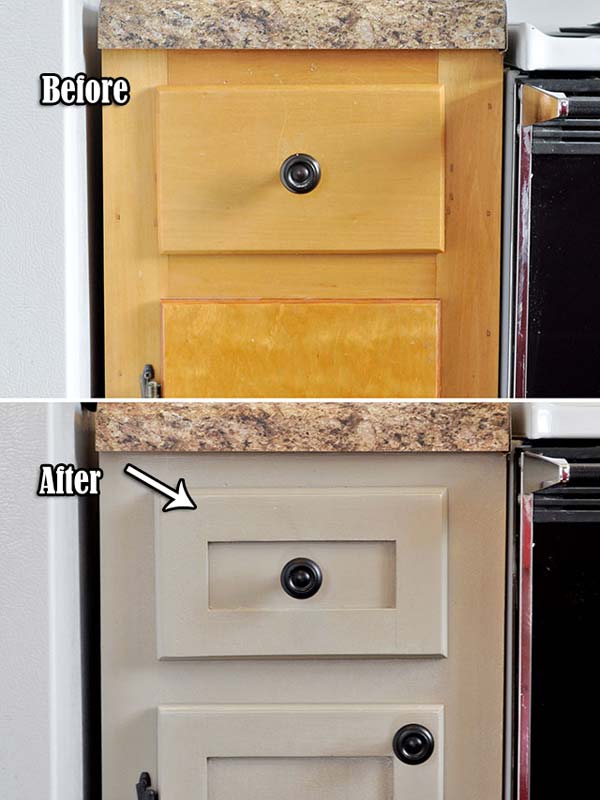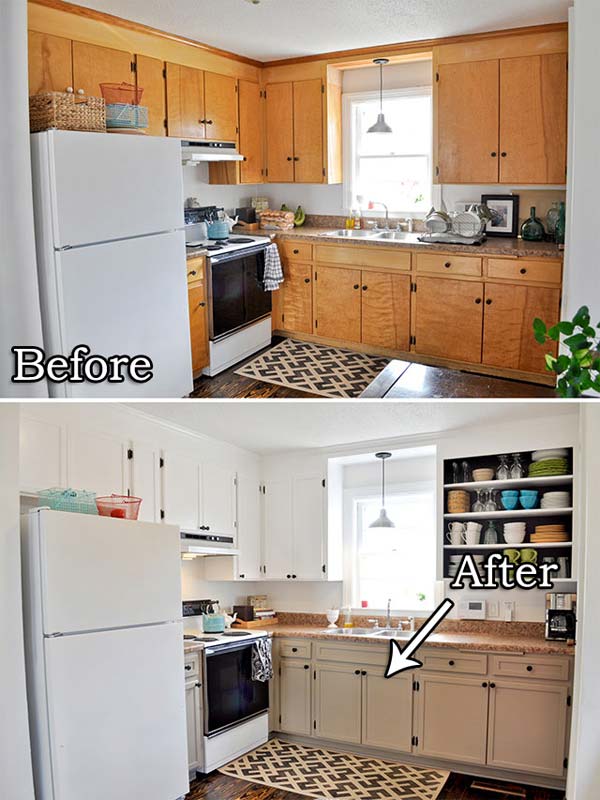 Sprucing up your outdated kitchen cabinet doesn't have to be a costly endeavor.
Discover a fun and budget-friendly idea to breathe new life into your kitchen.
With a bit of creativity and some simple modifications, you can give your kitchen a fresh and appealing look.
6. Giving Life to Dull Windows with Stylish Trims

Revamp your plain windows with trims – they're like stylish frames for your windows. Just use a few wooden panels and get creative with colors and patterns when you paint them. Your windows will instantly appear fresher and more appealing.  Source: blesserhouse.com
7. Elevating Closet Door Handles with Delightful Details

Upgrade your closet doors with a touch of elegance. Try this: wrap handles with a round PoP pattern, then paint over it. This effortless trick adds intricate charm to your doors, taking them from simple to sophisticated.  Source: popsugar.com
8. Inexpensive way to upgrade your light switch covers.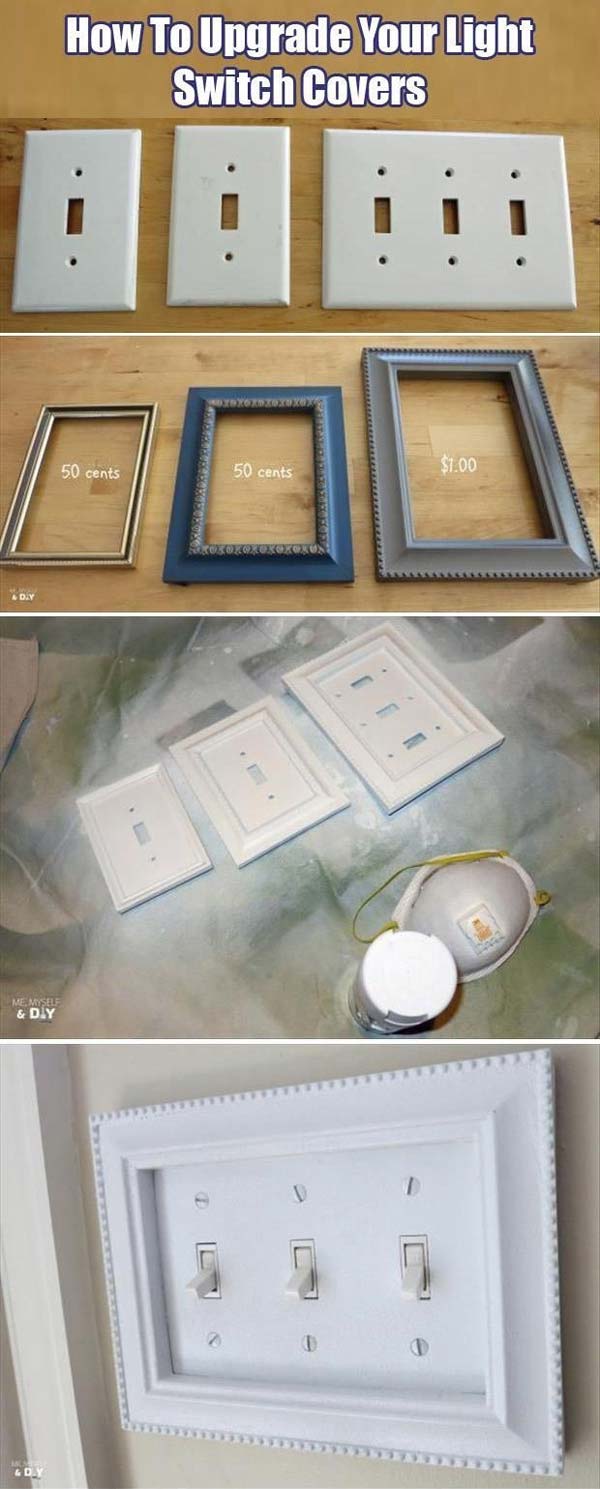 Get Tutorial here ====> memyselfndiy.com
9. Want to upgrade your old front door? Instead of buying new one, making an awesome makeover by adding molding.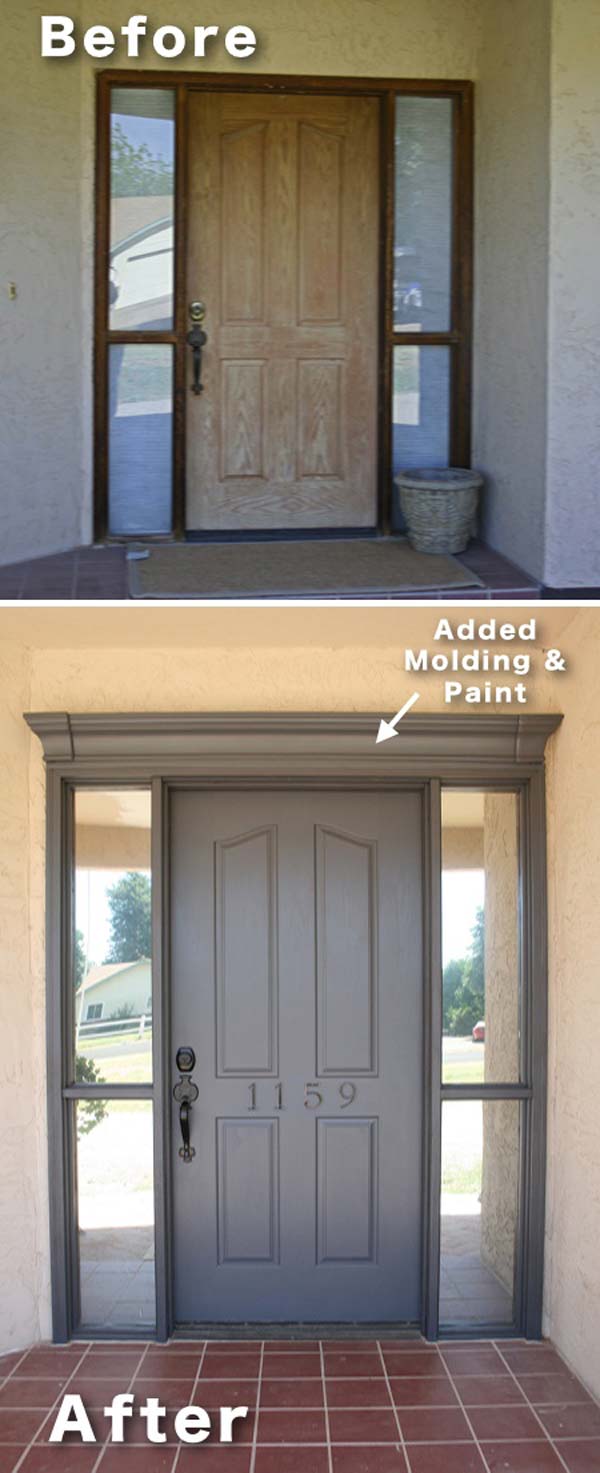 Get Tutorial here ====> meandjilly.blogspot.com
8. Give the kitchen backsplash a polished look by installing a corbel.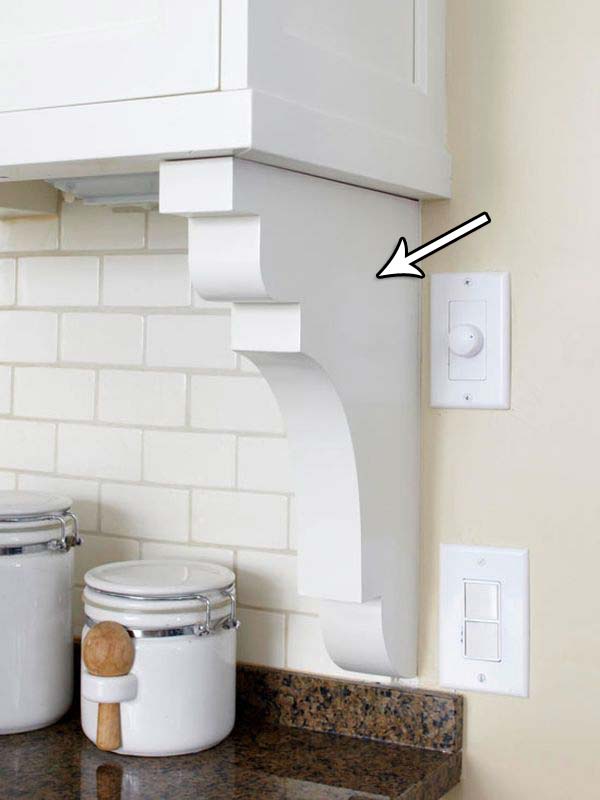 9. It is a cheap way to beef up the bay window baseboard…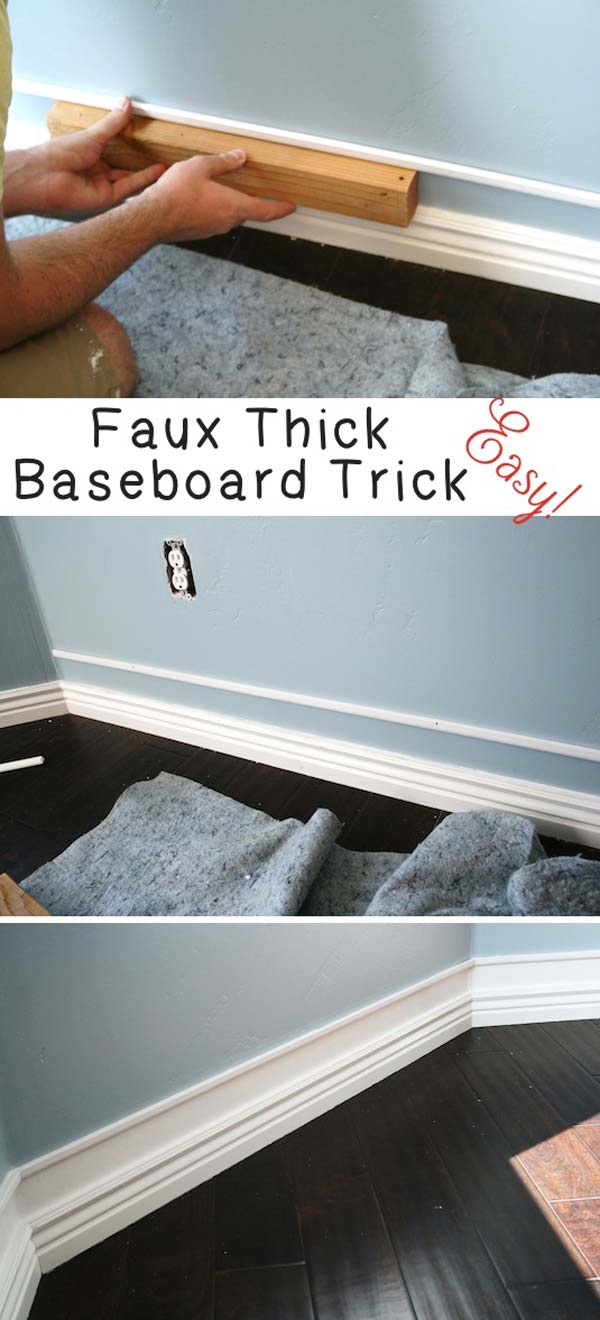 Get Tutorial here ====> thehouseofsmiths.com
10. Giving your boring cabinet a facelift makes it look regal.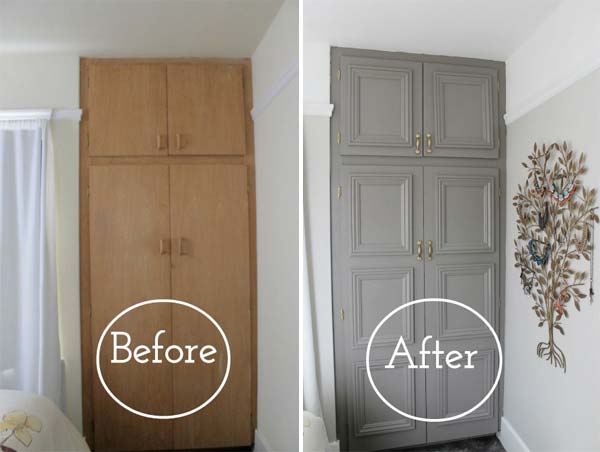 11. Build a board and batten foyer wall.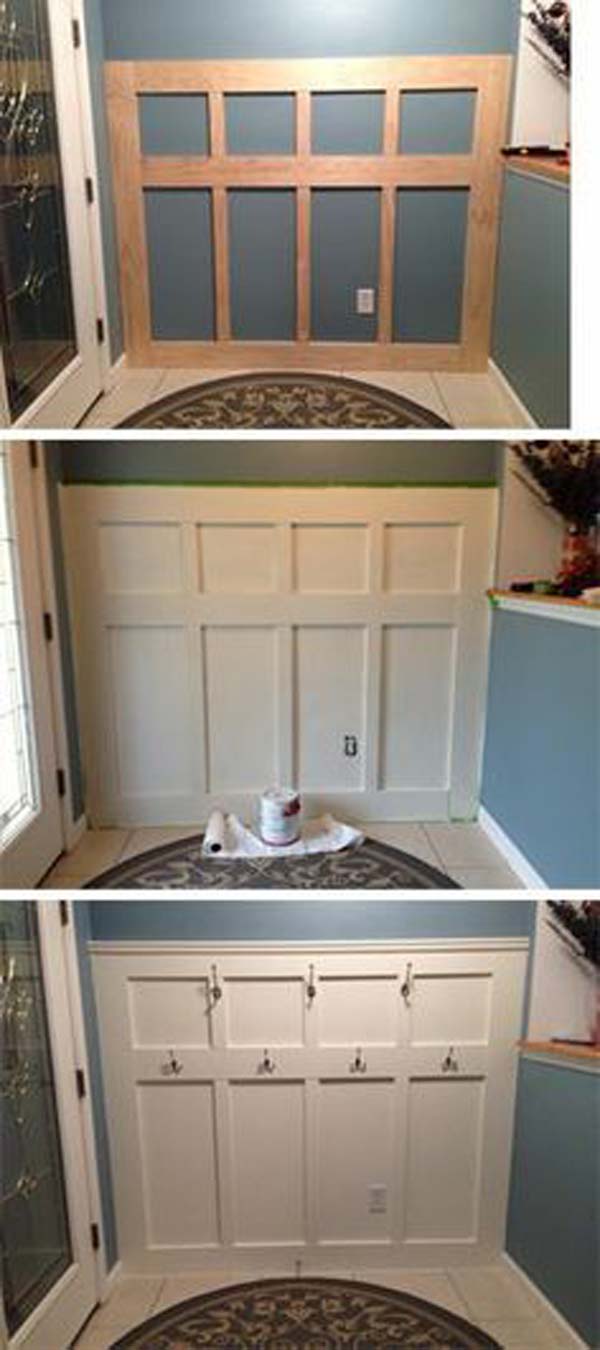 12. Framing your light fixture will improve the look of foyer ceiling.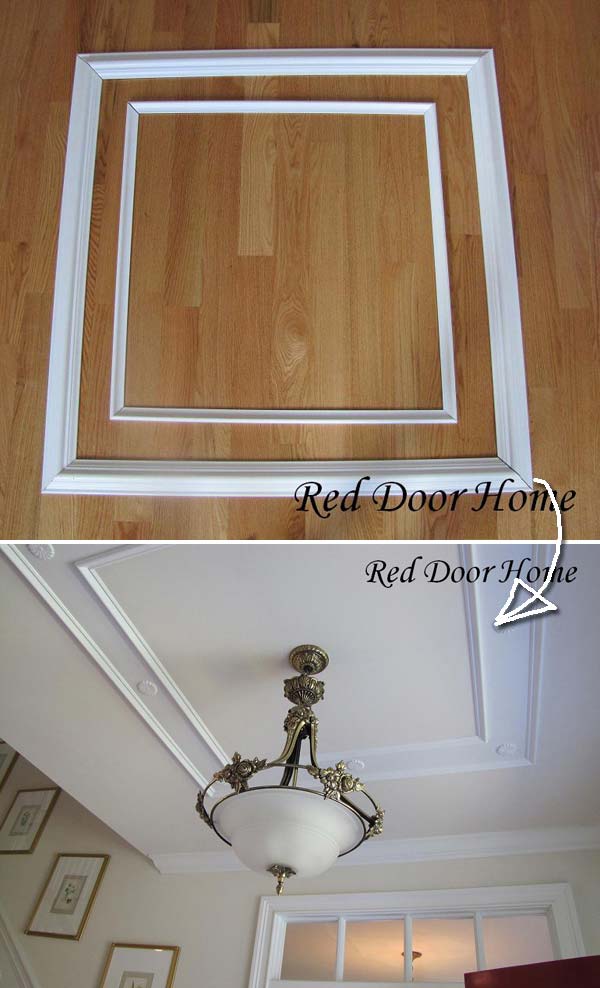 Get Tutorial here ====> remodelaholic.com
13. Dress up your windows with crown molding.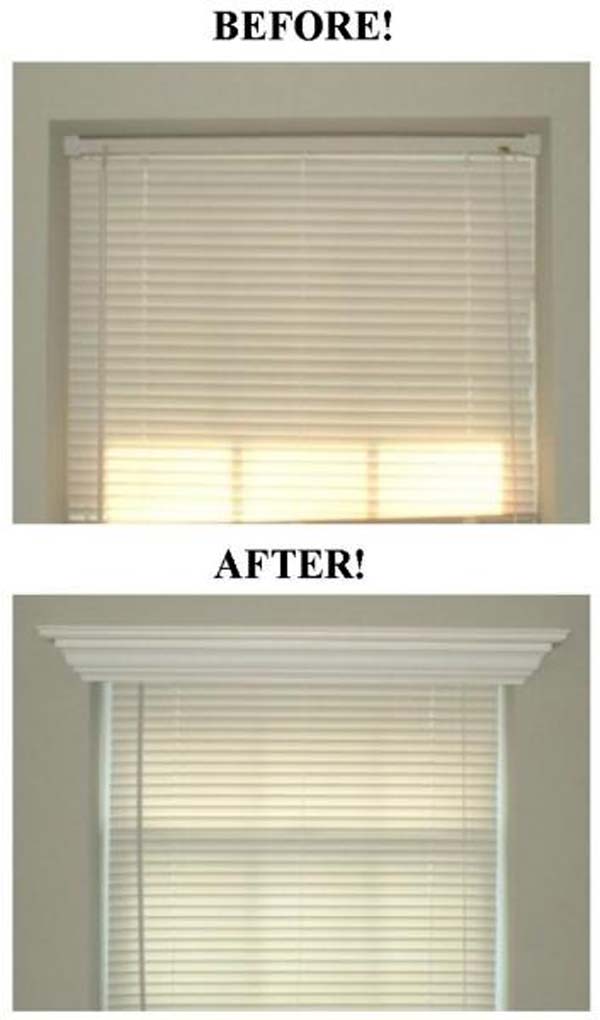 Source: angelosattic.com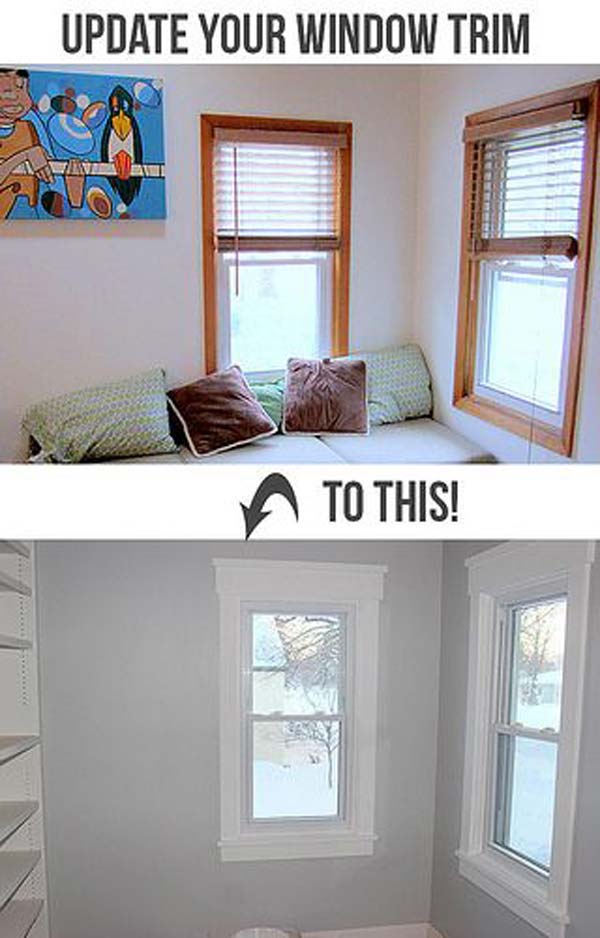 14. Cover the empty space above kitchen cabinets.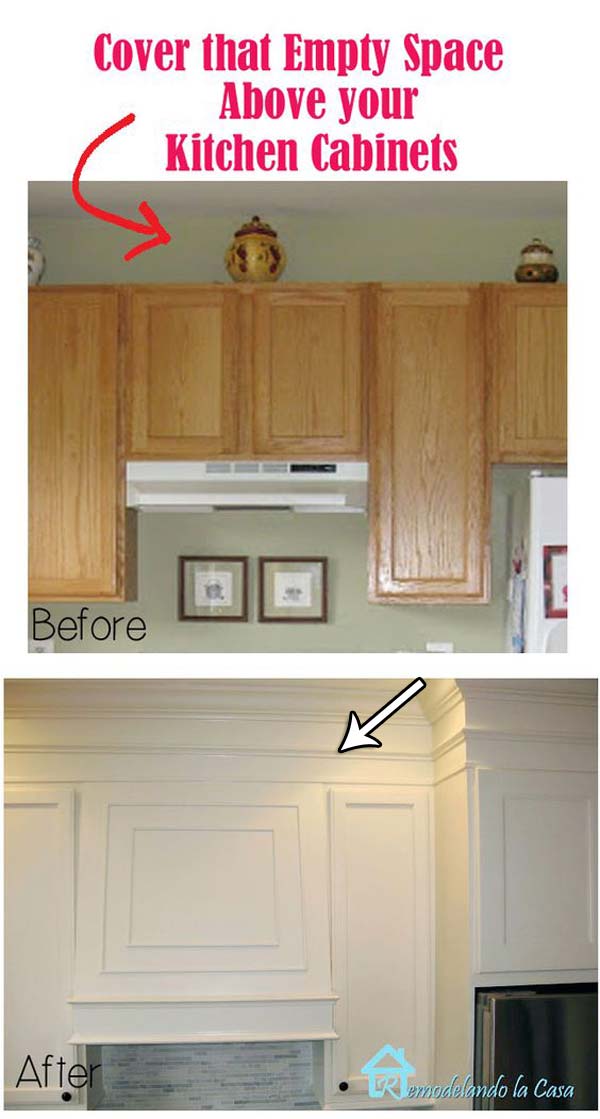 Get Tutorial here ====> remodelandolacasa.com
15. Go for an entry room wall shelf.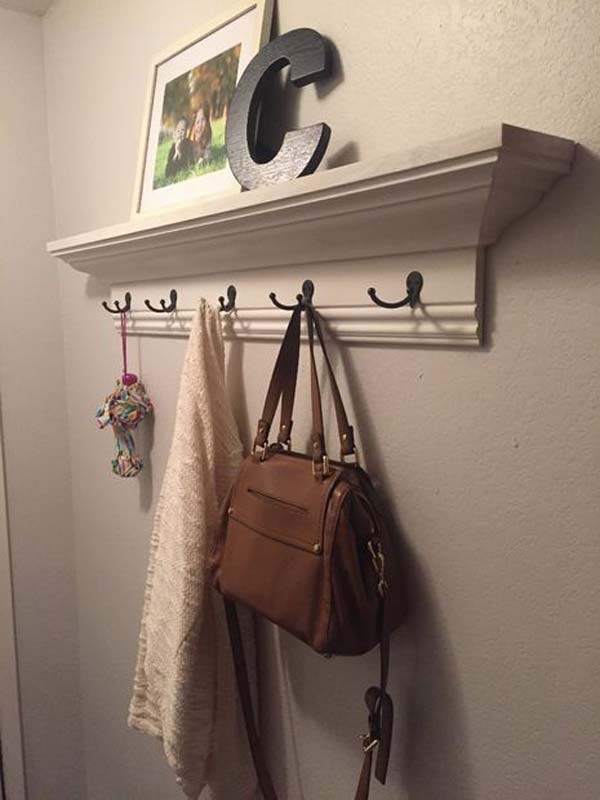 Get Tutorial here ====> instructables.com
16. Expand your kitchen storage by adding an easy glass shelving with quarter-round moulding.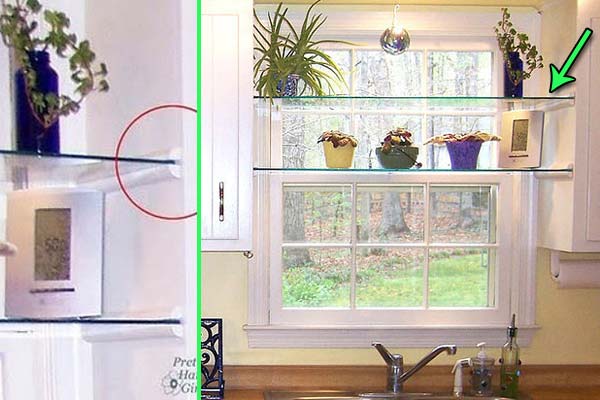 Get Tutorial here ====> prettyhandygirl.com
17. Use plinth block to make a perfect transition between baseboards and door trim.

Get Tutorial here ====> thehandymansdaughter.com
18. Staircase makeover with board and batten mouldings.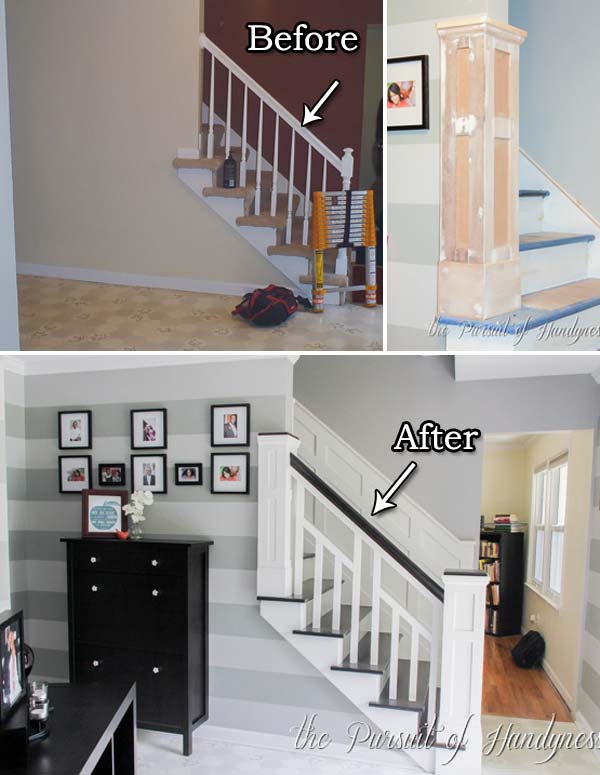 Get Tutorial here ====> thepursuitofhandyness.com
19. Turn a billy bookcase into built-ins and will have an upper class look.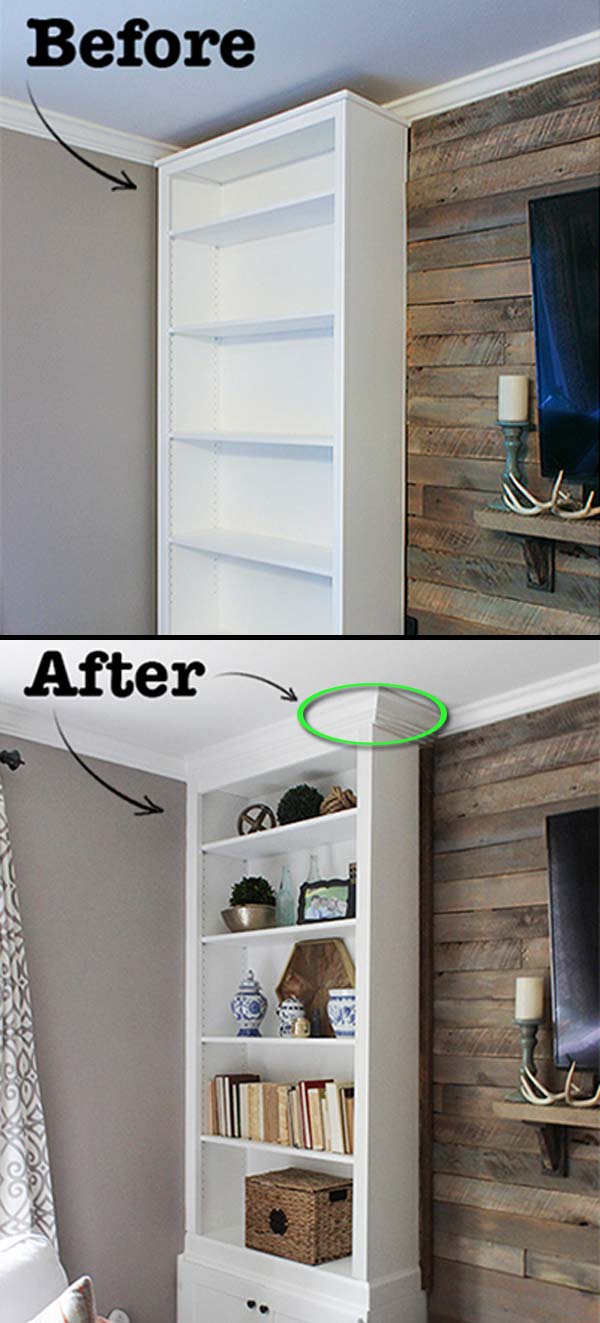 Get Tutorial here ====> shadesofblueinteriors.com
20. Add wood legs and trim to a bathroom cabinet for a polished look.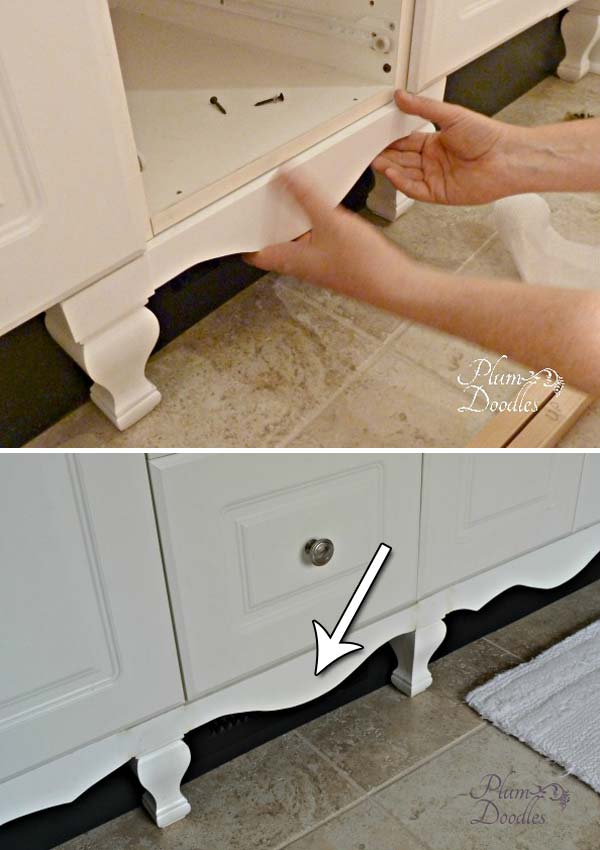 Get Tutorial here ====> plumdoodles.com
21. Add molding squares to the lower half of wall around your staircase.

Get Tutorial here ====> ehow.com
22. Do a makeover for the ends of kitchen island.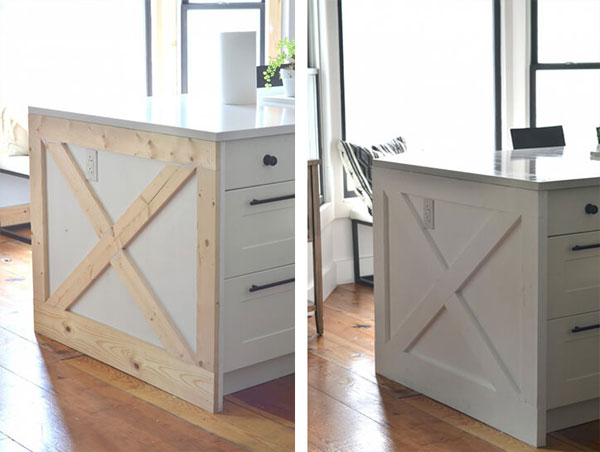 Get Tutorial here ====> thenester.com