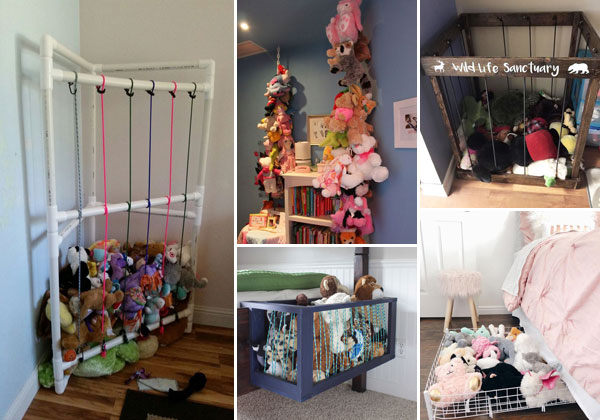 If you're like me, you might have a lot of stuffed animals taking up space in your home. It can be difficult to keep them organized and tidy, but there are some great DIY stuffed animal storage ideas out there to help. For example, you could use a hanging organizer with clear pockets to keep your stuffed animals in order, or repurpose an old bookshelf to create a custom storage unit. You could also make your own stuffed animal hammock by hanging a piece of fabric from the ceiling. Whatever method you choose, the key is to find a solution that works for you and your home. With these simple and creative ideas, you can reclaim your space and say goodbye to the chaos of stuffed animal clutter!
Upcycled Hanging Planters for Toy Storage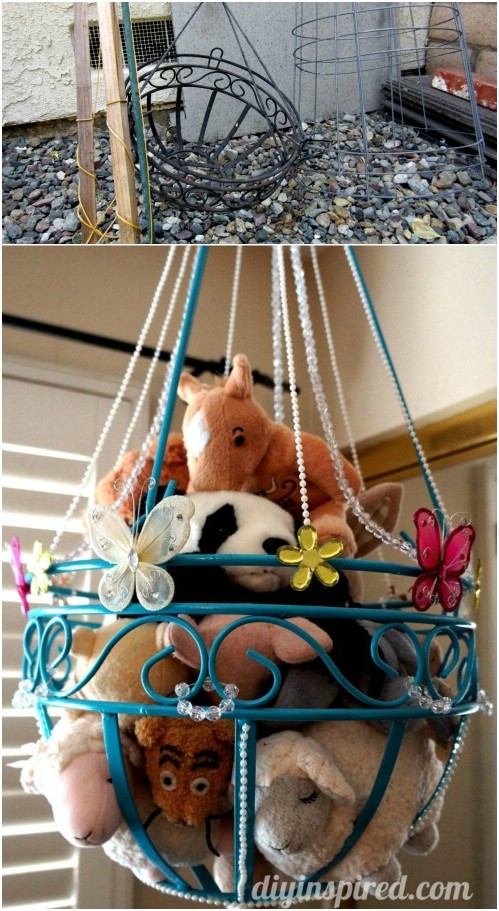 Are you wondering what to do with those old hanging planters lying around your house? Instead of throwing them out, you can repurpose them into toy storage containers! This idea is simple and affordable because all you need to do is clean the planter, repaint it if necessary, and add some decorations. It's a great way to keep your child's toys organized without spending a lot of money.
Tutorial: diyinspired.com
Industrial-themed Toy Storage with Galvanized Garage Bins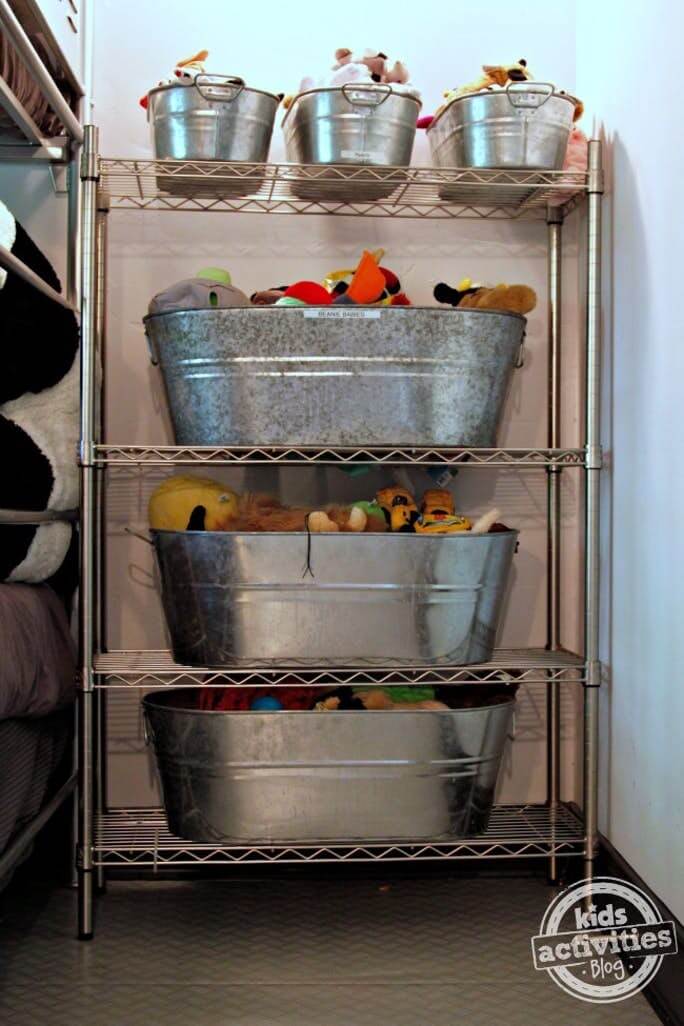 If you want to create an industrial-themed bedroom for your boys, consider adding galvanized garage units as toy storage bins. These sturdy bins can withstand even the heaviest toys, and they add a cool and unique touch to your child's room decor.
Closet Organizer for Easy Access to Stuffed Toys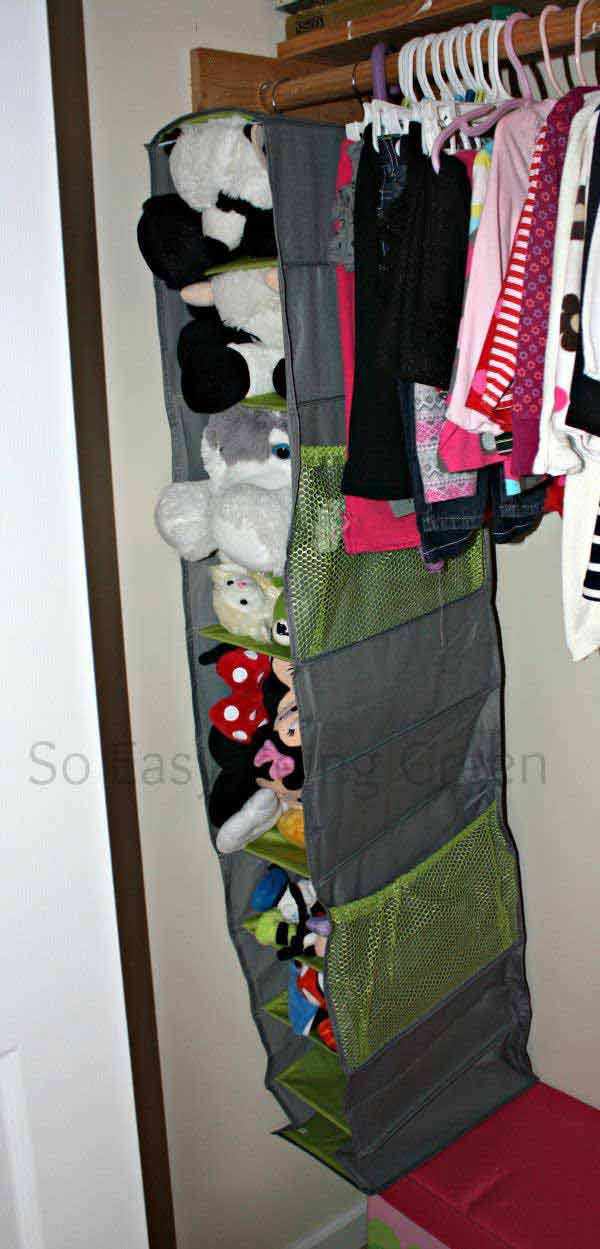 As a busy and working parent, it can be difficult to keep your child's stuffed animals organized and off the floor. That's where a closet organizer comes in handy! This ultimate stuffed animal storage solution will help you clean up piles of stuffed animals that you don't want on the floor or your child's bed. It's an easy way to keep the toys accessible and out of the way when not in use.
Via: soeasybeinggreen-blog.com
I. Bungee Cords:
#1. One advantage of using PVC pipe and bungee cords to create a storage container for stuffed animals is that it can be custom-fit to your space. This is because the container is designed according to the specific size of the space.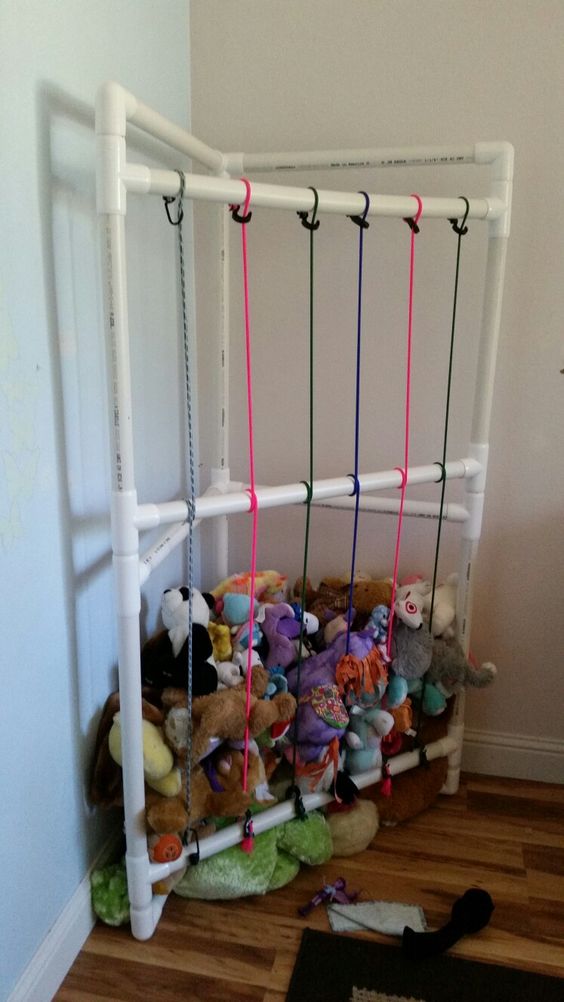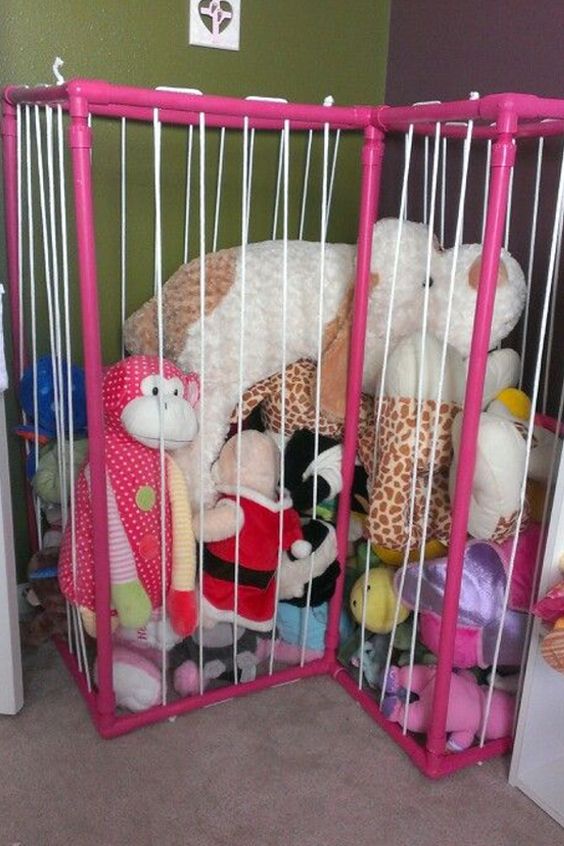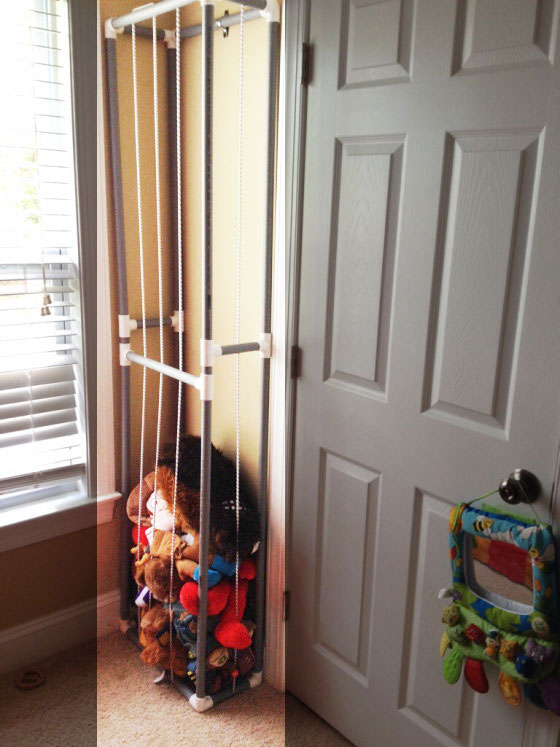 Check out the Instructions at: theywillloveyoureffort.wordpress.com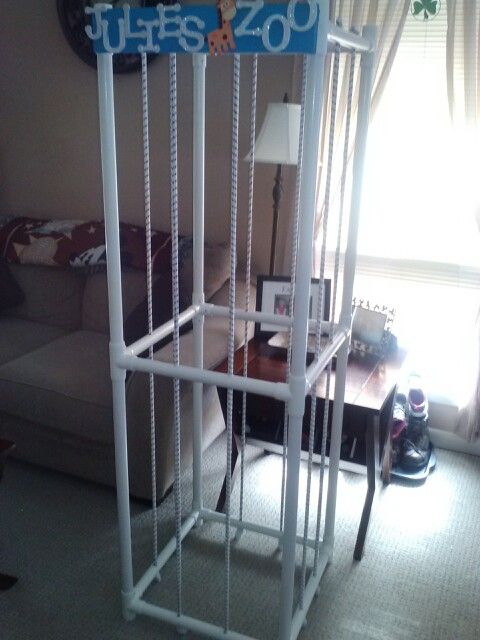 #2. Make a corner animal zoo in a kid's bedroom using
rounded corner shelves

and

clothesline ropes

: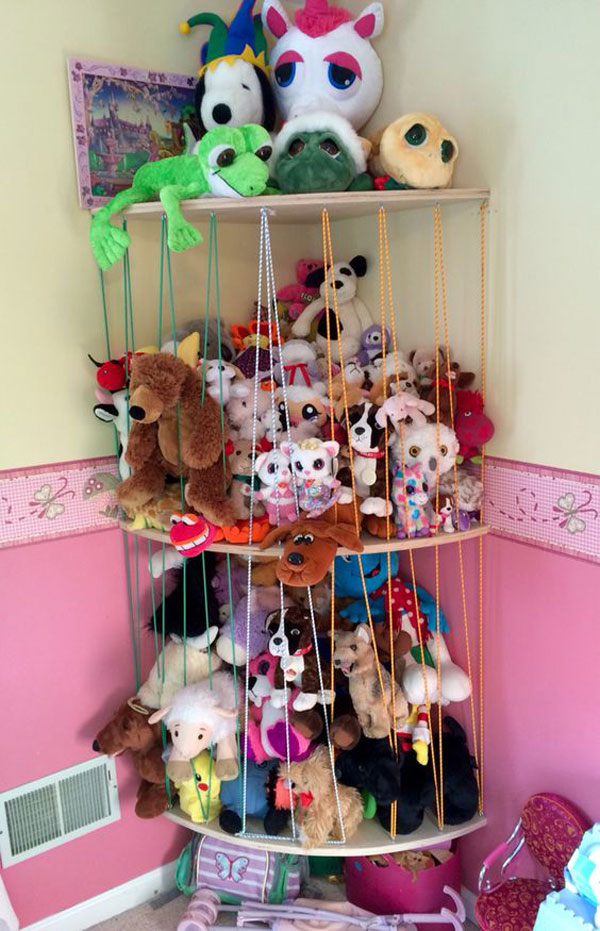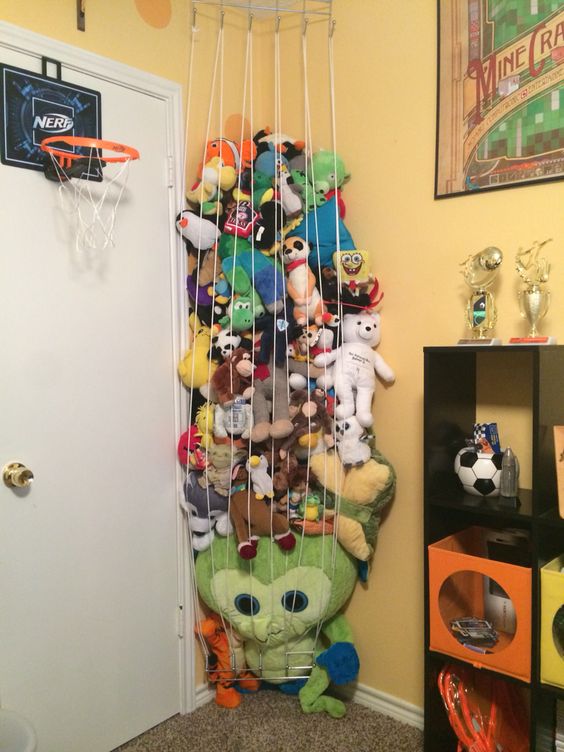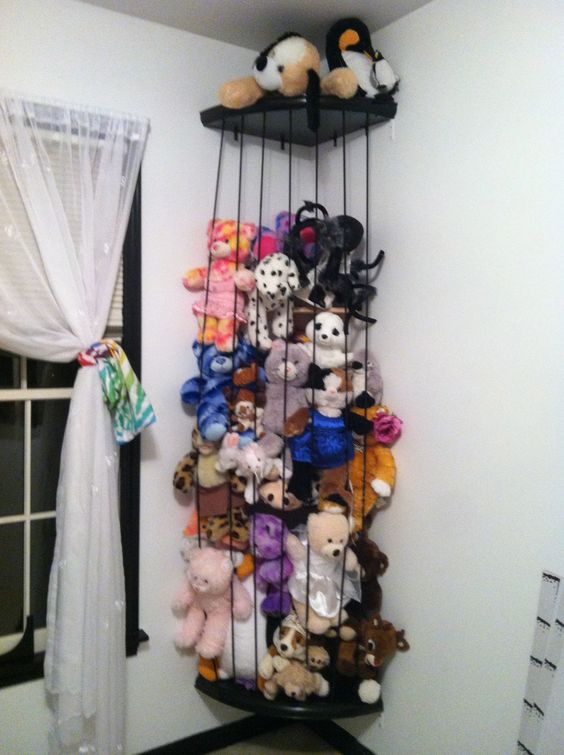 Check out the Instructions here: sweetcityusa.com
#3. A drill and bungee cords can transform
any cabinet

into an amazing stuffed animal storage cage: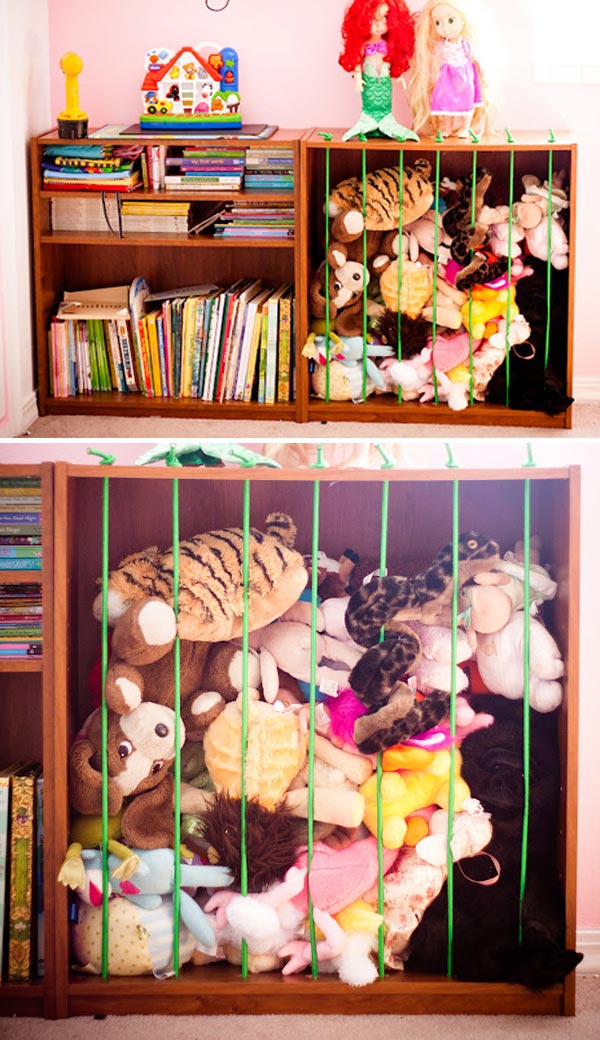 Images via: akgriffiths.blogspot.com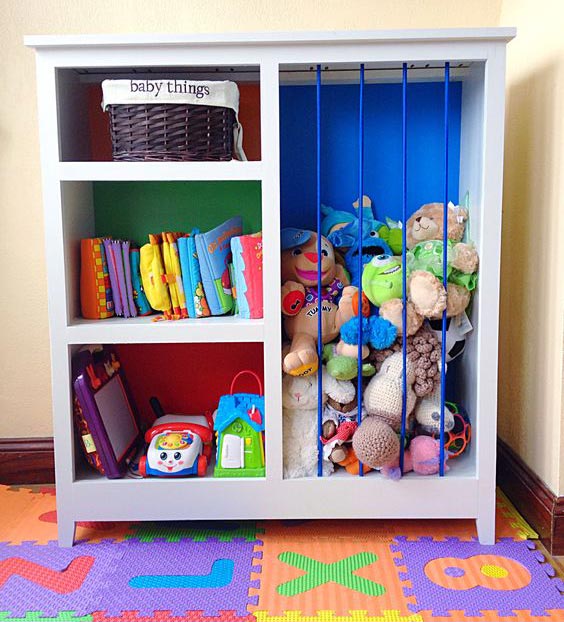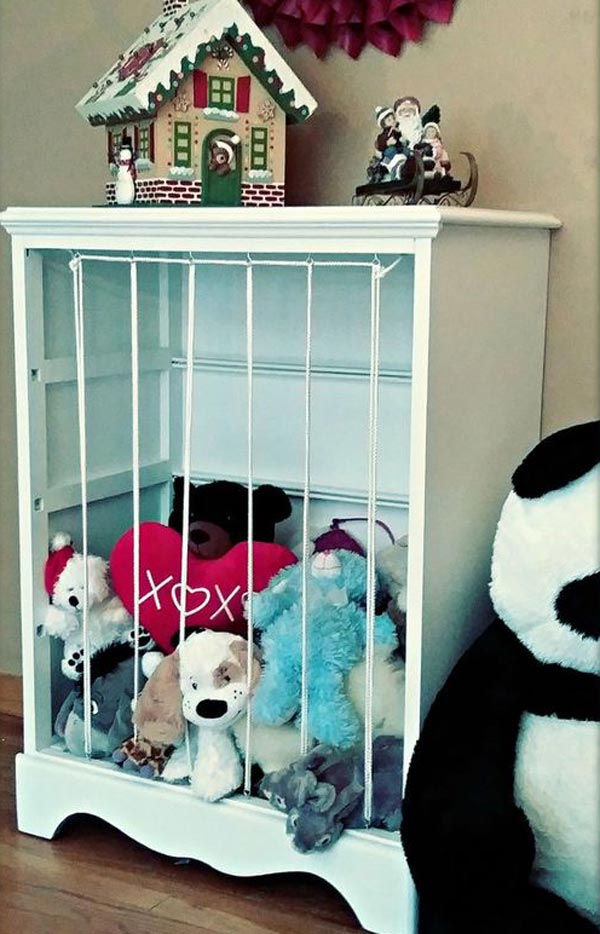 #4. Repurpose wooden pallet boards to build a stuffed animal jail: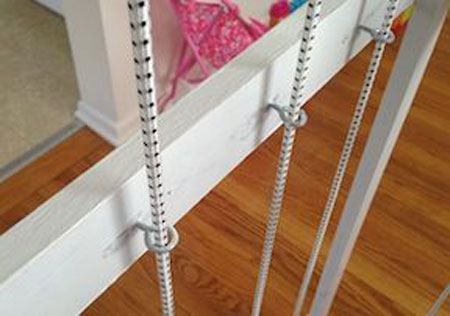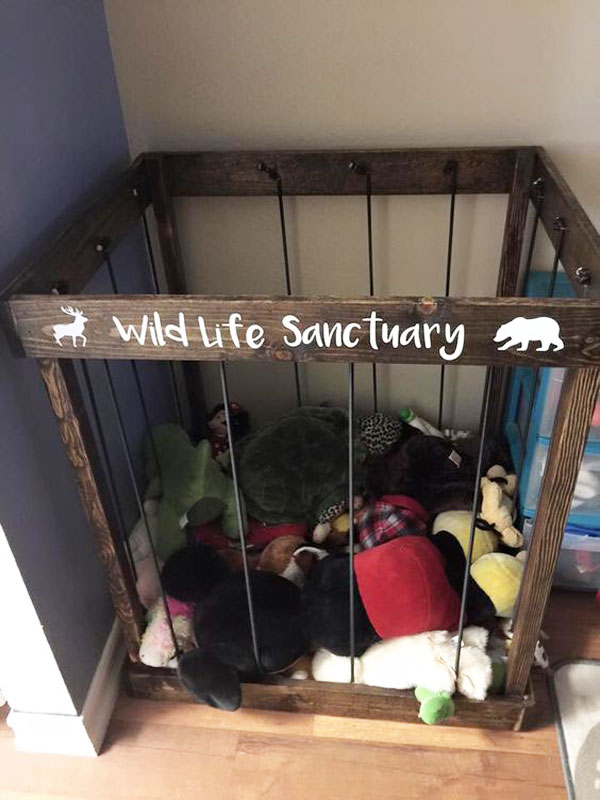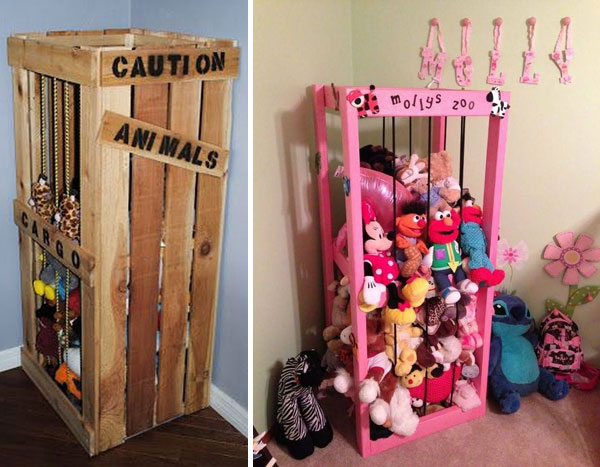 Check out the Instructions here: thedifferencesbetween.wordpress.com
II. Cargo Netting:
A great way to contain and display kid's stuffed animal zoo by using cargo netting and a few eye bolts: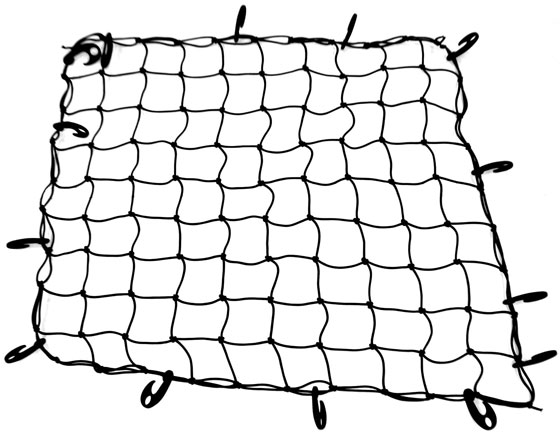 You can buy here: amazon.com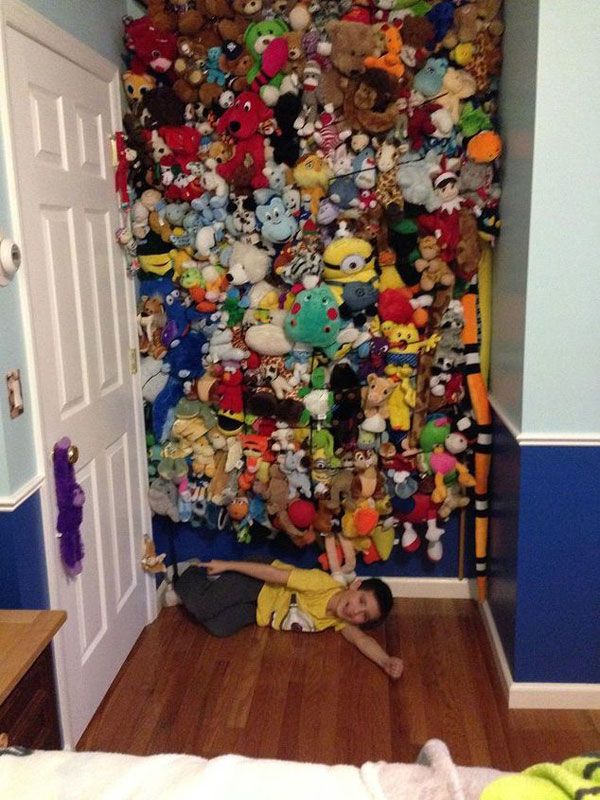 Image via: hometalk.com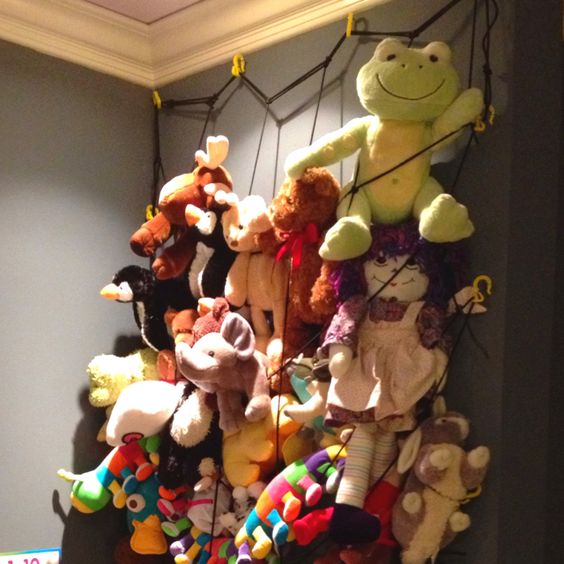 You can take some plastic hooks and screwed them to the wall.
III. Baskets:
Attach baskets to the wall with hooks, easy to take off the wall for play time: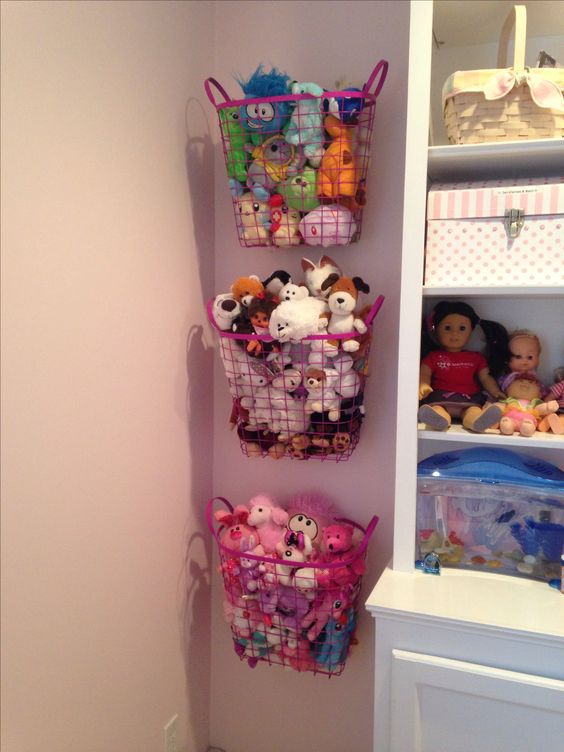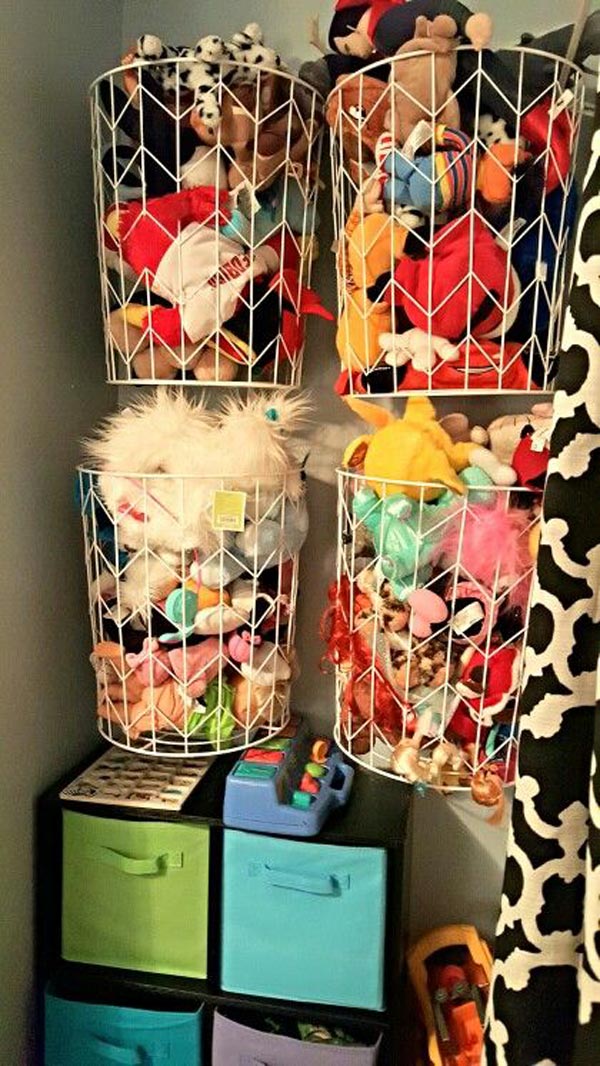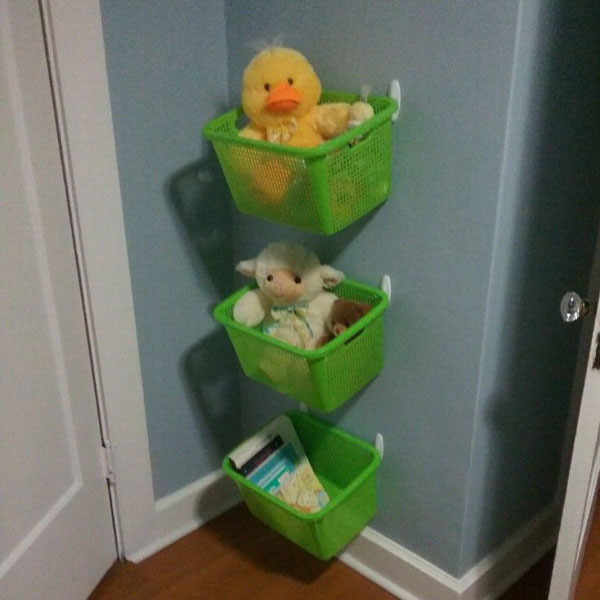 IV. Space Around The Bed:
The foot of bed and under the bed are a valuable space for storing stuffed animal:
IV.1. Tuck stuffed toys neatly away under the bed with a rolling cart: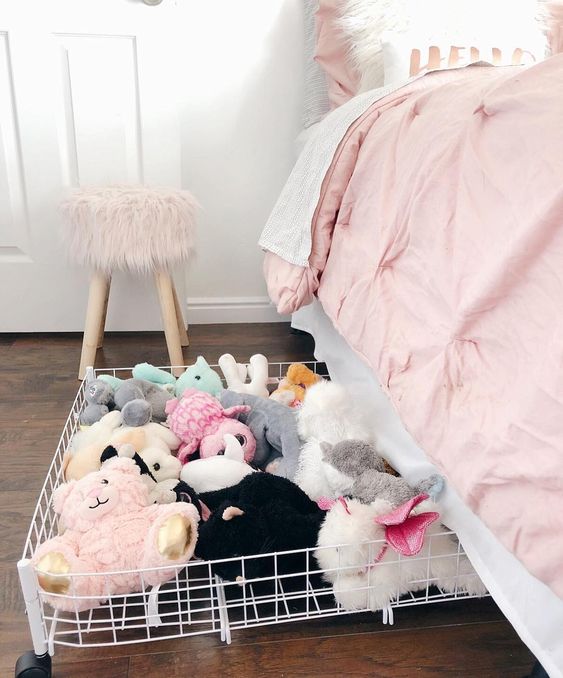 IV. 2. Build a toy corral to attach to the end of your child's bed: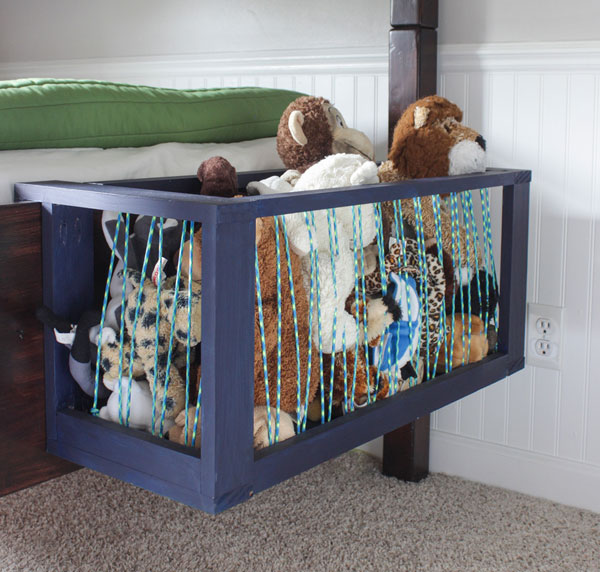 See the more details at: shadesofblueinteriors.com
IV.3. If the space under the bed comes with storage units, it can be used to storage stuffed animals: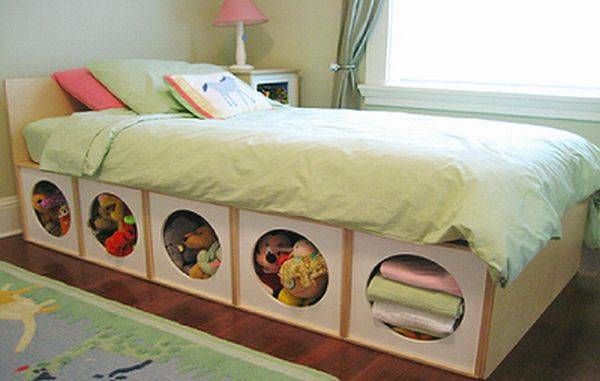 V. Long Shelf:
Install a long shelf nearly the length of the room to keep stuffed animals on: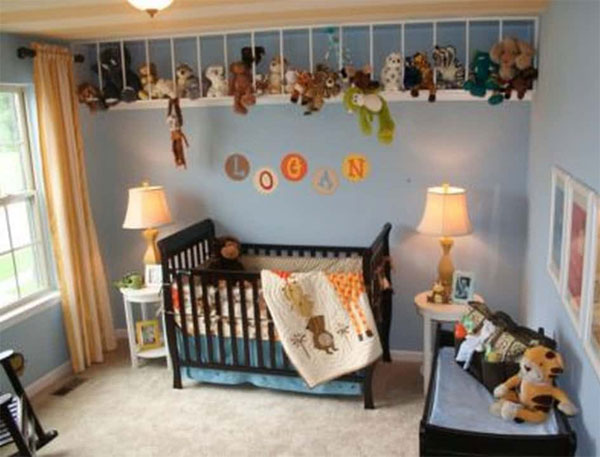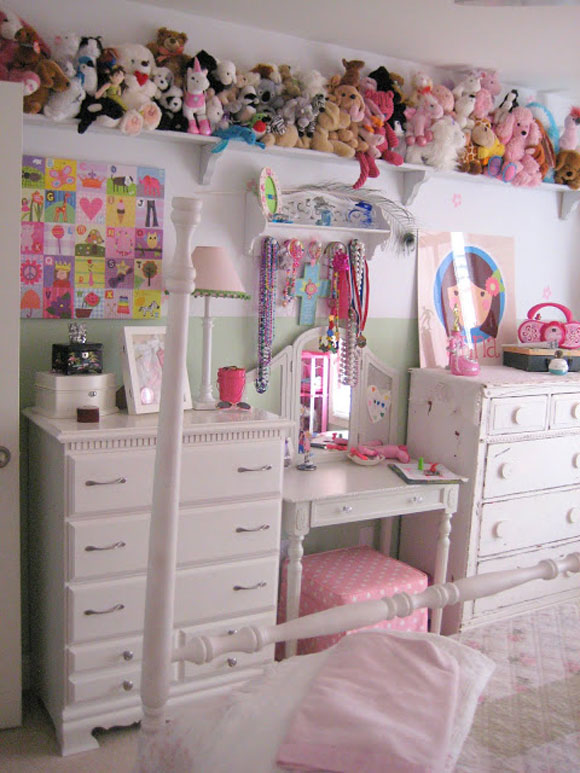 Image via: jupinfamily.blogspot.com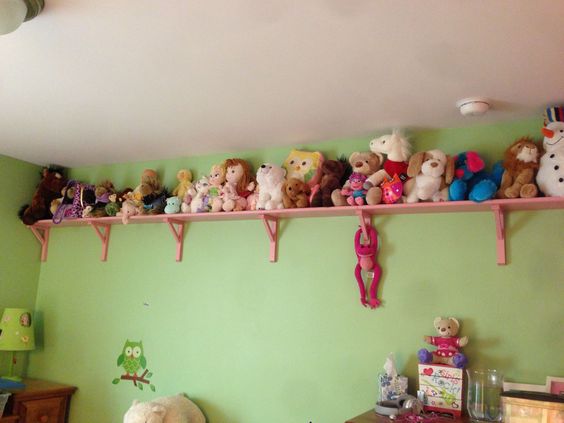 VI. Chain
Attach stuffed animals to a chain with clothespins, and hang them in a corner to get them out of the way: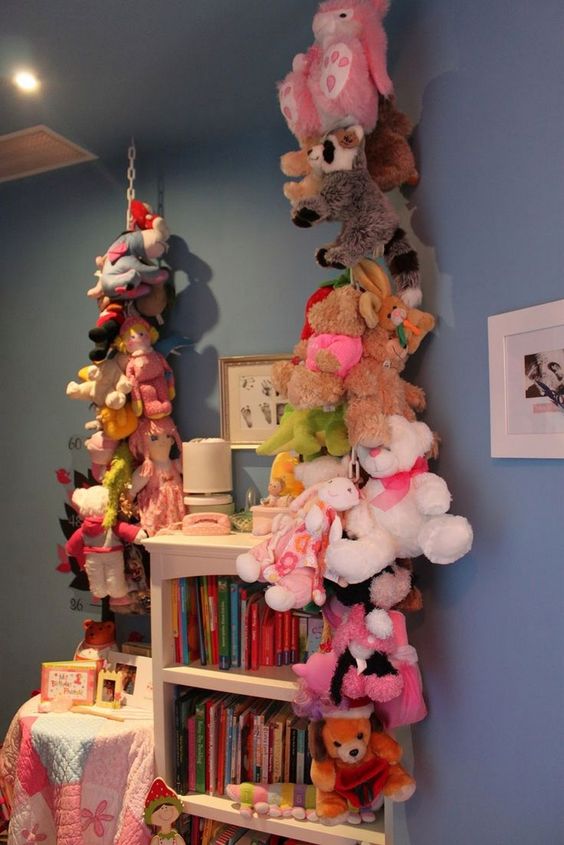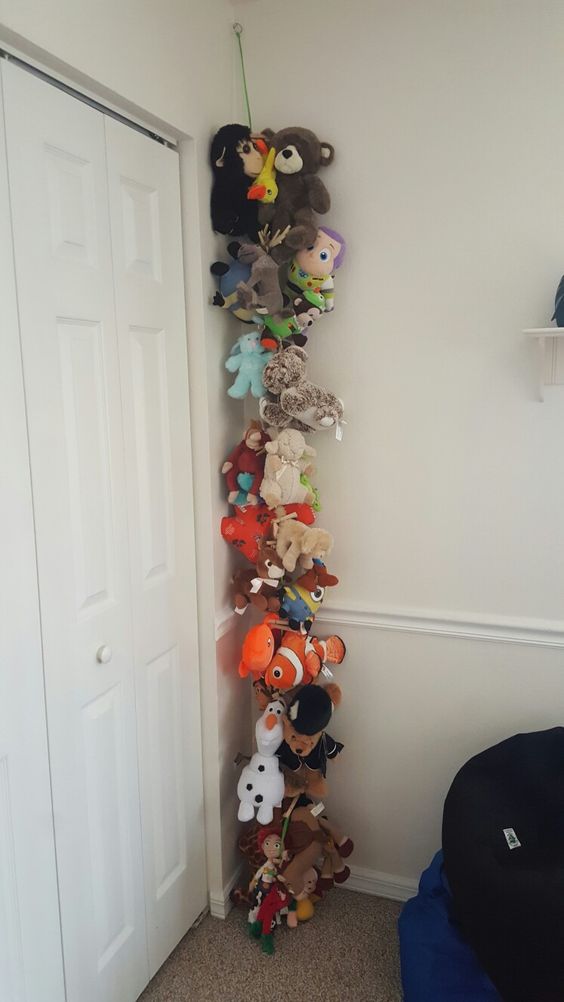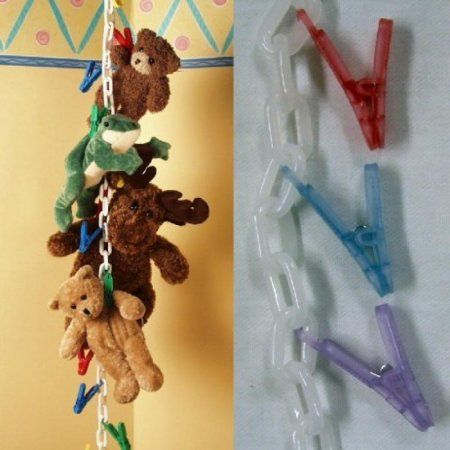 You can buy them on walmart.