Top 24 Cheap and Easy Garage Organization Ideas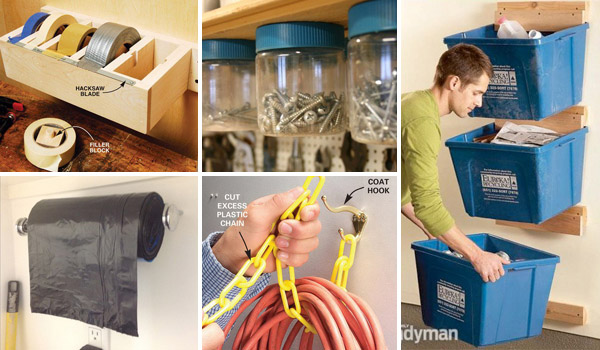 Just like your house's other rooms, garage also need to get well-organized and keep clean, because a garage is not only for parking, it is also a multi-purpose storage center for houseware stuff, yard tools, sports equipment and workshop crafts. But most of the time, your garage is more like a complete dump, as cleaning and organizing the garage is never an easy task without correct ways. Fortunately, we have gathered a collection of cheap, easy and downright brilliant garage organization ideas to take your garage from messy to miraculous. Enjoy!
1. Turning the garage entry into an impromptu mudroom is a great idea for those people who want to keep the house tidy and their home without a proper mudroom.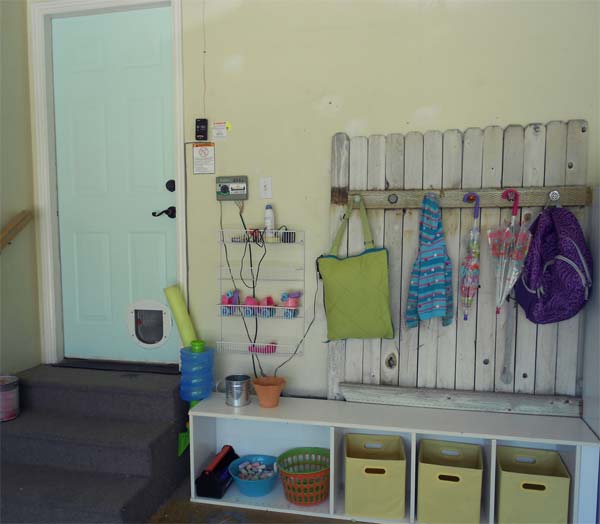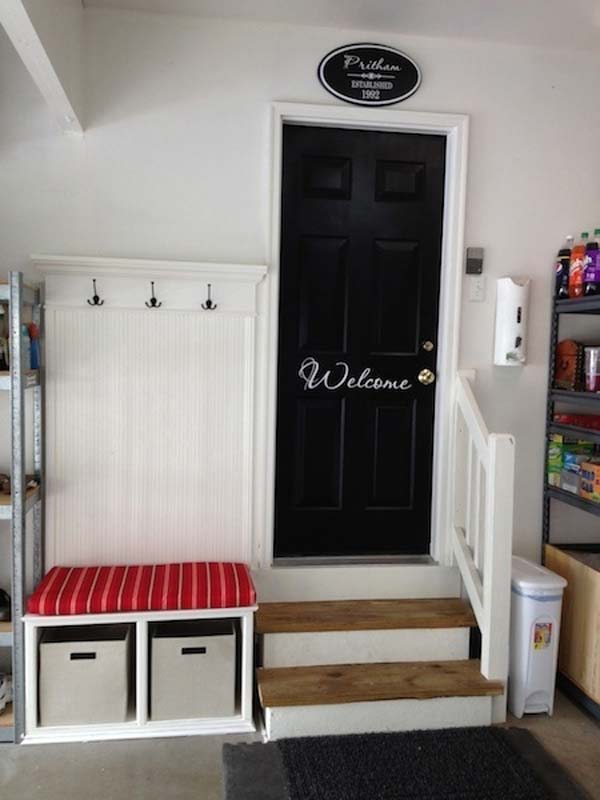 Source: mykidseatoffthefloor.blogspot.com & curbly.com
2. Reuse a kitchen paper towel holder for garbage bags in the garage.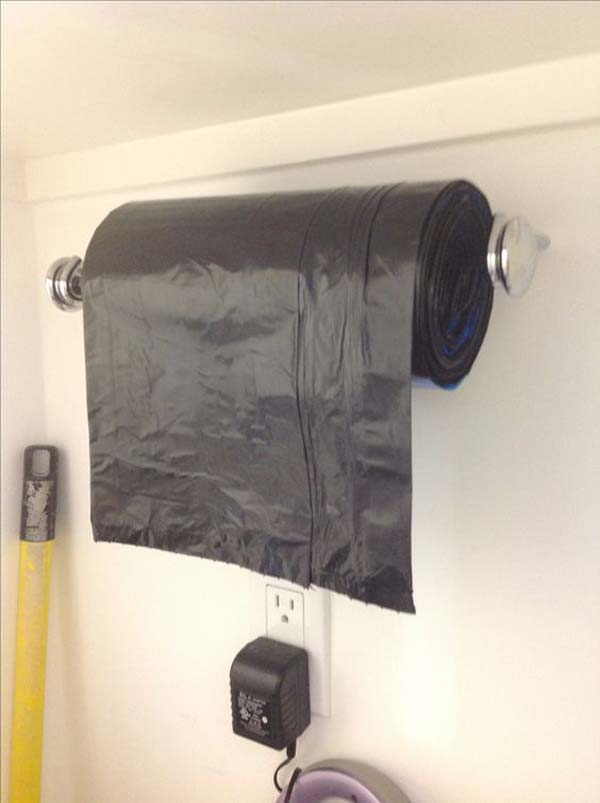 3. Use bungee cords between two layer slats to create extra storage space for sports balls.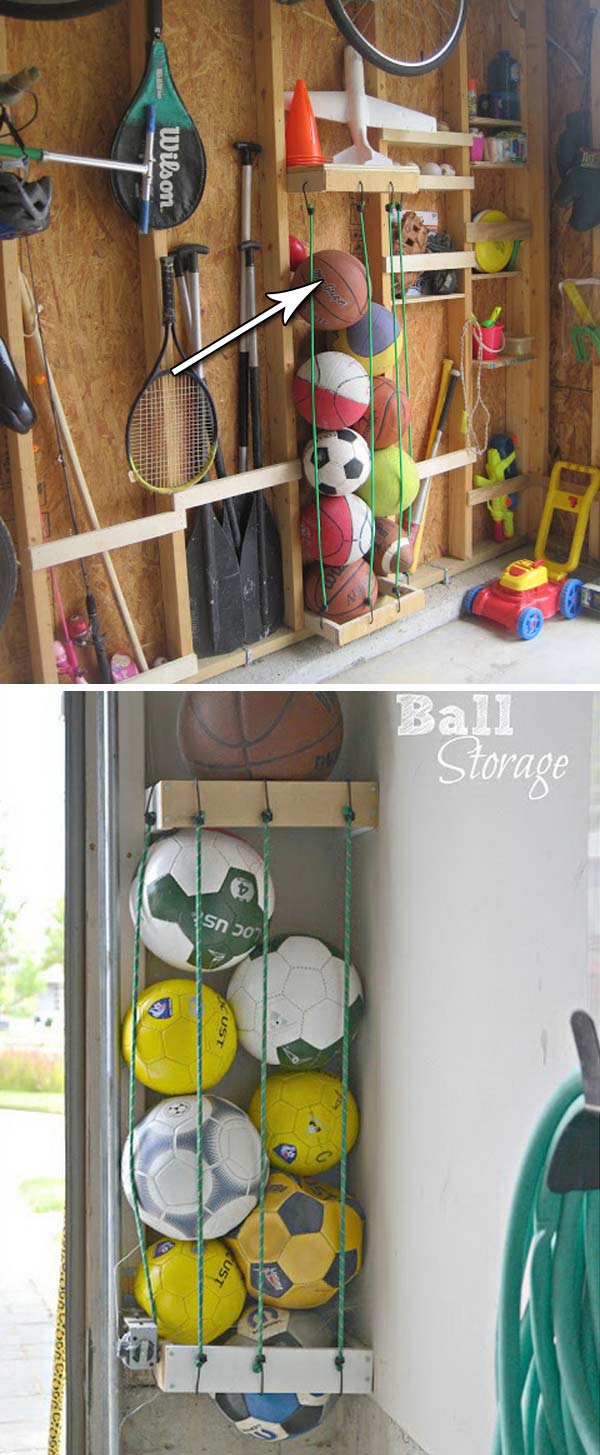 Source: designedtodwell.blogspot.com
4. This DIY jumbo tape dispenser can make your garage work more easier.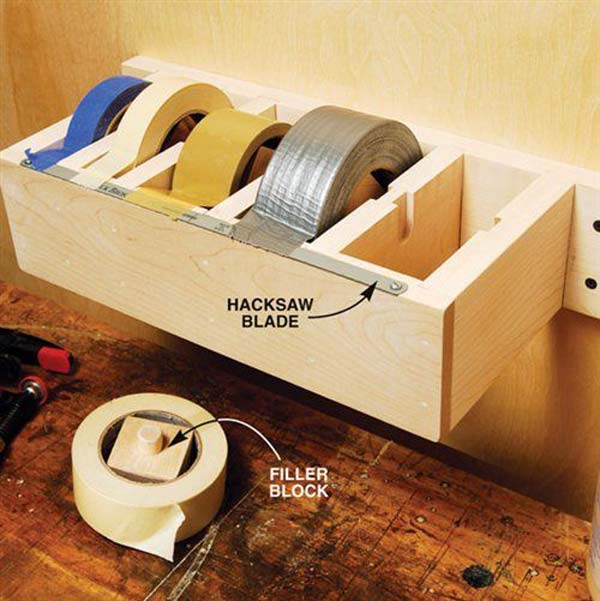 Source: americanwoodworker.com
5. Bolt PVC pipes together at the top and bottom to hold all of those bulky yard tools.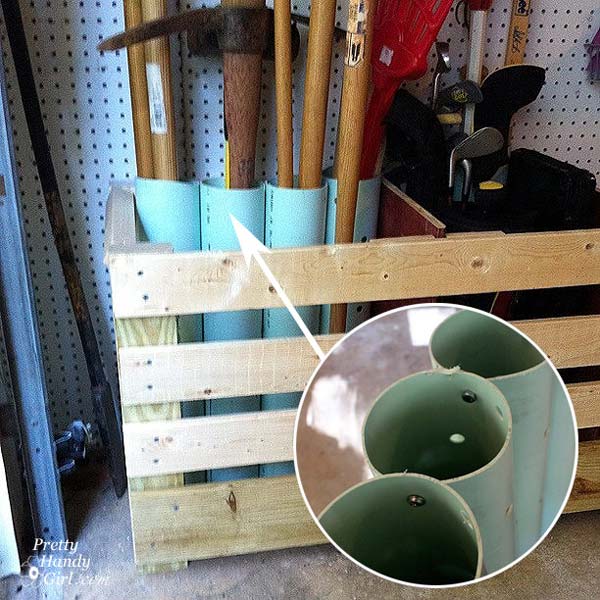 Source: prettyhandygirl.com
6. Keep your tools in a magnetic tool bar along the side of the bench for easily access.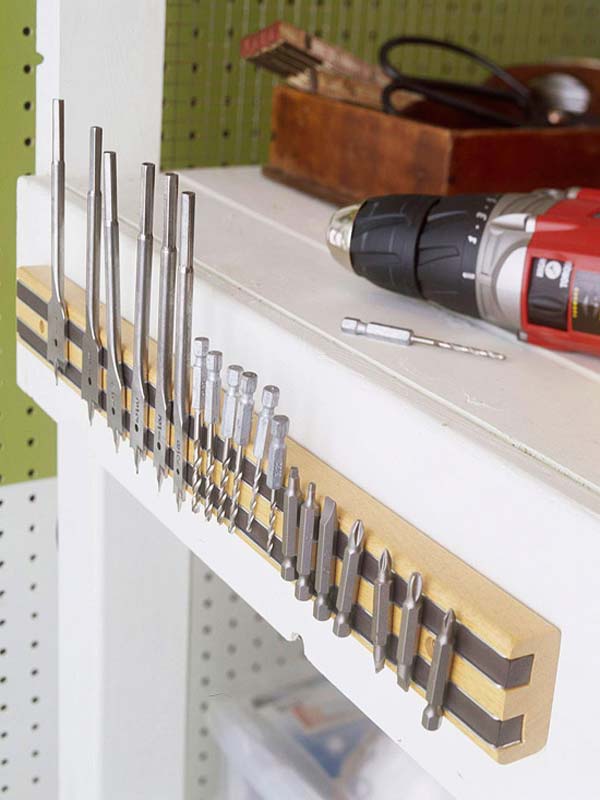 Source: bhg.com
7. Stack wire basket and hang them on the wall for storage.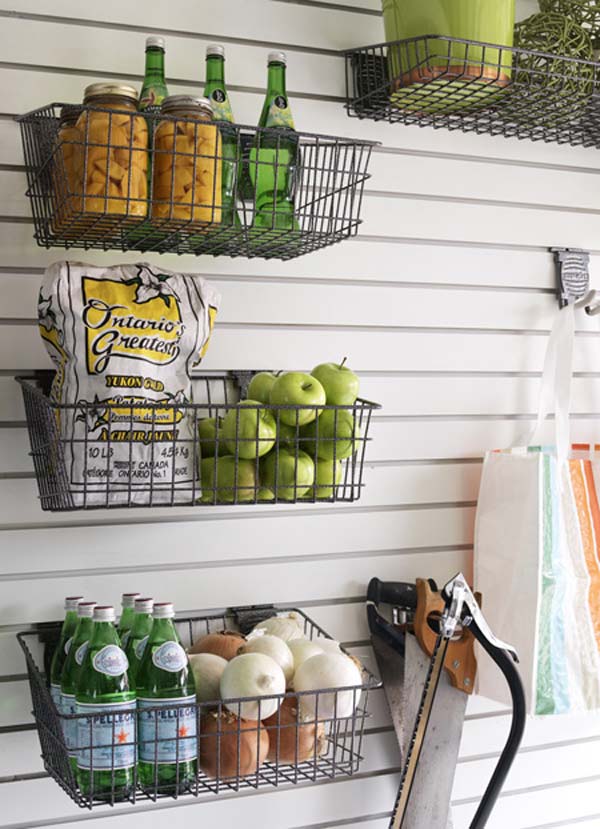 Source: houseandhome.com
8. Create mastic tube storage with a bit of waste PVC pipe and a couple of screws.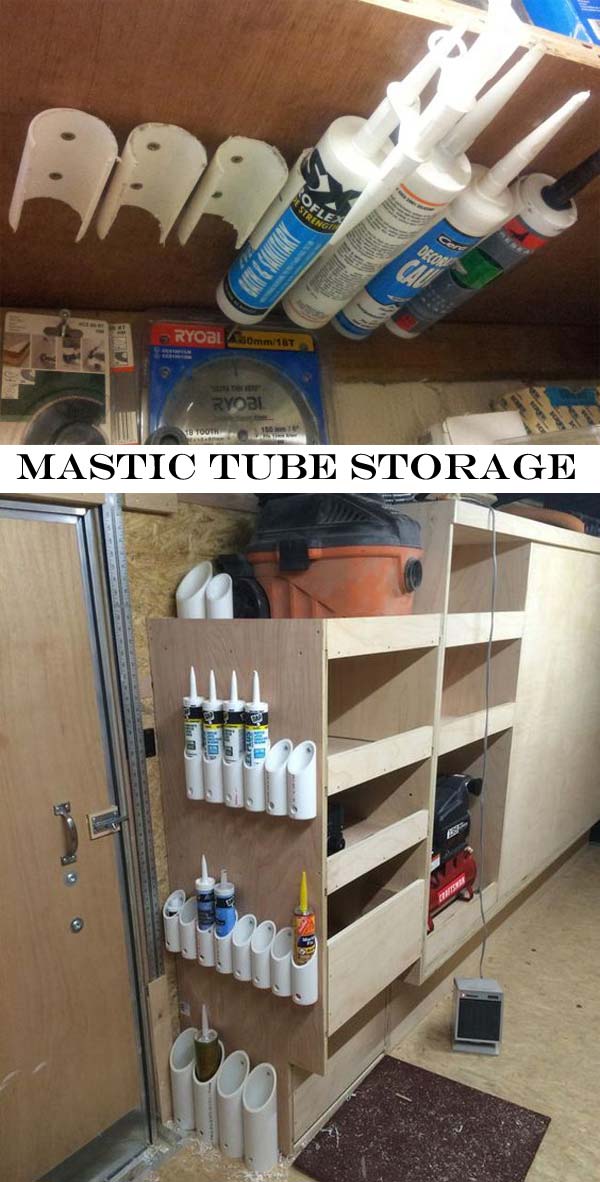 Source: diynot.com
9. Hang bulky cords with length of chain and a wall-mounted coat hook.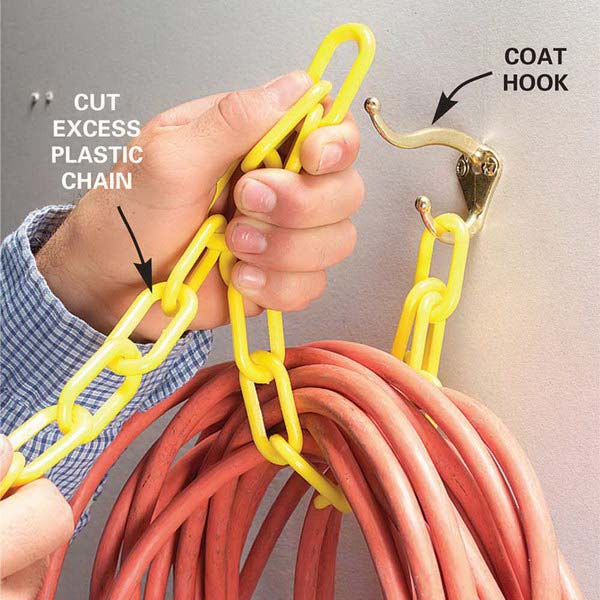 Source: familyhandyman.com
10. Free up your tight floor space by installing recycling bin hangers on the wall made with a few pieces of scrap wood.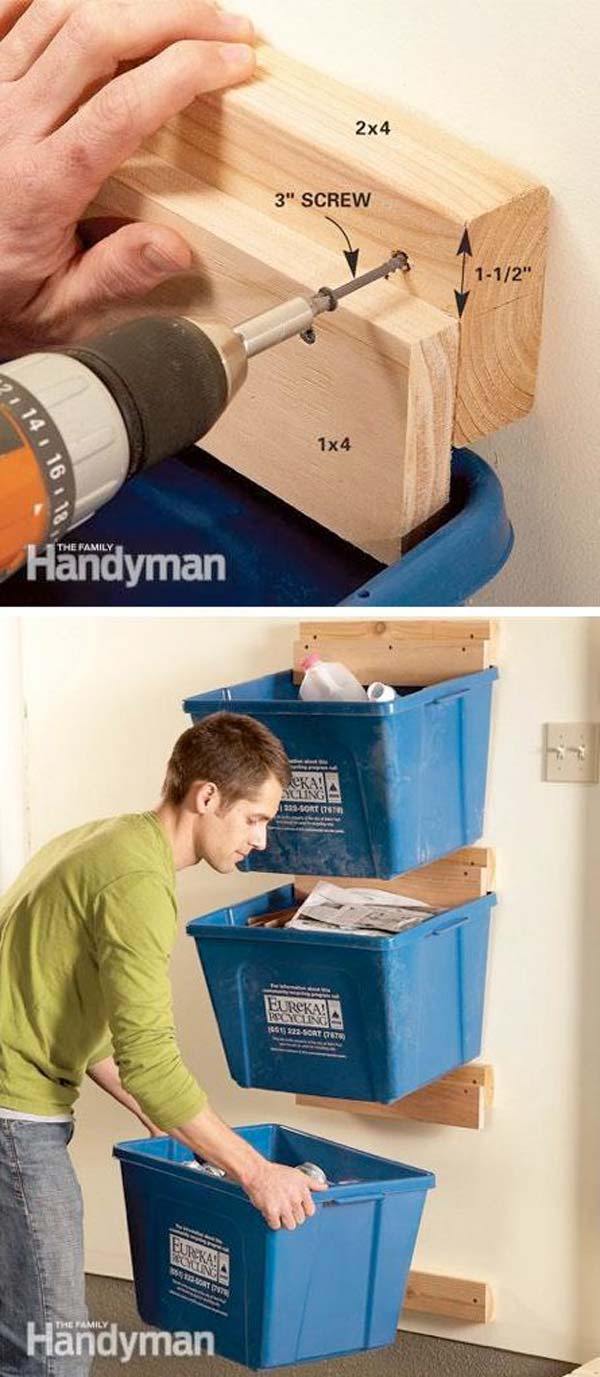 Tutorial at: familyhandyman.com
11. Build some simple and cheap scrap wood brackets for easy chair storage.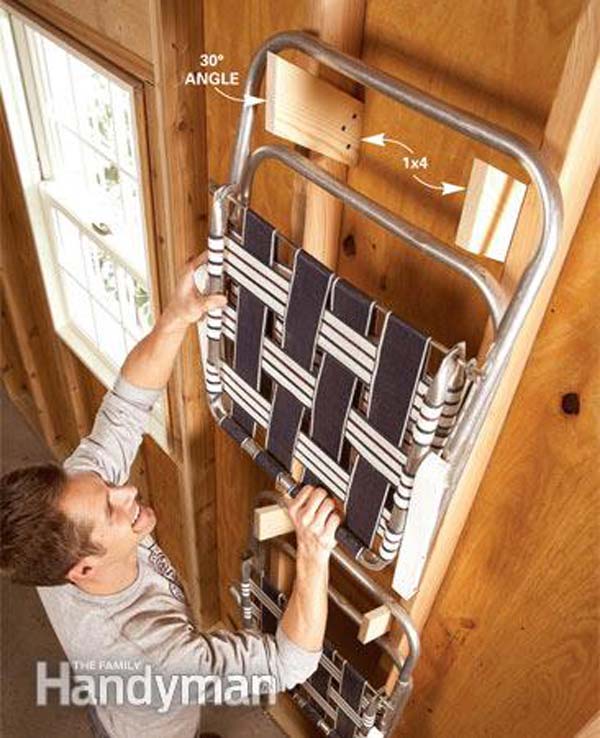 Tutorial at: familyhandyman.com
12. Repurpose kitchen jars to store any small items that tend to get lost in the chaos of garage.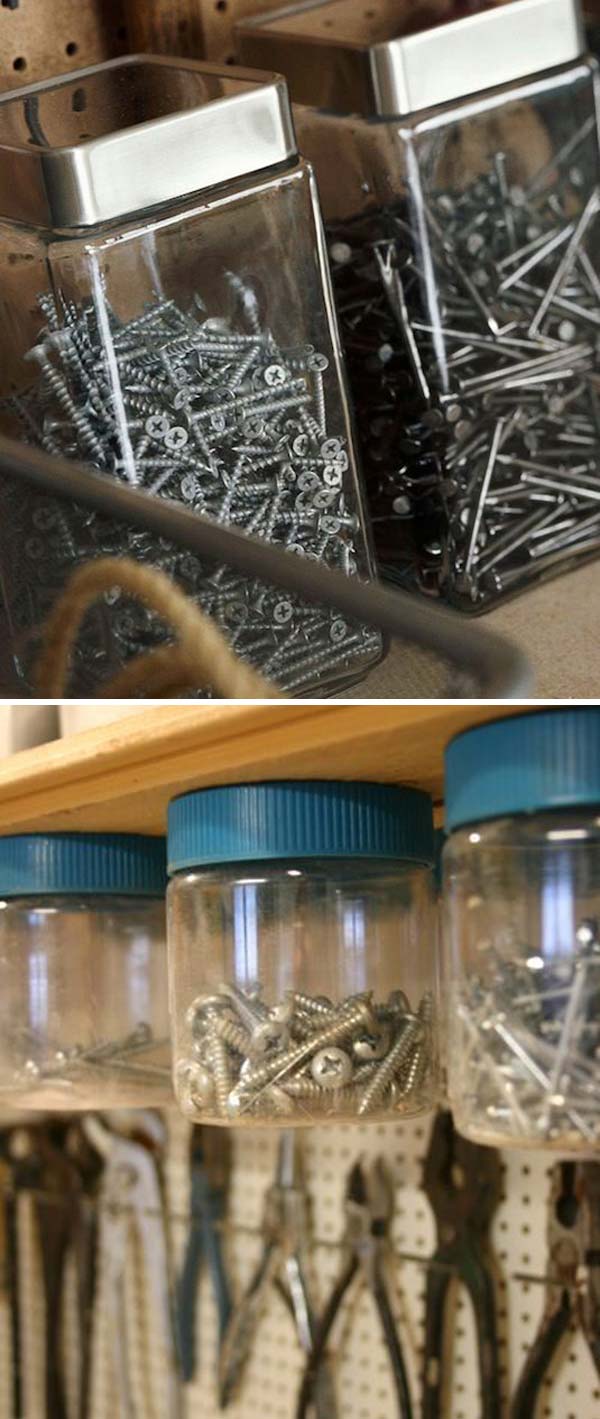 Source: chezlarsson.com
13. Drill a few holes on a piece of scrap wood and then mount it to the wall with brackets, and you can get a clever screwdriver storage shelf.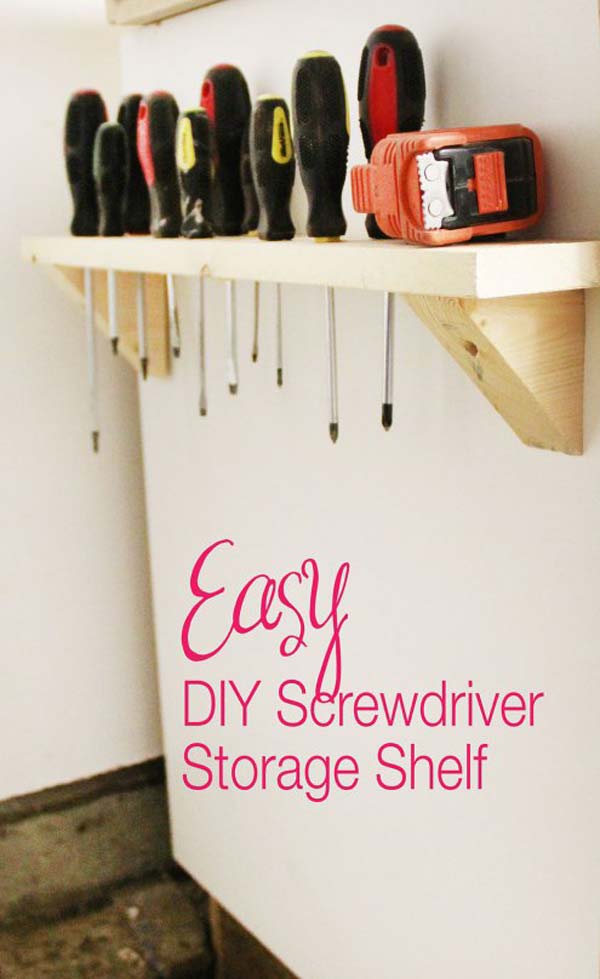 Tutorial at: freshcrush.com
14. A clever project to get extra storage.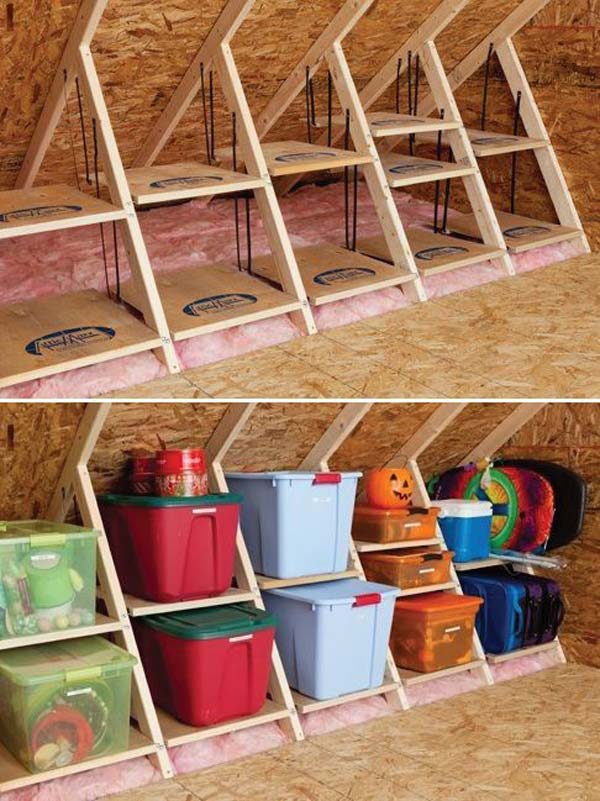 Source Unknown.
15. PVC pipes power tool holders let you simply slide your tools back in when you're done with them.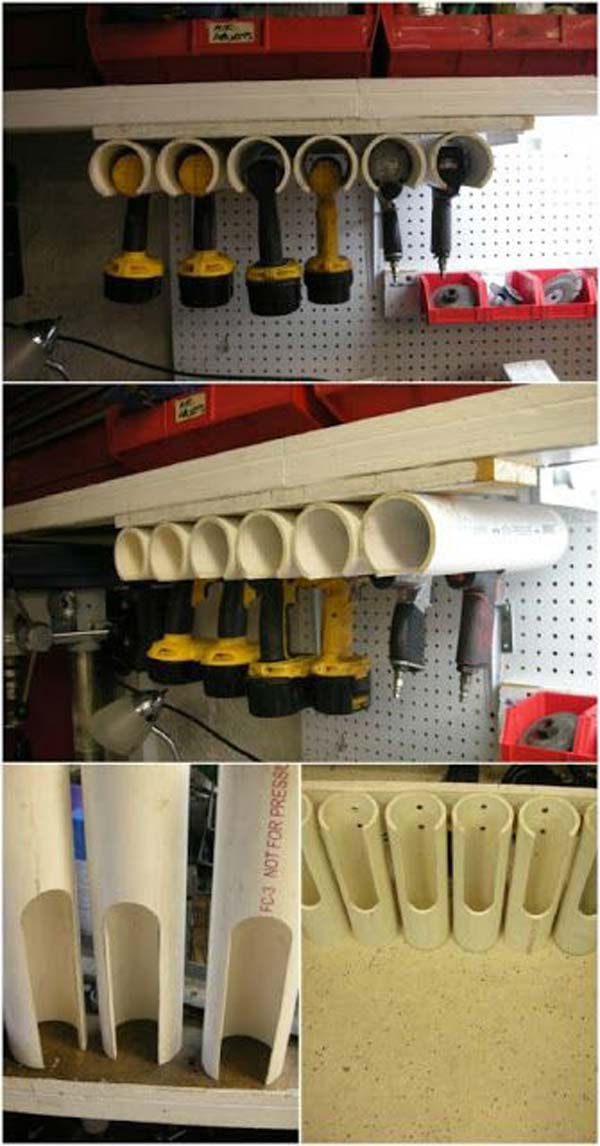 16. Cut the tops off laundry detergent containers and use to store small hardware.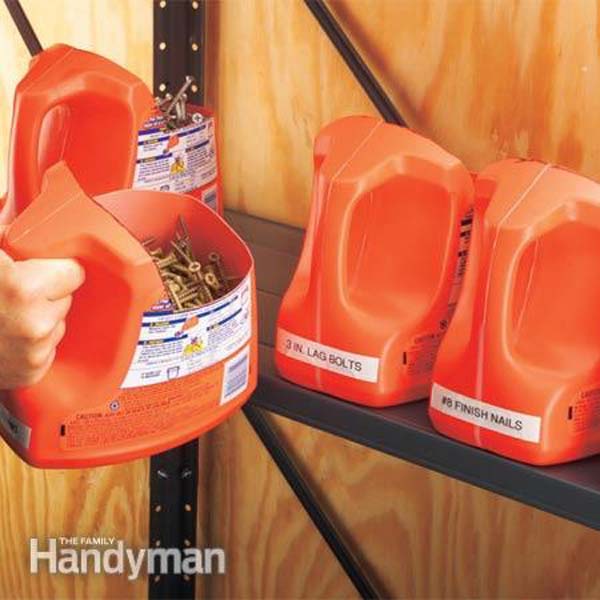 Source: familyhandyman.com
17. Keep the wheelbarrow standing up against the wall with a piece of board and very cheap sliding locks.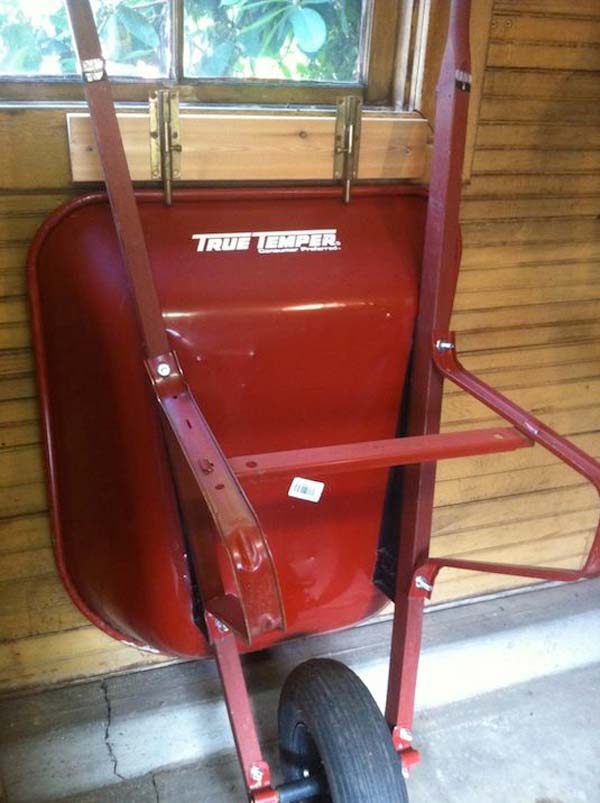 18. Organize all of those spray paint cans in a shoe rack.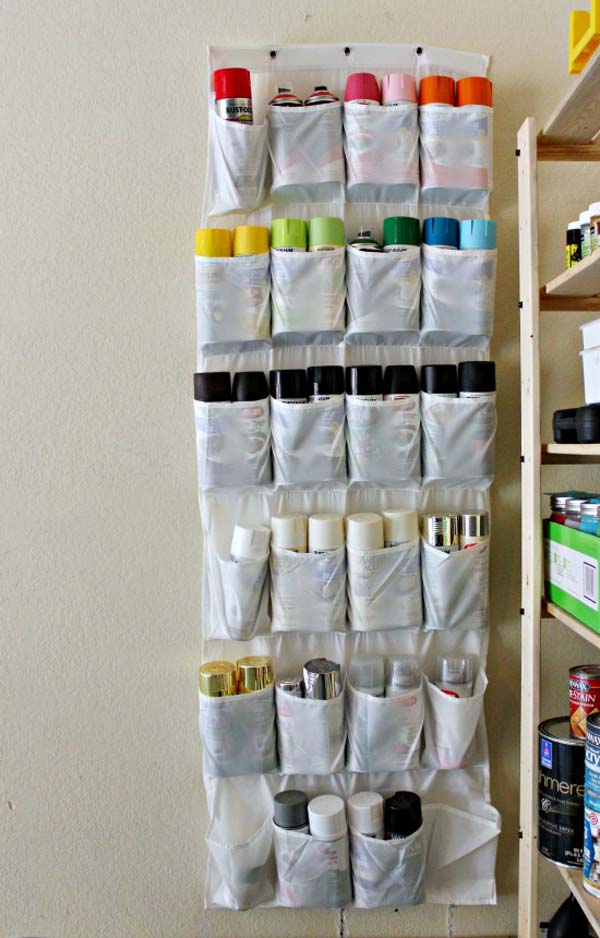 Source: hisugarplum.com
19. Screw two identical brackets to ceiling so that you can store your ladder on them.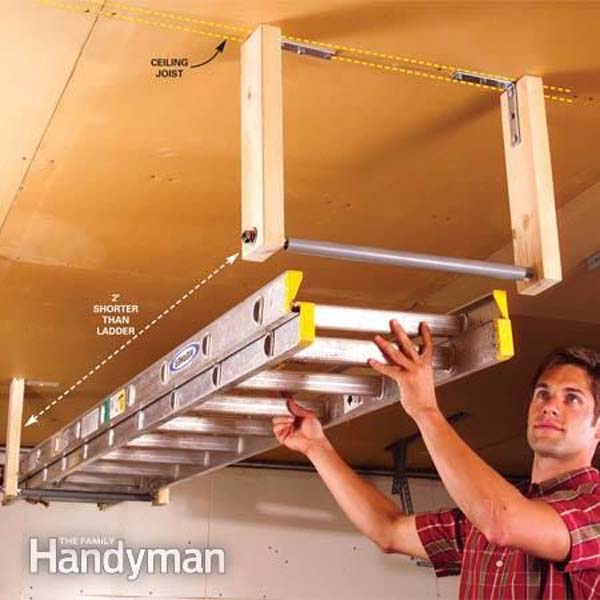 Tutorial at: familyhandyman.com
20. Great idea for storing kid's scooters and skateboards. You just need to prepare a long and wide board and some hooks to make one.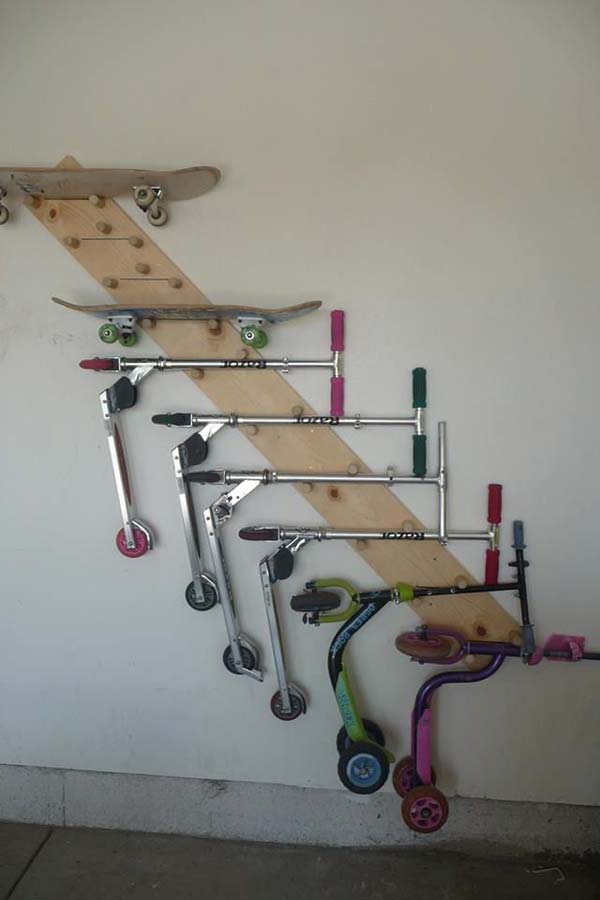 Source: flylady-ru.livejournal.com
21. Overhead garage storage rack.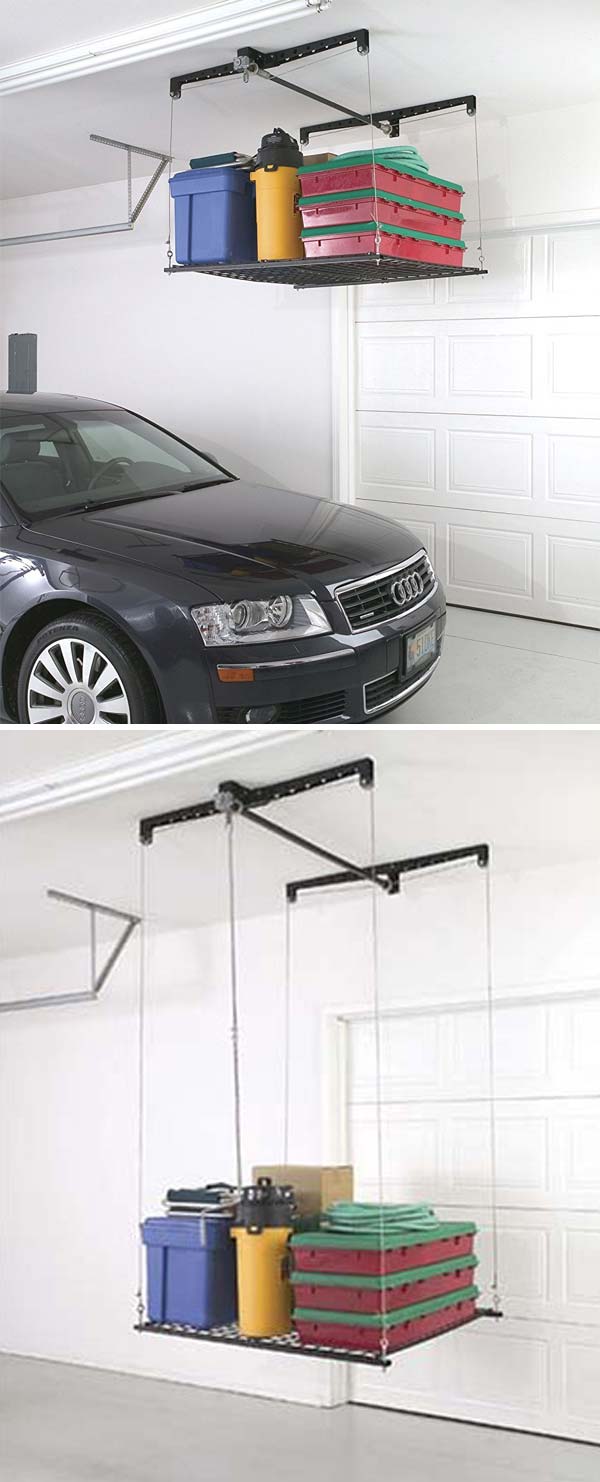 Source: amazon.com
22. Suspend the drawers from the ceiling.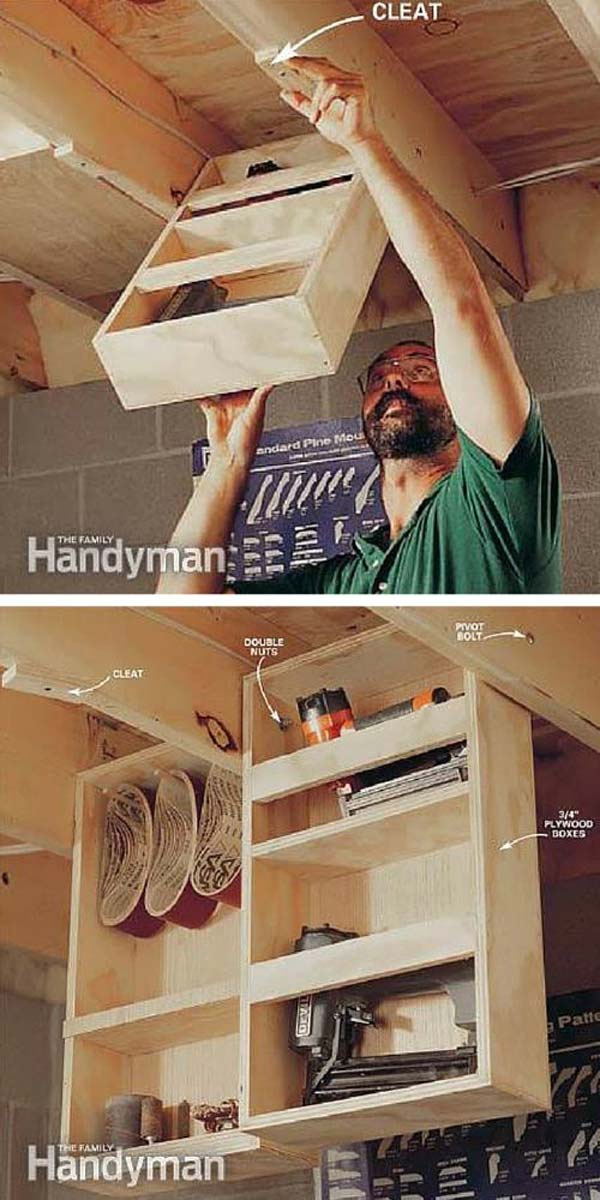 Tutorial at: familyhandyman.com
23. Easy DIY plastic nail holders.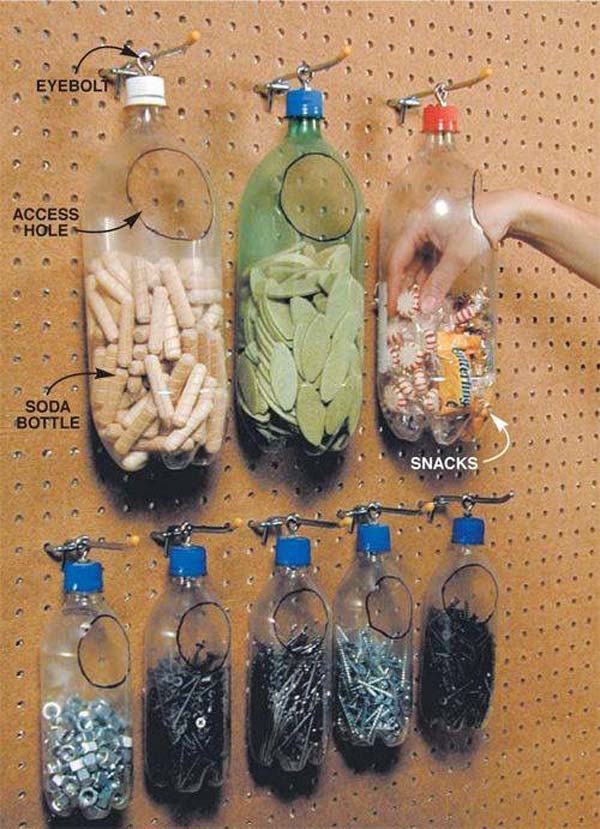 24. Build separate garden station in the garage.
Source: maillardvillemanor.com