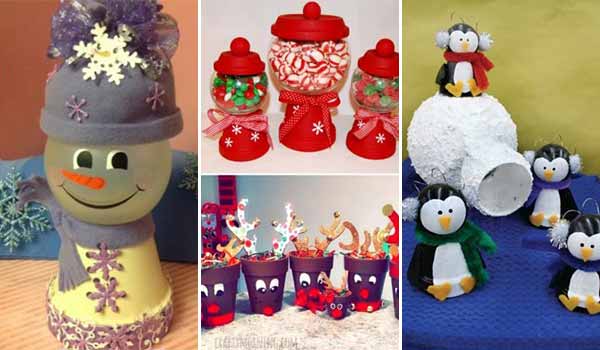 Everyone loves Christmas crafts. You can come across many different decoration ideas nowadays. Creative minds always focus on unique DIY Christmas decorations every year. Are you one of them? If you are creative, you can make some excellent DIY Christmas decorations using terra cotta pots. These 22 incredible and fascinating DIY clay pot Christmas decorations help you make your holiday decor stunningly appealing. You don't need to spend a lot of time and effort to make these decorations. They are extremely simple and easy to do.
These 22 DIY clay pot Christmas decorations are relatively cheaper. You can find some clay pots around the house. Further, these projects offer great fun and entertainment. You can make your Christmas decorations unique, beautiful, and appealing with these ideas. They also make excellent gifts.
1. DIY Clay Pot Christmas Tree
After painting clay pots using green color, you can stack them with the help of a glue gun to make these DIY clay pot Christmas decorations. Use acrylic paint to decorate them.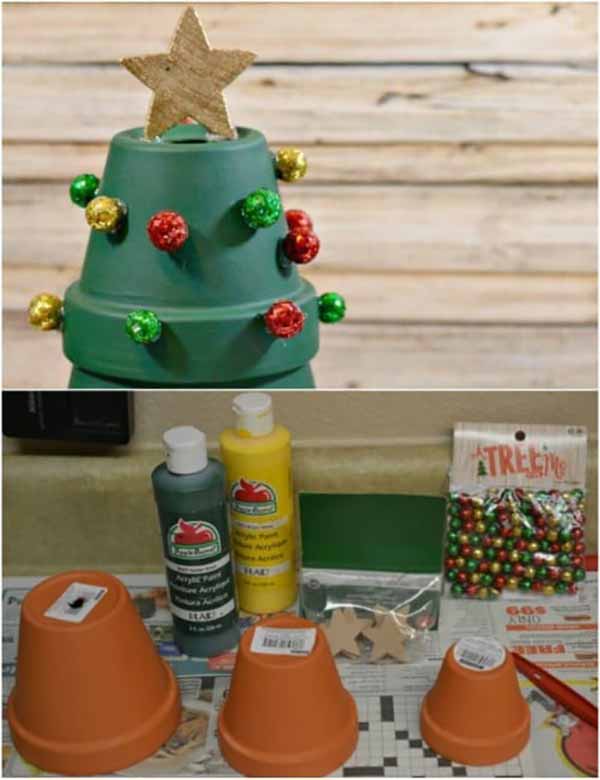 Tutorial: totallythebomb
2. DIY Clay Pot Angel
With a clay pot, rounded wooden ball, fabric, a few painting supplies, and Spanish moss, you can make this clay pot.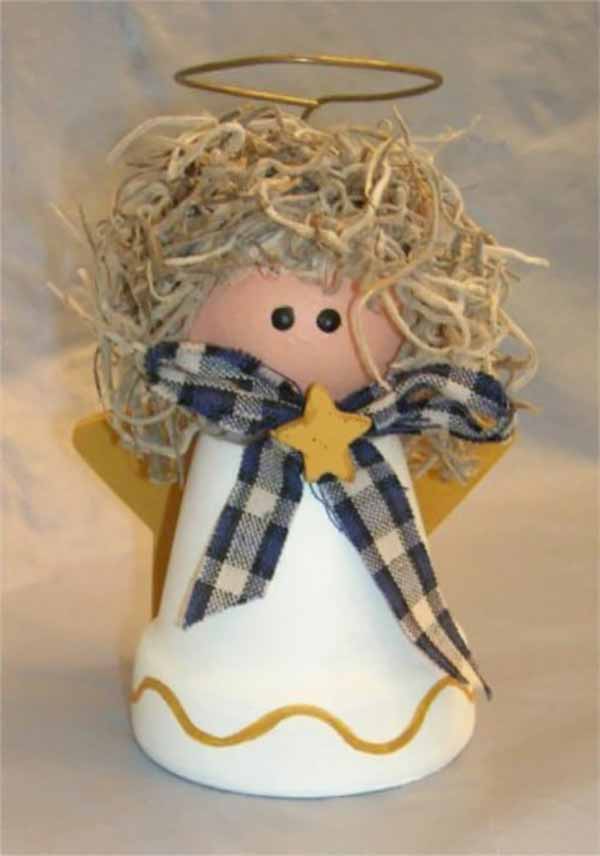 Tutorial: freecraftz
3. Appealing DIY Christmas Bells
You just need to paint a few small clay pots and hang them upside down using ribbon balls. Add wooden beads for the ringer.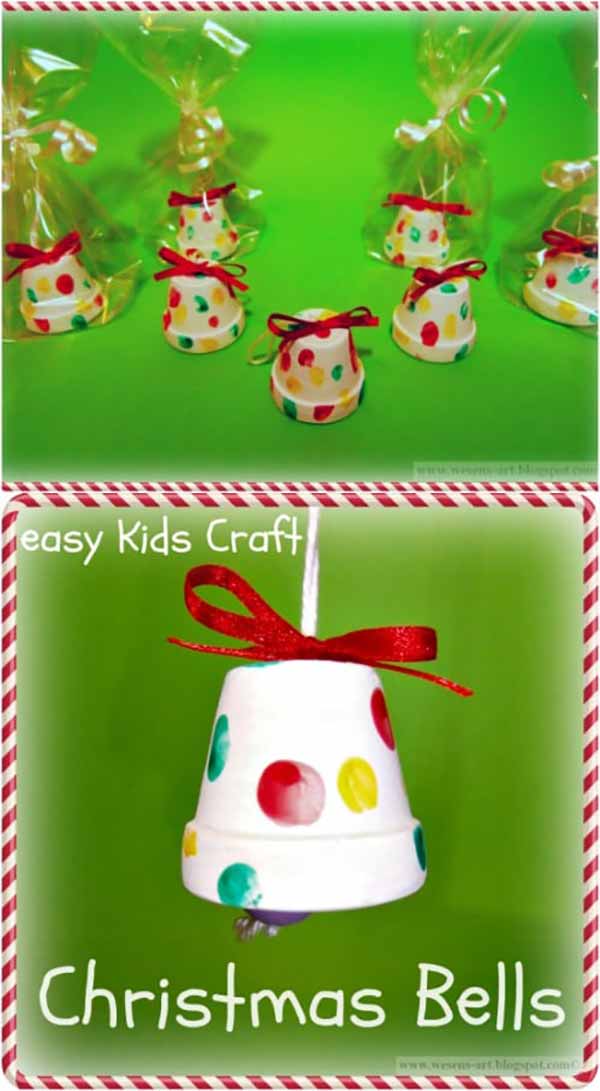 Tutorial:wesens-art
4. DIY Clay Pot Christmas Candy Jars
These candy jars can be made using glass bowls and clay pots.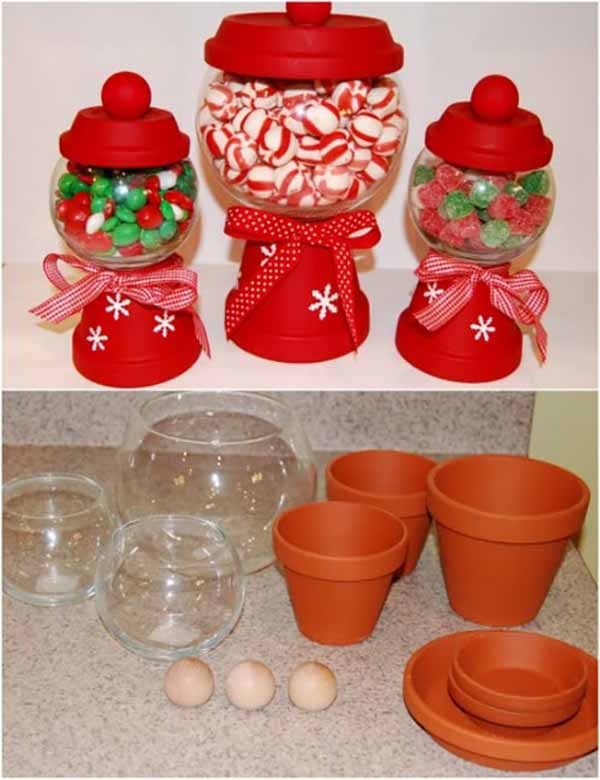 Tutorial: cjaneblog
5. Terra Cotta Pot Reindeer
Paint a face on one of the pots to make it look like an appealing reindeer. Use a red-painted wooden ball to make Rudolph's nose. Antlers made using foam board can be added as well.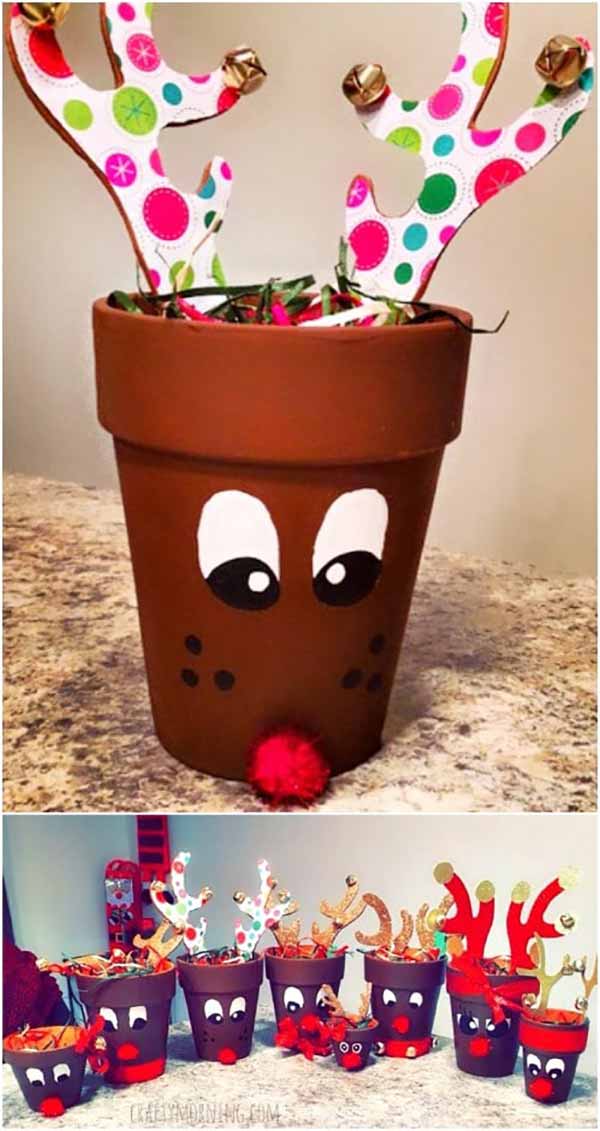 Tutorial: craftymorning
6. Beautiful DIY Terra Cotta Pot Penguins
Make little penguins with small terra cotta pots before adding a painted ball on the head. Paint them black and white.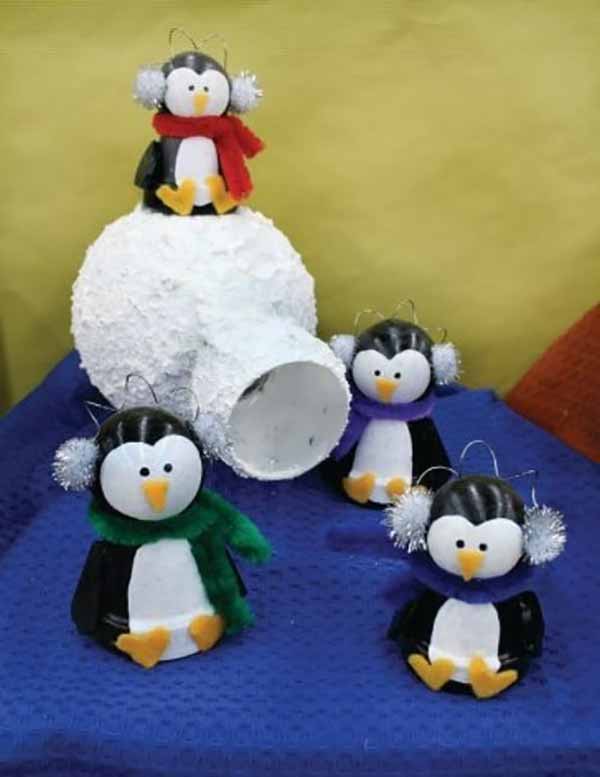 Tutorial: craftingjournal
7. DIY Clay pot Snowman Light
After turning the clay pot outside down, you just need to add a tealight candle to make this snowman light.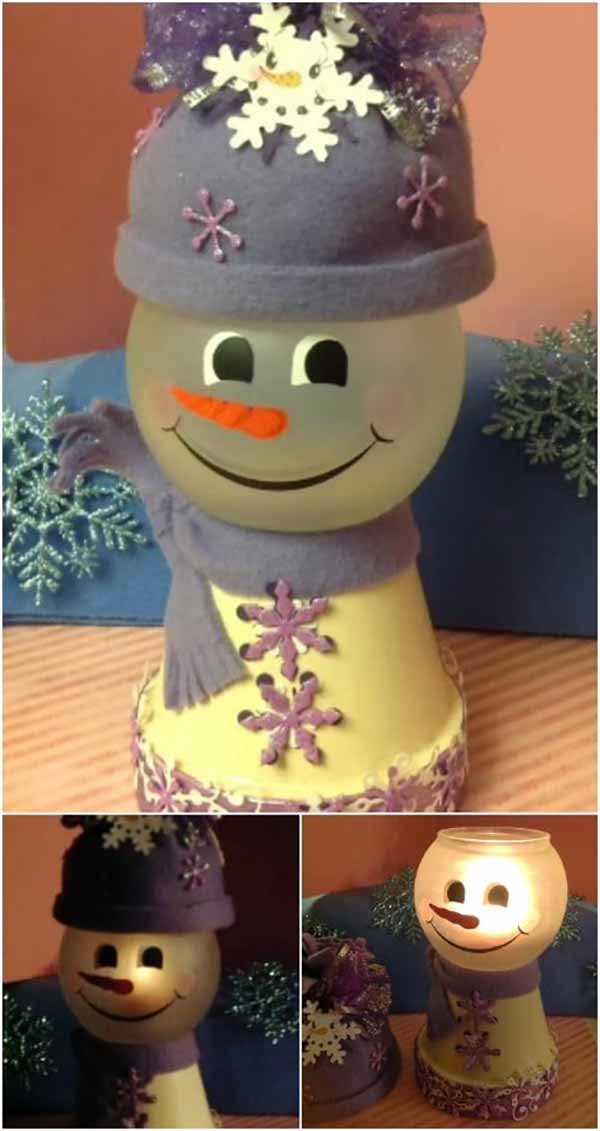 Tutorial: evasscrapsncards
8. DIY Frosty The Snowman Candy Dish
Use clay pots and decorate them with your favorite colors. A frosted glass bowl can be added to the face. Go creative by painting a wooden ball to make a cute little pom pom for the hat.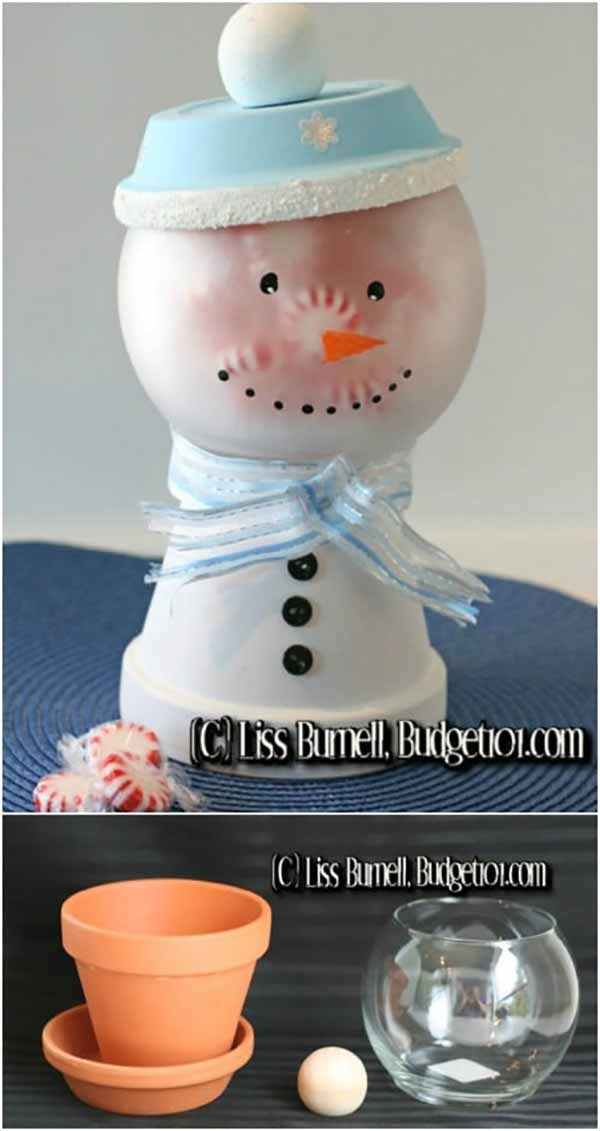 Tutorial: budget101
9. DIY Stacked Outdoor Clay Pot Snowman
Create a beautiful snowman by stacking larger clay pots on top of each other. The face can be added with acrylic paints.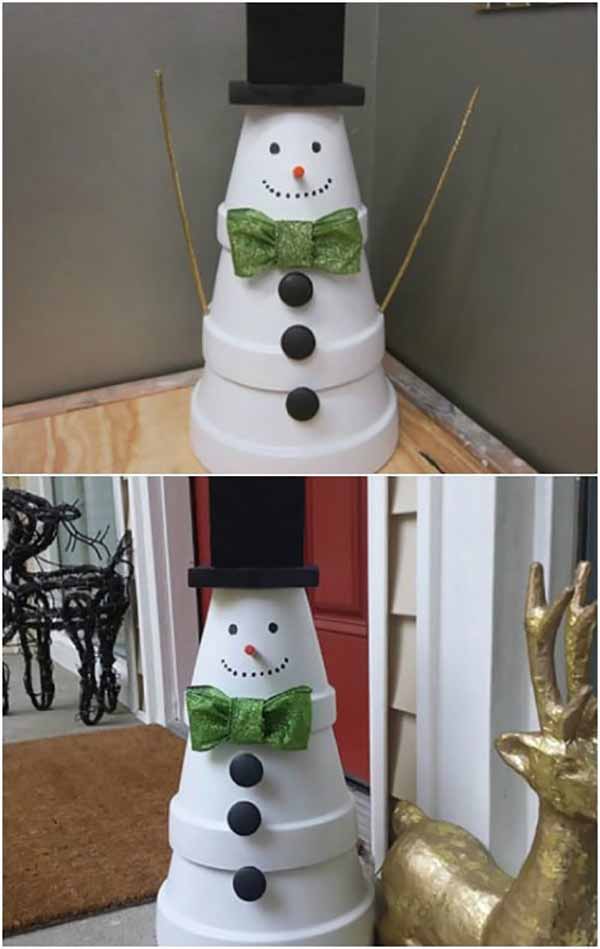 Tutorial: gardenclub
10. Attractive DIY Clay Pot Gingerbread Man
Utilize various sizes of pots to make this gingerbread man. After assembling it, use acrylic paint to decorate the details.
Tutorial: pinterest
11. Decoupage Clay Pot Christmas Ornament
Make a perfect ornament using Christmas kitties. Painted details and a bow can be added as well.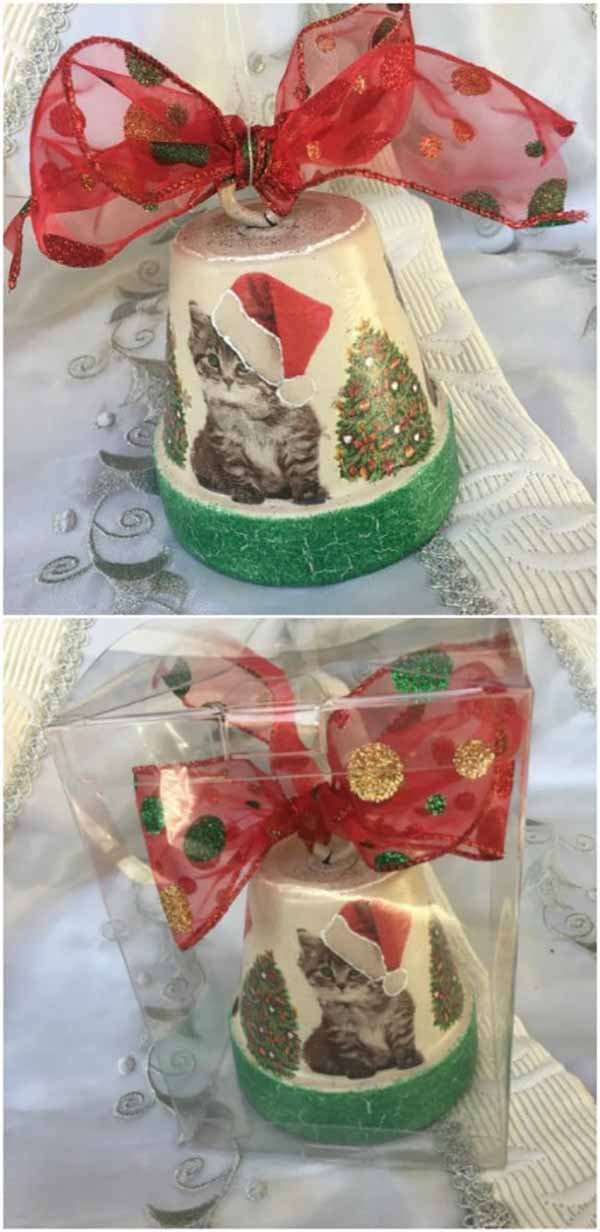 Tutorial: etsy.com
12. Outdoor Clay Pot Nutcracker
With two stacked larger clay pots for the leg and one for the body, hat, and head, you can make these decorations. Go creative while painting and adding embellishments.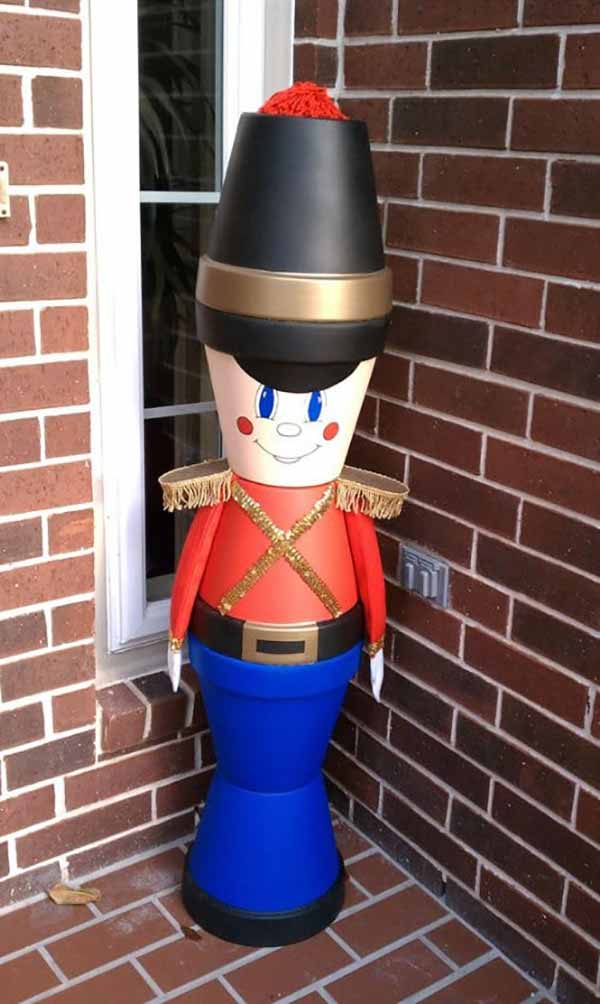 13. DIY Olaf Christmas Candy Jar
Use a glass bowl and two tiny clay pots to make this Olaf. Brown pipe cleaners can be used to add hair and arms. Finer details can be added utilizing paint.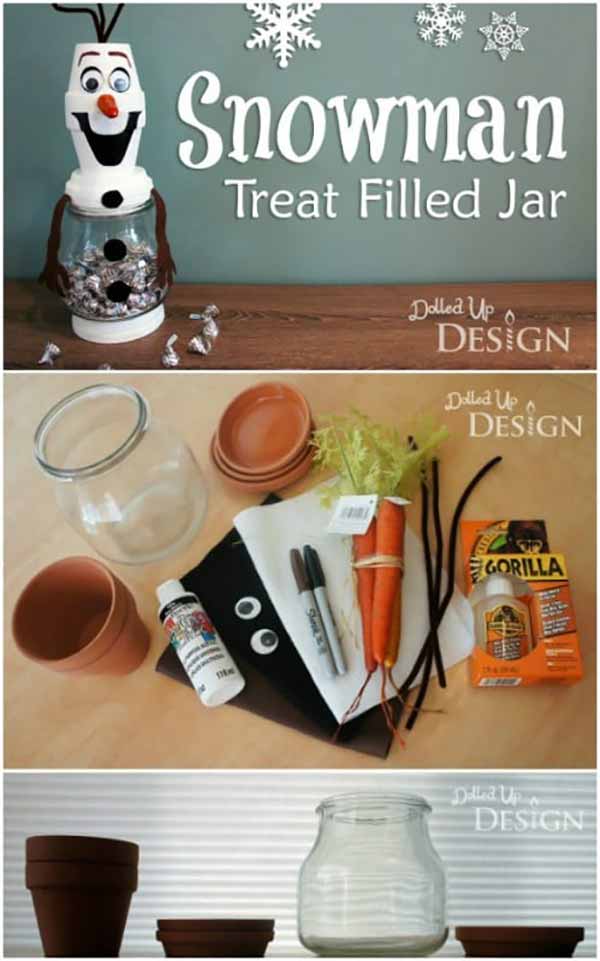 Tutorial: momsandmunchkins
14. Fanciful DIY Clay Pot Santa Claus
Make use of small clay pots to make a tiny, cute Santa Claus Utilize glittery paint and snow paste to achieve a snowy effect.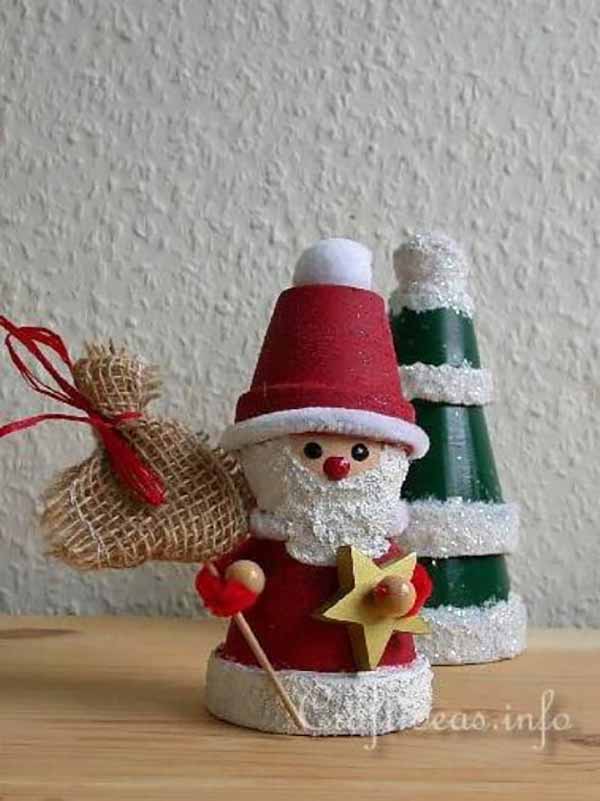 Tutorial: craftideas
15. Clay Pot Santa Chimney Mishap
This simple decoration can be made using a Styrofoam ball, pipe cleaners, and a clay pot for the chimney.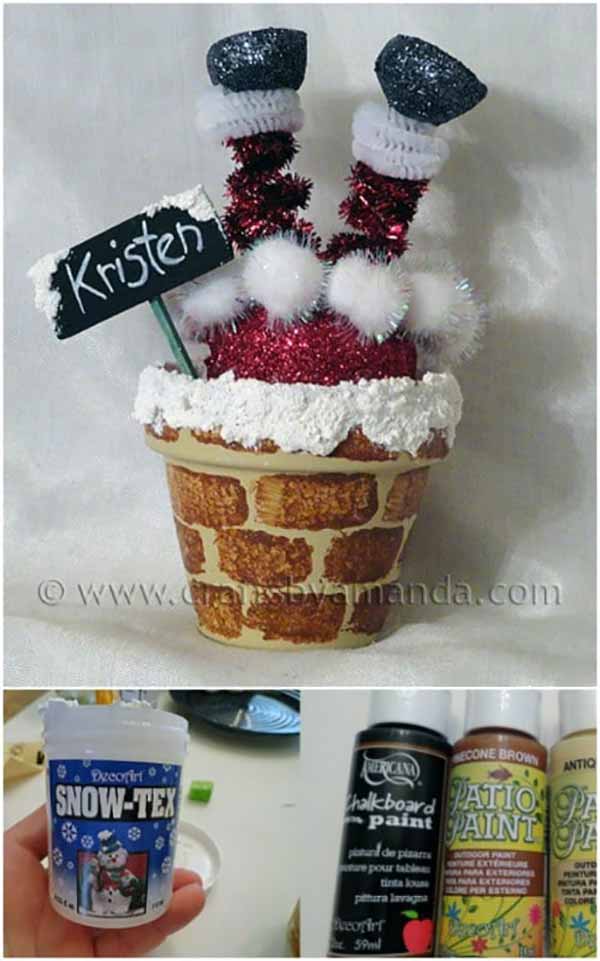 Tutorial: craftsbyamanda
17. Santa Pants Poinsettia Planters
Make perfect Santa pants for holding your Christmas poinsettias. First, you should paint two planters red and white. The next step is to keep them together using a belt.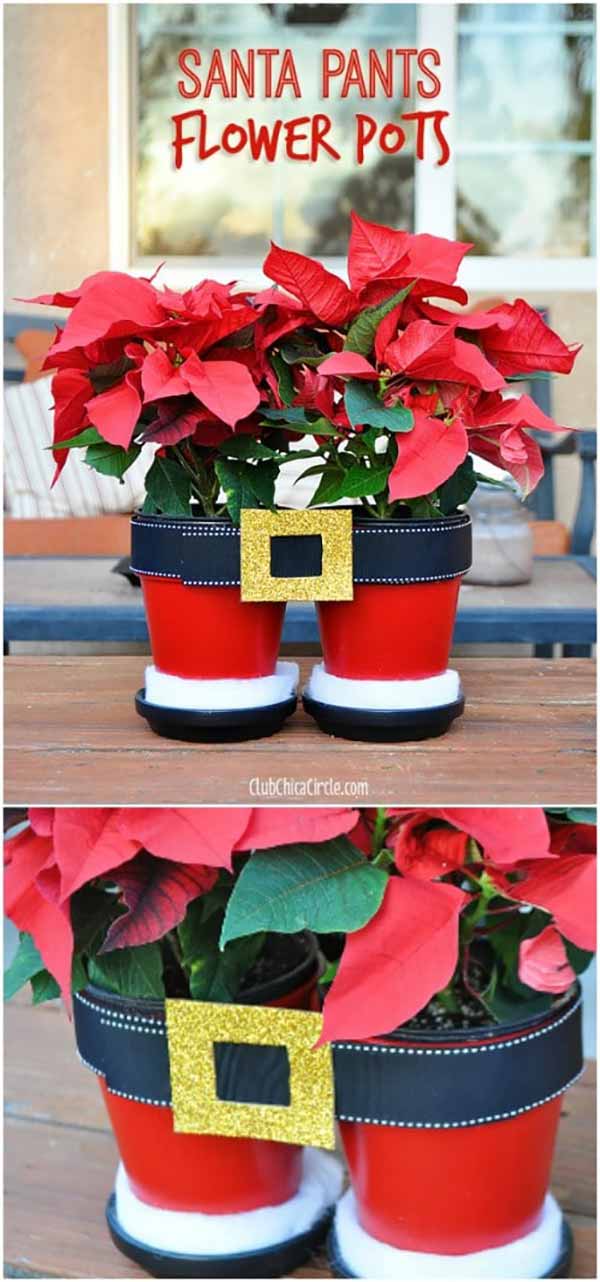 Tutorial: chicacircle
18. Clay Pot Stacked Christmas Tree
Use pots, beads, gems, and other decorations to make one of the best DIY clay pot Christmas decorations.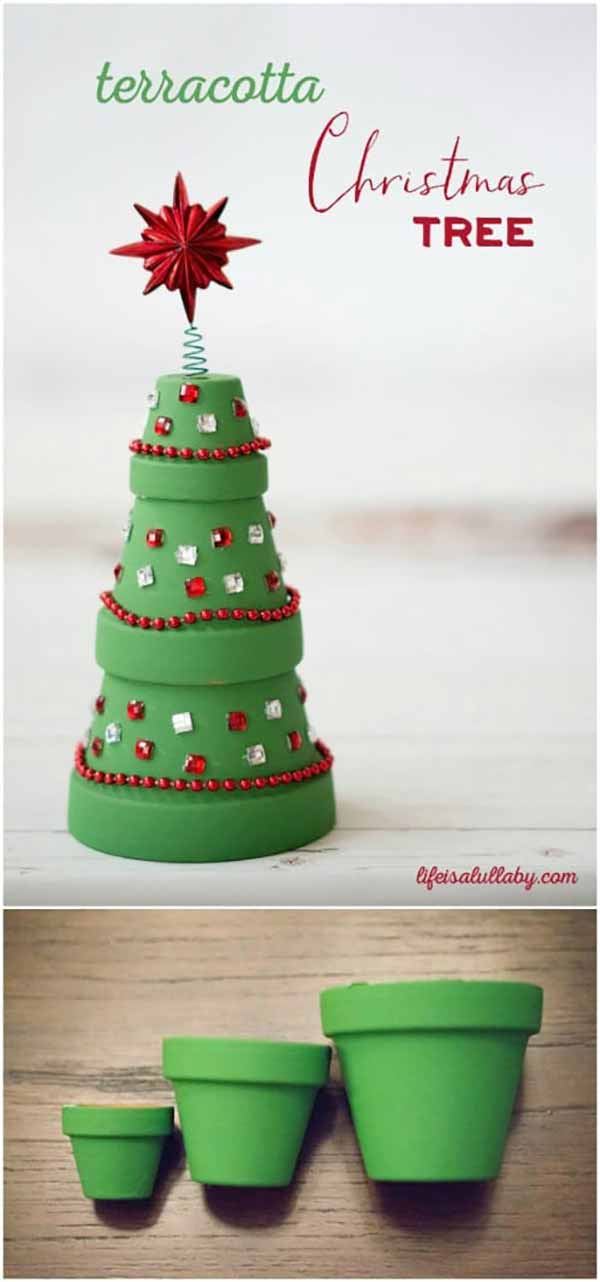 Tutorial: lifeisalullaby
20. Santa And Rudolph Shelf Sitters
Build cute shelf sitters using terra cotta pots, a painted Styrofoam ball, and cords or rope.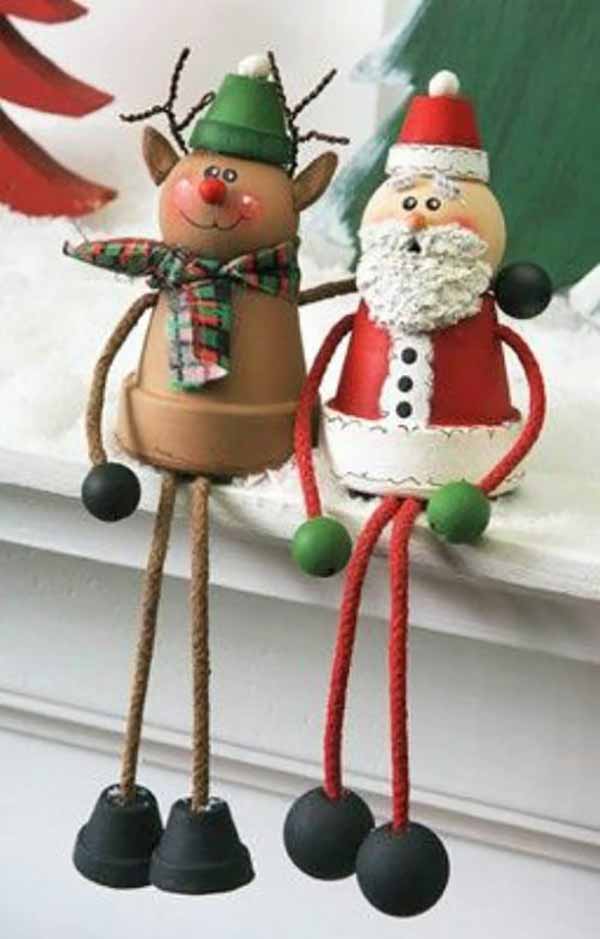 21. DIY Rustic Snowman Bucket Ornaments
Create adorable snowman bucket ornaments using clay pots, wires, holly berries, and small pinecones.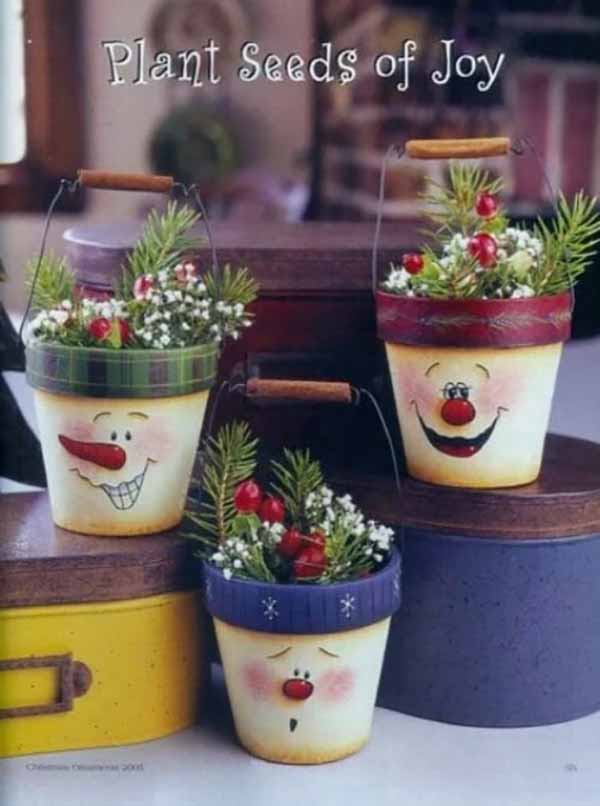 22. Adorable DIY Clay Pot Choo Choo
Make the best choo choo train using terra cotta pots and planters. Use handlers to hang them on the tree.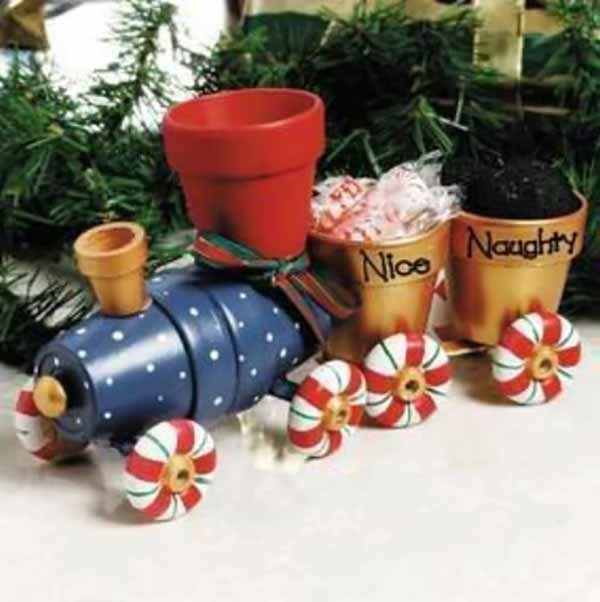 Tutorial: frugalvillage