24 Best DIY Tabletop Christmas Tree Ideas In 2020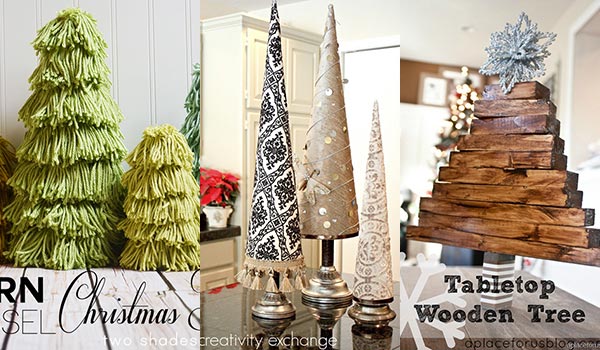 You have no space or time to put up a huge Christmas tree? Make mini versions! You can make your tables a grand display of adorable tabletop cheers with these easy DIY Tabletop Christmas tree suggestions.
1. Tri colour Rattan Yarn Trees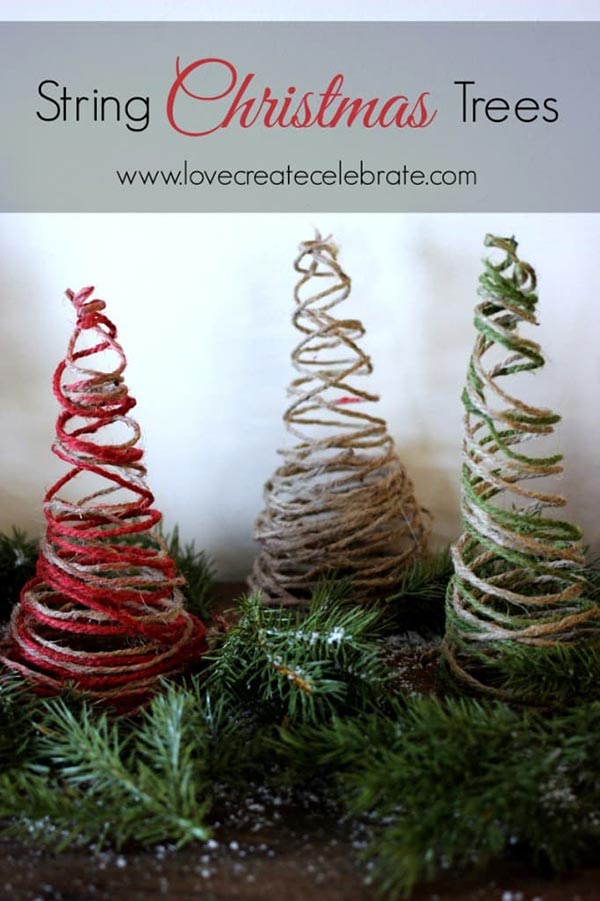 Easiest string project you can make. With a cone, rattan yarn, mod podge, and plastic wrap, you can easily create these rustic tri-colour mini Christmas trees. Tutorial: lovecreatecelebrate.com
2. Crepe Paper Trees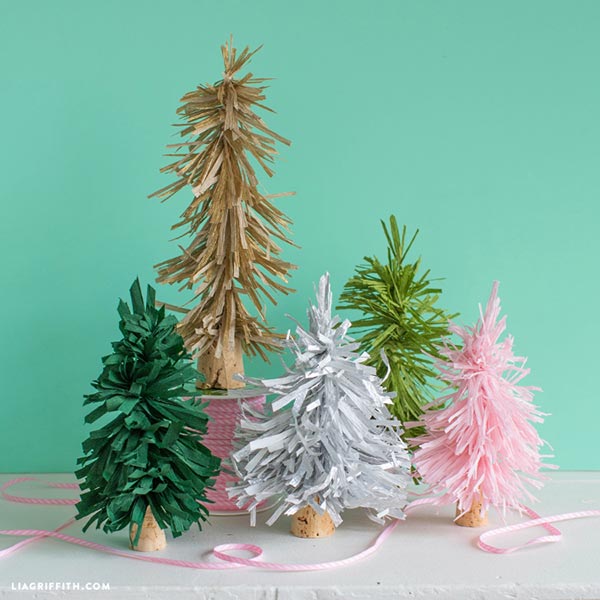 A playful use of crepe paper this Christmas! Make a cluster of trees in different sizes and holiday colours for an amusing Christmas tabletop. Tutorial: liagriffith.com
3. Wooden Christmas Tree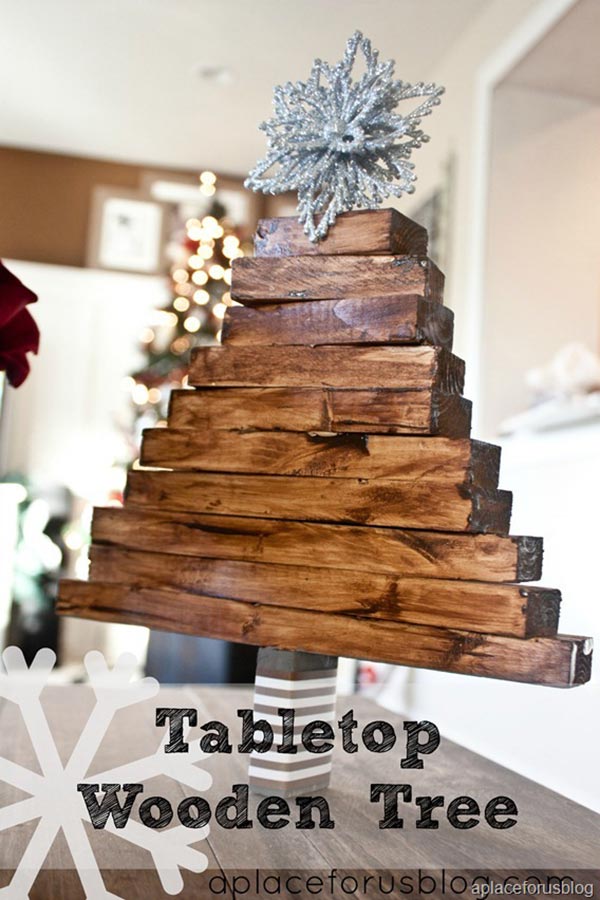 Stain wood blocks in walnut or dark brown shade and top with a silver Christmas sparkle. An amazing accent to any wooden table. Tutorial: justdestinymag.com
4. Book Page Tree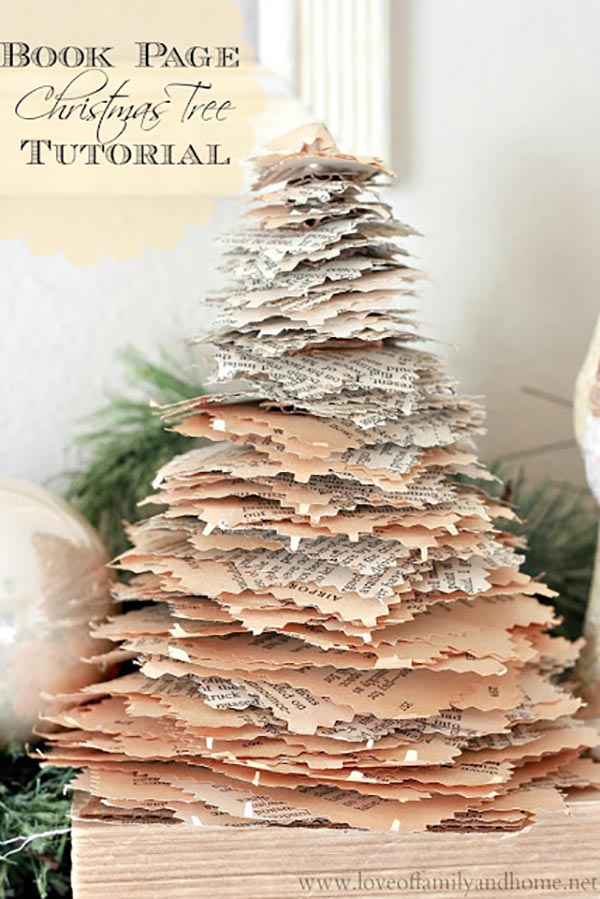 Give those old threadbare books a better book value. Make zigzag design on the pages with a pair of pinking shears. Skewer the pages, using a stick glued on a cardboard base, from bottom up in tapering formation. Rotate pages alternately for that lush Christmas tree look. Tutorial: loveoffamilyandhome.net
5. Mini Evergreen Trees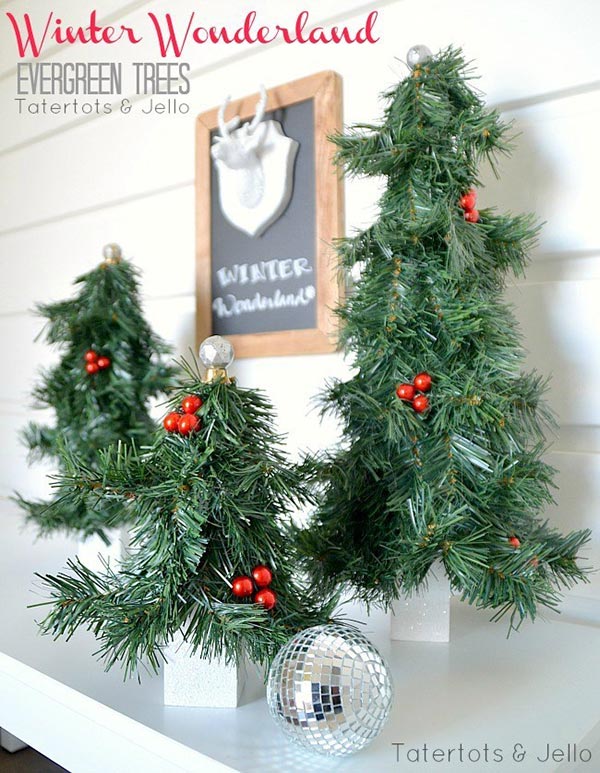 Recycle those old Christmas wreaths and use them to make duplicates of your Christmas tree. Cut up your wreaths and glue on styrofoam cones. Tutorial: tatertotsandjello.com
6. Crochet Tree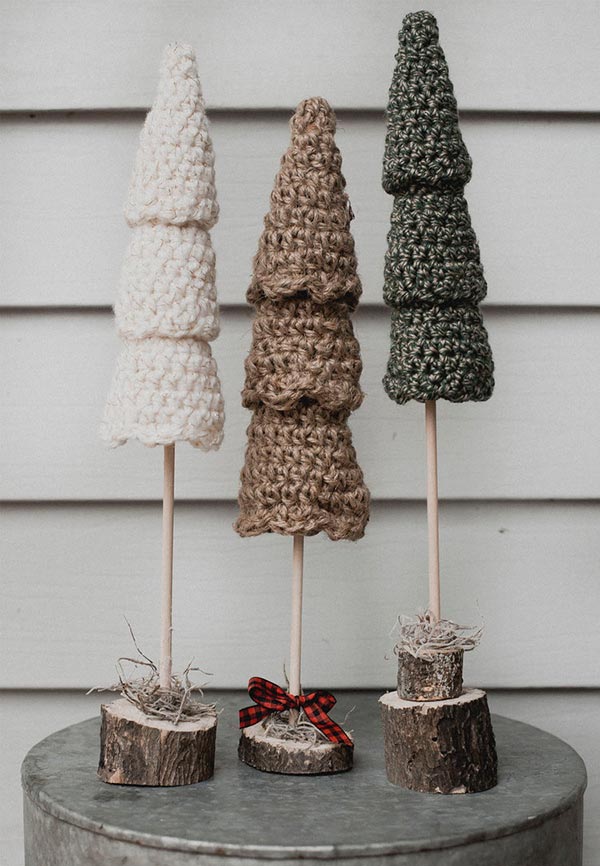 Check out these cute little crochet caps turned into mini Christmas trees. Easy crochet job for that country home charm. Tutorial: megmadewithlove.com
7. Chamberstick Trees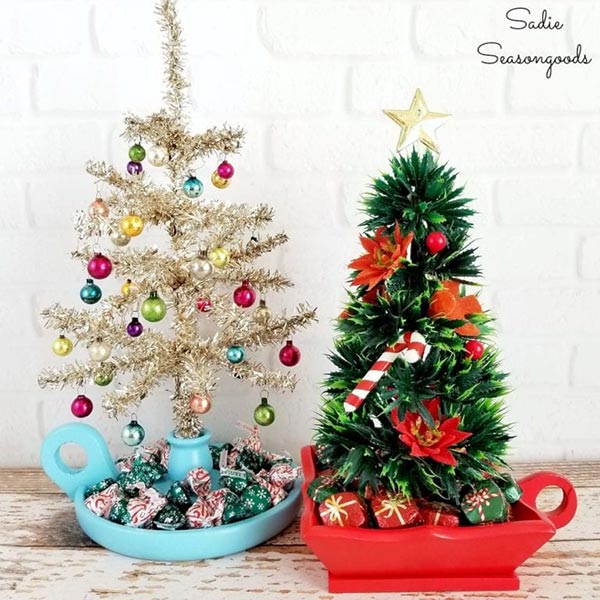 Clever upcycling, this is. With just a cork and paint, these old chambersticks were given a happy new life. Double at that. Mini Christmas tree stand and candy dish in one. Tutorial: sadieseasongoods.com
8. Kitchen Tree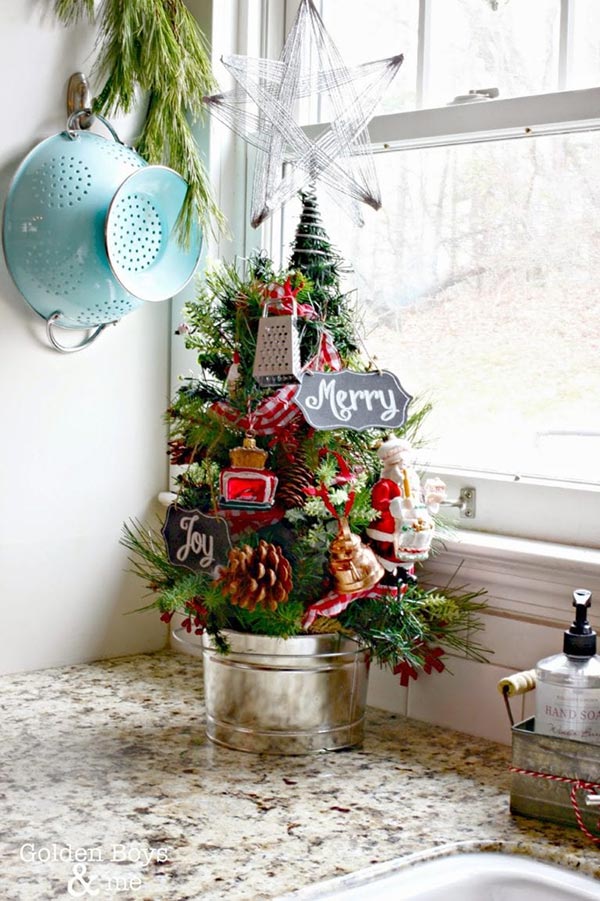 Bring Christmas cheer into your kitchen with this mini Christmas tree in charming metal pail. Image via: goldenboysandme.com
9. Corrugated Paper Tree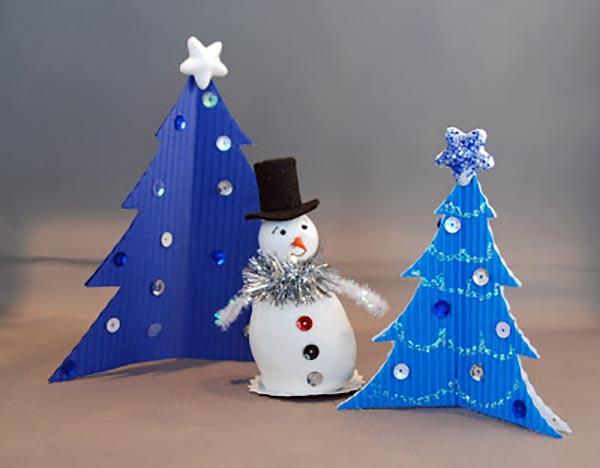 There is joy in simplicity. Your kids will be so proud creating these and will surely be your Christmas table's centre of attention. Tutorial: thatartistwoman.org
10. Confetti Trees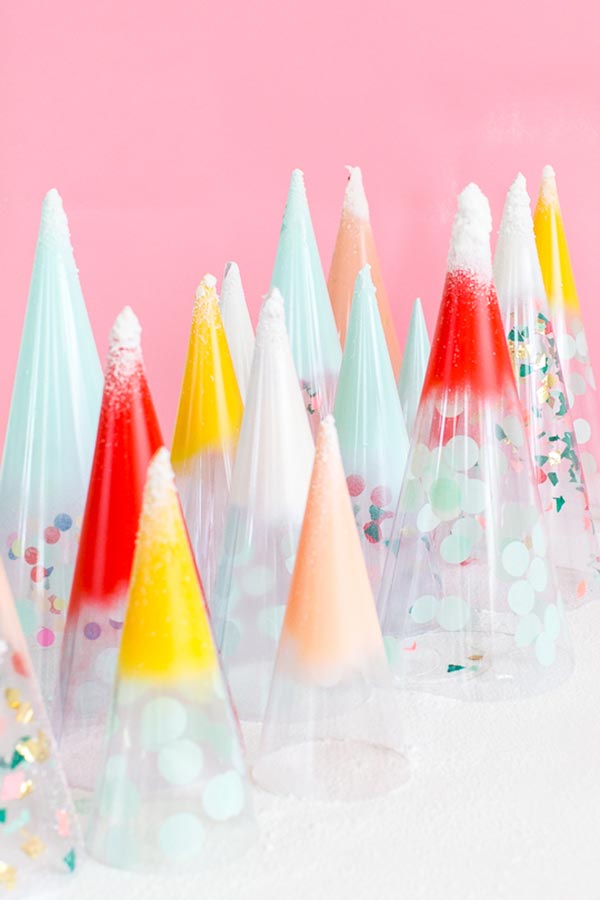 Another easy project. With clear plastic cones, clear adhesive spray and confetti, you can make these novel candy coloured Christmas trees. Spray the top with white paint to resemble snow. Tutorial: sugarandcloth.com
11. Plastic Spoon Tree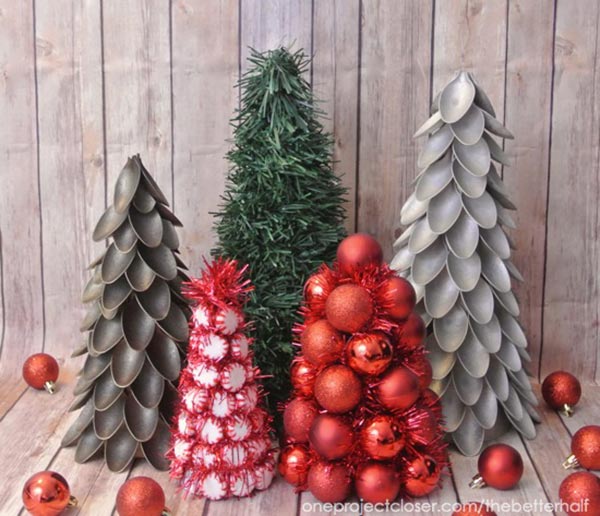 These Christmas trees look gorgeous! And it's made of plastic spoons! Using your desired spray paint colour, you can turn these spoons into elegant Christmas table toppers. Tutorial: oneprojectcloser.com
12. Coffee Filter Tree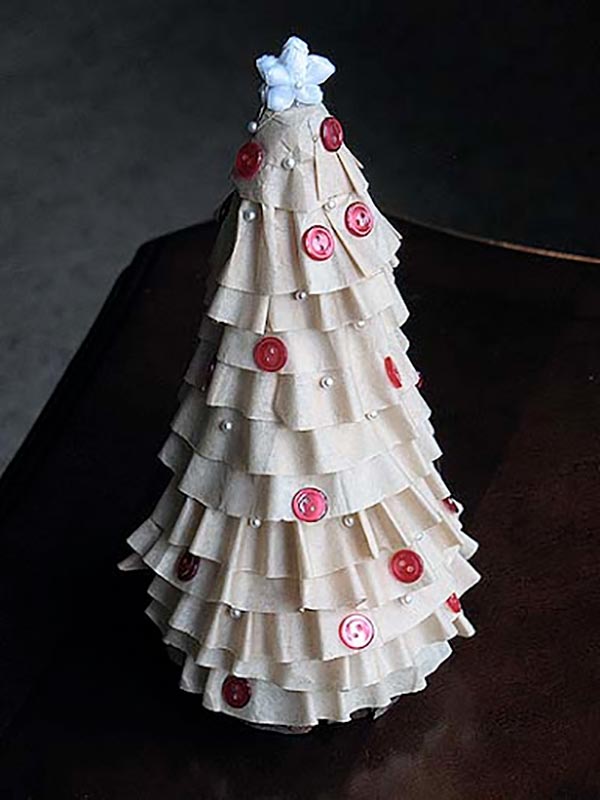 Do you have stashed-away old unused coffee filters? Cut out the inner ring, insert over foam cone and fix in place with glue. Work your way from the bottom up. Stick some glitters for Christmas sparkle. Tutorial: craftsbyamanda.com
13. Satin Ribbon Tree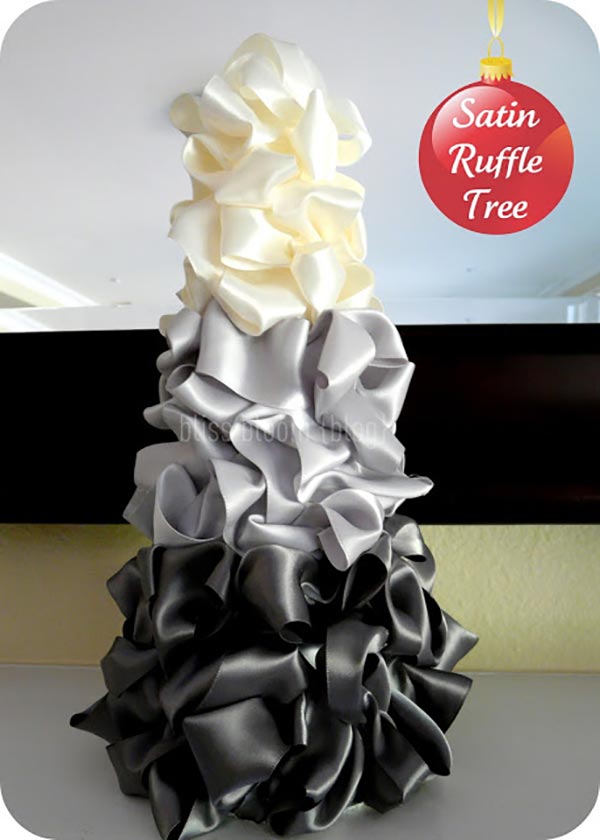 Use shiny shimmering satin ribbons to make this splendid Christmas tree. Just tousle those satin ribbons in layered fashion over foam cone.
14. Silver Macaroni Tree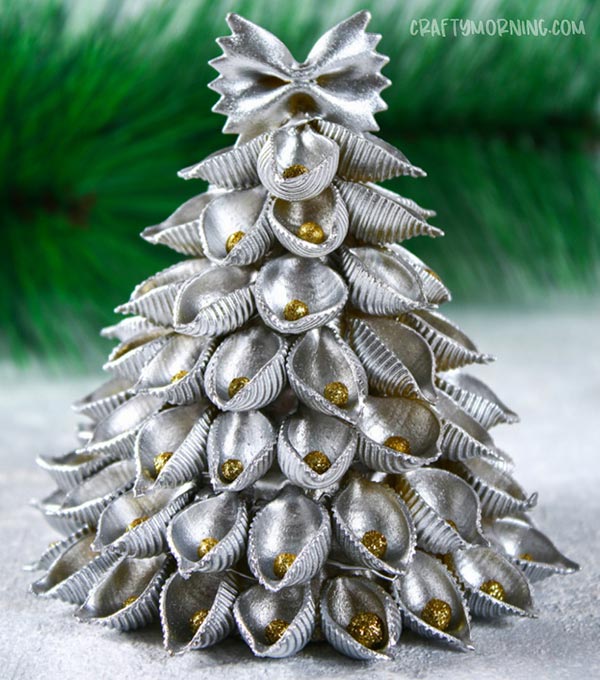 Spray silver paint over raw macaroni noodle pieces to make this elegant Christmas piece. Source: craftymorning.com
15. Fabric-Covered Cone Trees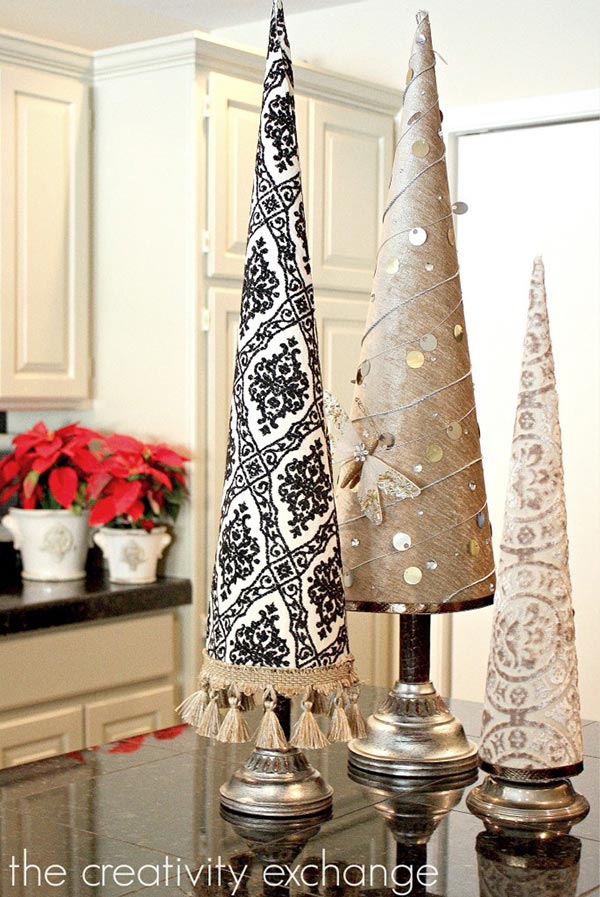 Make cylindrical cones in sizes which fit over your candleholders. Cover with fabric in Christmas pattern or colour. Add frills in gold or silver for a holiday feel. Tutorial: thecreativityexchange.com
16. Berry Tree Topiary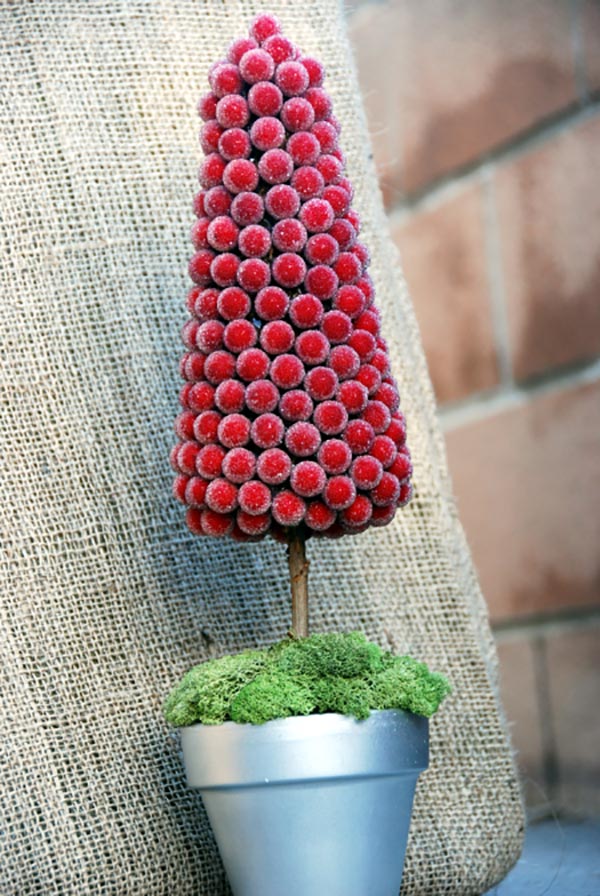 A cheery Christmas tree made with red berry picks.
17. Gold Cord Tree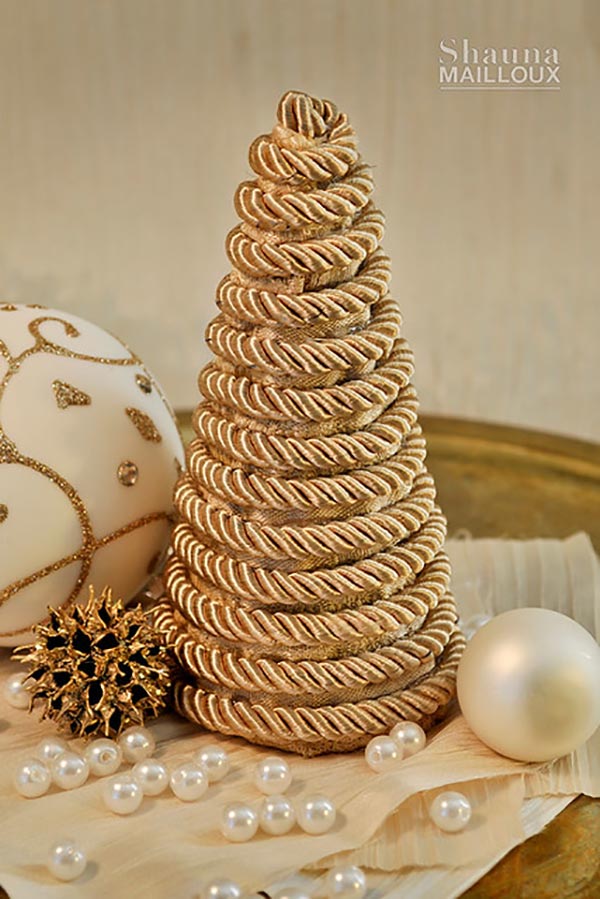 Gold cord or gold rope, these strings of fibre make a great Cord tree. Just twirl them around a cone and you will have a sophisticated centre table accent in no time. Tutorial: beautifulmatters.com
18. Burlap Strips Tree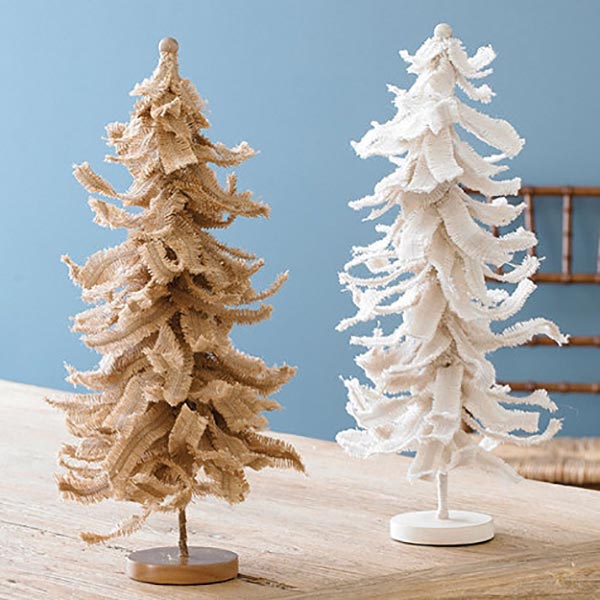 This Burlap tree will complete your country style theme for Christmas. Inexpensive using burlap strips. The more strips, the fluffier your tree. Tutorial: askannamoseley.com
19. Feather Tree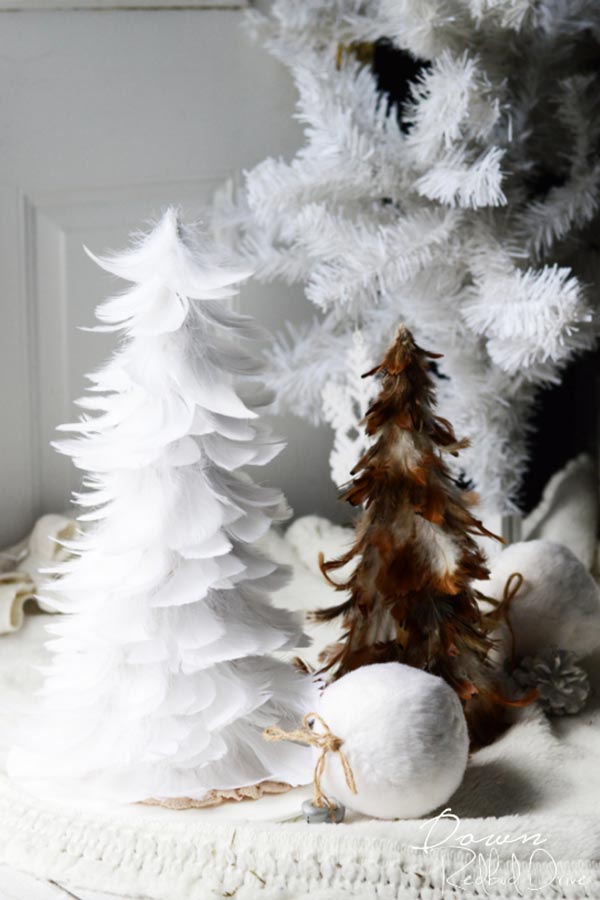 Off the wall Christmas tree in white feather boas. Add a silver brooch topper for a dash of class. Tutorial: downredbuddrive.com
20. Yarn Tassel Tree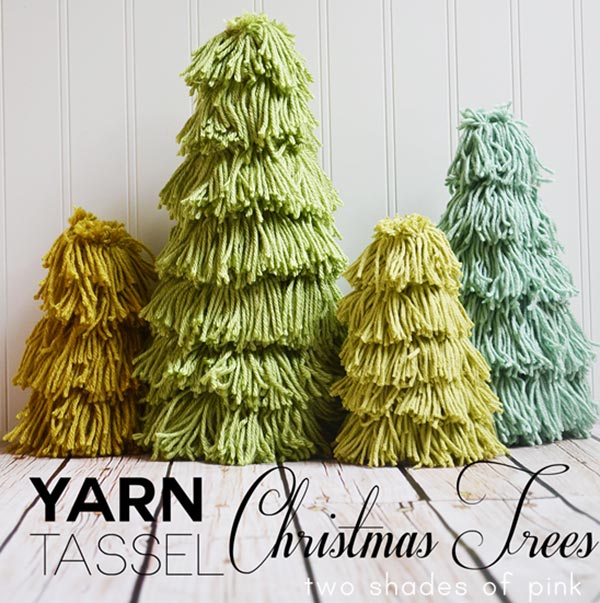 Cut those yarn pom poms and give them a new look this Christmas. Layered pom poms over paper cone makes an amusing Christmas bush. Tutorial: twoshadesofpink.blogspot.com
21. Christmas Wrapping Paper Tree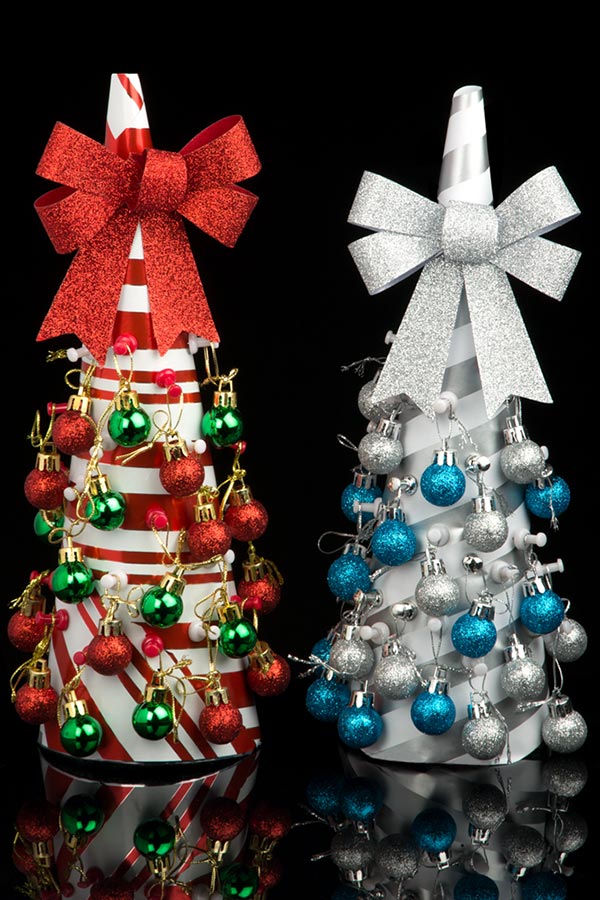 Undeniably a Christmas tree. With all the glittering balls and Christmas wrapper design. Simply festive! Tutorial: jampaper.com
22. Cupcake Paper Tree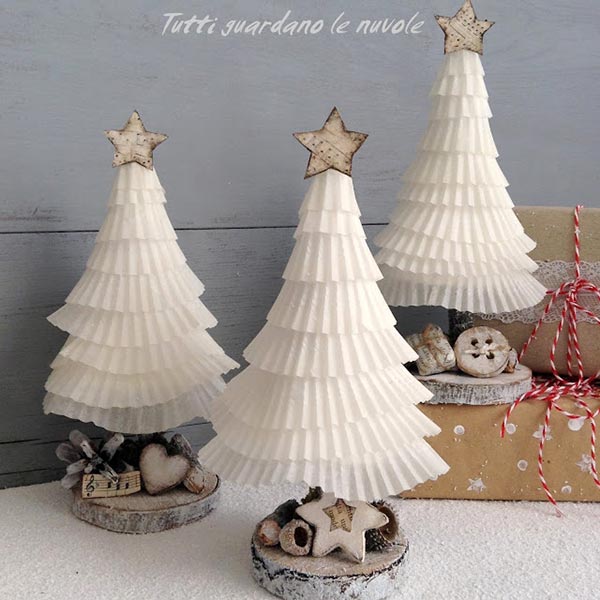 Simple, fun and easy to make this paper cupcake tree. Makes a shabby chic Christmas table topper. Tutorial: tuttiguardanolenuvole.blogspot.com
23. Cotton Ball Christmas Trees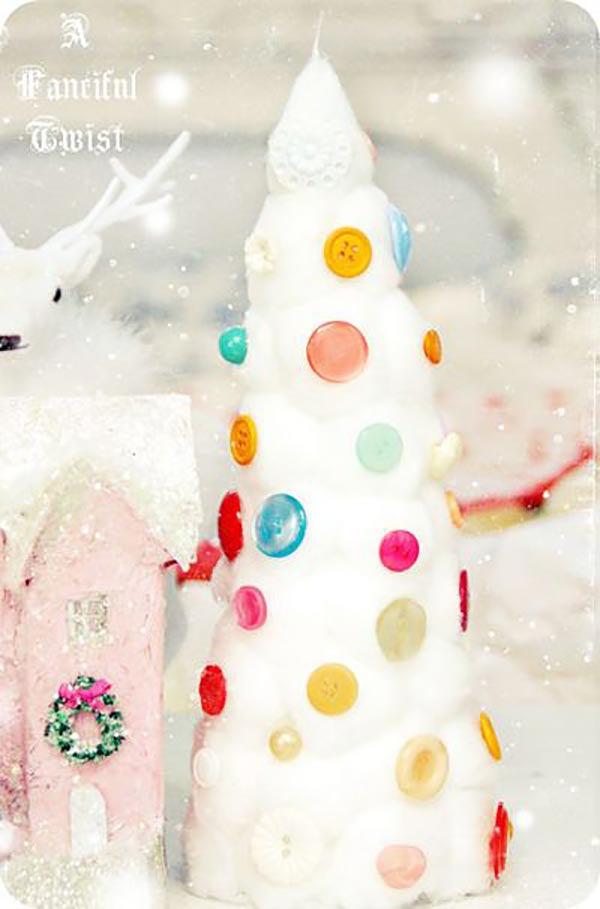 Tutorial: afancifultwist.typepad.com
24. Candy Tree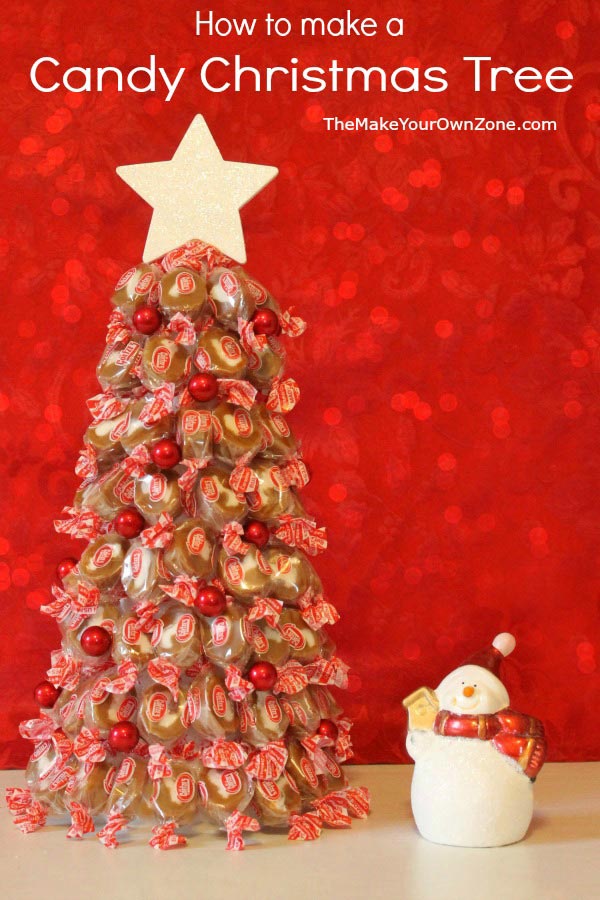 Tutorial: themakeyourownzone.com