10 Exciting Christmas Decorations Created From Pool Noodles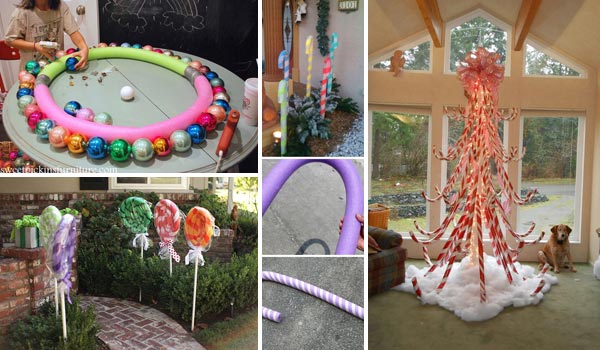 When you think of pool noodles, perhaps your mind conjures up images of water, sunshine, and fun. However, there is a whole new world of inventive and delightful holiday decorations that can be crafted using pool noodles. Not only can pool noodles be transformed into beautiful Christmas wreaths, but they can also be utilized to create a wide range of other captivating decorations.
For instance, you can craft enchanting snowflakes by cutting the pool noodles into varying lengths and gluing them together in intricate patterns. The beauty of these pool noodle Christmas decorations lies in their simplicity and affordability, making them the perfect choice for the approaching winter holiday season.
1. Transform them into lawn candles with foam board for the flame: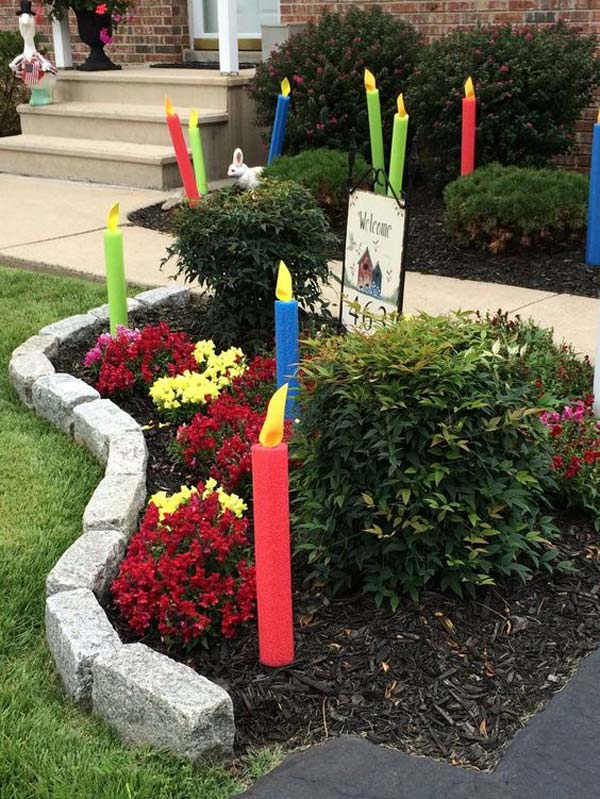 2. Show Your Holiday Spirit With These Giant Foam Candy Canes:

This idea is incredibly easy, and surprisingly, it never occurred to us before.
Just grab some red or other colored pool noodles and attach a twisting line with duct tape.
Next, curve the noodle and fasten it with fishing string.
Lastly, drive a sturdy rod into the earth and place the pool noodle transformed into a candy cane on top. That's all there is to it!
Get tutorial at: wikihow.com
3. Turn your home into a candy house for Christmas with pool noodle lollipops: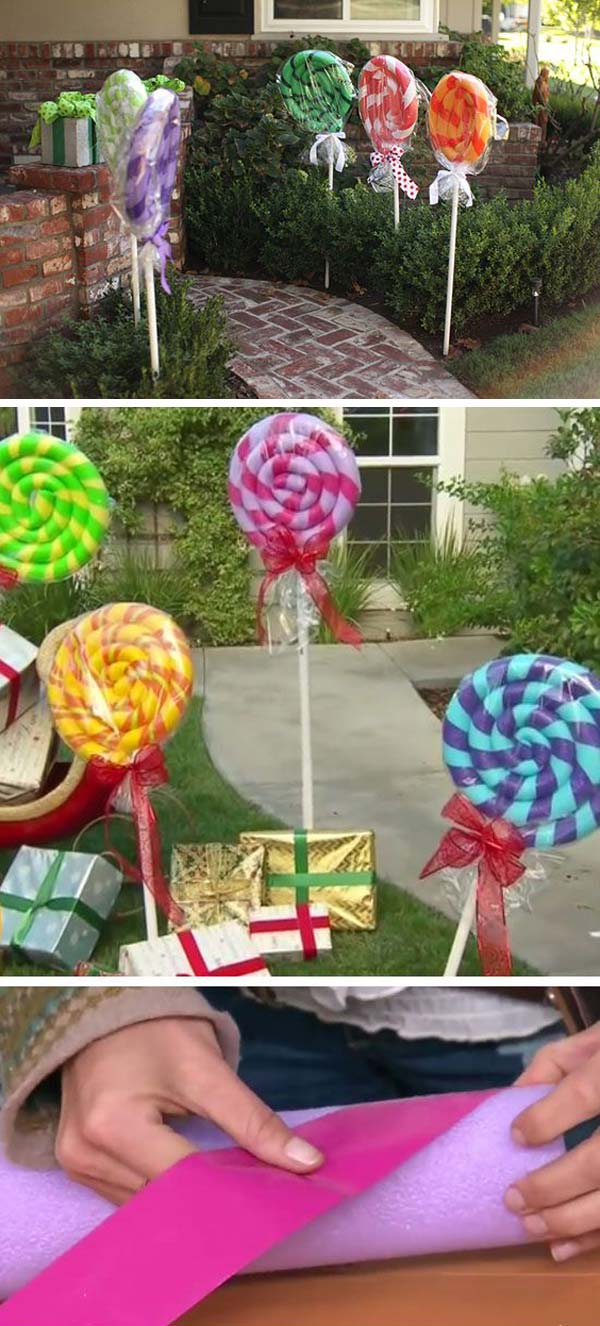 For a playful twist, why not fashion oversized candy canes using red and white striped pool noodles?
These jolly decorations can be placed in your outdoor yard displays or used as eye-catching props for holiday photos.
Tutorial: thesitsgirls.com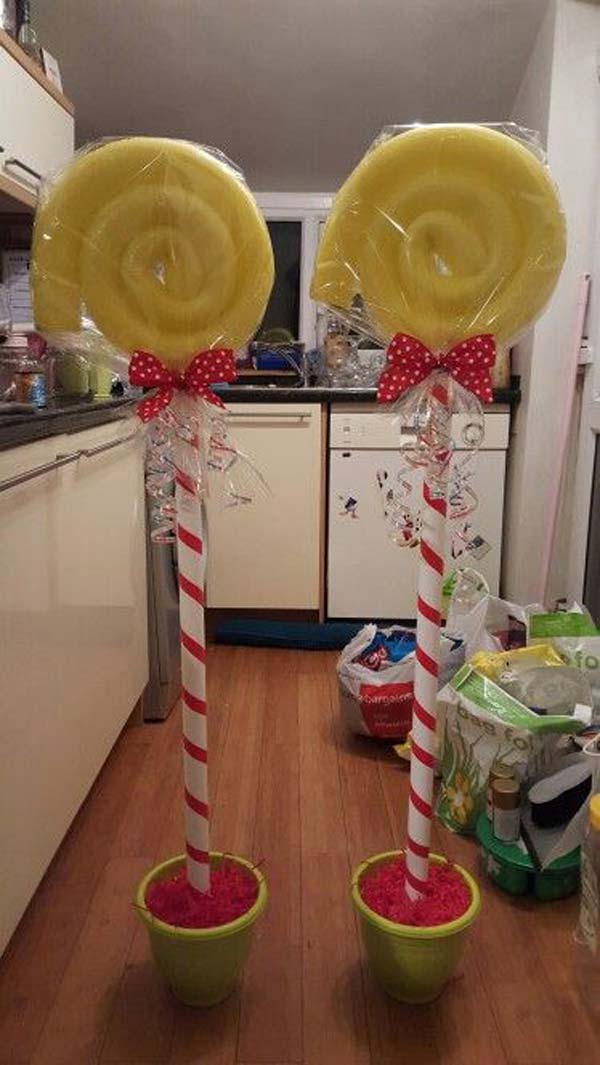 4. Christmas tree created from foam candy canes: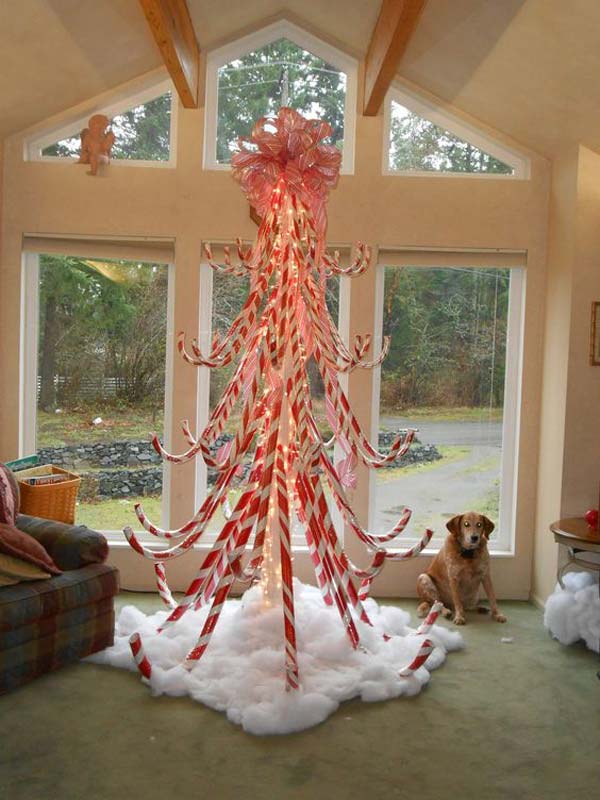 5. Diy Pool Noodle Reindeer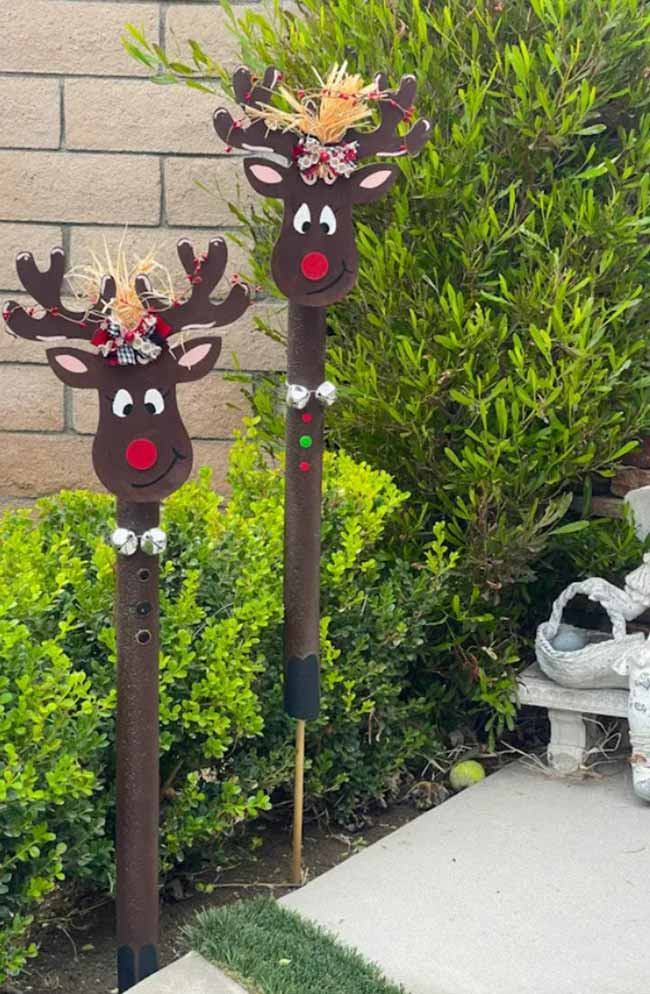 If you're feeling particularly crafty, you can even make adorable pool noodle reindeer by shaping the noodles into antler-like curves and attaching googly eyes, red pompoms for noses, and pipe cleaners for legs.
See the tutorial at: createmakedecorate.com
6. Pool Noodle Joy Sign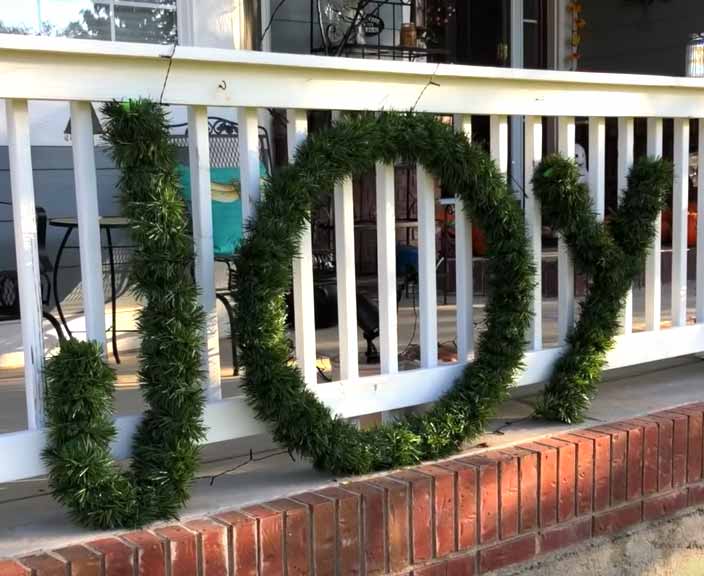 Let's explore another wonderfully easy project with pool noodles, garland, and a string of Christmas lights. To start, gather your letters.
For the J, just bend the pool noodle and use fishing wire to secure it in place.
When it comes to the O, join two pool noodles by taping their ends to create a circular shape.
Lastly, for the Y, cut a pool noodle at an angle and attach it with hot glue to the remaining portion, approximately three-quarters of the way up.
Now, wrap garland around each letter, and then add the lights. Isn't the final result fantastic?
Source: 12tomatoes.com
7. DIY santa tulle wreath: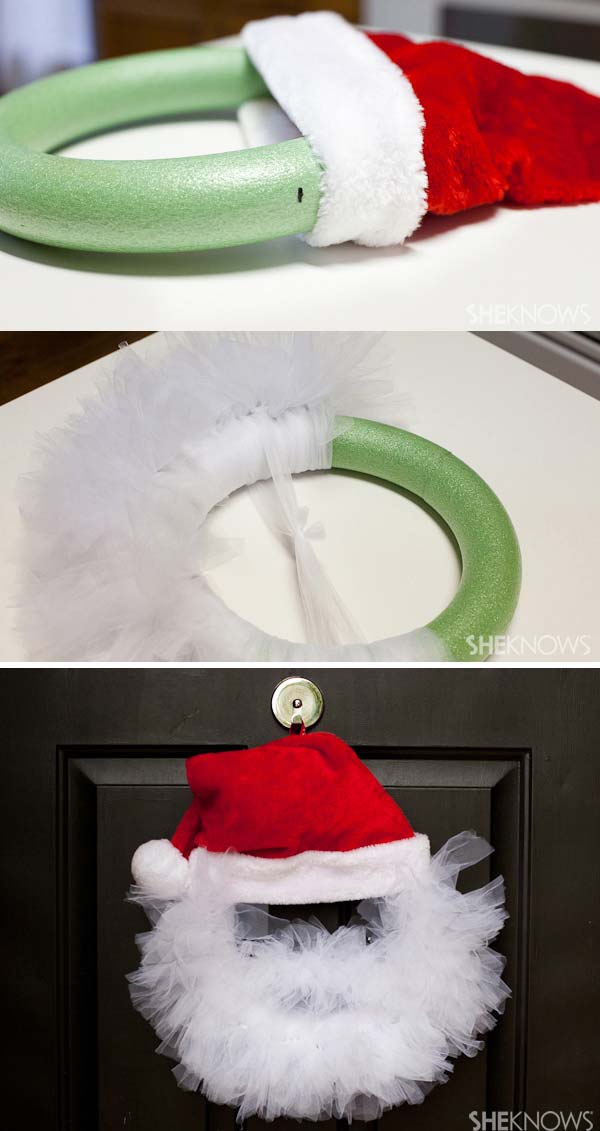 8. Put Two Swim Noodles Together To Make A Giant Wreath With Ornament For Mantle Decor:

DIY Pool Noodle Christmas Ornament Wreath
Materials Needed:
Two pool noodles
Duct tape
Christmas ornaments with hooks
Hot glue gun and glue sticks
Ribbon or string lights (optional)
A hook or adhesive strip for hanging
Instructions:
Prepare the Pool Noodles:

Take two pool noodles and form each one into a circle to create the wreath shape.
Secure the ends of each noodle together with duct tape, ensuring they are firmly connected. Trim any excess noodle if necessary.

Attach the Ornaments:

Using a hot glue gun, apply a small amount of glue to the back of each Christmas ornament.
Quickly press the ornament onto the pool noodles, evenly spacing them around both noodles. Be cautious with the hot glue to avoid burns.

Add Decorative Elements (Optional):

If desired, wrap ribbon around the wreath for added decoration. Alternatively, weave string lights through the wreath for a charming glow.

Hang Your Wreath:

Attach a hook or adhesive strip to the top of the wreath, securely fastening it.

Enjoy Your Homemade Wreath:

Admire your beautiful DIY Pool Noodle Christmas Ornament Wreath. It's a simple and creative way to enhance your holiday decor.
Share the festive spirit with your unique creation!
Get tutorial at: sweetpickinsfurniture.com
7. Decorate the front porch with pool noodle candy cane: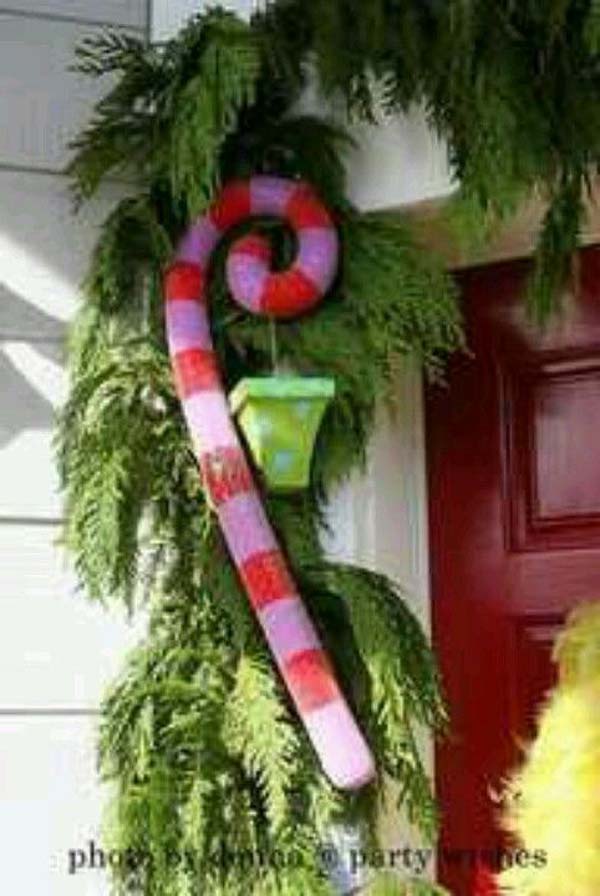 8. They can be transformed into amazingly realistic-looking birch logs:

Get tutorial at: designdazzle.com
9. Foam peppermint candy sticks made for Christmas tree ornaments:

Get tutorial at: theseasonalhome.com
10. DIY pool noodle garland for holiday decor: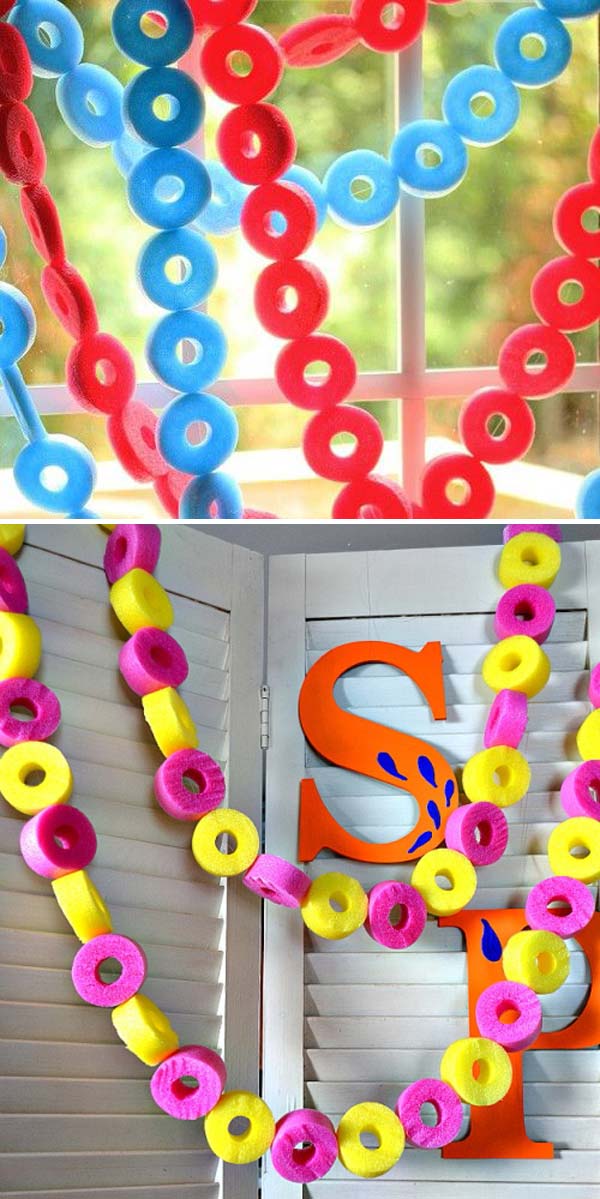 Source: thecraftyblogstalker.com