Best 17 Christmas Village Display Ideas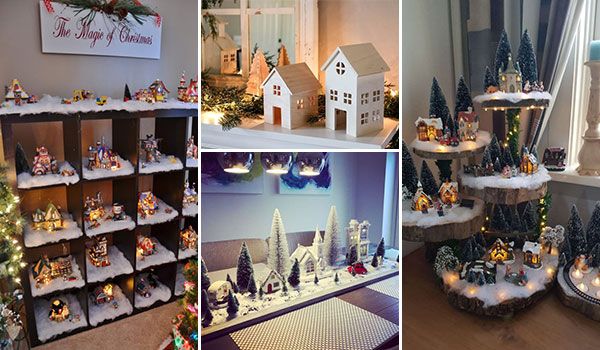 It's beginning to look a lot like Christmas! No matter what, Christmas is still the most awaited time of the year. Who wouldn't love Christmas? People are nicer, the weather is cooler (biting cold in some places though), everyone gets vacation days whether they like it or not, gifts and food abound. And as soon as you hear Mariah Carey with her "All I Want For Christmas Is You" song, you know it is that time of the year.
SO, were you good this year? Whether or not you make it to our nice list, we will be sharing with you more than 15 ways to bring Christmas cheer into your homes with your Christmas Village display ideas.
It is a tradition a lot of people take pride of. Building up a collection is no small feat. It is just natural to share your passion and let people relish your selection.
1. Half Tepee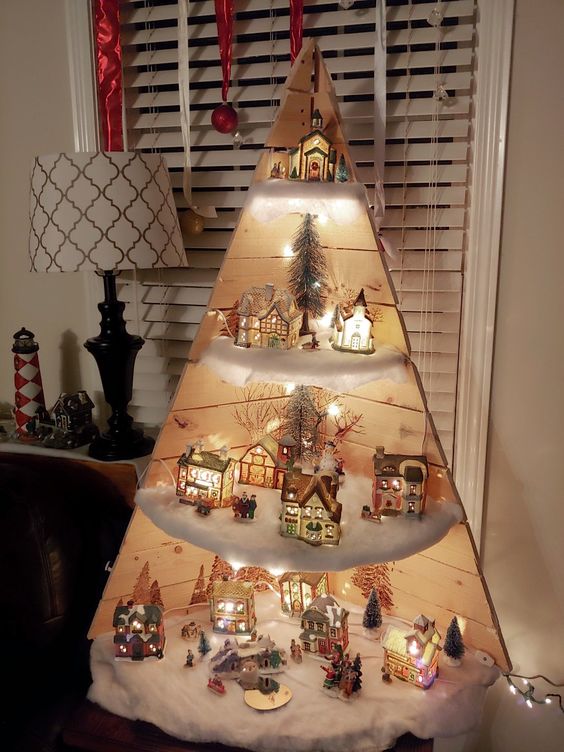 I call this a half tepee Christmas Village display. Cute isn't it? Why don't you make it collapsible too for easy wrap up?
2. Table Runner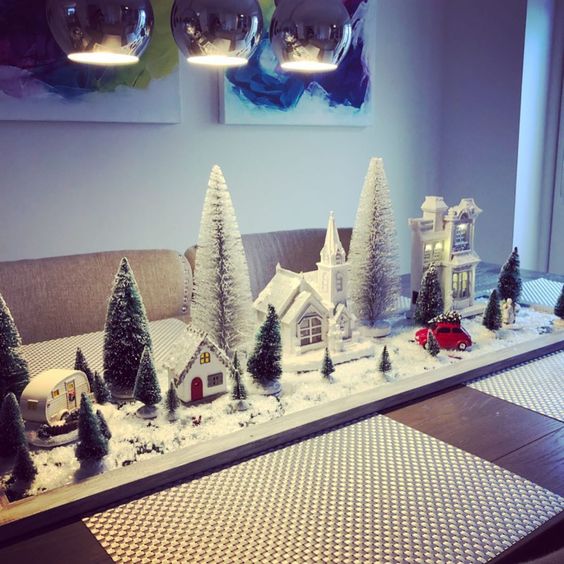 via: instagram.com
A Christmas village display set as a table runner. Why not?
3. Book Shelf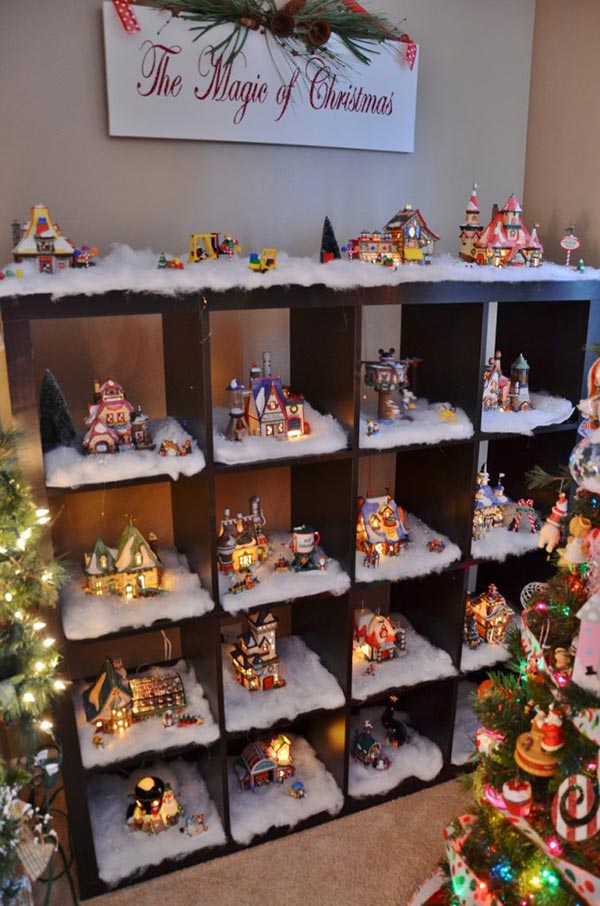 Divide your Christmas village display set into several Christmas scenes. Variety spices up your display.
4. Kitchen Window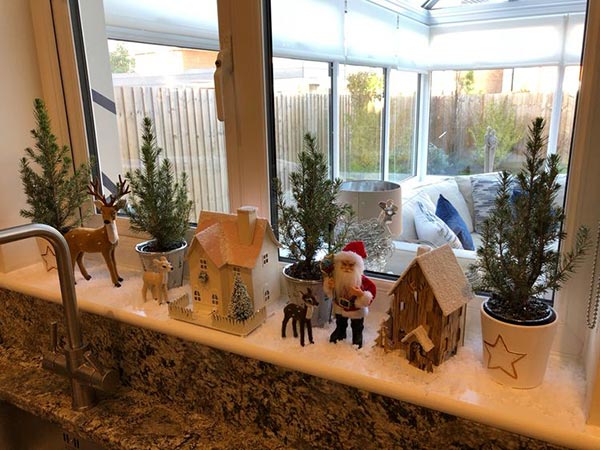 Christmas village houses in between mini pine planters and reindeers surely make up a mini village along your window ledge.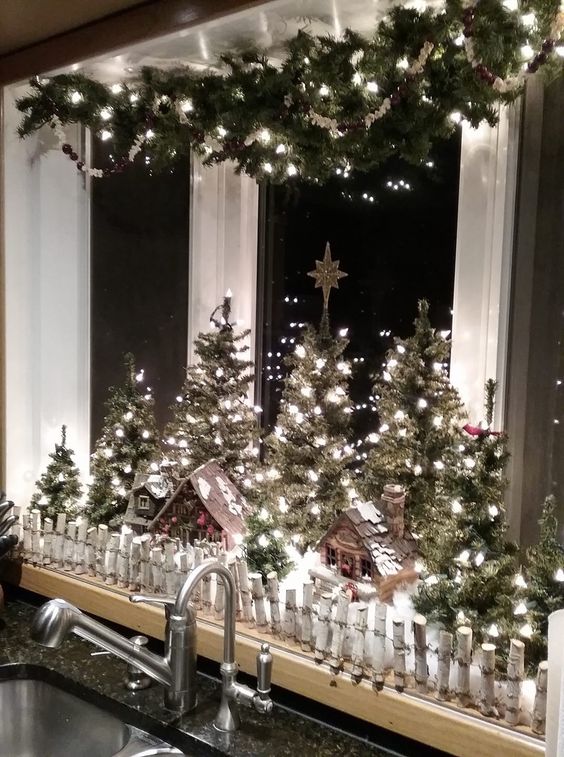 via: pinterest.com
A full Christmas village set, with lots of pine trees on your kitchen window and holly garlands above, will make your kids compete for that dishwashing job.
Sparkling Rainbow Christmas Village Idea: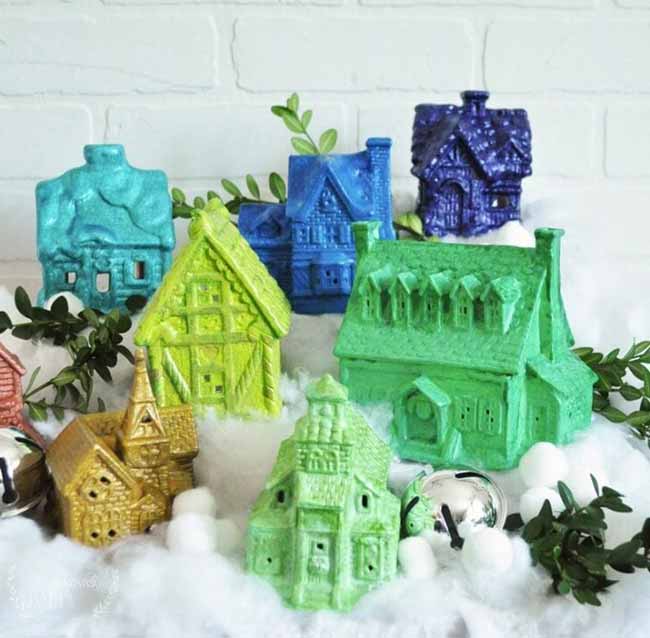 Elevate your holiday decor with these dazzling Christmas village sets bursting with all the colors of the rainbow.
Brighten up your living space and imagine the joy it'll bring to a child's bedroom or play area. Plus, it's a budget-friendly and simple project that anyone can tackle. via: jenniferrizzo.com
Festive Red Truck Christmas Village Table Centerpiece: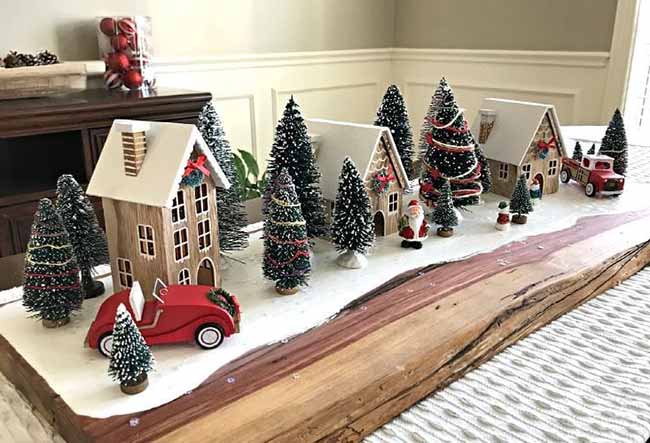 For those who adore everything about the "little red truck" theme, here's a delightful Christmas village display idea perfect for showcasing as a charming table centerpiece.
Alternatively, line up these Christmas village sets along a table runner to create the most merry and inviting holiday tablescape ever. via: abbottsathome.com
5. Ladder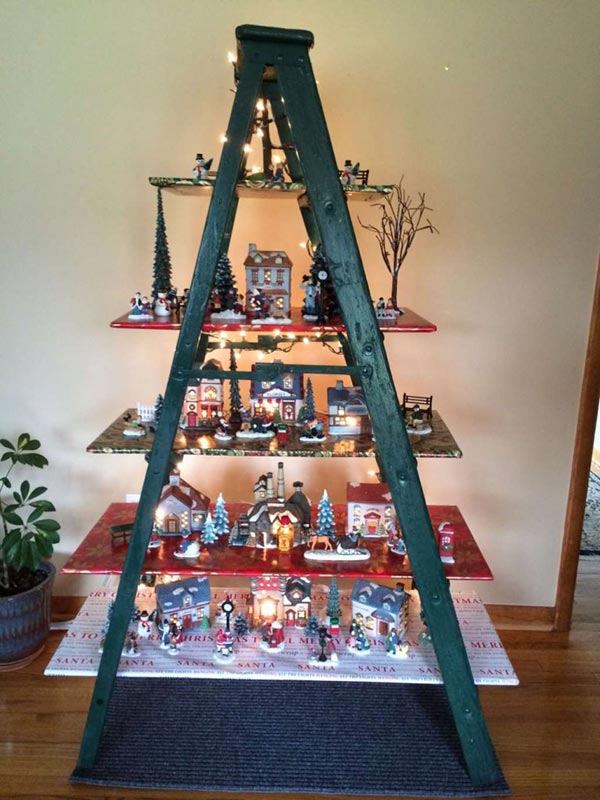 via: pinterest.com
Up the engaging display potential of your Christmas village set using a ladder. No vertical space is wasted.
6. Snowman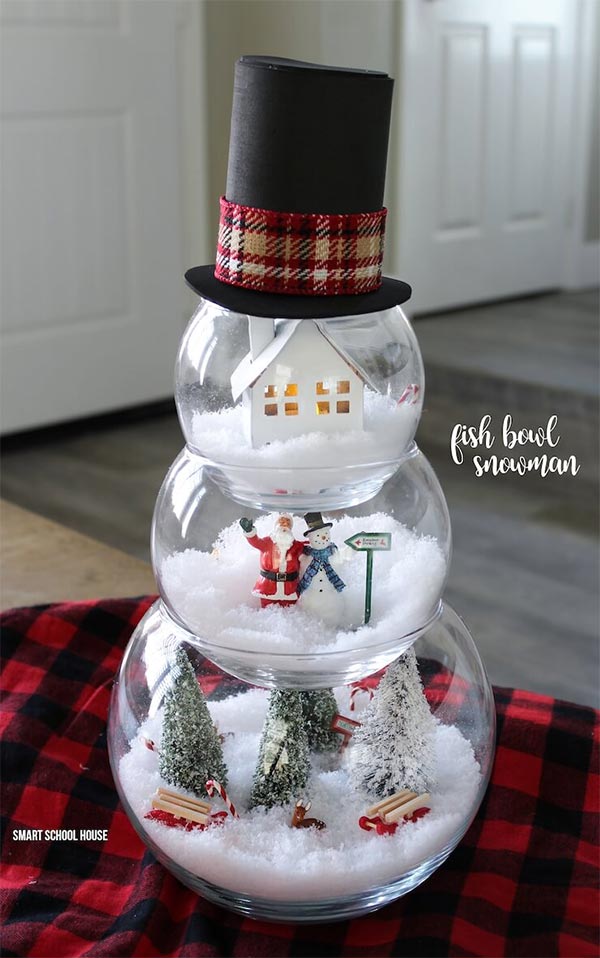 via: smartschoolhouse.com
Create 3 Christmas scenes to build this snowman themed Christmas village display. A tophat completes the look.
7. Glass cabinet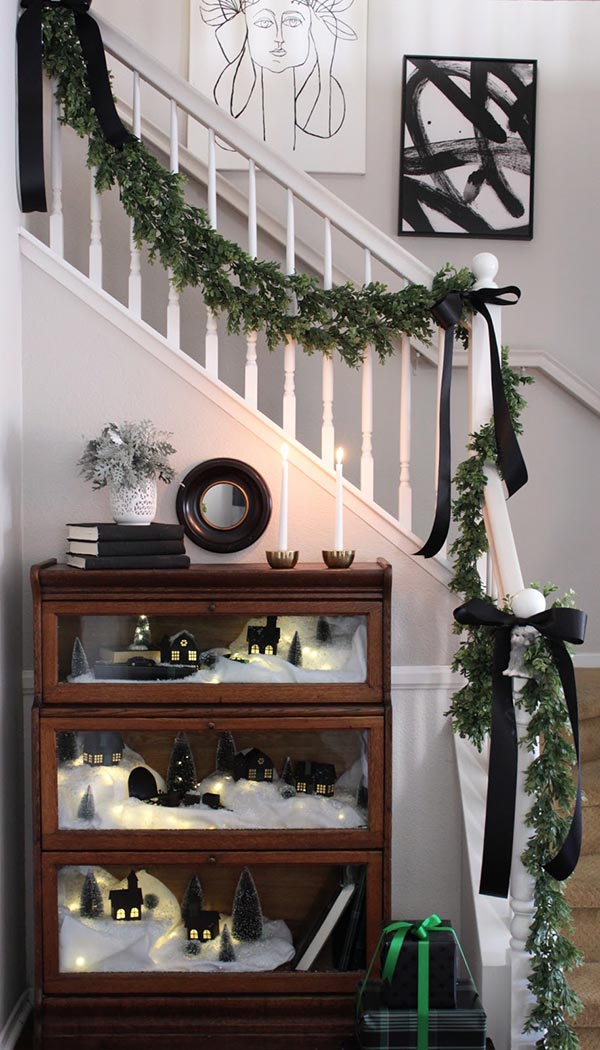 via: oscarbravohome.com
When you run out of room for your Christmas village sets, try this one.
8. Wooden Crate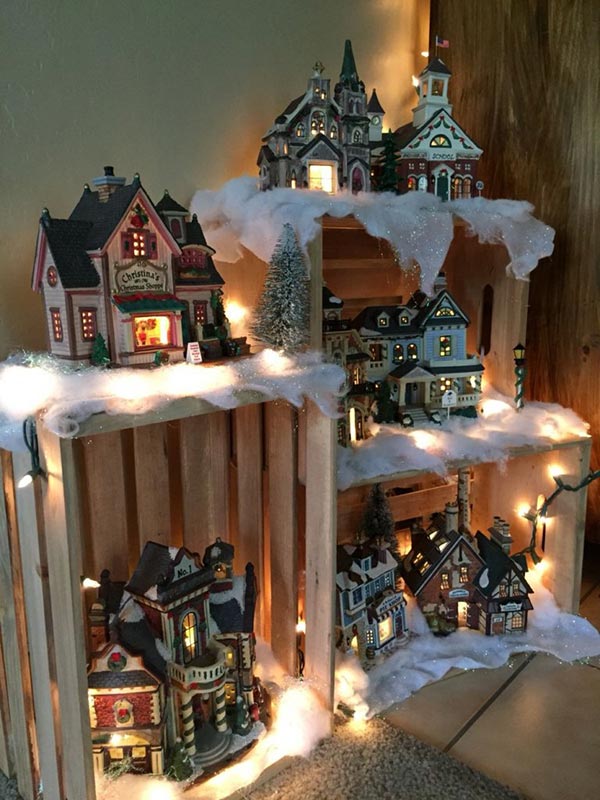 via: pinterest.com
A rustic Christmas village display using old fruit crates.
9. Dresser Cabinet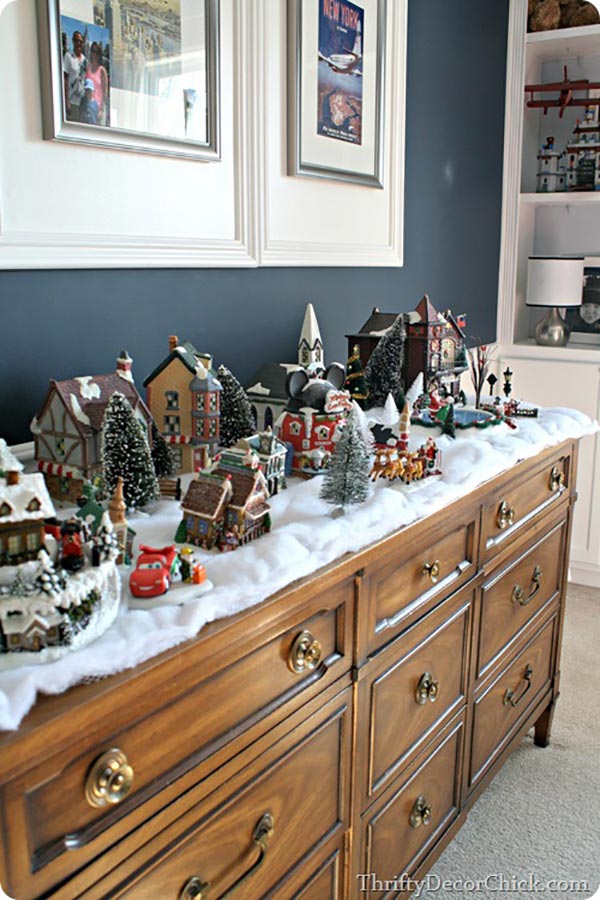 Use your huge dresser cabinet as a stage for your equally huge Christmas village set.
10. Snow Capped Handrail
A delightful way to showcase your Christmas village set with snow capped handrails depicting a busy Christmas village. With snow sleds, miniature Christmas trimmings dotting the slope all the way down.
11. Christmas Village Tree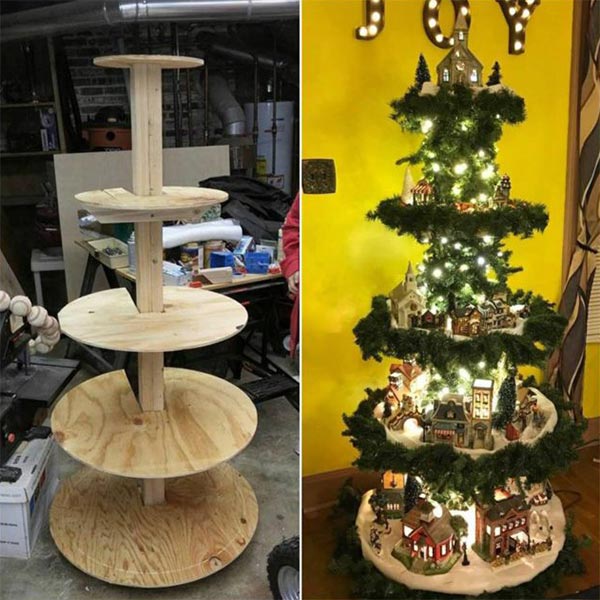 via: goodshomedesign.com
A multi layer Christmas village display. A novel substitute to the traditional Christmas tree. Make it rotary, why don't you?
12. Steel rack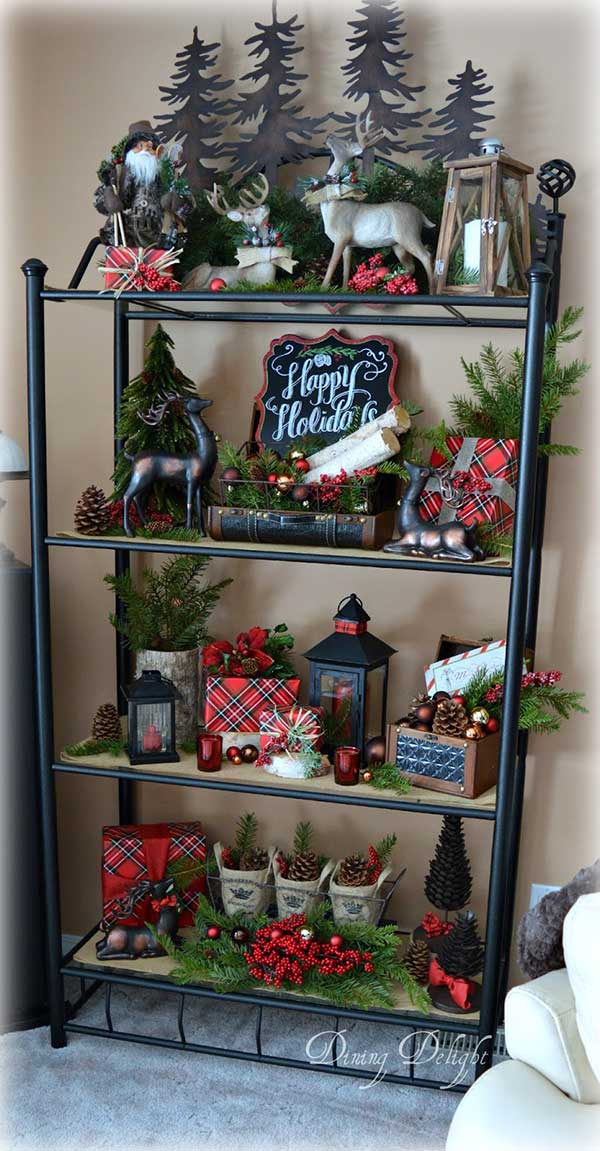 via: dining-delight.blogspot.com
Create a Christmas corner with this steel rack and put everything that speaks, smells and looks Christmas.
13. Mantle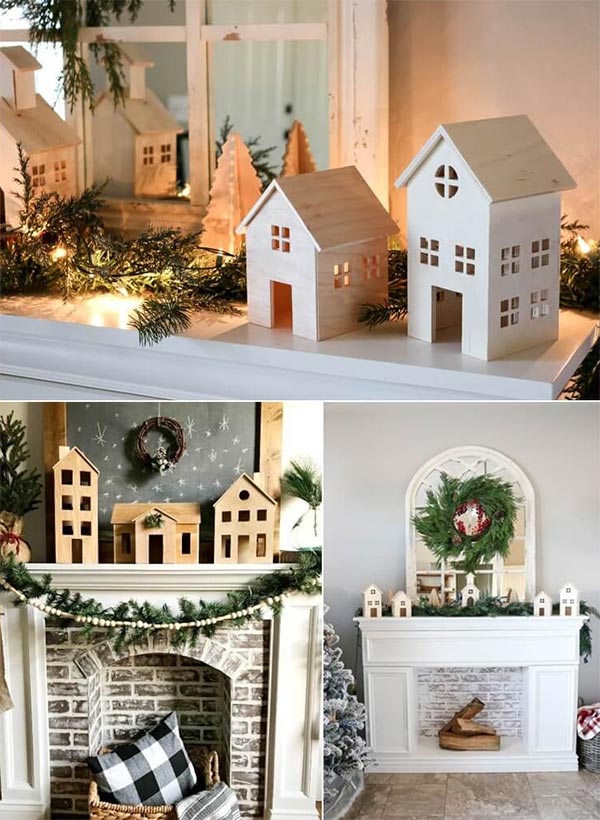 via: addicted2diy.com & woodshopdiaries.com
Add warmth to your hearth this Christmas by dolling up your mantle with your Christmas village houses.
14. Wooden box tray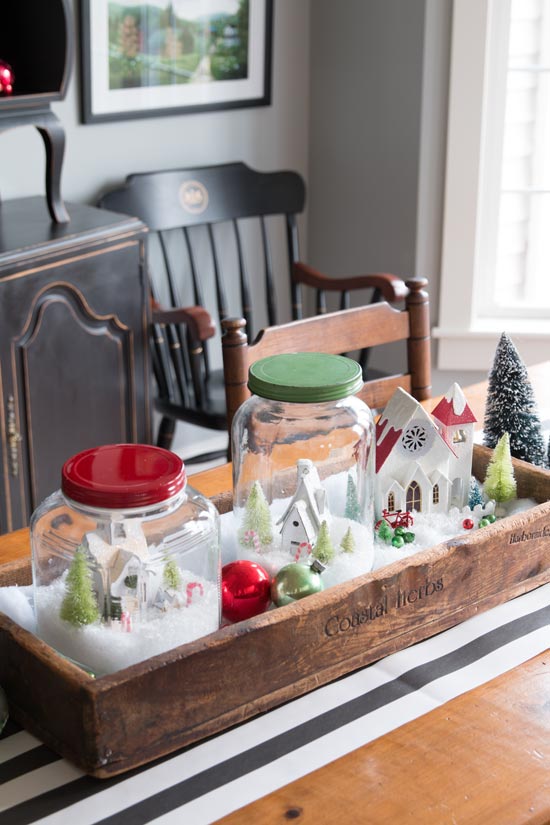 via: findinghomefarms.com
Do you have an old wooden box serving tray? Fill bottom with cotton. Use large glass jars to house your mini Christmas village houses. This definitely makes a charming centerpiece to your dining table.
15. Tree slices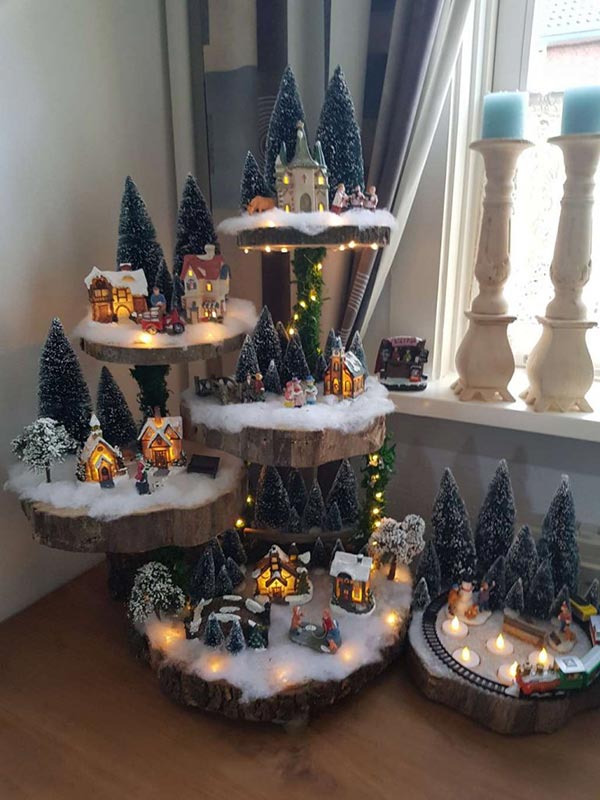 How rustic can you get? These wooden slabs turn your Christmas village sets as nice as a Christmas pie.
16. Sofa backdrop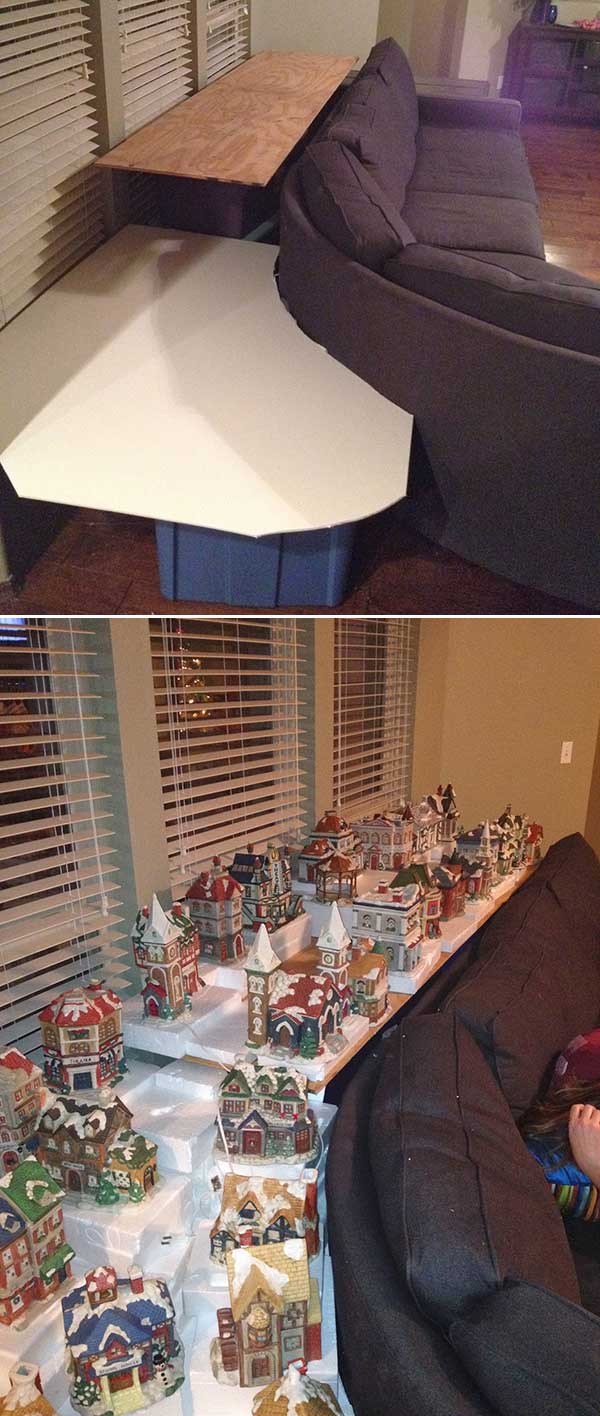 via: tulsatinystuff.blogspot.com
If you have a huge collection of Christmas Village sets, a great way to showcase them is in your living room. Make it a dramatic backdrop to your massive sofa, with your Christmas village houses all lit up at night. You can achieve this with a few crates to elevate the display, sheets of plywood, assorted styrofoam cuts (for added lift and highlights, the varying heights will simulate a sloping snow mountain) and lots of fiberfill cotton to hide the wood, foam and gaps.
17. Above cabinets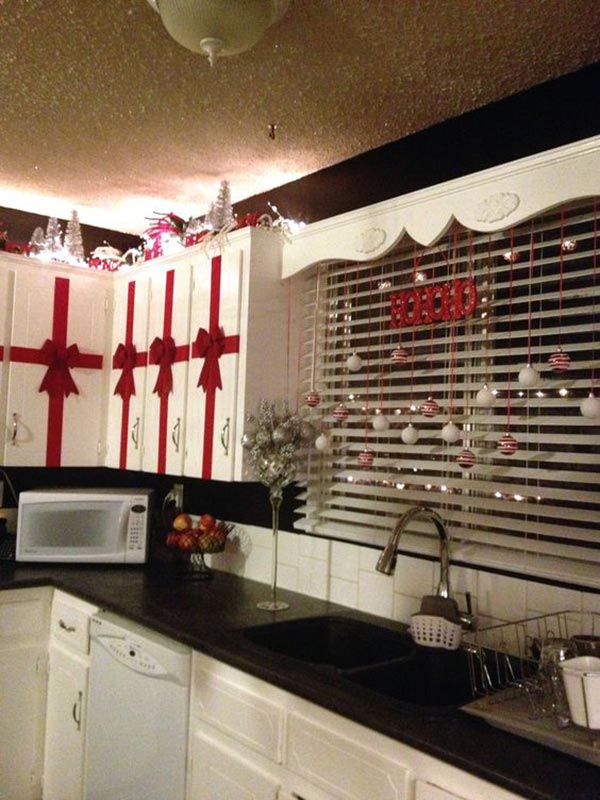 Dust catcher no more…dress up that "dead space" above your cabinets with a wonderful display of your Christmas village set.
18. Snowy Christmas Village Houses in a Jar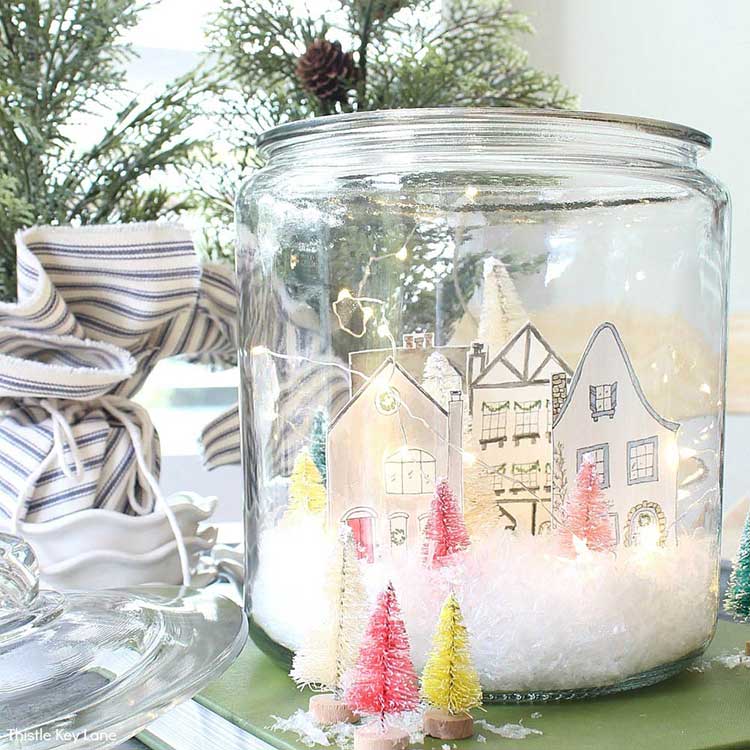 Experience the charm of a winter wonderland with adorable village houses and miniature trees placed inside a large glass jar. This delightful setup is just the right size to create a cozy Christmas scene on a bookshelf or in a kitchen. And don't forget to add fairy lights for that perfect magical touch! Details at: histlekeylane.com
19. Transforming Furniture into a Festive Display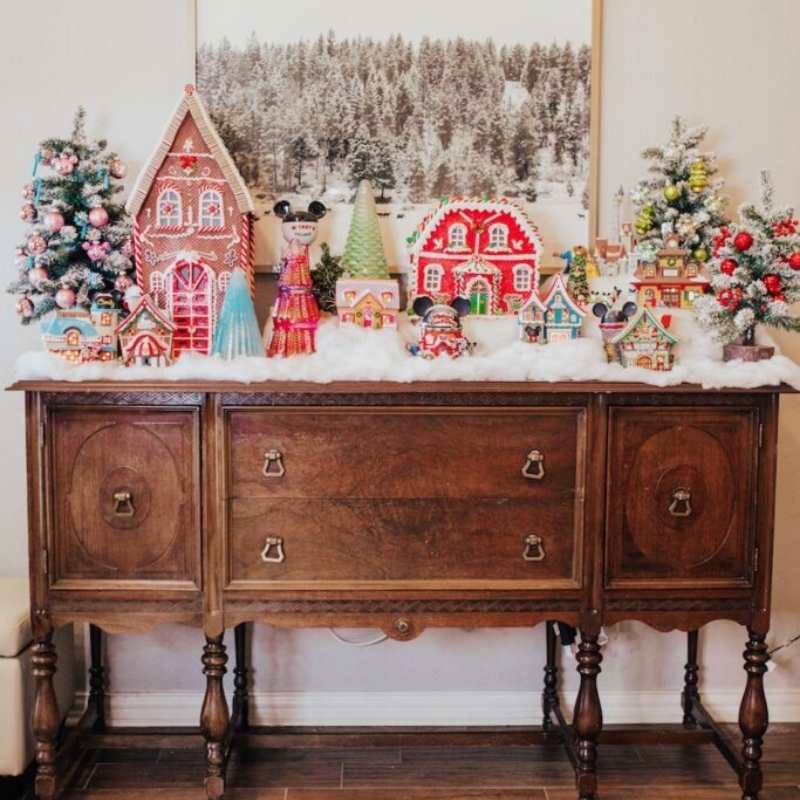 Discover how Lauren turned an existing piece of furniture into a breathtaking holiday scene—a stunning Christmas Village Display. It's a fantastic way to make the most of what you already have and create a captivating vignette for the season. More details: vandifair.com
20. Enchanting Fairy Garden Christmas Village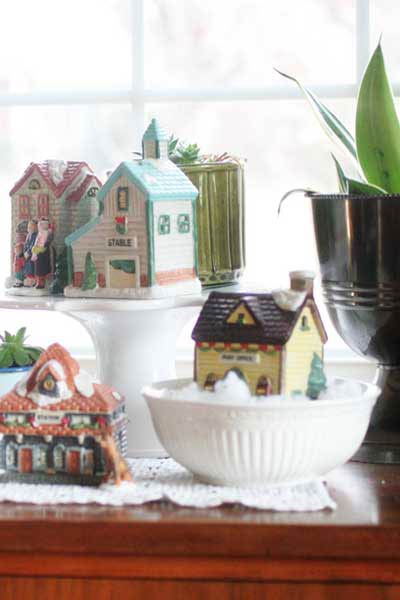 Bring the magic of a fairy garden into your Christmas decorations by placing small hidden houses inside jars and surrounding them with lush plants. To add dimension and visual interest, position the houses in decorative bowls of varying heights. The result is a whimsical and captivating Christmas village. More details: craftivitydesigns.com
21. DIY 3D Paper Christmas Village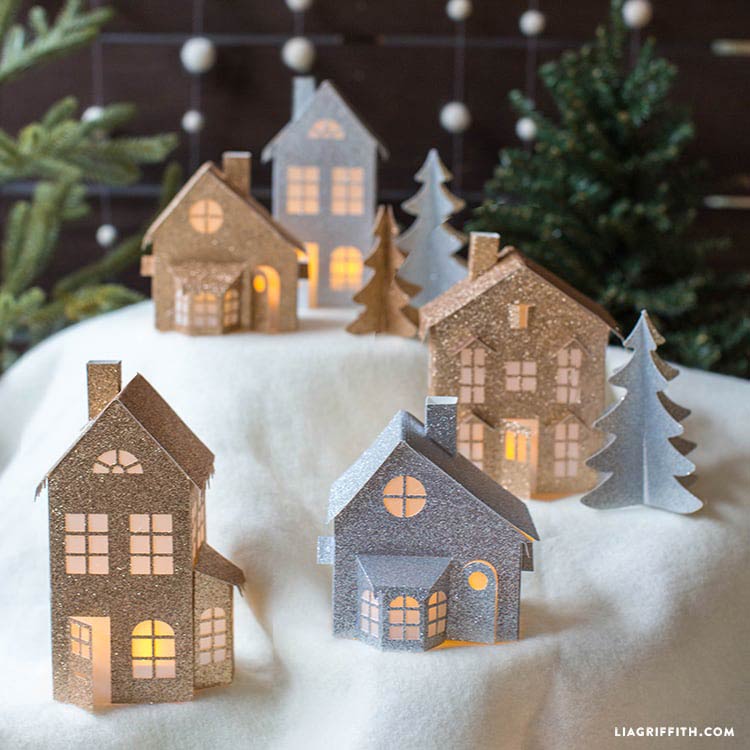 You won't believe that these adorable little houses are made from card stock! Thanks to a free download, you can create your own paper village. It's a fun and creative project that adds a personal touch to your holiday decor. More details at: liagriffith.com
22. Pottery Barn-Inspired Christmas Village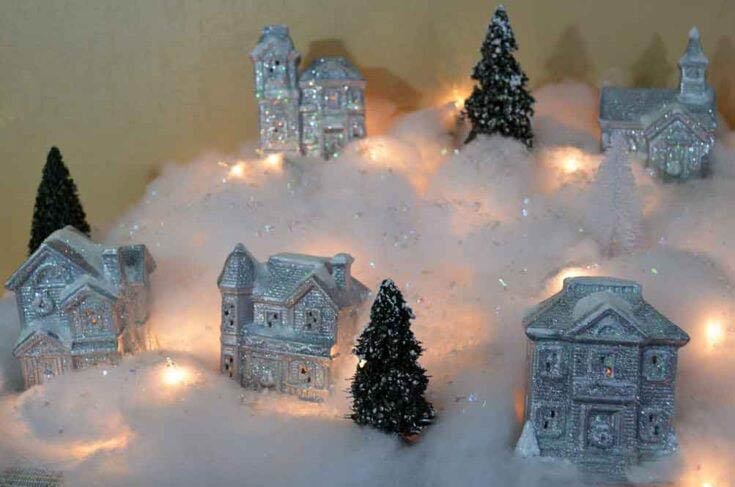 Inspired by a Pottery Barn Christmas village, Colleen took inexpensive ceramic houses and transformed them into stunning pieces with just a few simple steps. A coat of metallic paint and generous amounts of glitter did the trick. Don't forget to arrange them on fluffy snow—it's an essential finishing touch! More at: justpaintitblog.com
23. Modernizing Thrift Store Ceramic Houses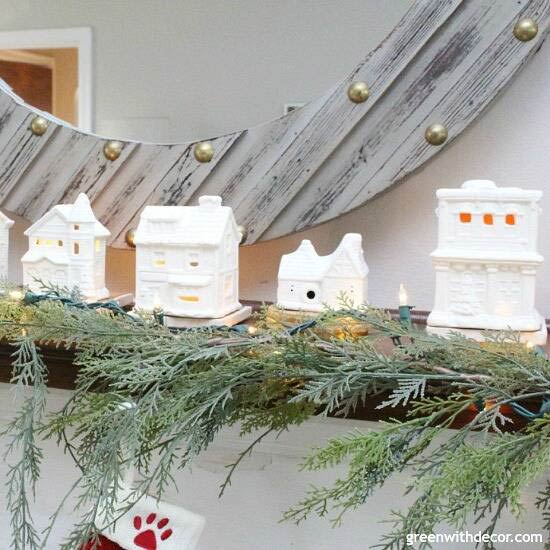 Give thrift store ceramic houses a fresh and modern look with a quick spray paint update. It's a simple yet effective way to transform their appearance. A small Christmas village, like the one showcased here with a limited number of houses, looks absolutely stunning when displayed on a fireplace mantel. More details at: greenwithdecor.com