26 Awesome Outdoor Seating Ideas You Can Make with Recycled Items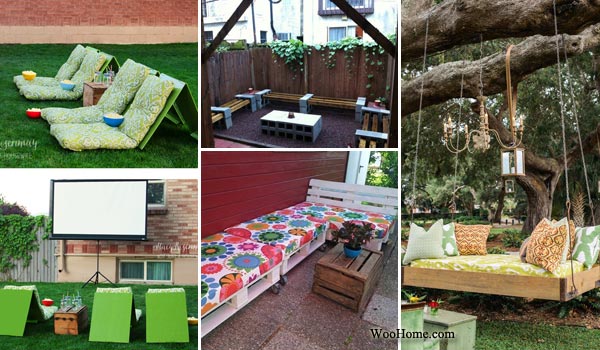 Summer has arrived, and with it comes the desire to spend more time outdoors, whether it's reading a newspaper on the balcony or entertaining in the yard. Comfortable seating is a must, but options like plush sofas, elegant benches, and swinging chairs can strain your budget.
Why not embrace sustainability and create your own seating by upcycling old items? For instance, repurposing pallets can yield stylish and budget-friendly chairs, sofas, benches, and more for your outdoor space. It's a simple and cost-effective solution! Here, we present 26 creative and cheap outdoor seating ideas that will transform your garden seating on a budget. Enjoy exploring these DIY options for your outdoor oasis!
Tire Stools

Transform old tires into stools by attaching short, sturdy legs and adding a cushioned seat.
Source: criartedicas.blogspot.com

Tutorial: themerrythought.com
Upcycled Wooden Pallets

Embrace the versatility of old wooden pallets to craft garden seats, sofas, beds, and tables. The possibilities are endless.
Source: 1001pallets.com

Source: flickr.com
Repurposed Bed

Detach the legs from an old bed frame and add ropes to each corner to craft a hanging bed. Keep the mattress and enhance it with waterproof fabric and cushions.
Source: stylemepretty.com

Tutorial: notjustahousewife.net
Innovative Bath Tub Seating

Believe it or not, an old bathtub can become the foundation for a unique sofa.
Simply cut away one side, add some vibrant cushions, and you've got a cozy spot to relax. Claw-footed tubs work exceptionally well for this seating idea.

Versatile Breeze Blocks

Hollow breeze blocks offer numerous seating possibilities.
Cement them together to fashion a chair, stack and secure them as stools or tables, or insert wooden planks for armrests and bench seats.
Wooden Cable Reel Seats

Convert old cable reels into chair ends and affix a flat wooden base as the seat. Alternatively, stand the reels upright and use them as stools.
Source: theownerbuildernetwork.co
Hay Bale Seating

Stack hay bales for giant chairs, leave them as impromptu seats, or cover them in pretty fabric to create benches.

Source: workingclassmag.com

Source: lovelygreens.com

Source above unknown.

Source: mashable.com

Source: carolynsshadegardens.com

Source: engineeryourspace.com
Metal Tractor Seat Stools

Upcycle old metal tractor seats, and for added fun, incorporate old industrial springs as a central leg.
Source: hometalk.com
Naturally Chic Tree Trunks

Fallen tree trunks can serve as stools, tables, or with some skilled carpentry, you can carve out chair-shaped seats and adorn them with cushions.

Source: showhome.nl
Wooden Wine Barrel Chairs

With some skill, adapt wooden wine barrels by cutting away half the body and filling the space with a cut-to-size wooden crate or pallet.
The barrel's top and base become rounded chair arms, requiring only cushions.
Gabion Seating

Metal-framed gabions filled with stones or recycled wine bottles create playful and funky seating, as well as tables.


Source: sunset.com

Source: apieceofrainbow.com