20 Easy PVC Pipe Projects for Kids Summer Fun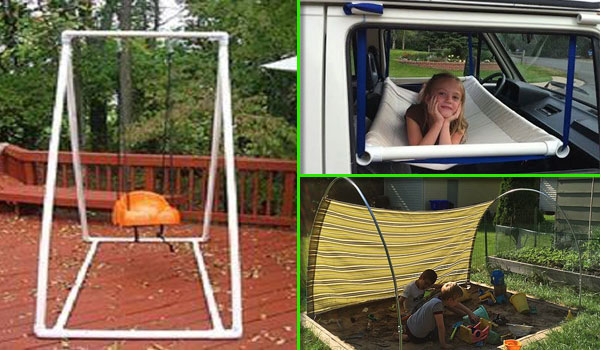 Creating engaging DIY projects is a wonderful way to show that you are a capable and successful parent. Children love spending time outdoors, so you can do something to make their outdoor time even more enjoyable. Easy PVC pipe kid projects are an excellent choice.
PVC pipes are incredibly versatile and can be turned into numerous fantastic kids' projects. Here, we have gathered some of my favorite PVC tube projects for kids that I believe parents and their children will find enjoyable and exciting as well. Enjoy the world of PVC pipe craft ideas!
1. Keep Kids' Bikes Organized with a DIY Bike Rack in the Backyard: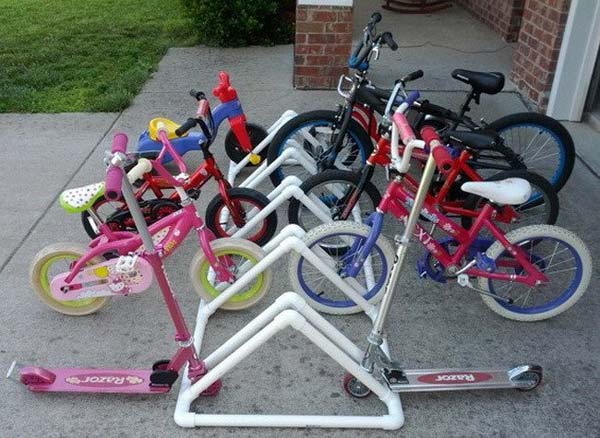 Tired of tripping over your kids' bikes in the backyard?
Say goodbye to the chaos with a homemade bike rack! This simple PVC pipe craft will help you keep those bikes organized and ready for action.
2. PPVC Pipe Parking Garage for Toy Cars.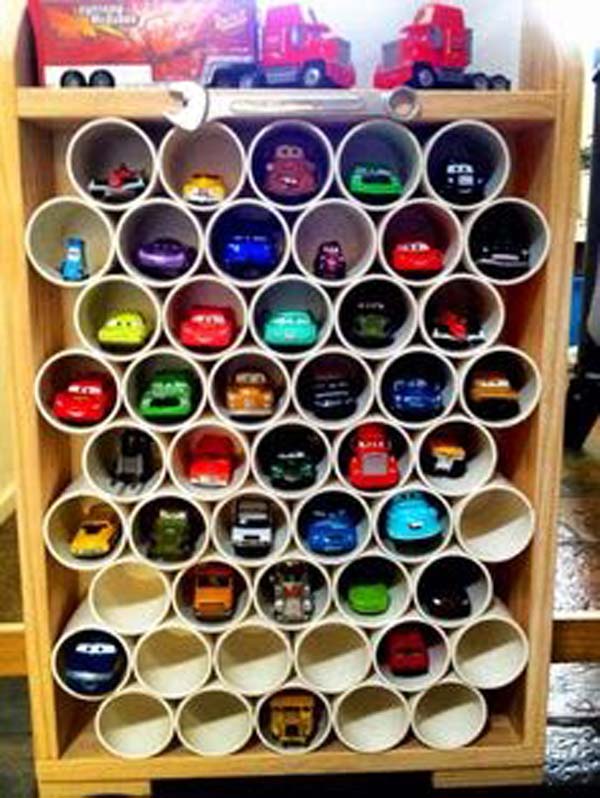 Does your little one have a growing collection of toy cars?
Transform PVC pipes into a parking garage that will make playtime even more exciting. Say hello to the ultimate toy car haven!
3. Create Shade that Moves with the Sun Using PVC Tubes.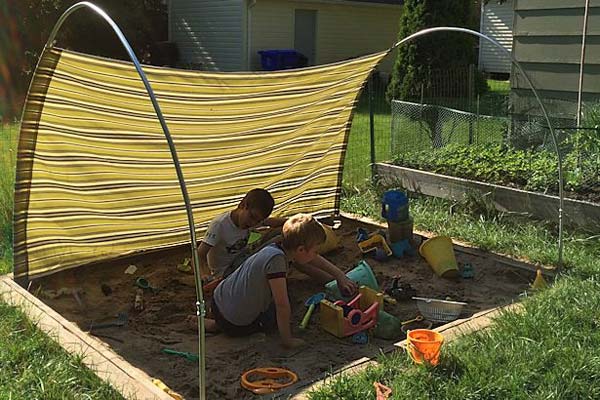 Don't let the scorching sun ruin your kid's outdoor fun.
Craft a clever shade structure using PVC tubes that follows the sun's path, creating the perfect PVC pipe playground. Now, your lawn will stay comfortably shaded all day long.
Tutorial —-> myhappycrazylife.com
4. Easy DIY Soccer Goal for Home Practice Fun.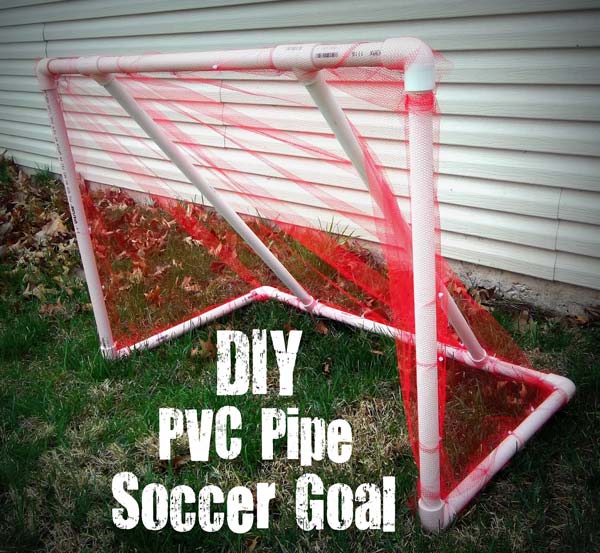 Calling all soccer enthusiasts! Create an easy-to-make soccer goal for your kiddie, and let them practice their goal-scoring skills right in your backyard. It's a goal-scoring extravaganza!
5. Beat the Heat with a Backyard Sprinkler – Perfect for Kids on Hot Summer Days.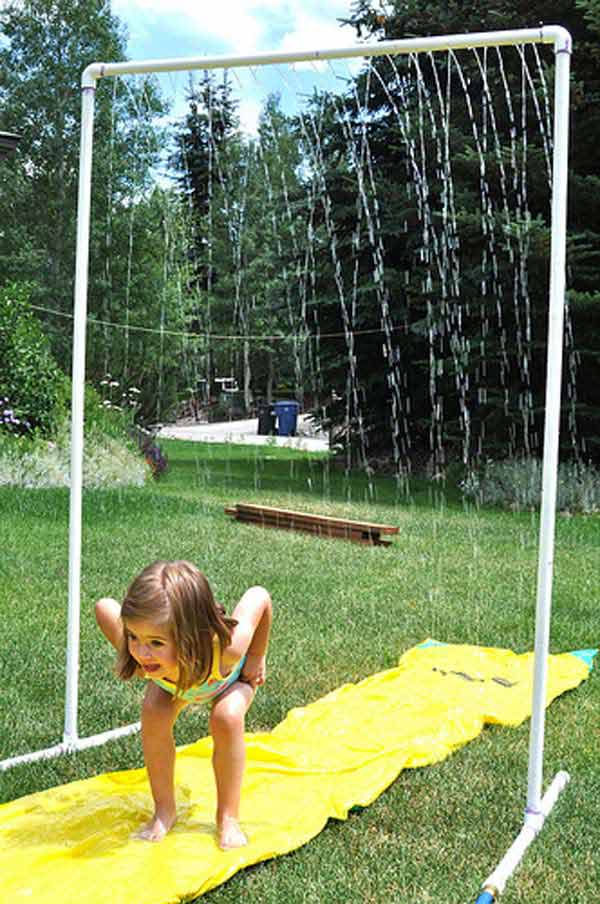 Beat the scorching summer heat with a delightful PVC pipe water play DIY – create your own backyard sprinkler!
Your kids will have a blast running through the refreshing spray on hot summer days. Splish, splash, and lots of laughter await with this fun and cooling PVC pipe water play DIY.
Tutorial(1) —-> lindsayandandrew.blogspot.com
Tutorial(2) —-> cometogetherkids.com
6. Enjoy Cozy Outdoor Time with a Swing Made from Woven Rope and PVC Tubes.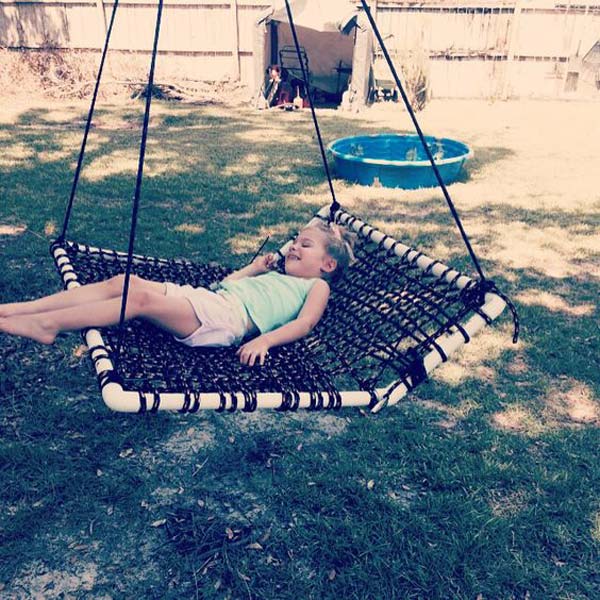 Looking for a cozy outdoor hangout spot? Make an inviting swing using woven rope and PVC tubes. It's the perfect spot for your little ones to enjoy the great outdoors.
Baby Swing.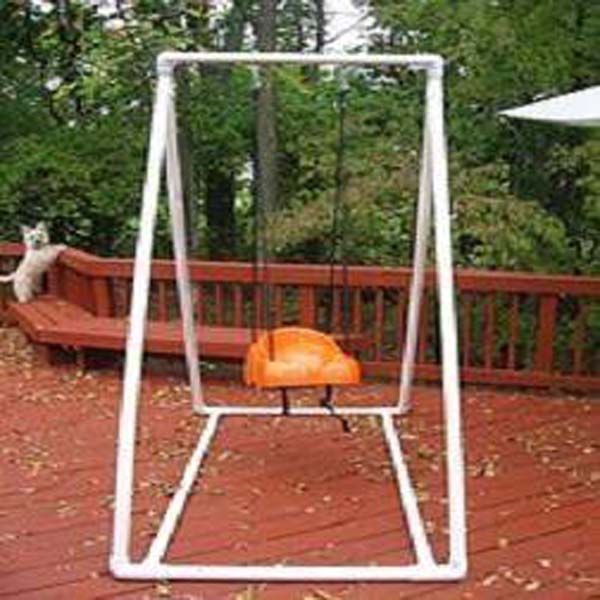 Source unknown.
7. Water and Sand Funnel Play with Cool PVC Tubes.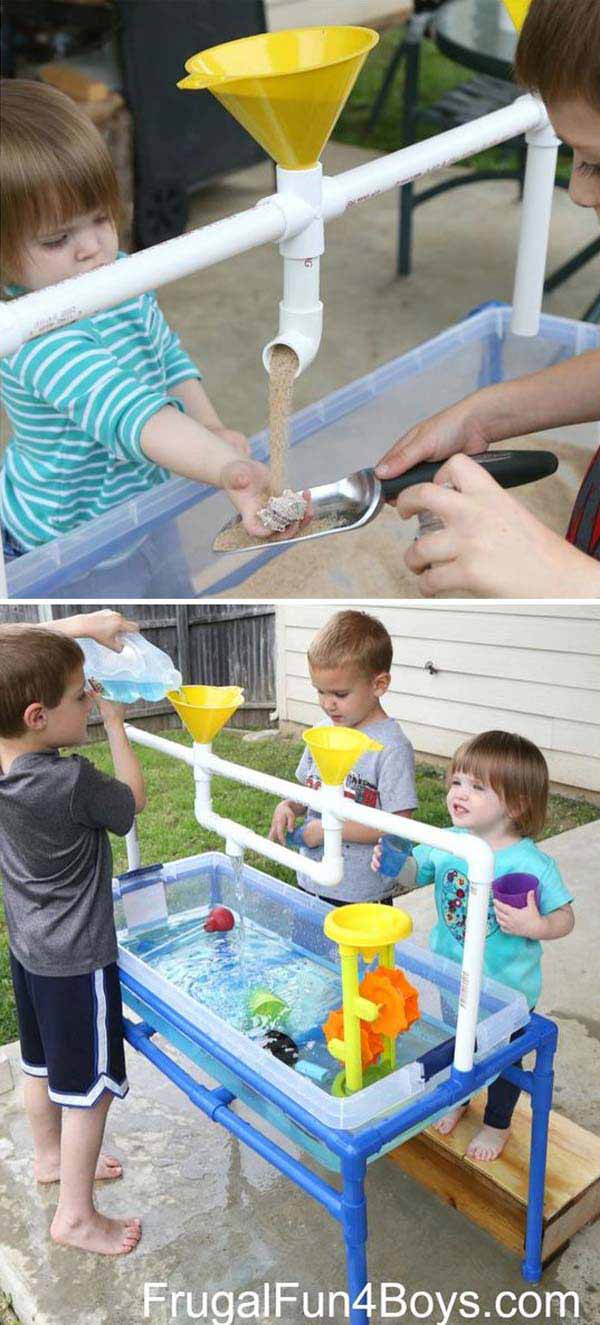 Turn playtime into a watery adventure! Send water or sand cascading down these cool PVC tubes and funnels. Watch your kids' creativity flow as they explore endless possibilities.
Tutorial —-> frugalfun4boys.com
8. Craft a Toy Periscope with a Milk Carton and PVC Pipes.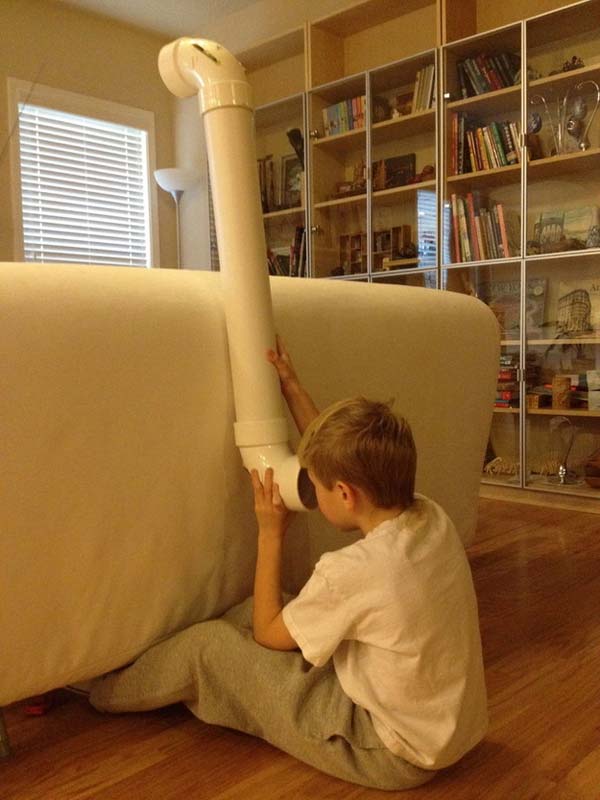 Spy time! Create a toy periscope with a milk carton, two mirrors, and some PVC pipes. Your little spies will have a blast with this fun and educational project.
Tutorial —-> instructables.com
9. Build a Kiddie Backyard Garage for Toy Cars and More.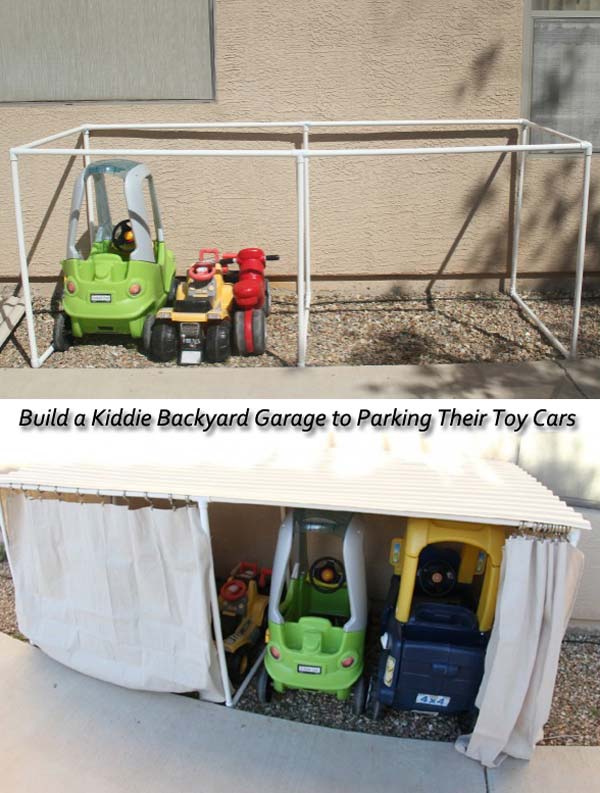 Give your kids' toys and cars a stylish home in your backyard with a DIY kiddie garage made from PVC pipes. It's the perfect place to keep their treasures safe and sound.
Tutorial —-> momendeavors.com
10. Indoor Ball Pit Fun for Kids.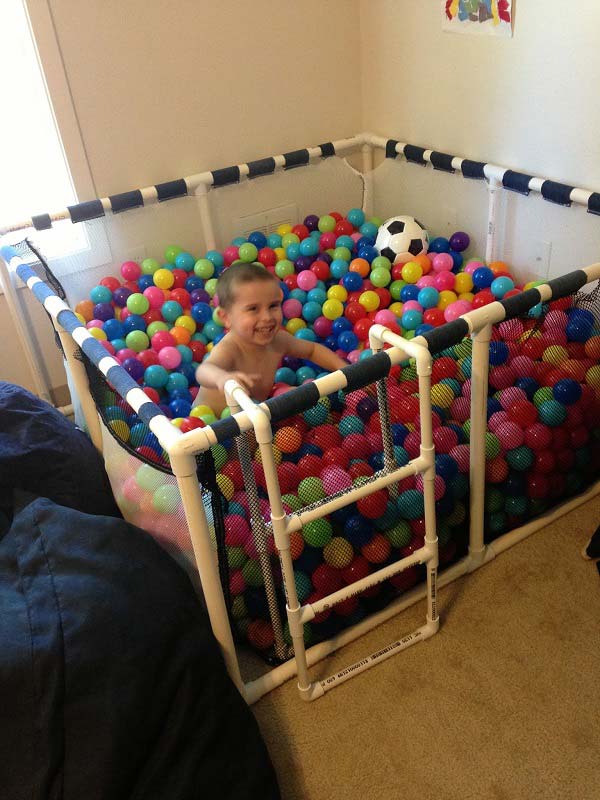 Remember the joy of jumping into a ball pit? Recreate that excitement at home with your very own indoor ball pit. Dive in and relive the fun!
Tutorial —-> cupofautism.blogspot.com
11. DIY Backyard Archery: Make Bows and Arrows Easily.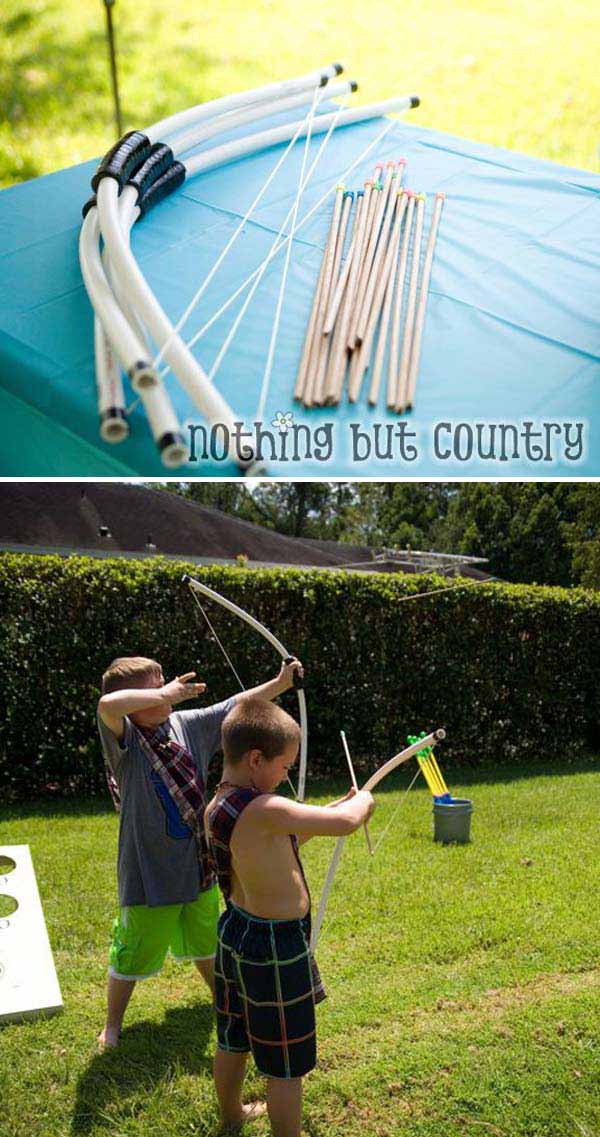 Turn your backyard into an archery adventure zone for kids.
Crafting bows and arrows from PVC pipes is a breeze, and your young archers will have a blast taking aim.
Source    Tutorial —-> skiptomylou.org
12. Make a Lovely Toddler Chair with PVC Pipes.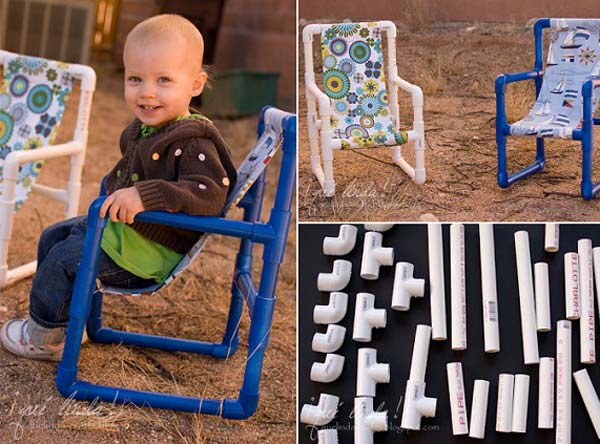 Make a charming toddler chair from PVC pipes. It's not just a chair; it's a cozy spot for your little one to relax and enjoy their favorite stories.
13. Clean Up Cozy Coupes with a PVC Pipe Carwash.
Is it time to give your kids' cozy coupes a makeover?
Create an adorable carwash using PVC pipes and pool noodles. Get those little cars sparkling clean!
Tutorial —-> momendeavors.com
14. Hang a Kid's Hammock in the Front Seat of a Car with PVC Pipes.
Hang a kid's hammock from the front seat of a car?
Why not! It's a brilliant idea for a unique and comfy outdoor seating option for your little adventurers.
Tutorial —-> thesamba.com
15. Create the Perfect Reading Nook or Playhouse for Kids.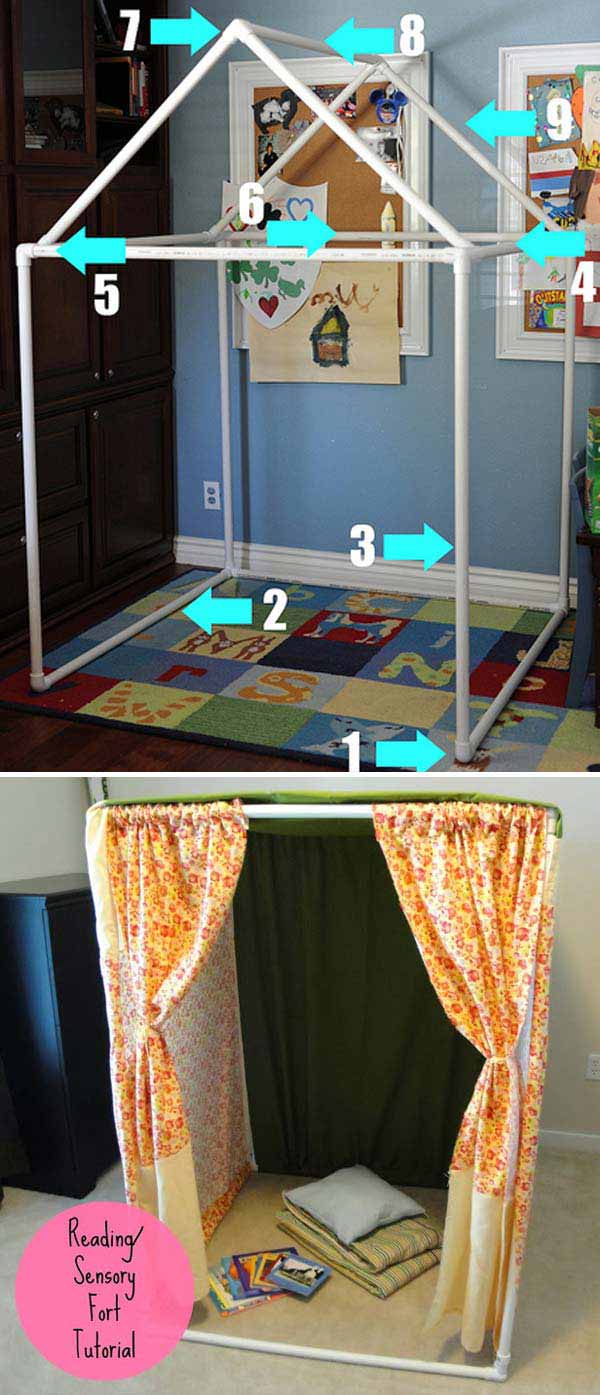 Transform PVC pipes into a perfect reading nook or playhouse for your kids.
Let their imaginations run wild in their very own cozy space.
Tutorial —-> angryjuliemonday.com
16. Swinging Nerf Targets Made from PVC Pipes for Hours of Fun.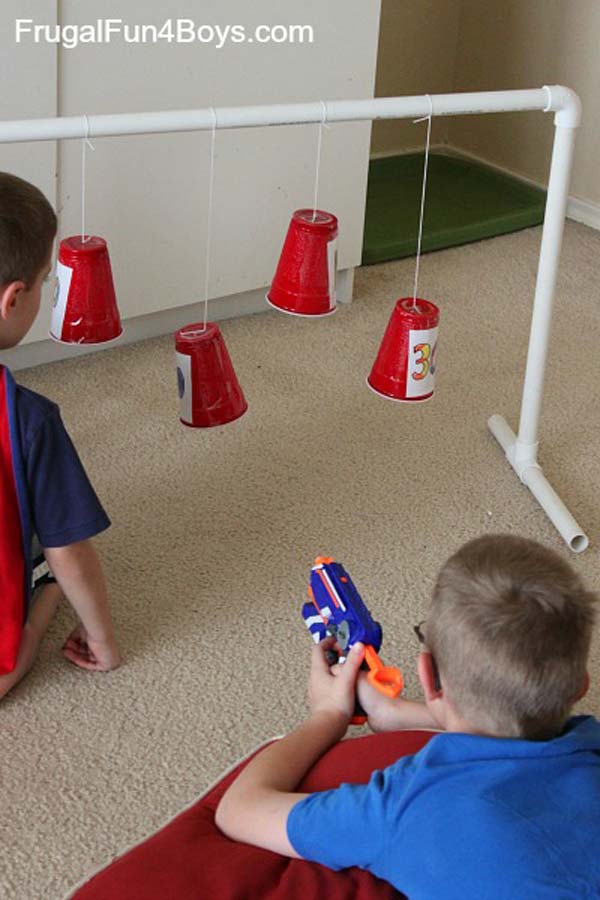 Take target practice to the next level with swinging Nerf targets made from plastic cups and PVC pipes. Your sharpshooters will have a blast hitting the mark!
17. Go for DIY Car Race Tracks with PVC Pipes.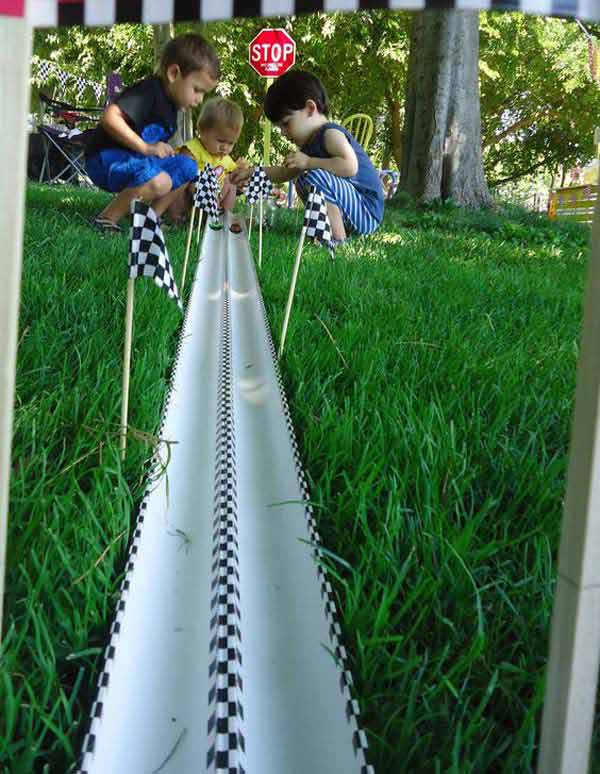 Rev up your DIY skills and build an epic cars race track using PVC pipes.
Get ready for thrilling races and endless entertainment in your backyard.
18. Upgrade Your Backyard with a Stylish Sand and Water Table Made from PVC.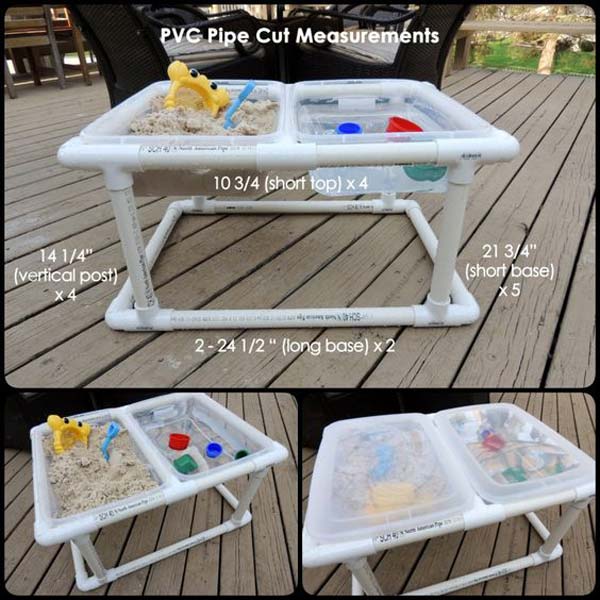 Upgrade your outdoor playtime with a stunning sand and water table crafted from PVC pipes. It's not just functional; it's a visual delight for kids.
19. Gift Idea: Fabric Teepee Made with PVC Pipes for Kids of All Ages.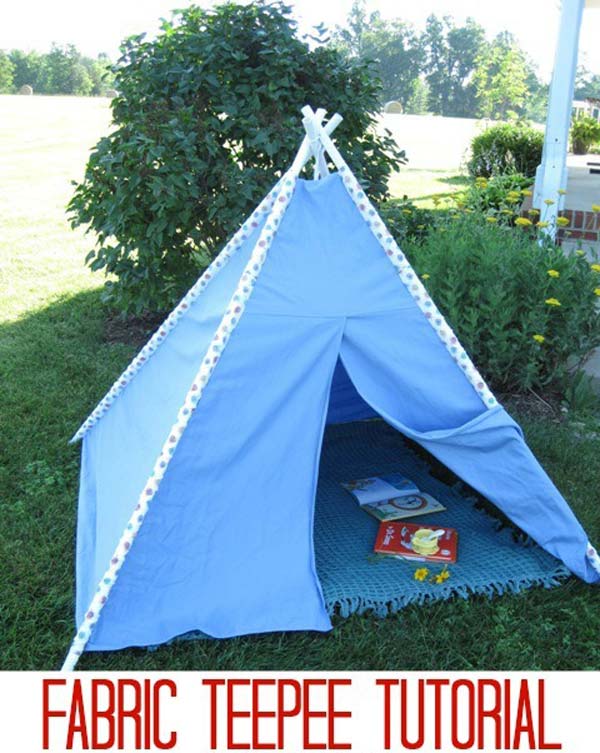 Looking for a unique gift? A fabric teepee made from PVC pipes is a fun and imaginative present that will delight kids of all ages. Let the adventures begin!
20. Toddler Bed Canopy Made from PVC Pipe for Dreamy Sleep.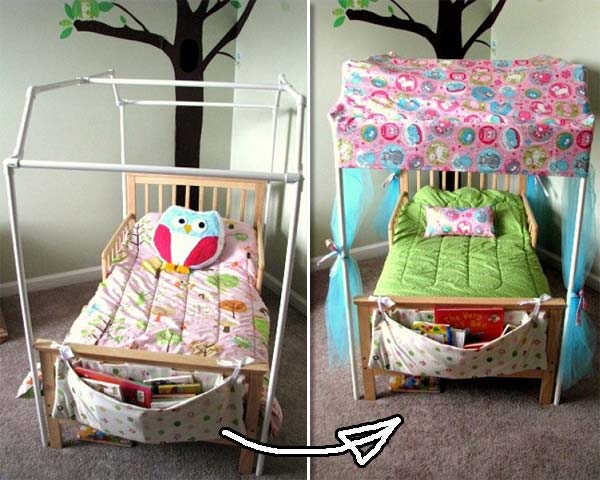 Create a dreamy toddler bed canopy using PVC pipes.
It's a charming addition to any child's room, adding a touch of whimsy to bedtime.
Tutorial —-> gluesticksblog.com