27 DIY PVC Pipe Garden Ideas and Gardening Tips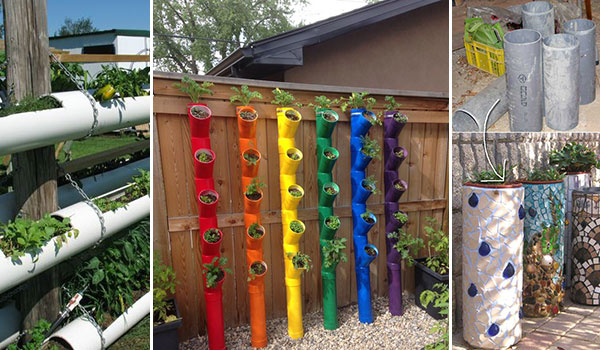 Cheap and easy-to-find, plastic PVC pipes have numerous uses besides indoor plumbing. Creative DIY enthusiasts have come up with countless projects using these tubes, even extending to the garden. Why not try your hand at making a DIY PVC pipe garden or a planter with some tips and ideas?
There are plenty of ideas to explore, from simple pipe gardens to more complex self-watering systems. With PVC projects, the possibilities are endless. Whether you want a vertical or horizontal PVC pipe garden, or a unique PVC pipe planter, these projects can add a touch of creativity to your garden. Don't be afraid to experiment with PVC gardening and see where your imagination takes you!
DIY PVC Pipe Garden Ideas:
Want to build your own garden using PVC pipes? It's easy! All you need are some PVC pipes, a drill, and a cutting tool. Don't forget to grab any decorative materials you want to add a personal touch.
Once you have your supplies, you can start creating your garden. Cut the PVC pipes into the desired sizes, drill some holes, and assemble them to make a sturdy structure. Now you're ready to plant your favorite herbs, flowers, or vegetables in your very own DIY PVC pipe garden!
#1 DIY Vertical Tube Planter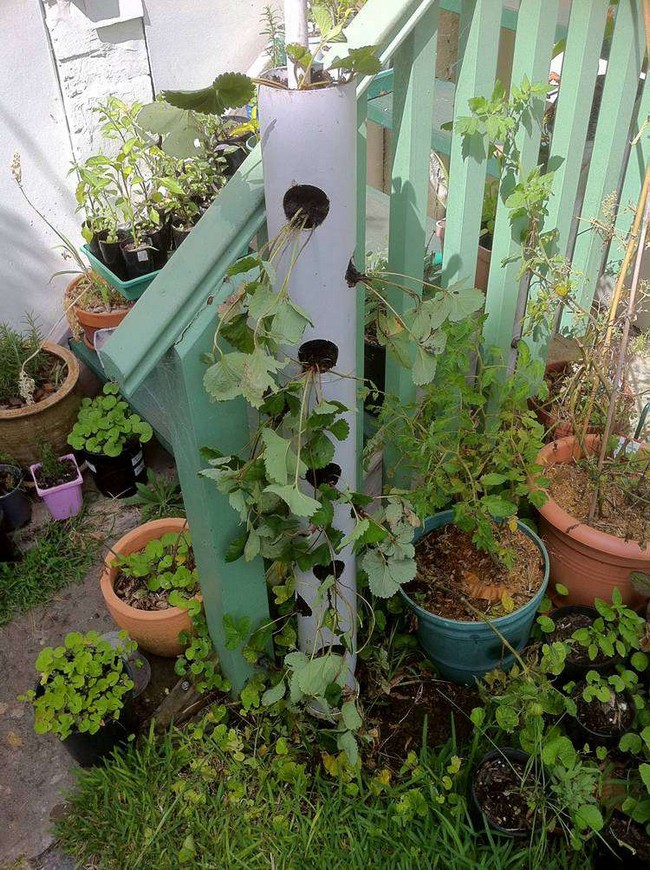 When creating a PVC tower garden, drill holes into the tower tube on sunny sides. Cover the bottom with an end cap and fill with soil before planting.
Use a drill bit appropriate for hole size and space them out evenly. Choose crops that grow well in containers, such as herbs, strawberries, or cherry tomatoes.  via: urbangreenspace.wordpress.com
#2 PVC Vegetable Shelf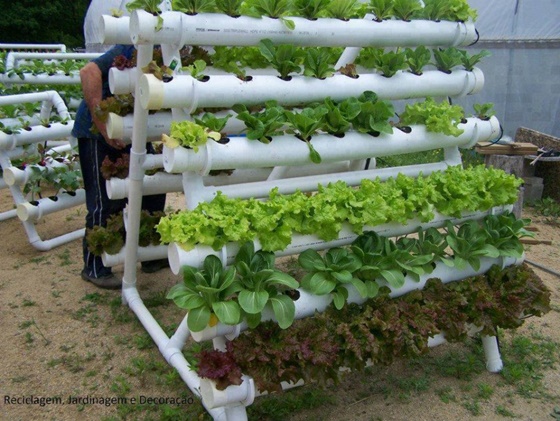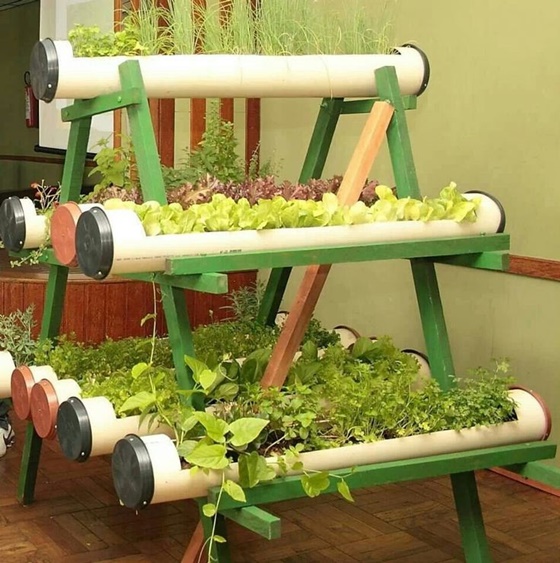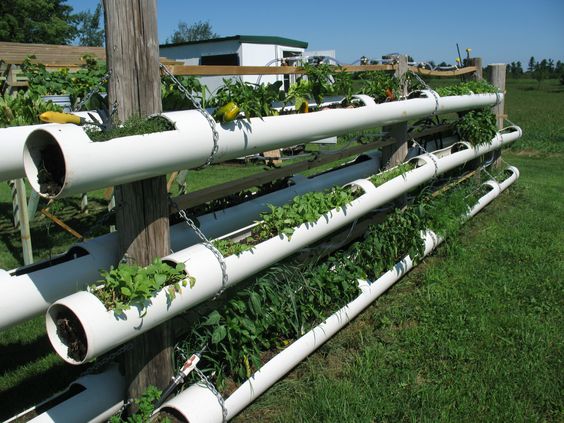 The PVC Vegetable Shelf is a compact and durable storage solution for your gardening needs.
Made from PVC pipe, it is easy to assemble and perfect for growing small vegetables and herbs. Its compact design makes it ideal for small spaces such as balconies and patios.
#3 Herb Garden Planter Using PVC Piping and a Piece of Wood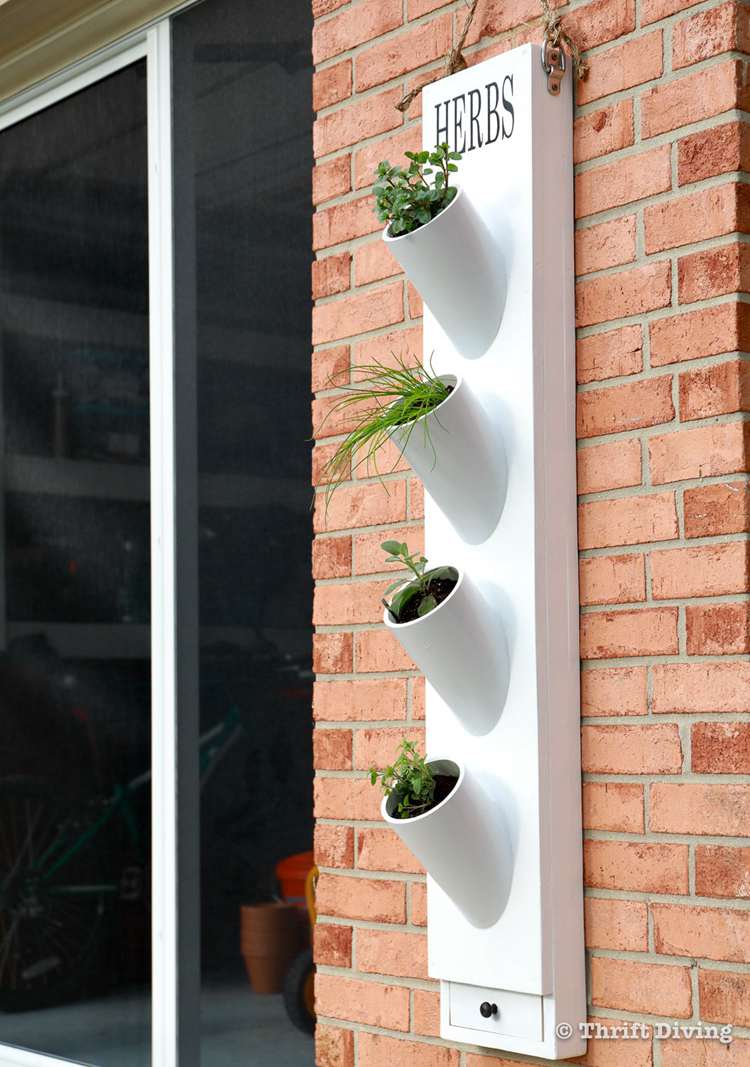 If you love fresh herbs but don't have a lot of space, this DIY herb garden planter made from PVC pipes is perfect for you! The step-by-step guide on this blog makes it easy to create your own space-saving planter.
Plus, it's not only practical but also looks great! Personally, I think this is a fantastic idea for anyone who wants to grow their own herbs but is short on space.  Get Tutorial here ====> thriftdiving.com
#4 PVC Pipe Planters Made from Plastic PVC Tubes and Decorated with Mosaic Tiles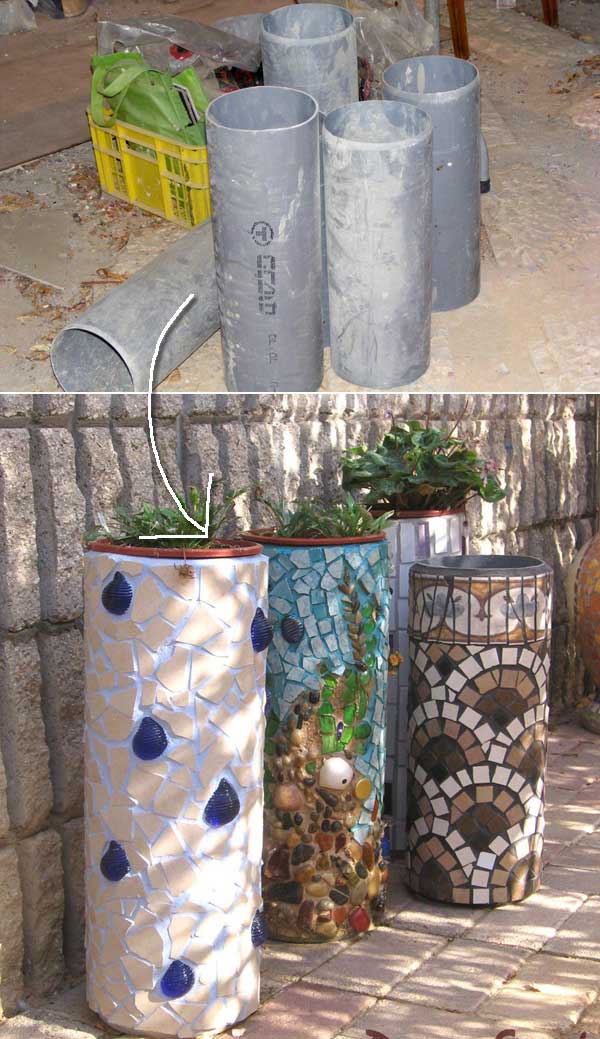 Planters made from plastic PVC tubes and mosaic tiles are a unique and stylish way to add greenery to any space.
The mosaic tiles are used to decorate the exterior of the tube, adding a pop of color and texture. These planters are a fun and creative DIY project that can be customized to match any decor. Get Tutorial here ====> szinesotletek.blog.hu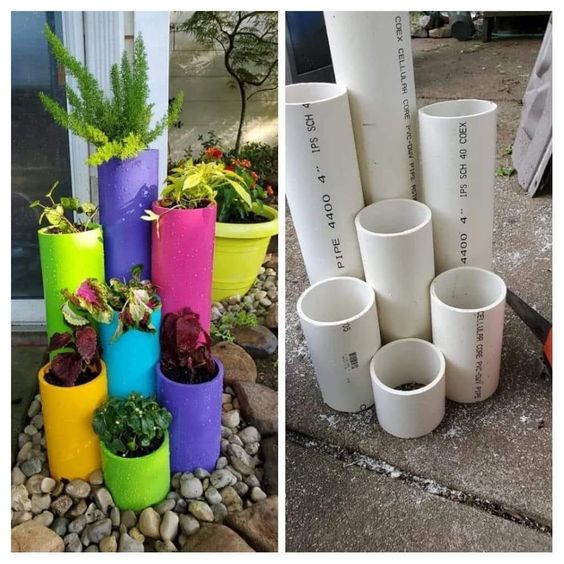 #5 DIY Vertical PVC Garden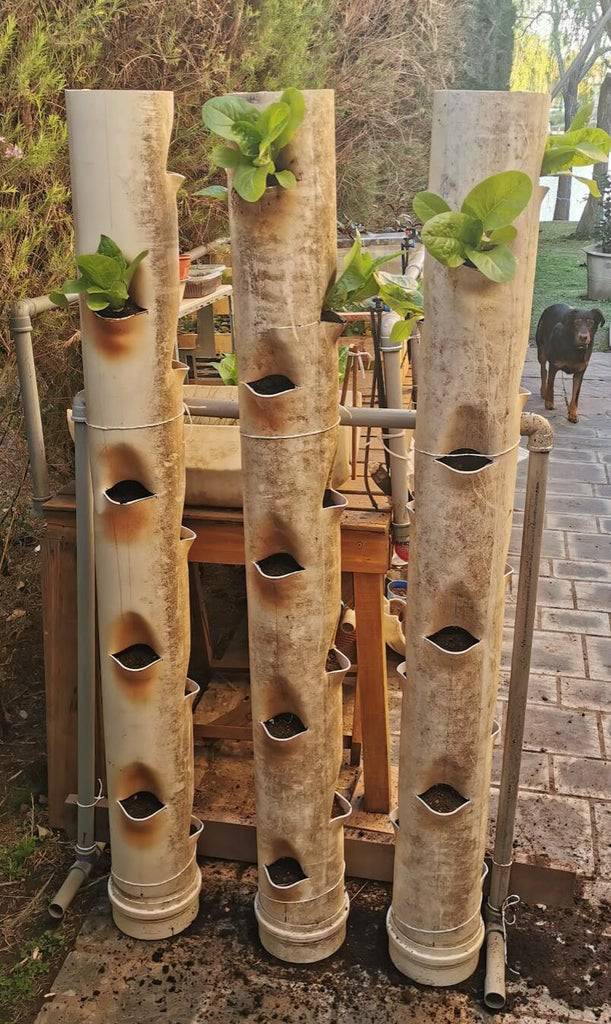 Nursery plants often face growth challenges due to predators. A vertical PVC garden is an effective solution to safeguard your plants. With minimal materials required, including PVC pipes and covers, creating a vertical garden is easy.
The steps involve cutting the PVC pipe, melting the edges, and inserting a raid tin to open up the cut. Once the tin is removed and disassembled, a metal sheet is formed to fill with soil. This technique is simple and ideal for protecting your nursery plants.  via: instructables.com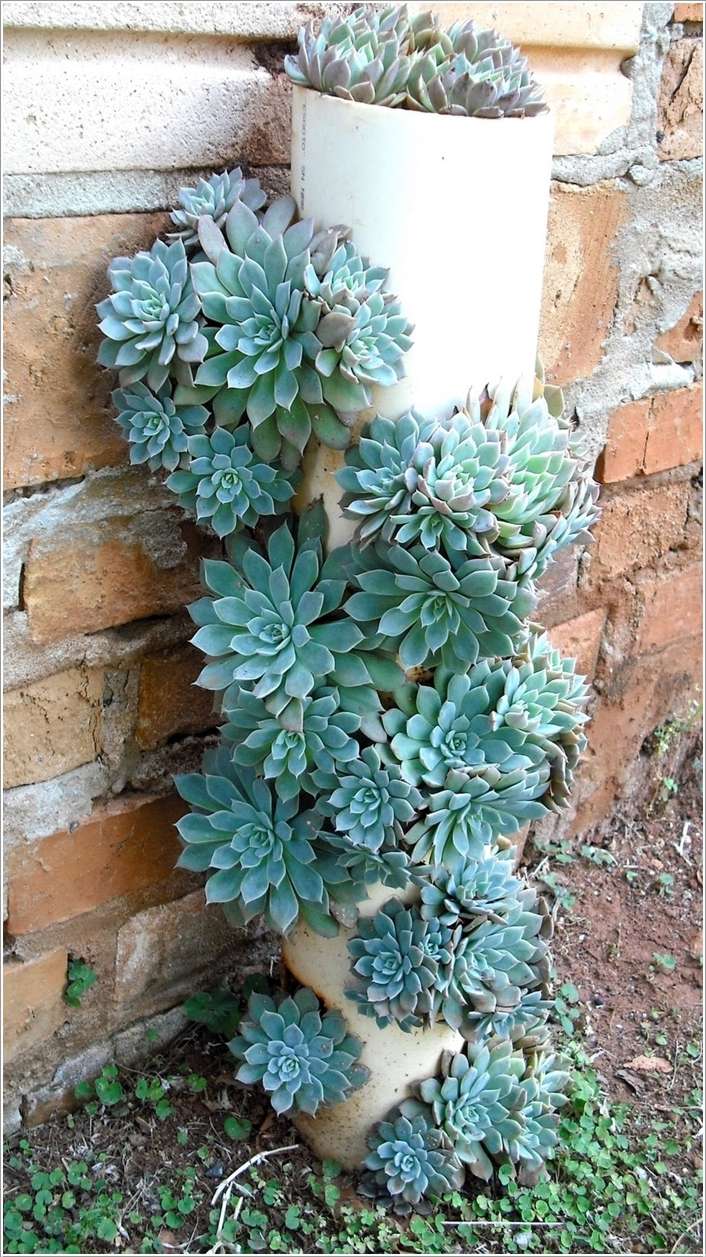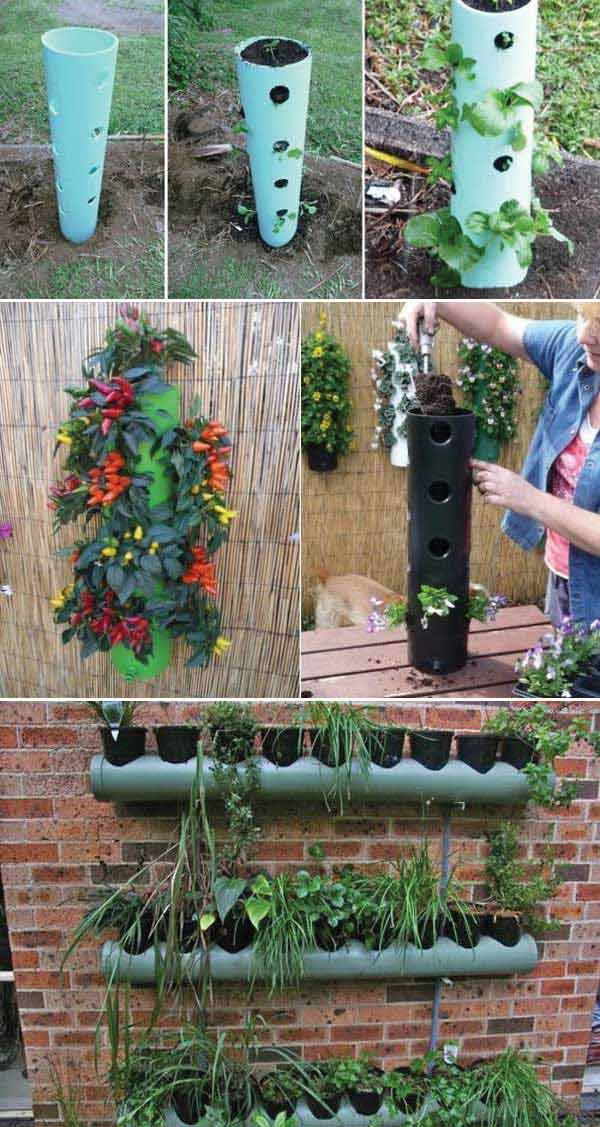 #6 Hanging PVC Planter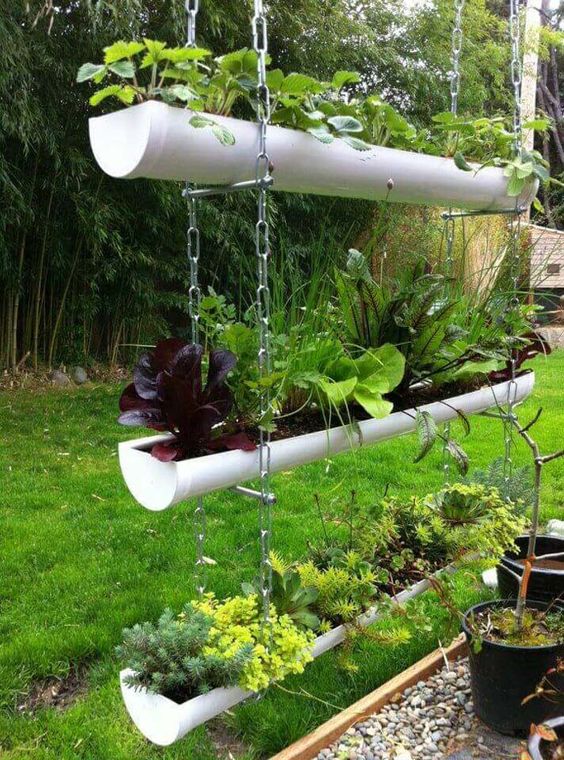 #7 DIY Hydroponic Garden Tower Using PVC Pipe
The DIY Hydroponic Garden Tower using PVC Pipe is an innovative and cost-effective way to start your own clean, no-garden planting.
With over 100 plants in just 10 sq feet, this vertical garden maximizes space and increases crop yields. With easy assembly and maintenance, it's a great project for gardening enthusiasts.
#8 Vertical PVC Strawberry Tower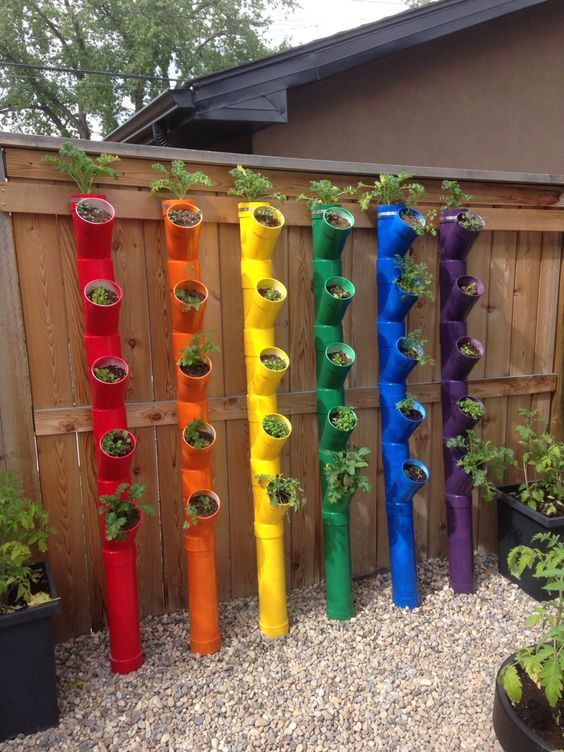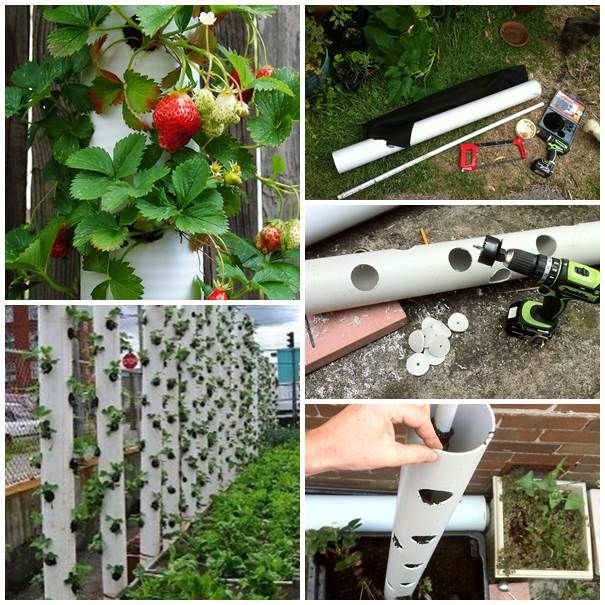 Not only is this PVC pipe vertical planter tower a great way to save space while growing strawberries, but it is also a fun and creative DIY project that can be customized to fit any size or style of garden.
By using PVC pipes of varying lengths and diameters, you can create a unique tiered design that maximizes your vertical growing space. Plus, this planter tower is easy to maintain and can be used to grow other plants like herbs, flowers, and vegetables, making it a versatile addition to any garden or balcony.
#9 DIY Gardening Idea With PVC Pipes
To create this PVC pipe garden, you will need 4″ PVC pipe, ½" PVC pipe, cocopeat, vermicompost, soil, and water. To get started, drill holes for planting on the 4″ PVC pipes, ensuring that the spacing is even for optimal planting.
Cut the ½" PVC into appropriate lengths and create irrigation holes. Cover the pipe with a weed block and insert it into the 4″ pipe. Fill the pipe with soil and begin planting. This will result in a fantastic PVC pipe garden.
Gardening With PVC Pipe:
If you're looking for a cost-effective and versatile solution to enhance your gardening efforts, look no further than PVC gardening.
Using plastic PVC pipes for gardening might seem unusual in a natural environment, but repurposing discarded pipes is a sustainable and practical way to reduce waste and create useful tools for your garden.
PVC pipes are easy to manipulate and can be transformed into trellises, raised garden beds, watering systems, and more. With PVC pipe for gardening, you can maximize your garden space and create a thriving environment for your plants.
So why not explore the possibilities of PVC gardening and unlock its potential for your green space?
1. Build a hand-held seeder to let you stand up to plant beans and corn.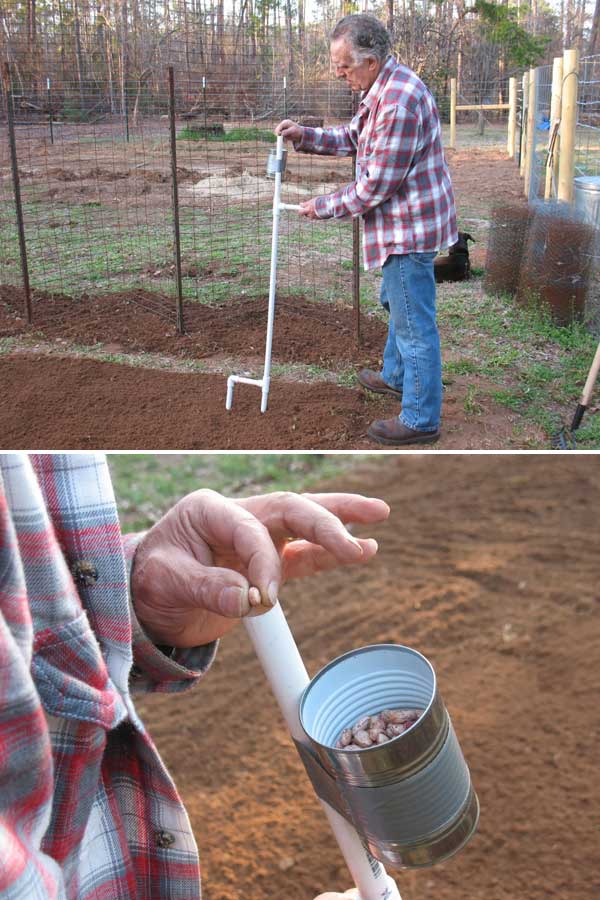 Get Tutorial here ====> sensiblesurvival.blogspot.com
2. PVC watering grid will help you become more efficient in watering the garden.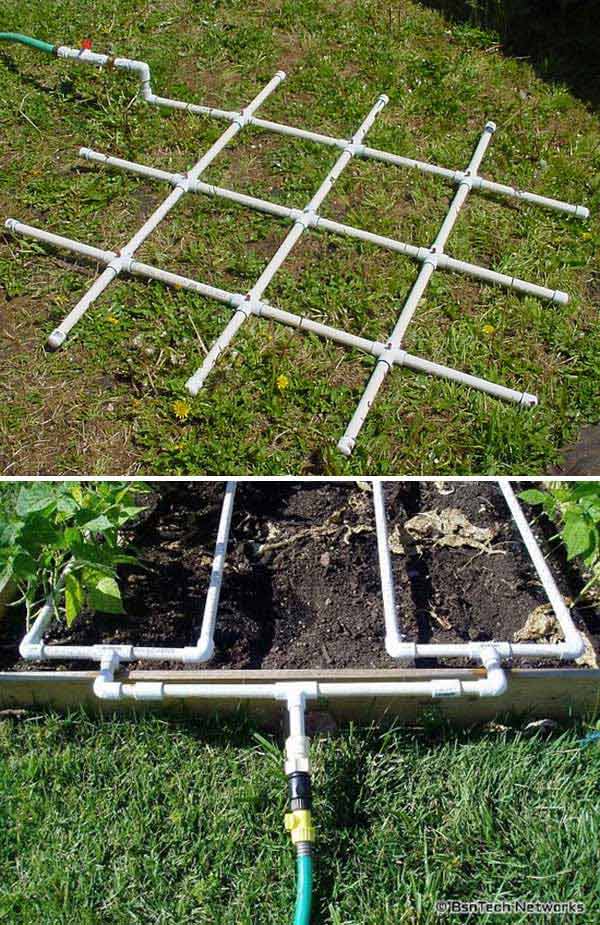 Above Tutorial here ====> squarefoot.creatingforum.com    Bottom Tutorial here ====> bsntech.com
6. Build a multipurpose raised bed protective cover.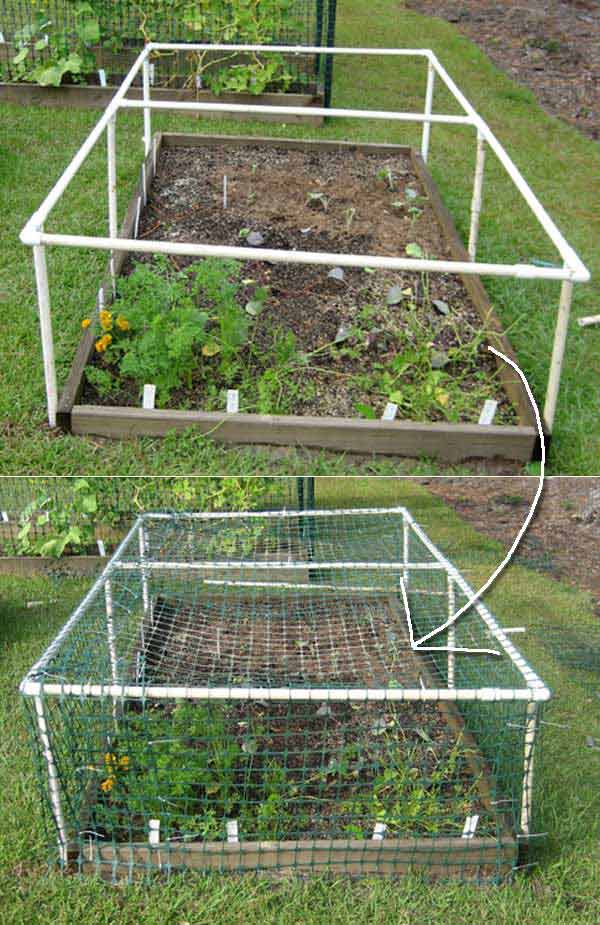 Get Tutorial here ====> charsgardening.com
8. Tormato Trellis makes your tomato growing experience a bit more easier and interesting.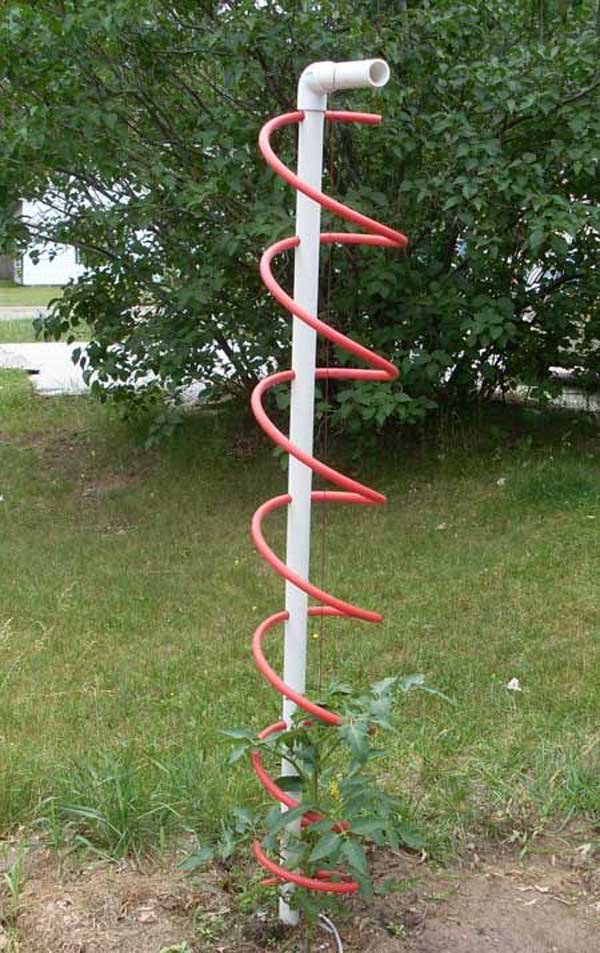 4. It is a clever way to store your garden tools.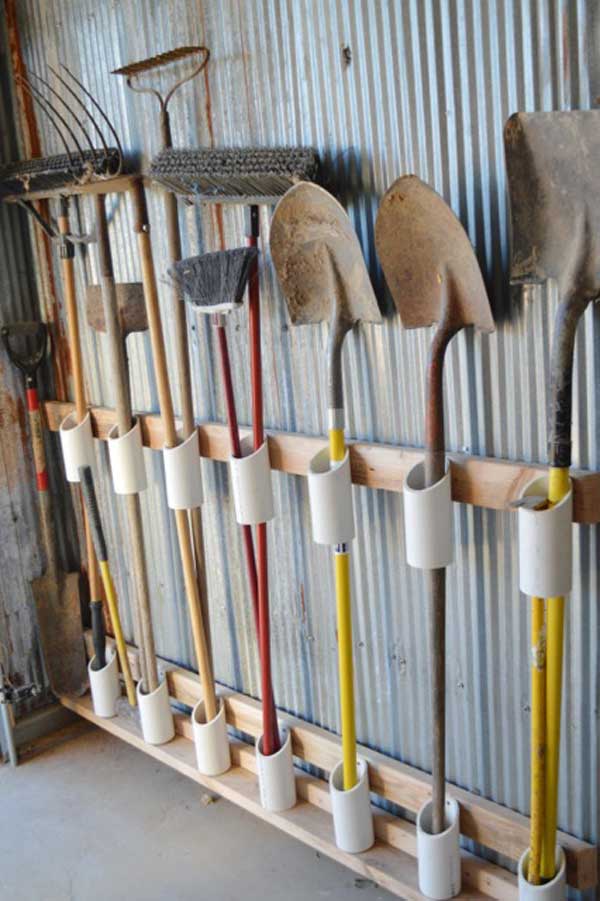 Source: newlywoodwards.com
5. Set up a strawberry tower in your backyard.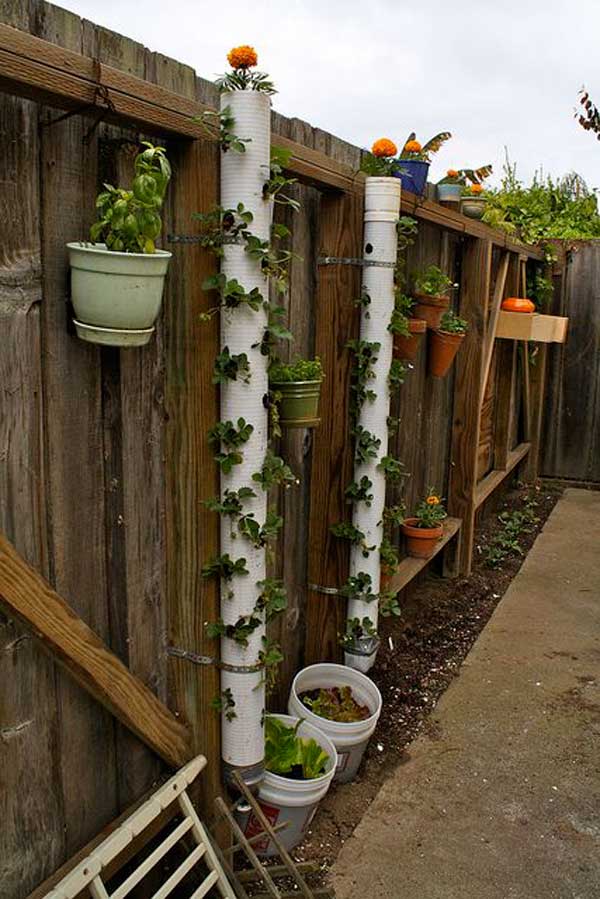 Source: flickr.com
11. Deep pot irrigation uses an open-ended PVC pipe placed next to a planted seedling.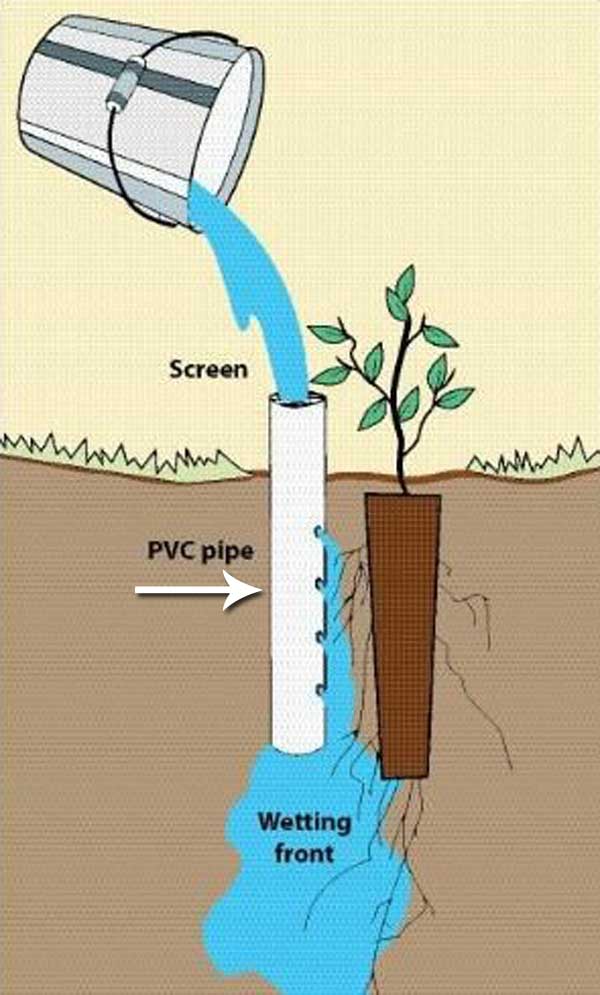 17. Use PVC pipes to create a living canopy.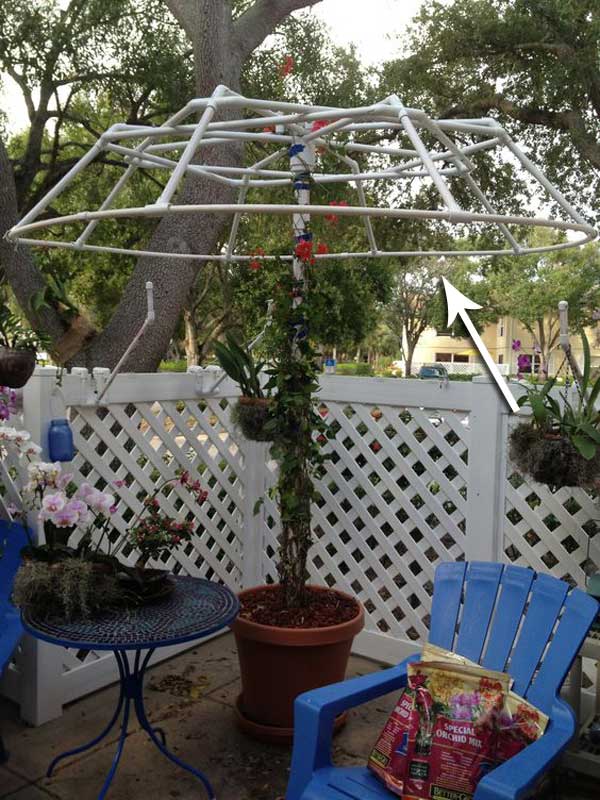 19. Construct a trellis and then hang potted plants on it.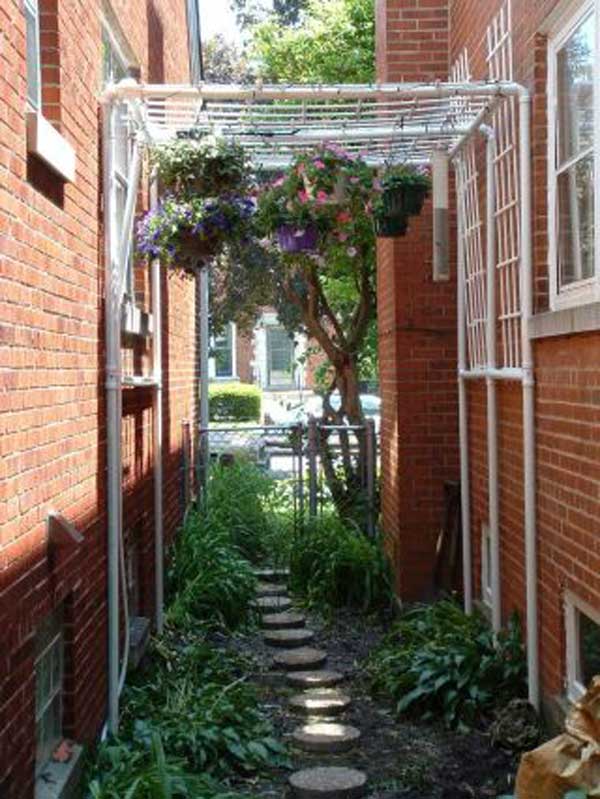 18. Garden and yard tool rack made with pipes.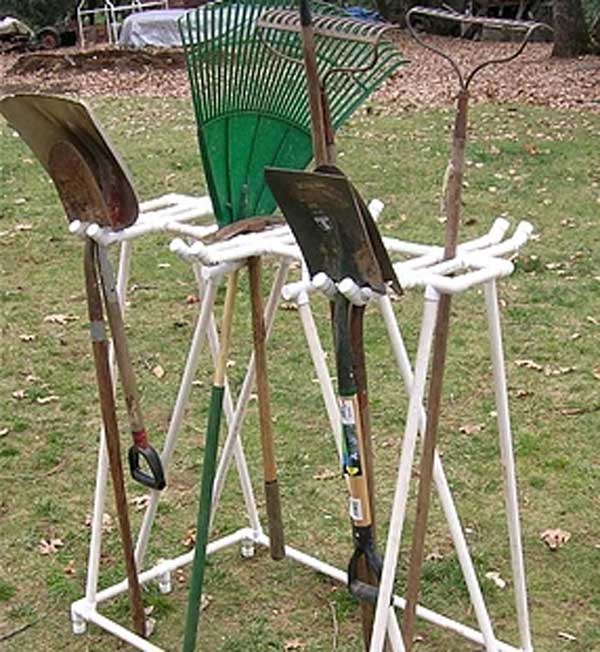 12. Use PVC pipe to build a maintenance free Birdhouse.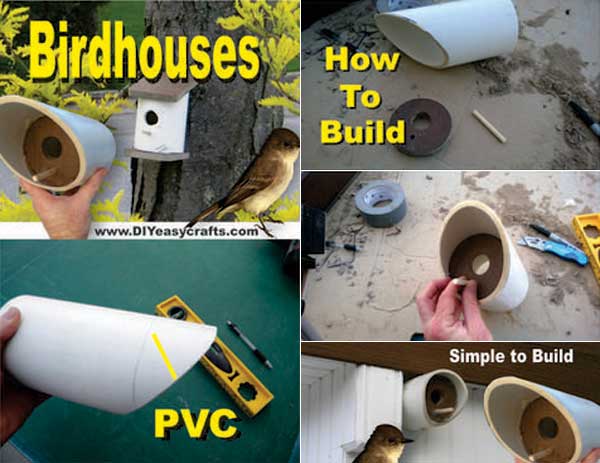 Get Tutorial here ====> diyeasycrafts.com
13. DIY backyard sunshade will block the sun for your kids when they play outdoors.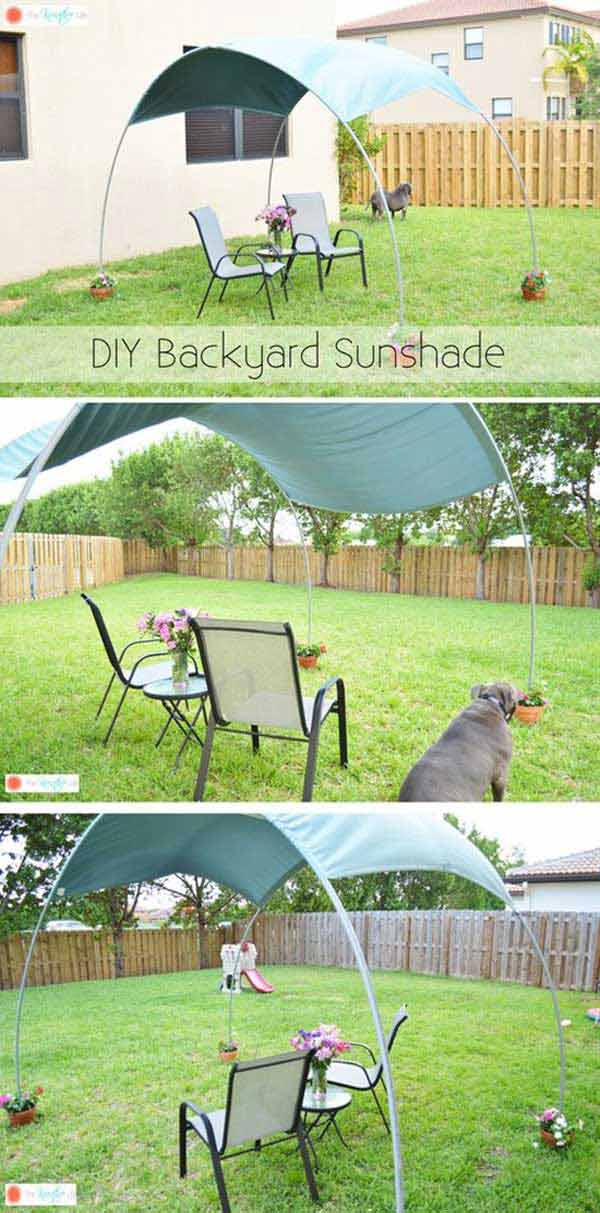 Get Tutorial here ====> thekreativelife.com
14. Don't want to have to go up on a ladder to clean your rain gutter drain?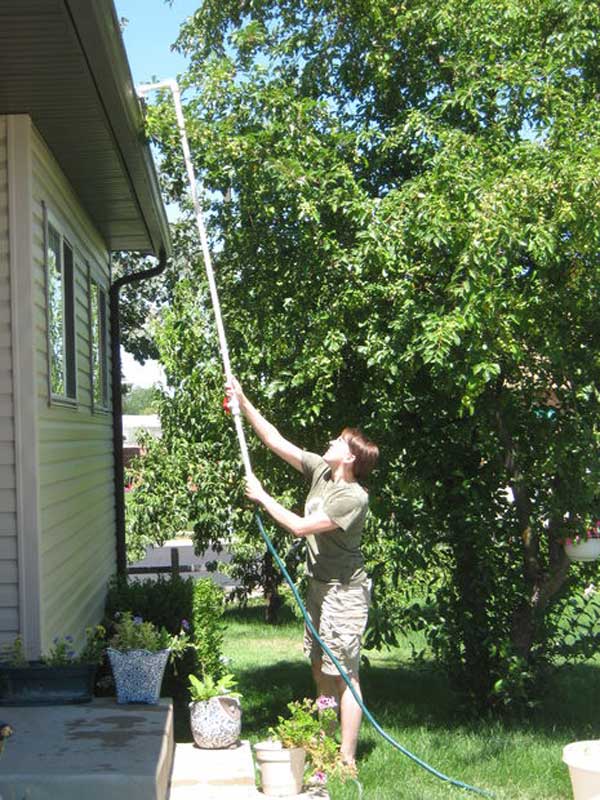 Get Tutorial here ====> instructables.com
1. pvc pipe for coiled hose storage.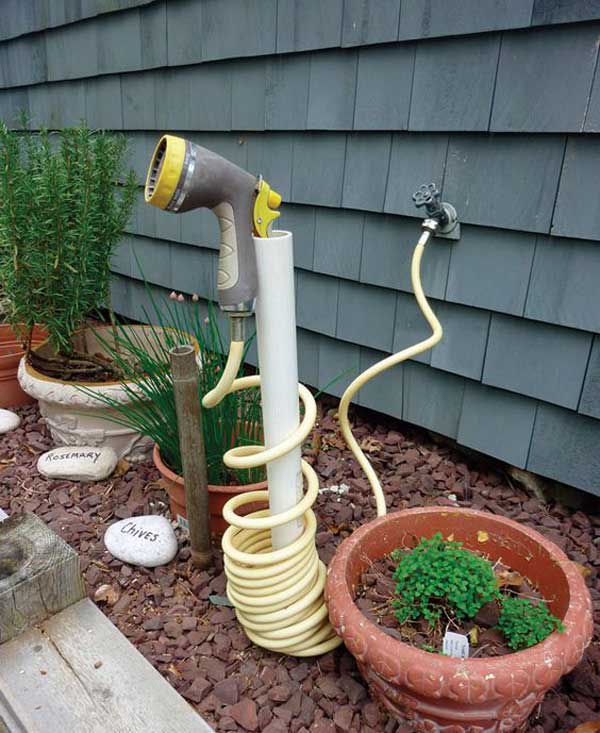 15. pvc pipe garden fence.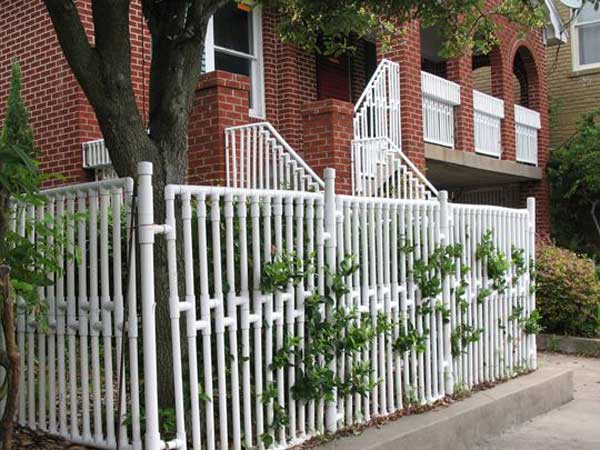 Source: pvcworkshop.com
10. This towel rack is great for outdoor shower.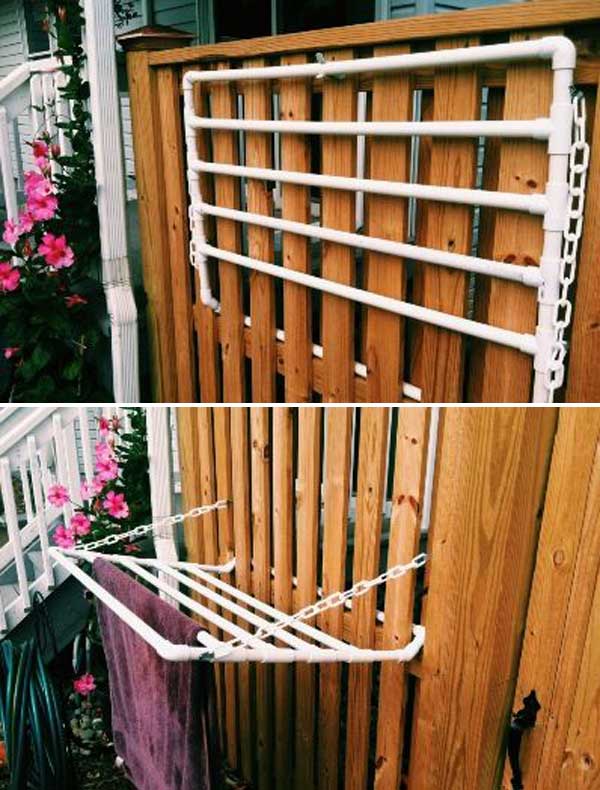 9. Build a cheap chicken feeder from PVC pipes.