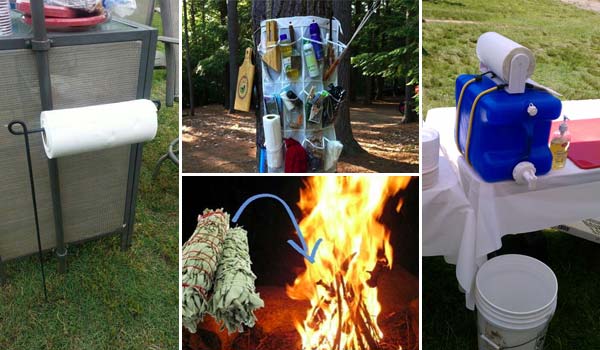 The summer is a time for enjoying the outdoors. It always means campfires, grills, games, and relaxing. Camping is a fun activity you could consider in your summer plans. It can reenact some sweet childhood memories, and you can make the best family memories on your camping trips. If you love cooking food, you will find food cooked on a fire tastes much better than the "everyday" food you make at home…There are many benefits of camping trips, but these trips can also have some uncomfortable aspects or troubles. So after coming across some great camping hacks that help you keep the bugs away, make meals in minutes and enjoy a hot shower, and so on. I decided to share them with you. These awesome camping hacks & tricks will make your camping trip absolutely amazing. Check them out!
1. Recycle big water jug or old detergent bottle as a portable hand-washing station.
Source: greatwildoutdoors.com    Source: doitandhow.com
2. Fill a cardboard egg carton with match light charcoal to make your easy-to-carry fire starter; or you can put the dryer lint in the egg carton and then pour wax on top of dryer lint.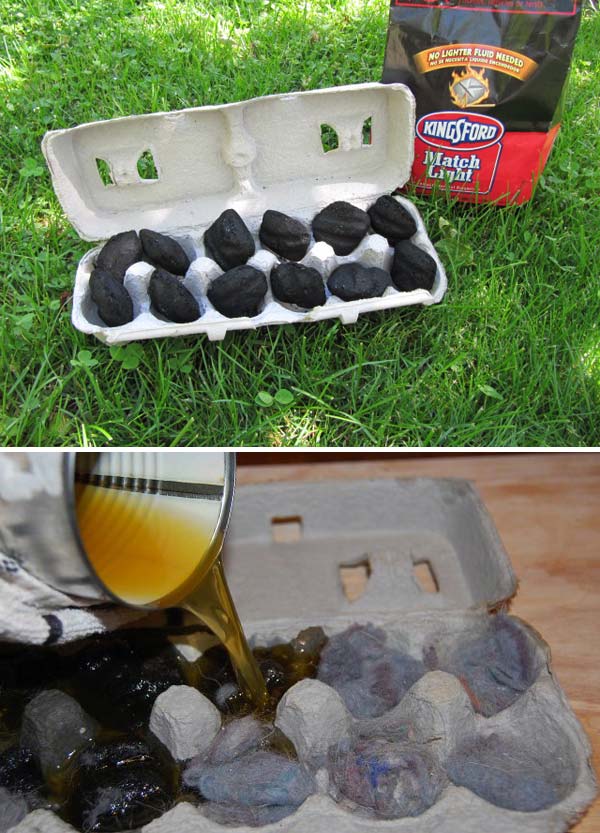 Above project tutorial at ====> sewmanyways.blogspot.com    Bottom project tutorial at ====> diyprojects.com
Or you can make fire starters with toilet paper rolls.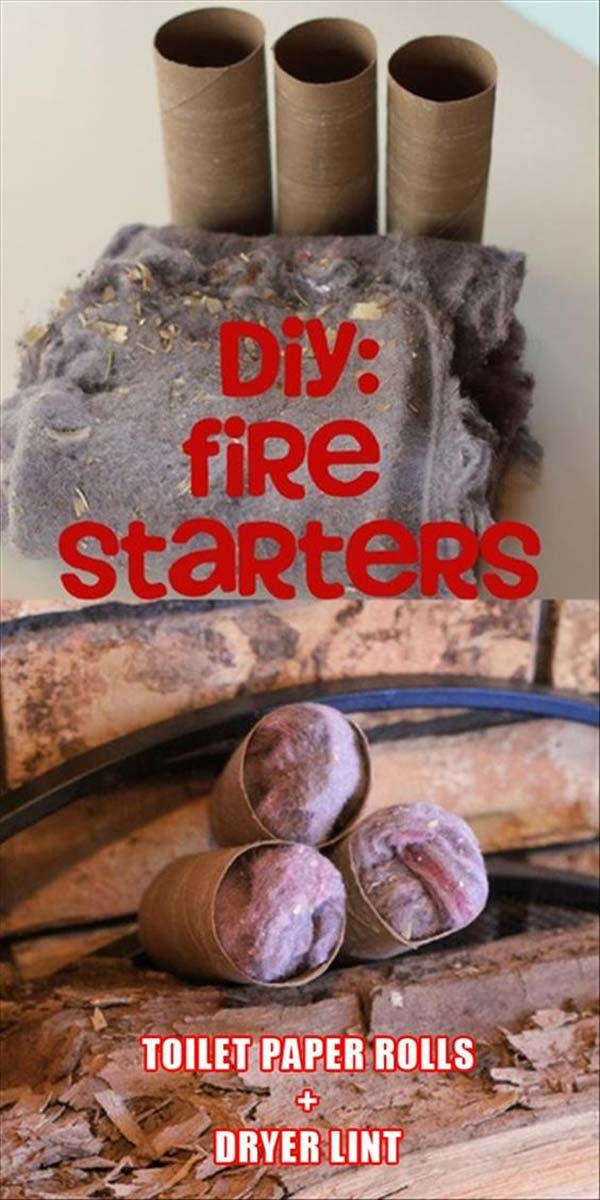 How to make it ====> wikihow.com
3. This hanging camping organizer can help you easily access to the things you need most often.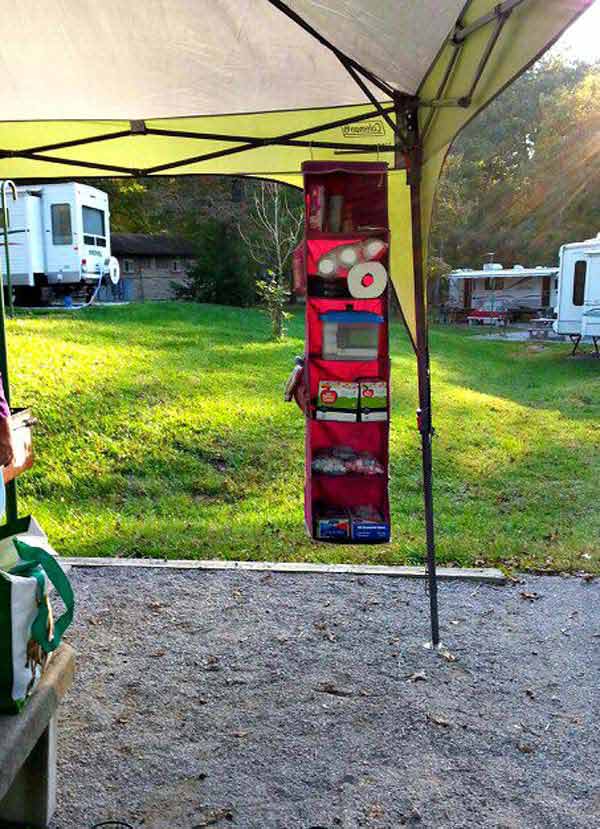 Source: sunnysimplelife.com
4. Store and protect toilet paper in a repurposed coffee container.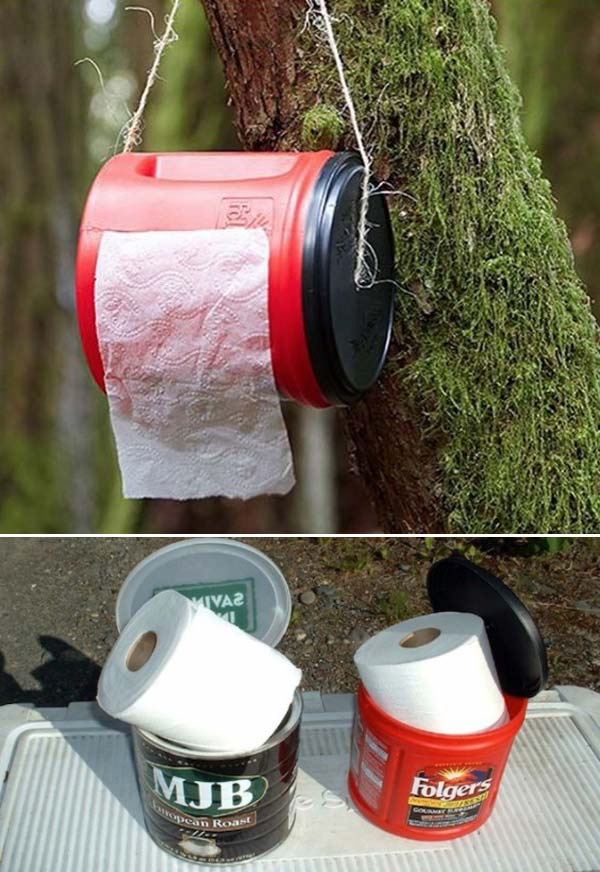 Source: instagram.com
5. These camping food "fruit and Smore cones" were so yummy.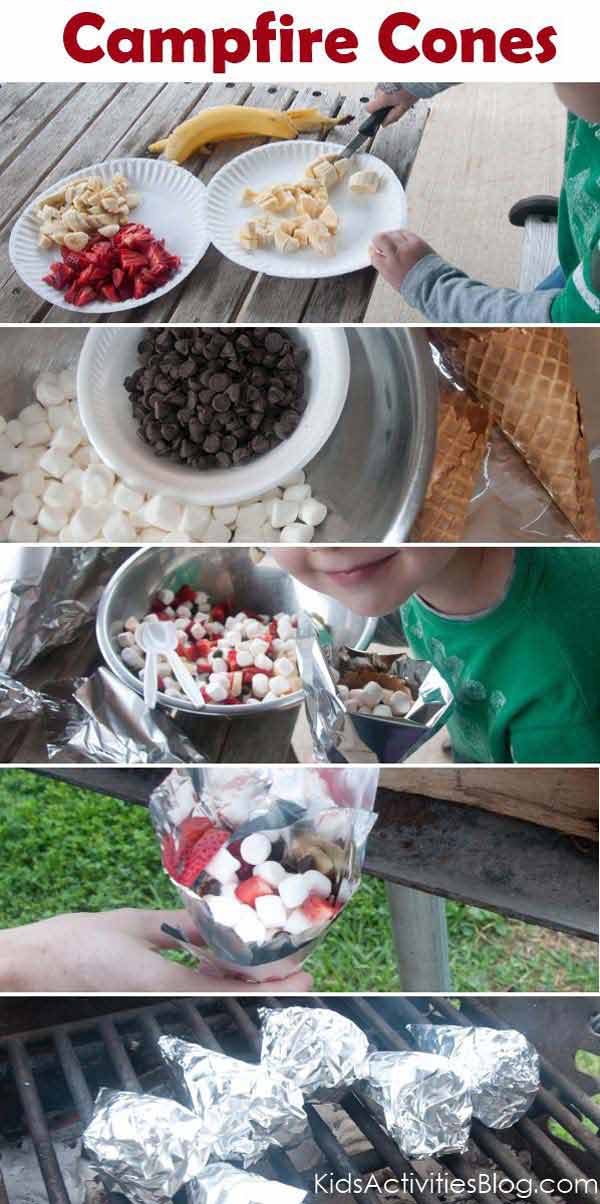 How to make them ====> kidsactivitiesblog.com
6. Doritos are great for kindling if you can not find any.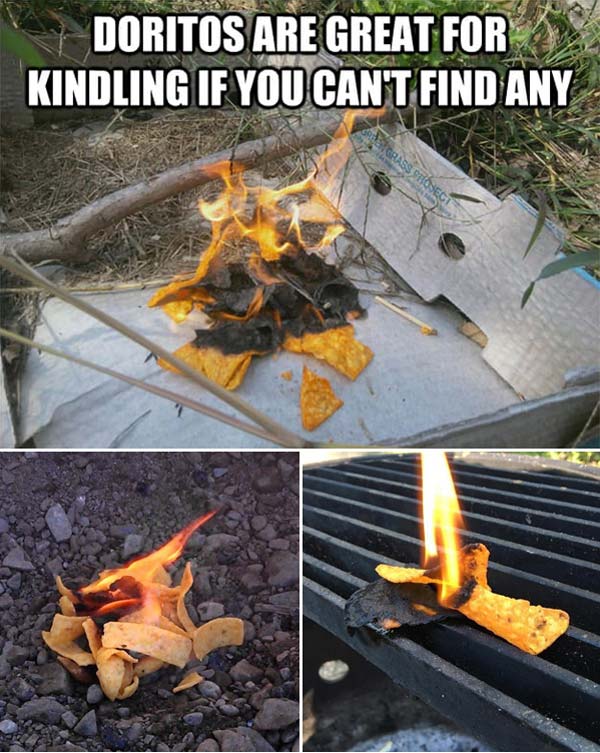 Source: instagram.com    Source: instagram.com
7. Your camping trip needs this portable washing machine made from a plunger and a bucket.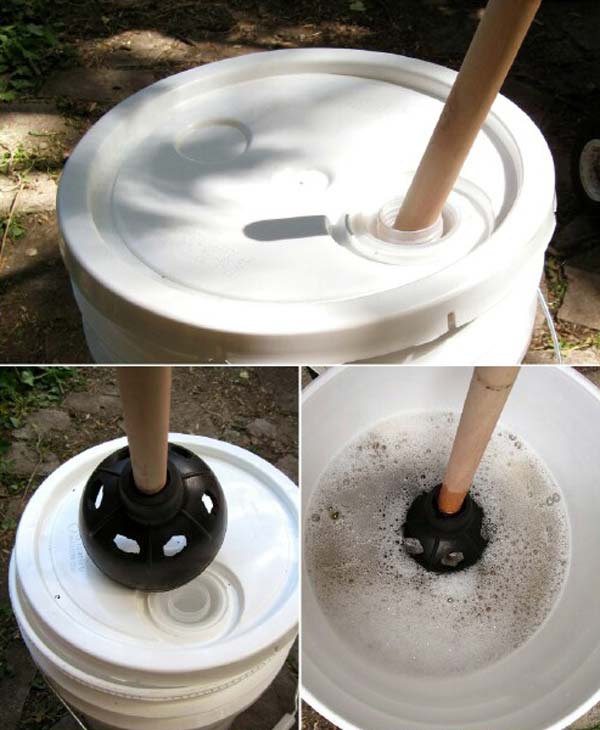 How to make it ====> melissadimock.squarespace.com
8. Foam floor tiles can be used for a cozy tent floor.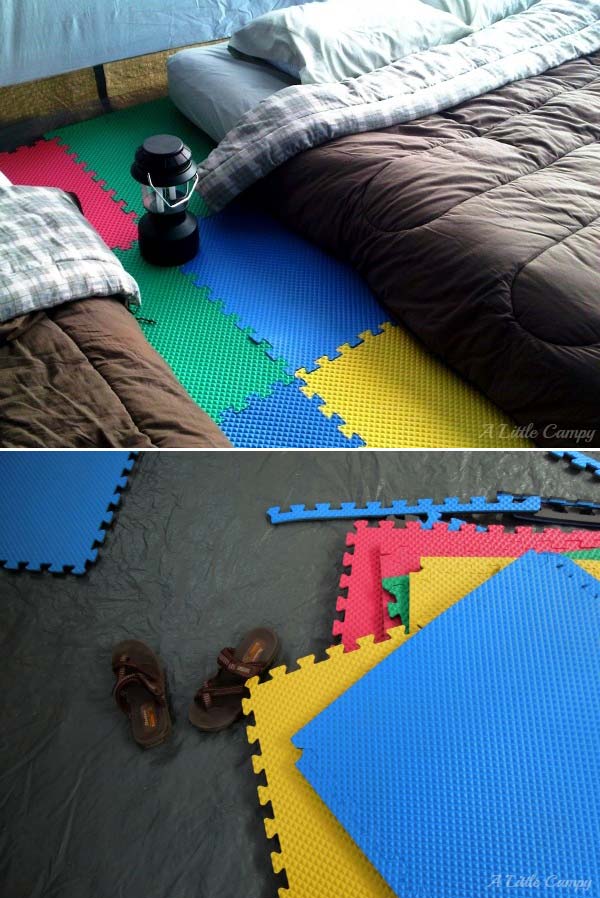 Source: alittlecampy.com
 9. Tie a shoe rack around a tree to hold all your stuff.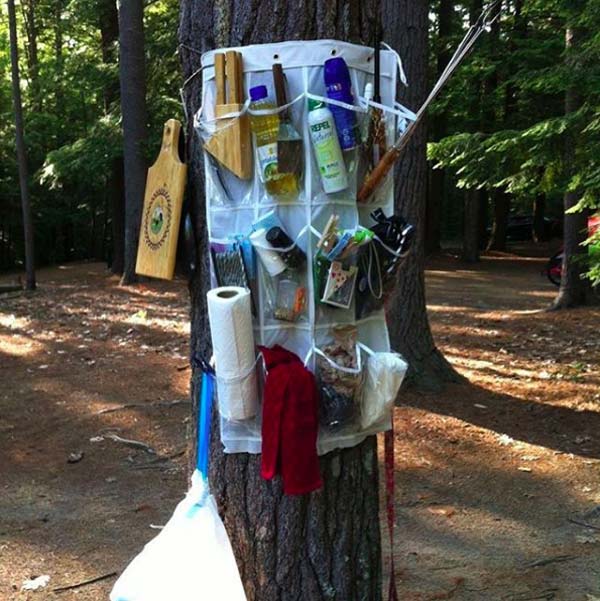 Source: instagram.com
10. Store prefab pancake batter in disposable icing bags.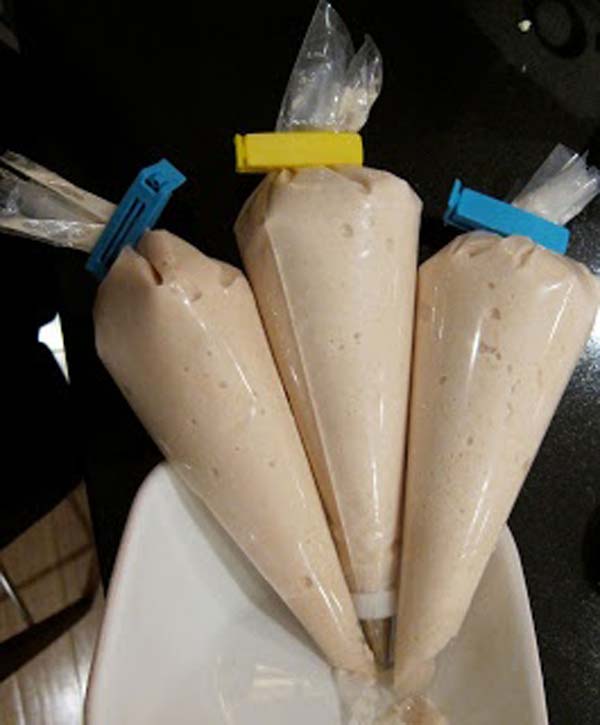 Source: amumntheoven.blogspot.com
 11. Instead of making a marinade with rosemary for grilling, place the herb right on the coals.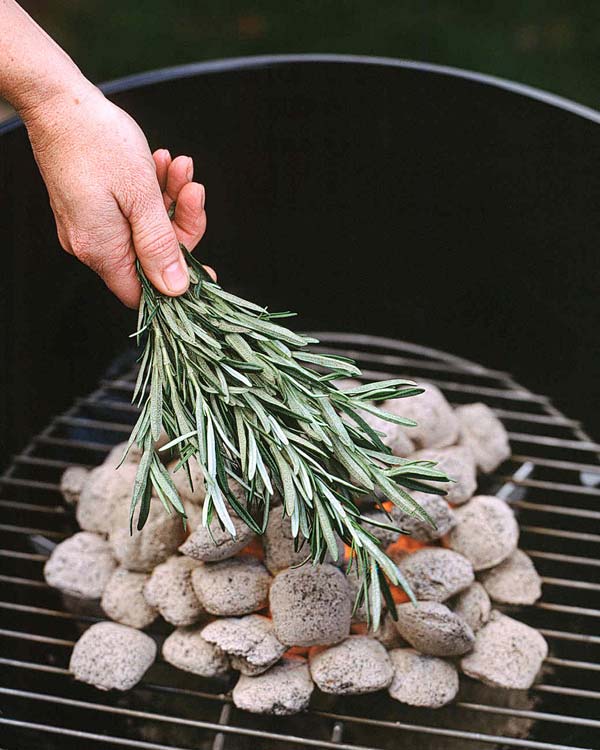 Source: marthastewart.com
12. Use a vegetable peeler to make single use soap leaves from a bar of soap.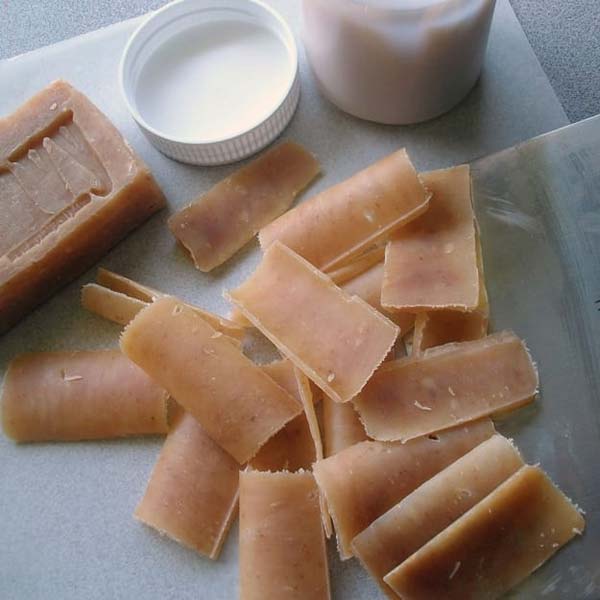 Source Unknown.
13. As a big part of camping, do you know what type of campfire works best for what you want to do?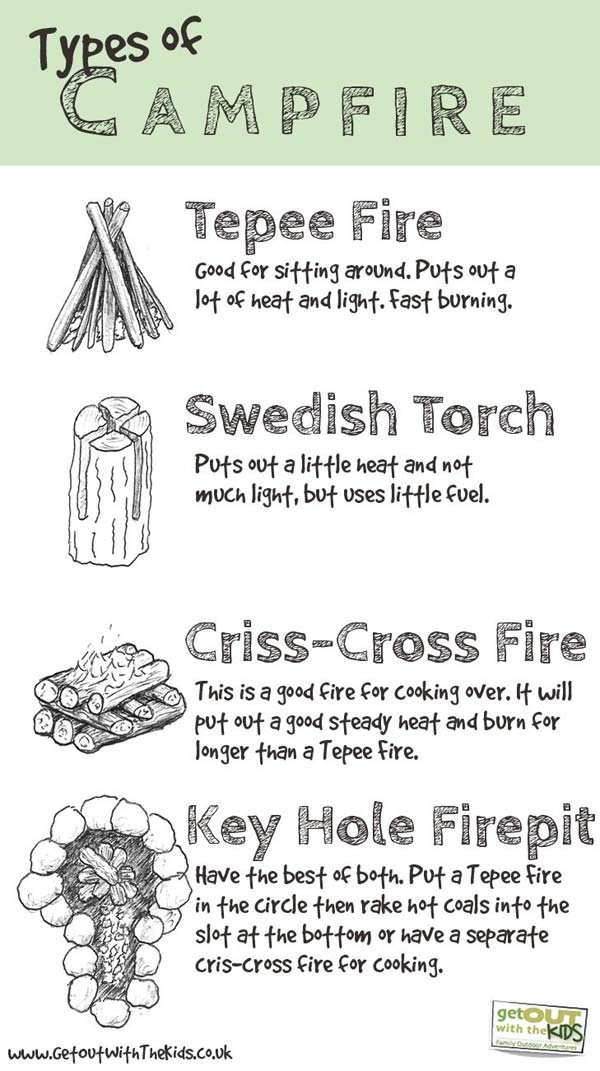 For more detail at ====> getoutwiththekids.co.uk
14. Pour some coffee in filters and tie them with dental floss to make little coffee bags to enjoy coffee while traveling.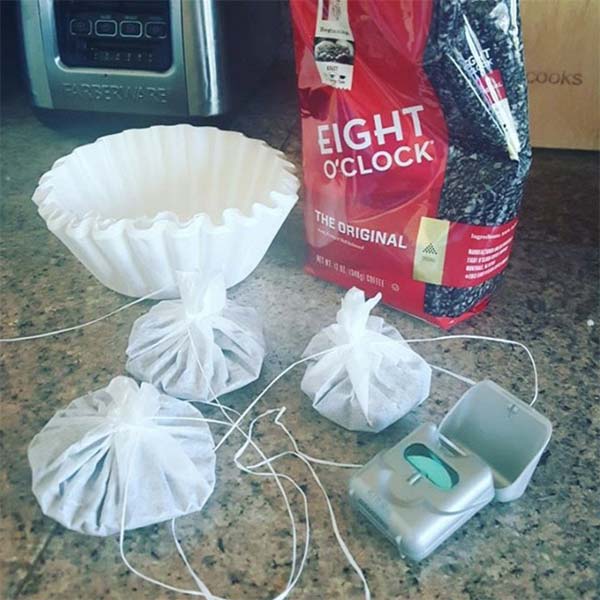 Source: buzzfeed.com
15. Make a long-lasting candle out of an orange.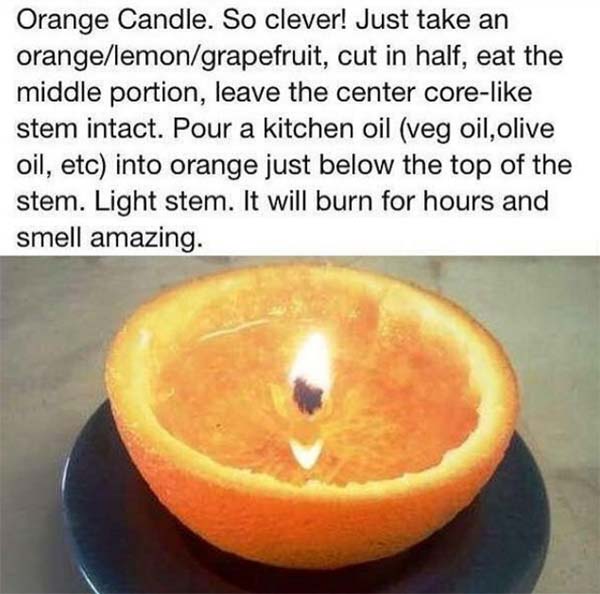 Source: instagram.com
16. Garden flag holder can be used to hold your paper towels.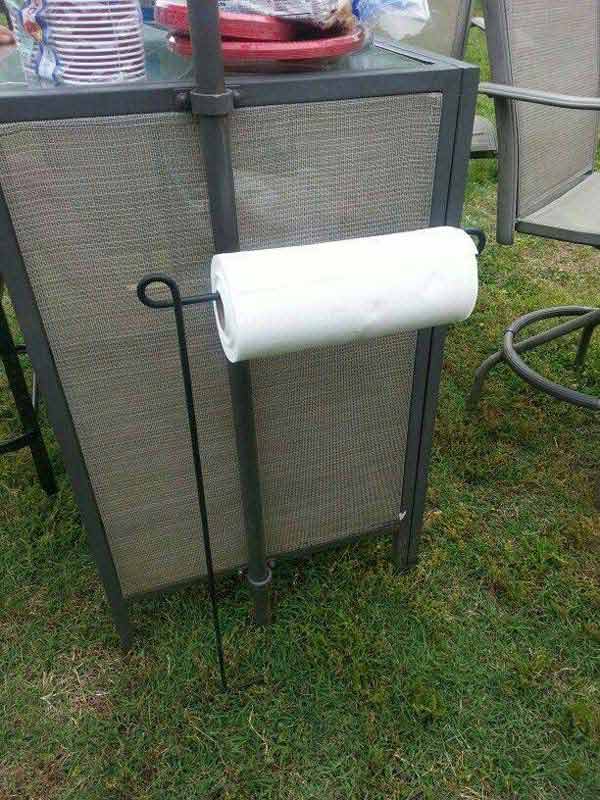 Source Unknown.
17. Make a bucket toilet with pool noodle seat.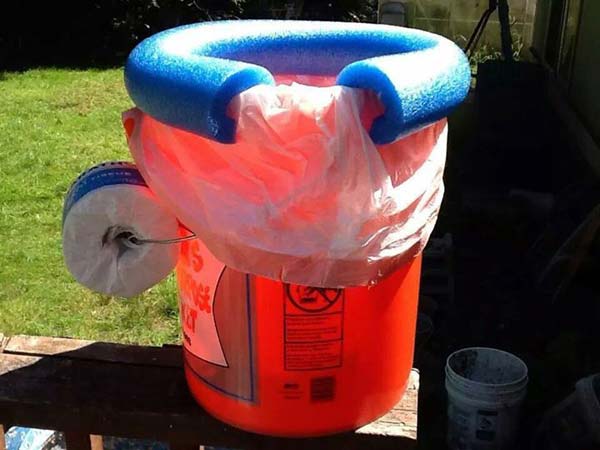 Source: budget101.com
18. Make a natural tick repellent to keep ticks away or roll your clothes with a lint roller after being in the woods to get hiding ticks.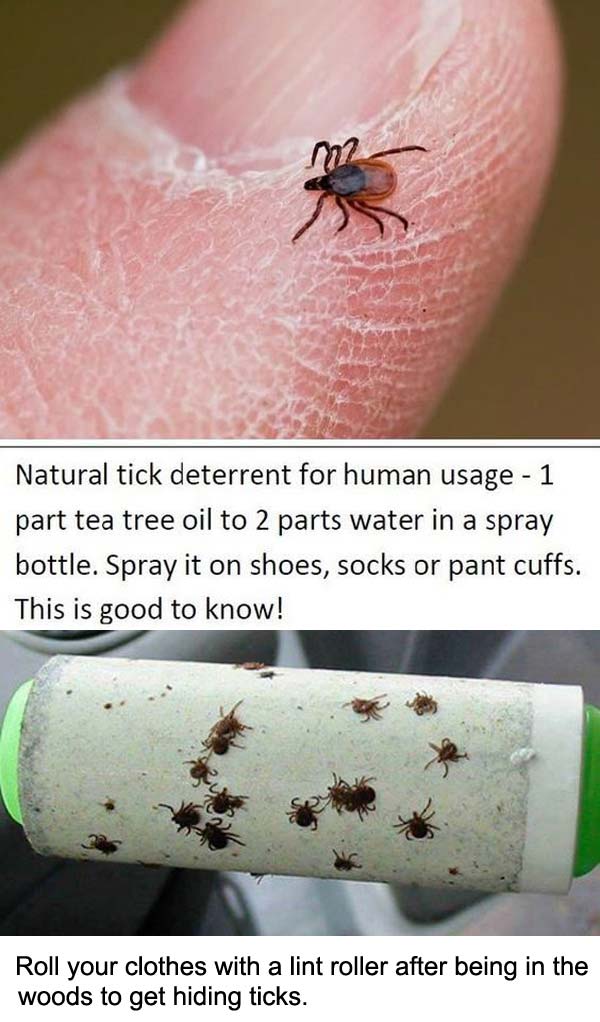 For more detail at ====> offgridquest.com
19. This handmade mosquito trap helps you get rid of mosquitoes while camping trip;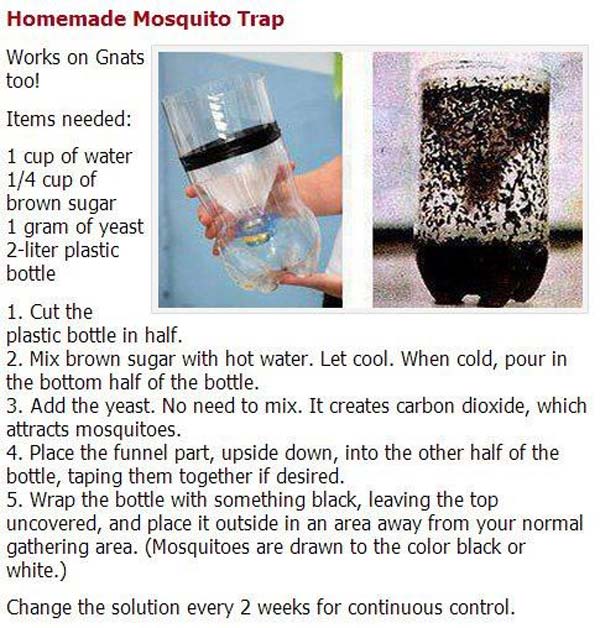 For more detail at ====> soulflowerfarm.blogspot.com
Or you can toss sage bundles into the firepit to keep mosquitoes away.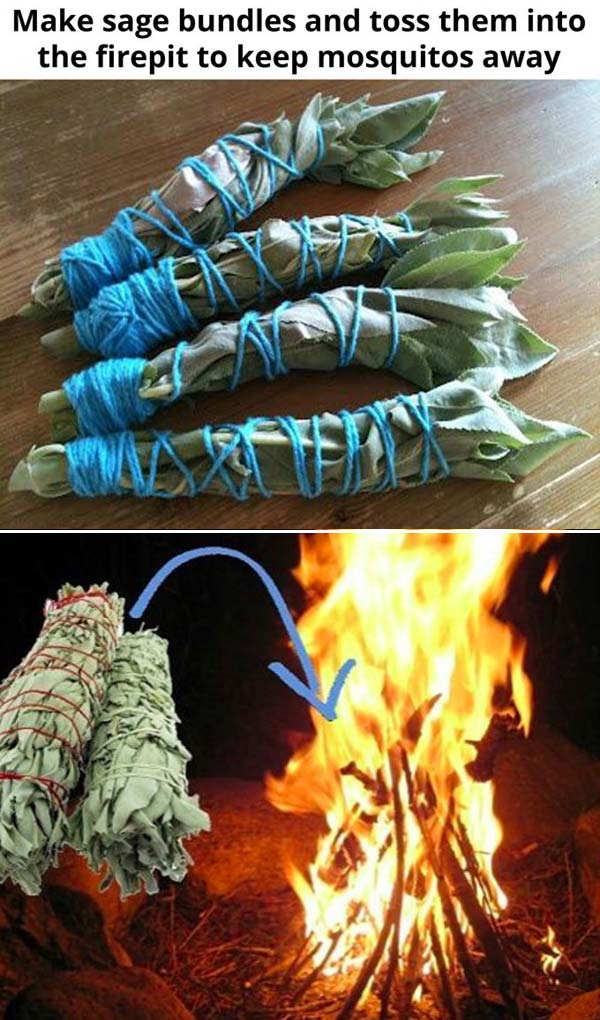 Source: instagram.com
20. Cut a pool noodle into short strips as line markers which prevent tripping over tent ropes.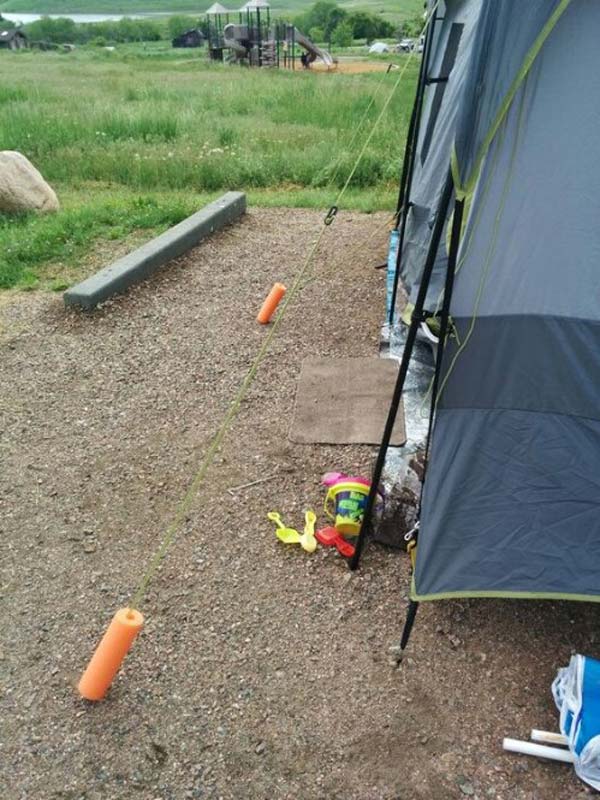 Source Unknown.
21. Create single use antibiotic or toothpaste packs for your next camping trip.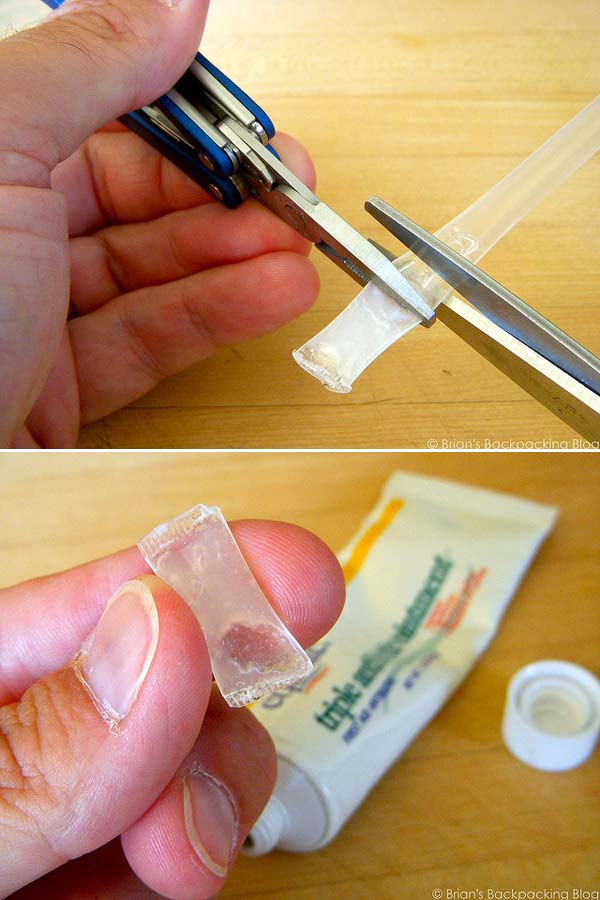 How to make them ====> briangreen.net
22. Use a Tractor Disc for a BBQ.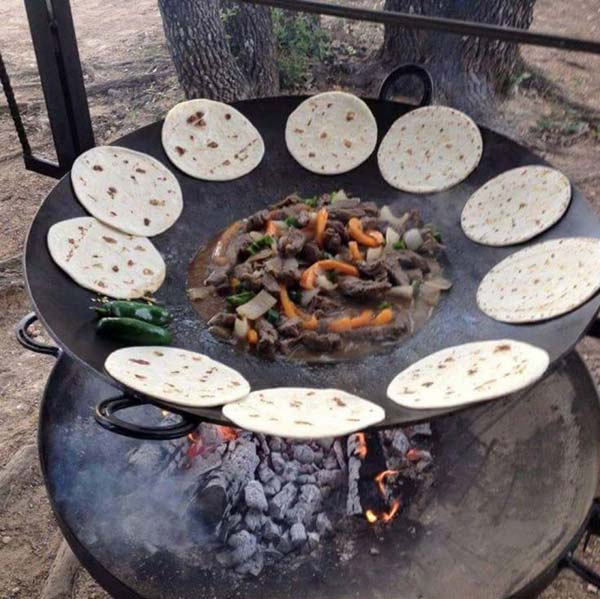 23. Learn to treat and avoid poisonous plants while camping, hiking and gardening at this season.

For more detail at ====> sheknows.com
24. It is really crazy camping hack, campfire eggs in a paper bag.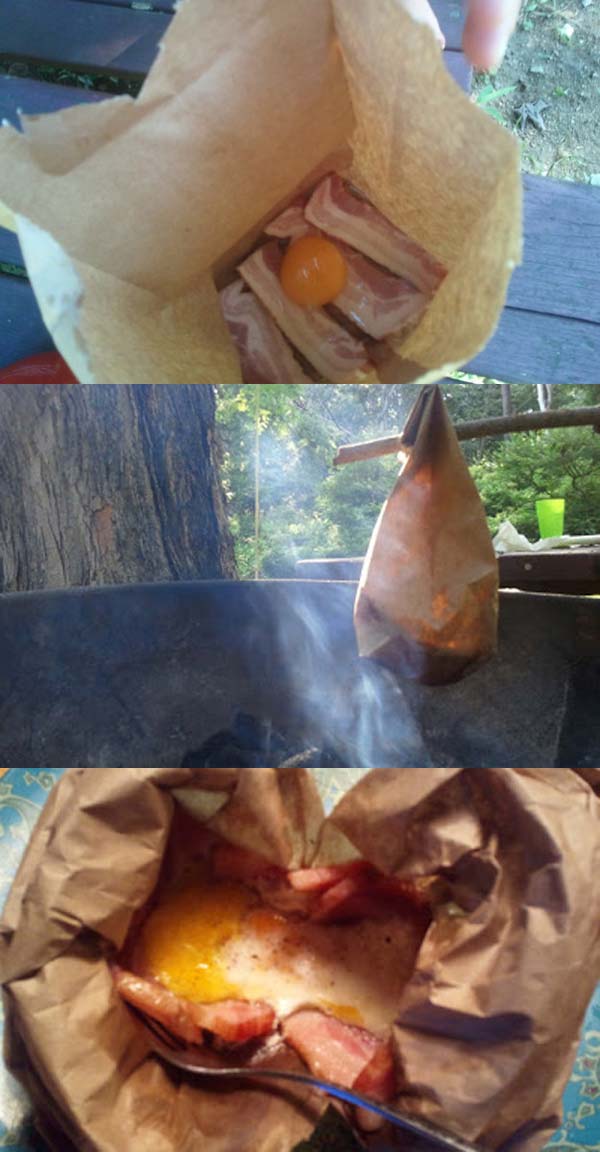 Get full tutorial here ====> realfamilycamping.blogspot.com
25. Take Gorilla Tape and wind it around the RV power cord to stop the ants from getting in the trailer.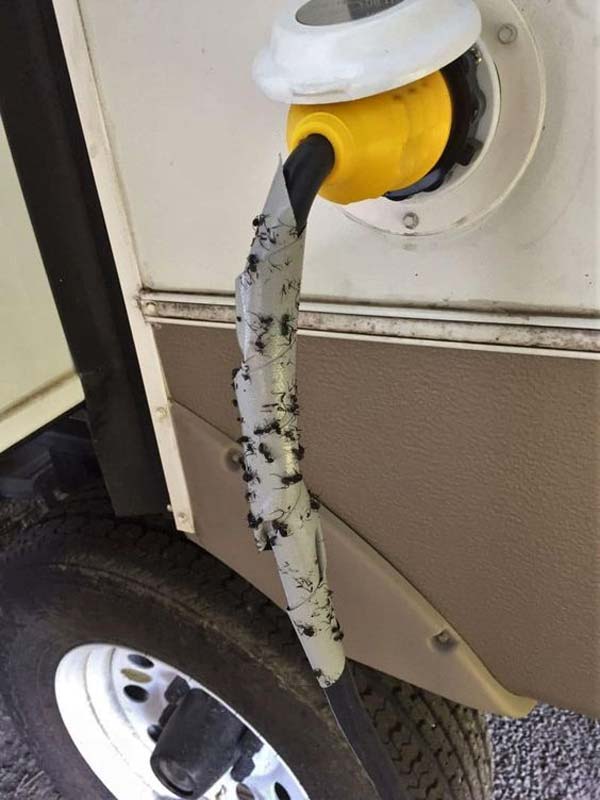 For more detail at ====> loveyourrv.com
26. It is a super easy way to cook an omelette while camping.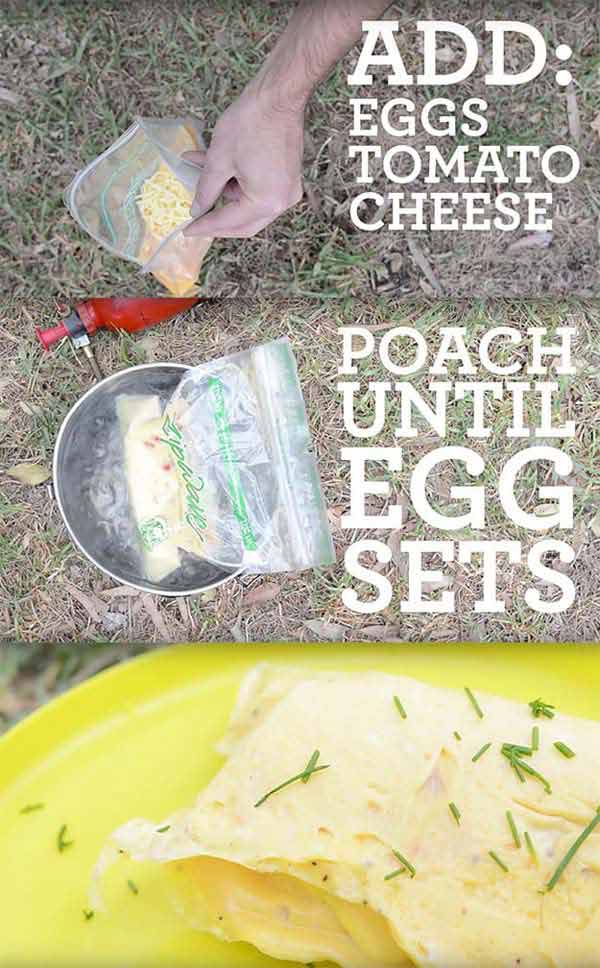 How to make it ====> youtube.com
27. Use insulated foil bubble wrap to make a cooler cover to extend the life of the ice.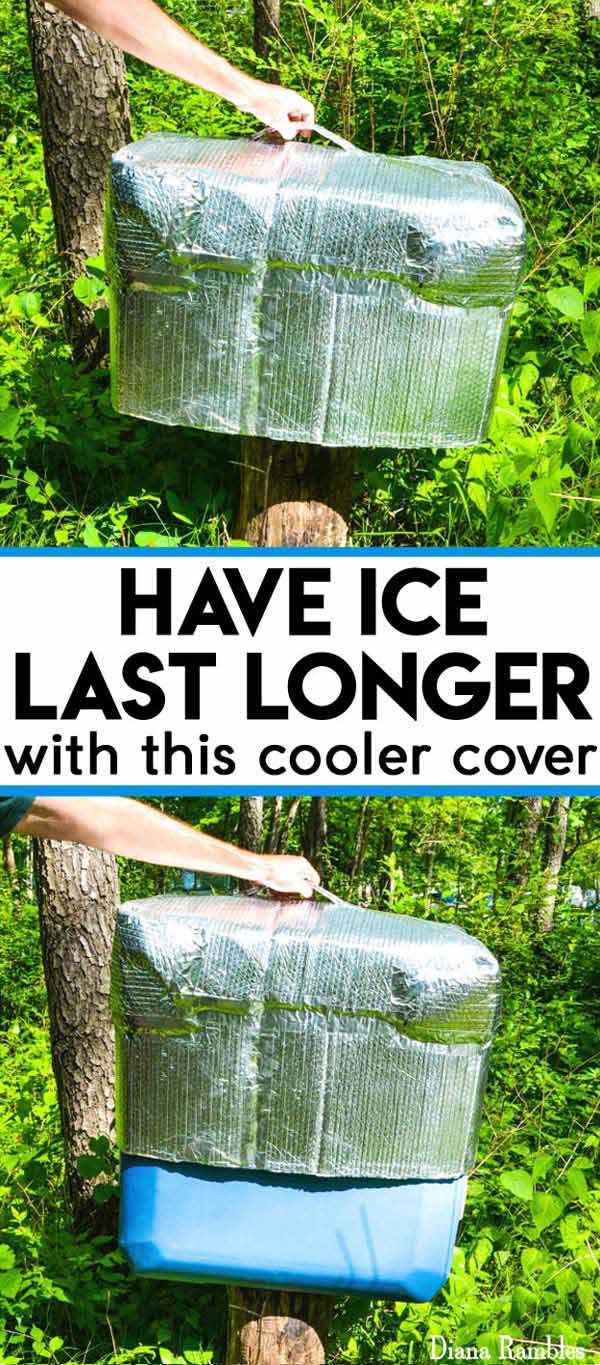 How to make it ====> dianarambles.com
28. Put dirty camping shoes inside of those cheap shower caps.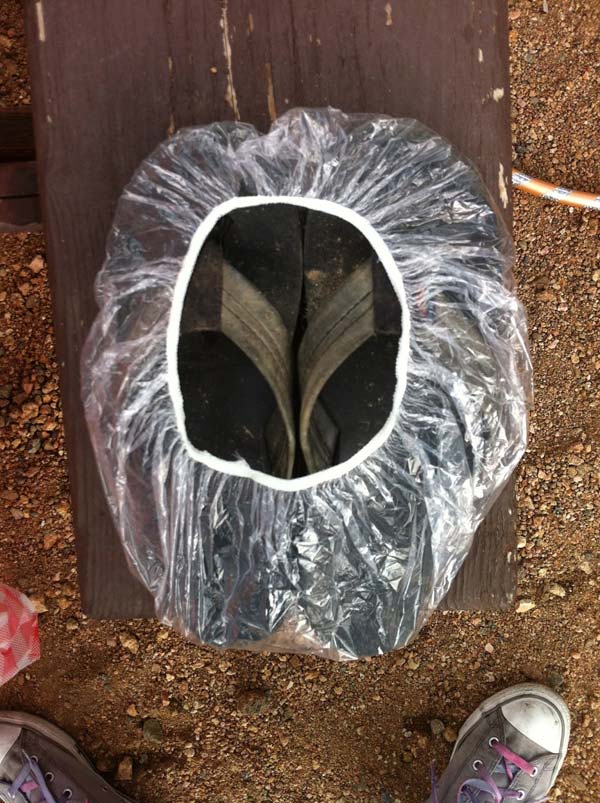 Source: thebrighterwriter.blogspot.com
29. Dollar store pill organizer can be used to organize spice for your camping.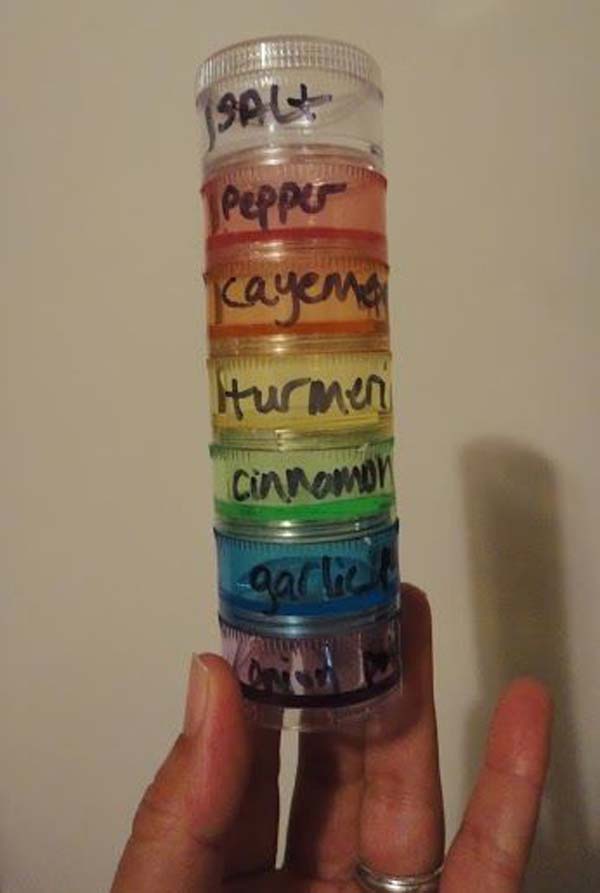 Source: pinterest.com
30. It sounds very cool – Make bread in a tin can. All you need is a tin can and the recipe for your most delicious bread.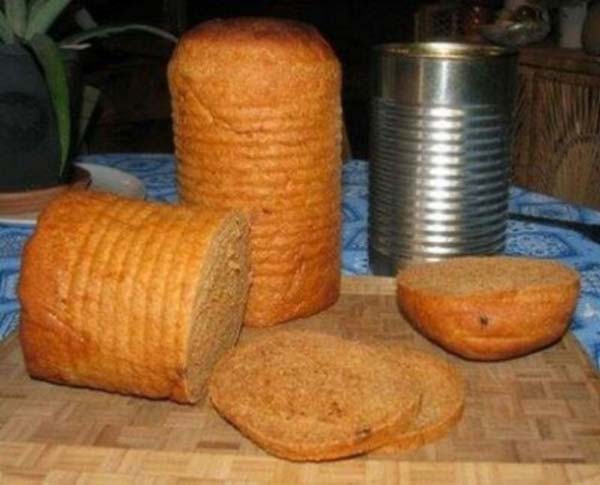 Get Tutorial here ====> thereadystore.com
31. Keep your campsite bright at night with this bucket light.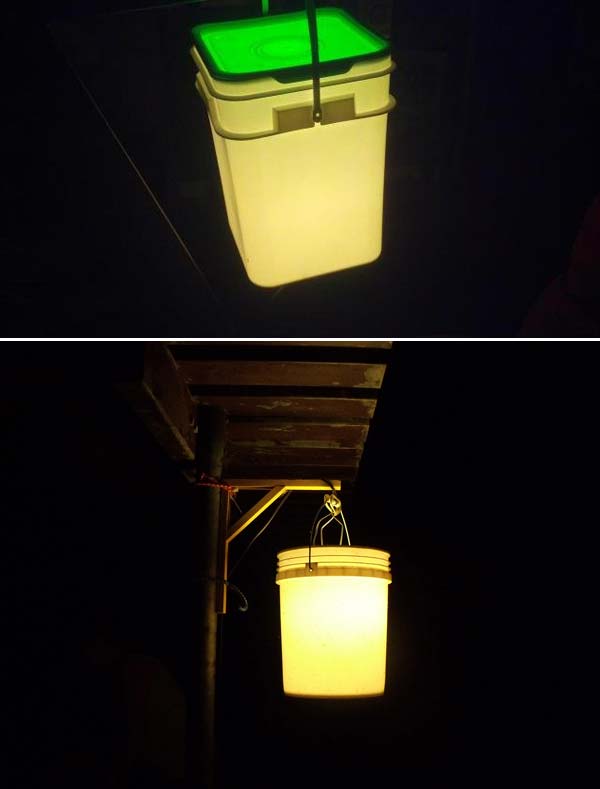 How to make it ====> youtube.com
32. Build a self feeding fire on your camping site.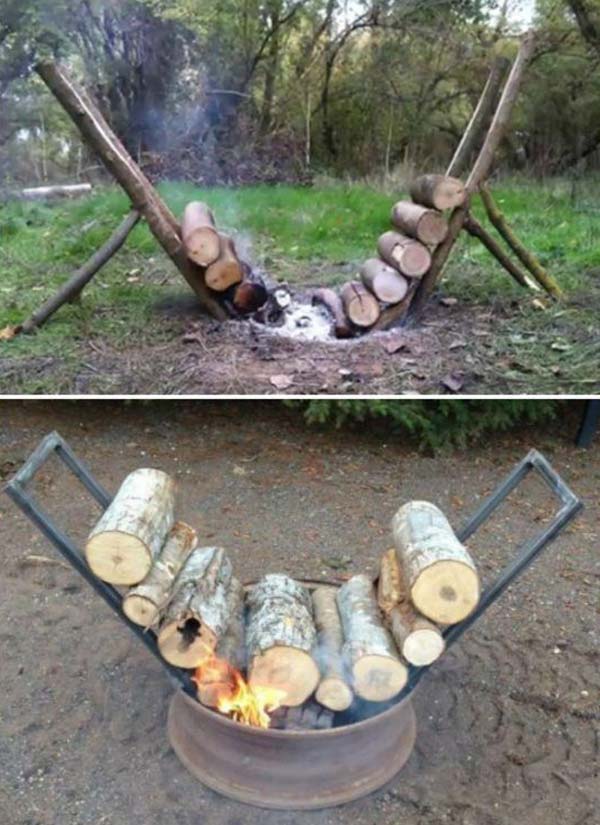 Get Tutorial here ====> youtu.be
33. Bungee cord a box fan to the ceiling of your tent.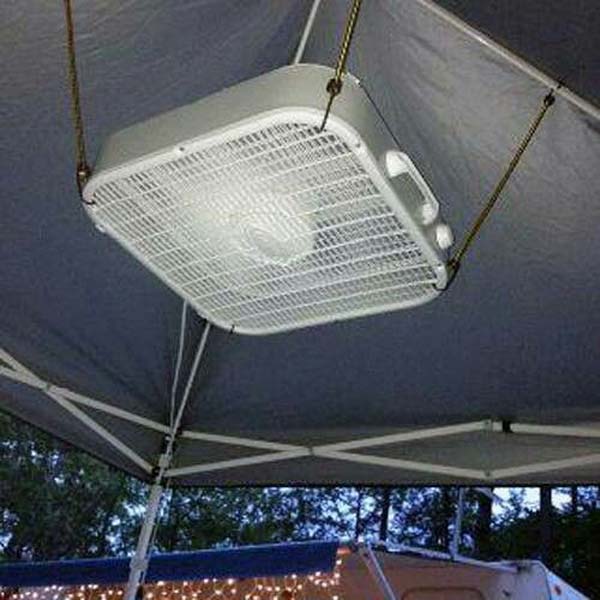 Source Unknown.
34. A clever way to storage and reuse your plastic bags in a plastic bottle; you just shove bags in the top hole and then pull them out of the bottom hole.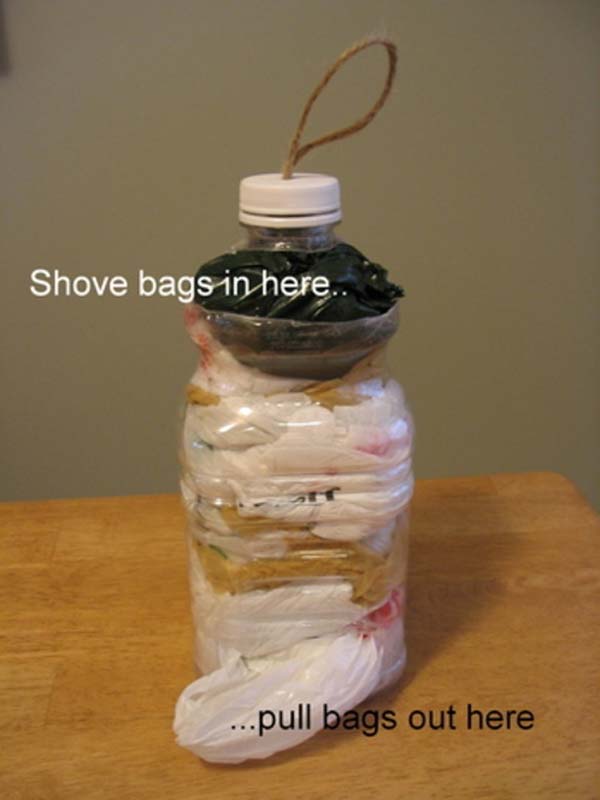 How to make it ====> curbly.com