Top 38 Easy DIY Easter Crafts To Inspire You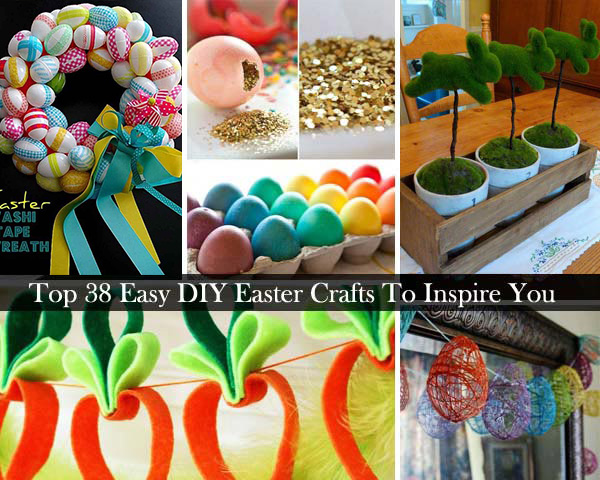 Spring is a colorful season, and almost every people appreciate it, especially when you think that Easter is during spring. There are many ways to celebrate Easter with your family. One of them is dressing up your home using some pretty and easy Easter DIYs.
Decorating your holiday home is always exciting because nothing is more meaningful than something made by yourself. With a little time and effort, you can make many lovely and awesome DIY Easter crafts and decorations by yourself. They add a festive atmosphere to your home and impress your guests in a unique way. Well, prepare some simple materials such as eggs, burlap, paper, etc., and start your crafts with the following ideas!
#1. BUNNY NAPKIN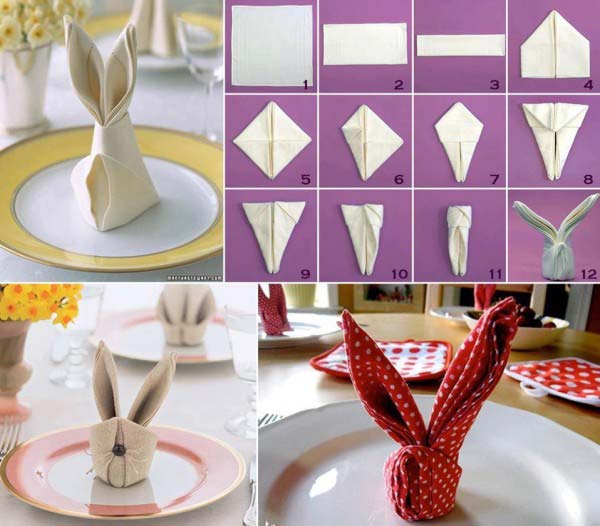 These cute Easter bunny napkins are sure to leave an impression on your guests.  Tutorial: hotpolkadot.com
ALSO READ: 27 Easy and Low-Budget Crafts to Make This Easter
#3. BUNNY BREAD ROLLS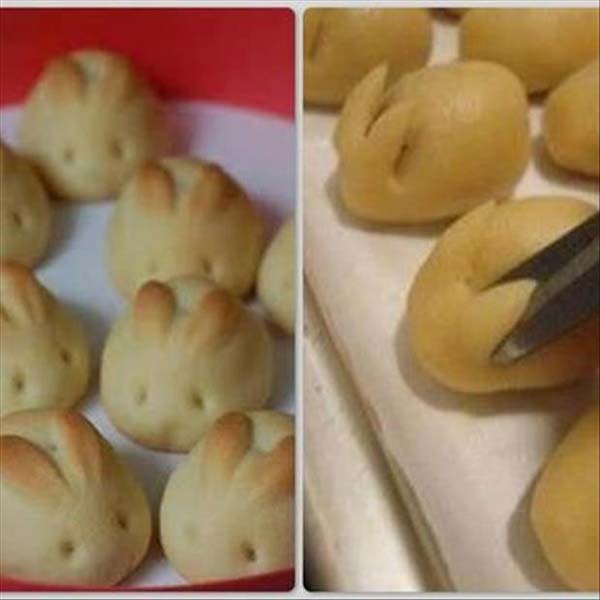 Add a little fun to your dinner table with these cute bunny bread rolls. Imagine how magic it is when the bunny ears appear after baking!  Recipe: maikonagao.blogspot.com
#4. YARN EGGS

Yarn eggs have many excellent uses in Easter decorating plans. For example, you can craft centerpieces by filling the glass vases with yarn eggs, or string a lovely garland over your mantel for everyone to enjoy, and so on. To make these crafts, all you need is yarn, balloons, and glue!  Tutorial: simplejoy.com
ALSO READ: 29 Cool DIY Outdoor Easter Decorating Ideas
#5. BUTTON BUNNY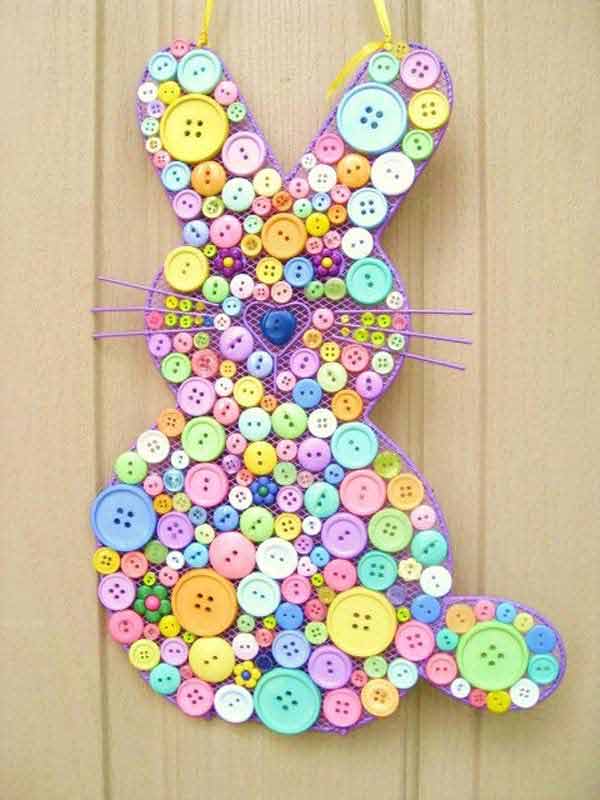 Dress up your front door with a bunny-shaped wreath that covered with buttons of various colors in all different sizes.  Source: etsy.com
#6. EASTER BIRD NESTS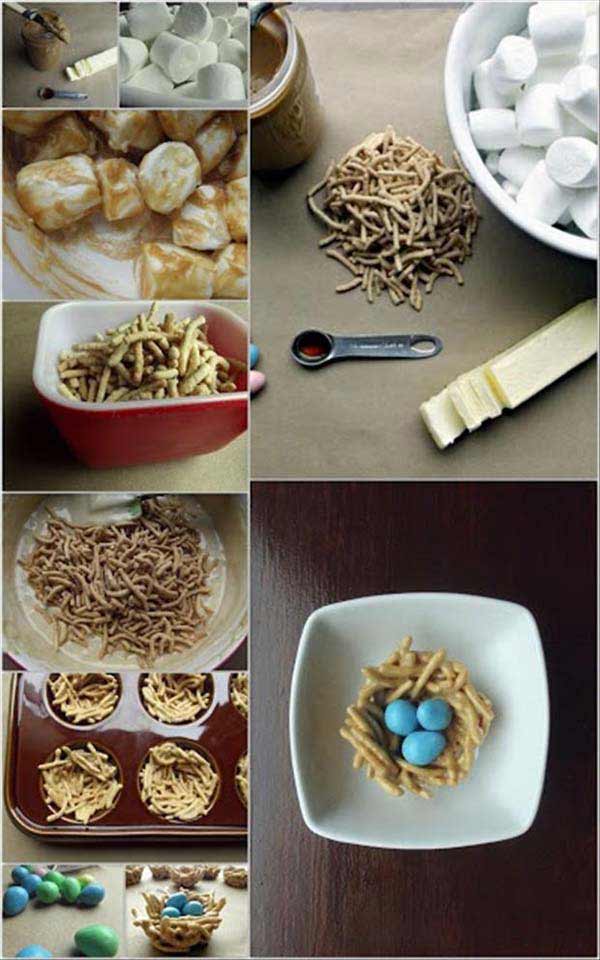 To make these adorable edible bird nests, all you need are crunchy Chinese noodles, marshmallows, and your choice of jelly beans to fill the little nests.  Recipe: allrecipes.com
ALSO READ: 30 Cool and Easy DIY Easter Crafts to Brighten Any Home
#7. PAPER STRIPS EGG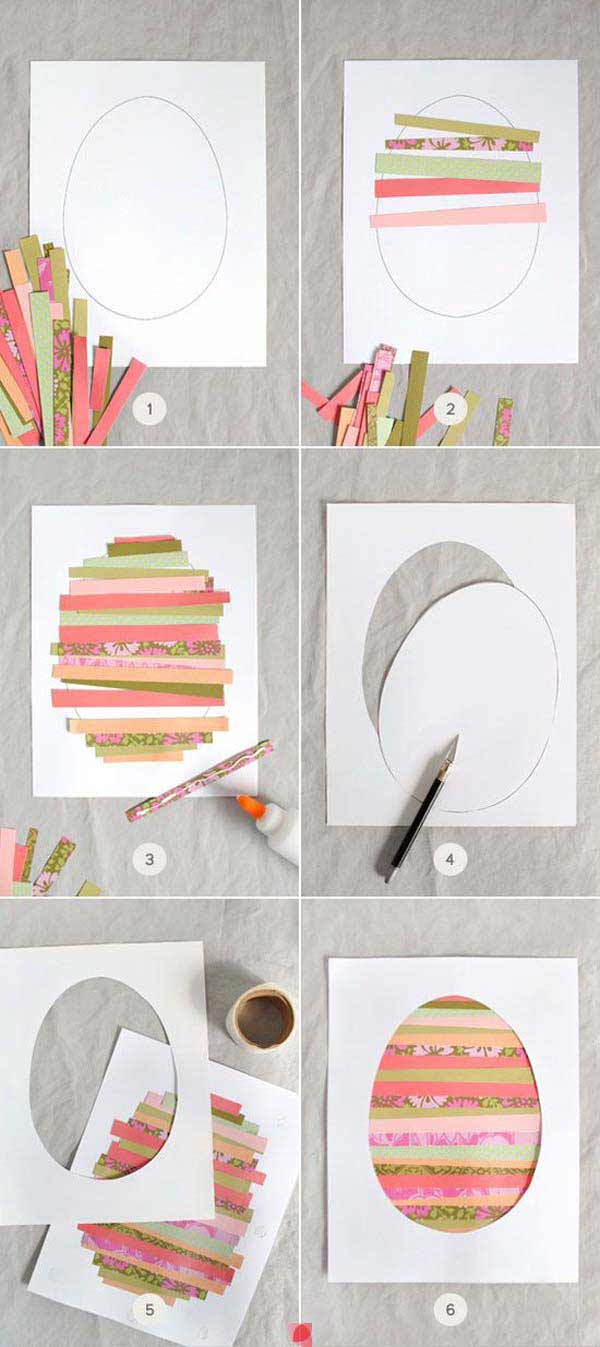 Paper strip egg craft is something that you can do it with your kids. Simply cut the strips of colorful paper and arrange them into an egg shape. Then frame it, and kids are sure to love this fun Easter artwork.  Tutorial: minted.com
#8. JELLY BEAN TOPIARY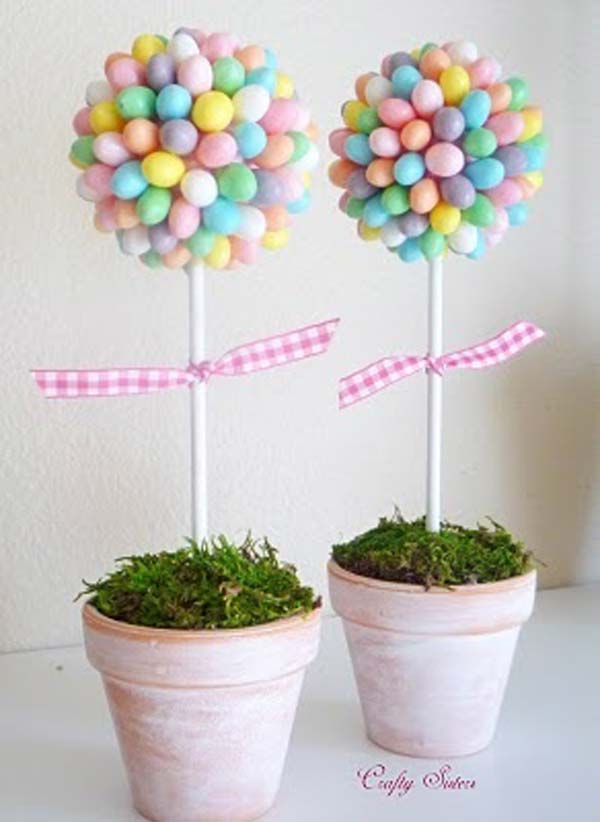 Tutorial: craftysisters-nc.blogspot.com
#9. STAINED GLASS CROSS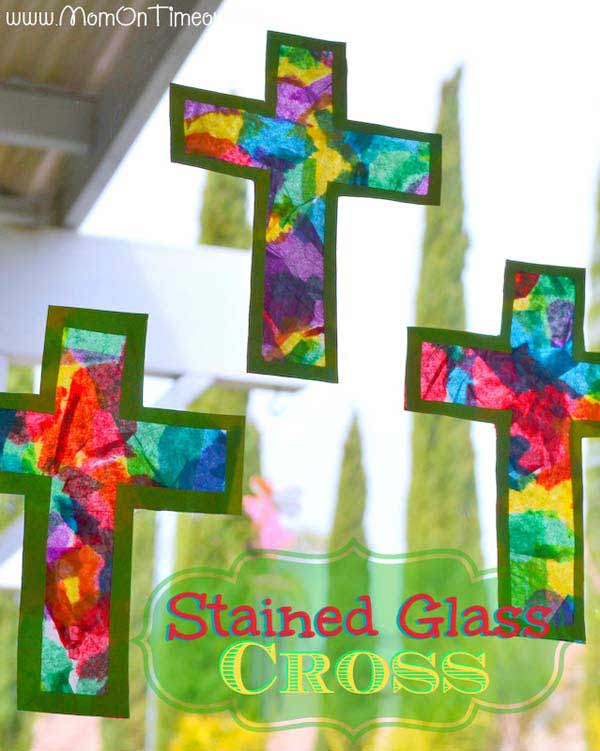 It is just to look like real stained glass, but actually, this kid-friendly craft is made with colorful tissue paper.  Tutorial: momontimeout.com
ALSO READ: Top 22 Cutest DIY Easter Decorating Ideas for Front Yard
#10. BUTTON EGG ORNAMENT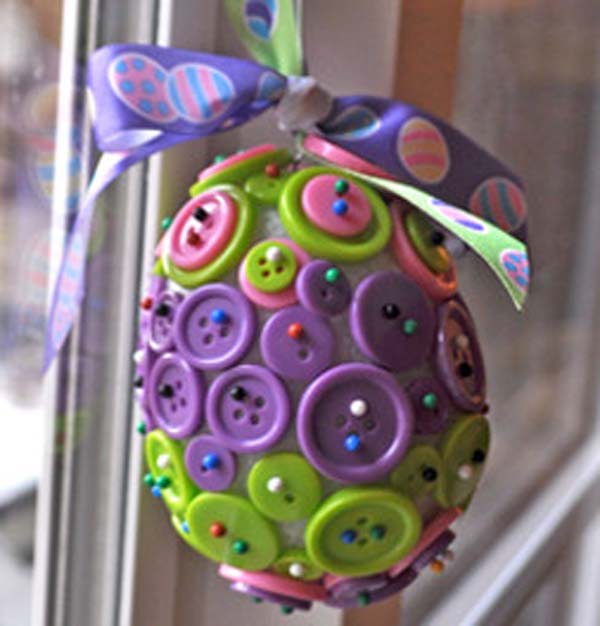 Button is a popular material that can be used to do so many crafts, for example, you simply use some sewing headpins to attach buttons all around the styrofoam ball to get a cute Easter Egg Ornament.  Tutorial: chicacircle.com
#11. TULIP BOUQUET WITH EGGS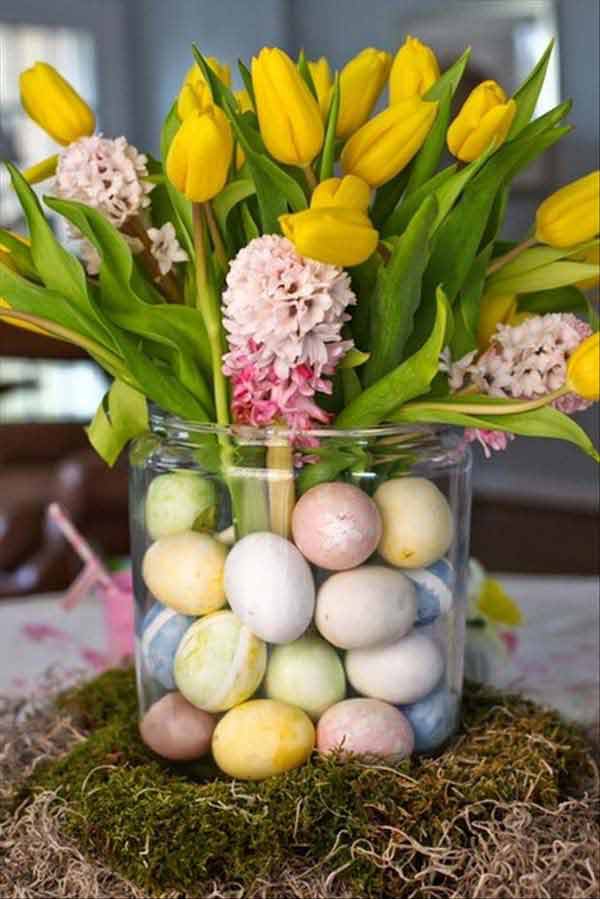 Fill colorful eggs in the base of a large glass vase to create a beautiful centerpiece to decorate your dinner tables during the Easter holiday.
#12. PAINT CHIP EGG GARLAND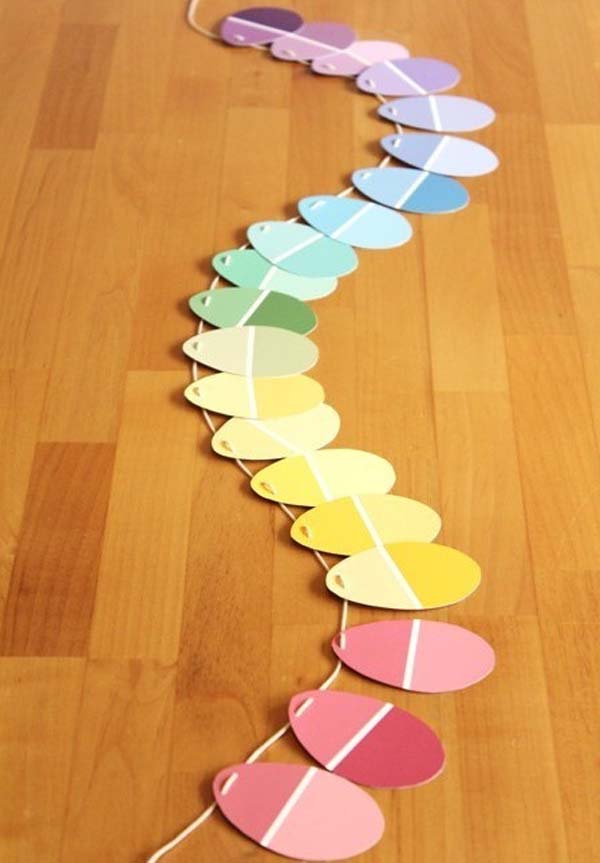 The paint chip egg garland is an excellent craft for this Easter; whether you place it over the table in a meandering manner as a centerpiece or hang it over the mantel, it could add a touch of classy Easter cheer.  Tutorial: modernparentsmessykids.com
#13. EASTER EGG LOVE NOTE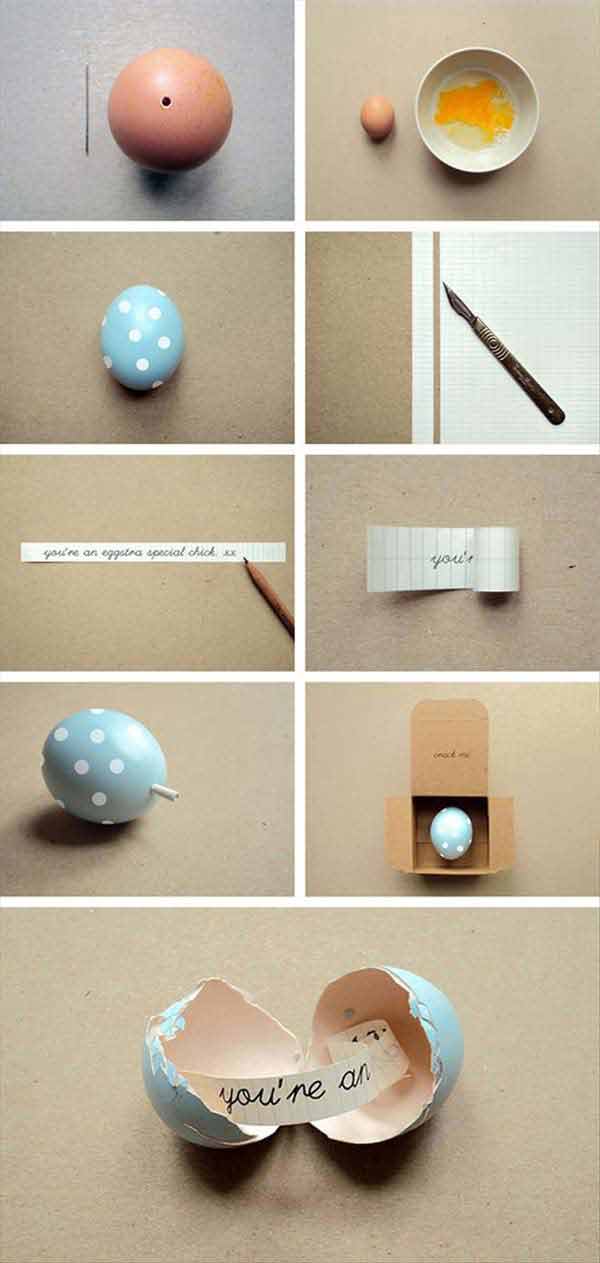 Put a note inside an easter egg, where you can write whatever you want.  Tutorial: snapguide.com
ALSO READ: 24 Cute and Easy Easter Crafts Kids Can Make
#14. FELT CARROT GARLAND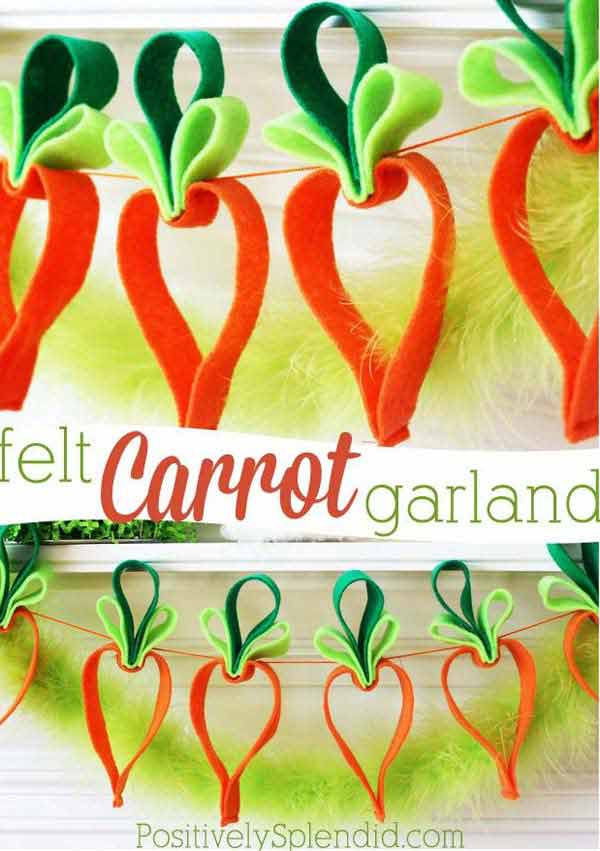 How adorable a felt carrot garland like this! Make these cute felt carrots, string them, and hang the garland on your mantel so that the Easter bunnies will rush to your home when they find these sweet carrots greeting them.  Tutorial: positivelysplendid.com
#15. EASTER MASON JAR GIFT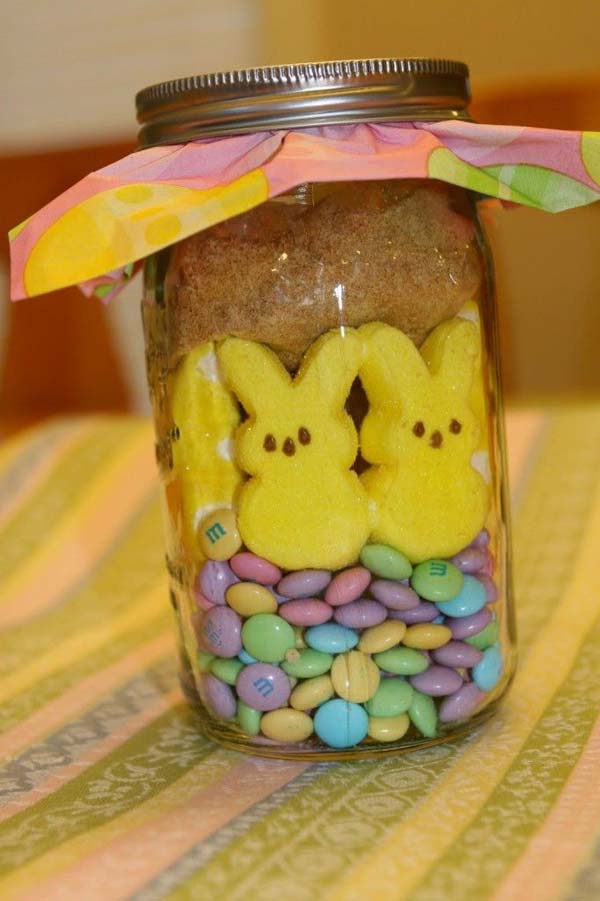 #16. DIY SALT DOUGH EGGS

Have no idea how to decorate your Easter trees in a bright way this year? Why not try to make these pretty cute salt dough Easter Eggs and hang them from the branches in a vase?  Tutorial: designmom.com
#17. WASHI TAPE SPRING EGG WREATH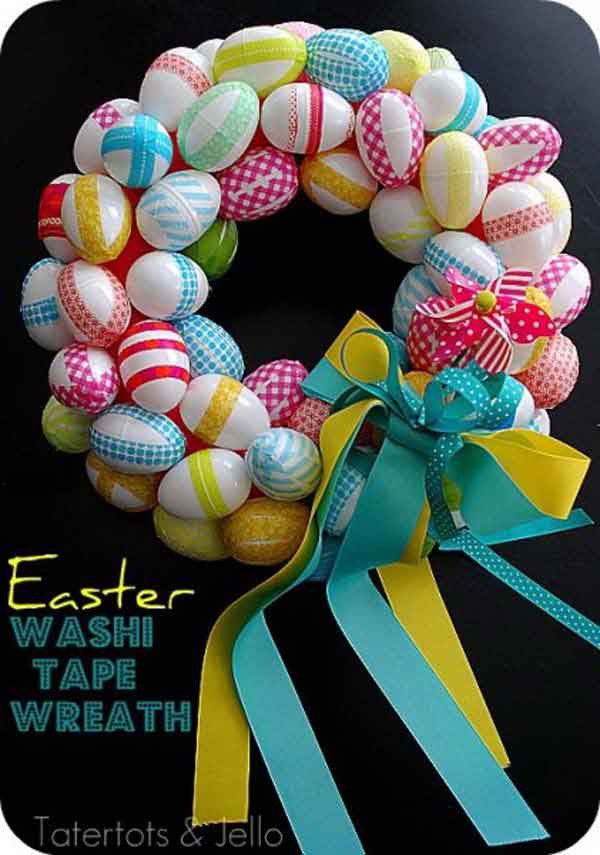 Decorative tape is perfect for making some Spring crafts; for example, you can decorate those white plastic eggs with colorful and patterned washi tape to craft this fun and bold Easter wreath.  Tutorial: tatertotsandjello.com
#18. LEAF PRINT EGGS

Kids love spending time out exploring nature, like collecting small leaves and flowers. Through making leaf and flower print eggs with kids, it shows us how to keep the natural elements in an artistic way.  Tutorial: allshecooks.com
ALSO READ: 30 Creative Easy DIY Tablescapes Ideas for Easter
#19. FABRIC CARROTS WREATH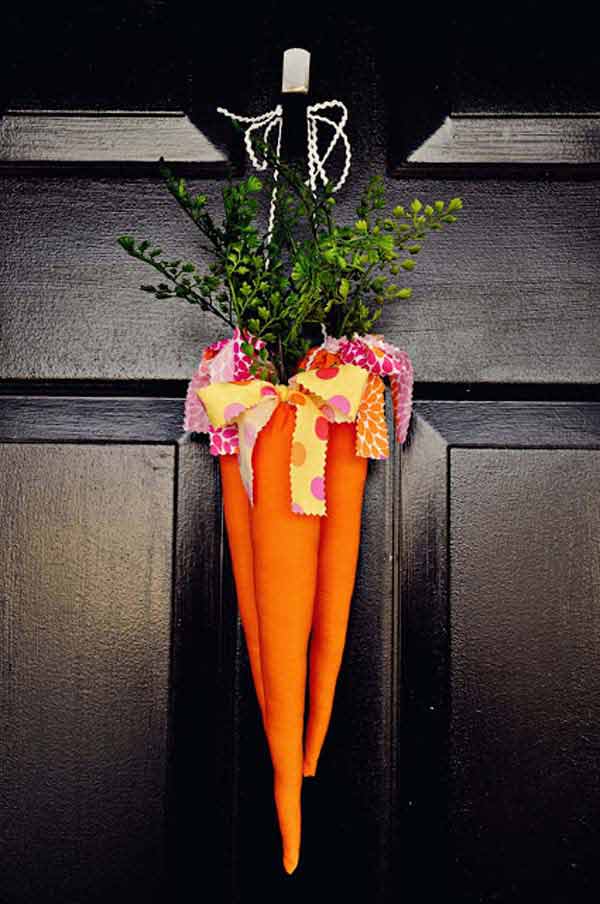 It is time to change the look of your front door with a Spring theme. A fabric carrots wreath not only boosts up the cheery ambiance at your front door but also greets your guests in its unique way.  Tutorial: ballardbunch.blogspot.com
#20. EGG CANDLE HOLDER
Tutorial: thecsiproject.com
#21. EGGSHELL VOTIVE CANDLES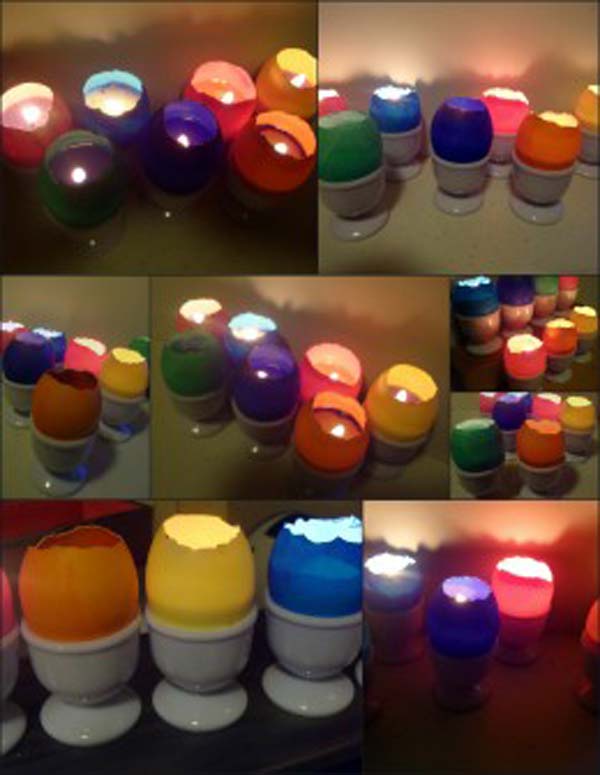 How magic it is when you display these lovely eggshell votive candles in groups on a counter or table!   Tutorial: feltmagnet.com
#23. GLOW IN THE DARK EASTER EGGS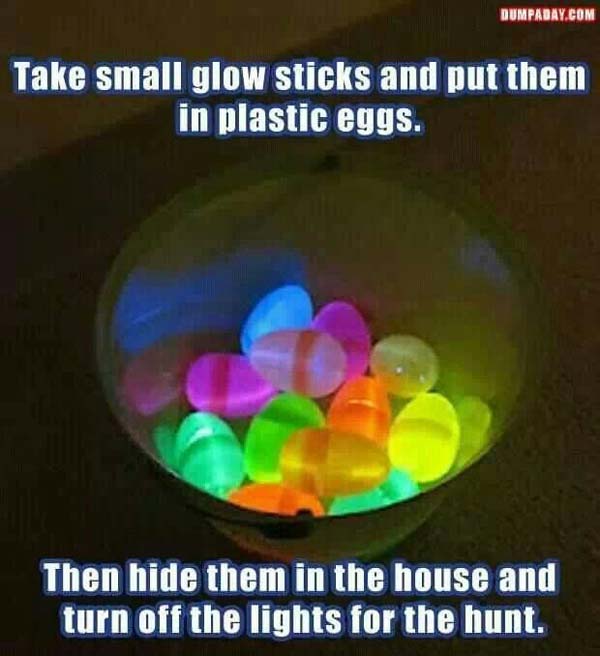 Obviously, these plastic eggs filled with glow sticks and a few treats would be your kid's favorite, if you want to host an Easter egg hunt at night. Tutorial: lilluna.com
#24. CARROT CUPCAKE PLANTATION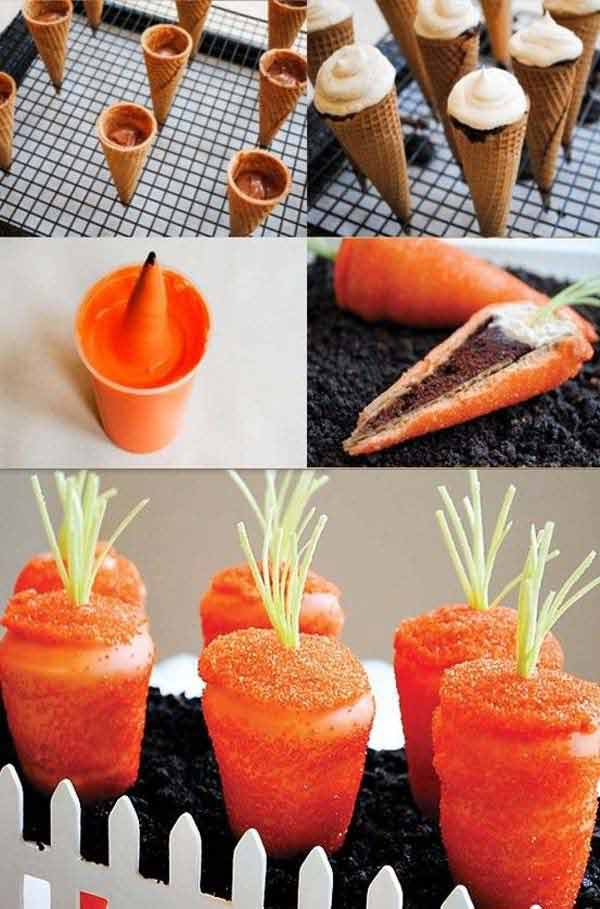 Make use of ice-cream cones to shape a tasty carrot plantation that would make your little egg-hunters say a big wow. Tutorial: hwtm.com
#25. CARROT NAPKIN BUNDLES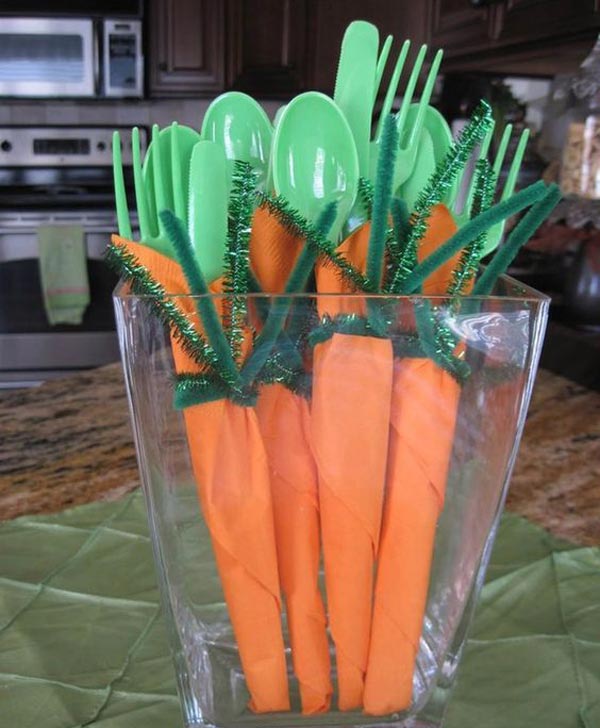 Set a festive Easter table with these carrot shaped napkin bundles. To make them, all you need are green utensils, orange napkins, and green pipe cleaners. Let's start.    Image Source: theyarecrafty.blogspot.com
#26. EASTER PEEP ARRANGEMENT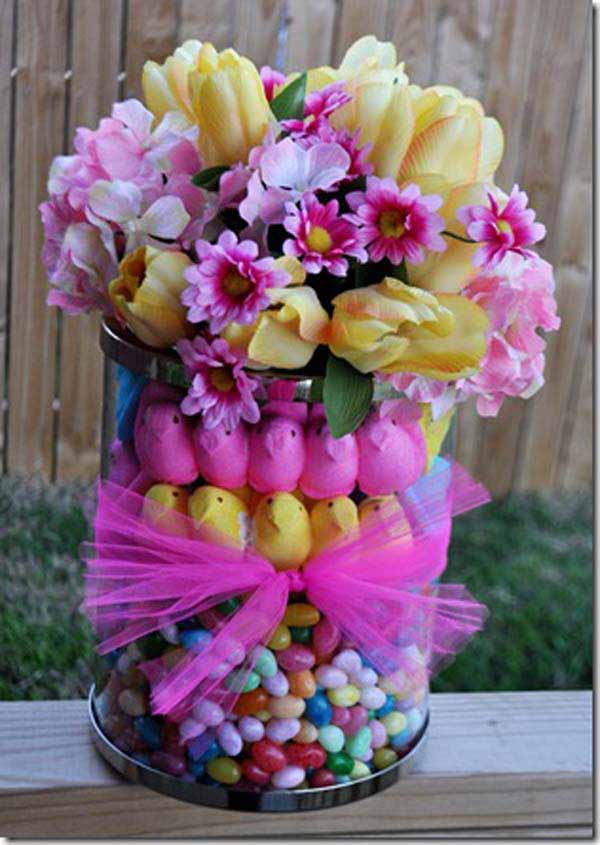 Peeps and some jelly beans paired with Spring flowers in a glass vase make for a delightful centerpiece.    Tutorial: theautocrathaley.blogspot.com
#27. Glitter-filled Easter Egg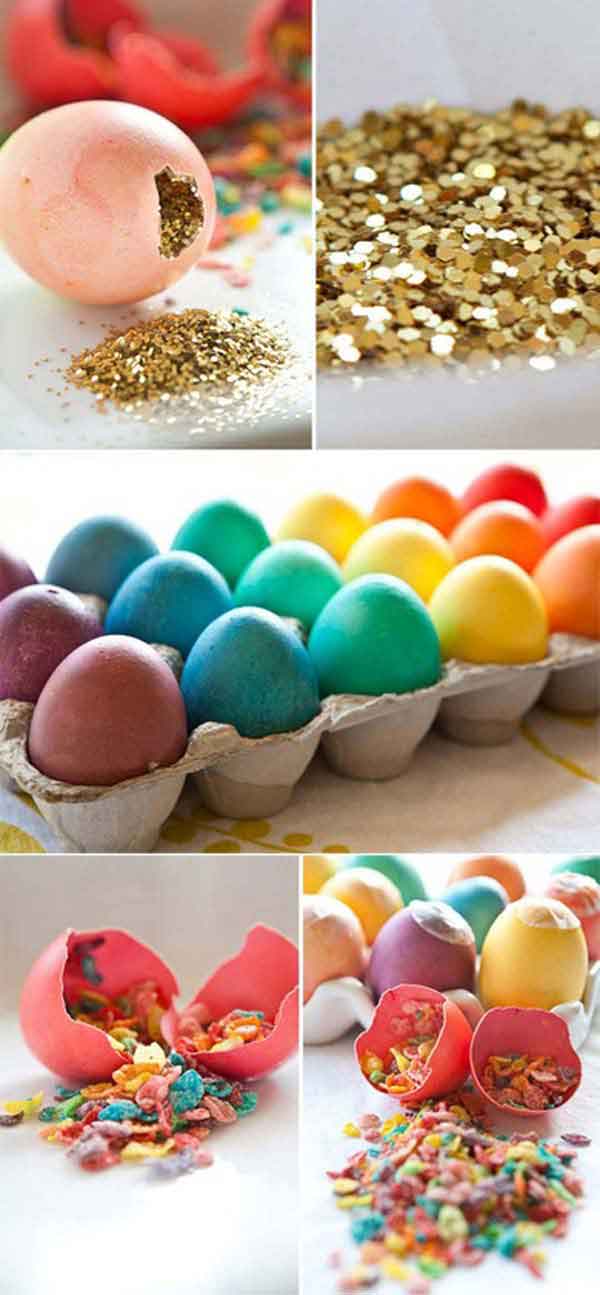 These colorful egg bombs filled with glitter and sweets are an enjoyable activity that you can do it with your kids this Easter. Tutorial: ohhappyday.com
#28. Peeps, Easter Grass & M&Ms Centerpiece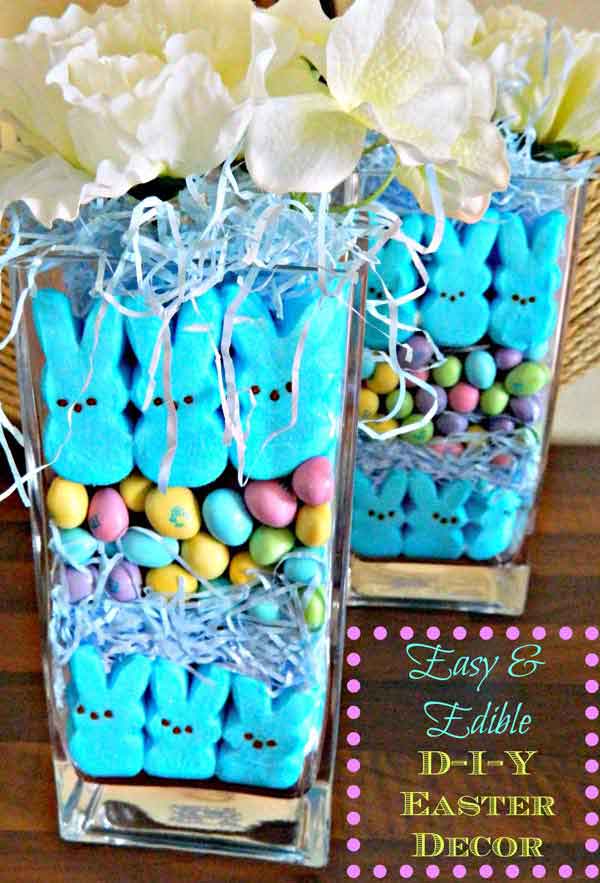 #29. PAPER CARROT TREAT BAGS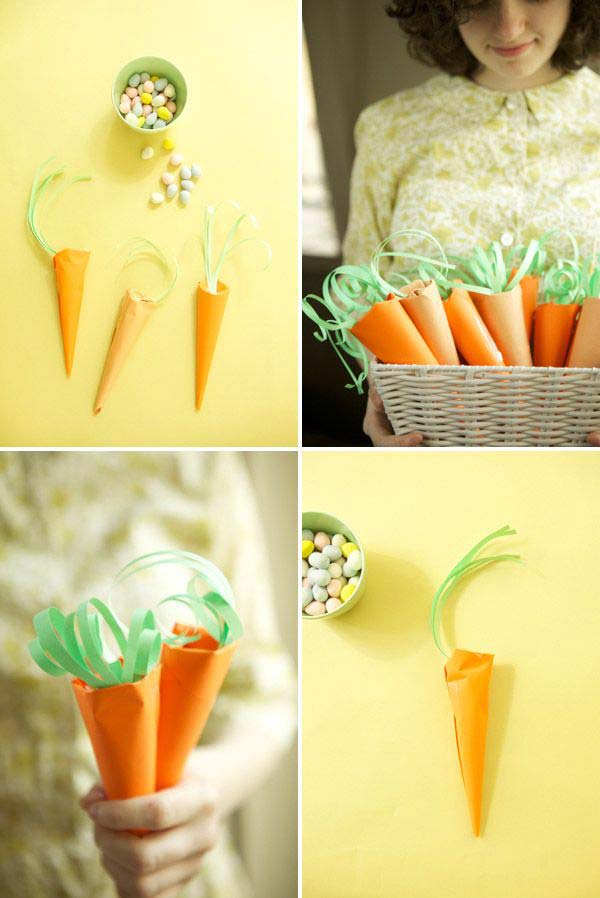 The carrot shaped treat bag would be the kid's favorite gift when it is filled with treats inside.  Tutorial: ohhappyday.com
#30. DYED EASTER EGGS

As a traditional Easter activity, hard boiling eggs and dyeing them bright colors always are a fun activity for bunnies of all ages.
#31. MOSS BUNNY TOPIARIES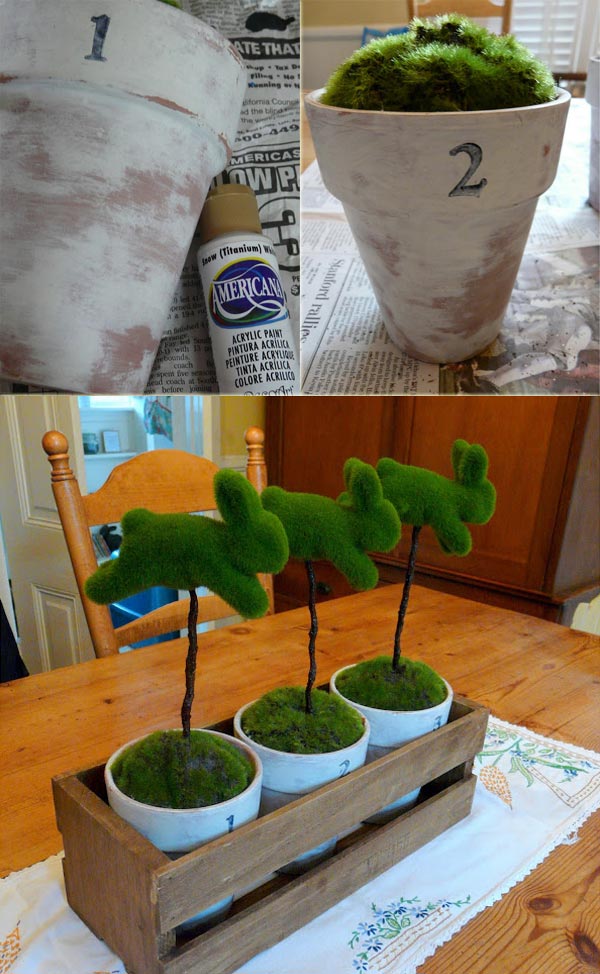 #32. CARROT CHEESE BALL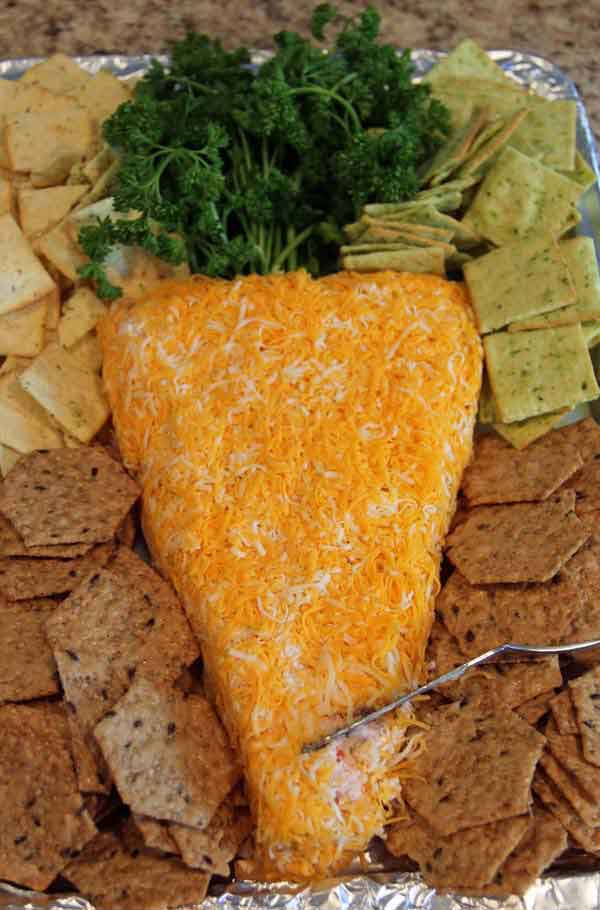 This great recipe helps you shape a tasty carrot cheese ball.    Source
#33. BUNNY SHAPED COOKIES
#34. EGG CARTONS WREATH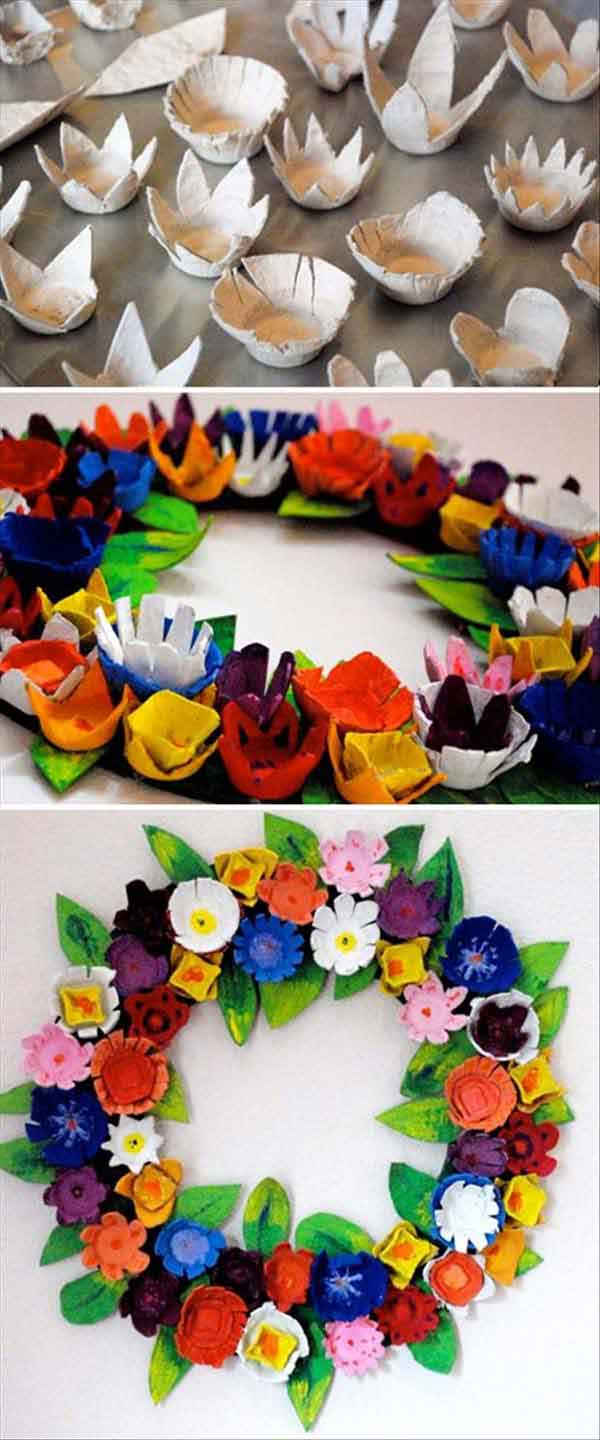 As the best symbol for the Easter holiday, the wreath creates a festival ambiance at your front door easily. Making a wreath is also a fun activity you can do with kids; for example, you would repurpose those styrofoam egg cartons into a beautiful easter wreath.
#37. EASTER EGG TREE
There is no better way to welcome the Spring season than with a festive tree made from colorful Easter Eggs and a few craft supplies.    Tutorial
#38. JELLY BEAN TREE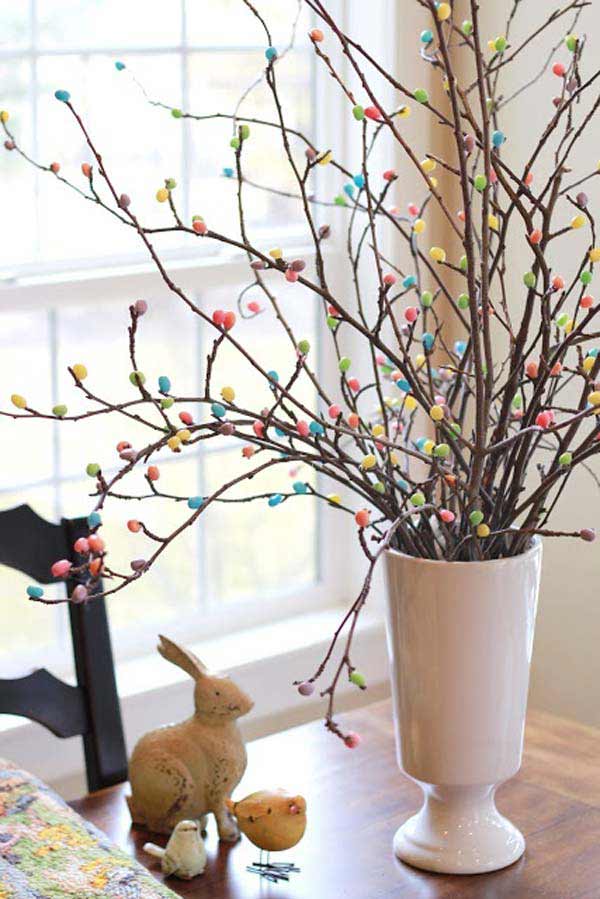 Stick Jelly Beans to the tree branches filled in a white vase to create a beautiful centerpiece that would much match your dinner setting. Tutorial: craftysisters-nc.blogspot.com