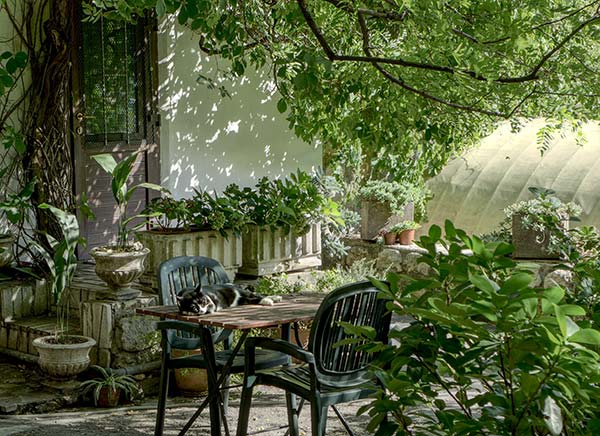 Do you have a little spot in your garden crying out for you to do something with it? Maybe you're imagining a lovely spot to serve breakfast and read the paper, or somewhere to get the girls round for a gab, or simply somewhere to sit in peace and allow nature to calm your mind. If that sounds appealing, we have some ideas to help you get there. Read on for our top picks on how to upgrade that garden spot.
With a water feature
Something that is usually direly missing from western gardens is the water element. The literal element of water. Depending on how far south you are, you're likely to see little rain and often none, but you can incorporate it into your quiet slice of heaven with a water feature. They come in all shapes and sizes, from the sculptures of cherubs you are definitely picturing to more modern and abstract sculptures like orbs that release water at a gentle rate. Let the soothing ripples and the sounds calm your nerves while you feel the wind in your hair.
With a fire pit
On the other hand, fire is an element you try not to get too much of in your garden. But if it's controlled, fire can be another way to bring nature into your life, and it can even be a homing beacon for people to gather around. A fire pit turns a garden into a hang-out spot. Seats around it can be couches or boulders, but everyone is captivated by the flames, warmed, and sharing stories.
With a pond
A pond is a great option for animal lovers around the world. It's easy enough to install your own pond in your garden once you get over the heavy duty of digging it out. You're giving a home to lots of creatures, from bugs to fish to frogs, etc. and creating an environment that will encourage wildlife and pollination.
With a patio set
A good patio set turns a garden into a dining area. You can go the dining table route and imagine a charcuterie board and a glass of wine, or you can get something comfy and squishy and imagine toasting marshmallows and a hot chocolate. Shopping for cheap furniture that will spruce up your patio is all about finding your tastes, your needs, and your inspirations.
With an outdoor daybed
The latest outdoor trends of 2022 undoubtedly involve a daybed, and that's no different when talking about outdoor furniture. Yet another option when it comes to patio furniture, the outdoor daybed is usually more curved and circular, missing the fold-out element, but houses a few bodies for a comfy time. These bodies can be entirely human or a furry snuggle buddy and a few fictional friends in the form of a book nearby.
With a hammock
Then again, if you want real comfort, you can't go wrong with a hammock. Swing lightly in the breeze, snuggle up for a nap, and enjoy the fact that it can be folded away when the rain starts.