#21 Tissue Paper Easter Egg Suncatcher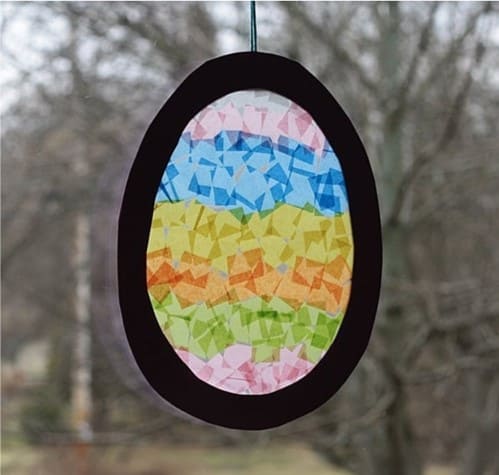 via: Crafts By Amanda
For this Easter craft and decoration, all you need is contact paper, pre-cut tissue paper squares, and your eager 3-year-old.
#22 Pompom Painted Easter Egg Craft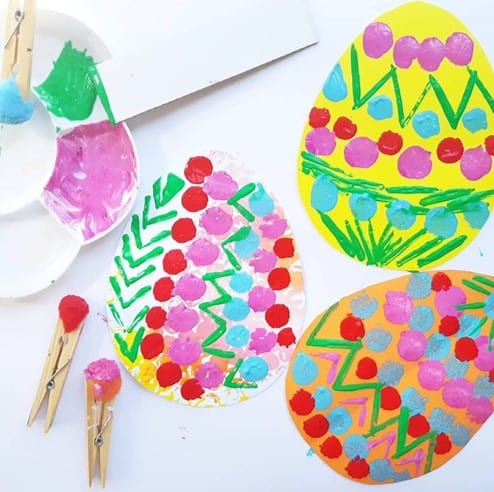 @art_with_georgie
This pretty decorated Easter egg craft uses pompoms held with clothespins instead of paintbrushes. It's not only a fun and interesting way to develop fine motor skills and hand-eye coordination, but patterning is also an important pre-math skill. Of course, if your 3-year-old prefers to paint and smudge their own creations, that's perfectly fine.
#23 Tissue Paper Dyed Easter Eggs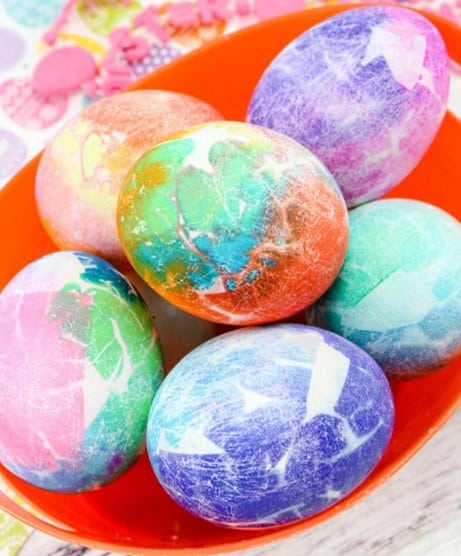 via: Savvy Mama Lifestyle
There are many egg-dying techniques, but I particularly like this one using tissue paper. Once the eggs are hard-boiled, your 3-year-old can spray them with water using a spray bottle, then cut and shred the tissue paper to stick all over. Spray again and allow to dry. Peel off and voila! Dyed and decorated.
#24 Melted Crayon EasterCraft
via: Red Ted Art
My two kids loved the melted crayon rocks we did earlier in the year, so I thought it would be a clever idea to do it with real eggs. Simply hold a crayon onto a hot, hard-boiled egg and let the colors drip and run down the sides, then allow to dry. Of course, be careful of little fingers burning and make sure your preschooler listens to your warnings!
#25 Marbled Easter Eggs with Paint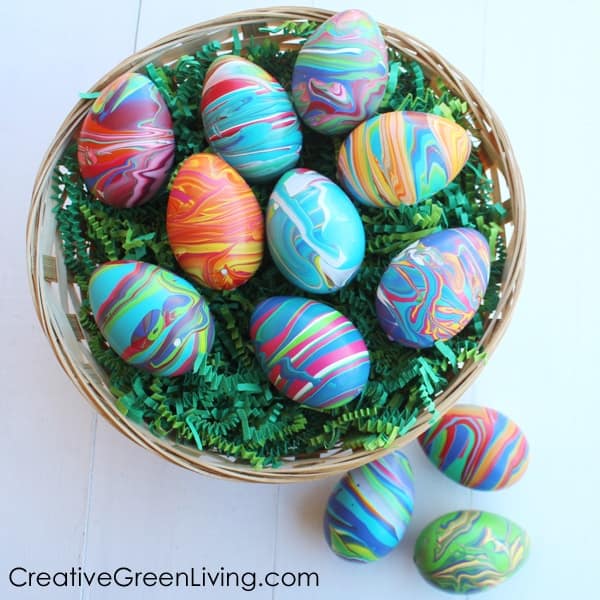 via: Creative Green Living
This marbling craft uses "marbling paint" and has the potential to be messy, so it may be best to save it for when your 3-year-old is a little older. However, the end result looks simply stunning, and if you use wooden craft eggs, it can make a lovely decoration for many Easters to come.
#26 Felt Easter Chick Egg Cups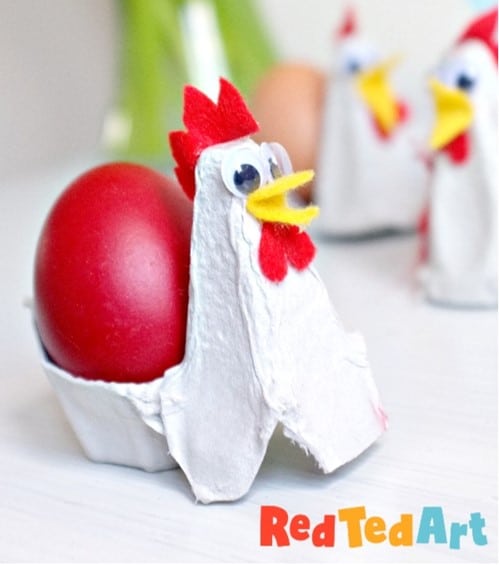 via: Red Ted Art
First step: Felt cutting! It can be a bit tricky to cut out all the bits and bobs, but once that's done, let your preschooler do the sticking. The end result? Adorable Easter chick egg cups perfect for any 3-year-old that loves boiled eggs.
#27 Blown Egg Hatching Easter Chicks Craft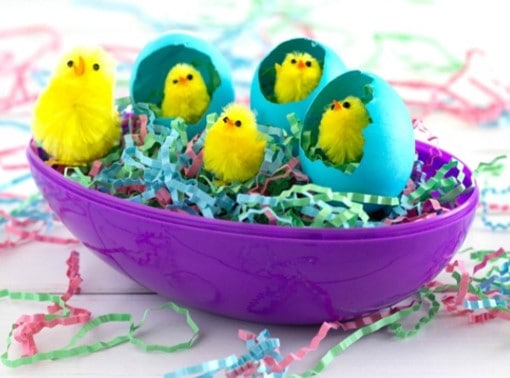 via: Fun Money Mom
The main ingredients for this Easter chick craft? A blown egg and your 3-year-old's delicate hands. While this one may be better suited for older kids, it all depends on your preschooler's skills and mood.
#28 Upcycled Eggbox Hens and Chick Craft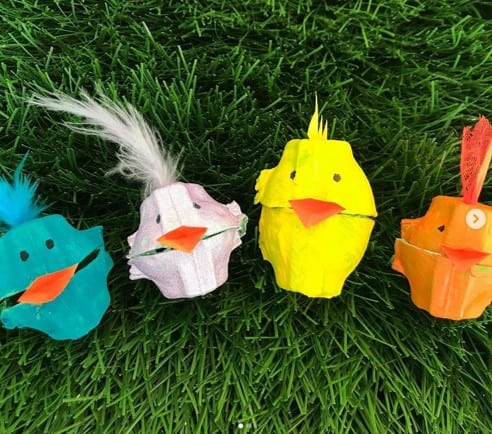 via: @createaparty3
Don't throw out those egg cartons! Instead, use them to create an easy and fun Easter craft. Once complete, any 3-year-old will have a blast playing with these eggbox hens and chicks.
#29 Modge Podged Easter Chick Craft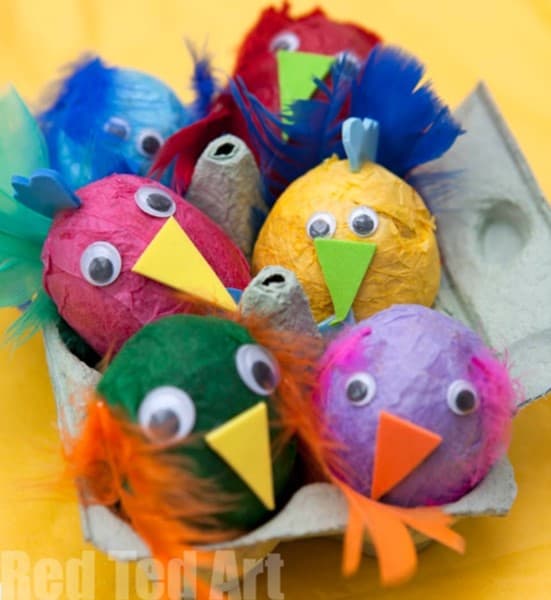 via: Red Ted Art
For this craft, blown eggs are modge podged with tissue paper and then decorated with feathers, felt beaks, and googly eyes. If blown eggs seem like too much with a 3-year-old in tow, wooden or plastic eggs can be used instead.
#30 Spin Art Bunny Craft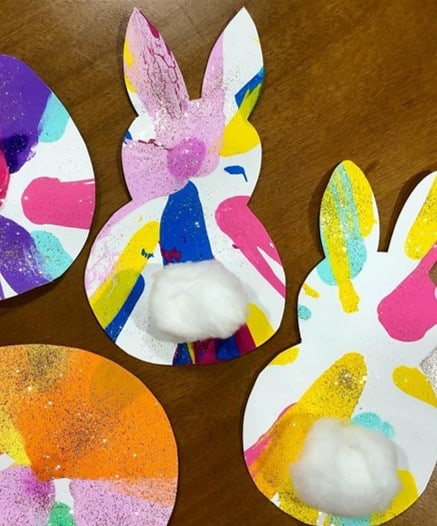 via: @growing_up_murphy
Process art meets Easter in this fun activity. Use a salad spinner to fling paint onto bunny cutouts, leaving behind modern, art-like paint streaks. Your 3-year-old is sure to love this one!
#31 (Craft for Jumping Easter Bunny)
via: Mombrite
Here's an Easter craft that will keep your preschooler or toddler entertained. By pushing down on the top cup, the bunny should jump, thanks to some elastic bands that you can just see on the edges. Check out the tutorial in the link above.
#32 (Craft for Easter Bunny using Toilet Paper Roll)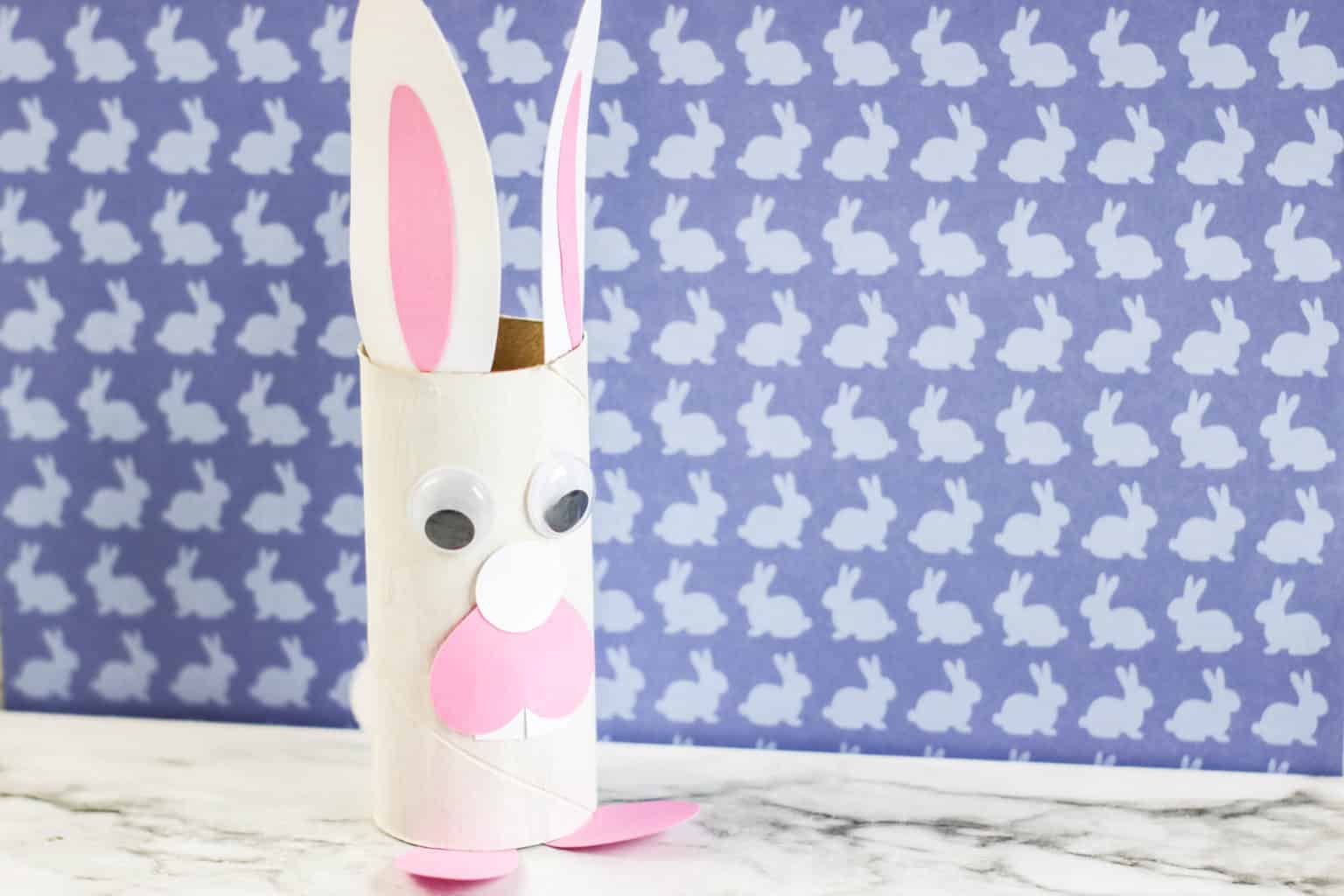 via: Hispana Global
This Easter Bunny made from a toilet paper roll looks like it could just hop right across the table! With the printable template, it's a nice and easy Easter craft for 3-year-olds.
#33 (Craft for Salt Dough Easter Bunny)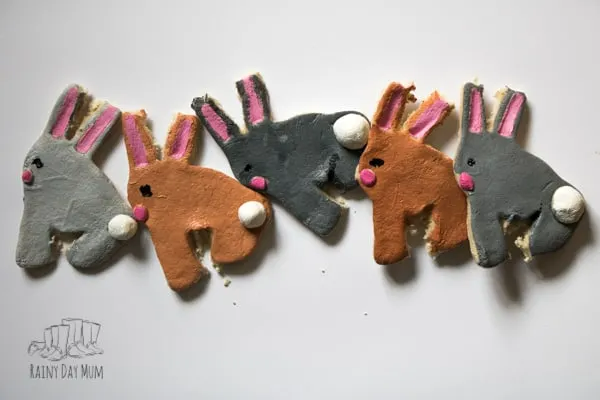 via: 3 Boys And A Dog
These salt dough bunnies seem to be sitting rather than hopping, but they're still adorable! A cute Easter craft and activity for 3-year-old preschoolers that will make a lovely keepsake for years to come.
#34 (Easter Bunny Nature Collage Craft)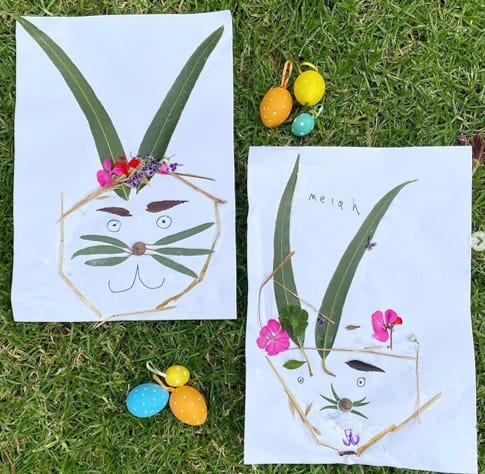 @laurens_lil_learners
This Easter craft for 3-year-olds brings the outside in, with bright colors and full of the signs of spring. Plus, the results could be quite amusing, depending on where the eyes and nose end up.
#35 (Craft for Easter Bunny using TP Roll)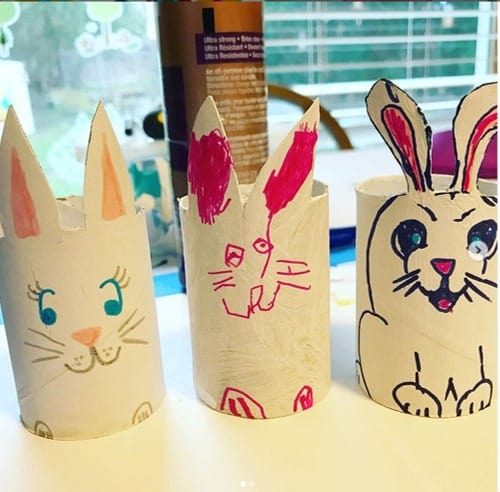 @pictureparents
Here's another upcycled toilet paper roll bunny, but this one with hand-drawn faces and ears cut out of the top of the cardboard. All you need are some marker pens, toilet paper rolls, and toddler-friendly scissors to get started.
#36 (Nature-Inspired Easter Bunny Mask Craft)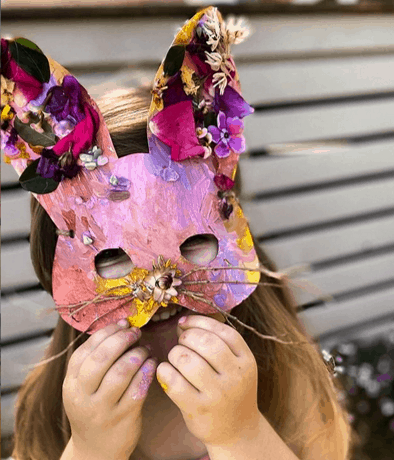 via: @bayareatoddlers
This is another nature-inspired Easter craft for preschoolers, where they can make and wear an Easter bunny mask decorated with small flowers, petals, leaves, twigs, and a flower for the bunny nose and whiskers. It's a great way to get your 3-year-old outside and foraging for all the bits and pieces.
#37 (Hopping Bunny Rabbit Craft)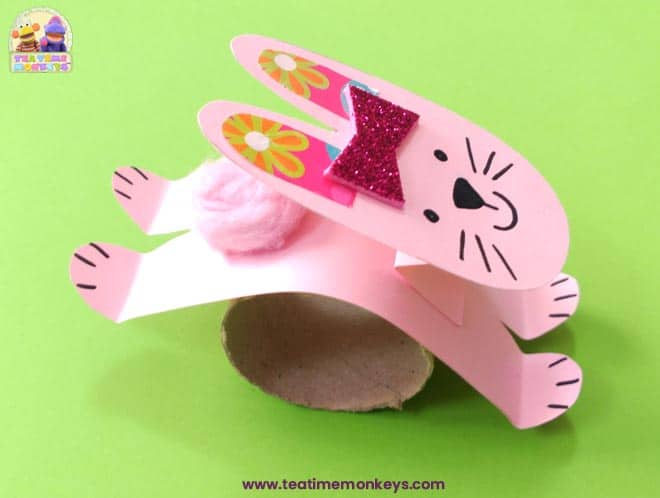 via: Teatime Monkeys
Your 3-year-old is going to love playing with these hopping bunny rabbits once this fun Easter craft is complete.
#38 (Craft for Bunny Rabbit Finger Puppets)
via: Family Focus Blog
Here's another opportunity for small-world play for your 3-year-old with these cute pipe cleaner bunny finger puppets. They'll be so much fun.
#39 (Craft for Easter Bunny Artwork with Footprints)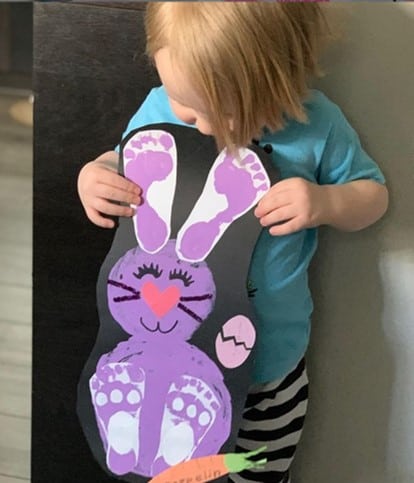 via: @cobain_zeppelin
This is an adorable Easter bunny craft to do with your 3-year-old. If it comes out as well as in the photo above, it'll be a keeper for many years to come.
#40 (Handprint Easter Chick Craft)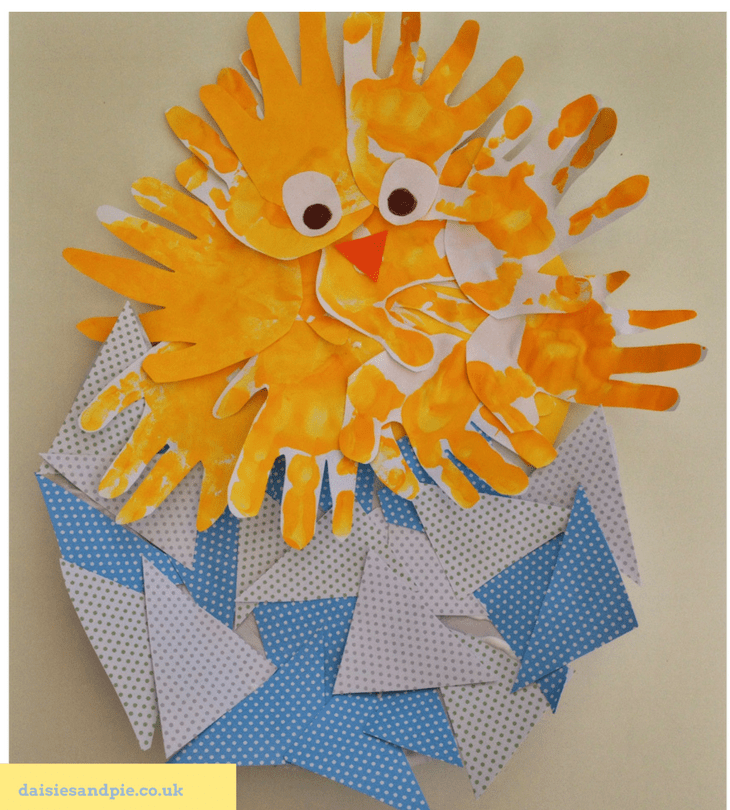 via: Daisies And Pie
This Easter craft requires lots of paint, lots of handprints, and lots of cutting out for all involved, but it's definitely worth the effort if the end result is as cute as the one above!