These 21 Nautical-Inspired Room Ideas Your Kids Will Say WOW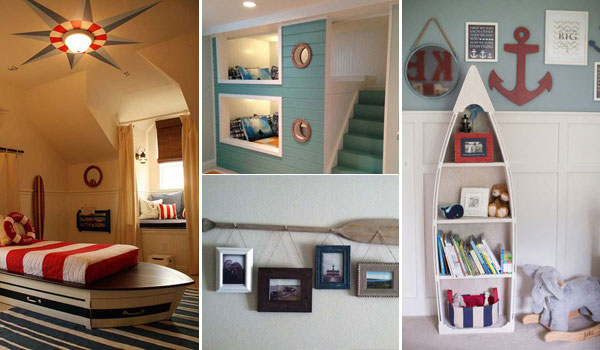 Creating an interesting and creative kid's room and making your kids room the best place for them are surely every parent's dream. A creative room will be their kingdom where they can feel comfortable and have fun. Choosing a proper theme to decorate your kid's room should be great idea. Nautical theme is very popular and also very cool theme to work on. There are many ways in which you can bring a nautical feel to kid's room. And most important thing is that they are easy to do and you don't have to be an expert of home decor. You just prepare a few of easy-to-get materials. The best known nautical material is to rope, fishing net, wooden oar, boat cleats, navy stripes… Want to learn how to bring these nautical materials to room decor, take a look at the below examples.
1. Bring the feel of the sea to the kid's room by hanging a fishing net decoration.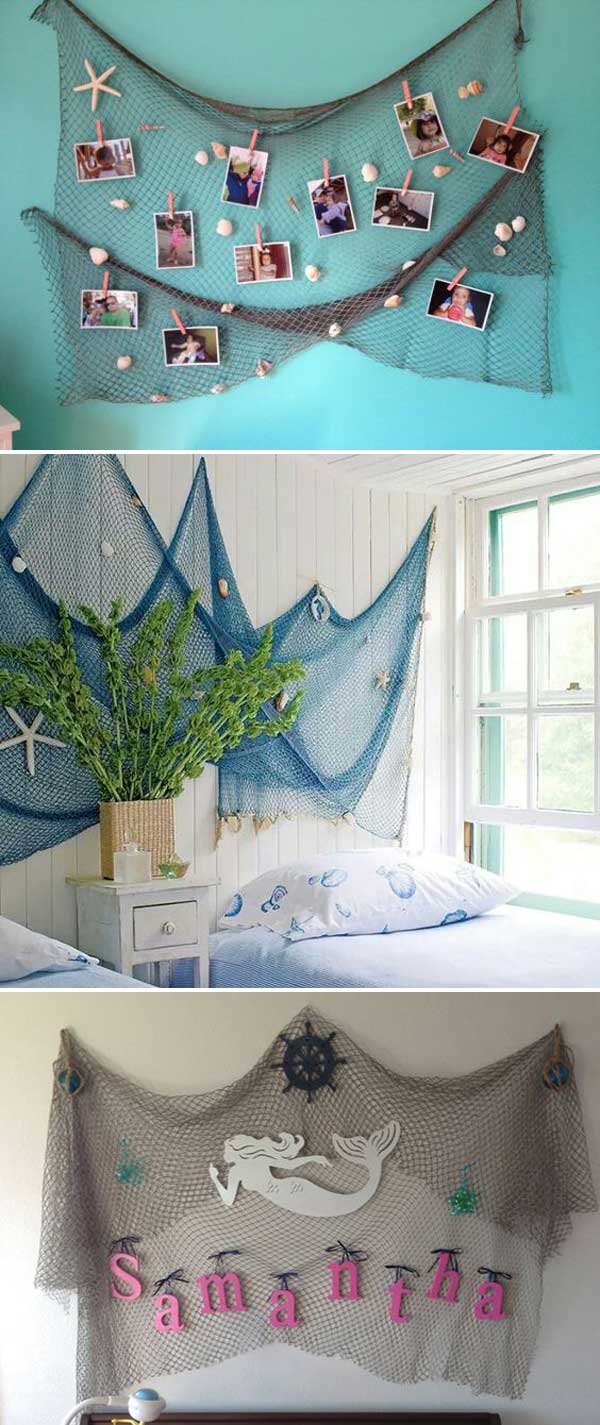 Source: blog.oceanofferings.com    Source: facebook.com
2. Build a bookcase that double as a headboard looking like a giant rudder.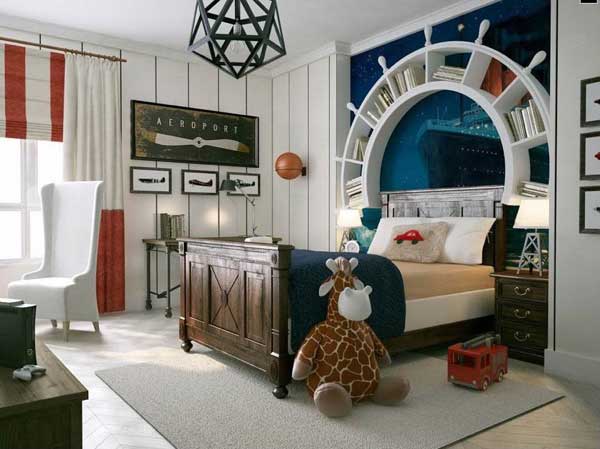 Source: facebook.com
3. Design a bookcase got idea from a boat.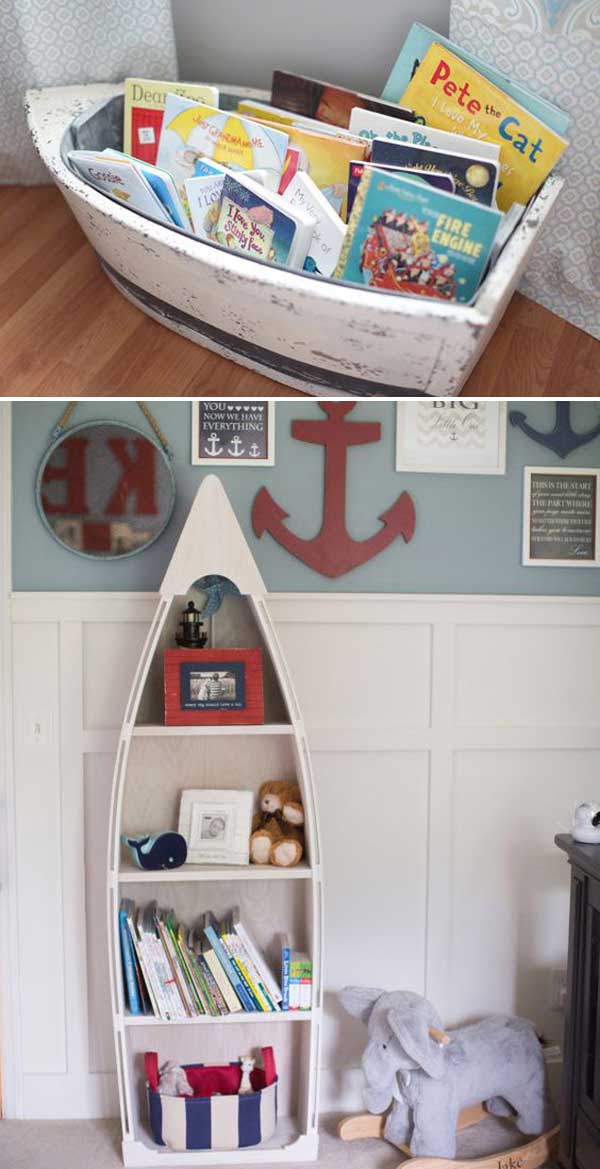 Source: ontobaby.com    Source: thewisebaby.com
4. Fix an old worn out wooden oar on the wall then hang your family picture frames or kid's name letters from it.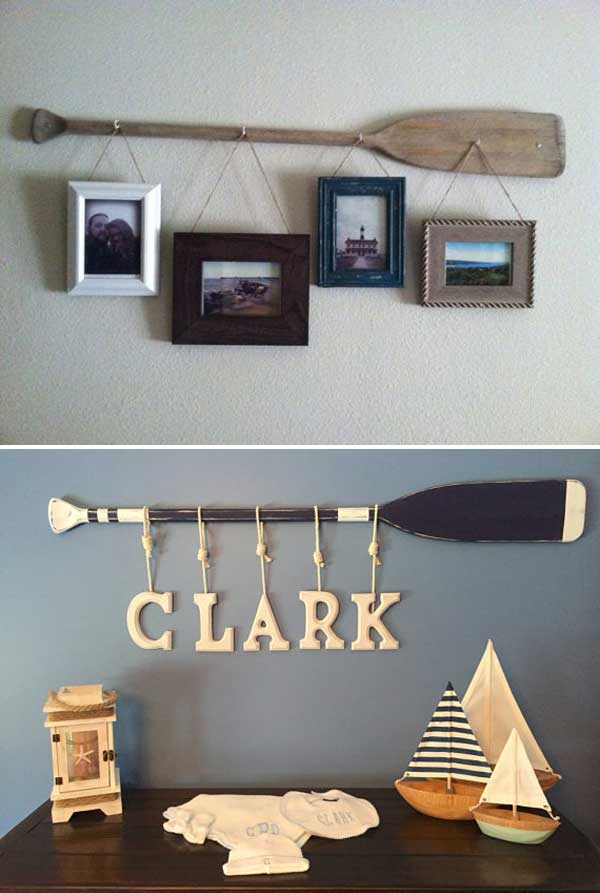 Source: pinterest.com    Source: etsy.com
5. Create a built-in bunk bed decorated with ship like portholes.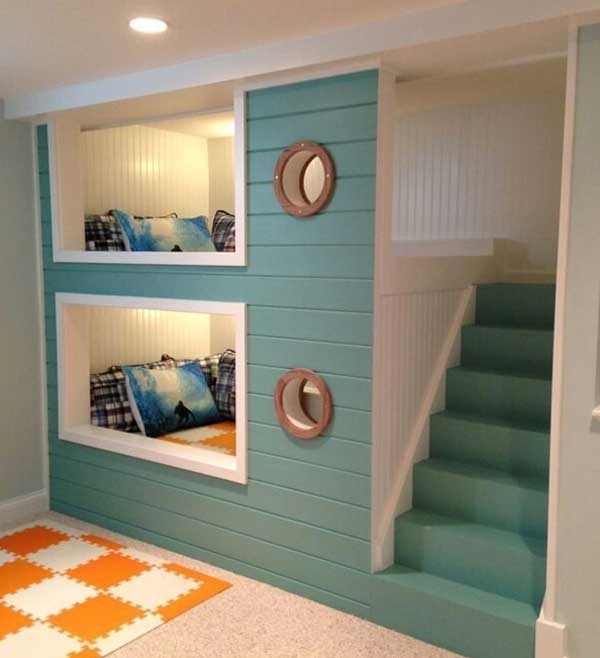 Source: myinteriordesign.it
6. Use canvas to make a monogrammed headboard.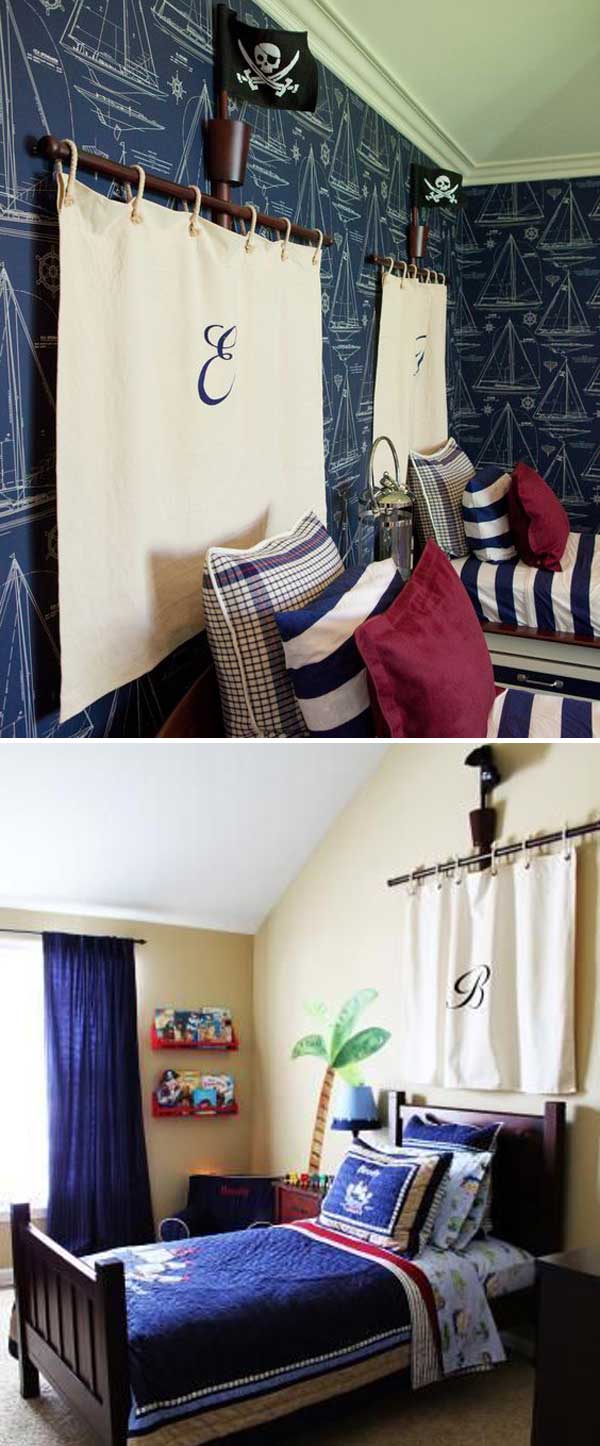 Source: sailrite.com
7. Woven baskets with decorative anchor signs keep shelves organized.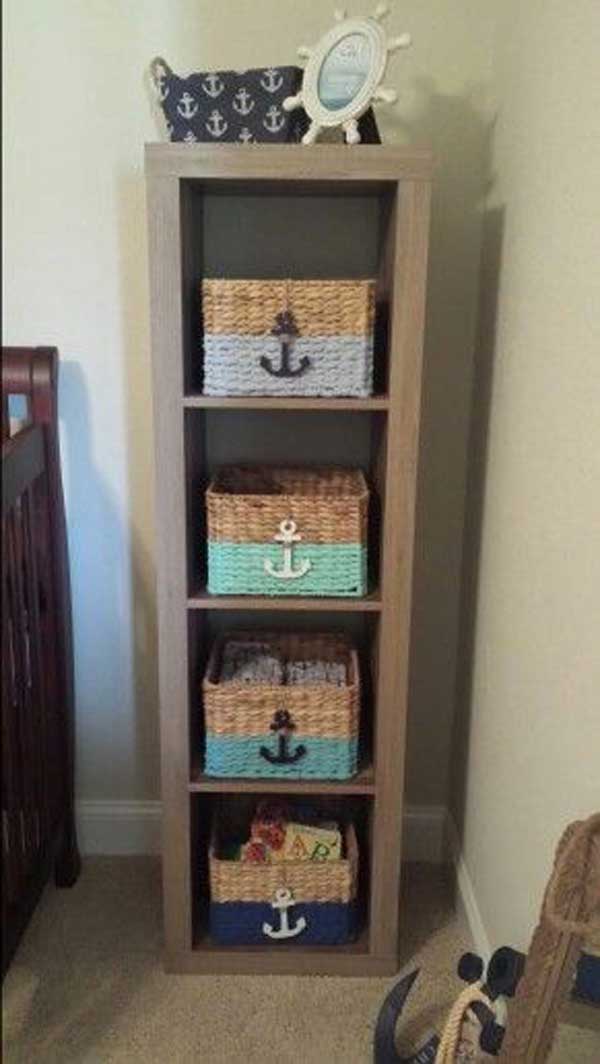 Source: pinterest.com
8. Simply use boat cleats as curtain tie back.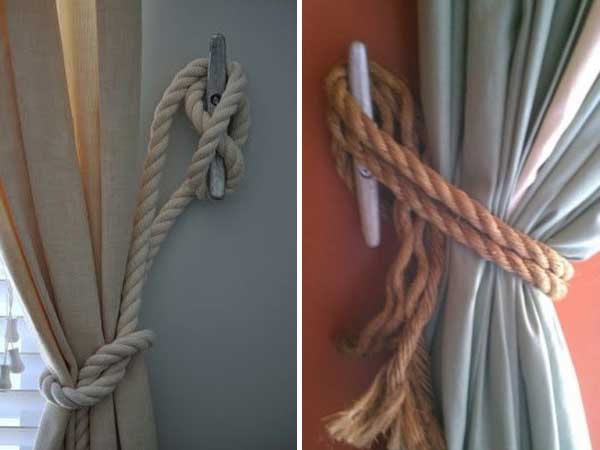 Source: thedistinctivecottage.com    Source: gonautical.wordpress.com
9. Give a nautical themed makeover to a bedroom chest.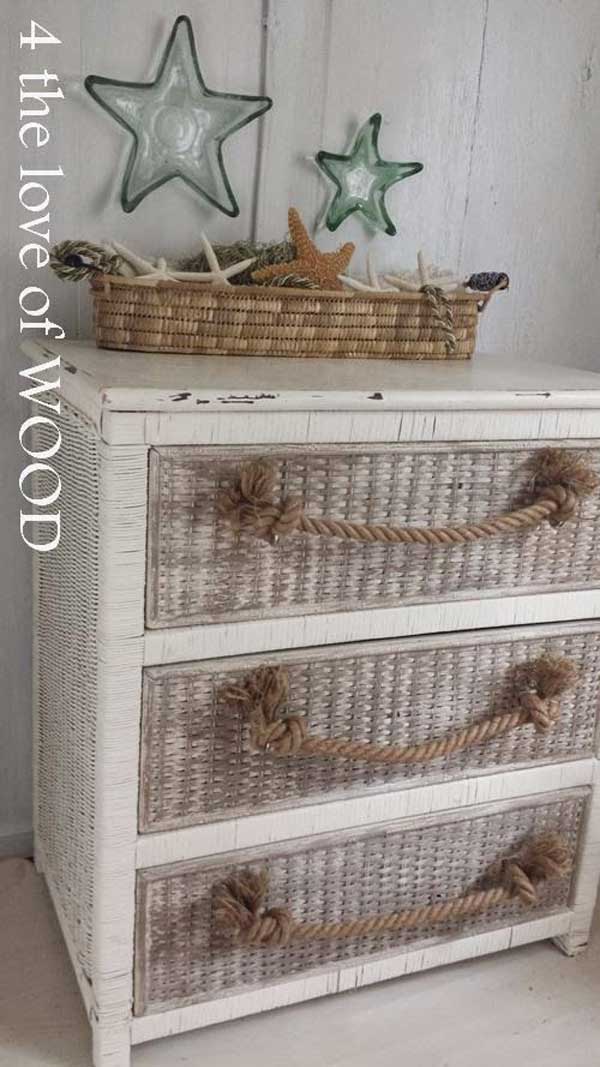 Source: 4theloveofwood.blogspot.ca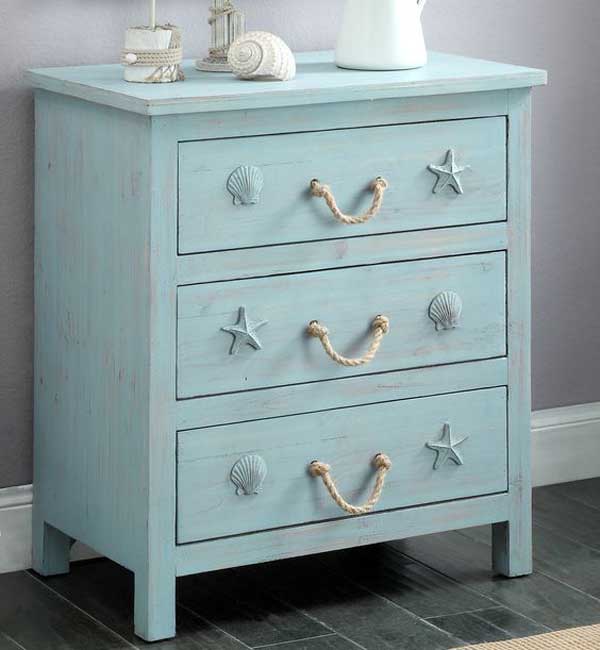 Source: pinterest.com
10. Decorate the room with a boat bed.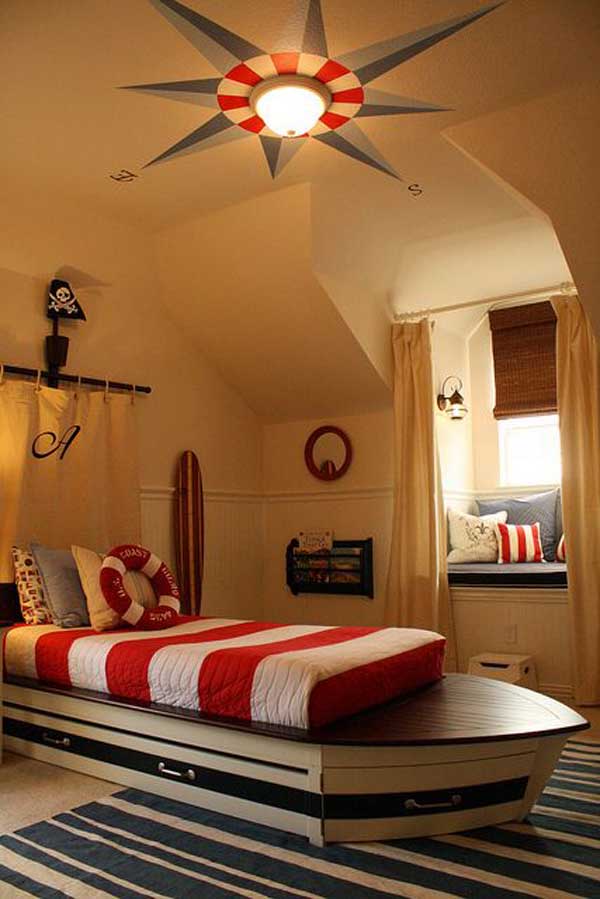 Source: flickr.com
11. Build a shark pallet headboard.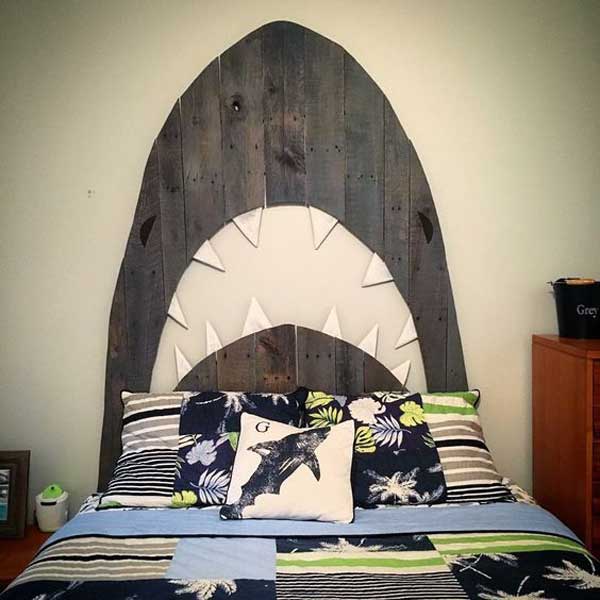 Source: pinterest.com
12. Create rope shelves mounted to a navy striped wall.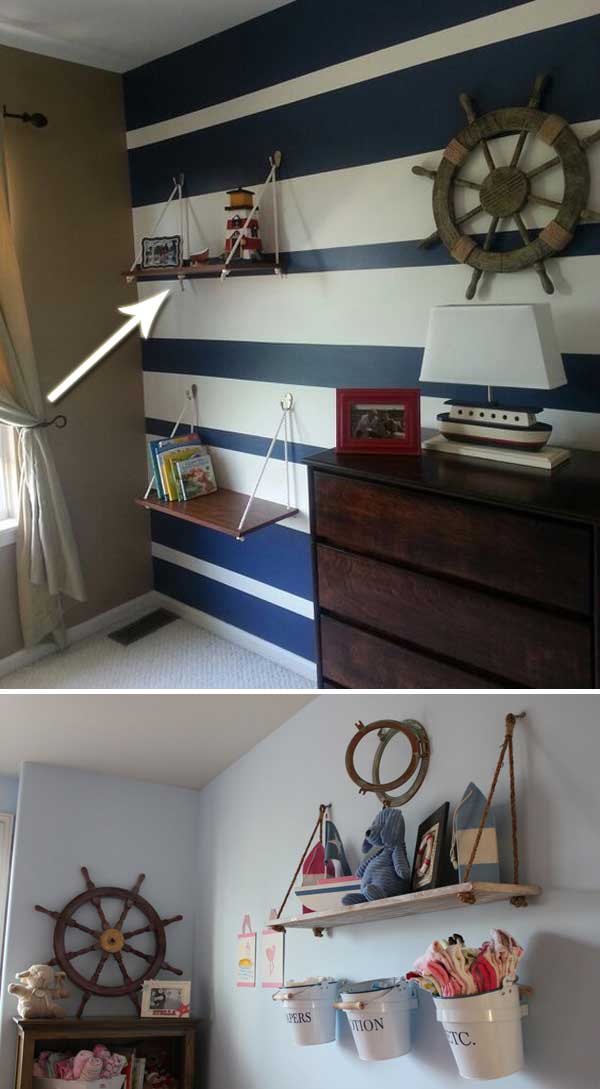 Source Unknown.
13. Cute mobile for nautical themed room decor.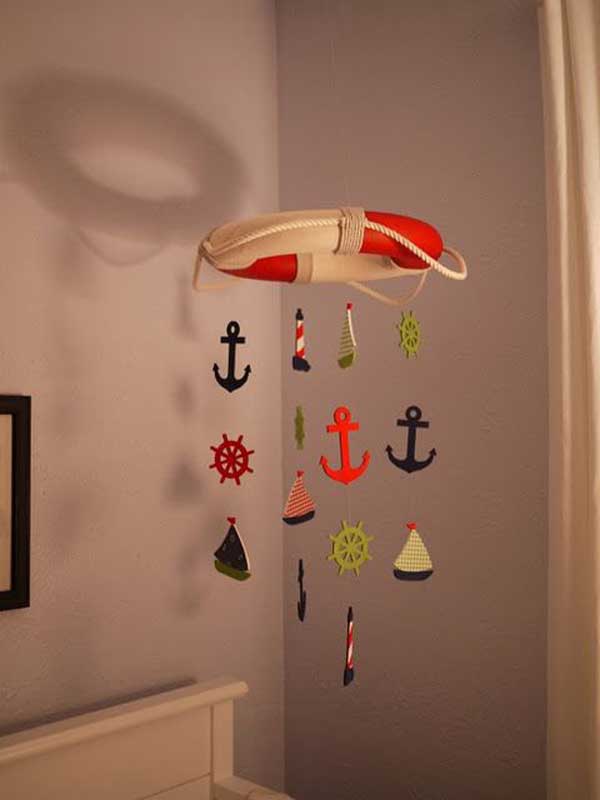 Source: hautehardware.blogspot.com
14. Craft these lifelike portholes made out of cardboard, the result is amazing.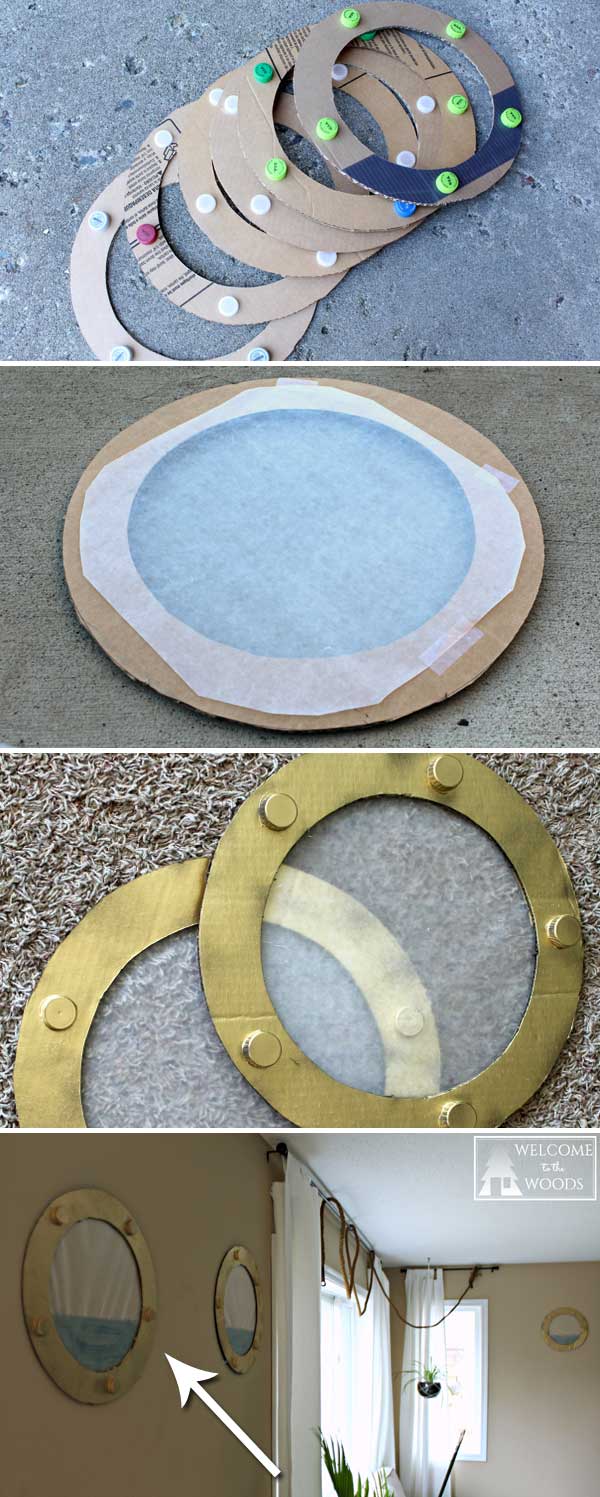 How to make it ====> welcome-to-the-woods.com
15. Nautical bunting – Like the idea of the rope instead of fabric.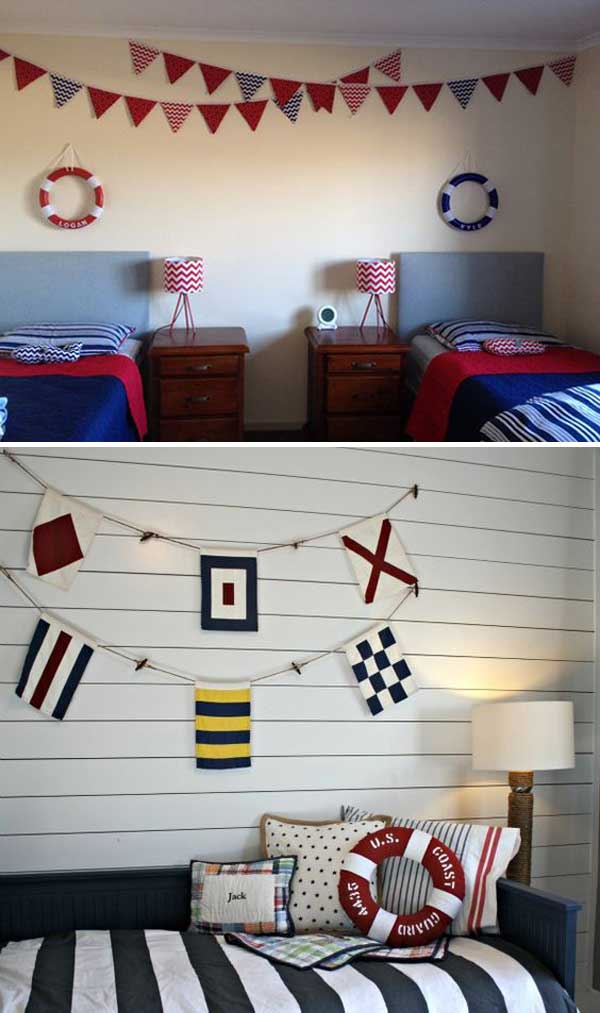 Source: pinterest.com    Source: thelilypadcottage.com    Source: simplydesigning.porch.com
16. Create a wall lighthouse made from bulletin board paper.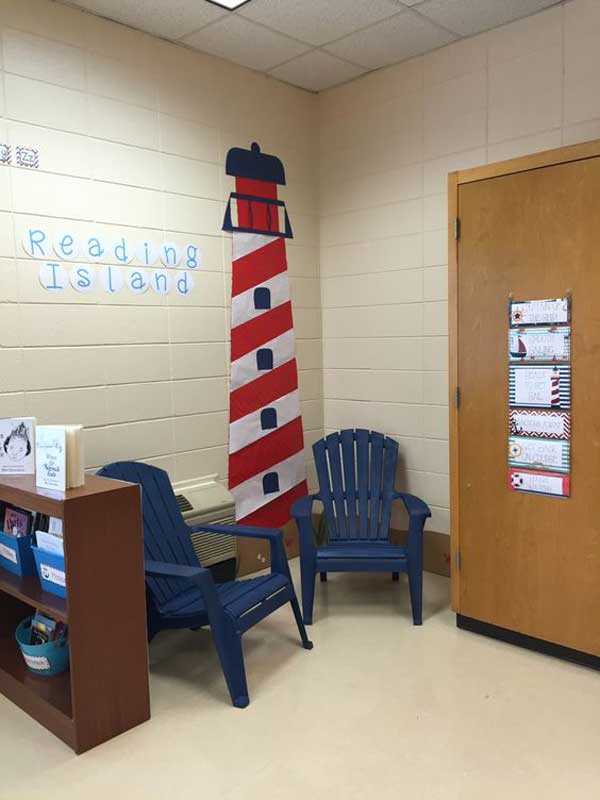 Source: pinterest.com
17. Paint horizontal stripes to bring the feel of sea to the wall, or add nautical stripes to any corner of the room – bed, curtain, lamp…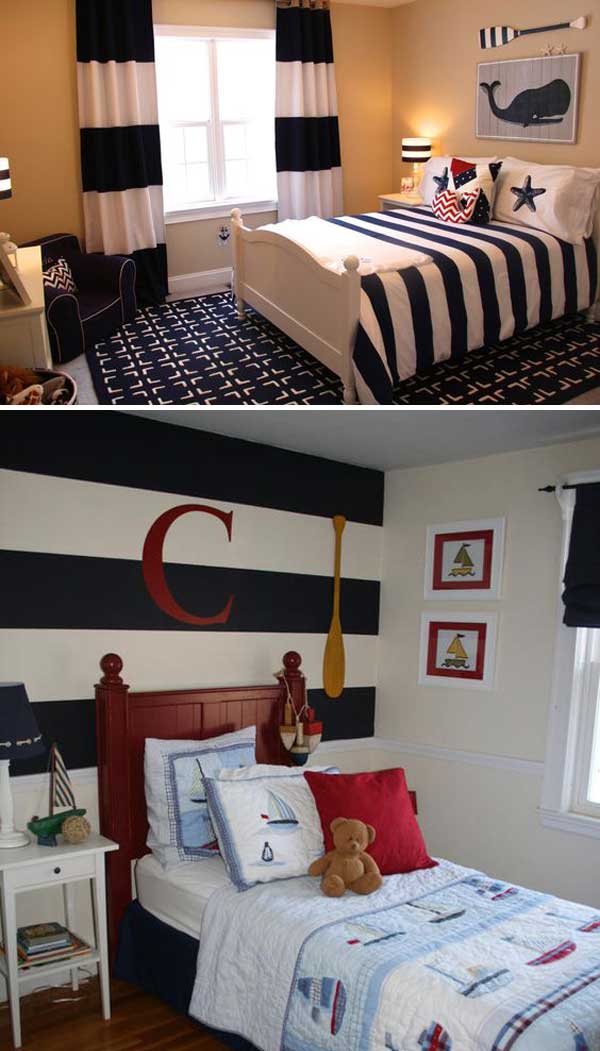 Source: projectnursery.com    Source: hgtv.com
18. Hanging a nautical sign on the wall that will be the focal point of the room.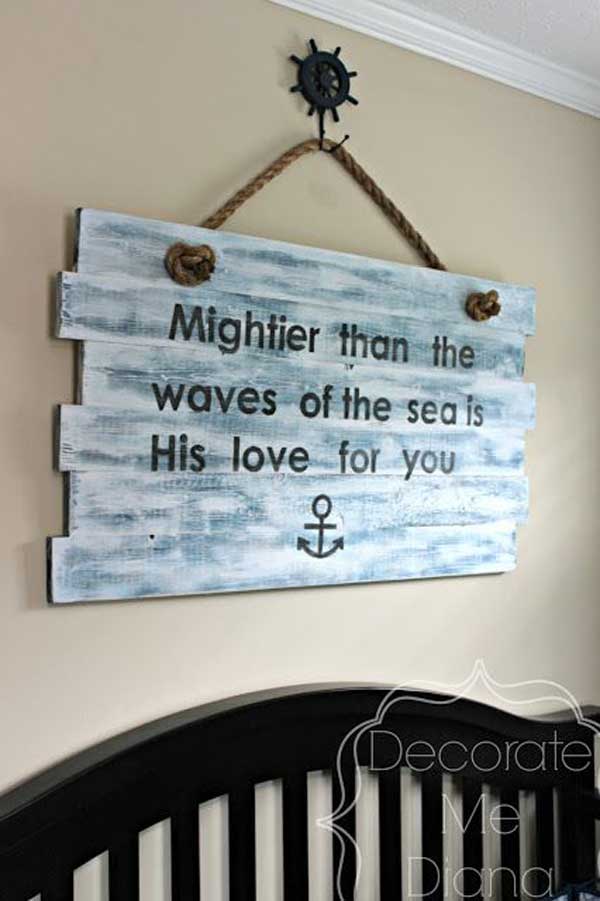 How to make it ====> downoxfordstreet.com
19. Make a nautical inspired DIY burlap wreath.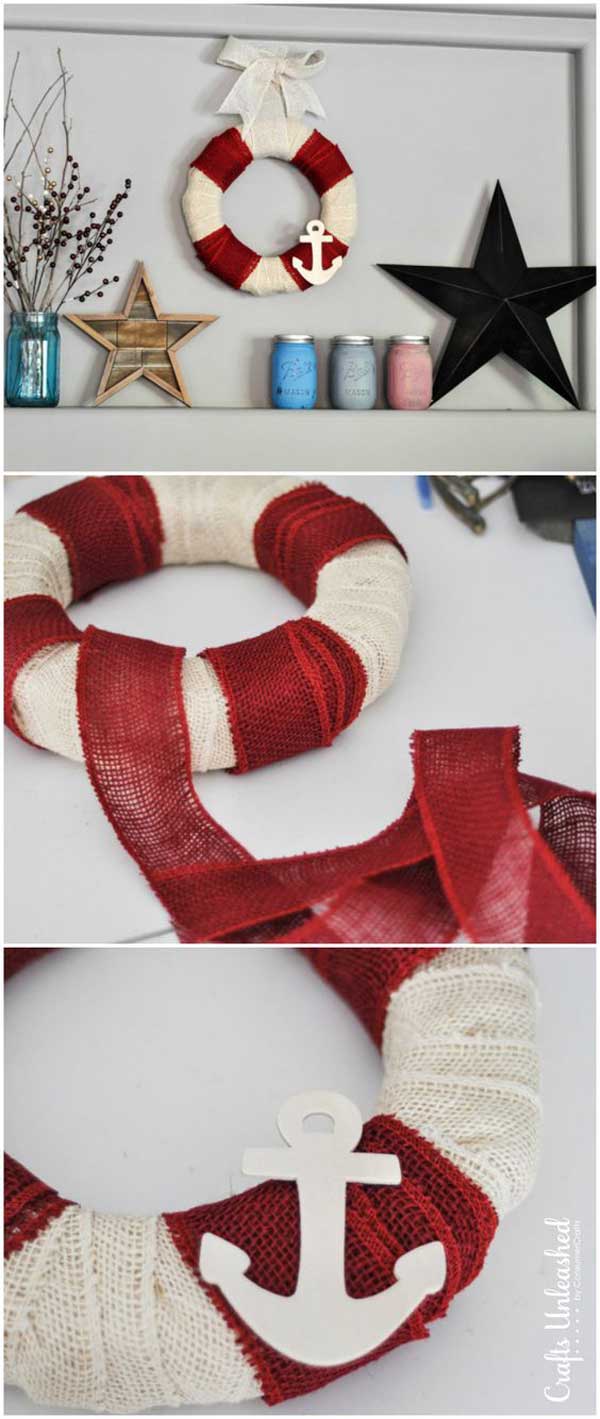 How to make it ====> blog.consumercrafts.com
20. Hang these salt dough starfish on a piece of jute to make a cute garland for kid's bedroom.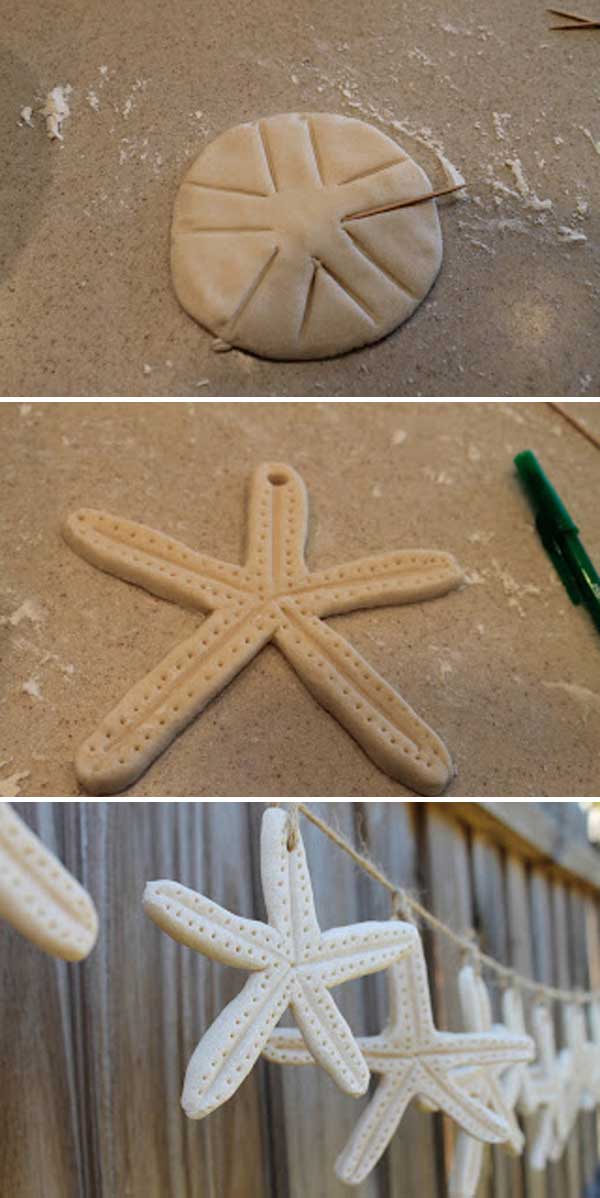 How to make it ====> thedesperatecraftwives.blogspot.com.au
21. A great mural in the corner adds a perfect touch to a sailor room.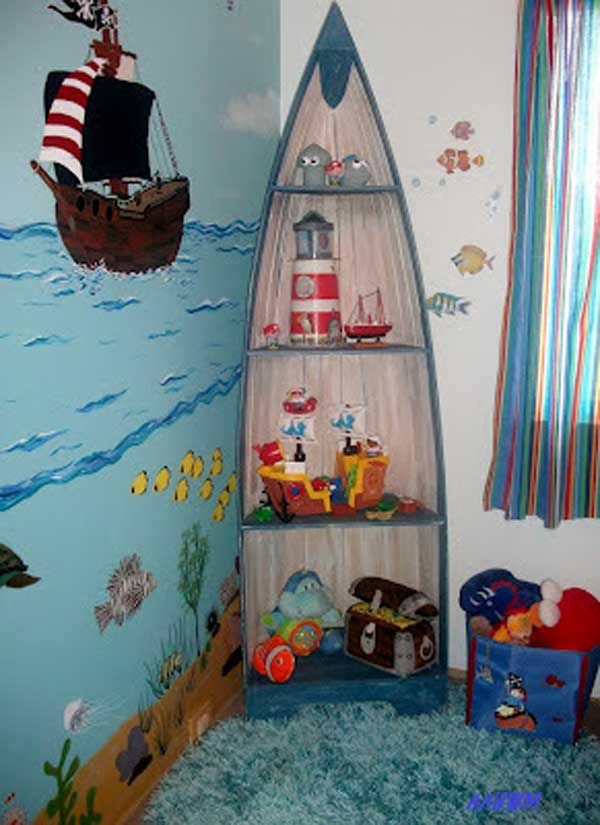 For more details at ====> adventuresathomewithmum.blogspot.com