Best 38 Low-Cost DIY Fire Pit Ideas And Plans For Yard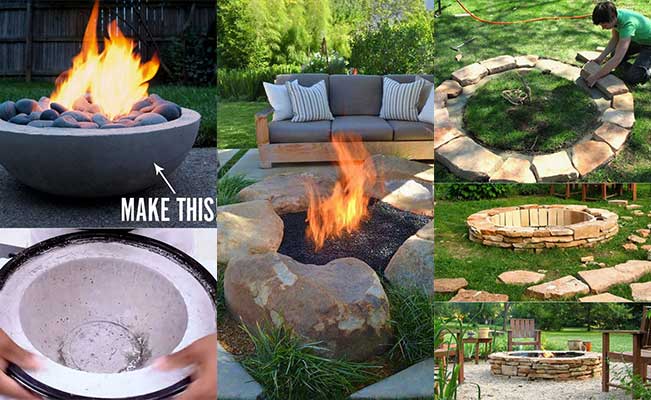 DIY fire pits are a great addition to any backyard, providing a cozy and warm atmosphere for family and friends to gather around on chilly nights. The good news is that creating your own fire pit is both easy and affordable, with materials like bricks, pavers, concrete, and retaining wall blocks being readily available and cheap. When it comes to fire pit designs, the possibilities are endless, so don't be afraid to let your creativity run wild.
Whether you prefer round, square, or unconventional shapes, there's a DIY fire pit out there for you. In this article, we've compiled a list of 38 cheap fire pit ideas and tutorials that cost under $150, many of which involve repurposing old materials. We hope that these DIY fire pit ideas will inspire you to create a beautiful and functional outdoor space that you can enjoy with your loved ones.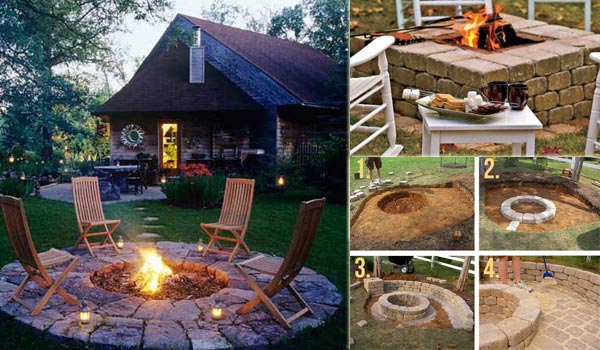 Before purchasing or building an outdoor fire pit, it's crucial to consider important design and safety factors:
1. Optimal height: Choose a fire pit that is at the right height, preferably ranging from ground level to around 20 inches. This height will provide the best warmth and a beautiful glow.
2. Ensure proper drainage: It's essential to have adequate drainage for your outdoor fire pit. You can achieve this by using a layer of gravel at the bottom of an in-ground fire pit or incorporating drain holes in a fire bowl.
3. Select suitable fire pit materials: Use materials specifically designed for fire pits, such as fire bricks, lava rocks, lava pebbles, or fire glass. Avoid using certain types of concrete or river rocks, as they can be dangerous and potentially explode when exposed to high heat.
4. Practice caution for safety: Always prioritize safety to prevent fire-related accidents and potential hazards. Be mindful of flame sparks and the risk of carbon monoxide. Take necessary precautions and follow safety guidelines when enjoying the cozy ambiance of your outdoor fire pit.
#1 A Peaceful Fire Pit Area Amidst a Verdant Oasis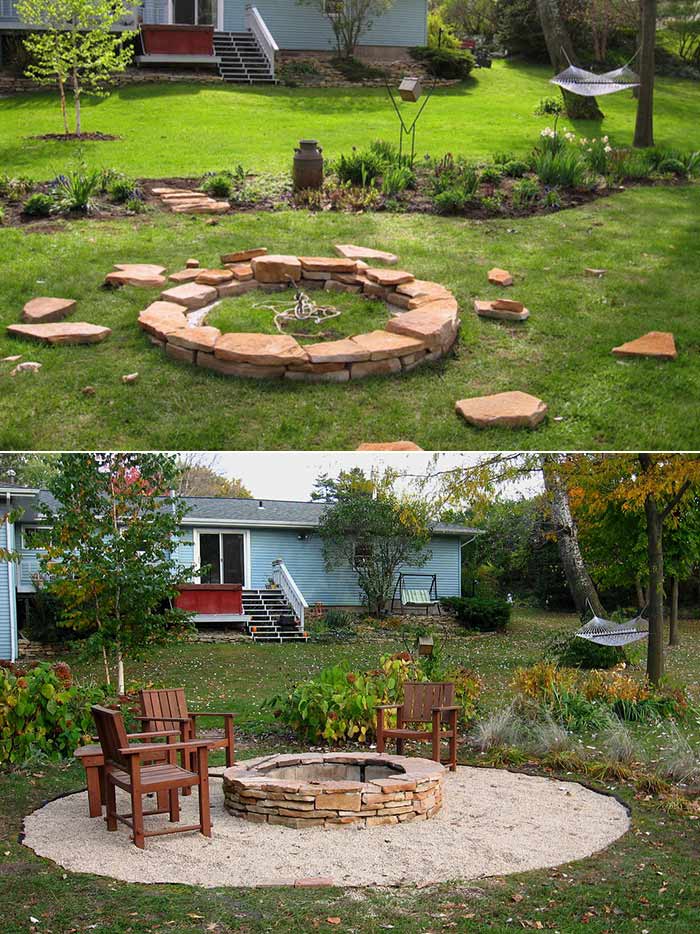 Whether you want to toast marshmallows or just relax with a warm fire, this fire pit is the perfect addition to any outdoor space.
Source: flickr.com
#2 Stone Firepit with Half Wall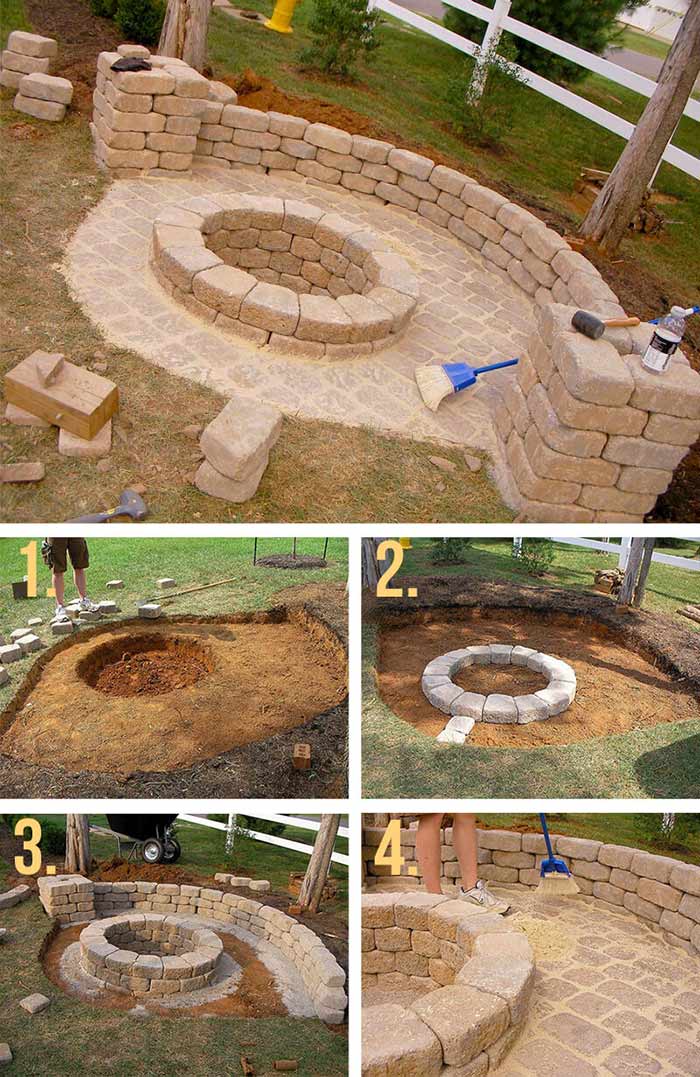 Bring a touch of elegance to your backyard with a stone fire pit. These simple yet stunning fire pits are easy to make with stone bricks and heavy duty glue or cement.
Simply outline the area you want to cover and start building. Your backyard will be transformed in no time. DIY Project Details: flickr.com
#3 Set your steel firepit bowl on top of the fireproof base built from stones or concrete blocks:
Tutorial: theinspiredroom.net
#4 Add decorative pebble along the outsides of your fire pit metal bowl: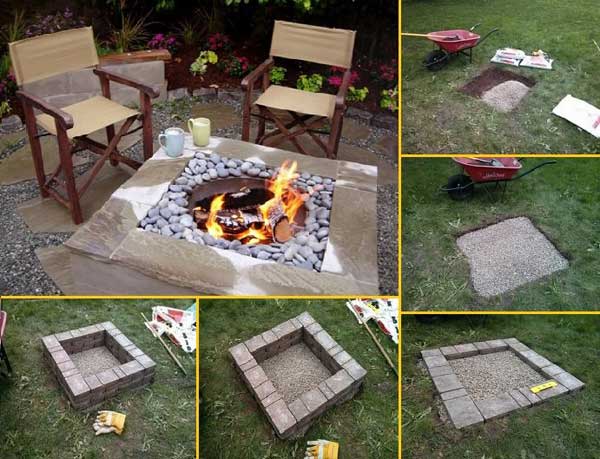 Tired of circular fire pits? Try something different with a square-shaped fire pit. This unique design features a high neck and a deep pit filled with large pebbles, with a metal bowl in the center.
The pit is lined with variegated stone for a sleek finish. You have the option to use wood or gas as fuel. If you choose gas, you can install synthetic logs to compensate for the lack of authenticity.
Tutorial: diynetwork.com
DIY FIRE PIT WITH GRATE: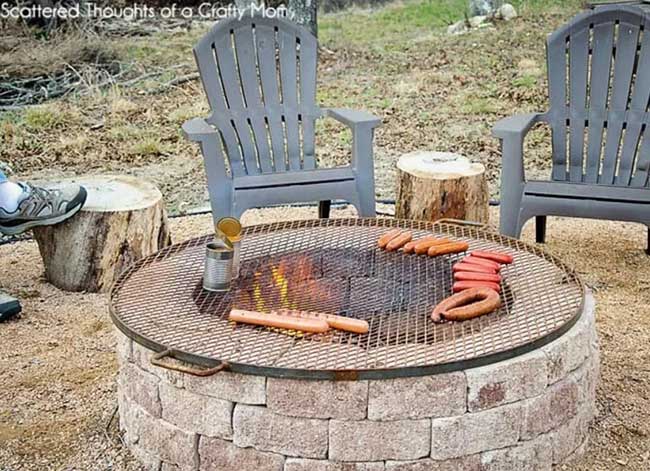 Enhance your outdoor cooking experience by adding a personalized grill on top for convenient meals by the fire.
This DIY fire pit is crafted using sturdy retaining wall stones and strong concrete glue to keep everything securely in place. Tutorial: scatteredthoughtsofacraftymom.com
#5 In Ground Fire Pit – To build a in-the-ground fire pit, you need to set brick in slightly tilted on sides, then place flat stones around rim on top of bricks: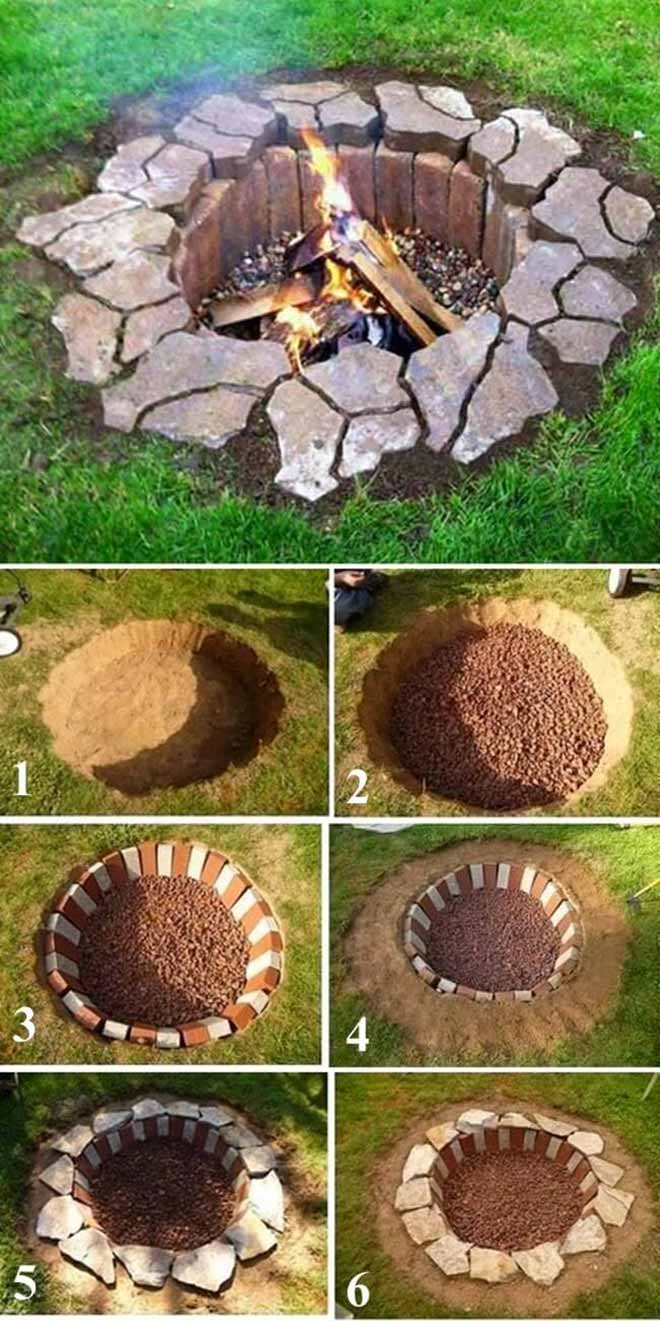 If you have limited space in your backyard, an in-ground fire pit is a great option. With just a few bricks and stones and some digging, you can create a beautiful fire pit in any shape you like.
In-ground fire pits are not only easy to build, but they also look great in any backyard setting.
Consider adding some DIY elements to make it even more personalized, such as homemade fire pit covers or decorative stones.
#6 Pick up an old washing machine drum at a scrap yard and turn it into a nifty little fire pit: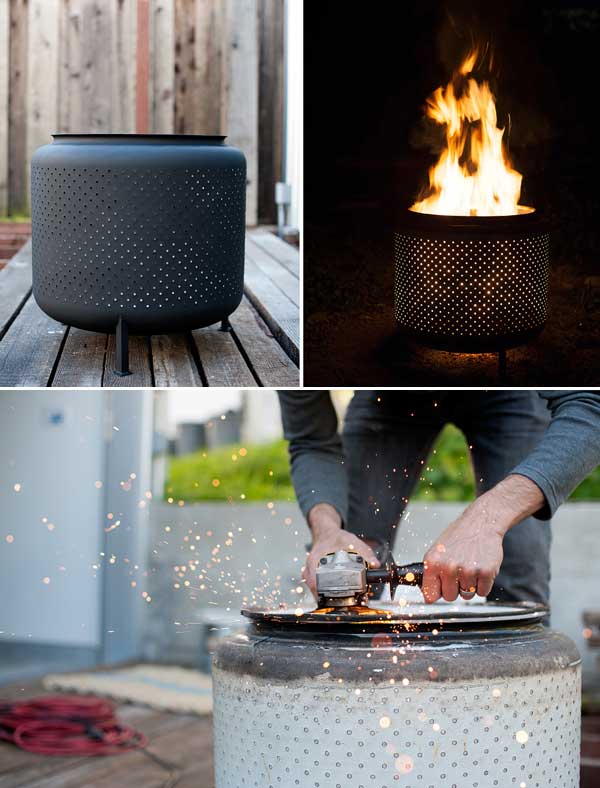 Looking for creative backyard fire pit ideas? How about making your own fire pit from a washing machine drum? You can either salvage one from a junkyard or repurpose an old washing machine.
Weld some legs onto it, and you have a portable and budget-friendly fire pit that looks great.
#7 Build a Quaint Round Fire Pit in a corner of your backyard: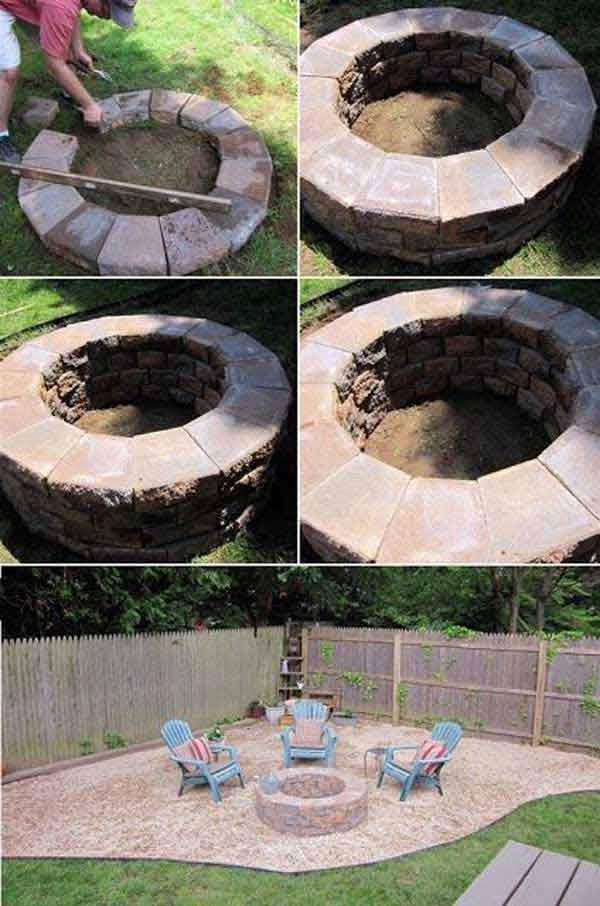 The builders have shared a how-to process for creating a fire pit design that may seem pretty standard but is still cute.
What's great about their method is that they've documented both their successes and failures, which gives you a better idea of what to do and what not to do.
Tutorial: homeroad.net
#8 Square Metal Firepit – Instead of building a firepit with bricks and concrete, a square metal frame is another great option: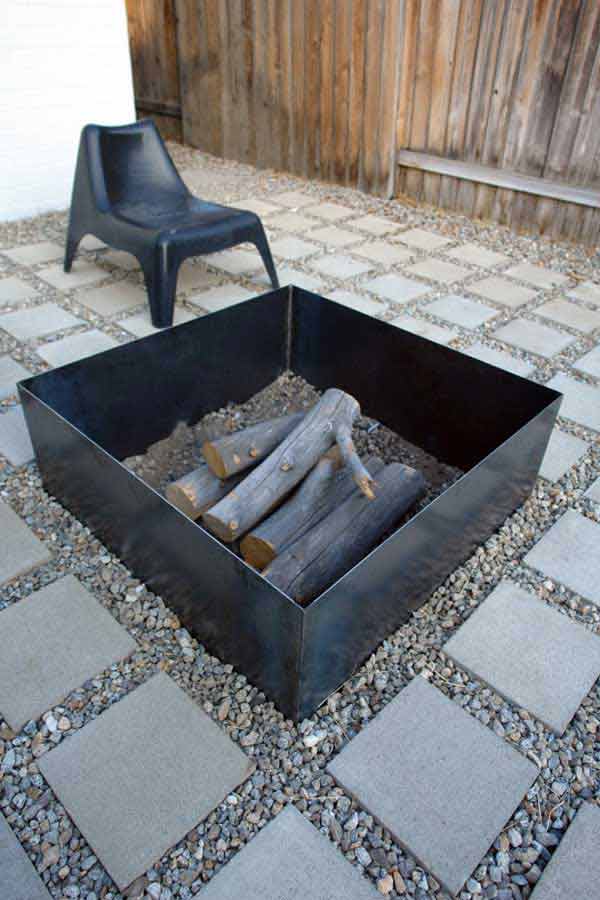 Looking for outdoor fire pit ideas that are unique and stylish? Consider a square fire pit made with steel and stones.
Unlike traditional earthy fire pits, this design offers a modern and sleek look. Tutorial: the-brick-house.com
#9 Board-formed concrete fire pit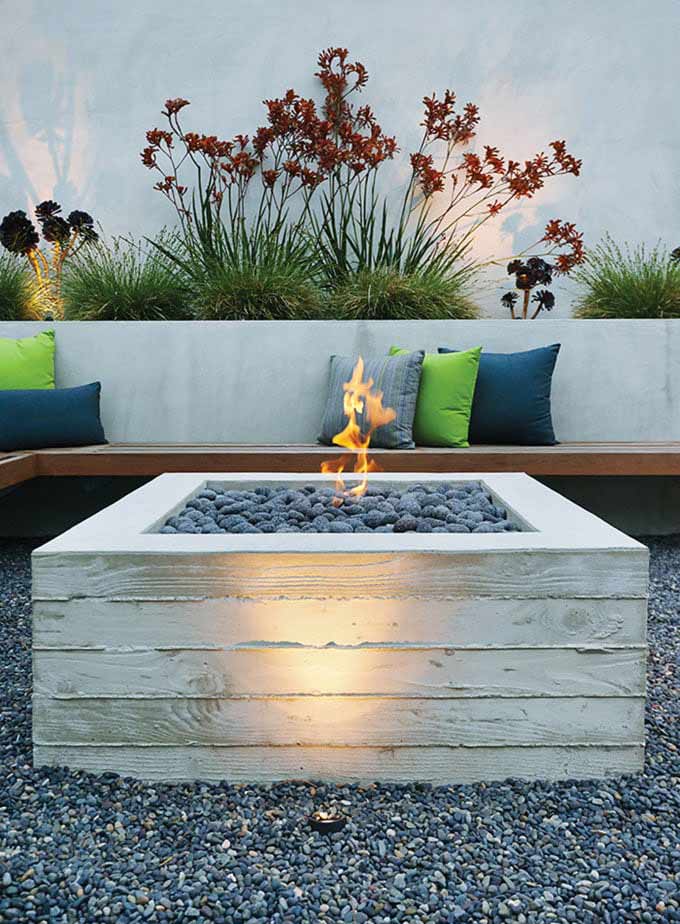 Elevate your outdoor space with a stylish and modern cement fire pit table.
Using board formed concrete and lava pebbles, this fire pit exudes sophistication and elegance.
Check out below video DIY tutorials to make your own and impress your guests. via: dwell.com
#10 Upcycled Truck Wheel Firepit – Stack concrete blocks around the truck wheel firepit to insulate heat: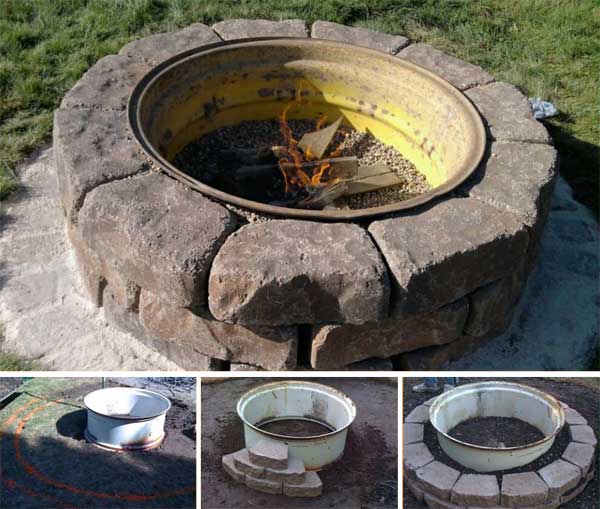 Want to save money on your firepit ideas? Upcycle an old tractor wheel into a metal fire ring.
This is a great way to turn something useless into a functional and attractive fire pit.
Tutorial: tractorbynet.com
#11 The Handprint Fire Pit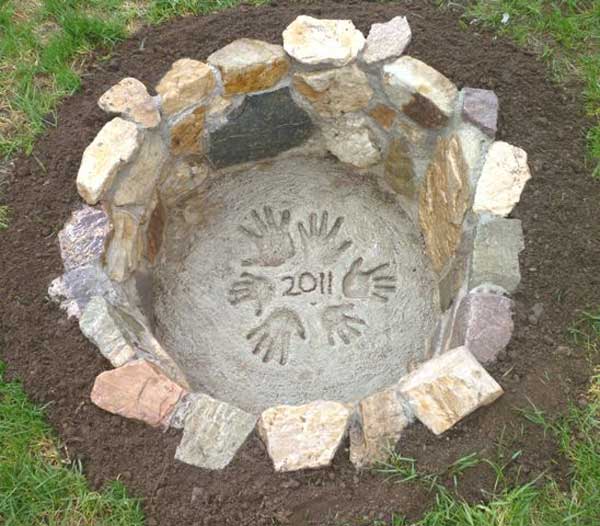 Add a personal touch to your fire pit by immortalizing your family's handprints in concrete.
This heartwarming gesture will bring a sense of unity and warmth to your backyard.
Try this simple backyard fire pit idea today.
Source: sharpecreations.blogspot.ca
#12 Tabletop Mini Firepit – Make a mini tabletop fire pit using a base, a few pebbles and a glass cover: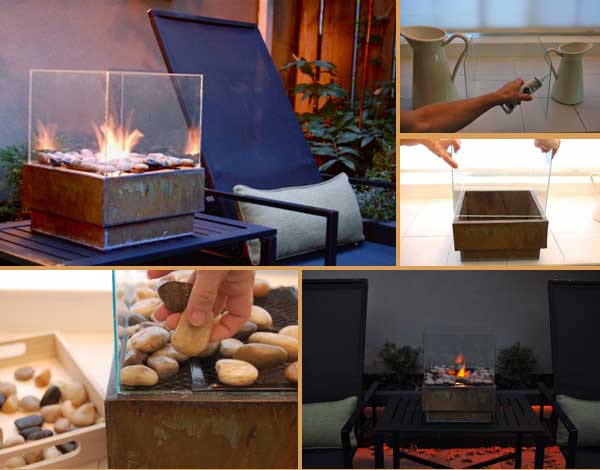 If you're looking for how to build a fire pit that's small and portable, try a tabletop fire pit.
These are easy to make and can be carried anywhere. Plus, they offer a personal and intimate experience that larger fire pits can't match.
Tutorial: theartofdoingstuff.com
#13 Create a Fire Pit with Fireplace Glass:
Tutorial: diynetwork.com
#14 Build a circular patio fire pit with concrete blocks: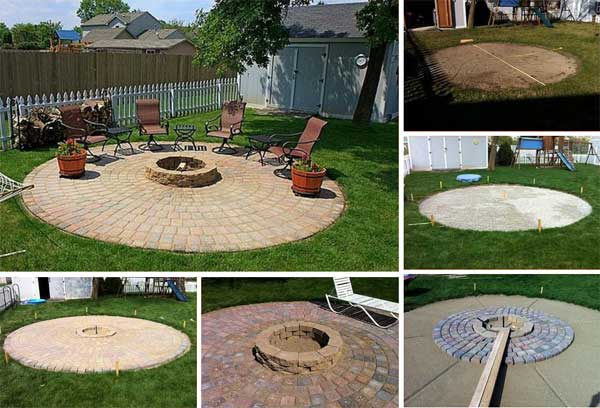 Create a cozy and inviting outdoor space with a circular patio fire pit. Decorate the area with chairs and barrel pots to add some charm and character.
And don't be afraid to experiment with different fire pit designs!
Tutorial: countryfarm-lifestyles.com
#15 Shopping Cart Fire Pit – Take an old shopping cart and turn it into a portable fire pit with built in log storage rack: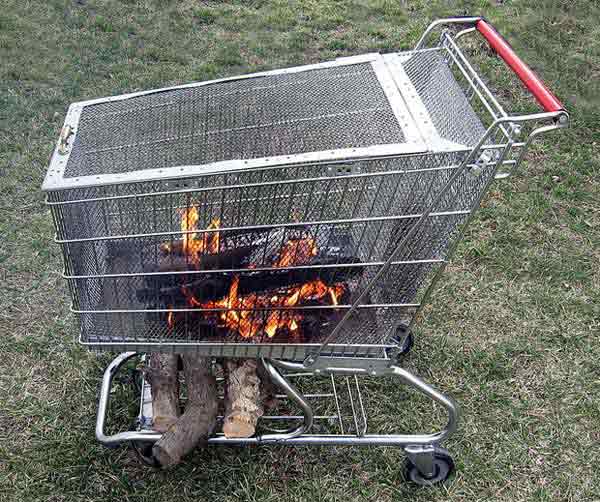 Get creative with upcycling and turn an old shopping cart into a portable fire pit. Simply add logs to the bottom and seal the top with a retractable lid.
This is a fun and inexpensive way to enjoy a fire pit on the go.
Tutorial: instructables.com
#16 DIY Round Stone Firepit – Outline the area that you are using circular, then build your Round Firepit with stone bricks and cement: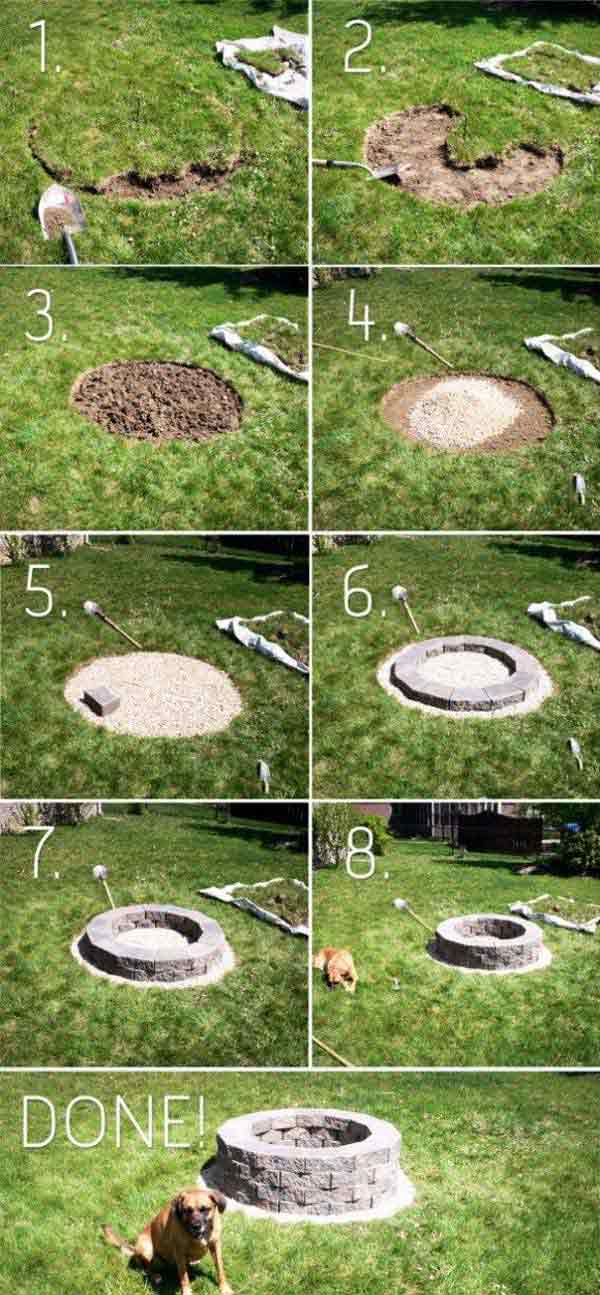 Looking for back yard fire pit ideas? You don't have to spend a lot of money to create a cozy outdoor space.
With a few tools and materials, you can make your own concrete block fire pit.
Trace out the shape of the fire pit you want, stack up some concrete blocks, and you're ready to go!
#17 Sitting around a Square Fire Pit built from concrete blocks: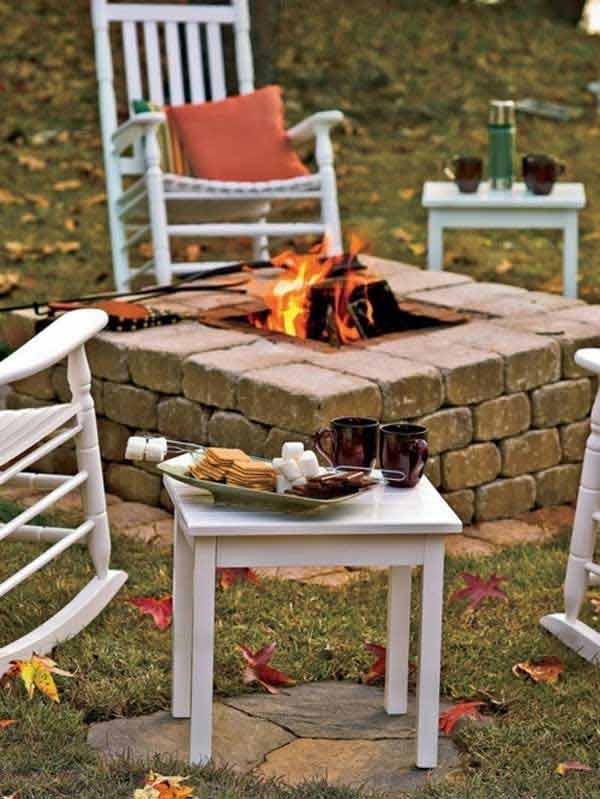 How to make a fire pit that's a little different? Consider a square fire pit! While not as common as circular fire pits, they can be just as delightful.
This particular fire pit is the perfect size for you and your loved ones to cozy up around on chilly nights.
Source: magnoliamerryweather.tumblr.com
#18 Bench And Ring Fire Pit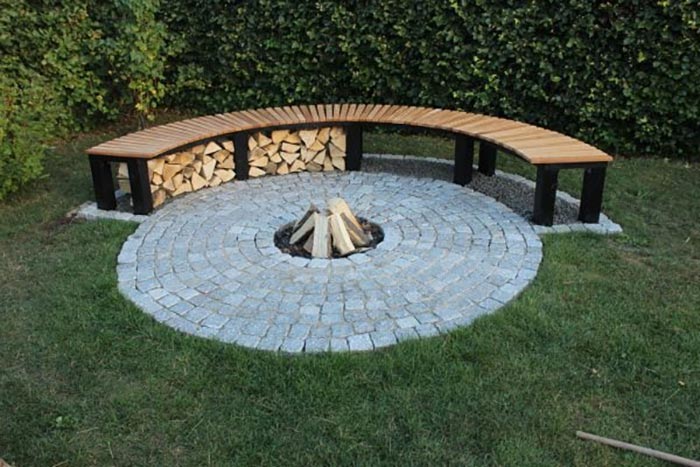 If you're searching for fire pit area ideas, this one is sure to inspire you. The fire pit itself is simple, with just a single storey wall around it.
But the wall extends into a full circle that you can stand on, and on top of the circle is a semi-circular disc made of gravel and stone.
The disc also features a long wooden bench, making it the perfect place to gather around the fire with friends and family. More details at instructables.com
#19 Concrete Bowl Fire Pit – Pouring cement between two large bowls to create this fire pit with a sleek, modern look: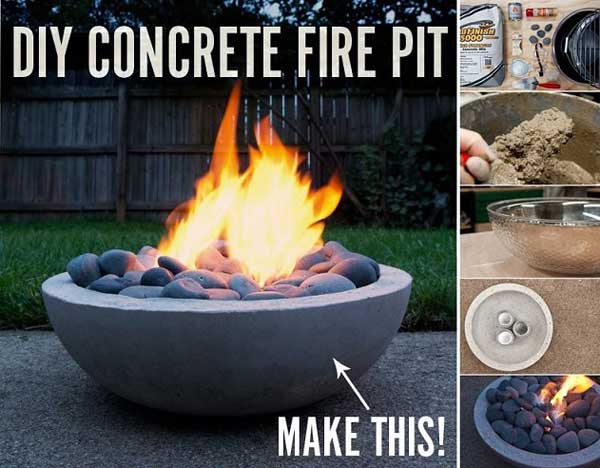 For a unique twist on traditional fire pits, try building a fire bowl instead. This design, reminiscent of the fire bowls shown in period films, is absolutely gorgeous.
The stones that fill it add to its aesthetic appeal. The best part is, you can customize the size and contents of the bowl to suit your taste and warmth needs.
Tutorial: manmadediy.com
#20 Stone Fire Pit With Barbeque Grill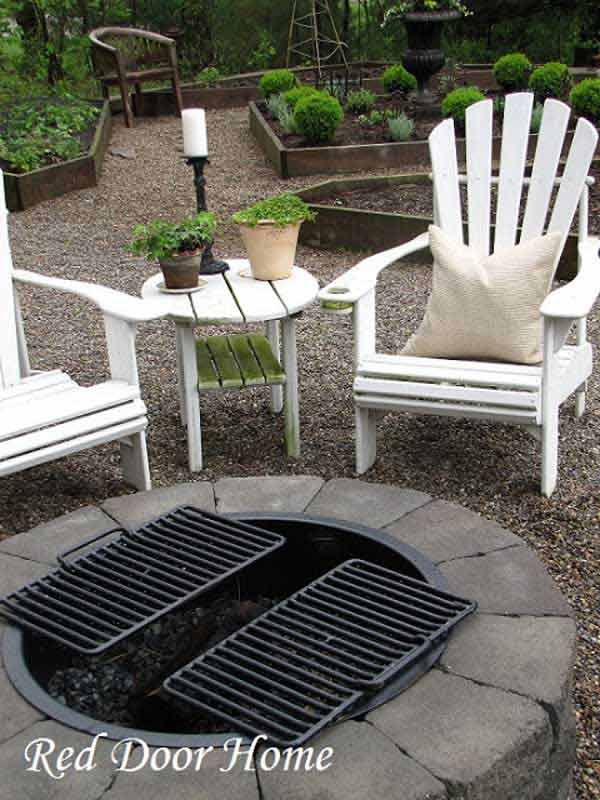 Love cooking outdoors? Why not try building a DIY campfire area with a built-in barbecue grill?
This fire pit design uses three layers of stone and a ring insert with foldable grills for easy access to the open fire. It's perfect for family gatherings and summer parties.
Tutorial: reddoorhome.blogspot.com
#21 Rectangular Decorative Stone Fire Pit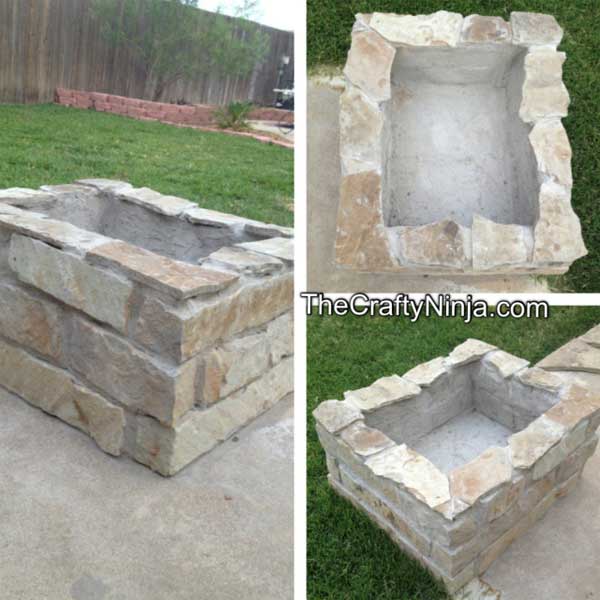 Create a cozy and inviting atmosphere in your outdoor living space with a decorative fire pit made of concrete and natural stone.
Whether you're roasting marshmallows or just enjoying the mesmerizing flames, this fire pit will be the centerpiece of your backyard. Tutorial: thecraftyninja.com
#22 Build a Pallet Fire Pit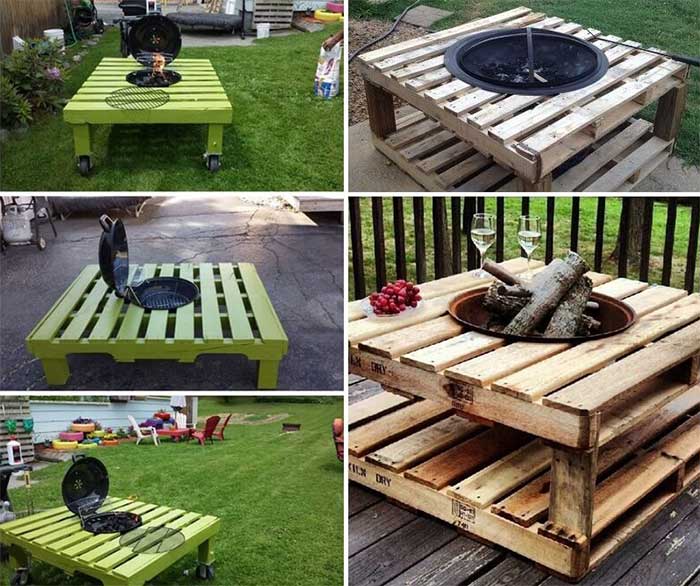 Want a fire pit that can easily move around your yard? Look no further than a DIY pallet fire pit.
Pallets are easy to find and versatile, making them great for all kinds of DIY projects.
This unique fire pit provides plenty of height and can be easily relocated for your convenience.
#23 The Coliseum Styled Fire Pit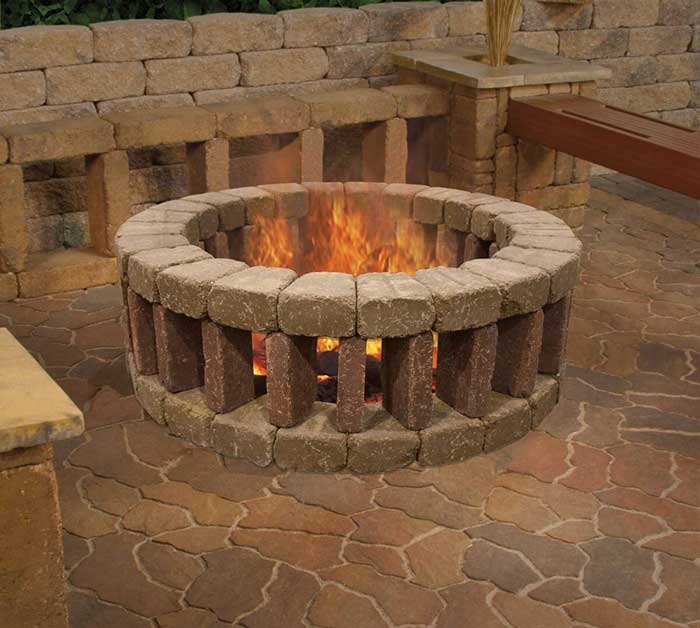 Add a unique touch to your backyard with a fire pit design that breaks away from the traditional circular shape.
By creatively arranging bricks, this fire pit resembles a fiery coliseum and is sure to be a conversation starter.
#24 The Big Boulder Fire Pit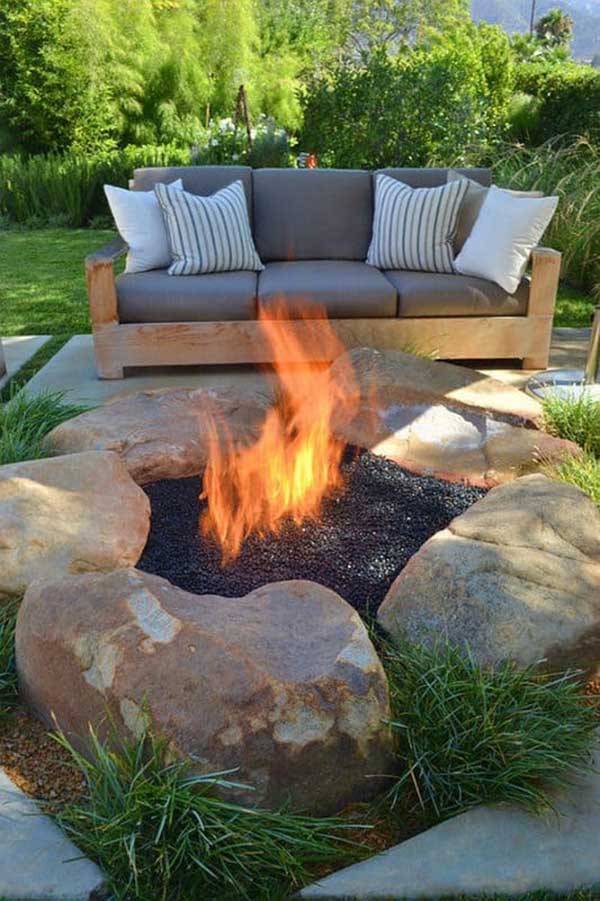 Add some variety to your backyard with a rustic fire pit made from large, natural boulders.
The organic arrangement and rough edges create a unique and natural feel, setting it apart from traditional circular fire pits.
#25 The Barrow Of Fire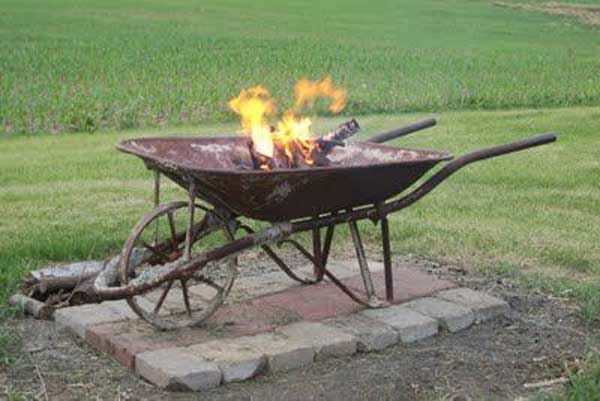 Looking for a unique way to add a fire pit to your garden?
Consider repurposing a wheelbarrow into a charming and rustic fire pit. It's easy to set up and creates a cozy focal point in your backyard.
Source: misseffiesdiary.blogspot.com
#26 Easy DIY fire pit kits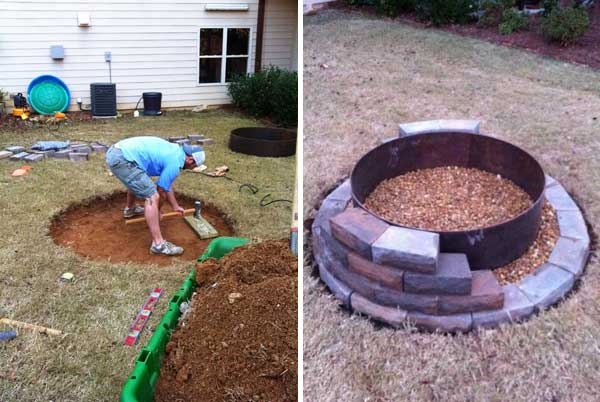 If you're not confident in your DIY skills, a fire pit kit can make the process a breeze.
These kits typically include a metal fire ring and precast stones or cinder blocks, and they're a great option for those looking for homemade fire pit ideas and garden fire pit ideas.
Tutorial: bowerpowerblog.com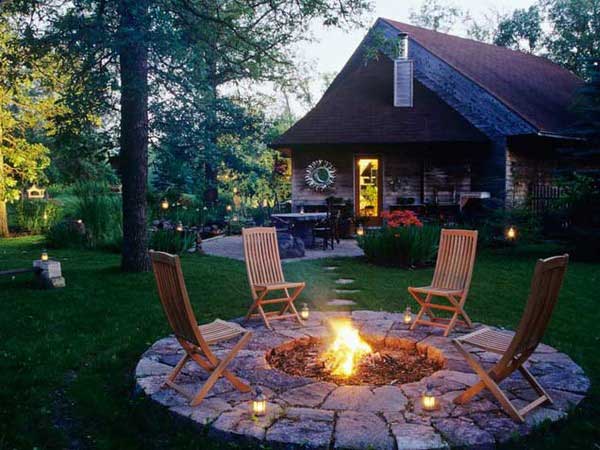 #27 Square Concrete and Stone Firepit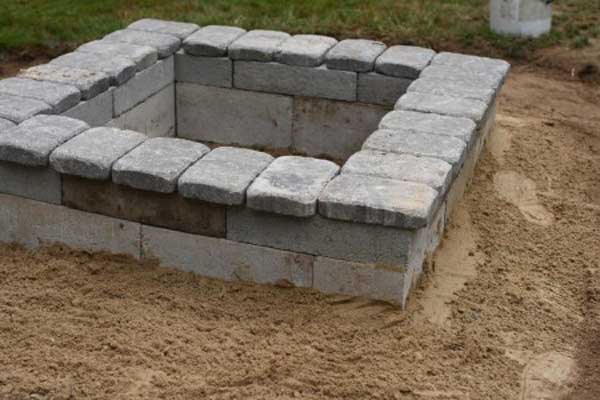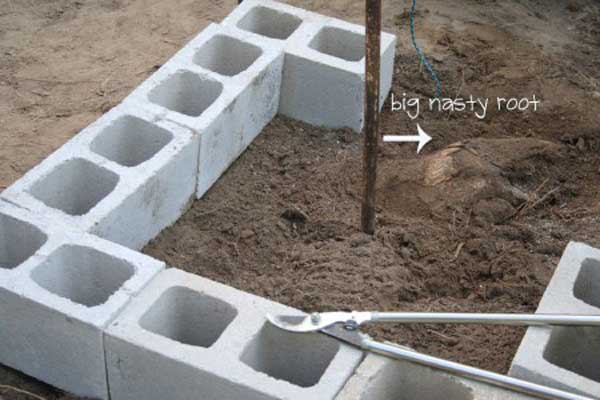 DIY backyard fire pit ideas can be easily achieved with concrete blocks and mix.
Whether you prefer a square or circular fire pit, simply outline the area and build up the pit with two or three tiers of blocks.
Tutorial: caroleknits.net
#28 Koi Pond Pit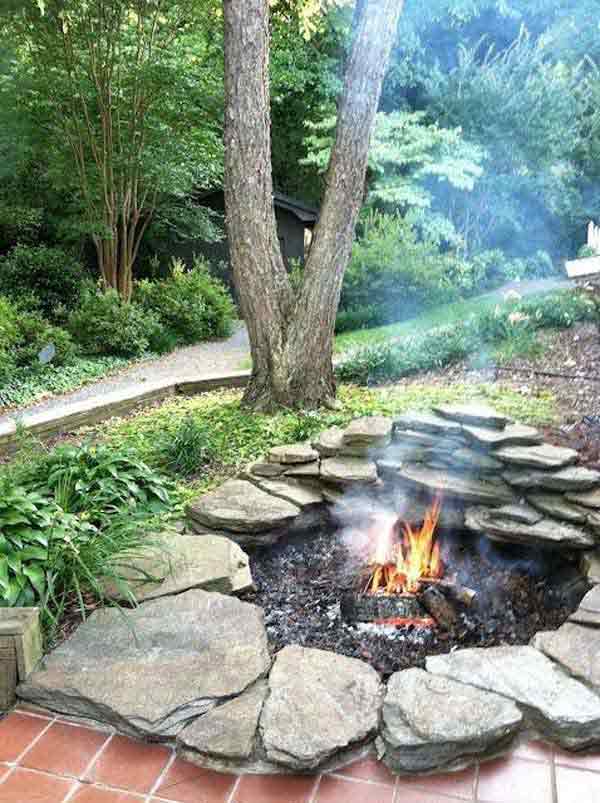 A Koi pond can be transformed into a stunning in ground fire pit with some creative landscaping.
Replicate this idea by observing the design and consider adding carved rock stools for additional decor.
Source: facebook.com
#29 The Grand Pit Of Fire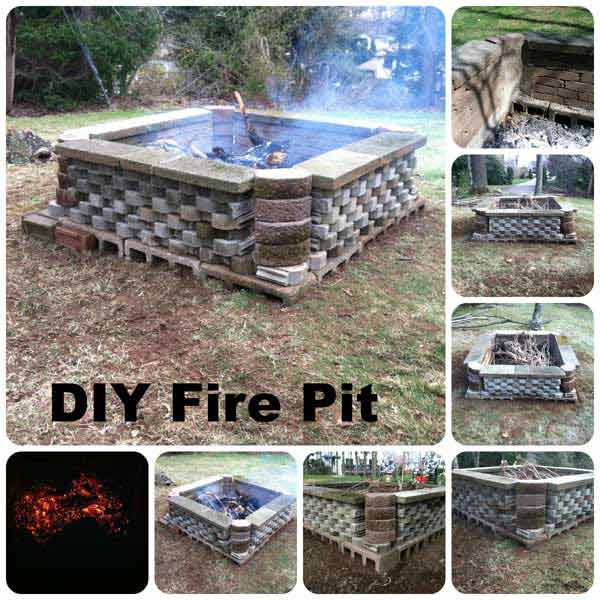 This grandly titled fire pit can be made quickly and with minimal materials, making it a perfect addition to your backyard. Gather some materials and enjoy a bonfire in no time!
Source: rachelferrucci.com
#30 Tree Stump Fire Pit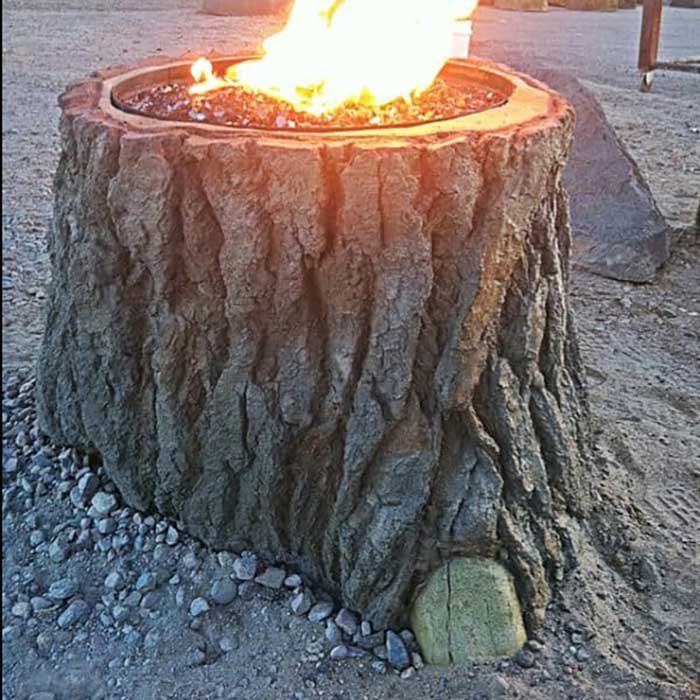 Take a dead tree in your backyard and turn it into a stunning fire pit by installing a safety fire ring in a hollowed out stump.
This creative and unique fire pit is sure to be a conversation starter at your next gathering.
#31 Colorful Barbeque Fire Pit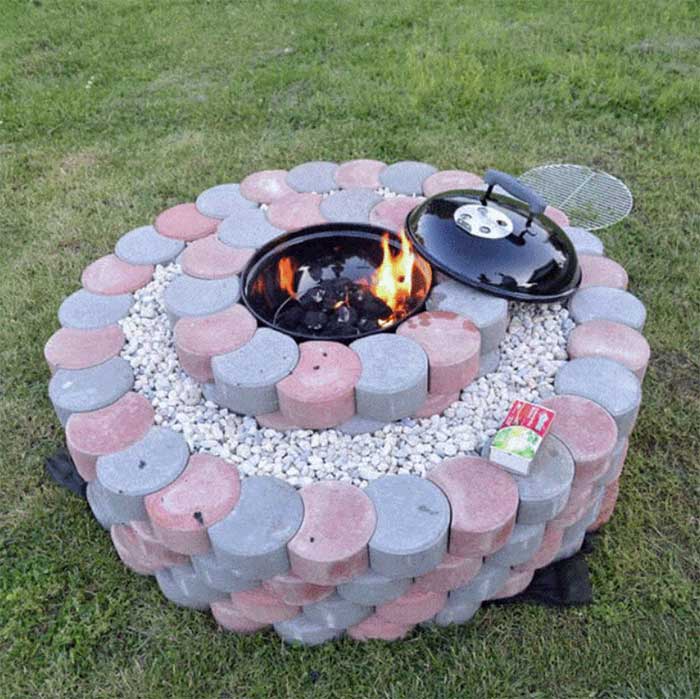 Looking for a fire pit that can also double as a barbecue grill? Check out this stunning design featuring two shades of lavender tiles and multiple layers of brick.
The large space between the inner and outer rings is filled with gravel and pebbles, while a lava rock-filled grill sits in the center.
The height of the grill ensures sparks stay contained and no digging is required.
#32 Super Easy Stacked Stone Firepit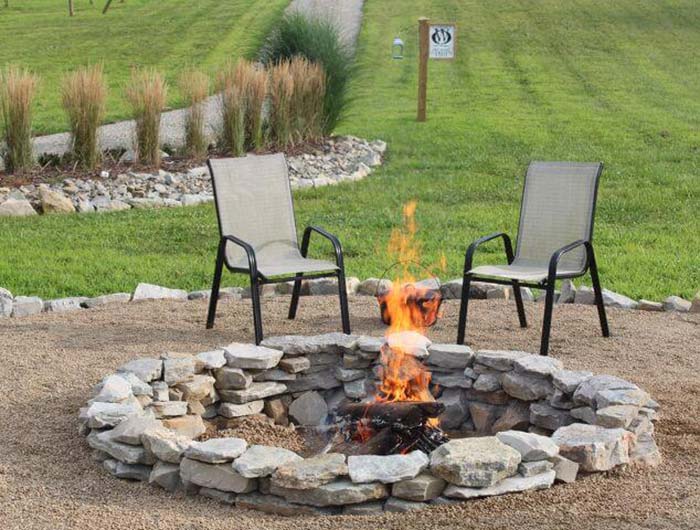 Transform a sandy or muddy patch of ground into a cozy fire pit by digging a hole and placing large stones around it.
For added height, stack the rocks on top of each other. No need for concrete unless you want the fire pit to be a long-term fixture in your backyard.
These simple yet effective firepit ideas can be created with minimal effort.
#33 simple and cheap diy fire pit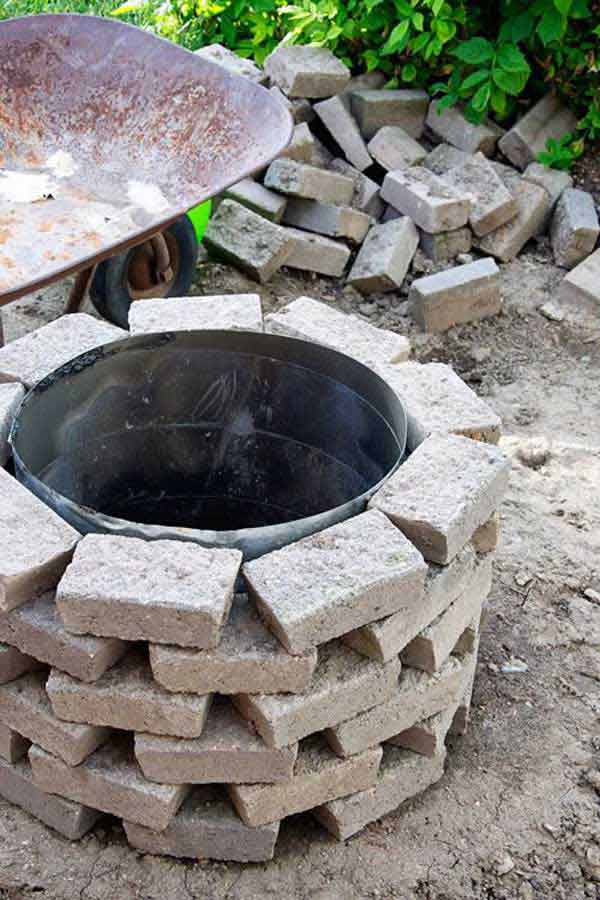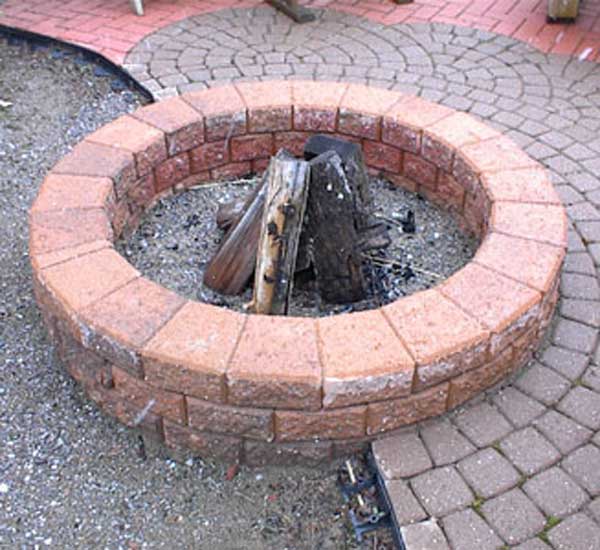 #34 sunken sitting area with sand floors warmed by a fire pit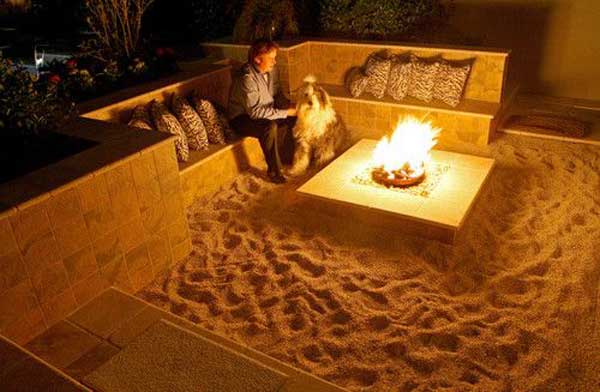 #35 Concrete Tree Ring Fire Pit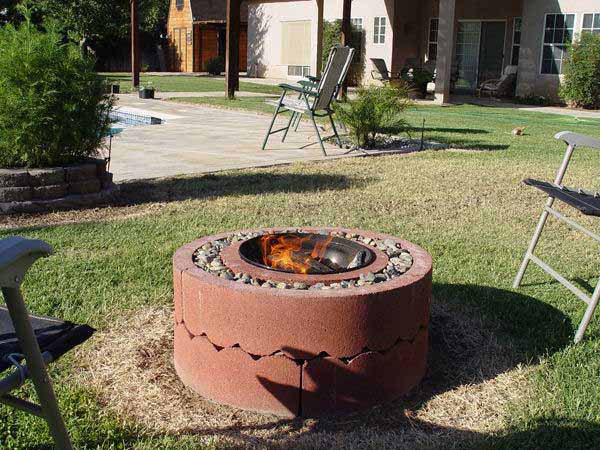 Consider using red concrete tree rings, which can be purchased for as little as $2 each, for your brick fire pit. Add a small portable charcoal grill in the middle for impressive flames. Tutorial: instructables.com
#36 DIY Round Brick Firepit Tutorial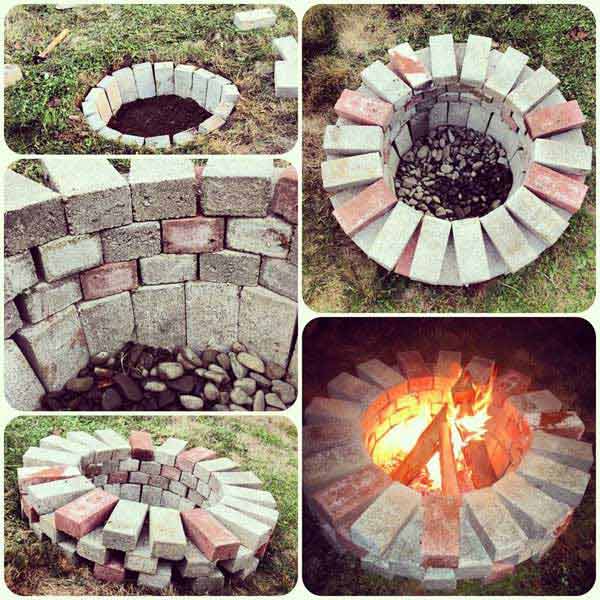 Grass areas in your backyard can also be converted into a beautiful in ground fire pit.
Dig a hole according to the height you desire and line it with bricks in a circular form.
Add stones and pebbles for stability and enjoy your new fire pit.
#37 Simple Concrete And Brick Fire Pit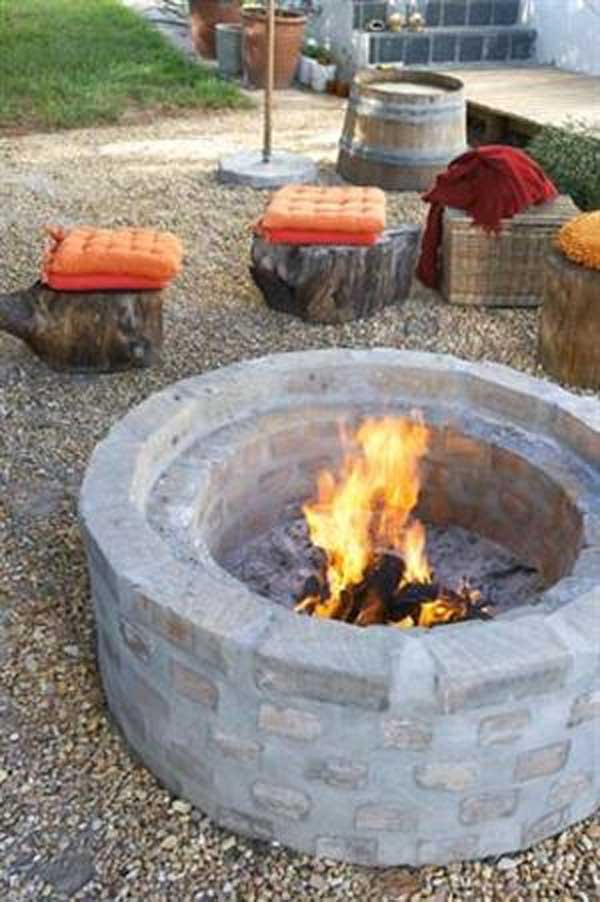 #38 Add a touch of modern flair to your backyard with this impressive fire pit adaptation of a steel table.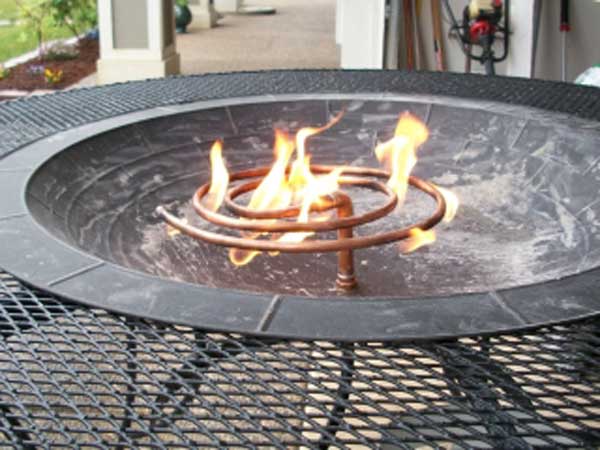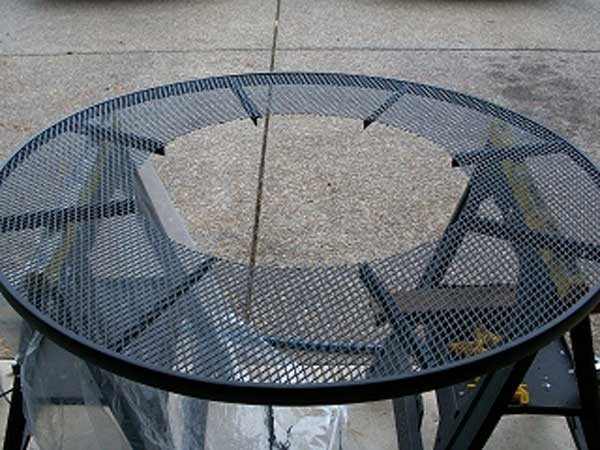 Tutorial: wcwelding.com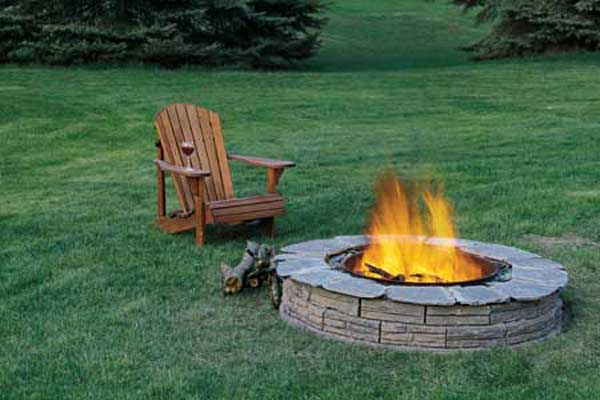 Create A Unique Fire Pit With A Simple Flower-pot Shape, Crafted From Concrete And River Rocks.